– Book News
«« Previous page
·
Maylis de Kerangal: Un monde à portée de main
·
René van Stipriaan: De hartenjager. Leven, werk en roem van Gerbrandt Adriaensz. Bredero
·
Jens Mühling: Schwarze Erde. Eine Reise durch die Ukraine
·
The Disappearing Room by Mara Bergman
·
Alessandro Baricco: Smith & Wesson
·
Ton van Reen: Het diepste blauw (069). Een roman als feuilleton
·
In Koli Jean Bofane: La Belle de Casa
·
Conan Doyle for the defense. The True Story of a Sensational British Murder, a Quest for Justice, and the World's Most Famous Detective Writer by Margalit Fox
·
R. Crumb's Dream Diary
·
Violaine Huisman: Fugitive parce que reine
·
How to Write an Autobiographical Novel by Alexander Chee
·
Soho: an intimate and vital poetry debut by Richard Scott
«Paula s'avance lentement vers les plaques de marbre, pose sa paume à plat sur la paroi, mais au lieu du froid glacial de la pierre, c'est le grain de la peinture qu'elle éprouve.
Elle s'approche tout près, regarde : c'est bien une image. Étonnée, elle se tourne vers les boiseries et recommence, recule puis avance, touche, comme si elle jouait à faire disparaître puis à faire revenir l'illusion initiale, progresse le long du mur, de plus en plus troublée tandis qu'elle passe les colonnes de pierre, les arches sculptées, les chapiteaux et les moulures, les stucs, atteint la fenêtre, prête à se pencher au-dehors, certaine qu'un autre monde se tient là, juste derrière, à portée de main, et partout son tâtonnement lui renvoie de la peinture. Une fois parvenue devant la mésange arrêtée sur sa branche, elle s'immobilise, allonge le bras dans l'aube rose, glisse ses doigts entre les plumes de l'oiseau, et tend l'oreille dans le feuillage.»
Maylis de Kerangal- Grand prix de Littérature Henri-Gal de l'Académie française (2014)
Maylis de Kerangal
Un monde à portée de main
Collection Verticales, Gallimard
Parution : 16-08-2018
288 pages
140 x 205 mm
Genre : Romans
Littérature française
Époque : XXIe siècle
ISBN : 9782072790522
Gencode : 9782072790522
Code distributeur : G01921
Prix €20,00
À lire –
Maylis de Kerangal, Un monde à portée de main, Verticales, 2018 –
Maison de la Poésie Paris –
Lundi 24 septembre 2018 – 20H00
Maylis de Kerangal
Un monde à portée de main
Lecture par l'auteure
En 2007, Paula quitte Paris et ses parents pour suivre l'enseignement de " la dame au col roulé noir " dans une école réputée de Bruxelles. Elle va apprendre l'art du trompe-l'œil. Jour après jour, nuit après nuit, dans le minuscule appartement qu'elle partage avec Jonas, Paula va copier, reproduire sans relâche et jusqu'à épuisement toutes les nuances du marbre, toutes les essences de bois. Après les mois d'apprentissage se succèdent les années de formation : Paula voyage et côtoie la beauté de l'art. Un jour, elle est engagée dans le vaste projet de Lascaux IV. Les premiers souffles de l'humanité « à portée de main », elle découvre les origines du monde. L'art de l'énumération devient poésie dans ce roman d'apprentissage, le sixième de Maylis de Kerangal qui montre une fois encore comment s'approprier le monde en le nommant.
Maison de la Poésie
Adres: 157 Rue Saint-Martin, 75003 Paris
maisondelapoesieparis.com
new books
lecture
fleursdumal.nl magazine
More in: - Book News, - Bookstores, Archive K-L, Art & Literature News, Maison de la Poésie
---
Het leven van Gerbrandt Adriaensz. Bredero (1585-1618) was kort maar ongekend vruchtbaar.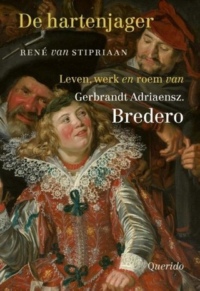 In nauwelijks acht jaar schreef hij honderden gedichten en liederen die tot de mooiste uit de Nederlandse literatuur behoren, en meer dan tien toneelstukken die nog altijd sprankelen van leven. Zijn kluchten, het blijspel Moortje en vooral de onweerstaanbare Spaanschen Brabander hebben door de eeuwen heen vele duizenden mensen onvergetelijke uren bezorgd.
Wie was Bredero? Het is een van de grote vragen van de Nederlandse literatuur. Over zijn leven is weinig bekend, zijn werk is heel concreet alledaags, maar tegelijkertijd ook raadselachtig.
Hoe hield hij zich overeind in het van energie en spanning bruisende Amsterdam? In De hartenjager ontrafelt René van Stipriaan de mythen en mysteries rond een van de meest getalenteerde en vrijmoedige auteurs uit het Nederlandse taalgebied: zijn afkomst, zijn vriendschappen en liefdes, zijn enorme productiviteit en zijn plotselinge dood. Weinig is wat het lijkt.
René van Stipriaan (1959) is auteur van Het volle leven en stelde Ooggetuigen van de Gouden Eeuw en, met Geert Mak, Ooggetuigen van de wereldgeschiedenis samen. In augustus verschijnt De hartenjager, over het leven en werk van Bredero.
Auteur: René van Stipriaan
De hartenjager.
Leven, werk en roem van Gerbrandt Adriaensz. Bredero
Non-Fictie – biografie
Taal: Nederlands
Uitgever: Em. Querido's Uitgeverij BV, Amsterdam
Publicatiedatum: 21-08-2018
ISBN 9789021409528
NUR: 321
359 pagina's
illustraties
Met literatuuropgave, register
Prijs: € 24,99
Hardcover
new books
fleursdumal.nl magazine
More in: #Biography Archives, - Book News, - Book Stories, Archive A-B, Archive S-T, Art & Literature News, Bredero, G.A.
---
Ein Jahrtausend lang lebten die Ukrainer zwischen Grenzen, die sich unter ihren Füßen stetig verschoben; mal zu Polen, mal zu Österreich und Litauen, schließlich zu Deutschland und dann zur Sowjetunion gehörten.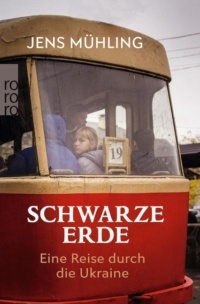 Und die nun wieder in Bewegung geraten sind. Als Staat existiert die Ukraine erst seit 1991; was sie vorher war, ist unter ihren Bewohnern so umstritten wie unter ihren europäischen Nachbarn. Jens Mühling erzählt von Begegnungen mit Nationalisten und Altkommunisten, Krimtataren, Volksdeutschen, Kosaken, Schmugglern, Archäologen und Soldaten, deren Standpunkte kaum unterschiedlicher sein könnten. Sein Buch schildert ihren Blick auf ein Land, über das wir kaum etwas wissen – obwohl es mitten in Europa liegt.
Jens Mühling, geboren 1976 in Siegen, arbeitete zwei Jahre lang für die «Moskauer Deutsche Zeitung», seit 2005 ist er Redakteur beim Berliner «Tagesspiegel». Seine Reportagen und Essays über Osteuropa wurden mehrfach ausgezeichnet und sein erstes Buch «Mein russisches Abenteuer» war in Großbritannien für den renommierten Dolman Travel Book Award nominiert.
Jens Mühling
Schwarze Erde
Eine Reise durch die Ukraine.
1. Auflage.
Rowohlt Taschenbuch
Juni 2018
285 Seiten
EAN: 9783499631566
ISBN: 3499631563
Libri: 3558738
Taschenbuch €10,99
new books
fleursdumal.nl magazine
More in: - Book News, - Book Stories, Archive M-N, Art & Literature News
---
In Mara Bergman's first full collection, the poet travels from the tenements of New York City to the Sussex countryside, from childhood to motherhood, and beyond.
Through a wide range of subjects – steelworkers and young apprentices, photographs and photograms, dolls in a local museum's hidden collection – she writes with a keen sense of time and place.
These are probing poems, seeking to discover; poems with a sense of urgency.
Here are poems about love, loss, friendship, family, fitting in and, ultimately, acceptance. They are infused with wonder and provide a fresh way of looking at the world.
Mara Bergman grew up in Wantagh, New York, and graduated from the State University of New York at Oneonta. During her third year, she studied at Goldsmiths College and later made her home in the UK. Mara's poetry has been published widely here and abroad. Her collection The Tailor's Three Sons and Other New York Poems won the Mslexia Poetry Pamphlet Competition and was published by Seren in 2015. In 2016, Crossing Into Tamil Nadu won a Templar Quarterly Pamphlet Competition. Her poems have been awarded prizes in the Troubadour and Kent & Sussex Poetry Society competitions, among others. Mara works in London as an editor and is also an award-winning author of more than twenty books for young children. She and her husband live in Tunbridge Wells and have three children.
The Disappearing Room
by Mara Bergman (Author)
Paperback
27 Jul 2018
92 pages
Publisher: Arc Publicationas
Language: English
ISBN-10: 1911469347
ISBN-13: 978-1911469346
Product Dimensions: 15 x 2.2 x 21 cm
£9.18
new poetry
fleursdumal.nl magazine
More in: - Book News, - Bookstores, Archive A-B, Art & Literature News
---
«Maintenant je résume : on attendait un tas de choses de la vie, on n'a rien fait de bien, on glisse peu à peu vers le néant, et ce dans un trou paumé où une splendide cascade nous rappelle tous les jours que la misère est une invention humaine et la grandeur le cours naturel du monde.»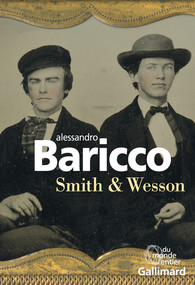 Année 1902, Tom Smith et Jerry Wesson se rencontrent au pied des chutes du Niagara. L'un passe son temps à rédiger des statistiques météorologiques ; l'autre à repêcher les corps engloutis par les rapides.
Rencontre exceptionnelle, comme celle que les deux types font avec Rachel Green, jeune journaliste prête à tout pour dénicher le scoop du siècle, même à embarquer Smith et Wesson dans son projet loufoque : plonger dans les chutes du Niagara et s'en sortir vivante. Tout le monde en rêve, personne ne l'a jamais fait. Il ne reste alors qu'à se glisser dans un tonneau, défier les lois de la physique et sauter.
Nous avons tous besoin d'une histoire mémorable, d'un exploit hors norme pour réaliser quelque chose qui nous soit vraiment propre.
Alessandro Baricco (1958): Prix Médicis étranger 1995
Alessandro Baricco:
Smith & Wesson
Trad. de l'italien par Lise Caillat
Collection Du monde entier, Gallimard
Parution : 17-05-2018
160 pages
140 x 205 mm
Genre : Littérature Italiennes
Pays : Italie
Époque : XXe-XXIe siècle
ISBN : 9782070179039
Code distributeur : A17903
Prix €16,00
new books
fleursdumal.nl magazine
More in: #Biography Archives, - Book News, - Bookstores, Archive A-B
---
`Je ziet er echt uit als een Chinees', roept Thija en ze danst naar Tijger toe.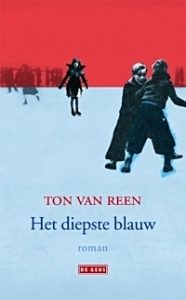 Ze struikelt over een touw waarmee de pagode is vastgezet en valt bijna van de wagen. Gelukkig weet Mels haar op te vangen.
`Ik had dood kunnen vallen', zegt ze, nog wit van schrik.
Mels straalt, maar hij is teleurgesteld als ze zijn armen wegduwt en doorloopt naar Tijger. Ze slaat een arm om hem heen.
`Kom erbij, Mels,' roept ze, `dan staan we met z'n drieën op de film.' Maar hij ziet dat het te laat is. De directeur heeft de camera al gericht op de groep eskimo's in witte lakens, die achter de auto lopen.
`Te laat!' roept hij. `Wij zijn allang uit beeld.'
Ton van Reen: Het diepste blauw (069)
wordt vervolgd
fleursdumal.nl magazine
More in: - Book News, - Het diepste blauw, Archive Q-R, Reen, Ton van
---
Qui a bien pu tuer Ichrak la belle, dans cette ruelle d'un quartier populaire de Casablanca?
Elle en aga­çait plus d'un, cette effrontée aux courbes sublimes, fille sans père née d'une folle un peu sorcière, qui ne se laissait ni séduire ni importuner. Tous la convoi­taient autant qu'ils la craignaient, sauf peut-être Sese, clandestin arrivé de Kinshasa depuis peu, devenu son ami et associé dans un business douteux. Escrocs de haut vol, brutes épaisses ou modestes roublards, les suspects ne manquent pas dans cette métropole du xxie siècle gouvernée comme les autres par l'argent, le sexe et le pouvoir.
Et ce n'est pas l'infatigable Chergui, vent violent venu du désert pour secouer les palmiers, abraser les murs et assécher les larmes, qui va apaiser les esprits…
Avec sa lucidité acérée et son humour féroce, In Koli Jean Bofane dénonce la corruption immobilière, la précarité des migrants et la concupiscence mascu­line. Par son talent de conteur, son art du dialogue et des portraits, il bouscule joyeusement une réalité contemporaine tout à fait accablante – la truculence du désespoir.
In Koli Jean Bofane est né le 24 octobre 1954 à Mbandaka (R.D. du Congo) et vit en Belgique. En France, il a publié Pourquoi le lion n'est plus le roi des animaux (Gallimard Jeunesse), lauréat du Prix de la Critique de la Communauté Française de Belgique ; et chez Actes Sud : Mathématiques congolaises (2008) et Congo Inc., le testament de Bismarck (2014, Prix des cinq continents de la Francophonie). Ses ouvrages ont été traduits aux USA, en Allemagne, au Brésil, en Corée, en Slovénie.
La Belle de Casa
In Koli Jean BOFANE
Actes Sud Littérature
Domaine français
Août, 2018
11,5 x 21,7
208 pages
isbn 978-2-330-10935-6
€19,00
new books
fleursdumal.nl magazine
More in: - Book News, - Book Stories, Archive A-B, Art & Literature News
---
For all the scores of biographies of Arthur Conan Doyle, creator of the most famous detective in the world, there is no recent book that tells this remarkable story—in which Conan Doyle becomes a real-life detective on an actual murder case.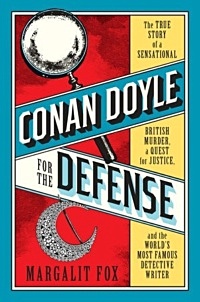 In Conan Doyle for the Defense, Margalit Fox takes us step by step inside Conan Doyle's investigative process and illuminates a murder mystery that is also a morality play for our time—a story of ethnic, religious, and anti-immigrant bias.
In 1908, a wealthy woman was brutally murdered in her Glasgow home. The police found a convenient suspect in Oscar Slater—an immigrant Jewish cardsharp—who, despite his obvious innocence, was tried, convicted, and consigned to life at hard labor in a brutal Scottish prison.
Conan Doyle, already world famous as the creator of Sherlock Holmes, was outraged by this injustice and became obsessed with the case. Using the methods of his most famous character, he scoured trial transcripts, newspaper accounts, and eyewitness statements, meticulously noting myriad holes, inconsistencies, and outright fabrications by police and prosecutors. Finally, in 1927, his work won Slater's freedom.
Margalit Fox, a celebrated longtime writer for The New York Times, has "a nose for interesting facts, the ability to construct a taut narrative arc, and a Dickens-level gift for concisely conveying personality" (Kathryn Schulz, New York). In Conan Doyle for the Defense, she immerses readers in the science of Edwardian crime detection and illuminates a watershed moment in the history of forensics, when reflexive prejudice began to be replaced by reason and the scientific method.
A senior writer at The New York Times, Margalit Fox is considered one of the foremost explanatory writers and literary stylists in American journalism. As a member of the newspaper's celebrated obituary news department, she has written front-page send-offs of some of the leading cultural figures of our age. (Conan Doyle for the Defense is in many ways a fond belated obituary for the long-overlooked Oscar Slater, an immigrant everyman treated inexcusably by history.) Fox's previous book, The Riddle of the Labyrinth, won the William Saroyan International Prize for Writing. She lives in Manhattan with her husband, the writer and critic George Robinson.
Conan Doyle for the Defense
The True Story of a Sensational British Murder, a Quest for Justice, and the World's Most Famous Detective Writer
By Margalit Fox
Illustrated
Hardcover
Published by Random House
Random House
$27.00
Jun 26, 2018
352 Pages
ISBN 9780399589454
new books
fleursdumal.nl magazine
More in: #Biography Archives, - Book News, - Bookstores, Archive E-F, Art & Literature News, Arthur Conan Doyle, CRIME & PUNISHMENT, Sherlock Holmes Theatre
---
For more than 40 years, legendary American artist Robert Crumb has documented his nightly dreams in a meticulously kept private journal.
This material has stood as a guarded secret in a career defined by an impish compulsion to publically self-disclose. All of the artist's well-documented preoccupations are present and accounted for—rampant egomania, insatiable lust, profound self-disgust, the sad beauty of old America, the moral bankruptcy of new America and the fool's errand quest for spiritual enlightenment—but here they are entirely untamed, springing forth from forces beyond even his control.
Published for the first time, the complete Dream Diaries offer readers a deep, dark look under the hood of one of America's most aggressively dynamic comedic voices.
Widely considered the greatest cartoonist of the 20th century, Robert Crumb (born 1943) drew comics from a very young age. After a brief career in greeting-card design in Cleveland, in 1965 the young artist discovered LSD, and headed for San Francisco, where he published Zap Comix 1, reinventing the comics medium. In 1994 he was the subject of an acclaimed documentary film by Terry Zwigoff. His adaptation of The Book of Genesis was published in 2009 and the original art for the project was exhibited internationally, most notably at the Hammer Museum, Los Angeles, in 2009, and as part of the 55th Venice Biennale in 2013. His most recent books include Bible of Filth, Art & Beauty Magazine and (with Aline Kominsky-Crumb) Drawn Together. Crumb lives and works in Southern France.
R. Crumb's
Dream Diary
Edited by Ronald Bronstein & Sammy Harkham
Elara Press
Compiles forty years of never-before-published somnambulant mindspray from one of the most unique thinkers in comics.
The first and only book on Crumb's writings
containing 15 illustrations.
US $25.00
Hardcover
500 pgs
Publication: Sep 25 2018
Language: English
ISBN-10: 1942884338
ISBN-13: 978-1942884330
new books
fleursdumal.nl magazine
More in: #Biography Archives, - Book News, - Bookstores, Archive C-D, Art & Literature News, Illustrators, Illustration
---
« Maman était une force de la nature et elle avait une patience très limitée pour les jérémiades de gamines douillettes. Nos plaies, elle les désinfectait à l'alcool à 90 °, le Mercurochrome apparemment était pour les enfants gâtés.
Et puis il y avait l'éther, dans ce flacon d'un bleu céruléen comme la sphère vespérale. Cette couleur était la sienne, cette profondeur du bleu sombre où se perd le coup de poing lancé contre Dieu.»
Ce premier roman raconte l'amour inconditionnel liant une mère à ses filles, malgré ses fêlures et sa défaillance. Mais l'écriture poétique et sulfureuse de Violaine Huisman porte aussi la voix déchirante d'une femme, une femme avant tout, qui n'a jamais cessé d'affirmer son droit à une vie rêvée, à la liberté.
Violaine Huisman est née en 1979 à Paris et vit depuis vingt ans à New York où elle a organisé de nombreux festivals et événements littéraires. Elle a aussi traduit plusieurs textes de l'américain dont La haine de la poésie de Ben Lerner.
Violaine Huisman
Fugitive parce que reine
Collection Blanche, Gallimard
Parution : 11-01-2018
256 pages
140 x 205 mm
Genre : Romans
Littérature française – Romans et récits
Époque : XXIe siècle
ISBN : 9782072765629
Code distributeur : G01396
new books
fleursdumal.nl magazine
More in: - Book News, - Bookstores, Archive G-H, Art & Literature News
---
How to Write an Autobiographical Novel is the author's manifesto on the entangling of life, literature, and politics, and how the lessons learned from a life spent reading and writing fiction have changed him.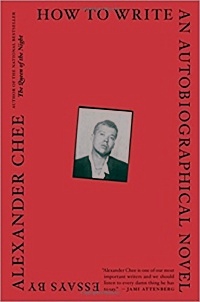 In these essays, he grows from student to teacher, reader to writer, and reckons with his identities as a son, a gay man, a Korean American, an artist, an activist, a lover, and a friend.
He examines some of the most formative experiences of his life and the nation's history, including his father's death, the AIDS crisis, 9/11, the jobs that supported his writing—Tarot-reading, bookselling, cater-waiting for William F. Buckley—the writing of his first novel, Edinburgh, and the election of Donald Trump.
By turns commanding, heartbreaking, and wry, How to Write an Autobiographical Novel asks questions about how we create ourselves in life and in art, and how to fight when our dearest truths are under attack.
Alexander Chee won a Whiting Award for his first novel, Edinburgh, and is a recipient of the NEA Fellowship in Fiction and residencies from the MacDowell Colony, Ledig House, and Civitella Ranieri. His writing has appeared in the New York Times Book Review, Tin House, Slate, and NPR, among others, and he is a Contributing Editor at The New Republic. He lives in New York City.
Alexander Chee
How to Write an Autobiographical Novel
Essays
Mariner Books
Published 17 April 2018
Format Paperback
Pages 288
ISBN-10 1328764524
ISBN-13 9781328764522
new books
fleursdumal.nl magazine
More in: - Book News, - Book Stories, Archive C-D, Art & Literature News, PRESS & PUBLISHING
---
In this intimate and vital debut, Richard Scott creates an uncompromising portrait of love and gay shame.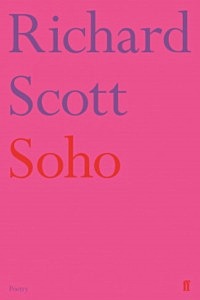 Examining how trauma becomes a part of the language we use, Scott takes us back to our roots: childhood incidents, the violence our scars betray, forgotten forebears and histories. The hungers of sexual encounters are underscored by the risks that threaten when we give ourselves to or accept another. But the poems celebrate joy and tenderness, too, as in a sequence re-imagining the love poetry of Verlaine.
The collection crescendos to Scott's tour de force, 'Oh My Soho!', where a night stroll under the street lamps of Soho Square becomes a search for true lineage, a reclamation of stolen ancestors, hope for healing, and, above all, the finding of our truest selves.
Richard Scott grew up in London and studied at the Royal College of Music and at Goldsmiths College. He has been a winner of the Wasafiri New Writing Prize, a Jerwood/Arvon Poetry mentee, a member of the Aldeburgh 8 and an Open Spaces artist resident at Snape Maltings in Suffolk. His pamphlet Wound (Rialto) won the Michael Marks Poetry Award 2016 and his poem 'crocodile' won the 2017 Poetry London Competition.
Scott was born in London in 1981. His poems have appeared widely in magazines and anthologies including Poetry Review, Poetry London, Swimmers, The Poetry of Sex (Penguin) and Butt Magazine. He has been a winner of the Wasafiri New Writing Prize, a Jerwood/Arvon Poetry Mentee and a member of the Aldeburgh 8. His pamphlet Wound, published by Rialto, won the Michael Marks Poetry Award 2016. His debut collection is forthcoming from Faber & Faber in 2018.
Soho
Richard Scott
£10.99
Paperback
88 pages
Publisher: Faber & Faber
Main edition
5 April 2018
Language: English
ISBN-10: 0571338917
ISBN-13: 978-0571338917
new poetry
fleursdumal.nl magazine
More in: - Book News, - Bookstores, Archive S-T, Art & Literature News
---
Older Entries »
« Newer Entries
Thank you for reading FLEURSDUMAL.NL - magazine for art & literature