– Book Stories
·
Koos Meinderts: De schelmenstreken van Reinaert de Vos
·
Deathwatch by Jean Genet
·
Yugoslavia: Peace, War, and Dissolution by Noam Chomsky
·
Martin Rowson: Pastrami Faced Racist
·
The Annotated Prison Writings of Oscar Wilde
·
Norman Mailer: Four Books of the 1960s
·
This is Not the End of the Book by Umberto Eco & Jean-Claude Carrière
·
Oliver Sacks: Dankbaarheid. Essays
·
Stairs and Whispers: D/deaf and Disabled Poets Write Back
·
The Unknown Poe. An Anthology of Fugitive Writings by Edgar Allan Poe
·
Rüdiger Görner: Rainer Maria Rilke. Im Herzwerk der Sprache
·
François Audouy: Antonin Artaud le sur-vivant. Essai
Terwijl Reinaert de Vos tijdens het monopoly-spelen met zijn kinderen stiekem een briefje van duizend uit de bank jatte en zich te goed deed aan een kipkluifje, verklaarde Koning Nobel in de paleistuin de jaarlijkse Hofdag voor geopend.
Met de opening van de Hofdag opent ook de fonkelende bewerking die Koos Meinderts maakte van het bekendste epos uit de Middelnederlandse literatuur: Van den Vos Reynaerde.
In achttien hoofdstukken verhaalt Meinderts over de belevenissen van de geslepen vos Reinaert en zijn beklagenswaardige tegenspelers, waaronder Tibeert de Kater, Bruun de Beer en Cuwaert de Haas. Elk hoofdstuk werd geïllustreerd door een vooraanstaand kinderboekillustrator.
Koos Meinderts:
De schelmenstreken van Reinaert de Vos
1e druk
EAN: 978 90 8967 273 5
NUR: 274
Verschenen 12-11-2018
Formaat: 23,5 x 27 cm
48 bladzijden
Gebondend
Bindwijze Hardcover
Genre Kinderboeken
Uitgever Hoogland & Van Klaveren, Uitgeverij
Taal Nederlands
Illustraties Charlotte Dematons e.a.
Prijs: € 17,50
# New books
Koos Meinderts
Reinaert de Vos
• fleursdumal.nl magazine
More in: - Book News, - Book Stories, Archive M-N, Archive Q-R, Archive Q-R, Art & Literature News, Grimm, Andersen e.o.: Fables, Fairy Tales & Stories
---
Deathwatch, Jean Genet's earliest, shortest and most formally straightforward play, was first performed in Paris in 1949.
It retains an intense power and makes an excellent introduction to his later dramas – The Maids, The Balcony, The Blacks, The Screens. The French text of Deathwatch, published by Gallimard, was extensively altered by Genet during rehearsal; and Bernard Frechtman's translation is of the final 'performance' version, which supersedes the original published text.Three convicts share a cramped prison cell.
There is no question as to which of them is the dominant dog in the pack: Green Eyes (Yeux-Verts) has brutally murdered a woman and is to be executed.
Lefranc and the younger novice-like Maurice are inside for less grave crimes. But both of them covet Green Eyes' attention, baiting each other in the process, a duel that drives inexorably toward violence
Three young convicts share a cell. Locked into a world of dangerous rivalries, criminals Lefranc and Maurice compete for the attention of the charismatic condemned man, Green-Eyes.
Informed by his own experience in French prisons, Jean Genet's first play, Deathwatch is an explosive exploration of the inversion of moral order.
Genet was one of the most prominent and provocative writers of the twentieth century.
Jean Genet's Deathwatch premiered in this translation by David Rudkin with the Royal Shakespeare Company in 1987 and was revived at the Print Room, London, in April 2016.
Jean Genet was born in Paris in 1910. An illegitimate child who never knew his parents, he was abandoned to the Public Assistance Authorities. He was ten when he was sent to a reformatory for stealing; thereafter he spent time in the prisons of nearly every country he visited in thirty years of prowling through the European underworld. With ten convictions for theft in France to his credit he was, the eleventh time, condemned to life imprisonment. Eventually he was granted a pardon by President Auriol as a result of appeals from France's leading artists and writers led by Jean Cocteau. His first novel, Our Lady of the Flowers, was written while he was in prison, followed by Miracle of the Rose, the autobiographical The Thief's Journal, Querelle of Brest and Funeral Rites. He wrote six plays: The Balcony, The Blacks, The Screens, The Maids, Deathwatch and Splendid's (the manuscript of which was rediscovered only in 1993). Jean Genet died in 1986.
Deathwatch
by Jean Genet
English
Translated by David Rudkin
Play
Faber & Faber
Paperback
64 pages
2016
ISBN 9780571332618
£9.99

# more books
Deathwatch by Jean Genet
• fleursdumal.nl
More in: - Book Lovers, - Book Stories, Archive G-H, Art & Literature News, AUDIO, CINEMA, RADIO & TV, CRIME & PUNISHMENT, Jean Genet, THEATRE
---
The Balkans, in particular the turbulent ex-Yugoslav territory, have been among the most important world regions in Noam Chomsky's political reflections and activism for decades.

His articles, public talks, and correspondence have provided a critical voice on political and social issues crucial not only to the region but the entire international community, including "humanitarian intervention," the relevance of international law in today's politics, media manipulations, and economic crisis as a means of political control.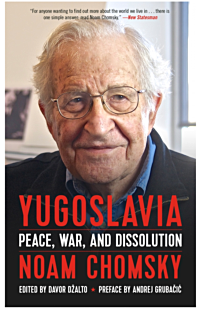 This volume provides a comprehensive survey of virtually all of Chomsky's texts and public talks that focus on the region of the former Yugoslavia, from the 1970s to the present. With numerous articles and interviews, this collection presents a wealth of materials appearing in book form for the first time along with reflections on events twenty-five years after the official end of communist Yugoslavia and the beginning of the war in Bosnia.
The book opens with a personal and wide-ranging preface by Andrej Grubačić that affirms the ongoing importance of Yugoslav history and identity, providing a context for understanding Yugoslavia as an experiment in self-management, antifascism, and mutlethnic coexistence.
Noam Chomsky (1928) is Institute Professor in the Department of Linguistics and Philosophy at the Massachusetts Institute of Technology, Boston. A member of the American Academy of Science, he has published widely in both linguistics and current affairs. His books include At War with Asia, Towards a New Cold War, Fateful Triangle: The U. S., Israel and the Palestinians, Necessary Illusions, Hegemony or Survival, Deterring Democracy, Failed States: The Abuse of Power and the Assault on Democracy and Manufacturing Consent: The Political Economy of the Mass Media.
Title: Yugoslavia: Peace, War, and Dissolution
Author: Noam Chomsky
Edited by Davor Džalto
Preface by Andrej Grubačić
Subjects: Politics / History-Europe
Publisher: PM Press
ISBN: 978-1-62963-442-5
Published: 04/2018
Language: English
Format: Paperback
Size: 6×9
240 pages
$15.63
# new books
Noam Chomsky
Yugoslavia: Peace, War, and Dissolution
• fleursdumal.nl magazine
More in: - Book News, - Book Stories, Archive C-D, AUDIO, CINEMA, RADIO & TV, MONTAIGNE, Noam Chomsky, WAR & PEACE
---
Undeterred by the embarrassing success of his ridiculous four-volume verse epic The Limerickiad, award-winning cartoonist Martin Rowson continues to lower the tone with a series of metrical rants and cautionary tales about contemporary political and literary life.
Accompanied by the ghosts of Chesterton, Shelley, Burns and Browning, Rowson casts his gaze across the satirical spectrum from governments, gammon-faced racists, class war, nationalism and the harsh realities of child rearing to the world of literary festivals, international book fairs, best-sellers, book-launches, holiday reading lists, bottom lines, liggers, bloggers, blaggers, book-signings and book-burnings.
Martin Rowson is an award-winning cartoonist whose work appears regularly in The Guardian, The Independent on Sunday, The Daily Mirror, The Morning Star and many other publications.
His books include graphic adaptations of The Waste Land, Tristram Shandy and Gulliver's Travels. Among his other books are Snatches, The Dog Allusion, Fuck, Stuff (long-listed for the Samuel Johnson Prize) and four volumes of The Limerickiad. His most recent book is The Communist Manifesto: A Graphic Novel.
Martin Rowson
Pastrami Faced Racist
Published by Smokestack Books
Release date: 01 Nov. 2018
Language: English
Paperback
84 pages
ISBN-10: 1999827686
ISBN-13: 978-1999827687
£8.99
# new books
Martin Rowson
Pastrami Faced Racist
• fleursdumal.nl magazine
More in: - Book News, - Book Stories, Archive Q-R, Archive Q-R, Art & Literature News, Illustrators, Illustration
---
"And I? May I say nothing, my lord?" With these words, Oscar Wilde's courtroom trials came to a close. The lord in question, High Court justice Sir Alfred Wills, sent Wilde to the cells, sentenced to two years in prison with hard labor for the crime of "gross indecency" with other men.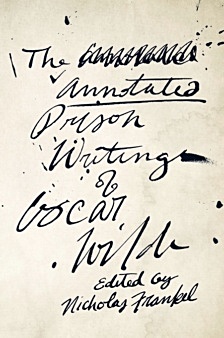 As cries of "shame" emanated from the gallery, the convicted aesthete was roundly silenced.
But he did not remain so. Behind bars and in the period immediately after his release, Wilde wrote two of his most powerful works—the long autobiographical letter De Profundis and an expansive best-selling poem, The Ballad of Reading Gaol.
In The Annotated Prison Writings of Oscar Wilde, Nicholas Frankel collects these and other prison writings, accompanied by historical illustrations and his rich facing-page annotations. As Frankel shows, Wilde experienced prison conditions designed to break even the toughest spirit, and yet his writings from this period display an imaginative and verbal brilliance left largely intact.
Wilde also remained politically steadfast, determined that his writings should inspire improvements to Victorian England's grotesque regimes of punishment. But while his reformist impulse spoke to his moment, Wilde also wrote for eternity.
At once a savage indictment of the society that jailed him and a moving testimony to private sufferings, Wilde's prison writings—illuminated by Frankel's extensive notes—reveal a very different man from the famous dandy and aesthete who shocked and amused the English-speaking world.
Nicholas Frankel is Professor of English at Virginia Commonwealth University.
"Frankel provides a valuable service in comprehensively editing these works for a fresh generation of readers." — Joseph Bristow, University of California, Los Angeles
The Annotated Prison Writings of Oscar Wilde
Oscar Wilde
Edited by Nicholas Frankel
Harvard University Press
Paperback
408 pages
Publication: May 2018
ISBN 9780674984387
€17.00
# more books
The Annotated Prison Writings of Oscar Wilde
-Clemency Petition to the Home Secretary, 2 July 1896
-De Profundis
-Letter to the Daily Chronicle, 27 May 1897
-The Ballad of Reading Gaol
-Letter to the Daily Chronicle, 23 March 1898
• fleursdumal.nl magazine
More in: - Book News, - Book Stories, Archive W-X, Archive W-X, Art & Literature News, CRIME & PUNISHMENT, REPRESSION OF WRITERS, JOURNALISTS & ARTISTS, Wilde, Oscar, Wilde, Oscar
---
No writer plunged more vigorously into the chaotic energies of the 1960s than Norman Mailer, fearlessly revolutionizing literary norms and genres to capture the decade's political, social, and sexual explosions.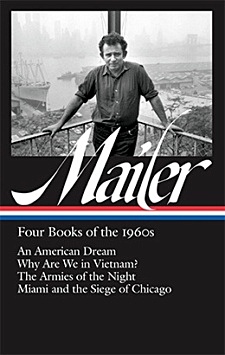 Declaring himself to have "the mind of an outlaw," he adhered closely to his own vision of what it meant to be a writer.
In a way uniquely his own, he merged the public and the private, the personal and the political, taking risks with every sentence. Here, for the first time in a single volume, are four of his most extraordinary works.
War hero, television star, existential hipster, seducer, murderer: such is Stephen Rojack, the hero of An American Dream (1965), Mailer's hallucinatory voyage through the dark night of an America awash in money, sex, and violence.
Mailer challenged himself by serializing the book while he was still writing it, an approach he compared to "ten-second chess." The result is a fever dream of a novel, navigating through the most extreme fears and fantasies of a culture hooked on power.
In Why Are We in Vietnam? (1967) a motor-mouthed eighteen-year-old Texan on the eve of military service recounts an exclusive grizzly bear hunt in Alaska with an obscene exuberance that finally comes close to horror. Although the word "Vietnam" appears only on the book's final page, the whole work is imbued with a sense of frantic bloodthirstiness that exposes the macho roots of the war.
With the acclaimed "non-fiction novel" The Armies of the Night (1968), an account of the October 1967 anti-Vietnam War march on the Pentagon, Mailer brought a new approach to journalism, casting himself ("he would have been admirable, except that he was an absolute egomaniac, a Beast") as a player in the drama as he reported, alongside a stunning gallery of student activists, politicians, intellectuals, and policemen. Winning both the Pulitzer Prize and National Book Award, The Armies of the Night immediately established itself as an essential record of its moment.
In Miami and the Siege of Chicago (1968) Mailer continued his eyewitness chronicle of American political life, embedding himself at the 1968 Republican and Democratic presidential conventions and drawing unforgettable portraits of Richard Nixon, Nelson Rockefeller, Lyndon Johnson, Eugene McCarthy, and many others. His reading of the nation's political undercurrents continues to surprise with its relevance.
J. Michael Lennon, editor, emeritus professor of English at Wilkes University, is Norman Mailer's archivist, editor, and authorized biographer, and president of the Norman Mailer Society. His books include Norman Mailer: A Double Life (2013) and Selected Letters of Norman Mailer (2014).
This Library of America series edition is printed on acid-free paper and features Smyth-sewn binding, a full cloth cover, and a ribbon marker.
Norman Mailer: Four Books of the 1960s (LOA #305):
-An American Dream
-Why Are We in Vietnam?
-The Armies of the Night
-Miami and the Siege of Chicago
Hardcover
March 13, 2018
by Norman Mailer (Author)
J. Michael Lennon (Editor)
937 pages
ISBN: 978-1-59853-558-7
Library of America Series
N° 305
LOA books are distributed worldwide by Penguin Random House
List Price: $45.00
LIBRARY OF AMERICA is an independent nonprofit cultural organization founded in 1979 to preserve our nation's literary heritage by publishing, and keeping permanently in print, America's best and most significant writing. The Library of America series includes more than 300 volumes to date, authoritative editions that average 1,000 pages in length, feature cloth covers, sewn bindings, and ribbon markers, and are printed on premium acid-free paper that will last for centuries.
# new books
Norman Mailer:
Four Books of the 1960s (LOA #305):
-An American Dream
-Why Are We in Vietnam?
-The Armies of the Night
-Miami and the Siege of Chicago
• fleursdumal.nl magazine
More in: - Book Lovers, - Book Stories, Archive M-N, Art & Literature News, Norman Mailer, WAR & PEACE
---
The perfect gift for book lovers: a beautifully designed hardcover in which two of the world's great men have a delightfully rambling conversation about the future of the book in the digital era, and decide it is here to stay.
'The book is like the spoon: once invented, it cannot be bettered.' Umberto Eco These days it is almost impossible to get away from discussions of whether the 'book' will survive the digital revolution.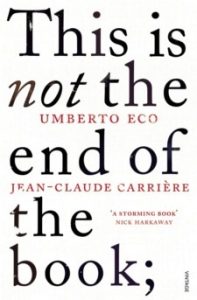 Blogs, tweets and newspaper articles on the subject appear daily, many of them repetitive, most of them admitting they don't know what will happen. Amidst the twittering, the thoughts of Jean-Claude Carrière and Umberto Eco come as a breath of fresh air. There are few people better placed to discuss the past, present and future of the book. Both avid book collectors with a deep understanding of history, they have explored through their work the many and varied ways ideas have been represented through the ages.
This thought-provoking book takes the form of a long conversation in which Carrière and Eco discuss everything from what can be defined as the first book to what is happening to knowledge now that infinite amounts of information are available at the click of a mouse. En route there are delightful digressions into personal anecdote. We find out about Eco's first computer and the book Carrière is most sad to have sold.
Readers will close this entertaining book feeling they have had the privilege of eavesdropping on an intimate discussion between two great minds. And while, as Carrière says, the one certain thing about the future is that it is unpredictable, it is clear from this conversation that, in some form or other, the book will survive.
Umberto Eco (1932–2016) wrote fiction, literary criticism and philosophy. His first novel, The Name of the Rose, was a major international bestseller. His other works include Foucault's Pendulum, The Island of the Day Before, Baudolino, The Mysterious Flame of Queen Loana, The Prague Cemetery and Numero Zero along with many brilliant collections of essays.
Jean-Claude Carrière is a writer, playwright and screenwriter. He is notably the co-author of Conversations About the End of Time (with Stephen Jay Gould, Umberto Eco, etc.) He has also worked with Peter Brook, Milos Forman, Buñuel, Godard and the Dalaï Lama.
This is Not the End of the Book
A conversation curated by Jean-Philippe de Tonnac
By Umberto Eco, Jean-Claude Carrière
Language & Literary Studies
Paperback
ISBN 9780099552451
2012
Vintage Publ.
352 pages
$24.99
# new books
This is Not the End of the Book
Umberto Eco & Jean-Claude Carrière
fleursdumal.nl magazine
More in: - Book Lovers, - Book News, - Book Stories, - Bookstores, Archive C-D, Archive E-F, Art & Literature News, The Art of Reading, Umberto Eco
---
Oliver Sacks (1933 – 2015), befaamd neuroloog, wetenschapper en arts. Sacks studeerde medicijnen in Oxford, woonde sinds 1965 in New York en werkte als hoogleraar aan de NYU School of Medicine.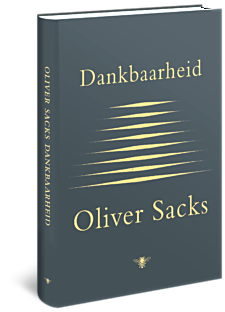 Oliver Sacks verwierf internationale roem met zijn populairwetenschappelijke boeken over de belevingswereld van zijn patiënten. Hij is de auteur van internationale bestsellers als Migraine, Ontwaken in verbijstering, De man die zijn vrouw voor een hoed hield, Stemmen zien, Een antropoloog op Mars, Musicofilia en Hallucinaties. In 2015 verscheen zijn autobiografie Onderweg. In augustus 2015 overleed hij in zijn woonplaats New York.
"Ik heb van mensen gehouden en zij hebben van mij gehouden, ik heb veel gekregen en ik heb iets teruggegeven, ik heb gelezen, gereisd, nagedacht en geschreven. Ik heb in contact gestaan met de wereld en de bijzondere uitwisselingen ervaren tussen een schrijver en zijn lezers. Maar in de eerste plaats ben ik op deze prachtige planeet een bewust denkend wezen geweest, een denkend dier, en dat alleen al was een enorm voorrecht en avontuur."
In februari 2015 maakte Oliver Sacks, in een aangrijpend stuk in The New York Times, bekend dat hij ongeneeslijk ziek was. Eind augustus overleed hij in New York, 82 jaar oud. Sinds het bericht van zijn ziekte werkte hij met grote gedrevenheid verder aan de boeken die hij nog wilde afmaken. Intussen publiceerde hij een reeks essays waarin hij probeerde grip te krijgen op het verloop van zijn ziekte en de betekenis van zijn naderende dood.
In Dankbaarheid zijn deze stukken bijeengebracht. Het is een boek dat getuigt van een grote veerkracht en menselijkheid: het laat zien hoe iemand die geconfronteerd wordt met het naderende einde toch het leven kan vieren en dankbaar kan zijn.
Auteur: Oliver Sacks
Titel: Dankbaarheid
Taal: Nederlands
Hardcover
2015
1e druk
80 pagina's
ISBN13 9789023497912
Uitgever De Bezige Bij
Vertaald door Luud Dorresteijn
€ 12,99
# new books
Oliver Sacks
Dankbaarheid. Essays
fleursdumal.nl magazine
More in: - Book News, - Book Stories, Archive S-T, AUDIO, CINEMA, RADIO & TV, Oliver Sacks, Psychiatric hospitals
---
Stairs and Whispers: D/deaf and Disabled Poets Write Back, edited by Sandra Alland, Khairani Barokka and Daniel Sluman, is a ground-breaking anthology examining UK disabled and D/deaf poetics.
Packed with fierce poetry, essays, photos and links to accessible online videos and audio recordings, it showcases a diversity of opinions and survival strategies for an ableist world.
With contributions that span Vispo to Surrealism, and range from hard-hitting political commentary to intimate lyrical pieces, these poets refuse to perform or inspire according to tired old narratives.
With poetry & prose by: Aaron Williamson, Abi Palmer, Abigail Penny, Alec Finlay, Alison Smith, Andra Simons, Angela Readman, Bea Webster, Cath Nichols, Catherine Edmunds, Cathy Bryant, Claire Cunningham, Clare Hill, Colin Hambrook, Daniel Sluman, Debjani Chatterjee, Donna Williams, El Clarke, Eleanor Ward, Emily Ingram, Gary Austin Quinn, Georgi Gill, Giles L. Turnbull, Gram Joel Davies, Grant Tarbard, Holly Magill, Isha, Jackie Hagan, Jacqueline Pemberton, Joanne Limburg, Julie McNamara, Karen Hoy, Khairani Barokka, Kitty Coles, Kuli Kohli, Lisa Kelly, Lydia Popowich, Mark Mace Smith, Markie Burnhope, Michelle Green, Miki Byrne, Miss Jacqui, Naomi Woddis, Nuala Watt, Rachael Boast, Raisa Kabir, Raymond Antrobus, Rosamund McCullain, Rose Cook, Sandra Alland, Saradha Soobrayen, Sarah Golightley, sean burn, Stephanie Conn
About the Editors: Alland's collections include Blissful Times (BookThug, 2007) and Naturally Speaking (espresso, 2012). Barokka's works include Indigenous Species (Tilted Axis, 2016) and Rope (Nine Arches, 2017). Sluman has two books with Nine Arches: Absence has a weight of its own (2012) and The Terrible (2015).
Stairs and Whispers:
D/deaf and Disabled Poets Write Back
Edited by Sandra Alland, Khairani Barokka & Daniel Sluman
Paperback
264 pages
Publisher: Nine Arches Press
2017
Language: English
ISBN-10: 1911027190
ISBN-13: 978-1911027195
Product Dimensions: 13.8 x 1 x 21.6 cm
eBook: Available at Amazon Kindle Store from September 2017
Discover the audio content that accompanies this book available on Soundcloud
Discover the video content that accompanies this book on Youtube
Price: £14.99
More information on website Nine Arches Press   (http://ninearchespress.com/)

# more books
Stairs and Whispers:
D/deaf and Disabled Poets Write Back
fleursdumal.nl magazine
More in: #Editors Choice Archiv, #More Poetry Archives, - Audiobooks, - Book News, - Book Stories, Art & Literature News, AUDIO, CINEMA, RADIO & TV, The Art of Reading
---
An indispensable anthology of brilliant hard-to-find writings by Poe on poetry, the imagination, humor, and the sublime which adds a new dimension to his stature as a speculative thinker and philosopher. Essays (in translation) by Charles Baudelaire, Stéphane Mallarmé, Paul Valéry, & André Breton shed light on Poe's relevance within European literary tradition.
These are the arcana of Edgar Allan Poe: writings on wit, humor, dreams, drunkenness, genius, madness, and apocalypse. Here is the mind of Poe at its most colorful, its most incisive, and its most exceptional.
Edgar Allan Poe's dark, melodic poems and tales of terror and detection are known to readers everywhere, but few are familiar with his cogent literary criticism, or his speculative thinking in science, psychology or philosophy. This book is an attempt to present his lesser known, out of print, or hard to find writings in a single volume, with emphasis on the theoretical and esoteric. The second part, "The Friend View," includes seminal essays by Poe's famous admirers in France, clarifying his international literary importance.
America has never seen such a personage as Edgar Allan Poe. He is a figure who appears once an epoch, before passing into myth. American critics from Henry James to T. S. Eliot have disparaged and attempted to explain away his influence to no end, save to perpetuate his fame. Even the disdainful Eliot once conceded, "and yet one cannot be sure that one's own writing has not been influence by Poe."
Edgar Allan Poe (1809-1849), born in Boston, Massachusetts, was an American poet, writer, editor, and literary critic. He is well known for his haunting poetry and mysterious short stories. Regarded as being a central figure of Romanticism, he is also considered the inventor of detective fiction and the growing science fiction genre. Some of his most famous works include poems such as The Raven, Annabel Lee, and A Dream Within a Dream; tales such as The Cask of Amontillado, The Masque of Red Death, and The Tell-Tale Heart.
Title: The Unknown Poe
Subtitle: An Anthology of Fugitive Writings
Author: Edgar Allan Poe
Edited by Raymond Foye
Publisher: City Lights Publishers
Format: Paperback
124 pages
1980
ISBN-10 0872861104
ISBN-13 9780872861107
List Price $11.95
# American writers
Edgar Allan Poe
fleursdumal.nl magazine
More in: - Book Lovers, - Book Stories, Archive O-P, Archive O-P, Art & Literature News, Edgar Allan Poe, Poe, Edgar Allan, Poe, Edgar Allan, Tales of Mystery & Imagination
---
Die Vielfalt von Rainer Maria Rilkes (1875 bis 1926) Lebensstationen spiegelt sich im Werk des "letzten Dichters" wider.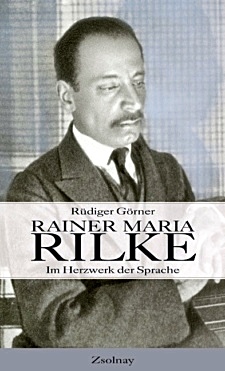 In dieser kompakten Darstellung folgt Rüdiger Görner Rilkes Spuren, verwehrt sich aber den gängigen Einordnungen und Periodisierungen. Es geht ihm vielmehr um den Prozess des Schaffens und um die Geschlossenheit des Werkes.
Görner zeigt Rilke in seiner Zeit und analysiert die wichtigsten Einflüsse. Auf behutsame Weise werden Leben und Werk miteinander verwoben, und Görner veranschaulicht die Wirkung der Musik, der bildenden Kunst und der Politik.
Rüdiger Görner, geboren 1957 in Rottweil, ist Professor für Neuere Deutsche und vergleichende Literatur an der Queen Mary University of London. Gründer des Ingeborg Bachmann Centre for Austrian Literature und Gründungsdirektor des Centre for Anglo-German Cultural Relations. Träger des Deutschen Sprachpreises, des Reimar Lüstpreises der Alexander von Humboldt-Stiftung und des Verdienstordens der Bundesrepublik Deutschland. Bei Zsolnay erschienen Rainer Maria Rilke. Im Herzwerk der Sprache (2004), Georg Trakl. Dichter im Jahrzehnt der Extreme (2014) und Oskar Kokoschka. Jahrhundertkünstler (2018).
Rüdiger Görner
Rainer Maria Rilke.
Im Herzwerk der Sprache
Buch – Fester Einband
344 Seiten
Deutscher Sprache
Zsolnay / Deuticke
Carl Hanser Verlag, München
ISBN 978-3-552-05302-1
2004
€24,90
# new books
Rainer Maria Rilke
fleursdumal.nl magazine
More in: - Book News, - Book Stories, Archive G-H, Archive Q-R, Art & Literature News, Rilke, Rainer Maria
---
Artaud, poète de la survie et de la sur-vie ?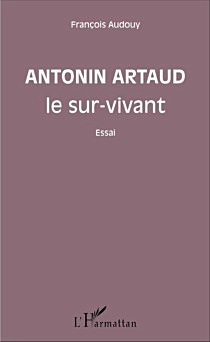 C'est l'angle d'approche de cet essai, qui revisite cet être hors-normes et haut en couleurs.
L'impatient patient Artaud se trouve ici confronté à ses foisonnantes références, religieuses et philosophiques, remis dans son contexte actuel, attaqué et fouillé au corps pour en extraire sa substantifique moelle : celle d'un nouveau-né éternel, d'un trompe-la-mort, d'un tueur de verbe. D'un sur-vivant.
Antonin Artaud, de son vrai nom Antoine Marie Joseph Artaud, est né à Marseille le 4 septembre 1896 et mort à Ivry-sur-Seine le 4 mars 1948. Poète, romancier, acteur, dessinateur, dramaturge et théoricien du théâtre. Dans son essai Le Théâtre et son double, Artaud invente le concept du "théâtre de la cruauté"
François Audouy
Antonin Artaud le sur-vivant.
Essai
Broché
Editions L'Harmattan Paris
Format : 13,5 x 21,5 cm
ISBN : 978-2-343-09048-1
2016
92 pages
€ 12,00
# new books
Antonin Artaud le sur-vivant
fleursdumal.nl magazine
More in: - Book Stories, Antonin Artaud, Archive A-B, Archive A-B, Artaud, Antonin, AUDIO, CINEMA, RADIO & TV, Psychiatric hospitals, THEATRE
---
Older Entries »
Thank you for reading FLEURSDUMAL.NL - magazine for art & literature