– Book Stories
«« Previous page
·
Lawrence Ferlinghetti (100 years old on March 24) with new novel: Little Boy
·
Poetic Salvage. Reading Mina Loy by Tara Prescott
·
The Kiss: Intimacies from Writers
·
In de man zit nog een jongen. Willem Wilmink – De biografie door Elsbeth Etty
·
Franz Kafka, the Eternal Son. A Biography by Peter-André Alt
·
Koos Meinderts: De schelmenstreken van Reinaert de Vos
·
Deathwatch by Jean Genet
·
Yugoslavia: Peace, War, and Dissolution by Noam Chomsky
·
Martin Rowson: Pastrami Faced Racist
·
The Annotated Prison Writings of Oscar Wilde
·
Norman Mailer: Four Books of the 1960s
·
This is Not the End of the Book by Umberto Eco & Jean-Claude Carrière
Lawrence Ferlinghetti, poet and founder of City Lights Books (San Francisco), author of A Coney Island of the Mind and Pictures of the Gone World, among numerous other books, has been drawing from life since his student days in Paris where he frequented the Academie Julien and where he did his first oil painting.
Little Boy
A Novel
Lawrence Ferlinghetti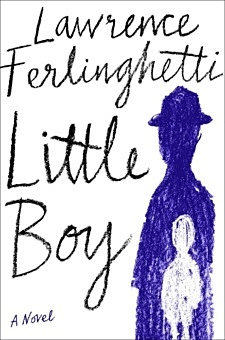 In this unapologetically unclassifiable work Lawrence Ferlinghetti lets loose an exhilarating rush of language to craft what might be termed a closing statement about his highly significant and productive 99 years on this planet.
The "Little Boy" of the title is Ferlinghetti himself as a child, shuffled from his overburdened mother to his French aunt to foster childhood with a rich Bronxville family. Service in World War Two (including the D-Day landing), graduate work, and a scholar gypsy's vagabond life in Paris followed.
These biographical reminiscences are interweaved with Allen Ginsberg-esque high energy bursts of raw emotion, rumination, reflection, reminiscence and prognostication on what we may face as a species on Planet Earth in the future. Little Boy is a magical font of literary lore with allusions galore, a final repository of hard-earned and durable wisdom, a compositional high wire act without a net (or all that much punctuation) and just a gas and an inspiration to read.
"Publisher-poet Lawrence Ferlinghetti's next book, due out less than a week before his 100th birthday, has been dubbed a 'closing statement' on an almost impossibly fecund life, and an energetic take on what the near future might hold in store for the rest of us… He was and continues to be a reticent cultural gatekeeper, an unassuming curator."—Lit Hub, "Most Anticipated Books of 2019"
Title Little Boy
Subtitle A Novel
Author Lawrence Ferlinghetti
Publisher Doubleday
Format Hardcover
ISBN-10 0385544782
ISBN-13 9780385544788
Publication Date 19 March 2019
192 pages
$24.00
LAWRENCE FERLINGHETTI was born in Yonkers, New York in 1919. Founder of the famed City Lights Booksellers and Publishers, he is an activist, painter, and author of numerous works of poetry, prose, and drama. His A Coney Island of the Mind is one of the bestselling poetry books of all time. Among his many honors are the Los Angeles Times' Robert Kirsch Award, the NBCC's Ivan Sandrof Award, and the ACLU's Earl Warren Civil Liberties Award. He is also a Commander of the French Order of Arts and Letters. He lives in San Francisco, close by to the bookstore he founded.
# new books
Lawrence Ferlinghetti
Little Boy. A Novel
Lawrence Ferlinghetti 100 years
on March 24, 2019
more on:  #Ferlinghetti100
• fleursdumal.nl magazine
More in: #Beat Generation Archives, - Book News, - Book Stories, - Bookstores, Archive E-F, Art & Literature News
---
Mina Loy (1882 – 1966)—poet, artist, exile, and luminary—was a prominent and admired figure in the art and literary circles of Paris, Florence, and New York in the early years of the twentieth century.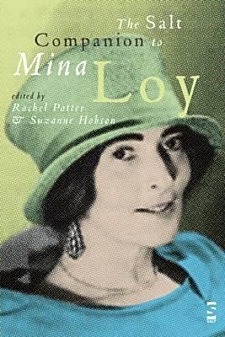 But over time, she gradually receded from public consciousness and her poetry went out of print.
As part of the movement to introduce the work of this cryptic poet to modern audiences, Poetic Salvage: Reading Mina Loy provides new and detailed explications of Loy's most redolent poems.
This book helps readers gain a better understanding of the body of Loy's work as a whole by offering compelling close readings that uncover the source materials that inspired Loy's poetry, including modern artwork, Baedeker travel guides, and even long-forgotten cultural venues.
Helpfully keyed to the contents of Loy's Lost Lunar Baedeker, edited by Roger Conover, this book is an essential aid for new readers and scholars alike. Mina Loy forged a legacy worthy of serious consideration—through a practice best understood as salvage work, of reclaiming what has been so long obscured.
Poetic Salvage: Reading Mina Loy dives deep to bring hidden treasures to the surface.
Tara Prescott is a lecturer in writing programs at the University of California, Los Angeles.
Poetic Salvage.
Reading Mina Loy
by Tara Prescott
Hardcover
292 pages
Publisher: Bucknell University Press
Language: English
Literature & Fiction
ISBN-10: 1611488125
ISBN-13: 978-1611488128
2016
$76.80
# New books
Poetic Salvage
Reading Mina Loy
Tara Prescott
• fleursdumal.nl magazine
More in: - Book Lovers, - Book Stories, Archive K-L, Archive K-L, Futurism, Loy, Mina
---
A deliciously diverse anthology of essays, stories, poems, and graphic memoirs, where writers explore the deeply human act of kissing.
Kisses from Nick Flynn, Rebecca Makkai, Pico Iyer, Ilyse Kusnetz, Andre Dubus III, Christian Kiefer, Camille T. Dungy, Major Jackson, Bich Minh Nguyen, Terrance Hayes, Ada Limón, Honor Moore, Téa Obreht and Dan Sheehan, Kazim Ali, Beth Ann Fennelly, and others.
In this wide-ranging collection of essays, stories, graphic memoir, and cross-genre work, writers explore the deeply human act of kissing, and share their thoughts on a specific kiss—the unexpected and unforgettable, the sublime and the ambiguous, the devastating and the regenerative. Selections from beloved authors "tantalize with such grace that they linger sweetly in your mind for days" (New York Times Book Review), as they explore the messy and complicated intimacies that exist in our actual lives, as well as in the complicated landscape of the imagination.
This is a book meant to be read from cover to cover, just as much as it's meant to be dipped into—with each kiss pulling us closer to the moments in our lives that matter most.
From Sioux Falls to Khartoum, from Kyoto to Reykjavik; from the panchayat forests of India to the Giant's Causeway on the coast of Northern Ireland; in taxis and at bus stops, in kitchens and sleigh beds, haystacks and airports around the globe—people are kissing one another.
The sublime kiss. The ambiguous kiss. The devastating kiss. The kiss we can't take back. The kiss we can never give. The kiss that changes a life. In this anthology, writers and thinkers share their thoughts on a specific kiss—the unexpected and unforgettable—in an attempt to bridge the gulf, to connect us to one another on a deeply human level, and to explore the messy and complicated intimacies that exist in our actual lives, as well as in the complicated landscape of the imagination.
Sparked and developed from a series curated for Guernica by editor Brian Turner, this is a book meant to be read from cover to cover, just as much as it's meant to be dipped into—with each kiss pulling us closer to the moments in our lives that matter most.
Brian Turner is the author of the memoir My Life as a Foreign Country and the poetry collections Here, Bullet and Phantom Noise. He directs the low-residency MFA at Sierra Nevada College. The Kiss was conceived with his late wife, the acclaimed poet Ilyse Kusnetz, to whom it is dedicated. It was developed from a series he curated for Guernica.
Contributors: Kim Addonizio – Kazim Ali – J. Mae Barizo – Laure-Anne Bosselaar – Kurt Brown – Nickole Brown – Benjamin Busch – Brian Castner – Tina Chang – Steven Church – Adam Dalva – Mark Doty – Andre Dubus III – Camille T. Dungy – Martín Espada – Dave Essinger – Siobhan Fallon – Beth Ann Fennelly – Nick Flynn – Kimiko Hahn – Cameron Dezen Hammon – Terrance Hayes – Pico Iyer – Major Jackson – Lacy M. Johnson – Christian Kiefer – Matthew Komatsu – Ilyse Kusnetz – Ada Limón – Rebecca Makkai – John Mauk – Christopher Merrill – Philip Metres – Kathryn Miles – Dinty W. Moore – Honor Moore – Aimee Nezhukumatathil – Bich Minh Nguyen – Téa Obreht – Kristen Radtke – Suzanne Roberts – Roxana Robinson – Schafer John c – Dan Sheehan – Tom Sleigh – Patricia Smith – Ira Sukrungurang – Christopher Paul Wolfe – Sholeh Wolpé
The Kiss:
Intimacies from Writers
by Brian Turner (Editor)
Paperback
Pages: 256
ISBN-13: 9780393356885
Publisher: Norton, W. W. & Company, Inc.
Available in paperback on February 12, 2019
$15.71
# New books
The Kiss:
Intimacies from Writers
• fleursdumal.nl magazine
More in: - Book Lovers, - Book Stories, - Bookstores, Archive S-T, Art & Literature News, Invisible poetry, Natural history
---
Willem Wilmink (1936-2003) is een van de meest geliefde dichters van Nederland.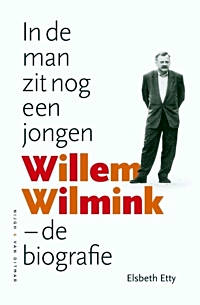 Zijn eenvoudige maar treffende gedichten en liedjes, veelal geschreven voor legendarische tv-programma's als De Stratemakeropzeeshow, J.J. de Bom en De film van Ome Willem, spreken iedereen aan. 'De oude school', 'Deze vuist op deze vuist' en 'Ben Ali Libi' behoren tot de canon van de Nederlandse literatuur. Hetzelfde geldt voor Wilminks hertalingen van Middeleeuwse klassiekers. Hij was een groot kenner van poëzie uit alle tijdvakken en in al haar verschijningsvormen.
Zijn werk is doortrokken van heimwee naar een veilige kinderwereld die nooit heeft bestaan. Naar eigen zeggen is Wilmink altijd elf jaar gebleven, wat aanvankelijk zijn loopbaan en privéleven ernstig frustreerde, maar tegelijkertijd zijn poëtische kapitaal bleek. Met humor en zelfspot maakte hij zijn lange tijd door miskenning en afwijzing getekende leven leefbaar.
Voor In de man zit nog een jongen sprak neerlandicus en journalist Elsbeth Etty met tientallen tijdgenoten en intimi van Wilmink. Het resultaat is een intiem en niets verhullend portret.
Elsbeth Etty (1951) is literair criticus, columnist en voormalig bijzonder hoogleraar literaire kritiek. Ze publiceerde o.a. verschillende essay- en columnbundels. Voor Liefde is heel het leven niet, haar biografie van Henriette Roland Holst, werd ze genomineerd voor de AKO Literatuurprijs en bekroond met de Gouden Uil en de Busken Huetprijs.
In de man zit nog een jongen
Willem Wilmink – De biografie
Auteur: Elsbeth Etty
Uitgeverij: Nijgh & van Ditmar
NUR: 321
Taal Nederlands
Bladzijden 552 pp.
Bindwijze Hardcover
ISBN: 9789038806112
Publicatiedatum: 22-01-2019
Prijs: € 34,99
# New books
Willem Wilmink – De biografie
Auteur: Elsbeth Etty
• fleursdumal.nl magazine
More in: #Biography Archives, - Book News, - Book Stories, - Bookstores, Archive E-F, Archive W-X, Archive W-X, Art & Literature News, Willem Wilmink
---
Franz Kafka remains one of the most influential writers of the twentieth century.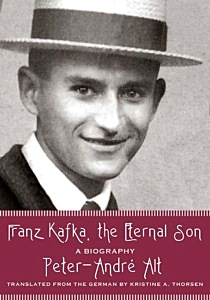 His novels, stories, and letters are still regarded today as the epitome of the dark, fascinating, and uncanny, a model of the modernist aesthetic.
Peter-André Alt's landmark biography, Franz Kafka, the Eternal Son, recounts and explores Kafka's life and literary work throughout the cultural and political upheavals of central Europe.
Alt's biography explores Franz Kafka's own view of life and writing as a unity that shaped his identity. He locates links and echoes among the author's work, life, and surroundings, situating him within the traditions of Prague's German literature, modernity, psychoanalysis, and philosophy as well as within its Jewish culture, arts, theater, and intellectual tradition.
In this biographical tour de force, Kafka emerges as an observant flaneur and wistful loner, an anxious ascetic, an ecstatic and skeptic, a specialist in terror, and a master of irony. Alt masterfully illuminates Kafka's life not as source material but as a mirror of his literary genius. Readers begin to see Kafka's unforgettable novels and stories as shards reflecting the life of their creator.
About the Author
Peter-André André Alt is a German literary scholar and the president of the Free University in Berlin.
Kristine A, Thorsen is a lecturer emeritus of German at Northwestern University.
Franz Kafka, the Eternal Son
A Biography
Contributors
Peter-André Alt (Author)
Kristine Thorsen (Translator)
Publication Date September 2018
Categories Biography
704 pages
Trim Size 7 x 10
ISBN 0-8101-2607-9
Northwestern University Press
-Cloth Text
– $120.00
ISBN 978-0-8101-6243-3
-Paper Text
– $45.00
ISBN 978-0-8101-2607-7
# new books
Franz Kafka
A Biography
• fleursdumal.nl magazine
More in: - Book News, - Book Stories, Archive A-B, Archive K-L, Archive K-L, Art & Literature News, Franz Kafka, Kafka, Franz, Kafka, Franz, MONTAIGNE
---
Terwijl Reinaert de Vos tijdens het monopoly-spelen met zijn kinderen stiekem een briefje van duizend uit de bank jatte en zich te goed deed aan een kipkluifje, verklaarde Koning Nobel in de paleistuin de jaarlijkse Hofdag voor geopend.
Met de opening van de Hofdag opent ook de fonkelende bewerking die Koos Meinderts maakte van het bekendste epos uit de Middelnederlandse literatuur: Van den Vos Reynaerde.
In achttien hoofdstukken verhaalt Meinderts over de belevenissen van de geslepen vos Reinaert en zijn beklagenswaardige tegenspelers, waaronder Tibeert de Kater, Bruun de Beer en Cuwaert de Haas. Elk hoofdstuk werd geïllustreerd door een vooraanstaand kinderboekillustrator.
Koos Meinderts:
De schelmenstreken van Reinaert de Vos
1e druk
EAN: 978 90 8967 273 5
NUR: 274
Verschenen 12-11-2018
Formaat: 23,5 x 27 cm
48 bladzijden
Gebondend
Bindwijze Hardcover
Genre Kinderboeken
Uitgever Hoogland & Van Klaveren, Uitgeverij
Taal Nederlands
Illustraties Charlotte Dematons e.a.
Prijs: € 17,50
# New books
Koos Meinderts
Reinaert de Vos
• fleursdumal.nl magazine
More in: - Book News, - Book Stories, Archive M-N, Archive Q-R, Archive Q-R, Art & Literature News, Grimm, Andersen e.o.: Fables, Fairy Tales & Stories
---
Deathwatch, Jean Genet's earliest, shortest and most formally straightforward play, was first performed in Paris in 1949.
It retains an intense power and makes an excellent introduction to his later dramas – The Maids, The Balcony, The Blacks, The Screens. The French text of Deathwatch, published by Gallimard, was extensively altered by Genet during rehearsal; and Bernard Frechtman's translation is of the final 'performance' version, which supersedes the original published text.Three convicts share a cramped prison cell.
There is no question as to which of them is the dominant dog in the pack: Green Eyes (Yeux-Verts) has brutally murdered a woman and is to be executed.
Lefranc and the younger novice-like Maurice are inside for less grave crimes. But both of them covet Green Eyes' attention, baiting each other in the process, a duel that drives inexorably toward violence
Three young convicts share a cell. Locked into a world of dangerous rivalries, criminals Lefranc and Maurice compete for the attention of the charismatic condemned man, Green-Eyes.
Informed by his own experience in French prisons, Jean Genet's first play, Deathwatch is an explosive exploration of the inversion of moral order.
Genet was one of the most prominent and provocative writers of the twentieth century.
Jean Genet's Deathwatch premiered in this translation by David Rudkin with the Royal Shakespeare Company in 1987 and was revived at the Print Room, London, in April 2016.
Jean Genet was born in Paris in 1910. An illegitimate child who never knew his parents, he was abandoned to the Public Assistance Authorities. He was ten when he was sent to a reformatory for stealing; thereafter he spent time in the prisons of nearly every country he visited in thirty years of prowling through the European underworld. With ten convictions for theft in France to his credit he was, the eleventh time, condemned to life imprisonment. Eventually he was granted a pardon by President Auriol as a result of appeals from France's leading artists and writers led by Jean Cocteau. His first novel, Our Lady of the Flowers, was written while he was in prison, followed by Miracle of the Rose, the autobiographical The Thief's Journal, Querelle of Brest and Funeral Rites. He wrote six plays: The Balcony, The Blacks, The Screens, The Maids, Deathwatch and Splendid's (the manuscript of which was rediscovered only in 1993). Jean Genet died in 1986.
Deathwatch
by Jean Genet
English
Translated by David Rudkin
Play
Faber & Faber
Paperback
64 pages
2016
ISBN 9780571332618
£9.99

# more books
Deathwatch by Jean Genet
• fleursdumal.nl
More in: - Book Lovers, - Book Stories, Archive G-H, Art & Literature News, AUDIO, CINEMA, RADIO & TV, CRIME & PUNISHMENT, Jean Genet, THEATRE
---
The Balkans, in particular the turbulent ex-Yugoslav territory, have been among the most important world regions in Noam Chomsky's political reflections and activism for decades.

His articles, public talks, and correspondence have provided a critical voice on political and social issues crucial not only to the region but the entire international community, including "humanitarian intervention," the relevance of international law in today's politics, media manipulations, and economic crisis as a means of political control.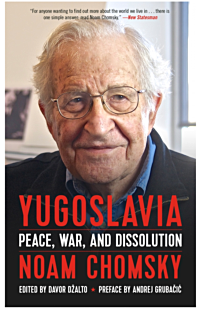 This volume provides a comprehensive survey of virtually all of Chomsky's texts and public talks that focus on the region of the former Yugoslavia, from the 1970s to the present. With numerous articles and interviews, this collection presents a wealth of materials appearing in book form for the first time along with reflections on events twenty-five years after the official end of communist Yugoslavia and the beginning of the war in Bosnia.
The book opens with a personal and wide-ranging preface by Andrej Grubačić that affirms the ongoing importance of Yugoslav history and identity, providing a context for understanding Yugoslavia as an experiment in self-management, antifascism, and mutlethnic coexistence.
Noam Chomsky (1928) is Institute Professor in the Department of Linguistics and Philosophy at the Massachusetts Institute of Technology, Boston. A member of the American Academy of Science, he has published widely in both linguistics and current affairs. His books include At War with Asia, Towards a New Cold War, Fateful Triangle: The U. S., Israel and the Palestinians, Necessary Illusions, Hegemony or Survival, Deterring Democracy, Failed States: The Abuse of Power and the Assault on Democracy and Manufacturing Consent: The Political Economy of the Mass Media.
Title: Yugoslavia: Peace, War, and Dissolution
Author: Noam Chomsky
Edited by Davor Džalto
Preface by Andrej Grubačić
Subjects: Politics / History-Europe
Publisher: PM Press
ISBN: 978-1-62963-442-5
Published: 04/2018
Language: English
Format: Paperback
Size: 6×9
240 pages
$15.63
# new books
Noam Chomsky
Yugoslavia: Peace, War, and Dissolution
• fleursdumal.nl magazine
More in: - Book News, - Book Stories, Archive C-D, AUDIO, CINEMA, RADIO & TV, MONTAIGNE, Noam Chomsky, WAR & PEACE
---
Undeterred by the embarrassing success of his ridiculous four-volume verse epic The Limerickiad, award-winning cartoonist Martin Rowson continues to lower the tone with a series of metrical rants and cautionary tales about contemporary political and literary life.
Accompanied by the ghosts of Chesterton, Shelley, Burns and Browning, Rowson casts his gaze across the satirical spectrum from governments, gammon-faced racists, class war, nationalism and the harsh realities of child rearing to the world of literary festivals, international book fairs, best-sellers, book-launches, holiday reading lists, bottom lines, liggers, bloggers, blaggers, book-signings and book-burnings.
Martin Rowson is an award-winning cartoonist whose work appears regularly in The Guardian, The Independent on Sunday, The Daily Mirror, The Morning Star and many other publications.
His books include graphic adaptations of The Waste Land, Tristram Shandy and Gulliver's Travels. Among his other books are Snatches, The Dog Allusion, Fuck, Stuff (long-listed for the Samuel Johnson Prize) and four volumes of The Limerickiad. His most recent book is The Communist Manifesto: A Graphic Novel.
Martin Rowson
Pastrami Faced Racist
Published by Smokestack Books
Release date: 01 Nov. 2018
Language: English
Paperback
84 pages
ISBN-10: 1999827686
ISBN-13: 978-1999827687
£8.99
# new books
Martin Rowson
Pastrami Faced Racist
• fleursdumal.nl magazine
More in: - Book News, - Book Stories, Archive Q-R, Archive Q-R, Art & Literature News, Illustrators, Illustration
---
"And I? May I say nothing, my lord?" With these words, Oscar Wilde's courtroom trials came to a close. The lord in question, High Court justice Sir Alfred Wills, sent Wilde to the cells, sentenced to two years in prison with hard labor for the crime of "gross indecency" with other men.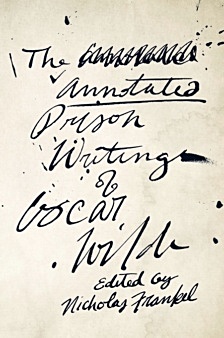 As cries of "shame" emanated from the gallery, the convicted aesthete was roundly silenced.
But he did not remain so. Behind bars and in the period immediately after his release, Wilde wrote two of his most powerful works—the long autobiographical letter De Profundis and an expansive best-selling poem, The Ballad of Reading Gaol.
In The Annotated Prison Writings of Oscar Wilde, Nicholas Frankel collects these and other prison writings, accompanied by historical illustrations and his rich facing-page annotations. As Frankel shows, Wilde experienced prison conditions designed to break even the toughest spirit, and yet his writings from this period display an imaginative and verbal brilliance left largely intact.
Wilde also remained politically steadfast, determined that his writings should inspire improvements to Victorian England's grotesque regimes of punishment. But while his reformist impulse spoke to his moment, Wilde also wrote for eternity.
At once a savage indictment of the society that jailed him and a moving testimony to private sufferings, Wilde's prison writings—illuminated by Frankel's extensive notes—reveal a very different man from the famous dandy and aesthete who shocked and amused the English-speaking world.
Nicholas Frankel is Professor of English at Virginia Commonwealth University.
"Frankel provides a valuable service in comprehensively editing these works for a fresh generation of readers." — Joseph Bristow, University of California, Los Angeles
The Annotated Prison Writings of Oscar Wilde
Oscar Wilde
Edited by Nicholas Frankel
Harvard University Press
Paperback
408 pages
Publication: May 2018
ISBN 9780674984387
€17.00
# more books
The Annotated Prison Writings of Oscar Wilde
-Clemency Petition to the Home Secretary, 2 July 1896
-De Profundis
-Letter to the Daily Chronicle, 27 May 1897
-The Ballad of Reading Gaol
-Letter to the Daily Chronicle, 23 March 1898
• fleursdumal.nl magazine
More in: - Book News, - Book Stories, Archive W-X, Archive W-X, Art & Literature News, CRIME & PUNISHMENT, REPRESSION OF WRITERS, JOURNALISTS & ARTISTS, Wilde, Oscar, Wilde, Oscar
---
No writer plunged more vigorously into the chaotic energies of the 1960s than Norman Mailer, fearlessly revolutionizing literary norms and genres to capture the decade's political, social, and sexual explosions.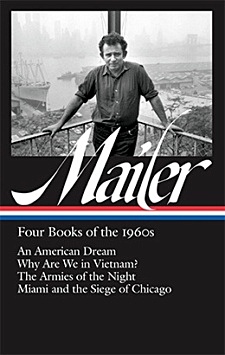 Declaring himself to have "the mind of an outlaw," he adhered closely to his own vision of what it meant to be a writer.
In a way uniquely his own, he merged the public and the private, the personal and the political, taking risks with every sentence. Here, for the first time in a single volume, are four of his most extraordinary works.
War hero, television star, existential hipster, seducer, murderer: such is Stephen Rojack, the hero of An American Dream (1965), Mailer's hallucinatory voyage through the dark night of an America awash in money, sex, and violence.
Mailer challenged himself by serializing the book while he was still writing it, an approach he compared to "ten-second chess." The result is a fever dream of a novel, navigating through the most extreme fears and fantasies of a culture hooked on power.
In Why Are We in Vietnam? (1967) a motor-mouthed eighteen-year-old Texan on the eve of military service recounts an exclusive grizzly bear hunt in Alaska with an obscene exuberance that finally comes close to horror. Although the word "Vietnam" appears only on the book's final page, the whole work is imbued with a sense of frantic bloodthirstiness that exposes the macho roots of the war.
With the acclaimed "non-fiction novel" The Armies of the Night (1968), an account of the October 1967 anti-Vietnam War march on the Pentagon, Mailer brought a new approach to journalism, casting himself ("he would have been admirable, except that he was an absolute egomaniac, a Beast") as a player in the drama as he reported, alongside a stunning gallery of student activists, politicians, intellectuals, and policemen. Winning both the Pulitzer Prize and National Book Award, The Armies of the Night immediately established itself as an essential record of its moment.
In Miami and the Siege of Chicago (1968) Mailer continued his eyewitness chronicle of American political life, embedding himself at the 1968 Republican and Democratic presidential conventions and drawing unforgettable portraits of Richard Nixon, Nelson Rockefeller, Lyndon Johnson, Eugene McCarthy, and many others. His reading of the nation's political undercurrents continues to surprise with its relevance.
J. Michael Lennon, editor, emeritus professor of English at Wilkes University, is Norman Mailer's archivist, editor, and authorized biographer, and president of the Norman Mailer Society. His books include Norman Mailer: A Double Life (2013) and Selected Letters of Norman Mailer (2014).
This Library of America series edition is printed on acid-free paper and features Smyth-sewn binding, a full cloth cover, and a ribbon marker.
Norman Mailer: Four Books of the 1960s (LOA #305):
-An American Dream
-Why Are We in Vietnam?
-The Armies of the Night
-Miami and the Siege of Chicago
Hardcover
March 13, 2018
by Norman Mailer (Author)
J. Michael Lennon (Editor)
937 pages
ISBN: 978-1-59853-558-7
Library of America Series
N° 305
LOA books are distributed worldwide by Penguin Random House
List Price: $45.00
LIBRARY OF AMERICA is an independent nonprofit cultural organization founded in 1979 to preserve our nation's literary heritage by publishing, and keeping permanently in print, America's best and most significant writing. The Library of America series includes more than 300 volumes to date, authoritative editions that average 1,000 pages in length, feature cloth covers, sewn bindings, and ribbon markers, and are printed on premium acid-free paper that will last for centuries.
# new books
Norman Mailer:
Four Books of the 1960s (LOA #305):
-An American Dream
-Why Are We in Vietnam?
-The Armies of the Night
-Miami and the Siege of Chicago
• fleursdumal.nl magazine
More in: - Book Lovers, - Book Stories, Archive M-N, Art & Literature News, Norman Mailer, WAR & PEACE
---
The perfect gift for book lovers: a beautifully designed hardcover in which two of the world's great men have a delightfully rambling conversation about the future of the book in the digital era, and decide it is here to stay.
'The book is like the spoon: once invented, it cannot be bettered.' Umberto Eco These days it is almost impossible to get away from discussions of whether the 'book' will survive the digital revolution.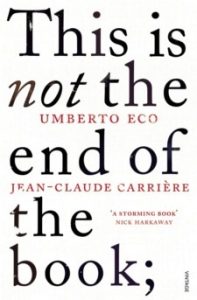 Blogs, tweets and newspaper articles on the subject appear daily, many of them repetitive, most of them admitting they don't know what will happen. Amidst the twittering, the thoughts of Jean-Claude Carrière and Umberto Eco come as a breath of fresh air. There are few people better placed to discuss the past, present and future of the book. Both avid book collectors with a deep understanding of history, they have explored through their work the many and varied ways ideas have been represented through the ages.
This thought-provoking book takes the form of a long conversation in which Carrière and Eco discuss everything from what can be defined as the first book to what is happening to knowledge now that infinite amounts of information are available at the click of a mouse. En route there are delightful digressions into personal anecdote. We find out about Eco's first computer and the book Carrière is most sad to have sold.
Readers will close this entertaining book feeling they have had the privilege of eavesdropping on an intimate discussion between two great minds. And while, as Carrière says, the one certain thing about the future is that it is unpredictable, it is clear from this conversation that, in some form or other, the book will survive.
Umberto Eco (1932–2016) wrote fiction, literary criticism and philosophy. His first novel, The Name of the Rose, was a major international bestseller. His other works include Foucault's Pendulum, The Island of the Day Before, Baudolino, The Mysterious Flame of Queen Loana, The Prague Cemetery and Numero Zero along with many brilliant collections of essays.
Jean-Claude Carrière is a writer, playwright and screenwriter. He is notably the co-author of Conversations About the End of Time (with Stephen Jay Gould, Umberto Eco, etc.) He has also worked with Peter Brook, Milos Forman, Buñuel, Godard and the Dalaï Lama.
This is Not the End of the Book
A conversation curated by Jean-Philippe de Tonnac
By Umberto Eco, Jean-Claude Carrière
Language & Literary Studies
Paperback
ISBN 9780099552451
2012
Vintage Publ.
352 pages
$24.99
# new books
This is Not the End of the Book
Umberto Eco & Jean-Claude Carrière
fleursdumal.nl magazine
More in: - Book Lovers, - Book News, - Book Stories, - Bookstores, Archive C-D, Archive E-F, Art & Literature News, The Art of Reading, Umberto Eco
---
Older Entries »
« Newer Entries
Thank you for reading FLEURSDUMAL.NL - magazine for art & literature