DICTIONARY OF IDEAS
«« Previous page
·
Museum Dr. GUISLAIN: Een andere wereld. Laboratorium van waan en fantasie
·
INCUBATE – 10/11 December 2016 – an annual celebration of cutting-edge culture
·
NEXUS-CONFERTENTIE 2016: What Will Save the World?'
·
CARINA VAN DER WALT ESSAY: JEROEN BOSCH SE SKILDERYE
·
REPORTER'S MEMORIAL BAYEUX (FR) TENTH ANNIVERSARY
·
THE BAYEUX-CALVADOS AWARD FOR WAR CORRESPONDENTS 2016
·
CODA MUSEUM: WHAT REMAINS – TUSSEN SCHOONHEID EN VERVAL
·
EXHIBITION BEAT GENERATION IN CENTRE POMPIDOU
·
BEAUTY OVERDOSE – BEAUTY WITHOUT IRONY – IN KASTEEL STERCKSHOF ANWERPEN
·
TOM AMERICA: THAT TINY PEA (pretty and blue)
·
WONDERBOX, EEN REIZEND MUSEUM VAN STICHTING LORENZETTI
·
TEYLERS MUSEUM HAARLEM: DE LUCHTBALLON
Waar ligt de grens tussen fantasie en werkelijkheid? Hoe onderscheid je droom van delirium, waan van wens, hallucinatie van inzicht? Op welke manier kan je onderzoeken of verbeelden wat zich ergens anders afspeelt? De tentoonstelling neemt, vertrekkend van de vele vragen rond psychose, hallucinatie en waan, twee eeuwen in ogenschouw. Niet om een historisch verhaal te vertellen, maar om uit die periode vijf eigenzinnige oeuvres te lichten die balanceren tussen kunst, kunde en wetenschap. J.J. Grandville, Gustav Mesmer, Gerard Heymans, Jean Perdrizet en Mathew Kneebone schiepen of brachten elk een ander universum in kaart en trachtten zo het ongrijpbare op hun eigen manier te vatten. Het zijn werelden waarin potloden wandelen, fietsen zweven, de afstand tussen twee evenwijdige lijnen variabel is, typemachines in contact staan met de overledenen en straatlichten stoppen met schijnen wanneer je er voorbijwandelt. Een andere wereld creëert passages: van deze naar de andere, tussen die andere onderling, en – misschien – ook van die andere terug naar deze wereld.
Een andere wereld
Laboratorium van waan en fantasie
22.10.16 – 28.05.17
Museum Dr. Guislain
Jozef Guislainstraat 43
B-9000 Gent
+32 (0)9 216 35 95
info@museumdrguislain.be
# meer informatie op website Museum Dr. Guislain
fleursdumal.nl magazine
More in: Art & Literature News, DICTIONARY OF IDEAS, Exhibition Archive, Psychiatric hospitals, Spurensicherung
---

Incubate is the annual celebration of cutting-edge culture. It is a festival exhibiting a diverse view on indie culture as a whole, including music, visual arts, film and contemporary theater, and a conference. For the upcoming December edition it brings more than 40+ cutting edge artists in an intimate context to an international audience. Black metal next to free jazz. Refreshing art next to innovating indie games.
Incubate takes place troughout more than fifteen venues in the inner-city of Tilburg.
Incubate – 10/11 December 2016
Incubate Zero is the part of the programme that is FREE for all to attend. A little taste of the festival so you can decide if you want more. After the success of the previous Incubate Zero programmes, we're proud to host another free offering of artists. So make sure to bring your friends and family and check out these acts!
On December 11th, everyone can enjoy some of the best new acts from the European underground. Divided over venues Cul de Sac and Kim's Kroeg, the following bands will perform:
Heads
HEADS. from Berlin are a loud and noisy bunch, clearly influenced by Shellac and The Jesus Lizard: the good stuff. Their first record was released by This Charming Man Records so you know this not just your average band. Come see for yourself at Cul de Sac on Sunday December 11th.
Any Other
Remember those sweet, sweet times that we call the nineties? You might, but these kids don't because they're way too young. They do sound like they were there though, and they do such a killer job at it we forgot all about Kim Deal or Weezer or whatever. Who are those people anyway? Any Other excel in doing their own new thing with a sound that is beloved and feels familiar.
Fake O's
If these Groningen locals would be a black metal band they'd be considered trve kvlt without a doubt. This hardcore punk outfit sounds like they came straight from the Bay Area in the eighties and shred like they want to show Keith Morris how it's done. Of course Keith already knows, but he'd still be into FAKE O's.
Sven Agaath
When you think you've heard it all: you're about to find out you haven't. Sven Agaath play shoegaton (a term they probably coined themselves and for which they should receive proper recognition), a mix between shoegaze and reggaeton. They themselves call it "a mixture of Dinosaur Jr, Sean Paul, MBV and Daddy Yankee that feels urgent and natural". Although this will probably sound horrifying to most music fans, we can assure you – it really isn't. Sven Agaath is for everybody that likes shoegaze but also wants to dance from time to time.
The Shady Greys
The Shady Greys are an Amsterdam based dirty blues-garage duo with a nice lo-fi sound. Although using only a cajon and feet played percussions (no drums!) they're a high energy duo with fast riffing and raw vocals.
Dead High Wire
A young band from Antwerp and Mechelen, Belgium playing a mixture of echoing postpunk and indierock. They've released work on Kinky Star records (La Jungle, Räpe Blossoms etc.) and Oddie Records (Teen Creeps, Mind Rays, Double Veterans etc.). These are quality labels worth a whole lot more than that 'organic' logo on your milk carton.
Jellephant & The Phantoms
A young guy from Arnhem named Jelle and his band called The Phantoms are psychedelic band that make us think of our fellow countrymen Yuko Yuko. With a cool, echoing lo-fi mix of psychedelica, surf and downbeat garage these kids are one of the better Dutch acts in recent years.
Wobby
Together with Tilburg natives, comic creators and founders of the small press magazine 'Wobby', Incubate is proud to add a Comic Fair to its December edition. This will be accompanied by an English edition of the Wobby magazine, with contributions from different artists. There will also be talks, performances and interviews, but the main event will be your chance to meet and see some of your favorite creators. Guests include Bries (BE), Sigrid Calon (NL), Charlotte Dumortier (BE), Maurice van Es (NL), Jeroen Funke (NL), KAMP HORST (NL), Knust/Extrapool (NL), Vite (BE), The Stalinskis (NL), Tieten Met Haar (BE), and Ward Zwart (BE).
Holzapfel
Incubate will finalize its two-year visual arts program Do It With Others with a special performance by German artist Olaf Holzapfel. Holzapfel is a multidisciplinary artist who has extended his practice of painting with photography, sculptures, installations and digital work. To create his architectural sculptures, Holzapfel uses a range of (often locally sourced) materials, from plastic to straw. On Saturday 10th of December Holzapfel will do a special performance with a group of participants and craftsmen, around the noble art of rope making. Making a rope from straw is a complex process, a traditional craft that few still master. Tilburg is known for its history in textiles and the use of flax and hemp, as traditionally hemp was grown for processing into rope. As Incubate always connects artists with visitors and history with contemporary art, we invite all those interested to join us and Holzapfel in this special performance.
Incubate Art Symposium
At Incubate we try to offer kicks and contemplation right next to each other. We like to learn new things while having fun; about music and art and all the wonderful things that come with it. This is why we're delighted to host the Do It With Others symposium on December 11th at Duvelhok. Following the finissage of Olaf Holzapfel's project the day before, the symposium will include several artists that contributed to Do It With Others over the recent years. They will be interviewed by some very interesting hosts from the Dutch contemporary art scene, discussing their past residencies and collaborative work produced in Tilburg. Make sure to catch these afternoon talks if you're curious to meet these artists in person and ask them your questions.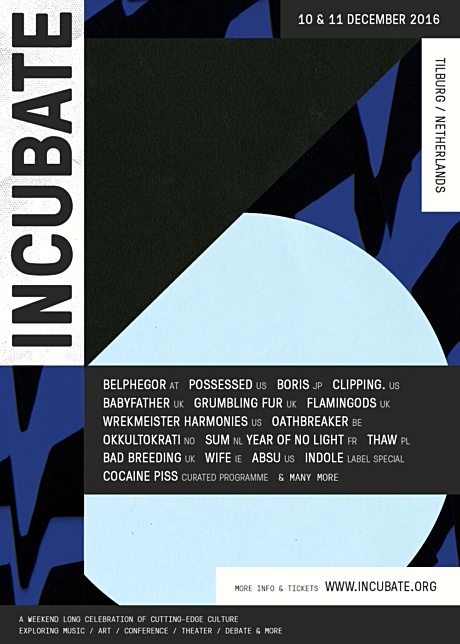 Incubate takes place troughout more than fifteen venues in the inner-city of Tilburg.
Incubate – 10/11 December 2016
incubate tilburg
Postal address
Postbus 327
5000 AH Tilburg
the Netherlands
Visiting address
NEW OFFICE:
Willem II Straat 49,
5038 BD Tilburg
Tel: +31 (0)13 590 4839
Box office opening hours:
Saturday: 12:00 – 22:00
Sunday: 12:00 – 22:00
Adress:
013 Poppodium
Veemarktstraat 44
5038 CV Tilburg
# More information on website Incubate
fleursdumal.nl magazine
More in: Art & Literature News, CINEMA, RADIO & TV, DANCE, DICTIONARY OF IDEAS, FDM Art Gallery, Literary Events, MUSIC, Street Art, STREET POETRY, The talk of the town, THEATRE, Urban Art
---
Nexus-conferentie 2016: 'What Will Save the World?'
zaterdag 12 november 2016 09:40 tot zaterdag 12 november 2016 16:00

De berichten uit de wereld zijn allesbehalve positief: aan de grenzen van Europa verstevigen autoritaire regimes hun macht, de politiek in de EU en VS is verregaand versplinterd en er zijn miljoenen mensen op de vlucht voor oorlog, geweld en armoede. De staat van de wereld is precair; toch zijn er ook optimisten, die geloven in de reddende kracht van wetenschap, technologie of internationale instellingen en betogen dat de wereld eigenlijk de goede kant op gaat.
Op zaterdag 12 november in Amsterdam gaan internationale activisten, wetenschappers en filosofen in debat over de diepere vragen achter de huidige politieke, ecologische en sociale crises. Wat is het defect in onze beschaving? Is materiële vooruitgang voldoende, of moet deze een morele of sociale basis hebben? Is technologie een vloek of een zegen? En wat kan de wereld redden – politiek, kunst, wetenschap, of geloof?
Op zaterdag 12 november, 09.00-16.00 uur, vindt de Nexus-conferentie 2016 'What Will Save the World?' plaats in het Nationale Ballet & Opera. Met Agnes Heller, Douglas Mwonzora, Leif Wenar, Elif Shafak, Avishai Margalit, Miroslav Volf, Mabel van Oranje, Simon Schama, Sidney Blumenthal, Farida Allaghi, Steven Pinker, Marcelo Sánchez Sorondo, Adam Zagajewski en Aeham Ahmad.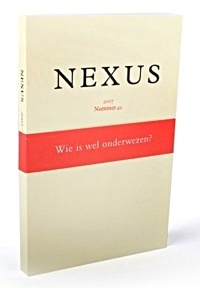 In 1938 hervatte de Italiaanse intellectueel Giuseppe Borgese, één van de verzetsleiders tegen het fascisme, in Amerika zijn strijd voor een nieuwe wereldorde die de waardigheid en vrijheid van elk individu zal waarborgen. Met geestverwanten als Thomas Mann, Hermann Broch en Reinhold Niebuhr publiceerde hij The City of Man. A Declaration on World Democracy waarin hij intellectuelen oproept hun verantwoordelijkheid te nemen. In nog geen honderd pagina's wordt door hen uiteengezet wat er na de oorlog moet gebeuren om een echte, blijvende, nieuwe humanistische wereldorde te vestigen.
In de decennia na de Tweede Wereldoorlog blijkt het vertrouwen van Borgese en de zijnen in een overwinning van het goede gerechtvaardigd. De democratische krachten overwinnen het totalitarisme; de VN wordt opgericht; de Universele Verklaring van de Rechten van de Mens wordt wereldwijd onderschreven; de internationale armoede vermindert door globalisering; technologische ontwikkelingen bieden de mensheid meer en meer meesterschap over haar eigen lot; het einde van de geschiedenis kan worden afgekondigd. Maar in de wereld anno nu zijn extremisme, fanatisme, barbarij en autoritaire regimes alom manifest. Is de droom van een humane wereld dan toch een illusie? Wat is het defect van de beschaving? Wat zal de wereld redden?
Sprekers
Agnes Heller
Douglas Mwonzora
Leif Wenar
Elif Shafak
Avishai Margalit
Miroslav Volf
Mabel van Oranje
Simon Schama
Sidney Blumenthal
Farida Allaghi
Steven Pinker
Marcelo Sánchez Sorondo
Adam Zagajewski
Aeham Ahmad
Programma
9.40 uur Welkom door Rob Riemen
9.45 uur Openingslezing door Ágnes Heller
10.40 uur Pauze
11.00 uur Rondetafelgesprek I – Wat is het defect van de beschaving?
12.45 uur Lunch
13.30 uur Muzikaal intermezzo
14.15 uur Rondetafelgesprek II – Wat zal de wereld redden?
16.00 uur Signeersessie
12 november 2016
09.40 – 16.00
Nationale Opera & Ballet Amsterdam
# Meer informatie en kaarten bestellen via website Nexus Instituut
fleursdumal.nl magazine
More in: - Book News, - Book Stories, Art & Literature News, DICTIONARY OF IDEAS, Magazines, Nexus Instituut, Simon Schama
---
Op 9 Augustus sal dit presies vyfhonderd jaar wees dat die middeleeuse skilder Hieronymus Bosch oorlede is. Sy nalatenskap tel vierentwintig skilderye, twintig tekeninge en om nou maar 'n wilde sprong te maak: enkele Afrikaanse gedigte. Kenners kloof nogal hare oor die aantal skilderye en sketse. Versamelaars en museums se aansien en geld styg en val erger as op die aandelebeurs. Kontroversie en roem sorg daarvoor dat die 75 000 kaartjies wat gedruk is vir die tentoonstelling "Jheronimus Bosch – Visioenen van een genie" in 's Hertogenbosch (Den Bosch) reeds uitverkoop is. Dié tentoonstelling duur tot 8 Mei. Op 31 Mei open die Nasionale Museum Prado in Madrid, met "Bosch – The Centenary Exhibition".
As onderdeel van die vyfhonderd jaar vierings van Bosch se kunstenaarskap het sy Nederlandse geboortestad en die Noord-Brabants Museum saamgewerk om die Bosch Research and Conservation Project (BRCP) op te rig. Dit is hier waar wetenskap en kuns saamkom. En dít sorg vir beroering. Die BRCP is vyf jaar terug uit nood gestig om as ruilmiddel te dien vir soveel moontlik van Jeroen Bosch se oorspronklike werk met die oog op " – Visioenen van een genie". Daarvoor moes minstens museums soos die Prado, die Louvre in Parys en die National Art Gallery in London benader word. Dit was van die begin af duidelik dat Prado nie "De tuin der Lusten" – Bosch se meesterwerk – sou afstaan vir ´n tentoonstelling in Nederland of op enige ander plek nie. Te kwesbaar, was hulle verskoning. Bosch is eintlik ´n Spaanse skilder in hulle oë. Hulle noem hom El Bosco.
D.J. Opperman het gelukkig al in die bundel "Engel uit die klip" (1950) oor "De tuin der Lusten" geskryf en dit toeganklik gemaak vir Afrikaanse poësielesers, al het JEROEN BOSCH nooit so bekend geword soos "Draaikewers" en "Sproeireën" nie. Hy het die skildery as 'n onontkombaar bekoorlike nagmerrie beskryf. Vandag kan die detail van "De tuin der Lusten" op internet bestudeer word. Dan verstaan mens sommer baie beter Opperman se verwysings na "stekelige plante, voëls en mens" en "laat ons vlug uit die gebras / en skuil in mossel" en na "sweef in belle glas". Hierdie aanhalings uit Opperman se gedig is almal bo-aan die artikel in 'n uitsnede van "Die tuin der Lusten" afgebeeld. Dis moeilik om ´n mens se oë daarvan los te skeur wanneer Bosch duiwelsadvokaat speel. Hy vra as kluisenaar en absolute eenling aandag vir die verval van morele waardes in sy tyd.
JEROEN BOSCH
Ydel is die wêreld, maar ydeler my gees,
wat om die dertig nagte in nagmerries
van stekelige plante, voëls en mens genees.
Uit ou en nuwe streke van die aarde kies
die duiwel al hoe lustiger vir my, vir jou,
vir die derduisende kostuum en mombakkies.
Dit trek stoete, kermis om die Kruis, wissel
van gedaante deur die eeue; maar die spel
bly steeds dieselfde in monnike, masjiene of dissel.
En ewig in die kringloop van die lus gevang
ry ons en kap die lieste van die hingste
om en om die kraaie op kaal vrouens in die dam.
Ag, Liefste! Kom dan, laat ons vlug uit die gebras
en skuil in mossel, horingpeul – en ver bokant
die kermis van die bose sweef in belle glas.
Want in my is die swaap, die visgelipte sot
wat elke toertjie van 'n towenaar befluit …
maar wonderwerke en Sy kruisiging bespot;
en, as ek God saam met Antonius aanroep,
is hy reeds daar wat van 'n nuwe geilte
roekeloos die eerste swaeltjies deur 'n tregter poep.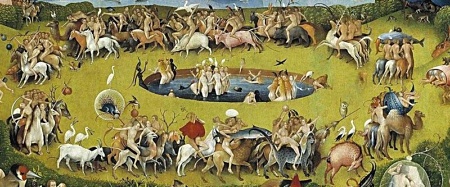 In strofe 4 fokus Opperman op die deel regs, skuins bokant die eerste gedetailleerde afbeelding. Dit word die Moredans genoem. Die dans vind plaas om die dam met die kaal vrouens en kraaie.
Bogenoemde twee afbeeldings is onderdele van die middelste paneel van "De tuin der Lusten", wat eintlik ´n drieluik is. Die linkerkantste luik beeld die skepping van Adam en Eva uit. Die middelste luik beeld die aardse lewe as ´n tuin vol verleidings met eksotiese plante en diere, kaal mense, fabelagtige wesens en pienk fonteine uit. Dis hierdie luik wat die oorkoepelende naam "De tuin der Lusten" dra en waardeur Opperman verlei is om sy gedig JEROEN BOSCH te skryf. Die regterkantste luik beeld die hel uit. Die slotreël van die gedig verwys na ´n onderdeel uit die hel en word in die volgende afbeelding uitgebeeld.
Opperman se verwysing na Antonius roep die skildery "De verzoeking van de heilige Antonius" op. Dit is één van die werke wat ´n opskudding veroorsaak het. Die BRCP het ´n nuwe sisteem ontwikkel waarmee hulle die egtheid van al die Bosch-skilderye getoets het. Daarvolgens is "De verzoeking van de heilige Antonius" in Prado ´n vervalsing. Tegelykertyd het die BRCP het ook ´n egte skilderytjie uit 1500 – 1510 met dieselfde naam ontdek. Dit het in die Nelson-Atkins Museum of Art in Kansas City, Missouri, gehang, maar is nou op bruikleen in Den Bosch. Die BRCP het onder andere skildertegnieke vergelyk. Jeroen Bosch se handtekening is sigbaar gemaak met behulp van infrafrooi fotografie. Die Spanjaarde is woedend. Hulle het geweier om die bruikleenkontrak met die Noord-Brabantse Museum volledig uit te voer en twee skilderye teruggehou: "De verzoeking van de heilige Antonius" en "De Keisnijding". Die twee weergawes van "De verzoeking van de heilige Antonius" verskil nogal. Hieronder is ´n afbeelding van die ontdekking in Missouri: net 38,6 by 25,1 sentimeter groot.
Gelukkig het Prado "De hooiwagen" ('n ander drieluik van Bosch) wél in bruikleen aan die Nederlandse museum toegestaan, maar ook hier was daar ´n slang in die gras. In plaas van om dit direk na die Noord-Brabantse Museum in Den Bosch toe te stuur, gaan maak "De hooiwagen" eers vir drie maande ´n draai in Museum Boijmans van Beuningen in Rotterdam! Dit het weer vir groot teleurstelling gesorg by die Noord-Brabants Museum, maar hulle hande was afgekap. Boijmans van Beuningen besit kosbaarder ruilware vir so ´n tipe transaksie as die BRCP.
Johan van Wyk se gedig oor "De hooiwagen" is in sy bundel "Deur die oog van die luiperd" (1976) gepubliseer. In hieronymus bosch se koringwa word die linkerkantste paneel in die eerste vyf strofes beskryf. Wat Van Wyk herkenbaar verwoord, is "die rebelse insekte swem in 'n boeg af" en ook "'n markvrou / tussen vrugtebome, God trou / adam en eva".
Van Wyk gebruik aan die einde van strofe 2 'n aanhaling van die relatief onbekende digter Gert Strydom. Dit is 'n intertekstuele standpunt in kontras met Breytenbach se beginreël "Dat pyn bestaan is onnodig Heer" uit breyten bid vir homself. Betrek Van Wyk ook in strofes 3 en 4 in die langer aanhaling vir Strydom? Of skryf hy eintlik die standpunt van Bosch neer wat die verdorwenheid van sy eie tyd uitbeeld in ewe verleidelike as bedreigende beelde? Wie is "God se raadgewer"? Waar die lang aanhaling met die eietydse opmerking "dis demokraties heer" vandaan kom, is onduidelik.
Net soos by "De tuin der Lusten" dra die middelste paneel die naam van die hele drieluik "De hooiwagen". Op hierdie paneel begin Van Wyk se beskrywing regs onder by "die vet monnik" wat met 'n wynbeker in die hand sit en kyk na "die nonne wat die sakke… / vol koring maak". Sentraal voor die koringwa in dié deel is 'n "broer wat sy broer keel- / af sny". Eietyds interpreteer Van Wyk die karakters aan die linkerkant as "ministers met politieke kommentators" wat intertekstueel kan verwys na TT Cloete se gedig Behoefte aan ongunstige weers- en ander omstandighede. Ook die "vraatsugtiges wat onder die wiel omkom" en die "skare ongediertes" wat die koringwa in die hel in trek, is sigbaar op die middelste paneel.
hieronymus bosch se koringwa
die rebelse insekte swem in 'n boeg af
na die maagdrots, 'n markvrou
tussen vrugtebome, God trou
adam en eva, oproeriges word verban
na die aarde die paradys
terwyl hulle daal
kyk hulle met blitsende oë na die vrou, kaal
en dom, "dat pyn bestaan is nodig heer"
byt God se raadgewer hom in die oor,
"mag ons hulle kennis gee
dis demokraties heer, mag hulle naak
mekaar se vrugte aanraak
en vinnig die drif probeer toemaak met bak
hande, blare en lap, mag hulle pyn
hê, heer, en mag hulle inmekaar saak
in die stof, straf ons so, heer"
die hartseer engel met die swaard
jaag hulle uit, nog met skrik en slaap
in die oë, so het dit gekom dat almal loop
agter die koringwa: die nonne wat die sakke van die vet monnik
vol koring maak, 'n broer wat sy broer keel-
af sny, ministers met politieke kommentators
wat betaamlik volg en vraatsugtiges wat onder die wiele omkom
'n skare ongediertes leitrek die mensdom na die hel
dit is elke mens vir homself, met homself
selfs seks is net vir self, die wederhelf
word in die liefdestransaksie ingedans
en "ena gee raad" psigosofeer oor wat
ons moet maak met probleme
elke heerser is 'n antichris wat omsien
na sy mense se belange en sorg dat die wa van onenigheid
nie uit sig raak nie, en niemand
behalwe 'n engel kyk op na God
op 'n wolk bo al die gewoel, in die hel
is elkeen bang hy word nie meer verkrag of gemartel nie
want, dat pyn bestaan is nodig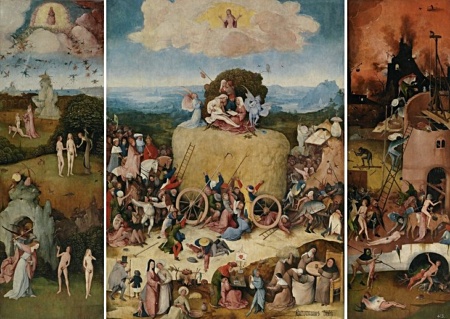 Ook ander Afrikaanse digters soos W.E.G. Louw het oor Jeroen Bosch se werk geskryf.
Dat digters vandag nog in die ban van Bosch se skilderye nuwe gedigte skryf, is te verstane as mens na al hierdie afbeeldings kyk. Digters laat hulle bewustelik of onbewustelik verlei. 'n Gedig van 'n stadsgenoot wat verlede jaar op die tafel beland het by die "Literaire Salon in't Wevershuisje", is nié geskryf na aanleiding van 'n skildery van Bosch nie, maar verwoord baie tipiese Jeroen Bosch-beelde. Net soos Opperman beskryf  Jef van Kempen 'n droomwêreld aan die nagmerrie-agtige kant in sy volgende gedig:
Theater
Stel je voor: een toneel van dolende nachtvogels
boven een doorweekte woestijn, in een duister
hospitaal voor koortsige landlopers.
Stel je voor: een opera van rondborstige gedrochten,
verwekt in een glazen stolp, amechtig lispelend,
op kromme stelten strompelend, in een vuile
sneeuwjacht van de diepe winter.
Eind goed al goed vonden de trage doden hun draai
en bestegen, tegen de keer, het paard van Troje
en maakten hun dromen waar.
In die uitsnede van "De tuin der Lusten" hierbo is duidelik in strofe 1 'n "dolende nachtvogel-" in die gedaante van 'n vet uil te sien (met alle simboliek verbonde aan uile soos erotiek en dwaasheid in die Middeleeue). Is hierdie mense op die afbeelding nie belustig – koorsig van lus en wellus, hoop en wanhoop nie? Strofe 3 begin met "verwekt in een glazen stolp". Inderdaad. In die middel is drie mense onder 'n soort deurskynende klokkie met mekaar besig. Selfs die Moredans wat Opperman ook beskryf het, kry 'n plekkie in Van Kempen se gedig met "Eind goed al goed vonden de trage doden hun draai / en bestegen, tegen de keer, het paard van Troje" (Strofe 4-5).
Bernard Odendaal het die gedig van Van Kempen in Afrikaans vertaal. Vertalings is vir digters soos toonlere vir komponiste. Oefenlopies. Woorde soos "landlopers" en "amechtig" moes vir Odendaal nogal moeite gekos het. Deur vertalings soos hierdie word die Afrikaanse poësie verryk.
Teater
Stel jou voor: 'n toneel van dolende nagvoëls
bokant 'n deurweekte woestyn, in 'n donker
hospitaal vir koorsige boemelaars.
Stel jou voor: 'n opera van rondborstige gedrogte
verwek onder 'n glasstolp, uitasem lispelend,
op krom stelte strompelend, morsig aan die
jag in die diepwintersneeuw.
Einde goed alles goed kry die trae dooies hul draai
en bestyg, dwarstrekkerig, die perd van Troje
en maak hulle drome waar.
Laat digters na Afrikaans toe vertaal en verhinder hulle kinderlike verwondering en bemoeienis nié. Speel ek duiwelsadvokaat?
CARINA VAN DER WALT
Carina van der Walt over Jeroen Bosch
Thursday, March 31st, 2016
Eerder gepubliceerd in: Versindaba – 'n Kollektiewe weblog vir die Afrikaanse digkuns –
http://versindaba.co.za/2016/03/31/carina-van-der-walt-jeroen-bosch-se-skilderye/
Carina van der Walt – Jeroen Bosch – D.J. Opperman – Johan van Wyk – Gert Strydom – Breyten Breytenbach – W.E.G. Louw – TT Cloete – Jef van Kempen – Bernard Odendaal
fleursdumal.nl magazine for art & literature
More in: Archive S.A. literature, Bernard Odendaal, Breyten Breytenbach, Carina van der Walt, DICTIONARY OF IDEAS, Jef van Kempen, Jheronimus Bosch, Kempen, Jef van, Literaire Salon in 't Wevershuisje, T .T. Cloete, VERTAALVRUCHT, Walt, Carina van der
---
Unveiling of the Stele for the year 2015-2016  # Reporter's Memorial Tenth anniversary  # Reporter's Memorial – 17 00 – Thursday 6 October 2016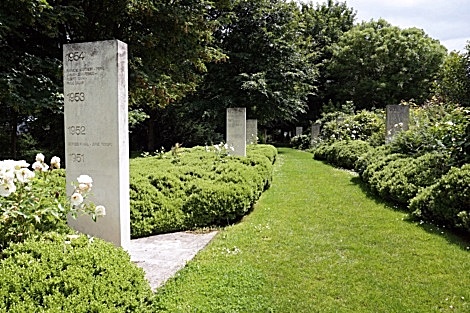 Ten years ago, the Reporter's Memorial was inaugurated in Bayeux. Upon the unveiling of the 2015 stele, Reporters Without Borders will gather families and loved ones of the journalists killed on the job in the last ten years.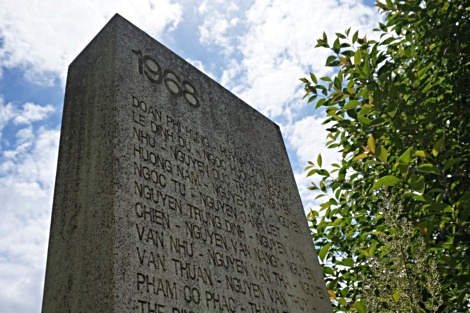 In 2015, 110 journalists have perished because of their profession or in dubious circumstances. Reporters Without Borders assures that of those 110, 67 have been killed for the sole reason of being journalists. In total, 787 journalists have been killed on the job since 2005. To that number, 27 netizens and 7 media associates can be added. This worrisome situation can be explained by the peak of violence against journalists in the last decade. They are now deliberately targeted and all the efforts put toward their safety have failed so far.
« It is imperative to set up a concrete mechanism for the application of the international law for the protection of journalists », declares Christophe Deloire, General Secretary of Reporters Without Borders. « Today, violent non-state actors have targeted journalists while numerous states do not respect their obligations. More than 800 reporters have been killed in the last ten years. Their death must be met with reactions that match the urgency of the situation. A special representative for the protection of journalists with the United Nation Secretary must be immediately appointed. »
Families have decided to create a stele for all the reporters who disappeared while on a mission. This monument entitled "Missing In Action", will be placed and inaugurated this year. It takes the form of a shadow and symbolizes the absence of those whose bodies have never been found.
Present will be: Diane Foley, Claudine Kent (companion of David Gilkey dead in Afghanistan), Maryvonne Lepage, Deo Namujimbo, Elena Milachina for remembering Anna Politkoskaïa assasinated 10 years ago.
Mémorial des reporters
Boulevard Fabian Ware
Direct access from rue de Verdun, Bayeux FR
Free admission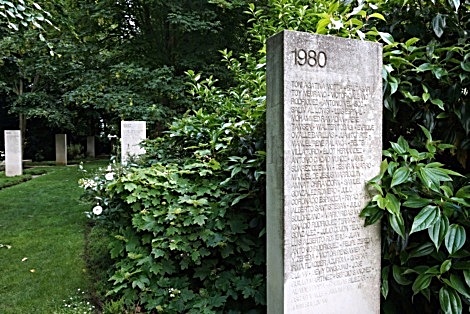 # more information on website Prix Bayeux – Calvados (des correspondents de guerre)
# more information on Reporters without Borders
fleursdumal.nl magazine
Photos: Jef van Kempen (FdM 2016)
More in: CINEMA, RADIO & TV, DICTIONARY OF IDEAS, Jef van Kempen Photos & Drawings, MUSEUM OF PUBLIC PROTEST- photos, texts, videos, street poetry, PRESS & PUBLISHING, REPRESSION OF WRITERS, JOURNALISTS & ARTISTS, WAR & PEACE
---
For 23 years now, the Bayeux-Calvados Award for war correspondents has for objective to give the floor to those who help us get a better understanding of the world: war correspondents. It is with a tremendous satisfaction that we have observed a growing and enlightened public over the years. Today, within a complicated and tensed national and international context, this week of reflection is, more than ever, necessary.
REPORTERS SANS FRONTIÈRES / REPORTERS WITHOUT BORDERS

Major crises are reaching the planet and the Bayeux-Calvados Award for war correspondents is, once again, shedding the light on the upheaval of our time. Far from trying to upset the viewers, the photographs displayed within the exhibitions are here for people to think: the consequences of the conflict in Syria, the crisis of refugees, the movement of populations, criminality that, in Mexico, is turning into an armed conflict… A sound exhibition, never heard before, created in association with the French radio France Inter will pay tribute to radio reporters present in the theatres of war. The meetings of the Bayeux-Calvados Award will also shed a light on conflicts that have been forgotten and will allow the viewers time to reflect, in the midst of the news that is often misrepresented. A long list of rendez-vous where professionals ever so numerous and a faithful public will be able to exchange, share and enhance their knowledge of the world.
During the 2016 edition, student actions – which includes the Regional prize for students and trainees of Normandy and the Bayeux-Calvados Award classes- are expending to the entire region of Normandy. Today, media literacy is more than a duty, it's a necessity. Film screenings for secondary school students, viewpoint of 15 year-olds and meetings between students and professionals are at the heart of the Bayeux-Calvados Award.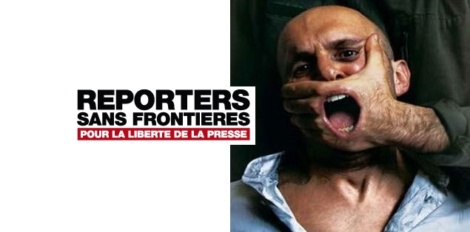 For the last 23 years, the Bayeux – Calvados Award for War Correspondents has been bringing together international journalists from the field to meet the public, tell human stories and provide explanation and background to areas of tension around the world.
Next edition of the Bayeux – Calvados Award for war correspondents will be taking place from  3 to 9 October 2016 in Bayeux FR.

Jean – Claude Guillebaud, a major figure in journalism as a writer and former war correspondent, will serve as President of the Jury for this 23rd edition.
A week of meetings on international news On the program for october: original exhibitions, debate evenings, screenings, book fair, events for schools… The Bayeux Calvados award is also a week of meetings, exchanges between the public and reporter s. Unique times on international news which constitutes the strength of the Bayeux Calvados award meetings. A real public plebiscite. Journalists : you have from now until 6 June to send us your work Photo, radio, television and written press reports on a conflict or news event relating to the fight for freedom and democracy mus t be submitted before the 6 th June to be considered for the 2016 selection. They must have been made between the 1st June 2015 and the 31st May 2016. There is a €7,000 grant to be won in each category.
The meeting takes place from 3 to 9 October along with special correspondents, women and men of the ground, who, through their evidence, wake up our senses
# more information on website Prix Bayeux – Calvados (des correspondents de guerre)
# more information on Reporters without Borders
fleursdumal.nl magazine
More in: CINEMA, RADIO & TV, DICTIONARY OF IDEAS, MUSEUM OF PUBLIC PROTEST- photos, texts, videos, street poetry, PRESS & PUBLISHING, REPRESSION OF WRITERS, JOURNALISTS & ARTISTS, WAR & PEACE
---
What Remains – tussen schoonheid en verval
04.09.2016 t/m 22.01.2017
De frictie tussen schoonheid en verval is door de eeuwen heen steeds weer in de kunst verbeeld. Uiteenlopende genres zoals het vanitasstilleven, het 'schuldige' landschap en het portret ontlenen hun aantrekkingskracht aan de ervaring van schoonheid in verval. Gastcurator Wim van der Beek maakte met het werk van 15 kunstenaars in opdracht van CODA directeur Carin Reinders een prikkelende en gevarieerde tentoonstelling die uiteenlopen aspecten van verval zichtbaar maakt.
De esthetiek van afval versus de grenzen van de consumptiemaatschappij, het hoopgevende zicht op nieuwe kansen of levensverlenging, de daklozenproblematiek; het is allemaal onlosmakelijk verbonden met de manier waarop we in de huidige samenleving omgaan met dat wat oud en versleten is of in de marge van de samenleving terechtgekomen is. De moderne samenleving worstelt met allerlei processen die samenhangen met de eindigheid van het leven en de periode van verval die daar aan voorafgaat. Beeldende kunstenaars confronteren de samenleving door andere perspectieven aan te reiken. Zij laten zien dat in verval ook schoonheid kan schuilen of ze vergroten het verval zo uit dat de confrontatie schrijnend en hard is. Een breed spectrum aan emoties wordt betrokken in het beeldvormingsproces: berusting, woede, angst, vertwijfeling, melancholie, weemoed en de worsteling met het besef van eindigheid.
De paradox van kunst en verval.  What Remains maakt uiteenlopende aspecten van verval zichtbaar. Fysiek, mentaal, moreel, materieel, maatschappelijk, landschappelijk en architectonisch verval, veroudering en ouderdom, afval en hergebruik, natuurlijke afbraakprocessen, afgedankte voorwerpen en in de vergetelheid geraakte betekenissen en technieken komen in deze tentoonstelling aan de orde. De tentoonstelling in CODA Museum toont daarnaast dat beeldende kunst waarin vormen van verval gesublimeerd en vereeuwigd worden, verder gaat dan verval op zich. Hier doet zich namelijk een merkwaardige paradox voor: kunst waarin verval onderwerp is, kan eeuwigheidswaarde krijgen en ontworstelt zich daarmee aan de vergankelijkheid die de basis van het kunstwerk vormt. Wie bovendien verder kijkt dan het verval, kan schoonheid ontdekken en rust vinden. De bezoeker van What Remains kan echter niet om de dilemma's heen die met verval en vergankelijkheid te maken hebben. Het besef dat er een rustgevende schoonheid kan uitgaan van verval biedt in elk geval een hoopgevend perspectief.
Deelnemende kunstenaars:  Hugo Tieleman, Chris Jordan, Andreas Hetfeld, Ivo Kamphuis, Jan Eric Visser, Jehoshua Rozenman, Nicolas Dings, Jan Banning, Frans Beerens, Martine Feipel & Jean Bechameil, Yves Marchand & Romain Meffre, Ken'ichiro Taniguchi, Hans Op de Beeck, Sébastien van Malleghem.
CODA Bibliotheek
CODA Museum
CODA Archief & Kenniscentrum
Vosselmanstraat 299
7311 CL Apeldoorn
tel.: (055) 5268400
fleursdumal.nl magazine
More in: Art & Literature News, DICTIONARY OF IDEAS, Exhibition Archive, Galerie des Morts
---
Beat Generation
Until 3 October 2016
The Centre Pompidou is to present Beat Generation, a novel retrospective dedicated to the literary and artistic movement born in the late 1940s that would exert an ever-growing influence for the next two decades. The theme will be reflected in all the Centre's activities, with a rich programme of events devised in collaboration with the Bibliothèque Public d'Information and Ircam: readings, concerts, discussions, film screenings, a colloquium, a young people's programme at Studio 13/16, etc.
Foreshadowing the youth culture and the cultural and sexual liberation of the 1960s, the emergence of the Beat Generation in the years following the Second World War, just as the Cold War was setting in, scandalised a puritan and Mc Carthyite America. Then seen as subversive rebels, the Beats appear today as the representatives of one of the most important cultural movements of the 20th century – a movement the Centre Pompidou's survey will examine in all its breadth and geographical amplitude, from New York to Los Angeles, from Paris to Tangier.
The Centre Pompidou's exhibition maps both the shifting geographical focus of the movement and its ever-shifting contours. For the artistic practices of the Beat Generation – readings, performances, concerts and films – testify to a breaking down of artistic boundaries and a desire for interdisciplinary collaboration that puts the singularity of the artist into question. Alongside notable visual artists, mostly representative of the California scene (Wallace Berman, Bruce Conner, George Herms, Jay DeFeo, Jess…), an important place is given to the literary dimension of the movement, to spoken poetry in its relationship to jazz, and more particularly to the Black American poetry (LeRoi Jones, Bob Kaufman…) that remains largely unknown in Europe, like the magazines in which it circulated (Beatitude, Umbra…). Photography was also an important medium, represented here by the productions of Allen Ginsberg and William Burroughs – mostly portraits – and a substantial body of photographs by Robert Frank (Les Américains, From the Bus…), Fred McDarrah, and John Cohen, all taken during the shooting of Pull my Daisy, as well as work by Harold Chapman, who chronicled the life of the Beat Hotel in Paris between 1958 and 1963. The same was true of the films (Christopher MacLaine, Bruce Baillie, Stan Brakhage, Ron Rice…) that would both reflect and document the history and development of the movement.
Exhibition at the Centre Pompidou in Paris until October 3, 2016
New publication:
Beat generation – exhibition album
Movement of literary and artistic inspiration born in the United States in the 1950s, at the initiative of William Burroughs, Allen Ginsberg and Jack Kerouac, the Beat Generation has profoundly influenced contemporary creation.
The book displays the different artworks exhibited along with short explanatory essays. A clear and precise album suitable for a large audience.
Bilingual version French / English.
Binding: Softbound
Language: Bilingual French / English
EAN 9782844267467
Number of pages 60
Number of illustrations 60
Publication date 15/06/2016
Dimensions 27 x 27 cm
Author: Philippe-Alain Michaud
Publisher: Centre Pompidou
€9.50
# Information and schedule about the Beat Generation exhibition on website Centre Pompidou
fleursdumal.nl magazine
More in: - Book News, BEAT GENERATION, Burroughs, William S., DICTIONARY OF IDEAS, DRUGS & MEDICINE & LITERATURE, Ginsberg, Allen, Kerouac, Jack, Literaire sporen, LITERARY MAGAZINES
---
We need to Talk, Dream, See, Listen, Create, Upcycle, Eat & Drink, Dance, Love, Enjoy . . .
In augustus en september neemt creatief platform voor sociale verandering Beauty without Irony de eerste verdieping en de kasteeltuinen van Kasteel Sterckshof over en presenteert er een groot aantal kunstenaars die u zullen verrassen met workshops, expos, installaties optredens en ander moois, waarbij u ook zelf desgewenst de handen uit de mouwen kunt steken, om zo uw eigen bijdrage te leveren aan het maken van een mooiere wereld. BWI wil focussen op wat ons verbindt (met de nadruk op pure schoonheid), niet op dat wat ons nog wat verder uiteen drijft. Samen zijn we zoveel sterker dan alleen.
Beauty Overdose
Kasteel Sterckshof – Antwerpen
30 juli- 25 september 2016

Beauty Overdose by BWI
Met werken over pure schoonheid van oude en nieuwe liefhebbers van het BWI concept, uit zowel binnen- als buitenland. De volgende kunstenaars nemen deel aan Beauty Overdose: Mick Traen, Faryda Moumouh (fotografie), Emerald Rose Whipple (schilderijen), Dino Dinco (foto), Little Sun by Olafur Eliasson (installatie), Anne-Mie van Kerckhoven (schilderijen), Felix Richter (fotografie), Mark Titchner (banner), Jarno Kettunen (tekeningen), Dominik Gigler (fotografie), Javier Barcala (fotografie), Thomas Vanhaute (fotografie), Jef Paepen (fotografies), Chris Plytas (fotografie), Ben Deckers (schilderijen), Serge Vereecken (etsen), Oskar Lindholm (fotografie), Christopher Lee Sauvé (grafiek), Valérie Servant (fotografie), Hannah Rouffa (fotografie), Pascal Heymans (fotografie), Thierry Van Biesen (fotografie), Adam Munro (fotografie), Charlie De Keersmaecker (fotografie), Jean Claude Wouters (fotografie), Layla Aerts (fotografie), Anina Net (fashion, LED dresses, workshop), Jan Van Santvliet (fotografie), Mariët Hylkema (schilderijen), Jessica Antola (fotografie), Ben Van Alboom (fotografie), Kristof Van Heeschvelde (schilderijen), Vincent Gagliostro (fotografie), WallDog (fotografie & video) …
Binnen Beauty Overdose vinden er ook verschillende deelprojecten, workshops en concerten plaats in Sterckshof. Hier een overzicht.
BWI Art Vlaggen
Met: Javier Barcala, Nick Hannes, Felix Richter, Titus Simoens, Mick Traen, Thierry Van Biesen …
Wall of Beauty
Voor deze wall wordt vertrokken vanuit de allermooiste beelden uit het eerste BWI-boek en daarna wordt het alleen maar beter – neem je prachtigste foto's (op A4-formaat) mee en maak het geheel zelf nog mooier!
Met: Antonio Paladino & Serkan Sarier, Christopher Lee Sauvé, OKAR (Oskar Lindholm), Elke Boon, Lars Stephan, Filip Van Roe, Diego Franssens, Filip Naudts, Tom Tosseyn, Jimmy Kets, Peggy Sirota, Glenn Glasser, Ellie Van Den Brande, Valérie Servant…
Robotic Dress & Motion Dress by 360Fash Tech Kits (30/7 – 4/8)
Anina Net is CEO van 360Fashion Technology Network en experte in smart clothing en accessories gemaakt met behulp van haar 360 Fash Tech Kits, speciaal gemaakt voor ontwerpers en andere creatievelingen die niet zo handig zijn met coding en met de LED Ribbon, een flexibele band van satijn met micro led-lampjes en geconnecteerde bedrading dat vrijwel onzichtbaar in bijvoorbeeld kleding en handtassen verwerkt kan worden
Op 'Beauty Overdose' zal Anina Net haar 'Robotic Dress' tonen, die werd ontworpen door Michal Starost en de 'Motion Dress', gemaakt door modelabel R Factory. Daarnaast toont Anina ook enkel ehandtassen van LIBET waarin de LED Ribbon werd verwerkt.
Sociaal-artistiek project met foto's van Adam Munro en interviews door Ninette Murk, waarbij bewoners van de Grapheusstraat in Deurne–Dorp (300 meter van kasteel Sterckshof gelegen) vertellen wat zij het allermooiste vinden in hun straat.
Workshops en optredens
Art-Tea high teas & dinners
Repair Café
Tai chi workshops & fotografie expo (Jan Van Santvliet)
Role Play Group
Burlesque group (Ayke)
Hip hop workshops (Kris Strybos / Scale)
Voice coaching
Morning dew walks
Plus wekelijks gratis live muziek optredens in Bar Stark (bij goed weer buiten).
Op www.beautywithoutirony.com vindt u een overzicht van het programma.
Over Beauty without Irony
Creatief platform voor sociale verandering Beauty without Irony (BWI-2001), isvooral bekend is geworden met hun eerste project Designers against AIDS (DAA- 2004), waarvoor werd samengewerkt met zowat alle Belgische en veel internationale ontwerpers en bedrijven zoals H&M, Marc Jacobs, Playboy Design, Delvaux, Eastpak, Essentiel en JBC. BWI is ook de motor van het 'Youth For A Better World Center' in Deurne (2010) waar het team samen met Belgische en internationale studenten uit creative disciplines werkt aan nieuwe campagnes rond sociale themas die interessant en belangrijk zijn voor jongeren. Zowel BWI als DAA gebruiken elementen uit de pop cultuur om te werken rond thema's zoals HIV preventie, echte schoonheid, zelfvertrouwen bij jonge vrouwen en ecologie en zij doen dat voornamelijk online, met af en toe een event of project IRL, zoals momenteel de expositie Beauty Overdose.
Concept: Ninette Murk, Kim Kindermans, Peter Gubbels
www.beautywithoutirony.com
Beauty Overdose is vanaf 30 juli tot en met 25 september elke zaterdag en zondag tussen 14 en 18 u gratis te bezichtigen.
Adres: Kasteel Sterckshof, Hooftvunderlei 160 (ingang via Cornelissenlaan 10), 2100 Deurne (Nabij Antwerpen BE).
fleursdumal.nl magazine
More in: Art & Literature News, CINEMA, RADIO & TV, DANCE, DICTIONARY OF IDEAS, Exhibition Archive, Photography, THEATRE
---
It was 47 years ago on July 16, 1969, that the Apollo 11 Mission to the moon with a Saturn-V rocket was launched. The astronauts Buzz Aldrin, Michael Collins and Neil Armstrong, the commander of this expedition, were those onboard. On July 24, eight days later, they landed safely in the Pacific. NASA chose Armstrong to be the first person on the moon, in part, because they believed Armstrong was a man lacking a large ego. Although he was actually a test pilot and a man of few words, he beautifully articulated several phrases regarding his experience on viewing planet Earth from the moon; some of which still impress today.
Given the current Zeitgeist, I consider his words crucial, while simultanuously retaining a poetic quality. To amplify this aspect of deep insight, as well as the emotions it invokes, I translated these words into French. The text is recited by Aurélie Camil. This work became the core of the musical composition, "That tiny pea". Visual Artist Paul Bogaers added film images to the clip at a later stage.
"It suddenly struck me that that tiny pea, pretty and blue,
was the Earth. I put up my thumb and shut one eye,
and my thumb blotted out the planet Earth.
I didn't feel like a giant.
I felt very, very small."
– Neil Armstrong –
https://www.youtube.com/watch?v=0n38Jks9v04
Tom America: NeilAmstrong and Apollo 11
fleursdumal.nl magazine

More in: Art & Literature News, DICTIONARY OF IDEAS, Spurensicherung, Tom America
---
WONDERBOX is een reizend museum, dat bestaat uit grote kijkdoos-vitrines die gevuld worden met verrassende combinaties van (kunst)voorwerpen uit de veelomvattende collectie van Lorenzetti uit Tilburg: kunst, design, fotografie en natuur.
De boxen van dit 'WONDERBOX Museum' komen als een verspreid mini-museum op allerlei plekken in de stad te staan: in ziekenhuizen en zorginstellingen, in wachtkamers en winkels, bij bedrijven en bibliotheken en mogelijk ook bij particulieren thuis.
Inmiddels hebben zich al een aantal locaties gemeld die belangstelling voor plaatsing tonen.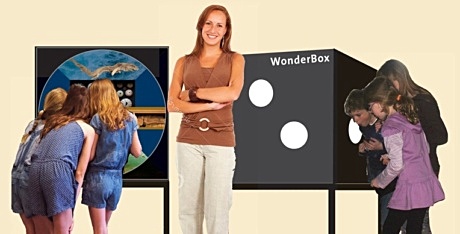 Naast deze 'WONDERBOX Reizend Museum' maakt de Tilburgse stichting Lorenzetti een variant voor het (basis)onderwijs, 'WONDERBOX Op School'.
Daarbij komt een serie van tien Wonderboxen als een tijdelijk museum een aantal weken op een school te staan. Elke box heeft een thema en de leerlingen kunnen dan met het meegeleverd lespakket allerlei opdrachten doen. Aan deze vorm van 'museum op school' blijkt grote behoefte te zijn.
Een derde toepassing van de Wonderboxen gaat 'WONDERBOX voor de Buurt' heten. Hierbij komen Wonderboxen in buurt- en wijkcentra te staan, die door de buurtbewoners zelf gevuld gaan worden.
Cultuurparticipatie in optima forma: WONDERBOX is in alle opzichten uniek: het is zowel artistiek, cultuur-educatief als sociaal een innoverend project. Het is de bedoeling om in totaal een vijftigtal Wonderboxen te maken.
Wie 'WONDERBOX' mee mogelijk wil maken, kijkt op de website http://www.wonderbox.nu waar alle informatie staat, waar voorbeelden zijn te zien en waar je een filmpje kunt bekijken over de Wonderboxen.
# Nog meer informatie op de website van Stichting Lorenzetti
fleursdumal.nl magazine
More in: Art & Literature News, Department of Curious Nature, DICTIONARY OF IDEAS, Exhibition Archive, The talk of the town, THEATRE, Visual & Concrete Poetry
---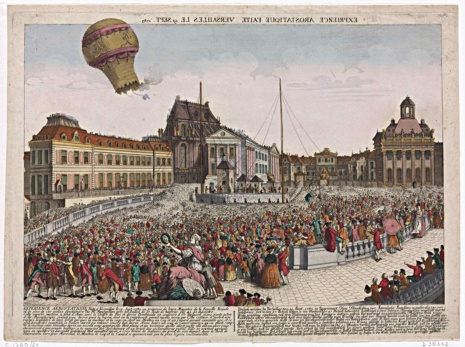 In 1783 – één jaar voordat Teylers Museum zijn deuren opende – werd een eeuwenoude droom werkelijkheid: vliegen. De uitvinding van de luchtballon inspireerde wetenschappers, avonturiers, en kunstenaars en veroorzaakte in de 19de eeuw een ware ballonrage. In de tentoonstelling zijn zeldzame en kostbare objecten te zien uit internationale collecties. Door middel van virtual reality kunnen jong en oud zelf het spannende gevoel ervaren hoe het is om het aardoppervlak te verlaten, net als de pioniers van toen! De luchtballon is van 30 april t/m 28 augustus 2016 te zien in Teylers Museum.
Met de komst van de luchtballon leek alles mogelijk. Voorheen onbereikbare plekken, zoals de Noordpool en de binnenlanden van Afrika, konden verkend worden en reizen kreeg een nieuwe dimensie. Ook voor de wetenschap was het een belangrijke uitvinding. Nooit eerder was er iemand in de hogere luchtlagen geweest. Met gevaar voor eigen leven, werd onderzoek gedaan naar meteorologische fenomenen. Bovenin de atmosfeer was nauwelijks zuurstof en de ballons dreven onbestuurbaar op de wind. Op de tentoonstelling komen al die spannende verhalen ruim aan bod.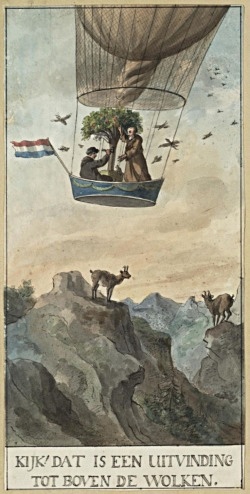 Reuzeballon
'Aeronauten' en hun luchtballons zorgden in de loop van de 19de eeuw voor spanning en sensatie op kermissen en andere publieksevenementen. In 1865 kwam de grootste ballon ter wereld naar Nederland. De beroemde Franse fotograaf en schrijver Félix Nadar organiseerde in Amsterdam een veelbesproken massaevenement met de demonstratie van zijn reuzenballon Le Géant. Eronder hing een compleet ingericht huisje, inclusief champagne. Op de tentoonstelling staat een reconstructie van het huisje op ware grootte.
Race om de wereld
Een nieuwe uitvinding, het vliegtuig, haalde de ballonvaart snel in. Toch blijft de luchtballon fascineren. Rijke avonturiers zoals Richard Branson doen nog altijd verwoede pogingen om records te verbreken met ballonvaarten. Ballonfestivals trekken duizenden bezoekers. De tentoonstelling laat al deze hoogte- maar ook dieptepunten zien met spannende foto's, objecten, prenten en films.
Teylers Museum en de ballonvaart
In de tijd dat de luchtballon uitgevonden werd, opende Teylers Museum zijn deuren om kennis te verzamelen en te delen. Het laboratorium dat Teylers toen vooral was, deed actief onderzoek naar de elementen die de basis vormen van de ballonvaart: lucht en gassen. In 1850 schreef een van Teylers genootschappen zelfs een prijsvraag uit om het probleem van de onbestuurbaarheid van de luchtballon op te lossen.
De Luchtballon
Nog te zien t/m 28 augustus 2016
Teylers Museum
Spaarne 16,
2011 CH Haarlem
tel: 023-5160960
# meer info op website Teylers Museum Haarlem
fleursdumal.nl magazine
More in: Art & Literature News, Department of Curious Nature, DICTIONARY OF IDEAS, FDM Art Gallery
---
Older Entries »
« Newer Entries
Thank you for reading FLEURSDUMAL.NL - magazine for art & literature