DICTIONARY OF IDEAS
«« Previous page
·
Hugo Ball: Wolken
·
Philippe Soupault: Lost Profiles. Memoirs of Cubism, Dada, and Surrealism
·
Hugo Ball: Verse ohne Worte
·
Johannes Theodor Baargeld: Venus beim Spiel der Könige
·
10 years Magazine for Art & Literature: www.fleursdumal.nl
·
NEXUS Lezing: An Apology for the Law door Stephen Breyer
·
Symphonie Diagonale (1921) by Viking Eggeling
·
'De duistere winkel' – 124 dromen van Georges Perec
·
Hugo Ball: bfirr
·
Georges PEREC: Poging tot uitputtende beschrijving van een plek in Parijs
·
Anders RYDELL: De grote boekenroof. Een zoektocht naar Europa's verdwenen bibliotheken
·
Museum De Fundatie: BOB DYLAN – Face value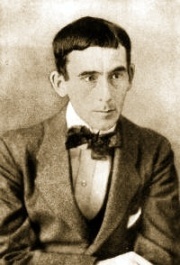 Wolken
elomen elomen lefitalominal
wolminuscaio
baumbala bunga
acycam glastula feirofim flinsi
elominuscula pluplubasch
rallalalaio
endremin saxassa flumen flobollala
feilobasch falljada follidi
flumbasch
cerobadadrada
gragluda gligloda glodasch
gluglamen gloglada gleroda glandridi
elomen elomen lefitalominai
wolminuscaio
baumbala bunga
acycam glastala feirofim blisti
elominuscula pluplusch
rallabataio
Hugo Ball
(1886-1927)
Wolken
fleursdumal.nl magazine
More in: Archive A-B, Ball, Hugo, Dada, DADA, Dadaïsme
---
A literary retrospective of a crucial period in modernism—the transition from Dada to Surrealism––via portraits and encounters with its literary lions, including Joyce, Proust, Reverdy, Apollinaire, Crevel and more by the co-founder of the Paris surrealist group.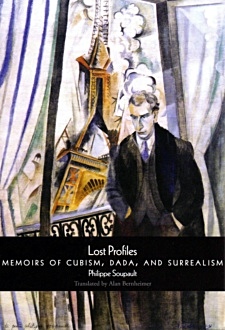 Poet Alan Bernheimer provides a long overdue English translation of this French literary classic—Lost Profiles is a retrospective of a crucial period in modernism, written by co-founder of the Surrealist Movement.
Opening with a reminiscence of the international Dada movement in the late 1910s and its transformation into the beginnings of surrealism, Lost Profiles then proceeds to usher its readers into encounters with a variety of literary lions.
We meet an elegant Marcel Proust, renting five adjoining rooms at an expensive hotel to "contain" the silence needed to produce Remembrance of Things Past; an exhausted James Joyce putting himself through grueling translation sessions for Finnegans Wake; and an enigmatic Apollinaire in search of the ultimate objet trouvé.
Soupault sketches lively portraits of surrealist precursors like Pierre Reverdy and Blaise Cendrars, a moving account of his tragic fellow surrealist René Crevel, and the story of his unlikely friendship with right-wing anti-Vichy critic George Bernanos.
The collection ends with essays on two modernist forerunners, Charles Baudelaire and Henri Rousseau. With an afterword by Ron Padgett recounting his meeting with Soupault in the mid 70's and a preface by André Breton biographer Mark Polizzotti, Lost Profiles confirms Soupault's place in the vanguard of twentieth-century literature.
Philippe Soupault (1897-1990) served in the French army during WWI and subsequently joined the Dada movement. In 1919, he collaborated with André Breton on the automatic text Les Champs magnétiques, launching the surrealist movement. In the years that followed, he wrote novels and journalism, directed Radio Tunis in Tunisia, and worked for UNESCO.
Lost Profiles
Memoirs of Cubism, Dada, and Surrealism
Philippe Soupault
Translated by Alan Bernheimer
Foreword by Mark Polizzotti
Afterword by Ron Padgett
Paperback – $13.95
Pages:112 – 2016
City Lights Publishers
ISBN978-0-87286-727-7
"(…) a brief account by a perceptive writer who was on the scene when modernity was young.", Robert Fulford
fleursdumal.nl magazine
More in: - Book News, - Book Stories, Archive S-T, Art & Literature News, Art Criticism, Cendrars, Blaise, DADA, Dadaïsme, EXPERIMENTAL POETRY, EXPRESSIONISM, DADA & DE STIJL, SURREALISM, Kubisme, SURREALISM, Surrealisme
---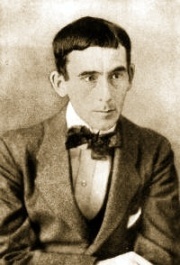 Verse ohne Worte
gadji beri bimba glandridi laula lonni cadori
gadjama gramma berida bimbala glandri galassassa laulitalomini
gadji beri bin blassa glassala laula lonni cadorsu sassala bim
gadjama tuffm i zimzalla binban gligla wowolimai bin beri ban
o katalominai rhinozerossola hopsamen laulitalomini hoooo
gadjama rhinozerossola hopsamen
bluku terullala blaulala loooo
zimzim urullala zimzim urullala zimzim zanzibar zimzalla zam
elifantolim brussala bulomen brussala bulomen tromtata
velo da bang bang affalo purzamai affalo purzamai lengado tor
gadjama bimbalo glandridi glassala zingtata pimpalo ögrögöööö
viola laxato viola zimbrabim viola uli paluji malooo
tuffm im zimbrabim negramai bumbalo negramai bumbalo tuffm i zim
gadjama bimbala oo beri gadjama gaga di gadjama affalo pinx
gaga di bumbalo bumbalo gadjamen
gaga di bling blong
gaga blung
Hugo Ball
(1886-1927)
Verse ohne Worte
fleursdumal.nl magazine
More in: Archive A-B, Ball, Hugo, Dada, DADA, Dadaïsme
---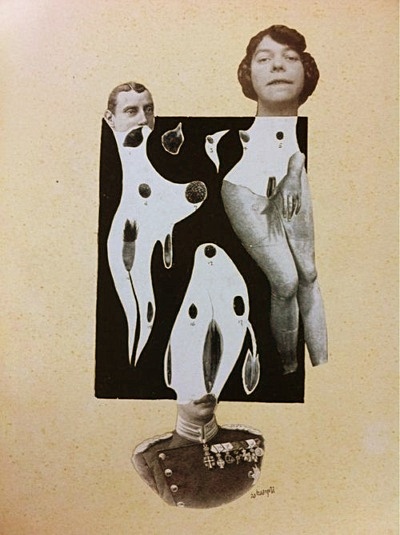 Johannes Theodor Baargeld (1892-1927)
Venus beim Spiel der Könige, 1920, photomontage
fleursdumal.nl magazine
More in: Baargeld, Johannes Theodor, Dada, DADA, Dadaïsme, Galerie Deutschland
---

More in: Art & Literature News, CINEMA, RADIO & TV, DICTIONARY OF IDEAS, FDM Art Gallery, LITERARY MAGAZINES, POETRY ARCHIVE, PRESS & PUBLISHING
---
Net als architectuur en muziek is het recht een levendige menselijke aangelegenheid, met een stevige basis die tegelijkertijd evolueert en zich aanpast aan haar sociale en culturele omgeving, zo stelt Associate Justice Stephen Breyer, rechter bij het Amerikaanse Supreme Court. De rechtsstaat staat echter wereldwijd onder zware druk, en het is daarom belangrijker dan ooit het recht met kracht te verdedigen.
Al meer dan twintig jaar doet Justice Breyer dat vol overgave. Het Supreme Court is als hoogste rechtsinstantie van de Verenigde Staten de hoeder van de Grondwet en de rechtstaat; het velt het laatste oordeel in de juridische strijd over fundamentele maatschappelijke vragen en was van beslissende invloed op grote omwentelingen in de Amerikaanse samenleving, van de strijd voor burgerrechten tot de erkenning van het homohuwelijk in 2015.
De Nexus-lezing 2017 door Justice Stephen Breyer biedt u de unieke gelegenheid een vertegenwoordiger van de hoogste Amerikaanse rechterlijke macht te ontmoeten en u te verdiepen in de kunst van de rechtspraak. De lezing vindt plaats op 23 september van 15.00 tot 17.00 in de aula van Tilburg University.
Stephen Breyer (Verenigde Staten, 1938):  Associate Justice Stephen Breyer werd in 1994 door president Clinton benoemd tot rechter bij het Supreme Court, en treedt in die rol al meer dan twintig jaar op als hoeder van de Grondwet en verdediger van de Amerikaanse democratie. In zijn uitspraken en publieke optredens bepleit hij een organische lezing van de Grondwet, die zich richt op de geest, in plaats van de letter van de wet. Hierbij betoogt hij dat rechters niet moeten schromen te kijken voorbij de grenzen van hun eigen land en vakgebied. Zijn invloedrijke kijk op het belang van het recht voor een democratische samenleving en de rol van het Supreme Court zette hij uiteen in Active Liberty: Interpreting our Democratic Constitution (2005) en Making our Democracy Work: A Judge's View (2010). In zijn meest recente boek The Court and the World beschrijft hij de wisselwerking tussen internationale ontwikkelingen en de Amerikaanse rechtspraak.
An Apology for the Law
Nexus-lezing Stephen Breyer
23 september 2017
15.00 – 17.00
Aula Tilburg University
  # Meer info website Nexus Instituut  
fleursdumal.nl magazine
More in: Art & Literature News, DICTIONARY OF IDEAS, Nexus Instituut
---
Symphonie Diagonale (1921)
Viking Eggeling (1880-1925)
fleursdumal.nl magazine
More in: CINEMA, RADIO & TV, Dada, DADA, Dadaïsme, MUSIC, Viking Eggeling
---
Georges Perec (1936-1982) was ernstig getraumatiseerd door het verdwijnen van zijn ouders tijdens de Tweede Wereldoorlog, en onderging diverse psychoanalytische behandelingen tijdens zijn leven.
Het verklaart iets van het belang dat hij hechtte aan zijn dromen, die hij tussen mei 1968 en augustus 1972 noteerde in zijn dagboek, ook om in het reine te komen met een stukgelopen liefde
Perec kwam al doende een nieuwe manier van schrijven op het spoor die een verontrustende intensiteit had. De gefragmenteerde grondstof van nachtelijke hersenspinsels vormt in De duistere winkel een compleet verhaal, gedrenkt in humor en overlopend van stilistische hoogstandjes.
Georges Perec geldt als een van de meest ingenieuze moderne Franse schrijvers. Hij legde zich bij het schrijven vaak bewust formele restricties op. In De dingen bijvoorbeeld wordt geen dialoog gebruikt, wat aan het verhaal een fascinerende, zuiver epische transparantie geeft. Hij liet zich erop voorstaan dat hij nooit twee eendere boeken had geschreven. Toch draagt elk van zijn boeken het onloochenbare stempel van zijn scheppend vernuft.
Van Perec verschenen voortreffelijke vertalingen van de hand van Edu Borger, o.a. Het leven een gebruiksaanwijzing en De dingen.
Georges Perec
De duistere winkel
124 dromen
vertaling Edu Borger
Privé-domein nr 293
Uitgeverij De Arbeiderspers, Amsterdam
ISBN 9789029507554
240 pag. – juni 2017
paperback € 24,99
fleursdumal.nl magazine
More in: - Book News, Archive O-P, Art & Literature News, Georges Perec, OULIPO (PATAFYSICA), Tales of Mystery & Imagination
---
bfirr
bfirr bfirr
ongog
rorr sss
dumpa
feif dirri
chu gaba
raur
ss
Hugo Ball
(1886-1927)
gedicht

fleursdumal.nl magazine
More in: Archive A-B, Ball, Hugo, Dada, DADA, Dadaïsme
---
Drie dagen lang, in oktober 1974, posteerde Georges Perec zich in het Café de la Mairie in Parijs, dat uitkijkt op de Place Saint-Sulpice. Hij stelde zich tot doel álles te noteren wat hij waarnam. Het resulteerde in Tentative d'épuisement d'un lieu parisien.
'Mijn bedoeling op de volgende pagina's was vooral al het andere te beschrijven: dat wat je gewoonlijk niet opmerkt, wat er niet toe doet: wat er gebeurt wanneer er niets gebeurt, behalve tijd, mensen, auto's en wolken.'
Georges Perec  (1936 – 1982) was een Franse schrijver, essayist en film- en documentairemaker. Hij was een vooraanstaand lid van de Oulipo-groep (Ouvroir de littérature potentielle), een los verband van Franstalige schrijvers en wiskundigen, dat als doel heeft literaire werken te maken die aan bepaalde voorwaarden of beperkingen onderhevig zijn: littérature sous contraintes. Het kan daarbij gaan om beperkingen inzake het gebruik van letters, woorden, klanken, stijlen, enz. Deze beperkingen zijn niet alleen bedoeld als woord- en taalspelletjes, maar ook om de inspiratie en het vakmanschap van de auteurs aan te scherpen.
De vader van Perec stierf vroeg in de Tweede Wereldoorlog, de moeder werd vermoord in de Holocaust. In veel werken van Perec komt dit terug in een thematiek omtrent afwezigheid, verlies en identiteit.
Georges Perec
Pogingen tot uitputtende beschrijving van een plek in Parijs
Vertaling: Kiki Coumans
Uitgeverij Vleugels, 2017
ISBN: 9789078627319
48 pagina's
Prijs: € 19,45
# meer info website uitgeverij vleugels
fleursdumal.nl magazine
More in: - Book News, Archive O-P, Georges Perec, OULIPO (PATAFYSICA)
---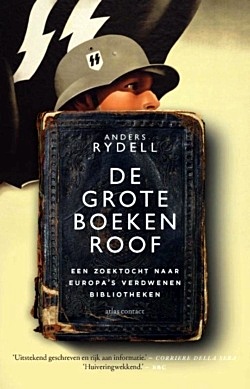 Op 10 mei 1933 staken nazi's op de Opernplatz in Berlijn, onder toeziend oog van 40.000 toeschouwers, zo'n 25.000 boeken in de fik.
Het was het startsein voor een reeks boekverbrandingen overal in Duitsland.

Over die gebeurtenis is veel geschreven, maar onbekend is het veel sinisterder plan dat de nazi's in heel Europa ten uitvoer brachten: het plunderen van bibliotheken en privébezit, met als doel de literatuur in te zetten als wapen in de vernietigingsmachinerie. 
Tegenstanders werden zo niet alleen van hun vrijheid beroofd maar ook van hun literatuur, hun verhalen, hun emotionele en intellectuele geschiedenis.

In De grote boekenroof volgt Anders Rydell het spoor van de boekenplunderaars door Europa. Hij reist onder meer naar Den Haag en Amsterdam, struint door de bibliotheken van Berlijn en Parijs en gaat op zoek naar de mysterieus verdwenen Joodse bibliotheek in Rome.
Zo vertelt Rydell het verhaal van een van de meest angstaanjagende nazi-ambities op het gebied van kunst, cultuur en onderwijs.
Anders Rydell
De grote boekenroof
Vertaling door Robert Starke
Afm. 26x210x135 mm
Verschijningsdatum:
april 2017
Paperback = 27,99
ISBN10 9045031914
ISBN13 9789045031910
Atlas Contact, Uitgeverij
fleursdumal.nl magazine
More in: - Book Stories, Archive Q-R, Art & Literature News, DICTIONARY OF IDEAS, The Art of Reading
---
From 24 May 2017, Museum de Fundatie in Zwolle will show 12 pastels by Bob Dylan (1941). The 2012 portrait series Face Value, on loan from The Bob and Jenny Ramsey Collection, is the first visual art by Dylan ever to be displayed in the Netherlands.
The drawings are as direct and unpolished as his music. The 'character studies', as Dylan describes them, are portraits of three women and nine men. They look directly at the viewer with a certain impertinence. Dylan uses sharp lines to pin down the personalities, that are an amalgam of characteristics taken from his environment, and memories and interests in people both real and imaginary. The titles of the works combine what Dylan wishes to express (Losing Face, Face Down or In Your Face), followed by the first and family name of the person. There are no clear indications whether he really refers to pianist Sylvia Renard or author Nigel Julian.
Dylan selected the Face Value series for a show in London's National Portrait Gallery in 2013. After London, the works were exhibited in Denmark, the United States and Germany, and can now be enjoyed in the Netherlands. The portraits have a unique place in his oeuvre. Ever since his youth, Dylan has made many sketches and drawings. He started working with oil paint in the sixties, but never before has he created such a comprehensive series of portraits. His use of colours in these pastels is also different: where he usually prefers a lot of expression and contrast, here he opts for four or five soft hues for the faces. Dylan works in layers; he starts by drawing the portraits in thin pencil lines, adds a soft pink or cream layer which he smooths out with his fingers and continues to develop the portrait with black or a dark brown. The drawings, like his songs, are expressions of an inventive imagination.
Dylan introduced his drawing talent to the public with something of a splash with his self-designed 1973 book Writings and Drawings, in which he combines lyrics with full-page ink drawings. He later published Drawn Blank (1989 and 1991-1992), to which he added a series of gouaches and watercolours 10 years ago.
In contrast to Dylan's art, the museum also presents a portrait series of the Craeyvanger family, created more than 350 years earlier. Gerard ter Borch, Zwolle's most internationally recognised artist, portrayed Willem Craeyvanger, Christine van der Wart and their eight children between 1651 and 1658. This comprehensive 17th century series of painted portraits of a single family is unique. Face Value is a continuation of previous exhibitions at Museum de Fundatie that focus on portraiture. The popularity of photo exhibition Dutch Identity (2016) and Look at Man! (finished January 2017) – displaying portraits by Bacon, Brancusi, Dumas and Richter – has proven that the 'old' genre of portraiture is certainly alive and well in the 21st century.
Bob Dylan was born in 1941 as Robert Allen Zimmerman. He signed his first record contract in 1961 and went on to become one of the most original and influential voices in the history of American folk and pop music. The 1963 release of his second album, The Freewheelin' Bob Dylan, ensured his international artistic breakthrough. Subsequent years brought many classic songs such as Blowing In The Wind, The Times They Are A-Changin', Subterranean Homesick Blues, Like A Rolling Stone, Knockin' On Heaven's Door and Hurricane. With an impressive back catalogue and a career spanning more than fifty years, Dylan still regularly tours the world. He was awarded the Nobel Prize for Literature on 13 October 2016, for "having created new poetic expressions within the great American song tradition". He is the first lyricist to be awarded the coveted prize. Bob Dylan will be playing live in AFAS Live in Amsterdam on 16, 17 and 18 April. For more information on this: www.mojo.nl/bobdylan
Bob Dylan: Face Value
Published by National Portrait Gallery
Introduction by John Elderfield
With over 500 songs, 46 albums and an astonishing 110 million record sales to his name, Bob Dylan (born 1941), now in his early seventies, is turning increasingly to another mode of artistic expression; one that has occupied him throughout his life, but for which he is much less well known. Although Dylan has sketched and drawn since childhood and painted since the late 1960s, only relatively recently has he begun to exhibit his artworks. The 12 works collected in this beautifully produced volume represent his latest foray into portraiture. In an illuminating essay and a rare Q&A with Dylan, curator and art historian John Elderfield explores the story behind these works. For Elderfield, Dylan's paintings, like his songs, are "products of the same extraordinary, inventive imagination, the same mind and eye, by the same story-telling artist, for whom showing and telling … are not easily separated."
BOB DYLAN – Face value
From 24 may until 20 august 2017
Museum de Fundatie
Blijmarkt 20
8011 NE Zwolle
  # Meer information on website De Fundatie  

fleursdumal.nl magazine
More in: - Book News, Art & Literature News, Bob Dylan, DICTIONARY OF IDEAS, Dylan, Bob, FDM Art Gallery
---
Older Entries »
« Newer Entries
Thank you for reading FLEURSDUMAL.NL - magazine for art & literature