– Book Lovers
«« Previous page
·
METROPOLITAN MUSEUM – TILBURG : Overzichtstentoonstelling Sander Neijnens en Ivo van Leeuwen
·
Paper Aeroplane: Selected Poems 1989-2014 by Simon Armitage
·
Death Blossoms. Reflections from a Prisoner of Conscience, Expanded Edition by Mumia Abu-Jamal
·
Joris-Karl Huysmans: Aan de vrouw
·
FRANKFURTER BUCHMESSE: 16 – 20 Oktober 2019
·
65ste Kinderboekenweek van 2 t/m 13 oktober 2019
·
The Brooklyn Book Festival 2019: September 16 – 23
·
Das 19. internationale literaturfestival berlin
·
Cahiers de prison : février-octobre 1946 de Louis-Ferdinand Céline
·
Albert Hagenaars over de nieuwe dichtbundel 'Nederzettingen' van Bert Bevers
·
H. G. Wells: The Flying Man
·
Bas Kwakman: In poëzie en oorlog. Vijftig jaar Poetry International
METROPOLITAN MUSEUM | TILBURG: Overzichtstentoonstelling vier jaar TilburgsAns, een kunstproject van Sander Neijnens en Ivo van Leeuwen
Wè knòrrie?
Sinds april 2016 zwerft TilburgsAns door de stad, een lettertype met eigenzinnige karakters en inmiddels 123 pictogrammen. Het lettertype is ontworpen door Sander Neijnens en geïnspireerd op het rauwe, eigenzinnige, humoristische, verrassende en experimentele karakter van Tilburg. De pictogrammen van karakteristieke Tilburgse locaties, evenementen, verhalen en woorden zijn van de hand van Ivo van Leeuwen. TilburgsAns is een uniek (typo)grafisch portret van Tilburg. Dit kunstproject is omarmd door de inwoners van de stad.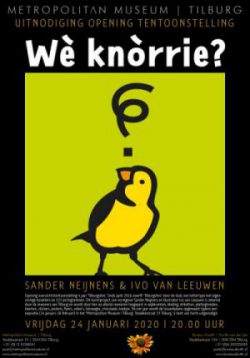 Het lettertype wordt op allerlei manieren toegepast in wijkkranten, kleding, etiketten, plattegronden, kaarten, stickers, posters, flyers en tatoeages. Daarnaast organiseerden de ontwerpers de wekelijkse kaajbaandexpositie van pictogrammen op de vuilcontainers van 81 huishoudens en hielden zij reeds vele workshops, lezingen in binnen- en buitenland en lessen voor basis-, middelbaar en hoger onderwijs. Ook presenteerden zij 'Dègge bedankt zèèt dè witte wèèn' en 'We zullen et saome wel rôoje wèèn', Chocolinde sjeklaatjes, de Tilburgse lekkernij met een Q en een serie speldjes. Na vier jaar wordt de tussenbalans opgemaakt met deze expositie in het Metropolitan Museum Tilburg, de raamtentoonstellingen aan de Stedekestraat 15 te Tilburg.
Het lettertype TilburgsAns kan gratis gedownload worden op de website www.tilburgsans.nl. Daar treft u ook nadere achtergrondinformatie over het project en het bijbehorende letteradoptieplan alsmede vele voorbeelden van hoe het lettertype en de pictogrammen in en buiten de stad worden toegepast.
Gratis raamtentoonstelling
'Wè knòrrie?' van TilburgsAns
Sander Neijnens en Ivo van Leeuwen
dagelijks nog t/m 18 februari 2020
'Metropolitan Museum | Tilburg'
Stedekestraat 15 | 5041DM Tilburg
Sjon Brands en Dorith van der Lee
telefoon 013 5358041 | 06 20325030
mail post@metropolitanmuseum.nl
site www.metropolitanmuseum.nl
• fleursdumal.nl magazine
More in: - Book Lovers, Archive K-L, Archive M-N, Art & Literature News, Exhibition Archive, Ivo van Leeuwen, Metropolitan Museum Tilburg, Sander Neijnens, Theater van de Verloren Tijd
---
Paper Aeroplane: Selected Poems 1989-2014 by Simon Armitage is the essential selection of poems from one of Britain's foremost contemporary poets.
When Simon Armitage burst on to the poetry scene in 1989 with his spectacular debut Zoom!, readers were introduced to an exceptional new talent who would reshape the landscape of contemporary poetry in the years to come.
Twenty-five years on, Simon Armitage's reputation as one of the nation's most original, most respected and best-loved poets seems secure. Paper Aeroplane: Poems 1989-2014 is the author's own selection from across a quarter-century of work, from his debut to the latest, uncollected work. Drawing upon all of his award-winning poetry collections, including Kid, Book of Matches, The Universal Home Doctor and Seeing Stars, this generous selection provides an essential gathering of this most thrilling of poets, and is key reading for students and general readers alike.
Simon Armitage was born in West Yorkshire and is Professor of Poetry at the University of Leeds. A recipient of numerous prizes and awards, he has published twelve collections of poetry, including Seeing Stars (2010), The Unaccompanied (2017), Sandettie Light Vessel Automatic (2019) and his acclaimed translation of Sir Gawain and the Green Knight (2007). He writes extensively for television and radio, and is the author of two novels and the non-fiction bestsellers All Points North (1998), Walking Home (2012) and Walking Away (2015). His theatre works include The Last Days of Troy, performed at Shakespeare's Globe in 2014. In 2015 he was appointed Professor of Poetry at Oxford University and in 2018 he was awarded the Queen's Gold Medal for Poetry. Simon Armitage is Poet Laureate of the UK.
Paper Aeroplane: Selected Poems 1989-2014
by Simon Armitage (Author), Sue Roberts (Author)
2014/2015
Hardback Price £14.99
Paperback Price £10.99
Pages: 248pp
Publisher: Faber and Faber Poetry
Language: English
ISBN-10: 0571310699
ISBN-13: 978-0571310692
# new books
Paper Aeroplane:
Selected Poems 1989-2014
by Simon Armitage (Author)
• fleursdumal.nl magazine
More in: - Book Lovers, - Book News, Archive A-B, Archive A-B, Armitage, Simon
---
Profound meditations on life, death, freedom, family, and faith, written by radical Black journalist, Mumia Abu-Jamal, while he was awaiting his execution.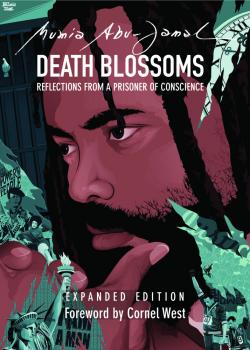 During the spring of 1996, black journalist Mumia Abu-Jamal was living on death row and expecting to be executed for a crime he steadfastly maintained he did not commit—the murder of a white Philadelphia police officer. It was in that period, with the likelihood of execution looming over him, that he received visits from members of the Bruderhof spiritual community––refugees from Hitler's Germany––anti-fascist, anti-racist, and deeply opposed to the death penalty. Inspired by the encounters, Mumia hand-wrote Death Blossoms—a series of short essays and personal vignettes reflecting on his search for spiritual meaning, freedom, and truth in a deeply racist and materialistic society.
Featuring a new introduction by Mumia and a report by Amnesty International detailing how his trial was "in violation of minimum international standards," this new edition of Death Blossoms is essential reading for the Black Lives Matter era, and is destined to endure as a classic in American prison literature.
"In this revised edition of his groundbreaking work, Death Blossoms, convicted death row prisoner Mumia Abu-Jamal tackles hard and existential questions, searching for God and a greater meaning in a caged life that may be cut short if the state has its way and takes his life. As readers follow Mumia's journey through his poems, short essays, and longer musings, they will learn not only about this singular individual who has retained his humanity despite the ever present threat of execution, but also about themselves and our society: what we are willing to tolerate and who we are willing to cast aside. If there is any justice, Mumia will prevail in his battle for his life and for his freedom."––Lara Bazelon, author of Rectify: The Power of Restorative Justice After Wrongful Conviction
"Mumia Abu-Jamal has challenged us to see the prison at the center of a long history of US oppression, and he has inspired us to keep faith with ordinary struggles against injustice under the most terrible odds and circumstances. Written more than two decades ago, Death Blossoms helps us to see beyond prison walls; it is as timely and as necessary as the day it was published."––Nikhil Pal Singh, founding faculty director of the NYU Prison Eduction Program, author of Race and America's Long War.
Title: Death Blossoms
Subtitle: Reflections from a Prisoner of Conscience, Expanded Edition
Author: Mumia Abu-Jamal
Foreword: Cornel West
Introduction by Mumia Abu-Jamal
Preface by Julia Wright
Publisher: City Lights Publishers
Tags: African American history, black lives matter, black panther party, death row, injustice, institutional injustice, mass incarceration, prison industrial complex, prison writing, racial injustice, U.S. political prisoners, white supremacy
Format: Paperback
ISBN-10 0872867978
ISBN-13 9780872867970
Publication Date; 12 November 2019
Main content page count 240
List Price $16.95
# new books
Mumia Abu-Jamal
Death Blossoms
Reflections from a Prisoner of Conscience
• fleursdumal.nl magazine
More in: #Editors Choice Archiv, - Book Lovers, - Book News, Archive A-B, Archive A-B, CRIME & PUNISHMENT, REPRESSION OF WRITERS, JOURNALISTS & ARTISTS
---
Na een avond uit met zijn beste vriend Cyprien betrapt André zijn vrouw Berthe op overspel. Vernederd, woedend en verdrietig verlaat hij de echtelijke woning.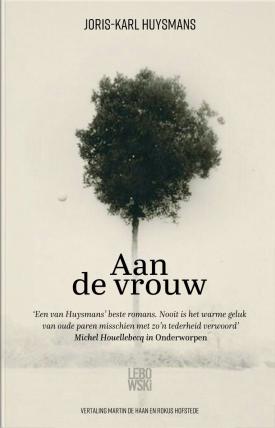 Wat te doen? Met Cyprien praat hij veelvuldig over de beslommeringen van het huwelijk en het leven van alleenstaanden in een grote stad. Moet André zijn huwelijk proberen te redden, misschien zelf een buitenechtelijke relatie aangaan, of de voorkeur geven aan eenzaamheid?
In de klassieker Aan de vrouw uit 1881 portretteert Huysmans het huiselijke, kleinburgerlijke leven met veel ironie en zwarte humor, evenals het verarmde kunstenaarsmilieu waarin de schrijver André en de schilder Cyprien zich bewegen. Een verrassend tijdloos verhaal over de eeuwige strijd tussen de seksen, over de sleur van een huwelijk, relaties en seksualiteit. Verkiezen André en Cyprien uiteindelijk het burgerlijk bestaan boven hun artistieke ambities en vrijheid?
Met een nawoord door vertalers Martin de Haan & Rokus Hofstede en een voorwoord door fin-de-siècle-expert Sander Bink.
Joris-Karl Huysmans (1848-1907) was een Franse auteur. Hij schreef Aan de vrouw (En ménage) in 1881, drie jaar voor zijn bekendste werk verscheen: Tegen de keer (À rebours, 1884). Joris-Karl Huysmans is een van de favoriete auteurs van Michel Houellebecq.
Aan de vrouw
Joris-Karl Huysmans
Oorspronkelijke titel: En ménage
Vertaling: Rokus Hofstede
Uitgever: Lebowski
ISBN: 9789048841936
Verschenen: 05-09-2019
Paperback
304 blz.
€ 21.99
# new books
Joris-Karl Huysmans
Aan de vrouw
En ménage
• fleursdumal.nl magazine
More in: - Book Lovers, - Book News, - Book Stories, Archive G-H, Archive G-H, Huysmans, J.-K., Huysmans, Joris-Karl, J.-K. Huysmans, Joris-Karl Huysmans
---
Frankfurter Buchmesse is the international publishing industry's biggest trade fair – with over 7,500 exhibitors from 109 countries, around 285,000 visitors, over 4,000 events and some 10,000 accredited journalists and bloggers in attendance.
It also brings together key players from the fields of technology education, film, games, STM, academic publishing, and business information. Frankfurter Buchmesse organises the participation of publishers at around 20 international book fairs and hosts trade events throughout the year in major international markets. Frankfurter Buchmesse is a subsidiary of the Börsenverein des Deutschen Buchhandels (German Publishers & Booksellers Association).
Norway is 2019 the Guest of Honour of Frankfurter Buchmesse – the land of big Literature: from the classics of Henrik Ibsen to the modern best-sellers of Jo Nesbø.
Frankfurter Buchmesse
16 – 20 Oktober 2019
# More information on website: https://www.buchmesse.de/en
• fleursdumal.nl magazine
More in: - Book Lovers, - Book News, - Bookstores, Art & Literature News, AUDIO, CINEMA, RADIO & TV, LITERARY MAGAZINES, PRESS & PUBLISHING
---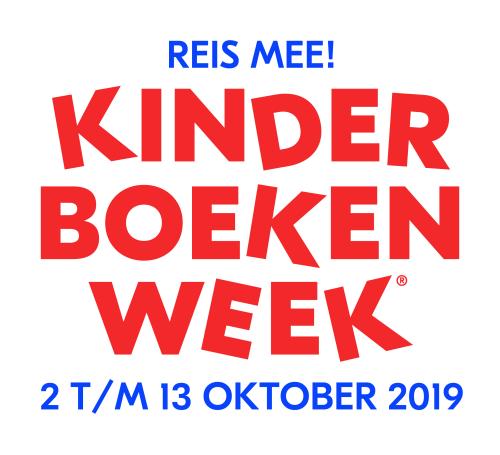 De 65ste Kinderboekenweek vindt plaats van woensdag 2 t/m zondag 13 oktober 2019. Anna Woltz schrijft het Kinderboekenweekgeschenk. André Kuipers schrijft het Prentenboek van de Kinderboekenweek met illustraties van Natascha Stenvert.
# Meer informatie op website: https://www.kinderboekenweek.nl/
• fleursdumal.nl magazine
More in: - Audiobooks, - Book Lovers, - Book News, - Book Stories, - Bookstores, Art & Literature News, AUDIO, CINEMA, RADIO & TV, Kinderboekenweek
---
The Brooklyn Book Festival is one of America's premier book festivals and the largest free literary event in New York City.

Presenting an array of national and international literary stars and emerging authors including Alexander Chee, Ted Chiang, Susan Choi, Edwidge Danticat, Sarah Dessen, Akwaeke Emezi, Jonathan Safran Foer, Jenny Han, Aleksandar Hemon, Mira Jacob, Marlon James, N.K. Jemisin, Lucy Knisley, Laila Lalami, Jessica Lange, DeRay Mckesson, Bill McKibben, Mary Norris, Joyce Carol Oates, Ben Passmore, Matt Taibbi, Mo Willems, Meg Wolitzer, Nell Zink, and hundreds more.
The Festival includes a week of Bookend Events throughout New York City, a lively Children's Day and a celebratory Festival Day with more than 300 authors plus 250 booksellers filling a vibrant outdoor Literary Marketplace. This hip, smart, diverse gathering attracts thousands of book lovers of all ages.
September 16 – 23
Brooklyn Book Festival 2019
Citywide Brooklyn – New York
# more on website brooklynbookfestival
• fleursdumal.nl magazine
More in: - Book Lovers, - Book News, - Book Stories, - Bookstores, Art & Literature News, FDM in New York, FICTION & NONFICTION ARCHIVE, PRESS & PUBLISHING, REPRESSION OF WRITERS, JOURNALISTS & ARTISTS, TRANSLATION ARCHIVE
---
Das 19. internationale literaturfestival berlin findet vom 11. bis 21. September 2019 statt. Es ist eines der renommiertesten Literaturfestivals weltweit.

Rund 150 Autor*innen aus über 50 Ländern in den Genres Prosa, Lyrik, Nonfiction, Graphic Novel und Kinder- und Jugendliteratur sind auf dem 19.ilb zu Gast.
Drei Themenschwerpunkte prägen das Programm in diesem Jahr: »Decolonizing Worlds II«, »About:Sex« und »Automatic Writing 2.0« im Rahmen des Wissenschaftsjahres »Künstliche Intelligenz«.
Literatures of the World
Aciman, André [Egypt/ USA]
Adichie, Chimamanda Ngozi [Nigeria/ USA]
Adnan, Etel [Lebanon/ France] in absence
Agualusa, José Eduardo [Angola, Mozambique]
Akbar, Kaveh [Iran/ USA]
Al-Jarrah, Nouri [Syria/ UK]
Almadhoun, Ghayath [Syria/ Sweden]
Al Shahmani, Usama [Iraq/ Switzerland]
Aw, Tash [Malaysia/ UK]
Benyamin [India]
Biller, Maxim [D]
Bin Hamza, Hussein [Syria/ D]
Bossong, Nora [D]
Choi, Don Mee [Republic of Korea/ USA]
Diop, David [Senegal/ France]
Drakulić, Slavenka [Croatia/ Sweden]
Edugyan, Esi [Canada]
Énard, Mathias [France]
Esinencu, Nicoleta [Moldova]
Espedal,Tomas [Norway]
Faber, Michel [Netherlands/ UK]
Fatah, Sherko [D]
Gappah, Petina [Zimbabwe]
Gospodinov, Georgi [Bulgaria]
Illies, Florian [D]
Jónás, Tamás [Hungary]
Kames, Maren [D]
Kandasamy, Meena [India/ UK]
Khalifa, Mustafa [Syria/ France]
Kwon, R. O. [South Korea/ USA]
Mabanckou, Alain [Congo/ USA]
Macfarlane, Robert [UK]
Mathieu, Nicolas [France]
Mattes, Eva [D] reads Elena Ferrante [Italy]
Menasse, Eva [Austria/ D]
Myles, Eileen [USA]
Nguyen Phan, Que Mai [Vietnam/ Indonesia]
Nielsen, Madame [Denmark/D]
Nikolic, Jovan [Serbia/ D]
Onjerika, Makena [Kenya]
Onuzo, Chibundu [Nigeria/UK]
Orange, Tommy [USA]
Osang, Alexander [D]
Pauls, Alan [Argentina]
Pavlova, Vera [Russia/USA]
Piñeiro, Claudia [Argentina]
Pron, Patricio [Argentina/ Spain]
Ramírez, Sergio [Nicaragua/ Spain]
Rey Rosa, Rodrigo [Guatemala]
Rijneveld, Marieke Lucas [Netherlands]
Ruffato, Luiz [Brazil]
Ruschkowski, Klaudia [D]
Rushdie, Salman [India, USA]
Sainz Borgo, Karina [Venezuela/ Spain]
Sartorius, Joachim [D]
Schrott, Raoul [Austria]
Schweikert, Ruth [Switzerland]
Sievers, Frank [D]
Solstad, Dag [Norway]
Tharoor, Shashi [India/ USA]
Vilas, Manuel [Spain]
Vuong, Ocean [Vietnam/ USA]
Wegner, Frank [D]
Wray, John [USA]
Reflections
Al-Rasheed, Madawi [Frankreich/ UK]
Anderson, Perry [UK]
Basil, Priya [UK/ D]
Benyamin [India]
Bianconi, Vanni [Switzerland]
Brovot, Thomas [D]
Buch, Hans Christoph [D]
Cardoso, Rafael [Brazil/ D]
Eribon, Didier [France]
Fischer, Joschka [D]
Forgách, András [Hungary]
Gauß, Karl-Markus [Austria]
Guerriero, Leila [Argentina]
Guggenberger, Linus [D]
Habeck, Robert [D]
Hansen, Christian [D]
Hoegen, Saskia von [D]
Holtz, Jürgen [D]
Ihrig, Wilfried [D]
Iyer, Pico [UK/ USA/ Japan]
Janetzki, Ulrich [D]
Kamala Kaufmann, Sina [D]
Kleeberg, Michael [D]
Koelbl, Susanne [D]
Kubin, Wolfgang [D/China]
Lagasnerie, Geoffroy de [France]
Lai, Mo Yan-chi [China]
Louis, Édouard [France]
Maalouf, Amin [Lebanon/ France]
Magid, Magid [Somalia, UK]
Magris, Claudio [Italy]
Martin, Marko [D]
Martínez, Oscar [El Salvador]
Murgia, Michela [Italy]
Nobil Ahmad, Ali[Pakistan/D]
Oberender, Thomas [D]
Pauls, Alan [Argentina]
Pilar, Ulrike von [D]
Piñeiro, Claudia [Argentina]
Ramírez, Sergio [Nicaragua/ Spain]
Reinhardt, Dotschy [D]
Ribeiro, Djamila [Brazil]
Ruffato, Luiz [Brazil]
Sainz Borgo, Karina [Venezuela/ Spain]
Scheller, Bente [D]
Schmid, Thomas [D]
Steinberg, Guido [D]
Strauß, Simon [D]
Tiburi, Marcia [Brazil]
Tonus, Leonardo [Brazil, France]
Weidner, Stefan [D]
Wong, Ben King-fai [China]
Wong, Mary Shuk-han [China]
Yuen, Chi-him
Mapping Berlin/Damaskus
AlBitar Kalaji, Dima [Syria/ D]
Barakeh, Khaled [Syria/ D]
Gröschner, Annett [D]
Leiber, Svenja [D]
Nabi, Widad [Syria/D]
Namer, Guevara [Syria/ D]
Reich, Annika [D]
International Children ́s and Young Adult Literature
Acevedo, Elizabeth [USA]
Aciman, André [Egypt, USA]
Beauvais, Clémentine [France/ UK]
Entrada Kelly, Erin [USA]
Gappah, Pettina [Simbabwe]
Habeck, Robert [D]
Jonsberg, Barry [Australia]
Koens, Enne [The Netherlands]
Lai, Thanhha [Vietnam, USA]
Koens, Enne [The Netherlands]
Louis, Édouard [France]
Lagercrantz, Rose [Sweden]
Lawrence, Iain [Canada]
Liu, Xun [China]
Meschenmoser, Sebastian [D]
Ruffato, Luiz [Brazil]
Sandén, Mårten [Sweden]
Schrott, Raoul [Austria]
Steinfeld, Tobias [D]
Wheatle, Alex [D]
Yockteng, Rafael [Peru/ Colombia]
Spotlight Norway
Dahle, Gro [Norway]
Hagerup, Linde [Norway]
Horndal, Sissel [Norway]
Lian, Torun [Norway]
Moursund, Gry [Norway]
Nyhus, Svein [Norway]
THEO
Hataki, Shahzamir [Afghanistan/ D]
Möller, Henriette [D]
Spieler, Lotti [D]
Young Euro Classics
Iraki, Batul [D]
Münster, Lukas [D]
Zimmermann, Henny [D]
Science and the Humanities
Al Haj Saleh, Yassin [Syria/D]
Eilenberger, Wolfram [D]
Felsch, Philipp [D]
Khalifa, Mustafa [Syria/ France]
Kluge, Ulrike [D]
Ridder, Michael de [D]
Wagner, David [D]
Automatic Writing 2.0
Alanoca, Sacha [France/ Chile]
Awret, Uziel [Israel/ USA]
Beckett, Bernard [New Zealand]
Blanco, Noelia [Argentina/ France]
Burchardt, Aljoscha [D]
Cotten, Ann [USA/ D]
Danaher, John [Ireland]
Dotse, Jonathan [Ghana]
Dufour, Catherine [France]
Du Sautoy, Marcus [UK]
Haider, Thomas [D]
Ings, Simon [UK]
Krämer, Sybille [D]
Landgraf, Tim [D]
Lipski, Roman [Poland/D]
Lord, Karen [Barbados]
Mondal, Mimi [India/ USA]
Monett, Dagmar [D]Müggenburg, Jan [D]
Neuvel, Sylvain [Canada]
O'Connell, Mark [Ireland]
Oh, Temi [Nigeria/UK]
Older, Malka [USA/France]
Oslberg, Karl [D]
Passig, Kathrin [D]
Ritter, Petra [D]
Schönthaler, Philipp [D]
Tidbeck, Karin [Sweden]
Wilk, Elvia [USA/ D]
Specials
Special: About Sex
Aciman, André [Egypt/ USA]
Becker, Theodora [D]
Beier, Klaus M. [D]
Bruns, Claudia [D]
Danaher, John [Ireland]
Eribon, Didier [France]
Gien, Anna [D]
Govrin, Jule [D]
Kandasamy, Meena [India/ UK]
Katsch, Matthias [D]
Myles, Eilen [USA]
Neft, Anselm [D]
Pappel, Paulita [Spanien/ D]
Rosales, Caroline [D]
Şahin, Reyhan aka Dr. Bitch Ray [D]
Stark, Marlene [D]
Vogel, Saskia [USA/ D]
Vogl, Joseph [D]
Wennerscheid, Sophie [D]
Special: Decolonizing Worlds II
Agualusa, José Eduardo [Angola/Mozambique]
Appadurai, Arjun [India]
Aw, Tash [Malaysia/ UK]
Chakrabarty, Dipesh [India/ USA]
Diop, David [Senegal, France]
Edugyan, Esi [Canada]
Gappah, Petina [Simbabwe]
Gryseels, Guido [Belgium]
Hicks, Dan [UK]
Kaleck, Wolfgang [D]
Kilomba, Grada [Portugal/D]
Koch, Lars Christian [D]
Kübler, Heike [D]
Lord, Karen [Barbados]
Olinde, Wilbert Jr [USA/D]
Ribbat, Christoph [D]
Ruffato, Luiz [Brazil]
Snoep, Nanette [Netherlands/ D]
Strausfeld, Michi [D]
Tharoor, Shashi [India/ USA]
Touré, Abdoulayé [Senegal]
Vinke, Kira [D]
Special: New German Voices
Kühmel, Miku Sophie [D]
Maeß, Emanuel [D]
Special: Graphic Novel Day
Bacilieri, Paolo [Italy]
Evens, Brecht [Belgium/ France]Goblet, Dominique [Belgium]
Itagaki, Lina [Lithuania]
Janečić, Helena [Croatia]
Krančan, David [Slovenia]
Novák, Jan [Czech Republic/ USA]
Peidro, Jordi [Spain]
Pfeiffer, Kai [ D]
Suess, Franz [Austria]
Vilé, Jurga [Lithuania]
Special: Third Culture Kid Day
Akbar, Kaveh [Iran/ USA]
Faber, Michel [Netherlands/ UK]
Lai, Thanhha [Vietnam/USA]
Onuzo, Chibundu [Nigeria/ UK]
Speak, Memory
Mandelkow, Miriam [Netherlands, D], Tesfu Temye [D] and Deniz Utlu [D] on James Baldwin
Al-Jarrah, Nouri [Syria/ UK] and Hussein Bin Hamza [Syria/ D] on Nizar Qabbani
Hegemann, Helene [D], Charis Goer [D] and Matthias Penzel [D] on Jörg Fauser
Guggolz, Sebastian [D] and Olga Radetzkaja on Boris Poplawski
Rey Rosa, Rodrigo [Guatemala] and Michael Kleeberg [D] on Paul Bowles
Dalos, György [Hungary/D], Timea Tankó [Hungary/D] and Sebastian Guggolz [D] on Andor
Endre Gelléri
Sofri, Adriano [Italy] and Hans-Gerd Koch [D] on Franz Kafka
Artists
Beldi, Christian [Romania/ D]
# website internationale literaturfestival berlin
• fleursdumal.nl magazine
More in: - Audiobooks, - Book Lovers, - Book News, - Bookstores, Art & Literature News, AUDIO, CINEMA, RADIO & TV, Automatic writing, Conceptual writing, FICTION & NONFICTION ARCHIVE, Literary Events, LITERARY MAGAZINES, PRESS & PUBLISHING, REPRESSION OF WRITERS, JOURNALISTS & ARTISTS
---
En décembre 1945, Louis-Ferdinand Céline est arrêté à Copenhague, où il s'était réfugié avec Lucette et son chat Bébert et tentait d'écrire la suite de Guignol's band.

L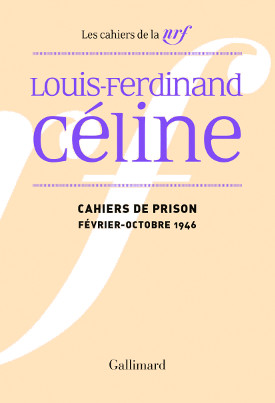 e dénommé Destouches, immédiatement incarcéré à la prison de l'Ouest, réclame de quoi écrire. L'administration pénitentiaire lui fournit dix cahiers d'écolier de 32 pages avec des règles à respecter : « On ne doit pas écrire sur l'affaire dont on est justiciable ni sur la détention. Tout propos licencieux et malséant est également interdit. »
À partir de février 1946, le prisonnier note d'emblée des éléments de défense pour empêcher son extradition dans la France de l'épuration, et s'en prend à l'ambassadeur Charbonnières qui le persécute. Mais Céline est repris par l'écriture et les Cahiers de prison dévoilent sa vie après son arrivée au Danemark, sa relation avec Lucette, des souvenirs de Londres ou de Montmartre, et surtout montrent de manière inédite le Céline lecteur. Isolé dans la cellule 609 de la section K., Céline s'entoure de livres apportés par sa femme et cite abondamment Chateaubriand, Hugo, Chamfort, Voltaire, etc., en se comparant avec les « grands écrivains exilés emprisonnés ». Les Cahiers illustrent aussi la transition littéraire vers sa « seconde révolution narrative et stylistique », note Jean Paul Louis, avec la mise en chantier de Féerie pour une autre fois, et des passages que l'on retrouvera dans D'un château l'autre, Nord et Rigodon.
Ce volume des Cahiers de la NRF constitue la première édition originale et intégrale des Cahiers de prison de Céline. Avec un nouveau travail d'établissement du texte et des notes, ainsi qu'un index centré sur les noms d'auteurs et les titres d'oeuvres, Céline nous apparaît tel qu'en lui-même, obsédé par la littérature et sa condition d'écrivain : « C'est moi maintenant le traître, le monstre, c'est moi qu'on s'apprête à lyncher. »
Louis-Ferdinand Céline
Cahiers de prison (Février – octobre 1946)
Édition de Jean Paul Louis
Collection Les Cahiers de la NRF,
Série Céline (n° 13), Gallimard
Parution : 23-05-2019
240 pages
sous couverture décorée, 140 x 205 mm
Achevé d'imprimer : 01-05-2019
Genre : Mémoires et autobiographies
Thème : littérature
Catégorie – Sous-catégorie :
Littérature française
Mémoires et autobiographies
Époque : XXe siècle
ISBN : 9782072852695
Gencode : 9782072852695
Code distributeur : G03149
Broché
EUR 20,00
# more books
Louis-Ferdinand Céline
Cahiers de prison
• fleursdumal.nl magazine
More in: #Biography Archives, - Book Lovers, - Book News, Archive C-D, CRIME & PUNISHMENT, Louis-Ferdinand Céline, WAR & PEACE
---
In De Verborgen Hoek besteedt recensent Albert Hagenaars uitgebreid aandacht aan de meest recente dichtbundel 'Nederzettingen' van Bert Bevers en de verhouding daarvan tot zijn eerdere werk.
'Nederzettingen' verscheen bij uitgeverij Kleinood & Grootzeer. De bundel is verdeeld in drie reeksen: Nederzettingen, Uit de tijd en Gedichten uit een stadje in de heuvels en bevat dertig recente gedichten.
Bert Bevers is een dichter met een brede kijk op zijn onderwerpen en een onmiskenbaar eigen idioom.

Eerste druk 100 genummerde en door de auteur gesigneerde exemplaren. Boekje, 42 pagina's, gelijmd 21 x 10,5 cm. ISBN/EAN 978-90-76644-91-2. Prijs € 18,-
Bert Bevers (Bergen op Zoom, 1954) woont en werkt in Antwerpen. Keuzes uit zijn gedichten verschenen in de verzamelbundels Afglans (1997) en Eigen terrein (2013). Werk van zijn hand verscheen in literaire tijdschriften als Ballustrada, Bzzlletin, Deus ex Machina, Dietsche Warande & Belfort, Digther, Fleurs du mal.nl, Gierik & Nieuw Vlaams Tijdschrift, Hollands Maandblad, Meander, Poëziekrant, De Tweede Ronde, TZUM en Versindaba alsmede in vele bloemlezingen.
Albert Hagenaars (Bergen op Zoom, 1955) is dichter en schrijver. De belangrijkste thema's in zijn boeken zijn reizen, interculturele relaties, vervreemding en identiteit. Verder schrijft hij al jarenlang literaire recensies, meestal over poëzie.
# Albert Hagenaars: Kruisbestuivingen tussen tijd en plaats over Bert Bevers
# link naar literaire blog De Verborgen Hoek 

• fleursdumal.nl magazine
More in: - Book Lovers, - Book Stories, Archive A-B, Archive A-B, Archive G-H, Art & Literature News, Bevers, Bert, PRESS & PUBLISHING
---
The Flying Man
The Ethnologist looked at the bhimraj feather thoughtfully. "They seemed loth to part with it," he said.
"It is sacred to the Chiefs," said the lieutenant; "just as yellow silk, you know, is sacred to the Chinese Emperor."
The Ethnologist did not answer. He hesitated. Then opening the topic abruptly, "What on earth is this cock-and-bull story they have of a flying man?"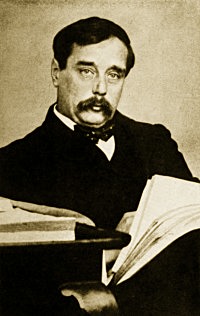 The lieutenant smiled faintly. "What did they tell you?"
"I see," said the Ethnologist, "that you know of your fame."
The lieutenant rolled himself a cigarette. "I don't mind hearing about it once more. How does it stand at present?"
"It's so confoundedly childish," said the Ethnologist, becoming irritated. "How did you play it off upon them?"
The lieutenant made no answer, but lounged back in his folding-chair, still smiling.
"Here am I, come four hundred miles out of my way to get what is left of the folk-lore of these people, before they are utterly demoralised by missionaries and the military, and all I find are a lot of impossible legends about a sandy-haired scrub of an infantry lieutenant. How he is invulnerable — how he can jump over elephants — how he can fly. That's the toughest nut. One old gentleman described your wings, said they had black plumage and were not quite as long as a mule. Said he often saw you by moonlight hovering over the crests out towards the Shendu country. — Confound it, man!"
The lieutenant laughed cheerfully. "Go on," he said. "Go on."
The Ethnologist did. At last he wearied. "To trade so," he said, "on these unsophisticated children of the mountains. How could you bring yourself to do it, man?"
"I'm sorry," said the lieutenant, "but truly the thing was forced upon me. I can assure you I was driven to it. And at the time I had not the faintest idea of how the Chin imagination would take it. Or curiosity. I can only plead it was an indiscretion and not malice that made me replace the folk-lore by a new legend. But as you seem aggrieved, I will try and explain the business to you.
"It was in the time of the last Lushai expedition but one, and Walters thought these people you have been visiting were friendly. So, with an airy confidence in my capacity for taking care of myself, he sent me up the gorge — fourteen miles of it — with three of the Derbyshire men and half a dozen Sepoys, two mules, and his blessing, to see what popular feeling was like at that village you visited. A force of ten — not counting the mules — fourteen miles, and during a war! You saw the road?"
"Road!" said the Ethnologist.
"It's better now than it was. When we went up we had to wade in the river for a mile where the valley narrows, with a smart stream frothing round our knees and the stones as slippery as ice. There it was I dropped my rifle. Afterwards the Sappers blasted the cliff with dynamite and made the convenient way you came by. Then below, where those very high cliffs come, we had to keep on dodging across the river — I should say we crossed it a dozen times in a couple of miles.
"We got in sight of the place early the next morning. You know how it lies, on a spur halfway between the big hills, and as we began to appreciate how wickedly quiet the village lay under the sunlight, we came to a stop to consider.
"At that they fired a lump of filed brass idol at us, just by way of a welcome. It came twanging down the slope to the right of us where the boulders are, missed my shoulder by an inch or so, and plugged the mule that carried all the provisions and utensils. I never heard such a death-rattle before or since. And at that we became aware of a number of gentlemen carrying matchlocks, and dressed in things like plaid dusters, dodging about along the neck between the village and the crest to the east.
"'Right about face,' I said. 'Not too close together.'
"And with that encouragement my expedition of ten men came round and set off at a smart trot down the valley again hitherward. We did not wait to save anything our dead had carried, but we kept the second mule with us — he carried my tent and some other rubbish — out of a feeling of friendship.
"So ended the battle — ingloriously. Glancing back, I saw the valley dotted with the victors, shouting and firing at us. But no one was hit. These Chins and their guns are very little good except at a sitting shot. They will sit and finick over a boulder for hours taking aim, and when they fire running it is chiefly for stage effect. Hooker, one of the Derbyshire men, fancied himself rather with the rifle, and stopped behind for half a minute to try his luck as we turned the bend. But he got nothing.
"I'm not a Xenophon to spin much of a yarn about my retreating army. We had to pull the enemy up twice in the next two miles when he became a bit pressing, by exchanging shots with him, but it was a fairly monotonous affair — hard breathing chiefly — until we got near the place where the hills run in towards the river and pinch the valley into a gorge. And there we very luckily caught a glimpse of half a dozen round black heads coming slanting-ways over the hill to the left of us — the east that is — and almost parallel with us.
"At that I called a halt. 'Look here,' says I to Hooker and the other Englishmen; 'what are we to do now?' and I pointed to the heads.
"'Headed orf, or I'm a nigger,' said one of the men.
"'We shall be,' said another. 'You know the Chin way, George?'
"'They can pot every one of us at fifty yards,' says Hooker, 'in the place where the river is narrow. It's just suicide to go on down.'
"I looked at the hill to the right of us. It grew steeper lower down the valley, but it still seemed climbable. And all the Chins we had seen hitherto had been on the other side of the stream.
"'It's that or stopping,' says one of the Sepoys.
"So we started slanting up the hill. There was something faintly suggestive of a road running obliquely up the face of it, and that we followed. Some Chins presently came into view up the valley, and I heard some shots. Then I saw one of the Sepoys was sitting down about thirty yards below us. He had simply sat down without a word, apparently not wishing to give trouble. At that I called a halt again; I told Hooker to try another shot, and went back and found the man was hit in the leg. I took him up, carried him along to put him on the mule — already pretty well laden with the tent and other things which we had no time to take off. When I got up to the rest with him, Hooker had his empty Martini in his hand, and was grinning and pointing to a motionless black spot up the valley. All the rest of the Chins were behind boulders or back round the bend. 'Five hundred yards,' says Hooker, 'if an inch. And I'll swear I hit him in the head.'
"I told him to go and do it again, and with that we went on again.
"Now the hillside kept getting steeper as we pushed on, and the road we were following more and more of a shelf. At last it was mere cliff above and below us. 'It's the best road I have seen yet in Chin Lushai land,' said I to encourage the men, though I had a fear of what was coming.
"And in a few minutes the way bent round a corner of the cliff. Then, finis! the ledge came to an end.
"As soon as he grasped the position one of the Derbyshire men fell a-swearing at the trap we had fallen into. The Sepoys halted quietly. Hooker grunted and reloaded, and went back to the bend.
"Then two of the Sepoy chaps helped their comrade down and began to unload the mule.
"Now, when I came to look about me, I began to think we had not been so very unfortunate after all. We were on a shelf perhaps ten yards across it at widest. Above it the cliff projected so that we could not be shot down upon, and below was an almost sheer precipice of perhaps two or three hundred feet. Lying down we were invisible to anyone across the ravine. The only approach was along the ledge, and on that one man was as good as a host. We were in a natural stronghold, with only one disadvantage, our sole provision against hunger and thirst was one live mule. Still we were at most eight or nine miles from the main expedition, and no doubt, after a day or so, they would send up after us if we did not return.
"After a day or so . . . "
The lieutenant paused. "Ever been thirsty, Graham?"
"Not that kind," said the Ethnologist.
"H'm. We had the whole of that day, the night, and the next day of it, and only a trifle of dew we wrung out of our clothes and the tent. And below us was the river going giggle, giggle, round a rock in mid stream. I never knew such a barrenness of incident, or such a quantity of sensation. The sun might have had Joshua's command still upon it for all the motion one could see; and it blazed like a near furnace. Towards the evening of the first day one of the Derbyshire men said something — nobody heard what — and went off round the bend of the cliff. We heard shots, and when Hooker looked round the corner he was gone. And in the morning the Sepoy whose leg was shot was in delirium, and jumped or fell over the cliff. Then we took the mule and shot it, and that must needs go over the cliff too in its last struggles, leaving eight of us.
"We could see the body of the Sepoy down below, with the head in the water. He was lying face downwards, and so far as I could make out was scarcely smashed at all. Badly as the Chins might covet his head, they had the sense to leave it alone until the darkness came.
"At first we talked of all the chances there were of the main body hearing the firing, and reckoned whether they would begin to miss us, and all that kind of thing, but we dried up as the evening came on. The Sepoys played games with bits of stone among themselves, and afterwards told stories. The night was rather chilly. The second day nobody spoke. Our lips were black and our throats afire, and we lay about on the ledge and glared at one another. Perhaps it's as well we kept our thoughts to ourselves. One of the British soldiers began writing some blasphemous rot on the rock with a bit of pipeclay, about his last dying will, until I stopped it. As I looked over the edge down into the valley and saw the river rippling I was nearly tempted to go after the Sepoy. It seemed a pleasant and desirable thing to go rushing down through the air with something to drink — or no more thirst at any rate — at the bottom. I remembered in time, though, that I was the officer in command, and my duty to set a good example, and that kept me from any such foolishness.
"Yet, thinking of that, put an idea into my head. I got up and looked at the tent and tent ropes, and wondered why I had not thought of it before. Then I came and peered over the cliff again. This time the height seemed greater and the pose of the Sepoy rather more painful. But it was that or nothing. And to cut it short, I parachuted.
"I got a big circle of canvas out of the tent, about three times the size of that table-cover, and plugged the hole in the centre, and I tied eight ropes round it to meet in the middle and make a parachute. The other chaps lay about and watched me as though they thought it was a new kind of delirium. Then I explained my notion to the two British soldiers and how I meant to do it, and as soon as the short dusk had darkened into night, I risked it. They held the thing high up, and I took a run the whole length of the ledge. The thing filled with air like a sail, but at the edge I will confess I funked and pulled up.
"As soon as I stopped I was ashamed of myself — as well I might be in front of privates — and went back and started again. Off I jumped this time — with a kind of sob, I remember — clean into the air, with the big white sail bellying out above me.
"I must have thought at a frightful pace. It seemed a long time before I was sure that the thing meant to keep steady. At first it heeled sideways. Then I noticed the face of the rock which seemed to be streaming up past me, and me motionless. Then I looked down and saw in the darkness the river and the dead Sepoy rushing up towards me. But in the indistinct light I also saw three Chins, seemingly aghast at the sight of me, and that the Sepoy was decapitated. At that I wanted to go back again.
"Then my boot was in the mouth of one, and in a moment he and I were in a heap with the canvas fluttering down on the top of us. I fancy I dashed out his brains with my foot. I expected nothing more than to be brained myself by the other two, but the poor heathen had never heard of Baldwin, and incontinently bolted.
"I struggled out of the tangle of dead Chin and canvas, and looked round. About ten paces off lay the head of the Sepoy staring in the moonlight. Then I saw the water and went and drank. There wasn't a sound in the world but the footsteps of the departing Chins, a faint shout from above, and the gluck of the water. So soon as I had drunk my full I started off down the river.
"That about ends the explanation of the flying man story. I never met a soul the whole eight miles of the way. I got to Walters' camp by ten o'clock, and a born idiot of a sentinel had the cheek to fire at me as I came trotting out of the darkness. So soon as I had hammered my story into Winter's thick skull, about fifty men started up the valley to clear the Chins out and get our men down. But for my own part I had too good a thirst to provoke it by going with them.
"You have heard what kind of a yarn the Chins made of it. Wings as long as a mule, eh? — And black feathers! The gay lieutenant bird! Well, well."
The lieutenant meditated cheerfully for a moment. Then he added, "You would scarcely credit it, but when they got to the ridge at last, they found two more of the Sepoys had jumped over."
"The rest were all right?" asked the Ethnologist.
"Yes," said the lieutenant; "the rest were all right, barring a certain thirst, you know."
And at the memory he helped himself to soda and whisky again.
Herbert George Wells
(1866-1946)
The Stolen Bacillus and other incidents
short stories
fleursdumal.nl magazine
More in: - Book Lovers, Archive W-X, H.G. Wells, Tales of Mystery & Imagination, Wells, H.G.
---
In In poëzie en oorlog onthult directeur Bas Kwakman van Poetry International op verrassende en soms ontluisterende wijze de wereld van de poëzie.

Daarbij ontziet de schrijver niets en niemand, ook zichzelf niet. In poëzie en oorlog is alles geoorloofd.
Leidraad is de geschiedenis van het Poetry International Festival in Rotterdam, dat in 1970 in anarchie werd geboren en inmiddels wereldwijd een van de belangrijkste ontmoetingsplaatsen voor dichters en poëzieliefhebbers is geworden.
Gedreven door de liefde voor poëzie en een gezonde argwaan jegens het menselijke bedrijf daarachter beschrijft Kwakman met warmte, humor, kennis en verbazing zijn unieke ervaringen in de bijzondere wereld tussen de versregels.
Auteur: Bas Kwakman
In poëzie en oorlog.
Vijftig jaar Poetry International
Uitgeverij: De Arbeiderspers
NUR: 320
Paperback
ISBN: 9789029525602
Taal: Nederlands
Bladzijden: 400 pp.
Paperback
Literaire non-fictie
Prijs: € 24,99
Publicatiedatum: 21-05-2019
# new books
In poëzie en oorlog.
Vijftig jaar Poetry International
Bas Kwakman
• fleursdumal.nl magazine
More in: #More Poetry Archives, - Book Lovers, - Book News, Archive K-L, Art & Literature News, MODERN POETRY, Poetry International
---
Older Entries »
« Newer Entries
Thank you for reading FLEURSDUMAL.NL - magazine for art & literature