Dor: Poetry by Alina Stefanescu
Winner of the 2021 Wandering Aengus Book Award!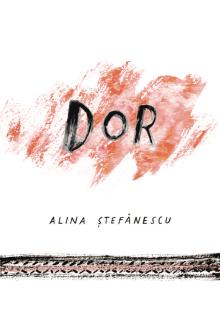 Alina Ștefănescu's DOR is a compendium of desire, displacement, longing, and belonging. While the word "dor" itself "serves as a bridge which creates its own territory from fusion," here Stefanescu's words do their own act of bridging the spaces between the body and language. In these poems, tongues, like nations, have borders; nouns and verbs come alive with ownership and agency. Stefanescu writes "a good girl poem waits // for the bass." but these are not good girl poems.
Part genealogy of influences, part meditation on love, lust, and loss, and part pointed feminist critique, DOR is a multi-faceted collection that creates a newly textured landscape of language. — Emily Holland, author of Lineage and editor of Poet Lore
Alina Stefanescu was born in Romania and lives in Birmingham, Alabama with her partner and several intense mammals. Her writing can be found in diverse journals, including Prairie Schooner, North American Review, FLOCK, Southern Humanities Review, Crab Creek Review, Virga, Whale Road Review, and others. Alina is the author of Ribald, a prose microchapbook, from Bull City Press. She serves as Poetry Editor for Pidgeonholes, Poetry Editor for Random Sample Review, Poetry Reviewer for Up the Staircase Quarterly, and Co-Director of PEN America's Birmingham Chapter. A finalist for the 2019 Kurt Brown AWP Prize, Alina won the 2019 River Heron Poetry Prize.
Poem for the Black Bird
(. . .)
You will never forget me, Doru. No one else left
their homeland for you. Her hands shook, pressing
words into the flesh of our home. The life she was
leaving. Her notes, that winding charred necklace,
encircling us. The bird was not black.
It was the color of fire absent smoke.
I can't forget what it spoke.
Dor
by Alina Stefanescu
English
Poetry
Paperback
Pages: 112
ISBN-13: 9780578915784
Publisher: Wandering Aengus Press
Publication date: 07/22/2021
$20.00
• fleursdumal.nl magazine
More in: #More Poetry Archives, - Book News, Archive S-T, Archive S-T