Scott Walker
·
Scott Walker and the Song of the One-All-Alone by Scott Wilson
·
Bert Bevers: Tilt. Gedicht bij de muziek van Scott Walker
Scott Walker and the Song of the One-All-Alone offers, in detailed interpretative commentaries of his best songs, a sustained assessment of the work and career of Scott Walker, one of the most significant and perplexing artists of the late 20th and 21st century.
For Brian Eno, Walker was not only a great composer and a superlative lyricist but also a significant contemporary poet. Marc Almond goes further, 'an absolute musical genius, existential and intellectual and a star right from the days of The Walker Brothers'. As Almond suggests, Walker's work is marked by a continual engagement with existentialist philosophy informing his approach to art, politics and life. In particular, the device of the solitary figure or 'one-all-alone' evoked in his songs provides the basis for his lyrical exploration of the singularity of existence – in all its darkness as well as light.
Through following his own path, Walker arrived at a unique sound according to his own method that produced a genuinely new form of song. Looking closely at these songs, this book also considers the wider political implications of his approach in its rejection of external authorities and common or consensual ideals.
Scott Wilson is Professor of Media and Psychoanalysis at Kingston University, London, UK. He is the author of Stop Making Sense: Music from the Perspective of the Real (Karnac, 2015) and the editor of Melancology: Black Metal Theory and Ecology (Zone Books, 2014).
Scott Walker and the Song of the One-All-Alone
By: Scott Wilson
Published: 03-10-2019
Format: Paperback
Edition: 1st
Extent: 232 pg
ISBN: 9781501332555
Imprint: Bloomsbury Academic
Series: EX:CENTRICS
Dimensions: 216 x 140 mm
RRP: £22.99
# more music books
Scott Walker
• fleursdumal.nl magazine
More in: - Book News, - Book Stories, Art & Literature News, AUDIO, CINEMA, RADIO & TV, Scott Walker
---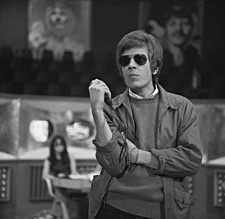 Tilt
Bij de muziek van Scott Walker
I
Slagschaduw van hand met potlood
over de ontcijfering van wat hier klinkt:
links en rechts brandbaar geheimen rollen
in elkaar tot wat een steekspel wordt.
Hij
daar met die neiging, veraf en zo dichtbij
zoals ik hier nu jou reeds weet,
beweegt zich buigend en verlangend
zinvol tasten in. Op zoek naar evenwicht.
II
Deze kluizenaar vermoedt onder kousen sproetjes.
Bezweert binnensmonds nachtmerries en
helt zoals hij denkt in cirkelend
weerkaatsen – luidop maar ongezien,
liefst.
Cimbalen laat hij klateren als water.
Toch hangt van dit geluid zijn leven amper af.
O the Luzerner Zeitung never sold out,
never sold out
III
Over zinnen laat hij zilvergrijze sluiers vallen.
Niemand vraagt waarom. Zo is het dan ook goed.
Zingen is voor deze stem geen afdoend woord:
plofjes adem blijven hangen tussen microfoon en
oren.
Dan zweeft hij tussen fluisteren en fluiten door
op weg naar waterweegbree, webben en de lippen
van een meisje dat met open mond probeert
een mooie ronde o te neuriën
IV
Wereldvreemde man schept eigen logica.
Wie die niet volgen kan mag heel gewoon
een straatje om. Zie je hem dan de pijn niet lijden
van monsters in de nacht, van schaduwen in
regen?
De monnik wist verhalen uit, tegels almaar donkerder
rond de voeten. Hoofdvol galmen wonderen.
In geval van dij, in geval van dij. Hij kust gaten
voor de kogels in geval van dij.
V
Zie hoe het zeil spant. Onder de verse huif
telt hij de rimpels in zijn handen, met die
van zijn vader vol overeenkomsten, net
als de verse verdragen voor toekomst.
Nat
de lakzegel nog. Krullend van heimwee
naar een tijd van jagers stort hij zich
een aanval binnen. Vurig smeedt hij daarin
gulle plannen. Vurig.
Bert Bevers
Verschenen in Gierik & Nieuw Vlaams Tijdschrift, Antwerpen, 1998
In memoriam Scott Walker (born Noel Scott Engel; January 9, 1943 – March 22, 2019)
Photo: Scott Walker – Dutch TV programme Fenklup 1968 – Beeld en Geluid Wiki
• fleursdumal.nl magazine
More in: Archive A-B, Archive W-X, Art & Literature News, Bevers, Bert, In Memoriam, Scott Walker
---
Thank you for reading FLEURSDUMAL.NL - magazine for art & literature