Betonfraction
·
Derde album van BETONFRACTION: 'I changed my sex'
·
No Slick Shit: Een nomadisch podium voor kuren met ongelijke leggers
·
Snake Nation Cropduster nieuwe LP Betonfraktion
Derde album van BETONFRACTION: 'I changed my sex'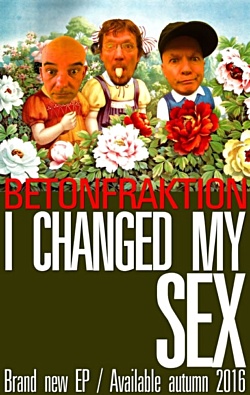 Op 12 november 2016 werd het derde album van Betonfraction gepresenteerd in Paradox Tilburg. De titel van het album is 'I Changed My Sex', het bevat zes nummers en is verschenen bij Blowpipe Records.
De een omschrijft de muziek als 'hoekige, industriële prog-punk' (3voor12), de ander als 'gestuurde energieke chaos, die live bovendien ook nog eens fel kan ontsporen' (Gonzo Circus). Betonfraktion is uit op beproevingen. De band mixt een licht ontvlambare cocktail van deels gestructureerde, deels geïmproviseerde energie. Frank Crijns (gitaar); Provocase (drums) en Störsender Swarth (voice 'n' noise) hebben alle drie uitgebreide ervaring op het podium. Ze gaan inhoudelijke, theatrale en muzikale statements niet uit de weg. Betonfraktion is luid, solide, gedreven en queer.
6-Track EP
'I CHANGED MY SEX'
1. Those Smelly Rags Aren't Mine 4:02
2. Darby Crashed The Party 5:37
3. Dear Diarrhea 5:30
4. Pak & Kietel (Kieteldood) 5:22
5. Wotcha Gonna Do 7:17
6. Andy Kaufman's Shaggy Dog 3:51
# Meer informatie op de website van Betonfraction
fleursdumal.nl magazine
More in: Art & Literature News, Betonfraction, Swarth, Nick J.
---
No Slick Shit:
Een nomadisch podium voor kuren met ongelijke leggers
No SlickShit biedt levens verfrissende guerrilla keutels met een gouden randje.
De eerste editie vindt plaats op 16 februari. Op het affiche staan de bands El Cantina, Ivo van Leeuwen, Betonfraktion en Zibabu. Ad Fijneman exposeert schilderijen. Machinery presenteert een live art performance. Auteur A.H.J. Dautzenberg draagt voor. Ook wordt de winnaar bekend gemaakt van de No Slick ShitVideo Contest: 'Go For The Golden Turd'.
No Slick Shit 16 februari 2013
We beginnen om 19.00 uur Stipt. Wie niets wil missen komt op tijd in Cafe Little devil, stationstraat nummer nog wat, Tilburg.
Programma:
Openingswoord door Nick (J. Swarth)

El Cantina
Anton Dautzenberg
Betonfraktion
Uitreiking Golden Turd
Machinery
Zibabu
Disco Goof
Disco Little Devil
kempis.nl poetry magazine
More in: Betonfraction, Ivo van Leeuwen, The talk of the town
---
Snake Nation Cropduster
nieuwe LP Betonfraktion
Ruim baan voor de cropduster van Snake Nation! Hij klautert in zijn driemotorige vliegmachine en zegent het land met zijn bestrijdingsmiddel. Muziek als insecticide voor het venijn dat vreet aan de tijd.
De driemotorige vliegmachine heeft een naam: Betonfraktion. Frank Crijns (gitaar), Maartje 'Marzj' Simons (drums) en Nick J. Swarth (voice 'n' noise) presenteren met gepaste trots de tien tegendraadse tracks die aan het vinyl zijn toevertrouwd. De titel van deze debuutelpee luidt 'Snake Nation Cropduster'. De elpee bevat 10 tracks.
Wat in 2008 begon als een project ontpopte zich gaandeweg luid en duidelijk als een band, als een groep gelijkgezinden, die met hart en ziel nastreven wat zij van belang achten: creativiteit, artistieke durf, eigenzinnigheid. Het materiaal werd opgenomen, gemixt en gemasterd door Danny Wieggers (DSP Studio's, Tilburg).
Betonfraktion: 'Snake Nation Cropduster'
Elpee (140gr black vinyl)
Prijs in de winkel: € 15
http://betonfraktion.bandcamp.com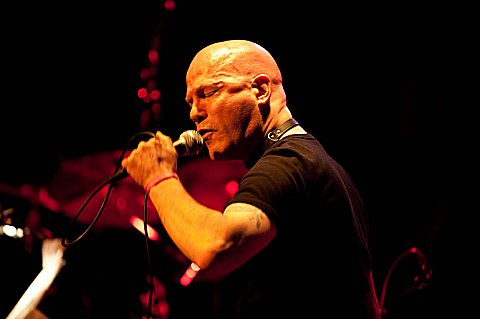 nick j. swarth
fleursdumal.nl magazine
More in: Art & Literature News, Betonfraction, Swarth, Nick J.
---
Thank you for reading FLEURSDUMAL.NL - magazine for art & literature