MUSIC
·
The Nobel Lecture Hardcover by Bob Dylan
·
Absolutely on Music. Conversations by Haruki Murakami and Seiji Ozawa
·
Litz Pisk: The Actor and His Body
·
An exploration of nature of creative invention: Devotion by Patti Smith
·
Littérature et poésie – Nuit de la Poésie 2017 = 11 – 12 Novembre 2017
·
Festival Paris En Toutes Lettres 2017 du 9 au 20 novembre 2017
·
Wintertuinfestival van 22 tot en met 26 november 2017 in Nijmegen
·
fleursdumal.nl art & literature magazine – 10 years (2007-2017)
·
Julian Barnes: The Noise of Time. A Novel
·
PHILIP GLASS tijdens Amsterdam Dance Event naar Melkweg op 22 en 23 oktober
·
Exhibition: Soul of a Nation, Art in the Age of Black Power, until October 22 in Tate Modern
·
Feest der Poëzie organiseert 'Het Festijn van Tachtig'
Published for the first time in a beautiful collectible edition, the essential lecture delivered by the 2016 recipient of the Nobel Prize in Literature, Bob Dylan.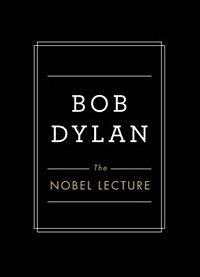 On October 13, 2016, Bob Dylan was awarded the Nobel Prize in Literature, recognizing his countless contributions to music and letters over the last fifty years. Some months later, he delivered an acceptance lecture that is now memorialized in book form for generations to come.
In The Nobel Lecture, Dylan reflects on his life and experience with literature, providing both a rare artistic statement and an intimate look at a uniquely American icon.
From finding inspiration in the music of Buddy Holly and Leadbelly to the works of literature that helped shape his own approach to writing—The Odyssey, Moby-Dick, and All Quiet on the Western Front—this is Dylan like you've never seen him before.
Bob Dylan
The Nobel Lecture Hardcover
32 pages
Hardcover
October 31, 2017
Language: English
ISBN-10: 1501189409
ISBN-13: 978-1501189401
$10.73
Publisher: Simon & Schuster
fleursdumal.nl magazine
More in: - Book News, - Bookstores, Archive C-D, Art & Literature News, Awards & Prizes, Bob Dylan, Dylan, Bob
---
A deeply personal, intimate conversation about music and writing between the internationally acclaimed, best-selling author and the former conductor of the Boston Symphony Orchestra.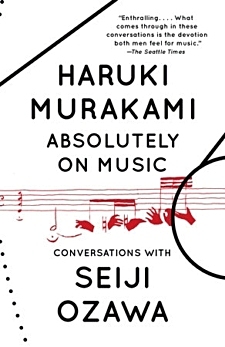 In Absolutely on Music, internationally Haruki Murakami sits down with his friend Seiji Ozawa, the revered former conductor of the Boston Symphony Orchestra, for a series of conversations on their shared passion: music.
Over the course of two years, Murakami and Ozawa discuss everything from Brahms to Beethoven, from Leonard Bernstein to Glenn Gould, from Bartók to Mahler, and from pop-up orchestras to opera. They listen to and dissect recordings of some of their favorite performances, and Murakami questions Ozawa about his career conducting orchestras around the world. Culminating in Murakami's ten-day visit to the banks of Lake Geneva to observe Ozawa's retreat for young musicians, the book is interspersed with ruminations on record collecting, jazz clubs, orchestra halls, film scores, and much more. A deep reflection on the essential nature of both music and writing, Absolutely on Music is an unprecedented glimpse into the minds of two maestros.
Haruki Murakami is a best-selling Japanese writer. His works of fiction and non-fiction have garnered critical acclaim and numerous awards, including the Franz Kafka Prize, the Frank O'Connor International Short Story Award and the Jerusalem Prize, among others. Murakami's fiction is humorous and surreal, focusing on themes of alienation and loneliness. He is considered an important figure in postmodern literature. The Guardian praised Murakami as "among the world's greatest living novelists" for his works and achievements. Murakami is the author of 1Q84, The Wind-Up Bird Chronicles, Men Without Women and many more.
Seiji Ozawa served as music director of the Boston Symphony Orchestra for twenty-nine years, and was music director of the Toronto Symphony Orchestra, the San Francisco Symphony, the Chicago Symphony Orchestra's Ravinia Festival, and Wiener Staatsoper. With Kazuyoshi Akiyama, he formed the Saito Kinen Orchestra and is the director of the Seiji Ozawa Matsumoto Festival. Ozawa has been deeply involved in musical education through his work with the Tanglewood Music Center Orchestra, the Ozawa International Chamber Music Academy Okushiga, the Seiji Ozawa International Academy Switzerland, and as founder of the Seiji Ozawa Music Academy Opera Project, organizations which provide opportunities to outstanding students in Asia and Europe. Among his many honors, Ozawa has been awarded France's Officier de la Légion d'Honneur, the Japanese Order of Culture, a Kennedy Center Honor, and a Grammy for Best Opera Recording.
Absolutely on Music
Conversations
By Haruki Murakami and Seiji Ozawa
Translated by Jay Rubin
Part of Vintage International
Category: Music – Biography & Memoir
Penguin Random House
Paperback
October 2017
320 Pages
fleursdumal.nl magazine
More in: - Book News, - Book Stories, Archive M-N, Archive O-P, Art & Literature News, Haruki Murakami, MUSIC
---
Litz Pisk was widely regarded as the finest and most influential teacher of modern theatre movement.

She was a director of movement at the Old Vic, National Theatre, Royal Shakespeare Company, English National Opera, and in television and films, including directing the movement for Vanessa Redgrave's film role in Isadora. She was director of Vienna's School of Art and Movement and a teacher at the Old Vic School, Bath Academy of Art, RADA and the Central School of Speech and Drama. The Actor and His Body, her seminal work, was first published in 1975.
'Once you start working with someone like Litz you don't ever want to stop if you can help it' – Vanessa Redgrave
Pisk's quest was to find expression for the inner impulse that motivated actors to move. Her teachings, as outlined in this book, offer insight on the specific craft of the actor, and the relationship between movement, imagination and the 'need' to move.
The Actor and His Body is also a practical manual for keeping the actor's body physically and expressively responsive. In addition, there are a range of movement exercises, illuminated by her exquisite line drawings, and complete weekly programme which concentrates on movement practice within different timescales.
This fourth edition features the original foreword by Michael Elliot as well as a new introduction by Ayse Tashkiran, contemporary movement director and Senior Lecturer at the Royal Central School of Speech and Drama, which contextualises Pisk's work.
The Actor and His Body
By: Litz Pisk
Introduction: Ayse Tashkiran
Published: 30-11-2017
Format: Paperback
Edition: 4th
ISBN: 9781474269742
Imprint: Methuen Drama
Series: Theatre Makers
Dimensions: 234 x 156 mm
RRP: $36.99
Bloomsbury Publishing
Litz Pisk: The Actor and His Body
fleursdumal.nl magazine
More in: - Book News, - Bookstores, Archive O-P, Art & Literature News, CINEMA, RADIO & TV, DANCE, MUSIC, Performing arts, THEATRE
---
A work of creative brilliance may seem like magic — its source a mystery, its impact unexpectedly stirring.
How does an artist accomplish such an achievement, connecting deeply with an audience never met? In this groundbreaking book, one of our culture's beloved artists offers a detailed account of her own creative process, inspirations, and unexpected connections.
Patti Smith first presents an original and beautifully crafted tale of obsession—a young skater who lives for her art, a possessive collector who ruthlessly seeks his prize, a relationship forged of need both craven and exalted.
She then takes us on a second journey, exploring the sources of her story. We travel through the South of France to Camus's house, and visit the garden of the great publisher Gallimard where the ghosts of Mishima, Nabokov, and Genet mingle.
Smith tracks down Simone Weil's grave in a lonely cemetery, hours from London, and winds through the nameless Paris streets of Patrick Modiano's novels. Whether writing in a café or a train, Smith generously opens her notebooks and lets us glimpse the alchemy of her art and craft in this arresting and original book on writing.
The Why I Write series is based on the Windham-Campbell Lectures, delivered annually to commemorate the awarding of the Donald Windham-Sandy M. Campbell Literature Prizes at Yale University.
From the renowned artist and author Patti Smith, an inspired exploration of the nature of creative invention:
Title Devotion
Author Patti Smith
Publisher Yale University Press
Hardcover
112 pages
ISBN-10 0300218621
ISBN-13 9780300218626
Publication September 2017
$18.00
More Patti Smith titles:
– Collected Lyrics 1970 – 2015
– M Train
– Just Kids
– Auguries of Innocence – Poems
fleursdumal.nl magazine
More in: - Book News, - Book Stories, Archive S-T, Art & Literature News, Literaire sporen, Patti Smith, Smith, Patti
---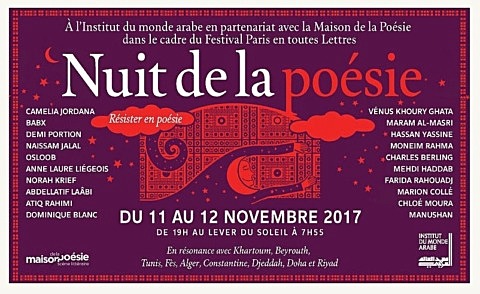 Pour la deuxième année consécutive, l'IMA et la Maison de la Poésie s'unissent pour convoquer, le temps d'une nuit, la poésie et célébrer la beauté du verbe, en mémoire des attentats de Paris en novembre 2015. Cette deuxième édition est aussi celle d'un nouveau partage : la Nuit 2017 résonnera, en même temps, à travers huit villes du monde arabe.
En mémoire des attentats de Paris du 13 novembre 2015, l'initiative a en 2016 rassemblé près d'une cinquantaine d'artistes de disciplines différentes, parlant l'arabe, le français ou l'hébreu. Plus de 3 000 personnes se sont réunies à l'IMA.
Dans la nuit du 11 au 12 novembre 2017, la deuxième édition de la Nuit de la Poésie offrira une nouvelle fois la possibilité de découvrir et d'apprécier la poésie – cette année en arabe, en français et en persan – à travers la lecture, le slam, le rap, le chant ou encore les arts du cirque.
#  la Nuit de la poésie Web IMA

Littérature et poésie
Nuit de la Poésie 2017
11 – 12 Novembre 2017
fleursdumal.nl magazine
More in: Art & Literature News, FDM in Paris, LIGHT VERSE, Literary Events, MODERN POETRY, MUSIC, Nacht van de Poëzie, THEATRE
---
---
Festival littéraire de la ville de Paris, Paris En Toutes Lettres est fondé sur les hybridations entre les genres littéraires et les formes artistiques, ainsi que sur les résonances entre la géographie parisienne et sa vie littéraire. À partir de la Maison de la Poésie-Scène littéraire, il se déploie dans une quinzaine de lieux alentours.
Revisitant l'actualité littéraire, le festival fait aussi la part belle aux créations mettant en regard littérature et musique. Parmi plus de cinquante lectures, rencontres ou concerts littéraires, on trouve également d'insolites conférences et de curieuses performances. À travers ce foisonnement de lieux et de propositions, c'est à un Paris vivant et traversé de littérature que le festival donne voix.
Festival
Paris En Toutes Lettres 2017
Du 9 au 20 novembre 2017
fleursdumal.nl magazine
More in: Art & Literature News, CINEMA, RADIO & TV, FDM in Paris, LIGHT VERSE, Literary Events, MODERN POETRY, MUSIC, STREET POETRY, THEATRE
---
Het Wintertuinfestival, dat van 22 tot en met 26 november plaatsvindt in Nijmegen, heeft dit jaar als titel: De vrije lezer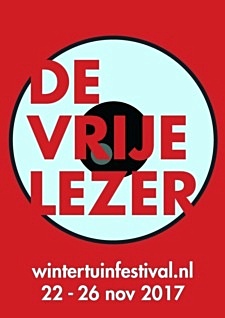 Tientallen schrijvers, dichters, wetenschappers, muzikanten en kunstenaars – onder wie Adriaan van Dis, Fresku en Kamagurka – gaan in op dit thema. Zowel grote literaire namen als aanstormende talenten reizen af naar Nijmegen. Op diverse locaties in de binnenstad zijn programma's en activiteiten. Het hele festivalprogramma staat online en de kaartverkoop loopt via wintertuinfestival.nl
Op woensdag 22 november bespreken middelbare scholieren tijdens Lezen met de Sterren het boek Dit is geen dagboek met Erna Stassen. 's Avonds is er een kroegcollege: Roel Smeets, promovendus bij Algemene Cultuurwetenschappen, gaat in op het festivalthema.

Op donderdag 23 november geeft niemand minder dan Fresku een college op de Radboud Universiteit.

Op vrijdag 24 november vindt er een Avond van de grote beloftes plaats, waarop talenten uit de stal van De Nieuwe Oost centraal staan. Simone Atangana Bekono, Marjolein Visser, Nikki Dekker en Jante Wortel tonen nieuw werk.

Op zaterdag 25 november kun je overdag meedoen met twee schrijfworkshops. 's Avonds wordt Doornroosje omgetoverd tot een literair walhalla. Tijdens de grootse festivalavond gaan talloze gasten in op het thema, waaronder Adriaan van Dis, Kamagurka, Franca Treur, Erik Jan Harmens, Alma Mathijsen, Anousha Nzume en Jet Steinz.

Het Wintertuinfestival wordt afgesloten met de boekpresentatie van Een botsing op het spoor van Joris van Casteren. Het boek gaat over een fatale botsing die een jaar geleden bij een spoorovergang in Nijmegen plaatsvond. Gedurende het hele festival is Nina Polak Writer in Residence en is er in de bibliotheek een Virtual Reality-installatie te bezichtigen.
Het verkrijgen van informatie is de goudkoorts van deze tijd. Bedrijven als Facebook en Google willen alles van ons weten, van ons reisgedrag en onze kledingsmaak tot onze politieke voorkeuren. Als een rots in de branding van de algoritmes en cookies staat de vrije lezer. Hij of zij vindt nieuwe ideeën, andere werelden, en schatten aan niet in kaart te brengen informatie in boeken. Je zou kunnen zeggen dat lezen van boeken in deze tijd een daad van verzet is, dat boeken een bastion van vrijheid zijn, en dat de lezer een activist is.
WINTERTUINFESTIVAL
Data: woensdag 22 tot en met zondag 26 november 2017
Locaties: talloze locaties in Nijmegen
Entree: variërend van gratis tot € 17,50 per festivalonderdeel
Meer info: www.wintertuinfestival.nl
fleursdumal.nl magazine
More in: - Book Lovers, - Book News, Art & Literature News, CINEMA, RADIO & TV, Literary Events, LITERARY MAGAZINES, MUSIC, THEATRE, Wintertuin Festival
---
More in: BOOKS, CINEMA, RADIO & TV, DANCE, FICTION: SHORT STORIES, LITERARY MAGAZINES, MUSIC, NONFICTION: ESSAYS & STORIES, PRESS & PUBLISHING, REPRESSION OF WRITERS, JOURNALISTS & ARTISTS, THEATRE
---
1936: Dmitri Shostakovich, just thirty years old, reckons with the first of three conversations with power that will irrevocably shape his life.
Stalin, hitherto a distant figure, has suddenly denounced the young composer's latest opera. Certain he will be exiled to Siberia (or, more likely, shot dead on the spot), Shostakovich reflects on his predicament, his personal history, his parents, his daughter—all of those hanging in the balance of his fate. And though a stroke of luck prevents him from becoming yet another casualty of the Great Terror, he will twice more be swept up by the forces of despotism: coerced into praising the Soviet state at a cultural conference in New York in 1948, and finally bullied into joining the Party in 1960. All the while, he is compelled to constantly weigh the specter of power against the integrity of his music. An extraordinary portrait of a relentlessly fascinating man, The Noise of Time is a stunning meditation on the meaning of art and its place in society.
Julian Barnes is the author of twenty previous books. He has received the Man Booker Prize, the Somerset Maugham Award, the Geoffrey Faber Memorial Prize, the David Cohen Prize for Literature and the E. M. Forster Award from the American Academy of Arts and Letters; in France, the Prix Médicis and the Prix Femina; and in Austria, the State Prize for European Literature. In 2004 he was named Commandeur de l'Ordre des Arts et des Lettres by the French Ministry of Culture. His work has been translated into more than forty languages. He lives in London.
One of the Best Books of the Year: San Francisco Chronicle
"This story is truly amazing . . . an arc of human degradation without violence (the threat of violence, of course, everywhere). . . . The whole Kafka madhouse brought to life."—Jeremy Denk, The New York Times Book Review
The Noise of Time
A Novel
By Julian Barnes
Part of Vintage International
Literary Fiction
Paperback
Publisher Penguin Random House
June 2017,
224 Pages
new books
fleursdumal.nl magazine
More in: - Book News, - Book Stories, Archive A-B, Art & Literature News, Dmitri Shostakovich, Julian Barnes, The Art of Reading
---
De Amerikaan Philip Glass kan zonder twijfel worden gerekend tot de belangrijkste componisten van de laatste vijftig jaar.
Al enkele jaren is hij een graag geziene gast hier in Melkweg. Het is namelijk alweer de vijfde keer sinds 2011. Dit jaar komt de componist wederom naar Amsterdam met zijn eigen Days And Nights Festival programma. Een festival dat is ontstaan in het Philip Glass Center for the Arts, Science, and the Environment en draait om culturele vernieuwing.
In het kader van Amsterdam Dance Event voert hij op zondag 22 oktober drie van zijn pianowerken uit. Vergezeld door Maki Namekawa en Dennis Russell Davies zijn dit 'Mad Rush' (1980), 'Four Movements For Two Pianos' (2008) en 'The Suite from Les Enfants Terribles' (1996).
Daarnaast presenteren het Amstel Saxophone Quartet & DJ/producer Kypski 'Glass On The Roof' ter gelegenheid van de 80e verjaardag van de componist. 'Glass on the Roof' bestaat uit drie werken waarbij de turntablist Kypski en het Quartet hun gezamenlijke sound aftasten en ontdekken.
zondag, 22 oktober 2017 – 20:00
Melkweg Rabozaal, Amsterdam
Philip Glass – Music For Piano
Amsterdam Dance Event – Days and Nights Festival
Philip Glass / Maki Namekawa / Dennis Russell Davies / Kypski & Amstel Quartet
De reeds 80-jarige pionier Philip Glass komt terug naar Amsterdam Dance Event met zijn Days And Nights Festival programma. Daarnaast presenteren het Amstel Saxophone Quartet & DJ/producer Kypski 'Glass On The Roof' ter gelegenheid van de 80e verjaardag van de componist. Glass, vergezeld door Maki Namekawa en Dennis Russell Davies, voert hij drie van zijn pianowerken uit, namelijk 'Mad Rush' (1980), 'Four Movements For Two Pianos' (2008) en 'The Suite from Les Enfants Terribles' (1996). 'Glass on the Roof' bestaat uit drie werken waarbij de turntablist Kypski en het Quartet hun gezamenlijke sound aftasten en ontdekken. Dit belooft een zeer speciale avond te worden!
Maandag 23 oktober staat weer in het teken van Philip Glass & Friends met dit jaar het Alma Kwartet, cellist Matt Haimowitz, pianist Maki Namekawa en meer als special guests. Met een avond vol verrassingen zullen zij deze ongetwijfeld naar een buitengewoon muzikaal hoogtepunt stuwen.
Philip Glass & Friends
Days and Nights Festival
maandag, 19:30
Melkweg Rabozaal, Amsterdam
Philip Glass / Special Guest: Maki Namekawa / Matt Haimovitz / Alma Quartet / The Photographer Ensemble
​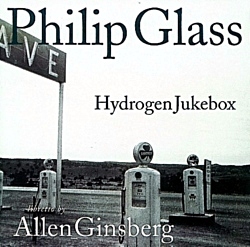 Zonder enige twijfel kan Philip Glass tot de belangrijkste componisten van de laatste vijftig jaar worden gerekend. Hij is hier een graag geziene gast en zal deze avond diverse bevriende muzikanten uitnodigen, zoals het Alma Kwartet, cellist Matt Haimowitz, pianist Maki Namekawa, The Photographer Ensemble en meer. Zij zullen deze avond ongetwijfeld naar een buitengewoon muzikaal hoogtepunt stuwen.
Glass wordt vaak de "Godfather of Minimal Music" genoemd – een naam waar hij inmiddels afstand van heeft genomen – zijn productie is dat allerminst. Zijn revolutionaire stijl vol meedogenloze herhalingen en complexe ritmes heeft overal een stempel op gedrukt, van klassiek via pop tot dance.
Melkweg
Lijnbaansgracht 234a
1017 PH Amsterdam
Telefoon: 020-5318181
E-mail: info@melkweg.nl
   # Meer info op website Melkweg

Philip Glass tijdens Amsterdam Dance Event weer naar Melkweg op 22 en 23 oktober 2017
fleursdumal.nl magazine
More in: Art & Literature News, CINEMA, RADIO & TV, MUSEUM OF LOST CONCEPTS - invisible poetry, conceptual writing, spurensicherung, Philip Glass
---
Soul of a Nation shines a bright light on the vital contribution of Black artists to a dramatic period in American art and history
The show opens in 1963 at the height of the Civil Rights movement and its dreams of integration. In its wake emerged more militant calls for Black Power: a rallying cry for African American pride, autonomy and solidarity, drawing inspiration from newly independent African nations.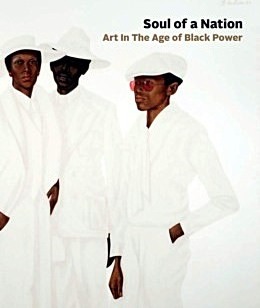 Artists responded to these times by provoking, confronting, and confounding expectations. Their momentum makes for an electrifying visual journey. Vibrant paintings, powerful murals, collage, photography, revolutionary clothing designs and sculptures made with Black hair, melted records, and tights – the variety of artworks reflects the many viewpoints of artists and collectives at work during these explosive times.
Some engage with legendary figures from the period, with paintings in homage to political leaders Martin Luther King, Malcolm X and Angela Davis, musician John Coltrane and sporting hero Jack Johnson. Muhammad Ali appears in Andy Warhol's famous painting.
This landmark exhibition is a rare opportunity to see era-defining artworks that changed the face of art in America.
Book of the exhibtion:
Soul of a Nation
Art in the Age of Black Power
Edited with text by Mark Godfrey, Zoé Whitley. Contributions by Linda Goode Bryant, Susan E. Cahan, David Driskell, Edmund Barry Gaither, Jae Jarrell, Wadsworth Jarrell, Samella Lewis.
Hbk, 8.5 x 10 in.
256 pgs
203 color – 33 bw.
9/26/2017
ISBN 9781942884170
$39.95
In the period of radical change that was 1963–83, young black artists at the beginning of their careers confronted difficult questions about art, politics and racial identity. How to make art that would stand as innovative, original, formally and materially complex, while also making work that reflected their concerns and experience as black Americans?
Soul of a Nation surveys this crucial period in American art history, bringing to light previously neglected histories of 20th-century black artists, including Sam Gilliam, Melvin Edwards, Jack Whitten, William T. Williams, Howardena Pindell, Romare Bearden, David Hammons, Barkley L. Hendricks, Senga Nengudi, Noah Purifoy, Faith Ringgold, Betye Saar, Charles White and Frank Bowling.
The book features substantial essays from Mark Godfrey and Zoe Whitley, writing on abstraction and figuration, respectively. It also explores the art-historical and social contexts with subjects ranging from black feminism, AfriCOBRA and other artist-run groups to the role of museums in the debates of the period and visual art's relation to the Black Arts Movement. Over 170 artworks by these and many other artists of the era are illustrated in full color.
2017 marks the 50th anniversary of the first use of the term "black power" by student activist Stokely Carmichael; it will also be 50 years since the US Supreme Court overturned the prohibition of interracial marriage. At this turning point in the reassessment of African American art history, Soul of a Nation is a vital contribution to this timely subject.
Exhibition
Soul of a Nation:
Art in the Age of Black Power
Tate Modern
Bankside
London SE1 9TG
Until 22 October 2017
# More information on website Tate Modern
African American art in the era of Malcolm X and the Black Panthers
fleursdumal.nl magazine
More in: - Book News, Andy Warhol, Art & Literature News, Art Criticism, CINEMA, RADIO & TV, DANCE, Exhibition Archive, MUSIC, REPRESSION OF WRITERS, JOURNALISTS & ARTISTS, Street Art, The talk of the town, Urban Art
---
Ontdek het rebelse literaire Amsterdam van 1880, met theater, muziek, poëzie, film, eten, drinken en veel meer op 27 – 28 – 29 oktober 2017
De locaties
Festivalhart: Het Tropeninstituut
Mauritskade 63, Amsterdam
Kassa, theaterzaal en foyer zijn tijdens het festival gevestigd in het voormalige Tropentheater aan de zijkant van het gebouw, in de Linnaeusstraat. De boekverkoop van de Linnaeusboekhandel, de foyer (het Soeterijn Café) én de Poëziebar met absint en sonnetten vindt u in het Tropentheater.
Grote Zaal
Project Diepenbrock, op de zaterdagavond, vindt plaats in de spectaculaire Grote Zaal, te betreden via de hoofdingang aan de Mauritskade.
Grand Café de Tropen
De Tachtigersconferentie en de Thee met Van Deyssel vinden plaats in de Subtropenzaal van Grand Café de Tropen. Het Grand Café is open voor drankjes, lunch en borrelhapjes, en is 's avonds de locatie voor het Van Deysseldiner.
Witsenhuis
Oosterpark 82, Amsterdam
Het Witsenhuis, waar fotograaf Willem Witsen woonde en regelmatig de Tachtigers over de vloer kreeg, heeft een verdieping in de oude staat gehouden. Wilt u ook bij de Tachtigers langskomen? Dat kan! Bij wijze van uitzondering opent het Witsenhuis zijn deuren voor rondleidingen.
Pianola Museum
Westerstraat 118, Amsterdam

Het Geelvinck Pianola Museum bezit een grote hoeveelheid automatische piano's (pianola's), pianolarollen, automatische instrumenten en bijzondere grammofoons, alsook een kleine collectie schellakplaten. Op zondag 29 oktober vindt een bijzonder Koffieconcert rondom de Tachtigers plaats, met oude opnamen en pianolarollen van Nederlandse componisten uit hun tijd!
Bijzondere Collecties van de Universiteit van Amsterdam
Oude Turfmarkt 129, Amsterdam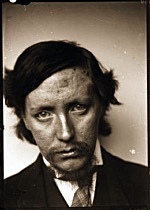 Tot de Bijzondere Collecties van de Universiteit van Amsterdam behoren rijke literaire verzamelingen en de Tachtigers zijn daarin ruim vertegenwoordigd. De collectie van het Frederik van Eeden-Genootschap wordt er beheerd en het archief van Albert Verwey is er eveneens te raadplegen. Verder zijn er stukken van onder anderen Willem Kloos en Jacques Perk, en archivalia van Flanor, de literaire vereniging waar veel Tachtigers in hun studententijd bij aangesloten waren. Een kleine tentoonstelling met manuscripten, foto's, tekeningen en persoonlijke documenten van Tachtigers is gratis te zien in de hal tijdens het gehele festival, gedurende de openingstijden van de Bijzondere Collecties.
Rondleiding Concertgebouw en Alphons Diepenbrock
Concertgebouwplein 10, 1071 LN Amsterdam

De componist onder de Tachtigers, die warme banden onderhield met vooral Herman Gorter, was Alphons Diepenbrock. Hij toonzette onder ander gedichten van Tachtigers Jacques Perk en Lodewijk van Deyssel, en staat vermeld op een cartouche in de Grote Zaal van het Concertgebouw, die tijdens de Tweede Gouden Eeuw van Amsterdam eind 19e eeuw werd gebouwd, en waar de Tachtigers regelmatig te vinden waren in de beginjaren. Een speciale, eenmalige rondleiding voor slechts 15 personen brengt u in verschillende ruimten van het Concertgebouw, die normaal niet toegankelijk zijn voor het publiek. Tevens wordt daarbij verteld over het Concertgebouw en zijn orkest in de tijd van de Tachtigers in het algemeen en Diepenbrocks betrokkenheid daarbij in het bijzonder.
Stichting Feest der Poëzie organiseert bijzondere voorstellingen met gedichten en muziek op mooie plaatsen, en richt zich op vormvaste dichtkunst, klassieke voordrachtskunst en ambachtelijke boekdrukkunst.
Stichting Feest der Poëzie, een collectief van dichters, musici en een magiër, treedt op in binnen- en buitenland. Wegens het tienjarig bestaan van de stichting is 'Het Festijn van Tachtig' in het leven geroepen.
Dit seizoen organiseren zij naast het Festijn nog avonden in het Pianola Museum in Amsterdam, WORM in Rotterdam, Nieuwe Erven in Amersfoort en op andere plaatsen.
# Meer info website Feest der Poëzie
Feest der Poëzie organiseert 'Het Festijn van Tachtig'
fleursdumal.nl magazine
More in: *Archive Les Poètes Maudits, - Archive Tombeau de la jeunesse, - Book Lovers, - Book Stories, Art & Literature News, CLASSIC POETRY, Gorter, Herman, Kloos, Willem, Literary Events, LITERARY MAGAZINES, Lodewijk van Deyssel, Museum of Literary Treasures, MUSIC, THEATRE
---
Older Entries »
Thank you for reading FLEURSDUMAL.NL - magazine for art & literature