Awards & Prizes
·
Winner of the 2017 T. S. Eliot Prize: Ocean Vuong with 'Night Sky with Exit Wounds'
·
My Twentieth Century Evening and Other Small Breakthroughs. The Nobel Lecture by Kazuo Ishiguro
·
Gouden Ganzenveerlaureaat 2018: Antjie Krog
·
Der Gewinner des Deutschen Buchpreises 2017: Robert Menasse mit der Roman 'Die Hauptstadt'
·
Preis der Leipziger Buchmesse für Natascha Wodin mit 'Sie kam aus Mariupol'
·
The T. S. Eliot 2017 prize for poetry will be announced on Monday 15th January 2018
·
Masha Gessen: The Future is History = winner of the 2017 National Book Award for Nonfiction
·
Frank Bidart: Half-light. Collected Poems 1965-2016 # Wins 2017 National Book Award
·
The Nobel Lecture Hardcover by Bob Dylan
·
Le Prix Médicis 2017 à Yannick Haenel pour "Tiens ferme ta couronne"
·
Prix Renaudot 2017 pour 'La Disparition de Josef Mengele' d'Olivier Guez
·
Prix Goncourt 2017 pour 'L'ordre du jour' d' Eric Vuillard
An extraordinary debut from a young Vietnamese American, 'Night Sky with Exit Wounds' is a book of poetry unlike any other.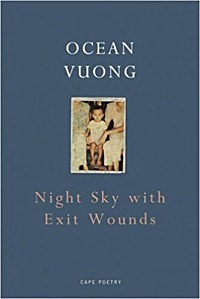 Steeped in war and cultural upheaval and wielding a fresh new language, Vuong writes about the most profound subjects – love and loss, conflict, grief, memory and desire – and attends to them all with lines that feel newly-minted, graceful in their cadences, passionate and hungry in their tender, close attention: '…the chief of police/facedown in a pool of Coca-Cola./A palm-sized photo of his father soaking/beside his left ear.'
This is an unusual, important book: both gentle and visceral, vulnerable and assured, and its blend of humanity and power make it one of the best first collections of poetry to come out of America in years.
Ocean Vuong was born in a rice farm outside Saigon in 1988. At the age of two, after a year in a refugee camp, he and his family arrived in the US. He is the first in his immediate family to learn how to read proficiently, at the age of eleven. With Ben Lerner as his mentor at Brooklyn College, he wrote the poems that would become this first collection. A Ruth Lilly fellow and winner of a Pushcart Prize, he has received honours and awards from Poets House and the Academy of American Poets. Night Sky with Exit Wounds won the 2016 Whiting Award. Ocean Vuong lives in New York.
Ocean Vuong:
Night Sky with Exit Wounds
English
Publ. Jonathan Cape
Published 4th April 2017
96 Pages
129mm x 197mm x 9mm
ISBN10 1911214519
ISBN13 9781911214519
Paperback
€ 11,46
 #  more  information  on  website  TS Eliot Prize

fleursdumal.nl magazine
More in: - Book News, Archive U-V, Art & Literature News, Awards & Prizes, Eliot, T. S.
---
The Nobel Lecture in Literature, delivered by Kazuo Ishiguro (The Remains of the Day and When We Were Orphans) at the Swedish Academy in Stockholm, Sweden, on December 7, 2017, in an elegant, clothbound edition.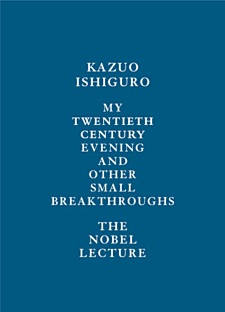 In their announcement of the 2017 Nobel Prize in Literature, the Swedish Academy recognized the emotional force of Kazuo Ishiguro's fiction and his mastery at uncovering our illusory sense of connection with the world. In the eloquent and candid lecture he delivered upon accepting the award, Ishiguro reflects on the way he was shaped by his upbringing, and on the turning points in his career—"small scruffy moments . . . quiet, private sparks of revelation"—that made him the writer he is today.
With the same generous humanity that has graced his novels, Ishiguro here looks beyond himself, to the world that new generations of writers are taking on, and what it will mean—what it will demand of us—to make certain that literature remains not just alive, but essential.
An enduring work on writing and becoming a writer, by one of the most accomplished novelists of our generation.
My Twentieth Century Evening and
Other Small Breakthroughs
The Nobel Lecture
By Kazuo Ishiguro
Hardcover
Dec 12, 2017
64 Pages
$16.95
Published by Knopf
64 Pages
ISBN 9780525654957
new books
fleursdumal.nl magzine
More in: - Book News, Archive I-J, Awards & Prizes, Kazuo Ishiguro, Literary Events
---
De Academie De Gouden Ganzenveer kent de Gouden Ganzenveer 2018 toe aan de Zuid-Afrikaanse dichteres Antjie Krog.
Gerdi Verbeet, Academievoorzitter De Gouden Ganzenveer maakte afgelopen zaterdag de laureaat bekend in het radioprogramma De Taalstaat. De Academie De Gouden Ganzenveer eert Krog als een bijzondere en veelzijdige dichteres, als een uitzonderlijk integer schrijfster en journaliste, en als een begenadigd performer van haar eigen werk.
De prijsuitreiking vindt plaats op donderdag 19 april a.s. in Amsterdam. Een weerslag van deze bijeenkomst wordt vastgelegd in een speciale uitgave, die in de loop van het jaar zal verschijnen.
De Academie, een initiatief van het bestuur van stichting De Gouden Ganzenveer, kent jaarlijks deze culturele prijs toe. De leden zijn afkomstig uit de wereld van cultuur, wetenschap, politiek en het bedrijfsleven. Met deze onderscheiding wil de Academie het geschreven en gedrukte woord in het Nederlands taalgebied onder de aandacht brengen.
Voorgaande laureaten zijn Arnon Grunberg, Xandra Schutte, Geert Mak, David Van Reybrouck, Ramsey Nasr, Annejet van der Zijl, Remco Campert, Joke van Leeuwen, Adriaan van Dis, Joost Zwagerman, Tom Lanoye, Peter van Straaten, Maria Goos, Kees van Kooten, Jan Blokker en Michaël Zeeman.
Uitgebreide informatie is te vinden op www.goudenganzenveer.nl
De Zuid-Afrikaanse Antjie Krog (1952) is een gelauwerd dichter, schrijver en academicus. Krog debuteerde in 1970 op achttienjarige leeftijd met de dichtbundel Dogter van Jefta. Inmiddels is ze uitgegroeid tot een van de belangrijkste dichters van Zuid-Afrika.
Haar poëzie is persoonlijk, zintuiglijk en sterk geëngageerd: Krog dicht over het moederschap en het ouder worden, maar ook over de diepe verbondenheid en de worsteling met de ongelijkheid en het racisme in haar land. Krog kreeg bekendheid in Nederland door haar vele optredens bij Poetry International, de Nacht van de Poëzie en het festival Winternachten. Talrijke poëzieliefhebbers raakten in de ban van haar ongewone, ontroerende en klankrijke poëzie.
In 1999 publiceerde uitgeverij Atlas een bloemlezing uit haar werk onder de titel Om te kan asemhaal. Daarna zijn haar dichtbundels bij uitgeverij Podium verschenen. Zij schreef ook proza, bijvoorbeeld Country of my Skull (in het Nederlands: De kleur van je hart, 1998/2000), toneelstukken en non-fictie. De roman Mond vol glas van Henk van Woerden en het toneelstuk Mamma Medea van Tom Lanoye vertaalde zij van het Nederlands naar het Afrikaans.
Antjie Krog is buitengewoon hoogleraar Letteren en Filosofie aan de Universiteit van de Westkaap. Haar werk is veelvuldig bekroond, onder andere met de prestigieuze Hertzogprijs, de Reina Prinsen Geerligsprijs, de Pringle Award, de Alan Paton Award. Op donderdag 19 april a.s. neemt zij de Gouden Ganzenveer 2018 in ontvangst.
Laureaat Gouden Ganzenveer 2018: Antjie Krog
foto: Karina Turok
fleursdumal.nl magazine
More in: Antjie Krog, Archive K-L, Archive K-L, Art & Literature News, Awards & Prizes, Literary Events
---
In Brüssel laufen die Fäden zusammen – und ein Schwein durch die Straßen.
Fenia Xenopoulou, Beamtin in der Generaldirektion Kultur der Europäischen Kommission, steht vor einer schwierigen Aufgabe. Sie soll das Image der Kommission aufpolieren. Aber wie? Sie beauftragt den Referenten Martin Susman, eine Idee zu entwickeln.
Die Idee nimmt Gestalt an – die Gestalt eines Gespensts aus der Geschichte, das für Unruhe in den EU-Institutionen sorgt. David de Vriend dämmert in einem Altenheim gegenüber dem Brüsseler Friedhof seinem Tod entgegen. Als Kind ist er von einem Deportationszug gesprungen, der seine Eltern in den Tod führte. Nun soll er bezeugen, was er im Begriff ist zu vergessen.
Auch Kommissar Brunfaut steht vor einer schwierigen Aufgabe. Er muss aus politischen Gründen einen Mordfall auf sich beruhen lassen; »zu den Akten legen« wäre zu viel gesagt, denn die sind unauffindbar.
Und Alois Erhart, Emeritus der Volkswirtschaft, soll in einem Think-Tank der Kommission vor den Denkbeauftragten aller Länder Worte sprechen, die seine letzten sein könnten.
In seinem neuen Roman spannt Robert Menasse einen weiten Bogen zwischen den Zeiten, den Nationen, dem Unausweichlichen und der Ironie des Schicksals, zwischen kleinlicher Bürokratie und großen Gefühlen. Und was macht Brüssel? Es sucht einen Namen – für das Schwein, das durch die Straßen läuft. Und David de Vriend bekommt ein Begräbnis, das stillschweigend zum Begräbnis einer ganzen Epoche wird: der Epoche der Scham.
Robert Menasse wurde 1954 in Wien geboren und ist auch dort aufgewachsen. Er studierte Germanistik, Philosophie sowie Politikwissenschaft in Wien, Salzburg und Messina und promovierte im Jahr 1980 mit einer Arbeit über den »Typus des Außenseiters im Literaturbetrieb«. Menasse lehrte anschließend sechs Jahre – zunächst als Lektor für österreichische Literatur, dann als Gastdozent am Institut für Literaturtheorie – an der Universität São Paulo. Dort hielt er vor allem Lehrveranstaltungen über philosophische und ästhetische Theorien ab, u.a. über: Hegel, Lukács, Benjamin und Adorno. Seit seiner Rückkehr aus Brasilien 1988 lebt Robert Menasse als Literat und kulturkritischer Essayist hauptsächlich in Wien.
Der große europäische Roman
Deutscher Buchpreis 2017
Robert Menasse
Die Hauptstadt
EAN: 9783518427583
ISBN: 351842758X
Libri: 4003586
Suhrkamp Verlag AG
September 2017
459 Seiten
gebunden
€ 24,00
new books
fleursdumal.nl magazine
More in: - Book News, - Book Stories, Archive M-N, Art & Literature News, Awards & Prizes
---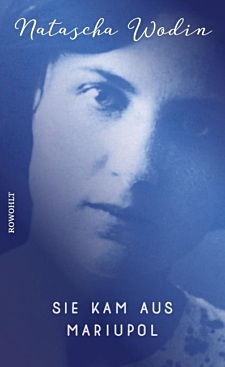 "Wenn du gesehen hättest, was ich gesehen habe" – Natascha Wodins Mutter sagte diesen Satz immer wieder und nahm doch, was sie meinte, mit ins Grab. Da war die Tochter zehn und wusste nicht viel mehr, als dass sie zu einer Art Menschenunrat gehörte, zu irgendeinem Kehricht, der vom Krieg übriggeblieben war. Wieso lebten sie in einem der Lager für "Displaced Persons", woher kam die Mutter, und was hatte sie erlebt? Erst Jahrzehnte später öffnet sich die Blackbox ihrer Herkunft, erst ein bisschen, dann immer mehr.
"Sie kam aus Mariupol" ist das außergewöhnliche Buch einer Spurensuche. Natascha Wodin geht dem Leben ihrer ukrainischen Mutter nach, die aus der Hafenstadt Mariupol stammte und mit ihrem Mann 1943 als "Ostarbeiterin" nach Deutschland verschleppt wurde. Sie erzählt beklemmend, ja bestürzend intensiv vom Anhängsel des Holocaust, einer Fußnote der Geschichte: der Zwangsarbeit im Dritten Reich. Ihre Mutter, die als junges Mädchen den Untergang ihrer Adelsfamilie im stalinistischen Terror miterlebte, bevor sie mit ungewissem Ziel ein deutsches Schiff bestieg, tritt wie durch ein spätes Wunder aus der Anonymität heraus, bekommt ein Gesicht, das unvergesslich ist. "Meine arme, kleine, verrückt gewordene Mutter", kann Natascha Wodin nun zärtlich sagen, und auch für uns Leser wird begreifbar, was verlorenging. Dass es dieses bewegende, dunkel-leuchtende Zeugnis eines Schicksals gibt, das für Millionen anderer steht, ist ein literarisches Ereignis.
"Das erinnert nicht von ungefähr an die Verfahrensweise, mit der W. G. Sebald, der große deutsche Gedächtniskünstler, verlorene Lebensläufe der Vergessenheit entriss." (Sigrid Löffler in ihrer Laudatio auf Natascha Wodin bei der Verleihung des Alfred-Döblin-Preises 2015)
Natascha Wodin, 1945 als Kind sowjetischer Zwangsarbeiter in Fürth/Bayern geboren, wuchs erst in deutschen DP-Lagern, dann, nach dem frühen Tod der Mutter, in einem katholischen Mädchenheim auf. Nach dem Abschluss einer Sprachenschule übersetzte sie aus dem Russischen und lebte zeitweise in Moskau. Auf ihr Romandebüt "Die gläserne Stadt", das 1983 erschien, folgten etliche Veröffentlichungen, darunter die Romane "Einmal lebt ich", "Die Ehe" und "Nachtgeschwister". Ihr Werk wurde unter anderem mit dem Hermann-Hesse-Preis, dem Brüder-Grimm-Preis und dem Adelbert-von-Chamisso-Preis ausgezeichnet, für "Sie kam aus Mariupol" wurde ihr der Alfred-Döblin-Preis, der Preis der Leipziger Buchmesse und der August-Graf-von-Platen-Preis verliehen. Natascha Wodin lebt in Berlin und Mecklenburg.
Preis der Leipziger Buchmesse
Preisträger 2017 in der Kategorie Belletristik
Natascha Wodin: "Sie kam aus Mariupol"
Rowohlt Verlag)
Die Begründung der Jury: In "Sie kam aus Mariupol" forscht Natascha Wodin nach den Lebensspuren ihrer ukrainischen Mutter Jewgenia – und stößt auf das Schicksal ihrer Tante Lidia. Während die Mutter 1943 mit ihrem russischen Mann als Zwangsarbeiterin in ein Leipziger Montagewerk für Kriegsflugzeuge verschleppt wurde, kam die Tante zehn Jahre zuvor in ein sowjetisches Straflager. Das ist die ungeheuerliche Parallelität, die die Familiengeschichte zerteilt. "Sie kam aus Mariupol" ist nicht aus einem Guss, weil es angesichts der Brüche des 20. Jahrhunderts gar nicht aus einem Guss sein kann. In vier hart gefügten Teilen treibt es aus unterschiedlichen Richtungen seine Stollen durch ein Massiv kollektiver und individueller Gewalt. Dieses Buch trägt auch ausdrücklich nicht die Bezeichnung Roman. Doch an der Grenze von Fiktion und Nichtfiktion, wo es angesiedelt ist, betreibt es autobiografisches Schreiben mit einem hohen Maß an Selbstreflexion und romanhaftes Schreiben auf der Grundlage von Lidias Tagebüchern. In diesem genreüberschreitenden Sinn ist es unerhört zeitgenössisch. Erinnerungsarbeit als Widerstand gegen das eigene Zerbrechen: Die Rettung, die sich Natascha Wodin davon erhofft, bleibt aus. Aber die Tapferkeit, mit der sie den Dämonen ins Gesicht sieht, die sie bannen muss, hat auch etwas ungemein Ermutigendes. Davon kann sich jeder Leser von "Sie kam aus Mariupol" überzeugen.
Natascha Wodin
'Sie kam aus Mariupol'
EAN: 9783498073893
ISBN: 3498073893
Libri: 2561776
Rowohlt Verlag GmbH
2017, 363 Seiten
gebunden, €19,95
fleursdumal.nl magazine
More in: - Book News, - Bookstores, Archive W-X, Art & Literature News, Awards & Prizes, PRESS & PUBLISHING, The Art of Reading
---
The T. S. Eliot Prize for Poetry was inaugurated in 1993 to celebrate the Poetry Book Society's 40th birthday and honour its founding poet.
Described as 'the prize most poets want to win' (Sir Andrew Motion, former Poet Laureate) and 'the world's top poetry award' (Independent), it is awarded annually to the author of the best new collection of poetry published in the UK and Ireland.
The T. S. Eliot Prize for Poetry was inaugurated in 1993 to celebrate the Poetry Book Society's 40th birthday and honour its founding poet.
To mark the 25th anniversary of the T. S. Eliot Prize, the T. S. Eliot Foundation has increased the winner's prize money to £25,000. Judges Bill Herbert (Chair), James Lasdun and Helen Mort have chosen the shortlist from a record 154 poetry collections submitted by publishers:
Tara Bergin – The Tragic Death of Eleanor Marx (Carcanet) PBS Autumn Recommendation
Caroline Bird – In these Days of Prohibition (Carcanet)
Douglas Dunn – The Noise of a Fly (Faber & Faber) PBS Autumn Recommendation
Leontia Flynn – The Radio (Cape Poetry)
Roddy Lumsden – So Glad I'm Me (Bloodaxe)
Michael Symmons Roberts – Mancunia (Cape Poetry) PBS Autumn Recommendation
Robert Minhinnick – Diary of the Last Man (Carcanet)
James Sheard – The Abandoned Settlements (Cape Poetry) PBS Spring Choice
Jacqueline Saphra – All My Mad Mothers (Nine Arches Press)
Ocean Vuong – Night Sky with Exit Wounds (Cape Poetry) PBS Summer Recommendation
Chair Bill Herbert said:
"This was a very strong year, and it was a privilege to read so many books that possessed as well as intrigued us; our shortlist explores grief, pleasure, place and history in a formidable variety of ways."
The T. S. Eliot Prize is run by The T. S. Eliot Foundation. This is the richest prize in British poetry, with the winning poet receiving a cheque for £25,000 and the shortlisted poets each receiving £1,500.
The T. S. Eliot Prize Shortlist Readings will take place on Sunday 14th January 2018 in Southbank Centre's Royal Festival Hall. The shortlist readings are the largest annual poetry event in the UK and will be hosted once again by Ian McMillan. Tickets are now on sale from Southbank Centre's ticket office on 0203 879 9555 or via www.southbankcentre.co.uk/literature.
The winner of the 2017 Prize will be announced at the Award Ceremony on Monday 15th January 2018, where the winner and the shortlisted poets will be presented with their cheques. This continues the tradition started by Mrs Valerie Eliot, who provided the prize money from the inception of the Prize.
Last year's winner was Jacob Polley for Jackself (Picador). The judges were Ruth Padel (Chair), Julia Copus and Alan Gillis.
fleursdumal.nl magazine
More in: Archive E-F, Awards & Prizes, Eliot, T. S., Literary Events
---
The visionary journalist and bestselling biographer of Vladimir Putin reveals how, in the space of a generation, Russia surrendered to a more virulent and invincible new strain of autocracy.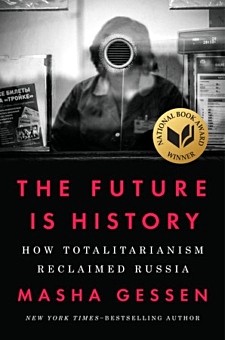 Hailed for her "fearless indictment of the most powerful man in Russia" (The Wall Street Journal), award-winning journalist Masha Gessen is unparalleled in her understanding of the events and forces that have wracked her native country in recent times.
In The Future Is History, she follows the lives of four people born at what promised to be the dawn of democracy. Each of them came of age with unprecedented expectations, some as the children and grandchildren of the very architects of the new Russia, each with newfound aspirations of their own—as entrepreneurs, activists, thinkers, and writers, sexual and social beings.
Gessen charts their paths against the machinations of the regime that would crush them all, and against the war it waged on understanding itself, which ensured the unobstructed reemergence of the old Soviet order in the form of today's terrifying and seemingly unstoppable mafia state. Powerful and urgent, The Future Is History is a cautionary tale for our time and for all time.
Masha Gessen's previous books include The Brothers: The Road to an American Tragedy and the national best seller The Man Without a Face: The Unlikely Rise of Vladimir Putin. She has immigrated to the United States twice—once, as a teenager, from the Soviet Union and again, more than thirty years later, from Putin's Russia. She lives in New York City.
Masha Gessen
The Future Is History
How Totalitarianism Reclaimed Russia
Hardcover
October 2017
528 Pages
ISBN 9781594634536
Published by Riverhead Books
fleursdumal.nl magazine
More in: - Book News, - Bookstores, Archive G-H, Art & Literature News, Awards & Prizes, PRESS & PUBLISHING, REPRESSION OF WRITERS, JOURNALISTS & ARTISTS, HOLOCAUST, WAR, WAR & PEACE
---
Gathered together, the poems of Frank Bidart perform one of the most remarkable transmutations of the body into language in contemporary literature.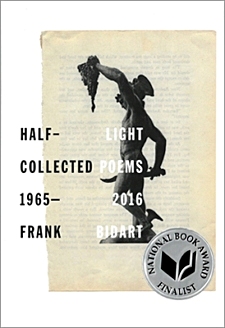 His pages represent the human voice in all its extreme registers, whether it's that of the child murderer Herbert White, the obsessive anorexic Ellen West, the tormented genius Vaslav Nijinsky, or the poet's own. And in that embodiment is a transgressive empathy, one that recognizes our wild appetites, the monsters, the misfits, the misunderstood among us, and inside of us.
Few writers have so willingly ventured to the dark places of the human psyche, and allowed themselves to be stripped bare on the page with such candor and vulnerability. Over the past half century, Bidart has done nothing less than invent a poetics commensurate with the chaos and hunger of our experience.
Frank Bidart is the author of Metaphysical Dog, Watching the Spring Festival, Star Dust, Desire, and In the Western Night: Collected Poems 1965-90. He has won many prizes, including the Wallace Stevens Award, the 2007 Bollingen Prize for American Poetry, and the National Book Critics Circle Award. He teaches at Wellesley College and lives in Cambridge, Massachusetts.
Frank Bidart
Half-light:
Collected Poems 1965-2016
(Farrar, Straus and Giroux –
Macmillan Publishers)
ISBN: 9780374125950
Frank Bidart Wins 2017 National Book Award for Poetry
fleursdumal.nl magazine
More in: - Book News, - Bookstores, Archive A-B, Art & Literature News, Awards & Prizes
---
Published for the first time in a beautiful collectible edition, the essential lecture delivered by the 2016 recipient of the Nobel Prize in Literature, Bob Dylan.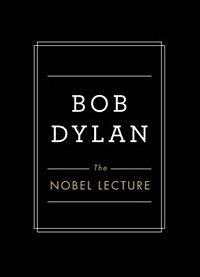 On October 13, 2016, Bob Dylan was awarded the Nobel Prize in Literature, recognizing his countless contributions to music and letters over the last fifty years. Some months later, he delivered an acceptance lecture that is now memorialized in book form for generations to come.
In The Nobel Lecture, Dylan reflects on his life and experience with literature, providing both a rare artistic statement and an intimate look at a uniquely American icon.
From finding inspiration in the music of Buddy Holly and Leadbelly to the works of literature that helped shape his own approach to writing—The Odyssey, Moby-Dick, and All Quiet on the Western Front—this is Dylan like you've never seen him before.
Bob Dylan
The Nobel Lecture Hardcover
32 pages
Hardcover
October 31, 2017
Language: English
ISBN-10: 1501189409
ISBN-13: 978-1501189401
$10.73
Publisher: Simon & Schuster
fleursdumal.nl magazine
More in: - Book News, - Bookstores, Archive C-D, Art & Literature News, Awards & Prizes, Bob Dylan, Dylan, Bob
---
Un homme a écrit un énorme scénario sur la vie de Herman Melville : The Great Melville, dont aucun producteur ne veut.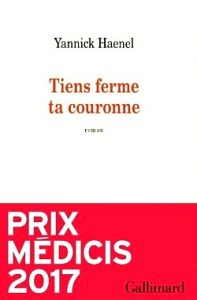 Un jour, on lui procure le numéro de téléphone du grand cinéaste américain Michael Cimino, le réalisateur mythique de Voyage au bout de l'enfer et de La Porte du paradis. Une rencontre a lieu à New York : Cimino lit le manuscrit.
S'ensuivent une série d'aventures rocambolesques entre le musée de la Chasse à Paris, l'île d'Ellis Island au large de New York, et un lac en Italie.
On y croise Isabelle Huppert, la déesse Diane, un dalmatien nommé Sabbat, un voisin démoniaque et deux moustachus louches ; il y a aussi une jolie thésarde, une concierge retorse et un très agressif maître d'hôtel sosie d'Emmanuel Macron.
Quelle vérité scintille entre cinéma et littérature?
La comédie de notre vie cache une histoire sacrée : ce roman part à sa recherche.
Yannick Haenel
Tiens ferme ta couronne
Collection L'Infini, Gallimard
Parution : 17-08-2017
ISBN : 9782070177875
352 pages, 140 x 205 mm
Achevé d'imprimer : 12-06-2017
Prix €20,00
fleursdumal.nl magazine
More in: - Book News, - Bookstores, Archive G-H, Art & Literature News, Awards & Prizes
---
1949: Josef Mengele arrive en Argentine. Caché derrière divers pseudonymes, l'ancien médecin tortionnaire à Auschwitz croit pouvoir s'inventer une nouvelle vie à Buenos Aires.
L'Argentine de Peron est bienveillante, le monde entier veut oublier les crimes nazis. Mais la traque reprend et le médecin SS doit s'enfuir au Paraguay puis au Brésil. Son errance de planque en planque, déguisé et rongé par l'angoisse, ne connaîtra plus de répit… jusqu'à sa mort mystérieuse sur une plage en 1979.  Comment le médecin SS a-t-il pu passer entre les mailles du filet, trente ans durant?

La Disparition de Josef Mengele est une plongée inouïe au cœur des ténèbres. Anciens nazis, agents du Mossad, femmes cupides et dictateurs d'opérette évoluent dans un monde corrompu par le fanatisme, la realpolitik, l'argent et l'ambition. Voici l'odyssée dantesque de Josef Mengele en Amérique du Sud. Le roman-vrai de sa cavale après-guerre.
Olivier Guez est l'auteur, entre autres, de L'Impossible retour, une histoire des juifs en Allemagne depuis 1945 (Flammarion), Éloge de l'esquive (Grasset) et Les Révolutions de Jacques Koskas (Belfond). Il a reçu en 2016 le prix allemand du meilleur scénario pour le film Fritz Bauer, un héros allemand.
Olivier Guez
La disparition de Josef Mengele Roman
EAN: 9782246855873
Parution: 16/08/2017
Pages: 240
Prix: €18.50
Editions Grasset
---
Prix Renaudot 2017 pour 'La Disparition de Josef Mengele' d'Olivier Guez
fleursdumal.nl magazines
---
More in: - Book News, - Bookstores, Archive Q-R, Art & Literature News, Awards & Prizes, PRESS & PUBLISHING, The Art of Reading, The talk of the town, WAR & PEACE
---
L'Allemagne nazie a sa légende. On y voit une armée rapide, moderne, dont le triomphe parait inexorable. Mais si au fondement de ses premiers exploits se découvraient plutôt des marchandages, de vulgaires combinaisons d'intérêts ?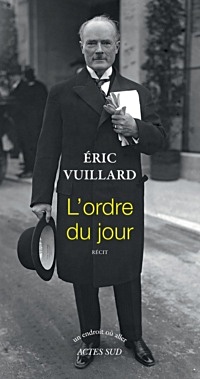 Et si les glorieuses images de la Wehrmacht entrant triomphalement en Autriche dissimulaient un immense embouteillage de panzers ? Une simple panne ! Une démonstration magistrale et grinçante des coulisses de l'Anschluss par l'auteur de Tristesse de la terre et de 14 juillet.
Ils étaient vingt-quatre, près des arbres morts de la rive, vingt-quatre pardessus noirs, marron ou cognac, vingt-quatre paires d'épaules rembourrées de laine, vingt-quatre costumes trois pièces, et le même nombre de pantalons à pinces avec un large ourlet. Les ombres pénétrèrent le grand vestibule du palais du président de l'Assemblée ; mais bientôt, il n'y aura plus d'Assemblée, il n'y aura plus de président, et, dans quelques années, il n'y aura même plus de Parlement, seulement un amas de décombres fumants.
Éric Vuillard, né en 1968 à Lyon, est écrivain et cinéaste. Il a réalisé deux films, L'homme qui marche et Mateo Falcone. Il est l'auteur de Conquistadors (Léo Scheer, 2009, Babel n°1330), récompensé par le Grand prix littéraire du Web – mention spéciale du jury 2009 et le prix Ignatius J. Reilly 2010. Il a reçu le prix Franz-Hessel 2012 et le prix Valery-Larbaud 2013 pour deux récits publiés chez Actes Sud, La bataille d'Occident et Congo ainsi que le prix Joseph-Kessel 2015 pour Tristesse de la terre et le prix Alexandre Viallate pour 14 juillet.
Eric Vuillard
L'ordre du jour
Mai, 2017
160 pages
ISBN 978-2-330-07897-3
prix indicatif : 16, 00€
Actes Sud
Prix Goncourt 2017 pour 'L'ordre du jour' d' Eric Vuillard
fleursdumal.nl magazine
More in: - Book News, - Bookstores, Archive U-V, Art & Literature News, Awards & Prizes, PRESS & PUBLISHING, The Art of Reading, WAR & PEACE
---
Older Entries »
Thank you for reading FLEURSDUMAL.NL - magazine for art & literature