– Book Lovers
«« Previous page
·
Kunstenfestival Watou 2018 nog t/m 2 september
·
Voronezh Notebooks by Osip Mandelstam
·
Alexander von Humboldt: Das Buch der Begegnungen Menschen – Kulturen – Geschichten aus den Amerikanischen Reisetagebüchern
·
The English Patient by Michael Ondaatje wins the Golden Man Booker Prize
·
Nieuwe digitale dichtbundel Fantom Ebooks – nr 2: Kwatrijnen van Paul Bezembinder
·
Boekpresentatie: Nicht verloren laufen met lino's van Walter Kerkhofs en Ivo van Leeuwen
·
Martin Puchner: The Written World. The Power of Stories to Shape People, History, Civilization
·
Joyce Carol Oates: Beautiful Days. Stories
·
David Hajdu: Positively 4th Street
·
JACE van de Ven: Met Vaart In Het Hart. Verhalen uit het Brabants Wielercafé
·
Sleeping Late on Judgment Day. Poems by Jane Mayhall
·
Alberto Manguel: Packing My Library. An Elegy and Ten Digressions
Elke zomer opnieuw slaat het Kunstenfestival van Watou haar tenten op in het gelijknamige kunstdorpje aan de Franse grens.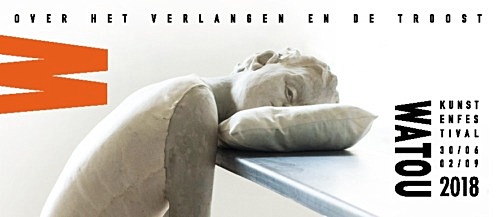 Dichters en beeldend kunstenaars, aanstormend talent en gevestigde waarden, kunstwerken uit binnen- en uit buitenland strijken er neer en vormen een bijzonder kunstenparcours. Het dorp is de setting en biedt een tiental karakteristieke locaties als tentoonstellingsruimte: een voormalig klooster, een oude boerderij of de kelder van een brouwerij. De wisselwerking tussen die verrassende, nostalgische ruimtes met hedendaagse beeldende kunst en poëzie zorgt telkens weer voor een unieke kunstbeleving. Zomeren in Watou is dan ook prikkelen en onthaasten tegelijk. Kleine momenten van gelukzaligheid.
Iedere editie van het Kunstenfestival kadert in een ander thema, waarrond intendant Jan Moeyaert en poëziecurator Willy Tibergien beeld en taal samenbrengen. Schrijvers, dichters en kunstenaars palmen gedurende een zomer het dorp in en bieden de bezoekers een caleidoscoop aan inzichten en perspectieven rond een bepaald onderwerp.
De afgelopen edities van Kunstenfestival Watou groeide er gestaag een nieuwe poëtische lijn in het dorp. Ook dit jaar selecteerde poëziecurator Willy Tibergien gedichten van gevestigde waarden in het Nederlandstalig poëzielandschap om hen een permanente plaats te geven in Watou.
Aan het werk van Eddy van Vliet, Paul Snoek, Remco Campert, Hugues C. Pernath, Jean-Claude Pirotte, Leo Vroman, Miriam Van hee, Stefan Hertmans, Gerrit Kouwenaar en Marc Insingel, Leonard Nolens, Christine D'Haen, Joost Zwagerman, Jotie T'Hooft, Charles Ducal en Luuk Gruwez worden dit jaar gedichten van Anna Enquist, Eva Gerlach en Frans Deschoemaeker toegevoegd.
STRING CARPET – GIDEON KIEFER – KUNSTENAARSGESPREK – ZONZO COMPAGNIE – ELS DEJONGHE – HET VLIEGEND TAPIJT – VRIJDAG VIERT FEEST – KRISTIN VERELLEN – POSTKANTOOR 00/00/00 – LIZE PEDE – BERNARD DEWULF – ALICJA GESCINSKA – DE TROOSTWINKEL – DOWN TIGER DOWN – SIEL EN LARISSA – NELLY AGASSI – IK ZIE MENSEN – POËZIE POËZIE POËZIE – DEREK & RENAUD – WIM CHIELENS – DE PLUIZENTUIN – WALLY DEDONCKER – ANT AND … – IK BEN WEER VELEN – STEPHANIE STRUIJK –  BERNARD DEWULF – MENNO WIGMAN – GRAHAM FAGEN – GERRIT KOUWENAAR – FRANS DESCHOEMAEKER – ANNA ENQUIST – EVA GERLACH – FRAUKE WILKEN – SAM DURANT – SIGRID VON LINTIG – PAUL SNOEK – MAUD BEKAERT -PETER VERHELST- DENIS VERCRUYSSE – MOHAMED EL BAZ – PARSE/ERROR – KATRIN DEKONINCK – ARPAÏS DU BOIS – GRZEGORZ GWIAZDA – SHIMABUKU – PETER DE MEYER – ROBINE CLIGNETT – ELS LESAGE – RADNA FABIAS – RY ROCKLEN – CHAIM VAN LUIT – SYLVIA EVERS – TORI WRÅNES – RONNY DELRUE – PETER MORRENS – HERVÉ MARTIJN – THÉ VANBERGEN – HANNE VAN ROMPAEY – STEFAN HERTMANS – TOM VAN DEEL – DANIELLE VAN ZADELHOFF – ANTON COTTELEER – SU-MEI TSE – POLIEN BOONS – JONAS VANSTEENKISTE – GURT SWANENBERG – ARANTHELL – GEERTJE VANGENECHTEN – MAARTEN VANDEN EYNDE – DOMINIQUE DE GROEN – JANI LEINONEN – JOSÉ COBO – TATJANA GERHARD – NADIA NAVEAU – HESTER KNIBBE – LUK VAN SOOM – JEROEN VAN KAN – CAROL ANN DUFFY – IRINA RATUSHINSKAYA – YEHUDA AMICHAI – NIDAA KHOURY – ZIYA MOHAVED – HANS OP DE BEECK- MASSIMO UBERTI -VAJIKO CHACHKHIANI – MOYA DE FEYTER – SHEILA HICKSEMMA VAN ROEY – BERNARDÍ ROIG -PETER THEUNYNCK – GIDEON KIEFER – EDITH DEKYNDT – THOMAS LEROOY – RANDALL CASAER- CHRISTINA MIGNOLET – GERD KANZ- GREET DESAL – HANNAH VAN BINSBERGEN – MELIK OHANIAN – JOHAN CLARYSSE – SOPHIE BOUVIER AUSLÄNDER – HANS DEFER- LUDOVIC LAFFINEUR – ARNE QUINZE – MARIJE LANGELAAR – TANYA SCHULTZ – ERLEND VAN LANDEGHEM – ROLAND JOORIS – LUKA FINEISEN – MEKHITAR GARABEDIAN – FRANZ SCHMIDT – CLARISSE BRUYNBROECK – FRANCIS PONGE – DAVID DE POOTER – RUTGER KOPLAND – JAN VANRIET – HUGO CLAUS – NELLY AGASSI – K. MICHEL – MICHAL MARTYCHOWIEC – PAUL DEMETS – STEPHAN MUIS – SAMMY BALOJI – TANG NANNAN – ADEL ABDESSEMED – LAURENS HAM – TODD ROBINSON – PANAMARENKO – GILLES BARBIER – HELEN DUNMORE – CASPER BRAAT – SYLVIE MARIE – CHANTAL POLLIER – EZRA VELDHUIS – HARLINDE DE MOL – ELEANOR CROOK – ANNO DIJKSTRA
Kunstenfestival Watou 2018 loopt nog tot en met 2 september
Open: woensdag tot zondag van 11u tot 19u – maandag en dinsdag gesloten, behalve op feestdagen
Adres:
Watouplein 12
8978 Watou
Poperinge (België)
De start van het Kunstenfestival is te vinden in het Festivalhuis (Watouplein 12), op het marktplein naast de Spar. Opg  elet! Voor alle weekend-events zijn de plaatsen beperkt. Een plaats reserveren kan enkel de dag zelf aan de kassa, bij aankoop van uw ticket.
# meer informatie op website kunstenfestival Watou
Kunstenfestival Watou 2018
fleursdumal.nl magazine
More in: # Music Archive, #Editors Choice Archiv, #More Poetry Archives, - Book Lovers, - Book Stories, Art & Literature News, Exhibition Archive, FDM Art Gallery, LITERARY MAGAZINES, PRESS & PUBLISHING, STREET POETRY, THEATRE, Watou Kunstenfestival
---
Osip Mandelstam is one of the greatest of twentieth-century poets and Voronezh Notebooks, a sequence of poems composed between 1935 and 1937 when he was living in internal exile in the Soviet city of Voronezh, is his last and most exploratory work.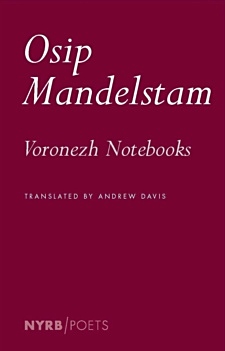 Meditating on death and survival, on power and poetry, on marriage, madness, friendship, and memory, challenging Stalin between lines that are full of the sights and sounds of the steppes, blue sky and black earth, the roads, winter breath, spring with its birds and flowers and bees, the notebooks are a continual improvisation and an unapologetic affirmation of poetry as life.
Russia's greatest poet in this century. — Joseph Brodsky
Mandelstam was a tragic figure. Even while in exile in Voronej, he wrote works of untold beauty and power. And he had no poetic forerunners… In all of world poetry, I know of no other such case. We know the sources of Pushkin and Blok, but who will tell us from where that new, divine harmony, Mandelstam's poetry, came from? — Anna Akhmatova
Voronezh Notebooks by Osip Mandelstam,
translated from the Russian and with an introduction by Andrew Davis
ISBN: 9781590179109
Pages: 128
Publication Date: January 5, 2016
Series: NYRB Poets
The New York Review of Books
Paperback
Books That Everyone Should Read
fleursdumal.nl magazine
More in: - Book Lovers, - Book Stories, Achmatova, Anna, Archive M-N, Brodsky, Joseph, Mandelstam, Osip, REPRESSION OF WRITERS, JOURNALISTS & ARTISTS, TRANSLATION ARCHIVE
---
Großes Humboldt-Gedenken 2018/2019: bibliophiler Prachtband.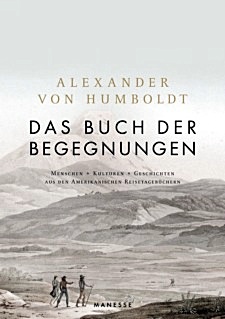 Wagemut und Wissbegier, ein feines Beobachtungs- und Differenzierungsvermögen und vor allem die unbändige Lust an immer neuen Begegnungen machten Alexander von Humboldt vor 200 Jahren zu einem epochalen Weltentdecker.
«Das Buch der Begegnungen», das die emphatischsten Zeugnisse aus den «Amerikanischen Reisetagebüchern» versammelt, zeigt einen warmherzigen Menschen ohne Berührungsängste. Auf seiner Reise in die amerikanischen Tropen von 1799 bis 1804 hielt der preußische Kosmopolit eine Vielzahl exotischer Physiognomien fest und sah die Welt, wie sie vor ihm noch keiner gesehen hatte. Als einer der ersten Europäer überhaupt kritisierte er Kolonialismus, Sklavenhandel und christlichen Bekehrungseifer.
Dagegen betonte er die Würde und den kulturellen Reichtum vermeintlich primitiver Völker. Überzeugt davon, dass es keine unterlegenen oder gar minderwertigen Ethnien gebe, war er seinen Zeitgenossen weit voraus. Und selbst im 21. Jahrhundert kommt Alexander von Humboldt als Anwalt einer universellen Humanität wie gerufen.
Bibliophiler Prachtband: gebunden in bedrucktes Leinen, zweifarbig gedruckt, fadengeheftet, mit farblich abgestimmtem Lesebändchen, gestaltetem Vorsatz sowie Originalillustrationen Alexander von Humboldts.
Ottmar Ette ist Professor für Romanistik an der Universität Potsdam und gehört zu den führenden Experten zu Humboldts Werk. Er leitete das Forschungsprojekt zur Auswertung von Humboldts Amerikanischen Reisetagebüchern.
Alexander von Humboldt (1769–1759), deutscher Universalgelehrter und Expeditionsreisender von internationalem Renommee, machte als Pionier diverser naturwissenschaftlicher Fachdisziplinen von sich reden: von der Botanik und Zoologie über die Klimatologie bis hin zur Astronomie. Seit seiner Amerikanischen Forschungsreise 1799-1804 gilt er als «wissenschaftlicher Wiederentdecker Amerikas» und Mitbegründer der empirisch fundierten Geographie. Doch auch als Ethnologe, Kulturtheoretiker und couragierter Humanist war er seiner Mitwelt weit voraus.
Alexander von Humboldt, Ottmar Ette (Hrsg.)
Das Buch der Begegnungen
Menschen – Kulturen – Geschichten aus den Amerikanischen Reisetagebüchern
Gebundenes Buch, Leinen,
416 Seiten,
17,0 x 24,0 cm
mit ca. 10 Abb.
ISBN: 978-3-7175-2444-1
€ 45,00
Verlag: Manesse
Erscheinungstermin: 25. Juni 2018
new books
fleursdumal.nl magazine
More in: - Book Lovers, - Book Stories, Archive G-H, Department of Birds of Prey, Illustrators, Illustration, Natural history
---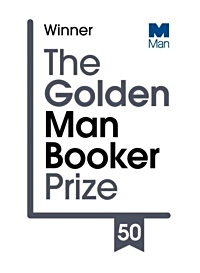 The English Patient by Michael Ondaatje (Bloomsbury) has been crowned the best work of fiction from the last five decades of the Man Booker Prize. The Golden Man Booker winner was revealed at the Man Booker 50 Festival in Royal Festival Hall at Southbank Centre.
The winner of this special one-off award for the Man Booker Prize's 50th anniversary celebrations was chosen by the public.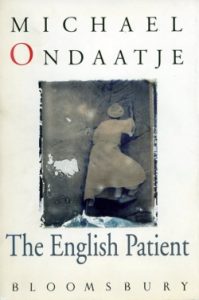 The Golden Man Booker Prize, a special one-off award to celebrate the 50th anniversary in 2018, crowns the best work of fiction from the last five decades of the prize, as chosen by five judges and then voted for by the public.
The English Patient by Michael Ondaatje is set in 1945.
The English Patient explores the lives of four very disparate war torn people, a young woman and three men, who take refuge in a damaged villa north of Florence as the war retreats around them.
In an upstairs room lies the badly burned English patient, alive but unable to move. His extraordinary adventures and turbulent love affair in the North African desert before the war provide the focus around which the vivid tales of his companions revolve.
His very presence will forever change the destiny of those around him.
The Golden Man Booker Prize 2018
fleursdumal.nl magazine
More in: - Book Lovers, - Book News, Archive O-P, Art & Literature News, Awards & Prizes
---
Vandaag verschijnt het nieuwste deel in de reeks digitale publicaties van fleursdumal.nl, Fantom Ebooks. Fantom Ebooks nummer 2 is een werk van de Eindhovense dichter, schrijver en vertaler Paul Bezembinder, getiteld 'Kwatrijnen. Filosofische Verkenningen'. De e-bundel omvat achttien filosofische en absurdistische kwatrijnen.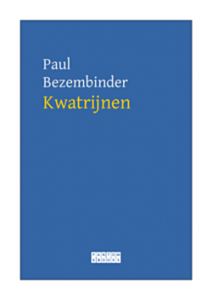 Bezembinder (1961) studeerde theoretische natuurkunde in Nijmegen. In zijn poëzie zoekt hij in vooral klassieke versvormen en thema's naar de balans tussen serieuze poëzie, pastiche en smartlap. Zijn gedichten (Nederlands) en vertalingen (Russisch- Nederlands) verschenen in verschillende (online) literaire tijdschriften, waaronder fleursdumal.nl. Voorbeelden van zijn werk zijn ook te vinden op zijn website: www.paulbezembinder.nl
Fantom Ebooks is een uitgave van Art Brut Digital Editions en publiceert onregelmatig bijzondere kunst- en literatuurprojecten. Deel 3 verschijnt eind 2018. Fantom Ebooks nummer 1 is de bundel OVERVLOED van dichter Bert Bevers. Deze bevat tien verschillende vertalingen van het gedicht 'Overvloed' van Bert Bevers.
PAUL BEZEMBINDER
KWATRIJNEN
Filosofische Verkenningen
FANTOM EBOOKS
Art Brut Digital Editions
Series Fantom Ebooks
www.fleursdumal.nl
FANTOM 2
Fantom Ebooks 2018
ISBN: 978-90-76326-10-8
NUR 306
1ste PDF-uitgave FANTOM2, Juni 2018
GRATIS te downloaden via onderstaande LINK
fleursdumal.nl magazine
More in: - Book Lovers, - Book News, - Fantom Ebooks, Archive A-B, Art & Literature News, Bezembinder, Paul, PRESS & PUBLISHING
---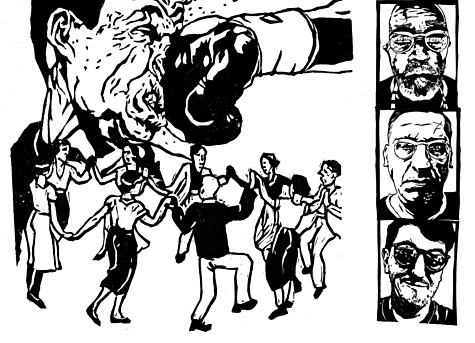 Nicht verloren laufen
Een boek met lino's van Walter Kerkhofs en Ivo van Leeuwen.
Handgedrukt, oplage 70.
Gebonden door Liesbeth Huyben
Grafiek expositie met werk van Walter Kerkhofs en Ivo van Leeuwen. Verder is naast grafiek van boven genoemde kunstenaars, ook werk te zien van de Hamburgse kunstenaar: Dragan Prgomelja.
Tijdens de presentatie worden drie muziekstukken uitgevoerd, die werden gecomponeerd door Frans Kerkhofs op gedichten van Nabokov.

Uitvoerenden: Lizette van Beek, mezzo-sopraan en Doré van Deijk, piano.
Nicht verloren laufen
16 juni 2018 op 16.00 uur
NS-Plein 16, Tilburg
Expositie open 17/23/14 juni van 12.00 tot 17.00
new art work
fleursdumal.nl magazine
More in: # Music Archive, - Book Lovers, - Book News, Art & Literature News, Exhibition Archive, Ivo van Leeuwen, PRESS & PUBLISHING
---
The story of how literature shaped world history, in sixteen acts—from Alexander the Great and the Iliad to Don Quixote and Harry Potter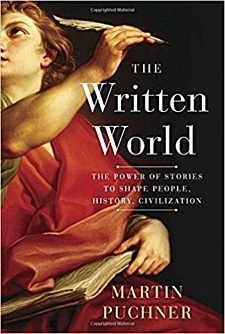 In this groundbreaking book, Martin Puchner leads us on a remarkable journey through time and around the globe to reveal the powerful role stories and literature have played in creating the world we have today.
Puchner introduces us to numerous visionaries as he explores sixteen foundational texts selected from more than four thousand years of world literature and reveals how writing has inspired the rise and fall of empires and nations, the spark of philosophical and political ideas, and the birth of religious beliefs. Indeed, literature has touched the lives of generations and changed the course of history.
At the heart of this book are works, some long-lost and rediscovered, that have shaped civilization: the first written masterpiece, the Epic of Gilgamesh; Ezra's Hebrew Bible, created as scripture; the teachings of Buddha, Confucius, Socrates, and Jesus; and the first great novel in world literature, The Tale of Genji, written by a Japanese woman known as Murasaki. Visiting Baghdad, Puchner tells of Scheherazade and the stories of One Thousand and One Nights, and in the Americas we watch the astonishing survival of the Maya epic Popol Vuh. Cervantes, who invented the modern novel, battles pirates both real (when he is taken prisoner) and literary (when a fake sequel to Don Quixote is published).
We learn of Benjamin Franklin's pioneering work as a media entrepreneur, watch Goethe discover world literature in Sicily, and follow the rise in influence of The Communist Manifesto. We visit Troy, Pergamum, and China, and we speak with Nobel laureates Derek Walcott in the Caribbean and Orhan Pamuk in Istanbul, as well as the wordsmiths of the oral epic Sunjata in West Africa.
Throughout The Written World, Puchner's delightful narrative also chronicles the inventions—writing technologies, the printing press, the book itself—that have shaped religion, politics, commerce, people, and history. In a book that Elaine Scarry has praised as "unique and spellbinding," Puchner shows how literature turned our planet into a written world.
Title: The Written World
Subtitle: The Power of Stories to Shape People, History, Civilization
Author: Martin Puchner
Publisher: Random House
Format Hardcover, $32.00
ISBN-10 0812998936
ISBN-13 9780812998931
Publication Date: 24 October 2017
Nb of pages 448 p.
new books
fleursdumal.nl magazine
More in: - Book Lovers, - Book News, - Book Stories, Archive O-P, Art & Literature News, Libraries in Literature, PRESS & PUBLISHING, The Art of Reading
---
A new collection of thirteen mesmerizing stories by American master Joyce Carol Oates, including the 2017 Pushcart Prize–winning "Undocumented Alien"
The diverse stories of Beautiful Days, Joyce Carol Oates explore the most secret, intimate, and unacknowledged interior lives of characters not unlike ourselves, who assert their independence in acts of bold and often irrevocable defiance.
"Fleuve Bleu" exemplifies the rich sensuousness of Oates's prose as lovers married to other persons vow to establish, in their intimacy, a ruthlessly honest, truth-telling authenticity missing elsewhere in their complicated lives, with unexpected results.
In "Big Burnt," set on lushly rendered Lake George, in the Adirondacks, a cunningly manipulative university professor exploits a too-trusting woman in a way she could never have anticipated. "The Nice Girl" depicts a young woman who has been, through her life, infuriatingly "nice," until she is forced to come to terms with the raw desperation of her deepest self. In a more experimental but no less intimate mode, "Les beaux jours" examines the ambiguities of an intensely erotic, exploitative relationship between a "master" artist and his adoring young female model. And the tragic "Undocumented Alien" depicts a young African student enrolled in an American university who is suddenly stripped of his student visa and forced to undergo a terrifying test of courage.
In these stories, as elsewhere in her fiction, Joyce Carol Oates exhibits her fascination with the social, psychological, and moral boundaries that govern our behavior—until the hour when they do not.
Title: Beautiful Days
Subtitle: Stories
Author: Joyce Carol Oates
Publisher: Ecco
Title First Published: 06 February 2018
Format: Hardcover
ISBN-10 0062795783
ISBN-13 9780062795786
Main content page count: 352
$26.99
new fiction
fleursdumal.nl magazine
More in: #Short Stories Archive, - Book Lovers, - Book Stories, Archive O-P, Art & Literature News
---
The story of how four young bohemians on the make – Bob Dylan, Joan Baez, Mimi Baez, and Richard Farina – converged in Greenwich Village, fell into love, and invented a sound and a style that are one of the most lasting legacies of the 1960s
When Bob Dylan, age twenty-five, wrecked his motorcycle on the side of a road near Woodstock in 1966 and dropped out of the public eye, he was recognized as a genius, a youth idol, and the authentic voice of the counterculture: and Greenwich Village, where he first made his mark as a protest singer with an acid wit and a barbwire throat, was unquestionably the center of youth culture.
So embedded are Dylan and the Village in the legend of the Sixties–one of the most powerful legends we have these days–that it is easy to forget how it all came about. In Positively Fourth Street, David Hajdu, whose 1995 biography of jazz composer Billy Strayhorn was the best and most popular music book in many seasons, tells the story of the emergence of folk music from cult practice to popular and enduring art form as the story of a colorful foursome: not only Dylan but his part-time lover Joan Baez – the first voice of the new generation; her sister Mimi – beautiful, haunted, and an artist in her own right; and her husband Richard Farina, a comic novelist (Been Down So Long It Looks Like Up To Me) who invented the worldliwise bohemian persona that Dylan adopted–some say stole–and made as his own.
David Hajdu
Positively 4th Street
The Lives and Times of Joan Baez, Bob Dylan, Mimi Baez Farina, and Richard Farina
illustrated
English
24x209x141 mm
2011
ISBN10 0312680694
ISBN13 9780312680695
Picador USA
328 pages
paperback
fleursdumal.nl magazine
More in: #Beat Generation Archives, #Biography Archives, - Book Lovers, - Book Stories, Archive G-H, Bob Dylan
---
'Van de Ven is een opvallende verschijning in het peloton van wielerauteurs. Zijn forse postuur en woeste baard hebben hem de bijnaam Raspoetin bezorgd.
Verwacht geen geschoren benen, carbon frames en wetenschappelijk verantwoorde sportdrank,' schreef het magazine for art en literature 'Fleursdumal.nl' over 'Mag ik nog wat wind van achteren?', de vorige bundel wielerverhalen van Jace van de Ven.
En Het is koers.nl noteerde: 'Het zijn persoonlijke beslommeringen opgedaan tijdens vaak meerdaagse fietstochten, die bij mij de juiste snaar raken en uitnodigen om zelf te fietsen, te lachen, te genieten en na te denken.'
Ook Brabants Dagblad en Brabant Cultureel waren enthousiast. Buiten Noord-Brabant is de continue verwondering van Jace van de Ven, eerste stadsdichter van Tilburg, over coureurs en would-be-renners nog te onbekend. Jammer, want niemand schrijft zo hilarisch en tegelijk zo ontroerend over mensen op de fiets, of het nou sterren zijn of stumpers. Dat bewijzen de vijftien verhalen in ' Met vaart in het hart' opnieuw.
Jace van de Ven is oud-redacteur van Brabants Dagblad en eerste stadsdichter van Tilburg. Als auteur van wielerverhalen wordt hij regelmatig uitgenodigd om zijn verhalen voor te lezen voor wielerverenigingen. De vele verzoeken om zijn teksten eens in boekvorm uit te brengen heeft hij nu gehonoreerd in deze handzame bundeling van zijn mooiste verhalen. Geschreven met wind mee…
JACE van de Ven
Met Vaart In Het Hart.
Verhalen uit het Brabants Wielercafé
Geïllustreerd door Ellis Pruijn
Jaar: 2018
Uitgever: Eigen beheer,
Categorie:
Gedicht / Poëzie / Proza
116 pagina's:
Afmeting: 15×21 cm
Wielerboek
€ 14,00
# meer info sportmediashop
new books
fleursdumal.nl magazine
More in: - Book Lovers, - Book Stories, Archive U-V, Archive U-V, Art & Literature News, Ven, Jace van de
---
"My heart is bursting with homage as I / head off to a hostile eternity," writes Jane Mayhall, eighty-five, who wrote most of these poems in an urgent outpouring over the last few years.

From the decades-outdated subway token in the bottom of her shoulder bag, which calls forth earlier days in New York City, to the violin her father practiced among the pantry's jam jars in her Kentucky childhood, Mayhall plucks small treasures that bespeak her fierce devotion to life, with its clutter of memories and imperfections. In her tightly knotted, beautifully turned short poems, she elegizes a world not quite gone, and brings us into contact with some of her contemporaries, from Lincoln Kirstein to Theodore Roethke.
Chief among her cherished memories is her long bohemian marriage, which she recalls in a series of ravishing love poems to her late husband. In lines saturated with feeling she describes how she accommodates her grief at losing him and, as throughout this exquisite volume, how we must continue to greet life, in all its gorgeous strangeness.
Jane Mayhall was born in Louisville, Kentucky, in 1918 and attended Black Mountain College in North Carolina. She taught at the New School for Social Research, Hofstra University, Morehead State University, and the Summer Writers' Workshop at Hindman Settlement School in Kentucky. Her fiction and poems appeared in The Yale Review, The New Yorker, The Paris Review, and other publications. Mayhall lived in New York City until her death in 2009.
Sleeping Late on Judgment Day
Poems
By Jane Mayhall
Category: Poetry
Paperback
2005
112 Pages
$15.00
Published by Knopf
5-5/8 x 9-1/4
ISBN 9780375710483
more poetry
fleursdumal.nl magazine
More in: - Book Lovers, - Book Stories, Archive M-N, Archive M-N, Art & Literature News
---
A wonderfully digressive little volume about our complex relationship with our books and being an incurable bibliophile. The perfect antidote to Walter Benjamin's classic essay, Unpacking My Library.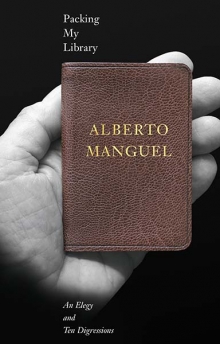 A best-selling author and world-renowned bibliophile meditates on his vast personal library and champions the vital role of all libraries.
In June 2015 Alberto Manguel prepared to leave his centuries-old village home in France's Loire Valley and reestablish himself in a one-bedroom apartment on Manhattan's Upper West Side. Packing up his enormous, 35,000‑volume personal library, choosing which books to keep, store, or cast out, Manguel found himself in deep reverie on the nature of relationships between books and readers, books and collectors, order and disorder, memory and reading. In this poignant and personal reevaluation of his life as a reader, the author illuminates the highly personal art of reading and affirms the vital role of public libraries.
Manguel's musings range widely, from delightful reflections on the idiosyncrasies of book lovers to deeper analyses of historic and catastrophic book events, including the burning of ancient Alexandria's library and contemporary library lootings at the hands of ISIS. With insight and passion, the author underscores the universal centrality of books and their unique importance to a democratic, civilized, and engaged society.
Alberto Manguel is a writer, translator, editor, and critic, but would rather define himself as a reader and a lover of books. Born in Buenos Aires, he has since resided in Israel, Argentina, Europe, the South Pacific, and Canada. He is now the director of the National Library of Argentina.
Title: Packing My Library
Subtitle: An Elegy and Ten Digressions
Author: Alberto Manguel
Publisher: Yale University Press
Title First Published: 20 March 2018
Format: Hardcover
ISBN-10 0300219334
ISBN-13 9780300219333
Nb of pages 160 p.
Hardcover – $23.00
new books
fleursdumal.nl magazine
More in: - Book Lovers, - Book News, - Book Stories, Alberto Manguel, Archive M-N, Art & Literature News, Libraries in Literature, The Art of Reading
---
Older Entries »
« Newer Entries
Thank you for reading FLEURSDUMAL.NL - magazine for art & literature