– Book Lovers
«« Previous page
·
The Book Lovers' Miscellany by Claire Cock-Starkey
·
The Poetry Pharmacy: Tried-and-True Prescriptions for the Heart, Mind and Soul by William Sieghart
·
Dichter und Kunstfigur, Provokateur und Visionär: Julia Encke über den französischen Literatur-Star Michel Houellebecq
·
Schubert's Winter Journey. Anatomy of an Obsession by Ian Bostridge
·
30+30 Dichtersmarathon 2018 – PERDU Amsterdam op 25 januari 2018
·
'Riskante relaties', nieuwe vertaling van Martin de Haan van Les Liaisons dangereuses van Pierre Ambroise Choderlos de Laclos
·
Sophie Heijkoop: Denkdier
·
Een nieuwe reeks digitale publicaties van fleursdumal.nl: Fantom Ebooks
·
Queer Shakespeare. Desire and Sexuality
·
Wintertuinfestival van 22 tot en met 26 november 2017 in Nijmegen
·
K. Schippers gedichten: Garderobe, kleine zaal
·
Ick kieke, staune, wundre mir: Berlinerische Gedichte von 1830 bis heute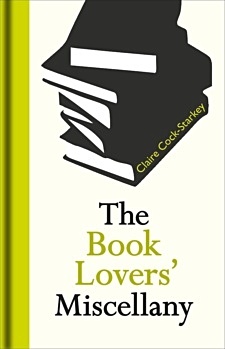 How is ink made? What is the bestselling book of all time? What are the oldest known books in the world? And how does one make sense of the colors found on Penguin paperbacks? The answers to these questions and many more await readers in The Book Lovers' Miscellany.
The Book Lovers' Miscellany is a cornucopia for bibliophiles. With customary wisdom and wit, Claire Cock-Starkey presents a brief illustrated history of paper, binding, printing, and dust jackets, with a wealth of arcane facts that even the most avid book lovers may be hard-pressed to answer: Which natural pigments were used to decorate medieval bibles? Which animal is needed for the making of vellum? Curious facts are drawn from throughout the history of books and publishing, including many more recent examples, such as a short history of the comic and the story behind the massively successful Harlequin romance imprint Mills and Boon. Readers can explore the output of the most prolific writers and marvel at the youth of the youngest published authors—or lament the decisions of the publishers who rejected books that later became colossal bestsellers. The book also includes a collection of lists, including unfinished novels, books that have faced bans, books printed with mistakes, the most influential academic books of all time, and the longest established literary families.
The perfect gift for every bibliophile, The Book Lovers' Miscellany is equally well suited to reading straight through or dipping into here and there.
The Book Lovers' Miscellany
by Claire Cock-Starkey (Author)
Hardcover
ISBN: 9781851244713
Published January 15, 2018
Bodleian Library, University of Oxford
The Bodleian Library at the University of Oxford publishes books related to their collection, in some cases facsimile editons of rare or noteworthy titles. UCP distributes Bodleian Library titles in North America.
fleursdumal.nl magazine
More in: - Book Lovers, - Bookstores, Archive C-D, Art & Literature News, Libraries in Literature, PRESS & PUBLISHING, The Art of Reading
---
In the years since he first had the idea of prescribing short, powerful poems for all manner of spiritual ailments, William Sieghart has taken his Poetry Pharmacy around the length and breadth of Britain, into the pages of the Guardian, onto BBC Radio 4 and onto the television, honing his prescriptions all the time.

This pocket-sized book presents the most essential poems in his dispensary: those which, again and again, have really shown themselves to work. Whether you are suffering from loneliness, lack of courage, heartbreak, hopelessness, or even from an excess of ego, there is something here to ease your pain.
– 'The book is delightful; it rightly resituates poetry in relation to its biggest and most serious task: helping us to live and die well' – Alain de Botton
– William Sieghart has had a distinguished career in publishing and the arts. He established the Forward Prizes for Poetry in 1992, and founded National Poetry Day in 1994. He is a former chairman of the Arts Council Lottery Panel, and current chairman of both the Somerset House Trust and Forward Thinking, a charity seeking peace in the Middle East and acceptance of British Muslims. His previous anthologies include Winning Words: Inspiring Poems for Everyday Life (2014), Poems of the Decade: An Anthology of the Forward Books of Poetry (2015) and 100 Prized Poems: Twenty-five Years of the Forward Books (2016).
William Sieghart
The Poetry Pharmacy
Tried-and-True Prescriptions for the Heart, Mind and Soul
Published September 2017
Hardback
176 Pages
£12.99
Particular Books
Penguin Books Ltd
ISBN: 9781846149542
new books
fleursdumal.nl magazine
More in: - Book Lovers, - Book News, Archive S-T, Archive S-T, Art & Literature News
---
Michel Houellebecq ist nicht nur einer der erfolgreichsten Schriftsteller der Gegenwart, er ist vor allem und mit großer Lust eines: ein Provokateur, der regelmäßig Debatten auslöst, die weit über das Literarische hinausgehen.
Mal nennt er den Islam die «bescheuertste Religion der Welt», dann preist er die Prostitution als eheerhaltende Maßnahme – und man kann sich nicht sicher sein, ob er das wirklich so meint.
Julia Encke, Literaturchefin der «Frankfurter Allgemeinen Sonntagszeitung», ist ihm immer wieder begegnet und macht sich nun daran, das Leben und Werk dieses großen Dichters zu entschlüsseln. «Wer ist Michel Houellebecq?» fragt nach der Spannung zwischen dem Menschen Houellebecq und dem öffentlichen Bild des Mannes, der mit seinen Romanen «Elementarteilchen» und «Unterwerfung» wütende Anfeindungen wie begeisterte Zustimmung erntete.
Sie beschreibt die vielen Facetten – den Visionär, den Romantiker, den Künstler – und zeigt, dass kaum jemand die Stimmung unserer Zeit so gut erfasst wie Michel Houellebecq. Er zielt mit seinen Texten mitten ins Herz unserer Gesellschaft – weshalb auch kaum jemand eine so große Gemeinde von Fans und erbitterten Gegnern hat. Pünktlich zum 60. Geburtstag erscheint nun das Porträt, das dem Rätsel Houellebecq auf die Spur zu kommen versucht.
Julia Encke, geboren 1971, studierte Literaturwissenschaft in Freiburg, Toulouse und München und promovierte mit einer vielbeachteten Arbeit über den Ersten Weltkrieg. Von 2001 bis 2005 arbeitete sie im Feuilleton der «Süddeutschen Zeitung» und gehört seit Sommer 2005 dem Feuilleton der «Frankfurter Allgemeinen Sonntagszeitung» in Berlin an. Seit 2015 verantwortet sie dort das Literaturressort. 2005 erschien «Augenblicke der Gefahr. Der Krieg und die Sinne 1914–1934», 2014 «Charisma und Politik. Warum unsere Demokratie mehr Leidenschaft braucht».
Julia Encke:
Wer ist Michel Houellebecq?
Porträt eines Provokateurs
Dec. 2017
256 Seiten
€19,95
Hardcover
ISBN: 978-3-7371-0017-5
Verlag: Rowohlt Berlin
new books
fleursdumal.nl magazine
More in: - Book Lovers, - Book Stories, Archive E-F, Archive G-H, Art & Literature News, Michel Houellebecq, NONFICTION: ESSAYS & STORIES
---
An exploration of the world's most famous and challenging song cycle, Schubert's Winter Journey (Winterreise), by a leading interpreter of the work, who teases out the themes—literary, historical, psychological—that weave through the twenty-four songs that make up this legendary masterpiece.
Completed in the last months of the young Schubert's life, Winterreise has come to be considered the single greatest piece of music in the history of Lieder. Deceptively laconic—these twenty-four short poems set to music for voice and piano are performed uninterrupted in little more than an hour—it nonetheless has an emotional depth and power that no music of its kind has ever equaled.
A young man, rejected by his beloved, leaves the house where he has been living and walks out into snow and darkness. As he wanders away from the village and into the empty countryside, he experiences a cascade of emotions—loss, grief, anger, and acute loneliness, shot through with only fleeting moments of hope—until the landscape he inhabits becomes one of alienation and despair.
Originally intended to be sung to an intimate gathering, performances of Winterreise now pack the greatest concert halls around the world.
Drawing equally on his vast experience performing this work (he has sung it more than one hundred times), on his musical knowledge, and on his training as a scholar, Bostridge teases out the enigmas and subtle meanings of each of the twenty-four lyrics to explore for us the world
Schubert inhabited, his biography and psychological makeup, the historical and political pressures within which he became one of the world's greatest composers, and the continuing resonances and affinities that our ears still detect today, making Schubert's wanderer our mirror.
Ian Bostridge performs regularly throughout Europe, North America and the Far East to outstanding critical acclaim. He read Modern History at Oxford and received a D.Phil in 1990. He is the author of Witchcraft and Its Transformations c.1650-c.1750 and A Singer's Notebook. He is Humanitas Professor of Music at the University of Oxford and a regular contributor to The Guardian and the TLS. He is married to the writer and critic Lucasta Miller. They live in London with their two children.
Schubert's Winter Journey
Anatomy of an Obsession
By Ian Bostridge
Paperback
Published on Jan 02, 2018
Published by Vintage
528 Pages
$22.00
ISBN 9780525431800
new books
fleursdumal.nl magazine
More in: # Music Archive, - Book Lovers, - Book News, Archive A-B, Art & Literature News
---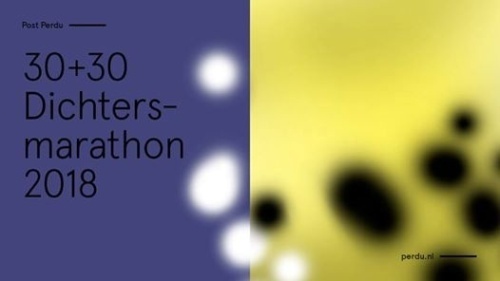 Dat poëzie niet moeilijk hoeft te zijn, bewijst Perdu jaarlijks op Gedichtendag. Niet door zich op die dag te beperken tot de eenvoudigste poëzie, maar juist door de poëzie in al haar diversiteit aan te bieden op een manier die vooral de nieuwsgierigheid prikkelt.
Podiumbeesten en prevelaars, anekdotici en hermetici, vaklui en avonturiers, groentjes en grijsaards: ze staan naast elkaar en door elkaar op deze nieuwe editie van de 30 + 30 Dichtersmarathon. Zestig zeer uiteenlopende dichters komen in ongeveer tweeënhalf uur voorbij.
Het concept is uitermate eenvoudig: dertig Nederlandse dichters lezen elk drie gedichten voor: twee van henzelf en één van een zelfverkozen collega uit het buitenland. Bij het voorlezen wordt de poëzie niet onderbroken door aan- of afkondigingen, bio- of bibliografische informatie of entr'actes en intermezzo's.
Zo kan de aandacht van de luisteraar zich volledig op de poëzie zelf richten, die zich aan hem presenteert als een constante stroom in een onverbiddelijk ritme van ruim tweeënhalf uur.
Wiens aandacht toch even verslapt, haakt zo weer aan bij de eerstvolgende dichter. Een uitstekende gelegenheid om je onder te dompelen in poëzie uit Nederland en de rest van de wereld.
Met Radna Fabias, Peggy Verzett, Samuel Vriezen, Arno van Vlierberghe, Yi Fong Au, Martje Wijers, Peter Prins, Maarten van der Graaff, Kira Wuck, Jonathan Griffioen, Marc van der Holst, Lucie Berjoan, Isabel Verhulst, Roos Vlogman, Mathijs Tratsaert, Esmé van den Boom, Asha Karami, Meliza de Vries, Edna Azulay, Nguyễn Nam Chi, Shida Boukhizou, Michael Tedja, Zaii, Omar El Allali, Flora Woudstra, Raj Mohan, Divya Nadkarni, Mariana Hirschfeld & Anne-Fleur van der Heijden
donderdag 25 jan 2018 19:45
30+30 Dichtersmarathon 2018
Aanvang: 19:45 uur
Deuren open: 19:15 uur
Entree: 10 / 7 euro (korting)
Vanwege verwachte drukte s.v.p. uw ticket(s) tijdig kopen.
#  meer  info  op  website  perdu.nl
dichtersmarathon
fleursdumal.nl magazine
More in: - Book Lovers, Art & Literature News, Literary Events, LITERARY MAGAZINES, MODERN POETRY, POETRY ARCHIVE
---
'Wie zou er niet huiveren bij de gedachte aan alle ellende die één riskante relatie kan veroorzaken?'
Vicomte de Valmont, een geduchte libertijn, heeft net het plan opgevat om de kuise, vrome présidente de Tourvel te verleiden. Maar dan stelt marquise de Merteuil, zijn bondgenote in het kwaad, hem een ander doelwit voor: de piepjonge Cécile Volanges, met wier aanstaande echtgenoot beiden een appeltje te schillen hebben. Dat loopt niet goed af.
Pierre Ambroise Choderlos de Laclos
Choderlos de Laclos was een geboren avonturier. Hij koos voor een militaire loopbaan, maar die bracht hem slechts een saai garnizoensleven. In zijn vrije tijd schreef hij, onder meer poëzie en libretto's. Het succes kwam in 1782, met de verschijning van Les liaisons dangereuses.
Auteur: Pierre Ambroise Choderlos de Laclos
Les Liaisons dangereuses
Riskante relaties
Vertaler: Martin de Haan
Uitgeverij: De Arbeiderspers
Hardcover
Nederlands
470 pagina's
ISBN-13 9789029588874
ISBN-10 902958887X
Prijs: € 34,99
Publicatiedatum: 28-11-2017
fleursdumal.nl magazine
More in: - Book Lovers, - Book Stories, Archive K-L, Art & Literature News, Erotic literature, TRANSLATION ARCHIVE
---
DENKDIER
neemt je mee
in een kleurrijke wereld
van scherpte,leegte,
overpeinzingen en wakker zijn.
Geruisloze processen en gedachten,
betrapt en een beetje blootgelegd.
Een prentenboek voor volwassenen (met tekst),
over hoe mens te zijn tussen
conditionering en individualiteit.
Levenskunst in zakformaat.
Om op te pakken,
weg te leggen en steeds
weer even in te kijken.
Auteur: Sophie Heijkoop
Titel: Denkdier
Hardcover,
3 leeslinten
15,5 x 11 x 2 cm (A6)
128 p.
€ 17,95
ISBN: 9789492373014
Sophie Heijkoop, born 1982, Netherlands.
Lives and works in Tilburg
  #  Meer  informatie  op  website  sophie  heijkoop
fleursdumal.nl magazine
More in: - Book Lovers, - Book News, Art & Literature News, Exhibition Archive, FDM Art Gallery, Sophie Heijkoop
---
In 2017 bestaat 'fleursdumal.nl magazine for art & literature' 10 jaar
Ter gelegenheid van dit jubileum kondigt de redactie met groot genoegen het verschijnen aan van het eerste deel van een nieuwe reeks digitale publicaties: Fantom Ebooks.
Fantom Ebooks nummer 1 is een werk van dichter Bert Bevers, getiteld: OVERVLOED. De e-bundel omvat een reeks van tien verschillende vertalingen van het gedicht 'Overvloed' van Bert Bevers. Vertalingen werden gemaakt door onder meer Frank Decerf (Spaans), John Irons (Deens), Fred Schywek (Duits) en Carina van der Walt (Afrikaans). Het gedicht en de vertalingen werden eerder gepubliceerd op de website.
Bert Bevers (1954) is een Antwerpse dichter en beeldend kunstenaar. Bij Uitgeverij WEL verschenen twee uitgebreide bloemlezingen uit zijn werk: Afglans (Gedichten 1972-1997) en Eigen terrein (Gedichten 1998-2013). Werk van zijn hand werd opgenomen in diverse bloemlezingen en literaire tijdschriften. Voor meer informatie: www.bertbevers.com
Fantom Ebooks is een uitgave van Art Brut Digital Editions en publiceert onregelmatig bijzondere kunst- en literatuurprojecten. Deel 2 verschijnt begin 2018.
BERT BEVERS
OVERVLOED
Tien vertalingen van één gedicht
FANTOM EBOOKS
Art Brut Digital Editions
Series Fantom Ebooks
www.fleursdumal.nl
FANTOM 1
Fantom Ebook 2017
ISBN: 978-90-76326-09-2
NUR 306
1ste PDF-uitgave FANTOM, Augustus 2017
GRATIS te downloaden
via onderstaande LINK
fleursdumal.nl magazine
More in: - Book Lovers, - Book News, Art & Literature News, FDM Art Gallery, Illustrators, Illustration, LITERARY MAGAZINES, Overvloed, PRESS & PUBLISHING
---
Queer Shakespeare: Desire and Sexuality draws together 13 essays, which offer a major reassessment of the criticism of desire, body and sexuality in Shakespeare's drama and poetry.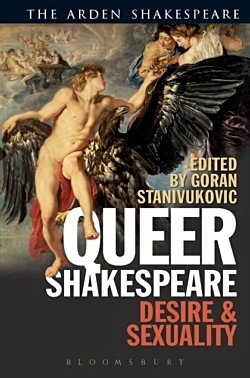 Bringing together some of the most prominent critics working at the intersection of Shakespeare criticism and queer theory, this collection demonstrates the vibrancy of queer Shakespeare studies.
Taken together, these essays explore embodiment, desire, sexuality and gender as key objects of analyses, producing concepts and ideas that draw critical energy from focused studies of time, language and nature.
The Afterword extends these inquiries by linking the Anthropocene and queer ecology with Shakespeare criticism.
Works from Shakespeare's entire canon feature in essays which explore topics like glass, love, antitheatrical homophobia, size, narrative, sound, female same-sex desire and Petrarchism, weather, usury and sodomy, male femininity and male-to-female crossdressing, contagion, and antisocial procreation.
Queer Shakespeare
Desire and Sexuality
Editor(s): Goran Stanivukovic
Published: 13-07-2017
Format: Hardback
Edition: 1st
Extent: 424 pp
ISBN: 9781474295246
Imprint: The Arden Shakespeare
Dimensions: 198 x 129 mm
Bloomsbury Publishing
$144.00
Queer Shakespeare. Desire and Sexuality
fleursdumal.nl magazine
More in: - Book Lovers, - Book News, - Book Stories, Archive S-T, Archive S-T, Art & Literature News, CINEMA, RADIO & TV, Shakespeare, William, THEATRE, TRAVESTY & POETRY
---
Het Wintertuinfestival, dat van 22 tot en met 26 november plaatsvindt in Nijmegen, heeft dit jaar als titel: De vrije lezer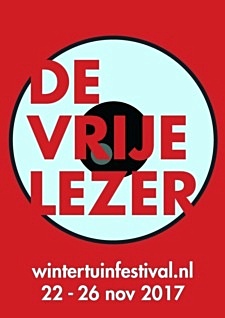 Tientallen schrijvers, dichters, wetenschappers, muzikanten en kunstenaars – onder wie Adriaan van Dis, Fresku en Kamagurka – gaan in op dit thema. Zowel grote literaire namen als aanstormende talenten reizen af naar Nijmegen. Op diverse locaties in de binnenstad zijn programma's en activiteiten. Het hele festivalprogramma staat online en de kaartverkoop loopt via wintertuinfestival.nl
Op woensdag 22 november bespreken middelbare scholieren tijdens Lezen met de Sterren het boek Dit is geen dagboek met Erna Stassen. 's Avonds is er een kroegcollege: Roel Smeets, promovendus bij Algemene Cultuurwetenschappen, gaat in op het festivalthema.

Op donderdag 23 november geeft niemand minder dan Fresku een college op de Radboud Universiteit.

Op vrijdag 24 november vindt er een Avond van de grote beloftes plaats, waarop talenten uit de stal van De Nieuwe Oost centraal staan. Simone Atangana Bekono, Marjolein Visser, Nikki Dekker en Jante Wortel tonen nieuw werk.

Op zaterdag 25 november kun je overdag meedoen met twee schrijfworkshops. 's Avonds wordt Doornroosje omgetoverd tot een literair walhalla. Tijdens de grootse festivalavond gaan talloze gasten in op het thema, waaronder Adriaan van Dis, Kamagurka, Franca Treur, Erik Jan Harmens, Alma Mathijsen, Anousha Nzume en Jet Steinz.

Het Wintertuinfestival wordt afgesloten met de boekpresentatie van Een botsing op het spoor van Joris van Casteren. Het boek gaat over een fatale botsing die een jaar geleden bij een spoorovergang in Nijmegen plaatsvond. Gedurende het hele festival is Nina Polak Writer in Residence en is er in de bibliotheek een Virtual Reality-installatie te bezichtigen.
Het verkrijgen van informatie is de goudkoorts van deze tijd. Bedrijven als Facebook en Google willen alles van ons weten, van ons reisgedrag en onze kledingsmaak tot onze politieke voorkeuren. Als een rots in de branding van de algoritmes en cookies staat de vrije lezer. Hij of zij vindt nieuwe ideeën, andere werelden, en schatten aan niet in kaart te brengen informatie in boeken. Je zou kunnen zeggen dat lezen van boeken in deze tijd een daad van verzet is, dat boeken een bastion van vrijheid zijn, en dat de lezer een activist is.
WINTERTUINFESTIVAL
Data: woensdag 22 tot en met zondag 26 november 2017
Locaties: talloze locaties in Nijmegen
Entree: variërend van gratis tot € 17,50 per festivalonderdeel
Meer info: www.wintertuinfestival.nl
fleursdumal.nl magazine
More in: - Book Lovers, - Book News, Art & Literature News, CINEMA, RADIO & TV, Literary Events, LITERARY MAGAZINES, MUSIC, THEATRE, Wintertuin Festival
---
Wat waren de laatste plekken van zijn kat?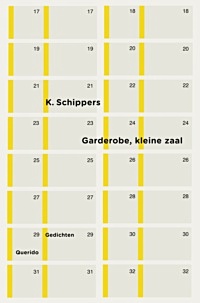 Wat krijg je als een iPad Engels van je Nederlands wil maken? Kun je de druppels in een glas water tellen?
Als jassen uit verschillende werelden bij elkaar in een garderobe, zo gevarieerd zijn de gedichten van K. Schippers.
Van licht naar ernstig, van verhalend naar een enkel woord – opnieuw verrast hij ons met zijn liefde voor de dingen waaraan we gedachteloos voorbijgaan.
K. Schippers
Garderobe, kleine zaal
Gedichten
Uitgeverij: Querido
NUR: 306
Paperback
ISBN: 9789021407388
Prijs: € 17,99
Publicatiedatum: 22-08-2017
K. Schippers Gedichten
fleursdumal.nl magazine
More in: - Book Lovers, - Book News, Archive S-T, Art & Literature News, K. Schippers, Schippers, K.
---
Schon immer war Berlin von Zuwanderung geprägt. Die zur Metropole wachsende Stadt hat sich aller Sprachen bedient und ihre Mundart ausgeprägt: die »Berliner Schnauze«.
Von der Straße, aus den Dienstmädchenkammern und Hinterhöfen fand das Berlinerische seinen Weg auf die Bühnen der Schmalzstullentheater und bald auch in die Schreibstuben der Dichter.
Was mit Adolf Glaßbrenners Eckensteher anfing, wurde von Theodor Fontane, Erich Mühsam und Max Herrmann-Neiße aufgegriffen. Kurt Tucholsky entpuppte sich als Meister des mundsprachlichen Gelegenheitsgedichtes und Erich Weinert berlinerte noch aus dem Exil gegen die Nationalsozialisten an. Eine Mundart wurde hoffähig und manchmal auch frech und obszön.
Diese erste dokumentarische Anthologie, die sich der berlinerischen volksnahen Sprache widmet, umfasst über 250 Gedichte – von 1830 bis heute. Entstanden ist eine Berliner Kulturgeschichte »von unten«, die fast wie nebenbei auch die deutsche Geschichte der letzten zweihundert Jahre nachzeichnet – vom preußischen Selbstbewusstsein über den kaiserstädtischen Größenwahn, den Klassenkampf der Goldenen Zwanziger, den Jahren im Krieg, in denen vielen Autoren allein die Mundart als Stück Heimat blieb, bis hin zur Rückbesinnung in den Jahren deutsch-deutscher Teilung und deren Überwindung.
Ick kieke, staune, wundre mir
Berlinerische Gedichte von 1830 bis heute
Gesammelt und ediert von Thilo Bock, Wilfried Ihrig & Ulrich Janetzki, mit einem Vorwort von Hans Christoph Buch
Die Andere Bibliothek, Berlin
Erschienen: 05.2017
Seitenanzahl: 472
Extradrucke
Bandnummer: 387
Extradruck, gebunden,
farbiges Vorsatzpapier,
mit Lesebändchen,
Gestaltung: Susanne Bax, Berlin.
ISBN: 9783847720188
24,00 EUR
# Website Die Andere Bibliothek
new books
fleursdumal.nl magazine
More in: - Book Lovers, - Book News, - Book Stories, Art & Literature News, FDM in Berlin, Galerie Deutschland, LIGHT VERSE, POETRY ARCHIVE
---
Older Entries »
« Newer Entries
Thank you for reading FLEURSDUMAL.NL - magazine for art & literature