Art & Literature News
«« Previous page
·
Poems About Sculpture by Robert Pinsky and Murray Dewart
·
Bill HAYES: Insomniac City. New York, Oliver, and Me
·
The DEATHS of the Poets by Michael Symmons Roberts & Paul Farley
·
Christoph Buchwald & Ulrike Almut Sandig: Jahrbuch der LYRIK 2017
·
Feest der Poëzie presenteert: 'O grote moderne geluiden'
·
PULITZER Prizes 2017
·
Stefan HERTMANS winnaar E. du Perronprijs 2016
·
DE STIJL in Tilburg: voorpublicatie biografie Antony Kok
·
DADA & DE STIJL in Drachten: nieuwe uitgave over correspondentie Theo van Doesburg en de broers Rinsema
·
DE STIJL in Drachten: Theo van Doesburg, kleur in architectuur
·
The BAUHAUS #itsalldesign in Art & Design Atomium Museum (ADAM) Brussel
·
Rainer GANAHL: Dadalenin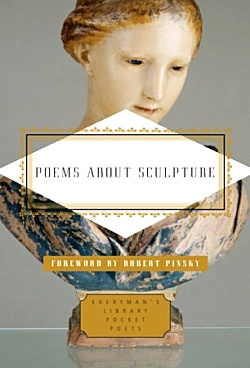 Poems About Sculpture
Foreword by Robert Pinsky & Edited by Murray Dewart
Poems About Sculpture is a unique anthology of poems from around the world and across the ages about our most enduring art form.
About Poems
About Sculpture
Sculpture has the longest memory of the arts: from the Paleolithic era, we find stone carvings and clay figures embedded with human longing. And poets have long been fascinated by the idea of eternity embodied by the monumental temples and fragmented statues of ancient civilizations. From Keats's Grecian urn and Shelley's "Ozymandias" to contemporary verse about Maya Lin's Vietnam Veterans Memorial and Janet Echelman's wind-borne hovering nets, the pieces in this collection convert the physical materials of the plastic arts—clay, wood, glass, marble, granite, bronze, and more—into lapidary lines of poetry. Whether the sculptures celebrated here commemorate love or war, objects or apparitions, forms human or divine, they have called forth evocative responses from a wide range of poets, including Homer, Ovid, Shakespeare, Baudelaire, Rilke, Dickinson, Yeats, Auden, and Plath. A compendium of dazzling examples of one art form reflecting on another, Poems About Sculpture is a treat for art lovers of all kinds.
Dare You See A Soul At The White Heat?

Dare you see a Soul at the White Heat?
Then crouch within the door—
Red—is the Fire's common tint—
But when the vivid Ore
Has vanquished Flame's conditions,
It quivers from the Forge
Without a color, but the light
Of unanointed Blaze.
Least Village has its Blacksmith
Whose Anvil's even ring
Stands symbol for the finer Forge
That soundless tugs—within—
Refining these impatient Ores
With Hammer, and with Blaze
Until the Designated Light
Repudiate the Forge—
Emily Dickinson
(1830 – 1886)
La Beauté
Je suis belle, ô mortels! comme un rêve de pierre,
Et mon sein, où chacun s'est meurtri tour à tour,
Est fait pour inspirer au poète un amour
Eternel et muet ainsi que la matière.
Je trône dans l'azur comme un sphinx incompris;
J'unis un coeur de neige à la blancheur des cygnes;
Je hais le mouvement qui déplace les lignes,
Et jamais je ne pleure et jamais je ne ris.
Les poètes, devant mes grandes attitudes,
Que j'ai l'air d'emprunter aux plus fiers monuments,
Consumeront leurs jours en d'austères études;
Car j'ai, pour fasciner ces dociles amants,
De purs miroirs qui font toutes choses plus belles:
Mes yeux, mes larges yeux aux clartés éternelles!
Charles Baudelaire
(1821 – 1867)
Poems About Sculpture
Foreword by Robert Pinsky
Edited by Murray Dewart
Hardcover, 256 p.
ISBN 9781101907757
Publ. by Everyman's Library, 2016
fleursdumal.nl magazine
More in: - Book News, Art & Literature News, Baudelaire, Charles, Dickinson, Emily, Museum of Literary Treasures, POETRY ARCHIVE
---
"A beautifully written once-in-a-lifetime book, about love, about life, soul, and the wonderful loving genius Oliver Sacks, and New York, and laughter and all of creation." – Anne Lamott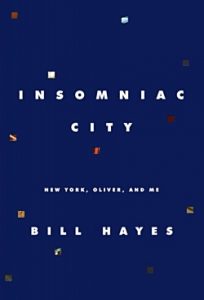 Bill Hayes came to New York City with a one-way ticket, all of his belongings, and only the vaguest idea of how he would get by. But, at forty-eight years old, having spent decades in San Francisco, he wanted a change. Grieving over the recent death of his partner, Hayes discovered quickly that the city, however ruthless its reputation, can also be a profoundly consoling place.
Within the city's incessant rhythms, Hayes found companionship in unlikely sources—in the tree branches framed by his apartment window, in the sight of the Empire State and Chrysler buildings against the night sky, and in New Yorkers themselves, those strangers who, striving side by side, sometimes turn to face one another. A lifelong insomniac, Hayes took to wandering the city at night with a camera, gazing up at skyscrapers, meandering through deserted parks, and having chance encounters with other sleepless city dwellers. And he fell in love again, against all expectations, with his friend and neighbor, Oliver Sacks.
The stories in Insomniac City are drawn together by Hayes' generosity of spirit, and by his photographs of urbanites that find beauty even in the ordinary. Bookended by two painful losses in Hayes' life, this memoir is both a meditation on grief and a celebration of ongoing life. It's also a love song to the city—not just to New York, but to all cities, and to all who have felt the particular magic and solace they offer.
"Insomniac City is a beautiful memoir in which Oliver Sacks comes wonderfully to life–a double portrait that also provides a vivid picture of New York City's neighborhoods and people. The ending is exquisitely wrought, heartrending and joyous." – Joyce Carol Oates,
Title: Insomniac City
Subtitle: New York, Oliver, and Me
Author: Bill Hayes
Publisher: Bloomsbury USA
Format Hardcover
ISBN-10 1620404931
ISBN-13 9781620404935
2017, 304 pp.
fleursdumal.nl magazine
More in: - Book News, Art & Literature News, BOOKS. The final chapter?, FDM in New York, Oliver Sacks, Photography
---
What is the price of poetry? An examination of how the deaths of great poets have shaped our culture's distorted sense of poetry.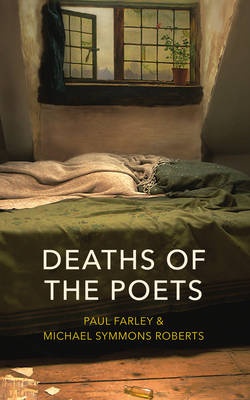 From Chatterton's Pre-Raphaelite demise to Keats' death warrant in a smudge of arterial blood; from Dylan Thomas's eighteen straight whiskies to Sylvia Plath's desperate suicide in the gas oven of her Primrose Hill kitchen or John Berryman's leap from a bridge onto the frozen Mississippi, the deaths of poets have often cast a backward shadow on their work.
The post-Romantic myth of the dissolute drunken poet – exemplified by Thomas and made iconic by his death in New York – has fatally skewed the image of poets in our culture. Novelists can be stable, savvy, politically adept and in control, but poets should be melancholic, doomed and self-destructive. Is this just a myth, or is there some essential truth behind it: that great poems only come when a poet's life is pushed right to an emotional knife-edge of acceptability, safety, security? What is the price of poetry? In this book, two contemporary poets undertake a series of journeys – across Britain, America and Europe – to the death places of poets of the past, in part as pilgrims, honouring inspirational writers, but also as investigators, interrogating the myth. The result is a book that is, in turn, enlightening and provocative, eye-wateringly funny and powerfully moving.
Michael Symmons Roberts's sixth collection of poetry, Drysalter, was the winner of both the Forward Prize and the Costa Poetry Prize in 2013. He has published two novels, and is Professor of Poetry at Manchester Metropolitan University.
Paul Farley is the author of four collections of poetry and has won the Forward Prize for Best First Collection, the Whitbread Poetry Award and the E. M. Forster Award.
Edgelands, co-written with Michael Symmons Roberts, received the Royal Society of Literature's Jerwood Award and the 2011 Foyles Best Book of Ideas Award and was serialised as Radio 4 Book of the Week.
The Deaths of the Poets
Michael Symmons Roberts & Paul Farley
ISBN : 9780224097543
Hardback, 400 pages
February 2017
Publisher: Random House Children's Publishers UK
fleursdumal.nl magazine
More in: - Archive Tombeau de la jeunesse, - Book News, Art & Literature News, DEAD POETS CORNER, Galerie des Morts, POETRY ARCHIVE
---
Seit 1979 gibt das »Jahrbuch der Lyrik« Einblick in neueste Entwicklungen der Poesie in Deutschland, Österreich und der Schweiz; ab diesem Jahr erscheint es jährlich bei Schöffling & Co. Für die 31. Ausgabe konnte Christoph Buchwald die vielfach ausgezeichnete Lyrikerin Ulrike Almut Sandig als Mitherausgeberin gewinnen. Gemeinsam haben sie die besten zeitgenössischen Gedichte ausgesucht und in thematischen Kapiteln zusammengestellt.
In welchem Maße ist die Gegenwartslyrik Echo und Spiegel unserer Zeit? Wie tief sitzt das Misstrauen gegen politische Ideologien und Rezepte? Offensichtlich ist: Die Sicht auf Geschichte und Gesellschaft ist nur mit subjektiver Herangehensweise glaubwürdig zu artikulieren, der persönliche Blick verweist auf das große Ganze.
Erstmals wurden auch Bildgedichte in die Auswahl aufgenommen; zusammen mit dem Kapitel »Dichter übersetzen Dichter« gehen diese über Sprach- und Genregrenzen hinaus.
Christoph Buchwald, 1951 in Tübingen geboren, ist seit 1979 ständiger Herausgeber des Jahrbuchs der Lyrik. Nach seinem Studium der Kunstgeschichte, Literaturwissenschaft und experimentellen Komposition hat er als Lektor und Verleger zahlreiche Lyriker begleitet. Seit 2002 leitet er gemeinsam mit seiner Frau den literarischen Verlag Cossee in Amsterdam und übersetzt Gedichte aus dem Niederländischen.
Ulrike Almut Sandig, 1979 in Großenhain geboren, wuchs in einem Pfarrhaushalt in Sachsen auf. Ihre Gedichte wurden vielfach verfilmt und ausgezeichnet, u. a mit dem Leonce-und-Lena-Preis 2009. Für ihre Sprechkonzerte und Hörstücke arbeitet sie eng mit Musikerinnen und Komponisten zusammen. Neben vier Gedichtbänden erschienen bisher zwei Hörbücher, die Erzählungen Flamingos (2010) und Buch gegen das Verschwinden (2015) sowie zahlreiche Hörspiele. Sie lebt mit ihrer Familie in Berlin.
was weiß ich vom
Schuldzucker der Gefühle von
den Kissen der Stille jeder
folgt einem anderen Befehl der
Käfer seinem Drahtgestell
der Himmel spielt mit dem
roten Pelz die Erde mit
den schwarzen Pfoten
Herta Müller, in: Jahrbuch der Lyrik 2017, hg. von Christoph Buchwald und Ulrike Almut Sandig, Schöffling & Co. 2017, S. 77.
Jahrbuch der Lyrik 2017
Gedichte
Herausgegeben von Christoph Buchwald und Ulrike Almut Sandig
232 Seiten. Gebunden. Lesebändchen.
ISBN: 978-3-89561-680-8
Schöffling & Co. 2017
Erscheint am 8. Mai 2017
  # more on website Lyrik-Kabinett München

fleursdumal.nl magazine
More in: - Book News, Art & Literature News, MODERN POETRY, POETRY ARCHIVE
---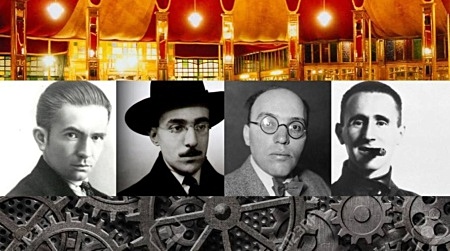 Magisch-industrieel variété met muziek, zang, magie en poëzie tijdens 'O grote moderne geluiden' bij het Pianolamuseum op zaterdagavond 15 april 2017

O grote moderne geluiden
Stichting Feest der Poëzie presenteert "O grote moderne geluiden" – magisch-industrieel variété met dada, futurisme, Berlijnse cabaretliederen, magie en poëzie. Verwonderaar Arjan van Vembde, klassiek liedduo Susanne Winkler en Daan van de Velde en voordrachtskunstenaar Simon Mulder brengen u in de frivole maar gevaarlijke sfeer van het begin van de vorige eeuw. Voor de pauze een Berlijns cabaret met magie en werk van o.a. Paul van Ostaijen, Bertolt Brecht en Kurt Weill, na de pauze een futuristische totaalvoordracht van Fernando Pessoa's 'Triomfode' met muziek en zang. Vorig jaar een succes op Estival da Estrela in Portugal, dit jaar bij het Pianola Museum.
Brecht, Weill, Van Ostayen en Pessoa
Het programma bestaat uit liederen voor piano en sopraan van Kurt Weill op teksten van Bertolt Brecht, dadaïstische gedichten van Paul van Ostayen en als grote klapper de tot voordrachttheaterstuk met muziek en zang bewerkte Triomfode van Pessoa's heteroniem Álvaro de Campos: een futuristische liefdesverklaring aan de zware industrie en de moderne consumptiemaatschappij.
Ewoud Kieft over oorlogsenthousiasme
Historicus Ewoud Kieft is schrijver van 'Oorlogsenthousiasme' over de aanloop naar de Eerste Wereldoorlog. Het boek is uitgekomen bij De Bezige Bij en werd genomineerd voor de Libris Geschiedenis Prijs. Hij komt het programma inleiden met een bespreking van de achtergrond van de gebrachte teksten in het kader van de aanloop naar en gevolgen van de Eerste Wereldoorlog.
Locatie: Pianola Museum, Westerstraat 106, Amsterdam
Datum: zaterdag 15 april
Zaal open: 20:00 uur
Aanvang: 20:30 uur
Entree: 15,- euro p.p. of 12,50 euro p.p. met korting (Stadspas, CJP, student, 65+)
Meer informatie: www.feestderpoezie.nl.
reservering via info@pianola.nl
fleursdumal.nl magazine
More in: Art & Literature News, Bertolt Brecht, DANCE, Literary Events, MUSIC, Ostaijen, Paul van, Pessoa, Fernando, POETRY ARCHIVE, THEATRE
---
Pulitzer Prizes
Pulitzer Prize administrator Mike Pride has announced today (april 10) the winners of the 2017 Pulitzer Prizes in the World Room at Columbia University in New York, N.Y.
This announcement marks the 101st year of the prizes. The Pulitzer Prizes have been awarded by Columbia University each spring since 1917.
The awards are chosen by a board of jurors for Journalism, Letters, Music and Drama.
The 2017 Winners in Letters, Drama and Music:
Fiction
The Underground Railroad by Colson Whitehead
From prize-winning, bestselling author Colson Whitehead, a magnificent tour de force chronicling a young slave's adventures as she makes a desperate bid for freedom in the antebellum South.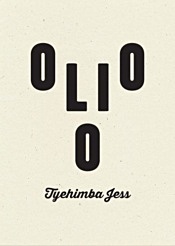 Poetry
Olio by Tyehimba Jess
Part fact, part fiction, Tyehimba Jess's much anticipated second book weaves sonnet, song, and narrative to examine the lives of mostly unrecorded African American performers, musicians and artists directly before and after the Civil War up to World War I. Olio is an effort to understand how they met, resisted, complicated, co-opted, and sometimes defeated attempts to minstrelize them.
History
Blood in the Water: The Atica Uprising of 1971 and Its Legacy by Heather Ann Thompson
On September 9, 1971, nearly 1,300 prisoners took over the Attica Correctional Facility in upstate New York to protest years of mistreatment. Drawing from more than a decade of extensive research, historian Heather Ann Thompson sheds new light on every aspect of the uprising and its legacy, giving voice to all those who took part in this forty-five-year fight for justice.
Nonfiction
Evicted by Matthew Desmond
Staff Pick: In this brilliant, heartbreaking book, Matthew Desmond takes us into the poorest neighborhoods of Milwaukee to tell the story of eight families on the edge.
Biography or Autobiography
The Return: Fathers, Sons and the Land in Between by Hisham Matar
The Return is at once an exquisite meditation on history, politics, and art, a brilliant portrait of a nation and a people on the cusp of change, and a disquieting depiction of the brutal legacy of absolute power. Above all, it is a universal tale of loss and love and of one family's life.
List of all this years Pulitzer Prize winners:
Journalism
Public Service: The staff of the New York Daily News and ProPublica.
Breaking News Reporting: The staff of East Bay Times.
Investigative Reporting: Eric Eyre, the Charleston Gazette-Mail.
Explanatory Reporting: The Panama Papers, by the International Consortium of Investigative Journalists, McClatchy and the Miami Herald.
Local Reporting: The staff of The Salt Lake Tribune.
National Reporting: David Fahrenthold, The Washington Post.
International Reporting: The staff of The New York Times.
Feature Writing: C.J. Chivers of The New York Times.
Commentary: Peggy Noonan, The Wall Street Journal.
Criticism: Hilton Als, The New Yorker.
Editorial Writing: Art Cullen, The Storm Lake Times.
Editorial Cartooning: Jim Morin, Miami Herald.
Breaking News Photography: Daniel Berehulak, The New York Times.
Feature Photography: E. Jason Wambsgans, Chicago Tribune.

Letters, Drama, & Music
Fiction: The Underground Railroad, by Colson Whitehead.
Drama: Sweat, by Lynn Nottage.
History: Blood in the Water: The Attica Prison Uprising of 1971 and Its Legacy, by Heather Ann Thompson.
Biography or Autobiography: The Return, by Hisham Matar.
Poetry: Olio, by Tyehimba Jess.
General Nonfiction: Evicted: Poverty and Profit in the American City, by Matthew Desmond.
Music: Angel's Bone, by Du Yun.
#  more  information  on  website  pulitzer
fleursdumal.nl magazine
More in: - Book News, Art & Literature News, CINEMA, RADIO & TV, DICTIONARY OF IDEAS, Illustrators, Illustration, MONTAIGNE, MUSIC, Photography, PRESS & PUBLISHING, REPRESSION OF WRITERS, JOURNALISTS & ARTISTS, The Art of Reading, THEATRE
---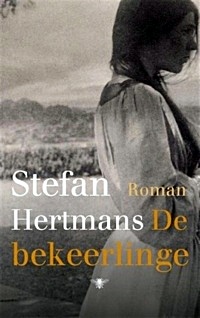 De E. du Perronprijs 2016 is toegekend aan Stefan Hertmans voor zijn roman De bekeerlinge (Uitgeverij De Bezige Bij) vanwege de kracht om tegenstrijdigheden met elkaar te verbinden en de kunst om in alles het gelijke op te zoeken. De andere genomineerden waren Rodaan Al Galidi met Hoe ik talent voor het leven kreeg (Uitgeverij Jurgen Maas) en Carolijn Visser met Selma. Aan Hitler ontsnapt, gevangene van Mao (Uitgeverij Augustus).
De prijs bestaat uit een geldbedrag van €2500 euro en een textiel object, ontworpen door studio 'by aaaa' (Moyra Besjes en Natasja Lauwers) en vervaardigd bij het TextielMuseum in Tilburg.
De uitreiking vindt plaats op donderdag 13 april, aanvang 20.00 uur bij brabants kenniscentrum voor kunst en cultuur (bkkc), Spoorlaan 21 te Tilburg.
Voorafgaand aan de uitreiking houdt schrijver Arnon Grunberg de E. du Perronlezing met als titel 'Het paradijs'.
De E. du Perronprijs is een initiatief van de gemeente Tilburg, de School of Humanities van Tilburg University en brabants kenniscentrum voor kunst en cultuur (bkkc). In 2015 won Ilja Leonard Pfeijffer de prijs voor zijn dichtbundel Idyllen (2015), zijn pamflet Asielzoekers en zijn columns in NRC Next. Andere laureaten waren onder meer Warna Oosterbaan en Theo Baart (2015), Mohammed Benzakour (2013), Koen Peeters (2012), Ramsey Nasr (2011), Alice Boot & Rob Woortman (2010), Abdelkader Benali (2009), Adriaan van Dis (2008) en Guus Kuijer (2007).
# meer info op website tilburg university
fleursdumal.nl magazine
More in: Art & Literature News, Eddy du Perron, Literary Events
---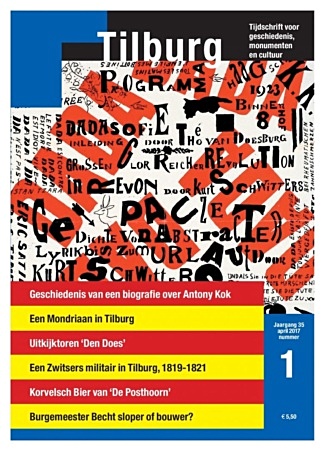 Op woensdag 5 april verschijnt het eerste nummer van 2017 van 'Tilburg. Tijdschrift voor geschiedenis, monumenten en cultuur' met daarin uitgebreid aandacht voor Antony Kok, Theo van Doesburg, Piet Mondriaan en De Stijl.
Jef van Kempen en Hanneke van Kempen schrijven een 'Geschiedenis van een biografie' over hun op handen zijnde biografie van Antony Kok. Zij doen verslag van 35 jaar onderzoek naar het leven van Antony Kok, de dichter en spoorwegbeambte uit Tilburg die aan het begin van de Eerste Wereldoorlog vriendschap sloot met de Amsterdamse schrijver en schilder Theo van Doesburg. De omvangrijke briefwisseling tussen Van Doesburg en Kok is een van de belangrijkste bronnen met betrekking tot de geschiedenis van de beweging rond het tijdschrift De Stijl, dat een grote invloed had op de Nederlandse en internationale kunst.
Petra Robben gaat in haar artikel 'Mijmering over een Mondriaan in Tilburg' in op de Internationale Tentoonstelling van Nijverheid, Handel en Kunst in 1913. Niko de Wit vertelt over 'Den Does', een uitkijktoren voor Tilburg en een hommage aan Theo van Doesburg.
Losse nummers van Tijdschrift Tilburg zijn verkrijgbaar in de Tilburgse boekhandels Gianotten-Mutsaers en Livius de Zevensprong in Tilburg en bij boekhandel Buitelaar in Goirle.
'Tilburg. Tijdschrift voor geschiedenis, monumenten en cultuur' verschijnt drie keer per jaar en kost € 5,50

DE STIJL in Tilburg: voorpublicatie biografie Antony Kok
# Zie ook: website tijdschrift Tilburg
fleursdumal.nl magazine
More in: - Book News, Antony Kok, Art & Literature News, BIOGRAPHY, Constuctivisme, Dada, Dadaïsme, De Stijl, Doesburg, Theo van, Essays about Van Doesburg, Kok, Mondriaan, Schwitters, Milius & Van Moorsel, Hanneke van Kempen, Jef van Kempen, Kok, Antony, Kurt Schwitters, Piet Mondriaan, Piet Mondriaan, Schwitters, Kurt, Theo van Doesburg, Theo van Doesburg
---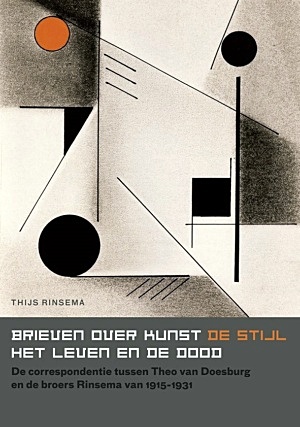 De correspondentie tussen Theo van Doesburg en de broers Rinsema geeft een doorkijk in hun persoonlijke dilemma's ten tijde van grote maatschappelijke veranderingen.
Het moest eerlijker, socialer en de kunst zakelijker zonder versierselen. Rechte lijnen, primaire kleuren en een duidelijke vlakverdeling.
Dat het lang niet altijd meeviel blijkt uit hun brieven, geschreven in de periode 1915-1931, waarin uitvoerig van gedachten werd gewisseld over kunst, De Stijl, het leven en de dood.
Auteur Thijs Rinsema (1944) leidde overeenkomstig zijn opa Thijs en oudoom Evert een soort 'dubbelleven'. Waar Thijs en Evert zich naast hun schoenmakersvak in kunst en literatuur verdiepten, combineerde Thijs jr. zijn apothekersvak met de studie algemene cultuurwetenschappen. Na zijn afstuderen verbond hij beide vakgebieden in een uitgebreid onderzoek en promoveerde in 2000 aan de universiteit in Leiden. Hij zegde het apothekersvak vaarwel om zich volledig aan cultuurwetenschappelijk onderzoek te wijden.
Brieven over kunst, DE STIJL, het leven en de dood
De correspondentie tussen Theo van Doesburg en de broers Rinsema van 1915-1931
Auteur: Thijs Rinsema
Paperback
Pagina's 424
€35,00
(verkrijgbaar vanaf 15-04-2017)
ISBN: 9789056154080
Uitgeverij Bornmeer
# Meer informatie website Uitgeverij Bornmeer
fleursdumal.nl magazine
More in: Antony Kok, Antony Kok, Art & Literature News, Constuctivisme, Dada, Dadaïsme, De Stijl, Doesburg, Theo van, Evert en Thijs Rinsema, Kok, Antony, Kurt Schwitters, Piet Mondriaan, Schwitters, Kurt, Theo van Doesburg, Theo van Doesburg, Theo van Doesburg (I.K. Bonset)
---
Vanaf 16 april 2017 presenteert Museum Dr8888 de tentoonstelling De Stijl in Drachten: Theo van Doesburg, kleur in architectuur. Te zien zijn o.a. kleurontwerpen, glas-in-loodramen, schilderijen en poëzie van kunstenaars als Theo van Doesburg, Thijs Rinsema en Evert Rinsema. Bijna alle ontwerpen van Theo van Doesburg in Drachten zijn voor het eerst bij elkaar te zien.
Over de tentoonstelling
In een speciale tentoonstelling wordt De Stijl in Drachten belicht, in het bijzonder de relatie tussen Theo van Doesburg, Thijs en Evert Rinsema, Cees Rienks de Boer en de ontwerpen voor de zogenaamde Papegaaienbuurt in Drachten. Vanaf juni 2017 heeft Drachten er een nieuw Stijlicoon bij: het Van Doesburg-Rinsemahuis, met meubels en werken van Thijs Rinsema en ontwerpen van Theo van Doesburg. In Drachten realiseerde Theo van Doesburg zijn eerste grote opdracht: het kleurontwerp voor 16 middenstandswoningen in 1921. Beleef een echt driedimensionaal Stijlschilderij en ontdek dat een woning van 100 jaar geleden nog steeds hypermodern oogt.
Publicatie
Bij de tentoonstelling verschijnt bovendien het boek Brieven over kunst, De Stijl, het leven en de dood. De correspondentie tussen Theo van Doesburg en de broers Rinsema van 1915-1931, dat verkrijgbaar is in de museumwinkel.
Themajaar Mondriaan tot Dutch Design
De Stijl in Drachten: Theo van Doesburg, kleur in architectuur is de tweede tentoonstelling in het kader van de landelijke viering van 100 jaar De Stijl. Naast Museum Dr8888 doen ook Keramiekmuseum Princessehof Leeuwarden en de voormalig Rijksluchtvaartschool in Eelde als vertegenwoordigers van Noord-Nederland mee aan het themajaar Mondriaan tot Dutch Design.
De Stijl in Drachten:
Theo van Doesburg, kleur in architectuur
16 april– 25 juni 2017
Museum Dr8888
Museumplein 2 – 9203 DD Drachten
Gemeente Smallingerland, Friesland
# Meer informatie website Museum Dr8888
fleursdumal.nl magazine
More in: Antony Kok, Antony Kok, Art & Literature News, Dada, De Stijl, Doesburg, Theo van, Evert en Thijs Rinsema, Gerrit Rietveld, Kurt Schwitters, Kurt Schwitters, Piet Mondriaan, Schwitters, Kurt, Theo van Doesburg, Theo van Doesburg, Theo van Doesburg (I.K. Bonset)
---
The Bauhaus #itsalldesign
Art & Design Atomium Museum (ADAM)
16 maart – 11 juni 2017
Met The Bauhaus #itsalldesign is het Art & Design Atomium Museum [ADAM] verheugd om voor het eerst in haar jonge geschiedenis een tentoonstelling van het Vitra Design Museum te mogen verwelkomen. Deze retrospectieve biedt een complete kijk op het design van de Bauhaus-beweging. De tentoonstelling omvat tal van werken waarvan de meesten nooit eerder getoond werden, uit verschillende domeinen zoals design, architectuur, kunst, film en fotografie. Tegelijkertijd maakt ze ook een parallel tussen het design van het Bauhaus en de huidige tendensen en creaties op het vlak van design, kunst en architectuur. The Bauhaus #itsalldesign toont op die manier hoe actueel deze legendarische culturele instelling nog altijd is. De belangrijke figuren van het Bauhaus worden tentoongesteld zoals Marianne Brandt, Marcel Breuer, Lyonel Feininger, Walter Gropius en Wassily Kandinsky. De hedendaagse bijdrages komen onder andere van Olaf Nicolai, Adrian Sauer, Enzo Mari, Lord Norman Foster, Opendesk, Konstantin Grcic, Hella Jongerius, Alberto Meda en Jerszy Seymour.
Het doel van het "Staatliches Bauhaus", dat in 1919 in Weimar werd opgericht door Walter Gropius, was een nieuw soort designers op te leiden. Studenten aan het Bauhaus moesten de ambachtelijke en artistieke grondbeginselen kennen, maar net zo goed de menselijke psyche, het perceptieproces, de ergonomie en de techniek – een beroepsprofiel waaraan designers vandaag nog altijd beantwoorden. Volgens het Bauhaus is de ontwerper belast met een zeer ruime, complete missie: hij is niet alleen verantwoordelijk voor het ontwerp van objecten die tegemoet komen aan de behoeften van het dagelijks leven, hij dient ook actief deel te nemen aan de transformatie van de maatschappij. Op die manier tekende het Bauhaus een allesomvattende visie op design uit, die vandaag opnieuw volop omarmd wordt. Termen als Social Design, Open Design of "design thinking" getuigen van een hernieuwde discussie over de vraag hoe ontwerpers hun werken opnieuw in een grotere context kunnen integreren en de maatschappij kunnen helpen heruitvinden.
Vanuit deze zeer actuele invalshoek toont de tentoonstelling het Bauhaus als een complexe, rijkgelaagde beweging, als een "labo van modernisme" dat nog altijd zeer aanwezig is in de designtendensen. De tentoonstelling bestaat uit vier delen met elk een aparte thematiek en begint met een overzicht van de historische en sociale context van het Bauhaus. Het tweede deel toont iconische werken van de beweging, maar ook miskende designobjecten en verkent het creatieproces – tussen kunst, ambacht, techniek en industrie. De thematiek van de ruimte komt aan bod in het derde deel en onderstreept het aantal kunstenaars dat zich aansloot bij de manier waarop het Bauhaus design formuleerde. Dit gold voor theatermakers, architecten die een reflectie rond minimalistische woningen voorstelden en kunstenaars die kleurtheorieën en ruimtelijke modellen ontwikkelden. Het Bauhaus komt hier naar voren als de eerste "totaalervaring" op het vlak van het artistieke modernisme, dat het design wil betrekken bij alle aspecten van het leven. Het vierde deel van de tentoonstelling focust op de communicatiestrategie van het Bauhaus, gaande van de typografie over de tentoonstellingen tot de experimentele artistieke foto's en films. Hierbij wordt ook ingegaan op de vaak systematische manier waarop werd gewerkt aan de vorming van een mythe en een imago die vandaag nog altijd met de beweging worden geassocieerd.
In de hele expositie worden de actualiteit en de hedendaagse verankering van het Bauhaus onderstreept door historische werken van de periode van het Bauhaus parallel te tonen met die van hedendaagse designers. Zo worden de per computer vervaardigde meubelen van Minale Maede en Front voorgesteld, evenals het Hartz IV-Möbel van Van Bo Le-Mentzel, maar ook manifesten van designers als Hella Jongerius en Opendesk, interviews met ontwerpers als Lord Norman Foster, Enzo Mari, Sauerbruch Hutton en Jason Wu artistiek directeur van Boss Womanswear- of hommages aan het Bauhaus van designers zoals Mike Meiré, Studio Miro en Dokter and Misses. De reikwijdte van de invloed van het Bauhaus is duidelijk zichtbaar, van de auto-ontwerpen van Mercedes-Benz tot de meubelserie Pipe (2009) van Konstantin Grcic voor Muji en Thonet, geïnspireerd door Marcel Breuer. Opmerkelijk zijn ook de vier projecten die speciaal voor de tentoonstelling werden gemaakt door Adrian Sauer, kunstenaar uit Leipzig, Olaf Nicolai, conceptueel kunstenaar, evenals de kunstenaars en auteurs Joseph Grima en Philipp Oswalt.
De confrontatie tussen historische en hedendaagse werken werpt een nieuw licht op het design van de Bauhaus- beweging. Ze spreekt het cliché tegen dat wat men "Bauhaus-design" noemt vooral minimalistisch, koud en geometrisch is en toont daarentegen hoe de ontwerpers afkomstig van deze beweging een grote interesse hadden voor de sociale context, voor experimenten en voor het productieproces. Enerzijds wordt duidelijk dat tal van hedendaagse debatten op een verrassende manier aansluiten bij die van het Bauhaus, of het nu gaat om de mogelijkheden die worden geboden door de nieuwe productiemiddelen en materialen, de rol van de designer in de samenleving of de voordelen van multidisciplinair werk. Anderzijds blijkt dat het Bauhaus, door het uitbreiden van het begrip design, er mee voor gezorgd heeft dat het design zo alomtegenwoordig is in onze hedendaagse samenleving, een fenomeen dat al aangegeven wordt door de ondertitel van de tentoonstelling: The Bauhaus #itsalldesign.
In het kader van The Bauhaus #itsalldesign wordt een catalogus van meer dan 400 pagina's uitgegeven, bestaande uit een gedetailleerd, rijkelijk geïllustreerd gedeelte evenals essays van gerenommeerde auteurs, met name Arthur Rüegg en Jan Boelen, en een glossarium met de belangrijkste begrippen van het Bauhaus-design. De hedendaagse visie van het Bauhaus wordt benadrukt door talrijke artikels van vermaarde designers, kunstenaars en architecten uit de hele wereld, onder wie Lord Norman Foster, Tobias Rehberger, Arik Levy en Hella Jongerius, die ideeën, projecten en thesissen voorstellen waaruit blijkt hoe actueel het Bauhaus wel is.
The Bauhaus #itsalldesign is een tentoonstelling van het Vitra Design Museum en de Kunst- und Ausstellungshalle der Bundesrepublik Deutschland (Bundeskunsthalle).
The Bauhaus #itsalldesign
van 16 maart tot en met 11 juni 2017 in het
Art & Design Atomium Museum – ADAM.
Belgiëplein 1, 1020 Brussel (Laken)
Het Art & Design Atomium Museum bevindt zich in het noordelijke deel van de stad Brussel, op 5 minuten wandelen van het metrostation Heizel/Heysel (lijn 6) en recht tegenover Paleis 5 van de Heizel, op 100m van het Atomium.
Van 16 maart tot en met 11 juni 2017 in het Art & Design Atomium Museum – ADAM.
# meer info op website Art & Design Atomium Museum (ADAM)
fleursdumal.nl magazine
More in: Art & Literature News, Bauhaus, Bauhaus, Constuctivisme, DANCE, De Stijl, Design, DICTIONARY OF IDEAS, Exhibition Archive, Fashion, FDM in Berlin, Galerie Deutschland, Kubisme, Modernisme, Photography, Theo van Doesburg
---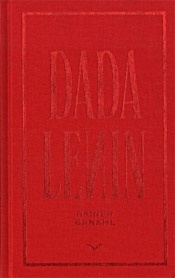 DADALENIN reconstructs and speculates about how Dada and Lenin had more in common than is usually assumed. The book points to some of the tragicomic aspects of their parallel and overlapping artistic and political histories in order to question the unfulfilled legacy of the avant-garde. In Rainer Ganahl's voluminous series of works DADA and Lenin are abundant sources of historical imagination. To dive into the historical situation Ganahl uses a variety of artistic media and techniques–ranging from animation movies to theatre performances, from ink drawings to bronze sculptures, departing from a number of historical details and catch phrases, from the no-man's land between porn, terror and the history of the avant-gardes.
Dadalenin
Rainer Ganahl
Publisher Taube
ISBN 9783981451849
608 p,
ills in colour & bw,
15 x 23 cm, hb, English
€25.00
fleursdumal.nl magazine
More in: - Book News, Archive G-H, Art & Literature News, Dada, Dadaïsme
---
Older Entries »
« Newer Entries
Thank you for reading FLEURSDUMAL.NL - magazine for art & literature