– Book Lovers
·
Old Angel Midnight by Jack Kerouac
·
Antti Tuomainen: Die letzten Meter bis zum Friedhof
·
INSEL, the only novel by Mina Loy
·
Mostyn T. Pigott: The hundred best books
·
Milk and Honey by Rupi Kaur
·
The Book Lovers' Miscellany by Claire Cock-Starkey
·
The Poetry Pharmacy: Tried-and-True Prescriptions for the Heart, Mind and Soul by William Sieghart
·
Dichter und Kunstfigur, Provokateur und Visionär: Julia Encke über den französischen Literatur-Star Michel Houellebecq
·
Schubert's Winter Journey. Anatomy of an Obsession by Ian Bostridge
·
30+30 Dichtersmarathon 2018 – PERDU Amsterdam op 25 januari 2018
·
'Riskante relaties', nieuwe vertaling van Martin de Haan van Les Liaisons dangereuses van Pierre Ambroise Choderlos de Laclos
·
Sophie Heijkoop: Denkdier
Old Angel Midnight is a treasure trove of Kerouac's experiments with automatic writing, a method he practiced constantly to sharpen his imaginative reflexes.
Recorded in a series of notebooks between 1956-1959, what Kerouac called his "endless automatic writing piece" began while he shared a cabin with poet Gary Snyder.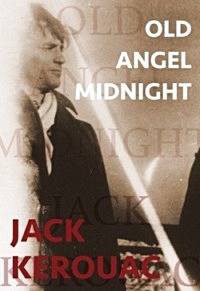 Kerouac tried to emulate Snyder's daily Buddhist meditation discipline, using the technique of "letting go" to free his mind for pure spontaneous writing, annotating the stream of words flowing through his consciousness in response to auditory stimuli and his own mental images.
Kerouac continued his exercise in spontaneous composition over the next three years, including a period spent with William Burroughs in Tangiers. He made no revisions to the automatic writing entries in his notebooks, which were collected and transcribed for publication as originally written.
Old Angel Midnight attests to the success of Kerouac's experiment and bears witness to his commitment to his craft, and to the pleasure he takes in writing: "I like the bliss of mind."
"Kerouac's ambition to capture the living moment (crucially for him, recapitulating memory) developed poetic form in 1954 with his collection San Francisco Blues, and it reached greater fulfilment with the sixty-seven free-association passages of Old Angel Midnight. This new edition from City Light Books adds one more, found among Kerouac's papers by John Sampas, concluding 'Eyes of Ray Charles see Me here realize O Holy.' Mostly written during April 1956 when Kerouac shared a shack with Gary Snyder in rural Mill Valley, outside San Francisco, Old Angel Midnight was likely facilitated by the 'letting go' technique he observed from Snyder's Buddhist meditation." – Jules Smith – The Times Literary Supplement
"Tried to warn all of you, essence of stuff wont do
— God why did you make the world?
Answer: –Because I gwt pokla renamash ta va in
ming the atss are you forever with it?
I like the bliss of mind.
Awright I'll call up all the fuckin Gods, right now!
Parya! Arrive! Ya damn hogfuckin lick lip twillerin
fishmonger! Kiss my purple royal ass baboon! Poota!
Whore! You and yr retinues of chariots & fucks! Devadatta!
Angel of Mercy! Prick! Lover! Mush! Run on
ya dog eared kiss willying nilly Dexter Michigan ass—
warlerin ratpole! The rat in my cellar's an old canuck who
wasnt fooled by rebirth but b God gotta admit I was born for
the same reason I bring this glass to my lip — ?
Rut! Old God whore, the key to ecstasy is forevermore
furthermore blind! Potanyaka! God of Mercy!"
Excerpt from 'Old Angel Midnight' by Jack Kerouac
Old Angel Midnight
Jack Kerouac
Preface by Ann Charters, Michael McClure
Collection City Lights/Grey Fox
Publisher City Lights Publishers
Paperback, $13.95
Pages 94
Publication 2016
ISBN-10 087286703X
ISBN-13 9780872867031
fleursdumal.nl magazine
More in: - Book Lovers, - Book Stories, Archive K-L, Art & Literature News, Automatic writing, Kerouac, Jack, Opium-Eaters
---
Jaako ist 37, als sein Arzt ihm eröffnet, dass er keine Grippe hat, sondern sterben wird, und zwar sehr bald: Jemand hat ihn über längere Zeit hinweg vergiftet.
Das an sich ist schon geeignet, einem Mann so richtig den Tag zu verderben. Leider wird Jaako bei der Rückkehr nach Hause außerdem noch Zeuge, wie ihn seine Frau mit Petri betrügt, dem jungen, knackigen Angestellten ihrer gemeinsamen Firma. Der Firma, die in jüngster Zeit gefährlich Konkurrenz bekommen hat.
Jaako beschließt herauszufinden, wer ihn um die Ecke bringen will. Und er wird sein Unternehmen für die Zeit nach seinem Tod fit machen. Der Handel mit den in Japan zu Höchstpreisen gehandelten Matsutake-Pilzen läuft nämlich ausgezeichnet, und in Finnlands Wäldern wachsen nun einmal die besten. Doch das neue Konkurrenzunternehmen kämpft wirklich mit harten Bandagen.
Ist es da Jaakos Schuld, wenn es zu Toten kommt? Und hat er überhaupt Zeit für anderer Leute Sorgen? Denn so viel ist klar: Mit dem Tod vor Augen geht alles leichter, gilt es doch jede Minute zu genießen.
«Die letzten Meter bis zum Friedhof» ist nicht einfach ein Kriminalroman, sondern ein besonderes Buch: lustig und tragisch, berührend und skurril, lebensklug und nachdenklich, ein Roman, der trotz seines makabren Themas die Lebensgeister weckt, und eine schräge Lektüre, bei der man sich fühlt, als befände man sich in einem Film von Aki Kaurismäki.
Antti Tuomainen, Jahrgang 1971, ist einer der angesehensten und erfolgreichsten finnischen Schriftsteller. Er wurde u.a. mit dem Clue Award, dem Finnischen Krimipreis ausgezeichnet, seine Romane erscheinen in über 25 Ländern. Antti Tuomainen lebt mit seiner Frau in Helsinki.
Antti Tuomainen
Die letzten Meter bis zum Friedhof
Erscheinungstermin: 24.01.2018
384 Seiten
Hardcover
€19,95
Übersetzt von: Niina Wagner; Jan Costin Wagner
Verlag: Rowohlt
ISBN: 978-3-498-06552-2
new books
fleursdumal.nl magazine
More in: - Book Lovers, - Book Stories, Archive S-T, Art & Literature News, CRIME & PUNISHMENT, Tales of Mystery & Imagination
---
Insel, the only novel by the surrealist master Mina Loy, is a book like no other—about an impossible friendship amid the glamorous artistic bohemia of 1930s Paris.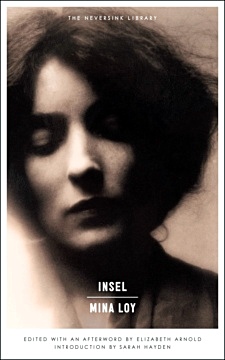 German painter Insel is a perpetual sponger and outsider—prone to writing elegant notes with messages like "Am starving to death except for a miracle—three o'clock Tuesday afternoon will be the end"—but somehow writer and art dealer Mrs. Jones likes him.
Together, they sit in cafés, hatch grand plans, and share their artistic aspirations and disappointments. And they become friends. But as they grow ever closer, Mrs. Jones begins to realize just how powerful Insel's hold over her is.
Unpublished during Loy's lifetime, Insel—which is loosely based on her friendship with the painter Richard Oelze—is a supremely surrealist, deliberately excessive creation: baroque in style, yet full of deft comedy and sympathy. Now, with an alternate ending only recently unearthed in the Loy archives, Insel is finally back in print, and Loy's extraordinary achievement can be appreciated by a new generation of readers.
Mina Loy was born in London in 1882 and began her artistic career as painter; she was influenced by Impressionism and achieved success in the Parisian art world before turning to poetry and other forms of visual art, including lampshades and "junk collages." She was at the heart of the modernist movement (as well as Dada, Futurism, and Surrealism) and had close friendships with Djuna Barnes and Gertrude Stein, among many others. Her frank and rigorously experimental writing earned her both praise and censure, as did her unconventional life: she spent many years living in Greenwich Village and on the Bowery, befriending bums, drunks, and other down-and-outs. Her work has recently been collected inThe Lost Lunar Baedeker (FSG) and Stories and Essays of Mina Loy (Dalkey Archive). She died in 1966 in Aspen, Colorado.
Elizabeth Arnold, a scholar and poet, is the author of Effacement and two other collections.
Sarah Hayden is a postdoctoral fellow at the University of Cork, where her focus is on Mina Loy and avant-garde artistic movements.
Insel
Mina Loy
Edited by Elizabeth Arnold,
with an Introduction by Sarah Hayden
Trade Paperback
Novel, 2014
180 pages
ISBN 9781612193533
Publisher Melville House
Part of The Neversink Library
"Is there anyone in America except you, Bill [William Carlos Williams,] and Mina Loy who can write anything of interest in verse?" — Ezra Pound, letter to Marianne Moore
fleursdumal.nl magazine
More in: - Book Lovers, Archive K-L, Archive K-L, Art & Literature News, Loy, Mina, SURREALISM
---
The hundred best books
First there's the Bible,
And then the Koran,
Odgers on Libel,
Pope's Essay on Man,
Confessions of Rousseau,
The Essays of Lamb,
Robinson Crusoe
And Omar Khayyam,
Volumes of Shelley
And venerable Bede,
Machiavelli
And Captain Mayne Reid,
Fox upon Martyrs
And Liddell and Scott,
Stubbs on the Charters,
The works of La Motte,
The Seasons by Thompson,
And Paul de Verlaine,
Theodore Mommsen
And Clemens (Mark Twain),
The Rocks of Hugh Miller,
The Mill on the Floss,
The Poems of Schiller,
The Iliados,
Don Quixote (Cervantes),
La Pucelle by Voltaire,
Inferno (that's Dante's),
And Vanity Fair,
Conybeare-Howson,
Brillat-Savarin,
And Baron Munchausen,
Mademoiselle De Maupin,
The Dramas of Marlowe,
The Three Musketeers,
Clarissa Harlowe,
And the Pioneers,
Sterne's Tristram Shandy,
The Ring and the Book,
And Handy Andy,
and Captain Cook,
The Plato of Jowett,
And Mill's Pol. Econ.,
The Haunts of Howitt,
The Encheiridion,
Lothair by Disraeli,
And Boccaccio,
The Student's Paley,
And Westward Ho!
The Pharmacopœia,
Macaulay's Lays,
Of course The Medea,
And Sheridan's Plays,
The Odes of Horace,
And Verdant Green,
The Poems of Morris,
The Faery Queen,
The Stones of Venice,
Natural History (White's),
And then Pendennis,
The Arabian Nights,
Cicero's Orations,
Plain Tales from the Hills,
The Wealth of Nations,
And Byles on Bills,
As in a Glass Darkly,
Demosthenes' Crown,
The Treatise of Berkeley,
Tom Hughes's Tom Brown,
The Mahabharata,
The Humor of Hook,
The Kreutzer Sonata,
And Lalla Rookh,
Great Battles by Creasy,
And Hudibras,
And Midshipman Easy,
And Rasselas,
Shakespear in extenso
And the Æneid,
And Euclid (Colenso),
The Woman Who Did,
Poe's Tales of Mystery,
Then Rabelais,
Guizot's French History,
And Men of the Day,
Rienzi, by Lytton,
The Poems of Burns,
The Story of Britain,
The Journey (that's Sterne's),
The House of Seven Gables,
Carroll's Looking-glass,
Æsop his Fables,
And Leaves of Grass,
Departmental Ditties,
The Woman in White,
The Tale of Two Cities,
Ships that Pass in the Night,
Meredith's Feverel,
Gibbon's Decline,
Walter Scott's Peveril,
And—some verses of mine.
Mostyn T. Pigott
(1865-1927)
The hundred best books
fleursdumal.nl magazine
More in: - Book Lovers, - Book Stories, Archive O-P, Archive O-P
---
#1 New York Times bestseller Milk and Honey is a collection of poetry and prose about survival. About the experience of violence, abuse, love, loss, and femininity.
The book is divided into four chapters, and each chapter serves a different purpose. Deals with a different pain. Heals a different heartache. Milk and Honey takes readers through a journey of the most bitter moments in life and finds sweetness in them because there is sweetness everywhere if you are just willing to look.
rupi kaur is a bestselling author and illustrator of two collections of poetry. her artistic expression began at the age of 5 when her mother handed her a paintbrush and said—draw your heart out. while studying at the university of waterloo rupi self-published her first collection milk and honey in 2014.
milk and honey became an international phenomenon that's been translated into over 30 languages and sold over 2.5 million copies. rupi's long-awaited second collection the sun and her flowers was published in 2017 and immediately debuted as a #1 global bestseller. through her poetry rupi explores a variety of themes ranging from love. loss. trauma. healing. femininity. migration. revolution.
rupi is a storyteller and chronicler. there's a simplicity and nuance to her work that has found a home in the hearts of millions. this magic is best captured in her stage performances which are magnetic musical interactions of poetry art and theatre. in the years to come rupi hopes to continue her artistic exploration through art and poetry—searching for ways to understand and articulate the world around her.
Milk and Honey
by Rupi Kaur
Publisher Andrews McMeel Publishing
Publication date 10/2015
US Edition
Binding Trade Paperback
208 pages
Price € 13.50
ISBN 9781449474256
new poetry books
fleursdumal.nl magazine
More in: - Book Lovers, - Book News, Archive K-L, Archive K-L, Art & Literature News
---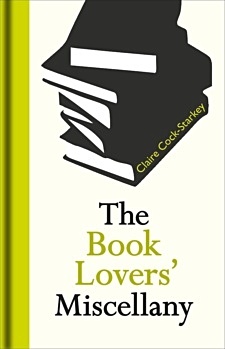 How is ink made? What is the bestselling book of all time? What are the oldest known books in the world? And how does one make sense of the colors found on Penguin paperbacks? The answers to these questions and many more await readers in The Book Lovers' Miscellany.
The Book Lovers' Miscellany is a cornucopia for bibliophiles. With customary wisdom and wit, Claire Cock-Starkey presents a brief illustrated history of paper, binding, printing, and dust jackets, with a wealth of arcane facts that even the most avid book lovers may be hard-pressed to answer: Which natural pigments were used to decorate medieval bibles? Which animal is needed for the making of vellum? Curious facts are drawn from throughout the history of books and publishing, including many more recent examples, such as a short history of the comic and the story behind the massively successful Harlequin romance imprint Mills and Boon. Readers can explore the output of the most prolific writers and marvel at the youth of the youngest published authors—or lament the decisions of the publishers who rejected books that later became colossal bestsellers. The book also includes a collection of lists, including unfinished novels, books that have faced bans, books printed with mistakes, the most influential academic books of all time, and the longest established literary families.
The perfect gift for every bibliophile, The Book Lovers' Miscellany is equally well suited to reading straight through or dipping into here and there.
The Book Lovers' Miscellany
by Claire Cock-Starkey (Author)
Hardcover
ISBN: 9781851244713
Published January 15, 2018
Bodleian Library, University of Oxford
The Bodleian Library at the University of Oxford publishes books related to their collection, in some cases facsimile editons of rare or noteworthy titles. UCP distributes Bodleian Library titles in North America.
fleursdumal.nl magazine
More in: - Book Lovers, - Bookstores, Archive C-D, Art & Literature News, Libraries in Literature, PRESS & PUBLISHING, The Art of Reading
---
In the years since he first had the idea of prescribing short, powerful poems for all manner of spiritual ailments, William Sieghart has taken his Poetry Pharmacy around the length and breadth of Britain, into the pages of the Guardian, onto BBC Radio 4 and onto the television, honing his prescriptions all the time.

This pocket-sized book presents the most essential poems in his dispensary: those which, again and again, have really shown themselves to work. Whether you are suffering from loneliness, lack of courage, heartbreak, hopelessness, or even from an excess of ego, there is something here to ease your pain.
– 'The book is delightful; it rightly resituates poetry in relation to its biggest and most serious task: helping us to live and die well' – Alain de Botton
– William Sieghart has had a distinguished career in publishing and the arts. He established the Forward Prizes for Poetry in 1992, and founded National Poetry Day in 1994. He is a former chairman of the Arts Council Lottery Panel, and current chairman of both the Somerset House Trust and Forward Thinking, a charity seeking peace in the Middle East and acceptance of British Muslims. His previous anthologies include Winning Words: Inspiring Poems for Everyday Life (2014), Poems of the Decade: An Anthology of the Forward Books of Poetry (2015) and 100 Prized Poems: Twenty-five Years of the Forward Books (2016).
William Sieghart
The Poetry Pharmacy
Tried-and-True Prescriptions for the Heart, Mind and Soul
Published September 2017
Hardback
176 Pages
£12.99
Particular Books
Penguin Books Ltd
ISBN: 9781846149542
new books
fleursdumal.nl magazine
More in: - Book Lovers, - Book News, Archive S-T, Archive S-T, Art & Literature News
---
Michel Houellebecq ist nicht nur einer der erfolgreichsten Schriftsteller der Gegenwart, er ist vor allem und mit großer Lust eines: ein Provokateur, der regelmäßig Debatten auslöst, die weit über das Literarische hinausgehen.
Mal nennt er den Islam die «bescheuertste Religion der Welt», dann preist er die Prostitution als eheerhaltende Maßnahme – und man kann sich nicht sicher sein, ob er das wirklich so meint.
Julia Encke, Literaturchefin der «Frankfurter Allgemeinen Sonntagszeitung», ist ihm immer wieder begegnet und macht sich nun daran, das Leben und Werk dieses großen Dichters zu entschlüsseln. «Wer ist Michel Houellebecq?» fragt nach der Spannung zwischen dem Menschen Houellebecq und dem öffentlichen Bild des Mannes, der mit seinen Romanen «Elementarteilchen» und «Unterwerfung» wütende Anfeindungen wie begeisterte Zustimmung erntete.
Sie beschreibt die vielen Facetten – den Visionär, den Romantiker, den Künstler – und zeigt, dass kaum jemand die Stimmung unserer Zeit so gut erfasst wie Michel Houellebecq. Er zielt mit seinen Texten mitten ins Herz unserer Gesellschaft – weshalb auch kaum jemand eine so große Gemeinde von Fans und erbitterten Gegnern hat. Pünktlich zum 60. Geburtstag erscheint nun das Porträt, das dem Rätsel Houellebecq auf die Spur zu kommen versucht.
Julia Encke, geboren 1971, studierte Literaturwissenschaft in Freiburg, Toulouse und München und promovierte mit einer vielbeachteten Arbeit über den Ersten Weltkrieg. Von 2001 bis 2005 arbeitete sie im Feuilleton der «Süddeutschen Zeitung» und gehört seit Sommer 2005 dem Feuilleton der «Frankfurter Allgemeinen Sonntagszeitung» in Berlin an. Seit 2015 verantwortet sie dort das Literaturressort. 2005 erschien «Augenblicke der Gefahr. Der Krieg und die Sinne 1914–1934», 2014 «Charisma und Politik. Warum unsere Demokratie mehr Leidenschaft braucht».
Julia Encke:
Wer ist Michel Houellebecq?
Porträt eines Provokateurs
Dec. 2017
256 Seiten
€19,95
Hardcover
ISBN: 978-3-7371-0017-5
Verlag: Rowohlt Berlin
new books
fleursdumal.nl magazine
More in: - Book Lovers, - Book Stories, Archive E-F, Archive G-H, Art & Literature News, Michel Houellebecq, NONFICTION: ESSAYS & STORIES
---
An exploration of the world's most famous and challenging song cycle, Schubert's Winter Journey (Winterreise), by a leading interpreter of the work, who teases out the themes—literary, historical, psychological—that weave through the twenty-four songs that make up this legendary masterpiece.
Completed in the last months of the young Schubert's life, Winterreise has come to be considered the single greatest piece of music in the history of Lieder. Deceptively laconic—these twenty-four short poems set to music for voice and piano are performed uninterrupted in little more than an hour—it nonetheless has an emotional depth and power that no music of its kind has ever equaled.
A young man, rejected by his beloved, leaves the house where he has been living and walks out into snow and darkness. As he wanders away from the village and into the empty countryside, he experiences a cascade of emotions—loss, grief, anger, and acute loneliness, shot through with only fleeting moments of hope—until the landscape he inhabits becomes one of alienation and despair.
Originally intended to be sung to an intimate gathering, performances of Winterreise now pack the greatest concert halls around the world.
Drawing equally on his vast experience performing this work (he has sung it more than one hundred times), on his musical knowledge, and on his training as a scholar, Bostridge teases out the enigmas and subtle meanings of each of the twenty-four lyrics to explore for us the world
Schubert inhabited, his biography and psychological makeup, the historical and political pressures within which he became one of the world's greatest composers, and the continuing resonances and affinities that our ears still detect today, making Schubert's wanderer our mirror.
Ian Bostridge performs regularly throughout Europe, North America and the Far East to outstanding critical acclaim. He read Modern History at Oxford and received a D.Phil in 1990. He is the author of Witchcraft and Its Transformations c.1650-c.1750 and A Singer's Notebook. He is Humanitas Professor of Music at the University of Oxford and a regular contributor to The Guardian and the TLS. He is married to the writer and critic Lucasta Miller. They live in London with their two children.
Schubert's Winter Journey
Anatomy of an Obsession
By Ian Bostridge
Paperback
Published on Jan 02, 2018
Published by Vintage
528 Pages
$22.00
ISBN 9780525431800
new books
fleursdumal.nl magazine
More in: # Music Archive, - Book Lovers, - Book News, Archive A-B, Art & Literature News
---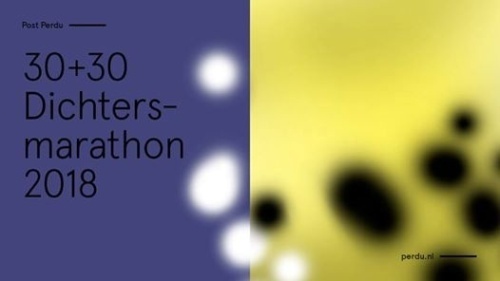 Dat poëzie niet moeilijk hoeft te zijn, bewijst Perdu jaarlijks op Gedichtendag. Niet door zich op die dag te beperken tot de eenvoudigste poëzie, maar juist door de poëzie in al haar diversiteit aan te bieden op een manier die vooral de nieuwsgierigheid prikkelt.
Podiumbeesten en prevelaars, anekdotici en hermetici, vaklui en avonturiers, groentjes en grijsaards: ze staan naast elkaar en door elkaar op deze nieuwe editie van de 30 + 30 Dichtersmarathon. Zestig zeer uiteenlopende dichters komen in ongeveer tweeënhalf uur voorbij.
Het concept is uitermate eenvoudig: dertig Nederlandse dichters lezen elk drie gedichten voor: twee van henzelf en één van een zelfverkozen collega uit het buitenland. Bij het voorlezen wordt de poëzie niet onderbroken door aan- of afkondigingen, bio- of bibliografische informatie of entr'actes en intermezzo's.
Zo kan de aandacht van de luisteraar zich volledig op de poëzie zelf richten, die zich aan hem presenteert als een constante stroom in een onverbiddelijk ritme van ruim tweeënhalf uur.
Wiens aandacht toch even verslapt, haakt zo weer aan bij de eerstvolgende dichter. Een uitstekende gelegenheid om je onder te dompelen in poëzie uit Nederland en de rest van de wereld.
Met Radna Fabias, Peggy Verzett, Samuel Vriezen, Arno van Vlierberghe, Yi Fong Au, Martje Wijers, Peter Prins, Maarten van der Graaff, Kira Wuck, Jonathan Griffioen, Marc van der Holst, Lucie Berjoan, Isabel Verhulst, Roos Vlogman, Mathijs Tratsaert, Esmé van den Boom, Asha Karami, Meliza de Vries, Edna Azulay, Nguyễn Nam Chi, Shida Boukhizou, Michael Tedja, Zaii, Omar El Allali, Flora Woudstra, Raj Mohan, Divya Nadkarni, Mariana Hirschfeld & Anne-Fleur van der Heijden
donderdag 25 jan 2018 19:45
30+30 Dichtersmarathon 2018
Aanvang: 19:45 uur
Deuren open: 19:15 uur
Entree: 10 / 7 euro (korting)
Vanwege verwachte drukte s.v.p. uw ticket(s) tijdig kopen.
#  meer  info  op  website  perdu.nl
dichtersmarathon
fleursdumal.nl magazine
More in: - Book Lovers, Art & Literature News, Literary Events, LITERARY MAGAZINES, MODERN POETRY, POETRY ARCHIVE
---
'Wie zou er niet huiveren bij de gedachte aan alle ellende die één riskante relatie kan veroorzaken?'
Vicomte de Valmont, een geduchte libertijn, heeft net het plan opgevat om de kuise, vrome présidente de Tourvel te verleiden. Maar dan stelt marquise de Merteuil, zijn bondgenote in het kwaad, hem een ander doelwit voor: de piepjonge Cécile Volanges, met wier aanstaande echtgenoot beiden een appeltje te schillen hebben. Dat loopt niet goed af.
Pierre Ambroise Choderlos de Laclos
Choderlos de Laclos was een geboren avonturier. Hij koos voor een militaire loopbaan, maar die bracht hem slechts een saai garnizoensleven. In zijn vrije tijd schreef hij, onder meer poëzie en libretto's. Het succes kwam in 1782, met de verschijning van Les liaisons dangereuses.
Auteur: Pierre Ambroise Choderlos de Laclos
Les Liaisons dangereuses
Riskante relaties
Vertaler: Martin de Haan
Uitgeverij: De Arbeiderspers
Hardcover
Nederlands
470 pagina's
ISBN-13 9789029588874
ISBN-10 902958887X
Prijs: € 34,99
Publicatiedatum: 28-11-2017
fleursdumal.nl magazine
More in: - Book Lovers, - Book Stories, Archive K-L, Art & Literature News, Erotic literature, TRANSLATION ARCHIVE
---
DENKDIER
neemt je mee
in een kleurrijke wereld
van scherpte,leegte,
overpeinzingen en wakker zijn.
Geruisloze processen en gedachten,
betrapt en een beetje blootgelegd.
Een prentenboek voor volwassenen (met tekst),
over hoe mens te zijn tussen
conditionering en individualiteit.
Levenskunst in zakformaat.
Om op te pakken,
weg te leggen en steeds
weer even in te kijken.
Auteur: Sophie Heijkoop
Titel: Denkdier
Hardcover,
3 leeslinten
15,5 x 11 x 2 cm (A6)
128 p.
€ 17,95
ISBN: 9789492373014
Sophie Heijkoop, born 1982, Netherlands.
Lives and works in Tilburg
  #  Meer  informatie  op  website  sophie  heijkoop
fleursdumal.nl magazine
More in: - Book Lovers, - Book News, Art & Literature News, Exhibition Archive, FDM Art Gallery, Sophie Heijkoop
---
Older Entries »
Thank you for reading FLEURSDUMAL.NL - magazine for art & literature