– Book Lovers
·
Boekenweek 2019 vindt plaats van zaterdag 23 tot en met zondag 31 maart
·
Genomineerd voor E. du Perronprijs 2018: Jan Leyers, Ilja Leonard Pfeijffer en Jolande Withuis
·
Salon du Livre de Paris = 15-18 Mars 2019
·
The Salt Companion to Mina Loy
·
Poetic Salvage. Reading Mina Loy by Tara Prescott
·
The Kiss: Intimacies from Writers
·
Nieuwe bundel van Paul Bezembinder: GEDICHTEN (100 pagina's weemoed en verlangen!)
·
Poëzieweek & Gedichtendag 2019 (31 januari t.m. 6 februari)
·
Gouden Ganzenveer-laureaat 2019: Ian Buruma
·
Deathwatch by Jean Genet
·
Norman Mailer: Four Books of the 1960s
·
This is Not the End of the Book by Umberto Eco & Jean-Claude Carrière
De 84ste editie van de Boekenweek vindt plaats van zaterdag 23 maart tot en met zondag 31 maart en heeft De moeder de vrouw als thema naar het gelijknamige gedicht van Martinus Nijhoff.
Voor de Boekenweek 2019 schreef Jan Siebelink het Boekenweekgeschenk Jas van belofte, dat tijdens de Boekenweek bij besteding van ten minste €12,50 aan Nederlandstalige boeken door de boekhandel cadeau wordt gedaan.
Het Boekenweekessay is geschreven door Murat Isik en heeft de titel Mijn moeders strijd. Tijdens de Boekenweek is het voor € 3,75 verkrijgbaar in de boekwinkel.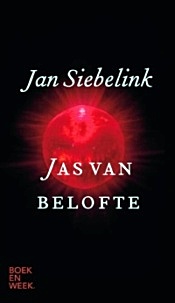 Op 31 maart, de laatste zondag van de Boekenweek, kunnen reizigers traditiegetrouw op het vertoon van het Boekenweekgeschenk gratis met de trein reizen.
De moeder de vrouw
Het thema van de Boekenweek 2019 is ontleend aan het beroemde gedicht van Martinus Nijhoff 'De moeder de vrouw'. Tevens is het Boekenweekthema een verwijzing naar de bundel De moeder de vrouw, met daarin twee romans (Ontaarde moeders en Mijn zoon heeft een seksleven en ik lees mijn moeder Roodkapje voor) over moederschap van de onlangs overleden Renate Dorrestein.
# meer informatie op website boekenweek
Boekweek 2019
van 23 – 31 maart
• fleursdumal.nl magazine
More in: - Book Lovers, - Book News, - Book Stories, - Bookstores, Art & Literature News, Boekenweek, Jan Siebelink, Nijhoff, Martinus
---
De schrijvers Jan Leyers, Ilja Leonard Pfeijffer en Jolande Withuis zijn genomineerd voor de E. du Perronprijs 2018. De prijs wordt toegekend aan schrijvers, kunstenaars of instellingen die met een cultuuruiting in brede zin een bijdrage leveren aan een inclusieve samenleving. De uitreiking vindt plaats op dinsdagavond 16 april in de Glazen Zaal in de LocHal in Tilburg. Dan houdt Gloria Wekker de achtste E. du Perronlezing.
Jan Leyers ‒ Allah in Europa. Het reisverslag van een ongelovige (Uitgeverij Das Mag)
Leyers doet in dit boek verslag van een reis door Europa waarin hij op zoek gaat naar 'een Europese versie van de islam'. Vier maanden lang wordt er gesproken met traditionele gelovigen en nieuwe bekeerlingen. Allah in Europa leest als een spannend verslag van gesprekken waarin verschillende denkbeelden tegen elkaar afgewogen worden. Knap is dat het boek nergens belerend of dwingend wordt, hoewel het overduidelijk een pleidooi is voor een open multicultureel Europa, dat de lezer aanzet tot nadenken.
Ilja Leonard Pfeijffer ‒ Grand Hotel Europa (Uitgeverij De Arbeiderspers)
In deze roman neemt Pfeijffer ons mee naar een hotel ergens in Europa waarin zijn alter ego zich verschanst na een stukgelopen liefde. Het hotel is vergane glorie, oude geschiedenis en een metaforisch beeld voor het continent, waarvan de geschiedenis fenomenaal is, maar het heden op allerlei manier ontspoort: er is te veel consumentisme, geen engagement, er zijn geen nieuwe idealen. Pfeijffer verweeft verschillende verhaallijnen met elkaar, en is op zijn best in de essayistische passages waarin hij kritiek geeft op het hedendaagse Europa en vooral op het massatoerisme.
Jolande Withuis ‒ Raadselvader. Kind in de koude oorlog (Uitgeverij De Bezige Bij)
Withuis schreef een indringende biografie over haar vader Berry Withuis (1920-2009), die tegelijk een autobiografische reflectie biedt. De vader was communist en redacteur van de Waarheid. Haar communistische jeugd en de loyaliteit jegens haar ouders hebben Withuis geleerd dat er verschillende kanten zitten aan een historisch narratief. Noch het ontkennen van de slechte behandeling van communisten in Nederland tijdens de Koude Oorlog, noch het slachtofferisme van de zijde van communisten zelf, is de waarheid. Maar ook leert zij dat via het eigen verhaal de geschiedenis van anderen aanknopingspunten biedt en legt ze uit dat totalitaire overtuigingen mensen verleiden onmenselijke misdaden te begaan en het eigen ethische kompas uit te schakelen.
E. du Perronprijs
De E. du Perronprijs is een initiatief van de gemeente Tilburg, de Tilburg School of Humanities & Digital Sciences en Kunstloc Brabant. De prijs is bedoeld voor personen of instellingen die, net als schrijver Du Perron, grenzen signaleren en doorbreken die wederzijds begrip tussen verschillende bevolkingsgroepen in de weg staan. De prijs bestaat uit een geldbedrag van 2500 euro en een textielobject, ontworpen door studio 'by aaaa' (Moyra Besjes en Natasja Lauwers) en vervaardigd bij het TextielMuseum. In 2017 won Margot Vanderstraeten de prijs voor haar boek Mazzel tov. Andere laureaten waren onder meer Stefan Hertmans (2016), Ilja Leonard Pfeijffer (2015), Warna Oosterbaan & Theo Baart (2014), Mohammed Benzakour (2013), Koen Peeters (2012) en Ramsey Nasr (2011).
E. du Perronlezing
Professor dr. Gloria Wekker is emeritus hoogleraar Gender en Etniciteit aan de faculteit Geesteswetenschappen van de Universiteit Utrecht. Ze houdt, op 16 april, na Antjie Krog, Paul Scheffer, Job Cohen, Sheila Sitalsing, Herman van Rompuy, Arnon Grunberg en Marja Pruis de achtste E. du Perronlezing.
Voor het bijwonen van de uitreiking kunnen belangstellenden en genodigden zich aanmelden via www.kunstlocbrabant.nl/eduperron
Meer informatie over de prijs vindt u op: www.tilburguniversity.edu/duperronprijs
# Literaire prijzen
E. du Perronprijs 2018
Jan Leyers
Ilja Leonard Pfeijffer
Jolande Withuis
• fleursdumal.nl magazine
More in: - Book Lovers, - Book News, - Bookstores, Archive K-L, Archive O-P, Archive W-X, Art & Literature News, Awards & Prizes, Literary Events
---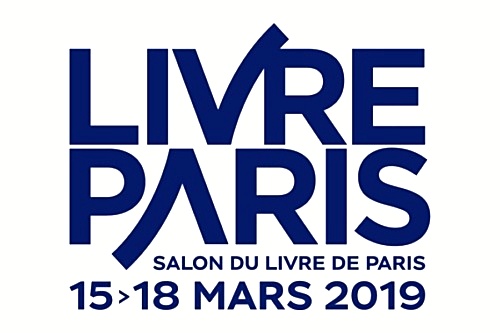 Livre Paris
Salon du Livre de Paris
Porte de Versailles – Paris
15-18 Mars 2019
Literary event of the year
165 000 visitors
3 900 authors
250 conferences and debates
688 school groups
391 stands and 515 brands
• fleursdumal.nl magazine
More in: - Book Lovers, - Book News, - Bookstores, Art & Literature News, AUDIO, CINEMA, RADIO & TV, FDM in Paris, Literary Events
---
Mina Loy (1882-1966) formed part of the new generation of poets who revolutionised writing in the early twentieth century.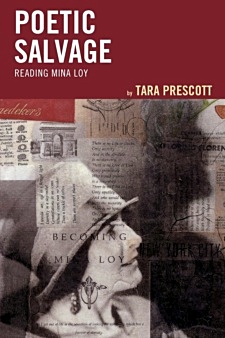 She had personal and artistic links to Italian Futurism and Parisian Surrealism, as well as to individuals such as James Joyce, Ezra Pound, Wyndham Lewis, Djuna Barnes and Gertrude Stein. Working with reference to, but also often against the ideas of these fellow writers, her experimental, witty and inconoclastic poems were both distinctive and arresting.
Since the republication of her poems in 1996-7, Loy has gained in stature and importance both in the UK and the US: her writing is now seen as central to literary innovations in the 1910s and 1920s, and she is often a set author on undergraduate and MA courses. Apart from the collection of essays Mina Loy: Woman and Poet published twelve years ago, there is currently no single book on Loy's work in print. The Companion will be an invaluable new resource for students and readers of modernism. It provides new perspectives and cutting-edge research on Loy's work and is distinctive in its consideration of her prosodic and linguistic experiments alongside a discussion of the literary and historical contexts in which she worked.
The contributors include influential and emerging experts in modernist studies. They are Peter Nicholls, Tim Armstrong, Geoff Gilbert, David Ayers, Andrew Robertson, John Wilkinson, Suzanne Hobson, Rachel Potter, Alan Marshall, Rowan Harris and Sandeep Parmar.
The Salt Companion to Mina Loy
Edited by Dr Rachel Potter ,
Associate editor Suzanne Hobson
The Salt Companion to Mina Loy comprises ten essays by leading scholars and writers on the work of modernist poet Mina Loy.
Format Paperback
Language English
288 pages
228 x 152mm
Publication date 17 May 2010
Publisher Salt Publishing
Publication City/Country Applecross, WA, Australia |
ISBN10 1876857722
ISBN13 9781876857721
£19.99
# More books
The Salt Companion to Mina Loy
Literary studies
• fleursdumal.nl magazine
More in: - Book Lovers, - Book Stories, Archive K-L, Archive K-L, Futurism, Loy, Mina
---
Mina Loy (1882 – 1966)—poet, artist, exile, and luminary—was a prominent and admired figure in the art and literary circles of Paris, Florence, and New York in the early years of the twentieth century.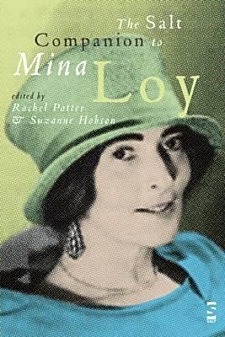 But over time, she gradually receded from public consciousness and her poetry went out of print.
As part of the movement to introduce the work of this cryptic poet to modern audiences, Poetic Salvage: Reading Mina Loy provides new and detailed explications of Loy's most redolent poems.
This book helps readers gain a better understanding of the body of Loy's work as a whole by offering compelling close readings that uncover the source materials that inspired Loy's poetry, including modern artwork, Baedeker travel guides, and even long-forgotten cultural venues.
Helpfully keyed to the contents of Loy's Lost Lunar Baedeker, edited by Roger Conover, this book is an essential aid for new readers and scholars alike. Mina Loy forged a legacy worthy of serious consideration—through a practice best understood as salvage work, of reclaiming what has been so long obscured.
Poetic Salvage: Reading Mina Loy dives deep to bring hidden treasures to the surface.
Tara Prescott is a lecturer in writing programs at the University of California, Los Angeles.
Poetic Salvage.
Reading Mina Loy
by Tara Prescott
Hardcover
292 pages
Publisher: Bucknell University Press
Language: English
Literature & Fiction
ISBN-10: 1611488125
ISBN-13: 978-1611488128
2016
$76.80
# New books
Poetic Salvage
Reading Mina Loy
Tara Prescott
• fleursdumal.nl magazine
More in: - Book Lovers, - Book Stories, Archive K-L, Archive K-L, Futurism, Loy, Mina
---
A deliciously diverse anthology of essays, stories, poems, and graphic memoirs, where writers explore the deeply human act of kissing.
Kisses from Nick Flynn, Rebecca Makkai, Pico Iyer, Ilyse Kusnetz, Andre Dubus III, Christian Kiefer, Camille T. Dungy, Major Jackson, Bich Minh Nguyen, Terrance Hayes, Ada Limón, Honor Moore, Téa Obreht and Dan Sheehan, Kazim Ali, Beth Ann Fennelly, and others.
In this wide-ranging collection of essays, stories, graphic memoir, and cross-genre work, writers explore the deeply human act of kissing, and share their thoughts on a specific kiss—the unexpected and unforgettable, the sublime and the ambiguous, the devastating and the regenerative. Selections from beloved authors "tantalize with such grace that they linger sweetly in your mind for days" (New York Times Book Review), as they explore the messy and complicated intimacies that exist in our actual lives, as well as in the complicated landscape of the imagination.
This is a book meant to be read from cover to cover, just as much as it's meant to be dipped into—with each kiss pulling us closer to the moments in our lives that matter most.
From Sioux Falls to Khartoum, from Kyoto to Reykjavik; from the panchayat forests of India to the Giant's Causeway on the coast of Northern Ireland; in taxis and at bus stops, in kitchens and sleigh beds, haystacks and airports around the globe—people are kissing one another.
The sublime kiss. The ambiguous kiss. The devastating kiss. The kiss we can't take back. The kiss we can never give. The kiss that changes a life. In this anthology, writers and thinkers share their thoughts on a specific kiss—the unexpected and unforgettable—in an attempt to bridge the gulf, to connect us to one another on a deeply human level, and to explore the messy and complicated intimacies that exist in our actual lives, as well as in the complicated landscape of the imagination.
Sparked and developed from a series curated for Guernica by editor Brian Turner, this is a book meant to be read from cover to cover, just as much as it's meant to be dipped into—with each kiss pulling us closer to the moments in our lives that matter most.
Brian Turner is the author of the memoir My Life as a Foreign Country and the poetry collections Here, Bullet and Phantom Noise. He directs the low-residency MFA at Sierra Nevada College. The Kiss was conceived with his late wife, the acclaimed poet Ilyse Kusnetz, to whom it is dedicated. It was developed from a series he curated for Guernica.
Contributors: Kim Addonizio – Kazim Ali – J. Mae Barizo – Laure-Anne Bosselaar – Kurt Brown – Nickole Brown – Benjamin Busch – Brian Castner – Tina Chang – Steven Church – Adam Dalva – Mark Doty – Andre Dubus III – Camille T. Dungy – Martín Espada – Dave Essinger – Siobhan Fallon – Beth Ann Fennelly – Nick Flynn – Kimiko Hahn – Cameron Dezen Hammon – Terrance Hayes – Pico Iyer – Major Jackson – Lacy M. Johnson – Christian Kiefer – Matthew Komatsu – Ilyse Kusnetz – Ada Limón – Rebecca Makkai – John Mauk – Christopher Merrill – Philip Metres – Kathryn Miles – Dinty W. Moore – Honor Moore – Aimee Nezhukumatathil – Bich Minh Nguyen – Téa Obreht – Kristen Radtke – Suzanne Roberts – Roxana Robinson – Schafer John c – Dan Sheehan – Tom Sleigh – Patricia Smith – Ira Sukrungurang – Christopher Paul Wolfe – Sholeh Wolpé
The Kiss:
Intimacies from Writers
by Brian Turner (Editor)
Paperback
Pages: 256
ISBN-13: 9780393356885
Publisher: Norton, W. W. & Company, Inc.
Available in paperback on February 12, 2019
$15.71
# New books
The Kiss:
Intimacies from Writers
• fleursdumal.nl magazine
More in: - Book Lovers, - Book Stories, - Bookstores, Archive S-T, Art & Literature News, Invisible poetry, Natural history
---
Onlangs verscheen de dichtbundel Gedichten van Paul Bezembinder, bij Uitg. Pittige Pixels Amsterdam, 2018, Eerste druk, 104 pag., ISBN 978-90-829774-0-0.
Bezembinder (1961) studeerde theoretische natuurkunde in Nijmegen. In zijn poëzie zoekt hij in vooral klassieke versvormen en thema's naar de balans tussen serieuze poëzie, pastiche en smartlap.
Zijn gedichten (Nederlands) en vertalingen (Russisch – Nederlands) verschenen in verschillende (online) literaire tijdschriften, waaronder in het bijzonder op fleursdumal.nl. De bundel Gedichten is zijn tweede bundel.
Bezembinders eerste bundel, Kwatrijnen. Filosofische Verkenningen, verscheen in de reeks digitale publicaties van fleursdumal.nl: Fantom Ebooks.
De reeks is een uitgave van Art Brut Digital Editions, die onregelmatig bijzondere kunst- en literatuurprojecten publiceert. Deze bundel is als pdf op de site van fleursdumal.nl te vinden.
Meer voorbeelden van Bezembinders werk zijn te vinden op de website van de auteur, paulbezembinder.nl
Paul Bezembinder
Kwatrijnen
Uitgeverij. Pittige Pixels Amsterdam,
2018 Eerste druk,
104 pag.,
ISBN 978-90-829774-0-0
De bundel is per e-mail te bestellen.
Prijs: €17.50.
www.paulbezembinder.nl
• fleursdumal.nl magazine
More in: - Book Lovers, - Book News, Archive A-B, Archive A-B, Art & Literature News, Bezembinder, Paul, PRESS & PUBLISHING
---
Het thema van de Poëzieweek 2019 is Vrijheid, met als motto: Zonder handen, zonder tanden.
De week opent op donderdag 31 januari met Gedichtendag en wordt woensdagavond 6 februari feestelijk afgesloten met De Grote Poëzieprijs, de Awater Poëzieprijs en de Turing Gedichtenwedstrijd. Tom Lanoye schrijft het Poëziegeschenk Vrij – Wij?, cadeau van de boekwinkel bij aankoop van € 12,50 aan poëzie.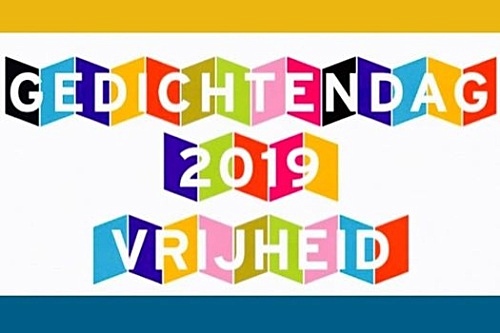 Met Gedichtendag (31 januari 2019) gaat op de laatste donderdag van januari traditiegetrouw de Poëzieweek van start. Gedichtendag, sinds 2000 georganiseerd door Poetry International Rotterdam, is hét poëziefeest van Nederland en Vlaanderen.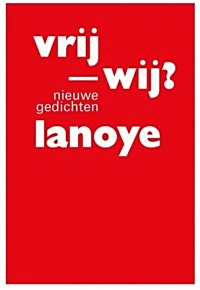 Poëzieliefhebbers in Nederland en Vlaanderen organiseren die dag een grote diversiteit aan eigen poëzieactiviteiten en ook de media klinken die dag een stuk poëtischer.
 Voor de enorme hoeveelheid optredens, publicaties, poëzieprijzen, -programma's en -activiteiten is één dag simpelweg veel te kort!
De Poëzieweek wil een zo groot mogelijk bereik voor poëzie creëren en bundelt tal van activiteiten van organisatoren in Nederland en Vlaanderen.
De Poëzieweek is een samenwerking van Stichting CPNB, Poëziecentrum, Stichting Poetry International, Vlaams Fonds voor de Letteren, Nederlands Letterenfonds, Stichting Lezen Nederland, Iedereen Leest Vlaanderen, De Schrijverscentrale, Boek.be, Taalunie, Stichting Van Beuningen/Peterich-fonds, Turing Foundation, Awater, Het Literatuurhuis, Poëzieclub, SLAG, School der Poëzie en De Nieuwe Oost | Wintertuin.
# Voor een overzicht van alle activiteiten zie de website POËZIEWEEK
• fleursdumal.nl magazine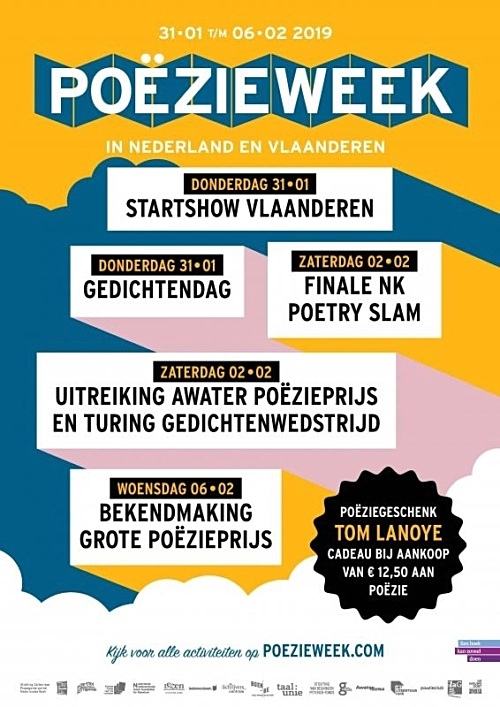 More in: #Archive A-Z Sound Poetry, #Archive Concrete & Visual Poetry, #More Poetry Archives, *War Poetry Archive, - Book Lovers, - Bookstores, Art & Literature News, LIGHT VERSE, Literary Events, MODERN POETRY, Poetry International, Poetry Slam, Poëziepaleis, Poëzieweek, STREET POETRY, THEATRE, Tilt Festival Tilburg, Tom Lanoye
---
Ian Buruma, (Den Haag, 1951) is een internationaal befaamd essayist, historicus en Azië-deskundige. Hij schrijft regelmatig voor The New Yorker, The New York Review of Books en in ons eigen land voor NRC Handelsblad, en werkte mee aan documentaires voor de BBC en CNN.

Momenteel is hij hoogleraar Democracy, Human Rights and Journalism aan het Bard College in New York.
In 2008 ontving Buruma de Erasmusprijs voor zijn buitengewone bijdrage aan de Nederlandse cultuur.
Tot zijn bekendste boeken horen Occidentalisme, De spiegel van de zonnegodin, Dood van een gezonde roker, Het loon van de schuld en 1945. Biografie van een jaar en Hun beloofde land. Mijn grootouders in tijden van liefde en oorlog. In 2018 verscheen Tokio mon amour. Japanse avonturen, het portret van een jonge schrijver en van de stad die hem mede vormde.
Op donderdag 25 april a.s. ontvangt Ian Buruma de Gouden Ganzenveer 2019.
• fleursdumal.nl magazine
More in: - Book Lovers, - Book News, Archive A-B, Art & Literature News, Awards & Prizes, PRESS & PUBLISHING
---
Deathwatch, Jean Genet's earliest, shortest and most formally straightforward play, was first performed in Paris in 1949.
It retains an intense power and makes an excellent introduction to his later dramas – The Maids, The Balcony, The Blacks, The Screens. The French text of Deathwatch, published by Gallimard, was extensively altered by Genet during rehearsal; and Bernard Frechtman's translation is of the final 'performance' version, which supersedes the original published text.Three convicts share a cramped prison cell.
There is no question as to which of them is the dominant dog in the pack: Green Eyes (Yeux-Verts) has brutally murdered a woman and is to be executed.
Lefranc and the younger novice-like Maurice are inside for less grave crimes. But both of them covet Green Eyes' attention, baiting each other in the process, a duel that drives inexorably toward violence
Three young convicts share a cell. Locked into a world of dangerous rivalries, criminals Lefranc and Maurice compete for the attention of the charismatic condemned man, Green-Eyes.
Informed by his own experience in French prisons, Jean Genet's first play, Deathwatch is an explosive exploration of the inversion of moral order.
Genet was one of the most prominent and provocative writers of the twentieth century.
Jean Genet's Deathwatch premiered in this translation by David Rudkin with the Royal Shakespeare Company in 1987 and was revived at the Print Room, London, in April 2016.
Jean Genet was born in Paris in 1910. An illegitimate child who never knew his parents, he was abandoned to the Public Assistance Authorities. He was ten when he was sent to a reformatory for stealing; thereafter he spent time in the prisons of nearly every country he visited in thirty years of prowling through the European underworld. With ten convictions for theft in France to his credit he was, the eleventh time, condemned to life imprisonment. Eventually he was granted a pardon by President Auriol as a result of appeals from France's leading artists and writers led by Jean Cocteau. His first novel, Our Lady of the Flowers, was written while he was in prison, followed by Miracle of the Rose, the autobiographical The Thief's Journal, Querelle of Brest and Funeral Rites. He wrote six plays: The Balcony, The Blacks, The Screens, The Maids, Deathwatch and Splendid's (the manuscript of which was rediscovered only in 1993). Jean Genet died in 1986.
Deathwatch
by Jean Genet
English
Translated by David Rudkin
Play
Faber & Faber
Paperback
64 pages
2016
ISBN 9780571332618
£9.99

# more books
Deathwatch by Jean Genet
• fleursdumal.nl
More in: - Book Lovers, - Book Stories, Archive G-H, Art & Literature News, AUDIO, CINEMA, RADIO & TV, CRIME & PUNISHMENT, Jean Genet, THEATRE
---
No writer plunged more vigorously into the chaotic energies of the 1960s than Norman Mailer, fearlessly revolutionizing literary norms and genres to capture the decade's political, social, and sexual explosions.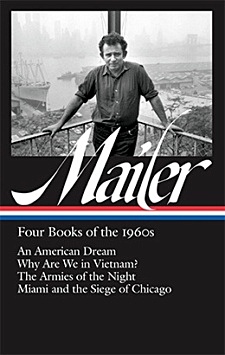 Declaring himself to have "the mind of an outlaw," he adhered closely to his own vision of what it meant to be a writer.
In a way uniquely his own, he merged the public and the private, the personal and the political, taking risks with every sentence. Here, for the first time in a single volume, are four of his most extraordinary works.
War hero, television star, existential hipster, seducer, murderer: such is Stephen Rojack, the hero of An American Dream (1965), Mailer's hallucinatory voyage through the dark night of an America awash in money, sex, and violence.
Mailer challenged himself by serializing the book while he was still writing it, an approach he compared to "ten-second chess." The result is a fever dream of a novel, navigating through the most extreme fears and fantasies of a culture hooked on power.
In Why Are We in Vietnam? (1967) a motor-mouthed eighteen-year-old Texan on the eve of military service recounts an exclusive grizzly bear hunt in Alaska with an obscene exuberance that finally comes close to horror. Although the word "Vietnam" appears only on the book's final page, the whole work is imbued with a sense of frantic bloodthirstiness that exposes the macho roots of the war.
With the acclaimed "non-fiction novel" The Armies of the Night (1968), an account of the October 1967 anti-Vietnam War march on the Pentagon, Mailer brought a new approach to journalism, casting himself ("he would have been admirable, except that he was an absolute egomaniac, a Beast") as a player in the drama as he reported, alongside a stunning gallery of student activists, politicians, intellectuals, and policemen. Winning both the Pulitzer Prize and National Book Award, The Armies of the Night immediately established itself as an essential record of its moment.
In Miami and the Siege of Chicago (1968) Mailer continued his eyewitness chronicle of American political life, embedding himself at the 1968 Republican and Democratic presidential conventions and drawing unforgettable portraits of Richard Nixon, Nelson Rockefeller, Lyndon Johnson, Eugene McCarthy, and many others. His reading of the nation's political undercurrents continues to surprise with its relevance.
J. Michael Lennon, editor, emeritus professor of English at Wilkes University, is Norman Mailer's archivist, editor, and authorized biographer, and president of the Norman Mailer Society. His books include Norman Mailer: A Double Life (2013) and Selected Letters of Norman Mailer (2014).
This Library of America series edition is printed on acid-free paper and features Smyth-sewn binding, a full cloth cover, and a ribbon marker.
Norman Mailer: Four Books of the 1960s (LOA #305):
-An American Dream
-Why Are We in Vietnam?
-The Armies of the Night
-Miami and the Siege of Chicago
Hardcover
March 13, 2018
by Norman Mailer (Author)
J. Michael Lennon (Editor)
937 pages
ISBN: 978-1-59853-558-7
Library of America Series
N° 305
LOA books are distributed worldwide by Penguin Random House
List Price: $45.00
LIBRARY OF AMERICA is an independent nonprofit cultural organization founded in 1979 to preserve our nation's literary heritage by publishing, and keeping permanently in print, America's best and most significant writing. The Library of America series includes more than 300 volumes to date, authoritative editions that average 1,000 pages in length, feature cloth covers, sewn bindings, and ribbon markers, and are printed on premium acid-free paper that will last for centuries.
# new books
Norman Mailer:
Four Books of the 1960s (LOA #305):
-An American Dream
-Why Are We in Vietnam?
-The Armies of the Night
-Miami and the Siege of Chicago
• fleursdumal.nl magazine
More in: - Book Lovers, - Book Stories, Archive M-N, Art & Literature News, Norman Mailer, WAR & PEACE
---
The perfect gift for book lovers: a beautifully designed hardcover in which two of the world's great men have a delightfully rambling conversation about the future of the book in the digital era, and decide it is here to stay.
'The book is like the spoon: once invented, it cannot be bettered.' Umberto Eco These days it is almost impossible to get away from discussions of whether the 'book' will survive the digital revolution.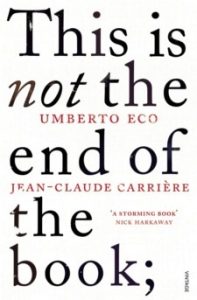 Blogs, tweets and newspaper articles on the subject appear daily, many of them repetitive, most of them admitting they don't know what will happen. Amidst the twittering, the thoughts of Jean-Claude Carrière and Umberto Eco come as a breath of fresh air. There are few people better placed to discuss the past, present and future of the book. Both avid book collectors with a deep understanding of history, they have explored through their work the many and varied ways ideas have been represented through the ages.
This thought-provoking book takes the form of a long conversation in which Carrière and Eco discuss everything from what can be defined as the first book to what is happening to knowledge now that infinite amounts of information are available at the click of a mouse. En route there are delightful digressions into personal anecdote. We find out about Eco's first computer and the book Carrière is most sad to have sold.
Readers will close this entertaining book feeling they have had the privilege of eavesdropping on an intimate discussion between two great minds. And while, as Carrière says, the one certain thing about the future is that it is unpredictable, it is clear from this conversation that, in some form or other, the book will survive.
Umberto Eco (1932–2016) wrote fiction, literary criticism and philosophy. His first novel, The Name of the Rose, was a major international bestseller. His other works include Foucault's Pendulum, The Island of the Day Before, Baudolino, The Mysterious Flame of Queen Loana, The Prague Cemetery and Numero Zero along with many brilliant collections of essays.
Jean-Claude Carrière is a writer, playwright and screenwriter. He is notably the co-author of Conversations About the End of Time (with Stephen Jay Gould, Umberto Eco, etc.) He has also worked with Peter Brook, Milos Forman, Buñuel, Godard and the Dalaï Lama.
This is Not the End of the Book
A conversation curated by Jean-Philippe de Tonnac
By Umberto Eco, Jean-Claude Carrière
Language & Literary Studies
Paperback
ISBN 9780099552451
2012
Vintage Publ.
352 pages
$24.99
# new books
This is Not the End of the Book
Umberto Eco & Jean-Claude Carrière
fleursdumal.nl magazine
More in: - Book Lovers, - Book News, - Book Stories, - Bookstores, Archive C-D, Archive E-F, Art & Literature News, The Art of Reading, Umberto Eco
---
Older Entries »
Thank you for reading FLEURSDUMAL.NL - magazine for art & literature