– Book Lovers
·
Milkman by Anna Burns winner of the 50th Man Booker Prize
·
Diane di Prima: The Poetry Deal. San Francisco Poet Laureate Series No. 5
·
Marie Richeux: Climats de France. Roman
·
Die 70. Frankfurter Buchmesse von 10.-14. Oktober 2018
·
Banned Books Week 2018, the annual celebration of the freedom to read – Sept. 23 – 29, 2018
·
Curt Moreck: Das deutsche Babylon 1931. Ein Führer durch das lasterhafte Berlin
·
The Circus. A Visual History by Pascal Jacob
·
Frankenstein: Annotated for Scientists, Engineers, and Creators of All Kinds
·
Lawrence Schwartzwald: The Art of Reading
·
Kunstenfestival Watou 2018 nog t/m 2 september
·
Voronezh Notebooks by Osip Mandelstam
·
Alexander von Humboldt: Das Buch der Begegnungen Menschen – Kulturen – Geschichten aus den Amerikanischen Reisetagebüchern
'None of us has ever read anything like this before. Anna Burns' utterly distinctive voice challenges conventional thinking and form in surprising and immersive prose. It is a story of brutality, sexual encroachment and resistance threaded with mordant humour. Set in a society divided against itself, Milkman explores the insidious forms oppression can take in everyday life.'  Kwame Anthony Appiah, 2018 Chair of Judges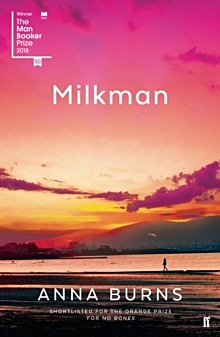 Set in an un-named city but with an astonishing, breath-shorteningly palpable sense of time and place Milkman is a tale of gossip and hearsay, silence and deliberate deafness. The story of inaction with enormous consequences and decisions that are never made, but for which people are judged and punished.
Middle sister is our protagonist. She is busy attempting to keep her mother from discovering her nearly-boyfriend and to keep everyone in the dark about her encounter with milkman (which she herself for the life of her cannot work out how it came about). But when first brother-in-law, who of course had sniffed it out, told his wife, her first sister, to tell her mother to come and have a talk with her, middle sister becomes 'interesting'. The last thing she ever wanted to be. To be interesting is to be noticed and to be noticed is dangerous.
Milkman is a searingly honest novel told in prose that is as precise and unsentimental as it is devastating and brutal. A novel that is at once unlocated and profoundly tethered to place is surely a novel for our times.
Anna Burns was born in Belfast, Northern Ireland. She is the author of two novels, No Bones and Little Constructions, and of the novella, Mostly Hero. No Bones won the Winifred Holtby Memorial Prize and was short-listed for the Orange Prize for Fiction. She lives in East Sussex, England.
Milkman
by Anna Burns
Fiction
Language: English
Publisher: Faber & Faber
Imprint: Faber Fiction
2018
360 pages
Paperback
ISBN-10: 9780571338757
ISBN-13: 978-0571338757
Awards: Man Booker Prize 2018 UK
# new fiction
man booker prize 2018
fleursdumal.nl magazine
More in: - Book Lovers, - Book News, Archive A-B, Art & Literature News, Awards & Prizes, Literary Events
---
The Poetry Deal is the first full-length collection of individual poems in decades from legendary feminist Beat poet, Diane di Prima.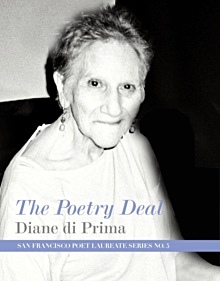 Framed by two passionate, and critical, prose statements assessing her adopted home city, The Poetry Deal is a collection of poems that provide a personal and political look at 40 years of Bay Area culture. Often elegiac in tone, the book captures the poet's sense of loss as she chronicles the deaths of friends from the AIDS epidemic as well as the passing of illustrious countercultural colleagues like Philip Whalen, Pigpen from the Grateful Dead, and Kirby Doyle.
She also recalls and mourns out-of-town inspirations like Chogyam Trungpa Rinpoche, Audre Lorde, and Ezra Pound. Yet even as she laments the state of her city today, she finds triumph and solace in her own relationships, the marriages of her friends, the endurance of City Lights, and other symbols of San Francisco's heritage.
Born in Brooklyn in 1934, di Prima emerged as a member of the Beat Generation in New York in the late '50s; in the early '60s, she founded the important mimeo magazine, The Floating Bear, with her lover LeRoi Jones (Amiri Baraka). In the late '60s, she moved to San Francisco, where she would publish her groundbreaking Revolutionary Letters (1971) with City Lights. Her other important books include Memoirs of a Beatnik, Pieces of a Dream, Recollections of My Life as a Woman, and Loba. She was named San Francisco Poet Laureate in 2009.
"The Poetry Deal is fresh flame from a revolutionary fire that continues to burn. Every woman of every age should carry it in a purse with their pepper spray. Diane is the ultimate weapon."—Amber Tamblyn, author of Dark Sparkler
Title The Poetry Deal
Subtitle San Francisco Poet Laureate Series No. 5
Author Diane di Prima
Collection San Francisco Poet Laureates
Publisher City Lights Publishers
Publication 2014
Format Paperback
ISBN-10 1931404151
ISBN-13 9781931404150
pages 120
Price $11.95
# new books
Diane di Prima poet
fleursdumal.nl magazine
More in: #Beat Generation Archives, - Book Lovers, - Book News, Archive O-P, Archive O-P, Art & Literature News
---
Tout commence à Alger en 2009, avec l'émotion profonde de Marie au moment où elle découvre « Climat de France », le bâtiment qu'y construisit Fernand Pouillon.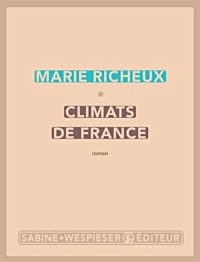 La pierre de taille, les perspectives imposantes, elle les connaît intimement: elle a grandi à Meudon-la-Forêt, dans un ensemble bâti par le même architecte.
Mue par le désir de comprendre ce qui mystérieusement relie les deux lieux, elle plonge dans leur passé, et dans celui de leurs habitants. Plusieurs récits s'entrelacent, comme autant de fragments d'une histoire dont elle traque le motif entre l'Algérie et la France : l'arrivée de Fernand Pouillon à Alger en mai 1953, invité à construire mille logements pour la fin de l'année par le maire récemment élu ; le souvenir d'une nuit de 1997 à Meudon-la-Forêt, quand Marie, treize ans, ne parvient pas à s'endormir à cause des chants de deuil résonnant dans la cage d'escalier ; les confidences de son voisin Malek, que ses parents, sentant le vent tourner à Oran, ont envoyé en France en 1956 et qui, devenu chauffeur de taxi, semble avoir échappé à la guerre dont la violence se déployait pourtant dans les rues de Paris.
Ici, comme en écho à l'émotion fondatrice, celle du lecteur naît de la manière dont l'écrivain laisse s'élever les voix de ces hommes et de ces femmes que l'histoire, parfois à leur insu, a traversés et qui, de part et d'autre de la Méditerranée, obstinément et silencieusement ont déroulé leur existence.
Marie Richeux
Née à Paris en 1984, Marie Richeux a grandi en banlieue parisienne. Pendant ses années d'études, elle collabore à France Culture, puis à FIP. Elle s'éloigne un temps de la radio pour se consacrer aux sciences humaines. À l'École des hautes études en sciences sociales, elle mène des recherches sur la transmission intergénérationnelle dans les familles ayant migré en France depuis le Maghreb, puis débute une thèse sur la place du silence dans cette transmission, et la possibilité collective, muséale, politique de pallier cela.
En 2009, elle commence à produire régulièrement des petites formes (fictions, documentaires, créations sonores) pour « Les Passagers de la nuit » de Thomas Baumgartner sur France Culture, et développe un travail de son et d'écriture, notamment dans l'espace public, auprès de l'artiste Malte Martin. C'est alors qu'elle préparait un documentaire sur le football breton dans les années 1970, qu'on lui propose l'animation d'une tranche quotidienne et matinale sur France Culture. Elle met en suspens sa thèse et ses autres activités et produit, à partir de 2010, l'émission « Pas la peine de crier » sur France Culture, et dont le titre devient, en septembre 2014, « Les Nouvelles Vagues ». Depuis septembre 2017, elle produit et anime, toujours sur France Culture, « Par les temps qui courent », grand entretien d'une heure avec une personnalité de l'actualité culturelle, diffusé du lundi au vendredi de 21 h à 22 h.
En 2013, elle publie son premier livre, Polaroïds, chez Sabine Wespieser éditeur. Suivi, en mars 2015, d'un récit personnel et poétique autour de la figure d'Achille, relecture contemporaine du mythe. Son premier roman, Climats de France, paraît en août 2017, toujours chez Sabine Wespieser éditeur.
Marie Richeux
Climats de France
Roman
Language: French
Paperback
272 pages
Publisher: Sabine Wespieser éditeur
2017
ISBN-10: 2848052279
ISBN-13: 978-2848052274
€ 21
# new books
Marie Richeux
fleursdumal.nl magazine
More in: - Book Lovers, - Book News, Archive Q-R, Art & Literature News
---
Universelle Menschenrechte, internationale Vielfalt, boomendes Lizenzgeschäft und ein Fest für Autoren
Ein Blick auf die Themen der 70. Frankfurter Buchmesse
Die 70. Frankfurter Buchmesse (10.-14. Oktober 2018) fällt in eine bewegte Zeit: Während die Idee eines geeinten Europas in die Defensive gerät, gewinnen populistische Gruppierungen in vielen demokratischen Ländern an Zulauf.
Das politische Klima in Deutschland ist aufgeheizt – nicht zuletzt wegen der bevorstehenden Landtagswahlen in Bayern und Hessen. Gleichzeitig verändern sich die wirtschaftlichen Voraussetzungen der Buch- und Verlagsbranche grundlegend: Immer weniger Menschen beziehen ihre Informationen aus etablierten Medien; "alternative Fakten" sind längst Teil der Berichterstattung. Den demokratischen Meinungsbildungsprozess durch gut recherchierte Inhalte zu ermöglichen, hat für Branchenakteure oberste Priorität und ist mit Blick auf eine immer kleiner werdende Zahl von Lesern und Buchkäufern zugleich die größte Herausforderung.
"Angesichts der drängenden Themen, die unsere Gesellschaft heute beschäftigen, ist die Frankfurter Buchmesse eine wichtige öffentliche Plattform", sagte Juergen Boos heute auf einer Pressekonferenz in Berlin. "Die internationalste Buchmesse steht seit ihrer Wiedereröffnung nach dem Zweiten Weltkrieg 1949 für Meinungs- und Publikationsfreiheit, für internationale Vernetzung und Dialog. Auch die 70. Frankfurter Buchmesse wird unter politischen Vorzeichen stattfinden. Und für uns, wie für alle anderen internationalen Buchmessen, gilt: Diskussionen zuzulassen – auch und gerade zu kontroversen Themen.
Polarisierende Autoren und Meinungen auszuhalten und argumentativ zu widerlegen, sind Errungenschaften einer demokratischen Gesellschaft. Diese Grundsätze sind Teil unserer DNA."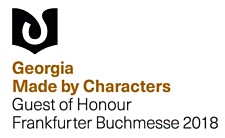 An fünf Tagen im Oktober werden in Frankfurt Geschäfte gemacht, wirtschaftliche Tendenzen analysiert, gesellschaftliche Phänomene diskutiert und kulturelle Trends präsentiert. Die Frankfurter Buchmesse bezieht mit einem Veranstaltungsprogramm im Zentrum Weltempfang (Halle 4.1 B 81) und im neuen Frankfurt Pavilion selbst Stellung: Hier geht es um Kunst im Spannungsfeld von Macht und Moral, um Strategien gegen antidemokratische Tendenzen, um Grenzbereiche politischer Kommunikation. Auf der Eröffnungs-Pressekonferenz am Dienstag, 9. Oktober 2018, spricht die nigerianische Autorin Chimamanda Ngozi Adichie, deren Manifest "We Should All Be Feminists" eine Diskussion über Feminismus ausgelöst hat. Hochrangige internationale Vertreter aus Politik und Gesellschaft haben ihr Kommen angekündigt, darunter Federica Mogherini, die Hohe Vertreterin der EU für Außen- und Sicherheitspolitik, Prof. Monika Grütters, Staatsministerin für Kultur und Medien, und Mamuka Bachtadse, Ministerpräsident Georgiens, dem Gastland der Frankfurter Buchmesse 2018.
Die Frankfurter Buchmesse ist mit über 7.300 Ausstellern aus 102 Ländern, rund 286.000 Besuchern, über 4.000 Veranstaltungen und rund 10.000 akkreditierten Journalisten und Bloggern die größte Fachmesse für das internationale Publishing.
Darüber hinaus ist sie ein branchenübergreifender Treffpunkt für Player aus den Bereichen Bildung, Filmwirtschaft, Games, Wissenschaft und Fachinformation. Einen inhaltlichen Schwerpunkt bildet seit 1976 der jährlich wechselnde Ehrengast, der dem Messepublikum auf vielfältige Weise seinen Buchmarkt, seine Literatur und Kultur präsentiert.

Die Frankfurter Buchmesse organisiert die Beteiligung deutscher Verlage an rund 20 internationalen Buchmessen und veranstaltet ganzjährig Fachveranstaltungen in den wichtigen internationalen Märkten.
Der Business Club, mit Premium Service, Networking-Formaten und Konferenzen wie THE MARKETS, ist ausschließlich zugänglich mit dem Business Ticket, der Premium-Option für B2B-Besucher.
Das 2016 entwickelte Format THE ARTS+ ist Messe, Business Festival und ein internationaler Treffpunkt der Kultur- und Kreativindustrie. Ziel ist es, die Potentiale der Digitalisierung für kreative Inhalte zu nutzen und neue Geschäftsfelder zu erschließen.
Frankfurt EDU, das internationale Bildungsformat der Frankfurter Buchmesse, präsentiert innovative Konzepte, Inhalte und Technologien für die Zukunft des Lernens.
Das Campus Weekend ist das Wochenende für Studierende auf der Frankfurter Buchmesse. Die Frankfurter Buchmesse ist ein Tochterunternehmen des Börsenvereins des Deutschen Buchhandels.
# website der Frankfurter Buchmesse
# more books
Frankfurter Buchmesse
fleursdumal.nl magazine
More in: - Book Lovers, - Book News, - Book Stories, - Bookstores, Art & Literature News, AUDIO, CINEMA, RADIO & TV, PRESS & PUBLISHING
---
Banned Books Week is the annual celebration of the Freedom to Read

The event is sponsored by a coalition of organizations dedicated to free expression, including: American Booksellers Association; American Library Association; American Society of Journalists and Authors; Association of University Presses; The Authors Guild; Comic Book Legal Defense Fund; Dramatists Legal Defense Fund; Freedom to Read Foundation; Index on Censorship; National Coalition Against Censorship; National Council of Teachers of English; PEN America; People for the American Way; and Project Censored. It is endorsed by the Center for the Book in the Library of Congress. Banned Books Week also receives generous support from DKT Liberty Project and Penguin Random House. © 2018 Banned Books Week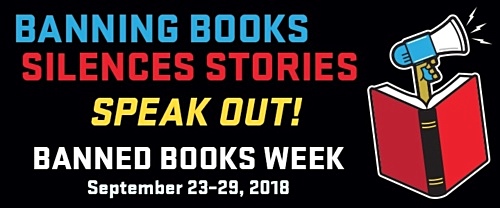 Banned Books Week is an annual event celebrating the freedom to read. Banned Books Week was launched in 1982 in response to a sudden surge in the number of challenges to books in schools, bookstores and libraries. Typically held during the last week of September, it highlights the value of free and open access to information. Banned Books Week brings together the entire book community — librarians, booksellers, publishers, journalists, teachers, and readers of all types — in shared support of the freedom to seek and to express ideas, even those some consider unorthodox or unpopular.
Banned Books Week 2018 will be held September 23 – 29. The 2018 theme, "Banning Books Silences Stories," is a reminder that everyone needs to speak out against the tide of censorship.
By focusing on efforts across the country to remove or restrict access to books, Banned Books Week draws national attention to the harms of censorship. The ALA Office for Intellectual Freedom (OIF) compiles lists of challenged books as reported in the media and submitted by librarians and teachers across the country. The Top Ten Challenged Books of 2017 are:
01
Thirteen Reasons Why written by Jay Asher
Originally published in 2007, this New York Times bestseller has resurfaced as a controversial book after Netflix aired a TV series by the same name. This YA novel was challenged and banned in multiple school districts because it discusses suicide.
02
The Absolutely True Diary of a Part-Time Indian written by Sherman Alexie
Consistently challenged since its publication in 2007 for acknowledging issues such as poverty, alcoholism, and sexuality, this National Book Award winner was challenged in school curriculums because of profanity and situations that were deemed sexually explicit.
03
Drama written and illustrated by Raina Telgemeier
This Stonewall Honor Award-winning, 2012 graphic novel from an acclaimed cartoonist was challenged and banned in school libraries because it includes LGBT characters and was considered "confusing."
04
The Kite Runner written by Khaled Hosseini
This critically acclaimed, multigenerational novel was challenged and banned because it includes sexual violence and was thought to "lead to terrorism" and "promote Islam."
05
George written by Alex Gino
Written for elementary-age children, this Lambda Literary Award winner was challenged and banned because it includes a transgender child.
06
Sex is a Funny Word written by Cory Silverberg and illustrated by Fiona Smyth
This 2015 informational children's book written by a certified sex educator was challenged because it addresses sex education and is believed to lead children to "want to have sex or ask questions about sex."
07
To Kill a Mockingbird written by Harper Lee
This Pulitzer Prize-winning novel, considered an American classic, was challenged and banned because of violence and its use of the N-word.
08
The Hate U Give written by Angie Thomas
Despite winning multiple awards and being the most searched-for book on Goodreads during its debut year, this YA novel was challenged and banned in school libraries and curriculums because it was considered "pervasively vulgar" and because of drug use, profanity, and offensive language.
09
And Tango Makes Three written by Peter Parnell and Justin Richardson and illustrated by Henry Cole
Returning after a brief hiatus from the Top Ten Most Challenged list, this ALA Notable Children's Book, published in 2005, was challenged and labeled because it features a same-sex relationship.
10
I Am Jazz written by Jessica Herthel and Jazz Jennings and illustrated by Shelagh McNicholas
This autobiographical picture book co-written by the 13-year-old protagonist was challenged because it addresses gender identity.
https://bannedbooksweek.org/
# Banned Books Week 2018, the annual celebration of the freedom to read – Sept. 23 – 29, 2018
fleursdumal.nl magazine
More in: - Book Lovers, - Book News, - Book Stories, Art & Literature News, Literary Events, PRESS & PUBLISHING, REPRESSION OF WRITERS, JOURNALISTS & ARTISTS
---
Dieser Bestseller aus dem Jahr 1931 führt den Leser mitten hinein in die pulsierende Metropole Berlin auf dem Höhepunkt der »Goldenen Zwanziger«.
Folgen Sie dem Autor bei seinen Ausflügen zu den Hotspots des damaligen Nachtlebens – in sagenumwobene Varietés und Tanzpaläste, in Vergnügungsparks und Kaffeehäuser, in angesagte Bars und Schwulenkneipen, aber auch an die Orte der Prostitution und des Verbrechens.
Erweitere Neuausgabe des Klassikers – mit Glossar, Register und vielen historischen Fotos.
»Wer Erlebnisse sucht, Abenteuer verlangt, Sensationen sich erhofft, der wird im Schatten gehen müssen.« Curt Moreck
Curt Moreck, 1888 als Konrad Haemmerling in Köln geboren, war ein Schriftsteller und Journalist, der in den 1920er Jahren seinen Schwerpunkt auf Kultur- und Sittengeschichte legte. Während der Zeit des Nationalsozialismus war das Werk Curt Morecks verboten, nach 1945 konnte er nicht mehr an seine früheren Erfolge anknüpfen. Er starb 1957 in Berlin.
Das deutsche Babylon 1931
Curt Moreck
Ein Führer durch das lasterhafte Berlin
30 Schwarz-Weiß- Abbildungen – 2 Ktn
EAN: 9783898091497
ISBN: 389809149X
Libri: 4858158
Bebra Verlag
März 2018
208 Seiten
gebunden
€22,00
new books
fleursdumal.nl magazine
More in: - Book Lovers, - Book Stories, Archive M-N, Art & Literature News, Berber, Anita, FDM in Berlin
---
This beautiful book charts the development of the circus as an art form around the world, from antiquity to the present day.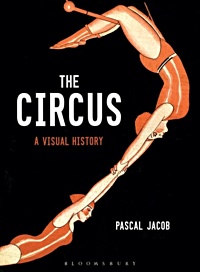 Using over 200 circus related artworks from the French National Library's private collections, celebrated cultural historian Pascal Jacob tells the story of travelling entertainers and their art and trade. From nomadic animal tamers of the Dark Ages to European jugglers and acrobats of the 1800s, from the use of the circus as Soviet propaganda to the 20th-century Chinese performance art renaissance, this is an exhaustive history with a uniquely international scope.
Jacob draws on both rare and famous artworks, including prints dating from the 13th century, and paintings by Picasso and Doré. In doing so he demonstrates the circus to be a visual and physical masterpiece, constantly moving and evolving, and just as exciting an experience for audiences now as it was 1,000 years ago.
Pascal Jacob is a prominent circus arts historian who lectures at the Sorbonne, France. He wrote on Cultural History, History and Theory of Art, Theatre History and Criticism.
The Circus
A Visual History
By: Pascal Jacob
Foreword by Marius Kwint
Published: 09-08-2018
Format: Hardback
Edition: 1st
Extent: 240 p.
ISBN: 9781350043107
Imprint: Bloomsbury Visual Arts
Illustrations: 160 colour and 40 bw illus
Price: £30.00
new books
fleursdumal.nl magazine
More in: # Music Archive, - Book Lovers, - Book Stories, Archive I-J, Art & Literature News, Futurism, The talk of the town, THEATRE
---
Mary Shelley's Frankenstein has endured in the popular imagination for two hundred years.
Begun as a ghost story by an intellectually and socially precocious eighteen-year-old author during a cold and rainy summer on the shores of Lake Geneva, the dramatic tale of Victor Frankenstein and his stitched-together creature can be read as the ultimate parable of scientific hubris. Victor, "the modern Prometheus," tried to do what he perhaps should have left to Nature: create life.
Although the novel is most often discussed in literary-historical terms―as a seminal example of romanticism or as a groundbreaking early work of science fiction―Mary Shelley was keenly aware of contemporary scientific developments and incorporated them into her story. In our era of synthetic biology, artificial intelligence, robotics, and climate engineering, this edition of Frankenstein will resonate forcefully for readers with a background or interest in science and engineering, and anyone intrigued by the fundamental questions of creativity and responsibility.
This edition of Frankenstein pairs the original 1818 version of the manuscript―meticulously line-edited and amended by Charles E. Robinson, one of the world's preeminent authorities on the text―with annotations and essays by leading scholars exploring the social and ethical aspects of scientific creativity raised by this remarkable story.
The result is a unique and accessible edition of one of the most thought-provoking and influential novels ever written.
Essays by Elizabeth Bear, Cory Doctorow, Heather E. Douglas, Josephine Johnston, Kate MacCord, Jane Maienschein, Anne K. Mellor, Alfred Nordmann
Frankenstein: Annotated for Scientists, Engineers, and Creators of All Kinds
by Mary Shelley (Author), David H. Guston (Editor), Ed Finn (Editor), Jason Scott Robert (Editor), & Charles E. Robinson (Introduction)
Paperback
320 pages
Publisher: The MIT Press;
Annotated edition
2017
Language: English
ISBN-10: 0262533286
ISBN-13: 978-0262533287
new books
fleursdumal.nl magazine
More in: - Book Lovers, - Book Stories, Archive S-T, Art & Literature News, Mary Shelley, Museum of Literary Treasures, Shelley, Mary, Tales of Mystery & Imagination
---
The Art of Reading presents the first retrospective of Lawrence Schwartzwald's candid images of readers, made between 2001 and 2017.

Partly inspired by André Kertész's On Reading of 1971, Schwartzwald's subjects are mostly average New Yorkers—sunbathers, a bus driver, shoeshine men, subway passengers, denizens of bookshops and cafes—but also artists, most notably Amy Winehouse at Manhattan's now-closed all-night diner Florent.
In 2001 Schwartzwald's affectionate photo of a New York bookseller reading at his makeshift sidewalk stand on Columbus Avenue (and inadvertently exposing his generous buttock cleavage) caused a minor sensation: first published in the New York Post, it inspired a reporter for the New York Observer to interview the "portly peddler" in a humorous column titled "Wisecracking on Columbus Avenue" of 2001.
Since then Schwartzwald has sought out his readers of books on paper—mostly solitary and often incongruous, desperate or vulnerable—who fly in the face of the closure of traditional bookshops and the surge in e-books, dedicating themselves to what Schwartzwald sees as a vanishing art: the art of reading.
Lawrence Schwartzwald: Born in New York in 1953, Lawrence Schwartzwald studied literature at New York University. He worked as a freelance photographer for the New York Post for nearly two decades and in 1997 New York Magazine dubbed him the Post's "king of the streets." Books and literature have shaped several of his photo series including "Reading New York" and "Famous Poets," both self-published in 2017. Schwartzwald lives and works in Manhattan.
Lawrence Schwartzwald
The Art of Reading
published by Steidl
Hardback / Clothbound
22 x 23 cm
English
ISBN 978-3-95829-508-7
1. Edition 06/2018
€ 28.00
new books
fleursdumal.nl magazine
More in: - Book Lovers, - Book Stories, Archive S-T, Art & Literature News, LITERARY MAGAZINES, PRESS & PUBLISHING, The Art of Reading
---
Elke zomer opnieuw slaat het Kunstenfestival van Watou haar tenten op in het gelijknamige kunstdorpje aan de Franse grens.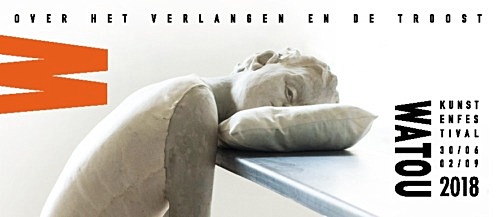 Dichters en beeldend kunstenaars, aanstormend talent en gevestigde waarden, kunstwerken uit binnen- en uit buitenland strijken er neer en vormen een bijzonder kunstenparcours. Het dorp is de setting en biedt een tiental karakteristieke locaties als tentoonstellingsruimte: een voormalig klooster, een oude boerderij of de kelder van een brouwerij. De wisselwerking tussen die verrassende, nostalgische ruimtes met hedendaagse beeldende kunst en poëzie zorgt telkens weer voor een unieke kunstbeleving. Zomeren in Watou is dan ook prikkelen en onthaasten tegelijk. Kleine momenten van gelukzaligheid.
Iedere editie van het Kunstenfestival kadert in een ander thema, waarrond intendant Jan Moeyaert en poëziecurator Willy Tibergien beeld en taal samenbrengen. Schrijvers, dichters en kunstenaars palmen gedurende een zomer het dorp in en bieden de bezoekers een caleidoscoop aan inzichten en perspectieven rond een bepaald onderwerp.
De afgelopen edities van Kunstenfestival Watou groeide er gestaag een nieuwe poëtische lijn in het dorp. Ook dit jaar selecteerde poëziecurator Willy Tibergien gedichten van gevestigde waarden in het Nederlandstalig poëzielandschap om hen een permanente plaats te geven in Watou.
Aan het werk van Eddy van Vliet, Paul Snoek, Remco Campert, Hugues C. Pernath, Jean-Claude Pirotte, Leo Vroman, Miriam Van hee, Stefan Hertmans, Gerrit Kouwenaar en Marc Insingel, Leonard Nolens, Christine D'Haen, Joost Zwagerman, Jotie T'Hooft, Charles Ducal en Luuk Gruwez worden dit jaar gedichten van Anna Enquist, Eva Gerlach en Frans Deschoemaeker toegevoegd.
STRING CARPET – GIDEON KIEFER – KUNSTENAARSGESPREK – ZONZO COMPAGNIE – ELS DEJONGHE – HET VLIEGEND TAPIJT – VRIJDAG VIERT FEEST – KRISTIN VERELLEN – POSTKANTOOR 00/00/00 – LIZE PEDE – BERNARD DEWULF – ALICJA GESCINSKA – DE TROOSTWINKEL – DOWN TIGER DOWN – SIEL EN LARISSA – NELLY AGASSI – IK ZIE MENSEN – POËZIE POËZIE POËZIE – DEREK & RENAUD – WIM CHIELENS – DE PLUIZENTUIN – WALLY DEDONCKER – ANT AND … – IK BEN WEER VELEN – STEPHANIE STRUIJK –  BERNARD DEWULF – MENNO WIGMAN – GRAHAM FAGEN – GERRIT KOUWENAAR – FRANS DESCHOEMAEKER – ANNA ENQUIST – EVA GERLACH – FRAUKE WILKEN – SAM DURANT – SIGRID VON LINTIG – PAUL SNOEK – MAUD BEKAERT -PETER VERHELST- DENIS VERCRUYSSE – MOHAMED EL BAZ – PARSE/ERROR – KATRIN DEKONINCK – ARPAÏS DU BOIS – GRZEGORZ GWIAZDA – SHIMABUKU – PETER DE MEYER – ROBINE CLIGNETT – ELS LESAGE – RADNA FABIAS – RY ROCKLEN – CHAIM VAN LUIT – SYLVIA EVERS – TORI WRÅNES – RONNY DELRUE – PETER MORRENS – HERVÉ MARTIJN – THÉ VANBERGEN – HANNE VAN ROMPAEY – STEFAN HERTMANS – TOM VAN DEEL – DANIELLE VAN ZADELHOFF – ANTON COTTELEER – SU-MEI TSE – POLIEN BOONS – JONAS VANSTEENKISTE – GURT SWANENBERG – ARANTHELL – GEERTJE VANGENECHTEN – MAARTEN VANDEN EYNDE – DOMINIQUE DE GROEN – JANI LEINONEN – JOSÉ COBO – TATJANA GERHARD – NADIA NAVEAU – HESTER KNIBBE – LUK VAN SOOM – JEROEN VAN KAN – CAROL ANN DUFFY – IRINA RATUSHINSKAYA – YEHUDA AMICHAI – NIDAA KHOURY – ZIYA MOHAVED – HANS OP DE BEECK- MASSIMO UBERTI -VAJIKO CHACHKHIANI – MOYA DE FEYTER – SHEILA HICKSEMMA VAN ROEY – BERNARDÍ ROIG -PETER THEUNYNCK – GIDEON KIEFER – EDITH DEKYNDT – THOMAS LEROOY – RANDALL CASAER- CHRISTINA MIGNOLET – GERD KANZ- GREET DESAL – HANNAH VAN BINSBERGEN – MELIK OHANIAN – JOHAN CLARYSSE – SOPHIE BOUVIER AUSLÄNDER – HANS DEFER- LUDOVIC LAFFINEUR – ARNE QUINZE – MARIJE LANGELAAR – TANYA SCHULTZ – ERLEND VAN LANDEGHEM – ROLAND JOORIS – LUKA FINEISEN – MEKHITAR GARABEDIAN – FRANZ SCHMIDT – CLARISSE BRUYNBROECK – FRANCIS PONGE – DAVID DE POOTER – RUTGER KOPLAND – JAN VANRIET – HUGO CLAUS – NELLY AGASSI – K. MICHEL – MICHAL MARTYCHOWIEC – PAUL DEMETS – STEPHAN MUIS – SAMMY BALOJI – TANG NANNAN – ADEL ABDESSEMED – LAURENS HAM – TODD ROBINSON – PANAMARENKO – GILLES BARBIER – HELEN DUNMORE – CASPER BRAAT – SYLVIE MARIE – CHANTAL POLLIER – EZRA VELDHUIS – HARLINDE DE MOL – ELEANOR CROOK – ANNO DIJKSTRA
Kunstenfestival Watou 2018 loopt nog tot en met 2 september
Open: woensdag tot zondag van 11u tot 19u – maandag en dinsdag gesloten, behalve op feestdagen
Adres:
Watouplein 12
8978 Watou
Poperinge (België)
De start van het Kunstenfestival is te vinden in het Festivalhuis (Watouplein 12), op het marktplein naast de Spar. Opg  elet! Voor alle weekend-events zijn de plaatsen beperkt. Een plaats reserveren kan enkel de dag zelf aan de kassa, bij aankoop van uw ticket.
# meer informatie op website kunstenfestival Watou
Kunstenfestival Watou 2018
fleursdumal.nl magazine
More in: # Music Archive, #Editors Choice Archiv, #More Poetry Archives, - Book Lovers, - Book Stories, Art & Literature News, Exhibition Archive, FDM Art Gallery, LITERARY MAGAZINES, PRESS & PUBLISHING, STREET POETRY, THEATRE, Watou Kunstenfestival
---
Osip Mandelstam is one of the greatest of twentieth-century poets and Voronezh Notebooks, a sequence of poems composed between 1935 and 1937 when he was living in internal exile in the Soviet city of Voronezh, is his last and most exploratory work.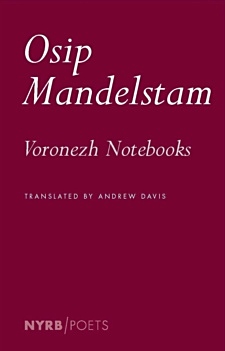 Meditating on death and survival, on power and poetry, on marriage, madness, friendship, and memory, challenging Stalin between lines that are full of the sights and sounds of the steppes, blue sky and black earth, the roads, winter breath, spring with its birds and flowers and bees, the notebooks are a continual improvisation and an unapologetic affirmation of poetry as life.
Russia's greatest poet in this century. — Joseph Brodsky
Mandelstam was a tragic figure. Even while in exile in Voronej, he wrote works of untold beauty and power. And he had no poetic forerunners… In all of world poetry, I know of no other such case. We know the sources of Pushkin and Blok, but who will tell us from where that new, divine harmony, Mandelstam's poetry, came from? — Anna Akhmatova
Voronezh Notebooks by Osip Mandelstam,
translated from the Russian and with an introduction by Andrew Davis
ISBN: 9781590179109
Pages: 128
Publication Date: January 5, 2016
Series: NYRB Poets
The New York Review of Books
Paperback
Books That Everyone Should Read
fleursdumal.nl magazine
More in: - Book Lovers, - Book Stories, Achmatova, Anna, Archive M-N, Brodsky, Joseph, Mandelstam, Osip, REPRESSION OF WRITERS, JOURNALISTS & ARTISTS, TRANSLATION ARCHIVE
---
Großes Humboldt-Gedenken 2018/2019: bibliophiler Prachtband.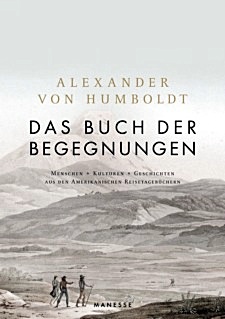 Wagemut und Wissbegier, ein feines Beobachtungs- und Differenzierungsvermögen und vor allem die unbändige Lust an immer neuen Begegnungen machten Alexander von Humboldt vor 200 Jahren zu einem epochalen Weltentdecker.
«Das Buch der Begegnungen», das die emphatischsten Zeugnisse aus den «Amerikanischen Reisetagebüchern» versammelt, zeigt einen warmherzigen Menschen ohne Berührungsängste. Auf seiner Reise in die amerikanischen Tropen von 1799 bis 1804 hielt der preußische Kosmopolit eine Vielzahl exotischer Physiognomien fest und sah die Welt, wie sie vor ihm noch keiner gesehen hatte. Als einer der ersten Europäer überhaupt kritisierte er Kolonialismus, Sklavenhandel und christlichen Bekehrungseifer.
Dagegen betonte er die Würde und den kulturellen Reichtum vermeintlich primitiver Völker. Überzeugt davon, dass es keine unterlegenen oder gar minderwertigen Ethnien gebe, war er seinen Zeitgenossen weit voraus. Und selbst im 21. Jahrhundert kommt Alexander von Humboldt als Anwalt einer universellen Humanität wie gerufen.
Bibliophiler Prachtband: gebunden in bedrucktes Leinen, zweifarbig gedruckt, fadengeheftet, mit farblich abgestimmtem Lesebändchen, gestaltetem Vorsatz sowie Originalillustrationen Alexander von Humboldts.
Ottmar Ette ist Professor für Romanistik an der Universität Potsdam und gehört zu den führenden Experten zu Humboldts Werk. Er leitete das Forschungsprojekt zur Auswertung von Humboldts Amerikanischen Reisetagebüchern.
Alexander von Humboldt (1769–1759), deutscher Universalgelehrter und Expeditionsreisender von internationalem Renommee, machte als Pionier diverser naturwissenschaftlicher Fachdisziplinen von sich reden: von der Botanik und Zoologie über die Klimatologie bis hin zur Astronomie. Seit seiner Amerikanischen Forschungsreise 1799-1804 gilt er als «wissenschaftlicher Wiederentdecker Amerikas» und Mitbegründer der empirisch fundierten Geographie. Doch auch als Ethnologe, Kulturtheoretiker und couragierter Humanist war er seiner Mitwelt weit voraus.
Alexander von Humboldt, Ottmar Ette (Hrsg.)
Das Buch der Begegnungen
Menschen – Kulturen – Geschichten aus den Amerikanischen Reisetagebüchern
Gebundenes Buch, Leinen,
416 Seiten,
17,0 x 24,0 cm
mit ca. 10 Abb.
ISBN: 978-3-7175-2444-1
€ 45,00
Verlag: Manesse
Erscheinungstermin: 25. Juni 2018
new books
fleursdumal.nl magazine
More in: - Book Lovers, - Book Stories, Archive G-H, Department of Birds of Prey, Illustrators, Illustration, Natural history
---
Older Entries »
Thank you for reading FLEURSDUMAL.NL - magazine for art & literature