MUSEUM OF NATURAL HISTORY – department of ravens & crows, birds of prey, riding a zebra
«« Previous page
·
Leo Vroman: En toch is alles wat we doen natuur
·
Joachim Ringelnatz: Seepferdchen
·
Vincent BERQUEZ: Cat in dusk
·
Literair-historische Tijdschrift: De Parelduiker (2018/1). Hoezo natuur?
·
Kathryn Harkup: Making the Monster. The Science Behind Mary Shelley's Frankenstein
·
James Whitcomb Riley: The Bat
·
The River of Consciousness by Oliver Sacks
·
Joachim Ringelnatz: Aus der Vogelkunde
·
Bert Bevers: Jaag zacht
·
John Hay: The Prairie
·
Leonardo da Vinci by Walter Isaacson
·
Joachim Ringelnatz: Großer Vogel
'En toch is alles wat we doen natuur' bevat de mooiste natuurgedichten van dichter-tekenaar-bioloog Leo Vroman.
Vroman was gefascineerd door het leven in en rondom ons, dat hij tot in de wonderbaarlijkste details observeerde en beschreef.
Tientallen bundels speelse poëzie schreef hij, een onuitputtelijke stroom gedichten van 1946 tot 2014, het jaar van zijn overlijden.
Mirjam van Hengel (auteur van het succesvolle Hoe mooi alles, over Leo en Tineke Vroman) maakte een nieuwe, ruime selectie uit de gedichten die Vroman schreef over de natuur – die van mensen, die van gras, bloemen en bomen, van orkanen en organen en van alle mogelijke dieren.
Leo Vroman (1915-2014) was dichter, prozaïst, essayist, illustrator en hematoloog. Hij studeerde biologie in Utrecht en vluchtte in 1940 naar Nederlands-Indië. In 1945 werd hij uit Japanse gevangenschap bevrijd en vestigde zich in Verenigde Staten, samen met zijn vrouw Tineke. Vroman debuteerde in 1946 met de bundel Gedichten. Vroman ontving in de loop van zijn leven zowat alle belangrijke literaire prijzen die er zijn. In 2006 verscheen het dagboek Misschien tot morgen.
En toch is alles wat we doen natuur
De mooiste gedichten over het leven in en rondom ons
Auteur: Leo Vroman
Redactie: Mirjam van Hengel
Uitgeverij: Querido
Hardcover
Taal: Nederlands
Afmetingen: 31x223x142 mm
Gewicht:481,00 gram
Verschijningsdatum: 6 maart 2018
Druk 1
ISBN10 902140902X
ISBN13 9789021409023
Prijs: € 24,99
# Voor meer informatie ga naar de website: www.vromanfoundation.com
new books
fleursdumal.nl magazine
More in: Archive U-V, Archive U-V, Art & Literature News, Natural history, Vroman, Leo
---
Joachim Ringelnatz
Seepferdchen
Als ich noch ein Seepferdchen war,
Im vorigen Leben,
Wie war das wonnig, wunderbar,
Unter Wasser zu schweben.
In den träumenden Fluten
Wogte, wie Güte, das Haar
Der zierlichsten aller Seestuten,
Die meine Geliebte war.
Wir senkten uns still oder stiegen,
Tanzten harmonisch umeinand,
Ohne Arm, ohne Bein, ohne Hand,
Die Wolken sich in Wolken wiegen.
Sie spielte manchmal graziöses Entfliehn,
Auf daß ich ihr folge, sie hasche,
Und legte mir einmal im Ansichziehn
Eierchen in die Tasche.
Sie blickte traurig und stellte sich froh,
Schnappte nach einem Wasserfloh
Und ringelte sich
An einem Stengelchen fest und sprach so:
Ich liebe dich!
Du wieherst nicht, du äpfelst nicht,
Du trägst ein farbloses Panzerkleid
Und hast ein bekümmertes altes Gesicht,
Als wüßtest du um kommendes Leid.
Seestütchen! Schnörkelchen! Ringelnaß!
Wann war wohl das?
Und wer bedauert wohl später meine restlichen Knochen?
Es ist beinahe so, daß ich weine –
Lollo hat das vertrocknete, kleine
Schmerzverkrümmte Seepferd zerbrochen.
Joachim Ringelnatz
(1883 – 1934)
Seepferdchen
fleursdumal.nl magazine
More in: Archive Q-R, Joachim Ringelnatz, Natural history
---
 Vincent Berquez©: Cat in dusk
Vincent Berquez is a London–based artist and poet. He has published in Britain, Europe, America and New Zealand. His work is in many anthologies, collections and magazine worldwide. Vincent Berquez was requested to write a Tribute as part of 'Poems to the American People' for the Hastings International Poetry Festival for 9/11, read by the mayor of New York at the podium. He has also been commissioned to write a eulogy by the son of Chief Albert Nwanzi Okoluko, the Ogimma Obi of Ogwashi-Uku to commemorate the death of his father. Berquez has been a judge many times, including for Manifold Magazine and had work read as part of Manifold Voices at Waltham Abbey. He has recited many times, including at The Troubadour and the Pitshanger Poets, in London. In 2006 his name was put forward with the Forward Prize for Literature. He recently was awarded a prize with Decanto Magazine. Berquez is now a member of London Voices who meet monthly in London, United Kingdom.
Vincent Berquez has also been collaborating in 07/08 with a Scottish composer and US film maker to produce a song-cycle of seven of his poems for mezzo-soprano and solo piano. These are being recorded at the Royal College of Music under the directorship of the concert pianist, Julian Jacobson. In 2009 he will be contributing 5 poems for the latest edition of A Generation Defining Itself, as well as 3 poems for Eleftheria Lialios's forthcoming book on wax dolls published in Chicago. He also made poetry films that have been shown at various venues, including a Polish/British festival in London, Jan 07.
As an artist Vincent Berquez has exhibited world wide, winning prizes, such as at the Novum Comum 88' Competition in Como, Italy. He has worked with an art's group, called Eins von Hundert, from Cologne, Germany for over 16 years. He has shown his work at the Institute of Art in Chicago, US, as well as many galleries and institutions worldwide. Berquez recently showed his paintings at the Lambs Conduit Festival, took part in a group show called Gazing on Salvation, reciting his poetry for Lent and exhibiting paintings/collages. In October he had a one-man show at Sacred Spaces Gallery with his Christian collages in 2007. In 2008 Vincent Berquez had a solo show of paintings at The Foundlings Museum and in 2011 an exposition with new work in Langham Gallery London.
fleursdumal.nl magazine for art & literature
More in: Berquez, Vincent, FDM Art Gallery, Natural history, Vincent Berquez
---
De Parelduiker pakt het thema van de Boekenweek op en stelt de vraag: hoezo natuur?
In dit themanummer naar aanleiding van de Boekenweek vier verhalen over schrijvers en kunstenaars die ieder een 'andere' kant van de natuur leerden kennen.
Joris van Casteren volgde de voetsporen van Gerard Bilders (1838-1865). In het vieze Amsterdam ging deze jonge schrijver en landschapsschilder op tragische wijze ten onder. Tot op zijn sterfbed, in een benauwd pand aan een stinkende gracht, hunkerde hij naar de natuur en het buitenleven.
Madelon de Keizer schrijft over Albert Verwey. Anders dan diens vriend Willem Kloos, die het bij de stad en zijn verlokkingen hield, koos Verwey na zijn huwelijk met Kitty van Vloten voor een leven dichter bij de natuur en stichtte met haar een gezin in een huis op een duin te Noordwijk. Zij zetten zich in voor het herstel van de band tussen mens en natuur, die door de verstedelijking teloor dreigde te gaan.
Nescio bezong, zo schrijft biografe Lieneke Frerichs, onbezorgd de schoonheid van zomerse glooiende korenvelden, terwijl hij met zijn dochters door Noord-Frankrijk fietste.
Willem van Toorn ten slotte zette zich op initiatief van kunstschilder Willem den Ouden in voor zorgvuldige, vernuftiger dijkverbeteringen die het Nederlandse rivierenlandschap zoveel mogelijk zouden sparen, aldus Marco Daane. Hij laat zien dat Van Toorns betrokkenheid hierbij ook sporen heeft achtergelaten in zijn literaire werk.
In memoriam Jaap Harten en Menno Wigman.
De Parelduiker is een uitgave van Uitgeverij Bas Lubberhuizen – Johannes Vermeerstraat 63 – 1071 DN Amsterdam – Postbus 15511 – 1001 NA Amsterdam – T 020 5706 100
# Voor meer informatie zie de website van de parelduiker
boekenweek 2018
fleursdumal.nl magazine
More in: Art & Literature News, Boekenweek, LITERARY MAGAZINES, Natural history, Willem van Toorn
---
The year 1818 saw the publication of one of the most influential science-fiction stories of all time.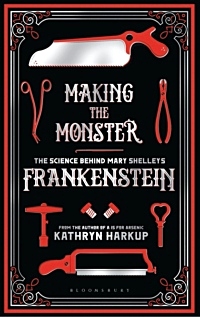 Frankenstein: Or, Modern Prometheus by Mary Shelley had a huge impact on gothic horror and science-fiction genres, and her creation has become part of our everyday culture, from cartoons to Hallowe'en costumes. Even the name 'Frankenstein' has become a by-word for evil scientists and dangerous experiments. How did a teenager with no formal education come up with the idea for an extraordinary novel such as Frankenstein?
Clues are dotted throughout Georgian science and popular culture. The years before the book's publication saw huge advances in our understanding of the natural sciences, in areas such as electricity and physiology, for example. Sensational science demonstrations caught the imagination of the general public, while the newspapers were full of lurid tales of murderers and resurrectionists.
Making the Monster explores the scientific background behind Mary Shelley's book. Is there any science fact behind the science fiction? And how might a real-life Victor Frankenstein have gone about creating his monster? From tales of volcanic eruptions, artificial life and chemical revolutions, to experimental surgery, 'monsters' and electrical experiments on human cadavers, Kathryn Harkup examines the science and scientists that influenced Shelley, and inspired her most famous creation.
Kathryn Harkup is a chemist and author. Kathryn completed a PhD then a postdoc at the University of York before realising that talking, writing and demonstrating science appealed far more than spending hours slaving over a hot fume-hood. Kathryn went on to run outreach in engineering, computing, physics and maths at the University of Surrey, which involved writing talks on science and engineering topics that would appeal to bored teenagers, and she is now a science communicator delivering talks and workshops on the quirky side of science.
Making the Monster
The Science Behind Mary Shelley's Frankenstein
By: Kathryn Harkup
Published: 08-02-2018
Format: Hardback
Edition: 1st
Extent: 304 pp
ISBN: 9781472933737
Imprint: Bloomsbury Sigma
Illustrations: 11 black and white illustrations
Dimensions: 216 x 135 mm
£16.99
new books
fleursdumal.nl magazine
More in: - Book News, Archive G-H, Archive S-T, Archive S-T, Art & Literature News, Mary Shelley, Natural history, Percy Byssche Shelley, Shelley, Mary, Shelley, Percy Byssche, Tales of Mystery & Imagination
---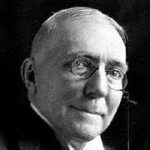 The Bat
I
Thou dread, uncanny thing,
With fuzzy breast and leathern wing,
In mad, zigzagging flight,
Notching the dusk, and buffeting
The black cheeks of the night,
With grim delight!
II
What witch's hand unhasps
Thy keen claw-cornered wings
From under the barn roof, and flings
Thee forth, with chattering gasps,
To scud the air,
And nip the ladybug, and tear
Her children's hearts out unaware?
III
The glowworm's glimmer, and the bright,
Sad pulsings of the firefly's light,
Are banquet lights to thee.
O less than bird, and worse than beast,
Thou Devil's self, or brat, at least,
Grate not thy teeth at me!
James Whitcomb Riley
(1849-1916)
The Bat
fleursdumal.nl magazine
More in: Archive Q-R, Archive Q-R, CLASSIC POETRY, Natural history
---
From the best-selling author of Gratitude, On the Move, and Musicophilia, a collection of essays that displays Oliver Sacks's passionate engagement with the most compelling and seminal ideas of human endeavor: evolution, creativity, memory, time, consciousness, and experience.
Oliver Sacks, a scientist and a storyteller, is beloved by readers for the extraordinary neurological case histories (Awakenings, An Anthropologist on Mars) in which he introduced and explored many now familiar disorders–autism, Tourette's syndrome, face blindness, savant syndrome.
He was also a memoirist who wrote with honesty and humor about the remarkable and strange encounters and experiences that shaped him (Uncle Tungsten, On the Move, Gratitude).
Sacks, an Oxford-educated polymath, had a deep familiarity not only with literature and medicine but with botany, animal anatomy, chemistry, the history of science, philosophy, and psychology.
The River of Consciousness is one of two books Sacks was working on up to his death, and it reveals his ability to make unexpected connections, his sheer joy in knowledge, and his unceasing, timeless project to understand what makes us human.
Oliver Sacks was born in 1933 in London and was educated at Queen's College, Oxford. He completed his medical training at San Francisco's Mount Zion Hospital and at UCLA before moving to New York.
Familiar to the readers of The New Yorker and The New York Review of Books, Dr. Sacks spent more than fifty years working as a neurologist and wrote many books, including The Man Who Mistook His Wife for a Hat, Musicophilia, and Hallucinations, about the strange neurological predicaments and conditions of his patients.
The New York Times referred to him as "the poet laureate of medicine," and over the years he received many awards, including honors from the Guggenheim Foundation, the National Science Foundation, the American Academy of Arts and Letters, The American Academy of Arts and Sciences, and the Royal College of Physicians. His memoir On the Move was published shortly before his death in August 2015.
The River of Consciousness
By Oliver Sacks
Hardcover
Oct 24, 2017
256 Pages
$27.00
Published by Knopf
5-1/2 x 8-3/8
ISBN 9780385352567
new books
fleursdumal.nl magazine
More in: - Book News, - Book Stories, Archive S-T, Art & Literature News, AUDIO, CINEMA, RADIO & TV, DRUGS & MEDICINE & LITERATURE, Natural history, Oliver Sacks, Psychiatric hospitals
---
Joachim Ringelnatz
Aus der Vogelkunde
Ich spreche von Flugmaschinen.
Sie summen lauter als Bienen
Und sind eine Kreuzung von Taube,
Ente, Maikäfer und Schiffsschraube.
Sie nisten einzeln, paar- und gruppen-
Weise in Hallen und Schuppen.
Ich habe persönlich festgestellt:
Sie bringen lebendige Junge zur Welt,
Die wie Menschen aussehn,
Wenn sie aus ihnen herausgehn.
Auch legen sie Eier und brüten
Im Krieg. Zeus möge das künftig verhüten.
Ihre Nahrung sind Menschen, Koffer, Benzin
Und Zeitungen aus Berlin.
Sie sind über die ganze Welt
Verbreitet und sehr zahm auch in Freiheit.
Außerdem sind sie der Polizeiheit
Und der Zollbehördlichkeit unterstellt.
Volkstümlich nennt man sie schlechthin Maschinen.
Ich könnte Ihnen mit Näherem dienen,
Aber ich verlange dafür
Eine Flugzeugengebühr.
Joachim Ringelnatz
(1883 – 1934)
Aus der Vogelkunde
fleursdumal.nl magazine
More in: Archive Q-R, Joachim Ringelnatz, Natural history
---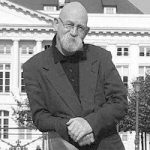 Jaag zacht
Praat niet hardop in het woud.
Dat is voor niets goed. Immers:
de waarheid is als een schuw dier.
Mensen hebben er schrik van.
Bert Bevers
gedicht: Jaag zacht
Verschenen in de Enghuizer Dialogen VIII, Hummelo, mei 2017
Bert Bevers is a poet and writer who lives and works in Antwerp (Be)
fleursdumal.nl magazine
More in: Archive A-B, Archive A-B, Bevers, Bert, Natural history
---
The Prairie
The skies are blue above my head,
The prairie green below,
And flickering o'er the tufted grass
The shifting shadows go,
Vague-sailing, where the feathery clouds
Fleck white the tranquil skies,
Black javelins darting where aloft
The whirring pheasant flies.
A glimmering plain in drowsy trance
The dim horizon bounds,
Where all the air is resonant
With sleepy summer sounds,
The life that sings among the flowers,
The lisping of the breeze,
The hot cicala's sultry cry,
The murmurous dream of bees.
The butterfly a flying flower
Wheels swift in flashing rings,
And flutters round his quiet kin,
With brave flame-mottled wings.
The wild Pinks burst in crimson fire,
The Phlox' bright clusters shine,
And Prairie-Cups are swinging free
To spill their airy wine.
And lavishly beneath the sun,
In liberal splendor rolled,
The Fennel fills the dipping plain
With floods of flowery gold;
And widely weaves the Iron-Weed
A woof of purple dyes
Where Autumn's royal feet may tread
When bankrupt Summer flies.
In verdurous tumult far away
The prairie-billows gleam,
Upon their crests in blessing rests
The noontide's gracious beam.
Low quivering vapors steaming dim
The level splendors break
Where languid Lilies deck the rim
Of some land-circled lake.
Far in the East like low-hung clouds
The waving woodlands lie;
Far in the West the glowing plain
Melts warmly in the sky.
No accent wounds the reverent air,
No footprint dints the sod,-
Lone in the light the prairie lies,
Rapt in a dream of God.
Illinois, 1858
John Hay
(1838-1905)
The Prairie
fleursdumal.nl magazine
More in: * Archive Cowboy Poetry, Archive G-H, Archive G-H, Natural history
---
The author of the acclaimed bestsellers Steve Jobs, Einstein, and Benjamin Franklin brings Leonardo da Vinci to life in this exciting new biography.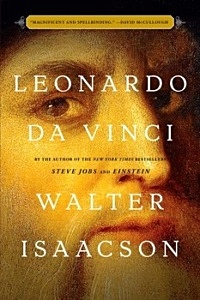 Based on thousands of pages from Leonardo's astonishing notebooks and new discoveries about his life and work, Walter Isaacson weaves a narrative that connects his art to his science. He shows how Leonardo's genius was based on skills we can improve in ourselves, such as passionate curiosity, careful observation, and an imagination so playful that it flirted with fantasy.
He produced the two most famous paintings in history, The Last Supper and the Mona Lisa. But in his own mind, he was just as much a man of science and technology. With a passion that sometimes became obsessive, he pursued innovative studies of anatomy, fossils, birds, the heart, flying machines, botany, geology, and weaponry. His ability to stand at the crossroads of the humanities and the sciences, made iconic by his drawing of Vitruvian Man, made him history's most creative genius.
His creativity, like that of other great innovators, came from having wide-ranging passions. He peeled flesh off the faces of cadavers, drew the muscles that move the lips, and then painted history's most memorable smile. He explored the math of optics, showed how light rays strike the cornea, and produced illusions of changing perspectives in The Last Supper. Isaacson also describes how Leonardo's lifelong enthusiasm for staging theatrical productions informed his paintings and inventions.
Leonardo's delight at combining diverse passions remains the ultimate recipe for creativity. So, too, does his ease at being a bit of a misfit: illegitimate, gay, vegetarian, left-handed, easily distracted, and at times heretical. His life should remind us of the importance of instilling, both in ourselves and our children, not just received knowledge but a willingness to question it—to be imaginative and, like talented misfits and rebels in any era, to think different.
Walter Isaacson, University Professor of History at Tulane, has been CEO of the Aspen Institute, chairman of CNN, and editor of Time magazine. He is the author of Leonardo da Vinci; The Innovators; Steve Jobs; Einstein: His Life and Universe; Benjamin Franklin: An American Life; and Kissinger: A Biography, and the coauthor of The Wise Men: Six Friends and the World They Made.
Walter Isaacson
Leonardo da Vinci
624 pages
ISBN 9781501139154
October 2017
Simon & Schuster
fleursdumal.nl magazine
More in: #Beat Generation Archives, - Book News, Archive U-V, Art & Literature News, Exhibition Archive, Natural history
---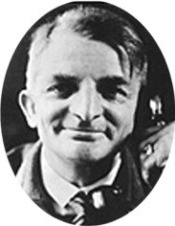 Joachim Ringelnatz
Großer Vogel
1933
Die Nachtigall ward eingefangen,
Sang nimmer zwischen Käfigstangen.
Man drohte, kitzelte und lockte.
Gall sang nicht. Bis man die Verstockte
In tiefsten Keller ohne Licht
Einsperrte. – Unbelauscht, allein
Dort, ohne Angst vor Widerhall,
Sang sie
Nicht – –,
Starb ganz klein
Als Nachtigall.
Joachim Ringelnatz
(1883 – 1934)
Großer Vogel
fleursdumal.nl magazine
More in: Archive Q-R, Joachim Ringelnatz, Natural history
---
Older Entries »
« Newer Entries
Thank you for reading FLEURSDUMAL.NL - magazine for art & literature