Mermaids
·
The Mermaid's Purse by Fleur Adcock
·
The Unaccompanied. Poems by Simon Armitage
Born in New Zealand in 1934, Fleur Adcock spent the war years in England, returning with her family to New Zealand in 1947.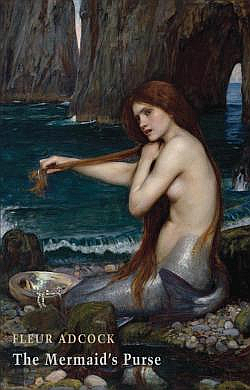 She emigrated to Britain in 1963, working as a librarian in London until 1979. In 1977-78 Fleur Adcock was writer-in-residence at Charlotte Mason College of Education, Ambleside.
Fleur Adcock was Northern Arts Literary Fellow in 1979-81, living in Newcastle, becoming a freelance writer after her return to London.
She received an OBE in 1996, and the Queen's Gold Medal for Poetry in 2006 for Poems 1960-2000 (Bloodaxe Books, 2000).
Fleur Adcock published three pamphlets with Bloodaxe: Below Loughrigg (1979), Hotspur (1986) and Meeting the Comet (1988), as well as her translations of medieval Latin lyrics, The Virgin & the Nightingale (1983).
She also published two translations of Romanian poets with Oxford University Press, Orient Express by Grete Tartler (1989) and Letters from Darkness by Daniela Crasnaru (1994).
All her other collections were published by Oxford University Press until they shut down their poetry list in 1999, after which Bloodaxe published her collected poems Poems 1960-2000 (2000), followed by Dragon Talk (2010), Glass Wings (2013), The Land Ballot (2015) and Hoard (2017).
The Mermaid's Purse is due from Bloodaxe in 2021. Poems 1960-2000 and Hoard are Poetry Book Society Special Commendations while Glass Wings is a Poetry Book Society Recommendation. In October 2019 Fleur Adcock was presented with the New Zealand Prime Minister's Award for Literary Achievement in Poetry 2019 by the Rt Hon Jacinda Ardern.
Fleur Adcock writes about men and women, childhood, identity, roots and rootlessness, memory and loss, animals and dreams, as well as our interactions with nature and place. Her poised, ironic poems are remarkable for their wry wit, conversational tone and psychological insight, unmasking the deceptions of love or unravelling family lives.
Fleur Adcock began writing the poems in this book when she was 82. The two chief settings are New Zealand, with its multi-coloured seas, and Britain, seen in various decades.
There are foreign travels, flirtations, family memories, deaths and conversations with the dead. Katherine Mansfield, incognito, dodges an academic conference; there's a lesson in water divining as well as a rather unusual Christmas party.
We meet several varieties of small mammal, numerous birds, doomed or otherwise, and some sheep. The book ends with a sequence in memory of her friend, the poet Roy Fisher.
# new poetry
The Mermaid's Purse
by Fleur Adcock
Publication Date : 25 Feb 2021
Pages: 80
Size: 234 x 156mm
ISBN: 9781780375700
Paperback
£10.99
• fleursdumal.nl magazine
More in: #Modern Poetry Archive, Archive A-B, Archive A-B, Mermaids
---
A powerful new collection of poetry from the National Book Critics Circle Award nominee and recipient of the Forward Poetry Prize.
In The Unaccompanied, Armitage gives voice to the people of Britain with a haunting grace.
We meet characters whose sense of isolation is both emotional and political, both real and metaphorical, from a son made to groom the garden hedge as punishment, to a nurse standing alone at a bus stop as the centuries pass by, to a latter-day Odysseus looking for enlightenment and hope in the shadowy underworld of a cut-price supermarket.
We see the changing shape of England itself, viewed from a satellite "like a shipwreck's carcass raised on a sea-crane's hook, / nothing but keel, beams, spars, down to its bare bones."
In this exquisite collection, Armitage X-rays the weary but ironic soul of his nation, with its "Songs about mills and mines and a great war, / lines about mermaids and solid gold hills, / songs from broken hymnbooks and cheesy films"–in poems that blend the lyrical and the vernacular, with his trademark eye for detail and biting wit.
Simon Armitage was born in West Yorkshire and is Professor of Poetry at the University of Sheffield. A recipient of numerous prizes and awards, he has published eleven collections of poetry, including Seeing Stars, Paper Aeroplane: Selected Poems 1989 – 2014, and his acclaimed translation of Sir Gawain and the Green Knight.
The Shout: Selected Poems, was nominated for the National Book Critics Circle Award and his translation of the medieval poem Pearl received the 2017 PEN Award for Poetry in Translation. He writes extensively for radio and television, has published three best-selling non-fiction titles, and his theatre works include The Last Days of Troy, performed at Shakespeare's Globe in London. He has taught at the University of Iowa's Writers' Workshop, and in 2015 was appointed Professor of Poetry at Oxford University.
Simon Armitage
The Unaccompanied
Poems
Published by Knopf
Hardcover
$27.00
Aug. 2017
96 Pages
ISBN 9781524732424
new poetry
fleursdumal.nl magazine
More in: #Editors Choice Archiv, - Book News, Archive A-B, Archive A-B, Armitage, Simon, Art & Literature News, Mermaids
---
Thank you for reading FLEURSDUMAL.NL - magazine for art & literature