Department of Birds of Prey
·
Bayard Taylor: The Eagle Hunter
·
Alexander von Humboldt: Das Buch der Begegnungen Menschen – Kulturen – Geschichten aus den Amerikanischen Reisetagebüchern
·
SJON BRANDS EXPOSEERT MET 'ARTILUGIOS BOSQUIANOS' IN MADRID
·
Hans Hermans Natuurdagboek: Le Hibou van Victor Hugo
·
Co van Gorp photos: The Falcon
The Eagle Hunter
On the mighty summit, heaten
By the wintry sleet, I wander,
For I seek the monarch eagle
In his eyrie of the rock;
And I shout in fierce exulting,
When his gray wing on the darkness
Of the cloud above me flashes,
Wheeling downward to the shock!
Nearer, with his keen eye burning,
And his hungry beak extended —
With a shriek of anger swooping
Comes the storm-defying bird :
Yet as steady and unswerving,
Upward flies the fatal arrow,
And his death-cry on the sweeping
Of the sounding winds is heard!
From his wing I rob the plumage,
And it crowns me like a chieftain.
And his talons stud my girdle
Like the scales of olden mail;
Never wears the wild ranchero
Such a trophy on the vega,
Or the fiery-eyed Navajo,
In the Colorado's vale!
Bayard Taylor
(1825 – 1878)
The Eagle Hunter
fleursdumal.nl magazine
More in: Archive S-T, Archive S-T, Department of Birds of Prey, Western Fiction
---
Großes Humboldt-Gedenken 2018/2019: bibliophiler Prachtband.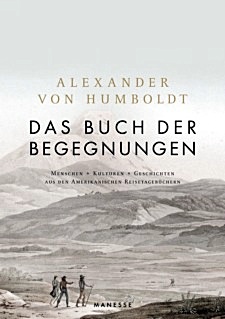 Wagemut und Wissbegier, ein feines Beobachtungs- und Differenzierungsvermögen und vor allem die unbändige Lust an immer neuen Begegnungen machten Alexander von Humboldt vor 200 Jahren zu einem epochalen Weltentdecker.
«Das Buch der Begegnungen», das die emphatischsten Zeugnisse aus den «Amerikanischen Reisetagebüchern» versammelt, zeigt einen warmherzigen Menschen ohne Berührungsängste. Auf seiner Reise in die amerikanischen Tropen von 1799 bis 1804 hielt der preußische Kosmopolit eine Vielzahl exotischer Physiognomien fest und sah die Welt, wie sie vor ihm noch keiner gesehen hatte. Als einer der ersten Europäer überhaupt kritisierte er Kolonialismus, Sklavenhandel und christlichen Bekehrungseifer.
Dagegen betonte er die Würde und den kulturellen Reichtum vermeintlich primitiver Völker. Überzeugt davon, dass es keine unterlegenen oder gar minderwertigen Ethnien gebe, war er seinen Zeitgenossen weit voraus. Und selbst im 21. Jahrhundert kommt Alexander von Humboldt als Anwalt einer universellen Humanität wie gerufen.
Bibliophiler Prachtband: gebunden in bedrucktes Leinen, zweifarbig gedruckt, fadengeheftet, mit farblich abgestimmtem Lesebändchen, gestaltetem Vorsatz sowie Originalillustrationen Alexander von Humboldts.
Ottmar Ette ist Professor für Romanistik an der Universität Potsdam und gehört zu den führenden Experten zu Humboldts Werk. Er leitete das Forschungsprojekt zur Auswertung von Humboldts Amerikanischen Reisetagebüchern.
Alexander von Humboldt (1769–1759), deutscher Universalgelehrter und Expeditionsreisender von internationalem Renommee, machte als Pionier diverser naturwissenschaftlicher Fachdisziplinen von sich reden: von der Botanik und Zoologie über die Klimatologie bis hin zur Astronomie. Seit seiner Amerikanischen Forschungsreise 1799-1804 gilt er als «wissenschaftlicher Wiederentdecker Amerikas» und Mitbegründer der empirisch fundierten Geographie. Doch auch als Ethnologe, Kulturtheoretiker und couragierter Humanist war er seiner Mitwelt weit voraus.
Alexander von Humboldt, Ottmar Ette (Hrsg.)
Das Buch der Begegnungen
Menschen – Kulturen – Geschichten aus den Amerikanischen Reisetagebüchern
Gebundenes Buch, Leinen,
416 Seiten,
17,0 x 24,0 cm
mit ca. 10 Abb.
ISBN: 978-3-7175-2444-1
€ 45,00
Verlag: Manesse
Erscheinungstermin: 25. Juni 2018
new books
fleursdumal.nl magazine
More in: - Book Lovers, - Book Stories, Archive G-H, Department of Birds of Prey, Illustrators, Illustration, Natural history
---
Tilburgse luchtschepen naar Madrid
Vijf gevederde luchtschepen en acht vreemde vogels zijn deze maand naar het warme zuiden getrokken.
Deze dertien droomwerken van de Tilburgse kunstenaar Sjon Brands vormen ruim drie maanden lang de gevleugelde tentoonstelling Artilugios Bosquianos: Sjon Brands in het prachtige Museo Lázaro Galdiano in het centrum van Madrid. De expositie loopt parallel met de grote Jheronimus Bosch tentoonstelling (El Bosco. Exposición del V Centenario) in het even verderop gelegen Museo del Prado tot en met 11 september 2016.
Dus mocht u deze zomer nog Madrid aandoen dan kunt mooi een dubbelslag maken!
De Tilburger is erg in zijn nopjes met deze tentoonstelling: "Er is warme belangstelling voor mijn werk in Spanje. Dat had ik nooit verwacht, maar het is natuurlijk een feest als zoiets gebeurt. Ze zijn nogal gecharmeerd van de humor en de gekte die in mijn werk zit. Ze moeten er erg om lachen."
Zijn werk komt te staan tussen beroemde Spaanse schilders als El Greco, Goya en Velázquez. In de centrale hal van het museum komen twee van zijn luchtschepen te hangen. "In Spanje zijn ze ervan overtuigd dat mijn werk past in de traditie van 'hun' El Bosco. Vandaar ook de naam, die Bosschiaanse constructies betekent."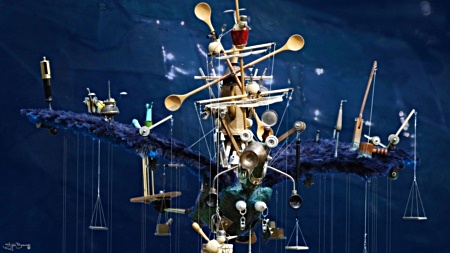 De tentoonstelling werd op donderdag 2 juni 2016 om 12.00 uur feestelijk geopend door de Nederlandse ambassadeur in Spanje en opgeluisterd door een concert van de New Royal Flaminga Band (Martin Fondse, Jan Wirken, Eric van de Westen en Peter Kalb).
De expositie duurt tot en met zondag 11 september 2016 en is van dinsdag tot en met zaterdag geopend van 10.00 tot 16.30 uur, op zondag van 10.00 tot 15.00 uur. Museo Lázaro Galdiano, Serrano 122, Madrid. Meer info: www.flg.es of www.sjonbrands.nl.
'Artilugios bosquianos: Sjon Brands'
Conservator: Amparo López
Organisatie: Stichting Jheronimus Bosch 500, stichting Bosch y Bosco en de Fundación Museo Lázaro Galdiano
In samenwerking met: de Nederlandse Ambassade in Madrid / la Embajada del Reino de los Paises Bajos
Van 2 juni tot en met 11 september 2016 (opening 2 juni 2016)
Museo Lázaro Galdiano,
Calle de Serrano 122,
Madrid
Bezoek bij de toegang van het museum inbegrepen (toegang 6€).
Metro: lijn 5 Rubén Dario / lijn 9 Nuñez de Balboa / lijn 7 en 10 Gregorio Marañón
Twitter #ArtilugiosBosquianos
Openingstijden: Dinsdag tot zaterdag van 10 tot 16.30 uur, zondag tot 15.00 uur, maandag gesloten.
# Meer informatie: www.flg.es / www.sjonbrands.nl / www.boschybosco.org
fleursdumal.nl magazine
More in: Art & Literature News, Brands, Sjon, Department of Birds of Prey, Jheronimus Bosch, Sjon Brands, Theater van de Verloren Tijd
---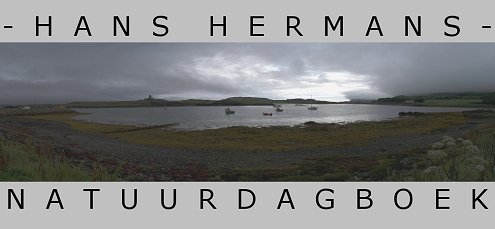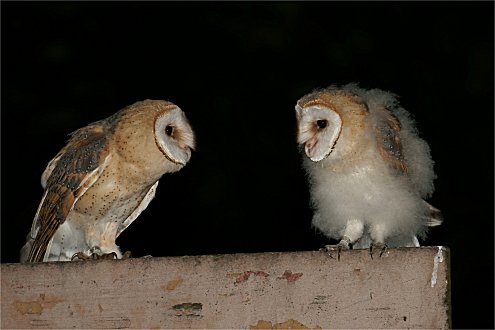 V i c t o r H u g o

L e h i b o u

Et je vis au-dessus de ma tête un point noir.
Et ce point noir semblait une mouche dans l'ombre.
Et rien n'avait de borne et rien n'avait de nombre ;
Et tout se confondait avec tout ; l'aquilon
Et la nuit ne faisaient qu'un même tourbillon.
Quelques formes sans nom, larves exténuées
Ou souffles noirs, passaient dans les sourdes nuées ;
Et tout le reste était immobile et voilé.
Alors, montant, montant, montant, je m'envolai
Vers ce point qui semblait reculer dans la brume,
Car c'est la loi de l'être en qui l'esprit s'allume
D'aller vers ce qui fuit et vers ce qui se tait.
Or ce que j'avais pris pour une mouche était
Un hibou, triste, froid, morne, et de sa prunelle
Il tombait moins de jour que de nuit de son aile. […]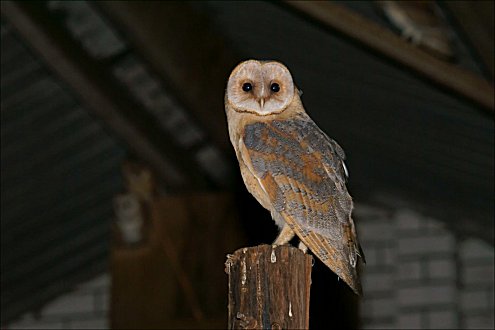 N a t u u r d a g b o e k D e c e m b e r 2 0 0 9
Photos: Hans Hermans ©
Poem by Victor Hugo (1802-1885)

kempis poetry magazine

More in: Department of Birds of Prey, Hans Hermans Photos, Hugo, Victor
---
Poem: James Russell Lowell

The Falcon

I know a falcon swift and peerless
As e'er was cradled In the pine;
No bird had ever eye so fearless,
Or wing so strong as this of mine.
The winds not better love to pilot
A cloud with molten gold o'er run,
Than him, a little burning islet,
A star above the coming sun.
For with a lark's heart he doth tower,
By a glorious upward instinct drawn;
No bee nestles deeper in the flower
Than he in the bursting rose of dawn.
No harmless dove, no bird that singeth,
Shudders to see him overhead;
The rush of his fierce swooping bringeth
To innocent hearts no thrill of dread.
Let fraud and wrong and baseness shiver,
For still between them and the sky
The falcon Truth hangs poised forever
And marks them with his vengeful eye.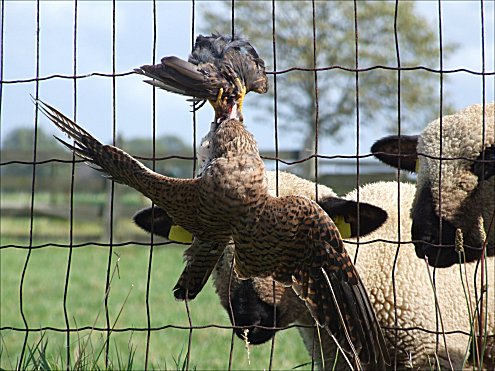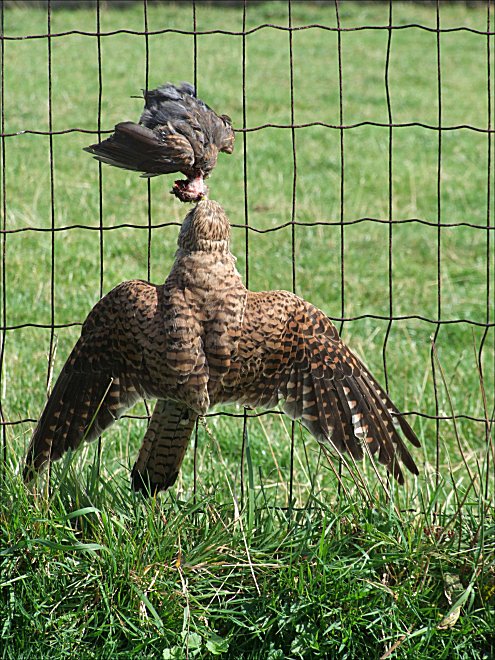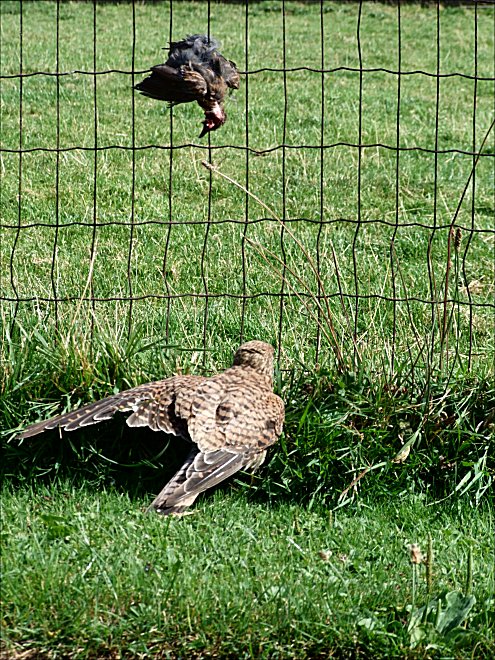 Photos: Co van Gorp
Poem: James Russell Lowell (1819 – 1891)
k e m p i s p o e t r y m a g a z i n e
More in: Archive K-L, Co van Gorp Photos, Department of Birds of Prey
---
Thank you for reading FLEURSDUMAL.NL - magazine for art & literature