Spurensicherung
·
Fiona TAN in Museum Depont Tilburg: Ascent
·
Museum Dr. GUISLAIN: Een andere wereld. Laboratorium van waan en fantasie
·
TOM AMERICA: THAT TINY PEA (pretty and blue)
·
JAN FABRE: TRIBUTE TOT HIERONYMUS BOSCH IN CONGO
·
IN ALMOST EVERY PICTURE #7 – UPDATED – PHOTOS RIA VAN DIJK
·
DE BALIE: MACHINES DIE DENKEN
·
Landscape 60 by Jef van Kempen
·
Landscape 52
·
Landscape 261
·
Jef van Kempen: Landscape 51
·
Jef van Kempen: Landscape 50
·
Jef van Kempen: 8 photos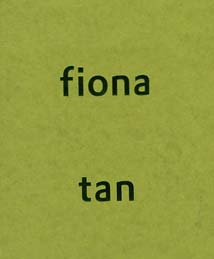 De internationaal bekroonde kunstenaar Fiona Tan (Indonesia, 1966) is een goede bekende van museum De Pont, waar ze in 2003 haar eerste grote tentoonstelling in Nederland kreeg en ook ruim vertegenwoordigd is in de collectie.
Haar tweede tentoonstelling in Tilburg, in de onlangs geopende nieuwe vleugel van het museum, biedt de bezoeker een meeslepende audiovisuele ervaring. Hier is de tweedelige installatie Ascent te zien die Tan maakte in opdracht van het Izu Photo Museum in Shizuoka, Japan. Ascent is samengesteld als een montage van meer dan 4000 foto's van de berg Fuji die werden aangeleverd door het publiek of geselecteerd uit de collectie van het Izu Photo Museum.
Geen berg is zo vaak gefotografeerd als de Fuji: van alle kanten, van dichtbij, van veraf en van boven, op elk moment van de dag en in elk jaargetijde. Vereerd als een god en ingezet als symbool van Japan als natiestaat heeft de vulkaan mythische betekenis. Mount Fuji is icoon én cliché, zoiets als molens en klompen voor Nederland.
Ascent is een bespiegeling over deze voor de Japanners zo bijzondere berg, maar ook een studie van de beeldcultuur en een eerbetoon aan de geschiedenis van zowel fotografie als film.
Tan combineerde de beelden met een fictief verhaal, waarmee de grens tussen stilstaand en bewegend beeld wordt verlegd en zij een uniek gebied blootlegt waar fotografie en film elkaar ontmoeten en een verbinding aangaan. Het verhaal, waarin de klim naar de top van de berg weerklinkt, zigzagt tussen vertelling en geschiedenis, van westers imperialisme tot hedendaags toerisme, van de beginjaren van de fotografie tot de huidige tijd. Behalve de film omvat de tentoonstelling in De Pont ook twee andere video installaties en daarmee verbonden werken op papier. The Changeling (2006) en Depot (2015) balanceren eveneens op de grens tussen stilstaande en bewegende beelden.
Fiona Tan:
Ascent
tot en met 11 juni 2017
Museum De Pont Tilburg
Wilhelminapark 1
5041 EA Tilburg
T 013 – 543 8300
# Meer informatie op website Museum De Pont Tilburg
february 2017
fleursdumal.nl magazine
More in: Art & Literature News, CINEMA, RADIO & TV, DICTIONARY OF IDEAS, Exhibition Archive, FDM Art Gallery, Photography, Spurensicherung
---
Waar ligt de grens tussen fantasie en werkelijkheid? Hoe onderscheid je droom van delirium, waan van wens, hallucinatie van inzicht? Op welke manier kan je onderzoeken of verbeelden wat zich ergens anders afspeelt? De tentoonstelling neemt, vertrekkend van de vele vragen rond psychose, hallucinatie en waan, twee eeuwen in ogenschouw. Niet om een historisch verhaal te vertellen, maar om uit die periode vijf eigenzinnige oeuvres te lichten die balanceren tussen kunst, kunde en wetenschap. J.J. Grandville, Gustav Mesmer, Gerard Heymans, Jean Perdrizet en Mathew Kneebone schiepen of brachten elk een ander universum in kaart en trachtten zo het ongrijpbare op hun eigen manier te vatten. Het zijn werelden waarin potloden wandelen, fietsen zweven, de afstand tussen twee evenwijdige lijnen variabel is, typemachines in contact staan met de overledenen en straatlichten stoppen met schijnen wanneer je er voorbijwandelt. Een andere wereld creëert passages: van deze naar de andere, tussen die andere onderling, en – misschien – ook van die andere terug naar deze wereld.
Een andere wereld
Laboratorium van waan en fantasie
22.10.16 – 28.05.17
Museum Dr. Guislain
Jozef Guislainstraat 43
B-9000 Gent
+32 (0)9 216 35 95
info@museumdrguislain.be
# meer informatie op website Museum Dr. Guislain
fleursdumal.nl magazine
More in: Art & Literature News, DICTIONARY OF IDEAS, Exhibition Archive, Psychiatric hospitals, Spurensicherung
---
It was 47 years ago on July 16, 1969, that the Apollo 11 Mission to the moon with a Saturn-V rocket was launched. The astronauts Buzz Aldrin, Michael Collins and Neil Armstrong, the commander of this expedition, were those onboard. On July 24, eight days later, they landed safely in the Pacific. NASA chose Armstrong to be the first person on the moon, in part, because they believed Armstrong was a man lacking a large ego. Although he was actually a test pilot and a man of few words, he beautifully articulated several phrases regarding his experience on viewing planet Earth from the moon; some of which still impress today.
Given the current Zeitgeist, I consider his words crucial, while simultanuously retaining a poetic quality. To amplify this aspect of deep insight, as well as the emotions it invokes, I translated these words into French. The text is recited by Aurélie Camil. This work became the core of the musical composition, "That tiny pea". Visual Artist Paul Bogaers added film images to the clip at a later stage.
"It suddenly struck me that that tiny pea, pretty and blue,
was the Earth. I put up my thumb and shut one eye,
and my thumb blotted out the planet Earth.
I didn't feel like a giant.
I felt very, very small."
– Neil Armstrong –
https://www.youtube.com/watch?v=0n38Jks9v04
Tom America: NeilAmstrong and Apollo 11
fleursdumal.nl magazine

More in: Art & Literature News, DICTIONARY OF IDEAS, Spurensicherung, Tom America
---
Tribute to Hieronymus Bosch in Congo
Jan Fabre
Nog te zien t/m 18 september 2016
De wereldberoemde Belgische kunstenaar Jan Fabre (Antwerpen, 1958) maakte tussen 2011 en 2013 een serie monumentale 'mozaïekpanelen' onder de titel 'Tribute to Hieronymus Bosch in Congo'.
De serie maakt deel uit van zijn kritische reflecties over het koloniale verleden van België, een thema dat sinds 2002 veelvuldig voorkomt in het werk van Fabre.
Beeldtaal Jheronimus Bosch: Tribute to Hieronymus Bosch in Congo is een symbolische verbeelding van de wreedheden en de absurditeit die Congo heeft ondergaan, gebruik makend van de beeldtaal uit de schilderijen van Jheronimus Bosch. Het beeld van elk mozaïekpaneel wordt gevormd door het toepassen van natuurlijk geruid iriserende prachtkever dekschilden . Het geeft ze een mysterieuze, onwerkelijks uitstraling, letterlijk en figuurlijk.
De werken van Jan Fabre maken duidelijk dat de beeldtaal van Jheronimus Bosch niets aan relevantie heeft verloren in de 500 jaar sinds zijn overlijden. Met de huidige generatie kunstenaars krijgt de beeldtaal van Bosch weer een nieuw publiek en een andere stem. Tegelijkertijd zijn deze werken van Fabre, met hun grote formaat en uniek materiaalgebruik, totaal anders dan het werk van Bosch zelf.
Bosch Grand Tour: Deze tentoonstelling maakt onderdeel uit van Bosch Grand Tour. Zeven vooraanstaande Brabantse musea presenteren in 2016 een hedendaags tentoonstellingsprogramma rondom Jheronimus Bosch. Laat u inspireren en verrassen tijdens een ontdekkingstocht langs actuele kunst, design en cultuur in 's-Hertogenbosch, Breda, Eindhoven en Tilburg.
Het Noordbrabants Museum
Verwersstraat 41
's-Hertogenbosch
# meer info website Noordbrabants Museum
fleursdumal.nl magazine
More in: Art & Literature News, Exhibition Archive, Jheronimus Bosch, Spurensicherung
---
Collected & edited
by Erik Kessels
and Joep Eijkens
Thanks to Ria van Dijk
For 80 years Ria has been bang on target. To mark this impressive milestone 'in almost every picture #7' is being re-released this year in the form of a special anniversary edition with eight new shots and an exhibition in Tilburg.
Ria van Dijk shot her first photo at the Tilburg fair in 1936 when she was 16 years old. It started at in Ria's hometown of Tilburg, but throughout the years she followed the fair from town to town. It became a tradition and Ria continued shooting (guns and photos) year after year. And the bullseye is that Ria kept every single photo as if they were her trophies.
In 2008 Erik Kessels and Joep Eijkens collected Ria's photographs in the book 'in almost every picture #7'. In 2016 Ria returns to the fair, she will shoot on July 22nd her 80th photo at the opening of the Tilburgse Kermis. For the occasion, KesselsKramer and City Marketing Tilburg publish this celebratory updated edition of In almost every picture #7.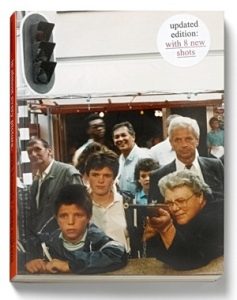 Colour / black & white,
155 x 200 mm, 136 pages,
soft cover.
ISBN 978-90-704784-5-2
KesselsKramer Publishing,  24,95 Euro

# Website KesselsKramer Publishing
# Website Brabants Licht met foto's en artikel van Joep Eijkens
fleursdumal.nl magazine
More in: - Objets Trouvés (Ready-Mades), Art & Literature News, Joep Eijkens, Joep Eijkens Photos, Photography, PRESS & PUBLISHING, Spurensicherung
---
Podium / maandag 4 april 2016 / 20:00
Machines die denken
Waar staan we eigenlijk als het op Kunstmatige Intelligentie aankomt? Kom op 4 april met ons meedenken over machines die denken.
De komst van kunstmatige intelligentie is al decennialang een bron van fascinatie en angst. Zo luidde Stephen Hawking onlangs nog de noodklok dat het de ondergang van de mensheid kan betekenen: een scenario dat in talloze films al is uitgekomen. Ondertussen worden de 'denkende machines' steeds meer daadwerkelijk onderdeel van onze maatschappij – denk maar aan intuïtieve zoekmachines die snappen wat je bedoelt ook al zit je zoekopdracht bomvol spelfouten, of de agenda-app die je vertelt dat je eerder moet vertrekken voor je volgende afspraak omdat er file staat. Maar wat betekenen deze steeds slimmere machines voor ons?
John Brockman, oprichter van Edge.org (volgens The Guardian 'de slimste website ter wereld') , stelt ieder jaar één prangende vraag aan een selectie van 's werelds meest invloedrijke denkers.
Dit jaar vroeg hij:  Hoe denk je over machines die denken?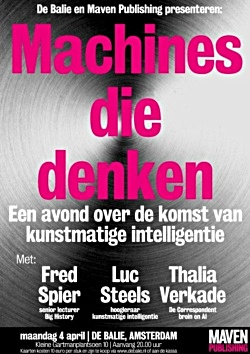 Steven Pinker, Douglas Coupland, Brian Eno, Luc Steels, George Dyson, Max Tegmark, Nicholas Carr en 182 anderen gaven antwoord in de uitgave Machines die denken (maart 2016, Maven Publishing). Op 4 april gaan we in De Balie geïnspireerd door deze antwoorden gezamenlijk nadenken over machines die denken. Hoe kunnen we de talloze nieuwe mogelijkheiden interpreteren? Langs welke meetlat moeten we ze leggen? Welke denkfouten maken we hierbij? En hoe kunnen we intelligent omgaan met de risico's? Kortom: hoe denken we over machines die denken?
Met o.a.
– Luc Steels (VUB Artificial Intelligence Lab)
– Fred Spier (senior lecturer Big History aan de Universiteit van Amsterdam)
– Thalia Verkade (De Correspondent, Rusland-researcher bij Zeppers)
John Brockman:
What to Think About Machines That Think.
Today's Leading Thinkers on the Age of Machine Intelligence
ISBN:978 94 9184 582 6
HarperCollins Publishers Inc
576 p. – € 17,95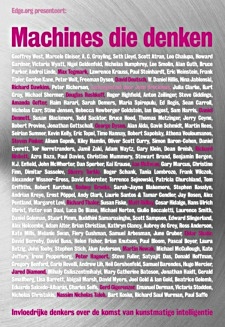 Machines die denken: Invloedrijke denkers over de komst van kunstmatige intelligentie
Onder redactie van John Brockman
Maven Publishing
Willem Fenengastraat 2L
1096 BN Amsterdam
Paperback | € 20 | ISBN 9789491845826
E-boek | € 10 | ISBN 9789491845901
De Balie
Kleine Gartmanplantsoen 10
Amsterdam, Netherlands
# meer info op website de balie
fleursdumal.nl magazine
More in: Art & Literature News, DICTIONARY OF IDEAS, MONTAIGNE, Spurensicherung, The talk of the town
---
Jef van Kempen photos: Landscape 60
fleursdumal.nl magazine
More in: Jef van Kempen, Jef van Kempen Photos & Drawings, Kempen, Jef van, Photography, Spurensicherung
---
jef van kempen: landscape 52
fleursdumal.nl magazine

More in: Jef van Kempen, Jef van Kempen Photos & Drawings, Kempen, Jef van, Spurensicherung
---
Jef van Kempen photos: Landscape 261
fleursdumal.nl magazine
More in: Camera Obscura, Jef van Kempen Photos & Drawings, Spurensicherung, ZERO art
---
Jef van Kempen photo: Landscape 51
fleursdumal.nl magazine

More in: Camera Obscura, FDM Art Gallery, Jef van Kempen, Jef van Kempen Photos & Drawings, Kempen, Jef van, Museum of Lost Concepts, Spurensicherung
---
Jef van Kempen photo: Landscape 50
fleursdumal.nl magazine
More in: Camera Obscura, FDM Art Gallery, Jef van Kempen, Jef van Kempen Photos & Drawings, Kempen, Jef van, Museum of Lost Concepts, Spurensicherung
---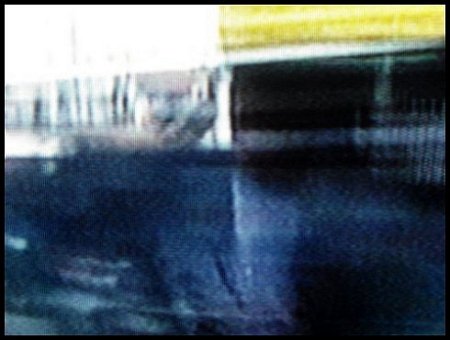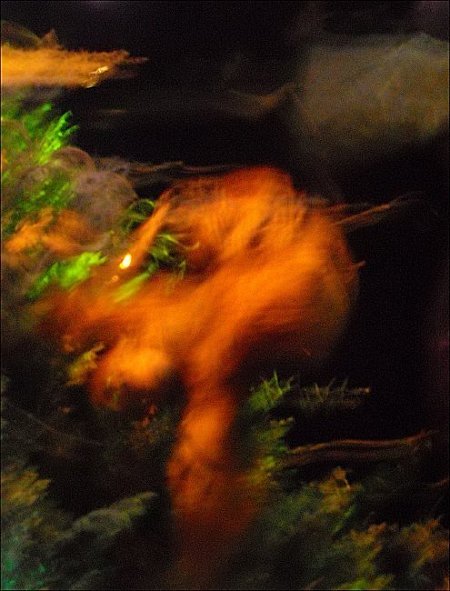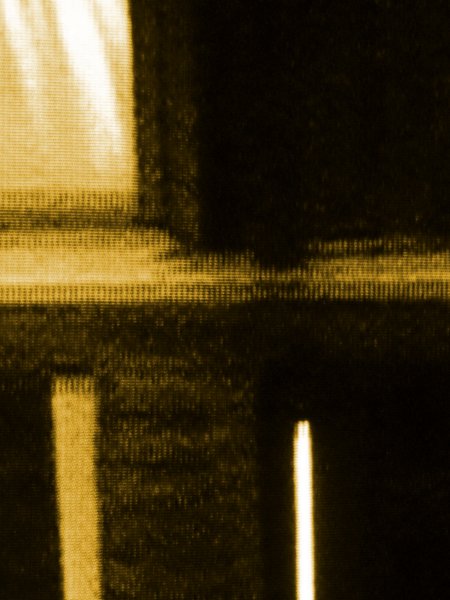 jef van kempen: 8 photos
fleursdumal.nl magazinee
© fdm

website museum of lost concepts
More in: Dutch Landscapes, Jef van Kempen, Jef van Kempen Photos & Drawings, Kempen, Jef van, Photography, Spurensicherung
---
Older Entries »
Thank you for reading FLEURSDUMAL.NL - magazine for art & literature