PRESS & PUBLISHING
«« Previous page
·
Lawrence Schwartzwald: The Art of Reading
·
Kunstenfestival Watou 2018 nog t/m 2 september
·
How to Write an Autobiographical Novel by Alexander Chee
·
Nieuwe digitale bundel Fantom Ebooks (nr 2) van Paul Bezembinder
·
Nieuwe digitale dichtbundel Fantom Ebooks – nr 2: Kwatrijnen van Paul Bezembinder
·
De Parelduiker voorjaar 2018/2
·
Boekpresentatie: Nicht verloren laufen met lino's van Walter Kerkhofs en Ivo van Leeuwen
·
Martin Puchner: The Written World. The Power of Stories to Shape People, History, Civilization
·
The story of the Protests of May 1968
·
The longlist of The Orwell Prize for Books 2018
·
Call on Iran to free Nazanin Zaghari-Ratcliffe
·
Schlecky Silberstein: Das Internet muss weg. Eine Abrechnung
The Art of Reading presents the first retrospective of Lawrence Schwartzwald's candid images of readers, made between 2001 and 2017.

Partly inspired by André Kertész's On Reading of 1971, Schwartzwald's subjects are mostly average New Yorkers—sunbathers, a bus driver, shoeshine men, subway passengers, denizens of bookshops and cafes—but also artists, most notably Amy Winehouse at Manhattan's now-closed all-night diner Florent.
In 2001 Schwartzwald's affectionate photo of a New York bookseller reading at his makeshift sidewalk stand on Columbus Avenue (and inadvertently exposing his generous buttock cleavage) caused a minor sensation: first published in the New York Post, it inspired a reporter for the New York Observer to interview the "portly peddler" in a humorous column titled "Wisecracking on Columbus Avenue" of 2001.
Since then Schwartzwald has sought out his readers of books on paper—mostly solitary and often incongruous, desperate or vulnerable—who fly in the face of the closure of traditional bookshops and the surge in e-books, dedicating themselves to what Schwartzwald sees as a vanishing art: the art of reading.
Lawrence Schwartzwald: Born in New York in 1953, Lawrence Schwartzwald studied literature at New York University. He worked as a freelance photographer for the New York Post for nearly two decades and in 1997 New York Magazine dubbed him the Post's "king of the streets." Books and literature have shaped several of his photo series including "Reading New York" and "Famous Poets," both self-published in 2017. Schwartzwald lives and works in Manhattan.
Lawrence Schwartzwald
The Art of Reading
published by Steidl
Hardback / Clothbound
22 x 23 cm
English
ISBN 978-3-95829-508-7
1. Edition 06/2018
€ 28.00
new books
fleursdumal.nl magazine
More in: - Book Lovers, - Book Stories, Archive S-T, Art & Literature News, LITERARY MAGAZINES, PRESS & PUBLISHING, The Art of Reading
---
Elke zomer opnieuw slaat het Kunstenfestival van Watou haar tenten op in het gelijknamige kunstdorpje aan de Franse grens.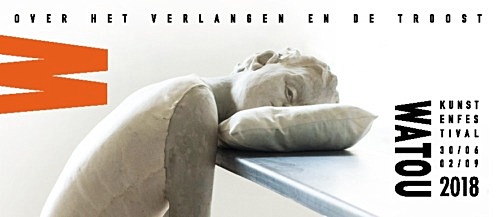 Dichters en beeldend kunstenaars, aanstormend talent en gevestigde waarden, kunstwerken uit binnen- en uit buitenland strijken er neer en vormen een bijzonder kunstenparcours. Het dorp is de setting en biedt een tiental karakteristieke locaties als tentoonstellingsruimte: een voormalig klooster, een oude boerderij of de kelder van een brouwerij. De wisselwerking tussen die verrassende, nostalgische ruimtes met hedendaagse beeldende kunst en poëzie zorgt telkens weer voor een unieke kunstbeleving. Zomeren in Watou is dan ook prikkelen en onthaasten tegelijk. Kleine momenten van gelukzaligheid.
Iedere editie van het Kunstenfestival kadert in een ander thema, waarrond intendant Jan Moeyaert en poëziecurator Willy Tibergien beeld en taal samenbrengen. Schrijvers, dichters en kunstenaars palmen gedurende een zomer het dorp in en bieden de bezoekers een caleidoscoop aan inzichten en perspectieven rond een bepaald onderwerp.
De afgelopen edities van Kunstenfestival Watou groeide er gestaag een nieuwe poëtische lijn in het dorp. Ook dit jaar selecteerde poëziecurator Willy Tibergien gedichten van gevestigde waarden in het Nederlandstalig poëzielandschap om hen een permanente plaats te geven in Watou.
Aan het werk van Eddy van Vliet, Paul Snoek, Remco Campert, Hugues C. Pernath, Jean-Claude Pirotte, Leo Vroman, Miriam Van hee, Stefan Hertmans, Gerrit Kouwenaar en Marc Insingel, Leonard Nolens, Christine D'Haen, Joost Zwagerman, Jotie T'Hooft, Charles Ducal en Luuk Gruwez worden dit jaar gedichten van Anna Enquist, Eva Gerlach en Frans Deschoemaeker toegevoegd.
STRING CARPET – GIDEON KIEFER – KUNSTENAARSGESPREK – ZONZO COMPAGNIE – ELS DEJONGHE – HET VLIEGEND TAPIJT – VRIJDAG VIERT FEEST – KRISTIN VERELLEN – POSTKANTOOR 00/00/00 – LIZE PEDE – BERNARD DEWULF – ALICJA GESCINSKA – DE TROOSTWINKEL – DOWN TIGER DOWN – SIEL EN LARISSA – NELLY AGASSI – IK ZIE MENSEN – POËZIE POËZIE POËZIE – DEREK & RENAUD – WIM CHIELENS – DE PLUIZENTUIN – WALLY DEDONCKER – ANT AND … – IK BEN WEER VELEN – STEPHANIE STRUIJK –  BERNARD DEWULF – MENNO WIGMAN – GRAHAM FAGEN – GERRIT KOUWENAAR – FRANS DESCHOEMAEKER – ANNA ENQUIST – EVA GERLACH – FRAUKE WILKEN – SAM DURANT – SIGRID VON LINTIG – PAUL SNOEK – MAUD BEKAERT -PETER VERHELST- DENIS VERCRUYSSE – MOHAMED EL BAZ – PARSE/ERROR – KATRIN DEKONINCK – ARPAÏS DU BOIS – GRZEGORZ GWIAZDA – SHIMABUKU – PETER DE MEYER – ROBINE CLIGNETT – ELS LESAGE – RADNA FABIAS – RY ROCKLEN – CHAIM VAN LUIT – SYLVIA EVERS – TORI WRÅNES – RONNY DELRUE – PETER MORRENS – HERVÉ MARTIJN – THÉ VANBERGEN – HANNE VAN ROMPAEY – STEFAN HERTMANS – TOM VAN DEEL – DANIELLE VAN ZADELHOFF – ANTON COTTELEER – SU-MEI TSE – POLIEN BOONS – JONAS VANSTEENKISTE – GURT SWANENBERG – ARANTHELL – GEERTJE VANGENECHTEN – MAARTEN VANDEN EYNDE – DOMINIQUE DE GROEN – JANI LEINONEN – JOSÉ COBO – TATJANA GERHARD – NADIA NAVEAU – HESTER KNIBBE – LUK VAN SOOM – JEROEN VAN KAN – CAROL ANN DUFFY – IRINA RATUSHINSKAYA – YEHUDA AMICHAI – NIDAA KHOURY – ZIYA MOHAVED – HANS OP DE BEECK- MASSIMO UBERTI -VAJIKO CHACHKHIANI – MOYA DE FEYTER – SHEILA HICKSEMMA VAN ROEY – BERNARDÍ ROIG -PETER THEUNYNCK – GIDEON KIEFER – EDITH DEKYNDT – THOMAS LEROOY – RANDALL CASAER- CHRISTINA MIGNOLET – GERD KANZ- GREET DESAL – HANNAH VAN BINSBERGEN – MELIK OHANIAN – JOHAN CLARYSSE – SOPHIE BOUVIER AUSLÄNDER – HANS DEFER- LUDOVIC LAFFINEUR – ARNE QUINZE – MARIJE LANGELAAR – TANYA SCHULTZ – ERLEND VAN LANDEGHEM – ROLAND JOORIS – LUKA FINEISEN – MEKHITAR GARABEDIAN – FRANZ SCHMIDT – CLARISSE BRUYNBROECK – FRANCIS PONGE – DAVID DE POOTER – RUTGER KOPLAND – JAN VANRIET – HUGO CLAUS – NELLY AGASSI – K. MICHEL – MICHAL MARTYCHOWIEC – PAUL DEMETS – STEPHAN MUIS – SAMMY BALOJI – TANG NANNAN – ADEL ABDESSEMED – LAURENS HAM – TODD ROBINSON – PANAMARENKO – GILLES BARBIER – HELEN DUNMORE – CASPER BRAAT – SYLVIE MARIE – CHANTAL POLLIER – EZRA VELDHUIS – HARLINDE DE MOL – ELEANOR CROOK – ANNO DIJKSTRA
Kunstenfestival Watou 2018 loopt nog tot en met 2 september
Open: woensdag tot zondag van 11u tot 19u – maandag en dinsdag gesloten, behalve op feestdagen
Adres:
Watouplein 12
8978 Watou
Poperinge (België)
De start van het Kunstenfestival is te vinden in het Festivalhuis (Watouplein 12), op het marktplein naast de Spar. Opg  elet! Voor alle weekend-events zijn de plaatsen beperkt. Een plaats reserveren kan enkel de dag zelf aan de kassa, bij aankoop van uw ticket.
# meer informatie op website kunstenfestival Watou
Kunstenfestival Watou 2018
fleursdumal.nl magazine
More in: # Music Archive, #Editors Choice Archiv, #More Poetry Archives, - Book Lovers, - Book Stories, Art & Literature News, Exhibition Archive, FDM Art Gallery, LITERARY MAGAZINES, PRESS & PUBLISHING, STREET POETRY, THEATRE, Watou Kunstenfestival
---
How to Write an Autobiographical Novel is the author's manifesto on the entangling of life, literature, and politics, and how the lessons learned from a life spent reading and writing fiction have changed him.
In these essays, he grows from student to teacher, reader to writer, and reckons with his identities as a son, a gay man, a Korean American, an artist, an activist, a lover, and a friend.
He examines some of the most formative experiences of his life and the nation's history, including his father's death, the AIDS crisis, 9/11, the jobs that supported his writing—Tarot-reading, bookselling, cater-waiting for William F. Buckley—the writing of his first novel, Edinburgh, and the election of Donald Trump.
By turns commanding, heartbreaking, and wry, How to Write an Autobiographical Novel asks questions about how we create ourselves in life and in art, and how to fight when our dearest truths are under attack.
Alexander Chee won a Whiting Award for his first novel, Edinburgh, and is a recipient of the NEA Fellowship in Fiction and residencies from the MacDowell Colony, Ledig House, and Civitella Ranieri. His writing has appeared in the New York Times Book Review, Tin House, Slate, and NPR, among others, and he is a Contributing Editor at The New Republic. He lives in New York City.
Alexander Chee
How to Write an Autobiographical Novel
Essays
Mariner Books
Published 17 April 2018
Format Paperback
Pages 288
ISBN-10 1328764524
ISBN-13 9781328764522
new books
fleursdumal.nl magazine
More in: - Book News, - Book Stories, Archive C-D, Art & Literature News, PRESS & PUBLISHING
---

More in: - Book News, - Fantom Ebooks, Archive A-B, Art & Literature News, Bezembinder, Paul, PRESS & PUBLISHING
---
Vandaag verschijnt het nieuwste deel in de reeks digitale publicaties van fleursdumal.nl, Fantom Ebooks. Fantom Ebooks nummer 2 is een werk van de Eindhovense dichter, schrijver en vertaler Paul Bezembinder, getiteld 'Kwatrijnen. Filosofische Verkenningen'. De e-bundel omvat achttien filosofische en absurdistische kwatrijnen.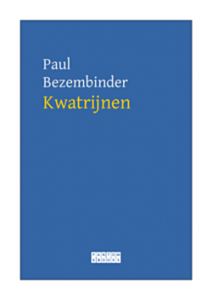 Bezembinder (1961) studeerde theoretische natuurkunde in Nijmegen. In zijn poëzie zoekt hij in vooral klassieke versvormen en thema's naar de balans tussen serieuze poëzie, pastiche en smartlap. Zijn gedichten (Nederlands) en vertalingen (Russisch- Nederlands) verschenen in verschillende (online) literaire tijdschriften, waaronder fleursdumal.nl. Voorbeelden van zijn werk zijn ook te vinden op zijn website: www.paulbezembinder.nl
Fantom Ebooks is een uitgave van Art Brut Digital Editions en publiceert onregelmatig bijzondere kunst- en literatuurprojecten. Deel 3 verschijnt eind 2018. Fantom Ebooks nummer 1 is de bundel OVERVLOED van dichter Bert Bevers. Deze bevat tien verschillende vertalingen van het gedicht 'Overvloed' van Bert Bevers.
PAUL BEZEMBINDER
KWATRIJNEN
Filosofische Verkenningen
FANTOM EBOOKS
Art Brut Digital Editions
Series Fantom Ebooks
www.fleursdumal.nl
FANTOM 2
Fantom Ebooks 2018
ISBN: 978-90-76326-10-8
NUR 306
1ste PDF-uitgave FANTOM2, Juni 2018
GRATIS te downloaden via onderstaande LINK
fleursdumal.nl magazine
More in: - Book Lovers, - Book News, - Fantom Ebooks, Archive A-B, Art & Literature News, Bezembinder, Paul, PRESS & PUBLISHING
---
Poëzie in Mickery
Halbo C. Kools poëzieavonden in 1966
Niels Bokhove
Literair Leeuwarden (I)
Schrijvers die sporen nalieten
Pieter de Groot
Big Brother heeft bestaan
Marco Daane
J. van Oudshoorn en een hongerkunstenaar
Jan Paul Hinrichs
'Puur pooierachtige diefstal'
Nico Keuning
Constantinopel-Scheveningen
Een uniek liefdadigheidsalbum van Philippe Zilcken
Jaap Versteegh
Berliner Beobachter
Deutschsprachige Gemeinschaft Belgiens
Hans Olink
Schoon & haaks
Jan Paul Hinrichs
De Laatste Pagina
Oscar Timmers (1931-2018)
Paul Arnoldusse
Literair Leeuwarden
In drie nummers besteedt De Parelduiker aandacht aan het feit dat Leeuwarden dit jaar Culturele hoofdstad van Europa is. Literair Leeuwarden wordt, steeds vanuit een andere invalshoek en door een andere auteur, onder de loep genomen. Om te beginnen met de negentiende eeuw: de gebroeders Halbertsma uit Grou, François HaverSchmidt, Pieter Jelles Troelstra, Nienke van Hichtum en, niet te vergeten, Trui Jentink, 'de pruttelende koffiekan van de Romkeslaan', feministe van het eerste uur. Het begin van een mooie Leeuwarder literatuurgeschiedenis in vogelvlucht.
Boudewijn de Groot en Lennaert Nijgh in Mickery Loenersloot
Dichter Halbo C. Kool, door tekstdichter Lennaert Nijgh als 'een wonderkind van 60' bezongen, probeerde het succes van Poëzie in Carré (1966) een vervolg te geven met zijn poëzieavonden in het pas geopende Mickery-theater van Ritsaert ten Cate in Loenersloot. Na het eerste optreden van Nina Simone in Nederland aldaar mochten Lennaert Nijgh en zanger Boudewijn de Groot optreden in Mickery met hun cyclus Voor de overlevenden, te midden van dichterscoryfeeën als Clara Eggink, Theun de Vries, Remco Campert, A. Roland Holst, Gerrit Kouwenaar en Fritzi Harmsen van Beek. Mede door de slechte bereikbaarheid – al reed er een speciale bus van het Leidse Bosje – werden de avonden geen succes.
De Parelduiker 2018/2
ISBN 9789059375161
€ 12,50
80 pagina's
geïllustreerd
# Website Uitgeverij Bas Lubberhuizen
Literair tijdschrift De Parelduiker
fleursdumal.nl magazine
More in: - Book Stories, Art & Literature News, LITERARY MAGAZINES, MONTAIGNE, PRESS & PUBLISHING
---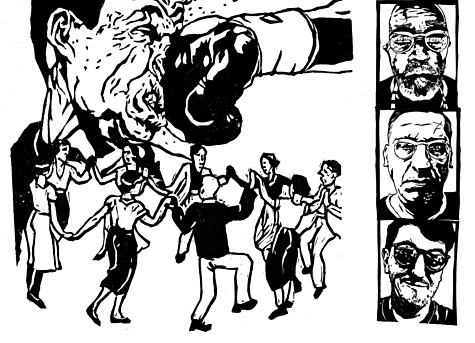 Nicht verloren laufen
Een boek met lino's van Walter Kerkhofs en Ivo van Leeuwen.
Handgedrukt, oplage 70.
Gebonden door Liesbeth Huyben
Grafiek expositie met werk van Walter Kerkhofs en Ivo van Leeuwen. Verder is naast grafiek van boven genoemde kunstenaars, ook werk te zien van de Hamburgse kunstenaar: Dragan Prgomelja.
Tijdens de presentatie worden drie muziekstukken uitgevoerd, die werden gecomponeerd door Frans Kerkhofs op gedichten van Nabokov.

Uitvoerenden: Lizette van Beek, mezzo-sopraan en Doré van Deijk, piano.
Nicht verloren laufen
16 juni 2018 op 16.00 uur
NS-Plein 16, Tilburg
Expositie open 17/23/14 juni van 12.00 tot 17.00
new art work
fleursdumal.nl magazine
More in: # Music Archive, - Book Lovers, - Book News, Art & Literature News, Exhibition Archive, Ivo van Leeuwen, PRESS & PUBLISHING
---
The story of how literature shaped world history, in sixteen acts—from Alexander the Great and the Iliad to Don Quixote and Harry Potter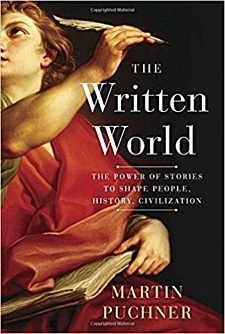 In this groundbreaking book, Martin Puchner leads us on a remarkable journey through time and around the globe to reveal the powerful role stories and literature have played in creating the world we have today.
Puchner introduces us to numerous visionaries as he explores sixteen foundational texts selected from more than four thousand years of world literature and reveals how writing has inspired the rise and fall of empires and nations, the spark of philosophical and political ideas, and the birth of religious beliefs. Indeed, literature has touched the lives of generations and changed the course of history.
At the heart of this book are works, some long-lost and rediscovered, that have shaped civilization: the first written masterpiece, the Epic of Gilgamesh; Ezra's Hebrew Bible, created as scripture; the teachings of Buddha, Confucius, Socrates, and Jesus; and the first great novel in world literature, The Tale of Genji, written by a Japanese woman known as Murasaki. Visiting Baghdad, Puchner tells of Scheherazade and the stories of One Thousand and One Nights, and in the Americas we watch the astonishing survival of the Maya epic Popol Vuh. Cervantes, who invented the modern novel, battles pirates both real (when he is taken prisoner) and literary (when a fake sequel to Don Quixote is published).
We learn of Benjamin Franklin's pioneering work as a media entrepreneur, watch Goethe discover world literature in Sicily, and follow the rise in influence of The Communist Manifesto. We visit Troy, Pergamum, and China, and we speak with Nobel laureates Derek Walcott in the Caribbean and Orhan Pamuk in Istanbul, as well as the wordsmiths of the oral epic Sunjata in West Africa.
Throughout The Written World, Puchner's delightful narrative also chronicles the inventions—writing technologies, the printing press, the book itself—that have shaped religion, politics, commerce, people, and history. In a book that Elaine Scarry has praised as "unique and spellbinding," Puchner shows how literature turned our planet into a written world.
Title: The Written World
Subtitle: The Power of Stories to Shape People, History, Civilization
Author: Martin Puchner
Publisher: Random House
Format Hardcover, $32.00
ISBN-10 0812998936
ISBN-13 9780812998931
Publication Date: 24 October 2017
Nb of pages 448 p.
new books
fleursdumal.nl magazine
More in: - Book Lovers, - Book News, - Book Stories, Archive O-P, Art & Literature News, Libraries in Literature, PRESS & PUBLISHING, The Art of Reading
---
Fifty years ago, the demonstrations of May 68 turned the streets of Paris and Nanterre upside down, and shook France to its very core. Linked with a vast international protest movement, it brought about profound changes in French society and abroad.
Fifty years on, various cultural institutions explore the history and legacy of May – June 1968 through get-togethers, exhibitions, newly-opened archives, participatory workshops, theatre, music, debates and talks casting fresh light on the events.
 #  more information on website soixantehuit.fr and fleursdumal.nl
More in: Exhibition Archive, Histoire de France, PRESS & PUBLISHING, Protests of MAY 1968
---
The longlist of The Orwell Prize for Books 2018 features historical writing, fiction and for the first time a graphic novel.
The Islamic Enlightenment: The Modern Struggle Between Faith and Reason, Christopher de Bellaigue (Bodley Head). An absorbing account of the political and social reformations that transformed the lands of Islam in the nineteenth and early twentieth centuries)
Why I'm No Longer Talking to White People about Race, Reni Eddo-Lodge (Bloomsbury). A book on racial inequalities, exploring issues from eradicated black history to the political purpose of white dominance, whitewashed feminism to the inextricable link between class and race
Threads from the Refugee Crisis, Kate Evans (Verso). Combining the techniques of eyewitness reportage with the medium of comic-book storytelling, Evans has produced a compelling view into the life of asylum seekers living in Calais's 'Jungle'.
Testosterone Rex, Cordelia Fine (Icon Books). A book explaining why past and present sex roles are only serving suggestions for the future. It reveals a much more dynamic situation through an entertaining and well-documented exploration of the latest research that draws on evolutionary science, psychology, neuroscience, endocrinology, and philosophy.
The Road to Somewhere – The Populist Revolt and the Future of Politics, David Goodhart (Hurst Publishers). An exposition of how the political elites have failed their societies. This investigation into the new global politics reveals how the Somewhere backlash is a democratic response to the dominance of Anywhere interests, in everything from mass higher education to mass immigration.
What You Did Not Tell, Mark Mazower (Allen Lane). In the centenary of the Russian Revolution, What You Did Not Tell recounts a brand of socialism erased from memory – humanistic, impassioned, and broad-ranging in its sympathies. But it also explores the unexpected happiness that may await history's losers, the power of friendship, and the love of place.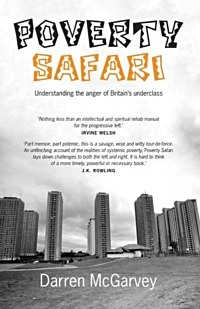 Poverty Safari, Darren McGarvey (Luath Press). People from deprived communities all across Britain feel misunderstood and unheard. Darren McGarvey, aka Loki, gives voice to their feelings and concerns, and anger that is spilling over.
Age of Anger: A History of the Present, Pankaj Mishra (Allen Lane). How can we explain the origins of the great wave of paranoid hatreds that seem inescapable in our close-knit world – from American 'shooters' and ISIS to Trump? Pankaj Mishra answers our bewilderment by casting his gaze back to the eighteenth century, before leading us to the present.
Bitch Doctrine, Laurie Penny (Bloomsbury) Bread for All:The Origins of the Welfare State, Chris Renwick (Allen Lane). This collection of Laurie Penny's writing covers everything from the shock of Donald Trump's election and the victories of the far right, to online harassment and the transgender rights movement. These darkly humorous articles provoke challenging conversations about the definitive social issues of today.
Winter, Ali Smith (Hamish Hamilton). In the second novel in her Seasonal cycle, Smith's shape-shifting quartet of novels casts a merry eye over a bleak post-truth era with a story rooted in history, memory and warmth, its taproot deep in the evergreens: art, love, laughter.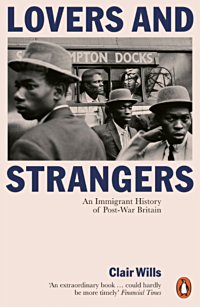 Lovers and Strangers: An Immigrant History of Post-War Britain, Clair Wills (Allen Lane). Clair Wills' book brings to life the incredible diversity and strangeness of the migrant experience. She introduces us to lovers, scroungers, dancers, homeowners, teaches, drinkers, carers and many more to show the opportunities and excitement as much as the humiliation and poverty that could be part of the new arrivals' experience.
The judges for the Orwell Prize for Books are politician, academic and journalist Andrew Adonis (Chair), Literary Journalist and Artistic Director of Words and Literature of the Bath Festival, Alex Clark, author Kit de Waal, and Lorien Kite, Deputy Life & Arts Editor for the Financial Times.
The shortlist for The Orwell Prize for Books will be announced at The Bath Festival on 18th May. The winner of the £3000 prize will be unveiled on 25th June 2018 at The RSA, together with the winner of The Orwell Prize for Journalismand The Orwell Prize for Exposing Britain's Social Evils.
Previous winners of the Orwell Prize for Books include John Bew for his biography of Clement Attlee (2017), Raja Shehadeh (2008), Alan Johnson (2014), and Andrea GiThe judges for the Orwell Prize for Booksllies (2010).
The Orwell Prize 2018 is for work published in the calendar year 2018. For more details and rules of entry please visit www.orwellfoundation.com
orwell-prize 2018
fleursdumal.nl magazine
More in: - Book Lovers, - Book News, Art & Literature News, Awards & Prizes, George Orwell, PRESS & PUBLISHING
---
Nazanin Zaghari-Ratcliffe has been imprisoned in Iran for nearly two years on bogus charges. She hasn't committed any crime.
Nazanin has been told that she could be charged again and face another trial imminently, which may result in an even longer prison sentence.
Nazanin Zaghari-Ratcliffe is a 39-year-old British-Iranian woman, who ordinarily lives with her husband and young daughter in London.  She works for the Thomson Reuters Foundation, a UK-based media charity. This has been used against her as evidence of 'membership of an illegal group', the charge that Nazanin was found guilty of at an unfair trial which saw her sentenced to five years in prison
She was arrested on 3 April 2016 at a Tehran airport, when she was about to board a plane home to the UK with her then one-year-old daughter, Gabriella. They had been on holiday in Iran visiting Nazanin's parents – a trip Nazanin had made many times before, without incident.
At the airport, they were stopped by Iran's Revolutionary Guard. Nazanin was taken into custody, without being told why, and Gabriella was given to her grandparents, who had accompanied them to the airport. Gabriella's UK passport was confiscated at the airport (she does not have an Iranian passport), though it has since been returned.
When Nazanin was first detained, she wasn't told why. She was put in solitary confinement. She was held in solitary for 45 days, and could not speak to her family or a lawyer. Her family were not told the reasons for her imprisonment.
Nazanin did not have a fair trial. She was only allowed access to a lawyer three days before her trial. In September 2016, Nazanin was sentenced to five years in prison for 'membership of an illegal group'.
Nazanin's physical and mental health is suffering. She suffers from severe arm, neck and back pain as a result of her prison conditions, and her hair is falling out. Nazanin's husband has most recently said that she is worried about lumps on her breast.
Her family say that Nazanin has been extremely distressed and depressed during her imprisonment and separation from Gabriella. Last November, Nazanin wrote a suicidal letter to her family. A year has passed and her mental health has continued to decline.
The Iranian authorities have a track record of not allowing prisoners the healthcare they need – especially for people imprisoned on political charges – and this is sadly the case for Nazanin too.
◊ Amnesty International UK asks to take action. We (FDM mag.) support their work.

◊ Help get Nazanin Zaghari-Ratcliffe home.
◊ Call on Iran to free Nazanin Zaghari-Ratcliffe.
# More information on website Amnesty International UK
free prisoner of conscience: Nazanin Zaghari-Ratcliffe
fleursdumal.nl magazine
More in: AUDIO, CINEMA, RADIO & TV, PRESS & PUBLISHING, REPRESSION OF WRITERS, JOURNALISTS & ARTISTS
---
Eine fundamentale Abrechnung mit dem Internet von einem der einflussreichsten Blogger der Republik
Ausgerechnet Schlecky Silberstein, Kultakteur in der Netzgemeinde, propagiert diesen Leitspruch: »Das Internet muss weg.« Der Blogger und Online Comedian kennt das Netz wie seine Westentasche. Und gerade deshalb warnt er davor. Dank Fake News, Filterblasen und Social Bots erlangen Konzerne, politische Entscheidungsträger und Kriminelle zunehmend Kontrolle über weite Teile der Menschheit. Schlecky Silberstein analysiert den »Daten-Kasino-Kapitalismus«, in dem unsere Daten als Handelsware gezielt eingesetzt werden, um unser Verhalten vorherzusagen und zu beeinflussen. Nicht nur Donald Trump wusste ihn auf seinem Weg zur Macht zu nutzen, auch unsere eigene Gesellschaft droht von programmierbaren Propaganda-Maschinen gelenkt zu werden. Können wir einen verantwortungsvollen Umgang mit dem Internet lernen oder hilft nur noch die sofortige Abschaltung?
Schlecky Silberstein, geboren 1981, ist einer der wichtigsten Blogger Deutschlands. Sein gleichnamiger Blog hat über 600.000 regelmäßige Leser, rund 130.000 folgen ihm auf Facebook. Die von ihm produzierte Comedy Show »Bohemian Browser Ballett« ist fester Bestandteil von »funk«, dem jungen Online-Medienangebot von ARD und ZDF. Schlecky Silberstein lebt in Berlin.
Schlecky Silberstein
Das Internet muss weg
Eine Abrechnung
Paperback,
Klappenbroschur,
272 Seiten,
13,5 x 21,5 cm,
16 s/w Abbildungen
ISBN: 978-3-8135-0794-2
€ 16,00
Verlag: Knaus
Erscheinungstermin: 5. März 2018
fleursdumal.nl magazine
More in: Archive S-T, AUDIO, CINEMA, RADIO & TV, BOOKS. The final chapter?, PRESS & PUBLISHING
---
Older Entries »
« Newer Entries
Thank you for reading FLEURSDUMAL.NL - magazine for art & literature