10 Minutes 38 Seconds in this Strange World by Elif Shafak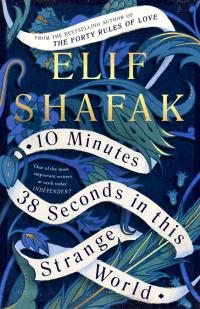 For Leila, each minute after her death brings a sensuous memory: the taste of spiced goat stew, sacrificed by her father to celebrate the long-awaited birth of a son; the sight of bubbling vats of lemon and sugar which the women use to wax their legs while the men attend mosque; the scent of cardamom coffee that Leila shares with a handsome student in the brothel where she works.

Each memory, too, recalls the friends she made at each key moment in her life – friends who are now desperately trying to find her. . .
Elif Shafak is an award-winning British-Turkish novelist and the most widely read female author in Turkey.
She writes in both Turkish and English, and has published seventeen books, eleven of which are novels. Her work has been translated into fifty languages. Shafak holds a PhD in political science and she has taught at various universities in Turkey, the US and the UK, including St Anne's College, Oxford University, where she is an honorary fellow. She is a member of World Economic Forum Global Agenda Council on Creative Economy and a founding member of the European Council on Foreign Relations (ECFR). An advocate for women's rights, LGBT rights and freedom of speech, Shafak is an inspiring public speaker and twice a TED global speaker, each time receiving a standing ovation.
Shafak contributes to many major publications around the world and she has been awarded the title of Chevalier des Arts et des Lettres. In 2017 she was chosen by Politico as one of the twelve people who would make the world better. She has judged numerous literary prizes and is chairing the Wellcome Prize 2019.
She lives in London and can be found at www.elifshafak.com
Twitter @Elif_Safak; Instagram @shafakelif
10 Minutes 38 Seconds in this Strange World
Elif Shafak (Author)
Hardcover
6 Jun 2019
320 pages
Publisher: Viking
Language: English
ISBN-10: 0241293863
ISBN-13: 978-0241293867
Dimensions: 13.8 x 2.7 x 20.4 cm
RRP: £14.99
# new books
Elif Shafak
10 Minutes 38 Seconds in this Strange World
• fleursdumal.nl magazine
More in: #Short Stories Archive, - Book News, - Book Stories, Archive S-T, Art & Literature News, PRESS & PUBLISHING, REPRESSION OF WRITERS, JOURNALISTS & ARTISTS