Archive S-T
«« Previous page
·
Alfred Lord Tennyson: The Charge of the Light Brigade
·
Jonathan Swift: On A Shadow In A Glass
·
Graa Boomsma: Niemand is waterdicht. De biografie van Bert Schierbeek
·
Im roten Laubwerk voll Gitarren, Gedicht von Georg Trakl
·
K. Schippers: Nu je het zegt
·
Jonathan Swift: A Love Song In The Modern Taste
·
Charles Sangster: The Dreamer
·
Kae (Kate) Tempest: Announcing On Connection
·
Jonathan Swift: Judas
·
Bayard Taylor: Legend of Old California
·
Patti Smith: Year of the Monkey
·
August Stramm: Angriff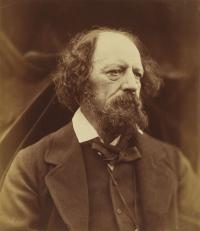 The Charge
of the Light Brigade
Half a league, half a league,
Half a league onward,
All in the valley of Death
Rode the six hundred.
"Forward, the Light Brigade!
Charge for the guns!" he said:
Into the valley of Death
Rode the six hundred.
"Forward, the Light Brigade!"
Was there a man dismay'd?
Not tho' the soldier knew
Some one had blunder'd:
Theirs not to make reply,
Theirs not to reason why,
Theirs but to do and die:
Into the valley of Death
Rode the six hundred.
Cannon to right of them,
Cannon to left of them,
Cannon in front of them
Volley'd and thunder'd;
Storm'd at with shot and shell,
Boldly they rode and well,
Into the jaws of Death,
Into the mouth of Hell
Rode the six hundred.
Flash'd all their sabres bare,
Flash'd as they turn'd in air
Sabring the gunners there,
Charging an army, while
All the world wonder'd:
Plunged in the battery-smoke
Right thro' the line they broke;
Cossack and Russian
Reel'd from the sabre-stroke
Shatter'd and sunder'd.
Then they rode back, but not
Not the six hundred.
Cannon to right of them,
Cannon to left of them,
Cannon behind them
Volley'd and thunder'd;
Storm'd at with shot and shell,
While horse and hero fell,
They that had fought so well
Came thro' the jaws of Death,
Back from the mouth of Hell,
All that was left of them,
Left of six hundred.
When can their glory fade?
O the wild charge they made!
All the world wonder'd.
Honor the charge they made!
Honor the Light Brigade,
Noble six hundred!
Alfred Lord Tennyson
(1809-1892)
The Charge of the Light Brigade
• fleursdumal.nl magazine
More in: *War Poetry Archive, Archive S-T, Archive S-T, Tennyson, Alfred Lord
---
On A Shadow In A Glass
By something form'd, I nothing am,
Yet everything that you can name;
In no place have I ever been,
Yet everywhere I may be seen;
In all things false, yet always true,
I'm still the same – but ever new.
Lifeless, life's perfect form I wear,
Can show a nose, eye, tongue, or ear,
Yet neither smell, see, taste, or hear.
All shapes and features I can boast,
No flesh, no bones, no blood – no ghost:
All colours, without paint, put on,
And change like the cameleon.
Swiftly I come, and enter there,
Where not a chink lets in the air;
Like thought, I'm in a moment gone,
Nor can I ever be alone:
All things on earth I imitate
Faster than nature can create;
Sometimes imperial robes I wear,
Anon in beggar's rags appear;
A giant now, and straight an elf,
I'm every one, but ne'er myself;
Ne'er sad I mourn, ne'er glad rejoice,
I move my lips, but want a voice;
I ne'er was born, nor e'er can die,
Then, pr'ythee, tell me what am I?
Most things by me do rise and fall,
And, as I please, they're great and small;
Invading foes without resistance,
With ease I make to keep their distance:
Again, as I'm disposed, the foe
Will come, though not a foot they go.
Both mountains, woods, and hills, and rocks
And gamesome goats, and fleecy flocks,
And lowing herds, and piping swains,
Come dancing to me o'er the plains.
The greatest whale that swims the sea
Does instantly my power obey.
In vain from me the sailor flies,
The quickest ship I can surprise,
And turn it as I have a mind,
And move it against tide and wind.
Nay, bring me here the tallest man,
I'll squeeze him to a little span;
Or bring a tender child, and pliant,
You'll see me stretch him to a giant:
Nor shall they in the least complain,
Because my magic gives no pain.
Jonathan Swift
(1667 – 1745)
On A Shadow In A Glass
• fleursdumal.nl magazine
More in: Archive S-T, Archive S-T, Swift, Jonathan
---
Bert Schierbeek (1918-1996), schrijver en dichter, was in de Tweede Wereldoorlog actief in het verzet, waarover hij schreef in zijn debuutroman Terreur tegen terreur (1945).
Hij was niet alleen redacteur en bestuurslid van De Bezige Bij maar ook medeoprichter en bestuurslid van het Fonds voor de Letteren, dat financiële ondersteuning geeft aan schrijvers. Ook maakte Schierbeek zich sterk voor experimentele dichters als Kouwenaar, Campert, Andreus en Vinkenoog. Hij onderhield nauwe contacten met kunstenaars uit andere disciplines: Lucebert, Karel Appel, Johan van der Keuken, Peter Schat en Jef Diederen.
Zijn roman Het boek Ik (1951) is een hoogtepunt in Schierbeeks proza. In een associatief geheel van autobiografie en essay wordt de betekenis van het woord 'ik' bespeeld en gezocht. Vanaf de bundel De deur (1972) werd Schierbeek ook als dichter bij een groter publiek bekend. Na die tijd bleef hij voornamelijk poëzie schrijven, steeds op zoek naar naar nieuwe vormen. Een toegenomen soberheid, ook in de typografie, valt in de laatste bundels op. Bijvoorbeeld in De tuinen van Suzhou (1986), waar het rustige tempo van de haiku in doorklinkt.
Schierbeek kreeg belangrijke literaire prijzen zoals de Lucy B. en C.W. van der Hoogt-prijs (1961), de Vijverberg-prijs (1971), de Herman Gorter-prijs (1978) en de Constantijn Huygens-prijs (1991). Najaar 2004 verschenen bij De Bezige Bij zijn Verzamelde gedichten, bezorgd en ingeleid door Karin Evers.
In 2021, 25 jaar na zijn overlijden, verschijnt zijn biografie Niemand is waterdicht door Graa Boomsma, geflankeerd door een nieuw editie van Het boek Ik. Niemand is waterdicht is de bewogen biografie van een verzetsman, een Vijftiger en een levenslange reiziger.
Net als voor zijn vrienden Remco Campert en Lucebert was de Tweede Wereldoorlog beslissend in het schrijversbestaan van Bert Schierbeek, zoals blijkt uit zijn openhartige oorlogsdagboeken. Na de bevrijding tekende hij met het genre-doorbrekende Het boek Ik protest aan tegen de naoorlogse artistieke behoudzucht en het politiek conservatisme.
Schierbeek werd niet alleen woordvoerder van de Vijftigers maar bezorgde zijn literaire vrienden ook een platform: De Bezige Bij. Voor die uitgeverij is Schierbeek gezichtsbepalend geweest als adviseur en bestuurslid
Zijn veelzijdigheid als schrijver is legendarisch: hij schreef traditioneel proza, essays, toneel, poëzie én veel vernieuwend proza. Schierbeek groeide op bij zijn grootmoeder in het Groningse Beerta en bij zijn vader in het Twentse Boekelo. Begin jaren vijftig ontwikkelde zich een moeizame ménage à trois met zijn vrouw Frieda Koch en de inwonende Lucebert. Het jaar 1970 werd een rampjaar: zijn tweede vrouw Margreetje kwam bij een auto-ongeluk om het leven.
Graa Boomsma (1953) is schrijver en essayist en sinds 1988 literair medewerker van De Groene Amsterdammer. Zijn romans De laatste tyfoon (1992) en Laagland (1999) werden genomineerd voor de AKO Literatuurprijs en de Libris Literatuur Prijs. In 2017 verscheen bij Van Oorschot zijn veelgeprezen biografie van A. Alberts: Leven op de rand.
In het voorjaar van 2021 kwam vaarwel. achtergelaten gedichten uit, een door Graa Boomsma samengestelde en ingeleide bundel met teruggevonden gedichten en tekeningen van Lucebert. Op 9 juni 2021 verschijnt van de hand van Boomsma Niemand is waterdicht, de biografie van Bert Schierbeek.
Auteur: Graa Boomsma
Niemand is waterdicht
De biografie van Bert Schierbeek
Uitgever: De Bezige Bij
juni 2021
ISBN: 9789403121611
NUR: 320
Gebonden
640 pagina's
Prijs: € 39,99
• fleursdumal.nl magazine
More in: #Biography Archives, - Book News, - Book Stories, Archive A-B, Archive S-T, Archive S-T, Art & Literature News, Bert Schierbeek
---
Im roten Laubwerk voll Gitarren
Im roten Laubwerk voll Guitarren
Der Mädchen gelbe Haare wehen
Am Zaun, wo Sonnenblumen stehen.
Durch Wolken fährt ein goldner Karren.
In brauner Schatten Ruh verstummen
Die Alten, die sich blöd umschlingen.
Die Waisen süß zur Vesper singen.
In gelben Dünsten Fliegen summen.
Am Bache waschen noch die Frauen.
Die aufgehängten Linnen wallen.
Die Kleine, die mir lang gefallen,
Kommt wieder durch das Abendgrauen.
Vom lauen Himmel Spatzen stürzen
In grüne Löcher voll Verwesung.
Dem Hungrigen täuscht vor Genesung
Ein Duft von Brot und herben Würzen.
Georg Trakl
(1887 – 1914)
Im roten Laubwerk voll Gitarren
Gedichte
(1909-1913)
Max von Esterle Georg Trakl Exlibris 1913
• fleursdumal.nl magazine
More in: Archive S-T, Archive S-T, Trakl, Georg, Trakl, Georg
---
'De taal is m'n zuurstof, als ik iets beschrijf, ben ik er.'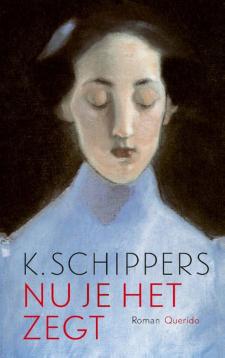 Dat denkt K. Schippers terwijl hij in Londen een adres zoekt. Hij vergist zich, loopt in een verkeerd deel van de stad, waar een straat toevallig dezelfde naam heeft. Een ondertitelaarster, een schilder uit Vietnam en andere voorbijgangers proberen hem te helpen zoeken. Komt hij samen met hen in het leven van de taal terecht?
In een wereld vol motto's en letterspelen leiden ze hem naar iets heel anders dan de gezochte straat. Vlak bij zee, aan de Nederlandse kust, ontdekt hij de bronnen van de taal. Het is alsof 'de woorden die ons op de laatste paar bladzijden ter wille zijn geweest, niet anders konden dan ons hierheen brengen'. Bij K. Schippers raakt de taal zelf betoverd – met talrijke foto's en tekeningen als bewijs.
K. Schippers (Amsterdam, 1936) is schrijver, dichter, essayist en kunstcriticus. Hij heeft een omvangrijk oeuvre op zijn naam staan, dat bestaat uit romans, poëzie, essays, verhalen & beschouwingen, en een enkel kinderboek. Al vroeg werd hij bekend door het literaire tijdschrift Barbarber, dat hij in 1958 samen met J. Bernlef en G. Brands oprichtte. Hij introduceerde de readymade als poëzievorm. Van het cultureel tijdschrift Hollands Diep, dat van 1975 tot 1977 bestond, was hij een van de oprichters en eerste redacteuren. Zijn werk is veel gelauwerd. Voor zijn poëzie ontving hij in 1996 de P.C. Hooftprijs. Een jaar later kreeg hij de Pierre Bayle-Prijs voor zijn kunstkritieken. Zijn roman Poeder en wind (1996) werd genomineerd voor de Generale Bank Literatuurprijs; de roman Waar was je nou (2005) werd bekroond met de Libris Literatuur Prijs en groeide uit tot een bestseller. Hij is de schrijver van Buiten beeld, het Poëziegeschenk van de Poëzieweek 2014.
K. Schippers
(Gerard Stigter, 1936)
Uitgeverij: Querido
NUR: 301
Paperback
ISBN: 9789021428420
Publicatiedatum: 03-06-2021
Prijs: € 18,99
• fleursdumal.nl magazine
More in: - Book Lovers, - Book News, - Book Stories, Archive S-T, Archive S-T, Art & Literature News, Boekenweek, K. Schippers, Schippers, K.
---
A Love Song
In The Modern Taste
Fluttering spread thy purple pinions,
Gentle Cupid, o'er my heart:
I a slave in thy dominions;
Nature must give way to art.
Mild Arcadians, ever blooming
Nightly nodding o'er your flocks,
See my weary days consuming
All beneath yon flowery rocks.
Thus the Cyprian goddess weeping
Mourn'd Adonis, darling youth;
Him the boar, in silence creeping,
Gored with unrelenting tooth.
Cynthia, tune harmonious numbers;
Fair Discretion, string the lyre;
Sooth my ever-waking slumbers:
Bright Apollo, lend thy choir.
Gloomy Pluto, king of terrors,
Arm'd in adamantine chains,
Lead me to the crystal mirrors,
Watering soft Elysian plains.
Mournful cypress, verdant willow,
Gilding my Aurelia's brows,
Morpheus, hovering o'er my pillow,
Hear me pay my dying vows.
Melancholy smooth Meander,
Swiftly purling in a round,
On thy margin lovers wander,
With thy flowery chaplets crown'd.
Thus when Philomela drooping
Softly seeks her silent mate,
See the bird of Juno stooping;
Melody resigns to fate.
Jonathan Swift
(1667 – 1745)
A Love Song
In The Modern Taste
1733
• fleursdumal.nl magazine
More in: Archive S-T, Archive S-T, Swift, Jonathan
---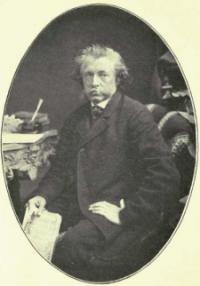 The Dreamer
Spirit of Song! whose whispers
Delight my pensive brain,
When will the perfect harmony
Ring through my feeble strain?
When will the rills of melody
Be widened to a stream!
When will the bright and gladsome Day
Succeed this morning dream?
"Mortal," the spirit whispered,
"If thou wouldst truly win
The race thou art pursuing,
Heed well the voice within:
And it shall gently teach thee
To read thy heart, and know
No human strain is perfect,
However sweet it flow.
And if thou readest truly,
As surely shalt thou find
That truths, like rills, though diverse,
Are choicest in their kind.
The souls of Poet-Dreamers
Touch heaven on their way;
With the light of Song to guide them
It should be always Day."
Charles Sangster
(1822 – 1893)
The Dreamer
• fleursdumal.nl magazine
More in: Archive S-T, Archive S-T, CLASSIC POETRY
---
This is a meditation on the power of creative connection. Drawing on twenty years' experience as a writer and performer, Kae Tempest explores how and why creativity – however we choose to practise it – can cultivate greater self-awareness and help us establish a deeper relationship between ourselves and the world. Honest, tender and written with piercing clarity, On Connection is a call to arms that speaks to a universal yet intimate truth.
On Connection will be the first work published under their new name and pronouns. Kate to Kae. She/Her to They/Them. Pronounced like the letter 'K'. For more information visit kaetempest.co.uk.
Kae Tempest is an award-winning, Sunday Times-bestselling author, poet and recording artist. Tempest won the 2013 Ted Hughes Award, was nominated for a Costa Book Award and a BRIT Award, has been shortlisted for the Mercury Prize twice and was nominated for two Ivor Novello Awards. They were also named a Next Generation Poet by the Poetry Book Society, a decennial accolade. They released their fourth studio album, The Book of Traps and Lessons, in 2019, produced by Rick Rubin. Tempest grew up in South-East London, where they still live. @kaetempest
Letter from Kae/Kate Tempest to the readers:
I've been struggling to accept myself as I am for a long time. I have tried to be what I thought others wanted me to be so as not to risk rejection. This hiding from myself has led to all kinds of difficulties in my life. And this is a first step towards knowing and respecting myself better. I've loved Kate. But I am beginning a process and I hope you'll come with me … [Kae is] an old English word that means jay bird. Jays are associated with communication, curiosity, adaptation to new situations and COURAGE which is the name of the game at the moment. It can also mean jackdaw which is the bird that symbolises death and rebirth. Ovid said the jackdaw brought the rain. Which I love. It has its roots in the Latin word for rejoice, be glad and take pleasure. And I hope to live more that way each day … This is a time of great reckoning. Privately, locally, globally. For me, the question is no longer 'when will this change' but 'how far am I willing to go to meet the changes and bring them about in myself.' I want to live with integrity. And this is a step towards that. Sending LOVE always.
Instagram 06-08-2020
On Connection
by Kae Tempest (Author)
Hardcover
144 pages
ISBN-10 : 0571354025
ISBN-13 : 978-0571354023
Product Dimensions : 11.1 x 1 x 17.8 cm
Publisher : Faber & Faber
Language: : English
Main Edition (2020)
Price £9.99
• fleursdumal.nl magazine
More in: #Archive A-Z Sound Poetry, Archive S-T, Archive S-T, Art & Literature News, Kate/Kae Tempest, Tempest, Kate/Kae
---
Judas
By the just vengeance of incensed skies,
Poor Bishop Judas late repenting dies.
The Jews engaged him with a paltry bribe,
Amounting hardly to a crown a-tribe;
Which though his conscience forced him to restore,
(And parsons tell us, no man can do more,)
Yet, through despair, of God and man accurst,
He lost his bishopric, and hang'd or burst.
Those former ages differ'd much from this;
Judas betray'd his master with a kiss:
But some have kiss'd the gospel fifty times,
Whose perjury's the least of all their crimes;
Some who can perjure through a two inch-board,
Yet keep their bishoprics, and 'scape the cord:
Like hemp, which, by a skilful spinster drawn
To slender threads, may sometimes pass for lawn.
As ancient Judas by transgression fell,
And burst asunder ere he went to hell;
So could we see a set of new Iscariots
Come headlong tumbling from their mitred chariots;
Each modern Judas perish like the first,
Drop from the tree with all his bowels burst;
Who could forbear, that view'd each guilty face,
To cry, "Lo! Judas gone to his own place,
His habitation let all men forsake,
And let his bishopric another take!"
Jonathan Swift
(1667 – 1745)
Judas
fleursdumal.nl magazine
More in: Archive S-T, Archive S-T, Swift, Jonathan
---
Legend of Old California
High on the summit,
Over the waters,
Fronting the sunset
Lingered the maid;
Below, through the flashing
Of blue billows dashing,
Glided the shallop
Storms had delayed I
Ere the white pebbles
On the keel grated,
Leaped the young boatman
Shoreward amain,
And in the blessing
Of love's quick caressing,
Soon were forgotten
Peril and pain.
Bayard Taylor
(1825 – 1878)
Legend of Old California
fleursdumal.nl magazine
More in: Archive S-T, Archive S-T, Western Fiction
---
Following a run of New Year's concerts at San Francisco's legendary Fillmore, Patti Smith finds herself tramping the coast of Santa Cruz, about to embark on a year of solitary wandering.
Unfettered by logic or time, she draws us into her private wonderland, with no design yet heeding signs, including a talking sign that looms above her, prodding and sparring like the Cheshire Cat.
In February, a surreal lunar year begins, bringing with it unexpected turns, heightened mischief, and inescapable sorrow. In a stranger's words, "Anything is possible: after all, it's the year of the monkey." For Patti Smith – inveterately curious, always exploring, tracking thoughts, writing the year evolves as one of reckoning with the changes in life's gyre: with loss, aging, and a dramatic shift in the political landscape of America.
Smith melds the Western landscape with her own dreamscape. Taking us from Southern California to the Arizona desert; to a Kentucky farm as the amanuensis of a friend in crisis; to the hospital room of a valued mentor; and by turns to remembered and imagined places – this haunting memoir blends fact and fiction with poetic mastery.
The unexpected happens; grief and disillusionment. But as Patti Smith heads toward a new decade in her own life, she offers this balm to the reader: her wisdom, wit, gimlet eye, and above all, a rugged hope of a better world.
Riveting, elegant, often humorous, illustrated by Smith's signature Polaroids, Year of the Monkey is a moving and original work, a touchstone for our turbulent times.
Patti Smith, Author of : Year of the Monkey, Just Kids illustrated, M Train, Patti Smith Collected Lyrics, 1970–2015, Woolgathering, Just Kids. A writer, performer, and visual artist, Patti Smith has exhibited her drawings and photographs internationally, most recently Camera Solo at the Wadsworth Atheneum Museum in Hartford. She has recorded thirteen albums, launched by the seminal Horses in 1975. Her many books include Witt, Babel, The Coral Sea, Auguries of Innocence and Just Kids, which won the National Book Award in 2010. Patti Smith lives in New York City.
Year of the Monkey
by: Patti Smith
The New York Times bestseller
Published: 01-09-2020
Format: Paperback
Edition: 1st
Extent: 224 p.
ISBN: 9781526614766
Imprint: Bloomsbury Publishing
Dimensions: 198 x 129 mm
RRP: £9.99
• fleursdumal.nl magazine
More in: Archive S-T, Archive S-T, Smith, Patti
---
Angriff
Tücher
Winken
Flattern
Knattern.
Winde klatschen.
Dein Lachen weht.
Greifen Fassen
Balgen Zwingen
Kuß
Umfangen
Sinken
Nichts.
August Stramm
(1874-1915)
Allmacht
• fleursdumal.nl magazine
More in: Archive S-T, Archive S-T, Stramm, August, Stramm, August, WAR & PEACE
---
Older Entries »
« Newer Entries
Thank you for reading FLEURSDUMAL.NL - magazine for art & literature