The Art of Reading
«« Previous page
·
Franklin Foer: World Without Mind. The Existential Threat of Big Tech
·
Everyman's Library edition of The Remains of the Day by Kazuo Ishiguro
·
Tentoonstelling: Xtra small. Miniatuurboekjes in Museum Meermanno
·
Julian Barnes: The Noise of Time. A Novel
·
Ein fantastischer Blick auf die Welt: Der aspekte-Literaturpreis 2017 geht an Juliana Kálnay
·
The Nobel Prize in Literature for 2017 is awarded to the English author Kazuo Ishiguro
·
Koen Hilberdink: J.B.W.P. Het leven van Johan POLAK
·
Anders RYDELL: De grote boekenroof. Een zoektocht naar Europa's verdwenen bibliotheken
·
PULITZER Prizes 2017
·
P.C. Hooft-prijs 2017 voor BAS HEIJNE
·
BOOKFIGHTING PERFORMANCE BY YVES DURANTHON
·
Joep Eijkens: Heel veel liefde
Over the past few decades there has been a revolution in terms of who controls knowledge and information.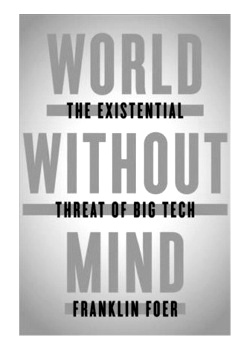 This rapid change has imperiled the way we think. Without pausing to consider the cost, the world has rushed to embrace the products and services of four titanic corporations. We shop with Amazon; socialize on Facebook; turn to Apple for entertainment; and rely on Google for information. These firms sell their efficiency and purport to make the world a better place, but what they have done instead is to enable an intoxicating level of daily convenience.

As these companies have expanded, marketing themselves as champions of individuality and pluralism, their algorithms have pressed us into conformity and laid waste to privacy. They have produced an unstable and narrow culture of misinformation, and put us on a path to a world without private contemplation, autonomous thought, or solitary introspection–a world without mind. In order to restore our inner lives, we must avoid being coopted by these gigantic companies, and understand the ideas that underpin their success.
Elegantly tracing the intellectual history of computer science–from Descartes and the enlightenment to Alan Turing to Stuart Brand and the hippie origins of today's Silicon Valley–Foer exposes the dark underpinnings of our most idealistic dreams for technology. The corporate ambitions of Google, Facebook, Apple, and Amazon, he argues, are trampling longstanding liberal values, especially intellectual property and privacy. This is a nascent stage in the total automation and homogenization of social, political, and intellectual life. By reclaiming our private authority over how we intellectually engage with the world, we have the power to stem the tide.
At stake is nothing less than who we are, and what we will become. There have been monopolists in the past but today's corporate giants have far more nefarious aims. They're monopolists who want access to every facet of our identities and influence over every corner of our decision-making. Until now few have grasped the sheer scale of the threat. Foer explains not just the looming existential crisis but the imperative of resistance.
Franklin Foer is a national correspondent for The Atlantic and a fellow at the New America Foundation. He is the author of How Soccer Explains the World, which has been translated into 27 languages and a winner of a National Jewish Book Award. For seven years, he edited The New Republic magazin
Franklin Foer:
World Without Mind.
The Existential Threat of Big Tech
Hardcover
272 pages
Published September 2017
Penguin Press
ISBN 1101981113
ISBN13: 9781101981115
World Without Mind: The Existential Threat of Big Tech by Franklin Foer . Franklin Foer reveals the existential threat posed by big tech, and in his brilliant polemic gives us the toolkit to fight their pervasive influence.
fleursdumal.nl magazine
More in: - Book Stories, - Bookstores, Archive E-F, Art & Literature News, AUDIO, CINEMA, RADIO & TV, DICTIONARY OF IDEAS, MONTAIGNE, The Art of Reading, The talk of the town
---
An elegant Everyman's Library hardcover edition of the universally acclaimed novel—winner of the Booker Prize, a bestseller and a perpetually strong backlist title, and the basis for an award-winning film—with full-cloth binding, a silk ribbon marker, a chronology, and an introduction by Salman Rushdie.
Here is Kazuo Ishiguro's profoundly compelling portrait of Stevens, the perfect butler, and of his fading, insular world in post-World War II England. Stevens, at the end of three decades of service at Darlington Hall, spending a day on a country drive, embarks as well on a journey through the past in an effort to reassure himself that he has served humanity by serving the "great gentleman," Lord Darlington.
But lurking in his memory are doubts about the true nature of Lord Darlington's "greatness," and much graver doubts about the nature of his own life.
Kazuo Ishiguro's books have won him wide renown and numerous honors. His work has been translated into more than 40 languages.
Both The Remains of the Day and Never Let Me Go have sold more than 1 million copies, and both were adapted into highly acclaimed films. Ishiguro's other work includes Nocturnes, A Pale View of the Hills, and An Artist of the Floating World.
Kazuo Ishiguro is awarded the Nobel Prize in Literature for 2017.
Kazuo Ishiguro
The Remains of the Day
Introduction by Salman Rushdie
Everyman's Library
Contemporary Classics Series
Hardcover, Deckle Edge,
2012, 248 Pages
978 1 84159 349 4
£ 10.99
# website everymanslibrary    
Kazuo Ishiguro:
The Remains of the Day
fleursdumal.nl magazine
More in: - Book News, - Bookstores, Archive I-J, Art & Literature News, Kazuo Ishiguro, Salman Rushdie, The Art of Reading
---
Museum Meermanno toont meer dan driehonderd miniatuurboekjes in de kleine, maar fijne tentoonstelling 'Xtra small'.
Miniatuurboekjes passen in je handpalm, soms zelfs op de top van je vinger. Voor boekbinders en drukkers is het kleine formaat een uitdaging. Het is een manier om hun kunde en handvaardigheid te etaleren. En dan vereist een echt mooi miniatuurboekje naast heel veel vakmanschap ook veel creativiteit, smaak en verfijning in ontwerp en de gebruikte motieven en materialen.
Museum Meermanno bezit van oudsher een grote collectie van deze boekjes, waarvan het Bloemhofje uit 1673 wel heel bijzonder is. Maar ook veel moderne exemplaren maken deel uit van de collectie. Deze werd in 2012 drastisch uitgebreid met de Bibliotheca Thurkowiana Minor. Dat is een miniatuurbibliotheek die ook nog eens 1.550 boekjes herbergt, waaronder zelfs een miniatuurkleitablet uit 1800 voor Christus.
In de tentoonstelling 'Xtra small' toont het museum deze collectie waaraan zeer recent nog eens 120 unieke exemplaren zijn toegevoegd. Dat zijn de inzendingen voor de International Minature Bookbinding Competition 2017 die de Stichting Handboekbinden samen met Uitgeverij de Buitenkant en Museum Meermanno eind 2016 uitschreef. De deelnemers ontvingen daarvoor de katernen van het door Liz Waters in het Engels vertaalde verhaal 'The Island' van Geert Mak. De Amsterdamse kunstenaar Max Kisman maakte de illustraties. De boekjes moesten voldoen aan de zogenaamde Bondy-norm, dat wil zeggen dat ze maximaal 76.2mm hoog, breed en dik mochten zijn.
De inzendingen zijn staaltjes van toewijding en vakmanschap en ze komen uit alle delen van Europa, Canada en Noord-Amerika, China, Japan, Australië en Nieuw Zeeland.
Publicatie: Bij deze tentoonstelling verschijnt een gelijknamige Engelstalige catalogus waarin onder andere alle inzendingen voor de wedstrijd in kleur en op ware grootte zijn afgebeeld. Het door Peter Verheul vormgegeven boekje verschijnt 1 oktober bij Uitgeverij de Buitenkant. Het boekje kost € 12,50 en is te koop in Museum Meermanno of kan besteld worden via Uitgeverij de Buitenkant (www.uitgeverijdebuitenkant.nl)
Xtra small
Miniature books in Museum Meermanno
Anne C. Bromer
€ 12,50 / catalogus / 11 x 16 cm / 128 pagina's
genaaid overlijmd met stofomslag
vormgeving: Peter Verheul
uitgave Uitgeverij de Buitenkant
ism Museum Meermanno en
de Nederlandse Stichting Handboekbinden
ISBN 978 94 90913 78 6
 #  meer  info  zie  website  museum  meermanno   
Tentoonstelling 'Xtra small. Miniatuurboekjes in Museum Meermanno'
Van 3 oktober 2017 t/m 7 januari 2018
fleursdumal.nl magazine
More in: - Book Lovers, - Book News, - Book Stories, Art & Literature News, Exhibition Archive, Museum of Literary Treasures, NONFICTION: ESSAYS & STORIES, The Art of Reading
---
1936: Dmitri Shostakovich, just thirty years old, reckons with the first of three conversations with power that will irrevocably shape his life.
Stalin, hitherto a distant figure, has suddenly denounced the young composer's latest opera. Certain he will be exiled to Siberia (or, more likely, shot dead on the spot), Shostakovich reflects on his predicament, his personal history, his parents, his daughter—all of those hanging in the balance of his fate. And though a stroke of luck prevents him from becoming yet another casualty of the Great Terror, he will twice more be swept up by the forces of despotism: coerced into praising the Soviet state at a cultural conference in New York in 1948, and finally bullied into joining the Party in 1960. All the while, he is compelled to constantly weigh the specter of power against the integrity of his music. An extraordinary portrait of a relentlessly fascinating man, The Noise of Time is a stunning meditation on the meaning of art and its place in society.
Julian Barnes is the author of twenty previous books. He has received the Man Booker Prize, the Somerset Maugham Award, the Geoffrey Faber Memorial Prize, the David Cohen Prize for Literature and the E. M. Forster Award from the American Academy of Arts and Letters; in France, the Prix Médicis and the Prix Femina; and in Austria, the State Prize for European Literature. In 2004 he was named Commandeur de l'Ordre des Arts et des Lettres by the French Ministry of Culture. His work has been translated into more than forty languages. He lives in London.
One of the Best Books of the Year: San Francisco Chronicle
"This story is truly amazing . . . an arc of human degradation without violence (the threat of violence, of course, everywhere). . . . The whole Kafka madhouse brought to life."—Jeremy Denk, The New York Times Book Review
The Noise of Time
A Novel
By Julian Barnes
Part of Vintage International
Literary Fiction
Paperback
Publisher Penguin Random House
June 2017,
224 Pages
new books
fleursdumal.nl magazine
More in: - Book News, - Book Stories, Archive A-B, Art & Literature News, Dmitri Shostakovich, Julian Barnes, The Art of Reading
---
"Wie viel Leben steckt in vier Wänden? Welche Erinnerungen haften an Böden, Fenstern und Türen?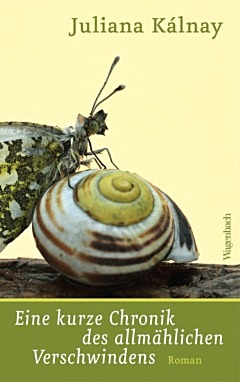 Wer in einer Wohnung lebt, lebt immer auch in einem Erinnerungsort, in einem Geschichtsraum. Und wenn schon eine Wohnung so viel Geschichten bietet, was hat dann erst ein ganzes Haus zu sagen? In ihrem Debütroman "Eine kurze Chronik des allmählichen Verschwindens" ringt Juliana Kálnay um einen anderen, einen fantastischen Blick auf die Welt. Ein Mann wird zu einem Baum, eine alte Frau spürt wie sich die Räume bei Kälte zusammenziehen, ein ganzes Haus lebt unter dem Gesetz des Unwirklichen. In feinen, leicht verschwommenen Vignetten erzählt Kálnay auf den Spuren des magischen Realismus vom Wundern und Träumen dieser Hausbewohner. Es ist ein Buch, in dem man sich herrlich verlieren kann. Und das große Lust macht auf die Welt des Surrealen."
So begründet die Jury – Jana Hensel (Autorin), Ursula März (Die Zeit), Daniel Fiedler (Redaktionsleiter ZDF Kultur Berlin) Simon Strauß (FAZ) und Volker Weidermann (Das Literarische Quartett, Der Spiegel – ihre Entscheidung.
Juliana Kálnay erzählt mit Aberwitz und aus vielen Perspektiven, es ist ein Stimmengewirr, ein Puzzle, das sich nach und nach zu einem dichten Bild fügt. Die Charaktere – Bewohner eines rätselhaften Hauses – versuchen, sich einen Reim auf die Dinge des Lebens zu machen, sich selbst und die anderen zu verstehen, tappen aber oft im Dunklen. Kálnays magischer Realismus hält die Handlung in der Schwebe, ohne ins Phantastische abzuheben, das Haus verbindet alle Elemente im Roman.
Der aspekte-Literaturpreis wird in diesem Jahr zum 39. Mal vergeben. Er ist mit 10.000 Euro dotiert und die bedeutendste Auszeichnung für deutschsprachige Erstlingsprosa. Die Preisverleihung findet am Donnerstag, 12. Oktober 2017, 11:30 Uhr im Rahmen der Frankfurter Buchmesse auf dem Blauen Sofa am ZDF-Stand statt.
Juliana Kálnay, geboren 1988 in Hamburg, wuchs zunächst in Köln und dann in Málaga auf. Sie veröffentlichte in deutsch- und spanischsprachigen Anthologien und Zeitschriften und erhielt das Arbeitsstipendium Literatur der Kulturstiftung des Landes Schleswig-Holstein 2016. Sie lebt und schreibt in Kiel. »Eine kurze Chronik des allmählichen Verschwindens« ist ihr erster Roman.
Juliana Kálnay
Eine kurze Chronik des allmählichen Verschwindens
Quartbuch. 2017
192 Seiten. 13 x 21 cm.
Gebunden mit Schutzumschlag
Buch €20,–
ISBN 978-3-8031-3284-0
Klaus Wagenbach Verlag
(www.wagenbach.de)
Ein fantastischer Blick auf die Welt
Der aspekte-Literaturpreis 2017 geht an Juliana Kálnay
fleursdumal.nl magazine
More in: - Book News, - Book Stories, Archive K-L, Art & Literature News, AUDIO, CINEMA, RADIO & TV, Literary Events, Nachrichten aus Berlin, The Art of Reading
---
Kazuo Ishiguro was born on November 8, 1954 in Nagasaki, Japan.The family moved to the United Kingdom when he was five years old; he returned to visit his country of birth only as an adult.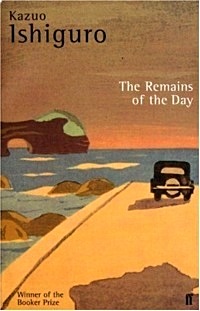 In the late 1970s, Ishiguro graduated in English and Philosophy at the University of Kent, and then went on to study Creative Writing at the University of East Anglia.
Kazuo Ishiguro has been a full-time author ever since his first book, "A Pale View of Hills" (1982). Both his first novel and the subsequent one, "An Artist of the Floating World" (1986) take place in Nagasaki a few years after the Second World War. The themes Ishiguro is most associated with are already present here: memory, time, and self-delusion. This is particularly notable in his most renowned novel, "The Remains of the Day" (1989), which was turned into film with Anthony Hopkins acting as the duty-obsessed butler Stevens.
Ishiguro's writings are marked by a carefully restrained mode of expression, independent of whatever events are taking place. At the same time, his more recent fiction contains fantastic features. With the dystopian work "Never Let Me Go" (2005), Ishiguro introduced a cold undercurrent of science fiction into his work. In this novel, as in several others, we also find musical influences. A striking example is the collection of short stories titled "Nocturnes: Five Stories of Music and Nightfall" (2009), where music plays a pivotal role in depicting the characters' relationships. In his latest novel, "The Buried Giant" (2015), an elderly couple go on a road trip through an archaic English landscape, hoping to reunite with their adult son, whom they have not seen for years. This novel explores, in a moving manner, how memory relates to oblivion, history to the present, and fantasy to reality.
Apart from his eight books, Ishiguro has also written scripts for film and television.
# More info website Nobelprize
The Nobel Prize in Literature for 2017 to English author Kazuo Ishiguro
fleursdumal.nl magazine
More in: - Book Lovers, - Book News, Archive I-J, Art & Literature News, AUDIO, CINEMA, RADIO & TV, Awards & Prizes, Kazuo Ishiguro, The Art of Reading
---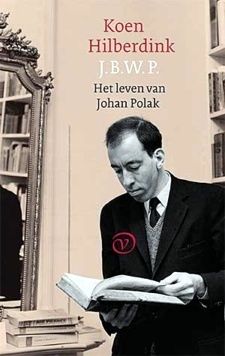 Johan Bertus Wouter Polak (1928-1992) was een legendarische en extravagante uitgever, essayist, bibliofiel, vertaler en mecenas.
Hij groeide op in 'een zeer liberaal joods milieu met sterk atheïstische en sociaaldemocratische inslag'. Dit ogenschijnlijk idyllische bestaan werd bruut verstoord door de vroege dood van Johans vader en de Duitse bezetting vlak daarna. Deze ingrijpende gebeurtenissen en de verhouding met zijn moeder bepaalden voor een groot deel Polaks verdere leven.
De drama's uit zijn jeugd worden door Hilberdink in verband gebracht met de oprichting van uitgeverij Polak & Van Gennep in 1962. Hij gaf op fraaie wijze het werk uit van onder anderen P.C. Boutens, J.H. Leopold, Herman Gorter en J.C. Bloem. En dat van Gerard Reve, die hij van alle naoorlogse auteurs het meest bewonderde en met wie hij een uiterst complexe verhouding kreeg.
Daarnaast begon Polak in 1966 de al even vermaarde Athenaeum Boekhandel op het Spui in Amsterdam. Het werd een centrum van activiteiten, zowel politiek als literair, en Johan werd een bekende Amsterdammer.
Uitvoerig komt ook Polaks rol aan de orde in de emancipatie van homoseksuelen en de strijd tegen het antisemitisme.
Zijn persoonlijke seksuele bevrijding wordt openlijk beschreven. Johans emancipatiestrijd was verbonden met de strijd tegen het antisemitisme. Hij schreef: 'Er is in homosexuelen een hypersensitiviteit voor taal en schoonheid aanwezig, juist nu. De kans bestaat dat zij instinctief reeds voelen, zoals de Joden voorheen, dat zij getekend zijn en reeds op het punt staan als verworpenen te worden uitgeroeid. Ik ben op dat punt pessimistisch en zie allerlei onrustbarende tekenen.'
J.B.W.P. – De biografie van uitgever Johan Polak
Koen Hilberdink is literatuurwetenschapper en werkzaam bij de Koninklijke Nederlandse Akademie van Wetenschappen. Hij promoveerde op Ik ben een vreemdeling. Ik sta apart. Een biografie van Paul Rodenko (2000). In 2007 verscheen zijn biografie over dichter Hans Lodeizen.
Koen Hilberdink
J.B.W.P.
Het leven van Johan Polak
Uitgeverij Van Oorschot, Amsterdam
Juni 2017, gebonden, € 29,99
ISBN 9789028261846
fleursdumal.nl magazine
More in: - Book Lovers, - Bookstores, Art & Literature News, Johan Polak, PRESS & PUBLISHING, The Art of Reading
---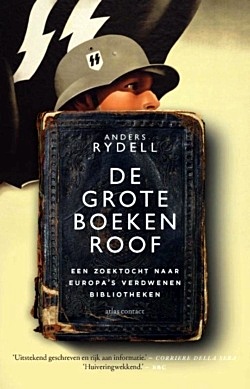 Op 10 mei 1933 staken nazi's op de Opernplatz in Berlijn, onder toeziend oog van 40.000 toeschouwers, zo'n 25.000 boeken in de fik.
Het was het startsein voor een reeks boekverbrandingen overal in Duitsland.

Over die gebeurtenis is veel geschreven, maar onbekend is het veel sinisterder plan dat de nazi's in heel Europa ten uitvoer brachten: het plunderen van bibliotheken en privébezit, met als doel de literatuur in te zetten als wapen in de vernietigingsmachinerie. 
Tegenstanders werden zo niet alleen van hun vrijheid beroofd maar ook van hun literatuur, hun verhalen, hun emotionele en intellectuele geschiedenis.

In De grote boekenroof volgt Anders Rydell het spoor van de boekenplunderaars door Europa. Hij reist onder meer naar Den Haag en Amsterdam, struint door de bibliotheken van Berlijn en Parijs en gaat op zoek naar de mysterieus verdwenen Joodse bibliotheek in Rome.
Zo vertelt Rydell het verhaal van een van de meest angstaanjagende nazi-ambities op het gebied van kunst, cultuur en onderwijs.
Anders Rydell
De grote boekenroof
Vertaling door Robert Starke
Afm. 26x210x135 mm
Verschijningsdatum:
april 2017
Paperback = 27,99
ISBN10 9045031914
ISBN13 9789045031910
Atlas Contact, Uitgeverij
fleursdumal.nl magazine
More in: - Book Stories, Archive Q-R, Art & Literature News, DICTIONARY OF IDEAS, The Art of Reading
---
Pulitzer Prizes
Pulitzer Prize administrator Mike Pride has announced today (april 10) the winners of the 2017 Pulitzer Prizes in the World Room at Columbia University in New York, N.Y.
This announcement marks the 101st year of the prizes. The Pulitzer Prizes have been awarded by Columbia University each spring since 1917.
The awards are chosen by a board of jurors for Journalism, Letters, Music and Drama.
The 2017 Winners in Letters, Drama and Music:
Fiction
The Underground Railroad by Colson Whitehead
From prize-winning, bestselling author Colson Whitehead, a magnificent tour de force chronicling a young slave's adventures as she makes a desperate bid for freedom in the antebellum South.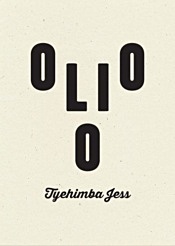 Poetry
Olio by Tyehimba Jess
Part fact, part fiction, Tyehimba Jess's much anticipated second book weaves sonnet, song, and narrative to examine the lives of mostly unrecorded African American performers, musicians and artists directly before and after the Civil War up to World War I. Olio is an effort to understand how they met, resisted, complicated, co-opted, and sometimes defeated attempts to minstrelize them.
History
Blood in the Water: The Atica Uprising of 1971 and Its Legacy by Heather Ann Thompson
On September 9, 1971, nearly 1,300 prisoners took over the Attica Correctional Facility in upstate New York to protest years of mistreatment. Drawing from more than a decade of extensive research, historian Heather Ann Thompson sheds new light on every aspect of the uprising and its legacy, giving voice to all those who took part in this forty-five-year fight for justice.
Nonfiction
Evicted by Matthew Desmond
Staff Pick: In this brilliant, heartbreaking book, Matthew Desmond takes us into the poorest neighborhoods of Milwaukee to tell the story of eight families on the edge.
Biography or Autobiography
The Return: Fathers, Sons and the Land in Between by Hisham Matar
The Return is at once an exquisite meditation on history, politics, and art, a brilliant portrait of a nation and a people on the cusp of change, and a disquieting depiction of the brutal legacy of absolute power. Above all, it is a universal tale of loss and love and of one family's life.
List of all this years Pulitzer Prize winners:
Journalism
Public Service: The staff of the New York Daily News and ProPublica.
Breaking News Reporting: The staff of East Bay Times.
Investigative Reporting: Eric Eyre, the Charleston Gazette-Mail.
Explanatory Reporting: The Panama Papers, by the International Consortium of Investigative Journalists, McClatchy and the Miami Herald.
Local Reporting: The staff of The Salt Lake Tribune.
National Reporting: David Fahrenthold, The Washington Post.
International Reporting: The staff of The New York Times.
Feature Writing: C.J. Chivers of The New York Times.
Commentary: Peggy Noonan, The Wall Street Journal.
Criticism: Hilton Als, The New Yorker.
Editorial Writing: Art Cullen, The Storm Lake Times.
Editorial Cartooning: Jim Morin, Miami Herald.
Breaking News Photography: Daniel Berehulak, The New York Times.
Feature Photography: E. Jason Wambsgans, Chicago Tribune.

Letters, Drama, & Music
Fiction: The Underground Railroad, by Colson Whitehead.
Drama: Sweat, by Lynn Nottage.
History: Blood in the Water: The Attica Prison Uprising of 1971 and Its Legacy, by Heather Ann Thompson.
Biography or Autobiography: The Return, by Hisham Matar.
Poetry: Olio, by Tyehimba Jess.
General Nonfiction: Evicted: Poverty and Profit in the American City, by Matthew Desmond.
Music: Angel's Bone, by Du Yun.
#  more  information  on  website  pulitzer
fleursdumal.nl magazine
More in: - Book News, Art & Literature News, AUDIO, CINEMA, RADIO & TV, Awards & Prizes, DICTIONARY OF IDEAS, Illustrators, Illustration, MONTAIGNE, MUSIC, Photography, PRESS & PUBLISHING, REPRESSION OF WRITERS, JOURNALISTS & ARTISTS, The Art of Reading, THEATRE
---
Het bestuur van de Stichting P.C. Hooft-prijs voor Letterkunde heeft maandag 12 december besloten de P.C. Hooft-prijs 2017 toe te kennen aan Bas Heijne (Nijmegen, 1960).
Deze oeuvreprijs is dit jaar bestemd voor beschouwend proza en wordt uitgereikt op een feestelijke bijeenkomst in het Literatuurmuseum, op donderdag 18 mei 2017, 3 dagen vóór de sterfdag van de naamgever van de prijs, de dichter P.C. Hooft (1581-1647), onze grootste renaissancedichter.
De P.C. Hooft-prijs 2017 voor het gehele oeuvre van Bas Heijne is toegekend op voordracht van een jury bestaande uit Jacqueline Bel, Kees 't Hart, Kristien Hemmerechts, David Van Reybrouck (voorzitter) en Dirk van Weelden. Recente eerdere laureaten in het genre beschouwend proza waren Willem Jan Otten (2014), H.J.A. Hofland (2011) en Abram de Swaan (2008). Aan de prijs is een bedrag verbonden van € 60.000.
Uit het juryrapport: "Bas Heijne is een schrijver met een bijzondere positie als columnist en essayist, die over een enorme verscheidenheid aan actuele onderwerpen en kwesties schrijft. Hij volgt de hedendaagse cultuur op een geëngageerde manier. Hij schrijft over haatvloggers en De Ring van Wagner, over Hollywoodfilms en Couperus, over Europese referenda en de toekomst van de roman. Zijn werk geeft een vernieuwende impuls aan wat literatuur in maatschappelijke zin betekenen kan. […] Vooral de vorm waarin hij dat doet is bijzonder: hij schrijft als een denker én denkt als een lezer."
De P.C. Hooft-prijs voor Letterkunde behoort tot de belangrijke literatuurprijzen in het Nederlandse taalgebied. Hij wordt uitgereikt door de Stichting P.C. Hooft-prijs voor Letterkunde. Deze oeuvreprijs wordt jaarlijks afwisselend toegekend voor proza, essayistiek en poëzie. De P.C. Hooft-prijs is ingesteld in 1947. In dat jaar werd op 21 mei de 300ste sterfdag van Pieter Corneliszoon Hooft herdacht. De prijs wordt jaarlijks rond de sterfdag van P.C. Hooft uitgereikt en bedraagt € 60.000. Daarnaast looft de Stichting sinds 1988 de driejaarlijkse Theo Thijssen-prijs uit voor jeugdliteratuur. De prijs bedraagt € 60.000.
Vanaf september 2007 wordt de driejaarlijkse Max Velthuijs-prijs voor boekillustratoren uitgereikt. Ook deze prijs bedraagt € 60.000.'
# Meer informatie op website PC Hooftprijs
fleursdumal.nl magazine
More in: Archive G-H, Art & Literature News, Bas Heijne, NONFICTION: ESSAYS & STORIES, PRESS & PUBLISHING, The Art of Reading
---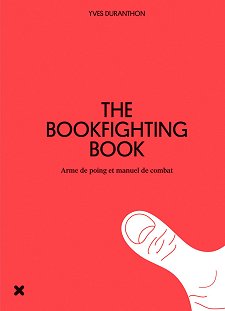 Le bookfighting est un sport de combat : deux adversaires (protégés), s'affrontent avec des livres (de poche!), sous le contrôle d'un arbitre. Chaque touche vaut un point dans une partie en sept jeux. Point fort du règlement : la possibilité à tout moment d'ouvrir un livre, sa lecture, pour soi ou à voix haute, ayant pour effet immédiat d'interrompre le combat. La véhémence initiale cède ainsi à l'autorité du livre, le combat-lecture instaurant un indécidable aller-retour entre deux états connus et opposés, nature et culture. Au terme du combat, l'arbitre annonce le résultat et désigne le vainqueur sous les applaudissements du public, convié à participer s'il le désire.
Bookfighting Performance Yves Duranthon
Date: 07/05/2015 – 18:00
MUSEE PALAIS DE TOKYO
13, avenue du Président Wilson,
75 116 Paris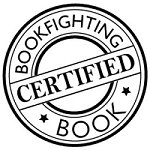 Bookfighting: Men, women, and children fighting with books. The show is captivating and you can not manage to turn a blind eye to these objects being handled in such a manner. Is this the way to treat culture and the great minds of our civilization? It's out­rageous and you want to react, but you keep it inside, because you don't know how to release your anger.
The show goes on, regardless of your uneasiness and good judgment, and eventually you succumb to the spectacle. You are fascinated by the disturbing yet beautiful event of fighters energetically chucking books at each other.
You come back later, armed with books taken from your own library, and get involved in the fighting yourself so that you can discover the flip side of culture.
# Website Palais de Tokyo
Bookfighting Performance Yves Duranthon
# Website Yves Duranthon bookfighting performance
fleursdumal.nl magazine
More in: - Book Lovers, Art & Literature News, Exhibition Archive, Libraries in Literature, Performing arts, The Art of Reading, THEATRE
---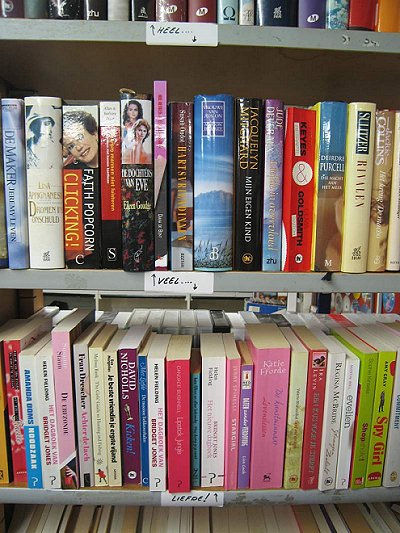 Joep Eijkens
Heel veel liefde
Ik zie:
Dromen van onschuld
Waarom mannen niet luisteren
De Dochters van Eve
Hartsvriendinnen
Liefde in overvloed
Die Nacht aan het Meer
De Erfzonde

Je beste vriendin je ergste vijand
De mooiste liefdesverhalen
Een kus voor je sterft
Daten zonder verdoving
Hoe dump je je vent

Kortom:

heel….

veel….
liefde!
(bij de afdeling tweedehandsboeken in Kringloopcentrum Altena te Almerk).
Foto en tekst Joep Eijkens
fleursdumal.nl magazine
More in: - Bookstores, Joep Eijkens Photos, The Art of Reading
---
Older Entries »
« Newer Entries
Thank you for reading FLEURSDUMAL.NL - magazine for art & literature