Literary Events
«« Previous page
·
Poëzieweek 2017 (26 januari t/m/ 1 februari) en Gedichtendag 2017 (26 januari)
·
Jules DEELDER schrijft het Poëziegeschenk 2017
·
Schilderen met woorden – Een nieuwe kijk op de poëzie van COUPERUS
·
Feest der Poëzie met presentatie debuutbundel Mieke van ZONNEVELD
·
Gouden Ganzenveerlaureaat 2017: Arnon GRUNBERG
·
LICHTEGEDICHTENDAG: Ivo de Wijs, Kees Torn, Erik van Muiswinkel e.a. in Concertzaal Tilburg
·
INCUBATE – 10/11 December 2016 – an annual celebration of cutting-edge culture
·
Let's DADA! De Nacht van DADA op 3 december 2016 in Antwerpen
·
Op de thee bij LODEWIJK VAN DEYSSEL in het Pianola Museum Amsterdam
·
BLOOMSBURY FESTIVAL 2016 LONDON (19 – 23 OCTOBER)
·
FRANKFURTER BUCHMESSE 2016 (19 – 23 OKT.) EHRENGAST FLANDERN UND DIE NIEDERLANDE
·
THE NOBEL PRIZE IN LITERATURE FOR 2016 AWARDED TO BOB DYLAN
 Gedichtendag  2017 (26 januari)
 Poëzieweek 2017 (26 januari t/m/ 1 februari)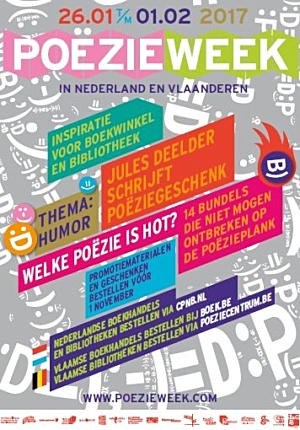 Opening Poëzieweek 2017 (26 januari t/m/ 1 februari)
Met Gedichtendag gaat op de laatste donderdag van januari traditiegetrouw de Poëzieweek van start. Gedichtendag, sinds 2000 georganiseerd door Poetry International Rotterdam, is hét poëziefeest van Nederland en Vlaanderen. Poëzieliefhebbers in Nederland en Vlaanderen organiseren die dag een grote diversiteit aan eigen poëzieactiviteiten en ook de media klinken die dag een stuk poëtischer.
Voor de enorme hoeveelheid optredens, publicaties, poëzieprijzen, -programma's en -activiteiten is één dag simpelweg veel te kort!
Verspreid poëzie op social media
Breng poëzie in uw leven! Laat u inspireren door de foto-gedichten en deel het op social media met #Gedichtendag. Wijs vrienden en contacten op website poezieweek.com
Lees ook poëzie op website: fleursdumal.nl magazine
 Dicht mee!
More in: Art & Literature News, CLASSIC POETRY, CONCRETE & VISUAL POETRY, EDITOR'S CHOICE, EXPERIMENTAL POETRY, LIGHT VERSE, Literary Events, MODERN POETRY, POETRY ARCHIVE, Poëzieweek, PRESS & PUBLISHING, SOUND POETRY, STREET POETRY, The talk of the town
---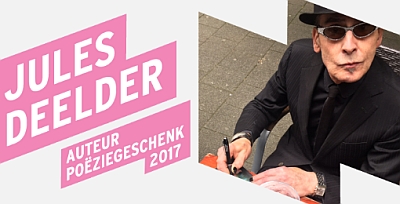 Humor en poëzie? "Jawel", zegt Jules Deelder (Rotterdam-Overschie, 1944), die het Poëziegeschenk 2017 zal schrijven. Met het thema humor in de Poëzieweek 2017 komt er aandacht voor gedichten die op de lachspieren werken, uit hilariteit, herkenbaarheid of uit ironie. Humor is in Deelders poëzie in ieder geval geen curiosum. Deze Nederlandse dichter van een omvangrijk oeuvre staat in binnen- en buitenland bekend om zijn memorabele performances, waarbij de Beat Generation nooit veraf lijkt.
Aan de vooravond van de Poëzieweek wordt in Nederland voor de 23ste keer de VSB Poëzieprijs uitgereikt en in Vlaanderen de Herman de Coninckprijs. De Poëzieweek start op donderdag 26 januari in Vlaanderen en Nederland met Gedichtendag en loopt t/m woensdag 1 februari; de prijsuitreiking van de Turing Gedichtenwedstrijd. Tijdens de Poëzieweek krijgen de klanten van de boekhandel bij aankoop van € 12,50 aan poëzie het Poëziegeschenk cadeau.
Gedichten worden in onze contreien eerder met ernst dan met humor geassocieerd. Het verdriet is eindeloos en de liefde hopeloos. Toch wordt er ook heel wat afgelachen in poëtenland. Soms is er de luide bulderlach bij een kolderiek nonsensgedicht, vaak is er ook een grijns van herkenning. De verwarrende situatie die de dichter beschrijft, hebben we zelf allemaal ook meegemaakt. Humor in poëzie kan ook wat ongemakkelijk zijn: valt hier wel om te lachen? Dichters gebruiken humor ook in de vorm van ironie of spot om een maatschappelijke wantoestand aan te klagen. Humor is bovenal een manier om met de meerduidigheid van de dingen om te gaan en dat is bij poëzie niet anders…
J.A. Deelder zette zijn eerste stappen in zijn carrière als performer in 1966. Na zijn poëziedebuut Gloria Satoria bij De Bezige Bij volgden nog vele bundels met als meest recente publicaties Tussentijds (2008), Ruisch (2011), Het graf van Descartes (2013) en Dag en nacht (2014). In zijn vaak absurdistische, maar steeds glasheldere poëzie wordt de jazz haast tastbaar. De onderwerpen die Deelder aansnijdt zijn de Tweede Wereldoorlog, Duitsland, Rotterdam, jazz en het leven van Deelder zelf. In 1982 debuteerde Deelder als prozaïst met Schöne Welt. Hierna verschenen een groot aantal verhalenbundels en gelegenheidsuitgaven waaronder Deelderama (2001), Swingkoning (2006) en Deelder lacht (2007). Deelder ontving voor zijn gehele oeuvre de Anna Blaman Prijs (1988), de Johnny Van Doorn-prijs voor de gesproken letteren (1999), en de Tollensprijs (2005). In 2005 mocht hij ook een Edison voor zijn cd Deelder blijft draaien in ontvangst nemen.
De Poëzieweek is een Nederlands-Vlaamse samenwerking van Stichting Poetry International, Poëziecentrum, Iedereen Leest Vlaanderen, Stichting Lezen Nederland, Awater, Poëzieclub, Het Literatuurhuis, Wintertuin, SLAG, Taalunie, SSS, het Nederlands Letterenfonds, Vlaams Fonds voor de Letteren, Turing Foundation, VSBfonds, Boek.be en de CPNB. Met de bundeling van deze activiteiten willen de organisatoren een groter bereik creëren voor poëzie.
fleursdumal.nl magazine
More in: Archive C-D, Art & Literature News, Jules Deelder, LIGHT VERSE, Literary Events, Poëzieweek
---
Nieuwe tentoonstelling Schilderen met woorden. Een nieuwe kijk op de poëzie van Louis Couperus. 13 november 2016 – 8 mei 2017 in het Louis Couperus Museum.
Gedurende een groot deel van zijn leven (om precies te zijn 25 jaar) heeft Louis Couperus poëzie geschreven. Tot nu toe is er te weinig aandacht geschonken aan dit onderwerp.
Deze winter visualiseert het Louis Couperus Museum de dichtkunst van de Haagse schrijver door middel van afbeeldingen en beeldhouwwerk waardoor de schrijver was geïnspireerd.
Tentoonstelling
Aan de wanden worden representatieve gedichten of citaten daaruit groot weer gegeven, op textiel afgedrukt. Bij elk fragment komt een afbeelding te hangen die inhoudelijk in verband staat met het betreffende gedicht. Reproducties van schilderijen – in een enkel geval zelfs een beeldhouwwerk – hebben Couperus soms regelrecht tot voorbeeld gediend. Ook de doorwerking van zijn poëzie in zijn proza komt aan bod. Op de televisiemonitor is een voordracht van zijn dichtkunst door acteur Joop Keesmaat te zien en te horen.
De expositie is gecentreerd rond 5 thema's uit Couperus' poëzie. Allereerst de figuur van Petrarca die hem de Laura-cyclus in gaf. Ten tweede de salon-schilderkunst uit de negentiende eeuw en daarmee samenhangend gedichten waarin Couperus bijna letterlijk 'met woorden schildert'. Vervolgens het beeld Alba van de Friese beeldhouwer Pier Pander, dat Couperus in het gelijknamige sonnet bezong. Dan de wereld van de Arthurlegenden die hem zo boeide, en de door Italië geïnspireerde gedichten. De 'aardse Couperus' (Arjan Peters) komt in de 'sonnettenroman' Endymion aan bod. Hierin vereenzelvigt Couperus zich met een volksjongen die in de klassieke metropool Alexandrië allerlei avonturen beleeft. Dit wordt op eigentijdse wijze gevisualiseerd door een stripverhaal van de hand van Mees Arnzt, een student van de Koninklijke Academie voor Beeldende Kunsten.
Verantwoording
De tentoonstelling wordt ingericht door gastconservator Frans van der Linden, medewerker van het Louis Couperus Museum, winnaar van de Couperuspenning en samensteller van het boekje O gouden, stralenshelle fantazie! Bloemlezing uit de poëzie van Louis Couperus (in de Prominentreeks van Uitgeverij Tiem, 2015).
De expositie wordt mede mogelijk gemaakt dankzij een bijdrage van het Prins Bernhard Cultuurfonds.
schilderen met woorden.
een nieuwe kijk op de poëzie van Couperus
13 november 2016 – 8 mei 2017
Louis Couperus Museum
Javastraat 17
2585 AB Den Haag
070-3640653
info@louiscouperusmuseum.nl
Openingstijden
Woensdag t/m zondag 12.00-17.00 uur
Voor groepen ook op afspraak
Het gehele jaar door geopend, met uitzondering van 1ste en 2de Kerstdag en Nieuwjaarsdag
Toegankelijk voor gehandicapten
# Meer informatie op website van het Couperus Museum
fleursdumal.nl magazine
More in: Archive C-D, Archive C-D, Art & Literature News, DICTIONARY OF IDEAS, Literary Events, Louis Couperus, Museum of Literary Treasures
---
De salon van zaterdag 28 januari 2017 staat in het teken van Mieke van Zonneveld; zij presenteert haar debuutbundel 'Leger', uitgegeven door De Bezige Bij, en draagt eruit voor. Het programma brengt dichters die haar inspireren uit het heden en verleden, afgewisseld door passende muziek. Roland Holstprijswinnaar en voormalige stadsdichter van Amsterdam Menno Wigman draagt voor uit o.a. zijn laatste bundel 'Slordig met geluk'. Simon Mulder draagt voor uit favoriete werken van J. H. Leopold.
Presentatie debuut Mieke van Zonneveld met Menno Wigman
Op zaterdagavond 28 januari presenteert  het Feest der Poëzie de dichter Mieke van Zonneveld met haar bundel 'Leger', uitgegeven door De Bezige Bij. Het programma vindt plaats in de prachtige omgeving van het Pianola Museum te Amsterdam. Naast een voordracht van Mieke van Zonneveld uit de nieuwe bundel, zal ook Menno Wigman, voormalig stadsdichter van Amsterdam en winnaar van de A. Roland Holstprijs, voordragen. Ook zijn er gedichten van J. H. Leopold en een pianorecital van Henk van Zonneveld.
Tevens vindt op 18 februari de akoestische reprise van Project Diepenbrock, onze voorstelling tijdens het Feest der Poëzie van 2014, plaats, met chansontrio En Vrac, Mieke van Zonneveld en Simon Mulder.
Praktische informatie
Datum: zaterdag 28 januari 2017
Tijd: zaal open: 20 uur, aanvang: 20:30 uur
Locatie: Pianola Museum, Westerstraat 106, Amsterdam
Reserveren via info@pianola.nl wordt zeer aangeraden.
Meer informatie: www.feestderpoezie.nl onder 'Salon der Verzen'
Mieke van Zonneveld (1989) – lid van collectief het Feest der Poëzie sinds het begin in 2008 – studeerde Nederlands en oudheidkunde aan de Vrije Universiteit en rondt momenteel haar onderzoeksmaster letterkunde af. Ze won in 2014 de landelijke Turing Gedichtenwedstrijd. Zij debuteert met een klassiek aandoende bundel over liefde en vriendschap, over ziekte en geloof. Leger is een gemystificeerd en genadeloos zelfonderzoek van een jonge dichter die de dood in de ogen heeft gekeken. Uitgeverij is Bezige Bij.
Mieke van Zonneveld debuteert met een klassiek aandoende bundel over liefde en vriendschap, over ziekte en geloof. Haar poëzie wekt de indruk van volledige helderheid, maar ze versluiert tegelijk. De eenvoud van woorden roept een grootsheid van beelden op waaronder telkens het risico sluimert uit het volle leven geknipt te worden. Slechts in dromen bestaat de mogelijkheid barrières te beslechten. Leger is een gemystificeerd en genadeloos zelfonderzoek van een jonge dichter die de dood in de ogen heeft gekeken.
Mieke van Zonneveld  publiceerde enkele gedichten in voormalig literair tijdschrift De tweede ronde en in het ambachtelijk gedrukte Avantgaerde. Als lid van het Feest der Poëzie treedt ze af en toe op tijdens literaire salons. Ze is bezig met haar masteronderzoek Letterkunde aan de Vrije Universiteit Amsterdam.
# Meer informatie op website feestderpoezie
fleursdumal.nl magazine
More in: - Book News, Archive Y-Z, Art & Literature News, City Poets / Stadsdichters, Leopold, J.H., Literary Events, MODERN POETRY, MUSIC
---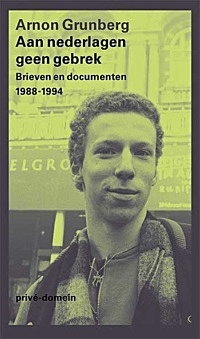 De Academie De Gouden Ganzenveer kent de Gouden Ganzenveer 2017 per acclamatie toe aan de literaire duizendpoot Arnon Grunberg. Gerdi Verbeet, Academievoorzitter De Gouden Ganzenveer maakte de laureaat bekend in het tv-programma JINEK.
'Arnon Grunberg wordt steeds unieker. Hij beoefent letterlijk alle literaire genres, van romans tot columnistiek, van poëzie tot reportagejournalistiek, van verhalen tot toneel. De traditionele grenzen tussen die genres lijken voor hem niet te bestaan: zijn grenzeloze creativiteit en expansieve literaire persoonlijkheid maken van de hele geschreven cultuur één groot gebied. Daarbij zijn het volume en de regelmaat van zijn jaarlijkse productie onwaarschijnlijk groot en bovenal zijn er weinig Nederlandse schrijvers van nu voor wie engagement zo'n vanzelfsprekende houding ten opzichte van de wereld is als voor Grunberg. Als embedded journalist, als betrokken romanschrijver, als kritisch ingesteld essayist is geen vluchtelingenzee hem te hoog, geen oorlogsgebied hem te gevaarlijk, geen politiek onderwerp hem te netelig. Arnon Grunberg laat als weinig andere auteurs zien hoezeer een vaardige pen geheel kan samenvallen met de persoonlijkheid van een schrijver die middenin de wereld staat. Om al die redenen is Grunberg de ideale kandidaat voor bekroning met de Gouden Ganzenveer 2017' , aldus de Academie.
De prijsuitreiking vindt plaats op donderdag 6 april a.s. in Amsterdam. Een weerslag van deze bijeenkomst wordt vastgelegd in een speciale uitgave, die in de loop van het jaar zal verschijnen.
De Academie, een initiatief van het bestuur van stichting De Gouden Ganzenveer, kent jaarlijks deze culturele prijs toe. De leden zijn afkomstig uit de wereld van cultuur, wetenschap, politiek en het bedrijfsleven.
Met deze onderscheiding wil de Academie het geschreven en gedrukte woord in het Nederlands taalgebied onder de aandacht brengen.
Voorgaande laureaten zijn Xandra Schutte, Geert Mak, David Van Reybrouck, Ramsey Nasr, Annejet van der Zijl, Remco Campert, Joke van Leeuwen, Adriaan van Dis, Joost Zwagerman, Tom Lanoye, Peter van Straaten, Maria Goos, Kees van Kooten, Jan Blokker en Michaël Zeeman.
Arnon Grunberg (Amsterdam, 1971) is een literaire duizendpoot en vaak bekroonde romanschrijver, woonachtig te New York.
In 1994 verscheen zijn debuut Blauwe maandagen, gevolgd door onder andere Figuranten (1997), het boekenweekgeschenk De heilige Antonio (1998), Fantoompijn (2000) en De asielzoeker (2003).
In de periode 1999 tot 2005 publiceerde Grunberg tevens onder het heteroniem Marek van der Jagt de romans De geschiedenis van mijn kaalheid (1999), Gstaad 95-98 (2002), en het boekenweekessay Monogaam (2002). De geschiedenis van mijn kaalheid werd bekroond met de Anton Wachterprijs, een prijs voor het beste schrijversdebuut.
Voor Tirza (2006) ontving Grunberg zowel de Gouden Uil als de Libris Literatuurprijs. In 2007 en 2009 verschenen respectievelijk het brievenboek Omdat ik u begeer en een bundeling van zijn reportages, Kamermeisjes & soldaten. In 2010 en 2012 verschenen de romans Huid en Haar en De man zonder ziekte, en in 2015 de ideeënroman Het Bestand, een wetenschappelijk experiment over creativiteit. In het afgelopen jaar publiceerde hij de roman Moedervlekken en Aan nederlagen geen gebrek, een selectie brieven en documenten 1988-1994.
Grunberg schrijft columns, essays, recensies, korte verhalen en reportages voor veel kranten, weekbladen en literaire tijdschriften zoals NRC Handelsblad, Vrij Nederland, Humo en de VPRO-Gids. Daarnaast heeft hij bijdragen geleverd aan diverse Europese en Amerikaanse kranten en tijdschriften, zoals Die Welt, Die Zeit, Libération en The New York Times. Ook laat hij zich in het theater zien, met stukken waarin hij speelt met vorm.
Grunberg houdt een weblog bij op www.arnongrunberg.com, schrijft wekelijks als De mensendokter een bijdrage voor Vrij Nederland en heeft een dagelijkse column in de Volkskrant, 'Voetnoot', die in 2012 in boekvorm werd gebundeld. Zijn werk is vertaald in negenentwintig talen.
Op donderdag 6 april 2017 ontvangt hij de Gouden Ganzenveer.
# Uitgebreide informatie is te vinden op www.goudenganzenveer.nl
fleursdumal.nl magazine
More in: - Book Lovers, Archive G-H, Arnon Grunberg, Art & Literature News, CINEMA, RADIO & TV, DICTIONARY OF IDEAS, Joost Zwagerman, Literary Events, Remco Campert
---
Het zijn er dertien. Natuurlijk. Want Tilburg. Dertien lichtvoetige dichters. Virtuoze taaltovenaars met gevoel voor humor. Nooit eerder kwamen zoveel gelauwerde woordkunstenaars in één voorstelling bijeen. Oude meesters als Ivo de Wijs, Pieter Nieuwint en Jan Boerstoel. Jong talent als Jan Beuving en Theo Danes. Verwacht verrassingen van alleskunner Erik van Muiswinkel, visuele ollekebollekes van Peter Knipmeijer en Frank Fabian van Keeren, hilarische liedjes van Dorine Wiersma en Roel C. Verburg. Zelfs Kees Torn stapt deze middag nog één keer op het podium. Kortom: deze unieke, eenmalige LichteGedichtenDag mag je gewoon niet missen.
De presentatie is in handen van Frank van Pamelen en Jan J. Pieterse. Dat maakt samen dertien dichters. Voor maar dertien euro. Natuurlijk. Want het is in Tilburg.
zondag 29 januari 2017 – 14:30u
Concertzaal Tilburg
LichteGedichtenDag
Ivo de Wijs, Kees Torn, Erik van Muiswinkel e.a.
cabaret – literair
# Meer informatie op website Theaters Tilburg
fleursdumal.nl magazine
More in: Art & Literature News, LIGHT VERSE, Literary Events, Pamelen, Frank van, POETRY ARCHIVE, The talk of the town, THEATRE, Wijs, Ivo de
---

Incubate is the annual celebration of cutting-edge culture. It is a festival exhibiting a diverse view on indie culture as a whole, including music, visual arts, film and contemporary theater, and a conference. For the upcoming December edition it brings more than 40+ cutting edge artists in an intimate context to an international audience. Black metal next to free jazz. Refreshing art next to innovating indie games.
Incubate takes place troughout more than fifteen venues in the inner-city of Tilburg.
Incubate – 10/11 December 2016
Incubate Zero is the part of the programme that is FREE for all to attend. A little taste of the festival so you can decide if you want more. After the success of the previous Incubate Zero programmes, we're proud to host another free offering of artists. So make sure to bring your friends and family and check out these acts!
On December 11th, everyone can enjoy some of the best new acts from the European underground. Divided over venues Cul de Sac and Kim's Kroeg, the following bands will perform:
Heads
HEADS. from Berlin are a loud and noisy bunch, clearly influenced by Shellac and The Jesus Lizard: the good stuff. Their first record was released by This Charming Man Records so you know this not just your average band. Come see for yourself at Cul de Sac on Sunday December 11th.
Any Other
Remember those sweet, sweet times that we call the nineties? You might, but these kids don't because they're way too young. They do sound like they were there though, and they do such a killer job at it we forgot all about Kim Deal or Weezer or whatever. Who are those people anyway? Any Other excel in doing their own new thing with a sound that is beloved and feels familiar.
Fake O's
If these Groningen locals would be a black metal band they'd be considered trve kvlt without a doubt. This hardcore punk outfit sounds like they came straight from the Bay Area in the eighties and shred like they want to show Keith Morris how it's done. Of course Keith already knows, but he'd still be into FAKE O's.
Sven Agaath
When you think you've heard it all: you're about to find out you haven't. Sven Agaath play shoegaton (a term they probably coined themselves and for which they should receive proper recognition), a mix between shoegaze and reggaeton. They themselves call it "a mixture of Dinosaur Jr, Sean Paul, MBV and Daddy Yankee that feels urgent and natural". Although this will probably sound horrifying to most music fans, we can assure you – it really isn't. Sven Agaath is for everybody that likes shoegaze but also wants to dance from time to time.
The Shady Greys
The Shady Greys are an Amsterdam based dirty blues-garage duo with a nice lo-fi sound. Although using only a cajon and feet played percussions (no drums!) they're a high energy duo with fast riffing and raw vocals.
Dead High Wire
A young band from Antwerp and Mechelen, Belgium playing a mixture of echoing postpunk and indierock. They've released work on Kinky Star records (La Jungle, Räpe Blossoms etc.) and Oddie Records (Teen Creeps, Mind Rays, Double Veterans etc.). These are quality labels worth a whole lot more than that 'organic' logo on your milk carton.
Jellephant & The Phantoms
A young guy from Arnhem named Jelle and his band called The Phantoms are psychedelic band that make us think of our fellow countrymen Yuko Yuko. With a cool, echoing lo-fi mix of psychedelica, surf and downbeat garage these kids are one of the better Dutch acts in recent years.
Wobby
Together with Tilburg natives, comic creators and founders of the small press magazine 'Wobby', Incubate is proud to add a Comic Fair to its December edition. This will be accompanied by an English edition of the Wobby magazine, with contributions from different artists. There will also be talks, performances and interviews, but the main event will be your chance to meet and see some of your favorite creators. Guests include Bries (BE), Sigrid Calon (NL), Charlotte Dumortier (BE), Maurice van Es (NL), Jeroen Funke (NL), KAMP HORST (NL), Knust/Extrapool (NL), Vite (BE), The Stalinskis (NL), Tieten Met Haar (BE), and Ward Zwart (BE).
Holzapfel
Incubate will finalize its two-year visual arts program Do It With Others with a special performance by German artist Olaf Holzapfel. Holzapfel is a multidisciplinary artist who has extended his practice of painting with photography, sculptures, installations and digital work. To create his architectural sculptures, Holzapfel uses a range of (often locally sourced) materials, from plastic to straw. On Saturday 10th of December Holzapfel will do a special performance with a group of participants and craftsmen, around the noble art of rope making. Making a rope from straw is a complex process, a traditional craft that few still master. Tilburg is known for its history in textiles and the use of flax and hemp, as traditionally hemp was grown for processing into rope. As Incubate always connects artists with visitors and history with contemporary art, we invite all those interested to join us and Holzapfel in this special performance.
Incubate Art Symposium
At Incubate we try to offer kicks and contemplation right next to each other. We like to learn new things while having fun; about music and art and all the wonderful things that come with it. This is why we're delighted to host the Do It With Others symposium on December 11th at Duvelhok. Following the finissage of Olaf Holzapfel's project the day before, the symposium will include several artists that contributed to Do It With Others over the recent years. They will be interviewed by some very interesting hosts from the Dutch contemporary art scene, discussing their past residencies and collaborative work produced in Tilburg. Make sure to catch these afternoon talks if you're curious to meet these artists in person and ask them your questions.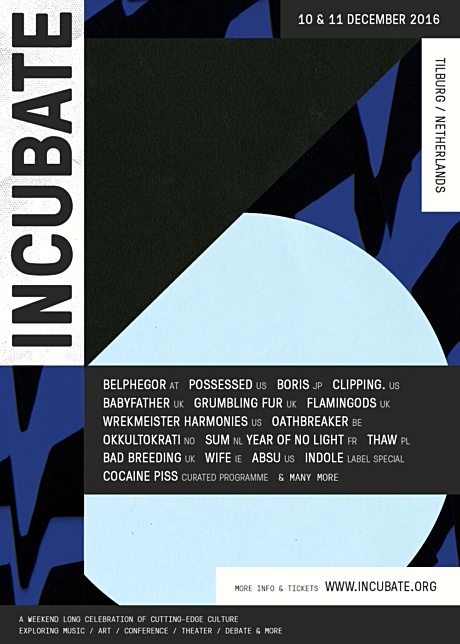 Incubate takes place troughout more than fifteen venues in the inner-city of Tilburg.
Incubate – 10/11 December 2016
incubate tilburg
Postal address
Postbus 327
5000 AH Tilburg
the Netherlands
Visiting address
NEW OFFICE:
Willem II Straat 49,
5038 BD Tilburg
Tel: +31 (0)13 590 4839
Box office opening hours:
Saturday: 12:00 – 22:00
Sunday: 12:00 – 22:00
Adress:
013 Poppodium
Veemarktstraat 44
5038 CV Tilburg
# More information on website Incubate
fleursdumal.nl magazine
More in: Art & Literature News, CINEMA, RADIO & TV, DANCE, DICTIONARY OF IDEAS, FDM Art Gallery, Literary Events, MUSIC, Street Art, STREET POETRY, The talk of the town, THEATRE, Urban Art
---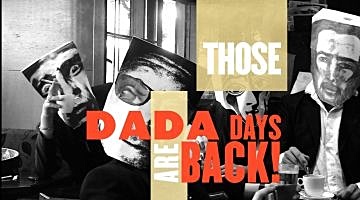 De Nacht van DADA viert zaterdag 3 december 2016 in DE Studio de 100ste verjaardag van de explosieve kunstbeweging met optredens van BLIXA BARGELD en een ontregeld leger artiesten. Let's DADA! VONK & Zonen en Villanella presenteren op zaterdag 3 december de Nacht van DADA in DE Studio. Deze festivalnacht staat helemaal in het teken van 100 jaar dada, de anarchistische en explosieve kunstbeweging die Europa in vuur en vlam zette kort na de eerste wereldoorlog. VONK & Zonen verzamelde een ontregeld leger artiesten die de DADA-geest uit de fles laten die in gesprek gaat met deze woelige tijden.
De Nacht van DADA wordt geopend door een uurlange 'Solo Vocal Performance' van BLIXA BARGELD. Hij ontleende niet voor niets zijn artiestennaam van de Duitse dichter en kunstenaar Johannes Theodor Baargeld (actief in de dadagroep in Keulen). Bargeld brengt een vocale performance in de geest van Kurt Schwitters. Daarna barst het festival uit zijn voegen in de verschillende zalen in DE Studio.
HERR SEELE, MARCEL VANTHILT en TEUN VERBRUGGEN & BONOM bereiden gepast dadaïstisch vuurwerk voor. Poëzierotten JAAP BLONK, PETER HOLVOET-HANSSEN en DIDI DE PARIS knipogen naar de historische dadapoëzie. Er is ook beeldende kunst met collage's van BARBARA BERVOETS, spielereien van BERT LEZY en fluxus art van LUDO MICH. Tip Toe Topic, met o.a. ELKO BLIJWEERT, begeleiden oude experimentele dadafilmpjes. Danser MICHAEL VAN REMOORTERE toont zijn kont. Dichter ANDY FIERENS en muzikant MICHAËL BRIJS verzamelen een 30-koppig gelegenheidskoor onder de noemer De Bronstige Bazooka's dat hun nieuwe dadawereldcreatie 'World Reet Center', waarin goede smaak wanhopig en helaas tevergeefs vecht voor zichzelf, in première zal zingen. De kunstenaars van Yellow Art uit Geel en het psychiatrisch centrum Sint-Amadeus uit Mortsel zorgen voor een 100-tal dadaïstisch beschilderde maskers die tijdens de Nacht van DADA worden uitgedeeld.
Al wat te serieus is in deze wereld zal er aan moeten geloven, dus doe uw beste boots aan en trek een zak over uw lelijke kop. Here we go. Let's DADA!
De Nacht van DADA is een organisatie van VONK & Zonen i.s.m. Villanella en met steun van het Vlaams Fonds voor de Letteren en de stad Antwerpen.
De vorige Nacht van VONK is niet onopgemerkt voorbij gegleden. Meer dan vijftig schrijvers, muzikanten en kunstenaars brachten de geest van Jean-Marie Berckmans tot leven en doopten deze wilde nacht om tot de Nacht van PAFKE.
Dit jaar zet VONK & Zonen het festival in het teken van 100 jaar dada, de anarchistische, explosieve kunstbeweging die Europa in vuur en vlam zette kort na de eerste wereldoorlog. Verwacht u aan interventies van onze beste artiesten, van Herr Seele over Marcel Vanthilt tot Jaap Blonk. Als knallende openingsact hebben we Blixa Bargeld gestrikt voor een solo vocale performance in de geest van Kurt Schwitters. Al wat te serieus is in deze wereld, zal er aan moeten geloven.
DE Studio zal op zijn grondvesten daveren, dus doe uw beste boots aan en trek een zak over uw kop.
Here we go. Let's dada!
DE VOLLEDIGE PROGRAMMATIE
EN TICKETS VIND JE OP
WWW.DESTUDIO.COM &
WWW.VONKENZONEN.BE
Met o.a.
HERR SEELE
JAAP BLONK
TEUN VERBRUGGEN
MARCEL VANTHILT
TIP TOE TOPIC
LUDO MICH
PETER HOLVOET-HANSSEN
BONOM
BARBARA BERVOETS
ANDREW CLAES
BERT LEZY
ANDY FIERENS
MICHAËL BRIJS
DE BRONSTIGE BAZOOKA'S
HERSENCELLEN
GERT VANLERBERGHE
ELKO BLIJWEERT
KUNSTHUIS YELLOW ART
DJ BOOTS
DIANE GRACE
TROEBEL NEYNTJE
KATJA STONEWOOD
VITALSKI
DJ WAGONMAN
SVEN DE SWERTS
MICHAEL VAN REMOORTERE
ANNELEEN VAN OFFEL
ELENA PEETERS
DOMINIQUE OSIER
DIDI DE PARIS
BUTSENZELLER
JEUGD & POËZIE
HAMSTER AXIS OF THE ONE CLICK PANTHER
PHILIP MEERSMAN
GEERT BEULLENS
MCHNRY
FREDERIK LUCIEN DE LAERE
ATERITIS BELDEMOR
DE Studio
Maarschalk Gérardstraat 4
2000 Antwerpen
# Meer info op website DE Studio
fleursdumal.nl magazine
More in: - Sound Poetry Archive, Art & Literature News, Baargeld, Johannes Theodor, Ball, Hugo, Dada, DADA, Dadaïsme, Doesburg, Theo van, Kok, Antony, Literary Events, Ostaijen, Paul van, Schwitters, Kurt, THEATRE, Tzara, Tristan
---
Tijdens een heerlijke high tea met allerlei zoete en hartige versnaperingen, van scones met clotted cream en jam tot cucumber sandwiches, en uiteraard een glas fijne bubbels of versgeperst sinaasappelsap, brengt voordrachtskunstenaar Simon Mulder u zijn favoriete delen uit het werk van literair beeldenstormer, veelschrijver, dandy, smulpaap en zelfonderzoeker Lodewijk van Deyssel (1864-1952).
Hij laat via de telefoon aan een pensionhoudster een voorbeeld van een goede thee geven, mislukt in het bestellen van bier in Parijs, maakt op geniale wijze gehakt van het werk van een collega-schrijver, beleeft de verleiding van een snoepwinkel naast een kuuroord, maakt een zeer goed voorbereid en ruim met wijn besproeid reisje naar Roermond (met helaas enige fouten) en krijgt zijn hysterische tante op bezoek.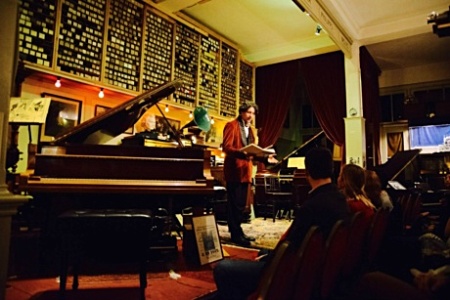 Op de thee bij Lodewijk van Deyssel – 26 november – Pianola Museum
Locatie: Pianola Museum, Amsterdam
Datum: zaterdag 26 november
Zaal open: 14:30 uur
Aanvang: 15:00 uur
Entree: 25,- euro p.p. of 22,50 euro p.p. met korting (inclusief high tea)
Meer informatie: www.feestderpoezie.nl
reservering via info@pianolamuseum.nl
fleursdumal.nl magazine
More in: - Book Lovers, Archive C-D, Archive C-D, Art & Literature News, Literary Events, Lodewijk van Deyssel
---
Bloomsbury Festival 2016 London October 19 to 23 october
For hundreds of years, Bloomsbury has been catalyst for ideas that have had impact across the world. Bloomsbury Festival celebrates contemporary Bloomsbury; a hotbed of creativity and pioneering development which has one of the youngest and most diverse populations in the country.
For five days in October, Bloomsbury will be full to the brim with artistic, scientific and literary events for all ages and tastes, from breakfast until late in the evenings taking place in the streets, parks, museums, galleries, laboratories and public and (normally) private buildings of this vibrant cultural quarter. There will be over 150 events created with over 100 partners.
Inspired by the centenary of SOAS and with Bloomsbury residents reflecting one of highest levels of diversity in the UK, the theme selected for this year's festival is Language. Language comes in many forms; speech, symbols, non-verbal communication, performance language, dance notation, morse code, sign language, computer code. Language will be explored throughout all the events; from the cuneiform inscriptions on tablets of clay at the British Museum inspiring a collaboration by an artist and historian, to investigations of Legal and medical 'languages' that are used in many firms and laboratories and hospitals in Bloomsbury.
Baroness Valerie Amos, Director of SOAS says: 'As we celebrate 100 years of SOAS teaching and research, we are delighted that the Bloomsbury Festival's theme this year is dedicated to language. SOAS is a special place with its unique blend of languages, regional and discipline expertise. We are proud of our Bloomsbury location and, with the addition of Senate House North Block, the growth of our Bloomsbury Campus. As we look forward to the next 100 years, we will continue to play a central role in the cultural and creative life of the area.'
Kate Anderson, Bloomsbury Festival director says 'Bloomsbury Festival is unique, as is the area of Bloomsbury in which leading institutions and world-class creative organisations rub shoulders with primary schools and lawyers. We make the Festival with over 100 Bloomsbury partners, providing opportunities for unusual collaborations and development opportunities for all. The result is a very distinctive festival indeed! And with over 150 events including all art forms, science, architecture, walks, technology, outdoor music, debating and hubs focusing on families, I think we can safely say there is something for everyone at Bloomsbury Festival.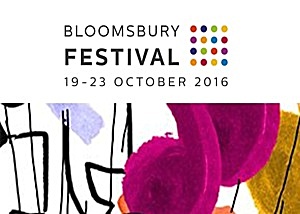 A few of this year's headline events include Coram's Songs, a promenade performance set in the known and secret spaces around the Foundling Hospital. 2016 marks the 275th anniversary of the Foundling Hospital and the 80th anniversary of Coram's Fields. Created by director Emma Bernard in partnership with renowned composers including Jocelyn Pook, Orlando Gough, Michael Henry and Melanie Pappenheim, Coram's Songs is inspired by this unique seven acre, greenfield site in central London that has been preserved as a sanctuary for children for circa 300 years.
Step Out Store Street will be a night-time street party with a twist: the street will be transformed by an array of artists and dancers, showcasing and teaching different dance disciplines from around the world, from Bollywood to B­Boy and Swing to Line dancing. Pa-BOOM's fiery pyrotechnic art installations will make a welcome return and the event will also feature a premiere of a new street dance commission from acclaimed dancer Tony Adigun's Avant Garde Youth Dance Company. The street's eclectic mix of boutiques, shops and restaurants will each house a different art, music and dance experience and an abundance of street food and bars will be available.
Other headline events will include The Last Whisperers at the British Museum, Calling Tree in St George's Gardens, a specially curated programme at The Wellcome Trust, Goodensemble and ENO at Goodenough College, and SOAS' World Music Stage inside the newly opened north block of Senate House.
The festival centres around three main hub venues Goodenough college, UCL, and Conway Hall with activities also taking place at a further 20+ satellite venues including the Wellcome Trust, the British Museum, the British Library, Pushkin House, Charles Dickens Museum, Coram's Fields, the Music Room, Bloomsbury Hotel, the Curzon Bloomsbury, and Store Street. There will be lunchtime events Wed 19 – Fri 21 for locals and workers to attend and breakfast events and talks in local cafes.
Every year the Festival runs a competition for BA (Hons) Graphic Communication Design, Central Saint Martin's students to design the festival logo. This year's winning entry is by Wies van der Wal which the judges felt illustrated the theme of language, the coming together of ideas and joy of the Festival perfectly.
Key Dates and Times:
Festival Dates: Wednesday 19 October to Sunday 23 October, throughout the day, everyday
Coram's Songs: Wednesday 19 October, evening and repeated during the Festival, Coram's Fields, 93 Guilford Street, London, WC1N 1DN
Step Out Store Street: Friday October 21 2016, 6.30pm to 9.30pm, Store Street, Bloomsbury, WC1E 7DH, Free outdoor event, just turn up
Key Locations:
Coram's Fields, 93 Guilford St, London WC1N 1DN, Camden
Foundling Museum, 40 Brunswick Square, London WC1N 1AZ, Camden
Goodenough College, Mecklenburgh Square, London WC1N 2AB, Camden
Conway Hall, 25 Red Lion Square, London WC1R 4RL
Store Street WC1E 7DB, Camden
UCL Gower St, London WC1E 6BT
Bloomsbury is an area of the London Borough of Camden, in central London, between Euston Road and Holborn, developed by the Russell family in the 17th and 18th centuries into a fashionable residential area. It is notable for its array of garden squares, literary connections (exemplified by the Bloomsbury Group), and numerous cultural, educational and health-care institutions.
Established in 2006, Bloomsbury Festival is a creative explosion of arts, science, literature, culture and fun throughout the streets, parks, museums, galleries, laboratories and public and (normally) private buildings of this vibrant cultural quarter. For hundreds of years Bloomsbury has been a catalyst for ideas that have had impact across the world.
Bloomsbury Festival celebrates contemporary Bloomsbury; a hotbed of creativity and pioneering development which has one of the youngest and most diverse populations in the country. Created with its extraordinary community including more libraries, museums, and educational establishments than any other part of the city, the Festival acts as catalyst bringing together its diverse population, and as a spur to develop new projects and new ideas. Each year, the Festival attracts an audience of around 50,000 people.
# The final programme will be online on Bloomsbury festival website
fleursdumal.nl magazine
More in: Art & Literature News, CINEMA, RADIO & TV, DANCE, FDM in London, Literary Events, MUSIC, Street Art, STREET POETRY, THEATRE, Virginia Woolf
---

Ehrengast Flandern und die Niederlande
Dies ist, was wir teilen
454 Neuerscheinungen aus und über Flandern und die Niederlande
Der Ehrengast der diesjährigen Frankfurter Buchmesse zeigt 2016 beispielhaft, wie man Grenzen überwindet und zusammen auf Gemeinsamkeiten blickt. Denn in diesem Jahr ist am Main nicht eine Nation, sondern ein Sprach- und Kulturraum Ehrengast. Wie aktiv und erfolgreich Flandern und die Niederlande zusammen gearbeitet haben, belegt die ausgesprochen hohe Anzahl von 454 Neuerscheinungen – und das in vielen Genres: Belletristik, Sachbuch, Lyrik, Kinder- und Jugendliteratur, Comic und Graphic Novel. Zum Vergleich: In den letzten Jahren erschienen im deutschen Sprachraum durchschnittlich 85 neue Übersetzungen pro Jahr.
Im Rahmen der Frankfurter Buchmesse (19. – 23. Oktober 2016) findet ein umfangreiches literarisches und kulturelles Programm statt, an dem etwa 70 flämische und niederländische Schriftsteller aller Genres teilnehmen. Die Besucher erwarten unter anderem Virtual- Reality-Präsentationen, Theater- und Filmfestivals, literarische Gespräche vor großem Publikum sowie Kunst-, Design- und Architekturausstellungen. Ein Teil dieses Geschehens ereignet sich im 2.300 Quadratmeter großen Ehrengast- Pavillon (Forum, Ebene 1) auf dem Messegelände, ein anderer Teil in der Stadt Frankfurt. Künstlerischer Leiter der Ehrengast-Präsentation ist der flämische Kinder- und Jugendbuch-Autor Bart Moeyaert.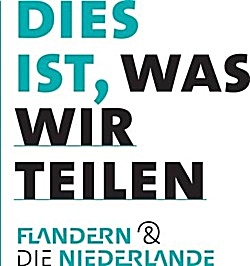 Im eigens für den Ehrengast eingerichteten Pavillon findet von 9.30 bis 19.00 Uhr ein abwechslungsreiches Programm bestehend aus zehn unterschiedlichen Formaten statt. Hier eine Auswahl: Via Virtual Reality werden die Besucher den Barcelona-Pavillon betreten können, den Mies van der Rohe anlässlich der Weltausstellung in 1929 in der katalanischen Hauptstadt errichtet hat. Im Kino können Cineasten verschiedene Filme aus und über Flandern und die Niederlande sehen und sich von den Geschichten und Bildern begeistern lassen. Im Atelier entsteht unter der Doppel-Leitung von Joost Swarte und Randall Casaer die Zeitschrift Parade – jeden Tag eine Ausgabe. In der Ausstellung "Books on… Flandern und die Niederlande" sind Titel über den Ehrengast aus aller Welt zu besichtigen.
Über den Zeitraum von sechs Wochen bietet das Künstlerhaus Mousonturm ein spannendes, Bühnenkunstfestival und lädt an den Messetagen ins Ehrengast-Café ein. Das MMK (Museum Moderne Kunst) hat drei Künstler zu Gast: Fiona Tan (MMK1), Willem de Rooij (MMK2) und Laure Prouvost (MMK3). Auch das Schauspiel Frankfurt, das Städel Museum, das Foto Forum, die basis, das DAM (Deutsches Architektur Museum) und das Deutsche Filminstitut – DIF präsentieren bekannte und weniger bekannte Künstler aus Flandern und den Niederlande. Auf Initiative der Niederländischen Stiftung für Literatur und des Flämischen Literaturfonds finden im Rahmen des Ehrengastauftritts in ganz Deutschland über 400 Veranstaltungen statt. Nähere Informationen unter: www.frankfurt2016.com
Über die Frankfurter Buchmesse: Die Frankfurter Buchmesse ist mit 7.100 Ausstellern aus über 100 Ländern, rund 275.000 Besuchern, über 4.000 Veranstaltungen und rund 9.300 anwesenden akkreditierten Journalisten die größte Fachmesse für das internationale Publishing. Darüber hinaus ist sie ein branchenübergreifender Treffpunkt für Player aus der Filmwirtschaft und der Gamesbranche. Einen inhaltlichen Schwerpunkt bildet seit 1976 der jährlich wechselnde Ehrengast, der dem Messepublikum auf vielfältige Weise seinen Buchmarkt, seine Literatur und Kultur präsentiert. Die Frankfurter Buchmesse organisiert die Beteiligung deutscher Verlage an rund 20 internationalen Buchmessen und veranstaltet ganzjährig Fachveranstaltungen in den wichtigen internationalen Märkten. Mit der Gründung des Frankfurt Book Fair Business Clubs bietet die Frankfurter Buchmesse Unternehmern, Verlegern, Gründern, Vordenkern, Experten und Visionären ideale Voraussetzungen für ihr Geschäft. Die Frankfurter Buchmesse ist ein Tochterunternehmen des Börsenvereins des Deutschen Buchhandels. www.buchmesse.de
# Mehr über die Frankfurter Buchmesse
fleursdumal.nl magazine
More in: - Book Lovers, - Book News, - Bookstores, Art & Literature News, CINEMA, RADIO & TV, Literary Events, THEATRE
---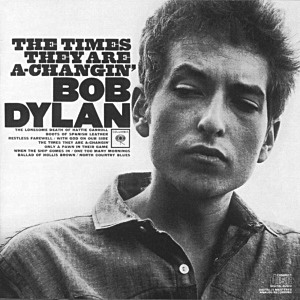 The Nobel Prize in Literature 2016
Bob Dylan
The Nobel Prize in Literature for 2016 is awarded to Bob Dylan: "for having created new poetic expressions within the great American song tradition".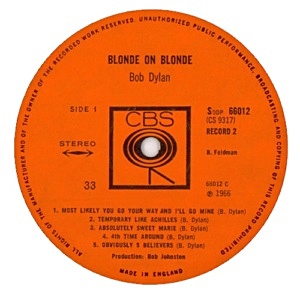 Bob Dylan Albums
Bob Dylan (1962)
The Freewheelin' Bob Dylan (1963)
The Times They Are A-Changin' (1964)
Another Side Of Bob Dylan (1964)
Bringing It All Back Home (1965)
Highway 61 Revisited (1965)
Blonde On Blonde (1966)
Bob Dylan's Greatest Hits (1967)
John Wesley Harding (1968)
Nashville Skyline (1969)
Self Portrait (1970)
New Morning (1970)
Bob Dylan's Greatest Hits Vol. 2 (1971)
Pat Garrett & Billy The Kid (1973)
Dylan (1973)
Planet Waves (1974)
Before The Flood (1974)
Blood On The Tracks (1975)
The Basement Tapes (1975)
Desire (1976)
Hard Rain (1976)
Street Legal (1978)
Bob Dylan At Budokan (1978)
Slow Train Coming (1979)
Saved (1980)
Shot Of Love (1981)
Infidels (1983)
Real Live (1984)
Empire Burlesque (1985)
Biograph (1985)
Knocked Out Loaded (1986)
Down In The Groove (1988)
Dylan & The Dead (1989)
Oh Mercy (1989)
Under The Red Sky (1990)
The Bootleg Series Vols. 1-3: Rare And Unreleased 1961-1991 (1991)
Good As I Been to You (1992)
World Gone Wrong (1993)
Bob Dylan's Greatest Hits Vol. 3 (1994)
MTV Unplugged (1995)
The Best Of Bob Dylan (1997)
The Songs Of Jimmie Rodgers: A Tribute (1997)
Time Out Of Mind (1997)
The Bootleg Series, Vol. 4: Bob Dylan Live 1966: The 'Royal Albert Hall' Concert (1998)
The Essential Bob Dylan (2000)
"Love And Theft" (2001)
The Bootleg Series, Vol. 5: Live 1975: The Rolling Thunder Revue (2002)
Masked And Anonymous: The Soundtrack (2003)
Gotta Serve Somebody: The Gospel Songs Of Bob Dylan (2003)
The Bootleg Series, Vol. 6: Live 1964: Concert At Philharmonic Hall (2004)
The Bootleg Series, Vol. 7: No Direction Home: The Soundtrack (2005)
Live At The Gaslight 1962 (2005)
Live At Carnegie Hall 1963 (2005)
Modern Times (2006)
The Traveling Wilburys Collection (2007)
The Bootleg Series, Vol. 8: Tell Tale Signs: Rare And Unreleased, 1989-2006 (2008)
Together Through Life (2009)
Christmas In The Heart (2009)
The Original Mono Recordings (2010)
The Bootleg Series, Vol. 9: The Witmark Demos: 1962-1964 (2010)
Good Rockin' Tonight: The Legacy Of Sun (2011)
Timeless (2011)
Tempest (2012)
The Lost Notebooks Of Hank Williams (2011)
The Bootleg Series, Vol. 10: Another Self Portrait (2013)
The Bootleg Series, Vol. 11: The Basement Tapes Complete (2014)
The Bootleg Series, Vol. 12: The Cutting Edge 1965-1966 (2015)
Shadows In The Night (2015)
Fallen Angels (2016)
fleursdumal.nl magazine
13 oct. 2016
More in: Archive C-D, Art & Literature News, Bob Dylan, Dylan, Bob, Literary Events
---
Older Entries »
« Newer Entries
Thank you for reading FLEURSDUMAL.NL - magazine for art & literature