Archive S-T
·
Frank STOCKTON: The Griffin and the Minor Canon
·
Thomas TRAHERNE: Innocence
·
MARY SHELLEY: The Mortal Immortal
·
IN MEMORIAM NEUROLOOG EN SCHRIJVER: OLIVER SACKS (1933 – 2015)
·
Mark Twain: A Humane Word from Satan
·
Mark Twain: After the Fall (Eve's Diary III)
·
Mark Twain: Extract from Adam's Diary (Eve's Diary II)
·
Mark Twain: Eve's Diary
·
Mark Twain: Saint Joan of Arc
·
Mark Twain: A Helpless Situation
·
Mark Twain: Amended Obituaries
·
Mark Twain: A Telephonic Conversation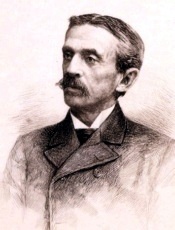 The Griffin and the Minor Canon
by Frank Stockton
Over the great door of an old, old church which stood in a quiet town of a faraway land there was carved in stone the figure of a large griffin. The old-time sculptor had done his work with great care, but the image he had made was not a pleasant one to look at. It had a large head, with enormous open mouth and savage teeth; from its back arose great wings, armed with sharp hooks and prongs; it had stout legs in front, with projecting claws, but there were no legs behind–the body running out into a long and powerful tail, finished off at the end with a barbed point. This tail was coiled up under him, the end sticking up just back of his wings.
The sculptor, or the people who had ordered this stone figure, had evidently been very much pleased with it, for little copies of it, also of stone, had been placed here and there along the sides of the church, not very far from the ground so that people could easily look at them, and ponder on their curious forms. There were a great many other sculptures on the outside of this church–saints, martyrs, grotesque heads of men, beasts, and birds, as well as those of other creatures which cannot be named, because nobody knows exactly what they were; but none were so curious and interesting as the great griffin over the door, and the little griffins on the sides of the church.
A long, long distance from the town, in the midst of dreadful wilds scarcely known to man, there dwelt the Griffin whose image had been put up over the church door. In some way or other, the old-time sculptor had seen him and afterward, to the best of his memory, had copied his figure in stone.
The Griffin had never known this, until, hundreds of years afterward, he heard from a bird, from a wild animal, or in some manner which it is not now easy to find out, that there was a likeness of him on the old church in the distant town.
Now, this Griffin had no idea how he looked. He had never seen a mirror, and the streams where he lived were so turbulent and violent that a quiet piece of water, which would reflect the image of anything looking into it, could not be found. Being, as far as could be ascertained, the very last of his race, he had never seen another griffin. Therefore it was that, when he heard of this stone image of himself, he became very anxious to know what he looked like, and at last he determined to go to the old church, and see for himself what manner of being he was.
So he started off from the dreadful wilds, and flew on and on until he came to the countries inhabited by men, where his appearance in the air created great consternation; but he alighted nowhere, keeping up a steady flight until he reached the suburbs of the town which had his image on its church. Here, late in the afternoon, he lighted in a green meadow by the side of a brook, and stretched himself on the grass to rest. His great wings were tired, for he had not made such a long flight in a century, or more.
The news of his coming spread quickly over the town, and the people, frightened nearly out of their wits by the arrival of so strange a visitor, fled into their houses, and shut themselves up. The Griffin called loudly for someone to come to him but the more he called, the more afraid the people were to show themselves. At length he saw two laborers hurrying to their homes through the fields, and in a terrible voice he commanded them to stop. Not daring to disobey, the men stood, trembling.
"What is the matter with you all?" cried the Griffin. "Is there not a man in your town who is brave enough to speak to me?"
"I think," said one of the laborers, his voice shaking so that his words could hardly be understood, "that-perhaps–the Minor Canon–would come."
"Go, call him, then" said the Griffin; "I want to see him."
The Minor Canon, who was an assistant in the old church, had just finished the afternoon services, and was coming out of a side door, with three aged women who had formed the weekday congregation. He was a young man of a kind disposition, and very anxious to do good to the people of the town. Apart from his duties in the church, where he conducted services every weekday, he visited the sick and the poor, counseled and assisted persons who were in trouble, and taught a school composed entirely of the bad children in the town with whom nobody else would have anything to do. Whenever the people wanted something difficult done for them, they always went to the Minor Canon. Thus it was that the laborer thought of the young priest when he found that someone must come and speak to the Griffin.
The Minor Canon had not heard of the strange event, which was known to the whole town except himself and the three old women and when he was informed of it, and was told that the Griffin had asked to see him, he was greatly amazed and frightened.
"Me!" he exclaimed. "He has never heard of me! What should he want with me?"
"Oh! you must go instantly!" cried the two men. "He is very angry now because he has been kept waiting so long; and nobody knows what may happen if you don't hurry to him."
The poor Minor Canon would rather have had his hand cut off than go out to meet an angry Griffin but he felt that it was his duty to go for it would be a woeful thing if injury should come to the people of the town because he was not brave enough to obey the summons of the Griffin. So, pale and frightened, he started off.
'Well," said the Griffin, as soon as the young man came near, "I am glad to see that there is someone who has the courage to come to me."
The Minor Canon did not feel very brave, but he bowed his head.
'Is this the town," said the Griffin, "where there is a church with a likeness of myself over one of the doors?"
The Minor Canon looked at the frightful creature before him and saw that it was, without doubt, exactly like the stone image on the church. "Yes," he said, "you are right."
"Well, then," said the Griffin, "will you take me to it? I wish very much to see it."
The Minor Canon instantly thought that if the Griffin entered the town without the people's knowing what he came for, some of them would probably be frightened to death, and so he sought to gain time to prepare their minds.
'It is growing dark, now," he said, very much afraid, as he spoke, that his words might enrage the Griffin, "and objects on the front of the church cannot be seen clearly. It will be better to wait until morning, if you wish to get a good view of the stone image of yourself."
"That will suit me very well," said the Griffin. "I see you are a man of good sense. I am tired, and I will take a nap here on this soft grass, while I cool my tail in the little stream that runs near me. The end of my tail gets red-hot when I am angry or excited, and it is quite warm now. So you may go; but be sure and come early tomorrow morning, and show me the way to the church."
The Minor Canon was glad enough to take his leave, and hurried into the town. In front of the church he found a great many people assembled to hear his report of his interview with the Griffin. When they found that he had not come to spread rum, but simply to see his stony likeness on the church, they showed neither relief nor gratification, but began to upbraid the Minor Canon for consenting to conduct the creature into the town.
'What could I do?" cried the young man. "If I should not bring him he would come himself, and, perhaps, end by setting fire to the town with his red-hot tail."
Still the people were not satisfied, and a great many plans were proposed to prevent the Griffin from coming into the town. Some elderly persons urged that the young men should go out and kill him; but the young men scoffed at such a ridiculous idea.
Then someone said that it would be a good thing to destroy the stone image, so that the Griffin would have no excuse for entering the town; and this plan was received with such favor that many of the people ran for hammers, chisels, and crowbars, with which to tear down and break up the stone griffin. But the Minor Canon resisted this plan with all the strength of his mind and body. He assured the people that this action would enrage the Griffin beyond measure, for it would be impossible to conceal from him that his image had been destroyed during the night. But the people were so determined to break up the stone griffin that the Minor Canon saw that there was nothing for him to do but to stay there and protect it. All night he walked up and down in front of the church door, keeping away the men who brought ladders, by which they might mount to the great stone griffin, and knock it to pieces with their hammers and crowbars. After many hours the people were obliged to give up their attempts, and went home to sleep; but the Minor Canon remained at his post till early morning, and then he hurried away to the field where he had left the Griffin.
The monster had just awakened, and rising to his forelegs and shaking himself he said that he was ready to go into the town. The Minor Canon, therefore, walked back, the Griffin flying slowly through the air, at a short distance above the head of his guide. Not a person was to be seen in the streets, and they went directly to the front of the church, where the Minor Canon pointed out the stone griffin.
The real Griffin settled down in the little square before the church and gazed earnestly at his sculptured likeness. For a long time he looked at it. First he put his head on one side, and then he put it on the other; then he shut his right eye and gazed with his left, after which he shut his left eye and gazed with his right. Then he moved a little to one side and looked at the image, then he moved the other way. After a while he said to the Minor Canon, who had been standing by all this time:
"It is, it must be, an excellent likeness! That breadth between the eyes, that expansive forehead, those massive jaws! I feel that it must resemble me. If there is any fault to find with it, it is that the neck seems a little stiff. But that is nothing. It is an admirable likeness–admirable!"
The Griffin sat looking at his image all the morning and all the afternoon. The Minor Canon had been afraid to go away and leave him, and had hoped all through the day that he would soon be satisfied with his inspection and fly away home. But by evening the poor young man was very tired, and felt that he must eat and sleep. He frankly said this to the Griffin, and asked him if he would not like something to eat. He said this because he felt obliged in politeness to do so, but as soon as he had spoken the words, he was seized with dread lest the monster should demand half a dozen babies, or some tempting repast of that kind.
"Oh, no," said the Griffin; 'I never eat between the equinoxes. At the vernal and at the autumnal equinox I take a good meal, and that lasts me for half a year. I am extremely regular in my habits, and do not think it healthful to eat at odd times. But if you need food, go and get it, and I will return to the soft grass where I slept last night and take another nap."
The next day the Griffin came again to the little square before the church, and remained there until evening, steadfastly regarding the stone griffin over the door. The Minor Canon came out once or twice to look at him, and the Griffin seemed very glad to see him; but the young clergyman could not stay as he had done before, for he had many duties to perform. Nobody went to the church, but the people came to the Minor Canon's house, and anxiously asked him how long the Griffin was going to stay.
"I do not know," he answered, "but I think he will soon be satisfied with regarding his stone likeness, and then he will go away."
But the Griffin did not go away. Morning after morning he came to the church; but after a time he did not stay there all day. He seemed to have taken a great fancy to the Minor Canon, and followed him about as he worked. He would wait for him at the side door of the church, for the Minor Canon held services every day, morning and evening, though nobody came now. "If anyone should come," he said to himself, "I must be found at my post." When the young man came out, the Griffin would accompany him in his visits to the sick and the poor, and would often look into the windows of the schoolhouse where the Minor Canon was teaching his unruly scholars. All the other schools were closed, but the parents of the Minor Canon's scholars forced them to go to school, because they were so bad they could not endure them all day at home–Griffin or no Griffin. But it must be said they generally behaved very well when that great monster sat up on his tail and looked in at the schoolroom window.
When it was found that the Griffin showed no sign of going away, all the people who were able to do so left the town. The canons and the higher officers of the church had fled away during the first day of the Griffin's visit, leaving behind only the Minor Canon and some of the men who opened the doors and swept the church. All the citizens who could afford it shut up their houses and traveled to distant parts, and only the working people and the poor were left behind. After some days these ventured to go about and attend to their business, for if they did not work they would starve. They were getting a little used to seeing the Griffin; and having been told that he did not eat between equinoxes, they did not feel so much afraid of him as before.
Day by day the Griffin became more and more attached to the Minor Canon. He kept near him a great part of the time, and often spent the night in front of the little house where the young clergyman lived alone. This strange companionship was often burdensome to the Minor Canon, but, on the other hand, he could not deny that he derived a great deal of benefit and instruction from it. The Griffin had lived for hundreds of years, and had seen much, and he told the Minor Canon many wonderful things.
"It is like reading an old book," said the young clergyman to himself; "but how many books I would have had to read before I would have found out what the Griffin has told me about the earth, the air, the water, about minerals, and metals, and growing things, and all the wonders of the world!"
Thus the summer went on, and drew toward its close. And now the people of the town began to be very much troubled again.
"It will not be long," they said, "before the autumnal equinox is here, and then that monster will want to eat. He will be dreadfully hungry, for he has taken so much exercise since his last meal. He will devour our children. Without doubt, he will eat them all. What is to be done?"
To this question no one could give an answer, but all agreed that the Griffin must not be allowed to remain until the approaching equinox. After talking over the matter a great deal, a crowd of the people went to the Minor Canon at a time when the Griffin was not with him.
'It is all your fault," they said, "that that monster is among us. You brought him here, and you ought to see that he goes away. It is only on your account that he stays here at all; for, although he visits his image every day, he is with you the greater part of the time. If you were not here, he would not stay. It is your duty to go away, and then he will follow you, and we shall be free from the dreadful danger which hangs over us."
"Go away!" cried the Minor Canon, greatly grieved at being spoken to in such a way. "Where shall I go? If I go to some other town, shall I not take this trouble there? Have I a right to do that?"
"No," said the people, "you must not go to any other town. There is no town far enough away. You must go to the dreadful wilds where the Griffin lives, and then he will follow you and stay there."
They did not say whether or not they expected the Minor Canon to stay there also, and he did not ask them anything about it. He bowed his head, and went into his house to think. The more he thought, the more clear it became to his mind that it was his duty to go away, and thus free the town from the presence of the Griffin.
That evening he packed a leathern bag full of bread and meat, and early the next morning he set out or his journey to the dreadful wilds. It was a long, weary, and doleful journey, especially after he had gone beyond the habitations of men; but the Minor Canon kept on bravely, and never faltered.
The way was longer than he had expected, and his provisions soon grew so scanty that he was obliged to eat but a little every day; but he kept up his courage, and pressed on, and, after many days of toilsome travel, he reached the dreadful wilds.
When the Griffin found that the Minor Canon had left the town he seemed sorry, but showed no desire to go and look for him. After a few days had passed he became much annoyed, and asked some of the people where the Minor Canon had gone. But, although the citizens had been so anxious that the young clergyman should go to the dreadful wilds, thinking that the Griffin would immediately follow him, they were now afraid to mention the Minor Canon's destination, for the monster seemed angry already, and if he should suspect their trick he would, doubtless, become very much enraged. So everyone said he did not know, and the Griffin wandered about disconsolate. One morning he looked into the Minor Canon's schoolhouse, which was always empty now, and thought that it was a shame that everything should suffer on account of the young man's absence.
"It does not matter so much about the church," he said, "for nobody went there; but it is a pity about the school. I think I will teach it myself until he returns."
It was the hour for opening the school, and the Griffin went inside and pulled the rope which rang the school bell. Some of the children who heard the bell ran in to see what was the matter, supposing it to be a joke of one of their companions; but when they saw the Griffin they stood astonished and scared.
"Go tell the other scholars," said the monster, "that school is about to open, and that if they are not all here in ten minutes I shall come after them."
In seven minutes every scholar was in place.
Never was seen such an orderly school. Not a boy or girl moved or uttered a whisper. The Griffin climbed into the master's seat, his wide wings spread on each side of him, because he could not lean back in his chair while they stuck out behind, and his great tail coiled around, in front of the desk, the barbed end sticking up, ready to tap any boy or girl who might misbehave.
The Griffin now addressed the scholars, telling them that he intended to teach them while their master was away. In speaking he tried to imitate, as far as possible, the mild and gentle tones of the Minor Canon; but it must be admitted that in this he was not very successful. He had paid a good deal of attention to the studies of the school, and he determined not to try to teach them anything new, but to review them in what they had been studying; so he called up the various classes, and questioned them upon their previous lessons. The children racked their brains to remember what they had learned. They were so afraid of the Griffin's displeasure that they recited as they had never recited before. One of the boys, far down in his class, answered so well that the Griffin was astonished.
'I should think you would be at the head," said he. "I am sure you have never been in the habit of reciting so well. Why is this?"
"Because I did not choose to take the trouble," said the boy, trembling in his boots. He felt obliged to speak the truth, for all the children thought that the great eyes of the Griffin could see right through them, and that he would know when they told a falsehood.
"You ought to be ashamed of yourself," said the Griffin. "Go down to the very tail of the class; and if you are not at the head in two days, I shall know the reason why."
The next afternoon this boy was Number One.
It was astonishing how much these children now learned of what they had been studying. It was as if they had been educated over again. The Griffin used no severity toward them, but there was a look about him which made them unwilling to go to bed until they were sure they knew their lessons for the next day.
The Griffin now thought that he ought to visit the sick and the poor; and he began to go about the town for this purpose. The effect upon the sick was miraculous. All, except those who were very ill indeed, jumped from their beds when they heard he was coming, and declared themselves quite well. To those who could not get up he gave herbs and roots, which none of them had ever before thought of as medicines, but which the Griffin had seen used in various parts of the world; and most of them recovered. But, for all that, they afterward said that, no matter what happened to them, they hoped that they should never again have such a doctor coming to their bedsides, feeling their pulses and looking at their tongues.
As for the poor, they seemed to have utterly disappeared. All those who had depended upon charity for their daily bread were now at work in some way or other; many of them offering to do odd jobs for their neighbors just for the sake of their meals–a thing which before had been seldom heard of in the town. The Griffin could find no one who needed his assistance.
The summer had now passed, and the autumnal equinox was rapidly approaching. The citizens were in a state of great alarm and anxiety. The Griffin showed no signs of going away, but seemed to have settled himself permanently among them. In a short time the day for his semiannual meal would arrive, and then what would happen? The monster would certainly be very hungry, and would devour all their children.
Now they greatly regretted and lamented that they had sent away the Minor Canon; he was the only one on whom they could have depended in this trouble, for he could talk freely with the Griffin, and so find out what could be done. But it would not do to be inactive. Some step must be taken immediately. A meeting of the citizens was called, and two old men were appointed to go and talk to the Griffin. They were instructed to offer to prepare a splendid dinner for him on equinox day-one which would entirely satisfy his hunger. They would offer him the fattest mutton, the most tender beef fish, and game of various sorts, and anything of the kind that he might fancy. If none of these suited, they were to mention that there was an orphan asylum in the next town.
"Anything would be better," said the citizens, "than to have our dear children devoured."
The old men went to the Griffin; but their propositions were not received with favor.
"From what I have seen of the people of this town," said the monster, "I do not think I could relish anything which was prepared by them. They appear to be all cowards and, therefore, mean and selfish. As for eating one of them, old or young, I could not think of it for a moment. In fact, there was only one creature in the whole place for whom I could have had any appetite, and that is the Minor Canon, who has gone away. He was brave, and good, and honest, and I think I should have relished him."
"Ah!" said one of the old men very politely, "in that case I wish we had not sent him to the dreadful wilds!"
"What!" cried the Griffin. "What do you mean? Explain instantly what you are talking about!"
The old man, terribly frightened at what he had said, was obliged to tell how the Minor Canon had been sent away by the people, in the hope that the Griffin might be induced to follow him.
When the monster heard this he became furiously angry. He dashed away from the old men, and, spreading his wings, flew backward and forward over the town. He was so much excited that his tail became red-hot, and glowed like a meteor against the evening sky. When at last he settled down in the little field where he usually rested, and thrust his tail into the brook, the steam arose like a cloud, and the water of the stream ran hot through the town. The citizens were greatly frightened, and bitterly blamed the old man for telling about the Minor Canon.
"It is plain," they said, "that the Griffin intended at last to go and look for him, and we should have been saved. Now who can tell what misery you have brought upon us."
The Griffin did not remain long in the little field. As soon as his tail was cool he flew to the town hall and rang the bell. The citizens knew that they were expected to come there; and although they were afraid to go, they were still more afraid to stay away; and they crowded into the hall. The Griffin was on the platform at one end, flapping his wings and walking up and down, and the end of his tail was still so warm that it slightly scorched the boards as he dragged it after him.
When everybody who was able to come was there, the Griffin stood still and addressed the meeting.
'I have had a very low opinion of you," he said, "ever since I discovered what cowards you are, but I had no idea that you were so ungrateful, selfish, and cruel as I now find you to be. Here was your Minor Canon, who labored day and night for your good, and thought of nothing else but how he might benefit you and make you happy; and as soon as you imagine yourselves threatened with a danger–for well I know you are dreadfully afraid of me–you send him off, caring not whether he returns or perishes, hoping thereby to save yourselves. Now, I had conceived a great liking for that young man, and had intended, in a day or two, to go and look him up. But I have changed my mind about him. I shall go and find him, but I shall send him back here to live among you, and I intend that he shall enjoy the reward of his labor and his sacrifices.
"Go, some of you, to the officers of the church, who so cowardly ran away when I first came here, and tell them never to return to this town under penalty of death. And if, when your Minor Canon comes back to you, you do not bow yourselves before him, put him in the highest place among you, and serve and honor him all his life, beware of my terrible vengeance! There were only two good things in this town: the Minor Canon and the stone image of myself over your church door. One of these you have sent away, and the other I shall carry away myself."
With these words he dismissed the meeting, and it was time, for the end of his tail had become so hot that there was danger of it setting fire to the building.
The next morning the Griffin came to the church, and tearing the stone image of himself from its fastenings over the great door he grasped it with his powerful forelegs and flew up into the air. Then, after hovering over the town for a moment, he gave his tail an angry shake and took up his flight to the dreadful wilds. When he reached this desolate region, he set the stone griffin upon a ledge of a rock which rose in front of the dismal cave he called his home. There the image occupied a position somewhat similar to that it had had over the church door; and the Griffin, panting with the exertion of carrying such an enormous load to so great a distance, lay down upon the ground and regarded it with much satisfaction. When he felt somewhat rested he went to look for the Minor Canon. He found the young man, weak and half starved, lying under the shadow of a rock. After picking him up and carrying him to his cave, the Griffin flew away to a distant marsh, where he procured some roots and herbs which he well knew were strengthening and beneficial to man, though he had never tasted them himself. After eating these the Minor Canon was greatly revived, and sat up and listened while the Griffin told him what had happened in the town.
"Do you know," said the monster, when he had finished, "that I have had, and still have, a great liking for you?"
"I am very glad to hear it," said the Minor Canon, with his usual politeness.
"I am not at all sure that you would be," said the Griffin, "if you thoroughly understood the state of the case; but we will not consider that now. If some things were different, other things would be otherwise. I have been so enraged by discovering the manner in which you have been treated that I have determined that you shall at last enjoy the rewards and honors to which you are entitled. Lie down and have a good sleep, and then I will take you back to the town."
As he heard these words, a look of trouble came over the young man's face.
"You need not give yourself any anxiety," said the Griffin, "about my return to the town. I shall not remain there. Now that I have that admirable likeness of myself in front of my cave, where I can sit at my leisure, and gaze upon its noble features and magnificent proportions, I have no wish to see that abode of cowardly and selfish people."
The Minor Canon, relieved from his fears, lay back, and dropped into a doze; and when he was sound asleep the Griffin took him up, and carried him back to the town. He arrived just before daybreak, and putting the young man gently on the grass in the little field where he himself used to rest, the monster, without having been seen by any of the people, flew back to his home.
When the Minor Canon made his appearance in the morning among the citizens, the enthusiasm and cordiality with which he was received were truly wonderful. He was taken to a house which had been occupied by one of the banished high officers of the place, and everyone was anxious to do all that could be done for his health and comfort. The people crowded into the church when he held services, so that the three old women who used to be his weekday congregation could not get to the best seats, which they had always been in the habit of taking; and the parents of the bad children determined to reform them at home, in order that he might be spared the trouble of keeping up his former school. The Minor Canon was appointed to the highest office of the old church, and before he died, he became a bishop.
During the first years after his return from the dreadful wilds, the people of the town looked up to him as a man to whom they were bound to do honor and reverence; but they often, also, looked up to the sky to see if there were any signs of the Griffin coming back. However, in the course of time, they learned to honor and reverence their former Minor Canon without the fear of being punished if they did not do so.
But they need never have been afraid of the Griffin. The autumnal equinox day came round, and the monster ate nothing. If he could not have the Minor Canon, he did not care for anything. So, lying down, with his eyes fixed upon the great stone griffin, he gradually declined, and died. It was a good thing for some of the people of the town that they did not know this.
If you should ever visit the old town, you would still see the little griffins on the sides of the church; but the great stone griffin that was over the door is gone.
Frank Stockton (1834-1902)
The Griffin and the Minor Canon
fleursdumal.nl magazine
More in: -Short Stories Archive, Archive S-T
---
Thomas Traherne
(1637 – 1674)
Innocence
But that which most I wonder at, which most
I did esteem my bliss, which most I boast,
And ever shall enjoy, is that within
I felt no stain, nor spot of sin.
No darkness then did overshade,
But all within was pure and bright,
No guilt did crush, nor fear invade
But all my soul was full of light.
A joyful sense and purity
Is all I can remember;
The very night to me was bright,
'Twas summer in December.
A serious meditation did employ
My soul within, which taken up with joy
Did seem no outward thing to note, but fly
All objects that do feed the eye.
While it those very objects did
Admire, and prize, and praise, and love,
Which in their glory most are hid,
Which presence only doth remove.
Their constant daily presence I
Rejoicing at, did see;
And that which takes them from the eye
Of others, offer'd them to me.
No inward inclination did I feel
To avarice or pride: my soul did kneel
In admiration all the day. No lust, nor strife,
Polluted then my infant life.
No fraud nor anger in me mov'd,
No malice, jealousy, or spite;
All that I saw I truly lov'd.
Contentment only and delight
Were in my soul. O Heav'n! what bliss
Did I enjoy and feel!
What powerful delight did this
Inspire! for this I daily kneel.
Whether it be that nature is so pure,
And custom only vicious; or that sure
God did by miracle the guilt remove,
And make my soul to feel his love
So early: or that 'twas one day,
Wherein this happiness I found;
Whose strength and brightness so do ray,
That still it seems me to surround;
What ere it is, it is a light
So endless unto me
That I a world of true delight
Did then and to this day do see.
That prospect was the gate of Heav'n, that day
The ancient light of Eden did convey
Into my soul: I was an Adam there
A little Adam in a sphere
Of joys! O there my ravish'd sense
Was entertain'd in Paradise,
And had a sight of innocence
Which was beyond all bound and price.
An antepast of Heaven sure!
I on the earth did reign;
Within, without me, all was pure;
I must become a child again.
Thomas Traherne
fleursdumal.nl magazine
More in: Archive S-T, Archive S-T, CLASSIC POETRY
---
The Mortal Immortal
by Mary Shelley
July 16, 1833. — This is a memorable anniversary for me; on it I complete my three hundred and twenty-third year!
The Wandering Jew? — certainly not. More than eighteen centuries have passed over his head. In comparison with him, I am a very young Immortal.
Am I, then, immortal? This is a question which I have asked myself, by day and night, for now three hundred and three years, and yet cannot answer it. I detected a grey hair amidst my brown locks this very day — that surely signifies decay. Yet it may have remained concealed there for three hundred years — for some persons have become entirely white-headed before twenty years of age.
I will tell my story, and my reader shall judge for me. I will tell my story, and so contrive to pass some few hours of a long eternity, become so wearisome to me. For ever! Can it be? to live for ever! I have heard of enchantments, in which the victims were plunged into a deep sleep, to wake, after a hundred years, as fresh as ever: I have heard of the Seven Sleepers — thus to be immortal would not be so burthensome: but, oh! the weight of never-ending time — the tedious passage of the still-succeeding hours! How happy was the fabled Nourjahad! — But to my task.
All the world has heard of Cornelius Agrippa. His memory is as immortal as his arts have made me. All the world has also heard of his scholar, who, unawares, raised the foul fiend during his master's absence, and was destroyed by him. The report, true or false, of this accident, was attended with many inconveniences to the renowned philosopher. All his scholars at once deserted him — his servants disappeared. He had no one near him to put coals on his ever-burning fires while he slept, or to attend to the changeful colours of his medicines while he studied. Experiment after experiment failed, because one pair of hands was insufficient to complete them: the dark spirits laughed at him for not being able to retain a single mortal in his service.
I was then very young — very poor — and very much in love. I had been for about a year the pupil of Cornelius, though I was absent when this accident took place. On my return, my friends implored me not to return to the alchymist's abode. I trembled as I listened to the dire tale they told; I required no second warning; and when Cornelius came and offered me a purse of gold if I would remain under his roof, I felt as if Satan himself tempted me. My teeth chattered — my hair stood on end; — I ran off as fast as my trembling knees would permit.
My failing steps were directed whither for two years they had every evening been attracted, — a gently bubbling spring of pure living water, beside which lingered a dark-haired girl, whose beaming eyes were fixed on the path I was accustomed each night to tread. I cannot remember the hour when I did not love Bertha; we had been neighbours and playmates from infancy, — her parents, like mine were of humble life, yet respectable, — our attachment had been a source of pleasure to them. In an evil hour, a malignant fever carried off both her father and mother, and Bertha became an orphan. She would have found a home beneath my paternal roof, but, unfortunately, the old lady of the near castle, rich, childless, and solitary, declared her intention to adopt her. Henceforth Bertha was clad in silk — inhabited a marble palace — and was looked on as being highly favoured by fortune. But in her new situation among her new associates, Bertha remained true to the friend of her humbler days; she often visited the cottage of my father, and when forbidden to go thither, she would stray towards the neighbouring wood, and meet me beside its shady fountain.
She often declared that she owed no duty to her new protectress equal in sanctity to that which bound us. Yet still I was too poor to marry, and she grew weary of being tormented on my account. She had a haughty but an impatient spirit, and grew angry at the obstacle that prevented our union. We met now after an absence, and she had been sorely beset while I was away; she complained bitterly, and almost reproached me for being poor. I replied hastily, —
"I am honest, if I am poor! — were I not, I might soon become rich!"
This exclamation produced a thousand questions. I feared to shock her by owning the truth, but she drew it from me; and then, casting a look of disdain on me, she said, —
"You pretend to love, and you fear to face the Devil for my sake!"
I protested that I had only dreaded to offend her; — while she dwelt on the magnitude of the reward that I should receive. Thus encouraged — shamed by her — led on by love and hope, laughing at my later fears, with quick steps and a light heart, I returned to accept the offers of the alchymist, and was instantly installed in my office.
A year passed away. I became possessed of no insignificant sum of money. Custom had banished my fears. In spite of the most painful vigilance, I had never detected the trace of a cloven foot; nor was the studious silence of our abode ever disturbed by demoniac howls. I still continued my stolen interviews with Bertha, and Hope dawned on me — Hope — but not perfect joy: for Bertha fancied that love and security were enemies, and her pleasure was to divide them in my bosom. Though true of heart, she was something of a coquette in manner; I was jealous as a Turk. She slighted me in a thousand ways, yet would never acknowledge herself to be in the wrong. She would drive me mad with anger, and then force me to beg her pardon. Sometimes she fancied that I was not sufficiently submissive, and then she had some story of a rival, favoured by her protectress. She was surrounded by silk-clad youths — the rich and gay. What chance had the sad-robed scholar of Cornelius compared with these?
On one occasion, the philosopher made such large demands upon my time, that I was unable to meet her as I was wont. He was engaged in some mighty work, and I was forced to remain, day and night, feeding his furnaces and watching his chemical preparations. Bertha waited for me in vain at the fountain. Her haughty spirit fired at this neglect; and when at last I stole out during a few short minutes allotted to me for slumber, and hoped to be consoled by her, she received me with disdain, dismissed me in scorn, and vowed that any man should possess her hand rather than he who could not be in two places at once for her sake. She would be revenged! And truly she was. In my dingy retreat I heard that she had been hunting, attended by Albert Hoffer. Albert Hoffer was favoured by her protectress, and the three passed in cavalcade before my smoky window. Methought that they mentioned my name; it was followed by a laugh of derision, as her dark eyes glanced contemptuously towards my abode.
Jealousy, with all its venom and all its misery, entered my breast. Now I shed a torrent of tears, to think that I should never call her mine; and, anon, I imprecated a thousand curses on her inconstancy. Yet, still I must stir the fires of the alchymist, still attend on the changes of his unintelligible medicines.
Cornelius had watched for three days and nights, nor closed his eyes. The progress of his alembics was slower than he expected: in spite of his anxiety, sleep weighted upon his eyelids. Again and again he threw off drowsiness with more than human energy; again and again it stole away his senses. He eyed his crucibles wistfully. "Not ready yet," he murmured; "will another night pass before the work is accomplished? Winzy, you are vigilant — you are faithful — you have slept, my boy — you slept last night. Look at that glass vessel. The liquid it contains is of a soft rose-colour: the moment it begins to change hue, awaken me — till then I may close my eyes. First, it will turn white, and then emit golden flashes; but wait not till then; when the rose-colour fades, rouse me." I scarcely heard the last words, muttered, as they were, in sleep. Even then he did not quite yield to nature. "Winzy, my boy," he again said, "do not touch the vessel — do not put it to your lips; it is a philtre — a philtre to cure love; you would not cease to love your Bertha — beware to drink!"
And he slept. His venerable head sunk on his breast, and I scarce heard his regular breathing. For a few minutes I watched the vessel — the rosy hue of the liquid remained unchanged. Then my thoughts wandered — they visited the fountain, and dwelt on a thousand charming scenes never to be renewed — never! Serpents and adders were in my heart as the word "Never!" half formed itself on my lips. False girl! — false and cruel! Never more would she smile on me as that evening she smiled on Albert. Worthless, detested woman! I would not remain unrevenged — she should see Albert expire at her feet — she should die beneath my vengeance. She had smiled in disdain and triumph — she knew my wretchedness and her power. Yet what power had she? — the power of exciting my hate — my utter scorn — my — oh, all but indifference! Could I attain that — could I regard her with careless eyes, transferring my rejected love to one fairer and more true, that were indeed a victory!
A bright flash darted before my eyes. I had forgotten the medicine of the adept; I gazed on it with wonder: flashes of admirable beauty, more bright than those which the diamond emits when the sun's rays are on it, glanced from the surface of the liquid; and odour the most fragrant and grateful stole over my sense; the vessel seemed one globe of living radiance, lovely to the eye, and most inviting to the taste. The first thought, instinctively inspired by the grosser sense, was, I will — I must drink. I raised the vessel to my lips. "It will cure me of love — of torture!" Already I had quaffed half of the most delicious liquor ever tasted by the palate of man, when the philosopher stirred. I started — I dropped the glass — the fluid flamed and glanced along the floor, while I felt Cornelius's gripe at my throat, as he shrieked aloud, "Wretch! you have destroyed the labour of my life!"
The philosopher was totally unaware that I had drunk any portion of his drug. His idea was, and I gave a tacit assent to it, that I had raised the vessel from curiosity, and that, frightened at its brightness, and the flashes of intense light it gave forth, I had let it fall. I never undeceived him. The fire of the medicine was quenched — the fragrance died away — he grew calm, as a philosopher should under the heaviest trials, and dismissed me to rest.
I will not attempt to describe the sleep of glory and bliss which bathed my soul in paradise during the remaining hours of that memorable night. Words would be faint and shallow types of my enjoyment, or of the gladness that possessed my bosom when I woke. I trod air — my thoughts were in heaven. Earth appeared heaven, and my inheritance upon it was to be one trance of delight. "This it is to be cured of love," I thought; "I will see Bertha this day, and she will find her lover cold and regardless; too happy to be disdainful, yet how utterly indifferent to her!"
The hours danced away. The philosopher, secure that he had once succeeded, and believing that he might again, began to concoct the same medicine once more. He was shut up with his books and drugs, and I had a holiday. I dressed myself with care; I looked in an old but polished shield which served me for a mirror; methoughts my good looks had wonderfully improved. I hurried beyond the precincts of the town, joy in my soul, the beauty of heaven and earth around me. I turned my steps toward the castle — I could look on its lofty turrets with lightness of heart, for I was cured of love. My Bertha saw me afar off, as I came up the avenue. I know not what sudden impulse animated her bosom, but at the sight, she sprung with a light fawn-like bound down the marble steps, and was hastening towards me. But I had been perceived by another person. The old high-born hag, who called herself her protectress, and was her tyrant, had seen me also; she hobbled, panting, up the terrace; a page, as ugly as herself, held up her train, and fanned her as she hurried along, and stopped my fair girl with a "How, now, my bold mistress? whither so fast? Back to your cage — hawks are abroad!"
Bertha clasped her hands — her eyes were still bent on my approaching figure. I saw the contest. How I abhorred the old crone who checked the kind impulses of my Bertha's softening heart. Hitherto, respect for her rank had caused me to avoid the lady of the castle; now I disdained such trivial considerations. I was cured of love, and lifted above all human fears; I hastened forwards, and soon reached the terrace. How lovely Bertha looked! her eyes flashing fire, her cheeks glowing with impatience and anger, she was a thousand times more graceful and charming than ever. I no longer loved — oh no! I adored — worshipped — idolized her!
She had that morning been persecuted, with more than usual vehemence, to consent to an immediate marriage with my rival. She was reproached with the encouragement that she had shown him — she was threatened with being turned out of doors with disgrace and shame. Her proud spirit rose in arms at the threat; but when she remembered the scorn that she had heaped upon me, and how, perhaps, she had thus lost one whom she now regarded as her only friend, she wept with remorse and rage. At that moment I appeared. "Oh, Winzy!" she exclaimed, "take me to your mother's cot; swiftly let me leave the detested luxuries and wretchedness of this noble dwelling — take me to poverty and happiness."
I clasped her in my arms with transport. The old dame was speechless with fury, and broke forth into invective only when we were far on the road to my natal cottage. My mother received the fair fugitive, escaped from a gilt cage to nature and liberty, with tenderness and joy; my father, who loved her, welcomed her heartily; it was a day of rejoicing, which did not need the addition of the celestial potion of the alchymist to steep me in delight.
Soon after this eventful day, I became the husband of Bertha. I ceased to be the scholar of Cornelius, but I continued his friend. I always felt grateful to him for having, unaware, procured me that delicious draught of a divine elixir, which, instead of curing me of love (sad cure! solitary and joyless remedy for evils which seem blessings to the memory), had inspired me with courage and resolution, thus winning for me an inestimable treasure in my Bertha.
I often called to mind that period of trance-like inebriation with wonder. The drink of Cornelius had not fulfilled the task for which he affirmed that it had been prepared, but its effects were more potent and blissful than words can express. They had faded by degrees, yet they lingered long — and painted life in hues of splendour. Bertha often wondered at my lightness of heart and unaccustomed gaiety; for, before, I had been rather serious, or even sad, in my disposition. She loved me the better for my cheerful temper, and our days were winged by joy.
Five years afterwards I was suddenly summoned to the bedside of the dying Cornelius. He had sent for me in haste, conjuring my instant presence. I found him stretched on his pallet, enfeebled even to death; all of life that yet remained animated his piercing eyes, and they were fixed on a glass vessel, full of roseate liquid.
"Behold," he said, in a broken and inward voice, "the vanity of human wishes! a second time my hopes are about to be crowned, a second time they are destroyed. Look at that liquor — you may remember five years ago I had prepared the same, with the same success; — then, as now, my thirsting lips expected to taste the immortal elixir — you dashed it from me! and at present it is too late."
He spoke with difficulty, and fell back on his pillow. I could not help saying, —
"How, revered master, can a cure for love restore you to life?"
A faint smile gleamed across his face as I listened earnestly to his scarcely intelligible answer.
"A cure for love and for all things — the Elixir of Immortality. Ah! if now I might drink, I should live for ever!"
As he spoke, a golden flash gleamed from the fluid; a well-remembered fragrance stole over the air; he raised himself, all weak as he was — strength seemed miraculously to re-enter his frame — he stretched forth his hand — a loud explosion startled me — a ray of fire shot up from the elixir, and the glass vessel which contained it was shivered to atoms! I turned my eyes towards the philosopher; he had fallen back — his eyes were glassy — his features rigid — he was dead!
But I lived, and was to live for ever! So said the unfortunate alchymist, and for a few days I believed his words. I remembered the glorious intoxication that had followed my stolen draught. I reflected on the change I had felt in my frame — in my soul. The bounding elasticity of the one — the buoyant lightness of the other. I surveyed myself in a mirror, and could perceive no change in my features during the space of the five years which had elapsed. I remembered the radiant hues and grateful scent of that delicious beverage — worthy the gift it was capable of bestowing — I was, then,IMMORTAL!
A few days after I laughed at my credulity. The old proverb, that "a prophet is least regarded in his own country," was true with respect to me and my defunct master. I loved him as a man — I respected him as a sage — but I derided the notion that he could command the powers of darkness, and laughed at the superstitious fears with which he was regarded by the vulgar. He was a wise philosopher, but had no acquaintance with any spirits but those clad in flesh and blood. His science was simply human; and human science, I soon persuaded myself, could never conquer nature's laws so far as to imprison the soul for ever within its carnal habitation. Cornelius had brewed a soul-refreshing drink — more inebriating than wine — sweeter and more fragrant than any fruit: it possessed probably strong medicinal powers, imparting gladness to the heart and vigour to the limbs; but its effects would wear out; already they were diminished in my frame. I was a lucky fellow to have quaffed health and joyous spirits, and perhaps a long life, at my master's hands; but my good fortune ended there: longevity was far different from immortality.
I continued to entertain this belief for many years. Sometimes a thought stole across me — Was the alchymist indeed deceived? But my habitual credence was, that I should meet the fate of all the children of Adam at my appointed time — a little late, but still at a natural age. Yet it was certain that I retained a wonderfully youthful look. I was laughed at for my vanity in consulting the mirror so often, but I consulted it in vain — my brow was untrenched — my cheeks — my eyes — my whole person continued as untarnished as in my twentieth year.
I was troubled. I looked at the faded beauty of Bertha — I seemed more like her son. By degrees our neighbors began to make similar observations, and I found at last that I went by the name of the Scholar bewitched. Bertha herself grew uneasy. She became jealous and peevish, and at length she began to question me. We had no children; we were all in all to each other; and though, as she grew older, her vivacious spirit became a little allied to ill-temper, and her beauty sadly diminished, I cherished her in my heart as the mistress I idolized, the wife I had sought and won with such perfect love.
At last our situation became intolerable: Bertha was fifty — I twenty years of age. I had, in very shame, in some measure adopted the habits of advanced age; I no longer mingled in the dance among the young and gay, but my heart bounded along with them while I restrained my feet; and a sorry figure I cut among the Nestors of our village. But before the time I mention, things were altered — we were universally shunned; we were — at least, I was — reported to have kept up an iniquitous acquaintance with some of my former master's supposed friends. Poor Bertha was pitied, but deserted. I was regarded with horror and detestation.
What was to be done? we sat by our winter fire — poverty had made itself felt, for none would buy the produce of my farm; and often I had been forced to journey twenty miles to some place where I was not known, to dispose of our property. It is true, we had saved something for an evil day — that day was come.
We sat by our lone fireside — the old-hearted youth and his antiquated wife. Again Bertha insisted on knowing the truth; she recapitulated all she had ever heard said about me, and added her own observations. She conjured me to cast off the spell; she described how much more comely grey hairs were than my chestnut locks; she descanted on the reverence and respect due to age — how preferable to the slight regard paid to mere children: could I imagine that the despicable gifts of youth and good looks outweighed disgrace, hatred and scorn? Nay, in the end I should be burnt as a dealer in the black art, while she, to whom I had not deigned to communicate any portion of my good fortune, might be stoned as my accomplice. At length she insinuated that I must share my secret with her, and bestow on her like benefits to those I myself enjoyed, or she would denounce me — and then she burst into tears.
Thus beset, methought it was the best way to tell the truth. I reveled it as tenderly as I could, and spoke only of a very long life, not of immortality — which representation, indeed, coincided best with my own ideas. When I ended I rose and said,–
"And now, my Bertha, will you denounce the lover of your youth? — You will not, I know. But it is too hard, my poor wife, that you should suffer for my ill-luck and the accursed arts of Cornelius. I will leave you — you have wealth enough, and friends will return in my absence. I will go; young as I seem and strong as I am, I can work and gain my bread among strangers, unsuspected and unknown. I loved you in youth; God is my witness that I would not desert you in age, but that your safety and happiness require it."
I took my cap and moved toward the door; in a moment Bertha's arms were round my neck, and her lips were pressed to mine. "No, my husband, my Winzy," she said, "you shall not go alone — take me with you; we will remove from this place, and, as you say, among strangers we shall be unsuspected and safe. I am not so old as quite to shame you, my Winzy; and I daresay the charm will soon wear off, and, with the blessing of God, you will become more elderly-looking, as is fitting; you shall not leave me."
I returned the good soul's embrace heartily. "I will not, my Bertha; but for your sake I had not thought of such a thing. I will be your true, faithful husband while you are spared to me, and do my duty by you to the last."
The next day we prepared secretly for our emigration. We were obliged to make great pecuniary sacrifices — it could not be helped. We realized a sum sufficient, at least, to maintain us while Bertha lived; and, without saying adieu to any one, quitted our native country to take refuge in a remote part of western France.
It was a cruel thing to transport poor Bertha from her native village, and the friends of her youth, to a new country, new language, new customs. The strange secret of my destiny rendered this removal immaterial to me; but I compassionated her deeply, and was glad to perceive that she found compensation for her misfortunes in a variety of little ridiculous circumstances. Away from all tell-tale chroniclers, she sought to decrease the apparent disparity of our ages by a thousand feminine arts — rouge, youthful dress, and assumed juvenility of manner. I could not be angry. Did I not myself wear a mask? Why quarrel with hers, because it was less successful? I grieved deeply when I remembered that this was my Bertha, whom I had loved so fondly and won with such transport — the dark-eyed, dark-haired girl, with smiles of enchanting archness and a step like a fawn — this mincing, simpering, jealous old woman. I should have revered her grey locks and withered cheeks; but thus! — It was my work, I knew; but I did not the less deplore this type of human weakness.
Her jealously never slept. Her chief occupation was to discover that, in spite of outward appearances, I was myself growing old. I verily believe that the poor soul loved me truly in her heart, but never had woman so tormenting a mode of displaying fondness. She would discern wrinkles in my face and decrepitude in my walk, while I bounded along in youthful vigour, the youngest looking of twenty youths. I never dared address another woman. On one occasion, fancying that the belle of the village regarded me with favouring eyes, she brought me a grey wig. Her constant discourse among her acquaintances was, that though I looked so young, there was ruin at work within my frame; and she affirmed that the worst symptom about me was my apparent health. My youth was a disease, she said, and I ought at all times to prepare, if not for a sudden and awful death, at least to awake some morning white-headed and bowed down with all the marks of advanced years. I let her talk — I often joined in her conjectures. Her warnings chimed in with my never-ceasing speculations concerning my state, and I took an earnest, though painful, interest in listening to all that her quick wit and excited imagination could say on the subject.
Why dwell on these minute circumstances? We lived on for many long years. Bertha became bedrid and paralytic; I nursed her as a mother might a child. She grew peevish, and still harped upon one string — of how long I should survive her. It has ever been a source of consolation to me, that I performed my duty scrupulously towards her. She had been mine in youth, she was mine in age; and at last, when I heaped the sod over her corpse, I wept to feel that I had lost all that really bound me to humanity.
Since then how many have been my cares and woes, how few and empty my enjoyments! I pause here in my history — I will pursue it no further. A sailor without rudder or compass, tossed on a stormy sea — a traveller lost on a widespread heath, without landmark or stone to guide him — such I have been: more lost, more hopeless than either. A nearing ship, a gleam from some far cot, may save them; but I have no beacon except the hope of death.
Death! mysterious, ill-visaged friend of weak humanity! Why alone of all mortals have you cast me from your sheltering fold? Oh, for the peace of the grave! the deep silence of the iron-bound tomb! that thought would cease to work in my brain, and my heart beat no more with emotions varied only by new forms of sadness!
Am I immortal? I return to my first question. In the first place, is it not more probably that the beverage of the alchymist was fraught rather with longevity than eternal life? Such is my hope. And then be it remembered, that I only drank half of the potion prepared by him. Was not the whole necessary to complete the charm? To have drained half the Elixir of Immortality is but to be half-immortal — my For-ever is thus truncated and null.
But again, who shall number the years of the half of eternity? I often try to imagine by what rule the infinite may be divided. Sometimes I fancy age advancing upon me. One grey hair I have found. Fool! do I lament? Yes, the fear of age and death often creeps coldly into my heart; and the more I live, the more I dread death, even while I abhor life. Such an enigma is man — born to perish — when he wars, as I do, against the established laws of his nature.
But for this anomaly of feeling surely I might die: the medicine of the alchymist would not be proof against fire — sword — and the strangling waters. I have gazed upon the blue depths of many a placid lake, and the tumultuous rushing of many a mighty river, and have said, peace inhabits those waters; yet I have turned my steps away, to live yet another day. I have asked myself, whether suicide would be a crime in one to whom thus only the portals of the other world could be opened. I have done all, except presenting myself as a soldier or duelist, an objection of destruction to my — no, not my fellow mortals, and therefore I have shrunk away. They are not my fellows. The inextinguishable power of life in my frame, and their ephemeral existence, places us wide as the poles asunder. I could not raise a hand against the meanest or the most powerful among them.
Thus have I lived on for many a year — alone, and weary of myself — desirous of death, yet never dying — a mortal immortal. Neither ambition nor avarice can enter my mind, and the ardent love that gnaws at my heart, never to be returned — never to find an equal on which to expend itself — lives there only to torment me.
This very day I conceived a design by which I may end all — without self-slaughter, without making another man a Cain — an expedition, which mortal frame can never survive, even endued with the youth and strength that inhabits mine. Thus I shall put my immortality to the test, and rest for ever — or return, the wonder and benefactor of the human species.
Before I go, a miserable vanity has caused me to pen these pages. I would not die, and leave no name behind. Three centuries have passed since I quaffed the fatal beverage; another year shall not elapse before, encountering gigantic dangers — warring with the powers of frost in their home — beset by famine, toil, and tempest — I yield this body, too tenacious a cage for a soul which thirsts for freedom, to the destructive elements of air and water; or, if I survive, my name shall be recorded as one of the most famous among the sons of men; and, my task achieved, I shall adopt more resolute means, and, by scattering and annihilating the atoms that compose my frame, set at liberty the life imprisoned within, and so cruelly prevented from soaring from this dim earth to a sphere more congenial to its immortal essence.
Mary Shelley (1797 – 1851)
The Mortal Immortal
fleursdumal.nl magazine
More in: Archive S-T, Mary Shelley, Shelley, Mary
---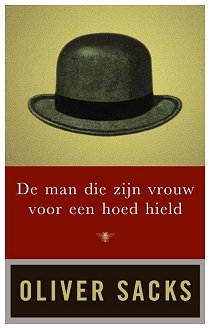 De bekende neuroloog en schrijver Oliver Sacks is op 30 augustus overleden in New York. Sacks maakte begin dit jaar bekend dat hij al geruime tijd ziek was.  Hij leed aan kanker.
Oliver Sacks is een van 's werelds populairste schrijvers over neurologische onderwerpen. Een van zijn bekendste boeken is The Man Who Mistook His Wife for a Hat (1985), waarin hij bijzondere neurologische afwijkingen beschreef. Zijn boek Awakenings (1973) werd in 1990 verfilmd, met Robin Williams als Oliver Sacks. Awakenings gaat over de tientallen overlevenden van de grote slaapziekte-epidemie in de jaren twintig, die Sacks aantrof in het Beth Abraham Hospital in de Bronx. Na een experimentele behandeling met L-dopa 'ontwaken' zijn patiënten uit hun lethargie. Sacks besluit om zijn bevindingen te publiceren als een verzameling gevalstudies. Zijn boek Awakenings zou ook over de hele wereld bekend worden.
Bibliografie
1970 Migraine – Migraine
1973 Awakenings – Ontwaken in verbijstering
1984 A leg to stand on – Een been om op te staan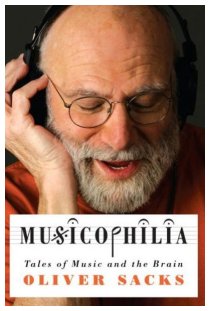 1985 The man who mistook his wife for a hat – De man die zijn vrouw voor een hoed hield
1989 Seeing voices – Stemmen zien: reis naar de wereld van de doven
1995 Anthropologist on Mars – Een antropoloog op Mars
1997 The island of the colorblind – Het eiland der kleurenblinden
2001 Uncle Tungsten: memories of a chemical boyhood – Oom Wolfraam en mijn chemische jeugd
2002 Oaxaca journal – Mexicaans dagboek
2007 Musicophilia – Musicofilia
Oliver Wolf Sacks (Londen, 9 juli 1933 – New York, 30 augustus 2015)
fleursdumal.nl magazine
More in: Archive S-T, In Memoriam, Oliver Sacks
---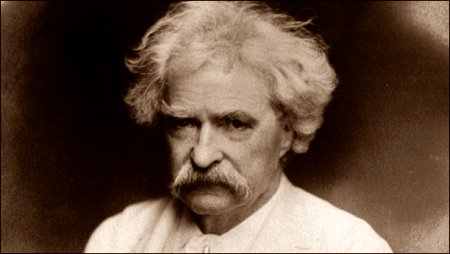 Mark Twain
(1835-1910)
A Humane Word from Satan
[The following letter, signed by Satan and purporting to come from him, we have reason to believe was not written by him, but by Mark Twain.—Editor.]
To the Editor of Harper's Weekly:
Dear Sir and Kinsman,—Let us have done with this frivolous talk. The American Board accepts contributions from me every year: then why shouldn't it from Mr. Rockefeller? In all the ages, three-fourths of the support of the great charities has been conscience-money, as my books will show: then what becomes of the sting when that term is applied to Mr. Rockefeller's gift? The American Board's trade is financed mainly from the graveyards. Bequests, you understand. Conscience-money. Confession of an old crime and deliberate perpetration of a new one; for deceased's contribution is a robbery of his heirs. Shall the Board decline bequests because they stand for one of these offences every time and generally for both?
Allow me to continue. The charge most persistently and resentfully and remorselessly dwelt upon is, that Mr. Rockefeller's contribution is incurably tainted perjury—perjury proved against him in the courts. It makes us smile—down in my place! Because there isn't a rich man in your vast city who doesn't perjure himself every year before the tax board. They are all caked with perjury, many layers thick. Iron clad, so to speak. If there is one that isn't, I desire to acquire him for my museum, and will pay Dinosaur rates. Will you say it isn't infraction of law, but only annual evasion of it? Comfort yourselves with that nice distinction if you like—for the present. But by-and-by, when you arrive, I will show you something interesting: a whole hell-full of evaders! Sometimes a frank law-breaker turns up elsewhere, but I get those others every time.
To return to my muttons. I wish you to remember that my rich perjurers are contributing to the American Board with frequency: it is money filched from the sworn-off personal tax; therefore it is the wages of sin; therefore it is my money; therefore it is I that contribute it; and, finally, it is therefore as I have said: since the Board daily accepts contributions from me, why should it decline them from Mr. Rockefeller, who is as good as I am, let the courts say what they may?
Mark Twain short stories
kempis.nl poetry magazine
More in: Archive S-T, Twain, Mark
---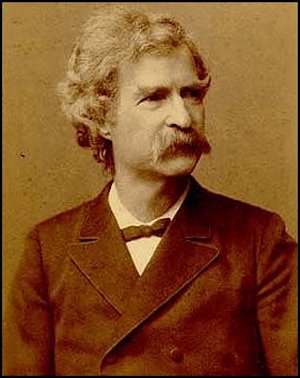 Mark Twain
(1835-1910)
After the Fall
When I look back, the Garden is a dream to me. It was beautiful, surpassingly beautiful, enchantingly beautiful; and now it is lost, and I shall not see it any more.
The Garden is lost, but I have found him, and am content. He loves me as well as he can; I love him with all the strength of my passionate nature, and this, I think, is proper to my youth and sex. If I ask myself why I love him, I find I do not know, and do not really much care to know; so I suppose that this kind of love is not a product of reasoning and statistics, like one's love for other reptiles and animals. I think that this must be so. I love certain birds because of their song; but I do not love Adam on account of his singing—no, it is not that; the more he sings the more I do not get reconciled to it. Yet I ask him to sing, because I wish to learn to like everything he is interested in. I am sure I can learn, because at first I could not stand it, but now I can. It sours the milk, but it doesn't matter; I can get used to that kind of milk.
It is not on account of his brightness that I love him—no, it is not that. He is not to blame for his brightness, such as it is, for he did not make it himself; he is as God made him, and that is sufficient. There was a wise purpose in it, that I know. In time it will develop, though I think it will not be sudden; and besides, there is no hurry; he is well enough just as he is.
It is not on account of his gracious and considerate ways and his delicacy that I love him. No, he has lacks in these regards, but he is well enough just so, and is improving.
It is not on account of his industry that I love him—no, it is not that. I think he has it in him, and I do not know why he conceals it from me. It is my only pain. Otherwise he is frank and open with me, now. I am sure he keeps nothing from me but this. It grieves me that he should have a secret from me, and sometimes it spoils my sleep, thinking of it, but I will put it out of my mind; it shall not trouble my happiness, which is otherwise full to overflowing.
It is not on account of his education that I love him—no, it is not that. He is self-educated, and does really know a multitude of things, but they are not so.
It is not on account of his chivalry that I love him—no, it is not that. He told on me, but I do not blame him; it is a peculiarity of sex, I think, and he did not make his sex. Of course I would not have told on him, I would have perished first; but that is a peculiarity of sex, too, and I do not take credit for it, for I did not make my sex.
Then why is it that I love him? Merely because he is masculine, I think.
At bottom he is good, and I love him for that, but I could love him without it. If he should beat me and abuse me, I should go on loving him. I know it. It is a matter of sex, I think.
He is strong and handsome, and I love him for that, and I admire him and am proud of him, but I could love him without those qualities. If he were plain, I should love him; if he were a wreck, I should love him; and I would work for him, and slave over him, and pray for him, and watch by his bedside until I died.
Yes, I think I love him merely because he is mine and is masculine. There is no other reason, I suppose. And so I think it is as I first said: that this kind of love is not a product of reasonings and statistics. It just comes—none knows whence—and cannot explain itself. And doesn't need to.
It is what I think. But I am only a girl, and the first that has examined this matter, and it may turn out that in my ignorance and inexperience I have not got it right.
Forty Years Later
It is my prayer, it is my longing, that we may pass from this life together—a longing which shall never perish from the earth, but shall have place in the heart of every wife that loves, until the end of time; and it shall be called by my name.
But if one of us must go first, it is my prayer that it shall be I; for he is strong, I am weak, I am not so necessary to him as he is to me—life without him would not be life; how could I endure it? This prayer is also immortal, and will not cease from being offered up while my race continues. I am the first wife; and in the last wife I shall be repeated.
At Eve's Grave
Adam: Wheresoever she was, there was Eden.


Mark Twain short stories
kempis.nl poetry magazine
More in: Archive S-T, Twain, Mark
---
Mark Twain
(1835-1910)
Extract from Adam's Diary
Perhaps I ought to remember that she is very young, a mere girl, and make allowances. She is all interest, eagerness, vivacity, the world is to her a charm, a wonder, a mystery, a joy; she can't speak for delight when she finds a new flower, she must pet it and caress it and smell it and talk to it, and pour out endearing names upon it. And she is color-mad: brown rocks, yellow sand, gray moss, green foliage, blue sky; the pearl of the dawn, the purple shadows on the mountains, the golden islands floating in crimson seas at sunset, the pallid moon sailing through the shredded cloud-rack, the star-jewels glittering in the wastes of space—none of them is of any practical value, so far as I can see, but because they have color and majesty, that is enough for her, and she loses her mind over them. If she could quiet down and keep still a couple of minutes at a time, it would be a reposeful spectacle. In that case I think I could enjoy looking at her; indeed I am sure I could, for I am coming to realize that she is a quite remarkably comely creature—lithe, slender, trim, rounded, shapely, nimble, graceful; and once when she was standing marble- white and sun-drenched on a bowlder, with her young head tilted back and her hand shading her eyes, watching the flight of a bird in the sky, I recognized that she was beautiful.
Monday noon.—If there is anything on the planet that she is not interested in it is not in my list. There are animals that I am indifferent to, but it is not so with her. She has no discrimination, she takes to all of them, she thinks they are all treasures, every new one is welcome.
When the mighty brontosaurus came striding into camp, she regarded it as an acquisition, I considered it a calamity; that is a good sample of the lack of harmony that prevails in our views of things. She wanted to do mesticate it, I wanted to make it a present of the homestead and move out. She believed it could be tamed by kind treatment and would be a good pet; I said a pet twenty-one feet high and eighty-four feet long would be no proper thing to have about the place, because, even with the best intentions and without meaning any harm, it could sit down on the house and mash it, for any one could see by the look of its eye that it was absent-minded.
Still, her heart was set upon having that monster, and she couldn't give it up. She thought we could start a dairy with it, and wanted me to help her milk it; but I wouldn't; it was too risky. The sex wasn't right, and we hadn't any ladder anyway. Then she wanted to ride it, and look at the scenery. Thirty or forty feet of its tail was lying on the ground, like a fallen tree, and she thought she could climb it, but she was mistaken; when she got to the steep place it was too slick and down she came, and would have hurt herself but for me.
Was she satisfied now? No. Nothing ever satisfies her but demonstration; untested theories are not in her line, and she won't have them. It is the right spirit, I concede it; it attracts me; I feel the influence of it; if I were with her more I think I should take it up myself. Well, she had one theory remaining about this colossus: she thought that if we could tame him and make him friendly we could stand him in the river and use him for a bridge. It turned out that he was already plenty tame enough—at least as far as she was concerned—so she tried her theory, but it failed: every time she got him properly placed in the river and went ashore to cross over on him, he came out and followed her around like a pet mountain. Like the other animals. They all do that.
Friday.—Tuesday—Wednesday—Thursday—and to-day: all without seeing him. It is a long time to be alone; still, it is better to be alone than unwelcome.
I had to have company—I was made for it, I think—so I made friends with the animals. They are just charming, and they have the kindest disposition and the politest ways; they never look sour, they never let you feel that you are intruding, they smile at you and wag their tail, if they've got one, and they are always ready for a romp or an excursion or anything you want to propose. I think they are perfect gentlemen. All these days we have had such good times, and it hasn't been lonesome for me, ever. Lonesome! No, I should say not. Why, there's always a swarm of them around—sometimes as much as four or five acres—you can't count them; and when you stand on a rock in the midst and look out over the furry  expanse it is so mottled and splashed and gay with color and frisking sheen and sun-flash, and so rippled with stripes, that you might think it was a lake, only you know it isn't; and there's storms of sociable birds, and hurricanes of whirring wings; and when the sun strikes all that feathery commotion, you have a blazing up of all the colors you can think of, enough to put your eyes out.
We have made long excursions, and I have seen a great deal of the world; almost all of it, I think; and so I am the first traveller, and the only one. When we are on the march, it is an imposing sight—there's nothing like it anywhere. For comfort I ride a tiger or a leopard, because it is soft and has a round back that fits me, and because they are such pretty animals; but for long distance or for scenery I ride the elephant. He hoists me up with his trunk, but I can get off myself; when we are ready to camp, he sits and I slide down the back way. The birds and animals are all friendly to each other, and there are no disputes about anything. They all talk, and they all talk to me, but it must be a foreign language, for I cannot make out a word they say; yet they often understand me when I talk back, particularly the dog and the elephant. It makes me ashamed. It shows that they are brighter than I am, and are therefore my superiors. It annoys me, for I want to be the principal Experiment myself—and I intend to be, too. I have learned a number of things, and am educated, now, but I wasn't at first. I was ignorant at first. At first it used to vex me because, with all my watching, I was never smart enough to be around when the water was running up-hill; but now I do not mind it. I have experimented and experimented until now I know it never does run uphill, except in the dark. I know it does in the dark, because the pool never goes dry; which it would, of course, if the water didn't come back in the night. It is best to prove things by actual experiment; then you know; whereas if you depend on guessing and supposing and conjecturing, you will never get educated.
Some things you can't find out; but you will never know you can't by guessing and supposing: no, you have to be patient and go on experimenting until you find out that you can't find out. And it is delightful to have it that way, it makes the world so interesting. If there wasn't anything to find out, it would be dull. Even trying to find out and not finding out is just as interesting as trying to find out and finding out, and I don't know but more so. The secret of the water was a treasure until I got it; then the excitement all went away, and I recognized a sense of loss. By experiment I know that wood swims, and dry leaves, and feathers, and plenty of other things; therefore by all that cumulative evidence you know that a rock will swim; but you have to put up with simply knowing it, for there isn't any way to prove it—up to now. But I shall find a way—then that excitement will go. Such things make me sad; because by-and-by when I have found out everything there won't be any more excitements, and I do love excitements so! The other night I couldn't sleep for thinking about it.
At first I couldn't make out what I was made for, but now I think it was to search out the secrets of this wonderful world and be happy and thank the Giver of it all for devising it. I think there are many things to learn yet—I hope so; and by economizing and not hurrying too fast I think they will last weeks and weeks. I hope so. When you cast up a feather it sails away on the air and goes out of sight; then you throw up a clod and it doesn't. It comes down, every time. I have tried it and tried it, and it is always so. I wonder why it is? Of course it doesn't come down, but why should it seem to? I suppose it is an optical illusion. I mean, one of them is. I don't know which one. It may be the feather, it may be the clod; I can't prove which it is, I can only demonstrate that one or the other is a fake, and let a person take his choice.
By watching, I know that the stars are not going to last. I have seen some of the best ones melt and run down the sky. Since one can melt, they can all melt; since they can all melt, they can all melt the same night. That sorrow will come—I know it. I mean to sit up every night and look at them as long as I can keep awake; and I will impress those sparkling fields on my memory, so that by-and-by when theyare taken away I can by my fancy restore those lovely myriads to the black sky and make them sparkle again, and double them by the blur of my tears.
Mark Twain short stories
Extract from Adam's Diary (Eve's Diary II)
kempis.nl poetry magazine
More in: Archive S-T, Twain, Mark
---
Mark Twain
(1835-1910)
Eve's Diary
Translated from the original
Saturday.—I am almost a whole day old, now. I arrived yesterday. That is as it seems to me. And it must be so, for if there was a day-before-yesterday I was not there when it happened, or I should remember it. It could be, of course, that it did happen, and that I was not noticing. Very well; I will be very watchful, now, and if any day-before-yesterdays happen I will make a note of it. It will be best to start right and not let the record get confused, for some instinct tells me that these details are going to be important to the historian some day. For I feel like an experiment, I feel exactly like an experiment; it would be impossible for a person to feel more like an experiment than I do, and so I am coming to feel convinced that that is what I am—an experiment; just an experiment, and nothing more.
Then if I am an experiment, am I the whole of it? No, I think not; I think the rest of it is part of it. I am the main part of it, but I think the rest of it has its share in the matter. Is my position assured, or do I have to watch it and take care of it? The latter, perhaps. Some instinct tells me that eternal vigilance is the price of supremacy. [That is a good phrase, I think, for one so young.]
Everything looks better to-day than it did yesterday. In the rush of finishing up yesterday, the mountains were left in a ragged condition, and some of the plains were so cluttered with rubbish and remnants that the aspects were quite distressing. Noble and beautiful works of art should not be subjected to haste; and this majestic new world is indeed a most noble and beautiful work. And certainly marvellously near to being perfect, notwithstanding the shortness of the time. There are too many stars in some places and not enough in others, but that can be remedied presently, no doubt. The moon got loose last night, and slid down and fell out of the scheme—a very great loss; it breaks my heart to think of it. There isn't another thing among the ornaments and decorations that is comparable to it for beauty and finish. It should have been fastened better. If we can only get it back again—
But of course there is no telling where it went to. And besides, whoever gets it will hide it; I know it because I would do it myself. I believe I can be honest in all other matters, but I already begin to realize that the core and centre of my nature is love of the beautiful, a passion for the beautiful, and that it would not be safe to trust me with a moon that belonged to another person and that person didn't know I had it. I could give up a moon that I found in the daytime, because I should be afraid some one was looking; but if I found it in the dark, I am sure I should find some kind of an excuse for not saying anything about it. For I do love moons, they are so pretty and so romantic. I wish we had five or six; I would never go to bed; I should never get tired lying on the moss-bank and looking up at them. Stars are good, too. I wish I could get some to put in my hair. But I suppose I never can. You would be surprised to find how far off they are, for they do not look it. When they first showed, last night, I tried to knock some down with a pole, but it didn't reach, which astonished me; then I tried clods till I was all tired out, but I never got one. It was because I am left-handed and cannot throw good. Even when I aimed at the one I wasn't after I couldn't hit the other one, though I did make some close shots, for I saw the black blot of the clod sail right into the midst of the golden clusters forty or fifty times, just barely missing them, and if I could have held out a little longer maybe I could have got one.
So I cried a little, which was natural, I suppose, for one of my age, and after I was rested I got a basket and started for a place on the extreme rim of the circle, where the stars were close to the ground and I could get them with my hands, which would be better, anyway, because I could gather them tenderly then, and not break them. But it was farther than I thought, and at last I had to give it up; I was so tired I couldn't drag my feet another step; and besides, they were sore and hurt me very much. I couldn't get back home; it was too far and turning cold; but I found some tigers and nestled in among them and was most adorably comfortable, and their breath was sweet and pleasant, because they live on strawberries. I had never seen a tiger before, but I knew them in a minute by the stripes. If I could have one of those skins, it would make a lovely gown.
To-day I am getting better ideas about distances. I was so eager to get hold of every pretty thing that I giddily grabbed for it, sometimes when it was too far off, and sometimes when it was but six inches away but seemed a foot—alas, with thorns between! I learned a lesson; also I made an axiom, all out of my own head—my very first one: The scratched Experiment shuns the thorn. I think it is a very good one for one so young.
I followed the other Experiment around, yesterday afternoon, at a distance, to see what it might be for, if I could. But I was not able to make out. I think it is a man. I had never seen a man, but it looked like one, and I feel sure that that is what it is. I realize that I feel more curiosity about it than about any of the other reptiles. If it is a reptile, and I suppose it is; for it has frowsy hair and blue eyes, and looks like a reptile. It has no hips; it tapers like a carrot; when it stands, it spreads itself apart like a derrick; so I think it is a reptile, though it may be architecture.
I was afraid of it at first, and started to run every time it turned around, for I thought it was going to chase me; but by-and-by I found it was only trying to get away, so after that I was not timid any more, but tracked it along, several hours, about twenty yards behind, which made it nervous and unhappy. At last it was a good deal worried, and climbed a tree. I waited a good while, then gave it up and went home.
To-day the same thing over. I've got it up the tree again.
Sunday.—It is up there yet. Resting, apparently. But that is a subterfuge: Sunday isn't the day of rest; Saturday is appointed for that. It looks to me like a creature that is more interested in resting than in anything else. It would tire me to rest so much. It tires me just to sit around and watch the tree. I do wonder what it is for; I never see it do anything.
They returned the moon last night, and I was so happy! I think it is very honest of them. It slid down and fell off again, but I was not distressed; there is no need to worry when one has that kind of neighbors; they will fetch it back. I wish I could do something to show my appreciation. I would like to send them some stars, for we have more than we can use. I mean I, not we, for I can see that the reptile cares nothing for such things. It has low tastes, and is not kind. When I went there yesterday evening in the gloaming it had crept down and was trying to catch the little speckled fishes that play in the pool, and I had to clod it to make it go up the tree again and let them alone. I wonder if that is what it is for? Hasn't it any heart? Hasn't it any compassion for those little creatures? Can it be that it was designed and manufactured for such ungentle work? It has the look of it. One of the clods took it back of the ear, and it used language. It gave me a thrill, for it was the first time I had ever heard speech, except my own. I did not understand the words, but they seemed expressive.
When I found it could talk I felt a new interest in it, for I love to talk; I talk, all day, and in my sleep, too, and I am very interesting, but if I had another to talk to I could be twice as interesting, and would never stop, if desired. If this reptile is a man, it isn't an it, is it? That wouldn't be grammatical, would it? I think it would be he. I think so. In that case one would parse it thus: nominative, he; dative, him; possessive, his'n. Well, I will consider it a man and call it he until it turns out to be something else. This will be handier than having so many uncertainties.
Next week Sunday.—All the week I tagged around after him and tried to get acquainted. I had to do the talking, because he was shy, but I didn't mind it. He seemed pleased to have me around, and I used the sociable "we" a good deal, because it seemed to flatter him to be included.
Wednesday.—We are getting along very well indeed, now, and getting better and better acquainted. He does not try to avoid me any more, which is a good sign, and shows that he likes to have me with him. That pleases me, and I study to be useful to him in every way I can, so as to increase his regard.
During the last day or two I have taken all the work of naming things off his hands, and this has been a great relief to him, for he has no gift in that line, and is evidently very grateful. He can't think of a rational name to save him, but I do not let him see that I am aware of his defect. Whenever a new creature comes along I name it before he has time to expose himself by an awkward silence. In this way I have saved him many embarrassments. I have no defect like his. The minute I set eyes on an animal I know what it is. I don't have to reflect a moment; the right name comes out instantly, just as if it were an inspiration, as no doubt it is, for I am sure it wasn't in me half a minute before. I seem to know just by the shape of the creature and the way it acts what animal it is.
When the dodo came along he thought it was a wild-cat—I saw it in his eye. But I saved him. And I was careful not to do it in a way that could hurt his pride. I just spoke up in a quite natural way of pleased surprise, and not as if I was dreaming of conveying information, and said, "Well, I do declare, if there isn't the dodo!" I explained—without seeming to be explaining—how I knew it for a dodo, and although I thought maybe he was a little piqued that I knew the creature when he didn't, it was quite evident that he admired me. That was very agreeable, and I thought of it more than once with gratification before I slept. How little a thing can make us happy when we feel that we have earned it.
Thursday.—My first sorrow. Yesterday he avoided me and seemed to wish I would not talk to him. I could not believe it, and thought there was some mistake, for I loved to be with him, and loved to hear him talk, and so how could it be that he could feel unkind towards me when I had not done anything? But at last it seemed true, so I went away and sat lonely in the place where I first saw him the morning that we were made and I did not know what he was and was indifferent about him; but now it was a mournful place, and every little thing spoke of him, and my heart was very sore. I did not know why very clearly, for it was a new feeling; I had not experienced it before, and it was all a mystery, and I could not make it out. But when night came I could not bear the lonesomeness, and went to the new shelter which he has built, to ask him what I had done that was wrong and how I could mend it and get back his kindness again; but he put me out in the rain, and it was my first sorrow.
Sunday.—It is pleasant again, now, and I am happy; but those were heavy days; I do not think of them when I can help it. I tried to get him some of those apples, but I cannot learn to throw straight. I failed, but I think the good intention pleased him. They are forbidden, and he says I shall come to harm; but so I come to harm through pleasing him, why shall I care for that harm?
Monday.—This morning I told him my name, hoping it would interest him. But he did not care for it. It is strange. If he should tell me his name, I would care. I think it would be pleasanter in my ears than any other sound.
He talks very little. Perhaps it is because he is not bright, and is sensitive about it and wishes to conceal it. It is such a pity that he should feel so, for brightness is nothing; it is in the heart that the values lie. I wish I could make him understand that a loving good heart is riches, and riches enough, and that without it intellect is poverty. Although he talks so little he has quite a considerable vocabulary. This morning he used a surprisingly good word. He evidently recognized, himself, that it was a good one, for he worked it in twice afterwards, casually. It was not good casual art, still it showed that he possesses a certain quality of perception. Without a doubt that seed can be made to grow, if cultivated. Where did he get that word? I do not think I have ever used it. No, he took no interest in my name. I tried to hide my disappointment, but I suppose I did not succeed. I went away and sat on the moss-bank with my feet in the water. It is where I go when I hunger for companionship, some one to look at, some one to talk to. It is not enough—that lovely white body painted there in the pool—but it is something, and something is better than utter loneliness. It talks when I talk; it is sad when I am sad; it comforts me with its sympathy; it says, "Do not be downhearted, you poor friendless girl; I will be your friend." It is a good friend to me, and my only one; it is my sister.
That first time that she forsook me! ah, I shall never forget that—never, never. My heart was lead in my body! I said, "She was all I had, and now she is gone!" In my despair I said, "Break, my heart; I cannot bear my life any more!" and hid my face in my hands, and there was no solace for me. And when I took them away, after a little, there she was again, white and shining and beautiful, and I sprang into her arms!
That was perfect happiness; I had known happiness before, but it was not like this, which was ecstasy. I never doubted her afterwards. Sometimes she stayed away—maybe an hour, maybe almost the whole day, but I waited and did not doubt; I said, "She is busy, or she is gone a journey, but she will come." And it was so: she always did. At night she would not come if it was dark, for she was a timid little thing; but if there was a moon she would come. I am not afraid of the dark, but she is younger than I am; she was born after I was. Many and many are the visits I have paid her; she is my comfort and my refuge when my life is hard—and it is mainly that.
Tuesday.—All the morning I was at work improving the estate; and I purposely kept away from him in the hope that he would get lonely and come. But he did not. At noon I stopped for the day and took my recreation by flitting all about with the bees and the butterflies and revelling in the flowers, those beautiful creatures that catch the smile of God out of the sky and preserve it! I gathered them, and made them into wreaths and garlands and clothed myself in them while I ate my luncheon—apples, of course; then I sat in the shade and wished and waited. But he did not come.
But no matter. Nothing would have come of it, for he does not care for flowers. He calls them rubbish, and cannot tell one from another, and thinks it is superior to feel like that. He does not care for me, he does not care for flowers, he does not care for the painted sky at eventide—is there anything he does care for, except building shacks to coop himself up in from the good clean rain, and thumping the melons, and sampling the grapes, and fingering the fruit on the trees, to see how those properties are coming along?
I laid a dry stick on the ground and tried to bore a hole in it with another one, in order to carry out a scheme that I had, and soon I got an awful fright. A thin, transparent bluish film rose out of the hole, and I dropped everything and ran! I thought it was a spirit, and I was so frightened! But I looked back, and it was not coming; so I leaned against a rock and rested and panted, and let my limbs go on trembling until they got steady again; then I crept warily back, alert, watching, and ready to fly if there was occasion; and when I was come near, I parted the branches of a rose-bush and peeped through—wishing the man was about, I was looking so cunning and pretty—but the sprite was gone. I went there, and there was a pinch of delicate pink dust in the hole. I put my finger in, to feel it, and said ouch! and took it out again. It was a cruel pain. I put my finger in my mouth; and by standing first on one foot and then the other, and grunting, I presently eased my misery; then I was full of interest, and began to examine. I was curious to know what the pink dust was. Suddenly the name of it occurred to me, though I had never heard of it before. It was fire! I was as certain of it as a person could be of anything in the world. So without hesitation I named it that—fire. I had created something that didn't exist before; I had added a new thing to the world's uncountable properties; I realized this, and was proud of my achievement, and was going to run and find him and tell him about it, thinking to raise myself in his esteem—but I reflected, and did not do it. No—he would not care for it. He would ask what it was good for, and what could I answer? for if it was not good for something, but only beautiful, merely beautiful—So I sighed, and did not go. For it wasn't good for anything; it could not build a shack, it could not improve melons, it could not hurry a fruit crop; it was useless, it was a foolishness and a vanity; he would despise it and say cutting words. But to me it was not despicable; I said, "Oh, you fire, I love you, you dainty pink creature, for you are beautiful—and that is enough!" and was going to gather it to my breast. But refrained. Then I made another maxim out of my own head, though it was so nearly like the first one that I was afraid it was only a plagiarism: "The burnt Experiment shuns the fire."
I wrought again; and when I had made a good deal of fire-dust I emptied it into a handful of dry brown grass, intending to carry it home and keep it always and play with it; but the wind struck it and it sprayed up and spat out at me fiercely, and I dropped it and ran. When I looked back the blue spirit was towering up and stretching and rolling away like a cloud, and instantly I thought of the name of it—smoke!—though, upon my word, I had never heard of smoke before. Soon, brilliant yellow-and-red flares shot up through the smoke, and I named them in an instant—flames!—and I was right, too, though these were the very first flames that had ever been in the world. They climbed the trees, they flashed splendidly in and out of the vast and increasing volume of tumbling smoke, and I had to clap my hands and laugh and dance in my rapture, it was so new and strange and so wonderful and so beautiful! He came running, and stopped and gazed, and said not a word for many minutes. Then he asked what it was. Ah, it was too bad that he should ask such a direct question. I had to answer it, of course, and I did. I said it was fire. If it annoyed him that I should know and he must ask, that was not my fault; I had no desire to annoy him. After a pause he asked:
"How did it come?" Another direct question, and it also had to have a direct answer.
"I made it."
The fire was travelling farther and farther off. He went to the edge of the burned place and stood looking down, and said:.
"What are these?"
"Fire-coals."
He picked up one to examine it, but changed his mind and put it down again. Then he went away. Nothing interests him.
But I was interested. There were ashes, gray and soft and delicate and pretty—I knew what they were at once. And the embers; I knew the embers, too. I found my apples, and raked them out, and was glad; for I am very young and my appetite is active. But I was disappointed; they were all burst open and spoiled. Spoiled apparently; but it was not so; they were better than raw ones. Fire is beautiful; some day it will be useful, I think
Friday.—I saw him again, for a moment, last Monday at nightfall, but only for a moment. I was hoping he would praise me for trying to improve the estate, for I had meant well and had worked hard. But he was not pleased, and turned away and left me. He was also displeased on another account: I tried once more to persuade him to stop going over the Falls. That was because the fire had revealed to me a new passion—quite new, and distinctly different from love, grief, and those others which I had already discovered—fear. And it is horrible!—I wish I had never discovered it; it gives me dark moments, it spoils my happiness, it makes me shiver and tremble and shudder. But I could not persuade him, for he has not discovered fear yet, and so he could not understand me.
Mark Twain short stories
kempis.nl poetry magazine
More in: Archive S-T, Twain, Mark
---
Mark Twain
(1835-1910)
Saint Joan of Arc
I
The evidence furnished at the Trials and Rehabilitation sets forth Joan of Arc's strange and beautiful history in clear and minute detail. Among all the multitude of biographies that freight the shelves of the world's libraries, this is the only one whose validity is confirmed to us by oath. It gives us a vivid picture of a career and a personality of so extraordinary a character that we are helped to accept them as actualities by the very fact that both are beyond the inventive reach of fiction. The public part of the career occupied only a mere breath of time—it covered but two years; but what a career it was! The personality which made it possible is one to be reverently studied, loved, and marvelled at, but not to be wholly understood and accounted for by even the most searching analysis.
    Note.—The Official Record of the Trials and Rehabilitation of Joan of Arc is the most remarkable history that exists in any language; yet there are few people in the world who can say they have read it: in England and America it has hardly been heard of.
Three hundred years ago Shakespeare did not know the true story of Joan of Arc; in his day it was unknown even in France. For four hundred years it existed rather as a vaguely defined romance than as definite and authentic history. The true story remained buried in the official archives of France from the Rehabilitation of 1456 until Quicherat dug it out and gave it to the world two generations ago, in lucid and understandable modern French. It is a deeply fascinating story. But only in the Official Trials and Rehabilitation can it be found in its entirety.—M. T.
In Joan of Arc at the age of sixteen there was no promise of a romance. She lived in a dull little village on the frontiers of civilization; she had been nowhere and had seen nothing; she knew none but simple shepherd folk; she had never seen a person of note; she hardly knew what a soldier looked like; she had never ridden a horse, nor had a warlike weapon in her hand; she could neither read nor write: she could spin and sew; she knew her catechism and her prayers and the fabulous histories of the saints, and this was all her learning. That was Joan at sixteen. What did she know of law? of evidence? of courts? of the attorney's trade? of legal procedure? Nothing. Less than nothing. Thus exhaustively equipped with ignorance, she went before the court at Toul to contest a false charge of breach of promise of marriage; she conducted her cause herself, without any one's help or advice or any one's friendly sympathy, and won it. She called no witnesses of her own, but vanquished the prosecution by using with deadly effectiveness its own testimony. The astonished judge threw the case out of court, and spoke of her as "this marvellous child."
She went to the veteran Commandant of Vaucouleurs and demanded an escort of soldiers, saying she must march to the help of the King of France, since she was commissioned of God to win back his lost kingdom for him and set the crown upon his head. The Commandant said, "What, you? you are only a child." And he advised that she be taken back to her village and have her ears boxed. But she said she must obey God, and would come again, and again, and yet again, and finally she would get the soldiers. She said truly. In time he yielded, after months of delay and refusal, and gave her the soldiers; and took off his sword and gave her that, and said, "Go—and let come what may." She made her long and perilous journey through the enemy's country, and spoke with the King, and convinced him. Then she was summoned before the University of Poitiers to prove that she was commissioned of God and not of Satan, and daily during three weeks she sat before that learned congress unafraid, and capably answered their deep questions out of her ignorant but able head and her simple and honest heart; and again she won her case, and with it the wondering admiration of all that august company.
And now, aged seventeen, she was made Commander-in-Chief, with a prince of the royal house and the veteran generals of France for subordinates; and at the head of the first army she had ever seen, she marched to Orleans, carried the commanding fortresses of the enemy by storm in three desperate assaults, and in ten days raised a siege which had defied the might of France for seven months.
After a tedious and insane delay caused by the King's instability of character and the treacherous counsels of his ministers, she got permission to take the field again. She took Jargeau by storm; then Meung; she forced Beaugency to surrender; then—in the open field—she won the memorable victory of Patay against Talbot, "the English lion," and broke the back of the Hundred Years' War. It was a campaign which cost but seven weeks of time; yet the political results would have been cheap if the time expended had been fifty years. Patay, that unsung and now long-forgotten battle, was the Moscow of the English power in France; from the blow struck that day it was destined never to recover. It was the beginning of the end of an alien dominion which had ridden France intermittently for three hundred years.
Then followed the great campaign of the Loire, the capture of Troyes by assault, and the triumphal march past surrendering towns and fortresses to Rheims, where Joan put the crown upon her King's head in the Cathedral, amid wild public rejoicings, and with her old peasant father there to see these things and believe his eyes if he could. She had restored the crown and the lost sovereignty; the King was grateful for once in his shabby poor life, and asked her to name her reward and have it. She asked for nothing for herself, but begged that the taxes of her native village might be remitted forever. The prayer was granted, and the promise kept for three hundred and sixty years. Then it was broken, and remains broken to-day. France was very poor then, she is very rich now; but she has been collecting those taxes for more than a hundred years.
Joan asked one other favor: that now that her mission was fulfilled she might be allowed to go back to her village and take up her humble life again with her mother and the friends of her childhood; for she had no pleasure in the cruelties of war, and the sight of blood and suffering wrung her heart. Sometimes in battle she did not draw her sword, lest in the splendid madness of the onset she might forget herself and take an enemy's life with it. In the Rouen Trials, one of her quaintest speeches—coming from the gentle and girlish source it did—was her naive remark that she had "never killed any one." Her prayer for leave to go back to the rest and peace of her village home was not granted.
Then she wanted to march at once upon Paris, take it, and drive the English out of France. She was hampered in all the ways that treachery and the King's vacillation could devise, but she forced her way to Paris at last, and fell badly wounded in a successful assault upon one of the gates. Of course her men lost heart at once—she was the only heart they had. They fell back. She begged to be allowed to remain at the front, saying victory was sure. "I will take Paris now or die!" she said. But she was removed from the field by force; the King ordered a retreat, and actually disbanded his army. In accordance with a beautiful old military custom Joan devoted her silver armor and hung it up in the Cathedral of St. Denis. Its great days were over.
Then, by command, she followed the King and his frivolous court and endured a gilded captivity for a time, as well as her free spirit could; and whenever inaction became unbearable she gathered some men together and rode away and assaulted a stronghold and captured it.
At last in a sortie against the enemy, from Compiègne, on the 24th of May (when she was turned eighteen), she was herself captured, after a gallant fight. It was her last battle. She was to follow the drums no more.
Thus ended the briefest epoch-making military career known to history. It lasted only a year and a month, but it found France an English province, and furnishes the reason that France is France today and not an English province still. Thirteen months! It was, indeed, a short career; but in the centuries that have since elapsed five hundred millions of Frenchmen have lived and died blest by the benefactions it conferred; and so long as France shall endure, the mighty debt must grow. And France is grateful; we often hear her say it. Also thrifty: she collects the Domrémy taxes.
II
Joan was fated to spend the rest of her life behind bolts and bars. She was a prisoner of war, not a criminal, therefore hers was recognized as an honorable captivity. By the rules of war she must be held to ransom, and a fair price could not be refused it offered. John of Luxembourg paid her the just compliment of requiring a prince's ransom for her. In that day that phrase represented a definite sum—61,125 francs. It was, of course, supposable that either the King or grateful France, or both, would fly with the money and set their fair young benefactor free. But this did not happen. In five and a half months neither King nor country stirred a hand nor offered a penny. Twice Joan tried to escape. Once by a trick she succeeded for a moment, and locked her jailer in behind her, but she was discovered and caught; in the other case she let herself down from a tower sixty feet high, but her rope was too short, and she got a fall that disabled her and she could not get away.
Finally, Cauchon, Bishop of Beauvais, paid the money and bought Joan—ostensibly for the Church, to be tried for wearing male attire and for other impieties, but really for the English, the enemy into whose hands the poor girl was so piteously anxious not to fall. She was now shut up in the dungeons of the Castle of Rouen and kept in an iron cage, with her hands and feet and neck chained to a pillar; and from that time forth during all the months of her imprisonment, till the end, several rough English soldiers stood guard over her night and day—and not outside her room, but in it. It was a dreary and hideous captivity, but it did not conquer her: nothing could break that invincible spirit. From first to last she was a prisoner a year; and she spent the last three months of it on trial for her life before a formidable array of ecclesiastical judges, and disputing the ground with them foot by foot and inch by inch with brilliant generalship and dauntless pluck. The spectacle of that solitary girl, forlorn and friendless, without advocate or adviser, and without the help and guidance of any copy of the charges brought against her or rescript of the complex and voluminous daily proceedings of the court to modify the crushing strain upon her astonishing memory, fighting that long battle serene and undismayed against these colossal odds, stands alone in its pathos and its sublimity; it has nowhere its mate, either in the annals of fact or in the inventions of fiction.
And how fine and great were the things she daily said, how fresh and crisp—and she so worn in body, so starved, and tired, and harried! They run through the whole gamut of feeling and expression—from scorn and defiance, uttered with soldierly fire and frankness, all down the scale to wounded dignity clothed in words of noble pathos; as, when her patience was exhausted by the pestering delvings and gropings and searchings of her persecutors to find out what kind of devil's witchcraft she had employed to rouse the war spirit in her timid soldiers, she burst out with, "What I said was, 'Ride these English down'—and I did it myself!" and as, when insultingly asked why it was that her standard had place at the crowning of the King in the Cathedral of Rheims rather than the standards of the other captains, she uttered that touching speech, "It had borne the burden, it had earned the honor"—a phrase which fell from her lips without premeditation, yet whose moving beauty and simple grace it would bankrupt the arts of language to surpass.
Although she was on trial for her life, she was the only witness called on either side; the only witness summoned to testify before a packed jury commissioned with a definite task: to find her guilty, whether she was guilty or not. She must be convicted out of her own mouth, there being no other way to accomplish it. Every advantage that learning has over ignorance, age over youth, experience over inexperience, chicane over artlessness, every trick and trap and gin devisable by malice and the cunning of sharp intellects practised in setting snares for the unwary—all these were employed against her without shame; and when these arts were one by one defeated by the marvellous intuitions of her alert and penetrating mind, Bishop Cauchon stooped to a final baseness which it degrades human speech to describe: a priest who pretended to come from the region of her own home and to be a pitying friend and anxious to help her in her sore need was smuggled into her cell, and he misused his sacred office to steal her confidence; she confided to him the things sealed from revealment by her Voices, and which her prosecutors had tried so long in vain to trick her into betraying. A concealed confederate set it all down and delivered it to Cauchon, who used Joan's secrets, thus obtained, for her ruin.
Throughout the Trials, whatever the foredoomed witness said was twisted from its true meaning when possible, and made to tell against her; and whenever an answer of hers was beyond the reach of twisting it was not allowed to go upon the record. It was upon one of these latter occasions that she uttered that pathetic reproach—to Cauchon: "Ah, you set down everything that is against me, but you will not set down what is for me."
That this untrained young creature's genius for war was wonderful, and her generalship worthy to rank with the ripe products of a tried and trained military experience, we have the sworn testimony of two of her veteran subordinates—one, the Duc d'Alençon, the other the greatest of the French generals of the time, Dunois, Bastard of Orleans; that her genius was as great—possibly even greater—in the subtle warfare of the forum we have for witness the records of the Rouen Trials, that protracted exhibition of intellectual fence maintained with credit against the master-minds of France; that her moral greatness was peer to her intellect we call the Rouen Trials again to witness, with their testimony to a fortitude which patiently and steadfastly endured during twelve weeks the wasting forces of captivity, chains, loneliness, sickness, darkness, hunger, thirst, cold, shame, insult, abuse, broken sleep, treachery, ingratitude, exhausting sieges of cross-examination, the threat of torture, with the rack before her and the executioner standing ready: yet never surrendering, never asking quarter, the frail wreck of her as unconquerable the last day as was her invincible spirit the first.
Great as she was in so many ways, she was perhaps even greatest of all in the lofty things just named—her patient endurance, her steadfastness, her granite fortitude. We may not hope to easily find her mate and twin in these majestic qualities; where we lift our eyes highest we find only a strange and curious contrast—there in the captive eagle beating his broken wings on the Rock of St. Helena.
III
The Trials ended with her condemnation. But as she had conceded nothing, confessed nothing, this was victory for her, defeat for Cauchon. But his evil resources were not yet exhausted. She was persuaded to agree to sign a paper of slight import, then by treachery a paper was substituted which contained a recantation and a detailed confession of everything which had been charged against her during the Trials and denied and repudiated by her persistently during the three months; and this false paper she ignorantly signed. This was a victory for Cauchon. He followed it eagerly and pitilessly up by at once setting a trap for her which she could not escape. When she realized this she gave up the long struggle, denounced the treason which had been practised against her, repudiated the false confession, reasserted the truth of the testimony which she had given in the Trials, and went to her martyrdom with the peace of God in her tired heart, and on her lips endearing words and loving prayers for the cur she had crowned and the nation of ingrates she had saved.
When the fires rose about her and she begged for a cross for her dying lips to kiss, it was not a friend but an enemy, not a Frenchman but an alien, not a comrade in arms but an English soldier, that answered that pathetic prayer. He broke a stick across his knee, bound the pieces together in the form of the symbol she so loved, and gave it her; and his gentle deed is not forgotten, nor will be.
IV
Twenty-Five years afterwards the Process of Rehabilitation was instituted, there being a growing doubt as to the validity of a sovereignty that had been rescued and set upon its feet by a person who had been proven by the Church to be a witch and a familiar of evil spirits. Joan's old generals, her secretary, several aged relations and other villagers of Domrémy, surviving judges and secretaries of the Rouen and Poitiers Processes—a cloud of witnesses, some of whom had been her enemies and persecutors,—came and made oath and testified; and what they said was written down. In that sworn testimony the moving and beautiful history of Joan of Arc is laid bare, from her childhood to her martyrdom. From the verdict she rises stainlessly pure, in mind and heart, in speech and deed and spirit, and will so endure to the end of time.
She is the Wonder of the Ages. And when we consider her origin, her early circumstances, her sex, and that she did all the things upon which her renown rests while she was still a young girl, we recognize that while our race continues she will be also the Riddle of the Ages. When we set about accounting for a Napoleon or a Shakespeare or a Raphael or a Wagner or an Edison or other extraordinary person, we understand that the measure of his talent will not explain the whole result, nor even the largest part of it; no, it is the atmosphere in which the talent was cradled that explains; it is the training which it received while it grew, the nurture it got from reading, study, example, the encouragement it gathered from self- recognition and recognition from the outside at each stage of its development: when we know all these details, then we know why the man was ready when his opportunity came. We should expect Edison's surroundings and atmosphere to have the largest share in discovering him to himself and to the world; and we should expect him to live and die undiscovered in a land where an inventor could find no comradeship, no sympathy, no ambition-rousing atmosphere of recognition and applause—Dahomey, for instance. Dahomey could not find an Edison out; in Dahomey an Edison could not find himself out. Broadly speaking, genius is not born with sight, but blind; and it is not itself that opens its eyes, but the subtle influences of a myriad of stimulating exterior circumstances.
We all know this to be not a guess, but a mere commonplace fact, a truism. Lorraine was Joan of Arc's Dahomey. And there the Riddle confronts us. We can understand how she could be born with military genius, with leonine courage, with incomparable fortitude, with a mind which was in several particulars a prodigy—a mind which included among its specialties the lawyer's gift of detecting traps laid by the adversary in cunning and treacherous arrangements of seemingly innocent words, the orator's gift of eloquence, the advocate's gift of presenting a case in clear and compact form, the judge's gift of sorting and weighing evidence, and finally, something recognizable as more than a mere trace of the states- man's gift of understanding a political situation and how to make profitable use of such opportunities as it offers; we can comprehend how she could be born with these great qualities, but we cannot comprehend how they became immediately usable and effective without the developing forces of a sympathetic atmosphere and the training which comes of teaching, study, practice—years of practice,—and the crowning and perfecting help of a thousand mistakes. We can understand how the possibilities of the future perfect peach are all lying hid in the humble bitter-almond, but we cannot conceive of the peach springing directly from the almond without the intervening long seasons of patient cultivation and development. Out of a cattle-pasturing peasant village lost in the remotenesses of an unvisited wilderness and atrophied with ages of stupefaction and ignorance we cannot see a Joan of Arc issue equipped to the last detail for her amazing career and hope to be able to explain the riddle of it, labor at it as we may.
It is beyond us. All the rules fail in this girl's case. In the world's history she stands alone—quite alone. Others have been great in their first public exhibitions of generalship, valor, legal talent, diplomacy, fortitude; but always their previous years and associations had been in a larger or smaller degree a preparation for these things. There have been no exceptions to the rule. But Joan was competent in a law case at sixteen without ever having seen a law book or a court-house before; she had no training in soldiership and no associations with it, yet she was a competent general in her first campaign; she was brave in her first battle, yet her courage had had no education—not even the education which a boy's courage gets from never-ceasing reminders that it is not permissible in a boy to be a coward, but only in a girl; friendless, alone, ignorant, in the blossom of her youth, she sat week after week, a prisoner in chains, before her assemblage of judges, enemies hunting her to her death, the ablest minds in France, and answered them out of an untaught wisdom which overmatched their learning, baffled their tricks and treacheries with a native sagacity which compelled their wonder, and scored every day a victory against these incredible odds and camped unchallenged on the field. In the history of the human intellect, untrained, inexperienced, and using only its birthright equipment of untried capacities, there is nothing which approaches this. Joan of Arc stands alone, and must continue to stand alone, by reason of the unfellowed fact that in the things wherein she was great she was so without shade or suggestion of help from preparatory teaching, practice, environment, or experience. There is no one to compare her with, none to measure her by; for all others among the illustrious grew towards their high place in an atmosphere and surroundings which discovered their gift to them and nourished it and promoted it, intentionally or unconsciously. There have been other young generals, but they were not girls; young generals, but they had been soldiers before they were generals: she began as a general; she commanded the first army she ever saw; she led it from victory to victory, and never lost a battle with it; there have been young commanders-in-chief, but none so young as she: she is the only soldier in history who has held the supreme command of a nation's armies at the age of seventeen.
Her history has still another feature which sets her apart and leaves her without fellow or competitor: there have been many uninspired prophets, but she was the only one who ever ventured the daring detail of naming, along with a foretold event, the event's precise nature, the special time-limit within which it would occur, and the place—and scored fulfilment. At Vaucouleurs she said she must go to the King and be made his general, and break the English power, and crown her sovereign—"at Rheims." It all happened. It was all to happen "next year"—and it did. She foretold her first wound and its character and date a month in advance, and the prophecy was recorded in a public record-book three weeks in advance. She repeated it the morning of the date named, and it was fulfilled before night. At Tours she foretold the limit of her military career—saying it would end in one year from the time of its utterance—and she was right. She foretold her martyrdom—using that word, and naming a time three months away—and again she was right. At a time when France seemed hopelessly and permanently in the hands of the English she twice asserted in her prison before her judges that within seven years the English would meet with a mightier disaster than had been the fall of Orleans: it happened within five—the fall of Paris. Other prophecies of hers came true, both as to the event named and the time-limit prescribed.
She was deeply religious, and believed that she had daily speech with angels; that she saw them face to face, and that they counselled her, comforted and heartened her, and brought commands to her direct from God. She had a childlike faith in the heavenly origin of her apparitions and her Voices, and not any threat of any form of death was able to frighten it out of her loyal heart. She was a beautiful and simple and lovable character. In the records of the Trials this comes out in clear and shining detail. She was gentle and winning and affectionate; she loved her home and friends and her village life; she was miserable in the presence of pain and suffering; she was full of compassion: on the field of her most splendid victory she forgot her triumphs to hold in her lap the head of a dying enemy and comfort his passing spirit with pitying words; in an age when it was common to slaughter prisoners she stood dauntless between hers and harm, and saved them alive; she was forgiving, generous, unselfish, magnanimous; she was pure from all spot or stain of baseness. And always she was a girl; and dear and worshipful, as is meet for that estate: when she fell wounded, the first time, she was frightened, and cried when she saw her blood gushing from her breast; but she was Joan of Arc! and when presently she found that her generals were sounding the retreat, she staggered to her feet and led the assault again and took that place by storm.
There is no blemish in that rounded and beautiful character.
How strange it is!—that almost invariably the artist remembers only one detail—one minor and meaningless detail of the personality of Joan of Arc: to wit, that she was a peasant girl—and forgets all the rest; and so he paints her as a strapping middle-aged fishwoman, with costume to match, and in her face the spirituality of a ham. He is slave to his one idea, and forgets to observe that the supremely great souls are never lodged in gross bodies. No brawn, no muscle, could endure the work that their bodies must do; they do their miracles by the spirit, which has fifty times the strength and staying power of brawn and muscle. The Napoleons are little, not big; and they work twenty hours in the twenty-four, and come up fresh, while the big soldiers with the little hearts faint around them with fatigue. We know what Joan of Arc was like, without asking—merely by what she did. The artist should paint her spirit—then he could not fail to paint her body aright. She would rise before us, then, a vision to win us, not repel: a lithe young slender figure, instinct with "the unbought grace of youth," dear and bonny and lovable, the face beautiful, and transfigured with the light of that lustrous intellect and the fires of that unquenchable spirit.
Taking into account, as I have suggested before, all the circumstances—her origin, youth, sex, illiteracy, early environment, and the obstructing conditions under which she exploited her high gifts and made her conquests in the field and before the courts that tried her for her life,—she is easily and by far the most extraordinary person the human race has ever produced.
Mark Twain short stories
kempis.nl poetry magazine
More in: Archive S-T, Twain, Mark
---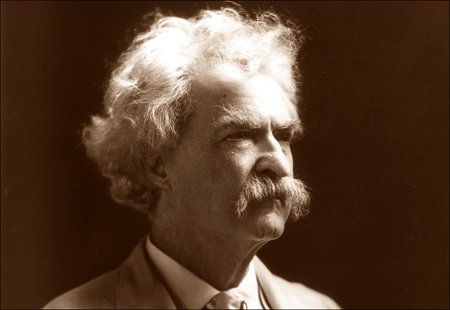 Mark Twain
(1835-1910)
A Helpless Situation
Once or twice a year I get a letter of a certain pattern, a pattern that never materially changes, in form and substance, yet I cannot get used to that letter—it always astonishes me. It affects me as the locomotive always affects me: I say to myself, "I have seen you a thousand times, you always look the same way, yet you are always a wonder, and you are always impossible; to contrive you is clearly beyond human genius—you can't exist, you don't exist, yet here you are!"
I have a letter of that kind by me, a very old one. I yearn to print it, and where is the harm? The writer of it is dead years ago, no doubt, and if I conceal her name and address—her this-world address—I am sure her shade will not mind. And with it I wish to print the answer which I wrote at the time but probably did not send. If it went—which is not likely—it went in the form of a copy, for I find the original still here, pigeon-holed with the said letter. To that kind of letters we all write answers which we do not send, fearing to hurt where we have no desire to hurt; I have done it many a time, and this is doubtless a case of the sort.
The Letter
X——., California, June 3, 1879.
Mr. S. L. Clemens, Hartford, Conn.:
Dear Sir,—You will doubtless be surprised to know who has presumed to write and ask a favor of you. Let your memory go back to your days in the Humboldt mines—'62-'63. You will remember, you and Clagett and Oliver and the old blacksmith Tillou lived in a lean-to which was half-way up the gulch, and there were six log cabins in the camp—strung pretty well separated up the gulch from its mouth at the desert to where the last claim was, at the divide. The lean-to you lived in was the one with a canvas roof that the cow fell down through one night, as told about by you in Roughing It—my uncle Simmons remembers it very well. He lived in the principal cabin, half-way up the divide, along with Dixon and Parker and Smith. It had two rooms, one for kitchen and the other for bunks, and was the only one that had. You and your party were there on the great night, the time they had dried-apple-pie, Uncle Simmons often speaks of it. It seems curious that dried-apple-pie should have seemed such a great thing, but it was, and it shows how far Humboldt was out of the world and difficult to get to, and how slim the regular bill of fare was. Sixteen years ago—it is a long time. I was a little girl then, only fourteen. I never saw you, I lived in Washoe. But Uncle Simmons ran across you every now and then, all during those weeks that you and party were there working your claim which was like the rest. The camp played out long and long ago, there wasn't silver enough in it to make a button. You never saw my husband, but he was there after you left, and lived in that very lean-to, a bachelor then but married to me now. He often wishes there had been a photographer there in those days, he would have taken the lean-to. He got hurt in the old Hal Clayton claim that was abandoned like the others, putting in a blast and not climbing out quick enough, though he scrambled the best he could. It landed him clear down on the trail and hit a Piute. For weeks they thought he would not get over it but he did, and is all right, now. Has been ever since. This is a long introduction but it is the only way I can make myself known. The favor I ask I feel assured your generous heart will grant: Give me some advice about a book I have written. I do not claim anything for it only it is mostly true and as interesting as most of the books of the times. I am unknown in the literary world and you know what that means unless one has some one of influence (like yourself) to help you by speaking a good word for you. I would like to place the book on royalty basis plan with any one you would suggest.
This is a secret from my husband and family. I intend it as a surprise in case I get it published.
Feeling you will take an interest in this and if possible write me a letter to some publisher, or, better still, if you could see them for me and then let me hear.
I appeal to you to grant me this favor. With deepest gratitude I thank you for your attention.
One knows, without inquiring, that the twin of that embarrassing letter is forever and ever flying in this and that and the other direction across the continent in the mails, daily, nightly, hourly, unceasingly, unrestingly. It goes to every well-known merchant, and railway official, and manufacturer, and capitalist, and Mayor, and Congressman, and Governor, and editor, and publisher, and author, and broker, and banker—in a word, to every person who is supposed to have "influence." It always follows the one pattern: "You do not know me, but you once knew a relative of mine," etc., etc. We should all like to help the applicants, we should all be glad to do it, we should all like to return the sort of answer that is desired, but—Well, there is not a thing we can do that would be a help, for not in any instance does that letter ever come from any one who can be helped. The struggler whom you could help does his own helping; it would not occur to him to apply to you, a stranger. He has talent and knows it, and he goes into his fight eagerly and with energy and determination—all alone, preferring to be alone. That pathetic letter which comes to you from the incapable, the unhelpable—how do you who are familiar with it answer it? What do you find to say? You do not want to inflict a wound; you hunt ways to avoid that. What do you find? How do you get out of your hard place with a contented conscience? Do you try to explain? The old reply of mine to such a letter shows that I tried that once. Was I satisfied with the result? Possibly; and possibly not; probably not; almost certainly not. I have long ago forgotten all about it. But, anyway, I append my effort:
The Reply
I know Mr. H., and I will go to him, dear madam, if upon reflection you find you still desire it. There will be a conversation. I know the form it will take. It will be like this:
Mr. H. How do her books strike you?
Mr. Clemens. I am not acquainted with them.
H. Who has been her publisher?
C. I don't know.
H. She has one, I suppose?
C. I—I think not.
H. Ah. You think this is her first book?
C. Yes—I suppose so. I think so.
H. What is it about? What is the character of it?
C. I believe I do not know.
H. Have you seen it?
C. Well—no, I haven't.
H. Ah-h. How long have you known her?
C. I don't know her.
H. Don't know her?
C. No.
H. Ah-h. How did you come to be interested in her book, then?
C. Well, she—she wrote and asked me to find a publisher for her, and mentioned you.
H. Why should she apply to you instead of to me?
C. She wished me to use my influence.
H. Dear me, what has influence to do with such a matter?
C. Well, I think she thought you would be more likely to examine her book if you were influenced.
H. Why, what we are here for is to examine books—anybody's book that comes along. It's our business. Why should we turn away a book unexamined because it's a stranger's? It would be foolish. No publisher does it. On what ground did she request your influence, since you do not know her? She must have thought you knew her literature and could speak for it. Is that it?
C. No; she knew I didn't.
H. Well, what then? She had a reason of some sort for believing you competent to recommend her literature, and also under obligations to do it?
C. Yes, I—I knew her uncle.
H. Knew her uncle?
C. Yes.
H. Upon my word! So, you knew her uncle; her uncle knows her literature; he endorses it to you; the chain is complete, nothing further needed; you are satisfied, and therefore—
C. No, that isn't all, there are other ties. I knew the cabin her uncle lived in, in the mines; I knew his partners, too; also I came near knowing her husband before she married him, and I did know the abandoned shaft where a premature blast went off and he went flying through the air and clear down to the trail and hit an Indian in the back with almost fatal consequences.
H. To him, or to the Indian?
C. She didn't say which it was.
H. (With a sigh.) It certainly beats the band! You don't know her, you don't know her literature, you don't know who got hurt when the blast went off, you don't know a single thing for us to build an estimate of her book upon, so far as I—
C. I knew her uncle. You are forgetting her uncle.
H. Oh, what use is he? Did you know him long? How long was it?
C. Well, I don't know that I really knew him, but I must have met him, anyway. I think it was that way; you can't tell about these things, you know, except when they are recent.
H. Recent? When was all this?
C. Sixteen years ago.
H. What a basis to judge a book upon! At first you said you knew him, and now you don't know whether you did or not.
C. Oh yes, I knew him; anyway, I think I thought I did; I'm perfectly certain of it.
H. What makes you think you thought you knew him?
C. Why, she says I did, herself.
H. She says so!
C. Yes, she does, and I did know him, too, though I don't remember it now.
H. Come—how can you know it when you don't remember it.
C. I don't know. That is, I don't know the process, but I do know lots of things that I don't remember, and remember lots of things that I don't know. It's so with every educated person.
H. (After a pause.) Is your time valuable?
C. No—well, not very.
H. Mine is.
So I came away then, because he was looking tired. Overwork, I reckon; I never do that; I have seen the evil effects of it. My mother was always afraid I would overwork myself, but I never did.
Dear madam, you see how it would happen if I went there. He would ask me those questions, and I would try to answer them to suit him, and he would hunt me here and there and yonder and get me embarrassed more and more all the time, and at last he would look tired on account of overwork, and there it would end and nothing done. I wish I could be useful to you, but, you see, they do not care for uncles or any of those things; it doesn't move them, it doesn't have the least effect, they don't care for anything but the literature itself, and they as good as despise influence. But they do care for books, and are eager to get them and examine them, no matter whence they come, nor from whose pen. If you will send yours to a publisher—any publisher—he will certainly examine it, I can assure you of that.

Mark Twain short stories
kempis.nl poetry magazine
More in: Archive S-T, Twain, Mark
---
Mark Twain
(1835-1910)
Amended Obituaries
To the Editor:
Sir,—I am approaching seventy; it is in sight; it is only three years away. Necessarily, I must go soon. It is but matter-of-course wisdom, then, that I should begin to set my worldly house in order now, so that it may be done calmly and with thoroughness, in place of waiting until the last day, when, as we have often seen, the attempt to set both houses in order at the same time has been marred by the necessity for haste and by the confusion and waste of time arising from the inability of the notary and the ecclesiastic to work together harmoniously, taking turn about and giving each other friendly assistance—not perhaps in fielding, which could hardly be expected, but at least in the minor offices of keeping game and umpiring; by consequence of which conflict of interests and absence of harmonious action a draw has frequently resulted where this ill-fortune could not have happened if houses had been set in order one at a time and hurry avoided by beginning in season, and giving to each the amount of time fairly and justly proper to it.
In setting my earthly house in order I find it of moment that I should attend in person to one or two matters which men in my position have long had the habit of leaving wholly to others, with consequences often most regrettable. I wish to speak of only one of these matters at this time: Obituaries. Of necessity, an Obituary is a thing which cannot be so judiciously edited by any hand as by that of the subject of it. In such a work it is not the Facts that are of chief importance, but the light which the obituarist shall throw upon them, the meanings which he shall dress them in, the conclusions which he shall draw from them, and the judgments which he shall deliver upon them. The Verdicts, you understand: that is danger-line.
In considering this matter, in view of my approaching change, it has seemed to me wise to take such measures as may be feasible, to acquire, by courtesy of the press, access to my standing obituaries, with the privilege—if this is not asking too much—of editing, not their Facts, but their Verdicts. This, not for present profit, further than as concerns my family, but as a favorable influence usable on the Other Side, where there are some who are not friendly to me.
With this explanation of my motives, I will now ask you of your courtesy to make an appeal for me to the public press. It is my desire that such journals and periodicals as have obituaries of me lying in their pigeon-holes, with a view to sudden use some day, will not wait longer, but will publish them now, and kindly send me a marked copy. My address is simply New York city—I have no other that is permanent and not transient.
I will correct them—not the Facts, but the Verdicts—striking out such clauses as could have a deleterious influence on the Other Side, and replacing them with clauses of a more judicious character. I should, of course, expect to pay double rates for both the omissions and the substitutions; and I should also expect to pay quadruple rates for all obituaries which proved to be rightly and wisely worded in the originals, thus requiring no emendations at all.
It is my desire to leave these Amended Obituaries neatly bound behind me as a perennial consolation and entertainment to my family, and as an heirloom which shall have a mournful but definite commercial value for my remote posterity.
I beg, sir, that you will insert this Advertisement (it-eow, agate, inside), and send the bill to
Yours very respectfully,
Mark Twain.
P. S.—For the best Obituary—one suitable for me to read in public, and calculated to inspire regret—I desire to offer a Prize, consisting of a Portrait of me done entirely by myself in pen and ink without previous instructions. The ink warranted to be the kind used by the very best artists.


Mark Twain short stories
kempis.nl poetry magazine
More in: Archive S-T, Twain, Mark
---
Mark Twain
(1835-1910)
A Telephonic Conversation
Consider that a conversation by telephone—when you are simply sitting by and not taking any part in that conversation—is one of the solemnest curiosities of this modern life. Yesterday I was writing a deep article on a sublime philosophical subject while such a conversation was going on in the room. I notice that one can always write best when somebody is talking through a telephone close by. Well, the thing began in this way. A member of our household came in and asked me to have our house put into communication with Mr. Bagley's, down-town. I have observed, in many cities, that the sex always shrink from calling up the central office themselves. I don't know why, but they do. So I touched the bell, and this talk ensued:
Central Office. (Gruffly.) Hello!
I. Is it the Central Office?
C. O. Of course it is. What do you want?
I. Will you switch me on to the Bagleys, please?
C. O. All right. Just keep your ear to the telephone. Then I heard, k-look, k-look, k'look—klook-klook- klook-look-look! then a horrible "gritting" of teeth, and finally a piping female voice: Y-e-s? (Rising inflection.) Did you wish to speak to me?
Without answering, I handed the telephone to the applicant, and sat down. Then followed that queerest of all the queer things in this world—a conversation with only one end to it. You hear questions asked; you don't hear the answer. You hear invitations given; you hear no thanks in return. You have listening pauses of dead silence, followed by apparently irrelevant and unjustifiable exclamations of glad surprise or sorrow or dismay. You can't make head or tail of the talk, because you never hear anything that the person at the other end of the wire says. Well, I heard the following remarkable series of observations, all from the one tongue, and all shouted—for you can't ever persuade the sex to speak gently into a telephone:
Yes? Why, how did that happen?
Pause.
What did you say?
Pause.
Oh no, I don't think it was.
Pause.
No! Oh no, I didn't mean that. I meant, put it in while it is still boiling—or just before it comes to a boil.
Pause.
What?
Pause.
I turned it over with a backstitch on the selvage edge.
Pause.
Yes, I like that way, too; but I think it's better to baste it on with Valenciennes or bombazine, or something of that sort. It gives it such an air—and attracts so much notice.
Pause.
It's forty-ninth Deuteronomy, sixty-fourth to ninety-seventh inclusive. I think we ought all to read it often.
Pause.
Perhaps so; I generally use a hair-pin.
Pause.
What did you say? (Aside.) Children, do be quiet!
Pause.
Oh! B flat! Dear me, I thought you said it was the cat!
Pause.
Since when?
Pause.
Why, I never heard of it.
Pause.
You astound me! It seems utterly impossible!
Pause.
Who did?
Pause.
Good-ness gracious!
Pause.
Well, what is this world coming to? Was it right in church?
Pause.
And was her mother there?
Pause.
Why, Mrs. Bagley, I should have died of humiliation! What did they do?
Long pause.
I can't be perfectly sure, because I haven't the notes by me; but I think it goes something like this: te-rolly- loll-loll, loll lolly-loll-loll, O tolly-loll-loll-lee-ly-li-i-do! And then repeat, you know.
Pause.
Yes, I think it is very sweet—and very solemn and impressive, if you get the andantino and the pianissimo right.
Pause.
Oh, gum-drops, gum-drops! But I never allow them to eat striped candy. And of course they can't, till they get their teeth, anyway.
Pause.
What?
Pause.
Oh, not in the least—go right on. He's here writing—it doesn't bother him.
Pause.
Very well, I'll come if I can. (Aside.) Dear me, how it does tire a person's arm to hold this thing up so long! I wish she'd—
Pause.
Oh no, not at all; I like to talk—but I'm afraid I'm keeping you from your affairs.
Pause.
Visitors?
Pause.
No, we never use butter on them.
Pause.
Yes, that is a very good way; but all the cookbooks say they are very unhealthy when they are out of season. And he doesn't like them, anyway—especially canned.
Pause.
Oh, I think that is too high for them; we have never paid over fifty cents a bunch.
Pause.
Must you go? Well, good-bye.
Pause.
Yes, I think so. Good-bye.
Pause.
Four o'clock, then—I'll be ready. Good-bye.
Pause.
Thank you ever so much. Good-bye.
Pause.
Oh, not at all!—just as fresh—Which? Oh, I'm glad to hear you say that. Good-bye.
(Hangs up the telephone and says, "Oh, it does tire a person's arm so!")
A man delivers a single brutal "Good-bye," and that is the end of it. Not so with the gentle sex—I say it in their praise; they cannot abide abruptness.

Mark Twain short stories
kempis.nl # kempis poetry magazine
More in: Archive S-T, Twain, Mark
---
Older Entries »
Thank you for reading FLEURSDUMAL.NL - magazine for art & literature