Archive O-P
·
Bernard Pivot & Cécile Pivot: Lire !
·
Mondriaan en Steiner door Jacqueline van Paaschen
·
The Poet Edgar Allan Poe. Alien Angel by Jerome McGann
·
Istanbul. Memories and the City by Orhan Pamuk
·
Mostyn T. Pigott: The hundred best books
·
Aleksandr Poesjkin: De tijd (vertaling Paul Bezembinder)
·
The Written World. The Power of Stories to Shape People, History, Civilization by Martin Puchner
·
Gaël Octavia: La fin de Mame Baby
·
Absolutely on Music. Conversations by Haruki Murakami and Seiji Ozawa
·
Litz Pisk: The Actor and His Body
·
Noam Chomsky and C.J. Polychroniou: Optimism over Despair
·
Homage to Catalonia by George Orwell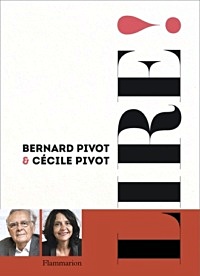 Bernard Pivot, lecteur professionnel ("Apostrophes", Lire, JDD) et sa fille Cécile, ardente lectrice amateur, confrontent leurs raisons, plaisirs et manières de lire, leur usage des livres, dans des textes très personnels, joliment illustrés, où le public des librairies et des bibliothèques retrouvera ses émotions, et celui qui n'ose pas en pousser les portes découvrira stimulations et conseils.
Un tonique et savoureux éloge des écrivains, des livres et de la lecture.
Bernard Pivot, Cécile Pivot
Lire !
Paru le 14/03/2018
Genre : Essais littéraires
192 pages
174 x 239 mm Couleur
Broché
EAN: 9782081416307
ISBN : 9782081416307
€25,00
Ed. Flammarion
new books on reading
fleursdumal.nl magazine
More in: - Book Stories, Archive O-P, Art & Literature News, Libraries in Literature, The Art of Reading
---
In Mondriaan en Steiner – wegen naar Nieuwe Beelding – wordt het werk van Piet Mondriaan bekeken vanuit het gedachtegoed van Rudolf Steiner.
Deze esoterische bron is tot op heden vrijwel veronachtzaamd in kunsthistorische publicaties over Mondriaan. Voor deze publicatie is gebruik gemaakt van Mondriaans bundel transcripties van de voordrachten die Steiner in 1908 in Nederland hield en deel uitmaakte van de nalatenschap van Mondriaan. Van belang is dat Mondriaan Steiners voordrachten niet alleen koesterde maar ook van potloodmarkeringen voorzag.
In het onderzoek zijn deze voordrachten verbonden aan Mondriaans creatieve zoektocht naar abstractie. Dit levert verrassend nieuwe inzichten op. Gaandeweg wordt zichtbaar gemaakt hoe hij aan dat universele proces individueel uitdrukking gaf.
Titel: Mondriaan en Steiner
Author: Jacqueline van Paaschen
Year: 2017
Language: nederlands
Size: 20 x 27 cm
Pages: 192
Edition: Hardcover
ISBN10 9491525646
ISBN13 9789491525643
Illustrations
Publ.: Komma, Uitgeverij
€ 34,00
new books
fleursdumal.nl magazine
More in: - Book News, Archive O-P, Art & Literature News, De Stijl, FDM Art Gallery, MONTAIGNE, Piet Mondriaan, Piet Mondriaan
---
The poetry of Edgar Allan Poe has had a rough ride in America, as Emerson's sneering quip about "The Jingle Man" testifies.
That these poems have never lacked a popular audience has been a persistent annoyance in academic and literary circles; that they attracted the admiration of innovative poetic masters in Europe and especially France—notably Baudelaire, Mallarmé, and Valéry—has been further cause for embarrassment. Jerome McGann offers a bold reassessment of Poe's achievement, arguing that he belongs with Whitman and Dickinson as a foundational American poet and cultural presence.
Not all American commentators have agreed with Emerson's dim view of Poe's verse. For McGann, a notable exception is William Carlos Williams, who said that the American poetic imagination made its first appearance in Poe's work. The Poet Edgar Allan Poe explains what Williams and European admirers saw in Poe, how they understood his poetics, and why his poetry had such a decisive influence on Modern and Post-Modern art and writing. McGann contends that Poe was the first poet to demonstrate how the creative imagination could escape its inheritance of Romantic attitudes and conventions, and why an escape was desirable. The ethical and political significance of Poe's work follows from what the poet takes as his great subject: the reader.
The Poet Edgar Allan Poe takes its own readers on a spirited tour through a wide range of Poe's verse as well as the critical and theoretical writings in which he laid out his arresting ideas about poetry and poetics.
Jerome McGann is University Professor and John Stewart Bryan Professor of English at the University of Virginia.
"McGann succeeds in forcing us to rethink Poe's poetry… Poe's sound experiments, especially his strange variations on meter, deserve, as McGann shows by citing numerous rhythmic anomalies, to be taken seriously… In an age of predominantly, and purposely, flat and prosaic 'free verse,' mnemonic patterning is perhaps re-emerging as the emblem of poetic power. In this sense, Poe is once again Our Contemporary… In making the case for the close link between the poetry and the aesthetic theory, [McGann] succeeds admirably: Poe's reputation as poete maudit belies the fact that here was a poet who knew exactly what he was doing."   — Marjorie Perloff, The Times Literary Supplement
Jerome McGann
The Poet Edgar Allan Poe
Alien Angel
256 pages
2014
Hardcover
Harvard University Press
€23.00
ISBN 9780674416666
literary criticism books
fleursdumal.nl magazine
More in: - Book Stories, Archive O-P, Archive O-P, Art & Literature News, Edgar Allan Poe, Poe, Edgar Allan, Poe, Edgar Allan, Tales of Mystery & Imagination
---
From the Nobel Prize-winning author of My Name Is Red and Snow, a large-format, deluxe, collectible edition of his beloved memoir about life in Istanbul, with more than 200 added illustrations and a new introduction.
Orhan Pamuk was born in Istanbul and still lives in the family apartment building where his mother first held him in her arms. His portrait of his city is thus also a self-portrait, refracted by memory and the melancholy–or hüzün–that all Istanbullus share: the sadness that comes of living amid the ruins of a lost empire. With cinematic fluidity, Pamuk moves from the lives of his glamorous, unhappy parents to the gorgeous, decrepit mansions overlooking the Bosphorus; from the dawning of his self-consciousness to the writers and painters–both Turkish and foreign–who would shape his consciousness of his city. Like Joyce's Dublin and Borges' Buenos Aires, Pamuk's Istanbul is a triumphant encounter of place and sensibility, beautifully written and immensely moving.
Orhan Pamuk won the Nobel Prize for Literature in 2006. His novel My Name Is Red won the 2003 IMPAC Dublin Literary Award. His work has been translated into more than sixty languages. He lives in Istanbul.
Istanbul (Deluxe Edition)
Memories and the City
By Orhan Pamuk
Hardcover
Oct 24, 2017
624 Pages
$45.00
Published by Knopf
7 x 9-1/8
ISBN 9781524732233
fleursdumal.nl magazine
More in: - Book News, - Book Stories, Archive O-P, Art & Literature News, Orhan Pamuk
---
The hundred best books
First there's the Bible,
And then the Koran,
Odgers on Libel,
Pope's Essay on Man,
Confessions of Rousseau,
The Essays of Lamb,
Robinson Crusoe
And Omar Khayyam,
Volumes of Shelley
And venerable Bede,
Machiavelli
And Captain Mayne Reid,
Fox upon Martyrs
And Liddell and Scott,
Stubbs on the Charters,
The works of La Motte,
The Seasons by Thompson,
And Paul de Verlaine,
Theodore Mommsen
And Clemens (Mark Twain),
The Rocks of Hugh Miller,
The Mill on the Floss,
The Poems of Schiller,
The Iliados,
Don Quixote (Cervantes),
La Pucelle by Voltaire,
Inferno (that's Dante's),
And Vanity Fair,
Conybeare-Howson,
Brillat-Savarin,
And Baron Munchausen,
Mademoiselle De Maupin,
The Dramas of Marlowe,
The Three Musketeers,
Clarissa Harlowe,
And the Pioneers,
Sterne's Tristram Shandy,
The Ring and the Book,
And Handy Andy,
and Captain Cook,
The Plato of Jowett,
And Mill's Pol. Econ.,
The Haunts of Howitt,
The Encheiridion,
Lothair by Disraeli,
And Boccaccio,
The Student's Paley,
And Westward Ho!
The Pharmacopœia,
Macaulay's Lays,
Of course The Medea,
And Sheridan's Plays,
The Odes of Horace,
And Verdant Green,
The Poems of Morris,
The Faery Queen,
The Stones of Venice,
Natural History (White's),
And then Pendennis,
The Arabian Nights,
Cicero's Orations,
Plain Tales from the Hills,
The Wealth of Nations,
And Byles on Bills,
As in a Glass Darkly,
Demosthenes' Crown,
The Treatise of Berkeley,
Tom Hughes's Tom Brown,
The Mahabharata,
The Humor of Hook,
The Kreutzer Sonata,
And Lalla Rookh,
Great Battles by Creasy,
And Hudibras,
And Midshipman Easy,
And Rasselas,
Shakespear in extenso
And the Æneid,
And Euclid (Colenso),
The Woman Who Did,
Poe's Tales of Mystery,
Then Rabelais,
Guizot's French History,
And Men of the Day,
Rienzi, by Lytton,
The Poems of Burns,
The Story of Britain,
The Journey (that's Sterne's),
The House of Seven Gables,
Carroll's Looking-glass,
Æsop his Fables,
And Leaves of Grass,
Departmental Ditties,
The Woman in White,
The Tale of Two Cities,
Ships that Pass in the Night,
Meredith's Feverel,
Gibbon's Decline,
Walter Scott's Peveril,
And—some verses of mine.
Mostyn T. Pigott
(1865-1927)
The hundred best books
fleursdumal.nl magazine
More in: - Book Lovers, - Book Stories, Archive O-P, Archive O-P
---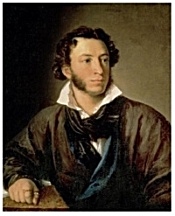 De tijd
De tijd, m'n vriend, de tijd! Het hart verlangt naar rust.
De klok loopt door, daarvan ben ik mij zeer bewust…
Wij waren met z'n twee nog zo veel moois van plan,
Wij wilden léven maar – kijk aan – dit was het dan.
Je vindt op aarde geen geluk, misschien wat lucht,
Al jarenlang beraam ik moe en slaafs mijn vlucht,
Al jarenlang droom ik van een veel grootser lot,
Van verre oorden rijk aan werk en puur genot.
Aleksandr Poesjkin
(1799 – 1837)
Пора, мой друг, пора…
gedicht 1834
vertaling Paul Bezembinder, 2016.
(Meer over Paul Bezembinder is te vinden op zijn website: www.paulbezembinder.nl)
fleursdumal.nl magazine
More in: Archive O-P, Archive O-P, Poesjkin, Poesjkin, Aleksandr
---
The story of how literature shaped world history, in sixteen acts—from Alexander the Great and the Iliad to Don Quixote and Harry Potter
In this groundbreaking book, Martin Puchner leads us on a remarkable journey through time and around the globe to reveal the powerful role stories and literature have played in creating the world we have today.
Puchner introduces us to numerous visionaries as he explores sixteen foundational texts selected from more than four thousand years of world literature and reveals how writing has inspired the rise and fall of empires and nations, the spark of philosophical and political ideas, and the birth of religious beliefs. Indeed, literature has touched the lives of generations and changed the course of history.
At the heart of this book are works, some long-lost and rediscovered, that have shaped civilization: the first written masterpiece, the Epic of Gilgamesh; Ezra's Hebrew Bible, created as scripture; the teachings of Buddha, Confucius, Socrates, and Jesus; and the first great novel in world literature, The Tale of Genji, written by a Japanese woman known as Murasaki.
Visiting Baghdad, Puchner tells of Scheherazade and the stories of One Thousand and One Nights, and in the Americas we watch the astonishing survival of the Maya epic Popol Vuh. Cervantes, who invented the modern novel, battles pirates both real (when he is taken prisoner) and literary (when a fake sequel to Don Quixote is published).
We learn of Benjamin Franklin's pioneering work as a media entrepreneur, watch Goethe discover world literature in Sicily, and follow the rise in influence of The Communist Manifesto.
We visit Troy, Pergamum, and China, and we speak with Nobel laureates Derek Walcott in the Caribbean and Orhan Pamuk in Istanbul, as well as the wordsmiths of the oral epic Sunjata in West Africa.
Throughout The Written World, Puchner's delightful narrative also chronicles the inventions—writing technologies, the printing press, the book itself—that have shaped religion, politics, commerce, people, and history.
In a book that Elaine Scarry has praised as "unique and spellbinding," Puchner shows how literature turned our planet into a written world.
Martin Puchner is the Byron and Anita Wien Professor of English and Comparative Literature at Harvard University. His prize-winning books range from philosophy to the arts, and his bestselling six-volume Norton Anthology of World Literature and HarvardX MOOC (massive open online course) have brought four thousand years of literature to students across the globe. He lives in Cambridge, Massachusetts.
The Written World
The Power of Stories to Shape
People, History, Civilization
By Martin Puchner
Hardcover
Oct.2017
448 Pages
$32.00
ISBN 9780812998931
Published by Random House
new books
fleursdumal.nl magazine
More in: - Book News, - Book Stories, Archive O-P, Art & Literature News, NONFICTION: ESSAYS & STORIES, PRESS & PUBLISHING, The Art of Reading
---
Le Quartier est une petite ville de banlieue où se croisent les destins de quatre femmes. Mariette, recluse dans son appartement, qui ressasse sa vie gâchée en buvant du vin rouge.

Aline, l'infirmière à domicile, qui la soigne et l'écoute. Suzanne, la petite Blanche, amante éplorée d'un caïd assassiné. Mame Baby, idole des femmes du Quartier, dont la mort est auréolée de mystère.
À travers la voix d'Aline, de retour dans le Quartier qu'elle a fui sept ans auparavant, les liens secrets qui unissent les quatre héroïnes se dessinent…
La fin de Mame Baby raconte avant tout, avec finesse, grâce et passion, l'art qu'ont les femmes de prendre soin les unes des autres, de se haïr et de s'aimer.
Gaël Octavia
La fin de Mame Baby
Collection Continents Noirs, Gallimard
Parution : 31-08-2017
176 pages
140 x 205 mm
Genre : Romans
Pays : Martinique
Époque : XXIe siècle
ISBN : 9782072737015
Gencode : 9782072737015
Prix € 16,00
new books
fleursdumal.nl magazine
More in: - Book News, Archive O-P, Art & Literature News
---
A deeply personal, intimate conversation about music and writing between the internationally acclaimed, best-selling author and the former conductor of the Boston Symphony Orchestra.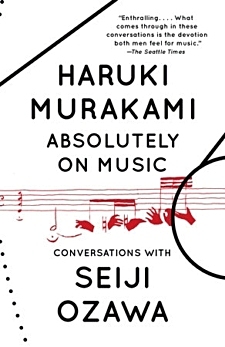 In Absolutely on Music, internationally Haruki Murakami sits down with his friend Seiji Ozawa, the revered former conductor of the Boston Symphony Orchestra, for a series of conversations on their shared passion: music.
Over the course of two years, Murakami and Ozawa discuss everything from Brahms to Beethoven, from Leonard Bernstein to Glenn Gould, from Bartók to Mahler, and from pop-up orchestras to opera. They listen to and dissect recordings of some of their favorite performances, and Murakami questions Ozawa about his career conducting orchestras around the world. Culminating in Murakami's ten-day visit to the banks of Lake Geneva to observe Ozawa's retreat for young musicians, the book is interspersed with ruminations on record collecting, jazz clubs, orchestra halls, film scores, and much more. A deep reflection on the essential nature of both music and writing, Absolutely on Music is an unprecedented glimpse into the minds of two maestros.
Haruki Murakami is a best-selling Japanese writer. His works of fiction and non-fiction have garnered critical acclaim and numerous awards, including the Franz Kafka Prize, the Frank O'Connor International Short Story Award and the Jerusalem Prize, among others. Murakami's fiction is humorous and surreal, focusing on themes of alienation and loneliness. He is considered an important figure in postmodern literature. The Guardian praised Murakami as "among the world's greatest living novelists" for his works and achievements. Murakami is the author of 1Q84, The Wind-Up Bird Chronicles, Men Without Women and many more.
Seiji Ozawa served as music director of the Boston Symphony Orchestra for twenty-nine years, and was music director of the Toronto Symphony Orchestra, the San Francisco Symphony, the Chicago Symphony Orchestra's Ravinia Festival, and Wiener Staatsoper. With Kazuyoshi Akiyama, he formed the Saito Kinen Orchestra and is the director of the Seiji Ozawa Matsumoto Festival. Ozawa has been deeply involved in musical education through his work with the Tanglewood Music Center Orchestra, the Ozawa International Chamber Music Academy Okushiga, the Seiji Ozawa International Academy Switzerland, and as founder of the Seiji Ozawa Music Academy Opera Project, organizations which provide opportunities to outstanding students in Asia and Europe. Among his many honors, Ozawa has been awarded France's Officier de la Légion d'Honneur, the Japanese Order of Culture, a Kennedy Center Honor, and a Grammy for Best Opera Recording.
Absolutely on Music
Conversations
By Haruki Murakami and Seiji Ozawa
Translated by Jay Rubin
Part of Vintage International
Category: Music – Biography & Memoir
Penguin Random House
Paperback
October 2017
320 Pages
fleursdumal.nl magazine
More in: - Book News, - Book Stories, Archive M-N, Archive O-P, Art & Literature News, Haruki Murakami, MUSIC
---
Litz Pisk was widely regarded as the finest and most influential teacher of modern theatre movement.

She was a director of movement at the Old Vic, National Theatre, Royal Shakespeare Company, English National Opera, and in television and films, including directing the movement for Vanessa Redgrave's film role in Isadora. She was director of Vienna's School of Art and Movement and a teacher at the Old Vic School, Bath Academy of Art, RADA and the Central School of Speech and Drama. The Actor and His Body, her seminal work, was first published in 1975.
'Once you start working with someone like Litz you don't ever want to stop if you can help it' – Vanessa Redgrave
Pisk's quest was to find expression for the inner impulse that motivated actors to move. Her teachings, as outlined in this book, offer insight on the specific craft of the actor, and the relationship between movement, imagination and the 'need' to move.
The Actor and His Body is also a practical manual for keeping the actor's body physically and expressively responsive. In addition, there are a range of movement exercises, illuminated by her exquisite line drawings, and complete weekly programme which concentrates on movement practice within different timescales.
This fourth edition features the original foreword by Michael Elliot as well as a new introduction by Ayse Tashkiran, contemporary movement director and Senior Lecturer at the Royal Central School of Speech and Drama, which contextualises Pisk's work.
The Actor and His Body
By: Litz Pisk
Introduction: Ayse Tashkiran
Published: 30-11-2017
Format: Paperback
Edition: 4th
ISBN: 9781474269742
Imprint: Methuen Drama
Series: Theatre Makers
Dimensions: 234 x 156 mm
RRP: $36.99
Bloomsbury Publishing
Litz Pisk: The Actor and His Body
fleursdumal.nl magazine
More in: - Book News, - Bookstores, Archive O-P, Art & Literature News, CINEMA, RADIO & TV, DANCE, MUSIC, Performing arts, THEATRE
---
Wide-ranging interviews on war, power, and politics with Noam Chomsky, the world's leading critic of US foreign policy.
This volume offers readers a concise and accessible introduction to the ideas of Noam Chomsky, described by the New York Times as "arguably the most important intellectual alive."
In these recent, wide-ranging interviews, conducted for Truthout by C. J. Polychroniou, Chomsky discusses his views on the "war on terror" and the rise of neoliberalism, the refugee crisis and cracks in the European Union, prospects for a just peace in Israel/Palestine, the rise of the Black Lives Matter movement, the dysfunctional US electoral system, the grave danger posed to humanity by the climate crisis, and the hopes, prospects, and challenges of building a movement for radical change.
Noam Chomsky is Institute Professor (Emeritus) in the Department of Linguistics and Philosophy at MIT. His work is widely credited with having revolutionized the field of modern linguistics. He is the author of numerous best-selling political works, which have been translated into scores of languages worldwide.
C. J. Polychroniou is a regular contributor to Truthout as well as a member of Truthout's Public Intellectual Project. He has published several books and his articles have appeared in a variety of journals, magazines, newspapers, and popular news websites.
"This fascinating series of interviews convincingly covers an astonishing range of fundamental and urgent issues of societal concern, demonstrating anew that Noam Chomsky is the world's most humane, philosophically sophisticated, and knowledgeable public intellectual. I cannot imagine a better primer for anyone seeking a better, safer, fairer future." —Richard Falk, Professor of International Law Emeritus, Princeton University
Optimism over Despair
On Capitalism, Empire, and Social Change
by Noam Chomsky and C.J. Polychroniou
Paperback,
180 pages
Haymarket Books
ISBN: 9781608467990
August 2017
$16.95
new books
fleursdumal.nl magazine
More in: - Book News, - Book Stories, Archive C-D, Archive O-P, Art & Literature News, MONTAIGNE, Noam Chomsky
---
A firsthand account of the brutal conditions of the Spanish Civil War.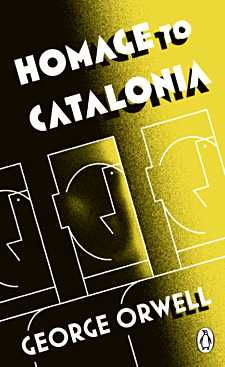 Homage to Catalonia is Orwell's personal account of his observations in the Spanish Civil War. The book was first published in the United Kingdom in 1938.
In 1936, originally intending merely to report on the Spanish Civil War as a journalist, George Orwell found himself embroiled as a participant—as a member of the Workers' Party of Marxist Unity.
Fighting against the Fascists, he described in painfully vivid and occasionally comic detail life in the trenches—with a "democratic army" composed of men with no ranks, no titles, and often no weapons—and his near fatal wounding. As the politics became tangled, Orwell was pulled into a heartbreaking conflict between his own personal ideals and the complicated realities of political power struggles.
Considered one of the finest works by a man V. S. Pritchett called "the wintry conscience of a generation," Homage to Catalonia is both Orwell's memoir of his experiences at the front and his tribute to those who died in what he called a fight for common decency. This edition features a new foreword by Adam Hochschild placing the war in greater context and discussing the evolution of Orwell's views on the Spanish Civil War.
"One of Orwell's very best books and perhaps the best book that exists on the Spanish Civil War." — The New Yorker
George Orwell (1903-1950) served with the Imperial Police in Burma, fought with the Republicans during the Spanish Civil War, and was a member of the Home Guard and a writer for the BBC during World War II. He is the author of many works of non-fiction and fiction.
Homage to Catalonia
George Orwell
Penguin Classics
2013
256 Pages
£6.99
Paperback
ISBN10 0141393025
ISBN13 9780141393025
Homage to Catalonia by George Orwell
fleursdumal.nl magazine
More in: - Book News, - Book Stories, Archive O-P, Art & Literature News, George Orwell, MUSEUM OF PUBLIC PROTEST- photos, texts, videos, street poetry, 1968, REPRESSION OF WRITERS, JOURNALISTS & ARTISTS, WAR & PEACE
---
Older Entries »
Thank you for reading FLEURSDUMAL.NL - magazine for art & literature