– Book Stories
«« Previous page
·
Ick kieke, staune, wundre mir: Berlinerische Gedichte von 1830 bis heute
·
Noam Chomsky and C.J. Polychroniou: Optimism over Despair
·
Tentoonstelling: Xtra small. Miniatuurboekjes in Museum Meermanno
·
Julian Barnes: The Noise of Time. A Novel
·
Eimear McBride: The Lesser Bohemians. A Novel
·
Thomas Eyskens: Toen met een lijst van nu errond. Herman de Coninck biografie
·
Ein fantastischer Blick auf die Welt: Der aspekte-Literaturpreis 2017 geht an Juliana Kálnay
·
Stefan Zweig: Erasmus von Rotterdam & Montaigne. Zwei biographische Essays
·
Homage to Catalonia by George Orwell
·
Solar Bones by Mike McCormack
·
Tentoonstelling Anton Heyboer in Gemeentemuseum Den Haag
·
Feest der Poëzie organiseert 'Het Festijn van Tachtig'
Schon immer war Berlin von Zuwanderung geprägt. Die zur Metropole wachsende Stadt hat sich aller Sprachen bedient und ihre Mundart ausgeprägt: die »Berliner Schnauze«.
Von der Straße, aus den Dienstmädchenkammern und Hinterhöfen fand das Berlinerische seinen Weg auf die Bühnen der Schmalzstullentheater und bald auch in die Schreibstuben der Dichter.
Was mit Adolf Glaßbrenners Eckensteher anfing, wurde von Theodor Fontane, Erich Mühsam und Max Herrmann-Neiße aufgegriffen. Kurt Tucholsky entpuppte sich als Meister des mundsprachlichen Gelegenheitsgedichtes und Erich Weinert berlinerte noch aus dem Exil gegen die Nationalsozialisten an. Eine Mundart wurde hoffähig und manchmal auch frech und obszön.
Diese erste dokumentarische Anthologie, die sich der berlinerischen volksnahen Sprache widmet, umfasst über 250 Gedichte – von 1830 bis heute. Entstanden ist eine Berliner Kulturgeschichte »von unten«, die fast wie nebenbei auch die deutsche Geschichte der letzten zweihundert Jahre nachzeichnet – vom preußischen Selbstbewusstsein über den kaiserstädtischen Größenwahn, den Klassenkampf der Goldenen Zwanziger, den Jahren im Krieg, in denen vielen Autoren allein die Mundart als Stück Heimat blieb, bis hin zur Rückbesinnung in den Jahren deutsch-deutscher Teilung und deren Überwindung.
Ick kieke, staune, wundre mir
Berlinerische Gedichte von 1830 bis heute
Gesammelt und ediert von Thilo Bock, Wilfried Ihrig & Ulrich Janetzki, mit einem Vorwort von Hans Christoph Buch
Die Andere Bibliothek, Berlin
Erschienen: 05.2017
Seitenanzahl: 472
Extradrucke
Bandnummer: 387
Extradruck, gebunden,
farbiges Vorsatzpapier,
mit Lesebändchen,
Gestaltung: Susanne Bax, Berlin.
ISBN: 9783847720188
24,00 EUR
# Website Die Andere Bibliothek
new books
fleursdumal.nl magazine
More in: - Book Lovers, - Book News, - Book Stories, Art & Literature News, FDM in Berlin, Galerie Deutschland, LIGHT VERSE, POETRY ARCHIVE
---
Wide-ranging interviews on war, power, and politics with Noam Chomsky, the world's leading critic of US foreign policy.
This volume offers readers a concise and accessible introduction to the ideas of Noam Chomsky, described by the New York Times as "arguably the most important intellectual alive."
In these recent, wide-ranging interviews, conducted for Truthout by C. J. Polychroniou, Chomsky discusses his views on the "war on terror" and the rise of neoliberalism, the refugee crisis and cracks in the European Union, prospects for a just peace in Israel/Palestine, the rise of the Black Lives Matter movement, the dysfunctional US electoral system, the grave danger posed to humanity by the climate crisis, and the hopes, prospects, and challenges of building a movement for radical change.
Noam Chomsky is Institute Professor (Emeritus) in the Department of Linguistics and Philosophy at MIT. His work is widely credited with having revolutionized the field of modern linguistics. He is the author of numerous best-selling political works, which have been translated into scores of languages worldwide.
C. J. Polychroniou is a regular contributor to Truthout as well as a member of Truthout's Public Intellectual Project. He has published several books and his articles have appeared in a variety of journals, magazines, newspapers, and popular news websites.
"This fascinating series of interviews convincingly covers an astonishing range of fundamental and urgent issues of societal concern, demonstrating anew that Noam Chomsky is the world's most humane, philosophically sophisticated, and knowledgeable public intellectual. I cannot imagine a better primer for anyone seeking a better, safer, fairer future." —Richard Falk, Professor of International Law Emeritus, Princeton University
Optimism over Despair
On Capitalism, Empire, and Social Change
by Noam Chomsky and C.J. Polychroniou
Paperback,
180 pages
Haymarket Books
ISBN: 9781608467990
August 2017
$16.95
new books
fleursdumal.nl magazine
More in: - Book News, - Book Stories, Archive C-D, Archive O-P, Art & Literature News, MONTAIGNE, Noam Chomsky
---
Museum Meermanno toont meer dan driehonderd miniatuurboekjes in de kleine, maar fijne tentoonstelling 'Xtra small'.
Miniatuurboekjes passen in je handpalm, soms zelfs op de top van je vinger. Voor boekbinders en drukkers is het kleine formaat een uitdaging. Het is een manier om hun kunde en handvaardigheid te etaleren. En dan vereist een echt mooi miniatuurboekje naast heel veel vakmanschap ook veel creativiteit, smaak en verfijning in ontwerp en de gebruikte motieven en materialen.
Museum Meermanno bezit van oudsher een grote collectie van deze boekjes, waarvan het Bloemhofje uit 1673 wel heel bijzonder is. Maar ook veel moderne exemplaren maken deel uit van de collectie. Deze werd in 2012 drastisch uitgebreid met de Bibliotheca Thurkowiana Minor. Dat is een miniatuurbibliotheek die ook nog eens 1.550 boekjes herbergt, waaronder zelfs een miniatuurkleitablet uit 1800 voor Christus.
In de tentoonstelling 'Xtra small' toont het museum deze collectie waaraan zeer recent nog eens 120 unieke exemplaren zijn toegevoegd. Dat zijn de inzendingen voor de International Minature Bookbinding Competition 2017 die de Stichting Handboekbinden samen met Uitgeverij de Buitenkant en Museum Meermanno eind 2016 uitschreef. De deelnemers ontvingen daarvoor de katernen van het door Liz Waters in het Engels vertaalde verhaal 'The Island' van Geert Mak. De Amsterdamse kunstenaar Max Kisman maakte de illustraties. De boekjes moesten voldoen aan de zogenaamde Bondy-norm, dat wil zeggen dat ze maximaal 76.2mm hoog, breed en dik mochten zijn.
De inzendingen zijn staaltjes van toewijding en vakmanschap en ze komen uit alle delen van Europa, Canada en Noord-Amerika, China, Japan, Australië en Nieuw Zeeland.
Publicatie: Bij deze tentoonstelling verschijnt een gelijknamige Engelstalige catalogus waarin onder andere alle inzendingen voor de wedstrijd in kleur en op ware grootte zijn afgebeeld. Het door Peter Verheul vormgegeven boekje verschijnt 1 oktober bij Uitgeverij de Buitenkant. Het boekje kost € 12,50 en is te koop in Museum Meermanno of kan besteld worden via Uitgeverij de Buitenkant (www.uitgeverijdebuitenkant.nl)
Xtra small
Miniature books in Museum Meermanno
Anne C. Bromer
€ 12,50 / catalogus / 11 x 16 cm / 128 pagina's
genaaid overlijmd met stofomslag
vormgeving: Peter Verheul
uitgave Uitgeverij de Buitenkant
ism Museum Meermanno en
de Nederlandse Stichting Handboekbinden
ISBN 978 94 90913 78 6
 #  meer  info  zie  website  museum  meermanno   
Tentoonstelling 'Xtra small. Miniatuurboekjes in Museum Meermanno'
Van 3 oktober 2017 t/m 7 januari 2018
fleursdumal.nl magazine
More in: - Book Lovers, - Book News, - Book Stories, Art & Literature News, Exhibition Archive, Museum of Literary Treasures, NONFICTION: ESSAYS & STORIES, The Art of Reading
---
1936: Dmitri Shostakovich, just thirty years old, reckons with the first of three conversations with power that will irrevocably shape his life.
Stalin, hitherto a distant figure, has suddenly denounced the young composer's latest opera. Certain he will be exiled to Siberia (or, more likely, shot dead on the spot), Shostakovich reflects on his predicament, his personal history, his parents, his daughter—all of those hanging in the balance of his fate. And though a stroke of luck prevents him from becoming yet another casualty of the Great Terror, he will twice more be swept up by the forces of despotism: coerced into praising the Soviet state at a cultural conference in New York in 1948, and finally bullied into joining the Party in 1960. All the while, he is compelled to constantly weigh the specter of power against the integrity of his music. An extraordinary portrait of a relentlessly fascinating man, The Noise of Time is a stunning meditation on the meaning of art and its place in society.
Julian Barnes is the author of twenty previous books. He has received the Man Booker Prize, the Somerset Maugham Award, the Geoffrey Faber Memorial Prize, the David Cohen Prize for Literature and the E. M. Forster Award from the American Academy of Arts and Letters; in France, the Prix Médicis and the Prix Femina; and in Austria, the State Prize for European Literature. In 2004 he was named Commandeur de l'Ordre des Arts et des Lettres by the French Ministry of Culture. His work has been translated into more than forty languages. He lives in London.
One of the Best Books of the Year: San Francisco Chronicle
"This story is truly amazing . . . an arc of human degradation without violence (the threat of violence, of course, everywhere). . . . The whole Kafka madhouse brought to life."—Jeremy Denk, The New York Times Book Review
The Noise of Time
A Novel
By Julian Barnes
Part of Vintage International
Literary Fiction
Paperback
Publisher Penguin Random House
June 2017,
224 Pages
new books
fleursdumal.nl magazine
More in: - Book News, - Book Stories, Archive A-B, Art & Literature News, Dmitri Shostakovich, Julian Barnes, The Art of Reading
---
The breathtaking new novel from Eimear McBride, about an extraordinary, all-consuming love affair
Eimear McBride's debut novel A Girl is a half-formed thing was published in 2013 to an avalanche of praise: nominated for a host of literary awards, winner of the Bailey's Women's Prize for Fiction and the inaugural Goldsmith's Prize, declared by Vanity Fair to be "One of the most groundbreaking pieces of literature to come from Ireland, or anywhere, in recent years," McBride's bold, wholly original prose immediately established her as a literary force. Now, she brings her singular voice to an unlikely love story.
One night an eighteen-year-old Irish girl, recently arrived in London to attend drama school, meets an older man – a well-regarded actor in his own right. While she is naive and thrilled by life in the big city, he is haunted by more than a few demons, and the clamorous relationship that ensues risks undoing them both.
A captivating story of passion and innocence, joy and discovery set against the vibrant atmosphere of 1990s London over the course of a single year, The lesser Bohemians glows with the eddies and anxieties of growing up, and the transformative intensity of a powerful new love.
Winner of the James Tait Black Prize for Fiction
Shortlisted for the 2016 Goldsmiths Prize
Shortlisted for the 2016 Bord Gáis Energy Irish Book Awards Eason Novel of the Year
Eimear McBride was born in 1976 and grew up in Ireland. She currently lives in Norwich with her family. The Lesser Bohemians is her second novel.
"The confidence and the capacity are as good as anyone's…there's an openness, an inclusivity, a distinct lack of God-almightyness, that makes reading [McBride] such a pleasure."  – Jeannette Winterson, New York Times Book Review
The Lesser Bohemians
A Novel
By Eimear McBride
Literary Fiction
Paperback,  2017
336 Pages
Publisher Penguin Random House
new books
fleursdumal.nl magazine
More in: - Book News, - Book Stories, Archive M-N, Art & Literature News
---
Met De lenige liefde (1969) werd Herman de Coninck op slag de populairste dichter van Vlaanderen, 'de man die zijn volk poëzie leerde lezen'.
Ook als leraar, journalist en geëngageerd hoofdredacteur van het Nieuw Wereldtijdschrift was hij van grote betekenis.
Na een leven vol poëzie bezweek hij in 1997 op een literair congres in Lissabon aan een hartaanval.
Nu is er dan eindelijk een biografie van de hand van Thomas Eyskens op basis van vele gesprekken met familie, vrienden en collega's, nooit eerder gepubliceerd fotomateriaal en nagelaten correspondentie. Een rijk portret van 'leven en werken, schrijven en liefhebben'.
Thomas Eyskens
Toen met een lijst van nu errond
Herman de Coninck biografie
Hardcover
ISBN: 9789029511407
Prijs: € 34,99
Publicatiedatum: 03-10-2017
Herman de Coninck biografie
fleursdumal.nl magazine
More in: - Book News, - Book Stories, Archive C-D, Archive C-D, Art & Literature News, BIOGRAPHY, Coninck, Herman de, DEAD POETS CORNER
---
"Wie viel Leben steckt in vier Wänden? Welche Erinnerungen haften an Böden, Fenstern und Türen?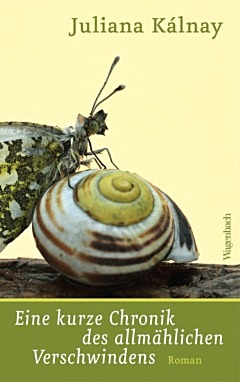 Wer in einer Wohnung lebt, lebt immer auch in einem Erinnerungsort, in einem Geschichtsraum. Und wenn schon eine Wohnung so viel Geschichten bietet, was hat dann erst ein ganzes Haus zu sagen? In ihrem Debütroman "Eine kurze Chronik des allmählichen Verschwindens" ringt Juliana Kálnay um einen anderen, einen fantastischen Blick auf die Welt. Ein Mann wird zu einem Baum, eine alte Frau spürt wie sich die Räume bei Kälte zusammenziehen, ein ganzes Haus lebt unter dem Gesetz des Unwirklichen. In feinen, leicht verschwommenen Vignetten erzählt Kálnay auf den Spuren des magischen Realismus vom Wundern und Träumen dieser Hausbewohner. Es ist ein Buch, in dem man sich herrlich verlieren kann. Und das große Lust macht auf die Welt des Surrealen."
So begründet die Jury – Jana Hensel (Autorin), Ursula März (Die Zeit), Daniel Fiedler (Redaktionsleiter ZDF Kultur Berlin) Simon Strauß (FAZ) und Volker Weidermann (Das Literarische Quartett, Der Spiegel – ihre Entscheidung.
Juliana Kálnay erzählt mit Aberwitz und aus vielen Perspektiven, es ist ein Stimmengewirr, ein Puzzle, das sich nach und nach zu einem dichten Bild fügt. Die Charaktere – Bewohner eines rätselhaften Hauses – versuchen, sich einen Reim auf die Dinge des Lebens zu machen, sich selbst und die anderen zu verstehen, tappen aber oft im Dunklen. Kálnays magischer Realismus hält die Handlung in der Schwebe, ohne ins Phantastische abzuheben, das Haus verbindet alle Elemente im Roman.
Der aspekte-Literaturpreis wird in diesem Jahr zum 39. Mal vergeben. Er ist mit 10.000 Euro dotiert und die bedeutendste Auszeichnung für deutschsprachige Erstlingsprosa. Die Preisverleihung findet am Donnerstag, 12. Oktober 2017, 11:30 Uhr im Rahmen der Frankfurter Buchmesse auf dem Blauen Sofa am ZDF-Stand statt.
Juliana Kálnay, geboren 1988 in Hamburg, wuchs zunächst in Köln und dann in Málaga auf. Sie veröffentlichte in deutsch- und spanischsprachigen Anthologien und Zeitschriften und erhielt das Arbeitsstipendium Literatur der Kulturstiftung des Landes Schleswig-Holstein 2016. Sie lebt und schreibt in Kiel. »Eine kurze Chronik des allmählichen Verschwindens« ist ihr erster Roman.
Juliana Kálnay
Eine kurze Chronik des allmählichen Verschwindens
Quartbuch. 2017
192 Seiten. 13 x 21 cm.
Gebunden mit Schutzumschlag
Buch €20,–
ISBN 978-3-8031-3284-0
Klaus Wagenbach Verlag
(www.wagenbach.de)
Ein fantastischer Blick auf die Welt
Der aspekte-Literaturpreis 2017 geht an Juliana Kálnay
fleursdumal.nl magazine
More in: - Book News, - Book Stories, Archive K-L, Art & Literature News, CINEMA, RADIO & TV, Literary Events, Nachrichten aus Berlin, The Art of Reading
---
Die »Sternstunden der Menschheit« sind das berühmteste Beispiel von Stefan Zweigs historischer Essaykunst. Erasmus von Rotterdam und Michel de Montaigne waren ihm wesentliche Bezugsgrößen des eigenen Schreibens.
»Erasmus von Rotterdam, einstmals der größte und leuchtendste Ruhm seines Jahrhunderts, ist heute, leugnen wir es nicht, kaum mehr als ein Name.« Der Humanist und Wegbereiter der Reformation ist für Stefan Zweig der »erste bewusste Europäer«, in dem er einen frühen Geistesverwandten erkannte. Michel de Monhttps://www.die-andere-bibliothek.de/taigne widmete Stefan Zweig seinen letzten, unvollendet gebliebenen biographischen Essay. »Am hilfreichsten wird sein freies und unbeirrbares Denken einer Generation, die, wie etwa die unsere, vom Schicksal in einen kataraktischen Aufruhr der Welt geworfen wurde.«
Beide Essays – Triumph und Tragik des Erasmus von Rotterdam (1934) und Montaigne (1942) – behandeln die großen Fragen nach der Möglichkeit von Freiheit und Gerechtigkeit und werden deshalb in einem Band zusammengefasst. Die Werke von Michel de Montaigne – die Essais und das Tagebuch der Reise nach Italien – hat die Andere Bibliothek in den gerühmten Neuübersetzungen von Hans Stilett veröffentlicht. Montaigne zählt zu den Ikonen unserer Bibliothek – wie selbstverständlich gehört auch Stefan Zweigs Blick auf ihn in unser Repertoire.
Stefan Zweig
Erasmus von Rotterdam & Montaigne
Zwei biographische Essays
Die Andere Bibliothek, Berlin
Großes Buch im kleinen Format
Erscheint: 09.2017
Seitenanzahl: 288
Extradrucke
Umschlaggestaltung: Angelika Richter, Heidesheim.
Besonders feines bedrucktes Leinen.
Farbenprächtiges Vor- und Nachsatzpapier,
Lesebändchen
ISBN: 9783847740339
16,00 EUR
# Website Die Andere Bibliothek
new books
fleursdumal.nl magazine
More in: - Book Lovers, - Book News, - Book Stories, Archive Y-Z, Art & Literature News, Desiderius Erasmus, Galerie Deutschland, MONTAIGNE, Stefan Zweig, Zweig, Stefan
---
A firsthand account of the brutal conditions of the Spanish Civil War.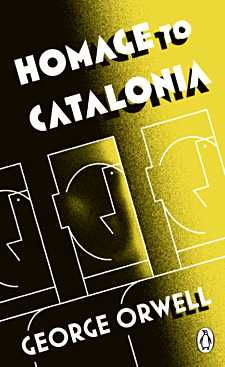 Homage to Catalonia is Orwell's personal account of his observations in the Spanish Civil War. The book was first published in the United Kingdom in 1938.
In 1936, originally intending merely to report on the Spanish Civil War as a journalist, George Orwell found himself embroiled as a participant—as a member of the Workers' Party of Marxist Unity.
Fighting against the Fascists, he described in painfully vivid and occasionally comic detail life in the trenches—with a "democratic army" composed of men with no ranks, no titles, and often no weapons—and his near fatal wounding. As the politics became tangled, Orwell was pulled into a heartbreaking conflict between his own personal ideals and the complicated realities of political power struggles.
Considered one of the finest works by a man V. S. Pritchett called "the wintry conscience of a generation," Homage to Catalonia is both Orwell's memoir of his experiences at the front and his tribute to those who died in what he called a fight for common decency. This edition features a new foreword by Adam Hochschild placing the war in greater context and discussing the evolution of Orwell's views on the Spanish Civil War.
"One of Orwell's very best books and perhaps the best book that exists on the Spanish Civil War." — The New Yorker
George Orwell (1903-1950) served with the Imperial Police in Burma, fought with the Republicans during the Spanish Civil War, and was a member of the Home Guard and a writer for the BBC during World War II. He is the author of many works of non-fiction and fiction.
Homage to Catalonia
George Orwell
Penguin Classics
2013
256 Pages
£6.99
Paperback
ISBN10 0141393025
ISBN13 9780141393025
Homage to Catalonia by George Orwell
fleursdumal.nl magazine
More in: - Book News, - Book Stories, Archive O-P, Art & Literature News, George Orwell, MUSEUM OF PUBLIC PROTEST- photos, texts, videos, street poetry, REPRESSION OF WRITERS, JOURNALISTS & ARTISTS, WAR & PEACE
---
Once a year, on All Souls Day, it is said that the dead may return; Solar Bones tells the story of one such visit.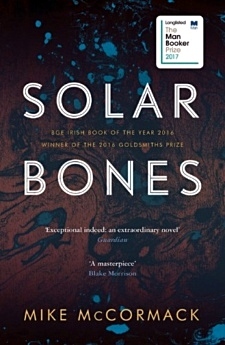 Set in the west of Ireland as the recession is about to strike, this novel is a portrait of one man's experience when his world threatens to fall apart.
Wry and poignant, Solar Bones is an intimate portrayal of one family, capturing how careless decisions ripple out into waves, and how our morals are challenged in small ways every day.
A book written in a single novel-length sentence has won the Goldsmiths Prize 2016. Solar Bones, published by Tramp Press, was named the winner of the £10,000 award which recognises fiction at its most novel.
The work was praised for its remarkable narrative which unfolds in one unbroken sentence and as a formally innovative novel which is also a moving and compelling read.
It follows the stream-of-consciousness recollections of a man named Marcus Conway, a middle-aged engineer from the west of Ireland briefly returned from the dead on All Soul's Day, November 2008.
The work was praised for its remarkable narrative which unfolds in one unbroken sentence and as a formally innovative novel which is also a moving and compelling read.
McCormack is the fourth winner of the prize founded in 2013 by Goldsmiths, University of London and held in partnership with the New Statesman. He is the third Irish writer to win since the prize began.
Solar Bones was picked from a shortlist of six works – after an initial 111 works were submitted for the 2016 prize.
Longlistes for the Man Booker Prize
Winner of the Goldsmiths Prize
BGE Irish Book of the Year
Solar Bones
by Mike McCormack
ISBN101786891298
ISBN139781786891297
2017
Paperback
€ 12,99
Publ. Canongate
…   …   …
From: Solar Bones
the Angelus bell
ringing out over its villages and townlands,
over the fields and hills and bogs in between,
six chimes of three across a minute and a half,

a summons struck

on the lip of the void
Once a year, on All Souls' Day, it is said in Ireland that the dead may return. Solar Bones is the story of one such visit. Marcus Conway, a middle-aged engineer, turns up one afternoon at his kitchen table and considers the events that took him away and then brought him home again.
Funny and strange, McCormack's ambitious and other-worldly novel plays with form and defies convention. This is profound new work is by one of Ireland's most important contemporary novelists. A beautiful and haunting elegy, this story of order and chaos, love and loss captures how minor decisions ripple into waves and test our integrity every day.
Mike McCormack
…   …   …
fleursdumal.nl magazine
More in: - Book News, - Book Stories, Archive M-N, Art & Literature News, Awards & Prizes, The talk of the town
---
Wat men doorgaans niet weet is dat Heyboer in de jaren 60 en 70 een gevierd kunstenaar was wiens werk werd aangekocht door het MoMA in New York, getoond op de Documenta in Kassel, en met grote tentoonstellingen werd geëerd in het Gemeentemuseum Den Haag en het Stedelijk Museum Amsterdam.
In 1975 werd hij zelfs samen met David Hockney en Lucian Freud in LACMA in Los Angeles gepresenteerd als een van de belangrijkste Europese schilders van dat moment. Veertig jaar na zijn laatste grote museale tentoonstelling wil het Gemeentemuseum de internationale kwaliteit van zijn oeuvre opnieuw voor het voetlicht brengen.
De tentoonstelling toont de ontwikkeling van zijn oeuvre met de nadruk op de periode 1956-1977, maar belicht ook het 'systeem' waarmee de kunstenaar een manier vond om het leven voor zichzelf dragelijk te maken. Zo wordt duidelijk hoe het leven en werk van Heyboer onlosmakelijk met elkaar verbonden zijn.
Nog te zien t/m 04 februari 2018
Gemeentemuseum Den Haag
Stadhouderslaan 41, 2517 HV Den Haag
Publicatie: Bij de tentoonstelling verschijnt een catalogus met teksten van onder meer Kees Keijer.
Anton Heyboer (Sabang, Indonesië, 1924 – Den Ilp, 2005) bekleedt een unieke positie binnen de moderne kunst. Met zijn mysterieuze, mystieke en hoogst persoonlijke beeldtaal plaatste hij zich in de jaren zestig en zeventig lijnrecht tegenover de toen heersende zakelijke kunststromingen zoals popart en minimal art.
In zijn etsen en tekeningen ontwikkelde Heyboer een 'systeem' om grip te krijgen op de demonen die hem sinds de Tweede Wereldoorlog achtervolgden, en om het leven voor zichzelf draaglijk te maken. Het is de kunst die zijn leven redt. Samen met zijn befaamde 'vijf bruiden' leefde Heyboer volgens de regels van zijn systeem, teruggetrokken in een zelfgebouwde, labyrintische woonruimte in Den Ilp. Hij creëerde zo zijn eigen, veilige universum waarin de kunst en zijn leven onlosmakelijk met elkaar verbonden zijn.
De kracht van Heyboers unieke werk bleef niet onopgemerkt. In de jaren zeventig werd Heyboer in één adem genoemd met kunstenaars als David Hockney en Lucian Freud en werd hij voorgedragen als een van Europa's belangrijkste schilders van het moment. Hij maakte internationaal naam, maar vanaf 1975 trok hij zich volledig terug uit de kunstwereld en werd vooral zijn excentrieke leven een kolfje naar de hand van de roddelpers . Meer dan veertig jaar later brengt deze publicatie de internationale kwaliteit van zijn werk uit de jaren zestig en zeventig opnieuw voor het voetlicht.
Anton Heyboer
Het goede moment
Doede Hardeman, Hans Locher, Kees Keijer e.a
Uitgeverij Hannibal – Hannibal
Prijs: € 27,50
28,5 x 22 cm
192 bladzijden
Hardcover
Quadrichromie
Nederlandstalige editie
ISBN 978 94 9267 710 5
# Meer informatie website Haags Gemeentemuseum
fleursdumal.nl magazine
More in: - Book News, - Book Stories, Archive G-H, Art & Literature News, Dutch Landscapes, Exhibition Archive, FDM Art Gallery, The Ideal Woman
---
Ontdek het rebelse literaire Amsterdam van 1880, met theater, muziek, poëzie, film, eten, drinken en veel meer op 27 – 28 – 29 oktober 2017
De locaties
Festivalhart: Het Tropeninstituut
Mauritskade 63, Amsterdam
Kassa, theaterzaal en foyer zijn tijdens het festival gevestigd in het voormalige Tropentheater aan de zijkant van het gebouw, in de Linnaeusstraat. De boekverkoop van de Linnaeusboekhandel, de foyer (het Soeterijn Café) én de Poëziebar met absint en sonnetten vindt u in het Tropentheater.
Grote Zaal
Project Diepenbrock, op de zaterdagavond, vindt plaats in de spectaculaire Grote Zaal, te betreden via de hoofdingang aan de Mauritskade.
Grand Café de Tropen
De Tachtigersconferentie en de Thee met Van Deyssel vinden plaats in de Subtropenzaal van Grand Café de Tropen. Het Grand Café is open voor drankjes, lunch en borrelhapjes, en is 's avonds de locatie voor het Van Deysseldiner.
Witsenhuis
Oosterpark 82, Amsterdam
Het Witsenhuis, waar fotograaf Willem Witsen woonde en regelmatig de Tachtigers over de vloer kreeg, heeft een verdieping in de oude staat gehouden. Wilt u ook bij de Tachtigers langskomen? Dat kan! Bij wijze van uitzondering opent het Witsenhuis zijn deuren voor rondleidingen.
Pianola Museum
Westerstraat 118, Amsterdam

Het Geelvinck Pianola Museum bezit een grote hoeveelheid automatische piano's (pianola's), pianolarollen, automatische instrumenten en bijzondere grammofoons, alsook een kleine collectie schellakplaten. Op zondag 29 oktober vindt een bijzonder Koffieconcert rondom de Tachtigers plaats, met oude opnamen en pianolarollen van Nederlandse componisten uit hun tijd!
Bijzondere Collecties van de Universiteit van Amsterdam
Oude Turfmarkt 129, Amsterdam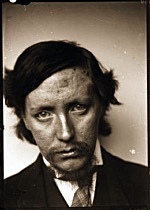 Tot de Bijzondere Collecties van de Universiteit van Amsterdam behoren rijke literaire verzamelingen en de Tachtigers zijn daarin ruim vertegenwoordigd. De collectie van het Frederik van Eeden-Genootschap wordt er beheerd en het archief van Albert Verwey is er eveneens te raadplegen. Verder zijn er stukken van onder anderen Willem Kloos en Jacques Perk, en archivalia van Flanor, de literaire vereniging waar veel Tachtigers in hun studententijd bij aangesloten waren. Een kleine tentoonstelling met manuscripten, foto's, tekeningen en persoonlijke documenten van Tachtigers is gratis te zien in de hal tijdens het gehele festival, gedurende de openingstijden van de Bijzondere Collecties.
Rondleiding Concertgebouw en Alphons Diepenbrock
Concertgebouwplein 10, 1071 LN Amsterdam

De componist onder de Tachtigers, die warme banden onderhield met vooral Herman Gorter, was Alphons Diepenbrock. Hij toonzette onder ander gedichten van Tachtigers Jacques Perk en Lodewijk van Deyssel, en staat vermeld op een cartouche in de Grote Zaal van het Concertgebouw, die tijdens de Tweede Gouden Eeuw van Amsterdam eind 19e eeuw werd gebouwd, en waar de Tachtigers regelmatig te vinden waren in de beginjaren. Een speciale, eenmalige rondleiding voor slechts 15 personen brengt u in verschillende ruimten van het Concertgebouw, die normaal niet toegankelijk zijn voor het publiek. Tevens wordt daarbij verteld over het Concertgebouw en zijn orkest in de tijd van de Tachtigers in het algemeen en Diepenbrocks betrokkenheid daarbij in het bijzonder.
Stichting Feest der Poëzie organiseert bijzondere voorstellingen met gedichten en muziek op mooie plaatsen, en richt zich op vormvaste dichtkunst, klassieke voordrachtskunst en ambachtelijke boekdrukkunst.
Stichting Feest der Poëzie, een collectief van dichters, musici en een magiër, treedt op in binnen- en buitenland. Wegens het tienjarig bestaan van de stichting is 'Het Festijn van Tachtig' in het leven geroepen.
Dit seizoen organiseren zij naast het Festijn nog avonden in het Pianola Museum in Amsterdam, WORM in Rotterdam, Nieuwe Erven in Amersfoort en op andere plaatsen.
# Meer info website Feest der Poëzie
Feest der Poëzie organiseert 'Het Festijn van Tachtig'
fleursdumal.nl magazine
More in: *Archive Les Poètes Maudits, - Archive Tombeau de la jeunesse, - Book Lovers, - Book Stories, Art & Literature News, CLASSIC POETRY, Gorter, Herman, Kloos, Willem, Literary Events, LITERARY MAGAZINES, Lodewijk van Deyssel, Museum of Literary Treasures, MUSIC, THEATRE
---
Older Entries »
« Newer Entries
Thank you for reading FLEURSDUMAL.NL - magazine for art & literature