Archive M-N
·
Herman Melville: Shelley's Vision (Poem)
·
Herman Melville: The Land Of Love (Poem)
·
Herman Melville: The Maldive Shark (Poem)
·
Ngugi wa Thiong'o: Minutes of Glory and Other Stories
·
"Oculus": Poems by Sally Wen Mao
·
Brabantse schrijver Jan Naaijkens (1919 – 2019) overleden
·
Bejan Matur: Ceremoniële gewaden (Gedichten)
·
Joni Mitchell: New Critical Readings
·
Christian Metz: Poetisch denken. Die Lyrik der Gegenwart
·
Koos Meinderts: De schelmenstreken van Reinaert de Vos
·
Christian Kunda Mutoki: Guy de Maupassant. Une certaine idée de l'homme dans Le Horla
·
Norman Mailer: Four Books of the 1960s
Shelley's Vision
Wandering late by morning seas
When my heart with pain was low–
Hate the censor pelted me–
Deject I saw my shadow go.
In elf-caprice of bitter tone
I too would pelt the pelted one:
At my shadow I cast a stone.
When lo, upon that sun-lit ground
I saw the quivering phantom take
The likeness of St. Stephen crowned:
Then did self-reverence awake.
Herman Melville
(1819 – 1891)
Shelley's Vision
•fleursdumal.nl magazine
More in: Archive M-N, Archive M-N, Archive S-T, Archive S-T, Herman Melville, Shelley, Percy Byssche
---
The Land Of Love
Hail! voyagers, hail!
Whence e'er ye come, where'er ye rove,
No calmer strand,
No sweeter land,
Will e'er ye view, than the Land of Love!
Hail! voyagers, hail!
To these, our shores, soft gales invite:
The palm plumes wave,
The billows lave,
And hither point fix'd stars of light!
Hail! voyagers, hail!
Think not our groves wide brood with gloom;
In this, our isle,
Bright flowers smile:
Full urns, rose-heaped, these valleys bloom.
Hail! voyagers, hail!
Be not deceived; renounce vain things;
Ye may not find
A tranquil mind,
Though hence ye sail with swiftest wings.
Hail! voyagers, hail!
Time flies full fast; life soon is o'er;
And ye may mourn,
That hither borne,
Ye left behind our pleasant shore.
Herman Melville
(1819 – 1891)
The Land Of Love
• fleursdumal.nl magazine
More in: Archive M-N, Archive M-N, Herman Melville
---
The Maldive Shark
About the Shark, phlegmatical one,
Pale sot of the Maldive sea,
The sleek little pilot-fish, azure and slim,
How alert in attendance be.
From his saw-pit of mouth, from his charnel of maw,
They have nothing of harm to dread,
But liquidly glide on his ghastly flank
Or before his Gorgonian head;
Or lurk in the port of serrated teeth
In white triple tiers of glittering gates,
And there find a haven when peril's abroad,
An asylum in jaws of the Fates!
They are friends; and friendly they guide him to prey,
Yet never partake of the treat —
Eyes and brains to the dotard lethargic and dull,
Pale ravener of horrible meat.
Herman Melville
(1819 – 1891)
The Maldive Shark
• fleursdumal.nl magazine
More in: Archive M-N, Archive M-N, Herman Melville, Natural history
---
Ngũgĩ wa Thiong'o, although renowned for his novels, memoirs, and plays, honed his craft as a short story writer. From "The Fig Tree" ("Mugumo" in this collection), written in 1960, his first year as an undergraduate at Makerere University College in Uganda, to the playful "The Ghost of Michael Jackson," written as a professor at the University of California, Irvine, these collected stories reveal a master of the short form.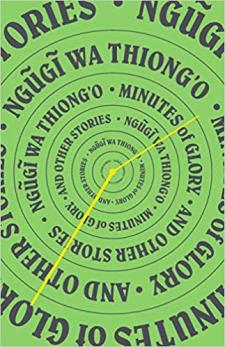 Covering the period of British colonial rule and resistance in Kenya to the bittersweet experience of independence—and including two stories that have never before been published in the United States— Ngũgĩ's collection features women fighting for their space in a patriarchal society; big men in their Bentleys who have inherited power from the British; and rebels who still embody the fighting spirit of the downtrodden.
One of Ngũgĩ's most beloved stories, "Minutes of Glory," tells of Beatrice, a sad but ambitious waitress who fantasizes about being feted and lauded over by the middle-class clientele in the city's beer halls. Her dream leads her on a witty and heartbreaking adventure.
Published for the first time in America, Minutes of Glory and Other Stories is a major literary event that celebrates the storytelling might of one of Africa's best-loved writers.
Title: Minutes of Glory and Other Stories
Author: Ngugi wa Thiong'o
Publisher: New Press, The
Format Hardcover
224 pages
ISBN-10 1620974657
ISBN-13 9781620974650
Publication Date 01 March 2019
Hardcover – $24.95
# new books
Ngugi wa Thiong'o
Minutes of Glory and Other Stories
• fleursdumal.nl magazine
More in: #Short Stories Archive, - Book News, - Book Stories, Archive M-N, Art & Literature News, FDM in Africa
---
A brilliant second collection by Sally Wen Mao on the violence of the spectacle ― starring the film legend Anna May Wong
In Oculus, Sally Wen Mao explores exile not just as a matter of distance and displacement but as a migration through time and a reckoning with technology. The title poem follows a nineteen-year-old girl in Shanghai who uploaded her suicide onto Instagram.
Other poems cross into animated worlds, examine robot culture, and haunt a necropolis for electronic waste. A fascinating sequence spanning the collection speaks in the voice of the international icon and first Chinese American movie star Anna May Wong, who travels through the history of cinema with a time machine, even past her death and into the future of film, where she finds she has no progeny.
With a speculative imagination and a sharpened wit, Mao powerfully confronts the paradoxes of seeing and being seen, the intimacies made possible and ruined by the screen, and the many roles and representations that women of color are made to endure in order to survive a culture that seeks to consume them.
I will blow a hole
in the airwaves, duck lasers in my dugout.
I'm done kidding them. Today I fly
the hell out in my Chrono-Jet.
To the future, where I'm forgotten.
(from "Anna May Wong Fans Her Time Machine")
"The poems in Oculus are rangy, protean, contradictory. They offer an alternative to the selfie, that static reduction of a person to her most photogenic poses."— The New Yorker
Sally Wen Mao is the author of a previous poetry collection, Mad Honey Symposium. Her work has won a Pushcart Prize and fellowships at Kundiman, George Washington University, and the New York Public Library Cullman Center.
Oculus: Poems
by Sally Wen Mao (Author)
Paperback
96 pages
January 15, 2019
Publisher: Graywolf Press
Language: English
Subject: Poetry
ISBN-10: 1555978258
ISBN-13: 978-1555978259
Product Dimensions: 6.9 x 0.4 x 9.1 inches
$16.00
# more poetry
Sally Wen Mao
Oculus
• fleursdumal.nl magazine
More in: - Book News, Archive M-N, Archive M-N, Art & Literature News
---
Jan Naaijkens was bekend als schrijver van proza, toneel, gedichten en liedjes.
Daarnaast was hij een onderwijzer in hart en nieren. En niet te vergeten: radiopresentator, acteur, verzetsheld, én vader van 12 kinderen.
Jan Naaijkens heeft veel betekend voor de culturele emancipatie van Brabant in de periode na de Tweede Wereldoorlog.
Hij werd in februari 100 jaar oud. Op 17 april overleed Jan Naaijkens in zijn slaap.
Jan Naaijkens
(Hilvarenbeek, 10 februari 1919 – 17 april 2019)
# Meer over Jan Naaijkens in fleursdumal.nl magazine via deze link
# Link Jan Naaijkens op Wikipedia
• fleursdumal.nl magazine
More in: - Book Stories, Archive M-N, Archive M-N, Art & Literature News, AUDIO, CINEMA, RADIO & TV, Brabantia Nostra, FDM Art Gallery, In Memoriam, Jan Naaijkens, THEATRE
---
Bejan Matur behoort tot de bekendste en bij literatuurliefhebbers meest gewaardeerde dichters in Turkije.
Bij de politieke overheid van haar land ligt dat anders. Maar ze heeft intussen internationale faam opgebouwd en leeft in wisselende landen in Europa. In 2002 trad ze op tijdens Poetry International in Rotterdam.
Bejan Matur
Ceremoniële gewaden
Gedichten
Uitgever Kleinood & Grootzeer
Bundel
54 pagina's
gelijmd
21 x 10,5 cm
ISBN/EAN 978-90-76644-89-9
€18,-
Eerste druk 100 genummerde door de auteur en de vertaler gesigneerde exemplaren
Vertaling en nawoord Willem M. Roggeman

Bejan Matur
Bejan Matur behoort tot de bekendste en bij literatuur-liefhebbers meest gewaardeerde dichters in Turkije. Bij de politieke overheid van haar land ligt dat anders. Maar zij heeft intussen ook een internationale faam opgebouwd. Haar poëzie werd in verscheidene talen vertaald en zelf wordt zij geregeld gevraagd als gast op internationale poëziefestivals. Zij publiceerde tot nog toe in Turkije tien werken, negen dichtbundels en een prozaboek dat als literaire journalistiek kan bestempeld worden.
Dit boek, Dagin Ardina Bakmak (Kijken achter de berg), handelt over de Koerdische kwestie en verscheen in februari 2011. Er heerste toen in Turkije een nog rustige periode waarin er een vredesproces aan de gang was. Bejan Matur besloot over de PKK-guerilleros te schrijven. Zij trok hiervoor naar het gebied waar de Koerdische vrijheidsstrijders zich schuilhielden en zij had meerdere gesprekken met hen. Deze gesprekken dienden als basis voor dit nog steeds actuele boek over een volk zonder land. Dit boek werd onmiddellijk een bestseller. Er werden meer dan 50.000 exemplaren van verkocht en nadien werden er nog verscheidene clandestiene uitgaven van gemaakt.
Maar sedert het vredesproces door de Turkse overheid werd opgeblazen kreeg Bejan Matur het bijzonder moeilijk, vooral omwille van deze reportage. Zij werd zelfs opgesloten in de gevangenis en werd er gefolterd om haar bronnen prijs te geven. In 2016 besloot zij dan ook het land te verlaten omdat zij zich bedreigd voelde bij al wat zij schreef. Niet alleen was er de mogelijkheid van een proces, maar er werden ook doodsbedreigingen geuit. Zij koos dan ook voor een vrijwillige ballingschap in Londen. Maar zij miste daar de mediterrane levenswijze. Daarom keerde zij in oktober 2017 toch terug naar Istanbul. Sedertdien verdeelt zij haar tijd tussen Istanbul, Londen, Athene en Verona.
Bejan Matur werd op 14 september 1968 geboren in een Koerdisch-Alevisch gezin in de oude Hitietenstad Kahramanmarash in het zuidoosten van Turkije, Koerdisch gebied. Zij studeerde aan het lyceum in de grotere stad Gaziantep en leefde toen samen met haar zusters ver van haar ouders. Haar vader wenste dat zij advocaat zou worden, of anders journalist.
Aan de universiteit van Ankara studeerde zij rechten, maar zij heeft nooit een advocatenpraktijk uitgeoefend. Zij werd diep getroffen door de onrechtvaardige behandeling van de Koerden en andere etnische minderheden in Turkije, wat steeds gebeurde onder het mom van de toepassing van de wet. Ook kwam zij tot de conclusie dat zij als advocaat alleen zou kunnen optreden als verdediger van de mensenrechten, maar dat zij hiervoor over weinig juridische mogelijkheden beschikte.
Al tientallen jaren heerst er een gewapend conflict tussen de Turkse staat en diverse Koerdische opstandige groeperingen. De Koerden verklaren dat zij vrijheidsstrijders zijn tegen de vreemde bezetters van hun land terwijl de Turkse staat hen bestempeld als terroristen en separatisten. Zelf was Bejan Matur tien jaar toen zij in 1978 getuige was van een pogrom op de Alevis in haar geboortestad. De vraag "Waarom doden zij ons?" heeft deze dichteres sedertdien nooit meer verlaten. Dit werd de beladen thematiek van de poëzie van Bejan Matur. In haar gedichten is vaak sprake van pijn, bloed en leed. Gelukkig laat ze zich nooit verleiden tot het schrijven van politiek geëngageerde gedichten, wat haar poëzie immers tijdgebonden en al gauw verouderd zou maken. Bovendien verafschuwt zij de slachtofferrol en streeft zij daarom eerder naar het scheppen van een ruimte om te dromen, een ruimte voor de artistieke creatie, voor hoop en liefde.
Hoewel zij nooit advocaat werd, brengt Bejan Matur als auteur, zowel in haar gedichten als in artikelen, toch een pleidooi voor de mensenrechten in het algemeen, maar ook voor de rechten van de vrouw en de bescherming van andere bedreigde groepen in de samenleving. Reeds tijdens haar studies publiceerde zij poëzie in diverse tijdschriften. Haar gedichten werden toen als "duister en mystiek" bestempeld. Zij schrijft haar gedichten in het Turks, maar de gevoelswaarde en het ritme van de Koerdische taal zijn erin te herkennen.
Vaak wordt god genoemd in deze gedichten, maar steeds volledig met kleine letters geschreven. Men moet de naam god dan ook niet zo zeer lezen in religieuze zin, maar eerder als een zinnebeeld voor het menselijk hart dat verlangt naar vrede, vrijheid en liefde voor de medemens. Dit wordt vooral duidelijk in het gedicht "Ceremoniële gewaden" waar zij schrijft: Misschien is geschiedenis een vergissing, zegt de dichter. De mens zelf is een vergissing, zegt god.
Haar eerste dichtbundel Rüzgar Dolu Konaklar (De wind huilt tussen de herenhuizen) verscheen in 1996 en stond volledig buiten de heersende trend in de Turkse poëzie. Deze sjamanistische poëzie met haar heidense beelden hoorde eerder bij het verleden dan bij het heden. Precies hierdoor trok hij sterk de aandacht. Voor deze bundel kreeg Bejan Matur zelfs verscheidene prijzen.
Haar tweede bundel, Tanri Görmesin Harflerini (God moet mijn handgeschreven brief niet zien) verscheen in 1999 en werd eveneens gunstig onthaald. In 2002 verschenen tegelijkertijd twee bundels, Ayin Büyüttügü Ogüllar (Zonen opgevoed door de maan) en Onün çölünde (In zijn woestijn).
De poëzie van Bejan Matur werd reeds in meer dan twintig talen vertaald, maar er verscheen nauwelijks iets in het Nederlands. Wel trad zij in juni 2002 op tijdens het internationaal poëziefestival Poetry International in Rotterdam. Naar aanleiding hiervan verschenen twee gedichten in Nederlandse vertaling door Ireneus Spit in de bloemlezing "Hotel Parnassus", uitgegeven door De Arbeiderspers in Amsterdam.
In Engeland verscheen in 2003 de bundel In the Temple of a Patient God en bij de uitgeverij Phi in Luxemburg verscheen een Duitse en een Franse bundel.
Bejan Matur wordt geregeld gevraagd om op te treden in het buitenland. Zo leerde ik haar persoonlijk kennen op het internationaal poëziefestival dat in september 2008 in Tel Aviv werd gehouden.
Haar vijfde dichtbundel Ibrahim'in Beni Terketmesi (Abraham verlaat ons) verscheen in maart 2008 en werd door de critici ontvangen als haar voorlopig beste werk. De beeldvorming in dit werk werd ook weer als mystiek beschreven. De dichteres heeft inderdaad een persoonlijke ontologie gecreëerd, die steunt op de Soefi-traditie, die meer dan duizend jaar oud is. In 2009 verscheen Dogunun Kapisi: Diyarbakir (De Poort van het Oosten: Diyarbakir) en een jaar later publiceerde Bejan Matur Kader Denizi (Zee van Geloof), gedichten bij foto's van Mehmet Günyeli. Deze foto's waren eerder te zien op tentoonstellingen in prestigieuze galerieën in Istanbul en Ankara.
Vanaf 2005 schreef Bejan Matur geregeld artikelen in het Turkse dagblad Zaman, maar in 2012 werd zij ontslagen. Zij werkte af en toe mee aan het Engelstalige dagblad Today's Zaman. Zij schreef hoofdzakelijk artikelen over de situatie van de Koerden, maar ook over het problematisch bestaan van de Armeniërs, over actuele politieke gebeurtenissen, minderheidsgroepen, gevangenis-literatuur en de onderdrukking van de vrouw.
Thans werkt zij aan geen enkele krant meer mee.
In haar laatste twee bundels, Son Dag (De laatste berg, 2015) en Ask Olmayan (Liefdesgedichten, 2016) vindt men de typische Koerdische levenssfeer terug in de talrijke natuurbeschrijvingen en in de weergave van de landschappen van Koerdistan, binnen en buiten de grenzen van Turkije. De bergen, de rivieren, de maan, de zon en de plantengroei komen steeds weer in deze verzen voor en bepalen mee het ritme van haar zeggings-wijze, die echter vooral door de wind wordt gedragen. Het valt dan ook onmiddellijk op dat de wind als symbool een primaire rol speelt in deze gedichten. Met haar talrijke allusies op elementen uit de eeuwenoude Koerdische cultuur neemt Bejan Matur een unieke en heel aparte plaats in de hedendaagse Turkse poëzie in.
Willem M. Roggeman
11 maart 2019
Uitgeverij Kleinood & Grootzeer
Kon. Wilhelminastraat 46
4615 JB Bergen op Zoom NL
T: 0164 24 00 49 (0031 164 24 00 49)
email: uitgeverij@kleinood-en-grootzeer.com
website: http://kleinood-en-grootzeer.com/index.html
• fleursdumal.nl magazine
More in: #Editors Choice Archiv, - Book News, - Book Stories, Archive M-N, Archive M-N, Archive Q-R, Art & Literature News, REPRESSION OF WRITERS, JOURNALISTS & ARTISTS, TRANSLATION ARCHIVE
---
Joni Mitchell: New Critical Readings recognizes the importance and innovativeness of the musician and artist Joni Mitchell and the need for a collection that theorizes her work as musician, composer, cultural commentator and antagonist.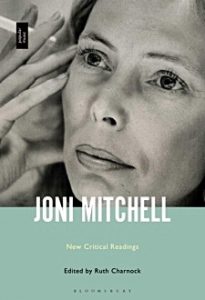 It showcases pieces by established and early career academics from the fields of popular music and literary studies on subjects such as Mitchell's guitar technique, the politics of aging in her work, and her fractious relationship with feminism.
The collection features close readings of specific songs, albums, and performances while also paying keen attention to Mitchell's wider cultural contributions and significance.
About the Author: Ruth Charnock is Senior Lecturer in English at the University of Lincoln, UK. She is the author of Anaïs Nin: Bad Sex, Shame and Contemporary Culture (forthcoming, 2019) and various articles and essays on Joni Mitchell, Marvin Gaye, Anaïs Nin, contemporary American literature, and popular culture.
Joni Mitchell
New Critical Readings
Editor: Ruth Charnock
Published: 24-01-2019
Format: Hardback
Edition: 1st
248 pages
Illustrations: 2 bw illus
Dimensions: 229 x 152 mm
Publisher: Bloomsbury Academic
Language: English
ISBN-10: 1501332090
ISBN-13: 978-1501332098
£86.40
# new books
joni mitchell
new critical readings
• fleursdumal.nl magazine
More in: - Book News, - Bookstores, Archive C-D, Archive M-N, Archive M-N, Art & Literature News, Joni Mitchell
---
Wir leben im Zeitalter des Gedichts.
Die Poesie ist auf Erfolgskurs, schließlich sind einige der begabtesten Autoren einer ganzen Generation in der Lyrikszene zu finden. Warum das so ist und was die Lyrik der Gegenwart auszeichnet, erzählt Christian Metz in seinem grundlegenden Essay.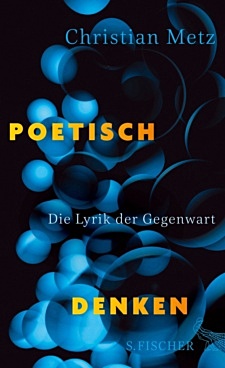 Angetrieben von den epochalen Veränderungen unserer Zeit forciert die Lyrik der Gegenwart ein poetisches Denken. Es ist ein Denken mit poetischen Mitteln, das der sinnlichen Erfahrung, der Leidenschaft und dem Spiel Raum gibt. In dieses poetische Denken führt Metz systematisch ein. Ausgehend von ihren Gemeinsamkeiten folgt Metz einigen der wichtigsten Autorinnen und Autoren der neuen Lyrik – wie Monika Rinck und Jan Wagner, Ann Cotten und Steffen Popp – in ihr poetisches Universum.
Christian Metz, geboren 1975, nach seiner Rückkehr von der Cornell University Stipendiat der Alexander von Humboldt-Stiftung an der LMU in München. Jahrelang wissenschaftlicher Mitarbeiter am Institut für deutsche Literatur und ihre Didaktik an der Goethe-Universität Frankfurt und Literaturkritiker für die »Frankfurter Allgemeine Zeitung«. Promotion mit einer Arbeit zur »Narratologie der Liebe«. Habilitation zum Thema: »Kitzel. Studien zur Kultur einer menschlichen Empfindung«, deren Monographie bei S. Fischer Wissenschaft im Herbst 2019 erscheint. Lehraufträge an der Humboldt-Universität zu Berlin und der Universität Tromsø (Norwegen). Schwerpunkte in Forschung und Lehre: Literatur vom 17. Jahrhundert bis zur Gegenwart, Literaturtheorie, Anthropologie und Literatur. Gemeinsam mit Ina Hartwig und Oliver Vogel Herausgeber der »Neuen Rundschau. Gegenwartsliteratur!« (Heft 2015/1).
Christian Metz
Poetisch denken
Die Lyrik der Gegenwart
Erscheinungstermin: 04.10.2018
Umfang: 432 Seiten
Paperback
ISBN-10: 3100024400
ISBN-13: 978-3100024404
Verlag: S. FISCHER
Lyrik
Sprache: Deutsch
Nr. 473 in Literaturkritik
Nr. 14136 in Film, Kunst & Kultur
432 Seiten
13,4 x 3,2 x 21,5 cm
Paperback Preis € 20,00
# new books
Christian Metz
Poetisch denken
• fleursdumal.nl magazine
More in: - Book News, - Bookstores, Archive M-N, Archive M-N, Art & Literature News, MODERN POETRY, STREET POETRY
---
Terwijl Reinaert de Vos tijdens het monopoly-spelen met zijn kinderen stiekem een briefje van duizend uit de bank jatte en zich te goed deed aan een kipkluifje, verklaarde Koning Nobel in de paleistuin de jaarlijkse Hofdag voor geopend.
Met de opening van de Hofdag opent ook de fonkelende bewerking die Koos Meinderts maakte van het bekendste epos uit de Middelnederlandse literatuur: Van den Vos Reynaerde.
In achttien hoofdstukken verhaalt Meinderts over de belevenissen van de geslepen vos Reinaert en zijn beklagenswaardige tegenspelers, waaronder Tibeert de Kater, Bruun de Beer en Cuwaert de Haas. Elk hoofdstuk werd geïllustreerd door een vooraanstaand kinderboekillustrator.
Koos Meinderts:
De schelmenstreken van Reinaert de Vos
1e druk
EAN: 978 90 8967 273 5
NUR: 274
Verschenen 12-11-2018
Formaat: 23,5 x 27 cm
48 bladzijden
Gebondend
Bindwijze Hardcover
Genre Kinderboeken
Uitgever Hoogland & Van Klaveren, Uitgeverij
Taal Nederlands
Illustraties Charlotte Dematons e.a.
Prijs: € 17,50
# New books
Koos Meinderts
Reinaert de Vos
• fleursdumal.nl magazine
More in: - Book News, - Book Stories, Archive M-N, Archive Q-R, Archive Q-R, Art & Literature News, Grimm, Andersen e.o.: Fables, Fairy Tales & Stories
---
Christian Kunda Mutoki porte un nouveau regard sur Le Horla de Guy de Maupassant.
Il est précédé d'une préface et suivi d'une postface.
Il vient rafraîchir les problématiques qui touchent à la morale, à l'athéisme, à des amours tumultueuses et infidèles. . .
Le monde d'aujourd'hui diffère-t-il de celui décrit au XIXe siècle par l'écrivain français ? La science a-t-elle amélioré la condition existentielle de l'homme ?
Voici quelques questions majeures qui trouvent ici un regard neuf.
Christian Kunda Mutoki a préparé sa thèse de doctorat à l'Université Paul Verlaine, actuelle Université de la Lorraine (Metz, France). Il est écrivain et professeur de Littérature et civilisation françaises à l'Université de Lubumbashi, en RDC.
GUY DE MAUPASSANT
Une certaine idée de l'homme dans Le Horla
Christian Kunda Mutoki
Cahiers des sciences du langage
Langue Linguistique Littérature
Broché
Format : 15,5 x 24 cm
ISBN : 978-2-8066-3665-2
14 décembre 2018
70 pages
€ 11,5
# New books
Une certaine idée de l'homme dans Le Horla
de Guy de Maupassant
Christian Kunda Mutoki
• fleursdumal.nl magazine
More in: - Book News, - Bookstores, Archive M-N, Archive M-N, Art & Literature News, Guy de Maupassant, Maupassant, Guy de, Maupassant, Guy de
---
No writer plunged more vigorously into the chaotic energies of the 1960s than Norman Mailer, fearlessly revolutionizing literary norms and genres to capture the decade's political, social, and sexual explosions.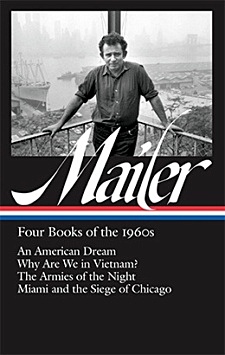 Declaring himself to have "the mind of an outlaw," he adhered closely to his own vision of what it meant to be a writer.
In a way uniquely his own, he merged the public and the private, the personal and the political, taking risks with every sentence. Here, for the first time in a single volume, are four of his most extraordinary works.
War hero, television star, existential hipster, seducer, murderer: such is Stephen Rojack, the hero of An American Dream (1965), Mailer's hallucinatory voyage through the dark night of an America awash in money, sex, and violence.
Mailer challenged himself by serializing the book while he was still writing it, an approach he compared to "ten-second chess." The result is a fever dream of a novel, navigating through the most extreme fears and fantasies of a culture hooked on power.
In Why Are We in Vietnam? (1967) a motor-mouthed eighteen-year-old Texan on the eve of military service recounts an exclusive grizzly bear hunt in Alaska with an obscene exuberance that finally comes close to horror. Although the word "Vietnam" appears only on the book's final page, the whole work is imbued with a sense of frantic bloodthirstiness that exposes the macho roots of the war.
With the acclaimed "non-fiction novel" The Armies of the Night (1968), an account of the October 1967 anti-Vietnam War march on the Pentagon, Mailer brought a new approach to journalism, casting himself ("he would have been admirable, except that he was an absolute egomaniac, a Beast") as a player in the drama as he reported, alongside a stunning gallery of student activists, politicians, intellectuals, and policemen. Winning both the Pulitzer Prize and National Book Award, The Armies of the Night immediately established itself as an essential record of its moment.
In Miami and the Siege of Chicago (1968) Mailer continued his eyewitness chronicle of American political life, embedding himself at the 1968 Republican and Democratic presidential conventions and drawing unforgettable portraits of Richard Nixon, Nelson Rockefeller, Lyndon Johnson, Eugene McCarthy, and many others. His reading of the nation's political undercurrents continues to surprise with its relevance.
J. Michael Lennon, editor, emeritus professor of English at Wilkes University, is Norman Mailer's archivist, editor, and authorized biographer, and president of the Norman Mailer Society. His books include Norman Mailer: A Double Life (2013) and Selected Letters of Norman Mailer (2014).
This Library of America series edition is printed on acid-free paper and features Smyth-sewn binding, a full cloth cover, and a ribbon marker.
Norman Mailer: Four Books of the 1960s (LOA #305):
-An American Dream
-Why Are We in Vietnam?
-The Armies of the Night
-Miami and the Siege of Chicago
Hardcover
March 13, 2018
by Norman Mailer (Author)
J. Michael Lennon (Editor)
937 pages
ISBN: 978-1-59853-558-7
Library of America Series
N° 305
LOA books are distributed worldwide by Penguin Random House
List Price: $45.00
LIBRARY OF AMERICA is an independent nonprofit cultural organization founded in 1979 to preserve our nation's literary heritage by publishing, and keeping permanently in print, America's best and most significant writing. The Library of America series includes more than 300 volumes to date, authoritative editions that average 1,000 pages in length, feature cloth covers, sewn bindings, and ribbon markers, and are printed on premium acid-free paper that will last for centuries.
# new books
Norman Mailer:
Four Books of the 1960s (LOA #305):
-An American Dream
-Why Are We in Vietnam?
-The Armies of the Night
-Miami and the Siege of Chicago
• fleursdumal.nl magazine
More in: - Book Lovers, - Book Stories, Archive M-N, Art & Literature News, Norman Mailer, WAR & PEACE
---
Older Entries »
Thank you for reading FLEURSDUMAL.NL - magazine for art & literature