AUDIO, CINEMA, RADIO & TV
«« Previous page
·
Reel Verse. Poems About the Movies. Edited by Michael Waters and Harold Schechter
·
Brabantse schrijver Jan Naaijkens (1919 – 2019) overleden
·
One Hundred Lyrics and a Poem by Neil Tennant (Pet Shop Boys)
·
Salon du Livre de Paris = 15-18 Mars 2019
·
The Responsibilities of an Artist: Nexus-lezing door Ai Weiwei
·
Chronicles of a Liquid Society by Umberto Eco
·
Deathwatch by Jean Genet
·
Yugoslavia: Peace, War, and Dissolution by Noam Chomsky
·
David Lynch: Someone is in my House. Retrospectief in Bonnefantenmuseum
·
Oliver Sacks: Dankbaarheid. Essays
·
Stairs and Whispers: D/deaf and Disabled Poets Write Back
·
Winternachten festival van 17 tot en met 20 januari 2019 in Den Haag
Reel Verse is a unique Pocket Poets anthology of a hundred years of poetic tributes to the silver screen, from the silent film era to the present.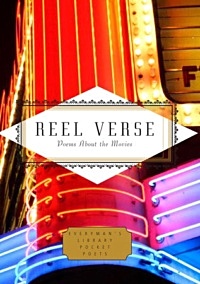 The variety of subjects is dazzling, from movie stars to bit players, from B-movies to Bollywood, from Clark Gable to Jean Cocteau.
More than a hundred poets riff on their movie memories: Langston Hughes and John Updike on the theaters of their youth, Jack Kerouac and Robert Lowell on Harpo Marx, Sharon Olds on Marilyn Monroe, Louise Erdrich on John Wayne, May Swenson on the James Bond films, Terrance Hayes on early Black cinema, Maxine Kumin on Casablanca, and Richard Wilbur on The Prisoner of Zenda. Orson Welles, Leni Riefenstahl, and Ingmar Bergman share the spotlight with Shirley Temple, King Kong, and Carmen Miranda; Bonnie and Clyde and Ridley Scott with Roshomon, Hitchcock, and Bresson.
In Reel Verse, one of our oldest art forms pays loving homage to one of our newest—the thrilling art of cinema.
POPCORN PALACES
Meena Alexander, "South India Cinema" – John Allman, "Loew's Triboro" – Robert Hayden, "Double Feature" – Robert Hershon, "1948: Saturdays" – Edward Hirsch, "The Skokie Theater" – Langston Hughes, "Movies" – Esther Lin, "Poem Ending in Antarctica" – Frank O'Hara, "Ave Maria" – Theodore Roethke, "Double Feature" – Jon Tribble, "Concessions" – John Updike, "Movie House" – Ellen Bryant Voigt, "At the Movies, Virginia, 1956"
FEATURE PRESENTATIONS
Amy Clampitt, "The Godfather Returns to Color TV" – Martha Collins, "Meanwhile" – Jane Cooper, "Seventeen Questions About King Kong" – Denise Duhamel, "An Unmarried Woman" – Amy Gerstler, "The Bride Goes Wild" – Allen Ginsberg, "The Blue Angel" – Juliana Gray, "Rope" – George Green, "Art Movies: The Agony and the Ecstasy" – Richard Howard, "King Kong (1933)" – Allison Joseph, "Imitation of Life" – Ron Koertge, "Aubade" – Maxine Kumin, "Casablanca" – Gerry LaFemina, "Variations on a Theme by Ridley Scott" – Laura McCullough, "Soliloquy with Honey: Time to Die" – John Murillo, "Enter the Dragon" – Stanley Plumly, "The Best Years of Our Life" – Anna Rabinowitz, "from Present Tense" – Philip Schultz, "Shane" – May Swenson, "The James Bond Movie" – Susan Terris, "Take Two: Bonnie & Clyde/Dashboard Scene" – Richard Wilbur, "The Prisoner of Zenda"
MORE STARS THAN IN HEAVEN
Frank Bidart, "Poem Ending with a Sentence by Heath Ledger" – Christopher Buckley, "For Ingrid Bergman," – Gerald Costanzo, "Fatty Arbuckle" – Marsha de la O, "Janet Leigh is Afraid of Jazz" – Louise Erdrich, "Dear John Wayne" – Sonia Greenfield, "Celebrity Stalking" – Patricia Spears Jones, "Hud" – Jack Kerouac, "To Harpo Marx" – David Lehman, "July 13 from The Daily Mirror" – Vachel Lindsay, "Mae Marsh, Motion Picture Actress" – Patricia Lockwood, "The Fake Tears of Shirley Temple" – Robert Lowell, "Harpo Marx" – Sharon Olds, "The Death of Marilyn Monroe" – William Pillin, "You, John Wayne" – Nicole Sealey, "An Apology for Trashing Magazines in Which You Appear" – William Jay Smith, "Old Movie Stars" – John Wain, "Villanelle for Harpo Marx" – John Wieners, "Garbos and Dietrichs"
B MOVIES & BIT PLAYERS
Angela Ball, "To Lon Chaney in The Unknown" – Gregory Djanikian, "Movie Extras" Cornelius Eady, "Sam" – Martín Espada, "The Death of Carmen Miranda" – Kenneth Fearing, "St. Agnes' Eve" – Edward Field, "Curse of the Cat Woman" – Richard Frost, "Horror Show" – Howard Moss, "Horror Movie" – Ogden Nash, "Viva Vamp, Vale Vamp" – Robert Polito, "Three Horse Operas" – Virgil Suarez, "Harry Dean Stanton is Dying" – David Trinidad, "Ode to Thelma Ritter" – William Trowbridge, "Elisha Cook, Jr." – Chase Twichell, "Bad Movies, Bad Audience" – Marcus Wicker, "Love Letter to Pam Grier"
AUTEURS
Paul Carroll, "Ode to Fellini on Interviewing Actors for a Forthcoming Film" – René Char, "Antonin Artaud" – Robert Creeley, "Bresson's Movies" – Robert Duncan, "Ingmar Bergman's Seventh Seal" – James Franco, "Editing" – Major Jackson, "After Riefenstahl" – Claudia Rankine, "from Don't Let Me Be Lonely" – Jean-Mark Sens, "In De Sica's Bicycle Thief" – Vijay Seshadri, "Script Meeting" – David St. John, "from The Face, XXXVI" – Timothy Steele, "Last Tango" – Gerald Stern, "Orson" – Michael Waters, "Blue Ankle" – David Yezzi, "Stalker"
FLASHBACKS
Kim Addonizio, "Scary Movies" – Elizabeth Alexander, "Early Cinema" – John Berryman, "Dream Song #9" – Ryan Black, "This is Cinerama" – Richard Brautigan, "Mrs. Myrtle Tate, Movie Projectionist" – Kurt Brown, "Silent Film, DVD" – Elena Karina Byrne, "Easy Rider" – Nicholas Christopher, "Atomic Field, 1972 #6" – Rita Dove, "Watching Last Year at Marienbad at Roger Haggerty's House in Auburn, Atlanta" – D. J. Enright,"A Grand Night" – Aniela Gregorek, "Cinema" – Joseph O. Legaspi, "At the Movies with My Mother" – Michael McFee, "My Mother and Clark Gable on the World's Most Famous Beach" – Mihaela Moscaliuc, "Watching Tess in Romania, 1986" – Paul Muldoon, "The Weepies" – Carol Muske-Dukes, "Unsent Letter 4" – Tom Sleigh, "Newsreel" – Elizabeth Spires, "Mutoscope" – Michael Paul Thomas, "Movies in Childhood" – David Wojahn, "Buddy Holly Watching Rebel Without a Cause"
REMAKES
Billy Collins, "The Movies" – Carol Ann Duffy, "Queen Kong" – Albert Goldbarth, "Survey: Frankenstein Under the Front Porch Light" – Kimiko Hahn, "The Continuity Script: Rashomon" – Bruce F. Kawin, "Old Frankenstein" – Glyn Maxwell, "Disney's Island" – Rajiv Mohabir, "Bollywood Confabulation" – Geoffrey O'Brien, "Voice Over" – Michael Ondaatje, "King Kong Meets Wallace Stevens" – Elise Paschen, "Red Lanterns" – Matthew Zapruder, "Frankenstein Love"
REEL LIFE
David Baker, "Violence" – Tom Clark, "Final Farewell" – Lucille Clifton, "Come Home from the Movies" – Hart Crane, "Chaplinesque" – Stephen Dunn, "At the Film Society" – Lynn Emanuel, "Blonde Bombshell" – Robert Hass, "Old Movie with the Sound Turned Off" – Terrance Hayes, "Variation on a Black Cinema Treasure: Broken Earth" – Marie Howe, "After the Movie" – Steven Huff, "Merton, Lax and My Father" – Ann Inoshita, "TV" – Weldon Kees, "Subtitle" – Haji Khavari, "Upon the Actor's Longing for the Alienation Effect" – John Lucas, "Hollywood Nights" – Donna Masini, "A Fable" – William Matthews, "A Serene Heart at the Movies" –  Eileen Myles, "Absolutely Earth" – Ishmael Reed, "Poison Light" – David Rigsbee, "Lincoln" – Muriel Rukeyser, "Movie" – Grace Schulman, "The Movie" – Gary Soto, "Hands" – George Yatchisin, "Single, Watching Fred and Ginger"
Reel Verse
Poems About the Movies
Edited by Michael Waters and Harold Schechter
Category: Poetry | Classics
Hardcover
256 Pages
Jan 22, 2019
Published by Everyman's Library
ISBN 9781101908037
$14.95
# more poetry
Reel Verse
Poems About the Movies
• fleursdumal.nl magazine
More in: #More Poetry Archives, - Book News, Art & Literature News, AUDIO, CINEMA, RADIO & TV
---
Jan Naaijkens was bekend als schrijver van proza, toneel, gedichten en liedjes.
Daarnaast was hij een onderwijzer in hart en nieren. En niet te vergeten: radiopresentator, acteur, verzetsheld, én vader van 12 kinderen.
Jan Naaijkens heeft veel betekend voor de culturele emancipatie van Brabant in de periode na de Tweede Wereldoorlog.
Hij werd in februari 100 jaar oud. Op 17 april overleed Jan Naaijkens in zijn slaap.
Jan Naaijkens
(Hilvarenbeek, 10 februari 1919 – 17 april 2019)
# Meer over Jan Naaijkens in fleursdumal.nl magazine via deze link
# Link Jan Naaijkens op Wikipedia
• fleursdumal.nl magazine
More in: - Book Stories, Archive M-N, Archive M-N, Art & Literature News, AUDIO, CINEMA, RADIO & TV, Brabantia Nostra, FDM Art Gallery, In Memoriam, Jan Naaijkens, THEATRE
---
Over a career that spans four decades and thirteen studio albums with Pet Shop Boys, Neil Tennant has consistently proved himself to be one of the most elegant and stylish of contemporary lyricists.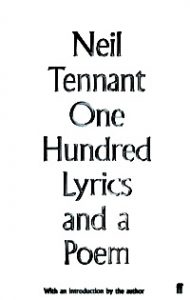 Arranged alphabetically, One Hundred Lyrics and a Poem presents an overview of his considerable achievement as a chronicler of modern life: the romance, the break-ups, the aspirations, the changing attitudes, the history, the politics, the pain.
The landscape of Tennant's lyrics is recognisably British in character – restrained and preoccupied with the mundane, occasionally satirical, yet also yearning for escape and theatrical release.
Often surprisingly revealing, this volume is contextualised by a personal commentary on each lyric and an introduction by the author which gives a fascinating insight into the process and genesis of writing.
Flamboyant, understated, celebratory and elegiac, Neil Tennant's lyrics are a document of our times.
Everything I've ever done
Everything I ever do
Every place I've ever been
Everywhere I'm going to
One Hundred Lyrics and a Poem
Neil Tennant
Hardback
272 pages
English
Poetry
Published 01/11/2018
ISBN13 9780571348909
Publisher Faber & Faber Inc.
18,99 euro
# new books
One Hundred Lyrics and a Poem
Neil Tennant
• fleursdumal.nl magazine
More in: Archive S-T, Archive S-T, Art & Literature News, AUDIO, CINEMA, RADIO & TV, Pet Shop Boys
---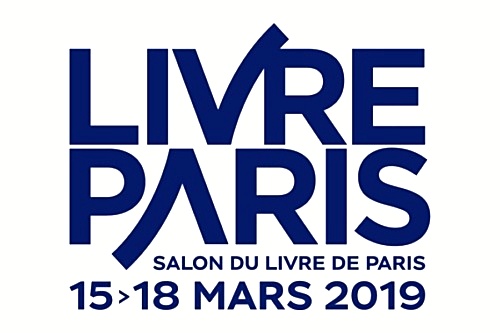 Livre Paris
Salon du Livre de Paris
Porte de Versailles – Paris
15-18 Mars 2019
Literary event of the year
165 000 visitors
3 900 authors
250 conferences and debates
688 school groups
391 stands and 515 brands
• fleursdumal.nl magazine
More in: - Book Lovers, - Book News, - Bookstores, Art & Literature News, AUDIO, CINEMA, RADIO & TV, FDM in Paris, Literary Events
---
Dictatuur, schendingen van mensenrechten, milieuvervuiling, verdronken vluchtelingen: dit zijn niet alleen de urgentste kwesties in de wereldpolitiek, maar ook de thema's in het werk van Ai Weiwei.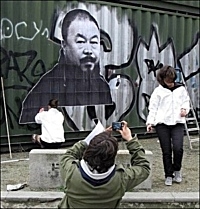 Met zijn enorm veelzijdige creativiteit en maatschappelijke engagement zet hij als een van de beroemdste en grootste kunstenaars van onze tijd vrijwel alles op het spel: hij werd gearresteerd, zijn paspoort werd ingenomen, en afgelopen zomer nog sloopten de Chinese autoriteiten zonder waarschuwing zijn studio in Beijing.
Als geen ander kan Ai Weiwei dus vertellen over de verantwoordelijkheid van de kunstenaar. Wat vermag de kunst in een tijd waarin dissidenten worden opgesloten en journalisten zonder pardon het land uit worden gezet?
Hoe ver mag de kunstenaar gaan?
Hoe ver moét hij gaan?
Hoor het bij de Nexus-lezing 2019, The Responsibilities of an Artist.
The Responsibilities of an Artist
Nexus-lezing Ai Weiwei
25 mei 2019
14.30 – 17.30
Aula VU Amsterdamhttps://nexus-instituut.nl/
# meer informatie op website nexus-instituut
• fleursdumal.nl magazine
More in: Ai Weiwei, Art & Literature News, AUDIO, CINEMA, RADIO & TV, DICTIONARY OF IDEAS, Nexus Instituut
---
The final book from one of Europe's cultural giants: an entertaining collection of essays about the modern world – from unbridled individualism to mobile phones.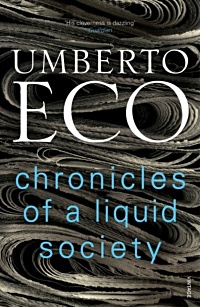 Umberto Eco was an international cultural superstar. A celebrated essayist as well as novelist, in this, his last collection, he explores many aspects of the modern world with irrepressible curiosity and wisdom written in his uniquely ironic voice.
Written by Eco as articles for his regular column in l'Espresso magazine, he brings his dazzling erudition, incisiveness and keen sense of the everyday to bear on topics such as popular culture and politics, unbridled individualism, conspiracies, the old and the young, mobile phones, mass media, racism, good manners and the crisis in ideological values.
It is a final gift to his readers – astute, witty and illuminating.
" A swan song from one of Europe's great intellectuals…Eco entertains with his intellect, humor, and insatiable curiosity…there's much here to enjoy and ponder ".  Tim Parks, Guardian
Chronicles of a Liquid Society
by Umberto Eco
Paperback
ISBN 9781784705206
Hardback
ISNB 9781911215318
2017/2018
Harvill Secker / Vintage
320 pages
Language & Literary Studies
# New books
Chronicles of a Liquid Society
by Umberto Eco
• fleursdumal.nl magazine
More in: - Book News, - Bookstores, Archive E-F, Art & Literature News, AUDIO, CINEMA, RADIO & TV, DICTIONARY OF IDEAS, MONTAIGNE, Museum of Literary Treasures, NONFICTION: ESSAYS & STORIES, Umberto Eco
---
Deathwatch, Jean Genet's earliest, shortest and most formally straightforward play, was first performed in Paris in 1949.
It retains an intense power and makes an excellent introduction to his later dramas – The Maids, The Balcony, The Blacks, The Screens. The French text of Deathwatch, published by Gallimard, was extensively altered by Genet during rehearsal; and Bernard Frechtman's translation is of the final 'performance' version, which supersedes the original published text.Three convicts share a cramped prison cell.
There is no question as to which of them is the dominant dog in the pack: Green Eyes (Yeux-Verts) has brutally murdered a woman and is to be executed.
Lefranc and the younger novice-like Maurice are inside for less grave crimes. But both of them covet Green Eyes' attention, baiting each other in the process, a duel that drives inexorably toward violence
Three young convicts share a cell. Locked into a world of dangerous rivalries, criminals Lefranc and Maurice compete for the attention of the charismatic condemned man, Green-Eyes.
Informed by his own experience in French prisons, Jean Genet's first play, Deathwatch is an explosive exploration of the inversion of moral order.
Genet was one of the most prominent and provocative writers of the twentieth century.
Jean Genet's Deathwatch premiered in this translation by David Rudkin with the Royal Shakespeare Company in 1987 and was revived at the Print Room, London, in April 2016.
Jean Genet was born in Paris in 1910. An illegitimate child who never knew his parents, he was abandoned to the Public Assistance Authorities. He was ten when he was sent to a reformatory for stealing; thereafter he spent time in the prisons of nearly every country he visited in thirty years of prowling through the European underworld. With ten convictions for theft in France to his credit he was, the eleventh time, condemned to life imprisonment. Eventually he was granted a pardon by President Auriol as a result of appeals from France's leading artists and writers led by Jean Cocteau. His first novel, Our Lady of the Flowers, was written while he was in prison, followed by Miracle of the Rose, the autobiographical The Thief's Journal, Querelle of Brest and Funeral Rites. He wrote six plays: The Balcony, The Blacks, The Screens, The Maids, Deathwatch and Splendid's (the manuscript of which was rediscovered only in 1993). Jean Genet died in 1986.
Deathwatch
by Jean Genet
English
Translated by David Rudkin
Play
Faber & Faber
Paperback
64 pages
2016
ISBN 9780571332618
£9.99

# more books
Deathwatch by Jean Genet
• fleursdumal.nl
More in: - Book Lovers, - Book Stories, Archive G-H, Art & Literature News, AUDIO, CINEMA, RADIO & TV, CRIME & PUNISHMENT, Jean Genet, THEATRE
---
The Balkans, in particular the turbulent ex-Yugoslav territory, have been among the most important world regions in Noam Chomsky's political reflections and activism for decades.

His articles, public talks, and correspondence have provided a critical voice on political and social issues crucial not only to the region but the entire international community, including "humanitarian intervention," the relevance of international law in today's politics, media manipulations, and economic crisis as a means of political control.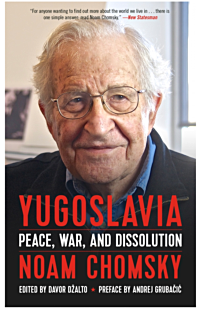 This volume provides a comprehensive survey of virtually all of Chomsky's texts and public talks that focus on the region of the former Yugoslavia, from the 1970s to the present. With numerous articles and interviews, this collection presents a wealth of materials appearing in book form for the first time along with reflections on events twenty-five years after the official end of communist Yugoslavia and the beginning of the war in Bosnia.
The book opens with a personal and wide-ranging preface by Andrej Grubačić that affirms the ongoing importance of Yugoslav history and identity, providing a context for understanding Yugoslavia as an experiment in self-management, antifascism, and mutlethnic coexistence.
Noam Chomsky (1928) is Institute Professor in the Department of Linguistics and Philosophy at the Massachusetts Institute of Technology, Boston. A member of the American Academy of Science, he has published widely in both linguistics and current affairs. His books include At War with Asia, Towards a New Cold War, Fateful Triangle: The U. S., Israel and the Palestinians, Necessary Illusions, Hegemony or Survival, Deterring Democracy, Failed States: The Abuse of Power and the Assault on Democracy and Manufacturing Consent: The Political Economy of the Mass Media.
Title: Yugoslavia: Peace, War, and Dissolution
Author: Noam Chomsky
Edited by Davor Džalto
Preface by Andrej Grubačić
Subjects: Politics / History-Europe
Publisher: PM Press
ISBN: 978-1-62963-442-5
Published: 04/2018
Language: English
Format: Paperback
Size: 6×9
240 pages
$15.63
# new books
Noam Chomsky
Yugoslavia: Peace, War, and Dissolution
• fleursdumal.nl magazine
More in: - Book News, - Book Stories, Archive C-D, AUDIO, CINEMA, RADIO & TV, MONTAIGNE, Noam Chomsky, WAR & PEACE
---
Vanaf 30 november 2018 tot 28 april 2019 presenteert het Bonnefantenmuseum het omvangrijke retrospectief Someone is in my House van de Amerikaanse kunstenaar David Lynch.
Hoewel David Lynch onmiskenbaar een spilfiguur is in de internationale film- en tv-wereld, is zijn werk als beeldend kunstenaar veel minder bekend. Dat is op zijn minst vreemd, aangezien Lynch zelf altijd heeft bena­drukt dat hij zichzelf vóór alles ziet als beeldend kunste­naar.
Een beeldend kunstenaar die tijdens zijn studie aan de kunstacademie toevallig in aanraking kwam met het medium film, waarmee de basis gelegd werd voor zijn carrière als filmregisseur.
Naast zijn werk als regisseur is Lynch altijd actief gebleven als beeldend kunstenaar en heeft hij in de afgelopen decennia een grenzeloos oeuvre gecreëerd van onder andere schilderijen, tekeningen, litho's, foto's, lampsculpturen, muziek en installaties.
Een oeuvre dat tot nu toe nog maar zelden is belicht en in musea werd getoond. Met ruim 500 werken brengt het Bonnefantenmuseum niet alleen de eerste Nederlandse museumpresentatie van Lynch' beeldend oeuvre, maar ook de grootste overzichtstentoonstelling ooit.
David Lynch: Someone is in my House
30.11.2018 – 28.04.2019
David Lynch, beeldend kunstenaar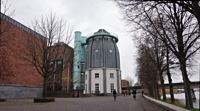 Anders dan het werk van Lynch (1946, Missoula, Montana, VS), vol duister geweld en seksua­liteit, doet vermoeden, is de kindertijd van de kunstenaar en filmmaker ge­lukkig en liefdevol.
Lynch groeit op met reislustige ouders en leidt op jonge leeftijd een nomadenbestaan, een voor hem idyllische en veilige omgeving. Van jongs af aan aangemoedigd om zich creatief te ontplooien – kleurboeken waren uit den boze, eigen verbeelding gebruiken was het credo – komt hij uiteindelijk op de Pennsylvania Academy of the Fine Arts in Philadelphia terecht om schilderkunst te studeren.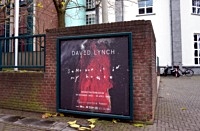 Hier ontwikkelt Lynch zijn artistieke vocabulaire en thema's die blijvend aanwezig zullen zijn in zijn werk. En hier ligt de voedingsbodem voor zijn eerste mixed-media installatie met stop-motion film Six Men Getting Sick (Six Times) (1967), die een opmaat vormde naar zijn eerste speelfilm, Eraserhead (1977). De rest is (film)geschiedenis en inmiddels zijn Lynch' films moderne klassiekers.
Lynch' kunstenaarschap loopt als een rode draad door zijn leven en films. Hij is gedurende zijn vijftigjarige carrière altijd blijven tekenen en schilde­ren, ook als er vanwege zijn werk als filmregisseur weinig tijd was om in het atelier door te brengen.
"I miss painting when I'm not painting", zegt Lynch zelf in de recente biografie Room to Dream. * David Lynch en Kristine McKenna. Room to Dream. Edinburgh, Canongate Books, 2018, p. 301
In samenwerking met David Lynch toont het Bonnefanten een indrukwekkend artistiek overzicht van het veelzijdige kunstenaarschap van Lynch.
De tentoonstelling omvat schilderijen, foto's, tekeningen, litho's en aquarellen uit de jaren 60 tot heden, unieke tekeningen op luciferboekjes uit de jaren 70, schetsboektekeningen uit de jaren 60/70/80, zwart-wit foto's uit verschillende periodes, waaronder de befaamde Snow Men-fotoserie (1993), cartoons uit de serie The Angriest Dog in the World (1982-1993), audiowerken én een aantal kortfilms uit 1968-2015.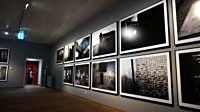 Voor het eerst sinds het ontstaan in 1967, zal ook het allesbepalende academiewerk Six Men Getting Sick (Six Times) in een museumtentoonstelling te zien zijn.
Publicatie
Bij de tentoonstelling verschijnt een rijk geïllustreerde monografie met tekstbijdragen van curator Stijn Huijts (artistiek directeur Bonnefantenmuseum), Kristine McKenna (journalist en curator, Verenigde Staten), Petra Giloy-Hirtz (schrijver en curator, Duitsland) en Michael Chabon (schrijver, Verenigde Staten). De publicatie is verkrijgbaar in het Nederlands, Engels en Frans en wordt uitgegeven door Uitgeverij Hannibal in samenwerking met Prestel.
Tentoonstellingsteaser
In aanloop naar zijn omvangrijke retrospectief Someone is in my House, maakte Lynch speciaal voor het Bonnefanten een unieke tentoonstellingsteaser. In deze typisch Lynchiaanse kortfilm, met in de hoofdrol naast Lynch zelf de 'White Monkey' – een personage dat eerder opdook in Lynch' Weird daily weather report – nodigt hij de kijker uit om naar het Bonnefanten te komen.
Flankerend programma
Parallel aan de tentoonstelling is er in samenwerking met Lumière Cinema in Maastricht een compleet filmretrospectief gewijd aan de films en het leven van David Lynch met filmvertoningen, documentaires en lezingen over de filmmaker.
Daarnaast brengt EYE filmmuseum drie digitaal gerestaureerde films opnieuw uit in de filmtheaters in heel het land. Voor meer informatie: https://www.eyefilm.nl/themas/gerestaureerde-david-lynch-klassiekers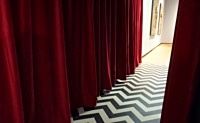 De philharmonie zuidnederland werkte met de Poolse componist Marek Zebrowski aan een compositie en uitvoering van Music for David, een strijkkwartet dat Zebrowski in 2015 componeerde als een hommage aan Lynch, die op zijn beurt de korte animatie film Pożar (Fire) maakte bij Zebrowski's compositie. Het muziekstuk zal een aantal keren live (op zaal) bij de film ten gehore worden gebracht.
# meer informatie op website Bonnefantenmuseum
# Expositie & publicatie
David Lynch: Someone is in my House
30.11.2018 – 28.04.2019

• photos: jef van kempen
• fleursdumal.nl magazine
More in: #Archive A-Z Sound Poetry, *Concrete + Visual Poetry K-O, - Book News, - Bookstores, Archive K-L, Art & Literature News, AUDIO, CINEMA, RADIO & TV, David Lynch, Exhibition Archive, FDM Art Gallery, Jef van Kempen Photos & Drawings, Museum of Literary Treasures, Photography, Tales of Mystery & Imagination, THEATRE
---
Oliver Sacks (1933 – 2015), befaamd neuroloog, wetenschapper en arts. Sacks studeerde medicijnen in Oxford, woonde sinds 1965 in New York en werkte als hoogleraar aan de NYU School of Medicine.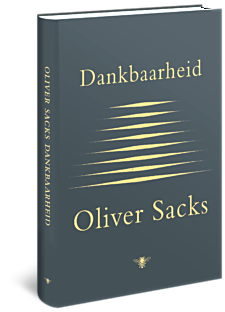 Oliver Sacks verwierf internationale roem met zijn populairwetenschappelijke boeken over de belevingswereld van zijn patiënten. Hij is de auteur van internationale bestsellers als Migraine, Ontwaken in verbijstering, De man die zijn vrouw voor een hoed hield, Stemmen zien, Een antropoloog op Mars, Musicofilia en Hallucinaties. In 2015 verscheen zijn autobiografie Onderweg. In augustus 2015 overleed hij in zijn woonplaats New York.
"Ik heb van mensen gehouden en zij hebben van mij gehouden, ik heb veel gekregen en ik heb iets teruggegeven, ik heb gelezen, gereisd, nagedacht en geschreven. Ik heb in contact gestaan met de wereld en de bijzondere uitwisselingen ervaren tussen een schrijver en zijn lezers. Maar in de eerste plaats ben ik op deze prachtige planeet een bewust denkend wezen geweest, een denkend dier, en dat alleen al was een enorm voorrecht en avontuur."
In februari 2015 maakte Oliver Sacks, in een aangrijpend stuk in The New York Times, bekend dat hij ongeneeslijk ziek was. Eind augustus overleed hij in New York, 82 jaar oud. Sinds het bericht van zijn ziekte werkte hij met grote gedrevenheid verder aan de boeken die hij nog wilde afmaken. Intussen publiceerde hij een reeks essays waarin hij probeerde grip te krijgen op het verloop van zijn ziekte en de betekenis van zijn naderende dood.
In Dankbaarheid zijn deze stukken bijeengebracht. Het is een boek dat getuigt van een grote veerkracht en menselijkheid: het laat zien hoe iemand die geconfronteerd wordt met het naderende einde toch het leven kan vieren en dankbaar kan zijn.
Auteur: Oliver Sacks
Titel: Dankbaarheid
Taal: Nederlands
Hardcover
2015
1e druk
80 pagina's
ISBN13 9789023497912
Uitgever De Bezige Bij
Vertaald door Luud Dorresteijn
€ 12,99
# new books
Oliver Sacks
Dankbaarheid. Essays
fleursdumal.nl magazine
More in: - Book News, - Book Stories, Archive S-T, AUDIO, CINEMA, RADIO & TV, Oliver Sacks, Psychiatric hospitals
---
Stairs and Whispers: D/deaf and Disabled Poets Write Back, edited by Sandra Alland, Khairani Barokka and Daniel Sluman, is a ground-breaking anthology examining UK disabled and D/deaf poetics.
Packed with fierce poetry, essays, photos and links to accessible online videos and audio recordings, it showcases a diversity of opinions and survival strategies for an ableist world.
With contributions that span Vispo to Surrealism, and range from hard-hitting political commentary to intimate lyrical pieces, these poets refuse to perform or inspire according to tired old narratives.
With poetry & prose by: Aaron Williamson, Abi Palmer, Abigail Penny, Alec Finlay, Alison Smith, Andra Simons, Angela Readman, Bea Webster, Cath Nichols, Catherine Edmunds, Cathy Bryant, Claire Cunningham, Clare Hill, Colin Hambrook, Daniel Sluman, Debjani Chatterjee, Donna Williams, El Clarke, Eleanor Ward, Emily Ingram, Gary Austin Quinn, Georgi Gill, Giles L. Turnbull, Gram Joel Davies, Grant Tarbard, Holly Magill, Isha, Jackie Hagan, Jacqueline Pemberton, Joanne Limburg, Julie McNamara, Karen Hoy, Khairani Barokka, Kitty Coles, Kuli Kohli, Lisa Kelly, Lydia Popowich, Mark Mace Smith, Markie Burnhope, Michelle Green, Miki Byrne, Miss Jacqui, Naomi Woddis, Nuala Watt, Rachael Boast, Raisa Kabir, Raymond Antrobus, Rosamund McCullain, Rose Cook, Sandra Alland, Saradha Soobrayen, Sarah Golightley, sean burn, Stephanie Conn
About the Editors: Alland's collections include Blissful Times (BookThug, 2007) and Naturally Speaking (espresso, 2012). Barokka's works include Indigenous Species (Tilted Axis, 2016) and Rope (Nine Arches, 2017). Sluman has two books with Nine Arches: Absence has a weight of its own (2012) and The Terrible (2015).
Stairs and Whispers:
D/deaf and Disabled Poets Write Back
Edited by Sandra Alland, Khairani Barokka & Daniel Sluman
Paperback
264 pages
Publisher: Nine Arches Press
2017
Language: English
ISBN-10: 1911027190
ISBN-13: 978-1911027195
Product Dimensions: 13.8 x 1 x 21.6 cm
eBook: Available at Amazon Kindle Store from September 2017
Discover the audio content that accompanies this book available on Soundcloud
Discover the video content that accompanies this book on Youtube
Price: £14.99
More information on website Nine Arches Press   (http://ninearchespress.com/)

# more books
Stairs and Whispers:
D/deaf and Disabled Poets Write Back
fleursdumal.nl magazine
More in: #Editors Choice Archiv, #More Poetry Archives, - Audiobooks, - Book News, - Book Stories, Art & Literature News, AUDIO, CINEMA, RADIO & TV, The Art of Reading
---
Winternachten festival geeft het woord aan schrijvers en dichters over brandende kwesties van nu.
Van 17 tot en met 20 januari 2019 presenteert het internationale literatuurfestival gesprekken, proza, poëzie, spoken word en films op twaalf Haagse podia. Ruim 80 binnen- en buitenlandse auteurs komen naar Den Haag. De 24e festivaleditie staat onder het motto Who Wants to Live Forever? in het teken van onze toekomst.
Winternachten internationaal literatuurfestival Den Haag inspireert met vertellen, lezen, luisteren en denken. Tijdens vier sfeervolle winterse dagen nodigen gesprekken, voordrachten en films uit tot nadenken over de grote vragen van onze tijd.
Sinds de start in 1995 is het festival uitgegroeid tot het belangrijkste internationale literaire evenement van Nederland waar schrijvers en dichters zich uitspreken over actuele thema's. Ook bezoekers – onder hen veel wijkbewoners, studenten en scholieren – dragen actief bij met eigen verhalen of gedichten.
'Who Wants to Live Forever?'
Ieder Winternachten festival krijgt een actueel thema mee. Deze 24e editie staat in het teken van het oeroude verlangen van de mens naar eeuwig leven in het licht van de technologie van nu. Onder het motto Who Wants to Live Forever? spreken auteurs onder meer over de relatie tussen mens en robot, over de impact van technologische innovatie en over hoop en vrees rond de politieke toekomst.
De 24e editie van het festival Winternachten staat met het motto 'Who Wants to Live Forever' in het teken van onze toekomst.
Gesprekken, voordachten, muziek en film over de verhouding tussen mens en robot, over nieuwe maakbaarheid door technologische innovatie, over hoop en vrees voor de politieke toekomst en over het terugkerend verlangen naar eeuwig leven.
Het festival verwelkomt uit het buitenland onder anderen schrijvers Jennifer Nansubuga Makumbi uit Oeganda, Leni Zumas uit de VS, Basma Abdelaziz uit Egypte, Jennifer Clement uit Mexico, Ayelet Gundar-Goshen uit Israël, Mark O'Connell uit Ierland, David Van Reybrouck uit België, Ramayana-expert Arshia Sattar uit India en de Zuid-Afrikaanse rapper, spoken word-artiest en schrijver HemelBesem, Adam Zagajewski (Polen), Jennifer Nansubuga Makumbi (Oeganda), Mark O'Connell (Ierland), Leni Zumas (VS) en Basma Abdelaziz (Egypte).
Uit Nederland nemen tientallen schrijvers, dichters, denkers en performers deel, zoals Akwasi, Elfie Tromp, Youp van 't Hek, Ian Buruma, Nelleke Noordervliet, Radna Fabias, Dimitri Verhulst, Aafke Romeijn, Damiaan Denys, Derek Otte, Luuk van Middelaar, Auke Hulst, Hanna Bervoets, Simone van Saarloos, Rodaan Al Galidi, ASKO/Schönberg, Lounar en Vamba Sherif.
De grote festivalavonden Friday Night Unlimited (vrijdag 18 januari) en Saturday Night Unlimited (zaterdag 19 januari) vormen de kern van het festival. De bezoeker kiest per avond uit vijfentwintig programma's op zes podia in Theater aan het Spui en Filmhuis Den Haag. Dit jaar is in samenwerking met Filmhuis Den Haag het filmprogramma uitgebreid.
Nieuw is ook de Winternachten-editie van het spoken-word programma 'Woorden worden Zinnen' in het popcentrum Paard. Daarnaast zijn er festivalprogramma's in Theater Dakota, de Speakers' Corner in de Haagse Hogeschool, de bibliotheken Schilderswijk en Nieuw Waldeck en het International Institute of Social Studies.
Graag tot ziens in Theater aan het Spui, Filmhuis Den Haag, Paard, Theater Dakota, International Institute of Social Studies en de andere festivallocaties van dit jaar!
   #  more informatie op website writersunlimited.nl   

Winternachten festival
17 tot en met 20 januari 2019
Den Haag
# fleursdumal.nl magazine
More in: # Music Archive, #Biography Archives, #More Poetry Archives, - Book Lovers, - Bookstores, Art & Literature News, AUDIO, CINEMA, RADIO & TV, LITERARY MAGAZINES, PRESS & PUBLISHING, STREET POETRY, THEATRE, Winternachten
---
Older Entries »
« Newer Entries
Thank you for reading FLEURSDUMAL.NL - magazine for art & literature