Archive K-L
«« Previous page
·
John LEONARD: What must be said
·
John KEATS: Ode On A Grecian Urn
·
LEIGH HUNT: On Receiving A Crown Of Ivy From JOHN KEATS
·
LETTER TO LEIGH HUNT BY JOHN KEATS
·
WIE WIL STRALEN DIE MOET BRANDEN – CITATEN EN AFORISMEN VAN LUCEBERT
·
LEIGH HUNT: TO JOHN KEATS
·
VACHEL LINDSAY: AN INDIAN SUMMER DAY ON THE PRAIRIE
·
VACHEL LINDSAY: BUDDHA
·
VACHEL LINDSAY: CRICKETS ON A STRIKE
·
ELSE LASKER-SCHÜLER: ICH LIEBE DICH
·
NIELS LANDSTRA: ONZE SPREEUWEN
·
NIELS LANDSTRA: HET OUDSTE SCHILDERIJ VAN BREDA
What must be said
You cannot believe it possible to say
What must be said—words being
So few and dry, catchwords,
'Your journey, our worldview',
So hostile to living intent.
But you find the words without searching,
As at need, and they have a beauty,
As, once in a while, the desert,
At the touch of rain, is starred
Endlessly with small white flowers.
John Leonard
John Leonard Writer's CV:
1965:           Born, Cambridge, UK
1984-87:     Read English at Oxford University, UK
1990:           Unlove (poems) published in UK
1991:           Emigrated to Australia
1991-94:     PhD studies at University of Queensland; 'Lyric and Modernity' awarded 1995
1997:           100 Elegies for Modernity (poems, Sydney, Hale and Iremonger)
2003:           Jesus in Kashmir (poems, Canberra, Proensa)
2003-07:     Poetry Editor, Overland (Melbourne)
2009:           Poem published in Best Australian Poetry 2009 (Melbourne, Black Inc)
2010:           Braided Lands (poems, Ginninderra Press, Adelaide)
2010:           The Way of Poetry (criticism linking poetry and Daoism; Three Pines Press, Dunedin, Florida) (see www.threepinespress.com, under 'Dao Today' tab)
2014:           A Spell, A Charm (poems, Melbourne, Hybrid Publishers
Poetry widely published in quality journals, eg Overland, Meanjin, Island
Poems translated into French, Spanish, Croatian and Chinese and published in those versions, eg When the Moon Is Swimming Naked: Australasian Poetry for the Chinese Youngster, Ed Kit Kelen and Mark Carthew, ASM Poetry, Association of Stories in Macao, 2013 (8 poems), http://poetassigloveintiuno.blogspot.com.au/2012/07/7271-john-leonard.html (5 poems)&c
Poems published in anthologies eg The Best Australian Poems 2009, (Melbourne, Black Inc), The Turnrow Anthology of Contemporary Australian Poetry 2014, Canberra Poets Anthology 2014
Website: www.jleonard.net
february 2017
magazine fleursdumal.nl
More in: Archive K-L, Leonard, John
---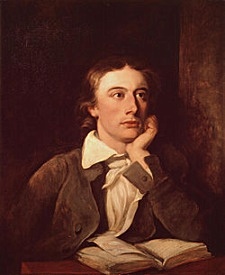 John Keats
Ode On A Grecian Urn
Thou still unravish'd bride of quietness,
Thou foster-child of silence and slow time,
Sylvan historian, who canst thus express
A flowery tale more sweetly than our rhyme:
What leaf-fring'd legend haunts about thy shape
Of deities or mortals, or of both,
In Tempe or the dales of Arcady?
What men or gods are these? What maidens loth?
What mad pursuit? What struggle to escape?
What pipes and timbrels? What wild ecstasy?
Heard melodies are sweet, but those unheard
Are sweeter; therefore, ye soft pipes, play on;
Not to the sensual ear, but, more endear'd,
Pipe to the spirit ditties of no tone:
Fair youth, beneath the trees, thou canst not leave
Thy song, nor ever can those trees be bare;
Bold Lover, never, never canst thou kiss,
Though winning near the goal yet, do not grieve;
She cannot fade, though thou hast not thy bliss,
For ever wilt thou love, and she be fair!
Ah, happy, happy boughs! that cannot shed
Your leaves, nor ever bid the Spring adieu;
And, happy melodist, unwearied,
For ever piping songs for ever new;
More happy love! more happy, happy love!
For ever warm and still to be enjoy'd,
For ever panting, and for ever young;
All breathing human passion far above,
That leaves a heart high-sorrowful and cloy'd,
A burning forehead, and a parching tongue.
Who are these coming to the sacrifice?
To what green altar, O mysterious priest,
Lead'st thou that heifer lowing at the skies,
And all her silken flanks with garlands drest?
What little town by river or sea shore,
Or mountain-built with peaceful citadel,
Is emptied of this folk, this pious morn?
And, little town, thy streets for evermore
Will silent be; and not a soul to tell
Why thou art desolate, can e'er return.
O Attic shape! Fair attitude! with brede
Of marble men and maidens overwrought,
With forest branches and the trodden weed;
Thou, silent form, dost tease us out of thought
As doth eternity: Cold Pastoral!
When old age shall this generation waste,
Thou shalt remain, in midst of other woe
Than ours, a friend to man, to whom thou say'st,
"Beauty is truth, truth beauty,–that is all
Ye know on earth, and all ye need to know."
John Keats (1795 – 1821)
Ode On A Grecian Urn
fleursdumal.nl magazine
More in: Archive K-L, Keats, John
---
Leigh Hunt
(1784 – 1859)
On Receiving A Crown Of Ivy From John Keats
A Crown of of ivy! I submit my head
To the young hand that gives it, –young, 'tis true,
But with a right, for 'tis a poet's too.
How pleasant the leaves feel! and how they spread
With their broad angles, like a nodding shed
Over both eyes! and how complete and new,
As on my hand I lean, to feel them strew
My sense with freshness, — Fancy's rustling bed!
Tress-tossing girls, with smell of flowers and grapes
Come dancing by, and downward piping cheeks,
And up-thrown cymbals, and Silenus old
Lumpishly borne, and many trampling shapes,–
And lastly, with his bright eyes on her bent,
Bacchus, — whose bride has of his hand fast hold.
Leigh Hunt poetry
fleursdumal.nl magazine
More in: Archive G-H, Archive K-L, Hunt, Leigh, Keats, John
---
Letter to Leigh Hunt by John Keats
Margate, May 10th, 1817
My dear Hunt
The little Gentleman that sometimes lurks in a gossips bowl ought to have come in very likeness of a coasted crab and choaked me outright for not having answered your Letter ere this – however you must not suppose that I was in Town to receive it, no, it followed me to the isle of Wight and I got it just as I was going to pack up for Margate, for reasons which you anon shall hear. On arriving at this treeless affair I wrote to my Brother George to request C. C. C. to do the thing you wot of respecting Rimini; and George tells me he has undertaken it with great Pleasure; so I hope there has been an understanding between you for many Proofs – – C. C. C. is well acquainted with Bensley. Now why did you not send the Key of your Cupboard which I know was full of Papers? We would have lock'd them all in a trunk together with those you told me to destroy; which indeed I did not do for fear of demolishing Receipts. There not being a more unpleasant thing in the world (saving a thousand and one others) than to pay a Bill twice. Mind you – old Wood's a very Varmant – sharded in Covetousness – And now I am upon a horrid subject – what a horrid one you were upon last sunday and well you handled it. The last Examiner was a Battering Ram against Christianity – Blasphemy – Tertullian – Erasmus – Sr. Philip Sidney. And then the dreadful Petzelians and their expiation by Blood – and do Christians shudder at the same thing in a Newspaper which they attribute to their God in its most aggravated form? What is to be the end of this? I must mention Hazlitt's Southey – O that he had left out the grey hairs! Or that they had been in any other Paper not concluding with such a Thunderclap – that sentence about making a Page of the feeling of a whole life appears to me like a Whale's back in the Sea of Prose. I ought to have said a word on Shakspeare's Chrisitanity – there are two, which I have not looked over with you, touching the thing: the one for, the other against. That in favour is in Measure for Measure Act 2. S. 2 Isab. Alas! alas!
Why all the Souls that were, were forfeit once And he that might the vantage best have took, Found out the Remedy –
That against is in Twelfth Night. Act 3. S. 2. Maria – for there is no Christian, that means to be saved by believing rightly, can ever believe such impossible Passages of grossness! Before I come to the Nymphs I must get through all disagreeables – I went to the Isle of Wight – thought so much about Poetry so long together that I could not get to sleep at night – and moreover, I know not how it was, I could not get wholesome food – By this means in a Week or so I became not over capable in my upper Stories, and set off pell mell for Margate, at least 150 Miles – because forsooth I fancied that I should like my old Lodging here, and could contrive to do without Trees. Another thing I was too much in Solitude, and consequently was obliged to be in continual burning of thought as an only resource. However Tom is with me at present and we are very comfortable. We intend though to get among some Trees. How have you got on among them? How are the Nymphs? I suppose they have led you a fine dance – Where are you now. In Judea, Cappadocia, or the Parts of Lybia about Cyrene, Strangers from "Heaven, Hues and Prototypes. I wager you have given several new turns to the old saying "Now the Maid was fair and pleasant to look on" as well as made a little variation in "once upon a time" perhaps too you have rather varied "thus endeth the first Lesson" I hope you have made a Horseshoebusiness of – "unsuperfluous lift" "faint Bowers" and fibrous roots. I vow that I have been down in the Mouth lately at this Work. These last two days however I have felt more confident – I have asked myself so often why I should be a Poet more than other Men, – seeing how great a thing it is, – how great things are to be gained by it – What a thing to be in the Mouth of Fame – that at last the Idea has grown so monstrously beyond my seeming Power of attainment that the other day I nearly consented with myself to drop into a Phæton – yet 'tis a disgrace to fail even in a huge attempt, and at this moment I drive the thought from me. I began my Poem about a Fortnight since and have done some every day except travelling ones – Perhaps I may have done a good deal for the time but it appears such a Pin's Point to me that I will not coppy any out. When I consider that so many of these Pin points go to form a Bodkin point (God send I end not my Life with a bare Bodkin, in its modern sense) and that it requires a thousand and more unpleasant (it may come among the thousand and one) than to be so journeying and miss the Goal at last. But I intend to whistle all these cogitations into the Sea where I hope they will breed Storms violent enough to block up all exit from Russia. Does Shelley go on telling strange Stories of the Death of Kings? Tell him there are strange Stories of the death of Poets – some have died before they were conceived "how do you make that out Master Vellum". Does Mrs. S. cut Bread and Butter as neatly as ever? Tell her to procure some fatal Scissors and cut the thread of Life of all to be disappointed Poets. Does Mrs Hunt tear linen in half as straight as ever? Tell her to tear from the book of Life all blank Leaves. Remember me to them all – to Miss Kent and the little ones all.
Your sincere friend
John Keats alias Junkets
Letter to Leigh Hunt (1784 – 1859) by John Keats (1795 – 1821)
fleursdumal.nl magazine
More in: Archive G-H, Archive K-L, Hunt, Leigh, Keats, John
---
'Alles van waarde is weerloos', staat er in grote neonletters op het dak van een Nederlandse verzekeraar. Het is een tot aforisme, zelfs tot spreekwoord geworden versregel van Lucebert.
Lucebert werd en wordt weleens getypeerd als een ontoegankelijk dichter. Des te opmerkelijker is het hoeveel sporen hij heeft achtergelaten in de omgangstaal. In tal van niet-literaire teksten wordt onnadrukkelijk of juist expliciet verwezen naar passages uit zijn gedichten: 'de ruimte van het volledig leven', 'omroeper van oproer', 'dichters van fluweel', 'het proefondervindelijk gedicht', 'de blote kont van de kunst', 'ritselende revolutie', 'overal zanikt bagger' – het is maar een greep uit het dichterlijk erfgoed van Lucebert dat zich in de omgangstaal heeft genesteld.
In Wie wil stralen die moet branden zijn deze citaten en aforismen uit het oeuvre van Lucebert bijeengebracht door Ton den Boon (hoofdredacteur van de Dikke Van Dale), die daarbij een inleiding schreef over de invloed van Lucebert op de Nederlandse taal. Het boekje is verlucht met niet eerder gepubliceerde tekeningen van Lucebert.
Wie wil stralen die moet branden.
Citaten en aforismen van Lucebert – Lucebert, Ton den Boon
Auteurs: Lucebert, Ton den Boon
Vormgeving: Huug Schipper, Studio Tint
Omvang: 96 pagina's
Afwerking: paperback
Formaat: 12 x 20 cm
ISBN: 9789077767658
€ 7,50
Verschijning: september 2016, De Weideblik
De Weideblik is een middelgrote uitgeverij, gespecialiseerd in uitgaven op het gebied van de beeldende kunst. Veel van onze boeken worden gemaakt in nauwe samenwerking met een kunstenaar (of diens nazaten) en/of een tentoonstellingsinstelling.
# Meer info website Uitgeverij Weideblik
fleursdumal.nl magazine
More in: - Book News, - Bookstores, Archive K-L, Lucebert
---
Leigh Hunt
(1784 – 1859)
To John Keats
'Tis well you think me truly one of those,
Whose sense discerns the loveliness of things;
For surely as I feel the bird that sings
Behind the leaves, or dawn as it up grows,
Or the rich bee rejoicing as he goes,
Or the glad issue of emerging springs,
Or overhead the glide of a dove's wings,
Or turf, or trees, or, midst of all, repose.
And surely as I feel things lovelier still,
The human look, and the harmonious form
Containing woman, and the smile in ill,
And such a heart as Charles's, wise and warm,–
As surely as all this, I see, ev'n now,
Young Keats, a flowering laurel on your brow.
Leigh Hunt poetry
fleursdumal.nl magazine
More in: Archive G-H, Archive K-L, Hunt, Leigh, Keats, John
---
Vachel Lindsay
(1879 – 1931)
An Indian Summer Day On The Prairie
(In the Beginning)
The sun is a huntress young,
The sun is a red, red joy,
The sun is an Indian girl,
Of the tribe of the Illinois.
(Mid-morning)
The sun is a smouldering fire,
That creeps through the high gray plain,
And leaves not a bush of cloud
To blossom with flowers of rain.
(Noon)
The sun is a wounded deer,
That treads pale grass in the skies,
Shaking his golden horns,
Flashing his baleful eyes.
(Sunset)
The sun is an eagle old,
There in the windless west.
Atop of the spirit-cliffs
He builds him a crimson nest.
Vachel Lindsay poetry
fleursdumal.nl magazine
More in: Archive K-L, CLASSIC POETRY
---
Vachel Lindsay
(1879 – 1931)
Buddha
Would that by Hindu magic we became
Dark monks of jeweled India long ago,
Sitting at Prince Siddartha's feet to know
The foolishness of gold and love and station,
The gospel of the Great Renunciation,
The ragged cloak, the staff, the rain and sun,
The beggar's life, with far Nirvana gleaming:
Lord, make us Buddhas, dreaming.
Vachel Lindsay poetry
fleursdumal.nl magazine
More in: Archive K-L, CLASSIC POETRY
---
Vachel Lindsay
(1879 – 1931)
Crickets On A Strike
The foolish queen of fairyland
From her milk-white throne in a lily-bell,
Gave command to her cricket-band
To play for her when the dew-drops fell.
But the cold dew spoiled their instruments
And they play for the foolish queen no more.
Instead those sturdy malcontents
Play sharps and flats in my kitchen floor.
Vachel Lindsay poetry
fleursdumal.nl magazine
More in: Archive K-L, CLASSIC POETRY
---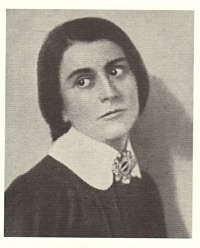 Else Lasker-Schüler
(1869 – 1945)
Ich liebe dich …
Ich liebe dich
Und finde dich
Wenn auch der Tag ganz dunkel wird
Mein Lebelang
Und immer noch
bin suchend ich umhergeirrt.
lch liebe dich!
Ich liebe dich!
Ich liebe dich!
Es öffnen deine Lippen sich . . .
Die Welt ist taub,
Die Welt ist blind
Und auch die Wolke
Und das Laub –
– Nur wir, der goldene Staub
Aus dem wir zwei bereitet:
-Sind!
Else Lasker-Schüler Lyrik
fleursdumal.nl magazine
More in: Archive K-L, Lasker-Schüler, Else
---
Onze spreeuwen
Op het blad in de tuin glinsterde de dauw
transparant als de vleugel van een insect
met nerven van een opdoemend lichtgrauw
dat versomberde bij onze langste herfst
Aan de schutting zwegen de bijenhotels
en bungelden in de struiken bramen
doorgerijpt en aangevreten. Appels
rotten onder de boom die zonnebanen
en schaduwvlekjes wiebelde op je lokken
bij de stinkende vijver waar jij spiedend
tussen de waterlelies en het kroos
naar kikkers zocht. Hoe je maar bleef bokken
naast je koffer in de gang en je speeldoos
met de deksel scheef en je rust veinzend
de straat uitreed, mij aankeek, wijzend
naar de lucht en droef het zwieren, sprakeloos
onze spreeuwen op de galm van kerkklokken
Niels Landstra
fleursdumal.nl magazine

More in: Archive K-L, Landstra, Niels, Natural history
---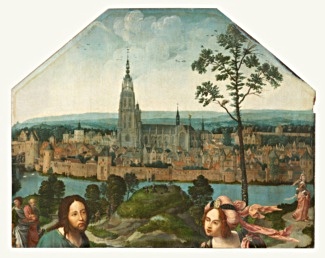 Het oudste schilderij van Breda
Met het zicht op een sombere hemel:
Jezus en een Samaritaanse vrouw,
teer verstild. Langs haar getooide kapsel,
met een blik die haar in ogenschouw
neemt, wikt Hij waar de rivier geschikt is
om lopend te gaan. Van de schans en het
kasteel, dwaalt een geur van gebraad en vis
Klinken schoten; de adel amuseert
zich met het jagen op vogels in park
Valkenberg. Ratelen karren en galmt
nijver gesjacher op de Grote Markt
rond de waren bij stal en kraam. Verlangt
menig sloeber naar voedsel; stijgt rumoer
op van de straat: aangeraakt door zalvende
handen, hun magere harten geroerd
door deze Joodse Bredanaar, volgen
ze Hem verlost. Door een bijkans ontdaan
gehoor gadegeslagen keert Hij via
het Vrouwengoed en de kade begaan
met de zielen terug. Zijn Utopia,
om zijn hoofd een gouden krans van stralen,
Zijn glans verstild als door pasteltinten,
trekt hij verder, verlatend de schare.
Onder een lucht met grauwige wolken,
beklimt Hij de heuvels, een gestalte
op een einder achter de Grote Kerk,
die wis omkeerde: Zijn schoonste halte
wachtte Hem in Breda's oudste reliëf
Niels Landstra
fleursdumal.nl magazine

More in: Archive K-L, Dutch Landscapes, Landstra, Niels
---
Older Entries »
« Newer Entries
Thank you for reading FLEURSDUMAL.NL - magazine for art & literature