Archive K-L
«« Previous page
·
Milk and Honey by Rupi Kaur
·
Gouden Ganzenveerlaureaat 2018: Antjie Krog
·
Voyage of the Sable Venus and Other Poems by Robin Coste Lewis
·
John Leonard: Having no history
·
Edward Lear: The Jumblies
·
Selected Poems of Malcolm Lowry
·
John Keats: La Belle Dame Sans Merci
·
Laure (Colette Peignot): Esmeralda
·
John Leonard: Advertently True
·
Willem Kloos: O God, waarom schynt de zon nog! (Biografie & Verzen)
·
D.H. Lawrence: Tortoise Shout
·
John LEONARD poetry: Concreted, Unli/oving
#1 New York Times bestseller Milk and Honey is a collection of poetry and prose about survival. About the experience of violence, abuse, love, loss, and femininity.
The book is divided into four chapters, and each chapter serves a different purpose. Deals with a different pain. Heals a different heartache. Milk and Honey takes readers through a journey of the most bitter moments in life and finds sweetness in them because there is sweetness everywhere if you are just willing to look.
rupi kaur is a bestselling author and illustrator of two collections of poetry. her artistic expression began at the age of 5 when her mother handed her a paintbrush and said—draw your heart out. while studying at the university of waterloo rupi self-published her first collection milk and honey in 2014.
milk and honey became an international phenomenon that's been translated into over 30 languages and sold over 2.5 million copies. rupi's long-awaited second collection the sun and her flowers was published in 2017 and immediately debuted as a #1 global bestseller. through her poetry rupi explores a variety of themes ranging from love. loss. trauma. healing. femininity. migration. revolution.
rupi is a storyteller and chronicler. there's a simplicity and nuance to her work that has found a home in the hearts of millions. this magic is best captured in her stage performances which are magnetic musical interactions of poetry art and theatre. in the years to come rupi hopes to continue her artistic exploration through art and poetry—searching for ways to understand and articulate the world around her.
Milk and Honey
by Rupi Kaur
Publisher Andrews McMeel Publishing
Publication date 10/2015
US Edition
Binding Trade Paperback
208 pages
Price € 13.50
ISBN 9781449474256
new poetry books
fleursdumal.nl magazine
More in: - Book Lovers, - Book News, Archive K-L, Archive K-L, Art & Literature News
---
De Academie De Gouden Ganzenveer kent de Gouden Ganzenveer 2018 toe aan de Zuid-Afrikaanse dichteres Antjie Krog.
Gerdi Verbeet, Academievoorzitter De Gouden Ganzenveer maakte afgelopen zaterdag de laureaat bekend in het radioprogramma De Taalstaat. De Academie De Gouden Ganzenveer eert Krog als een bijzondere en veelzijdige dichteres, als een uitzonderlijk integer schrijfster en journaliste, en als een begenadigd performer van haar eigen werk.
De prijsuitreiking vindt plaats op donderdag 19 april a.s. in Amsterdam. Een weerslag van deze bijeenkomst wordt vastgelegd in een speciale uitgave, die in de loop van het jaar zal verschijnen.
De Academie, een initiatief van het bestuur van stichting De Gouden Ganzenveer, kent jaarlijks deze culturele prijs toe. De leden zijn afkomstig uit de wereld van cultuur, wetenschap, politiek en het bedrijfsleven. Met deze onderscheiding wil de Academie het geschreven en gedrukte woord in het Nederlands taalgebied onder de aandacht brengen.
Voorgaande laureaten zijn Arnon Grunberg, Xandra Schutte, Geert Mak, David Van Reybrouck, Ramsey Nasr, Annejet van der Zijl, Remco Campert, Joke van Leeuwen, Adriaan van Dis, Joost Zwagerman, Tom Lanoye, Peter van Straaten, Maria Goos, Kees van Kooten, Jan Blokker en Michaël Zeeman.
Uitgebreide informatie is te vinden op www.goudenganzenveer.nl
De Zuid-Afrikaanse Antjie Krog (1952) is een gelauwerd dichter, schrijver en academicus. Krog debuteerde in 1970 op achttienjarige leeftijd met de dichtbundel Dogter van Jefta. Inmiddels is ze uitgegroeid tot een van de belangrijkste dichters van Zuid-Afrika.
Haar poëzie is persoonlijk, zintuiglijk en sterk geëngageerd: Krog dicht over het moederschap en het ouder worden, maar ook over de diepe verbondenheid en de worsteling met de ongelijkheid en het racisme in haar land. Krog kreeg bekendheid in Nederland door haar vele optredens bij Poetry International, de Nacht van de Poëzie en het festival Winternachten. Talrijke poëzieliefhebbers raakten in de ban van haar ongewone, ontroerende en klankrijke poëzie.
In 1999 publiceerde uitgeverij Atlas een bloemlezing uit haar werk onder de titel Om te kan asemhaal. Daarna zijn haar dichtbundels bij uitgeverij Podium verschenen. Zij schreef ook proza, bijvoorbeeld Country of my Skull (in het Nederlands: De kleur van je hart, 1998/2000), toneelstukken en non-fictie. De roman Mond vol glas van Henk van Woerden en het toneelstuk Mamma Medea van Tom Lanoye vertaalde zij van het Nederlands naar het Afrikaans.
Antjie Krog is buitengewoon hoogleraar Letteren en Filosofie aan de Universiteit van de Westkaap. Haar werk is veelvuldig bekroond, onder andere met de prestigieuze Hertzogprijs, de Reina Prinsen Geerligsprijs, de Pringle Award, de Alan Paton Award. Op donderdag 19 april a.s. neemt zij de Gouden Ganzenveer 2018 in ontvangst.
Laureaat Gouden Ganzenveer 2018: Antjie Krog
foto: Karina Turok
fleursdumal.nl magazine
More in: Antjie Krog, Archive K-L, Archive K-L, Art & Literature News, Awards & Prizes, Literary Events
---
Now in paperback, this National Book Award-winning debut poetry collection is a meditation on the black female figure through time.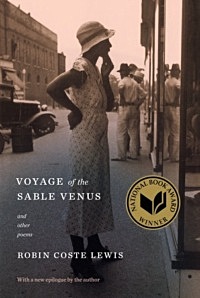 Robin Coste Lewis's electrifying collection is a triptych that begins and ends with lyric poems meditating on the roles desire and race play in the construction of the self.
In the center of the collection is the title poem, "Voyage of the Sable Venus," an amazing narrative made up entirely of titles of artworks from ancient times to the present–titles that feature or in some way comment on the black female figure in Western art.
Bracketed by Lewis's own autobiographical poems, "Voyage" is a tender and shocking meditation on the fragmentary mysteries of stereotype, juxtaposing our names for things with what we actually see and know. A new understanding of biography and the self, this collection questions just where, historically, do ideas about the black female figure truly begin–five hundred years ago, five thousand, or even longer? And what role did art play in this ancient, often heinous story?
Here we meet a poet who adores her culture and the beauty to be found within it. Yet she is also a cultural critic alert to the nuances of race and desire–how they define us all, including her own sometimes painful history.
Lewis's book is a thrilling aesthetic anthem to the complexity of race–a full embrace of its pleasure and horror, in equal parts.
Robin Coste Lewis, the winner of the National Book Award for Voyage of the Sable Venus, is the poet laureate of Los Angeles. She is writer-in-residence at the University of Southern California, as well as a Cave Canem fellow and a fellow of the Los Angeles Institute for the Humanities. She received her BA from Hampshire College, her MFA in poetry from New York University, an MTS in Sanskrit and comparative religious literature from the Divinity School at Harvard University, and a PhD in poetry and visual studies from the University of Southern California. Lewis was born in Compton, California; her family is from New Orleans.
Voyage of the Sable Venus
and Other Poems
By Robin Coste Lewis
Paperback
$19.95
Published by Knopf
Nov. 2017
176 Page
ISBN 9781101911204
new books
fleursdumal.nl magazine
More in: - Book News, - Book Stories, Archive K-L, Archive K-L, Art & Literature News
---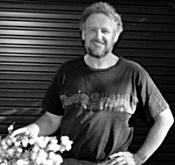 Having no history
Having no history we are
What we do, not who
We have been—so there is no-one
Who is not with us.
Our time is not filled
With imperatives, but passes as it must—
Each year brings content
Of its own kind for us.
Our towns are each in the centre
Of nowhere, and each is its own.
We cannot feel life as apart,
And our days are belonging.
We do not have your 'progress'—
But always try for betterment.
Untruth cannot flourish here,
Because what must be is.
We have never thought we can
Be other than this, we do not live
For what should be, can be,
As what is is plain in view.
John Leonard
John Leonard lives in Canberra, Australia.
More poetry on website: www.jleonard.net
fleursdumal.nl magazine
More in: Archive K-L, Leonard, John
---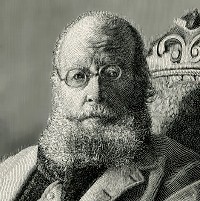 Edward Lear
The Jumblies
They went to sea in a Sieve, they did,
In a Sieve they went to sea:
In spite of all their friends could say,
On a winter's morn, on a stormy day,
In a Sieve they went to sea!
And when the Sieve turned round and round,
And every one cried, `You'll all be drowned!'
They called aloud, `Our Sieve ain't big,
But we don't care a button! we don't care a fig!
In a Sieve we'll go to sea!'
Far and few, far and few,
Are the lands where the Jumblies live;
Their heads are green, and their hands are blue,
And they went to sea in a Sieve.
They sailed away in a Sieve, they did,
In a Sieve they sailed so fast,
With only a beautiful pea-green veil
Tied with a riband by way of a sail,
To a small tobacco-pipe mast;
And every one said, who saw them go,
`O won't they be soon upset, you know!
For the sky is dark, and the voyage is long,
And happen what may, it's extremely wrong
In a Sieve to sail so fast!'
Far and few, far and few,
Are the lands where the Jumblies live;
Their heads are green, and their hands are blue,
And they went to sea in a Sieve.
The water it soon came in, it did,
The water it soon came in;
So to keep them dry, they wrapped their feet
In a pinky paper all folded neat,
And they fastened it down with a pin.
And they passed the night in a crockery-jar,
And each of them said, `How wise we are!
Though the sky be dark, and the voyage be long,
Yet we never can think we were rash or wrong,
While round in our Sieve we spin!'
Far and few, far and few,
Are the lands where the Jumblies live;
Their heads are green, and their hands are blue,
And they went to sea in a Sieve.
And all night long they sailed away;
And when the sun went down,
They whistled and warbled a moony song
To the echoing sound of a coppery gong,
In the shade of the mountains brown.
`O Timballo! How happy we are,
When we live in a Sieve and a crockery-jar,
And all night long in the moonlight pale,
We sail away with a pea-green sail,
In the shade of the mountains brown!'
Far and few, far and few,
Are the lands where the Jumblies live;
Their heads are green, and their hands are blue,
And they went to sea in a Sieve.
They sailed to the Western Sea, they did,
To a land all covered with trees,
And they bought an Owl, and a useful Cart,
And a pound of Rice, and a Cranberry Tart,
And a hive of silvery Bees.
And they bought a Pig, and some green Jack-daws,
And a lovely Monkey with lollipop paws,
And forty bottles of Ring-Bo-Ree,
And no end of Stilton Cheese.
Far and few, far and few,
Are the lands where the Jumblies live;
Their heads are green, and their hands are blue,
And they went to sea in a Sieve.
And in twenty years they all came back,
In twenty years or more,
And every one said, `How tall they've grown!
For they've been to the Lakes, and the Torrible Zone,
And the hills of the Chankly Bore!'
And they drank their health, and gave them a feast
Of dumplings made of beautiful yeast;
And every one said, `If we only live,
We too will go to sea in a Sieve,—
To the hills of the Chankly Bore!'
Far and few, far and few,
Are the lands where the Jumblies live;
Their heads are green, and their hands are blue,
And they went to sea in a Sieve.
Edward Lear (1812 – 1888)
The Jumblies
fleursdumal.nl magazine
More in: Archive K-L, Edward Lear, LIGHT VERSE
---
First published by City Lights in 1962 and long out of print, Selected Poems of Malcolm Lowry is the only comprehensive selection of his poetry to be published in the U.S., and it remains the perfect introduction to his extensive poetic canon.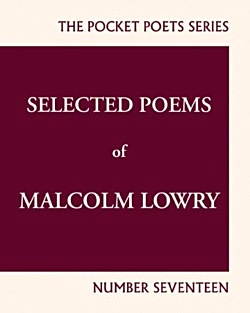 Edited by Lowry's good friend, renowned Canadian poet Earle Birney, with the assistance of his widow, Margerie Lowry, the selection includes extraordinary poems written during Lowry's stay in Mexico, many of which are closely related to his landmark novel.
"These poems would be worth keeping in print, if for no other reason, for their illuminations of Under the Volcano: 'See mind's petal / torn from a good tree, but where shall it settle / But in the last darkness and at the end?' Sometimes, as the images of "For Under the Volcano," they become 'palm-of-the-hand' versions of that masterpiece. Lowry is a poet of struggle—with life, and with the creative process. Here are his struggle's fruits: guilt, alcoholism, hopeless, self-deriding quest for salvation, which seems to be love, and, above all, self-destruction—but always accomplished with self-knowledge, enriched (in order to further torment itself) with compassion for all the beings that the poet, and us with him, are failing. His words are always sad and often beautiful." –– William T. Vollmann
Malcolm Lowry (1909–1957) was a British novelist and poet whose masterpiece Under the Volcano is widely hailed as one of the greatest novels of the twentieth century. Born near Liverpool, England, Lowry grew up in a prominent, wealthy family and chafed under the expectations placed upon him by parents and boarding school. He wrote passionately on the themes of exile and despair, and his own wanderlust and erratic lifestyle made him an icon to later generations of writers.
Title Selected Poems of Malcolm Lowry
Subtitle Pocket Poets Series Number 17
Author Malcolm Lowry
Preface by Lawrence Ferlinghetti
Introduction by Earle A. Birney
Edited by Earle A. Birney
Collection City Lights Pocket Poets
Publisher City Lights Publishers
Paperback – $13.95
118 pages
ISBN-10 0872867293
ISBN-13 9780872867291
Publication in March 2017
fleursduma.nl magazine
More in: - Book News, - Bookstores, Archive K-L, Archive K-L, Art & Literature News, Malcolm Lowry
---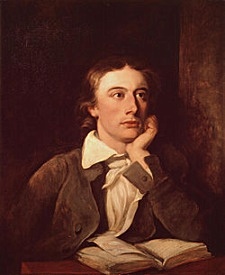 John Keats
La Belle Dame Sans Merci
Ah, what can ail thee, wretched wight,
Alone and palely loitering;
The sedge is wither'd from the lake,
And no birds sing.
Ah, what can ail thee, wretched wight,
So haggard and so woe-begone?
The squirrel's granary is full,
And the harvest's done.
I see a lily on thy brow,
With anguish moist and fever dew;
And on thy cheek a fading rose
Fast withereth too.
I met a lady in the meads
Full beautiful, a faery's child;
Her hair was long, her foot was light,
And her eyes were wild.
I set her on my pacing steed,
And nothing else saw all day long;
For sideways would she lean, and sing
A faery's song.
I made a garland for her head,
And bracelets too, and fragrant zone;
She look'd at me as she did love,
And made sweet moan.
She found me roots of relish sweet,
And honey wild, and manna dew;
And sure in language strange she said,
I love thee true.
She took me to her elfin grot,
And there she gaz'd and sighed deep,
And there I shut her wild sad eyes–
So kiss'd to sleep.
And there we slumber'd on the moss,
And there I dream'd, ah woe betide,
The latest dream I ever dream'd
On the cold hill side.
I saw pale kings, and princes too,
Pale warriors, death-pale were they all;
Who cry'd–"La belle Dame sans merci
Hath thee in thrall!"
I saw their starv'd lips in the gloam
With horrid warning gaped wide,
And I awoke, and found me here
On the cold hill side.
And this is why I sojourn here
Alone and palely loitering,
Though the sedge is wither'd from the lake,
And no birds sing.
John Keats (1795 – 1821)
La Belle Dame Sans Merci
fleursdumal.nl magazine
More in: Archive K-L, Keats, John
---
Esmeralda
Esmeralda
Esmeralda
une voix de femme crie appelle
hop hop
des écuyères
des équilibristes
au moment
dangerereux
un sourd galop
de cheval
une piste
un grand cheval noir…
Esmeralda galope nue sur un cheval fou
Esmeralda et son corps blanc de neige et sa longue large chevelure rousse
qui touche et s'emmêle à la crinière
à la queue
de lourd crin noir
Esmeralda
se couche
se cabre
se renverse
longue chevelure
et crinière
longue chevelure
et queue
plus longue que l'épaisse queue de crin
D'un claquement de fouet
Esmeralda
est debout sur le cheval
rutilante
de nudité
fraîcheur
Cette blancheur
trop blanche de rousse
et ses seins lourds et la corolle très large fendue
dans la blancheur un peu blessée décentrée
d'un si tendre et si fin bouton
Esmeralda
joue
dans une chambre toute capitonnée
Voilée de tissus vert tendre
elle est parfumée
elle sort du bain
elle joue parce que c'est l'heure pour elle de jouer de s'exercer
de plus en plus savamment
aux exercices
dans le petit (réduit)
attenant à sa chambre
Esmeralda est promise au plaisir
née pour le plaisir
sa tendre étoile
sous laquelle elle est née
tendres sont les hommes
Esmeralda saute du cheval
Et ne remonte plus à sa chambre = elle suit le cheval
et rentre à l'écurie
Tendre tendre
Esmeralda
rentre dans son box à côté de
son box en tout point semblable à l'autre
La journée commence
de grands claquements de fouets se font entendre
auxquels se joint le hennissement du cheval
un cri
Esmeralda lève-toi
ta chaîne à la mangeoire
un homme te regarde
assis sur un petit trépied
les genoux tu écartes nue mains sur
la cuisse
l'autre tient le fouet debout
Esmeralda tu seras sage aujourd'hui
– Comme toujours
– Non, pas « comme tous les jours »
folle que tu es
plus que tous les jours
Laure
(Colette Peignot 1903 – 1938)
Esmeralda
fleursdumal.nl magazine
More in: Archive K-L, Archive O-P, Laure (Colette Peignot)
---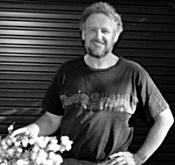 Advertently True
You recognise when someone says
Something so out of turn,
Suddenly, inadvertently true—
But contrary to what they know
And trust, and those listening
Know and trust—and then move on
With no-one but you spotting it.
This is your task, to be advertently true,
But with those same proofs: inconsistency,
Malapropinquity, unobtrusiveness—you will
Succeed if you are less than true
To yourself, almost no-one notices.
John Leonard
John Leonard lives in Canberra, Australia.
More poetry on website: www.jleonard.net
fleursdumal.nl magazine
More in: Archive K-L, Leonard, John
---
Willem Kloos was een briljant dichter, een scherp criticus en de onbetwiste leidsman van de Tachtigers. Tot in de jaren dertig werd hij aanbeden én verguisd – nu leeft hij voort in een aantal klassieke gedichten.
Kloos bracht het tijdschrift De Nieuwe Gids naar grote hoogtes en diepe dalen, verkeerde in een permanente staat van armoede en drankzucht, en dreef zijn kring van vrienden tot wanhoop. Later werd hij verzorgd door zijn vrouw en schoonzuster, met als enig houvast het tijdschrift, dat na zijn dood in de handen van fascisten roemloos ten onder ging.
In Willem Kloos (1859-1938). O God, waarom schynt de zon nog! beschrijven Peter Janzen en Frans Oerlemans het turbulente en vaak tragische leven aan de hand van talloze nieuwe feiten en vele, dikwijls niet eerder gepubliceerde foto's. Ze rekenen af met de hardnekkige mythe dat Kloos de ontwerper was van zijn eigen grootheid en werpen een nieuw licht op zijn obsessieve verlatingsangst. Ook schenken ze uitgebreid aandacht aan zijn aftakeling in de jaren negentig en zijn opname in een psychiatrische kliniek, waar hij werd onderworpen aan elektrotherapie.
Historicus Peter Janzen en neerlandicus Frans Oerlemans publiceerden veelvuldig over de Beweging van Tachtig, onder andere in De Parelduiker. Zij promoveerden beiden op leven en werk van Willem Kloos.
Willem Kloos (1859-1938)
O God, waarom schynt de zon nog!
Auteur(s): Peter Janzen & Frans Oerlemans
Vormgever: Brigitte Slangen
ISBN 9789460043222,
gebonden, 16 x 24 cm,
rijk geïllustreerd, deels in kleur,
408 pagina's, 2017
Uitgeverij Vantilt
€ 29,50
Samen met de biografie verschijnt een heruitgave van Kloos' iconische Verzen uit 1894.
Deze zachtsgezegd opmerkelijke bundel begint met een lofzang op de liefde en eindigt met de beruchte scheldsonnetten, waarin Kloos zijn vrienden van het eerste uur tot op het bot fileert.
Verzen werd op slag voor een hele generatie een bijna heilig boek. Deze heruitgave van de eerste druk biedt de mogelijkheid om kennis te nemen van klassieke sonnetten waarvan de eerste regels deel uitmaken van ons collectief bewustzijn: 'Ik ben een God in 't diepst van mijn gedachten', 'De Zee, de Zee klotst voort in eindelooze deining', 'De boomen dorren in het laat seizoen' en natuurlijk 'Ik ween om bloemen in den knop gebroken'.
Willem Kloos
Verzen
Vormgever: Marc Vleugels
168 pagina's
paperback – 2017
ISBN 978 94 6004 323 9
Uitgeverij Vantilt
€ 19.95
'Het is de verfrissende afwezigheid van ironie, relativering en gelatenheid die ze nu nog authentiek maakt. Mooi uitgegeven, ook.' Aleid Truijens, de Volkskrant
fleursdumal.nl magazine
More in: - Book News, - Book Stories, Archive K-L, Art & Literature News, BIOGRAPHY, DEAD POETS CORNER, Kloos, Willem, LITERARY MAGAZINES
---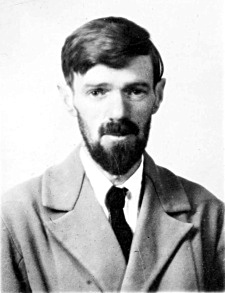 D.H. Lawrence
Tortoise Shout
I thought he was dumb,
I said he was dumb,
Yet I've heard him cry.
First faint scream,
Out of life's unfathomable dawn,
Far off, so far, like a madness, under the horizon's dawning rim,
Far, far off, far scream.
Tortoise in extremis.
Why were we crucified into sex?
Why were we not left rounded off, and finished in ourselves,
As we began,
As he certainly began, so perfectly alone?
A far, was-it-audible scream,
Or did it sound on the plasm direct?
Worse than the cry of the new-born,
A scream,
A yell,
A shout,
A pæan,
A death-agony,
A birth-cry,
A submission,
All tiny, tiny, far away, reptile under the first dawn.
War-cry, triumph, acute-delight, death-scream reptilian,
Why was the veil torn?
The silken shriek of the soul's torn membrane?
The male soul's membrane
Torn with a shriek half music, half horror.
Crucifixion.
Male tortoise, cleaving behind the hovel-wall of that dense female,
Mounted and tense, spread-eagle, out-reaching out of the shell
In tortoise-nakedness,
Long neck, and long vulnerable limbs extruded, spread-eagle over her house-roof,
And the deep, secret, all-penetrating tail curved beneath her walls,
Reaching and gripping tense, more reaching anguish in uttermost tension
Till suddenly, in the spasm of coition, tupping like a jerking leap, and oh!
Opening its clenched face from his outstretched neck
And giving that fragile yell, that scream,
Super-audible,
From his pink, cleft, old-man's mouth,
Giving up the ghost,
Or screaming in Pentecost, receiving the ghost.
His scream, and his moment's subsidence,
The moment of eternal silence,
Yet unreleased, and after the moment, the sudden, startling jerk of coition, and at once
The inexpressible faint yell
And so on, till the last plasm of my body was melted back
To the primeval rudiments of life, and the secret.
So he tups, and screams
Time after time that frail, torn scream
After each jerk, the longish interval,
The tortoise eternity,
Agelong, reptilian persistence,
Heart-throb, slow heart-throb, persistent for the next spasm.
I remember, when I was a boy,
I heard the scream of a frog, which was caught with his foot in the mouth of an up-starting snake;
I remember when I first heard bull-frogs break into sound in the spring;
I remember hearing a wild goose out of the throat of night
Cry loudly, beyond the lake of waters;
I remember the first time, out of a bush in the darkness, a nightingale's piercing cries and gurgles startled the depths of my soul;
I remember the scream of a rabbit as I went through a wood at midnight;
I remember the heifer in her heat, blorting and blorting through the hours, persistent and irrepressible;
I remember my first terror hearing the howl of weird, amorous cats;
I remember the scream of a terrified, injured horse, the sheet-lightning
And running away from the sound of a woman in labor, something like an owl whooing,
And listening inwardly to the first bleat of a lamb,
The first wail of an infant,
And my mother singing to herself,
And the first tenor singing of the passionate throat of a young collier, who has long since drunk himself to death,
The first elements of foreign speech
On wild dark lips.
And more than all these,
And less than all these,
This last,
Strange, faint coition yell
Of the male tortoise at extremity,
Tiny from under the very edge of the farthest far-off horizon of life.
The cross,
The wheel on which our silence first is broken,
Sex, which breaks up our integrity, our single inviolability, our deep silence
Tearing a cry from us.
Sex, which breaks us into voice, sets us calling across the deeps, calling, calling for the complement,
Singing, and calling, and singing again, being answered, having found.
Torn, to become whole again, after long seeking for what is lost,
The same cry from the tortoise as from Christ, the Osiris-cry of abandonment,
That which is whole, torn asunder,
That which is in part, finding its whole again throughout the universe.
D.H.Lawrence (1883 – 1930)
Tortoise Shout
fleursdumal.nl magazine
More in: Archive K-L, D.H. Lawrence, Lawrence, D.H.
---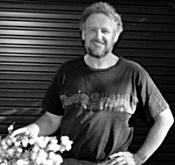 Concreted, Unli/oving
They lack in their memories, their being:
Thesmellofasummereveningwalking
downtotheriverwherefishareleaping
&theairisfullofmayfliesandfluff
fromtallreedsalongtheditches
withthesundazzlingingoldenslant;
Thefeeloficywindblastingacross
floodedlevelsbeforedawnwhenstars
aredimmingandtheeastbeginstobrighten
crunchingthroughfrozenpuddlesfeet
sinkingintothesoftnessofthemudbelow;
Thecoloursofbrowningleavesonbranches
alongtheridgeinhighchalkcountry
thevalleyspreadingoutinfront
withitslinesofhedgeautumncopses
&hereandtherehomesteadsincrystallight;
And because of this lack their every action
Brings a world concreted, unli/oving, one
Ending and not to be grasped in loss.
John Leonard
John Leonard lives in Canberra, Australia.
More poetry on website: www.jleonard.net
fleursdumal.nl magazine
More in: Archive K-L, Leonard, John
---
Older Entries »
« Newer Entries
Thank you for reading FLEURSDUMAL.NL - magazine for art & literature