Literary Events
·
My Twentieth Century Evening and Other Small Breakthroughs. The Nobel Lecture by Kazuo Ishiguro
·
Lecture & rencontre: Kate Tempest à Paris – Écoute la ville tomber
·
Gouden Ganzenveerlaureaat 2018: Antjie Krog
·
30+30 Dichtersmarathon 2018 – PERDU Amsterdam op 25 januari 2018
·
Salon der Verzen presenteert "Gedichten op muziek" in het Pianola Museum
·
The T. S. Eliot 2017 prize for poetry will be announced on Monday 15th January 2018
·
Murakami weekend op zaterdag 13 en zondag 14 januari 2018
·
Littérature et poésie – Nuit de la Poésie 2017 = 11 – 12 Novembre 2017
·
Festival Paris En Toutes Lettres 2017 du 9 au 20 novembre 2017
·
Wintertuinfestival van 22 tot en met 26 november 2017 in Nijmegen
·
"Lincoln in the Bardo" by George Saunders wins 2017 Man Booker Prize
·
Ein fantastischer Blick auf die Welt: Der aspekte-Literaturpreis 2017 geht an Juliana Kálnay
The Nobel Lecture in Literature, delivered by Kazuo Ishiguro (The Remains of the Day and When We Were Orphans) at the Swedish Academy in Stockholm, Sweden, on December 7, 2017, in an elegant, clothbound edition.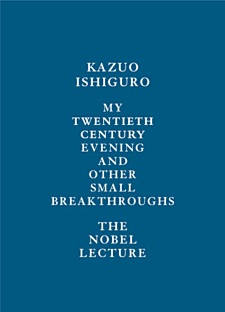 In their announcement of the 2017 Nobel Prize in Literature, the Swedish Academy recognized the emotional force of Kazuo Ishiguro's fiction and his mastery at uncovering our illusory sense of connection with the world. In the eloquent and candid lecture he delivered upon accepting the award, Ishiguro reflects on the way he was shaped by his upbringing, and on the turning points in his career—"small scruffy moments . . . quiet, private sparks of revelation"—that made him the writer he is today.
With the same generous humanity that has graced his novels, Ishiguro here looks beyond himself, to the world that new generations of writers are taking on, and what it will mean—what it will demand of us—to make certain that literature remains not just alive, but essential.
An enduring work on writing and becoming a writer, by one of the most accomplished novelists of our generation.
My Twentieth Century Evening and
Other Small Breakthroughs
The Nobel Lecture
By Kazuo Ishiguro
Hardcover
Dec 12, 2017
64 Pages
$16.95
Published by Knopf
64 Pages
ISBN 9780525654957
new books
fleursdumal.nl magzine
More in: - Book News, Archive I-J, Awards & Prizes, Kazuo Ishiguro, Literary Events
---

Mercr. 17/01-2018 – 20h
Lecture & rencontre
Kate Tempest
Écoute la ville tomber
Rencontre animée par Clémentine Goldszal
Interprète : Marguerite Capelle
tarif : 5 € / adhérent : 0 € RÉSERVER
Maison de la Poésie
Passage Molière
157 rue Saint-Martin
75003 Paris
www.maisondelapoesieparis.com
Becky, Harry, Leon, Pete. Quatre jeunes gens dans le Londres d'aujourd'hui. Ils ont des rêves, des aspirations, que la ville nourrit puis feint d'encourager pour mieux les broyer. Écoute la ville tomber est le roman d'une génération abîmée par le cynisme mais qui refuse d'abandonner l'utopie. Kate Tempest attrape le lecteur à chaque phrase, avec la furieuse envie de montrer le monde tel qu'il est. Sorti en 2016 en Angleterre, le roman est resté plusieurs semaines dans la liste des best-sellers du Sunday Times, atteignant les 100 000 exemplaires.
Poétesse, musicienne et performeuse mêlant rap, slam, rock & spoken word, Kate Tempest est, à 30 ans à peine, une artiste majeure du temps présent. Comparée à Zadie Smith ou à Virginie Despentes, cette jeune prodige surprend et impressionne, elle cristallise toutes les révoltes qui animent nos temps troubles.
À lire – Kate Tempest, Écoute la ville tomber, traduit de l'anglais par Madeleine Nasalik, Rivages, 2018. Les Nouveaux anciens, trad. de l'anglais par D' de Kabal et Louise Bartlett, L'Arche, 2017.
À écouter – Kate Tempest, Let Them Eat Chaos, Fiction Records, 2016.
Les nouveaux anciens
Kate Tempest 
Paru le 18 octobre 2017
Poésie, broché
Editeur Arche
Nombre de pages 72
Traduit de l'anglais par D' de Kabal et Louise Bartlett
ISBN : 978-2-85181-928-4 – €12
Dans ce poème épique urbain, Kate Tempest revisite par les mythes nos vies modernes désenchantées. Selon elle, les dieux de l'Antiquité resurgissent dans le monde contemporain à travers nos actes quotidiens de violence, de bravoure, de sacrifice ou d'amour. Nous sommes toujours mythiques, nous sommes toujours divins. Elle dépeint ainsi une traversée des âges, de la naissance à la mort de l'être humain, sans occulter ses failles, ses erreurs ni ses regrets. Célébrant l'humain trop humain des supermarchés, des rues, des bars et des open-space, elle s'inscrit dans la tradition d'un hip hop old-school, entre poésie, rap et poésie parlée. Une écriture dramatique puissamment cadencée, avec une rythmique très musicale et un « flow » à couper le souffle.
Ecoute la ville tomber
Kate Tempest
Madeleine Nasalik (Traducteur)
Traduit de l'anglais
Collection: Littérature étrangère Rivages
ISBN: 978-2-7436-4199-3
EAN: 9782743641993
Parution: janvier, 2018
400 pages
Format : 14.0 x 20.5
Prix: €22,50
Becky, Harry, Leon. Ils sont jeunes, hésitent entre le cynisme et le besoin éperdu d'utopie. Chacun a des rêves, des aspirations, que la ville nourrit et feint d'encourager pour mieux les broyer. Ce roman résonne des bruits et du rythme de notre époque, dans la prose incandescente de Kate Tempest, star du hip-hop, poétesse et artiste déjà légendaire à 30 ans à peine, admirée par Virginie Despentes, Lola Lafon ou Don DeLillo. Best-seller international, ce livre impose la jeune Anglaise comme une voix majeure de la scène littéraire d'aujourd'hui.
Kate Tempest
Lecture & rencontre
Mercr. 17/01-2018 – 20h
Maison de la Poésie
75003 Paris
fleursdumal.nl magazine
More in: Archive S-T, Archive S-T, Art & Literature News, Kate Tempest, Literary Events, Tempest, Kate, TRANSLATION ARCHIVE
---
De Academie De Gouden Ganzenveer kent de Gouden Ganzenveer 2018 toe aan de Zuid-Afrikaanse dichteres Antjie Krog.
Gerdi Verbeet, Academievoorzitter De Gouden Ganzenveer maakte afgelopen zaterdag de laureaat bekend in het radioprogramma De Taalstaat. De Academie De Gouden Ganzenveer eert Krog als een bijzondere en veelzijdige dichteres, als een uitzonderlijk integer schrijfster en journaliste, en als een begenadigd performer van haar eigen werk.
De prijsuitreiking vindt plaats op donderdag 19 april a.s. in Amsterdam. Een weerslag van deze bijeenkomst wordt vastgelegd in een speciale uitgave, die in de loop van het jaar zal verschijnen.
De Academie, een initiatief van het bestuur van stichting De Gouden Ganzenveer, kent jaarlijks deze culturele prijs toe. De leden zijn afkomstig uit de wereld van cultuur, wetenschap, politiek en het bedrijfsleven. Met deze onderscheiding wil de Academie het geschreven en gedrukte woord in het Nederlands taalgebied onder de aandacht brengen.
Voorgaande laureaten zijn Arnon Grunberg, Xandra Schutte, Geert Mak, David Van Reybrouck, Ramsey Nasr, Annejet van der Zijl, Remco Campert, Joke van Leeuwen, Adriaan van Dis, Joost Zwagerman, Tom Lanoye, Peter van Straaten, Maria Goos, Kees van Kooten, Jan Blokker en Michaël Zeeman.
Uitgebreide informatie is te vinden op www.goudenganzenveer.nl
De Zuid-Afrikaanse Antjie Krog (1952) is een gelauwerd dichter, schrijver en academicus. Krog debuteerde in 1970 op achttienjarige leeftijd met de dichtbundel Dogter van Jefta. Inmiddels is ze uitgegroeid tot een van de belangrijkste dichters van Zuid-Afrika.
Haar poëzie is persoonlijk, zintuiglijk en sterk geëngageerd: Krog dicht over het moederschap en het ouder worden, maar ook over de diepe verbondenheid en de worsteling met de ongelijkheid en het racisme in haar land. Krog kreeg bekendheid in Nederland door haar vele optredens bij Poetry International, de Nacht van de Poëzie en het festival Winternachten. Talrijke poëzieliefhebbers raakten in de ban van haar ongewone, ontroerende en klankrijke poëzie.
In 1999 publiceerde uitgeverij Atlas een bloemlezing uit haar werk onder de titel Om te kan asemhaal. Daarna zijn haar dichtbundels bij uitgeverij Podium verschenen. Zij schreef ook proza, bijvoorbeeld Country of my Skull (in het Nederlands: De kleur van je hart, 1998/2000), toneelstukken en non-fictie. De roman Mond vol glas van Henk van Woerden en het toneelstuk Mamma Medea van Tom Lanoye vertaalde zij van het Nederlands naar het Afrikaans.
Antjie Krog is buitengewoon hoogleraar Letteren en Filosofie aan de Universiteit van de Westkaap. Haar werk is veelvuldig bekroond, onder andere met de prestigieuze Hertzogprijs, de Reina Prinsen Geerligsprijs, de Pringle Award, de Alan Paton Award. Op donderdag 19 april a.s. neemt zij de Gouden Ganzenveer 2018 in ontvangst.
Laureaat Gouden Ganzenveer 2018: Antjie Krog
foto: Karina Turok
fleursdumal.nl magazine
More in: Antjie Krog, Archive K-L, Archive K-L, Art & Literature News, Awards & Prizes, Literary Events
---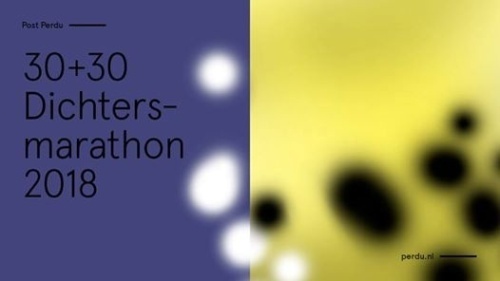 Dat poëzie niet moeilijk hoeft te zijn, bewijst Perdu jaarlijks op Gedichtendag. Niet door zich op die dag te beperken tot de eenvoudigste poëzie, maar juist door de poëzie in al haar diversiteit aan te bieden op een manier die vooral de nieuwsgierigheid prikkelt.
Podiumbeesten en prevelaars, anekdotici en hermetici, vaklui en avonturiers, groentjes en grijsaards: ze staan naast elkaar en door elkaar op deze nieuwe editie van de 30 + 30 Dichtersmarathon. Zestig zeer uiteenlopende dichters komen in ongeveer tweeënhalf uur voorbij.
Het concept is uitermate eenvoudig: dertig Nederlandse dichters lezen elk drie gedichten voor: twee van henzelf en één van een zelfverkozen collega uit het buitenland. Bij het voorlezen wordt de poëzie niet onderbroken door aan- of afkondigingen, bio- of bibliografische informatie of entr'actes en intermezzo's.
Zo kan de aandacht van de luisteraar zich volledig op de poëzie zelf richten, die zich aan hem presenteert als een constante stroom in een onverbiddelijk ritme van ruim tweeënhalf uur.
Wiens aandacht toch even verslapt, haakt zo weer aan bij de eerstvolgende dichter. Een uitstekende gelegenheid om je onder te dompelen in poëzie uit Nederland en de rest van de wereld.
Met Radna Fabias, Peggy Verzett, Samuel Vriezen, Arno van Vlierberghe, Yi Fong Au, Martje Wijers, Peter Prins, Maarten van der Graaff, Kira Wuck, Jonathan Griffioen, Marc van der Holst, Lucie Berjoan, Isabel Verhulst, Roos Vlogman, Mathijs Tratsaert, Esmé van den Boom, Asha Karami, Meliza de Vries, Edna Azulay, Nguyễn Nam Chi, Shida Boukhizou, Michael Tedja, Zaii, Omar El Allali, Flora Woudstra, Raj Mohan, Divya Nadkarni, Mariana Hirschfeld & Anne-Fleur van der Heijden
donderdag 25 jan 2018 19:45
30+30 Dichtersmarathon 2018
Aanvang: 19:45 uur
Deuren open: 19:15 uur
Entree: 10 / 7 euro (korting)
Vanwege verwachte drukte s.v.p. uw ticket(s) tijdig kopen.
#  meer  info  op  website  perdu.nl
dichtersmarathon
fleursdumal.nl magazine
More in: - Book Lovers, Art & Literature News, Literary Events, LITERARY MAGAZINES, MODERN POETRY, POETRY ARCHIVE
---
Een nieuwe liederencyclus voor sopraan en piano, een nieuw declamatorium op Vondels 'Lucifer', VSB Poëzieprijs-nominee Mieke van Zonneveld en meer
U proeft de sfeer van een klassieke salon! Een unieke belevenis voor zowel doorgewinterde poëzie- en klassieke-muziekliefhebbers als iedereen die nog niet eerder kennis heeft gemaakt met gedichten, voordrachtskunst of het klassieke lied.
Op het programma: Mieke Van Zonneveld (voordracht), Simon Mulder (voordracht), George Beentjes (piano), Michelle Mallinger (sopraan), Marijke Brekelmans (voordracht), verwonderaar Arjan Van Vembde (magie), Kasper Janse (pianola).
– De debuutbundel van dichter van het Feest der Poëzie Mieke van Zonneveld is genomineerd voor de VSB Poëzieprijs. Reden om de schrijver van 'Leger' opnieuw uit te nodigen voor een voordracht, ook voor degenen die haar uitverkochte bundelpresentatie in januari hebben gemist!
– Componist George Beentjes presenteert zijn laatste serie werken voor zang en piano, geïnspireerd op prachtige Duitse gedichten uit de 19e eeuw.
– Daarnaast is er ook de première van een declamatorium van Joost van den Vondels tragedie 'Lucifer' (naar de originele voordracht van Albert Vogel sr.) bewerkt voor piano en stem in samenwerking van George Beentjes en Simon Mulder.
– Arjan van Vembde, onze verwonderaar, brengt een nieuwe magische act.
– Simon Mulder draagt voor uit eigen werk, o.a. uit handgemaakt poëzieperiodiek Avantgaerde.
– Marijke Brekelmans draagt voor uit Lodewijk van Deyssels 'Een Liefde'.
– En conservator Kasper Janse demonstreert een heuse pianola.
Praktische informatie
Locatie: Pianola Museum, Westerstraat 106, Amsterdam
Datum: zaterdag 16 december 2017, 20:15 uur
Zaal open: 19:45 uur
Aanvang: 20:15 uur
Entree: 15 /12,50 euro
U kunt nu reserveren via info@pianola.nl
Salon der Verzen – zaterdag 16 december 2017, 20:15 uur – Pianola Museum, Westerstraat 106, Amsterdam
#  meer  informatie  op  website  www.feestderpoezie.nl

fleursdumal.nl magazine
More in: Art & Literature News, Literary Events, MUSIC, THEATRE
---
The T. S. Eliot Prize for Poetry was inaugurated in 1993 to celebrate the Poetry Book Society's 40th birthday and honour its founding poet.
Described as 'the prize most poets want to win' (Sir Andrew Motion, former Poet Laureate) and 'the world's top poetry award' (Independent), it is awarded annually to the author of the best new collection of poetry published in the UK and Ireland.
The T. S. Eliot Prize for Poetry was inaugurated in 1993 to celebrate the Poetry Book Society's 40th birthday and honour its founding poet.
To mark the 25th anniversary of the T. S. Eliot Prize, the T. S. Eliot Foundation has increased the winner's prize money to £25,000. Judges Bill Herbert (Chair), James Lasdun and Helen Mort have chosen the shortlist from a record 154 poetry collections submitted by publishers:
Tara Bergin – The Tragic Death of Eleanor Marx (Carcanet) PBS Autumn Recommendation
Caroline Bird – In these Days of Prohibition (Carcanet)
Douglas Dunn – The Noise of a Fly (Faber & Faber) PBS Autumn Recommendation
Leontia Flynn – The Radio (Cape Poetry)
Roddy Lumsden – So Glad I'm Me (Bloodaxe)
Michael Symmons Roberts – Mancunia (Cape Poetry) PBS Autumn Recommendation
Robert Minhinnick – Diary of the Last Man (Carcanet)
James Sheard – The Abandoned Settlements (Cape Poetry) PBS Spring Choice
Jacqueline Saphra – All My Mad Mothers (Nine Arches Press)
Ocean Vuong – Night Sky with Exit Wounds (Cape Poetry) PBS Summer Recommendation
Chair Bill Herbert said:
"This was a very strong year, and it was a privilege to read so many books that possessed as well as intrigued us; our shortlist explores grief, pleasure, place and history in a formidable variety of ways."
The T. S. Eliot Prize is run by The T. S. Eliot Foundation. This is the richest prize in British poetry, with the winning poet receiving a cheque for £25,000 and the shortlisted poets each receiving £1,500.
The T. S. Eliot Prize Shortlist Readings will take place on Sunday 14th January 2018 in Southbank Centre's Royal Festival Hall. The shortlist readings are the largest annual poetry event in the UK and will be hosted once again by Ian McMillan. Tickets are now on sale from Southbank Centre's ticket office on 0203 879 9555 or via www.southbankcentre.co.uk/literature.
The winner of the 2017 Prize will be announced at the Award Ceremony on Monday 15th January 2018, where the winner and the shortlisted poets will be presented with their cheques. This continues the tradition started by Mrs Valerie Eliot, who provided the prize money from the inception of the Prize.
Last year's winner was Jacob Polley for Jackself (Picador). The judges were Ruth Padel (Chair), Julia Copus and Alan Gillis.
fleursdumal.nl magazine
More in: Archive E-F, Awards & Prizes, Eliot, T. S., Literary Events
---
De moord op Commendatore is de nieuwe grote roman van Haruki Murakami: deel één verschijnt op 1 december 2017 en deel twee op 12 januari 2018. Het verschijnen van het tweede deel wordt groots gevierd op de SS Rotterdam met het Murakami Weekend op zaterdag 13 en zondag 14 januari 2018.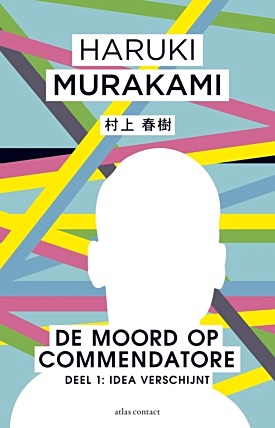 Haruki Murakami geldt wereldwijd als een van de meest gelezen en geliefde hedendaagse schrijvers. Zijn werk wordt in meer dan 40 landen uitgegeven en is bekroond met meerdere prijzen, waaronder de Welt Literatuurprijs en de Hans Christian Andersenprijs. Hij wordt regelmatig getipt als kandidaat voor de Nobelprijs.
De moord op Commendatore: Een zesendertigjarige pas gescheiden portretschilder neemt zijn intrek in een oud atelier in de bergachtige omgeving ten zuidwesten van Tokio. Behalve door liefdesperikelen wordt hij geplaagd door een painter's block, een onvermogen om te schilderen.
Hij hoopt in het afgelegen atelier tot rust te komen, en zijn inspiratie terug te vinden, maar het zal anders gaan. Een mysterieus schilderij op de zolder van zijn verblijf lijkt tot leven te komen, vanuit een heuvel in het bos achter het huis klinkt 's nachts het geluid van een bel.
Een meisje verdwijnt, en de hoofdpersoon gaat haar zoeken – een zoektocht die hem afvoert naar de wereld der metaforen, waar hij met zijn diepste angsten wordt geconfronteerd.
fleursdumal.nl magazine
More in: - Book News, - Bookstores, Archive M-N, Art & Literature News, Haruki Murakami, Literary Events
---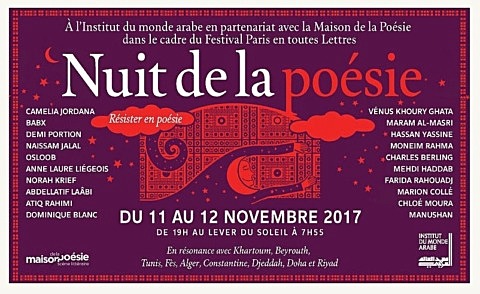 Pour la deuxième année consécutive, l'IMA et la Maison de la Poésie s'unissent pour convoquer, le temps d'une nuit, la poésie et célébrer la beauté du verbe, en mémoire des attentats de Paris en novembre 2015. Cette deuxième édition est aussi celle d'un nouveau partage : la Nuit 2017 résonnera, en même temps, à travers huit villes du monde arabe.
En mémoire des attentats de Paris du 13 novembre 2015, l'initiative a en 2016 rassemblé près d'une cinquantaine d'artistes de disciplines différentes, parlant l'arabe, le français ou l'hébreu. Plus de 3 000 personnes se sont réunies à l'IMA.
Dans la nuit du 11 au 12 novembre 2017, la deuxième édition de la Nuit de la Poésie offrira une nouvelle fois la possibilité de découvrir et d'apprécier la poésie – cette année en arabe, en français et en persan – à travers la lecture, le slam, le rap, le chant ou encore les arts du cirque.
#  la Nuit de la poésie Web IMA

Littérature et poésie
Nuit de la Poésie 2017
11 – 12 Novembre 2017
fleursdumal.nl magazine
More in: Art & Literature News, FDM in Paris, LIGHT VERSE, Literary Events, MODERN POETRY, MUSIC, Nacht van de Poëzie, THEATRE
---
---
Festival littéraire de la ville de Paris, Paris En Toutes Lettres est fondé sur les hybridations entre les genres littéraires et les formes artistiques, ainsi que sur les résonances entre la géographie parisienne et sa vie littéraire. À partir de la Maison de la Poésie-Scène littéraire, il se déploie dans une quinzaine de lieux alentours.
Revisitant l'actualité littéraire, le festival fait aussi la part belle aux créations mettant en regard littérature et musique. Parmi plus de cinquante lectures, rencontres ou concerts littéraires, on trouve également d'insolites conférences et de curieuses performances. À travers ce foisonnement de lieux et de propositions, c'est à un Paris vivant et traversé de littérature que le festival donne voix.
Festival
Paris En Toutes Lettres 2017
Du 9 au 20 novembre 2017
fleursdumal.nl magazine
More in: Art & Literature News, CINEMA, RADIO & TV, FDM in Paris, LIGHT VERSE, Literary Events, MODERN POETRY, MUSIC, STREET POETRY, THEATRE
---
Het Wintertuinfestival, dat van 22 tot en met 26 november plaatsvindt in Nijmegen, heeft dit jaar als titel: De vrije lezer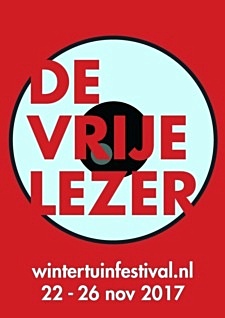 Tientallen schrijvers, dichters, wetenschappers, muzikanten en kunstenaars – onder wie Adriaan van Dis, Fresku en Kamagurka – gaan in op dit thema. Zowel grote literaire namen als aanstormende talenten reizen af naar Nijmegen. Op diverse locaties in de binnenstad zijn programma's en activiteiten. Het hele festivalprogramma staat online en de kaartverkoop loopt via wintertuinfestival.nl
Op woensdag 22 november bespreken middelbare scholieren tijdens Lezen met de Sterren het boek Dit is geen dagboek met Erna Stassen. 's Avonds is er een kroegcollege: Roel Smeets, promovendus bij Algemene Cultuurwetenschappen, gaat in op het festivalthema.

Op donderdag 23 november geeft niemand minder dan Fresku een college op de Radboud Universiteit.

Op vrijdag 24 november vindt er een Avond van de grote beloftes plaats, waarop talenten uit de stal van De Nieuwe Oost centraal staan. Simone Atangana Bekono, Marjolein Visser, Nikki Dekker en Jante Wortel tonen nieuw werk.

Op zaterdag 25 november kun je overdag meedoen met twee schrijfworkshops. 's Avonds wordt Doornroosje omgetoverd tot een literair walhalla. Tijdens de grootse festivalavond gaan talloze gasten in op het thema, waaronder Adriaan van Dis, Kamagurka, Franca Treur, Erik Jan Harmens, Alma Mathijsen, Anousha Nzume en Jet Steinz.

Het Wintertuinfestival wordt afgesloten met de boekpresentatie van Een botsing op het spoor van Joris van Casteren. Het boek gaat over een fatale botsing die een jaar geleden bij een spoorovergang in Nijmegen plaatsvond. Gedurende het hele festival is Nina Polak Writer in Residence en is er in de bibliotheek een Virtual Reality-installatie te bezichtigen.
Het verkrijgen van informatie is de goudkoorts van deze tijd. Bedrijven als Facebook en Google willen alles van ons weten, van ons reisgedrag en onze kledingsmaak tot onze politieke voorkeuren. Als een rots in de branding van de algoritmes en cookies staat de vrije lezer. Hij of zij vindt nieuwe ideeën, andere werelden, en schatten aan niet in kaart te brengen informatie in boeken. Je zou kunnen zeggen dat lezen van boeken in deze tijd een daad van verzet is, dat boeken een bastion van vrijheid zijn, en dat de lezer een activist is.
WINTERTUINFESTIVAL
Data: woensdag 22 tot en met zondag 26 november 2017
Locaties: talloze locaties in Nijmegen
Entree: variërend van gratis tot € 17,50 per festivalonderdeel
Meer info: www.wintertuinfestival.nl
fleursdumal.nl magazine
More in: - Book Lovers, - Book News, Art & Literature News, CINEMA, RADIO & TV, Literary Events, LITERARY MAGAZINES, MUSIC, THEATRE, Wintertuin Festival
---
On 22 February 1862, two days after his death, Willie Lincoln is laid to rest in a marble crypt in a Georgetown cemetery. That very night, shattered by grief, his father Abraham arrives at the cemetery, alone, under cover of darkness.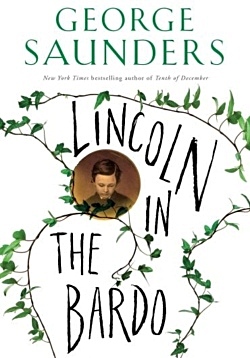 Over the course of that evening, Abraham Lincoln paces the graveyard unsettled by the death of his beloved boy, and by the grim shadow of a war that feels as though it is without end. Meanwhile Willie is trapped in a state of limbo between the dead and the living – drawn to his father with whom he can no longer communicate, existing in a ghostly world populated by the recently passed and the long dead.
Unfolding in the graveyard over a single night, narrated by a dazzling chorus of voices, Lincoln in the Bardo is a thrilling exploration of death, grief and the deeper meaning and possibilities of life.
Lincoln in the Bardo by George Saunders is named winner of the 2017 Man Booker Prize for Fiction. Lincoln in the Bardo is the first full-length novel from George Saunders, internationally renowned short story writer.
Lola, Baroness Young, 2017 Chair of judges, comments: 'The form and style of this utterly original novel, reveals a witty, intelligent, and deeply moving narrative. This tale of the haunting and haunted souls in the afterlife of Abraham Lincoln's young son paradoxically creates a vivid and lively evocation of the characters that populate this other world. Lincoln in the Bardo is both rooted in, and plays with history, and explores the meaning and experience of empathy.'
George Saunders the 58-year-old New York resident, born in Texas, is the second American author to win the prize in its 49-year history. He was in contention for the prize with two British, one British-Pakistani and two American writers.
Lincoln in the Bardo is published by Bloomsbury, making it the third consecutive year the prize has been won by an independent publisher, following Oneworld Publications' success in 2015 with Marlon James and 2016 with Paul Beatty. Bloomsbury has won the prize three times before, with Howard Jacobson (2010), Margaret Atwood (2000) and Michael Ondaatje (1992).
Saunders' win comes in the month that 1989 Booker Prize-winning author Kazuo Ishiguro was named as this year's Nobel Prize in Literature recipient. Ishiguro follows in the footsteps of other Booker Prize-recognised authors who have gone on to win the award including: V. S. Naipaul, Nadine Gordimer, William Golding, J. M. Coetzee and Doris Lessing.
George Saunders is the author of eight books, including the story collections Pastoralia and Tenth of December, which was a finalist for the National Book Award. He has received fellowships from the Lannan Foundation, the American Academy of Arts and Letters, and the Guggenheim Foundation. In 2006 he was awarded a MacArthur Fellowship. In 2013 he was awarded the PEN/Malamud Award for Excellence in Short Fiction and was included in Time's list of the one hundred most influential people in the world. He teaches in the creative writing program at Syracuse University.
Lincoln in the Bardo
By George Saunders
ISBN: 9780812995343
368pp.
Publication Date: February 2017
(Hardcover)
Publisher: Penguin Random House
Pages: 368
#  more  information  on website  themanbookerprize

fleursdumal.nl magazine
More in: - Book News, - Bookstores, Archive S-T, Art & Literature News, Awards & Prizes, Literary Events, The talk of the town
---
"Wie viel Leben steckt in vier Wänden? Welche Erinnerungen haften an Böden, Fenstern und Türen?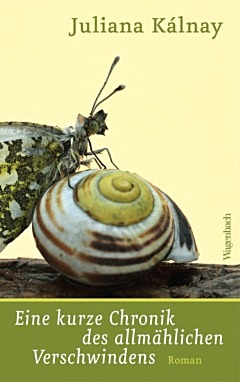 Wer in einer Wohnung lebt, lebt immer auch in einem Erinnerungsort, in einem Geschichtsraum. Und wenn schon eine Wohnung so viel Geschichten bietet, was hat dann erst ein ganzes Haus zu sagen? In ihrem Debütroman "Eine kurze Chronik des allmählichen Verschwindens" ringt Juliana Kálnay um einen anderen, einen fantastischen Blick auf die Welt. Ein Mann wird zu einem Baum, eine alte Frau spürt wie sich die Räume bei Kälte zusammenziehen, ein ganzes Haus lebt unter dem Gesetz des Unwirklichen. In feinen, leicht verschwommenen Vignetten erzählt Kálnay auf den Spuren des magischen Realismus vom Wundern und Träumen dieser Hausbewohner. Es ist ein Buch, in dem man sich herrlich verlieren kann. Und das große Lust macht auf die Welt des Surrealen."
So begründet die Jury – Jana Hensel (Autorin), Ursula März (Die Zeit), Daniel Fiedler (Redaktionsleiter ZDF Kultur Berlin) Simon Strauß (FAZ) und Volker Weidermann (Das Literarische Quartett, Der Spiegel – ihre Entscheidung.
Juliana Kálnay erzählt mit Aberwitz und aus vielen Perspektiven, es ist ein Stimmengewirr, ein Puzzle, das sich nach und nach zu einem dichten Bild fügt. Die Charaktere – Bewohner eines rätselhaften Hauses – versuchen, sich einen Reim auf die Dinge des Lebens zu machen, sich selbst und die anderen zu verstehen, tappen aber oft im Dunklen. Kálnays magischer Realismus hält die Handlung in der Schwebe, ohne ins Phantastische abzuheben, das Haus verbindet alle Elemente im Roman.
Der aspekte-Literaturpreis wird in diesem Jahr zum 39. Mal vergeben. Er ist mit 10.000 Euro dotiert und die bedeutendste Auszeichnung für deutschsprachige Erstlingsprosa. Die Preisverleihung findet am Donnerstag, 12. Oktober 2017, 11:30 Uhr im Rahmen der Frankfurter Buchmesse auf dem Blauen Sofa am ZDF-Stand statt.
Juliana Kálnay, geboren 1988 in Hamburg, wuchs zunächst in Köln und dann in Málaga auf. Sie veröffentlichte in deutsch- und spanischsprachigen Anthologien und Zeitschriften und erhielt das Arbeitsstipendium Literatur der Kulturstiftung des Landes Schleswig-Holstein 2016. Sie lebt und schreibt in Kiel. »Eine kurze Chronik des allmählichen Verschwindens« ist ihr erster Roman.
Juliana Kálnay
Eine kurze Chronik des allmählichen Verschwindens
Quartbuch. 2017
192 Seiten. 13 x 21 cm.
Gebunden mit Schutzumschlag
Buch €20,–
ISBN 978-3-8031-3284-0
Klaus Wagenbach Verlag
(www.wagenbach.de)
Ein fantastischer Blick auf die Welt
Der aspekte-Literaturpreis 2017 geht an Juliana Kálnay
fleursdumal.nl magazine
More in: - Book News, - Book Stories, Archive K-L, Art & Literature News, CINEMA, RADIO & TV, Literary Events, Nachrichten aus Berlin, The Art of Reading
---
Older Entries »
Thank you for reading FLEURSDUMAL.NL - magazine for art & literature