Alessandro Portelli: Hard Rain. Bob Dylan, Oral Cultures, and the Meaning of History
Bob Dylan's iconic 1962 song "A Hard Rain's A-Gonna Fall" stands at the crossroads of musical and literary traditions.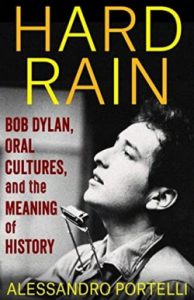 A visionary warning of impending apocalypse, it sets symbolist imagery within a structure that recalls a centuries-old form. Written at the height of the 1960s folk music revival amid the ferment of political activism, the song strongly resembles—and at the same time reimagines—a traditional European ballad sung from Scotland to Italy, known in the English-speaking world as "Lord Randal."
Alessandro Portelli explores the power and resonance of "A Hard Rain's A-Gonna Fall," considering the meanings of history and memory in folk cultures and in Dylan's work. He examines how the ballad tradition to which "Lord Randal" belongs shaped Dylan's song and how Dylan drew on oral culture to depict the fears and crises of his own era. Portelli recasts the song as an encounter between Dylan's despairing vision, which questions the meaning and direction of history, and the message of resilience and hope for survival despite history's nightmares found in oral traditions.
A wide-ranging work of oral history, Hard Rain weaves together interviews from places as varied as Italy, England, and India with Portelli's autobiographical reflections and critical analysis, speaking to the enduring appeal of Dylan's music. By exploring the motley traditions that shaped Dylan's work, this book casts the distinctiveness and depth of his songwriting in a new light.
Alessandro Portelli is professor emeritus of American literature at the University of Rome and was for many years a faculty member of the Columbia Oral History Summer Institute. His books include The Text and the Voice: Writing, Speaking, Democracy, and American Literature (Columbia, 1994) and They Say in Harlan County: An Oral History (2011).
Alessandro Portelli:
Hard Rain.
Bob Dylan, Oral Cultures,
and the Meaning of History
Pub Date: May 2022
Columbia University Press
ISBN: 9780231205931
200 Pages
Format: Paperback
List Price: £20.00
• fleursdumal.nl magazine
More in: # Music Archive, - Book News, - Bookstores, Archive C-D, Archive C-D, Archive O-P, Art & Literature News, AUDIO, CINEMA, RADIO & TV, Bob Dylan, Dylan, Bob, Literary Events