Jack Kerouac: Old Angel Midnight
Old Angel Midnight is a treasure trove of Kerouac's experiments with automatic writing, a method he practiced constantly to sharpen his imaginative reflexes.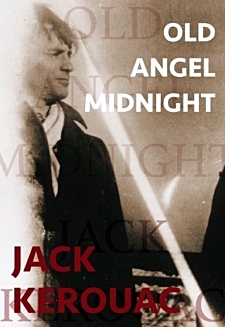 Recorded in a series of notebooks between 1956-1959, what Kerouac called his "endless automatic writing piece" began while he shared a cabin with poet Gary Snyder. Kerouac tried to emulate Snyder's daily Buddhist meditation discipline, using the technique of "letting go" to free his mind for pure spontaneous writing, annotating the stream of words flowing through his consciousness in response to auditory stimuli and his own mental images.
Kerouac continued his exercise in spontaneous composition over the next three years, including a period spent with William Burroughs in Tangiers. He made no revisions to the automatic writing entries in his notebooks, which were collected and transcribed for publication as originally written.
Old Angel Midnight attests to the success of Kerouac's experiment and bears witness to his commitment to his craft, and to the pleasure he takes in writing: "I like the bliss of mind."
Jack Kerouac (1922-1969) was a principal actor in the Beat Generation, a companion of Allen Ginsberg and Neal Cassady in that great adventure. His books include On the Road, The Dharma Bums, Mexico City Blues, Lonesome Traveler, Visions of Cody, Pomes All Sizes (City Lights), Scattered Poems (City Lights), and Scripture of the Golden Eternity (City Lights).
Title Old Angel Midnight
Author Jack Kerouac
Preface by Ann Charters, Michael McClure
Collection City Lights/Grey Fox
Publisher City Lights Publishers
Poetry
Published 2016
Format Paperback
ISBN-10 087286703X
ISBN-13 9780872867031
94 pages
List Price $13.95
Books That Everyone Should Read
fleursdumal.nl magazine
More in: #Beat Generation Archives, *Archive Les Poètes Maudits, - Book Stories, Archive K-L, DRUGS & MEDICINE & LITERATURE, Kerouac, Jack, Opium-Eaters