Archive O-P
«« Previous page
·
The Written World. The Power of Stories to Shape People, History, Civilization by Martin Puchner
·
Gaël Octavia: La fin de Mame Baby
·
Absolutely on Music. Conversations by Haruki Murakami and Seiji Ozawa
·
Litz Pisk: The Actor and His Body
·
Noam Chomsky and C.J. Polychroniou: Optimism over Despair
·
Homage to Catalonia by George Orwell
·
Orhan Pamuk: The Red-Haired Woman
·
Leif GW Persson: The Dying Detective. A Mystery
·
'De duistere winkel' – 124 dromen van Georges Perec
·
Georges PEREC: Poging tot uitputtende beschrijving van een plek in Parijs
·
Genomineerden E. DU PERRONprijs 2016 bekend
·
Esther Porcelijn: Vlezige mensen, wethouders, poppetjes, kastjes
The story of how literature shaped world history, in sixteen acts—from Alexander the Great and the Iliad to Don Quixote and Harry Potter
In this groundbreaking book, Martin Puchner leads us on a remarkable journey through time and around the globe to reveal the powerful role stories and literature have played in creating the world we have today.
Puchner introduces us to numerous visionaries as he explores sixteen foundational texts selected from more than four thousand years of world literature and reveals how writing has inspired the rise and fall of empires and nations, the spark of philosophical and political ideas, and the birth of religious beliefs. Indeed, literature has touched the lives of generations and changed the course of history.
At the heart of this book are works, some long-lost and rediscovered, that have shaped civilization: the first written masterpiece, the Epic of Gilgamesh; Ezra's Hebrew Bible, created as scripture; the teachings of Buddha, Confucius, Socrates, and Jesus; and the first great novel in world literature, The Tale of Genji, written by a Japanese woman known as Murasaki.
Visiting Baghdad, Puchner tells of Scheherazade and the stories of One Thousand and One Nights, and in the Americas we watch the astonishing survival of the Maya epic Popol Vuh. Cervantes, who invented the modern novel, battles pirates both real (when he is taken prisoner) and literary (when a fake sequel to Don Quixote is published).
We learn of Benjamin Franklin's pioneering work as a media entrepreneur, watch Goethe discover world literature in Sicily, and follow the rise in influence of The Communist Manifesto.
We visit Troy, Pergamum, and China, and we speak with Nobel laureates Derek Walcott in the Caribbean and Orhan Pamuk in Istanbul, as well as the wordsmiths of the oral epic Sunjata in West Africa.
Throughout The Written World, Puchner's delightful narrative also chronicles the inventions—writing technologies, the printing press, the book itself—that have shaped religion, politics, commerce, people, and history.
In a book that Elaine Scarry has praised as "unique and spellbinding," Puchner shows how literature turned our planet into a written world.
Martin Puchner is the Byron and Anita Wien Professor of English and Comparative Literature at Harvard University. His prize-winning books range from philosophy to the arts, and his bestselling six-volume Norton Anthology of World Literature and HarvardX MOOC (massive open online course) have brought four thousand years of literature to students across the globe. He lives in Cambridge, Massachusetts.
The Written World
The Power of Stories to Shape
People, History, Civilization
By Martin Puchner
Hardcover
Oct.2017
448 Pages
$32.00
ISBN 9780812998931
Published by Random House
new books
fleursdumal.nl magazine
More in: - Book News, - Book Stories, Archive O-P, Art & Literature News, NONFICTION: ESSAYS & STORIES, PRESS & PUBLISHING, The Art of Reading
---
Le Quartier est une petite ville de banlieue où se croisent les destins de quatre femmes. Mariette, recluse dans son appartement, qui ressasse sa vie gâchée en buvant du vin rouge.

Aline, l'infirmière à domicile, qui la soigne et l'écoute. Suzanne, la petite Blanche, amante éplorée d'un caïd assassiné. Mame Baby, idole des femmes du Quartier, dont la mort est auréolée de mystère.
À travers la voix d'Aline, de retour dans le Quartier qu'elle a fui sept ans auparavant, les liens secrets qui unissent les quatre héroïnes se dessinent…
La fin de Mame Baby raconte avant tout, avec finesse, grâce et passion, l'art qu'ont les femmes de prendre soin les unes des autres, de se haïr et de s'aimer.
Gaël Octavia
La fin de Mame Baby
Collection Continents Noirs, Gallimard
Parution : 31-08-2017
176 pages
140 x 205 mm
Genre : Romans
Pays : Martinique
Époque : XXIe siècle
ISBN : 9782072737015
Gencode : 9782072737015
Prix € 16,00
new books
fleursdumal.nl magazine
More in: - Book News, Archive O-P, Art & Literature News
---
A deeply personal, intimate conversation about music and writing between the internationally acclaimed, best-selling author and the former conductor of the Boston Symphony Orchestra.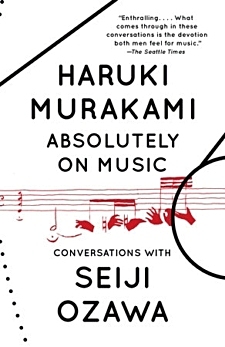 In Absolutely on Music, internationally Haruki Murakami sits down with his friend Seiji Ozawa, the revered former conductor of the Boston Symphony Orchestra, for a series of conversations on their shared passion: music.
Over the course of two years, Murakami and Ozawa discuss everything from Brahms to Beethoven, from Leonard Bernstein to Glenn Gould, from Bartók to Mahler, and from pop-up orchestras to opera. They listen to and dissect recordings of some of their favorite performances, and Murakami questions Ozawa about his career conducting orchestras around the world. Culminating in Murakami's ten-day visit to the banks of Lake Geneva to observe Ozawa's retreat for young musicians, the book is interspersed with ruminations on record collecting, jazz clubs, orchestra halls, film scores, and much more. A deep reflection on the essential nature of both music and writing, Absolutely on Music is an unprecedented glimpse into the minds of two maestros.
Haruki Murakami is a best-selling Japanese writer. His works of fiction and non-fiction have garnered critical acclaim and numerous awards, including the Franz Kafka Prize, the Frank O'Connor International Short Story Award and the Jerusalem Prize, among others. Murakami's fiction is humorous and surreal, focusing on themes of alienation and loneliness. He is considered an important figure in postmodern literature. The Guardian praised Murakami as "among the world's greatest living novelists" for his works and achievements. Murakami is the author of 1Q84, The Wind-Up Bird Chronicles, Men Without Women and many more.
Seiji Ozawa served as music director of the Boston Symphony Orchestra for twenty-nine years, and was music director of the Toronto Symphony Orchestra, the San Francisco Symphony, the Chicago Symphony Orchestra's Ravinia Festival, and Wiener Staatsoper. With Kazuyoshi Akiyama, he formed the Saito Kinen Orchestra and is the director of the Seiji Ozawa Matsumoto Festival. Ozawa has been deeply involved in musical education through his work with the Tanglewood Music Center Orchestra, the Ozawa International Chamber Music Academy Okushiga, the Seiji Ozawa International Academy Switzerland, and as founder of the Seiji Ozawa Music Academy Opera Project, organizations which provide opportunities to outstanding students in Asia and Europe. Among his many honors, Ozawa has been awarded France's Officier de la Légion d'Honneur, the Japanese Order of Culture, a Kennedy Center Honor, and a Grammy for Best Opera Recording.
Absolutely on Music
Conversations
By Haruki Murakami and Seiji Ozawa
Translated by Jay Rubin
Part of Vintage International
Category: Music – Biography & Memoir
Penguin Random House
Paperback
October 2017
320 Pages
fleursdumal.nl magazine
More in: - Book News, - Book Stories, Archive M-N, Archive O-P, Art & Literature News, Haruki Murakami, MUSIC
---
Litz Pisk was widely regarded as the finest and most influential teacher of modern theatre movement.

She was a director of movement at the Old Vic, National Theatre, Royal Shakespeare Company, English National Opera, and in television and films, including directing the movement for Vanessa Redgrave's film role in Isadora. She was director of Vienna's School of Art and Movement and a teacher at the Old Vic School, Bath Academy of Art, RADA and the Central School of Speech and Drama. The Actor and His Body, her seminal work, was first published in 1975.
'Once you start working with someone like Litz you don't ever want to stop if you can help it' – Vanessa Redgrave
Pisk's quest was to find expression for the inner impulse that motivated actors to move. Her teachings, as outlined in this book, offer insight on the specific craft of the actor, and the relationship between movement, imagination and the 'need' to move.
The Actor and His Body is also a practical manual for keeping the actor's body physically and expressively responsive. In addition, there are a range of movement exercises, illuminated by her exquisite line drawings, and complete weekly programme which concentrates on movement practice within different timescales.
This fourth edition features the original foreword by Michael Elliot as well as a new introduction by Ayse Tashkiran, contemporary movement director and Senior Lecturer at the Royal Central School of Speech and Drama, which contextualises Pisk's work.
The Actor and His Body
By: Litz Pisk
Introduction: Ayse Tashkiran
Published: 30-11-2017
Format: Paperback
Edition: 4th
ISBN: 9781474269742
Imprint: Methuen Drama
Series: Theatre Makers
Dimensions: 234 x 156 mm
RRP: $36.99
Bloomsbury Publishing
Litz Pisk: The Actor and His Body
fleursdumal.nl magazine
More in: - Book News, - Bookstores, Archive O-P, Art & Literature News, AUDIO, CINEMA, RADIO & TV, DANCE, MUSIC, Performing arts, THEATRE
---
Wide-ranging interviews on war, power, and politics with Noam Chomsky, the world's leading critic of US foreign policy.
This volume offers readers a concise and accessible introduction to the ideas of Noam Chomsky, described by the New York Times as "arguably the most important intellectual alive."
In these recent, wide-ranging interviews, conducted for Truthout by C. J. Polychroniou, Chomsky discusses his views on the "war on terror" and the rise of neoliberalism, the refugee crisis and cracks in the European Union, prospects for a just peace in Israel/Palestine, the rise of the Black Lives Matter movement, the dysfunctional US electoral system, the grave danger posed to humanity by the climate crisis, and the hopes, prospects, and challenges of building a movement for radical change.
Noam Chomsky is Institute Professor (Emeritus) in the Department of Linguistics and Philosophy at MIT. His work is widely credited with having revolutionized the field of modern linguistics. He is the author of numerous best-selling political works, which have been translated into scores of languages worldwide.
C. J. Polychroniou is a regular contributor to Truthout as well as a member of Truthout's Public Intellectual Project. He has published several books and his articles have appeared in a variety of journals, magazines, newspapers, and popular news websites.
"This fascinating series of interviews convincingly covers an astonishing range of fundamental and urgent issues of societal concern, demonstrating anew that Noam Chomsky is the world's most humane, philosophically sophisticated, and knowledgeable public intellectual. I cannot imagine a better primer for anyone seeking a better, safer, fairer future." —Richard Falk, Professor of International Law Emeritus, Princeton University
Optimism over Despair
On Capitalism, Empire, and Social Change
by Noam Chomsky and C.J. Polychroniou
Paperback,
180 pages
Haymarket Books
ISBN: 9781608467990
August 2017
$16.95
new books
fleursdumal.nl magazine
More in: - Book News, - Book Stories, Archive C-D, Archive O-P, Art & Literature News, MONTAIGNE, Noam Chomsky
---
A firsthand account of the brutal conditions of the Spanish Civil War.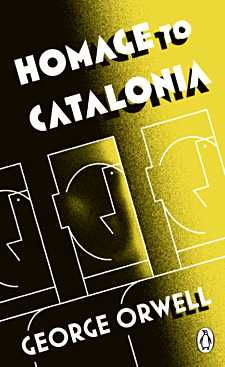 Homage to Catalonia is Orwell's personal account of his observations in the Spanish Civil War. The book was first published in the United Kingdom in 1938.
In 1936, originally intending merely to report on the Spanish Civil War as a journalist, George Orwell found himself embroiled as a participant—as a member of the Workers' Party of Marxist Unity.
Fighting against the Fascists, he described in painfully vivid and occasionally comic detail life in the trenches—with a "democratic army" composed of men with no ranks, no titles, and often no weapons—and his near fatal wounding. As the politics became tangled, Orwell was pulled into a heartbreaking conflict between his own personal ideals and the complicated realities of political power struggles.
Considered one of the finest works by a man V. S. Pritchett called "the wintry conscience of a generation," Homage to Catalonia is both Orwell's memoir of his experiences at the front and his tribute to those who died in what he called a fight for common decency. This edition features a new foreword by Adam Hochschild placing the war in greater context and discussing the evolution of Orwell's views on the Spanish Civil War.
"One of Orwell's very best books and perhaps the best book that exists on the Spanish Civil War." — The New Yorker
George Orwell (1903-1950) served with the Imperial Police in Burma, fought with the Republicans during the Spanish Civil War, and was a member of the Home Guard and a writer for the BBC during World War II. He is the author of many works of non-fiction and fiction.
Homage to Catalonia
George Orwell
Penguin Classics
2013
256 Pages
£6.99
Paperback
ISBN10 0141393025
ISBN13 9780141393025
Homage to Catalonia by George Orwell
fleursdumal.nl magazine
More in: - Book News, - Book Stories, Archive O-P, Art & Literature News, George Orwell, MUSEUM OF PUBLIC PROTEST, REPRESSION OF WRITERS, JOURNALISTS & ARTISTS, WAR & PEACE
---
From the Nobel Prize winner and best-selling author of Snow and My Name Is Red, a fable of fathers and sons and the desires that come between them.
On the outskirts of a town thirty miles from Istanbul, a master well digger and his young apprentice are hired to find water on a barren plain. As they struggle in the summer heat, excavating meter by meter, the two will develop a filial bond neither has known before –not the poor middle-aged bachelor nor the middle-class boy whose father disappeared after being arrested for politically subversive activities. The pair will come to depend on each other and exchange stories reflecting disparate views of the world.
But in the nearby town, where they buy provisions and take their evening break, the boy will find an irresistible diversion. The Red-Haired Woman, an alluring member of a travelling theatre company, catches his eye and seems as fascinated by him as he is by her. The young man's wildest dream will be realized, but, when in his distraction a horrible accident befalls the well digger, the boy will flee, returning to Istanbul. Only years later will he discover whether he was in fact responsible for his master's death and who the redheaded enchantress was.
Orhan Pamuk, is the author of many celebrated books, including The White Castle, Istanbul and Snow. In 2003 he won the International IMPAC Award for My Name is Red, and in 2006 he was awarded the Nobel Prize in Literature. His most recent novel, The Museum of Innocence, was an international bestseller, praised in the Guardian as 'an enthralling, immensely enjoyable piece of storytelling.' Orhan Pamuk lives in Istanbul.
The Red-Haired Woman
Orhan Pamuk
£16.99
Format Hardback
Published 07/09/2017
Length 272 pages
ISBN 9780571330294
Publisher Faber & Faber
fleursdumal.nl magazine
More in: - Book News, - Bookstores, Archive O-P, Art & Literature News, Orhan Pamuk
---
Lars Martin Johansson is a living legend. Cunning and perceptive, always one step ahead, he was known in the National Criminal Police as "the man who could see around corners." But now Johansson is retired, living in the country, his police days behind him.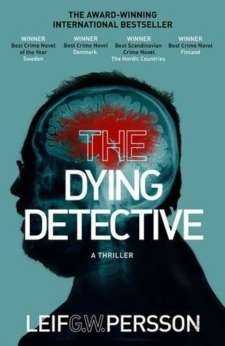 Or so he thinks.
After suffering a stroke, Johansson finds himself in the hospital. Tests show heart problems as well. And the only thing that can save him from despair is his doctor's mention of an unsolved murder case from years before. The victim: an innocent nine-year-old girl.
Johansson is determined to solve the case, no matter his condition. With the help of his assistant, Matilda, an amateur detective, and Max, an orphan with a personal stake in the case, he launches an informal investigation from his hospital bed. Racing against time, he uncovers a web of connections that links sex tourism to a dead opera singer and a self-made millionaire. And as Johansson draws closer to solving the crime, he finds that he will have to confront not just a mystery but his own mortality as well.
Leif G.W. Persson's previous novels include Backstrom: He Who Kills the Dragon, Between Summer's Longing and Winter's End, and Another Time, Another Life. He has served as an adviser to the Swedish ministry of justice and is Sweden's most renowned psychological profiler. A professor at the Swedish National Police Board, he is considered the country's foremost expert on crime.
The Dying Detective
A Mystery
By Leif GW Persson
Translated by Neil Smith
Category: Crime Mysteries
Paperback + Hardback
May 2017
432 Pages
Published by Transworld Publishers Ltd
ISBN10 085752089X
ISBN13 9780857520890
fleursdumal.nl magazine
More in: - Book News, - Book Stories, Archive O-P, Art & Literature News, CRIME & PUNISHMENT, Tales of Mystery & Imagination
---
Georges Perec (1936-1982) was ernstig getraumatiseerd door het verdwijnen van zijn ouders tijdens de Tweede Wereldoorlog, en onderging diverse psychoanalytische behandelingen tijdens zijn leven.
Het verklaart iets van het belang dat hij hechtte aan zijn dromen, die hij tussen mei 1968 en augustus 1972 noteerde in zijn dagboek, ook om in het reine te komen met een stukgelopen liefde
Perec kwam al doende een nieuwe manier van schrijven op het spoor die een verontrustende intensiteit had. De gefragmenteerde grondstof van nachtelijke hersenspinsels vormt in De duistere winkel een compleet verhaal, gedrenkt in humor en overlopend van stilistische hoogstandjes.
Georges Perec geldt als een van de meest ingenieuze moderne Franse schrijvers. Hij legde zich bij het schrijven vaak bewust formele restricties op. In De dingen bijvoorbeeld wordt geen dialoog gebruikt, wat aan het verhaal een fascinerende, zuiver epische transparantie geeft. Hij liet zich erop voorstaan dat hij nooit twee eendere boeken had geschreven. Toch draagt elk van zijn boeken het onloochenbare stempel van zijn scheppend vernuft.
Van Perec verschenen voortreffelijke vertalingen van de hand van Edu Borger, o.a. Het leven een gebruiksaanwijzing en De dingen.
Georges Perec
De duistere winkel
124 dromen
vertaling Edu Borger
Privé-domein nr 293
Uitgeverij De Arbeiderspers, Amsterdam
ISBN 9789029507554
240 pag. – juni 2017
paperback € 24,99
fleursdumal.nl magazine
More in: - Book News, Archive O-P, Art & Literature News, Georges Perec, OULIPO (PATAFYSICA), Tales of Mystery & Imagination
---
Drie dagen lang, in oktober 1974, posteerde Georges Perec zich in het Café de la Mairie in Parijs, dat uitkijkt op de Place Saint-Sulpice. Hij stelde zich tot doel álles te noteren wat hij waarnam. Het resulteerde in Tentative d'épuisement d'un lieu parisien.
'Mijn bedoeling op de volgende pagina's was vooral al het andere te beschrijven: dat wat je gewoonlijk niet opmerkt, wat er niet toe doet: wat er gebeurt wanneer er niets gebeurt, behalve tijd, mensen, auto's en wolken.'
Georges Perec  (1936 – 1982) was een Franse schrijver, essayist en film- en documentairemaker. Hij was een vooraanstaand lid van de Oulipo-groep (Ouvroir de littérature potentielle), een los verband van Franstalige schrijvers en wiskundigen, dat als doel heeft literaire werken te maken die aan bepaalde voorwaarden of beperkingen onderhevig zijn: littérature sous contraintes. Het kan daarbij gaan om beperkingen inzake het gebruik van letters, woorden, klanken, stijlen, enz. Deze beperkingen zijn niet alleen bedoeld als woord- en taalspelletjes, maar ook om de inspiratie en het vakmanschap van de auteurs aan te scherpen.
De vader van Perec stierf vroeg in de Tweede Wereldoorlog, de moeder werd vermoord in de Holocaust. In veel werken van Perec komt dit terug in een thematiek omtrent afwezigheid, verlies en identiteit.
Georges Perec
Pogingen tot uitputtende beschrijving van een plek in Parijs
Vertaling: Kiki Coumans
Uitgeverij Vleugels, 2017
ISBN: 9789078627319
48 pagina's
Prijs: € 19,45
# meer info website uitgeverij vleugels
fleursdumal.nl magazine
More in: - Book News, Archive O-P, Georges Perec, OULIPO (PATAFYSICA)
---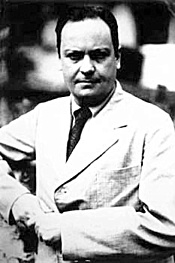 Genomineerden E. du Perronprijs 2016: Rodaan Al Galidi, Stefan Hertmans en Carolijn Visser – Arnon Grunberg houdt bij de prijsuitreiking de E. du Perronlezing donderdagavond 13 april 2017 in Tilburg
De schrijvers Rodaan Al Galidi, Stefan Hertmans en Carolijn Visser zijn genomineerd voor de E. du Perronprijs 2016. De prijs wordt toegekend aan personen of instellingen die met een cultuuruiting in brede zin een bijdrage leveren aan een beter begrip van de multiculturele samenleving. De uitreiking vindt plaats op donderdagavond 13 april 2017 bij het brabants kenniscentrum kunst en cultuur (bkkc) in Tilburg. Dan houdt Arnon Grunberg de E. du Perronlezing met als titel 'Het paradijs'.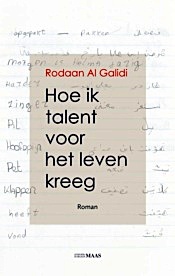 Rodaan Al Galidi – Hoe ik talent voor het leven kreeg (Uitgeverij Jurgen Maas)
Rodaan Al Galidi doet ons verslag van de leerschool die de Nederlandse asielprocedure is. Negen jaar wacht de hoofdpersoon Semmier Kariem op een beschikking in een van de vestigingen van het AZC. Negen jaar tussen aankomst in Nederland op de vlucht voor fysieke bedreiging en definitieve toelating wordt in dit verhaal invoelbaar als een oneindige mentale nekklem. Dat is het leergeld voor vluchtelingen die niet op uitnodiging de landsgrenzen passeren. Leerschool of wachtkamer, het talent van Rodaan Al Galidi is gerijpt. Deze vertellingen in de vorm van brieven aan een geïnteresseerde buitenstaander gericht laten ons alle kanten van hoop, lethargie, opstandigheid, beklag en ironie zien. De bewoners van het AZC leven op een mix van herinneringen, volharding, wanhoop; kortom overlevingsdrift. Het verslag is introspectief, zakelijk, ironisch en soms ronduit Kafkaësk. Met zijn stijl schraagt de verteller zijn bestaan en geeft hij vaart aan een eindeloos vertraagde tijd.
Stefan Hertmans – De bekeerlinge (Uitgeverij De Bezige Bij)
Bekering is een van de meest ingrijpende keuzes die een mens kan maken. Zij rukt het individu uit zijn vertrouwde verband dat bepaald wordt door afstamming en traditie. Toebehoren biedt vertrouwdheid en bescherming. Dit aanbod, deze burcht af te wijzen en te verlaten, te vluchten is een onomkeerbare daad. De bekeerling moet koersen op onbekende instrumenten: een nieuw geloof, een vreemde taal, een onbekend bestaan in een onbekend gebied. Stefan Hertmans voert ons mee in het historische verhaal van Vigdis Adelaïs, die uit liefde besluit een Joodse jongeman te volgen. Het is het einde van de 11e eeuw. Het sentiment van kruistochten hangt in de lucht. Een millennium later volgt Hertmans deze vlucht, fysiek door het landschap met gebruikmaking van bronnen en verbeelding. Verstoting, bedreiging en vlucht zijn van alle tijden. Hertmans is in staat om op heel persoonlijke manier het universele en bijzondere hiervan open te schrijven in een overtuigende roman.
Carolijn Visser – Selma. Aan Hitler ontsnapt, gevangene van Mao (Uitgeverij Augustus)
De titel van deze documentaire vertelling herinnert ons onmiddellijk aan het literaire cliché dat niets zo onwaarschijnlijk is als het leven zelf. Selma, een Joodse overlevende van de Holocaust, besluit met haar Chinese echtgenoot mee te gaan naar China in de jaren vijftig. Wat haar te wachten staat is het lot van intellectuelen en buitenlanders in de periode van de Culturele Revolutie. Het is de verdienste van Carolijn Visser om het onbeschrijfelijke glashelder aan ons te presenteren. Dat doet ze door vaardig te beschrijven wat er aan informatie bewaard is gebleven, maar net zo goed door betekenisvolle leemtes achter te laten. Selma is twee keer slachtoffer geworden van etnische uitsluiting. Ze staat niet voor grotere gehelen, ze was een individu dat voortdurend onder bedreiging van grotere verbanden, ideologieën leefde en uiteindelijk ook vermalen werd. Selma is een monument voor het kwetsbare individu.
E. du Perronprijs
De E. du Perronprijs is een initiatief van de gemeente Tilburg, de School of Humanities van Tilburg University en brabants kenniscentrum kunst en cultuur (bkkc). De prijs is bedoeld voor personen of instellingen die, net als Du Perron in zijn tijd, grenzen signaleren en doorbreken die wederzijds begrip tussen verschillende bevolkingsgroepen in de weg staan. De prijs bestaat uit een geldbedrag van €2500 euro en een textiel object, ontworpen door [NAAM] en vervaardigd bij het TextielMuseum. In 2015 won Ilja Leonard Pfeijffer de prijs voor zijn dichtbundel Idyllen, zijn pamflet Gelukszoekers en zijn columns in NRC Next. Andere laureaten waren onder meer Warna Oosterbaan & Theo Baart (2014), Mohammed Benzakour (2013), Koen Peeters (2012), Ramsey Nasr (2011), Alice Boot & Rob Woortman (2010), Abdelkader Benali (2009) en Adriaan van Dis (2008).
# Meer informatie over de du Perronprijs op website Tilburg University
fleursdumal.nl magazine
More in: - Book Lovers, Archive O-P, Art & Literature News, Eddy du Perron, Literary Events
---

Vlezige mensen, wethouders, poppetjes, kastjes
Welkom iedereen! Het thema van vanavond is: 'Verlichting'.
De stroming in de 17e en 18e eeuw die ons tot het inzicht heeft laten komen dat de Rede het enige instrument is om tot Waarheid te komen. Weg met het bijgeloof, weg met de onderdrukking van de kerk, weg met het feodale systeem, en op naar grondrechten, gelijkheid en vrijheid waarvoor vervolgens gestreden werd in de Franse Revolutie. Dit alles is uiteraard veroorzaakt door historici, filosofen en ontevreden burgers, maar niet enkel door hen. De Pamflettisten hebben zich een slag in de rondte gewerkt om iedereen te laten weten hoe vreselijk de adel was en dat de koning elke dag baadde in kinderbloed. Zij wisten met opruiende teksten, beschuldigingen, beledigingen en verdachtmakingen de burgerij voor zich te winnen. Ongeacht of de boodschap waarheid bevatte of niet.
Herkenbaar?
Wellicht dat we de pamflettisten van nu vanavond op het podium zullen zien.
Dan zullen we hen vast horen over wethouders van vroeger en van nu, en over andere mensen uit de politiek. Over hoe een of andere handeling van een of ander iemand exemplarisch is voor dit 'dorp' en haar mentaliteit.
Het kan ook zijn dat iemand in deze zaal hard wordt aangepakt. Maar niet té hard, het moet natuurlijk wel gezellig en grappig blijven. Maar om het grappig te laten zijn, moet het wel gaan over iemand die wij allemaal (persoonlijk) kennen, anders valt er niets te lachen. Als je dan niet lacht ben je de gebeten hond en dus iemand zonder humor.
Harde uitspraken moeten grappig zijn, anders zijn ze alleen maar pijnlijk! Jongens, lach dan, lach dan!
Het lijkt wel een formule. Een pamfletformule!
Eens kijken, wat zou de formule deze avond kunnen bevatten?
Ik gok dat het woord 'dorp' toch wel een aantal keer valt.
Wethouder van Cultuur Marjo Frenk is een goede kansmaker op een naamsvermelding denk ik.
Anton Dautzenberg komt vast weer met een sexuele verdachtmaking van iemand, misschien voormalig stadsdichter Cees van Raak die seks heeft gehad met de hond van Daan Taks? (Nachtdichter van Tilburg.) Wellicht betrekt hij er een landelijke bekendheid in, want dat onderscheid moet uiteraard gemaakt worden! Het onderscheid tussen de landelijke bekendheid versus het provincialisme dat noodzakelijk in die zin betrokken is als je een accent legt op lándelijke bekendheid. Hij wel, verdomme. Dan maar een grapje maken: Poep! Ha. Ha. Ha. Enig!
Misschien houdt Anton (zo mag ik 'm noemen, zegt ook weer wat over mij, ik ken hem. Dat maakt mij iets meer immuun voor zijn harde uitspraken die mij mogelijk te wachten staan. Wauw!) eerder een betoog over iets met bloed en de nachtburgemeester Godelieve Engbersen. Iets over een moord die gepleegd is waarbij wederom de hond van Daan Taks betrokken was.
Luuk Koelman zal hoe dan ook de woede van heel het land op de hals halen met zijn column, dat moet haast wel. Als je de woede van bijna heel het land al op de hals hebt gehaald, met de column over Mariska Orbán-de Haas, dan moet je toch minstens het hele land boos maken wil je nog opvallen. Maar wij in de zaal zijn 'insiders on the joke' dus wij kunnen dan met een gerust hart zeggen dat de rest van het land zo kleinburgerlijk is en nooit iets snapt. "Hoe kun je die ironie nou niet inzien? On-be-grijpelijk", fluistert ene Lidy uit Tilburg dan tegen haar man Hans; "Wij zijn dan nog behoorlijk open-minded, toch Hans?" "Gelukkig maar."
Wat maakt het toch zo smakelijk, dat pakken op de persoon, de Ad Hominem?
"Polemiek!" Hoor ik Antonnetje en zijn billemaat Erik Hannema roepen in mijn hoofd.
Ja, polemiek jongens, polemiek! Het is een kunst, dat moet gezegd, maar bedrijf het dan ook! Polemiek betekent redetwisten. Daar hebben we het woord 'rede' dus weer. Diezelfde rede die ons tot de waarheid zou kunnen brengen. De twee deelnemers zouden het komen tot waarheid hoog in het vaandel hebben staan, waarom zou je anders redetwisten? Om je gelijk te halen misschien? Zou kunnen, maar een gelijk zonder daadwerkelijk gelijk lijkt mij weinig voldoenend. Misschien wordt deze kunst wel veel bedreven op avonden zoals deze uit een gevoel van nostalgie: "Vroeger kon men dit nog, vroeger was er nog iets om voor te strijden, vroeger waren er nog revoluties in het Westen!" Onrust stoken om mensen op te ruien en te motiveren. Maar, waarom zou je dan mensen persoonlijk pakken met fictieve gebeurtenissen of –verdachtmakingen?
Misschien omdat het te lang bespreken van de ware gebeurtenissen, fouten en terechte verdachtmakingen te pijnlijk en ongemakkelijk is. Het moet wel gezellig blijven en dus worden er een paar fictieve gebeurtenissen tussen de regels geplakt zodat de mogelijkheid dat de ware gebeurtenissen ook fictief zijn nog blijft bestaan.
We willen wel de roddels maar niet de confrontatie, niet echt. We willen alleen de smakelijke sappige details mits ze weinig lijken te zeggen over onszelf. Is ook makkelijker natuurlijk! De ander is gek, de ander is grappig.
Is het waar dat men vroeger dan wel eindeloos opzoek was naar de waarheid? Ik denk het niet, althans, niet meer dan nu. Ten tijde van de Franse Revolutie verzon de lage adel er ook op los, wat er maar nodig was om de burgers aan hun kant te krijgen. Dat dit lukte en uiteindelijk meer vrijheid tot stand bracht is een feit. Al waren de donkere tijden van de middeleeuwen iets minder donker dan zij ons tot op de dag van vandaag hebben doen denken. Maar zij deden dit met gevaar voor eigen leven, niet braaf in een zaal in Tilburg. Waarom zouden wij dan een hang hebben naar die revoluties van vroeger en de pamflettaal die daarmee samenhangt? Welke donkere tijden proberen wij te ontvluchten?
Kijk, Jace vd Ven (eerste stadsdichter van Tilburg) komt uit vroeger, dus hij hoeft het vroeger niet naar nu te trekken. Hij weet al hoe het toen was en kan hoogstens oprecht nostalgische gevoelens ervaren. Juist doordat hij uit vroeger komt weet hij ook dat de geschiedenis zich herhaalt. Hij kan zijn nootjes pakken, naar de show kijken en pogen iets universeels te schrijven als dichter. Want dat kan hij. Jace kan, en misschien wel hierdoor, gedichten maken die buiten de tijd staan. Dat is wat een goed gedicht doet.
Misschien dat Tom America ons nog een vieze film toont, met in een soundscape de naam van Burgermeester Noordanus in herhaling. Of iets met een jong Thais meisje, gespeeld door mij, dan kunnen we dat meteen voor het TilT-festival gebruiken, Tom! Theatermaker Peer de Graaf en dichter Martin Beversluis doen dan samen een interpretatieve dans, naakt uiteraard.
Nu, ik hoop dat u precies vaak genoeg genoemd wordt deze avond om belangrijk gevonden te worden, maar net te weinig om uw ziel ontbloot te voelen.
De formule zal het leren: Pastor Harm Schilder + grapje over piemeltjes van jonge jongens = hihi. Tilburg culturele hoofdstad + iets met de VVD + naamsbekendheid want ik ken d'n dieje – lekker gewoon gebleven = haha.
Deze avond gaat ons hopelijk enorm verlichten. Of de rede hier zegeviert kunt u allen zelf bepalen, we houden na afloop een opiniepeiling in het licht van: 'uw stem is ook belangrijk', dit past binnen het thema waar de pamflettisten zo voor gepamfletteerd hebben: Gelijkheid. Het bespotten van de poppetjes kan beginnen!
Het lucht vast wel op, dus in die zin wellicht…. Verlichting.
Esther Porcelijn, 19 jan 2013
(Column voorgedragen tijdens 'Schuimt', columnistenbijeenkomst met o.a. Anton Dautzenberg, Luuk Koelman, JACE vd Ven, en Tom America, in jazzpodium Paradox in Tilburg)
More in: Archive O-P, Archive O-P, Porcelijn, Esther, Porcelijn, Esther
---
Older Entries »
« Newer Entries
Thank you for reading FLEURSDUMAL.NL - magazine for art & literature