Archive O-P
«« Previous page
·
Esther Porcelijn: Half ons verstand
·
Esther Porcelijn: Hondje
·
Edgar Allan Poe: Eleonora
·
George Orwell: The Lesser Evil
·
Edgar Allan Poe: The Facts in the Case of M. Valdemar
·
Edgar Allan Poe: Old English Poetry
·
Edgar Allan Poe: The Tell-Tale Heart
·
Edgar Allan Poe: The Black Cat
·
Edgar Allan Poe: Von Kempelen and his Discovery
·
Edgar Allan Poe: The Masque of the Red Death
·
Luigi Pirandello: War
Half ons verstand
Mag ik een half ons verstand, drie kilo geluk, twee keer ingevroren welvaart, een paar pakjes behulpzaamheid, wat inlevingsvermogen, zeven vrienden, en wat appeltaart een enkel frietje, twee wodka-lime, en als het kan nog een verse bos cafeïne om de dag door te komen..
Wat sperziebonen om mijn vuist omheen te ballen, die heeft u ook?
Een heel oud vrouwtje om te kunnen concluderen dat ik nog zeeën van tijd heb.
Ik zal haar laten oversteken, aan de hand nemen en over het zebrapad helpen.
Mag ik zeven dwergen die mij kunnen dragen als ik moe ben.
En een man die van mij houdt. Die telkens als ik er niet meer in geloof op mij afrent en zegt: "Ik geloof in je, IK wél!"
Begrijpt u wat ik bedoel?
Hij moet onopvallend zijn op momenten dat ik hem niet nodig heb, en elke keer dat ik hem wel nodig heb op mij afrennen, al ben ik in Schagen.
Ik wil een vis die mij aankijkt, en waarvan ik merk dat hij mij echt aankijkt, als enige, hij hoeft zijn kieuwen maar te bewegen en ik weet wat ik vandaag moet gaan doen.
De wereld redden, ik wil de wereld redden. Hem eerst precies in het midden doorsnijden,
en dan oplepelen als een kiwi. Hij zal zoet smaken, met een warme vulling.
Hebt u daar een mes voor?
Alle mensen op de wereld zullen op een gerimpeld land wonen, ze houden elkaars handen vast om er niet vanaf te vallen.
Ik zoek ook nog muziek, muziek die ik kan vervormen naar mijn bui. Het is maar één cd en ik kan horen wat ik wil horen.
Kleuren, ik zoek kleuren die er niet bestaan, ik wil mij kunnen voorstellen dat er een kleur is die ik nog nooit heb gezien, en het is niet een soort oranje, of een soort blauw.
Het is iets anders.
Anders nog iets?
Ja iets racistisch, ik mag graag iets racistisch, een grote KKK muts die mode wordt, ik zal iedereen dwingen om hem te dragen.
Dan heb ik, als ik mij verveel, iets om naar te kijken.
Één dag almachtig, en ik ben de koning van het land, en het land is veel kleiner dan we tot nu toe dachten, het is een land met 6 miljard van dezelfde mensen die opeens de ingeving krijgen helemaal niet hetzelfde te zijn, ze zullen in de bomen klimmen en het volkslied zingen, de vogels zullen in huizen wonen en klagen over het weer en de belastingdienst.
Hiernaast deden ze er nogal moeilijk over, maar dit hadden ze wel!
Mag ik ook een vrachtschip met veertig indianen, die heel gelukkig in een container dansen, om de lijken heen van diegene die het niet overleefd hebben.
Daarbij zoek ik jaren naar een pil waarmee je de hele nacht door kan dansen, en niet omdat je heel veel energie hebt, maar omdat de tijd is gestopt.
In die tijd zal ik dansen met de rest. Het zal bezaaid zijn met allerlei.
Vooral met dictatoren die de avond van hun leven hebben, Lenin, Stalin, Hitler, Mussolini hebben de grootste pret, discussietafels waar je kan aanschuiven, even bijkletsen met Julius Caesar, hij ziet er heerlijk uit, en heeft de gordijnen aan de muur om zich heen gedrapeerd.
Iedereen loopt langs de tafels, en speelt het grote 'visies' kwartet met de dictatoren.
Wie wint krijgt een kasteel.
Zodra de tijd het weer doet wonen alle dictatoren samen in het kasteel, hoog in de lucht.
Daar zullen ze neerkijken op het volk, zoals ze dat altijd al hebben gedaan. Ze zullen lachen. En wij beneden kwartetten met levens.
Mag ik van jou de boer? Dan krijg jij van mij de vrouw.
Nee doe mij maar een heer! Die krijg ik maar niet te pakken.
Een joker, een heer, wat is het verschil?
De mens heeft gewonnen.
En daarom zoek ik een trofee, Een trofee voor de gewonnen mens.
De mens die uit de polder is opgeklommen om zijn vinger in de dijk te doen omdat het water anders van hem wint.
Mag ik u dus met nadruk vragen om een berg om de trofee op te zetten.
Wie wil mag komen kijken.
Ik wil een wortel. Afgeblust met een beetje vrede..
Hier opeten alstublieft..
U hebt geen wortel?
Dan ga ik wel naar hiernaast..
Ik neem er ook één voor u mee.
Hier opeten alstublieft.
Esther Porcelijn 2012
Esther Porcelijn is stadsdichter van Tilburg
kempis.nl poetry magazine
More in: Archive O-P, Porcelijn, Esther, Porcelijn, Esther
---

Hondje
Gaan we naar buiten? Gaan we naar buiten? Jaa we gaan naar buiten! We gaan naar buiten, jaa! Mijn baas. Mijn geweldige baas. Zo loyaal en mooi en perfect en hij kan goed koken. Ik dacht dat ik altijd alleen zou blijven, dat niemand mij zou willen maar toen kwam hij en toen en toen en en en en. We gaan naar buiten!
Baas lacht. De tanden bloot. Grr. Ja baas. Grr. Boos! Ik ben ook boos. Grr. Samen boos! Jaa! Blote tanden baas! Heel bloot! Gaan we nog naar buiten baas? Ja? Ja! Baas begrijpt mij altijd goed. Weet precies wat ik leuk vind en ook wat ik niet leuk vind. Ik vind leuk: eten, en vooral lekker eten, stukje vlees, en ik vind leuk: goed geaaid worden en geborsteld, en een mooi bed en ik vind ook leuk: om anderen weg te jagen en het huis bewaken vind ik ook leuk. Wat ik niet leuk vind: katten, poedels en cavia's. Die moeten maar weg, die zijn niet leuk. En ik vind ook niet leuk: anderen die de baas spelen. Ik ben de baas. IK ben de baas, en baas zegt ook altijd: "wij zijn de baas!" Ha! En ik vind raar eten ook niet leuk. Maar knakworsten wel, want die zijn normaal.
Ja, we gaan naar buiten! Samen de baas van buiten! Sinds ik baas heb, durf ik veel sneller te happen naar vreemden. Ik vond ze altijd al niet leuk, maar nu zijn we samen de baas. Ha! Baas is vrolijk boos. Hij heeft gekke blote tanden. Even hier plassen. En hier. Baas trekt me hard weg. Maar ik wil plassen baas! Baas zegt nee. Hij rinkelt met sleutels. Maar ik wil hier plassen, en hier nog een druppel. Zo. Toch gedaan. Nu ben ik de baas van de neuzen van de vreemden. Baas is ineens boos. Boze baas. Sorry baas echt sorry sorry maar ik wil nog even hier plassen. Baas. BAAS!! Ik wil hier nog even. Ah toeeee! Nou baahaas! Hij trekt mij mee. Hij laat mij nooit helemaal los. Maar ik kan toch zo ver lopen als baas wil, en dat is ver genoeg. Baas doet ineens gek. Rinkelt weer met zijn sleutels. Hoge piep. Grr.. boos. Hij tilt mij op en duwt mij in zijn wielenmachine. Dat gebruikt baas omdat hij niet zo hard kan rennen als ik. Elke dag gaat hij daarin en dan is hij lang weg en dan denk ik dat hij nooit meer terugkomt maar dan komt hij toch altijd weer terug. O, wat ben ik dan blij. Ik hoef nooit in de wielenmachine, alleen als ik ziek ben. Maar ik ben niet ziek en ik ben in de wielenmachine. Baas!! Baaaas!! Naast mij ligt een grote koffer, ik ruik eraan. Het ruikt naar, naar naar.. Die machine waar baas altijd zijn vacht in schoonmaakt! Waarom baas? Je hebt al een vacht aan! Één met bloemen erop vandaag.
Baas doet lief maar is boos. Ik zie dat. Hij praat nu lief zoals normaal maar ik zie aan zijn tanden dat hij boos is. Hij doet neplief. Stom.
Oo, maar andere wielenmachines! Die zijn ook leuk. Met baas ben ik niet meer alleen, zoef zoef zoef zoef zoef, overal wielenmachines en we gaan veel sneller dan ik kan rennen. Zoef! Samen de baas, baas? Samen de baas? Baas doet boos. Baas is boos. Hij roept "af" en nog wat andere dingen die ik niet versta. En hij wil niet dat we samen roepen. Alleen hij mag nu roepen. Goed dan. Ik ga wel een rondje om mijzelf heen waggelen in de wielenmachine. Nu lig ik beter. Ik lig goed. Maar dan stopt de wielenmachine. Oo ik mag eruit! Gaan we naar buiten baas? Gaan we naar buiten??
Ja, we gaan naar buiten. Jaa!
Baas pakt mij bij mijn kraag en trekt mij naar buiten. Grr baas, grr!!! Boos!
Hij slaat mij op mijn hoofd, dan draait het even. Whaa.. dat is gek, maar niet fijn gek, stom gek. We lopen naar een boom! Jaa, toch nog een plas doen! Whaa! Even een baas zijn van de neuzen! Jaa!! Jaa baas?
Maar hij pakt mij bij de kraag en ik hoor klik en dan zegt hij iets met veel û en o klanken.
Baas loopt weg.
BaBaas? Waar ga je heen baas? Ben je weer lang weg? Baas?? Ik loop achter baas aan maar ik word teruggetrokken. Hallo! Baas! Ik zit vast baas!
Baas doet niets. Hij gaat in zijn wielenmachine en zoeft weg.
Naast mij zoeven nog heel veel wielenmachines. Zoef-zoef-zoef-zoef. Hele hoge en lage tonen. Baas komt vast nog wel met een stuk vlees. Of een cavia om te bijten. Of een fris kussen waar ik dan de baas van mag zijn. Of met een aai.
Vast aan de boom. 't Trekt aan mijn hals. Bah. Flauw. Stom. Baas was een nepbaas. Ik ben nu wel buiten, dat wel.
Esther Porcelijn 2012
Esther Porcelijn is stadsdichter van Tilburg
kempis.nl poetry magazine

More in: Archive O-P, Porcelijn, Esther, Porcelijn, Esther
---
Edgar Allan Poe
(1809-1849)

Eleonora
I am come of a race noted for vigor of fancy and ardor of passion. Men have called me mad; but the question is not yet settled, whether madness is or is not the loftiest intelligence — whether much that is glorious- whether all that is profound — does not spring from disease of thought — from moods of mind exalted at the expense of the general intellect. They who dream by day are cognizant of many things which escape those who dream only by night. In their gray visions they obtain glimpses of eternity, and thrill, in awakening, to find that they have been upon the verge of the great secret. In snatches, they learn something of the wisdom which is of good, and more of the mere knowledge which is of evil. They penetrate, however, rudderless or compassless into the vast ocean of the "light ineffable," and again, like the adventures of the Nubian geographer, "agressi sunt mare tenebrarum, quid in eo esset exploraturi."
We will say, then, that I am mad. I grant, at least, that there are two distinct conditions of my mental existence — the condition of a lucid reason, not to be disputed, and belonging to the memory of events forming the first epoch of my life — and a condition of shadow and doubt, appertaining to the present, and to the recollection of what constitutes the second great era of my being. Therefore, what I shall tell of the earlier period, believe; and to what I may relate of the later time, give only such credit as may seem due, or doubt it altogether, or, if doubt it ye cannot, then play unto its riddle the Oedipus.
She whom I loved in youth, and of whom I now pen calmly and distinctly these remembrances, was the sole daughter of the only sister of my mother long departed. Eleonora was the name of my cousin. We had always dwelled together, beneath a tropical sun, in the Valley of the Many-Colored Grass. No unguided footstep ever came upon that vale; for it lay away up among a range of giant hills that hung beetling around about it, shutting out the sunlight from its sweetest recesses. No path was trodden in its vicinity; and, to reach our happy home, there was need of putting back, with force, the foliage of many thousands of forest trees, and of crushing to death the glories of many millions of fragrant flowers. Thus it was that we lived all alone, knowing nothing of the world without the valley — I, and my cousin, and her mother.
From the dim regions beyond the mountains at the upper end of our encircled domain, there crept out a narrow and deep river, brighter than all save the eyes of Eleonora; and, winding stealthily about in mazy courses, it passed away, at length, through a shadowy gorge, among hills still dimmer than those whence it had issued. We called it the "River of Silence"; for there seemed to be a hushing influence in its flow. No murmur arose from its bed, and so gently it wandered along, that the pearly pebbles upon which we loved to gaze, far down within its bosom, stirred not at all, but lay in a motionless content, each in its own old station, shining on gloriously forever.
The margin of the river, and of the many dazzling rivulets that glided through devious ways into its channel, as well as the spaces that extended from the margins away down into the depths of the streams until they reached the bed of pebbles at the bottom, — these spots, not less than the whole surface of the valley, from the river to the mountains that girdled it in, were carpeted all by a soft green grass, thick, short, perfectly even, and vanilla-perfumed, but so besprinkled throughout with the yellow buttercup, the white daisy, the purple violet, and the ruby-red asphodel, that its exceeding beauty spoke to our hearts in loud tones, of the love and of the glory of God.
And, here and there, in groves about this grass, like wildernesses of dreams, sprang up fantastic trees, whose tall slender stems stood not upright, but slanted gracefully toward the light that peered at noon-day into the centre of the valley. Their mark was speckled with the vivid alternate splendor of ebony and silver, and was smoother than all save the cheeks of Eleonora; so that, but for the brilliant green of the huge leaves that spread from their summits in long, tremulous lines, dallying with the Zephyrs, one might have fancied them giant serpents of Syria doing homage to their sovereign the Sun.
Hand in hand about this valley, for fifteen years, roamed I with Eleonora before Love entered within our hearts. It was one evening at the close of the third lustrum of her life, and of the fourth of my own, that we sat, locked in each other's embrace, beneath the serpent-like trees, and looked down within the water of the River of Silence at our images therein. We spoke no words during the rest of that sweet day, and our words even upon the morrow were tremulous and few. We had drawn the God Eros from that wave, and now we felt that he had enkindled within us the fiery souls of our forefathers. The passions which had for centuries distinguished our race, came thronging with the fancies for which they had been equally noted, and together breathed a delirious bliss over the Valley of the Many-Colored Grass. A change fell upon all things. Strange, brilliant flowers, star-shaped, burn out upon the trees where no flowers had been known before. The tints of the green carpet deepened; and when, one by one, the white daisies shrank away, there sprang up in place of them, ten by ten of the ruby-red asphodel. And life arose in our paths; for the tall flamingo, hitherto unseen, with all gay glowing birds, flaunted his scarlet plumage before us. The golden and silver fish haunted the river, out of the bosom of which issued, little by little, a murmur that swelled, at length, into a lulling melody more divine than that of the harp of Aeolus-sweeter than all save the voice of Eleonora. And now, too, a voluminous cloud, which we had long watched in the regions of Hesper, floated out thence, all gorgeous in crimson and gold, and settling in peace above us, sank, day by day, lower and lower, until its edges rested upon the tops of the mountains, turning all their dimness into magnificence, and shutting us up, as if forever, within a magic prison-house of grandeur and of glory.
The loveliness of Eleonora was that of the Seraphim; but she was a maiden artless and innocent as the brief life she had led among the flowers. No guile disguised the fervor of love which animated her heart, and she examined with me its inmost recesses as we walked together in the Valley of the Many-Colored Grass, and discoursed of the mighty changes which had lately taken place therein.
At length, having spoken one day, in tears, of the last sad change which must befall Humanity, she thenceforward dwelt only upon this one sorrowful theme, interweaving it into all our converse, as, in the songs of the bard of Schiraz, the same images are found occurring, again and again, in every impressive variation of phrase.
She had seen that the finger of Death was upon her bosom — that, like the ephemeron, she had been made perfect in loveliness only to die; but the terrors of the grave to her lay solely in a consideration which she revealed to me, one evening at twilight, by the banks of the River of Silence. She grieved to think that, having entombed her in the Valley of the Many-Colored Grass, I would quit forever its happy recesses, transferring the love which now was so passionately her own to some maiden of the outer and everyday world. And, then and there, I threw myself hurriedly at the feet of Eleonora, and offered up a vow, to herself and to Heaven, that I would never bind myself in marriage to any daughter of Earth — that I would in no manner prove recreant to her dear memory, or to the memory of the devout affection with which she had blessed me. And I called the Mighty Ruler of the Universe to witness the pious solemnity of my vow. And the curse which I invoked of Him and of her, a saint in Helusion should I prove traitorous to that promise, involved a penalty the exceeding great horror of which will not permit me to make record of it here. And the bright eyes of Eleonora grew brighter at my words; and she sighed as if a deadly burthen had been taken from her breast; and she trembled and very bitterly wept; but she made acceptance of the vow, (for what was she but a child?) and it made easy to her the bed of her death. And she said to me, not many days afterward, tranquilly dying, that, because of what I had done for the comfort of her spirit she would watch over me in that spirit when departed, and, if so it were permitted her return to me visibly in the watches of the night; but, if this thing were, indeed, beyond the power of the souls in Paradise, that she would, at least, give me frequent indications of her presence, sighing upon me in the evening winds, or filling the air which I breathed with perfume from the censers of the angels. And, with these words upon her lips, she yielded up her innocent life, putting an end to the first epoch of my own.
Thus far I have faithfully said. But as I pass the barrier in Times path, formed by the death of my beloved, and proceed with the second era of my existence, I feel that a shadow gathers over my brain, and I mistrust the perfect sanity of the record. But let me on. — Years dragged themselves along heavily, and still I dwelled within the Valley of the Many-Colored Grass; but a second change had come upon all things. The star-shaped flowers shrank into the stems of the trees, and appeared no more. The tints of the green carpet faded; and, one by one, the ruby-red asphodels withered away; and there sprang up, in place of them, ten by ten, dark, eye-like violets, that writhed uneasily and were ever encumbered with dew. And Life departed from our paths; for the tall flamingo flaunted no longer his scarlet plumage before us, but flew sadly from the vale into the hills, with all the gay glowing birds that had arrived in his company. And the golden and silver fish swam down through the gorge at the lower end of our domain and bedecked the sweet river never again. And the lulling melody that had been softer than the wind-harp of Aeolus, and more divine than all save the voice of Eleonora, it died little by little away, in murmurs growing lower and lower, until the stream returned, at length, utterly, into the solemnity of its original silence. And then, lastly, the voluminous cloud uprose, and, abandoning the tops of the mountains to the dimness of old, fell back into the regions of Hesper, and took away all its manifold golden and gorgeous glories from the Valley of the Many-Colored Grass.
Yet the promises of Eleonora were not forgotten; for I heard the sounds of the swinging of the censers of the angels; and streams of a holy perfume floated ever and ever about the valley; and at lone hours, when my heart beat heavily, the winds that bathed my brow came unto me laden with soft sighs; and indistinct murmurs filled often the night air, and once — oh, but once only! I was awakened from a slumber, like the slumber of death, by the pressing of spiritual lips upon my own.
But the void within my heart refused, even thus, to be filled. I longed for the love which had before filled it to overflowing. At length the valley pained me through its memories of Eleonora, and I left it for ever for the vanities and the turbulent triumphs of the world.
I found myself within a strange city, where all things might have served to blot from recollection the sweet dreams I had dreamed so long in the Valley of the Many-Colored Grass. The pomps and pageantries of a stately court, and the mad clangor of arms, and the radiant loveliness of women, bewildered and intoxicated my brain. But as yet my soul had proved true to its vows, and the indications of the presence of Eleonora were still given me in the silent hours of the night. Suddenly these manifestations they ceased, and the world grew dark before mine eyes, and I stood aghast at the burning thoughts which possessed, at the terrible temptations which beset me; for there came from some far, far distant and unknown land, into the gay court of the king I served, a maiden to whose beauty my whole recreant heart yielded at once — at whose footstool I bowed down without a struggle, in the most ardent, in the most abject worship of love. What, indeed, was my passion for the young girl of the valley in comparison with the fervor, and the delirium, and the spirit-lifting ecstasy of adoration with which I poured out my whole soul in tears at the feet of the ethereal Ermengarde? — Oh, bright was the seraph Ermengarde! and in that knowledge I had room for none other. — Oh, divine was the angel Ermengarde! and as I looked down into the depths of her memorial eyes, I thought only of them — and of her.
I wedded; — nor dreaded the curse I had invoked; and its bitterness was not visited upon me. And once — but once again in the silence of the night; there came through my lattice the soft sighs which had forsaken me; and they modelled themselves into familiar and sweet voice, saying:
"Sleep in peace! — for the Spirit of Love reigneth and ruleth, and, in taking to thy passionate heart her who is Ermengarde, thou art absolved, for reasons which shall be made known to thee in Heaven, of thy vows unto Eleonora."
Edgar Allan Poe: Eleonora

kempis.nl poetry magazine
More in: Archive O-P, Edgar Allan Poe, Poe, Edgar Allan
---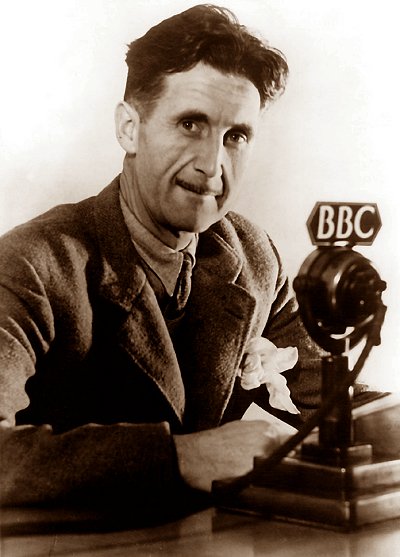 George Orwell
(1903-1950)
The Lesser Evil
Empty as death and slow as pain
The days went by on leaden feet;
And parson's week had come again
As I walked down the little street.
Without, the weary doves were calling,
The sun burned on the banks of mud;
Within, old maids were caterwauling
A dismal tale of thorns and blood.
I thought of all the church bells ringing
In towns that Christian folks were in;
I heard the godly maidens singing;
I turned into the house of sin.
The house of sin was dark & mean,
With dying flowers round the door;
They spat their betel juice between
The rotten bamboos of the floor.
Why did I come, the woman cried,
So seldom to her beds of ease?
When I was not, her spirit died,
And would I give her ten rupees.
The weeks went by, and many a day
That black-haired woman did implore
Me as I hurried on my way
To come more often than before.
The days went by like dead leaves falling
And parson's week came round again.
Once more devout old maids were bawling
Their ugly rhymes of death and pain.
The woman waited for me there
As down the little street I trod;
And musing upon her oily hair,
I turned into the house of God.
KEMP=MAG # kempis.nl poetry magazine
More in: Archive O-P, Archive O-P, George Orwell
---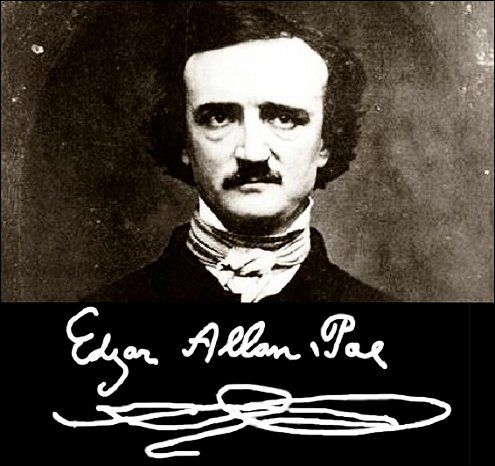 Edgar Allan Poe
(1809-1849)

The Facts in the Case of M. Valdemar
Of course I shall not pretend to consider it any matter for wonder, that the extraordinary case of M. Valdemar has excited discussion. It would have been a miracle had it not-especially under the circumstances. Through the desire of all parties concerned, to keep the affair from the public, at least for the present, or until we had farther opportunities for investigation — through our endeavors to effect this — a garbled or exaggerated account made its way into society, and became the source of many unpleasant misrepresentations, and, very naturally, of a great deal of disbelief.
It is now rendered necessary that I give the facts — as far as I comprehend them myself. They are, succinctly, these:
My attention, for the last three years, had been repeatedly drawn to the subject of Mesmerism; and, about nine months ago it occurred to me, quite suddenly, that in the series of experiments made hitherto, there had been a very remarkable and most unaccountable omission: — no person had as yet been mesmerized in articulo mortis. It remained to be seen, first, whether, in such condition, there existed in the patient any susceptibility to the magnetic influence; secondly, whether, if any existed, it was impaired or increased by the condition; thirdly, to what extent, or for how long a period, the encroachments of Death might be arrested by the process. There were other points to be ascertained, but these most excited my curiosity — the last in especial, from the immensely important character of its consequences.
In looking around me for some subject by whose means I might test these particulars, I was brought to think of my friend, M. Ernest Valdemar, the well-known compiler of the "Bibliotheca Forensica," and author (under the nom de plume of Issachar Marx) of the Polish versions of "Wallenstein" and "Gargantua." M. Valdemar, who has resided principally at Harlaem, N.Y., since the year 1839, is (or was) particularly noticeable for the extreme spareness of his person — his lower limbs much resembling those of John Randolph; and, also, for the whiteness of his whiskers, in violent contrast to the blackness of his hair — the latter, in consequence, being very generally mistaken for a wig. His temperament was markedly nervous, and rendered him a good subject for mesmeric experiment. On two or three occasions I had put him to sleep with little difficulty, but was disappointed in other results which his peculiar constitution had naturally led me to anticipate. His will was at no period positively, or thoroughly, under my control, and in regard to clairvoyance, I could accomplish with him nothing to be relied upon. I always attributed my failure at these points to the disordered state of his health. For some months previous to my becoming acquainted with him, his physicians had declared him in a confirmed phthisis. It was his custom, indeed, to speak calmly of his approaching dissolution, as of a matter neither to be avoided nor regretted.
When the ideas to which I have alluded first occurred to me, it was of course very natural that I should think of M. Valdemar. I knew the steady philosophy of the man too well to apprehend any scruples from him; and he had no relatives in America who would be likely to interfere. I spoke to him frankly upon the subject; and, to my surprise, his interest seemed vividly excited. I say to my surprise, for, although he had always yielded his person freely to my experiments, he had never before given me any tokens of sympathy with what I did. His disease was if that character which would admit of exact calculation in respect to the epoch of its termination in death; and it was finally arranged between us that he would send for me about twenty-four hours before the period announced by his physicians as that of his decease.
It is now rather more than seven months since I received, from M. Valdemar himself, the subjoined note:
My DEAR P — ,
You may as well come now. D — and F — are agreed that I cannot hold out beyond to-morrow midnight; and I think they have hit the time very nearly.
VALDEMAR
I received this note within half an hour after it was written, and in fifteen minutes more I was in the dying man's chamber. I had not seen him for ten days, and was appalled by the fearful alteration which the brief interval had wrought in him. His face wore a leaden hue; the eyes were utterly lustreless; and the emaciation was so extreme that the skin had been broken through by the cheek-bones. His expectoration was excessive. The pulse was barely perceptible. He retained, nevertheless, in a very remarkable manner, both his mental power and a certain degree of physical strength. He spoke with distinctness — took some palliative medicines without aid — and, when I entered the room, was occupied in penciling memoranda in a pocket-book. He was propped up in the bed by pillows. Doctors D — and F — were in attendance.
After pressing Valdemar's hand, I took these gentlemen aside, and obtained from them a minute account of the patient's condition. The left lung had been for eighteen months in a semi-osseous or cartilaginous state, and was, of course, entirely useless for all purposes of vitality. The right, in its upper portion, was also partially, if not thoroughly, ossified, while the lower region was merely a mass of purulent tubercles, running one into another. Several extensive perforations existed; and, at one point, permanent adhesion to the ribs had taken place. These appearances in the right lobe were of comparatively recent date. The ossification had proceeded with very unusual rapidity; no sign of it had discovered a month before, and the adhesion had only been observed during the three previous days. Independently of the phthisis, the patient was suspected of aneurism of the aorta; but on this point the osseous symptoms rendered an exact diagnosis impossible. It was the opinion of both physicians that M. Valdemar would die about midnight on the morrow (Sunday). It was then seven o'clock on Saturday evening.
On quitting the invalid's bed-side to hold conversation with myself, Doctors D — and F — had bidden him a final farewell. It had not been their intention to return; but, at my request, they agreed to look in upon the patient about ten the next night.
When they had gone, I spoke freely with M. Valdemar on the subject of his approaching dissolution, as well as, more particularly, of the experiment proposed. He still professed himself quite willing and even anxious to have it made, and urged me to commence it at once. A male and a female nurse were in attendance; but I did not feel myself altogether at liberty to engage in a task of this character with no more reliable witnesses than these people, in case of sudden accident, might prove. I therefore postponed operations until about eight the next night, when the arrival of a medical student with whom I had some acquaintance, (Mr. Theodore L — l,) relieved me from farther embarrassment. It had been my design, originally, to wait for the physicians; but I was induced to proceed, first, by the urgent entreaties of M. Valdemar, and secondly, by my conviction that I had not a moment to lose, as he was evidently sinking fast.
Mr. L — l was so kind as to accede to my desire that he would take notes of all that occurred, and it is from his memoranda that what I now have to relate is, for the most part, either condensed or copied verbatim.
It wanted about five minutes of eight when, taking the patient's hand, I begged him to state, as distinctly as he could, to Mr. L — l, whether he (M. Valdemar) was entirely willing that I should make the experiment of mesmerizing him in his then condition.
He replied feebly, yet quite audibly, "Yes, I wish to be "I fear you have mesmerized" — adding immediately afterwards, deferred it too long."
While he spoke thus, I commenced the passes which I had already found most effectual in subduing him. He was evidently influenced with the first lateral stroke of my hand across his forehead; but although I exerted all my powers, no farther perceptible effect was induced until some minutes after ten o'clock, when Doctors D — and F — called, according to appointment. I explained to them, in a few words, what I designed, and as they opposed no objection, saying that the patient was already in the death agony, I proceeded without hesitation — exchanging, however, the lateral passes for downward ones, and directing my gaze entirely into the right eye of the sufferer.
By this time his pulse was imperceptible and his breathing was stertorous, and at intervals of half a minute.
This condition was nearly unaltered for a quarter of an hour. At the expiration of this period, however, a natural although a very deep sigh escaped the bosom of the dying man, and the stertorous breathing ceased — that is to say, its stertorousness was no longer apparent; the intervals were undiminished. The patient's extremities were of an icy coldness.
At five minutes before eleven I perceived unequivocal signs of the mesmeric influence. The glassy roll of the eye was changed for that expression of uneasy inward examination which is never seen except in cases of sleep-waking, and which it is quite impossible to mistake. With a few rapid lateral passes I made the lids quiver, as in incipient sleep, and with a few more I closed them altogether. I was not satisfied, however, with this, but continued the manipulations vigorously, and with the fullest exertion of the will, until I had completely stiffened the limbs of the slumberer, after placing them in a seemingly easy position. The legs were at full length; the arms were nearly so, and reposed on the bed at a moderate distance from the loin. The head was very slightly elevated.
When I had accomplished this, it was fully midnight, and I requested the gentlemen present to examine M. Valdemar's condition. After a few experiments, they admitted him to be an unusually perfect state of mesmeric trance. The curiosity of both the physicians was greatly excited. Dr. D — resolved at once to remain with the patient all night, while Dr. F — took leave with a promise to return at daybreak. Mr. L — l and the nurses remained.
We left M. Valdemar entirely undisturbed until about three o'clock in the morning, when I approached him and found him in precisely the same condition as when Dr. F — went away — that is to say, he lay in the same position; the pulse was imperceptible; the breathing was gentle (scarcely noticeable, unless through the application of a mirror to the lips); the eyes were closed naturally; and the limbs were as rigid and as cold as marble. Still, the general appearance was certainly not that of death.
As I approached M. Valdemar I made a kind of half effort to influence his right arm into pursuit of my own, as I passed the latter gently to and fro above his person. In such experiments with this patient had never perfectly succeeded before, and assuredly I had little thought of succeeding now; but to my astonishment, his arm very readily, although feebly, followed every direction I assigned it with mine. I determined to hazard a few words of conversation.
"M. Valdemar," I said, "are you asleep?" He made no answer, but I perceived a tremor about the lips, and was thus induced to repeat the question, again and again. At its third repetition, his whole frame was agitated by a very slight shivering; the eyelids unclosed themselves so far as to display a white line of the ball; the lips moved sluggishly, and from between them, in a barely audible whisper, issued the words:
"Yes; — asleep now. Do not wake me! — let me die so!"
I here felt the limbs and found them as rigid as ever. The right arm, as before, obeyed the direction of my hand. I questioned the sleep-waker again:
"Do you still feel pain in the breast, M. Valdemar?"
The answer now was immediate, but even less audible than before: "No pain — I am dying."
I did not think it advisable to disturb him farther just then, and nothing more was said or done until the arrival of Dr. F — , who came a little before sunrise, and expressed unbounded astonishment at finding the patient still alive. After feeling the pulse and applying a mirror to the lips, he requested me to speak to the sleep-waker again. I did so, saying:
"M. Valdemar, do you still sleep?"
As before, some minutes elapsed ere a reply was made; and during the interval the dying man seemed to be collecting his energies to speak. At my fourth repetition of the question, he said very faintly, almost inaudibly:
"Yes; still asleep — dying."
It was now the opinion, or rather the wish, of the physicians, that M. Valdemar should be suffered to remain undisturbed in his present apparently tranquil condition, until death should supervene — and this, it was generally agreed, must now take place within a few minutes. I concluded, however, to speak to him once more, and merely repeated my previous question.
While I spoke, there came a marked change over the countenance of the sleep-waker. The eyes rolled themselves slowly open, the pupils disappearing upwardly; the skin generally assumed a cadaverous hue, resembling not so much parchment as white paper; and the circular hectic spots which, hitherto, had been strongly defined in the centre of each cheek, went out at once. I use this expression, because the suddenness of their departure put me in mind of nothing so much as the extinguishment of a candle by a puff of the breath. The upper lip, at the same time, writhed itself away from the teeth, which it had previously covered completely; while the lower jaw fell with an audible jerk, leaving the mouth widely extended, and disclosing in full view the swollen and blackened tongue. I presume that no member of the party then present had been unaccustomed to death-bed horrors; but so hideous beyond conception was the appearance of M. Valdemar at this moment, that there was a general shrinking back from the region of the bed.
I now feel that I have reached a point of this narrative at which every reader will be startled into positive disbelief. It is my business, however, simply to proceed.
There was no longer the faintest sign of vitality in M. Valdemar; and concluding him to be dead, we were consigning him to the charge of the nurses, when a strong vibratory motion was observable in the tongue. This continued for perhaps a minute. At the expiration of this period, there issued from the distended and motionless jaws a voice — such as it would be madness in me to attempt describing. There are, indeed, two or three epithets which might be considered as applicable to it in part; I might say, for example, that the sound was harsh, and broken and hollow; but the hideous whole is indescribable, for the simple reason that no similar sounds have ever jarred upon the ear of humanity. There were two particulars, nevertheless, which I thought then, and still think, might fairly be stated as characteristic of the intonation — as well adapted to convey some idea of its unearthly peculiarity. In the first place, the voice seemed to reach our ears — at least mine — from a vast distance, or from some deep cavern within the earth. In the second place, it impressed me (I fear, indeed, that it will be impossible to make myself comprehended) as gelatinous or glutinous matters impress the sense of touch.
I have spoken both of "sound" and of "voice." I mean to say that the sound was one of distinct — of even wonderfully, thrillingly distinct — syllabification. M. Valdemar spoke — obviously in reply to the question I had propounded to him a few minutes before. I had asked him, it will be remembered, if he still slept. He now said:
"Yes; — no; — I have been sleeping — and now — now — I am dead.
No person present even affected to deny, or attempted to repress, the unutterable, shuddering horror which these few words, thus uttered, were so well calculated to convey. Mr. L — l (the student) swooned. The nurses immediately left the chamber, and could not be induced to return. My own impressions I would not pretend to render intelligible to the reader. For nearly an hour, we busied ourselves, silently — without the utterance of a word — in endeavors to revive Mr. L — l. When he came to himself, we addressed ourselves again to an investigation of M. Valdemar's condition.
It remained in all respects as I have last described it, with the exception that the mirror no longer afforded evidence of respiration. An attempt to draw blood from the arm failed. I should mention, too, that this limb was no farther subject to my will. I endeavored in vain to make it follow the direction of my hand. The only real indication, indeed, of the mesmeric influence, was now found in the vibratory movement of the tongue, whenever I addressed M. Valdemar a question. He seemed to be making an effort to reply, but had no longer sufficient volition. To queries put to him by any other person than myself he seemed utterly insensible — although I endeavored to place each member of the company in mesmeric rapport with him. I believe that I have now related all that is necessary to an understanding of the sleep-waker's state at this epoch. Other nurses were procured; and at ten o'clock I left the house in company with the two physicians and Mr. L — l.
In the afternoon we all called again to see the patient. His condition remained precisely the same. We had now some discussion as to the propriety and feasibility of awakening him; but we had little difficulty in agreeing that no good purpose would be served by so doing. It was evident that, so far, death (or what is usually termed death) had been arrested by the mesmeric process. It seemed clear to us all that to awaken M. Valdemar would be merely to insure his instant, or at least his speedy dissolution.
From this period until the close of last week — an interval of nearly seven months — we continued to make daily calls at M. Valdemar's house, accompanied, now and then, by medical and other friends. All this time the sleeper-waker remained exactly as I have last described him. The nurses' attentions were continual.
It was on Friday last that we finally resolved to make the experiment of awakening or attempting to awaken him; and it is the (perhaps) unfortunate result of this latter experiment which has given rise to so much discussion in private circles — to so much of what I cannot help thinking unwarranted popular feeling.
For the purpose of relieving M. Valdemar from the mesmeric trance, I made use of the customary passes. These, for a time, were unsuccessful. The first indication of revival was afforded by a partial descent of the iris. It was observed, as especially remarkable, that this lowering of the pupil was accompanied by the profuse out-flowing of a yellowish ichor (from beneath the lids) of a pungent and highly offensive odor.
It was now suggested that I should attempt to influence the patient's arm, as heretofore. I made the attempt and failed. Dr. F — then intimated a desire to have me put a question. I did so, as follows:
"M. Valdemar, can you explain to us what are your feelings or wishes now?"
There was an instant return of the hectic circles on the cheeks; the tongue quivered, or rather rolled violently in the mouth (although the jaws and lips remained rigid as before;) and at length the same hideous voice which I have already described, broke forth:
"For God's sake! — quick! — quick! — put me to sleep — or, quick! — waken me! — quick! — I say to you that I am dead!"
I was thoroughly unnerved, and for an instant remained undecided what to do. At first I made an endeavor to re-compose the patient; but, failing in this through total abeyance of the will, I retraced my steps and as earnestly struggled to awaken him. In this attempt I soon saw that I should be successful — or at least I soon fancied that my success would be complete — and I am sure that all in the room were prepared to see the patient awaken.
For what really occurred, however, it is quite impossible that any human being could have been prepared.
As I rapidly made the mesmeric passes, amid ejaculations of "dead! dead!" absolutely bursting from the tongue and not from the lips of the sufferer, his whole frame at once — within the space of a single minute, or even less, shrunk — crumbled — absolutely rotted away beneath my hands. Upon the bed, before that whole company, there lay a nearly liquid mass of loathsome — of detestable putridity.
Edgar Allan Poe: The Facts in the Case of M. Valdemar
kempis poetry magazine
More in: Archive O-P, Edgar Allan Poe, Poe, Edgar Allan
---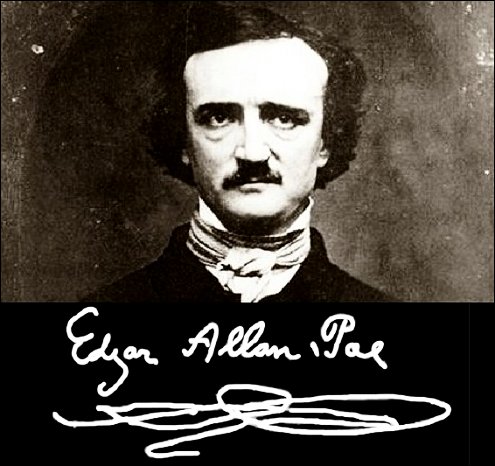 Edgar Allan Poe
(1809-1849)

Old English Poetry

It should not be doubted that at least one-third of the affection with which we regard the elder poets of Great Britain should be-attributed to what is, in itself, a thing apart from poetry-we mean to the simple love of the antique-and that, again, a third of even the proper poetic sentiment inspired by their writings should be ascribed to a fact which, while it has strict connection with poetry in the abstract, and with the old British poems themselves, should not be looked upon as a merit appertaining to the authors of the poems. Almost every devout admirer of the old bards, if demanded his opinion of their productions, would mention vaguely, yet with perfect sincerity, a sense of dreamy, wild, indefinite, and he would perhaps say, indefinable delight; on being required to point out the source of this so shadowy pleasure, he would be apt to speak of the quaint in phraseology and in general handling. This quaintness is, in fact, a very powerful adjunct to ideality, but in the case in question it arises independently of the author's will, and is altogether apart from his intention. Words and their rhythm have varied. Verses which affect us to-day with a vivid delight, and which delight, in many instances, may be traced to the one source, quaintness, must have worn in the days of their construction, a very commonplace air. This is, of course, no argument against the poems now-we mean it only as against the poets thew. There is a growing desire to overrate them. The old English muse was frank, guileless, sincere, and although very learned, still learned without art. No general error evinces a more thorough confusion of ideas than the error of supposing Donne and Cowley metaphysical in the sense wherein Wordsworth and Coleridge are so. With the two former ethics were the end-with the two latter the means. The poet of the "Creation" wished, by highly artificial verse, to inculcate what he supposed to be moral truth-the poet of the "Ancient Mariner" to infuse the Poetic Sentiment through channels suggested by analysis. The one finished by complete failure what he commenced in the grossest misconception; the other, by a path which could not possibly lead him astray, arrived at a triumph which is not the less glorious because hidden from the profane eyes of the multitude. But in this view even the "metaphysical verse" of Cowley is but evidence of the simplicity and single-heartedness of the man. And he was in this but a type of his school-for we may as well designate in this way the entire class of writers whose poems are bound up in the volume before us, and throughout all of whom there runs a very perceptible general character. They used little art in composition. Their writings sprang immediately from the soul-and partook intensely of that soul's nature. Nor is it difficult to perceive the tendency of this abandon-to elevate immeasurably all the energies of mind-but, again, so to mingle the greatest possible fire, force, delicacy, and all good things, with the lowest possible bathos, baldness, and imbecility, as to render it not a matter of doubt that the average results of mind in such a school will be found inferior to those results in one (ceteris paribus) more artificial.
We can not bring ourselves to believe that the selections of the "Book of Gems" are such as will impart to a poetical reader the clearest possible idea of the beauty of the school-but if the intention had been merely to show the school's character, the attempt might have been considered successful in the highest degree. There are long passages now before us of the most despicable trash, with no merit whatever beyond that of their antiquity.. The criticisms of the editor do not particularly please us. His enthusiasm is too general and too vivid not to be false. His opinion, for example, of Sir Henry Wotton's "Verses on the Queen of Bohemia"-that "there are few finer things in our language," is untenable and absurd.
In such lines we can perceive not one of those higher attributes of Poesy which belong to her in all circumstances and throughout all time. Here every thing is art, nakedly, or but awkwardly concealed. No prepossession for the mere antique (and in this case we can imagine no other prepossession) should induce us to dignify with the sacred name of poetry, a series, such as this, of elaborate and threadbare compliments, stitched, apparently, together, without fancy, without plausibility, and without even an attempt at adaptation.
In common with all the world, we have been much delighted with "The Shepherd's Hunting" by Withers–a poem partaking, in a remarkable degree, of the peculiarities of "Il Penseroso." Speaking of Poesy the author says:
"By the murmur of a spring, Or the least boughs rustleling, By a daisy whose leaves spread, Shut when Titan goes to bed, Or a shady bush or tree, She could more infuse in me Than all Nature's beauties can In some other wiser man. By her help I also now Make this churlish place allow Something that may sweeten gladness In the very gall of sadness-The dull loneness, the black shade, That these hanging vaults have made The strange music of the waves Beating on these hollow caves, This black den which rocks emboss, Overgrown with eldest moss, The rude portals that give light More to terror than delight, This my chamber of neglect
Walled about with disrespect; From all these and this dull air A fit object for despair, She hath taught me by her might To draw comfort and delight."
But these lines, however good, do not bear with them much of the general character of the English antique. Something more of this will be found in Corbet's "Farewell to the Fairies!" We copy a portion of Marvell's "Maiden lamenting for her Fawn," which we prefer-not only as a specimen of the elder poets, but in itself as a beautiful poem, abounding in pathos, exquisitely delicate imagination and truthfulness-to anything of its species:
"It is a wondrous thing how fleet 'Twas on those little silver feet, With what a pretty skipping grace It oft would challenge me the race, And when't had left me far away 'Twould stay, and run again, and stay; For it was nimbler much than hinds, And trod as if on the four winds. I have a garden of my own, But so with roses overgrown, And lilies, that you would it guess To be a little wilderness; And all the spring-time of the year It only loved to be there. Among the beds of lilies I Have sought it oft where it should lie, Yet could not, till itself would rise, Find it, although before mine eyes. For in the flaxen lilies' shade It like a bank of lilies laid; Upon the roses it would feed Until its lips even seemed to bleed, And then to me 'twould boldly trip, And print those roses on my lip, But all its chief delight was still With roses thus itself to fill, And its pure virgin limbs to fold In whitest sheets of lilies cold. Had it lived long, it would have been Lilies without, roses within."
How truthful an air of lamentations hangs here upon every syllable! It pervades all.. It comes over the sweet melody of the words-over the gentleness and grace which we fancy in the little maiden herself-even over the half-playful, half-petulant air with which she lingers on the beauties and good qualities of her favorite-like the cool shadow of a summer cloud over a bed of lilies and violets, "and all sweet flowers." The whole is redolent with poetry of a very lofty order. Every line is an idea conveying either the beauty and playfulness of the fawn, or the artlessness of the maiden, or her love, or her admiration, or her grief, or the fragrance and warmth and appropriateness of the little nest-like bed of lilies and roses which the fawn devoured as it lay upon them, and could scarcely be distinguished from them by the once happy little damsel who went to seek her pet with an arch and rosy smile on her face. Consider the great variety of truthful and delicate thought in the few lines we have quotedthe wonder of the little maiden at the fleetness of her favorite-the "little silver feet"–the fawn challenging his mistress to a race with "a pretty skipping grace," running on before, and then, with head turned back, awaiting her approach only to fly from it again-can we not distinctly perceive all these things? How exceedingly vigorous, too, is the line,
"And trod as if on the four winds!"
A vigor apparent only when we keep in mind the artless character of the speaker and the four feet of the favorite, one for each wind. Then consider the garden of "my own," so overgrown, entangled with roses and lilies, as to be "a little wilderness"–the fawn loving to be there, and there "only"–the maiden seeking it "where it should lie"–and not being able to distinguish it from the flowers until "itself would rise"–the lying among the lilies "like a bank of lilies"–the loving to "fill itself with roses,"
"And its pure virgin limbs to fold      In whitest sheets of lilies cold,"
and these things being its "chief" delights-and then the pre-eminent beauty and naturalness of the concluding lines, whose very hyperbole only renders them more true to nature when we consider the innocence, the artlessness, the enthusiasm, the passionate girl, and more passionate admiration of the bereaved child–
"Had it lived long, it would have been Lilies without, roses within."
Edgar Allan Poe: Old English Poetry

kempis poetry magazine
More in: Archive O-P, Edgar Allan Poe, Poe, Edgar Allan
---
Edgar Allan Poe
(1809-1849)

The Tell-Tale Heart

True! nervous, very, very dreadfully nervous I had been and am; but why WILL you say that I am mad? The disease had sharpened my senses, not destroyed, not dulled them. Above all was the sense of hearing acute. I heard all things in the heaven and in the earth. I heard many things in hell. How then am I mad? Hearken! and observe how healthily, how calmly, I can tell you the whole story.
It is impossible to say how first the idea entered my brain, but, once conceived, it haunted me day and night. Object there was none. Passion there was none. I loved the old man. He had never wronged me. He had never given me insult. For his gold I had no desire. I think it was his eye! Yes, it was this! One of his eyes resembled that of a vulture — a pale blue eye with a film over it. Whenever it fell upon me my blood ran cold, and so by degrees, very gradually, I made up my mind to take the life of the old man, and thus rid myself of the eye for ever.
Now this is the point. You fancy me mad. Madmen know nothing. But you should have seen me. You should have seen how wisely I proceeded — with what caution — with what foresight, with what dissimulation, I went to work! I was never kinder to the old man than during the whole week before I killed him. And every night about midnight I turned the latch of his door and opened it oh, so gently! And then, when I had made an opening sufficient for my head, I put in a dark lantern all closed, closed so that no light shone out, and then I thrust in my head. Oh, you would have laughed to see how cunningly I thrust it in! I moved it slowly, very, very slowly, so that I might not disturb the old man's sleep. It took me an hour to place my whole head within the opening so far that I could see him as he lay upon his bed. Ha! would a madman have been so wise as this? And then when my head was well in the room I undid the lantern cautiously — oh, so cautiously — cautiously (for the hinges creaked), I undid it just so much that a single thin ray fell upon the vulture eye. And this I did for seven long nights, every night just at midnight, but I found the eye always closed, and so it was impossible to do the work, for it was not the old man who vexed me but his Evil Eye. And every morning, when the day broke, I went boldly into the chamber and spoke courageously to him, calling him by name in a hearty tone, and inquiring how he had passed the night. So you see he would have been a very profound old man, indeed , to suspect that every night, just at twelve, I looked in upon him while he slept.
Upon the eighth night I was more than usually cautious in opening the door. A watch's minute hand moves more quickly than did mine. Never before that night had I felt the extent of my own powers, of my sagacity. I could scarcely contain my feelings of triumph. To think that there I was opening the door little by little, and he not even to dream of my secret deeds or thoughts. I fairly chuckled at the idea, and perhaps he heard me, for he moved on the bed suddenly as if startled. Now you may think that I drew back — but no. His room was as black as pitch with the thick darkness (for the shutters were close fastened through fear of robbers), and so I knew that he could not see the opening of the door, and I kept pushing it on steadily, steadily.
I had my head in, and was about to open the lantern, when my thumb slipped upon the tin fastening , and the old man sprang up in the bed, crying out, "Who's there?"
I kept quite still and said nothing. For a whole hour I did not move a muscle, and in the meantime I did not hear him lie down. He was still sitting up in the bed, listening; just as I have done night after night hearkening to the death watches in the wall.
Presently, I heard a slight groan, and I knew it was the groan of mortal terror. It was not a groan of pain or of grief — oh, no! It was the low stifled sound that arises from the bottom of the soul when overcharged with awe. I knew the sound well. Many a night, just at midnight, when all the world slept, it has welled up from my own bosom, deepening, with its dreadful echo, the terrors that distracted me. I say I knew it well. I knew what the old man felt, and pitied him although I chuckled at heart. I knew that he had been lying awake ever since the first slight noise when he had turned in the bed. His fears had been ever since growing upon him. He had been trying to fancy them causeless, but could not. He had been saying to himself, "It is nothing but the wind in the chimney, it is only a mouse crossing the floor," or, "It is merely a cricket which has made a single chirp." Yes he has been trying to comfort himself with these suppositions ; but he had found all in vain. ALL IN VAIN, because Death in approaching him had stalked with his black shadow before him and enveloped the victim. And it was the mournful influence of the unperceived shadow that caused him to feel, although he neither saw nor heard, to feel the presence of my head within the room.
When I had waited a long time very patiently without hearing him lie down, I resolved to open a little — a very, very little crevice in the lantern. So I opened it — you cannot imagine how stealthily, stealthily — until at length a single dim ray like the thread of the spider shot out from the crevice and fell upon the vulture eye.
It was open, wide, wide open, and I grew furious as I gazed upon it. I saw it with perfect distinctness — all a dull blue with a hideous veil over it that chilled the very marrow in my bones, but I could see nothing else of the old man's face or person, for I had directed the ray as if by instinct precisely upon the damned spot.
And now have I not told you that what you mistake for madness is but over-acuteness of the senses? now, I say, there came to my ears a low, dull, quick sound, such as a watch makes when enveloped in cotton. I knew that sound well too. It was the beating of the old man's heart. It increased my fury as the beating of a drum stimulates the soldier into courage.
But even yet I refrained and kept still. I scarcely breathed. I held the lantern motionless. I tried how steadily I could maintain the ray upon the eye. Meantime the hellish tattoo of the heart increased. It grew quicker and quicker, and louder and louder, every instant. The old man's terror must have been extreme! It grew louder, I say, louder every moment! — do you mark me well? I have told you that I am nervous: so I am. And now at the dead hour of the night, amid the dreadful silence of that old house, so strange a noise as this excited me to uncontrollable terror. Yet, for some minutes longer I refrained and stood still. But the beating grew louder, louder! I thought the heart must burst. And now a new anxiety seized me — the sound would be heard by a neighbour! The old man's hour had come! With a loud yell, I threw open the lantern and leaped into the room. He shrieked once — once only. In an instant I dragged him to the floor, and pulled the heavy bed over him. I then smiled gaily, to find the deed so far done. But for many minutes the heart beat on with a muffled sound. This, however, did not vex me; it would not be heard through the wall. At length it ceased. The old man was dead. I removed the bed and examined the corpse. Yes, he was stone, stone dead. I placed my hand upon the heart and held it there many minutes. There was no pulsation. He was stone dead. His eye would trouble me no more.
Illustration  H. Clarke
If still you think me mad, you will think so no longer when I describe the wise precautions I took for the concealment of the body. The night waned, and I worked hastily, but in silence.
I took up three planks from the flooring of the chamber, and deposited all between the scantlings. I then replaced the boards so cleverly so cunningly, that no human eye — not even his — could have detected anything wrong. There was nothing to wash out — no stain of any kind — no blood-spot whatever. I had been too wary for that.
When I had made an end of these labours, it was four o'clock — still dark as midnight. As the bell sounded the hour, there came a knocking at the street door. I went down to open it with a light heart, — for what had I now to fear? There entered three men, who introduced themselves, with perfect suavity, as officers of the police. A shriek had been heard by a neighbour during the night; suspicion of foul play had been aroused; information had been lodged at the police office, and they (the officers) had been deputed to search the premises.
I smiled, — for what had I to fear? I bade the gentlemen welcome. The shriek, I said, was my own in a dream. The old man, I mentioned, was absent in the country. I took my visitors all over the house. I bade them search — search well. I led them, at length, to his chamber. I showed them his treasures, secure, undisturbed. In the enthusiasm of my confidence, I brought chairs into the room, and desired them here to rest from their fatigues, while I myself, in the wild audacity of my perfect triumph, placed my own seat upon the very spot beneath which reposed the corpse of the victim.
The officers were satisfied. My MANNER had convinced them. I was singularly at ease. They sat and while I answered cheerily, they chatted of familiar things. But, ere long, I felt myself getting pale and wished them gone. My head ached, and I fancied a ringing in my ears; but still they sat, and still chatted. The ringing became more distinct : I talked more freely to get rid of the feeling: but it continued and gained definitiveness — until, at length, I found that the noise was NOT within my ears.
No doubt I now grew VERY pale; but I talked more fluently, and with a heightened voice. Yet the sound increased — and what could I do? It was A LOW, DULL, QUICK SOUND — MUCH SUCH A SOUND AS A WATCH MAKES WHEN ENVELOPED IN COTTON. I gasped for breath, and yet the officers heard it not. I talked more quickly, more vehemently but the noise steadily increased. I arose and argued about trifles, in a high key and with violent gesticulations; but the noise steadily increased. Why WOULD they not be gone? I paced the floor to and fro with heavy strides, as if excited to fury by the observations of the men, but the noise steadily increased. O God! what COULD I do? I foamed — I raved — I swore! I swung the chair upon which I had been sitting, and grated it upon the boards, but the noise arose over all and continually increased. It grew louder — louder — louder! And still the men chatted pleasantly , and smiled. Was it possible they heard not? Almighty God! — no, no? They heard! — they suspected! — they KNEW! — they were making a mockery of my horror! — this I thought, and this I think. But anything was better than this agony! Anything was more tolerable than this derision! I could bear those hypocritical smiles no longer! I felt that I must scream or die! — and now — again — hark! louder! louder! louder! LOUDER! —
"Villains!" I shrieked, "dissemble no more! I admit the deed! — tear up the planks! — here, here! — it is the beating of his hideous heart!"
Edgar Allan Poe: The Tell-Tale Heart
kempis poetry magazine
More in: Archive O-P, Edgar Allan Poe, Poe, Edgar Allan
---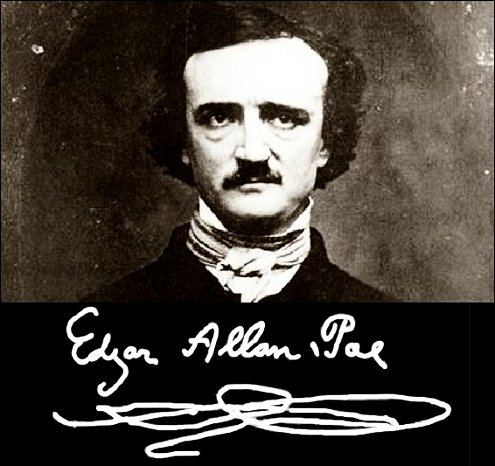 Edgar Allan Poe
(1809-1849)

The Black Cat

For the most wild, yet most homely narrative which I am about to pen, I neither expect nor solicit belief. Mad indeed would I be to expect it, in a case where my very senses reject their own evidence. Yet, mad am I not – and very surely do I not dream. But to-morrow I die, and to-day I would unburthen my soul. My immediate purpose is to place before the world, plainly, succinctly, and without comment, a series of mere household events. In their consequences, these events have terrified – have tortured – have destroyed me. Yet I will not attempt to expound them. To me, they have presented little but Horror – to many they will seem less terrible than barroques. Hereafter, perhaps, some intellect may be found which will reduce my phantasm to the common-place – some intellect more calm, more logical, and far less excitable than my own, which will perceive, in the circumstances I detail with awe, nothing more than an ordinary succession of very natural causes and effects.
From my infancy I was noted for the docility and humanity of my disposition. My tenderness of heart was even so conspicuous as to make me the jest of my companions. I was especially fond of animals, and was indulged by my parents with a great variety of pets. With these I spent most of my time, and never was so happy as when feeding and caressing them. This peculiarity of character grew with my growth, and in my manhood, I derived from it one of my principal sources of pleasure. To those who have cherished an affection for a faithful and sagacious dog, I need hardly be at the trouble of explaining the nature or the intensity of the gratification thus derivable. There is something in the unselfish and self-sacrificing love of a brute, which goes directly to the heart of him who has had frequent occasion to test the paltry friendship and gossamer fidelity of mere Man .
I married early, and was happy to find in my wife a disposition not uncongenial with my own. Observing my partiality for domestic pets, she lost no opportunity of procuring those of the most agreeable kind. We had birds, gold-fish, a fine dog, rabbits, a small monkey, and a cat .
This latter was a remarkably large and beautiful animal, entirely black, and sagacious to an astonishing degree. In speaking of his intelligence, my wife, who at heart was not a little tinctured with superstition, made frequent allusion to the ancient popular notion, which regarded all black cats as witches in disguise. Not that she was ever serious upon this point – and I mention the matter at all for no better reason than that it happens, just now, to be remembered.
Pluto – this was the cat's name – was my favorite pet and playmate. I alone fed him, and he attended me wherever I went about the house. It was even with difficulty that I could prevent him from following me through the streets.
Our friendship lasted, in this manner, for several years, during which my general temperament and character – through the instrumentality of the Fiend Intemperance – had (I blush to confess it) experienced a radical alteration for the worse. I grew, day by day, more moody, more irritable, more regardless of the feelings of others. I suffered myself to use intemperate language to my wife. At length, I even offered her personal violence. My pets, of course, were made to feel the change in my disposition. I not only neglected, but ill-used them. For Pluto, however, I still retained sufficient regard to restrain me from maltreating him, as I made no scruple of maltreating the rabbits, the monkey, or even the dog, when by accident, or through affection, they came in my way. But my disease grew upon me – for what disease is like Alcohol! – and at length even Pluto, who was now becoming old, and consequently somewhat peevish – even Pluto began to experience the effects of my ill temper.
One night, returning home, much intoxicated, from one of my haunts about town, I fancied that the cat avoided my presence. I seized him; when, in his fright at my violence, he inflicted a slight wound upon my hand with his teeth. The fury of a demon instantly possessed me. I knew myself no longer. My original soul seemed, at once, to take its flight from my body and a more than fiendish malevolence, gin-nurtured, thrilled every fibre of my frame. I took from my waistcoat-pocket a pen-knife, opened it, grasped the poor beast by the throat, and deliberately cut one of its eyes from the socket! I blush, I burn, I shudder, while I pen the damnable atrocity.
When reason returned with the morning – when I had slept off the fumes of the night's debauch – I experienced a sentiment half of horror, half of remorse, for the crime of which I had been guilty; but it was, at best, a feeble and equivocal feeling, and the soul remained untouched. I again plunged into excess, and soon drowned in wine all memory of the deed.
In the meantime the cat slowly recovered. The socket of the lost eye presented, it is true, a frightful appearance, but he no longer appeared to suffer any pain. He went about the house as usual, but, as might be expected, fled in extreme terror at my approach. I had so much of my old heart left, as to be at first grieved by this evident dislike on the part of a creature which had once so loved me. But this feeling soon gave place to irritation. And then came, as if to my final and irrevocable overthrow, the spirit of PERVERSENESS. Of this spirit philosophy takes no account. Yet I am not more sure that my soul lives, than I am that perverseness is one of the primitive impulses of the human heart – one of the indivisible primary faculties, or sentiments, which give direction to the character of Man. Who has not, a hundred times, found himself committing a vile or a silly action, for no other reason than because he knows he should not? Have we not a perpetual inclination, in the teeth of our best judgment, to violate that which is Law , merely because we understand it to be such? This spirit of perverseness, I say, came to my final overthrow. It was this unfathomable longing of the soul to vex itself – to offer violence to its own nature – to do wrong for the wrong's sake only – that urged me to continue and finally to consummate the injury I had inflicted upon the unoffending brute. One morning, in cool blood, I slipped a noose about its neck and hung it to the limb of a tree; – hung it with the tears streaming from my eyes, and with the bitterest remorse at my heart; – hung it because I knew that it had loved me, and because I felt it had given me no reason of offence; – hung it because I knew that in so doing I was committing a sin – a deadly sin that would so jeopardize my immortal soul as to place it – if such a thing wore possible – even beyond the reach of the infinite mercy of the Most Merciful and Most Terrible God.
On the night of the day on which this cruel deed was done, I was aroused from sleep by the cry of fire. The curtains of my bed were in flames. The whole house was blazing. It was with great difficulty that my wife, a servant, and myself, made our escape from the conflagration. The destruction was complete. My entire worldly wealth was swallowed up, and I resigned myself thenceforward to despair.
I am above the weakness of seeking to establish a sequence of cause and effect, between the disaster and the atrocity. But I am detailing a chain of facts – and wish not to leave even a possible link imperfect. On the day succeeding the fire, I visited the ruins. The walls, with one exception, had fallen in. This exception was found in a compartment wall, not very thick, which stood about the middle of the house, and against which had rested the head of my bed. The plastering had here, in great measure, resisted the action of the fire – a fact which I attributed to its having been recently spread. About this wall a dense crowd were collected, and many persons seemed to be examining a particular portion of it with very minute and eager attention. The words "strange!" "singular!" and other similar expressions, excited my curiosity. I approached and saw, as if graven in bas relief upon the white surface, the figure of a gigantic cat. The impression was given with an accuracy truly marvellous. There was a rope about the animal's neck.
When I first beheld this apparition – for I could scarcely regard it as less – my wonder and my terror were extreme. But at length reflection came to my aid. The cat, I remembered, had been hung in a garden adjacent to the house. Upon the alarm of fire, this garden had been immediately filled by the crowd – by some one of whom the animal must have been cut from the tree and thrown, through an open window, into my chamber. This had probably been done with the view of arousing me from sleep. The falling of other walls had compressed the victim of my cruelty into the substance of the freshly-spread plaster; the lime of which, with the flames, and the ammonia from the carcass, had then accomplished the portraiture as I saw it.
Although I thus readily accounted to my reason, if not altogether to my conscience, for the startling fact just detailed, it did not the less fail to make a deep impression upon my fancy. For months I could not rid myself of the phantasm of the cat; and, during this period, there came back into my spirit a half-sentiment that seemed, but was not, remorse. I went so far as to regret the loss of the animal, and to look about me, among the vile haunts which I now habitually frequented, for another pet of the same species, and of somewhat similar appearance, with which to supply its place.
One night as I sat, half stupified, in a den of more than infamy, my attention was suddenly drawn to some black object, reposing upon the head of one of the immense hogsheads of Gin, or of Rum, which constituted the chief furniture of the apartment. I had been looking steadily at the top of this hogshead for some minutes, and what now caused me surprise was the fact that I had not sooner perceived the object thereupon. I approached it, and touched it with my hand. It was a black cat – a very large one – fully as large as Pluto, and closely resembling him in every respect but one. Pluto had not a white hair upon any portion of his body; but this cat had a large, although indefinite splotch of white, covering nearly the whole region of the breast. Upon my touching him, he immediately arose, purred loudly, rubbed against my hand, and appeared delighted with my notice. This, then, was the very creature of which I was in search. I at once offered to purchase it of the landlord; but this person made no claim to it – knew nothing of it – had never seen it before.
I continued my caresses, and, when I prepared to go home, the animal evinced a disposition to accompany me. I permitted it to do so; occasionally stooping and patting it as I proceeded. When it reached the house it domesticated itself at once, and became immediately a great favorite with my wife.
For my own part, I soon found a dislike to it arising within me. This was just the reverse of what I had anticipated; but – I know not how or why it was – its evident fondness for myself rather disgusted and annoyed. By slow degrees, these feelings of disgust and annoyance rose into the bitterness of hatred. I avoided the creature; a certain sense of shame, and the remembrance of my former deed of cruelty, preventing me from physically abusing it. I did not, for some weeks, strike, or otherwise violently ill use it; but gradually – very gradually – I came to look upon it with unutterable loathing, and to flee silently from its odious presence, as from the breath of a pestilence.
What added, no doubt, to my hatred of the beast, was the discovery, on the morning after I brought it home, that, like Pluto, it also had been deprived of one of its eyes. This circumstance, however, only endeared it to my wife, who, as I have already said, possessed, in a high degree, that humanity of feeling which had once been my distinguishing trait, and the source of many of my simplest and purest pleasures.
With my aversion to this cat, however, its partiality for myself seemed to increase. It followed my footsteps with a pertinacity which it would be difficult to make the reader comprehend. Whenever I sat, it would crouch beneath my chair, or spring upon my knees, covering me with its loathsome caresses. If I arose to walk it would get between my feet and thus nearly throw me down, or, fastening its long and sharp claws in my dress, clamber, in this manner, to my breast. At such times, although I longed to destroy it with a blow, I was yet withheld from so doing, partly by a memory of my former crime, but chiefly – let me confess it at once – by absolute dread of the beast.
This dread was not exactly a dread of physical evil – and yet I should be at a loss how otherwise to define it. I am almost ashamed to own – yes, even in this felon's cell, I am almost ashamed to own – that the terror and horror with which the animal inspired me, had been heightened by one of the merest chimaeras it would be possible to conceive. My wife had called my attention, more than once, to the character of the mark of white hair, of which I have spoken, and which constituted the sole visible difference between the strange beast and the one I had destroyed. The reader will remember that this mark, although large, had been originally very indefinite; but, by slow degrees – degrees nearly imperceptible, and which for a long time my Reason struggled to reject as fanciful – it had, at length, assumed a rigorous distinctness of outline. It was now the representation of an object that I shudder to name – and for this, above all, I loathed, and dreaded, and would have rid myself of the monster had I dared – it was now, I say, the image of a hideous – of a ghastly thing – of the GALLOWS ! – oh, mournful and terrible engine of Horror and of Crime – of Agony and of Death !
And now was I indeed wretched beyond the wretchedness of mere Humanity. And a brute beast – whose fellow I had contemptuously destroyed – a brute beast to work out for me – for me a man, fashioned in the image of the High God – so much of insufferable wo! Alas! neither by day nor by night knew I the blessing of Rest any more! During the former the creature left me no moment alone; and, in the latter, I started, hourly, from dreams of unutterable fear, to find the hot breath of the thing upon my face, and its vast weight – an incarnate Night-Mare that I had no power to shake off – incumbent eternally upon my heart!
Beneath the pressure of torments such as these, the feeble remnant of the good within me succumbed. Evil thoughts became my sole intimates – the darkest and most evil of thoughts. The moodiness of my usual temper increased to hatred of all things and of all mankind; while, from the sudden, frequent, and ungovernable outbursts of a fury to which I now blindly abandoned myself, my uncomplaining wife, alas! was the most usual and the most patient of sufferers.
One day she accompanied me, upon some household errand, into the cellar of the old building which our poverty compelled us to inhabit. The cat followed me down the steep stairs, and, nearly throwing me headlong, exasperated me to madness. Uplifting an axe, and forgetting, in my wrath, the childish dread which had hitherto stayed my hand, I aimed a blow at the animal which, of course, would have proved instantly fatal had it descended as I wished. But this blow was arrested by the hand of my wife. Goaded, by the interference, into a rage more than demoniacal, I withdrew my arm from her grasp and buried the axe in her brain. She fell dead upon the spot, without a groan.
This hideous murder accomplished, I set myself forthwith, and with entire deliberation, to the task of concealing the body. I knew that I could not remove it from the house, either by day or by night, without the risk of being observed by the neighbors. Many projects entered my mind. At one period I thought of cutting the corpse into minute fragments, and destroying them by fire. At another, I resolved to dig a grave for it in the floor of the cellar. Again, I deliberated about casting it in the well in the yard – about packing it in a box, as if merchandize, with the usual arrangements, and so getting a porter to take it from the house. Finally I hit upon what I considered a far better expedient than either of these. I determined to wall it up in the cellar – as the monks of the middle ages are recorded to have walled up their victims.
For a purpose such as this the cellar was well adapted. Its walls were loosely constructed, and had lately been plastered throughout with a rough plaster, which the dampness of the atmosphere had prevented from hardening. Moreover, in one of the walls was a projection, caused by a false chimney, or fireplace, that had been filled up, and made to resemble the red of the cellar. I made no doubt that I could readily displace the bricks at this point, insert the corpse, and wall the whole up as before, so that no eye could detect any thing suspicious. And in this calculation I was not deceived. By means of a crow-bar I easily dislodged the bricks, and, having carefully deposited the body against the inner wall, I propped it in that position, while, with little trouble, I re-laid the whole structure as it originally stood. Having procured mortar, sand, and hair, with every possible precaution, I prepared a plaster which could not be distinguished from the old, and with this I very carefully went over the new brickwork. When I had finished, I felt satisfied that all was right. The wall did not present the slightest appearance of having been disturbed. The rubbish on the floor was picked up with the minutest care. I looked around triumphantly, and said to myself – "Here at least, then, my labor has not been in vain."
My next step was to look for the beast which had been the cause of so much wretchedness; for I had, at length, firmly resolved to put it to death. Had I been able to meet with it, at the moment, there could have been no doubt of its fate; but it appeared that the crafty animal had been alarmed at the violence of my previous anger, and forebore to present itself in my present mood. It is impossible to describe, or to imagine, the deep, the blissful sense of relief which the absence of the detested creature occasioned in my bosom. It did not make its appearance during the night – and thus for one night at least, since its introduction into the house, I soundly and tranquilly slept; aye, slept even with the burden of murder upon my soul!
The second and the third day passed, and still my tormentor came not. Once again I breathed as a freeman. The monster, in terror, had fled the premises forever! I should behold it no more! My happiness was supreme! The guilt of my dark deed disturbed me but little. Some few inquiries had been made, but these had been readily answered. Even a search had been instituted – but of course nothing was to be discovered. I looked upon my future felicity as secured.
Upon the fourth day of the assassination, a party of the police came, very unexpectedly, into the house, and proceeded again to make rigorous investigation of the premises. Secure, however, in the inscrutability of my place of concealment, I felt no embarrassment whatever. The officers bade me accompany them in their search. They left no nook or corner unexplored. At length, for the third or fourth time, they descended into the cellar. I quivered not in a muscle. My heart beat calmly as that of one who slumbers in innocence. I walked the cellar from end to end. I folded my arms upon my bosom, and roamed easily to and fro. The police were thoroughly satisfied and prepared to depart. The glee at my heart was too strong to be restrained. I burned to say if but one word, by way of triumph, and to render doubly sure their assurance of my guiltlessness.
"Gentlemen," I said at last, as the party ascended the steps, "I delight to have allayed your suspicions. I wish you all health, and a little more courtesy. By the bye, gentlemen, this – this is a very well constructed house." [In the rabid desire to say something easily, I scarcely knew what I uttered at all.] – "I may say an excellently well constructed house. These walls are you going, gentlemen? – these walls are solidly put together;" and here, through the mere phrenzy of bravado, I rapped heavily, with a cane which I held in my hand, upon that very portion of the brick-work behind which stood the corpse of the wife of my bosom.
But may God shield and deliver me from the fangs of the Arch-Fiend ! No sooner had the reverberation of my blows sunk into silence, than I was answered by a voice from within the tomb! – by a cry, at first muffled and broken, like the sobbing of a child, and then quickly swelling into one long, loud, and continuous scream, utterly anomalous and inhuman – a howl – a wailing shriek, half of horror and half of triumph, such as might have arisen only out of hell, conjointly from the throats of the dammed in their agony and of the demons that exult in the damnation.
Of my own thoughts it is folly to speak. Swooning, I staggered to the opposite wall. For one instant the party upon the stairs remained motionless, through extremity of terror and of awe. In the next, a dozen stout arms were toiling at the wall. It fell bodily. The corpse, already greatly decayed and clotted with gore, stood erect before the eyes of the spectators. Upon its head, with red extended mouth and solitary eye of fire, sat the hideous beast whose craft had seduced me into murder, and whose informing voice had consigned me to the hangman. I had walled the monster up within the tomb!
Edgar Allan Poe: The Black Cat
kempis poetry magazine
More in: Archive O-P, Edgar Allan Poe, Poe, Edgar Allan
---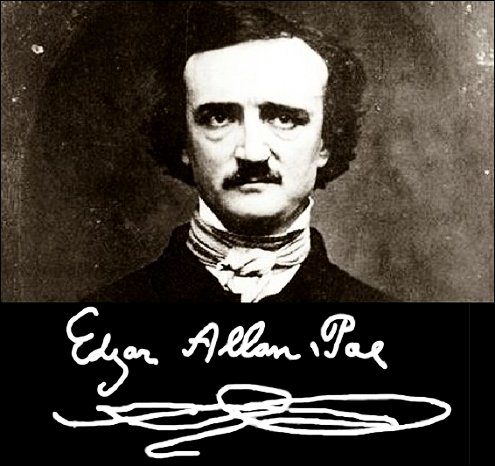 Edgar Allan Poe
(1809-1849)
Von Kempelen and his Discovery
After the very minute and elaborate paper by Arago, to say nothing of the summary in 'Silliman's Journal,' with the detailed statement just published by Lieutenant Maury, it will not be supposed, of course, that in offering a few hurried remarks in reference to Von Kempelen's discovery, I have any design to look at the subject in a scientific point of view. My object is simply, in the first place, to say a few words of Von Kempelen himself (with whom, some years ago, I had the honor of a slight personal acquaintance), since every thing which concerns him must necessarily, at this moment, be of interest; and, in the second place, to look in a general way, and speculatively, at the results of the discovery.
It may be as well, however, to premise the cursory observations which I have to offer, by denying, very decidedly, what seems to be a general impression (gleaned, as usual in a case of this kind, from the newspapers), viz.: that this discovery, astounding as it unquestionably is, is unanticipated.
By reference to the 'Diary of Sir Humphrey Davy' (Cottle and Munroe, London, pp. 150), it will be seen at pp. 53 and 82, that this illustrious chemist had not only conceived the idea now in question, but had actually made no inconsiderable progress, experimentally, in the very identical analysis now so triumphantly brought to an issue by Von Kempelen, who although he makes not the slightest allusion to it, is, without doubt (I say it unhesitatingly, and can prove it, if required), indebted to the 'Diary' for at least the first hint of his own undertaking.
The paragraph from the 'Courier and Enquirer,' which is now going the rounds of the press, and which purports to claim the invention for a Mr. Kissam, of Brunswick, Maine, appears to me, I confess, a little apocryphal, for several reasons; although there is nothing either impossible or very improbable in the statement made. I need not go into details. My opinion of the paragraph is founded principally upon its manner. It does not look true. Persons who are narrating facts, are seldom so particular as Mr. Kissam seems to be, about day and date and precise location. Besides, if Mr. Kissam actually did come upon the discovery he says he did, at the period designated — nearly eight years ago — how happens it that he took no steps, on the instant, to reap the immense benefits which the merest bumpkin must have known would have resulted to him individually, if not to the world at large, from the discovery? It seems to me quite incredible that any man of common understanding could have discovered what Mr. Kissam says he did, and yet have subsequently acted so like a baby — so like an owl — as Mr. Kissam admits that he did. By-the-way, who is Mr. Kissam? and is not the whole paragraph in the 'Courier and Enquirer' a fabrication got up to 'make a talk'? It must be confessed that it has an amazingly moon-hoaxy-air. Very little dependence is to be placed upon it, in my humble opinion; and if I were not well aware, from experience, how very easily men of science are mystified, on points out of their usual range of inquiry, I should be profoundly astonished at finding so eminent a chemist as Professor Draper, discussing Mr. Kissam's (or is it Mr. Quizzem's?) pretensions to the discovery, in so serious a tone.
But to return to the 'Diary' of Sir Humphrey Davy. This pamphlet was not designed for the public eye, even upon the decease of the writer, as any person at all conversant with authorship may satisfy himself at once by the slightest inspection of the style. At page 13, for example, near the middle, we read, in reference to his researches about the protoxide of azote: 'In less than half a minute the respiration being continued, diminished gradually and were succeeded by analogous to gentle pressure on all the muscles.' That the respiration was not 'diminished,' is not only clear by the subsequent context, but by the use of the plural, 'were.' The sentence, no doubt, was thus intended: 'In less than half a minute, the respiration [being continued, these feelings] diminished gradually, and were succeeded by [a sensation] analogous to gentle pressure on all the muscles.' A hundred similar instances go to show that the MS. so inconsiderately published, was merely a rough note-book, meant only for the writer's own eye, but an inspection of the pamphlet will convince almost any thinking person of the truth of my suggestion. The fact is, Sir Humphrey Davy was about the last man in the world to commit himself on scientific topics. Not only had he a more than ordinary dislike to quackery, but he was morbidly afraid of appearing empirical; so that, however fully he might have been convinced that he was on the right track in the matter now in question, he would never have spoken out, until he had every thing ready for the most practical demonstration. I verily believe that his last moments would have been rendered wretched, could he have suspected that his wishes in regard to burning this 'Diary' (full of crude speculations) would have been unattended to; as, it seems, they were. I say 'his wishes,' for that he meant to include this note-book among the miscellaneous papers directed 'to be burnt,' I think there can be no manner of doubt. Whether it escaped the flames by good fortune or by bad, yet remains to be seen. That the passages quoted above, with the other similar ones referred to, gave Von Kempelen the hint, I do not in the slightest degree question; but I repeat, it yet remains to be seen whether this momentous discovery itself (momentous under any circumstances) will be of service or disservice to mankind at large. That Von Kempelen and his immediate friends will reap a rich harvest, it would be folly to doubt for a moment. They will scarcely be so weak as not to 'realize,' in time, by large purchases of houses and land, with other property of intrinsic value.
In the brief account of Von Kempelen which appeared in the 'Home Journal,' and has since been extensively copied, several misapprehensions of the German original seem to have been made by the translator, who professes to have taken the passage from a late number of the Presburg 'Schnellpost.' 'Viele' has evidently been misconceived (as it often is), and what the translator renders by 'sorrows,' is probably 'lieden,' which, in its true version, 'sufferings,' would give a totally different complexion to the whole account; but, of course, much of this is merely guess, on my part.
Von Kempelen, however, is by no means 'a misanthrope,' in appearance, at least, whatever he may be in fact. My acquaintance with him was casual altogether; and I am scarcely warranted in saying that I know him at all; but to have seen and conversed with a man of so prodigious a notoriety as he has attained, or will attain in a few days, is not a small matter, as times go.
'The Literary World' speaks of him, confidently, as a native of Presburg (misled, perhaps, by the account in 'The Home Journal') but I am pleased in being able to state positively, since I have it from his own lips, that he was born in Utica, in the State of New York, although both his parents, I believe, are of Presburg descent. The family is connected, in some way, with Maelzel, of Automaton-chess-player memory. In person, he is short and stout, with large, fat, blue eyes, sandy hair and whiskers, a wide but pleasing mouth, fine teeth, and I think a Roman nose. There is some defect in one of his feet. His address is frank, and his whole manner noticeable for bonhomie. Altogether, he looks, speaks, and acts as little like 'a misanthrope' as any man I ever saw. We were fellow-sojouners for a week about six years ago, at Earl's Hotel, in Providence, Rhode Island; and I presume that I conversed with him, at various times, for some three or four hours altogether. His principal topics were those of the day, and nothing that fell from him led me to suspect his scientific attainments. He left the hotel before me, intending to go to New York, and thence to Bremen; it was in the latter city that his great discovery was first made public; or, rather, it was there that he was first suspected of having made it. This is about all that I personally know of the now immortal Von Kempelen; but I have thought that even these few details would have interest for the public.
There can be little question that most of the marvellous rumors afloat about this affair are pure inventions, entitled to about as much credit as the story of Aladdin's lamp; and yet, in a case of this kind, as in the case of the discoveries in California, it is clear that the truth may be stranger than fiction. The following anecdote, at least, is so well authenticated, that we may receive it implicitly.
Von Kempelen had never been even tolerably well off during his residence at Bremen; and often, it was well known, he had been put to extreme shifts in order to raise trifling sums. When the great excitement occurred about the forgery on the house of Gutsmuth & Co., suspicion was directed toward Von Kempelen, on account of his having purchased a considerable property in Gasperitch Lane, and his refusing, when questioned, to explain how he became possessed of the purchase money. He was at length arrested, but nothing decisive appearing against him, was in the end set at liberty. The police, however, kept a strict watch upon his movements, and thus discovered that he left home frequently, taking always the same road, and invariably giving his watchers the slip in the neighborhood of that labyrinth of narrow and crooked passages known by the flash name of the 'Dondergat.' Finally, by dint of great perseverance, they traced him to a garret in an old house of seven stories, in an alley called Flatzplatz, — and, coming upon him suddenly, found him, as they imagined, in the midst of his counterfeiting operations. His agitation is represented as so excessive that the officers had not the slightest doubt of his guilt. After hand-cuffing him, they searched his room, or rather rooms, for it appears he occupied all the mansarde.
Opening into the garret where they caught him, was a closet, ten feet by eight, fitted up with some chemical apparatus, of which the object has not yet been ascertained. In one corner of the closet was a very small furnace, with a glowing fire in it, and on the fire a kind of duplicate crucible — two crucibles connected by a tube. One of these crucibles was nearly full of lead in a state of fusion, but not reaching up to the aperture of the tube, which was close to the brim. The other crucible had some liquid in it, which, as the officers entered, seemed to be furiously dissipating in vapor. They relate that, on finding himself taken, Kempelen seized the crucibles with both hands (which were encased in gloves that afterwards turned out to be asbestic), and threw the contents on the tiled floor. It was now that they hand-cuffed him; and before proceeding to ransack the premises they searched his person, but nothing unusual was found about him, excepting a paper parcel, in his coat-pocket, containing what was afterward ascertained to be a mixture of antimony and some unknown substance, in nearly, but not quite, equal proportions. All attempts at analyzing the unknown substance have, so far, failed, but that it will ultimately be analyzed, is not to be doubted.
Passing out of the closet with their prisoner, the officers went through a sort of ante-chamber, in which nothing material was found, to the chemist's sleeping-room. They here rummaged some drawers and boxes, but discovered only a few papers, of no importance, and some good coin, silver and gold. At length, looking under the bed, they saw a large, common hair trunk, without hinges, hasp, or lock, and with the top lying carelessly across the bottom portion. Upon attempting to draw this trunk out from under the bed, they found that, with their united strength (there were three of them, all powerful men), they 'could not stir it one inch.' Much astonished at this, one of them crawled under the bed, and looking into the trunk, said:
'No wonder we couldn't move it — why it's full to the brim of old bits of brass!' Putting his feet, now, against the wall so as to get a good purchase, and pushing with all his force, while his companions pulled with an theirs, the trunk, with much difficulty, was slid out from under the bed, and its contents examined. The supposed brass with which it was filled was all in small, smooth pieces, varying from the size of a pea to that of a dollar; but the pieces were irregular in shape, although more or less flat-looking, upon the whole, 'very much as lead looks when thrown upon the ground in a molten state, and there suffered to grow cool.' Now, not one of these officers for a moment suspected this metal to be any thing but brass. The idea of its being gold never entered their brains, of course; how could such a wild fancy have entered it? And their astonishment may be well conceived, when the next day it became known, all over Bremen, that the 'lot of brass' which they had carted so contemptuously to the police office, without putting themselves to the trouble of pocketing the smallest scrap, was not only gold — real gold — but gold far finer than any employed in coinage-gold, in fact, absolutely pure, virgin, without the slightest appreciable alloy.
I need not go over the details of Von Kempelen's confession (as far as it went) and release, for these are familiar to the public. That he has actually realized, in spirit and in effect, if not to the letter, the old chimaera of the philosopher's stone, no sane person is at liberty to doubt. The opinions of Arago are, of course, entitled to the greatest consideration; but he is by no means infallible; and what he says of bismuth, in his report to the Academy, must be taken cum grano salis. The simple truth is, that up to this period all analysis has failed; and until Von Kempelen chooses to let us have the key to his own published enigma, it is more than probable that the matter will remain, for years, in statu quo. All that as yet can fairly be said to be known is, that 'Pure gold can be made at will, and very readily from lead in connection with certain other substances, in kind and in proportions, unknown.'
Speculation, of course, is busy as to the immediate and ultimate results of this discovery — a discovery which few thinking persons will hesitate in referring to an increased interest in the matter of gold generally, by the late developments in California; and this reflection brings us inevitably to another — the exceeding inopportuneness of Von Kempelen's analysis. If many were prevented from adventuring to California, by the mere apprehension that gold would so materially diminish in value, on account of its plentifulness in the mines there, as to render the speculation of going so far in search of it a doubtful one — what impression will be wrought now, upon the minds of those about to emigrate, and especially upon the minds of those actually in the mineral region, by the announcement of this astounding discovery of Von Kempelen? a discovery which declares, in so many words, that beyond its intrinsic worth for manufacturing purposes (whatever that worth may be), gold now is, or at least soon will be (for it cannot be supposed that Von Kempelen can long retain his secret), of no greater value than lead, and of far inferior value to silver. It is, indeed, exceedingly difficult to speculate prospectively upon the consequences of the discovery, but one thing may be positively maintained — that the announcement of the discovery six months ago would have had material influence in regard to the settlement of California.
In Europe, as yet, the most noticeable results have been a rise of two hundred per cent. in the price of lead, and nearly twenty-five per cent. that of silver.
Edgar Allan Poe: Von Kempelen and his Discovery

kempis poetry magazine
More in: Archive O-P, Edgar Allan Poe, Poe, Edgar Allan
---
Edgar Allan Poe
(1809-1849)
The Masque of the Red Death
The red death had long devastated the country. No pestilence had ever been so fatal, or so hideous. Blood was its Avatar and its seal–the madness and the horror of blood. There were sharp pains, and sudden dizziness, and then profuse bleeding at the pores, with dissolution. The scarlet stains upon the body and especially upon the face of the victim, were the pest ban which shut him out from the aid and from the sympathy of his fellow-men. And the whole seizure, progress, and termination of the disease, were incidents of half an hour.
But Prince Prospero was happy and dauntless and sagacious. When his dominions were half depopulated, he summoned to his presence a thousand hale and light-hearted friends from among the knights and dames of his court, and with these retired to the deep seclusion of one of his crenellated abbeys. This was an extensive and magnificent structure, the creation of the prince's own eccentric yet august taste. A strong and lofty wall girdled it in. This wall had gates of iron. The courtiers, having entered, brought furnaces and massy hammers and welded the bolts.
They resolved to leave means neither of ingress nor egress to the sudden impulses of despair or of frenzy from within. The abbey was amply provisioned. With such precautions the courtiers might bid defiance to contagion. The external world could take care of itself. In the meantime it was folly to grieve or to think. The prince had provided all the appliances of pleasure. There were buffoons, there were improvisatori, there were ballet-dancers, there were musicians, there was Beauty, there was wine. All these and security were within. Without was the "Red Death."
It was toward the close of the fifth or sixth month of his seclusion that the Prince Prospero entertained his thousand friends at a masked ball of the most unusual magnificence.
It was a voluptuous scene, that masquerade. But first let me tell of the rooms in which it was held. There were seven–an imperial suite, In many palaces, however, such suites form a long and straight vista, while the folding doors slide back nearly to the walls on either hand, so that the view of the whole extant is scarcely impeded. Here the case was very different; as might have been expected from the duke's love of the "bizarre." The apartments were so irregularly disposed that the vision embraced but little more than one at a time. There was a sharp turn at the right and left, in the middle of each wall, a tall and narrow Gothic window looked out upon a closed corridor of which pursued the windings of the suite. These windows were of stained glass whose color varied in accordance with the prevailing hue of the decorations of the chamber into which it opened. That at the eastern extremity was hung, for example, in blue–and vividly blue were its windows. The second chamber was purple in its ornaments and tapestries, and here the panes were purple. The third was green throughout, and so were the casements. The fourth was furnished and lighted with orange–the fifth with white–the sixth with violet. The seventh apartment was closely shrouded in black velvet tapestries that hung all over the ceiling and down the walls, falling in heavy folds upon a carpet of the same material and hue. But in this chamber only, the color of the windows failed to correspond with the decorations. The panes were scarlet–a deep blood color. Now in no one of any of the seven apartments was there any lamp or candelabrum, amid the profusion of golden ornaments that lay scattered to and fro and depended from the roof. There was no light of any kind emanating from lamp or candle within the suite of chambers. But in the corridors that followed the suite, there stood, opposite each window, a heavy tripod, bearing a brazier of fire, that projected its rays through the tinted glass and so glaringly lit the room. And thus were produced a multitude of gaudy and fantastic appearances. But in the western or back chamber the effect of the fire-light that streamed upon the dark hangings through the blood-tinted panes was ghastly in the extreme, and produced so wild a look upon the countenances of those who entered, that there were few of the company bold enough to set foot within its precincts at all. It was within this apartment, also, that there stood against the western wall, a gigantic clock of ebony. It pendulum swung to and fro with a dull, heavy, monotonous clang; and when the minute-hand made the circuit of the face, and the hour was to be stricken, there came from the brazen lungs of the clock a sound which was clear and loud and deep and exceedingly musical, but of so peculiar a note and emphasis that, at each lapse of an hour, the musicians of the orchestra were constrained to pause, momentarily, in their performance, to hearken to the sound; and thus the waltzers perforce ceased their evolutions; and there was a brief disconcert of the whole gay company; and while the chimes of the clock yet rang. it was observed that the giddiest grew pale, and the more aged and sedate passed their hands over their brows as if in confused revery or meditation. But when the echoes had fully ceased, a light laughter at once pervaded the assembly; the musicians looked at each other and smiled as if at their own nervousness and folly, and made whispering vows, each to the other, that the next chiming of the clock should produce in them no similar emotion; and then, after the lapse of sixty minutes (which embrace three thousand and six hundred seconds of Time that flies), there came yet another chiming of the clock, and then were the same disconcert and tremulousness and meditation as before. But, in spite of these things, it was a gay and magnificent revel. The tastes of the duke were peculiar. He had a fine eye for color and effects. He disregarded the "decora" of mere fashion. His plans were bold and fiery, and his conceptions glowed with barbaric lustre. There are some who would have thought him mad. His followers felt that he was not. It was necessary to hear and see and touch him to be sure he was not.
He had directed, in great part, the movable embellishments of the seven chambers, upon occasion of this great fete; and it was his own guiding taste which had given character to the masqueraders. Be sure they were grotesque. There were much glare and glitter and piquancy and phantasm–much of what has been seen in "Hernani." There were arabesque figures with unsuited limbs and appointments. There were delirious fancies such as the madman fashions. There were much of the beautiful, much of the wanton, much of the bizarre, something of the terrible, and not a little of that which might have excited disgust. To and fro in the seven chambers stalked, in fact, a multitude of dreams. And these the dreams–writhed in and about, taking hue from the rooms, and causing the wild music of the orchestra to seem as the echo of their steps. And, anon, there strikes the ebony clock which stands in the hall of the velvet. And then, for a moment, all is still, and all is silent save the voice of the clock. The dreams are stiff-frozen as they stand. But the echoes of the chime die away–they have endured but an instant–and a light half-subdued laughter floats after them as they depart. And now the music swells, and the dreams live, and writhe to and fro more merrily than ever, taking hue from the many-tinted windows through which stream the rays of the tripods. But to the chamber which lies most westwardly of the seven there are now none of the maskers who venture, for the night is waning away; and there flows a ruddier light through the blood-colored panes; and the blackness of the sable drapery appalls; and to him whose foot falls on the sable carpet, there comes from the near clock of ebony a muffled peal more solemnly emphatic than any which reaches their ears who indulge in the more remote gaieties of the other apartments.
But these other apartments were densely crowded, and in them beat feverishly the heart of life. And the revel went whirlingly on, until at length there commenced the sounding of midnight upon the clock. And then the music ceased, as I have told; and the evolutions of the waltzers were quieted; and there was an uneasy cessation of all things as before. But now there were twelve strokes to be sounded by the bell of the clock; and thus it happened, perhaps that more of thought crept, with more of time into the meditations of the thoughtful among those who revelled. And thus too, it happened, that before the last echoes of the last chime had utterly sunk into silence, there were many individuals in the crowd who had found leisure to become aware of the presence of a masked figure which had arrested the attention of no single individual before. And the rumor of this new presence having spread itself whisperingly around, there arose at length from the whole company a buzz, or murmur, of horror, and of disgust.
In an assembly of phantasms such as I have painted, it may well be supposed that no ordinary appearance could have excited such sensation. In truth the masquerade license of the night was nearly unlimited; but the figure in question had out-Heroded Herod, and gone beyond the bounds of even the prince's indefinite decorum. There are chords in the hearts of the most reckless which cannot be touched without emotion. Even with the utterly lost, to whom life and death are equally jests, there are matters of which no jest can be made. The whole company, indeed, seemed now deeply to feel that in the costume and bearing of the stranger neither wit nor propriety existed. The figure was tall and gaunt, and shrouded from head to foot in the habiliments of the grave. The mask which concealed the visage was made so nearly to resemble the countenance of a stiffened corpse that the closest scrutiny must have difficulty in detecting the cheat. And yet all this might have been endured, if not approved, by the mad revellers around. But the mummer had gone so far as to assume the type of the Red Death. His vesture was dabbled in blood–and his broad brow, with all the features of his face, was besprinkled with the scarlet horror.
When the eyes of Prince Prospero fell on this spectral image (which, with a slow and solemn movement, as if more fully to sustain its role, stalked to and fro among the waltzers) he was seen to be convulsed, in the first moment with a strong shudder either of terror or distaste; but in the next, his brow reddened with rage.
"Who dares"–he demanded hoarsely of the courtiers who stood near him–"who dares insult us with this blasphemous mockery? Seize him and unmask him–that we may know whom we have to hang, at sunrise, from the battlements!"
It was in the eastern or blue chamber in which stood Prince Prospero as he uttered these words. They rang throughout the seven rooms loudly and clearly, for the prince was a bold and robust man, and the music had become hushed at the waving of his hand.
It was in the blue room where stood the prince, with a group of pale courtiers by his side. At first, as he spoke, there was a slight rushing movement of this group in the direction of the intruder, who, at the moment was also near at hand, and now, with deliberate and stately step, made closer approach to the speaker. But from a certain nameless awe with which the mad assumptions of the mummer had inspired the whole party, there were found none who put forth a hand to seize him; so that, unimpeded, he passed within a yard of the prince's person; and while the vast assembly, as with one impulse, shrank from the centers of the rooms to the walls, he made his way uninterruptedly, but with the same solemn and measured step which had distinguished him from the first, through the blue chamber to the purple–to the purple to the green–through the green to the orange–through this again to the white–and even thence to the violet, ere a decided movement had been made to arrest him. It was then, however, that the Prince Prospero, maddened with rage and the shame of his own momentary cowardice, rushed hurriedly through the six chambers, while none followed him on account of a deadly terror that had seized upon all. He bore aloft a drawn dagger, and had approached, in rapid impetuosity, to within three or four feet of the retreating figure, when the latter, having attained the extremity of the velvet apartment, turned suddenly and confronted his pursuer. There was a sharp cry–and the dagger dropped gleaming upon the sable carpet, upon which most instantly afterward, fell prostrate in death the Prince Prospero. Then summoning the wild courage of despair, a throng of the revellers at once threw themselves into the black apartment, and seizing the mummer whose tall figure stood erect and motionless within the shadow of the ebony clock, gasped in unutterable horror at finding the grave cerements and corpse-like mask, which they handled with so violent a rudeness, untenanted by any tangible form.
And now was acknowledged the presence of the Red Death. He had come like a thief in the night. And one by one dropped the revellers in the blood-bedewed halls of their revel, and died each in the despairing posture of his fall. And the life of the ebony clock went out with that of the last of the gay. And the flames of the tripods expired. And Darkness and Decay and the Red Death held illimitable dominion over all.
Edgar Allan Poe: The Masque of the Red Death

kempis poetry magazine
More in: Archive O-P, Edgar Allan Poe, Poe, Edgar Allan
---
Luigi Pirandello
(1867-1936)

W a r
The passengers who had left Rome by the night express had had to stop until dawn at the small station of Fabriano in order to continue their journey by the small old-fashioned local joining the main line with Sulmona.
At dawn, in a stuffy and smoky second-class carriage in which five people had already spent the night, a bulky woman in deep mourning was hosted in—almost like a shapeless bundle.  Behind her—puffing and moaning, followed her husband—a tiny man; thin and weakly, his face death-white, his eyes small and bright and looking shy and uneasy.

Having at last taken a seat he politely thanked the passengers who had helped his wife and who had made room for her; then he turned round to the woman trying to pull down the collar of her coat and politely inquired:
"Are you all right, dear?"

The wife, instead of answering, pulled up her collar again to her eyes, so as to hide her face.

"Nasty world," muttered the husband with a sad smile.

And he felt it his duty to explain to his traveling companions that the poor woman was to be pitied for the war was taking away from her her only son, a boy of twenty to whom both had devoted their entire life, even breaking up their home at Sulmona to follow him to Rome, where he had to go as a student, then allowing him to volunteer for war with an assurance, however, that at least six months he would not be sent to the front and now, all of a sudden, receiving a wire saying that he was due to leave in three days' time and asking them to go and see him off.

The woman under the big coat was twisting and wriggling, at times growling like a wild animal, feeling certain that all those explanations would not have aroused even a shadow of sympathy from those people who—most likely—were in the same plight as herself. One of them, who had been listening with particular attention, said:

"You should thank God that your son is only leaving now for the front.  Mine has been sent there the first day of the war.  He has already come back twice wounded and been sent back again to the front."

"What about me?  I have two sons and three nephews at the front," said another passenger.

"Maybe, but in our case it is our only son," ventured the husband.

"What difference can it make?  You may spoil your only son by excessive attentions, but you cannot love him more than you would all your other children if you had any.  Parental love is not like bread that can be broken to pieces and split amongst the children in equal shares. A father gives all his love to each one of his children without discrimination, whether it be one or ten, and if I am suffering now for my two sons, I am not suffering half for each of them but double…"

"True…true…" sighed the embarrassed husband, "but suppose (of course we all hope it will never be your case) a father has two sons at the front and he loses one of them, there is still one left to console him…while…"

"Yes," answered the other, getting cross, "a son left to console him but also a son left for whom he must survive, while in the case of the father of an only son if the son dies the father can die too and put an end to his distress.  Which of the two positions is worse?  Don't you see how my case would be worse than yours?"

"Nonsense," interrupted another traveler, a fat, red-faced man with bloodshot eyes of the palest gray.

He was panting. From his bulging eyes seemed to spurt inner violence of an uncontrolled vitality which his weakened body could hardly contain.

"Nonsense, "he repeated, trying to cover his mouth with his hand so as to hide the two missing front teeth.  "Nonsense.  Do we give life to our own children for our own benefit?"

The other travelers stared at him in distress.  The one who had had his son at the front since the first day of the war sighed:  "You are right.  Our children do not belong to us, they belong to the country…"

"Bosh," retorted the fat traveler.  "Do we think of the country when we give life to our children?  Our sons are born because…well, because they must be born and when they come to life they take our own life with them.  This is the truth.  We belong to them but they never belong to us.  And when they reach twenty they are exactly what we were at their age.  We too had a father and mother, but there were so many other things as well…girls, cigarettes, illusions, new ties…and the Country, of course, whose call we would have answered—when we were twenty—even if father and mother had said no.  Now, at our age, the love of our Country is still great, of course, but stronger than it is the love of our children.  Is there any one of us here who wouldn't gladly take his son's place at the front if he could?"

There was a silence all round, everybody nodding as to approve.

"Why then," continued the fat man, "should we consider the feelings of our children when they are twenty?  Isn't it natural that at their age they should consider the love for their Country (I am speaking of decent boys, of course) even greater than the love for us?  Isn't it natural that it should be so, as after all they must look upon us as upon old boys who cannot move any more and must sit at home?  If Country is a natural necessity like bread of which each of us must eat in order not to die of hunger, somebody must go to defend it.  And our sons go, when they are twenty, and they don't want tears, because if they die, they die inflamed and happy (I am speaking, of course, of decent boys).  Now, if one dies young and happy, without having the ugly sides of life, the boredom of it, the pettiness, the bitterness of disillusion…what more can we ask for him?  Everyone should stop crying; everyone should laugh, as I do…or at least thank God—as I do—because my son, before dying, sent me a message saying that he was dying satisfied at having ended his life in the best way he could have wished.  That is why, as you see, I do not even wear mourning…"

He shook his light fawn coat as to show it; his livid lip over his missing teeth was trembling, his eyes were watery and motionless, and soon after he ended with a shrill laugh which might well have been a sob.

"Quite so…quite so…" agreed the others.

The woman who, bundled in a corner under her coat, had been sitting and listening had—for the last three months—tried to find in the words of her husband and her friends something to console her in her deep sorrow, something that might show her how a mother should resign herself to send her son not even to death but to a probable danger of life.  Yet not a word had she found amongst the many that had been said…and her grief had been greater in seeing that nobody—as she thought—could share her feelings.

But now the words of the traveler amazed and almost stunned her.  She suddenly realized that it wasn't the others who were wrong and could not understand her but herself who could not rise up to the same height of those fathers and mothers willing to resign themselves, without crying, not only to the departure of their sons but even to their death.

She lifted her head, she bent over from her corner trying to listen with great attention to the details which the fat man was giving to his companions about the way his son had fallen as a hero, for his King and his Country, happy and without regrets.  It seemed to her that she had stumbled into a world she had never dreamt of, a world so far unknown to her, and she was so pleased to hear everyone joining in congratulating that brave father who could so stoically speak of his child's death.
Then suddenly, just as if she had heard nothing of what had been said and almost as if waking up from a dream, she turned to the old man, asking him:

"Then…is your son really dead?"

Everyone stared at her.  The old man, too, turned to look at her, fixing his great, bulging, horribly watery light gray eyes, deep in her face.  For some time he tried to answer, but words failed him.  He looked and looked at her, almost as if only then—at that silly, incongruous question—he had suddenly realized at last that his son was really dead—gone for ever—for ever.  His face contracted, became horribly distorted, then he snatched in haste a handkerchief from his pocket and, to the amazement of everyone, broke into harrowing, heart-breaking, uncontrollable sobs.
Luigi Pirandello: War
kempis poetry magazine
More in: Archive O-P, Luigi Pirandello
---
« Newer Entries
Thank you for reading FLEURSDUMAL.NL - magazine for art & literature