Archive O-P
«« Previous page
·
Leif GW Persson: The Dying Detective. A Mystery
·
'De duistere winkel' – 124 dromen van Georges Perec
·
Georges PEREC: Poging tot uitputtende beschrijving van een plek in Parijs
·
Genomineerden E. DU PERRONprijs 2016 bekend
·
Esther Porcelijn: Vlezige mensen, wethouders, poppetjes, kastjes
·
Esther Porcelijn: NUT(S)
·
Esther Porcelijn: Niet nog een column over Stapel
·
Esther Porcelijn: Half ons verstand
·
Esther Porcelijn: Hondje
·
Edgar Allan Poe: Eleonora
·
George Orwell: The Lesser Evil
·
Edgar Allan Poe: The Facts in the Case of M. Valdemar
Lars Martin Johansson is a living legend. Cunning and perceptive, always one step ahead, he was known in the National Criminal Police as "the man who could see around corners." But now Johansson is retired, living in the country, his police days behind him.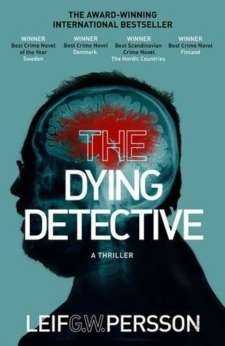 Or so he thinks.
After suffering a stroke, Johansson finds himself in the hospital. Tests show heart problems as well. And the only thing that can save him from despair is his doctor's mention of an unsolved murder case from years before. The victim: an innocent nine-year-old girl.
Johansson is determined to solve the case, no matter his condition. With the help of his assistant, Matilda, an amateur detective, and Max, an orphan with a personal stake in the case, he launches an informal investigation from his hospital bed. Racing against time, he uncovers a web of connections that links sex tourism to a dead opera singer and a self-made millionaire. And as Johansson draws closer to solving the crime, he finds that he will have to confront not just a mystery but his own mortality as well.
Leif G.W. Persson's previous novels include Backstrom: He Who Kills the Dragon, Between Summer's Longing and Winter's End, and Another Time, Another Life. He has served as an adviser to the Swedish ministry of justice and is Sweden's most renowned psychological profiler. A professor at the Swedish National Police Board, he is considered the country's foremost expert on crime.
The Dying Detective
A Mystery
By Leif GW Persson
Translated by Neil Smith
Category: Crime Mysteries
Paperback + Hardback
May 2017
432 Pages
Published by Transworld Publishers Ltd
ISBN10 085752089X
ISBN13 9780857520890
fleursdumal.nl magazine
More in: - Book News, - Book Stories, Archive O-P, Art & Literature News, CRIME & PUNISHMENT, Tales of Mystery & Imagination
---
Georges Perec (1936-1982) was ernstig getraumatiseerd door het verdwijnen van zijn ouders tijdens de Tweede Wereldoorlog, en onderging diverse psychoanalytische behandelingen tijdens zijn leven.
Het verklaart iets van het belang dat hij hechtte aan zijn dromen, die hij tussen mei 1968 en augustus 1972 noteerde in zijn dagboek, ook om in het reine te komen met een stukgelopen liefde
Perec kwam al doende een nieuwe manier van schrijven op het spoor die een verontrustende intensiteit had. De gefragmenteerde grondstof van nachtelijke hersenspinsels vormt in De duistere winkel een compleet verhaal, gedrenkt in humor en overlopend van stilistische hoogstandjes.
Georges Perec geldt als een van de meest ingenieuze moderne Franse schrijvers. Hij legde zich bij het schrijven vaak bewust formele restricties op. In De dingen bijvoorbeeld wordt geen dialoog gebruikt, wat aan het verhaal een fascinerende, zuiver epische transparantie geeft. Hij liet zich erop voorstaan dat hij nooit twee eendere boeken had geschreven. Toch draagt elk van zijn boeken het onloochenbare stempel van zijn scheppend vernuft.
Van Perec verschenen voortreffelijke vertalingen van de hand van Edu Borger, o.a. Het leven een gebruiksaanwijzing en De dingen.
Georges Perec
De duistere winkel
124 dromen
vertaling Edu Borger
Privé-domein nr 293
Uitgeverij De Arbeiderspers, Amsterdam
ISBN 9789029507554
240 pag. – juni 2017
paperback € 24,99
fleursdumal.nl magazine
More in: - Book News, Archive O-P, Art & Literature News, Georges Perec, OULIPO (PATAFYSICA), Tales of Mystery & Imagination
---
Drie dagen lang, in oktober 1974, posteerde Georges Perec zich in het Café de la Mairie in Parijs, dat uitkijkt op de Place Saint-Sulpice. Hij stelde zich tot doel álles te noteren wat hij waarnam. Het resulteerde in Tentative d'épuisement d'un lieu parisien.
'Mijn bedoeling op de volgende pagina's was vooral al het andere te beschrijven: dat wat je gewoonlijk niet opmerkt, wat er niet toe doet: wat er gebeurt wanneer er niets gebeurt, behalve tijd, mensen, auto's en wolken.'
Georges Perec  (1936 – 1982) was een Franse schrijver, essayist en film- en documentairemaker. Hij was een vooraanstaand lid van de Oulipo-groep (Ouvroir de littérature potentielle), een los verband van Franstalige schrijvers en wiskundigen, dat als doel heeft literaire werken te maken die aan bepaalde voorwaarden of beperkingen onderhevig zijn: littérature sous contraintes. Het kan daarbij gaan om beperkingen inzake het gebruik van letters, woorden, klanken, stijlen, enz. Deze beperkingen zijn niet alleen bedoeld als woord- en taalspelletjes, maar ook om de inspiratie en het vakmanschap van de auteurs aan te scherpen.
De vader van Perec stierf vroeg in de Tweede Wereldoorlog, de moeder werd vermoord in de Holocaust. In veel werken van Perec komt dit terug in een thematiek omtrent afwezigheid, verlies en identiteit.
Georges Perec
Pogingen tot uitputtende beschrijving van een plek in Parijs
Vertaling: Kiki Coumans
Uitgeverij Vleugels, 2017
ISBN: 9789078627319
48 pagina's
Prijs: € 19,45
# meer info website uitgeverij vleugels
fleursdumal.nl magazine
More in: - Book News, Archive O-P, Georges Perec, OULIPO (PATAFYSICA)
---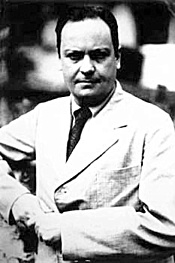 Genomineerden E. du Perronprijs 2016: Rodaan Al Galidi, Stefan Hertmans en Carolijn Visser – Arnon Grunberg houdt bij de prijsuitreiking de E. du Perronlezing donderdagavond 13 april 2017 in Tilburg
De schrijvers Rodaan Al Galidi, Stefan Hertmans en Carolijn Visser zijn genomineerd voor de E. du Perronprijs 2016. De prijs wordt toegekend aan personen of instellingen die met een cultuuruiting in brede zin een bijdrage leveren aan een beter begrip van de multiculturele samenleving. De uitreiking vindt plaats op donderdagavond 13 april 2017 bij het brabants kenniscentrum kunst en cultuur (bkkc) in Tilburg. Dan houdt Arnon Grunberg de E. du Perronlezing met als titel 'Het paradijs'.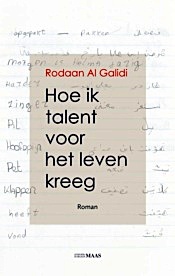 Rodaan Al Galidi – Hoe ik talent voor het leven kreeg (Uitgeverij Jurgen Maas)
Rodaan Al Galidi doet ons verslag van de leerschool die de Nederlandse asielprocedure is. Negen jaar wacht de hoofdpersoon Semmier Kariem op een beschikking in een van de vestigingen van het AZC. Negen jaar tussen aankomst in Nederland op de vlucht voor fysieke bedreiging en definitieve toelating wordt in dit verhaal invoelbaar als een oneindige mentale nekklem. Dat is het leergeld voor vluchtelingen die niet op uitnodiging de landsgrenzen passeren. Leerschool of wachtkamer, het talent van Rodaan Al Galidi is gerijpt. Deze vertellingen in de vorm van brieven aan een geïnteresseerde buitenstaander gericht laten ons alle kanten van hoop, lethargie, opstandigheid, beklag en ironie zien. De bewoners van het AZC leven op een mix van herinneringen, volharding, wanhoop; kortom overlevingsdrift. Het verslag is introspectief, zakelijk, ironisch en soms ronduit Kafkaësk. Met zijn stijl schraagt de verteller zijn bestaan en geeft hij vaart aan een eindeloos vertraagde tijd.
Stefan Hertmans – De bekeerlinge (Uitgeverij De Bezige Bij)
Bekering is een van de meest ingrijpende keuzes die een mens kan maken. Zij rukt het individu uit zijn vertrouwde verband dat bepaald wordt door afstamming en traditie. Toebehoren biedt vertrouwdheid en bescherming. Dit aanbod, deze burcht af te wijzen en te verlaten, te vluchten is een onomkeerbare daad. De bekeerling moet koersen op onbekende instrumenten: een nieuw geloof, een vreemde taal, een onbekend bestaan in een onbekend gebied. Stefan Hertmans voert ons mee in het historische verhaal van Vigdis Adelaïs, die uit liefde besluit een Joodse jongeman te volgen. Het is het einde van de 11e eeuw. Het sentiment van kruistochten hangt in de lucht. Een millennium later volgt Hertmans deze vlucht, fysiek door het landschap met gebruikmaking van bronnen en verbeelding. Verstoting, bedreiging en vlucht zijn van alle tijden. Hertmans is in staat om op heel persoonlijke manier het universele en bijzondere hiervan open te schrijven in een overtuigende roman.
Carolijn Visser – Selma. Aan Hitler ontsnapt, gevangene van Mao (Uitgeverij Augustus)
De titel van deze documentaire vertelling herinnert ons onmiddellijk aan het literaire cliché dat niets zo onwaarschijnlijk is als het leven zelf. Selma, een Joodse overlevende van de Holocaust, besluit met haar Chinese echtgenoot mee te gaan naar China in de jaren vijftig. Wat haar te wachten staat is het lot van intellectuelen en buitenlanders in de periode van de Culturele Revolutie. Het is de verdienste van Carolijn Visser om het onbeschrijfelijke glashelder aan ons te presenteren. Dat doet ze door vaardig te beschrijven wat er aan informatie bewaard is gebleven, maar net zo goed door betekenisvolle leemtes achter te laten. Selma is twee keer slachtoffer geworden van etnische uitsluiting. Ze staat niet voor grotere gehelen, ze was een individu dat voortdurend onder bedreiging van grotere verbanden, ideologieën leefde en uiteindelijk ook vermalen werd. Selma is een monument voor het kwetsbare individu.
E. du Perronprijs
De E. du Perronprijs is een initiatief van de gemeente Tilburg, de School of Humanities van Tilburg University en brabants kenniscentrum kunst en cultuur (bkkc). De prijs is bedoeld voor personen of instellingen die, net als Du Perron in zijn tijd, grenzen signaleren en doorbreken die wederzijds begrip tussen verschillende bevolkingsgroepen in de weg staan. De prijs bestaat uit een geldbedrag van €2500 euro en een textiel object, ontworpen door [NAAM] en vervaardigd bij het TextielMuseum. In 2015 won Ilja Leonard Pfeijffer de prijs voor zijn dichtbundel Idyllen, zijn pamflet Gelukszoekers en zijn columns in NRC Next. Andere laureaten waren onder meer Warna Oosterbaan & Theo Baart (2014), Mohammed Benzakour (2013), Koen Peeters (2012), Ramsey Nasr (2011), Alice Boot & Rob Woortman (2010), Abdelkader Benali (2009) en Adriaan van Dis (2008).
# Meer informatie over de du Perronprijs op website Tilburg University
fleursdumal.nl magazine
More in: - Book Lovers, Archive O-P, Art & Literature News, Eddy du Perron, Literary Events
---

Vlezige mensen, wethouders, poppetjes, kastjes
Welkom iedereen! Het thema van vanavond is: 'Verlichting'.
De stroming in de 17e en 18e eeuw die ons tot het inzicht heeft laten komen dat de Rede het enige instrument is om tot Waarheid te komen. Weg met het bijgeloof, weg met de onderdrukking van de kerk, weg met het feodale systeem, en op naar grondrechten, gelijkheid en vrijheid waarvoor vervolgens gestreden werd in de Franse Revolutie. Dit alles is uiteraard veroorzaakt door historici, filosofen en ontevreden burgers, maar niet enkel door hen. De Pamflettisten hebben zich een slag in de rondte gewerkt om iedereen te laten weten hoe vreselijk de adel was en dat de koning elke dag baadde in kinderbloed. Zij wisten met opruiende teksten, beschuldigingen, beledigingen en verdachtmakingen de burgerij voor zich te winnen. Ongeacht of de boodschap waarheid bevatte of niet.
Herkenbaar?
Wellicht dat we de pamflettisten van nu vanavond op het podium zullen zien.
Dan zullen we hen vast horen over wethouders van vroeger en van nu, en over andere mensen uit de politiek. Over hoe een of andere handeling van een of ander iemand exemplarisch is voor dit 'dorp' en haar mentaliteit.
Het kan ook zijn dat iemand in deze zaal hard wordt aangepakt. Maar niet té hard, het moet natuurlijk wel gezellig en grappig blijven. Maar om het grappig te laten zijn, moet het wel gaan over iemand die wij allemaal (persoonlijk) kennen, anders valt er niets te lachen. Als je dan niet lacht ben je de gebeten hond en dus iemand zonder humor.
Harde uitspraken moeten grappig zijn, anders zijn ze alleen maar pijnlijk! Jongens, lach dan, lach dan!
Het lijkt wel een formule. Een pamfletformule!
Eens kijken, wat zou de formule deze avond kunnen bevatten?
Ik gok dat het woord 'dorp' toch wel een aantal keer valt.
Wethouder van Cultuur Marjo Frenk is een goede kansmaker op een naamsvermelding denk ik.
Anton Dautzenberg komt vast weer met een sexuele verdachtmaking van iemand, misschien voormalig stadsdichter Cees van Raak die seks heeft gehad met de hond van Daan Taks? (Nachtdichter van Tilburg.) Wellicht betrekt hij er een landelijke bekendheid in, want dat onderscheid moet uiteraard gemaakt worden! Het onderscheid tussen de landelijke bekendheid versus het provincialisme dat noodzakelijk in die zin betrokken is als je een accent legt op lándelijke bekendheid. Hij wel, verdomme. Dan maar een grapje maken: Poep! Ha. Ha. Ha. Enig!
Misschien houdt Anton (zo mag ik 'm noemen, zegt ook weer wat over mij, ik ken hem. Dat maakt mij iets meer immuun voor zijn harde uitspraken die mij mogelijk te wachten staan. Wauw!) eerder een betoog over iets met bloed en de nachtburgemeester Godelieve Engbersen. Iets over een moord die gepleegd is waarbij wederom de hond van Daan Taks betrokken was.
Luuk Koelman zal hoe dan ook de woede van heel het land op de hals halen met zijn column, dat moet haast wel. Als je de woede van bijna heel het land al op de hals hebt gehaald, met de column over Mariska Orbán-de Haas, dan moet je toch minstens het hele land boos maken wil je nog opvallen. Maar wij in de zaal zijn 'insiders on the joke' dus wij kunnen dan met een gerust hart zeggen dat de rest van het land zo kleinburgerlijk is en nooit iets snapt. "Hoe kun je die ironie nou niet inzien? On-be-grijpelijk", fluistert ene Lidy uit Tilburg dan tegen haar man Hans; "Wij zijn dan nog behoorlijk open-minded, toch Hans?" "Gelukkig maar."
Wat maakt het toch zo smakelijk, dat pakken op de persoon, de Ad Hominem?
"Polemiek!" Hoor ik Antonnetje en zijn billemaat Erik Hannema roepen in mijn hoofd.
Ja, polemiek jongens, polemiek! Het is een kunst, dat moet gezegd, maar bedrijf het dan ook! Polemiek betekent redetwisten. Daar hebben we het woord 'rede' dus weer. Diezelfde rede die ons tot de waarheid zou kunnen brengen. De twee deelnemers zouden het komen tot waarheid hoog in het vaandel hebben staan, waarom zou je anders redetwisten? Om je gelijk te halen misschien? Zou kunnen, maar een gelijk zonder daadwerkelijk gelijk lijkt mij weinig voldoenend. Misschien wordt deze kunst wel veel bedreven op avonden zoals deze uit een gevoel van nostalgie: "Vroeger kon men dit nog, vroeger was er nog iets om voor te strijden, vroeger waren er nog revoluties in het Westen!" Onrust stoken om mensen op te ruien en te motiveren. Maar, waarom zou je dan mensen persoonlijk pakken met fictieve gebeurtenissen of –verdachtmakingen?
Misschien omdat het te lang bespreken van de ware gebeurtenissen, fouten en terechte verdachtmakingen te pijnlijk en ongemakkelijk is. Het moet wel gezellig blijven en dus worden er een paar fictieve gebeurtenissen tussen de regels geplakt zodat de mogelijkheid dat de ware gebeurtenissen ook fictief zijn nog blijft bestaan.
We willen wel de roddels maar niet de confrontatie, niet echt. We willen alleen de smakelijke sappige details mits ze weinig lijken te zeggen over onszelf. Is ook makkelijker natuurlijk! De ander is gek, de ander is grappig.
Is het waar dat men vroeger dan wel eindeloos opzoek was naar de waarheid? Ik denk het niet, althans, niet meer dan nu. Ten tijde van de Franse Revolutie verzon de lage adel er ook op los, wat er maar nodig was om de burgers aan hun kant te krijgen. Dat dit lukte en uiteindelijk meer vrijheid tot stand bracht is een feit. Al waren de donkere tijden van de middeleeuwen iets minder donker dan zij ons tot op de dag van vandaag hebben doen denken. Maar zij deden dit met gevaar voor eigen leven, niet braaf in een zaal in Tilburg. Waarom zouden wij dan een hang hebben naar die revoluties van vroeger en de pamflettaal die daarmee samenhangt? Welke donkere tijden proberen wij te ontvluchten?
Kijk, Jace vd Ven (eerste stadsdichter van Tilburg) komt uit vroeger, dus hij hoeft het vroeger niet naar nu te trekken. Hij weet al hoe het toen was en kan hoogstens oprecht nostalgische gevoelens ervaren. Juist doordat hij uit vroeger komt weet hij ook dat de geschiedenis zich herhaalt. Hij kan zijn nootjes pakken, naar de show kijken en pogen iets universeels te schrijven als dichter. Want dat kan hij. Jace kan, en misschien wel hierdoor, gedichten maken die buiten de tijd staan. Dat is wat een goed gedicht doet.
Misschien dat Tom America ons nog een vieze film toont, met in een soundscape de naam van Burgermeester Noordanus in herhaling. Of iets met een jong Thais meisje, gespeeld door mij, dan kunnen we dat meteen voor het TilT-festival gebruiken, Tom! Theatermaker Peer de Graaf en dichter Martin Beversluis doen dan samen een interpretatieve dans, naakt uiteraard.
Nu, ik hoop dat u precies vaak genoeg genoemd wordt deze avond om belangrijk gevonden te worden, maar net te weinig om uw ziel ontbloot te voelen.
De formule zal het leren: Pastor Harm Schilder + grapje over piemeltjes van jonge jongens = hihi. Tilburg culturele hoofdstad + iets met de VVD + naamsbekendheid want ik ken d'n dieje – lekker gewoon gebleven = haha.
Deze avond gaat ons hopelijk enorm verlichten. Of de rede hier zegeviert kunt u allen zelf bepalen, we houden na afloop een opiniepeiling in het licht van: 'uw stem is ook belangrijk', dit past binnen het thema waar de pamflettisten zo voor gepamfletteerd hebben: Gelijkheid. Het bespotten van de poppetjes kan beginnen!
Het lucht vast wel op, dus in die zin wellicht…. Verlichting.
Esther Porcelijn, 19 jan 2013
(Column voorgedragen tijdens 'Schuimt', columnistenbijeenkomst met o.a. Anton Dautzenberg, Luuk Koelman, JACE vd Ven, en Tom America, in jazzpodium Paradox in Tilburg)
More in: Archive O-P, Archive O-P, Porcelijn, Esther, Porcelijn, Esther
---
foto jef van kempen
Esther Porcelijn
NUT(S)
Ja. Ik geef het toe: Ik studeer filosofie. Guilty!! (zoals Peter Griffin het zegt in Family Guy). Ik ben die persoon die het advies van de ouders in de wind geslagen heeft en toch naar de toneelschool is gegaan en daarna naar het Departement Wijsbegeerte aan de UvT.
Ik weet het, je hoeft geen open deuren in te trappen: Ik ben geen advocaat of econoom aan het worden, Ergo: ik word niet erg rijk. Voor sommigen nog Ergoër: Ik volg geen nuttige studie. Ik ben voor velen dé vleeswording van de Linkse Kerk en beoefen dé linkse hobby der linkse hobby's. Daarbij denken veel mensen dat filosofie vaag en esoterisch is; een studie waar je gewoon wat kletst over van alles en daar een 10 voor krijgt. Dus ik ben ook nog eens een vage linkse hobby-hippie.
Errug!! Pauper plebs. Nog erger misschien wel: Een toekomstige uitkeringstrekker en hoe dan ook een subsidieslurper. Nog Erruger!! Wow!
Op het departement woedt, tussen de studenten, onder leiding van enkelen die de moed echt stevig in de schoenen is gezakt, al een tijd een discussie, of een monoloog.. nee toch een discussie.
Daarin gaat het vaak over het nut van onze studie en van het vak van een filosoof. Tijdens lange gesprekken maakt iemand nét iets te vaak de grap: "Ach, we vinden een baan ondanks de filosofie, niet dankzíj."
Dan, als iemand het zat wordt gaat het argumentenkanon aan. Nu zou ik de argumenten kunnen opnoemen, bijvoorbeeld dat o.a. Nederlandse politici, Amerikaanse presidenten, beroemde kunstenaars, journalisten en CEO's van grote bedrijven filosofie hebben gestudeerd, maar dat is anekdotische argumentatie, en we weten allemaal dat een aantal individuele voorbeelden nog geen goed argument maakt.
Ik zou ook kunnen beginnen over hoe de democratie volledig is uitgedacht door filosofen en hoe de vrijheid die wij nu genieten alleen maar kan bestaan doordat een paar goede denkers de grenzen van die vrijheid hebben uitgedacht. Maar dan zou ik mijn professoren klakkeloos napraten, en in het verleden behaalde resultaten bieden geen garantie voor de toekomst, en meer van dat soort powerpoint-uitspraken. Of hoe exacte wetenschap ook niet exact is, voor als iemand beweert dat wat wij doen niet empirisch toetsbaar is en dus maar geklets. Maar dat is ook niks, iemand anders met hetzelfde probleem opzadelen als jijzelf. Misschien zou ik iets kunnen zeggen over communicatie- of vrijetijdswetenschappen, dat die studies pas écht nutteloos zijn, maar daar heeft niemand wat aan, laat staan dat het een argument is voor wat dan ook.
Beter kan ik iets proberen te zeggen, of nee, te duiden, wat betreft de termen 'links' en 'nut', alleen denk ik dat we daar toch een lang gesprek voor nodig hebben waarin we het vast ook zouden hebben over hoe wat 'men' vindt helemaal niet altijd waar hoeft te zijn, en over de invloed van de media en andere joop.nl onderwerpen.
Ik zou mijzelf fiks kunnen verdedigen uit pissigheid waaruit blijkt dat ik mij juist veel aantrek van wat men vindt, meer nog dan die abstracte groep 'velen' waar ik het over heb. Ik zou dan als ik echt boos word iets kunnen roepen als: "Alsof jij met je heftige hang naar rijkdom en dikke status echt gelukkig wordt of ook maar ergens verstand van kan hebben."
Als ik dat zou doen dan zou ik dingen zeggen die ik helemaal niet vind en mij alleen maar meer stereotiep maken dan ik ben. Bovenal zou het de domste drogreden zijn. Ad hominem. Dat is pas echt errug. Ai.
Esther Porcelijn
(27) studeert filosofie aan de Universiteit van Tilburg. Ze is bovendien actrice en stadsdichter.  Eerder gepubliceerd in UNIVERS 2012.
kempis.nl poetry magazine

More in: Archive O-P, Archive O-P, Porcelijn, Esther, Porcelijn, Esther
---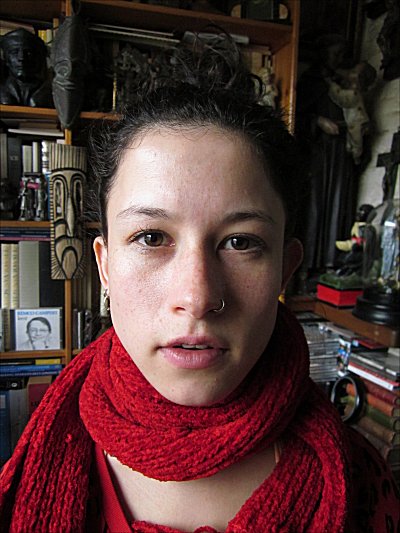 foto: jef van kempen
Esther Porcelijn
Niet nog een column over Stapel
Diederik Stapel was weer overal in het nieuws. Als hij dan eindelijk na twee dagen uit het nieuws en uit de carrousel van Pauw en Witteman is gezwiept, dan moddert zijn naam nog even door in alle columns en blogs van opiniebladen en online magazines. Best wel irritant eigenlijk.
Bert Brussen (De Jaap) schreef op dinsdag 3 december een zeer kritische en scherpe analyse van het boek van Stapel:
Hierin duidt Brussen het boek van Stapel als een symptoom van zijn nog altijd bestaande hang naar aandacht en erkenning. Voor Brussen is de kritiek en de 'karaktermoord' op Stapel ook een aanduiding van de angst van mensen om medeplichtig te zijn aan ditzelfde klimaat waar Stapel in floreerde. Als je iemand aanwijst als de zondebok en zijn handelen beschrijft als onmenselijk, dan zijn alle andere mensen in elk geval niet zoals hij en hoef je ook niet bang te zijn dat je zelf zo bent of zou kunnen zijn; Stapel is onmenselijk, jij niet, dus jij bent niet zoals Stapel.
De sociale psychologie als wetenschap moet er ook aan geloven in de analyse van Brussen en van de commissie Levelt: 'Stapel kon zo handelen door gebrek aan kritiek.'
De hele wetenschap der Sociale Psychologie heeft een enorme opdonder gekregen, eventueel terecht. Maar gezien Stapel als monster is afgeschilderd, valt de rest van de sociaal psychologen onmiddellijk buiten die categorie.
Onder filosofen worden wetenschappen als sociale psychologie eigenlijk vrij snel als pseudo-wetenschap bestempeld. Een bepaalde tak van de filosofie zal tot in het einde der tijden puur empirisch onderzoek een onvolledige bron van kennis vinden, andere takken van de filosofie zullen niet zozeer tegen dit soort onderzoek zijn, maar zullen te hapklare conclusies wel altijd wantrouwen. Het is makkelijk om vanaf de zijlijn te zeggen, maar had één filosoof bij de onderzoeken van Stapel gezet, en die had de conclusies onmiddellijk bevraagd: Hoe weet je dit zeker? Zijn dit soort data niet altijd heel contingent? Weet je zeker dat je deze conclusie niet hebt getrokken omdat je dit eigenlijk in je vraagstelling al had verwacht? Kun je echt zo hard stellen dat iemand die a doet, altijd in de categorie b valt?
Grappig is dat de Stapel-affaire niet zo heel uitgebreid is besproken op het departement Filosofie, ook omdat niemand hem persoonlijk kende, en wij geen van allen college van hem hadden maar misschien ook omdat het filosofen niet verbaast.
Toen de affaire een affaire begon te worden besefte ik pas echt hoeveel impact dit had op de universiteit toen ik hierover vragen kreeg van vrienden uit andere steden. Van een afstand lijkt zoiets wat te zeggen over de gehele universiteit, terwijl een vriend van de Uvt, die psychologie studeert, ook nooit college van Stapel had gevolgd en eigenlijk niet precies wist wie het was.
Imagoschade. Er is alleen al sprake van imagoschade omdat het zovaak genoemd wordt. Er is sprake van imagoschade dus is er sprake van imagoschade.
Een paar dagen geleden besprak ik de nieuwtjes over Stapel met een vriend van mij uit Rotterdam. Ik was heftig aan het vertellen over onderzoekers die hun graad dreigen te verliezen, over onderzoekers die ineens tien onderzoeken van hun publicatielijst moeten schrappen en zo ongeveer opnieuw moeten beginnen. Ik stelde mij voor dat dit hun levenswerk is en dat dit nu een lege huls blijkt te zijn.
De vriend antwoordde met: "Maar dat is toch niet erg? Niet echt erg."
Dus ik vertelde nog heftiger over imagoschade en onderzoeksgeld, over geloofwaardigheid en over de wetenschap als autoriteit.
De vriend vond het nog altijd niet echt iets wat 'erg' genoemd kan worden, hij zei dat als iets te maken heeft met geld dit nog niet meteen erg is.
Ik begreep wel wat hij bedoelde, het is niet erg zoals dode kinderen erg zijn, niet erg zoals voedselbanken zonder voedsel. Dat soort dingen zijn veel erger. Als ik dat niet al zou vinden dan zou ik het wel moeten vinden, anders ben ik een monster en dus een soort Stapel.
Het spreekt voor zich dat dit een ander soort erg is. Maar het is erg. Dat moet wel even benoemd worden natuurlijk.
Imagoschade om de imagoschade.
Erg om de erg.
Ik erken dit automatisch door deze tekst te schrijven, als ik het niet erg vond, of erg was gaan vinden of er niets van zou vinden dan zou ik dit niet schrijven.
Misschien toch goed dat de vriend van mij die vraag stelde: is het echt erg?
Het is niet alleen goed door het antwoord dat je zou kunnen geven, maar goed omwille van de vraag zelf. Anders zou ik toch zomaar iets vinden omdat het gevonden dient te worden. Dat soort vragen hadden aan Stapel gesteld moeten worden.
En nu zal ik niets meer schrijven over deze affaire, heus beloofd!
Ik zal er niets meer over schrijven omdat ik er verder niets aan toe te voegen heb. Ik hoop dat er beter onderzoek gedaan wordt en dat mensen die er nog wel over schrijven dit niet doen om zichzelf buiten Stapel te plaatsen als een zichzelf schoonwassende vingerwijzer. Klaar nu. Echt. Ja echt.
Stapel.
Esther Porcelijn (27) studeert filosofie (bachelor) aan de Universiteit van Tilburg en is stadsdichter.
Eerder gepubliceerd in UNIVERS 2012
kempis.nl poetry magazine
More in: Archive O-P, Archive O-P, Porcelijn, Esther, Porcelijn, Esther
---
Half ons verstand
Mag ik een half ons verstand, drie kilo geluk, twee keer ingevroren welvaart, een paar pakjes behulpzaamheid, wat inlevingsvermogen, zeven vrienden, en wat appeltaart een enkel frietje, twee wodka-lime, en als het kan nog een verse bos cafeïne om de dag door te komen..
Wat sperziebonen om mijn vuist omheen te ballen, die heeft u ook?
Een heel oud vrouwtje om te kunnen concluderen dat ik nog zeeën van tijd heb.
Ik zal haar laten oversteken, aan de hand nemen en over het zebrapad helpen.
Mag ik zeven dwergen die mij kunnen dragen als ik moe ben.
En een man die van mij houdt. Die telkens als ik er niet meer in geloof op mij afrent en zegt: "Ik geloof in je, IK wél!"
Begrijpt u wat ik bedoel?
Hij moet onopvallend zijn op momenten dat ik hem niet nodig heb, en elke keer dat ik hem wel nodig heb op mij afrennen, al ben ik in Schagen.
Ik wil een vis die mij aankijkt, en waarvan ik merk dat hij mij echt aankijkt, als enige, hij hoeft zijn kieuwen maar te bewegen en ik weet wat ik vandaag moet gaan doen.
De wereld redden, ik wil de wereld redden. Hem eerst precies in het midden doorsnijden,
en dan oplepelen als een kiwi. Hij zal zoet smaken, met een warme vulling.
Hebt u daar een mes voor?
Alle mensen op de wereld zullen op een gerimpeld land wonen, ze houden elkaars handen vast om er niet vanaf te vallen.
Ik zoek ook nog muziek, muziek die ik kan vervormen naar mijn bui. Het is maar één cd en ik kan horen wat ik wil horen.
Kleuren, ik zoek kleuren die er niet bestaan, ik wil mij kunnen voorstellen dat er een kleur is die ik nog nooit heb gezien, en het is niet een soort oranje, of een soort blauw.
Het is iets anders.
Anders nog iets?
Ja iets racistisch, ik mag graag iets racistisch, een grote KKK muts die mode wordt, ik zal iedereen dwingen om hem te dragen.
Dan heb ik, als ik mij verveel, iets om naar te kijken.
Één dag almachtig, en ik ben de koning van het land, en het land is veel kleiner dan we tot nu toe dachten, het is een land met 6 miljard van dezelfde mensen die opeens de ingeving krijgen helemaal niet hetzelfde te zijn, ze zullen in de bomen klimmen en het volkslied zingen, de vogels zullen in huizen wonen en klagen over het weer en de belastingdienst.
Hiernaast deden ze er nogal moeilijk over, maar dit hadden ze wel!
Mag ik ook een vrachtschip met veertig indianen, die heel gelukkig in een container dansen, om de lijken heen van diegene die het niet overleefd hebben.
Daarbij zoek ik jaren naar een pil waarmee je de hele nacht door kan dansen, en niet omdat je heel veel energie hebt, maar omdat de tijd is gestopt.
In die tijd zal ik dansen met de rest. Het zal bezaaid zijn met allerlei.
Vooral met dictatoren die de avond van hun leven hebben, Lenin, Stalin, Hitler, Mussolini hebben de grootste pret, discussietafels waar je kan aanschuiven, even bijkletsen met Julius Caesar, hij ziet er heerlijk uit, en heeft de gordijnen aan de muur om zich heen gedrapeerd.
Iedereen loopt langs de tafels, en speelt het grote 'visies' kwartet met de dictatoren.
Wie wint krijgt een kasteel.
Zodra de tijd het weer doet wonen alle dictatoren samen in het kasteel, hoog in de lucht.
Daar zullen ze neerkijken op het volk, zoals ze dat altijd al hebben gedaan. Ze zullen lachen. En wij beneden kwartetten met levens.
Mag ik van jou de boer? Dan krijg jij van mij de vrouw.
Nee doe mij maar een heer! Die krijg ik maar niet te pakken.
Een joker, een heer, wat is het verschil?
De mens heeft gewonnen.
En daarom zoek ik een trofee, Een trofee voor de gewonnen mens.
De mens die uit de polder is opgeklommen om zijn vinger in de dijk te doen omdat het water anders van hem wint.
Mag ik u dus met nadruk vragen om een berg om de trofee op te zetten.
Wie wil mag komen kijken.
Ik wil een wortel. Afgeblust met een beetje vrede..
Hier opeten alstublieft..
U hebt geen wortel?
Dan ga ik wel naar hiernaast..
Ik neem er ook één voor u mee.
Hier opeten alstublieft.
Esther Porcelijn 2012
Esther Porcelijn is stadsdichter van Tilburg
kempis.nl poetry magazine
More in: Archive O-P, Porcelijn, Esther, Porcelijn, Esther
---

Hondje
Gaan we naar buiten? Gaan we naar buiten? Jaa we gaan naar buiten! We gaan naar buiten, jaa! Mijn baas. Mijn geweldige baas. Zo loyaal en mooi en perfect en hij kan goed koken. Ik dacht dat ik altijd alleen zou blijven, dat niemand mij zou willen maar toen kwam hij en toen en toen en en en en. We gaan naar buiten!
Baas lacht. De tanden bloot. Grr. Ja baas. Grr. Boos! Ik ben ook boos. Grr. Samen boos! Jaa! Blote tanden baas! Heel bloot! Gaan we nog naar buiten baas? Ja? Ja! Baas begrijpt mij altijd goed. Weet precies wat ik leuk vind en ook wat ik niet leuk vind. Ik vind leuk: eten, en vooral lekker eten, stukje vlees, en ik vind leuk: goed geaaid worden en geborsteld, en een mooi bed en ik vind ook leuk: om anderen weg te jagen en het huis bewaken vind ik ook leuk. Wat ik niet leuk vind: katten, poedels en cavia's. Die moeten maar weg, die zijn niet leuk. En ik vind ook niet leuk: anderen die de baas spelen. Ik ben de baas. IK ben de baas, en baas zegt ook altijd: "wij zijn de baas!" Ha! En ik vind raar eten ook niet leuk. Maar knakworsten wel, want die zijn normaal.
Ja, we gaan naar buiten! Samen de baas van buiten! Sinds ik baas heb, durf ik veel sneller te happen naar vreemden. Ik vond ze altijd al niet leuk, maar nu zijn we samen de baas. Ha! Baas is vrolijk boos. Hij heeft gekke blote tanden. Even hier plassen. En hier. Baas trekt me hard weg. Maar ik wil plassen baas! Baas zegt nee. Hij rinkelt met sleutels. Maar ik wil hier plassen, en hier nog een druppel. Zo. Toch gedaan. Nu ben ik de baas van de neuzen van de vreemden. Baas is ineens boos. Boze baas. Sorry baas echt sorry sorry maar ik wil nog even hier plassen. Baas. BAAS!! Ik wil hier nog even. Ah toeeee! Nou baahaas! Hij trekt mij mee. Hij laat mij nooit helemaal los. Maar ik kan toch zo ver lopen als baas wil, en dat is ver genoeg. Baas doet ineens gek. Rinkelt weer met zijn sleutels. Hoge piep. Grr.. boos. Hij tilt mij op en duwt mij in zijn wielenmachine. Dat gebruikt baas omdat hij niet zo hard kan rennen als ik. Elke dag gaat hij daarin en dan is hij lang weg en dan denk ik dat hij nooit meer terugkomt maar dan komt hij toch altijd weer terug. O, wat ben ik dan blij. Ik hoef nooit in de wielenmachine, alleen als ik ziek ben. Maar ik ben niet ziek en ik ben in de wielenmachine. Baas!! Baaaas!! Naast mij ligt een grote koffer, ik ruik eraan. Het ruikt naar, naar naar.. Die machine waar baas altijd zijn vacht in schoonmaakt! Waarom baas? Je hebt al een vacht aan! Één met bloemen erop vandaag.
Baas doet lief maar is boos. Ik zie dat. Hij praat nu lief zoals normaal maar ik zie aan zijn tanden dat hij boos is. Hij doet neplief. Stom.
Oo, maar andere wielenmachines! Die zijn ook leuk. Met baas ben ik niet meer alleen, zoef zoef zoef zoef zoef, overal wielenmachines en we gaan veel sneller dan ik kan rennen. Zoef! Samen de baas, baas? Samen de baas? Baas doet boos. Baas is boos. Hij roept "af" en nog wat andere dingen die ik niet versta. En hij wil niet dat we samen roepen. Alleen hij mag nu roepen. Goed dan. Ik ga wel een rondje om mijzelf heen waggelen in de wielenmachine. Nu lig ik beter. Ik lig goed. Maar dan stopt de wielenmachine. Oo ik mag eruit! Gaan we naar buiten baas? Gaan we naar buiten??
Ja, we gaan naar buiten. Jaa!
Baas pakt mij bij mijn kraag en trekt mij naar buiten. Grr baas, grr!!! Boos!
Hij slaat mij op mijn hoofd, dan draait het even. Whaa.. dat is gek, maar niet fijn gek, stom gek. We lopen naar een boom! Jaa, toch nog een plas doen! Whaa! Even een baas zijn van de neuzen! Jaa!! Jaa baas?
Maar hij pakt mij bij de kraag en ik hoor klik en dan zegt hij iets met veel û en o klanken.
Baas loopt weg.
BaBaas? Waar ga je heen baas? Ben je weer lang weg? Baas?? Ik loop achter baas aan maar ik word teruggetrokken. Hallo! Baas! Ik zit vast baas!
Baas doet niets. Hij gaat in zijn wielenmachine en zoeft weg.
Naast mij zoeven nog heel veel wielenmachines. Zoef-zoef-zoef-zoef. Hele hoge en lage tonen. Baas komt vast nog wel met een stuk vlees. Of een cavia om te bijten. Of een fris kussen waar ik dan de baas van mag zijn. Of met een aai.
Vast aan de boom. 't Trekt aan mijn hals. Bah. Flauw. Stom. Baas was een nepbaas. Ik ben nu wel buiten, dat wel.
Esther Porcelijn 2012
Esther Porcelijn is stadsdichter van Tilburg
kempis.nl poetry magazine

More in: Archive O-P, Porcelijn, Esther, Porcelijn, Esther
---
Edgar Allan Poe
(1809-1849)

Eleonora
I am come of a race noted for vigor of fancy and ardor of passion. Men have called me mad; but the question is not yet settled, whether madness is or is not the loftiest intelligence — whether much that is glorious- whether all that is profound — does not spring from disease of thought — from moods of mind exalted at the expense of the general intellect. They who dream by day are cognizant of many things which escape those who dream only by night. In their gray visions they obtain glimpses of eternity, and thrill, in awakening, to find that they have been upon the verge of the great secret. In snatches, they learn something of the wisdom which is of good, and more of the mere knowledge which is of evil. They penetrate, however, rudderless or compassless into the vast ocean of the "light ineffable," and again, like the adventures of the Nubian geographer, "agressi sunt mare tenebrarum, quid in eo esset exploraturi."
We will say, then, that I am mad. I grant, at least, that there are two distinct conditions of my mental existence — the condition of a lucid reason, not to be disputed, and belonging to the memory of events forming the first epoch of my life — and a condition of shadow and doubt, appertaining to the present, and to the recollection of what constitutes the second great era of my being. Therefore, what I shall tell of the earlier period, believe; and to what I may relate of the later time, give only such credit as may seem due, or doubt it altogether, or, if doubt it ye cannot, then play unto its riddle the Oedipus.
She whom I loved in youth, and of whom I now pen calmly and distinctly these remembrances, was the sole daughter of the only sister of my mother long departed. Eleonora was the name of my cousin. We had always dwelled together, beneath a tropical sun, in the Valley of the Many-Colored Grass. No unguided footstep ever came upon that vale; for it lay away up among a range of giant hills that hung beetling around about it, shutting out the sunlight from its sweetest recesses. No path was trodden in its vicinity; and, to reach our happy home, there was need of putting back, with force, the foliage of many thousands of forest trees, and of crushing to death the glories of many millions of fragrant flowers. Thus it was that we lived all alone, knowing nothing of the world without the valley — I, and my cousin, and her mother.
From the dim regions beyond the mountains at the upper end of our encircled domain, there crept out a narrow and deep river, brighter than all save the eyes of Eleonora; and, winding stealthily about in mazy courses, it passed away, at length, through a shadowy gorge, among hills still dimmer than those whence it had issued. We called it the "River of Silence"; for there seemed to be a hushing influence in its flow. No murmur arose from its bed, and so gently it wandered along, that the pearly pebbles upon which we loved to gaze, far down within its bosom, stirred not at all, but lay in a motionless content, each in its own old station, shining on gloriously forever.
The margin of the river, and of the many dazzling rivulets that glided through devious ways into its channel, as well as the spaces that extended from the margins away down into the depths of the streams until they reached the bed of pebbles at the bottom, — these spots, not less than the whole surface of the valley, from the river to the mountains that girdled it in, were carpeted all by a soft green grass, thick, short, perfectly even, and vanilla-perfumed, but so besprinkled throughout with the yellow buttercup, the white daisy, the purple violet, and the ruby-red asphodel, that its exceeding beauty spoke to our hearts in loud tones, of the love and of the glory of God.
And, here and there, in groves about this grass, like wildernesses of dreams, sprang up fantastic trees, whose tall slender stems stood not upright, but slanted gracefully toward the light that peered at noon-day into the centre of the valley. Their mark was speckled with the vivid alternate splendor of ebony and silver, and was smoother than all save the cheeks of Eleonora; so that, but for the brilliant green of the huge leaves that spread from their summits in long, tremulous lines, dallying with the Zephyrs, one might have fancied them giant serpents of Syria doing homage to their sovereign the Sun.
Hand in hand about this valley, for fifteen years, roamed I with Eleonora before Love entered within our hearts. It was one evening at the close of the third lustrum of her life, and of the fourth of my own, that we sat, locked in each other's embrace, beneath the serpent-like trees, and looked down within the water of the River of Silence at our images therein. We spoke no words during the rest of that sweet day, and our words even upon the morrow were tremulous and few. We had drawn the God Eros from that wave, and now we felt that he had enkindled within us the fiery souls of our forefathers. The passions which had for centuries distinguished our race, came thronging with the fancies for which they had been equally noted, and together breathed a delirious bliss over the Valley of the Many-Colored Grass. A change fell upon all things. Strange, brilliant flowers, star-shaped, burn out upon the trees where no flowers had been known before. The tints of the green carpet deepened; and when, one by one, the white daisies shrank away, there sprang up in place of them, ten by ten of the ruby-red asphodel. And life arose in our paths; for the tall flamingo, hitherto unseen, with all gay glowing birds, flaunted his scarlet plumage before us. The golden and silver fish haunted the river, out of the bosom of which issued, little by little, a murmur that swelled, at length, into a lulling melody more divine than that of the harp of Aeolus-sweeter than all save the voice of Eleonora. And now, too, a voluminous cloud, which we had long watched in the regions of Hesper, floated out thence, all gorgeous in crimson and gold, and settling in peace above us, sank, day by day, lower and lower, until its edges rested upon the tops of the mountains, turning all their dimness into magnificence, and shutting us up, as if forever, within a magic prison-house of grandeur and of glory.
The loveliness of Eleonora was that of the Seraphim; but she was a maiden artless and innocent as the brief life she had led among the flowers. No guile disguised the fervor of love which animated her heart, and she examined with me its inmost recesses as we walked together in the Valley of the Many-Colored Grass, and discoursed of the mighty changes which had lately taken place therein.
At length, having spoken one day, in tears, of the last sad change which must befall Humanity, she thenceforward dwelt only upon this one sorrowful theme, interweaving it into all our converse, as, in the songs of the bard of Schiraz, the same images are found occurring, again and again, in every impressive variation of phrase.
She had seen that the finger of Death was upon her bosom — that, like the ephemeron, she had been made perfect in loveliness only to die; but the terrors of the grave to her lay solely in a consideration which she revealed to me, one evening at twilight, by the banks of the River of Silence. She grieved to think that, having entombed her in the Valley of the Many-Colored Grass, I would quit forever its happy recesses, transferring the love which now was so passionately her own to some maiden of the outer and everyday world. And, then and there, I threw myself hurriedly at the feet of Eleonora, and offered up a vow, to herself and to Heaven, that I would never bind myself in marriage to any daughter of Earth — that I would in no manner prove recreant to her dear memory, or to the memory of the devout affection with which she had blessed me. And I called the Mighty Ruler of the Universe to witness the pious solemnity of my vow. And the curse which I invoked of Him and of her, a saint in Helusion should I prove traitorous to that promise, involved a penalty the exceeding great horror of which will not permit me to make record of it here. And the bright eyes of Eleonora grew brighter at my words; and she sighed as if a deadly burthen had been taken from her breast; and she trembled and very bitterly wept; but she made acceptance of the vow, (for what was she but a child?) and it made easy to her the bed of her death. And she said to me, not many days afterward, tranquilly dying, that, because of what I had done for the comfort of her spirit she would watch over me in that spirit when departed, and, if so it were permitted her return to me visibly in the watches of the night; but, if this thing were, indeed, beyond the power of the souls in Paradise, that she would, at least, give me frequent indications of her presence, sighing upon me in the evening winds, or filling the air which I breathed with perfume from the censers of the angels. And, with these words upon her lips, she yielded up her innocent life, putting an end to the first epoch of my own.
Thus far I have faithfully said. But as I pass the barrier in Times path, formed by the death of my beloved, and proceed with the second era of my existence, I feel that a shadow gathers over my brain, and I mistrust the perfect sanity of the record. But let me on. — Years dragged themselves along heavily, and still I dwelled within the Valley of the Many-Colored Grass; but a second change had come upon all things. The star-shaped flowers shrank into the stems of the trees, and appeared no more. The tints of the green carpet faded; and, one by one, the ruby-red asphodels withered away; and there sprang up, in place of them, ten by ten, dark, eye-like violets, that writhed uneasily and were ever encumbered with dew. And Life departed from our paths; for the tall flamingo flaunted no longer his scarlet plumage before us, but flew sadly from the vale into the hills, with all the gay glowing birds that had arrived in his company. And the golden and silver fish swam down through the gorge at the lower end of our domain and bedecked the sweet river never again. And the lulling melody that had been softer than the wind-harp of Aeolus, and more divine than all save the voice of Eleonora, it died little by little away, in murmurs growing lower and lower, until the stream returned, at length, utterly, into the solemnity of its original silence. And then, lastly, the voluminous cloud uprose, and, abandoning the tops of the mountains to the dimness of old, fell back into the regions of Hesper, and took away all its manifold golden and gorgeous glories from the Valley of the Many-Colored Grass.
Yet the promises of Eleonora were not forgotten; for I heard the sounds of the swinging of the censers of the angels; and streams of a holy perfume floated ever and ever about the valley; and at lone hours, when my heart beat heavily, the winds that bathed my brow came unto me laden with soft sighs; and indistinct murmurs filled often the night air, and once — oh, but once only! I was awakened from a slumber, like the slumber of death, by the pressing of spiritual lips upon my own.
But the void within my heart refused, even thus, to be filled. I longed for the love which had before filled it to overflowing. At length the valley pained me through its memories of Eleonora, and I left it for ever for the vanities and the turbulent triumphs of the world.
I found myself within a strange city, where all things might have served to blot from recollection the sweet dreams I had dreamed so long in the Valley of the Many-Colored Grass. The pomps and pageantries of a stately court, and the mad clangor of arms, and the radiant loveliness of women, bewildered and intoxicated my brain. But as yet my soul had proved true to its vows, and the indications of the presence of Eleonora were still given me in the silent hours of the night. Suddenly these manifestations they ceased, and the world grew dark before mine eyes, and I stood aghast at the burning thoughts which possessed, at the terrible temptations which beset me; for there came from some far, far distant and unknown land, into the gay court of the king I served, a maiden to whose beauty my whole recreant heart yielded at once — at whose footstool I bowed down without a struggle, in the most ardent, in the most abject worship of love. What, indeed, was my passion for the young girl of the valley in comparison with the fervor, and the delirium, and the spirit-lifting ecstasy of adoration with which I poured out my whole soul in tears at the feet of the ethereal Ermengarde? — Oh, bright was the seraph Ermengarde! and in that knowledge I had room for none other. — Oh, divine was the angel Ermengarde! and as I looked down into the depths of her memorial eyes, I thought only of them — and of her.
I wedded; — nor dreaded the curse I had invoked; and its bitterness was not visited upon me. And once — but once again in the silence of the night; there came through my lattice the soft sighs which had forsaken me; and they modelled themselves into familiar and sweet voice, saying:
"Sleep in peace! — for the Spirit of Love reigneth and ruleth, and, in taking to thy passionate heart her who is Ermengarde, thou art absolved, for reasons which shall be made known to thee in Heaven, of thy vows unto Eleonora."
Edgar Allan Poe: Eleonora

kempis.nl poetry magazine
More in: Archive O-P, Edgar Allan Poe, Poe, Edgar Allan
---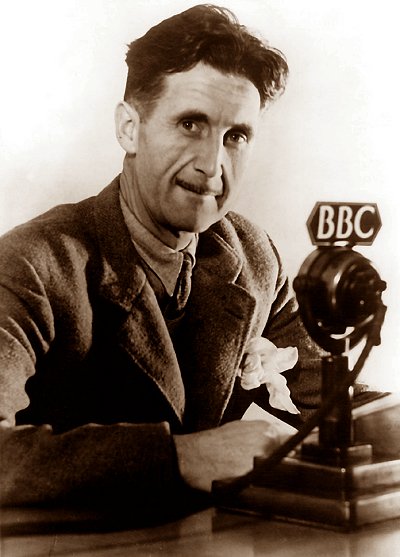 George Orwell
(1903-1950)
The Lesser Evil
Empty as death and slow as pain
The days went by on leaden feet;
And parson's week had come again
As I walked down the little street.
Without, the weary doves were calling,
The sun burned on the banks of mud;
Within, old maids were caterwauling
A dismal tale of thorns and blood.
I thought of all the church bells ringing
In towns that Christian folks were in;
I heard the godly maidens singing;
I turned into the house of sin.
The house of sin was dark & mean,
With dying flowers round the door;
They spat their betel juice between
The rotten bamboos of the floor.
Why did I come, the woman cried,
So seldom to her beds of ease?
When I was not, her spirit died,
And would I give her ten rupees.
The weeks went by, and many a day
That black-haired woman did implore
Me as I hurried on my way
To come more often than before.
The days went by like dead leaves falling
And parson's week came round again.
Once more devout old maids were bawling
Their ugly rhymes of death and pain.
The woman waited for me there
As down the little street I trod;
And musing upon her oily hair,
I turned into the house of God.
KEMP=MAG # kempis.nl poetry magazine
More in: Archive O-P, Archive O-P, George Orwell
---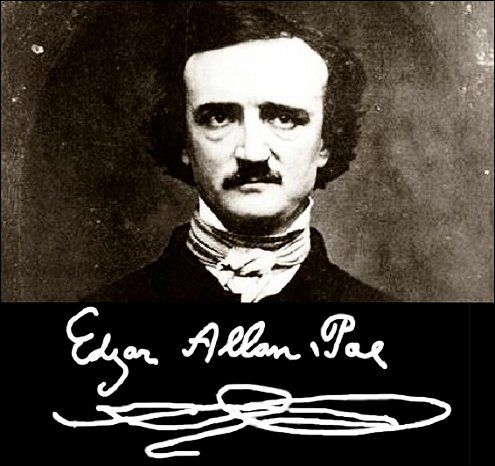 Edgar Allan Poe
(1809-1849)

The Facts in the Case of M. Valdemar
Of course I shall not pretend to consider it any matter for wonder, that the extraordinary case of M. Valdemar has excited discussion. It would have been a miracle had it not-especially under the circumstances. Through the desire of all parties concerned, to keep the affair from the public, at least for the present, or until we had farther opportunities for investigation — through our endeavors to effect this — a garbled or exaggerated account made its way into society, and became the source of many unpleasant misrepresentations, and, very naturally, of a great deal of disbelief.
It is now rendered necessary that I give the facts — as far as I comprehend them myself. They are, succinctly, these:
My attention, for the last three years, had been repeatedly drawn to the subject of Mesmerism; and, about nine months ago it occurred to me, quite suddenly, that in the series of experiments made hitherto, there had been a very remarkable and most unaccountable omission: — no person had as yet been mesmerized in articulo mortis. It remained to be seen, first, whether, in such condition, there existed in the patient any susceptibility to the magnetic influence; secondly, whether, if any existed, it was impaired or increased by the condition; thirdly, to what extent, or for how long a period, the encroachments of Death might be arrested by the process. There were other points to be ascertained, but these most excited my curiosity — the last in especial, from the immensely important character of its consequences.
In looking around me for some subject by whose means I might test these particulars, I was brought to think of my friend, M. Ernest Valdemar, the well-known compiler of the "Bibliotheca Forensica," and author (under the nom de plume of Issachar Marx) of the Polish versions of "Wallenstein" and "Gargantua." M. Valdemar, who has resided principally at Harlaem, N.Y., since the year 1839, is (or was) particularly noticeable for the extreme spareness of his person — his lower limbs much resembling those of John Randolph; and, also, for the whiteness of his whiskers, in violent contrast to the blackness of his hair — the latter, in consequence, being very generally mistaken for a wig. His temperament was markedly nervous, and rendered him a good subject for mesmeric experiment. On two or three occasions I had put him to sleep with little difficulty, but was disappointed in other results which his peculiar constitution had naturally led me to anticipate. His will was at no period positively, or thoroughly, under my control, and in regard to clairvoyance, I could accomplish with him nothing to be relied upon. I always attributed my failure at these points to the disordered state of his health. For some months previous to my becoming acquainted with him, his physicians had declared him in a confirmed phthisis. It was his custom, indeed, to speak calmly of his approaching dissolution, as of a matter neither to be avoided nor regretted.
When the ideas to which I have alluded first occurred to me, it was of course very natural that I should think of M. Valdemar. I knew the steady philosophy of the man too well to apprehend any scruples from him; and he had no relatives in America who would be likely to interfere. I spoke to him frankly upon the subject; and, to my surprise, his interest seemed vividly excited. I say to my surprise, for, although he had always yielded his person freely to my experiments, he had never before given me any tokens of sympathy with what I did. His disease was if that character which would admit of exact calculation in respect to the epoch of its termination in death; and it was finally arranged between us that he would send for me about twenty-four hours before the period announced by his physicians as that of his decease.
It is now rather more than seven months since I received, from M. Valdemar himself, the subjoined note:
My DEAR P — ,
You may as well come now. D — and F — are agreed that I cannot hold out beyond to-morrow midnight; and I think they have hit the time very nearly.
VALDEMAR
I received this note within half an hour after it was written, and in fifteen minutes more I was in the dying man's chamber. I had not seen him for ten days, and was appalled by the fearful alteration which the brief interval had wrought in him. His face wore a leaden hue; the eyes were utterly lustreless; and the emaciation was so extreme that the skin had been broken through by the cheek-bones. His expectoration was excessive. The pulse was barely perceptible. He retained, nevertheless, in a very remarkable manner, both his mental power and a certain degree of physical strength. He spoke with distinctness — took some palliative medicines without aid — and, when I entered the room, was occupied in penciling memoranda in a pocket-book. He was propped up in the bed by pillows. Doctors D — and F — were in attendance.
After pressing Valdemar's hand, I took these gentlemen aside, and obtained from them a minute account of the patient's condition. The left lung had been for eighteen months in a semi-osseous or cartilaginous state, and was, of course, entirely useless for all purposes of vitality. The right, in its upper portion, was also partially, if not thoroughly, ossified, while the lower region was merely a mass of purulent tubercles, running one into another. Several extensive perforations existed; and, at one point, permanent adhesion to the ribs had taken place. These appearances in the right lobe were of comparatively recent date. The ossification had proceeded with very unusual rapidity; no sign of it had discovered a month before, and the adhesion had only been observed during the three previous days. Independently of the phthisis, the patient was suspected of aneurism of the aorta; but on this point the osseous symptoms rendered an exact diagnosis impossible. It was the opinion of both physicians that M. Valdemar would die about midnight on the morrow (Sunday). It was then seven o'clock on Saturday evening.
On quitting the invalid's bed-side to hold conversation with myself, Doctors D — and F — had bidden him a final farewell. It had not been their intention to return; but, at my request, they agreed to look in upon the patient about ten the next night.
When they had gone, I spoke freely with M. Valdemar on the subject of his approaching dissolution, as well as, more particularly, of the experiment proposed. He still professed himself quite willing and even anxious to have it made, and urged me to commence it at once. A male and a female nurse were in attendance; but I did not feel myself altogether at liberty to engage in a task of this character with no more reliable witnesses than these people, in case of sudden accident, might prove. I therefore postponed operations until about eight the next night, when the arrival of a medical student with whom I had some acquaintance, (Mr. Theodore L — l,) relieved me from farther embarrassment. It had been my design, originally, to wait for the physicians; but I was induced to proceed, first, by the urgent entreaties of M. Valdemar, and secondly, by my conviction that I had not a moment to lose, as he was evidently sinking fast.
Mr. L — l was so kind as to accede to my desire that he would take notes of all that occurred, and it is from his memoranda that what I now have to relate is, for the most part, either condensed or copied verbatim.
It wanted about five minutes of eight when, taking the patient's hand, I begged him to state, as distinctly as he could, to Mr. L — l, whether he (M. Valdemar) was entirely willing that I should make the experiment of mesmerizing him in his then condition.
He replied feebly, yet quite audibly, "Yes, I wish to be "I fear you have mesmerized" — adding immediately afterwards, deferred it too long."
While he spoke thus, I commenced the passes which I had already found most effectual in subduing him. He was evidently influenced with the first lateral stroke of my hand across his forehead; but although I exerted all my powers, no farther perceptible effect was induced until some minutes after ten o'clock, when Doctors D — and F — called, according to appointment. I explained to them, in a few words, what I designed, and as they opposed no objection, saying that the patient was already in the death agony, I proceeded without hesitation — exchanging, however, the lateral passes for downward ones, and directing my gaze entirely into the right eye of the sufferer.
By this time his pulse was imperceptible and his breathing was stertorous, and at intervals of half a minute.
This condition was nearly unaltered for a quarter of an hour. At the expiration of this period, however, a natural although a very deep sigh escaped the bosom of the dying man, and the stertorous breathing ceased — that is to say, its stertorousness was no longer apparent; the intervals were undiminished. The patient's extremities were of an icy coldness.
At five minutes before eleven I perceived unequivocal signs of the mesmeric influence. The glassy roll of the eye was changed for that expression of uneasy inward examination which is never seen except in cases of sleep-waking, and which it is quite impossible to mistake. With a few rapid lateral passes I made the lids quiver, as in incipient sleep, and with a few more I closed them altogether. I was not satisfied, however, with this, but continued the manipulations vigorously, and with the fullest exertion of the will, until I had completely stiffened the limbs of the slumberer, after placing them in a seemingly easy position. The legs were at full length; the arms were nearly so, and reposed on the bed at a moderate distance from the loin. The head was very slightly elevated.
When I had accomplished this, it was fully midnight, and I requested the gentlemen present to examine M. Valdemar's condition. After a few experiments, they admitted him to be an unusually perfect state of mesmeric trance. The curiosity of both the physicians was greatly excited. Dr. D — resolved at once to remain with the patient all night, while Dr. F — took leave with a promise to return at daybreak. Mr. L — l and the nurses remained.
We left M. Valdemar entirely undisturbed until about three o'clock in the morning, when I approached him and found him in precisely the same condition as when Dr. F — went away — that is to say, he lay in the same position; the pulse was imperceptible; the breathing was gentle (scarcely noticeable, unless through the application of a mirror to the lips); the eyes were closed naturally; and the limbs were as rigid and as cold as marble. Still, the general appearance was certainly not that of death.
As I approached M. Valdemar I made a kind of half effort to influence his right arm into pursuit of my own, as I passed the latter gently to and fro above his person. In such experiments with this patient had never perfectly succeeded before, and assuredly I had little thought of succeeding now; but to my astonishment, his arm very readily, although feebly, followed every direction I assigned it with mine. I determined to hazard a few words of conversation.
"M. Valdemar," I said, "are you asleep?" He made no answer, but I perceived a tremor about the lips, and was thus induced to repeat the question, again and again. At its third repetition, his whole frame was agitated by a very slight shivering; the eyelids unclosed themselves so far as to display a white line of the ball; the lips moved sluggishly, and from between them, in a barely audible whisper, issued the words:
"Yes; — asleep now. Do not wake me! — let me die so!"
I here felt the limbs and found them as rigid as ever. The right arm, as before, obeyed the direction of my hand. I questioned the sleep-waker again:
"Do you still feel pain in the breast, M. Valdemar?"
The answer now was immediate, but even less audible than before: "No pain — I am dying."
I did not think it advisable to disturb him farther just then, and nothing more was said or done until the arrival of Dr. F — , who came a little before sunrise, and expressed unbounded astonishment at finding the patient still alive. After feeling the pulse and applying a mirror to the lips, he requested me to speak to the sleep-waker again. I did so, saying:
"M. Valdemar, do you still sleep?"
As before, some minutes elapsed ere a reply was made; and during the interval the dying man seemed to be collecting his energies to speak. At my fourth repetition of the question, he said very faintly, almost inaudibly:
"Yes; still asleep — dying."
It was now the opinion, or rather the wish, of the physicians, that M. Valdemar should be suffered to remain undisturbed in his present apparently tranquil condition, until death should supervene — and this, it was generally agreed, must now take place within a few minutes. I concluded, however, to speak to him once more, and merely repeated my previous question.
While I spoke, there came a marked change over the countenance of the sleep-waker. The eyes rolled themselves slowly open, the pupils disappearing upwardly; the skin generally assumed a cadaverous hue, resembling not so much parchment as white paper; and the circular hectic spots which, hitherto, had been strongly defined in the centre of each cheek, went out at once. I use this expression, because the suddenness of their departure put me in mind of nothing so much as the extinguishment of a candle by a puff of the breath. The upper lip, at the same time, writhed itself away from the teeth, which it had previously covered completely; while the lower jaw fell with an audible jerk, leaving the mouth widely extended, and disclosing in full view the swollen and blackened tongue. I presume that no member of the party then present had been unaccustomed to death-bed horrors; but so hideous beyond conception was the appearance of M. Valdemar at this moment, that there was a general shrinking back from the region of the bed.
I now feel that I have reached a point of this narrative at which every reader will be startled into positive disbelief. It is my business, however, simply to proceed.
There was no longer the faintest sign of vitality in M. Valdemar; and concluding him to be dead, we were consigning him to the charge of the nurses, when a strong vibratory motion was observable in the tongue. This continued for perhaps a minute. At the expiration of this period, there issued from the distended and motionless jaws a voice — such as it would be madness in me to attempt describing. There are, indeed, two or three epithets which might be considered as applicable to it in part; I might say, for example, that the sound was harsh, and broken and hollow; but the hideous whole is indescribable, for the simple reason that no similar sounds have ever jarred upon the ear of humanity. There were two particulars, nevertheless, which I thought then, and still think, might fairly be stated as characteristic of the intonation — as well adapted to convey some idea of its unearthly peculiarity. In the first place, the voice seemed to reach our ears — at least mine — from a vast distance, or from some deep cavern within the earth. In the second place, it impressed me (I fear, indeed, that it will be impossible to make myself comprehended) as gelatinous or glutinous matters impress the sense of touch.
I have spoken both of "sound" and of "voice." I mean to say that the sound was one of distinct — of even wonderfully, thrillingly distinct — syllabification. M. Valdemar spoke — obviously in reply to the question I had propounded to him a few minutes before. I had asked him, it will be remembered, if he still slept. He now said:
"Yes; — no; — I have been sleeping — and now — now — I am dead.
No person present even affected to deny, or attempted to repress, the unutterable, shuddering horror which these few words, thus uttered, were so well calculated to convey. Mr. L — l (the student) swooned. The nurses immediately left the chamber, and could not be induced to return. My own impressions I would not pretend to render intelligible to the reader. For nearly an hour, we busied ourselves, silently — without the utterance of a word — in endeavors to revive Mr. L — l. When he came to himself, we addressed ourselves again to an investigation of M. Valdemar's condition.
It remained in all respects as I have last described it, with the exception that the mirror no longer afforded evidence of respiration. An attempt to draw blood from the arm failed. I should mention, too, that this limb was no farther subject to my will. I endeavored in vain to make it follow the direction of my hand. The only real indication, indeed, of the mesmeric influence, was now found in the vibratory movement of the tongue, whenever I addressed M. Valdemar a question. He seemed to be making an effort to reply, but had no longer sufficient volition. To queries put to him by any other person than myself he seemed utterly insensible — although I endeavored to place each member of the company in mesmeric rapport with him. I believe that I have now related all that is necessary to an understanding of the sleep-waker's state at this epoch. Other nurses were procured; and at ten o'clock I left the house in company with the two physicians and Mr. L — l.
In the afternoon we all called again to see the patient. His condition remained precisely the same. We had now some discussion as to the propriety and feasibility of awakening him; but we had little difficulty in agreeing that no good purpose would be served by so doing. It was evident that, so far, death (or what is usually termed death) had been arrested by the mesmeric process. It seemed clear to us all that to awaken M. Valdemar would be merely to insure his instant, or at least his speedy dissolution.
From this period until the close of last week — an interval of nearly seven months — we continued to make daily calls at M. Valdemar's house, accompanied, now and then, by medical and other friends. All this time the sleeper-waker remained exactly as I have last described him. The nurses' attentions were continual.
It was on Friday last that we finally resolved to make the experiment of awakening or attempting to awaken him; and it is the (perhaps) unfortunate result of this latter experiment which has given rise to so much discussion in private circles — to so much of what I cannot help thinking unwarranted popular feeling.
For the purpose of relieving M. Valdemar from the mesmeric trance, I made use of the customary passes. These, for a time, were unsuccessful. The first indication of revival was afforded by a partial descent of the iris. It was observed, as especially remarkable, that this lowering of the pupil was accompanied by the profuse out-flowing of a yellowish ichor (from beneath the lids) of a pungent and highly offensive odor.
It was now suggested that I should attempt to influence the patient's arm, as heretofore. I made the attempt and failed. Dr. F — then intimated a desire to have me put a question. I did so, as follows:
"M. Valdemar, can you explain to us what are your feelings or wishes now?"
There was an instant return of the hectic circles on the cheeks; the tongue quivered, or rather rolled violently in the mouth (although the jaws and lips remained rigid as before;) and at length the same hideous voice which I have already described, broke forth:
"For God's sake! — quick! — quick! — put me to sleep — or, quick! — waken me! — quick! — I say to you that I am dead!"
I was thoroughly unnerved, and for an instant remained undecided what to do. At first I made an endeavor to re-compose the patient; but, failing in this through total abeyance of the will, I retraced my steps and as earnestly struggled to awaken him. In this attempt I soon saw that I should be successful — or at least I soon fancied that my success would be complete — and I am sure that all in the room were prepared to see the patient awaken.
For what really occurred, however, it is quite impossible that any human being could have been prepared.
As I rapidly made the mesmeric passes, amid ejaculations of "dead! dead!" absolutely bursting from the tongue and not from the lips of the sufferer, his whole frame at once — within the space of a single minute, or even less, shrunk — crumbled — absolutely rotted away beneath my hands. Upon the bed, before that whole company, there lay a nearly liquid mass of loathsome — of detestable putridity.
Edgar Allan Poe: The Facts in the Case of M. Valdemar
kempis poetry magazine
More in: Archive O-P, Edgar Allan Poe, Poe, Edgar Allan
---
Older Entries »
« Newer Entries
Thank you for reading FLEURSDUMAL.NL - magazine for art & literature