"Alone—together" by Evelyn Forest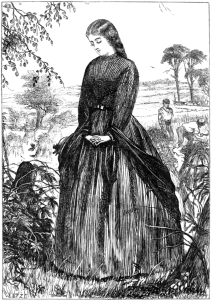 "Alone—together"
I
Alone, I see the sunrise, from the rocks above the sea;
And the hamlet flushed with rosy light, seems fairy-land to me:
There dwells the pilot's daughter, whose dear love I'd die to win;
And the blue sky fills my heart with hope, while the merry tide flows in.
II
'Tis noon—we stand together, on the sands beside the sea;
And the maiden, folded to my heart, is sworn my bride to be!
In the sunshine flash the sea-gulls, skimming waves of rippled light;
The fisher boats ride gaily, under cliffs of dazzling white.
III
Alone, I see the sunset, from the churchyard near the sea,
For the cruel grave-stone at my feet, hides my darling's face from me!
Like some dark pall, the sea-weeds droop from ledges cold and grey;
The night-mists shroud the hamlet, and the tide ebbs fast away!
Evelyn Forest
(Pen name of Anne Pares)
(? – ?)
"Alone—together"
Illustration: Frederick Eltze (1836–1870)
• fleursdumal.nl magazine
More in: # Classic Poetry Archive, Archive E-F, Archive E-F, Archive O-P, Archive O-P