Archive A-B
«« Previous page
·
Antonin Artaud: Poète noir (Poème)
·
Bert Bevers: Verdwijnpunt (Gedicht)
·
Sophie Albrecht: Sehnsucht (Gedicht)
·
Antonin Artaud: Qui suis-je ? (Poème)
·
Bert Bevers: Boodschapper (gedicht)
·
Hugo Ball: Der Henker
·
François Audouy: Antonin Artaud le sur-vivant. Essai
·
Robert Bridges: To Joseph Joachim
·
Antonin Artaud – Le Visionnaire Hurlant par Laurent Vignat
·
Nederzettingen: nieuwe dichtbundel van Bert Bevers
·
Antonin Artaud: Anthology
·
Hugo Ball: 1 Stern und 7 kazamogipuffel
Poète noir
Poète noir, un sein de pucelle
te hante,
poète aigri, la vie bout
et la ville brûle,
et le ciel se résorbe en pluie,
ta plume gratte au cœur de la vie.
Forêt, forêt, des yeux fourmillent
sur les pignons multipliés ;
cheveux d'orage, les poètes
enfourchent des chevaux, des chiens.
Les yeux ragent, les langues tournent,
le ciel afflue dans les narines
comme un lait nourricier et bleu ;
je suis suspendu à vos bouches
femmes, cœurs de vinaigre durs.
Antonin Artaud
(1896 — 1948)
Poète noir
Poème
• fleursdumal.nl magazine
More in: Antonin Artaud, Archive A-B, Archive A-B, Artaud, Antonin
---
Verdwijnpunt
Zij die deze kasseien en sporen legden
gaven hun lijven al lang geleden terug.
Maar eerder, eerder zegden zij dat ze
geloofden. Zegden zij dat ze wel wisten
hoe alles zat. Hun onherinnerde dromen
wemelden van de oorlog die nog moest
komen, duister als de kleur die de rivier
's avonds heeft. Er zweemt een heimwee
over deze stenen, maar het is niet klaar
waarnaar. Moet er eigenlijk niet een dun
lijntje om alles heen? Met richtingwijzers?
Toekomst heeft de kraag ruig omhoog.
Bert Bevers
Gedicht: Verdwijnpunt
Eerder verschenen in Schaduw, District Hoboken, 2014
Bert Bevers is a poet and writer who lives and works in Antwerp (Be)
• fleursdumal.nl magazine
More in: Archive A-B, Archive A-B, Bevers, Bert
---
Sehnsucht
Entfernter Freund!
Um den auf immer
Im stillen Zimmer
Mein Auge weint;
Dann, wenn die Sterne
Am Himmel blinken,
Und Liebe winken,
Denk ich der Ferne
In der du, ach!
Jetzt um mich leidest,
Und Freuden meidest,
Mit Thränen nach.
Und wenn mein Freund
Im Stralenkleide,
Zu meinem Leide
Mitleidig scheint;
Da werf ich mich,
Mit stummen Sehnen
Und tausend Thränen –
O! sähst du mich!
An jene Flüsse
Zur Erde nieder,
Die unsre Lieder
Und unsere Küsse
Beym Sternenschein
So oft belauschten,
und sanfter rauschten
Durch diesen Hayn –
Ach! keine Lieder
Und keine Küsse,
Ihr – Hayn – und Flüsse!
Belauscht ihr wieder –
Und denk an dich,
An jene Zeiten,
So voller Freuden
Für mich und dich;
Dann ruf ich dich
Durch alle Wälder,
Durch Thal und Felder
Als hört'st du mich.
Und wüst und schaurig
Ist Hayn – und Trifte,
Wie Todtengrüfte,
So bang und traurig.
O! Mond und Sterne,
Blickt tausend Küsse
Und tausend Grüsse
Dem in der Ferne,
Ihr könnt' ihn finden!
So ruf und weine
Ich oft alleine
In öden Gründen.
So lächelt dir
Der Mond oft Küsse
So traurig süsse
Mein Freund von mir.
Sophie Albrecht
(1757-1840)
Gedicht
Im Junius 1783
• fleursdumal.nl magazine
More in: Archive A-B, Archive A-B, CLASSIC POETRY, Galerie Deutschland
---
Qui suis-je ?
Qui suis-je ?
D'où je viens ?
Je suis Antonin Artaud
et que je le dise
comme je sais le dire
immédiatement
vous verrez mon corps actuel
voler en éclats
et se ramasser
sous dix mille aspects
notoires
un corps neuf
où vous ne pourrez
plus jamais
m'oublier.
Antonin Artaud
Poème
Qui suis-je ?
(1896 – 1948)
• fleursdumal.nl magazine
More in: Antonin Artaud, Archive A-B, Archive A-B, Artaud, Antonin
---
Boodschapper
Ze wegen door, die tafelen. Hij
sjouwt wat op en neer met
boodschappen en lijstjes met
benodigdheden: acaciahout,
gelooide huiden, getwijnd lijnwaad
en geitenhaar, onyxstenen, roodgeverfde
ramsvellen, zalfolie en o ja natuurlijk
brons en zilver niet te vergeten.
Want een beetje ark.
Groeiend tabernakel.
Nader niet te dicht,
bandeloos volk:
wacht tot de hoorn schalt.
Geloof
niet in goud
Bert Bevers
Gedicht: Boodschapper
Niet eerder verschenen
Bert Bevers is a poet and writer who lives and works in Antwerp (Be)
• fleursdumal.nl magazine
More in: Archive A-B, Archive A-B, Bevers, Bert
---
Der Henker
Ich kugle Dich auf Deiner roten Decke.
Ich bin am Werk: blank wie ein Metzgermeister.
Tische und Bänke stehen wie blitzende Messer
der Syphiliszwerg stochert in Töpfen voll Gallert und Kleister.
Dein Leib ist gekrümmt und blendend und glänzt wie der gelbe Mond
deine Augen sind kleine lüsterne Monde
dein Mund ist geborsten in Wollust und in der Jüdinnen Not
deine Hand eine Schnecke, die in den blutroten Gärten voll Weintrauben und Rosen wohnte.
Hilf, heilige Maria! Dir sprang die Frucht aus dem Leibe
sei gebenedeit! Mir rinnt geiler Brand an den Beinen herunter.
Mein Haar ein Sturm, mein Gehirn ein Zunder
meine Finger zehn gierige Zimmermannsnägel
die schlage ich in der Christenheit Götzenplunder.
Als dein Wehgeschrei dir die Zähne aus den Kiefern sprengte
da brach auch ein Goldprasseln durch die Himmelssparren nieder.
Eine gigantische Hostie gerann und blieb zwischen Rosabergen stehen
ein Hallelujah gurgelte durch Apostel- und Hirtenglieder.
Da tanzten nackichte Männer und Huren in verrückter Ekstase
Heiden, Türken, Kaffern und Muhammedaner zumal
Da stoben die Engel den Erdkreis hinunter
Und brachten auf feurigem Teller die Finsternis und die Qual.
Da war keine Mutterknospe, kein Auge mehr blutunterlaufen und ohne Hoffen
Jede Seele stand für die Kindheit und für das Wunder offen.
Hugo Ball
(1886-1927)
Der Henker
fleursdumal.nl magazine
More in: Archive A-B, Ball, Hugo, Dada, DADA, Dadaïsme
---
Artaud, poète de la survie et de la sur-vie ?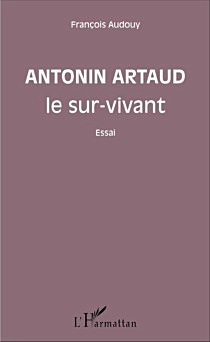 C'est l'angle d'approche de cet essai, qui revisite cet être hors-normes et haut en couleurs.
L'impatient patient Artaud se trouve ici confronté à ses foisonnantes références, religieuses et philosophiques, remis dans son contexte actuel, attaqué et fouillé au corps pour en extraire sa substantifique moelle : celle d'un nouveau-né éternel, d'un trompe-la-mort, d'un tueur de verbe. D'un sur-vivant.
Antonin Artaud, de son vrai nom Antoine Marie Joseph Artaud, est né à Marseille le 4 septembre 1896 et mort à Ivry-sur-Seine le 4 mars 1948. Poète, romancier, acteur, dessinateur, dramaturge et théoricien du théâtre. Dans son essai Le Théâtre et son double, Artaud invente le concept du "théâtre de la cruauté"
François Audouy
Antonin Artaud le sur-vivant.
Essai
Broché
Editions L'Harmattan Paris
Format : 13,5 x 21,5 cm
ISBN : 978-2-343-09048-1
2016
92 pages
€ 12,00
# new books
Antonin Artaud le sur-vivant
fleursdumal.nl magazine
More in: - Book Stories, Antonin Artaud, Archive A-B, Archive A-B, Artaud, Antonin, AUDIO, CINEMA, RADIO & TV, Psychiatric hospitals, THEATRE
---
To Joseph Joachim
Belov'd of all to whom that Muse is dear
Who hid her spirit of rapture from the Greek,
Whereby our art excelleth the antique,
Perfecting formal beauty to the ear;
Thou that hast been in England many a year
The interpreter who left us nought to seek,
Making Beethoven's inmost passion speak,
Bringing the soul of great Sebastian near.
Their music liveth ever, and 'tis just
That thou, good Joachim, so high thy skill,
Rank (as thou shalt upon the heavenly hill)
Laurel'd with them, for thy ennobling trust
Remember'd when thy loving hand is still
And every ear that heard thee stopt with dust.
Robert Bridges
(1844-1930)
To Joseph Joachim
fleursdumal.nl magazine
More in: *War Poetry Archive, Archive A-B, Bridges, Robert
---
Breton, Eluard, Aragon, Cocteau, Picasso, Chanel, Abel Gance, Anaïs Nin, Colette, Diego Rivera, Lacan, Desnos, Van Gogh, Sartre et Beauvoir, plus tard Jim Morrison et Patti Smith…
Ces noms jalonnent la trajectoire d'Antonin Artaud, comète colérique qui a irrigué l'avant-garde artistique et littéraire de l'entre-deux-guerres et irrigue encore notre époque.
Par-delà le cliché de l'aliéné, du mythe du poète fou auteur d'une oeuvre monumentale, cette biographie s'attache à souligner le caractère novateur, toujours d'actualité, de son message : Artaud a imaginé le cinéma en relief, oeuvré à un profond renouvellement de l'art théâtral, rejeté le colonialisme européen, remis en cause les idéologies mortifères du XXe siècle, dénoncé le capitalisme et ses impératifs productivistes, esquissé l'altermondialisme.
Après neuf ans d'internement, il est aussi celui qui a fait vaciller la psychiatrie, ses catégories et sa thérapeutique des électrochocs. Plus que jamais, dans notre époque incertaine, Antonin Artaud est une voix à faire entendre. Une biographie à lire comme un roman.
Né en 1970, Laurent Vignat poursuit des études de lettres à la Sorbonne et devient professeur de français. Il publie son premier roman en 2006, après quelques textes épars publiés dans des revues.
Sur des carnets, il saisit les bizarreries d'une société qu'il juge de plus en plus folle, ses contemporains, des sourires, des tics de langage et des bribes de vie qui deviennent, à force de travail et d'obstination, des histoires.
Quand il n'écrit pas, il fait la classe ; il pédale en côte chalonnaise ; il lit ; il observe ; il regarde ses enfants grandir ; il écoute son épouse ; il suit les doigts graciles de son fils lorsqu'ils filent une impro sur le piano du salon ; il prépare un osso bucco, il s'endort avec Bach ou Jarrett dans les oreilles…
Auteur: Laurent Vignat
Antonin Artaud.
Le visionnaire hurlant
Editeur : Editions Du Jasmin
Collection: Signes de vie
Parution : 27/02/2018
Nombre de pages : 251
Dimensions: 15×19
ISBN: 978-2-35284-177-7
€ 16,00
# new books
Antonin Artaud
fleursdumal.nl magazine
More in: #Biography Archives, - Book News, Antonin Artaud, Archive A-B, Archive A-B, Archive U-V, Art & Literature News, Art Criticism, Artaud, Antonin, AUDIO, CINEMA, RADIO & TV, THEATRE
---
Nederzettingen is de titel van de nieuwe dichtbundel van Bert Bevers, verschenen bij uitgeverij Kleinood & Grootzeer. De bundel is verdeeld in drie reeksen: Nederzettingen, Uit de tijd en Gedichten uit een stadje in de heuvels en bevat dertig recente gedichten.
Bert Bevers is een dichter met een brede kijk op zijn onderwerpen en een onmiskenbaar eigen idioom.
Bert Bevers (° Bergen op Zoom, 1954) woont en werkt in Antwerpen. Keuzes uit zijn gedichten verschenen in de verzamelbundels Afglans (1997) en Eigen terrein (2013).
Werk van zijn hand verscheen in literaire tijdschriften als Ballustrada, Bzzlletin, Deus ex Machina, Dietsche Warande & Belfort, Digther, Fleurs du mal, Gierik & Nieuw Vlaams Tijdschrift, Hollands Maandblad, Meander, Poëziekrant, De Tweede Ronde, TZUM en Versindaba alsmede in vele bloemlezingen.
Hedwig Speliers schreef over zijn werk in Poëziekrant: 'In meestal korte taalmodules werkt Bert Bevers met een intellectuele voedingsbodem aan een stoïcijns gekleurd wereldbeeld. Hij doet dit in beheerste, vaste klankrasters. Er zindert vaak een betoverende klank door, klank die je aangrijpt door zijn semantisch rijke impact. Bij het lezen van deze gedichten denk je constant: zo en niet anders moet het.'
Eerste druk 100 genummerde en door de auteur gesigneerde exemplaren.  Boekje, 42 pagina's, gelijmd 21 x 10,5 cm. ISBN/EAN 978-90-76644-91-2.  Prijs  €18,-
Uitgeverij Kleinood & Grootzeer
Kon. Wilhelminastraat 46
4615 JB Bergen op Zoom NL
email: uitgeverij@kleinood-en-grootzeer.com
web: http://kleinood-en-grootzeer.com
# new poetry
Bert Bevers
fleursdumal.nl magazine
More in: - Book News, - Bookstores, Archive A-B, Art & Literature News, Bevers, Bert, PRESS & PUBLISHING
---
"I am the man," wrote Artaud, "who has best charted his inmost self." Antonin Artaud was a great poet who, like Poe, Holderlin, and Nerval, wanted to live in the infinite and asked that the human spirit burn in absolute freedom.
To society, he was a madman. Artaud, however, was not insane, but in luciferian pursuit of what society keeps hidden. The man who wrote Van Gogh the Man Suicided by Society raged against the insanity of social institutions with insight that proves more prescient with every passing year. Today, as Artaud's vatic thunder still crashes above the "larval confusion" he despised, what is most striking in his writings is an extravagant lucidity.
This collection gives us quintessential Artaud on the occult, magic, the theater, mind and body, the cosmos, rebellion, and revolution in its deepest sense.
Title Artaud Anthology
Author Antonin Artaud
Edited by Jack Hirschman
Publisher City Lights Publishers
Format: Paperback
Nb of pages 256 p.
First published 1963
ISBN-10 0872860000
ISBN-13 9780872860001
$15.95
# new books
Antonin Artaud
fleursdumal.nl magazine
More in: #Biography Archives, - Book Lovers, Antonin Artaud, Archive A-B, Archive A-B, Art & Literature News, Artaud, Antonin, AUDIO, CINEMA, RADIO & TV, Psychiatric hospitals, THEATRE
---
1 Stern und 7 kazamogipuffel
1 Stern und 7 kazamogipuffel
macht 13 zakopaddogei
zubtrahiere 5 franschöse Männlin
macht 1 Libanotterbett
nehme 3 Quentlin Klotzpulfer
legs in himmelsdeifelsnamen
dabei, wirst sehen wohinst
kommst wnr bällt wnr heult
wnr pfaucht wnre Daugen däht
Hugo Ball
(1886-1927)
gedicht
fleursdumal.nl magazine
More in: Archive A-B, Ball, Hugo, Dada, DADA, Dadaïsme
---
Older Entries »
« Newer Entries
Thank you for reading FLEURSDUMAL.NL - magazine for art & literature