Archive A-B
«« Previous page
·
Guillaume Apollinaire: C'est Lou Qu'on La Nommait
·
Bert Bevers: Op café
·
Bert Bevers: Brexit blues
·
Ambrose Bierce: Three and One are One
·
Charles Baudelaire: Sisina
·
Sophie d'Arbouville: L'ange de poésie et la jeune femme
·
Bert Bevers: Op rust
·
Charles Baudelaire: Tristesses de la lune
·
Bert Bevers: Matrijs voor herinneringen
·
Greta Bellamacina: Tomorrow's Woman
·
William Blake: The Little Vagabond
·
The Tradition, poems by Jericho Brown
C'est Lou
Qu'on La Nommait
Il est des loups de toute sorte
Je connais le plus inhumain
Mon cœur que le diable l'emporte
Et qu'il le dépose à sa porte
N'est plus qu'un jouet dans sa main
Les loups jadis étaient fidèles
Comme sont les petits toutous
Et les soldats amants des belles
Galamment en souvenir d'elles
Ainsi que les loups étaient doux
Mais aujourd'hui les temps sont pires
Les loups sont tigres devenus
Et les Soldats et les Empires
Les Césars devenus Vampires
Sont aussi cruels que Vénus
J'en ai pris mon parti Rouveyre
Et monté sur mon grand cheval
Je vais bientôt partir en guerre
Sans pitié chaste et l'œil sévère
Comme ces guerriers qu'Epinal
Vendait Images populaires
Que Georgin gravait dans le bois
Où sont-ils ces beaux militaires
Soldats passés Où sont les guerres
Où sont les guerres d'autrefois
Guillaume Apollinaire
(1880 – 1918)
C'est Lou Qu'on La Nommait
• fleursdumal.nl magazine
More in: Apollinaire, Guillaume, Archive A-B, Archive A-B, Guillaume Apollinaire
---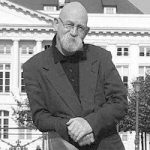 Op café
Aan de toog neuriën treuzelige drinkers gebruikte
melodieën, met de nonchalance van zangers
die onbang zijn als de stem van Björk. Hoor hoe ze
in hun liederen worden van huiverende ontwakers
tot dochterloze vaders, ontwaarde vertalers van
vrijpostige heiligen, gulle grensvrezers in de ochtend.
Bert Bevers
gedicht
Op café
(ongepubliceerd)
• fleursdumal.nl magazine
More in: Archive A-B, Archive A-B, Bevers, Bert
---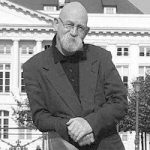 Brexit blues
Voor hetere vuren hadden ze gestaan, met
geloken blikken vol mist op verre zeevaart.
Ze dachten grage menners wel te herkennen,
en hun beduimelde beloften ras te doorzien.
Nu wachten de weglopers ginds achter breed
water bang af wat komt, in hun andere uren.
Bert Bevers
gedicht
Brexit blues
(ongepubliceerd)
• fleursdumal.nl magazine
More in: Archive A-B, Archive A-B, Bevers, Bert, MONTAIGNE
---
Three and One are One
In the year 1861 Barr Lassiter, a young man of twenty-two, lived with his parents and an elder sister near Carthage, Tennessee. The family were in somewhat humble circumstances, subsisting by cultivation of a small and not very fertile plantation. Owning no slaves, they were not rated among "the best people" of their neighborhood; but they were honest persons of good education, fairly well mannered and as respectable as any family could be if uncredentialed by personal dominion over the sons and daughters of Ham.
The elder Lassiter had that severity of manner that so frequently affirms an uncompromising devotion to duty, and conceals a warm and affectionate disposition. He was of the iron of which martyrs are made, but in the heart of the matrix had lurked a nobler metal, fusible at a milder heat, yet never coloring nor softening the hard exterior. By both heredity and environment something of the man's inflexible character had touched the other members of the family; the Lassiter home, though not devoid of domestic affection, was a veritable citadel of duty, and duty—ah, duty is as cruel as death!
When the war came on it found in the family, as in so many others in that State, a divided sentiment; the young man was loyal to the Union, the others savagely hostile. This unhappy division begot an insupportable domestic bitterness, and when the offending son and brother left home with the avowed purpose of joining the Federal army not a hand was laid in his, not a word of farewell was spoken, not a good wish followed him out into the world whither he went to meet with such spirit as he might whatever fate awaited him.
Making his way to Nashville, already occupied by the Army of General Buell, he enlisted in the first organization that he found, a Kentucky regiment of cavalry, and in due time passed through all the stages of military evolution from raw recruit to experienced trooper. A right good trooper he was, too, although in his oral narrative from which this tale is made there was no mention of that; the fact was learned from his surviving comrades. For Barr Lassiter has answered "Here" to the sergeant whose name is Death.
Two years after he had joined it his regiment passed through the region whence he had come. The country thereabout had suffered severely from the ravages of war, having been occupied alternately (and simultaneously) by the belligerent forces, and a sanguinary struggle had occured in the immediate vicinity of the Lassiter homestead. But of this the young trooper was not aware.
Finding himself in camp near his home, he felt a natural longing to see his parents and sister, hoping that in them, as in him, the unnatural animosities of the period had been softened by time and separation. Obtaining a leave of absence, he set foot in the late summer afternoon, and soon after the rising of the full moon was walking up the gravel path leading to the dwelling in which he had been born.
Soldiers in war age rapidly, and in youth two years are a long time. Barr Lassiter felt himself an old man, and had almost expected to find the place a ruin and a desolation. Nothing, apparently, was changed. At the sight of each dear and familiar object he was profoundly affected. His heart beat audibly, his emotion nearly suffocated him; an ache was in his throat. Unconsciously he quickened his pace until he almost ran, his long shadow making grotesque efforts to keep its place beside him.
The house was unlighted, the door open. As he approached and paused to recover control of himself his father came out and stood bare-headed in the moonlight.
"Father!" cried the young man, springing forward with outstretched hand—"Father!"
The elder man looked him sternly in the face, stood a moment motionless and without a word withdrew into the house. Bitterly disappointed, humiliated, inexpressibly hurt and altogether unnerved, the soldier dropped upon a rustic seat in deep dejection, supporting his head upon his trembling hand. But he would not have it so: he was too good a soldier to accept repulse as defeat. He rose and entered the house, passing directly to the "sitting-room."
It was dimly lighted by an uncurtained east window. On a low stool by the hearthside, the only article of furniture in the place, sat his mother, staring into a fireplace strewn with blackened embers and cold ashes. He spoke to her—tenderly, interrogatively, and with hesitation, but she neither answered, nor moved, nor seemed in any way surprised. True, there had been time for her husband to apprise her of their guilty son's return. He moved nearer and was about to lay his hand upon her arm, when his sister entered from an adjoining room, looked him full in the face, passed him without a sign of recognition and left the room by a door that was partly behind him. He had turned his head to watch her, but when she was gone his eyes again sought his mother. She too had left the place.
Barr Lassiter strode to the door by which he had entered. The moonlight on the lawn was tremulous, as if the sward were a rippling sea. The trees and their black shadows shook as in a breeze. Blended with its borders, the gravel walk seemed unsteady and insecure to step on. This young soldier knew the optical illusions produced by tears. He felt them on his cheek, and saw them sparkle on the breast of his trooper's jacket. He left the house and made his way back to camp.
The next day, with no very definite intention, with no dominant feeling that he could rightly have named, he again sought the spot. Within a half-mile of it he met Bushrod Albro, a former playfellow and schoolmate, who greeted him warmly.
"I am going to visit my home," said the soldier.The other looked at him rather sharply, but said nothing.
"I know," continued Lassister, "that my folks have not changed, but—"
There have been changes," Albro interrupted—"everything changes. I'll go with you if you don't mind. We can talk as we go."
But Albro did not talk.
Instead of a house they found only fire-blackened foundations of stone, enclosing an area of compact ashes pitted by rains.
Lassiter's astonishment was extreme.
"I could not find the right way to tell you," said Albro. "In the fight a year ago your house was burned by a Federal shell."
"And my family—where are they?"
"In Heaven, I hope. All were killed by the shell."
Ambrose Bierce
(1842 – 1913/1914 ?)
Three and One are One
• fleursdumal.nl magazine
More in: Archive A-B, Archive A-B, Bierce, Ambrose, Bierce, Ambrose
---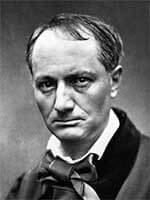 Sisina
Imaginez Diane en galant équipage,
Parcourant les forêts ou battant les halliers,
Cheveux et gorge au vent, s'enivrant de tapage,
Superbe et défiant les meilleurs cavaliers!
Avez-vous vu Théroigne, amante du carnage,
Excitant à l'assaut un peuple sans souliers,
La joue et l'oeil en feu, jouant son personnage,
Et montant, sabre au poing, les royaux escaliers?
Telle la Sisina! Mais la douce guerrière
À l'âme charitable autant que meurtrière;
Son courage, affolé de poudre et de tambours,
Devant les suppliants sait mettre bas les armes,
Et son coeur, ravagé par la flamme, a toujours,
Pour qui s'en montre digne, un réservoir de larmes.
Charles Baudelaire
(1821-1867)
Sisina
(poème)
• fleursdumal.nl magazine
More in: Archive A-B, Archive A-B, Baudelaire, Baudelaire, Charles
---
L'ange de poésie
et la jeune femme
  L'ANGE DE POÉSIE.
Éveille-toi, ma sœur, je passe près de toi !
De mon sceptre divin tu vas subir la loi ;
Sur toi, du feu sacré tombent les étincelles,
Je caresse ton front de l'azur de mes ailes.
À tes doigts incertains, j'offre ma lyre d'or,
Que ton âme s'éveille et prenne son essor !…
Le printemps n'a qu'un jour, tout passe ou tout s'altère ;
Hâte-toi de cueillir les roses de la terre,
Et chantant les parfums dont s'enivrent tes sens,
Offre tes vers au ciel comme on offre l'encens !
Chante, ma jeune sœur, chante ta belle aurore,
Et révèle ton nom au monde qui l'ignore.
  LA JEUNE FEMME.
Grâce !.. éloigne de moi ton souffle inspirateur !
Ne presse pas ainsi ta lyre sur mon cœur !
Dans mon humble foyer, laisse-moi le silence ;
La femme qui rougit a besoin d'ignorance.
Le laurier du poète exige trop d'effort…
J'aime le voile épais dont s'obscurcit mon sort.
Mes jours doivent glisser sur l'océan du monde,
Sans que leur cours léger laisse un sillon sur l'onde ;
Ma voix ne doit chanter que dans le sein des bois,
Sans que l'écho répète un seul son de ma voix.
  L'ANGE DE POÉSIE.
Je t'appelle, ma sœur, la résistance est vaine.
Des fleurs de ma couronne, avec art je t'enchaîne :
Tu te débats en vain sous leurs flexibles nœuds.
D'un souffle dévorant j'agite tes cheveux,
Je caresse ton front de ma brûlante haleine !
Mon cœur bat sur ton cœur, ma main saisit la tienne ;
Je t'ouvre le saint temple où chantent les élus…
Le pacte est consommé, je ne te quitte plus !
Dans les vallons lointains suivant ta rêverie,
Je prêterai ma voix aux fleurs de la prairie ;
Elles murmureront : « Chante, chante la fleur
Qui ne vit qu'un seul jour pour vivre sans douleur. »
Tu m'entendras encor dans la brise incertaine
Qui dirige la barque en sa course lointaine ;
Son souffle redira : « Chante le ciel serein ;
Qu'il garde son azur, le salut du marin ! »
J'animerai l'oiseau caché sous le feuillage,
Et le flot écumant qui se brise au rivage ;
L'encens remplira l'air que tu respireras…
Et soumise à mes lois, ma sœur, tu chanteras !
  LA JEUNE FEMME.
J'écouterai ta voix, ta divine harmonie,
Et tes rêves d'amour, de gloire et de génie ;
Mon âme frémira comme à l'aspect des cieux…
Des larmes de bonheur brilleront dans mes yeux.
Mais de ce saint délire, ignoré de la terre,
Laisse-moi dans mon cœur conserver le mystère ;
Sous tes longs voiles blancs, cache mon jeune front ;
C'est à toi seul, ami, que mon âme répond !
Et si, dans mon transport, m'échappe une parole,
Ne la redis qu'au Dieu qui comprend et console.
Le talent se soumet au monde, à ses décrets,
Mais un cœur attristé lui cache ses secrets ;
Qu'aurait-il à donner à la foule légère,
Qui veut qu'avec esprit on souffre pour lui plaire ?
Ma faible lyre a peur de l'éclat et du bruit,
Et comme Philomèle, elle chante la nuit.
Adieu donc ! laisse-moi ma douce rêverie,
Reprends ton vol léger vers ta belle patrie !
L'ange reste près d'elle, il sourit à ses pleurs,
Et resserre les nœuds de ses chaînes de fleurs ;
Arrachant une plume à son aile azurée,
Il la met dans la main qui s'était retirée.
En vain elle résiste, il triomphe… il sourit…
Laissant couler ses pleurs, la jeune femme écrit.
Sophie d'Arbouville
(1810-1850)
Le chant du cygne
Poésies et nouvelles (1840)
• fleursdumal.nl
More in: Arbouville, Sophie d', Archive A-B, Archive A-B
---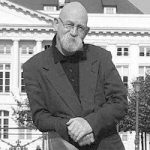 Op rust
Stappend uit de plattegrond ziet hij
de ruige snede van het leven pas
op de plaats van stilstand inzicht
zich ontvouwt. Zie hem aankuieren,
als een man die na lang geoefend te
hebben eindelijk aan het werk mag.
Hij vraagt zich af: is 'Niets blijft'
hetzelfde als 'Alles gaat weg'?
Bert Bevers
Eerder verschenen in Sterrengruis, Reinart Edities, Oss, 2000. Bert Bevers is dichter en schrijver en woont en werkt in Antwerpen (Be).
• fleursdumal.nl magazine
More in: Archive A-B, Archive A-B, Bevers, Bert
---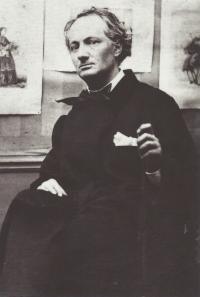 Tristesses de la lune
Ce soir, la lune rêve avec plus de paresse;
Ainsi qu'une beauté, sur de nombreux coussins,
Qui d'une main distraite et légère caresse
Avant de s'endormir le contour de ses seins,
Sur le dos satiné des molles avalanches,
Mourante, elle se livre aux longues pâmoisons,
Et promène ses yeux sur les visions blanches
Qui montent dans l'azur comme des floraisons.
Quand parfois sur ce globe, en sa langueur oisive,
Elle laisse filer une larme furtive,
Un poète pieux, ennemi du sommeil,
Dans le creux de sa main prend cette larme pâle,
Aux reflets irisés comme un fragment d'opale,
Et la met dans son coeur loin des yeux du soleil.
Charles Baudelaire
(1821-1867)
Tristesses de la lune
(poème)
• fleursdumal.nl magazine
More in: Archive A-B, Archive A-B, Baudelaire, Baudelaire, Charles
---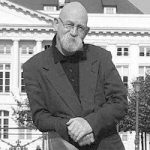 Matrijs voor herinneringen
Vermomder dan de dood is het zwijgen
achter vergelende vitrage. Van iedereen
die denkt van iemand iets te weten. Toch,
de eieren zijn bereids geraapt, beweegt
verleden wanneer het maar wil. Toen
mijn vader jong en klein was zwom hij
in de zee, wist hij niet dat ik dit schrijven
zou. Dat bedriegers gewoon zouden blijven
verzinnen. Konijnen zonder oren, meisjes
met kapotte poppen, dichters die geen
woorden kennen. Wel: water heeft geen
naam, en vluchtend wild zorgt voor later.
Bert Bevers
Eerder verschenen in Eigen terrein, Uitgeverij WEL, Bergen op Zoom, 2013. Bert Bevers is dichter en schrijver en woont en werkt in Antwerpen (Be).
• fleursdumal.nl magazine
More in: Archive A-B, Archive A-B, Bevers, Bert
---
In Tomorrow's Woman, Greta Bellamacina's bold, exploratory voice combines the vivid imagery of French surrealism and British romantic poetry with a modern, first-person examination of love, gender identity, motherhood, and social issues.
Andy Warhol's Interview Magazine writes that "Bellamacina is garnering critical acclaim for her way with words and her ability to translate the classic poetic form into the contemporary creative landscape."
Greta Bellamacina is an actress, filmmaker, and poet. She was born in London and made her acting debut in Harry Potter and the Goblet of Fire at the age of thirteen. She trained at RADA, where she performed a variety of lead theatre roles, before going on get a B.A. in English at King's College London. Her feature film Hurt by Paradise is currently in post-production.
As a poet, Greta Bellamacina was shortlisted as Young Poet Laureate in 2014 for her debut collection, Kaleidoscope. In 2015, she edited On Love, a survey of contemporary British love poetry from Ted Hughes to the present. The same year, she published Perishing Tame, her first collection with New River Press, "a dazzling meditation on motherhood, female identity, ennui and love," which she launched at The Shakespeare & Company in Paris.
In 2016, she published a collection of collaborative poetry with Robert Montgomery: Points for Time in the Sky, a pyschogeographical journey through modern Britain, and a rare example of collaborative poetry in British literature. The same year, she edited Smear, an anthology of contemporary feminist poetry. Dazed said the collection "unapologetically confronts self-image, body autonomy and our relationships with each other, celebrating the imperfect, frank woman." In 2018, she was commissioned by the National Poetry Library to write a group of poems for their Odyssey series—modern mediations on Homer's Odyssey.
Andy Warhol's Interview magazine says Greta "is garnering critical acclaim for her way with words and her ability to translate the classic poetic form into the contemporary creative landscape."
This is her first volume of her poetry to be released in the United States.
Greta Bellamacina
Tomorrow's Woman
Paperback
112 pages
6 Feb. 2020
ISBN-13 : 978-1524854096
ISBN-10 : 1524854093
Publisher : Andrews McMeel Publishing
Product Dimensions : 14.22 x 0.76 x 20.83 cm
Reading level : 15 and up
Language: : English
£7.72
# more poetry
Greta Bellamacina
Tomorrow's Woman
• fleursdumal.nl magazine
More in: - Book News, Archive A-B, Archive A-B, Art & Literature News, AUDIO, CINEMA, RADIO & TV
---
The Little Vagabond
Dear mother, dear mother, the Church is cold;
But the Alehouse is healthy, and pleasant, and warm.
Besides, I can tell where I am used well;
The poor parsons with wind like a blown bladder swell.
But, if at the Church they would give us some ale,
And a pleasant fire our souls to regale,
We'd sing and we'd pray all the livelong day,
Nor ever once wish from the Church to stray.
Then the Parson might preach, and drink, and sing,
And we'd be as happy as birds in the spring;
And modest Dame Lurch, who is always at church,
Would not have bandy children, nor fasting, nor birch.
And God, like a father, rejoicing to see
His children as pleasant and happy as he,
Would have no more quarrel with the Devil or the barrel,
But kiss him, and give him both drink and apparel.
William Blake
(1757 – 1827)
The Little Vagabond
• fleursdumal.nl magazine
More in: Archive A-B, Archive A-B, Blake, William, Tales of Mystery & Imagination
---
Beauty abounds in Jericho Brown's Pulitzer Prize-winning poetry collection, despite and inside of the evil that pollutes the everyday.
A National Book Award finalist, The Tradition questions why and how we've become accustomed to terror: in the bedroom, the classroom, the workplace, and the movie theater. From mass shootings to rape to the murder of unarmed people by police, Brown interrupts complacency by locating each emergency in the garden of the body, where living things grow and wither—or survive.
In the urgency born of real danger, Brown's work is at its most innovative. His invention of the duplex—a combination of the sonnet, the ghazal, and the blues—is an all-out exhibition of formal skill, and his lyrics move through elegy and memory with a breathless cadence. Jericho Brown is a poet of eros: here he wields this power as never before, touching the very heart of our cultural crisis.
Jericho Brown is a Pulitzer Prize-winning poet and the recipient of fellowships from the Guggenheim Foundation, the Radcliffe Institute for Advanced Study at Harvard, and the National Endowment for the Arts, and he is the winner of a Whiting Award. Brown's first book, Please (New Issues, 2008), won the American Book Award. His second book, The New Testament (Copper Canyon, 2014), won the Anisfield-Wolf Book Award. His third collection is The Tradition (Copper Canyon, 2019)—winner of the 2020 Pulitzer Prize in Poetry and a finalist for the 2019 National Book Award. His poems have appeared in Bennington Review, BuzzFeed, Fence, jubilat, The New Republic, The New York Times, The New Yorker, The Paris Review, TIME, and several volumes of The Best American Poetry. He is an associate professor and the director of the Creative Writing Program at Emory University.
The Tradition
poems by Jericho Brown
(Winner of the 2020 Pulitzer Prize in Poetry)
Format: Paperback
Paperback
110 pages
ISBN-10 : 1556594860
ISBN-13 : 978-1556594861
Publisher : Copper Canyon Press
2 April 2019
Product Dimensions : 22.35 x 14.99 x 1.27 cm
Language: English
$17.00 list price
Jericho Brown
Awards and Honors
Pulitzer Prize in Poetry, 2020
Whiting Writers Award
American Book Award
National Endowment for the Arts Literature Fellowship
Radcliffe Institute at Harvard University Fellowship
Bread Loaf Writers' Conference Fellowship
Krakow Poetry Seminar Fellowship
John Simon Guggenheim Memorial Foundation Fellowship
Lambda Literary Trustee Award, 2020
• fleursdumal.nl magazine
More in: #Editors Choice Archiv, - Book News, Archive A-B, Archive A-B, Awards & Prizes
---
Older Entries »
« Newer Entries
Thank you for reading FLEURSDUMAL.NL - magazine for art & literature