Tales of Mystery & Imagination
·
My Name Is Venus Black. A Novel by Heather Lloyd
·
Kathryn Harkup: Making the Monster. The Science Behind Mary Shelley's Frankenstein
·
Antti Tuomainen: Die letzten Meter bis zum Friedhof
·
The Poet Edgar Allan Poe. Alien Angel by Jerome McGann
·
Dan Fesperman: The Letter Writer
·
Michael Connelly: Le Poète
·
David Lagercrantz: The Girl Who Takes an Eye for an Eye
·
Christine L. Corton: London Fog. The Biography
·
Leif GW Persson: The Dying Detective. A Mystery
·
Sleeping Beauties. A Novel by Stephen King and Owen King
·
Mary Shelley: The Invisible Girl
·
De oriënt verkend. Op reis met Louis Couperus en Marius Bauer
In this riveting, heartfelt debut, a young woman assumes a new name to escape her dark past and find the redemption she desperately seeks.
"A terrific debut, told gently, honestly, and with a generous amount of hope."—New York Times bestselling author Jamie Ford
Venus Black is a straitlaced A student fascinated by the study of astronomy—until the night she commits a shocking crime that tears her family apart and ignites a media firestorm. Venus refuses to talk about what happened or why, except to blame her mother. Adding to the mystery, Venus's developmentally challenged younger brother, Leo, goes missing.
More than five years later, Venus is released from prison with a suitcase of used clothes, a fake identity, and a determination to escape her painful past. Estranged from her mother, and with her beloved brother still missing, she sets out to make a fresh start in Seattle, skittish and alone. But as new people enter her orbit—including a romantic interest and a young girl who seems like a mirror image of her former lost self—old wounds resurface, and Venus realizes that she can't find a future while she's running from her past.
In this gripping story, debut novelist Heather Lloyd brilliantly captures ordinary lives thrust into extraordinary circumstances. Told through a constellation of captivating voices, My Name Is Venus Black explores the fluidity of right and wrong, the pain of betrayal, and the meaning of love and family.
Heather Lloyd, who has spent many years working as an editor and writing coach, lives with her husband in New York City. My Name Is Venus Black is her first novel.
My Name Is Venus Black
A Novel
By Heather Lloyd
Category: Crime Mysteries
Hardcover : $27.00
Publ.: Feb 27, 2018
368 Pages
ISBN 9780399592188
Publ. by The Dial Press
new books
fleursdumal.nl magazine
More in: - Book News, Archive K-L, Art & Literature News, BIOGRAPHY, CRIME & PUNISHMENT, Tales of Mystery & Imagination
---
The year 1818 saw the publication of one of the most influential science-fiction stories of all time.
Frankenstein: Or, Modern Prometheus by Mary Shelley had a huge impact on gothic horror and science-fiction genres, and her creation has become part of our everyday culture, from cartoons to Hallowe'en costumes. Even the name 'Frankenstein' has become a by-word for evil scientists and dangerous experiments. How did a teenager with no formal education come up with the idea for an extraordinary novel such as Frankenstein?
Clues are dotted throughout Georgian science and popular culture. The years before the book's publication saw huge advances in our understanding of the natural sciences, in areas such as electricity and physiology, for example. Sensational science demonstrations caught the imagination of the general public, while the newspapers were full of lurid tales of murderers and resurrectionists.
Making the Monster explores the scientific background behind Mary Shelley's book. Is there any science fact behind the science fiction? And how might a real-life Victor Frankenstein have gone about creating his monster? From tales of volcanic eruptions, artificial life and chemical revolutions, to experimental surgery, 'monsters' and electrical experiments on human cadavers, Kathryn Harkup examines the science and scientists that influenced Shelley, and inspired her most famous creation.
Kathryn Harkup is a chemist and author. Kathryn completed a PhD then a postdoc at the University of York before realising that talking, writing and demonstrating science appealed far more than spending hours slaving over a hot fume-hood. Kathryn went on to run outreach in engineering, computing, physics and maths at the University of Surrey, which involved writing talks on science and engineering topics that would appeal to bored teenagers, and she is now a science communicator delivering talks and workshops on the quirky side of science.
Making the Monster
The Science Behind Mary Shelley's Frankenstein
By: Kathryn Harkup
Published: 08-02-2018
Format: Hardback
Edition: 1st
Extent: 304 pp
ISBN: 9781472933737
Imprint: Bloomsbury Sigma
Illustrations: 11 black and white illustrations
Dimensions: 216 x 135 mm
£16.99
new books
fleursdumal.nl magazine
More in: - Book News, Archive G-H, Archive S-T, Archive S-T, Art & Literature News, Mary Shelley, Natural history, Percy Byssche Shelley, Shelley, Mary, Shelley, Percy Byssche, Tales of Mystery & Imagination
---
Jaako ist 37, als sein Arzt ihm eröffnet, dass er keine Grippe hat, sondern sterben wird, und zwar sehr bald: Jemand hat ihn über längere Zeit hinweg vergiftet.
Das an sich ist schon geeignet, einem Mann so richtig den Tag zu verderben. Leider wird Jaako bei der Rückkehr nach Hause außerdem noch Zeuge, wie ihn seine Frau mit Petri betrügt, dem jungen, knackigen Angestellten ihrer gemeinsamen Firma. Der Firma, die in jüngster Zeit gefährlich Konkurrenz bekommen hat.
Jaako beschließt herauszufinden, wer ihn um die Ecke bringen will. Und er wird sein Unternehmen für die Zeit nach seinem Tod fit machen. Der Handel mit den in Japan zu Höchstpreisen gehandelten Matsutake-Pilzen läuft nämlich ausgezeichnet, und in Finnlands Wäldern wachsen nun einmal die besten. Doch das neue Konkurrenzunternehmen kämpft wirklich mit harten Bandagen.
Ist es da Jaakos Schuld, wenn es zu Toten kommt? Und hat er überhaupt Zeit für anderer Leute Sorgen? Denn so viel ist klar: Mit dem Tod vor Augen geht alles leichter, gilt es doch jede Minute zu genießen.
«Die letzten Meter bis zum Friedhof» ist nicht einfach ein Kriminalroman, sondern ein besonderes Buch: lustig und tragisch, berührend und skurril, lebensklug und nachdenklich, ein Roman, der trotz seines makabren Themas die Lebensgeister weckt, und eine schräge Lektüre, bei der man sich fühlt, als befände man sich in einem Film von Aki Kaurismäki.
Antti Tuomainen, Jahrgang 1971, ist einer der angesehensten und erfolgreichsten finnischen Schriftsteller. Er wurde u.a. mit dem Clue Award, dem Finnischen Krimipreis ausgezeichnet, seine Romane erscheinen in über 25 Ländern. Antti Tuomainen lebt mit seiner Frau in Helsinki.
Antti Tuomainen
Die letzten Meter bis zum Friedhof
Erscheinungstermin: 24.01.2018
384 Seiten
Hardcover
€19,95
Übersetzt von: Niina Wagner; Jan Costin Wagner
Verlag: Rowohlt
ISBN: 978-3-498-06552-2
new books
fleursdumal.nl magazine
More in: - Book Lovers, - Book Stories, Archive S-T, Art & Literature News, CRIME & PUNISHMENT, Tales of Mystery & Imagination
---
The poetry of Edgar Allan Poe has had a rough ride in America, as Emerson's sneering quip about "The Jingle Man" testifies.
That these poems have never lacked a popular audience has been a persistent annoyance in academic and literary circles; that they attracted the admiration of innovative poetic masters in Europe and especially France—notably Baudelaire, Mallarmé, and Valéry—has been further cause for embarrassment. Jerome McGann offers a bold reassessment of Poe's achievement, arguing that he belongs with Whitman and Dickinson as a foundational American poet and cultural presence.
Not all American commentators have agreed with Emerson's dim view of Poe's verse. For McGann, a notable exception is William Carlos Williams, who said that the American poetic imagination made its first appearance in Poe's work. The Poet Edgar Allan Poe explains what Williams and European admirers saw in Poe, how they understood his poetics, and why his poetry had such a decisive influence on Modern and Post-Modern art and writing. McGann contends that Poe was the first poet to demonstrate how the creative imagination could escape its inheritance of Romantic attitudes and conventions, and why an escape was desirable. The ethical and political significance of Poe's work follows from what the poet takes as his great subject: the reader.
The Poet Edgar Allan Poe takes its own readers on a spirited tour through a wide range of Poe's verse as well as the critical and theoretical writings in which he laid out his arresting ideas about poetry and poetics.
Jerome McGann is University Professor and John Stewart Bryan Professor of English at the University of Virginia.
"McGann succeeds in forcing us to rethink Poe's poetry… Poe's sound experiments, especially his strange variations on meter, deserve, as McGann shows by citing numerous rhythmic anomalies, to be taken seriously… In an age of predominantly, and purposely, flat and prosaic 'free verse,' mnemonic patterning is perhaps re-emerging as the emblem of poetic power. In this sense, Poe is once again Our Contemporary… In making the case for the close link between the poetry and the aesthetic theory, [McGann] succeeds admirably: Poe's reputation as poete maudit belies the fact that here was a poet who knew exactly what he was doing."   — Marjorie Perloff, The Times Literary Supplement
Jerome McGann
The Poet Edgar Allan Poe
Alien Angel
256 pages
2014
Hardcover
Harvard University Press
€23.00
ISBN 9780674416666
literary criticism books
fleursdumal.nl magazine
More in: - Book Stories, Archive O-P, Archive O-P, Art & Literature News, Edgar Allan Poe, Poe, Edgar Allan, Poe, Edgar Allan, Tales of Mystery & Imagination
---
February 9, 1942. Disgraced Southern cop Woodrow Cain arrives in New York City for a new position with the NYPD and is greeted with smoke billowing out from the SS Normandie, engulfed in flames on the Hudson.
On Cain's first day on the job, a body turns up in the same river. Unfamiliar with the milieu of mob bosses and crooked officials in the big city, Cain's investigation stalls, until a strange man who calls himself Danziger enters his life. Danziger looks like a miscreant, but speaks five languages, has the manners of a gentleman, and is the one person who can help Cain identify the body. A letter writer for illiterate European immigrants, Danzinger has a seemingly boundless knowledge of the city's denizens and networks—and possesses information that extends beyond the reach of his clients, hinting at an unfathomable past. As the body count grows, Cain and Danziger inch closer toward an underground web of possibly traitorous corruption . . . but in these murky depths, not even Danzinger can know what kind of danger will await them.
ONE OF THE NEW YORK TIMES 10 BEST CRIME NOVELS OF THE YEAR
DAN FESPERMAN's travels as a journalist and novelist have taken him to thirty countries and three war zones. Lie in the Dark won the Crime Writers' Association of Britain's John Creasey Memorial Dagger Award for best first crime novel, The Small Boat of Great Sorrows won their Ian Fleming Steel Dagger Award for best thriller, and The Prisoner of Guantánamo won the Dashiell Hammett Award from the International Association of Crime Writers.
"Fesperman is a skillful, unpretentious writer who deftly incorporates his extensive knowledge of the period." Anna Mundow, Boston Globe
The Letter Writer
A Novel
By Dan Fesperman
Category: Historical Fiction
Paperback
384 Pages
Publ.: Mar 21, 2017 |
Penquin Random House
new books
fleursdumal.nl magazine
More in: - Book News, Archive E-F, Art & Literature News, Tales of Mystery & Imagination
---
Chroniqueur judiciaire, Jack McEvoy ne peut croire au suicide de son frère jumeau.
Si Sean, inspecteur de police, s'est bien tiré une balle dans la bouche, que vient faire ce Hors de l'espace, hors du temps d'Edgar Allan Poe écrit sur le pare-brise de sa voiture ? Et pourquoi Rusher, un indic qu'il devait voir ce jour-là, reste-t-il introuvable ? En s'immisçant dans une base de données du FBI pour les besoins d'un article, McEvoy découvre avec stupéfaction que beaucoup de policiers se suicident et que le FBI mène l'enquête sur la mort de son frère. Il comprend alors que cette affaire est en passe de lui fournir son plus gros scoop sur des meurtres en série. Mais il pressent aussi qu'il est devenu la prochaine cible du suspect…
Le classique absolu pour les fans de romans policiers.
Un livre au suspense implacable qui [a placé] Connelly au même niveau que Raymond Chandler ou James Ellroy, et l'[a fait] connaître dans le monde entier. François Busnel, Lire.
Prix Mystère de la critique en 1998.
Le Livre de Poche
Le Poète
Michael Connelly
Polar
Paru le: 06 Septembre 2017
Format: 112 x 178 mm
768 pages
Ean: 9782253085867
Prix: € 9.10
new books
fleursdumal.nl magazine
More in: - Book Lovers, - Book News, Archive C-D, Art & Literature News, Tales of Mystery & Imagination
---
From the author of the #1 international best seller The Girl in the Spider's Web: the new book in the Millennium series, which began with Stieg Larsson's The Girl with the Dragon Tattoo
Lisbeth Salander, the girl with the dragon tattoo, the brilliant hacker, the obstinate outsider, the volatile seeker of justice for herself and others—even she has never been able to uncover the most telling facts of her traumatic childhood, the secrets that might finally, fully explain her to herself. Now, when she sees a chance to uncover them once and for all, she enlists the help of Mikael Blomkvist, the editor of the muckraking, investigative journal Millennium. And she will let nothing stop her—not the Islamists she enrages by rescuing a young woman from their brutality; not the prison gang leader who passes a death sentence on her; not the deadly reach of her long-lost twin sister, Camilla; and not the people who will do anything to keep buried knowledge of a sinister pseudoscientific experiment known only as The Registry. Once again, Lisbeth Salander and Mikael Blomkvist, together, are the fierce heart of a thrilling full-tilt novel that takes on some of the most insidious problems facing the world at this very moment.
David Lagercrantz was born in 1962 and is an acclaimed author and journalist. He has written numerous biographies (including the internationally best-selling I Am Zlatan Ibrahimović, for which he was the ghostwriter) and four novels, including Fall of Man in Wilmslow, and the #1 best-selling The Girl in the Spider's Web.
"Lagercrantz's excellent second contribution to Stieg Larsson's Millennium series [is a] complicated, fascinating mystery." Publisher's Weekly
The Girl Who Takes an Eye for an Eye
A Lisbeth Salander novel,
continuing Stieg Larsson's Millennium Series
By David Lagercrantz
Suspense & Thriller – Crime Mysteries
Paperback
Sep 12, 2017
512 Pages
Hardcover
Sep 12, 2017
368 Pages
new books
fleursdumal.nl magazine
More in: - Book News, - Book Stories, Archive K-L, Art & Literature News, Tales of Mystery & Imagination
---
In popular imagination, London is a city of fog. The classic London fogs, the thick yellow "pea-soupers," were born in the industrial age of the early nineteenth century.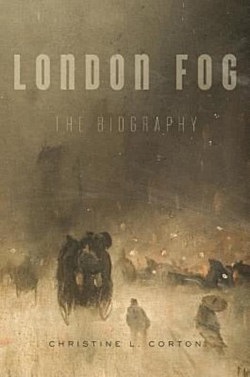 The first globally notorious instance of air pollution, they remained a constant feature of cold, windless winter days until clean air legislation in the 1960s brought about their demise. Christine L. Corton tells the story of these epic London fogs, their dangers and beauty, and their lasting effects on our culture and imagination.
As the city grew, smoke from millions of domestic fires, combined with industrial emissions and naturally occurring mists, seeped into homes, shops, and public buildings in dark yellow clouds of water droplets, soot, and sulphur dioxide. The fogs were sometimes so thick that people could not see their own feet.
By the time London's fogs lifted in the second half of the twentieth century, they had changed urban life. Fogs had created worlds of anonymity that shaped social relations, providing a cover for crime, and blurring moral and social boundaries.
They had been a gift to writers, appearing famously in the works of Charles Dickens, Henry James, Oscar Wilde, Robert Louis Stevenson, Joseph Conrad, and T. S. Eliot. Whistler and Monet painted London fogs with a fascination other artists reserved for the clear light of the Mediterranean.
Corton combines historical and literary sensitivity with an eye for visual drama—generously illustrated here—to reveal London fog as one of the great urban spectacles of the industrial age.
Christine L. Corton is a Senior Member of Wolfson College, Cambridge, and a freelance writer. She worked for many years at publishing houses in London.
London Fog
The Biography
Christine L. Corton
Paperback – 2017
408 pages
28 color illustrations, 63 halftones
Belknap Press / Harvard University Press
ISBN 9780674979819
fleursdumal.nl magazine
More in: - Book News, - Book Stories, Archive C-D, Art & Literature News, Arthur Conan Doyle, Charles Dickens, Eliot, T. S., FDM in London, Natural history, Tales of Mystery & Imagination
---
Lars Martin Johansson is a living legend. Cunning and perceptive, always one step ahead, he was known in the National Criminal Police as "the man who could see around corners." But now Johansson is retired, living in the country, his police days behind him.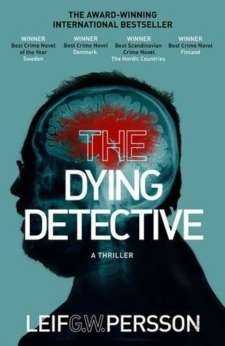 Or so he thinks.
After suffering a stroke, Johansson finds himself in the hospital. Tests show heart problems as well. And the only thing that can save him from despair is his doctor's mention of an unsolved murder case from years before. The victim: an innocent nine-year-old girl.
Johansson is determined to solve the case, no matter his condition. With the help of his assistant, Matilda, an amateur detective, and Max, an orphan with a personal stake in the case, he launches an informal investigation from his hospital bed. Racing against time, he uncovers a web of connections that links sex tourism to a dead opera singer and a self-made millionaire. And as Johansson draws closer to solving the crime, he finds that he will have to confront not just a mystery but his own mortality as well.
Leif G.W. Persson's previous novels include Backstrom: He Who Kills the Dragon, Between Summer's Longing and Winter's End, and Another Time, Another Life. He has served as an adviser to the Swedish ministry of justice and is Sweden's most renowned psychological profiler. A professor at the Swedish National Police Board, he is considered the country's foremost expert on crime.
The Dying Detective
A Mystery
By Leif GW Persson
Translated by Neil Smith
Category: Crime Mysteries
Paperback + Hardback
May 2017
432 Pages
Published by Transworld Publishers Ltd
ISBN10 085752089X
ISBN13 9780857520890
fleursdumal.nl magazine
More in: - Book News, - Book Stories, Archive O-P, Art & Literature News, CRIME & PUNISHMENT, Tales of Mystery & Imagination
---
In this spectacular father/son collaboration, Stephen King and Owen King tell the highest of high-stakes stories: what might happen if women disappeared from the world of men?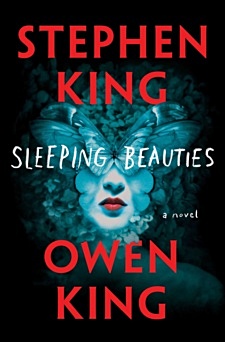 In a future so real and near it might be now, something happens when women go to sleep; they become shrouded in a cocoon-like gauze. If they are awakened, if the gauze wrapping their bodies is disturbed or violated, the women become feral and spectacularly violent; and while they sleep they go to another place… The men of our world are abandoned, left to their increasingly primal devices. One woman, however, the mysterious Evie, is immune to the blessing or curse of the sleeping disease. Is Evie a medical anomaly to be studied? Or is she a demon who must be slain? Set in a small Appalachian town whose primary employer is a women's prison, Sleeping Beauties is a wildly provocative, gloriously absorbing father/son collaboration between Stephen King and Owen King.
Sleeping Beauties
A Novel
by Stephen King and Owen King
hardcover
Scribner publisher
720 pages
ISBN 9781501163401
September 2017
List Price $32.50
fleursdumal.nl magazine
More in: - Book News, Archive K-L, Art & Literature News, CRIME & PUNISHMENT, Stephen King, Tales of Mystery & Imagination
---
The Invisible Girl
by Mary Shelley
This slender narrative has no pretensions o the regularity of a story, or the development of situations and feelings; it is but a slight sketch, delivered nearly as it was narrated to me by one of the humblest of the actors concerned: nor will I spin out a circumstance interesting principally from its singularity and truth, but narrate, as concisely as I can, how I was surprised on visiting what seemed a ruined tower, crowning a bleak promontory overhanging the sea, that flows between Wales and Ireland, to find that though the exterior preserved all the savage rudeness that betokened many a war with the elements, the interior was fitted up somewhat in the guise of a summer-house, for it was too small to deserve any other name.

It consisted but of the ground-floor, which served as an entrance, and one room above, which was reached by a staircase made out of the thickness of the wall. This chamber was floored and carpeted, decorated with elegant furniture; and, above all, to attract the attention and excite curiosity, there hung over the chimney-piece — for to preserve the apartment from damp a fire-place had been built evidently since it had assumed a guise so dissimilar to the object of its construction — a picture simply painted in water-colours, which seemed more than any part of the adornments of the room to be at war with the rudeness of the building, the solitude in which it was placed, and the desolation of the surrounding scenery. This drawing represented a lovely girl in the very pride and bloom of youth; her dress was simple, in the fashion of the day — (remember, reader, I write at the beginning of the eighteenth century), her countenance was embellished by a look of mingled innocence and intelligence, to which was added the imprint of serenity of soul and natural cheerfulness. She was reading one of those folio romances which have so long been the delight of the enthusiastic and young; her mandoline was at her feet — her parroquet perched on a huge mirror near her; the arrangement of furniture and hangings gave token of a luxurious dwelling, and her attire also evidently that of home and privacy, yet bore with it an appearance of ease and girlish ornament, as if she wished to please. Beneath this picture was inscribed in golden letters, "The Invisible Girl."
Rambling about a country nearly uninhabited, having lost my way, and being overtaken by a shower, I had lighted on this dreary looking tenement, which seemed to rock in the blast, and to be hung up there as the very symbol of desolation. I was gazing wistfully and cursing inwardly my stars which led me to a ruin that could afford no shelter, though the storm began to pelt more seriously than before, when I saw an old woman's head popped out from a kind of loophole, and as suddenly withdrawn: — a minute after a feminine voice called to me from within, and penetrating a little brambly maze that skreened a door, which I had not before observed, so skilfully had the planter succeeded in concealing art with nature I found the good dame standing on the threshold and inviting me to take refuge within. "I had just come up from our cot hard by," she said, "to look after the things, as I do every day, when the rain came on — will ye walk up till it is over?" I was about to observe that the cot hard by, at the venture of a few rain drops, was better than a ruined tower, and to ask my kind hostess whether "the things" were pigeons or crows that she was come to look after, when the matting of the floor and the carpeting of the staircase struck my eye. I was still more surprised when I saw the room above; and beyond all, the picture and its singular inscription, naming her invisible, whom the painter had coloured forth into very agreeable visibility, awakened my most lively curiosity: the result of this, of my.exceeding politeness towards the old woman, and her own natural garrulity, was a kind of garbled narrative which my imagination eked out, and future inquiries rectified, till it assumed the following form.
Some years before in the afternoon of a September day, which, though tolerably fair, gave many tokens of a tempestuous evening, a gentleman arrived at a little coast town about ten miles from this place; he expressed his desire to hire a boat to carry him to the town of about fifteen miles further on the coast. The menaces which the sky held forth made the fishermen loathe to venture, till at length two, one the father of a numerous family, bribed by the bountiful reward the stranger promised — the other, the son of my hostess, induced by youthful daring, agreed to undertake the voyage. The wind was fair, and they hoped to make good way before nightfall, and to get into port ere the rising of the storm. They pushed off with good cheer, at least the fishermen did; as for the stranger, the deep mourning which he wore was not half so black as the melancholy that wrapt his mind. He looked as if he had never smiled — as if some unutterable thought, dark as night and bitter as death, had built its nest within his bosom, and brooded therein eternally; he did not mention his name; but one of the villagers recognised him as Henry Vernon, the son of a baronet who possessed a mansion about three miles distant from the town for which be was bound. This mansion was almost abandoned by the family; but Henry had, in a romantic fit, visited it about three years before, and Sir Peter had been down there during the previous spring for about a couple of months.
The boat did not make so much way as was expected; the breeze failed them as they got out to sea, and they were fain with oar as well as sail, to try to weather the promontory that jutted out between them and the spot they desired to reach. They were yet far distant when the shifting wind began to exert its strength, and to blow with violent though unequal puffs. Night came on pitchy dark, and the howling waves rose and broke with frightful violence, menacing to overwhelm the tiny bark that dared resist their fury. They were forced to lower every sail, and take to their oars; one man was obliged to bale out the water, and Vernon himself took an oar, and rowing with desperate energy, equalled the force of the more practised boatmen. There had been much talk between the sailors before the tempest came on; now, except a brief command, all were silent. One thought of his wife and children, and silently cursed the caprice of the stranger that endangered in its effects, not only his life, but their welfare; the other feared less, for he was a daring lad, but he worked hard, and had no time for speech; while Vernon bitterly regretting the thoughtlessness which had made him cause others to share a peril, unimportant as far as he himself was concerned, now tried to cheer them with a voice full of animation and courage, and now pulled yet more strongly at the oar he held. The only person who did not seem wholly intent on the work he was about, was the man who baled; every now and then he gazed intently round, as if the sea held afar off, on its tumultuous waste, some object that he strained his eyes to discern. But all was blank, except as the crests of the high waves showed themselves, or far out on the verge of the horizon, a kind of lifting of the clouds betokened greater violence for the blast. At length he exclaimed — "Yes, I see it! — the larboard oar! — now! if we can make yonder light, we are saved!" Both the rowers instinctively turned their heads, — but cheerless darkness answered their gaze.
"You cannot see it," cried their companion, 'but we are nearing it; and, please God, we shall outlive this night." Soon he took the oar from Vernon's hand, who, quite exhausted, was failing in his strokes. He rose and looked for the beacon which promised them safety; — it glimmered with so faint a ray, that now he said, "I see it;" and again, "it is nothing:" still, as they made way, it dawned upon his sight, growing more steady and distinct as it beamed across the lurid waters,.which themselves be came smoother, so that safety seemed to arise from the bosom of the ocean under the influence of that flickering gleam.
"What beacon is it that helps us at our need?" asked Vernon, as the men, now able to manage their oars with greater ease, found breath to answer his question.
"A fairy one, I believe," replied the elder sailor, "yet no less a true: it burns in an old tumble-down tower, built on the top of a rock which looks over the sea. We never saw it before this summer; and now each night it is to be seen, — at least when it is looked for, for we cannot see it from our village; — and it is such an out of the way place that no one has need to go near it, except through a chance like this. Some say it is burnt by witches, some say by smugglers; but this I know, two parties have been to search, and found nothing but the bare walls of the tower.
All is deserted by day, and dark by night; for no light was to be seen while we were there, though it burned sprightly enough when we were out at sea.
"I have heard say," observed the younger sailor, "it is burnt by the ghost of a maiden who lost her sweetheart in these parts; he being wrecked, and his body found at the foot of the tower: she goes by the name among us of the 'Invisible Girl.'"
The voyagers had now reached the landing-place at the foot of the tower. Vernon cast a glance upward, — the light was still burning. With some difficulty, struggling with the breakers, and blinded by night, they contrived to get their little bark to shore, and to draw her up on the beach:
they then scrambled up the precipitous pathway, overgrown by weeds and underwood, and, guided by the more experienced fishermen, they found the entrance to the tower, door or gate there was none, and all was dark as the tomb, and silent and almost as cold as death.
"This will never do," said Vernon; "surely our hostess will show her light, if not herself, and guide our darkling steps by some sign of life and comfort."
"We will get to the upper chamber," said the sailor, "if I can but hit upon the broken down steps: but you will find no trace of the Invisible Girl nor her light either, I warrant."
"Truly a romantic adventure of the most disagreeable kind," muttered Vernon, as he stumbled over the unequal ground: "she of the beacon-light must be both ugly and old, or she would not be so peevish and inhospitable."
With considerable difficulty, and, after divers knocks and bruises, the adventurers at length succeeded in reaching the upper story; but all was blank and bare, and they were fain to stretch themselves on the hard floor, when weariness, both of mind and body, conduced to steep their senses in sleep.
Long and sound were the slumbers of the mariners. Vernon but forgot himself for an hour; then, throwing off drowsiness, and finding his roughcouch uncongenial to repose, he got up and placed himself at the hole that served for a window, for glass there was none, and there being not even a rough bench, he leant his back against the embrasure, as the only rest he could find. He had forgotten his danger, the mysterious beacon, and its invisible guardian: his thoughts were occupied on the horrors of his own fate, and the unspeakable wretchedness that sat like a night-mare on his heart.
It would require a good-sized volume to relate the causes which had changed the once happy Vernon into the most woeful mourner that ever clung to the outer trappings of grief, as slight though cherished symbols of the wretchedness within. Henry was the only child of Sir Peter Vernon, and as much spoiled by his father's idolatry as the old baronet's violent and tyrannical temper would permit. A young orphan was educated in his father's house, who in the same way was treated with generosity and kindness, and yet who lived in deep awe of Sir Peter's authority, who was a widower; and these two children were all he had to exert his power over, or to whom.to extend his affection. Rosina was a cheerful-tempered girl, a little timid, and careful to avoid displeasing her protector; but so docile, so kind-hearted, and so affectionate, that she felt even less than Henry the discordant spirit of his parent. It is a tale often told; they were playmates and companions in childhood, and lovers in after days. Rosina was frightened to imagine that this secret affection, and the vows they pledged, might be disapproved of by Sir Peter. But sometimes she consoled herself by thinking that perhaps she was in reality her Henry's destined bride, brought up with him under the design of their future union; and Henry, while he felt that this was not the case, resolved to wait only until he was of age to declare and accomplish his wishes in making the sweet Rosina his wife. Meanwhile he was careful to avoid premature discovery of his intentions, so to secure his beloved girl from persecution and insult. The old gentleman was very conveniently blind; he lived always in the country, and the lovers spent their lives together, unrebuked and uncontrolled. It was enough that Rosina played on her mandoline, and sang Sir Peter to sleep every day after dinner; she was the sole female in the house above the rank of a servant, and had her own way in the disposal of her time. Even when Sir Peter frowned, her innocent caresses and sweet voice were powerful to smooth the rough current of his temper. If ever human spirit lived in an earthly paradise, Rosina did at this time: her pure love was made happy by Henry's constant presence; and the confidence they felt in each other, and the security with which they looked forward to the future, rendered their path one of roses under a cloudless sky. Sir Peter was the slight drawback that only rendered their tête — à — tête more delightful, and gave value to the sympathy they each bestowed on the other. All at once an ominous personage made its appearance in Vernon-Place, in the shape of a widow sister of Sir Peter, who, having succeeded in killing her husband and children with the effects of her vile temper, came, like a harpy, greedy for new prey, under her brother's roof. She too soon detected the attachment of the unsuspicious pair. She made all speed to impart her discovery to her brother, and at once to restrain and inflame his rage. Through her contrivance Henry was suddenly despatched on his travels abroad, that the coast might be clear for the persecution of Rosina; and then the richest of the lovely girl's many admirers, whom, under Sir Peter's single reign, she was allowed, nay, almost commanded, to dismiss, so desirous was he of keeping her for his own comfort, was selected, and she was ordered to marry him. The scenes of violence to which she was now exposed, the bitter taunts of the odious Mrs. Bainbridge, and the reckless fury of Sir Peter, were the more frightful and overwhelming from their novelty. To all she could only oppose a silent, tearful, but immutable steadiness of purpose: no threats, no rage could extort from her more than a touching prayer that they would not hate her, because she could not obey.
"There must he something we don't see under all this," said Mrs. Bainbridge, "take my word for it, brother, — she corresponds secretly with Henry. Let us take her down to your seat in Wales, where she will have no pensioned beggars to assist her; and we shall see if her spirit be not bent to our purpose."
Sir Peter consented, and they all three posted down to , — shire, and took up their abode in the solitary and dreary looking house before alluded to as belonging to the family. Here poor Rosina's sufferings grew intolerable: — before, surrounded by well-known scenes, and in perpetual intercourse with kind and familiar faces, she had not despaired in the end of conquering by her patience the cruelty of her persecutors; — nor had she written to Henry, for his name had not been mentioned by his relatives, nor their attachment alluded to, and she felt an instinctive wish to escape the dangers about her without his being annoyed, or the sacred secret of her love being laid bare, and wronged by the vulgar abuse of his aunt or the bitter curses of his father. But when she was taken to Wales, and made a prisoner in her apartment, when the flinty.mountains about her seemed feebly to imitate the stony hearts she had to deal with, her courage began to fail. The only attendant permitted to approach her was Mrs. Bainbridge's maid; and under the tutelage of her fiend-like mistress, this woman was used as a decoy to entice the poor prisoner into confidence, and then to be betrayed. The simple, kind-hearted Rosina was a facile dupe, and at last, in the excess of her despair, wrote to Henry, and gave the letter to this woman to be forwarded. The letter in itself would have softened marble; it did not speak of their mutual vows, it but asked him to intercede with his father, that he would restore her to the kind place she had formerly held in his affections, and cease from a cruelty that would destroy her. "For I may die," wrote the hapless girl, "but marry another — never!" That single word, indeed, had sufficed to betray her secret, had it not been already discovered; as it was, it gave increased fury to Sir Peter, as his sister triumphantly pointed it out to him, for it need hardly be said that while the ink of the address was yet wet, and the seal still warm, Rosina's letter was carried to this lady. The culprit was summoned before them; what ensued none could tell; for their own sakes the cruel pair tried to palliate their part. Voices were high, and the soft murmur of Rosina's tone was lost in the howling of Sir Peter and the snarling of his sister. "Out of doors you shall go," roared the old man; "under my roof you shall not spend another night." And the words "infamous seductress," and worse, such as had never met the poor girl's ear before, were caught by listening servants; and to each angry speech of the baronet, Mrs. Bainbridge added an envenomed point worse than all.
More dead than alive, Rosina was at last dismissed. Whether guided by despair, whether she took Sir Peter's threats literally, or whether his sister's orders were more decisive, none knew, but Rosina left the house; a servant saw her cross the park, weeping, and wringing her hands as she went. What became of her none could tell; her disappearance was not disclosed to Sir Peter till the following day, and then he showed by his anxiety to trace her steps and to find her, that his words had been but idle threats. The truth was, that though Sir Peter went to frightful lengths to prevent the marriage of the heir of his house with the portionless orphan, the object of his charity, yet in his heart he loved Rosina, and half his violence to her rose from anger at himself for treating her so ill. Now remorse began to sting him, as messenger after messenger came back without tidings of his victim; he dared not confess his worst fears to himself; and when his inhuman sister, trying to harden her conscience by angry words, cried, "The vile hussy has too surely made away with herself out of revenge to us;" an oath, the most tremendous, and a look sufficient to make even her tremble, commanded her silence. Her conjecture, however, appeared too true: a dark and rushing stream that flowed at the extremity of the park had doubtless received the lovely form, and quenched the life of this unfortunate girl. Sir Peter, when his endeavours to find her proved fruitless, returned to town, haunted by the image of his victim, and forced to acknowledge in his own heart that he would willingly lay down his life, could he see her again, even though it were as the bride of his son — his son, before whose questioning he quailed like the veriest coward; for when Henry was told of the death of Rosina, he suddenly returned from abroad to ask the cause — to visit her grave, and mourn her loss in the groves and valleys which had been the scenes of their mutual happiness. He made a thousand inquiries, and an ominous silence alone replied. Growing more earnest and more anxious, at length he drew from servants and dependants, and his odious aunt herself, the whole dreadful truth. From that moment despair struck his heart, and misery named him her own. He fled from his father's presence; and the recollection that one whom he ought to revere was guilty of so dark a crime, haunted him, as of old the Eumenides tormented the souls of men given up to their torturings.
His first, his only wish, was to visit Wales, and to learn if any new discovery had been made, and.whether it were possible to recover the mortal remains of the lost Rosina, so to satisfy the unquiet longings of his miserable heart. On this expedition was he bound, when he made his appearance at the village before named; and now in the deserted tower, his thoughts were busy with images of despair and death, and what his beloved one had suffered before her gentle nature had been goaded to such a deed of woe.
While immersed in gloomy reverie, to which the monotonous roaring of the sea made fit accompaniment, hours flew on, and Vernon was at last aware that the light of morning was creeping from out its eastern retreat, and dawning over the wild ocean, which still broke in furious tumult on the rocky beach. His companions now roused themselves, and prepared to depart. The food they had brought with them was damaged by sea water, and their hunger, after hard labour and many hours fasting, had become ravenous. It was impossible to put to sea in their shattered boat; but there stood a fisher's cot about two miles off, in a recess in the bay, of which the promontory on which the tower stood formed one side, and to this they hastened to repair; they did not spend a second thought on the light which had saved them, nor its cause, but left the ruin in search of a more hospitable asylum. Vernon cast his eves round as he quitted it, but no vestige of an inhabitant met his eye, and he began to persuade himself that the beacon had been a creation of fancy merely. Arriving at the cottage in question, which was inhabited by a fisherman and his family, they made an homely breakfast, and then prepared to return to the tower, to refit their boat, and if possible bring her round. Vernon accompanied them, together with their host and his son. Several questions were asked concerning the Invisible Girl and her light, each agreeing that the apparition was novel, and not one being able to give even an explanation of how the name had become affixed to the unknown cause of this singular appearance; though both of the men of the cottage affirmed that once or twice they had seen a female figure in the adjacent wood, and that now and then a stranger girl made her appearance at another cot a mile off, on the other side of the promontory, and bought bread; they suspected both these to be the same, but could not tell. The inhabitants of the cot, indeed, appeared too stupid even to feel curiosity, and had never made any attempt at discovery. The whole day was spent by the sailors in repairing the boat; and the sound of hammers, and the voices of the men at work, resounded along the coast, mingled with the dashing of the waves. This was no time to explore the ruin for one who whether human or supernatural so evidently withdrew herself from intercourse with every living being. Vernon, however, went over the tower, and searched every nook in vain; the dingy bare walls bore no token of serving as a shelter; and even a little recess in the wall of the staircase, which he had not before observed, was equally empty and desolate.
Quitting the tower, he wandered in the pine wood that surrounded it, and giving up all thought of solving the mystery, was soon engrossed by thoughts that touched his heart more nearly, when suddenly there appeared on the ground at his feet the vision of a slipper. Since Cinderella so tiny a slipper had never been seen; as plain as shoe could speak, it told a tale of elegance, loveliness, and youth. Vernon picked it up; he had often admired Rosina's singularly small foot, and his first thought was a question whether this little slipper would have fitted it. It was very strange! — it must belong to the Invisible Girl. Then there was a fairy form that kindled that light, a form of such material substance, that its foot needed to be shod; and yet how shod? — with kid so fine, and of shape so exquisite, that it exactly resembled such as Rosina wore! Again the recurrence of the image of the beloved dead came forcibly across him; and a thousand home-felt associations, childish yet sweet, and lover-like though trifling, so filled Vernon's heart, that he threw himself his length on the ground, and wept more bitterly than ever the miserable fate of the sweet orphan.
In the evening the men quitted their work, and Vernon returned with them to the cot where.they were to sleep, intending to pursue their voyage, weather permitting, the following morning.
Vernon said nothing of his slipper, but returned with his rough associates. Often he looked back; but the tower rose darkly over the dim waves, and no light appeared. Preparations had been made in the cot for their accommodation, and the only bed in it was offered Vernon; but he refused to deprive his hostess, and spreading his cloak on a heap of dry leaves, endeavoured to give himself up to repose. He slept for some hours; and when he awoke, all was still, save that the hard breathing of the sleepers in the same room with him interrupted the silence. He rose, and going to the window, — looked out over the now placid sea towards the mystic tower; the light burning there, sending its slender rays across the waves. Congratulating himself on a circumstance he had not anticipated, Vernon softly left the cottage, and, wrapping his cloak round him, walked with a swift pace round the bay towards the tower. He reached it; still the light was burning. To enter and restore the maiden her shoe, would be but an act of courtesy; and Vernon intended to do this with such caution, as to come unaware, before its wearer could, with her accustomed arts, withdraw herself from his eyes; but, unluckily, while yet making his way up the narrow pathway, his foot dislodged a loose fragment, that fell with crash and sound down the precipice. He sprung forward, on this, to retrieve by speed the advantage he had lost by this unlucky accident. He reached the door; he entered: all was silent, but also all was dark. He paused in the room below; he felt sure that a slight sound met his ear. He ascended the steps, and entered the upper chamber; but blank obscurity met his penetrating gaze, the starless night admitted not even a twilight glimmer through the only aperture. He closed his eyes, to try, on opening them again, to be able to catch some faint, wandering ray on the visual nerve; but it was in vain. He groped round the room: he stood still, and held his breath; and then, listening intently, he felt sure that another occupied the chamber with him, and that its atmosphere was slightly agitated by an-other's respiration. He remembered the recess in the staircase; but, before he approached it, he spoke: — he hesitated a moment what to say. "I must believe," he said, 'that misfortune alone can cause your seclusion; and if the assistance of a man — of a gentleman — "
An exclamation interrupted him; a voice from the grave spoke his name — the accents of Rosina syllabled, "Henry! — is it indeed Henry whom I hear?"
He rushed forward, directed by the sound, and clasped in his arms the living form of his own lamented girl — his own Invisible Girl he called her; for even yet, as he felt her heart beat near his, and as he entwined her waist with his arm, supporting her as she almost sank to the ground with agitation, he could not see her; and, as her sobs prevented her speech, no sense, but the instinctive one that filled his heart with tumultuous gladness, told him that the slender, wasted form he pressed so fondly was the living shadow of the Hebe beauty he had adored.
The morning saw this pair thus strangely restored to each other on the tranquil sea, sailing with a fair wind for L — , whence they were to proceed to Sir Peter's seat, which, three months before, Rosina had quitted in such agony and terror. The morning light dispelled the shadows that had veiled her, and disclosed the fair person of the Invisible Girl. Altered indeed she was by suffering and woe, but still the same sweet smile played on her lips, and the tender light of her soft blue eyes were all her own. Vernon drew out the slipper, and shoved the cause that had occasioned him to resolve to discover the guardian of the mystic beacon; even now he dared not inquire how she had existed in that desolate spot, or wherefore she had so sedulously avoided observation, when the right thing to have been done was, to have sought him immediately, under whose care, protected by whose love, no danger need be feared. But Rosina shrunk from him as he spoke, and a death-like pallor came over her cheek, as she faintly whispered, 'Your father's curse — your father's dreadful threats!" It appeared, indeed, that Sir Peter's violence, and the cruelty of Mrs. Bainbridge, had succeeded in impressing Rosina with wild and unvanquishable terror. She had fled from their house without plan or forethought — driven by frantic horror and overwhelming fear, she had left it with scarcely any money, and there seemed to her no possibility of either returning or proceeding onward. She had no friend except Henry in the wide world; whither could she go? — to have sought Henry would have sealed their fates to misery; for, with an oath, Sir Peter had declared he would rather see them both in their coffins than married. After wandering about, hiding by day, and only venturing forth at night, she had come to this deserted tower, which seemed a place of refuge. I low she had lived since then she could hardly tell; — she had lingered in the woods by day, or slept in the vault of the tower, an asylum none were acquainted with or had discovered: by night she burned the pine-cones of the wood, and night was her dearest time; for it seemed to her as if security came with darkness. She was unaware that Sir Peter had left that part of the country, and was terrified lest her hiding-place should be revealed to him. Her only hope was that Henry would return — that Henry would never rest till he had found her. She confessed that the long interval and the approach of winter had visited her with dismay; she feared that, as her strength was failing, and her form wasting to a skeleton, that she might die, and never see her own Henry more.
An illness, indeed, in spite of all his care, followed her restoration to security and the comforts of civilized life; many months went by before the bloom revisiting her cheeks, and her limbs regaining their roundness, she resembled once more the picture drawn of her in her days of bliss, before any visitation of sorrow. It was a copy of this portrait that decorated the tower, the scene of her suffering, in which I had found shelter. Sir Peter, overjoyed to be relieved from the pangs of remorse, and delighted again to see his orphan-ward, whom he really loved, was now as eager as before he had been averse to bless her union with his son: Mrs. Bainbridge they never saw again. But each year they spent a few months in their Welch mansion, the scene of their early wedded happiness, and the spot where again poor Rosina had awoke to life and joy after her cruel persecutions. Henry's fond care had fitted up the tower, and decorated it as I saw; and often did he come over, with his "Invisible Girl," to renew, in the very scene of its occurrence, the remembrance of all the incidents which had led to their meeting again, during the shades of night, in that sequestered ruin.
Mary Shelley (1797 – 1851)
The Invisible Girl
fleursdumal.nl magazine
More in: Archive S-T, Mary Shelley, Shelley, Mary, Tales of Mystery & Imagination
---
Louis Couperus en Marius Bauer woonden allebei lange tijd in Den Haag, maar kwamen elkaar daar nooit tegen.
Toch waren zij zielsverwanten: zij smachtten beiden naar de pracht en praal van het betoverende Oosten, de sprookjeswereld van Duizend-en-één-nacht. Ter gelegenheid van de honderdvijftigste geboortedag van Marius Bauer organiseert het Louis Couperus Museum alsnog een adembenemende ontmoeting, op de tentoonstelling De Oriënt verkend. Op reis met Louis Couperus en Marius Bauer, van 21 mei t/m 8 oktober 2017.
Marius Bauer (1867-1932) werd al in zijn eigen tijd gezien als een formidabel kunstenaar. Op zijn reizen door India, Egypte, Turkije, Rusland, Noord-Afrika en Palestina maakte hij vele schetsen en tekeningen. Die werkte hij thuis uit tot oriëntaalse olieverfschilderijen, etsen en aquarellen die bij het publiek zeer in de smaak vielen. Drie keer bezocht Bauer Algerije, de laatste twee keren begin jaren twintig. Rond diezelfde tijd heeft Louis Couperus (1863-1923) ook in Algerije een half jaar rondgereisd. Hij schreef over de Franse kolonie eenentwintig reisbrieven, die in het weekblad Haagsche Post (en later in boekvorm) zijn verschenen. Net als Bauer zag hij in Algerije veel van zijn oosterse dromen terug. Maar was zijn droom ook bestand tegen de harde realiteit?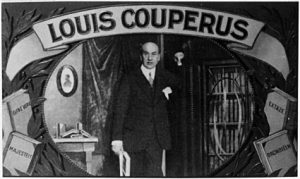 Op de tentoonstelling volgen we de reizigers Couperus en Bauer aan de hand van manuscripten, unieke reisdocumenten en oude foto's, afgewisseld met schetsen, aquarellen en schilderijen van Marius Bauer. In de vitrines liggen ook reisverslagen van tijdgenoten, oude reisgidsen, ansichtkaarten, sieraden en andere kostbare voorwerpen uit de Oriënt, uit zowel museale als particuliere collecties. In de tuinkamer van het museum is een ware Oriëntaalse kamer ingericht.
De Oriënt verkend. Op reis met Louis Couperus en Marius Bauer wordt samengesteld door José Buschman en Willemien de Vlieger-Moll. Bij de tentoonstelling verscheen het boek Couperus in de Oriënt van José Buschman
De oriënt verkend.
Op reis met Louis Couperus en Marius Bauer
21 mei 2017 – 8 oktober 2017
Louis Couperus Museum
Javastraat 17
2585 AB Den Haag
070-3640653
Openingstijden
Woensdag t/m zondag 12.00-17.00 uur
Voor groepen ook op afspraak
# meer info op website louis couperus museum
Nieuwe publicatie door José Buschman:
Couperus in de Oriënt
Ter gelegenheid van de tentoonstelling De Oriënt verkend. Op reis met Louis Couperus en Marius Bauer in het Louis Couperus Museum heeft José Buschman haar eerdere, veelgeprezen onderzoek Een dandy in de Oriënt. Louis Couperus in Afrika hernieuwd. Met vele onbekende foto's, recente vondsten en verrassende citaten reconstrueert zij Couperus' lange tocht door de woestijn.
Door hun levendigheid hebben de reisboeken van Louis Couperus altijd de aandacht getrokken maar het curieuze Met Louis Couperus in Afrika uit 1921 vormt hierop de uitzondering. Couperus reisde zes maanden rond in Algerije en Tunesië, de Haagse schilder Marius Bauer bezocht Noord-Afrika een jaar later. Zijn schetsen ademen de oosterse schoonheid die ook Couperus zo kon bekoren. Anders dan bij Bauer lijkt bij Couperus de oriëntaalse vervoering gaandeweg te zijn verdwenen. Was zijn esthetische kijk wel opgewassen tegen de realiteit van de Franse overheersing, de islam en de armoede?
José Buschman is historica. Zij was medeoprichtster van het Louis Couperus Genootschap. Naast literaire gidsen door het Den Haag van Couperus en F. Bordewijk publiceerde zij Couperus Culinair, de lievelingsgerechten van Louis Couperus.
192 pagina's
16,8 X 22 cm
ca. 80 afbeeldingen
gebonden met stofomslag
geheel in kleur
vormgeving Bart van den Tooren
Uitg. Bas Lubberhuizen
ISBN 9789059375017
2017, € 19,99
fleursdumal.nl magazine
More in: - Book News, - Book Stories, Archive C-D, Art & Literature News, Exhibition Archive, Illustrators, Illustration, Louis Couperus, Tales of Mystery & Imagination
---
Older Entries »
Thank you for reading FLEURSDUMAL.NL - magazine for art & literature