ULTIMATE LIBRARY – danse macabre, ex libris, grimm & co, fairy tales, art of reading, tales of mystery & imagination, sherlock holmes theatre, erotic poetry, ideal women
·
Tori Telfer: Lady Killers. Deadly Women Throughout History
·
Stephen King: The Outsider. A Novel
·
Edgar Allan Poe: The Cask of Amontillado
·
Martin Puchner: The Written World. The Power of Stories to Shape People, History, Civilization
·
Festival de la BnF 2018 Paris: La Bibliothèque parlante
·
Alberto Manguel: Packing My Library. An Elegy and Ten Digressions
·
Christopher de Hamel: Meetings with Remarkable Manuscripts
·
Catherine Millet: Aimer Lawrence
·
Bernard Pivot & Cécile Pivot: Lire !
·
The Walter Scott Prize 2018 longlist is out
·
The Man Booker International Prize 2018 longlist
·
My Name Is Venus Black. A Novel by Heather Lloyd
Author Tori Telfer's "Lady Killers," a thrilling and entertaining compendium, investigates female serial killers and their crimes through the ages.
When you think of serial killers throughout history, the names that come to mind are ones like Jack the Ripper, John Wayne Gacy, and Ted Bundy. But what about Tillie Klimek, Moulay Hassan, Kate Bender?
The narrative we're comfortable with is the one where women are the victims of violent crime, not the perpetrators. In fact, serial killers are thought to be so universally, overwhelmingly male that in 1998, FBI profiler Roy Hazelwood infamously declared in a homicide conference, "There are no female serial killers."
Lady Killers, based on the popular online series that appeared on Jezebel and The Hairpin, disputes that claim and offers fourteen gruesome examples as evidence.
Though largely forgotten by history, female serial killers such as Erzsébet Báthory, Nannie Doss, Mary Ann Cotton, and Darya Nikolayevna Saltykova rival their male counterparts in cunning, cruelty, and appetite for destruction.
Lady Killers
Deadly Women Throughout History
by Tori Telfer
2017
ISBN: 9780062433732
ISBN 10: 0062433733
Imprint: Harper Perennial
Pages: 352
List Price: 15.99 USD
TRUE CRIME – Murder- Serial Killers -History – Women
Illustrations by Dame Darcy
new books
fleursdumal.nl magazine
More in: - Book News, - Book Stories, Archive S-T, Art & Literature News, CRIME & PUNISHMENT, Tales of Mystery & Imagination, The Ideal Woman
---
An unspeakable crime. A confounding investigation. At a time when the King brand has never been stronger, he has delivered one of his most unsettling and compulsively readable stories.
An eleven-year-old boy's violated corpse is found in a town park. Eyewitnesses and fingerprints point unmistakably to one of Flint City's most popular citizens. He is Terry Maitland, Little League coach, English teacher, husband, and father of two girls. Detective Ralph Anderson, whose son Maitland once coached, orders a quick and very public arrest. Maitland has an alibi, but Anderson and the district attorney soon add DNA evidence to go with the fingerprints and witnesses. Their case seems ironclad.
As the investigation expands and horrifying answers begin to emerge, King's propulsive story kicks into high gear, generating strong tension and almost unbearable suspense. Terry Maitland seems like a nice guy, but is he wearing another face? When the answer comes, it will shock you as only Stephen King can.
Stephen King is the author of more than fifty books, all of them worldwide bestsellers. His recent work includes The Bill Hodges Trilogy, Revival, and Doctor Sleep. His novel 11/22/63 was named a top ten book of 2011 by The New York Times Book Review and won the Los Angeles Times Book Prize for Mystery/Thriller as well as the Best Hardcover Book Award from the International Thriller Writers Association. He is the recipient of the 2003 National Book Foundation Medal for Distinguished Contribution to American Letters. He lives in Bangor, Maine, with his wife, novelist Tabitha King.
The Outsider
A Novel
By Stephen King (Author)
Language: English
Genre Horror, Crime fiction
Published: May 22, 2018
Publisher: Scribner
Media type Print (hardcover)
Pages 576
ISBN-10: 1501180983
ISBN 978-1501180989
Price $18.90
new books
fleursdumal.nl magazine
More in: - Book News, Archive K-L, Art & Literature News, Stephen King, Tales of Mystery & Imagination, Thrillers
---
Edgar Allan Poe
The Cask of Amontillado
The thousand injuries of Fortunato I had borne as I best could, but when he ventured upon insult I vowed revenge. You, who so well know the nature of my soul, will not suppose, however, that gave utterance to a threat. At length I would be avenged; this was a point definitely, settled but the very definitiveness with which it was resolved precluded the idea of risk. I must not only punish but punish with impunity. A wrong is unredressed when retribution overtakes its redresser. It is equally unredressed when the avenger fails to make himself felt as such to him who has done the wrong.
It must be understood that neither by word nor deed had I given Fortunato cause to doubt my good will. I continued, as was my in to smile in his face, and he did not perceive that my to smile now was at the thought of his immolation.
He had a weak point this Fortunato although in other regards he was a man to be respected and even feared. He prided himself on his connoisseurship in wine. Few Italians have the true virtuoso spirit. For the most part their enthusiasm is adopted to suit the time and opportunity, to practise imposture upon the British and Austrian millionaires. In painting and gemmary, Fortunato, like his countrymen, was a quack, but in the matter of old wines he was sincere. In this respect I did not differ from him materially; I was skilful in the Italian vintages myself, and bought largely whenever I could.
It was about dusk, one evening during the supreme madness of the carnival season, that I encountered my friend. He accosted me with excessive warmth, for he had been drinking much. The man wore motley. He had on a tight-fitting parti-striped dress, and his head was surmounted by the conical cap and bells. I was so pleased to see him that I thought I should never have done wringing his hand.
I said to him "My dear Fortunato, you are luckily met. How remarkably well you are looking to-day. But I have received a pipe of what passes for Amontillado, and I have my doubts."
"How?" said he. "Amontillado, A pipe? Impossible! And in the middle of the carnival!"
"I have my doubts," I replied; "and I was silly enough to pay the full Amontillado price without consulting you in the matter. You were not to be found, and I was fearful of losing a bargain."
"Amontillado!"
"I have my doubts."
"Amontillado!"
"And I must satisfy them."
"Amontillado!"
"As you are engaged, I am on my way to Luchresi. If any one has a critical turn it is he. He will tell me "
"Luchresi cannot tell Amontillado from Sherry."
"And yet some fools will have it that his taste is a match for your own.
"Come, let us go."
"Whither?"
"To your vaults."
"My friend, no; I will not impose upon your good nature. I perceive you have an engagement. Luchresi"
"I have no engagement; come."
"My friend, no. It is not the engagement, but the severe cold with which I perceive you are afflicted. The vaults are insufferably damp. They are encrusted with nitre."
"Let us go, nevertheless. The cold is merely nothing. Amontillado! You have been imposed upon. And as for Luchresi, he cannot distinguish Sherry from Amontillado."
Thus speaking, Fortunato possessed himself of my arm; and putting on a mask of black silk and drawing a roquelaire closely about my person, I suffered him to hurry me to my palazzo.
There were no attendants at home; they had absconded to make merry in honour of the time. I had told them that I should not return until the morning, and had given them explicit orders not to stir from the house. These orders were sufficient, I well knew, to insure their immediate disappearance, one and all, as soon as my back was turned.
I took from their sconces two flambeaux, and giving one to Fortunato, bowed him through several suites of rooms to the archway that led into the vaults. I passed down a long and winding staircase, requesting him to be cautious as he followed. We came at length to the foot of the descent, and stood together upon the damp ground of the catacombs of the Montresors.
The gait of my friend was unsteady, and the bells upon his cap jingled as he strode.
"The pipe," he said.
"It is farther on," said I; "but observe the white web-work which gleams from these cavern walls."
He turned towards me, and looked into my eves with two filmy orbs that distilled the rheum of intoxication.
"Nitre?" he asked, at length.
"Nitre," I replied. "How long have you had that cough?"
"Ugh! ugh! ugh! ugh! ugh! ugh! ugh! ugh! ugh! ugh! ugh! ugh! ugh! ugh! ugh!"
My poor friend found it impossible to reply for many minutes.
"It is nothing," he said, at last.
"Come," I said, with decision, "we will go back; your health is precious. You are rich, respected, admired, beloved; you are happy, as once I was. You are a man to be missed. For me it is no matter. We will go back; you will be ill, and I cannot be responsible. Besides, there is Luchresi "
"Enough," he said; "the cough's a mere nothing; it will not kill me. I shall not die of a cough."
"True true," I replied; "and, indeed, I had no intention of alarming you unnecessarily but you should use all proper caution. A draught of this Medoc will defend us from the damps.
Here I knocked off the neck of a bottle which I drew from a long row of its fellows that lay upon the mould.
"Drink," I said, presenting him the wine.
He raised it to his lips with a leer. He paused and nodded to me familiarly, while his bells jingled.
"I drink," he said, "to the buried that repose around us."
"And I to your long life."
He again took my arm, and we proceeded.
"These vaults," he said, "are extensive."
"The Montresors," I replied, "were a great and numerous family."
"I forget your arms."
"A huge human foot d'or, in a field azure; the foot crushes a serpent rampant whose fangs are imbedded in the heel."
"And the motto?"
"Nemo me impune lacessit."
"Good!" he said.
The wine sparkled in his eyes and the bells jingled. My own fancy grew warm with the Medoc. We had passed through long walls of piled skeletons, with casks and puncheons intermingling, into the inmost recesses of the catacombs. I paused again, and this time I made bold to seize Fortunato by an arm above the elbow.
"The nitre!" I said; "see, it increases. It hangs like moss upon the vaults. We are below the river's bed. The drops of moisture trickle among the bones. Come, we will go back ere it is too late. Your cough "
"It is nothing," he said; "let us go on. But first, another draught of the Medoc." I broke and reached him a flagon of De Grave. He emptied it at a breath. His eyes flashed with a fierce light. He laughed and threw the bottle upwards with a gesticulation I did not understand.  I looked at him in surprise. He repeated the movement a grotesque one.
"You do not comprehend?" he said.
"Not I," I replied.
"Then you are not of the brotherhood."
"How?"
"You are not of the masons."
"Yes, yes," I said; "yes, yes."
"You? Impossible! A mason?"
"A mason," I replied.
"A sign," he said, "a sign."
"It is this," I answered, producing from beneath the
folds of my roquelaire a trowel.
"You jest," he exclaimed, recoiling a few paces.
"But let us proceed to the Amontillado."
"Be it so," I said, replacing the tool beneath the cloak and again offering him my arm. He leaned upon it heavily. We continued our route in search of the Amontillado. We passed through a range of low arches, descended, passed on, and descending again, arrived at a deep crypt, in which the foulness of the air caused our flambeaux rather to glow than flame.
At the most remote end of the crypt there appeared another less spacious. Its walls had been lined with human remains, piled to the vault overhead, in the fashion of the great catacombs of Paris. Three sides of this interior crypt were still ornamented in this manner. From the fourth side the bones had been thrown down, and lay promiscuously upon the earth, forming at one point a mound of some size. Within the wall thus exposed by the displacing of the bones, we perceived a still interior crypt or recess, in depth about four feet, in width three, in height six or seven. It seemed to have been constructed for no especial use within itself, but formed merely the interval between two of the colossal supports of the roof of the catacombs, and was backed by one of their circumscribing walls of solid granite.
It was in vain that Fortunato, uplifting his dull torch, endeavoured to pry into the depth of the recess. Its termination the feeble light did not enable us to see.
"Proceed," I said; "herein is the Amontillado. As for Luchresi "
"He is an ignoramus," interrupted my friend, as he stepped unsteadily forward, while I followed immediately at his heels. In niche, and finding an instant he had reached the extremity of the niche, and finding his progress arrested by the rock, stood stupidly bewildered. A moment more and I had fettered him to the granite. In its surface were two iron staples, distant from each other about two feet, horizontally. From one of these depended a short chain, from the other a padlock. Throwing the links about his waist, it was but the work of a few seconds to secure it. He was too much astounded to resist. Withdrawing the key I stepped back from the recess.
"Pass your hand," I said, "over the wall; you cannot help feeling the nitre. Indeed, it is very damp. Once more let me implore you to return. No? Then I must positively leave you. But I must first render you all the little attentions in my power."
"The Amontillado!" ejaculated my friend, not yet recovered from his astonishment.
"True," I replied; "the Amontillado."
As I said these words I busied myself among the pile of bones of which I have before spoken. Throwing them aside, I soon uncovered a quantity of building stone and mortar. With these materials and with the aid of my trowel, I began vigorously to wall up the entrance of the niche.
I had scarcely laid the first tier of the masonry when I discovered that the intoxication of Fortunato had in a great measure worn off. The earliest indication I had of this was a low moaning cry from the depth of the recess. It was not the cry of a drunken man. There was then a long and obstinate silence. I laid the second tier, and the third, and the fourth; and then I heard the furious vibrations of the chain. The noise lasted for several minutes, during which, that I might hearken to it with the more satisfaction, I ceased my labours and sat down upon the bones. When at last the clanking subsided, I resumed the trowel, and finished without interruption the fifth, the sixth, and the seventh tier. The wall was now nearly upon a level with my breast. I again paused, and holding the flambeaux over the mason-work, threw a few feeble rays upon the figure within.
A succession of loud and shrill screams, bursting suddenly from the throat of the chained form, seemed to thrust me violently back. For a brief moment I hesitated, I trembled. Unsheathing my rapier, I began to grope with it about the recess; but the thought of an instant reassured me. I placed my hand upon the solid fabric of the catacombs, and felt satisfied. I reapproached the wall; I replied to the yells of him who clamoured. I re-echoed, I aided, I surpassed them in volume and in strength.
I did this, and the clamourer grew still. It was now midnight, and my task was drawing to a close. I had completed the eighth, the ninth and the tenth tier. I had finished a portion of the last and the eleventh; there remained but a single stone to be fitted and plastered in. I struggled with its weight; I placed it partially in its destined position. But now there came from out the niche a low laugh that erected the hairs upon my head. It was succeeded by a sad voice, which I had difficulty in recognizing as that of the noble Fortunato.
The voice said–
"Ha! ha! ha! he! he! he! a very good joke, indeed an excellent jest. We will have many a rich laugh about it at the palazzo he! he! he! over our wine he! he! he!"
"The Amontillado!" I said.
"He! he! he! he! he! he! yes, the Amontillado. But is it not getting late? Will not they be awaiting us at the palazzo, the Lady Fortunato and the rest? Let us be gone."
"Yes," I said, "let us be gone."
"For the love of God, Montresor!"
"Yes," I said, "for the love of God!"
But to these words I hearkened in vain for a reply.
I grew impatient. I called aloud
"Fortunato!"
No answer. I called again
"Fortunato!"
No answer still. I thrust a torch through the remaining aperture and let it fall within. There came forth in return only a jingling of the bells. My heart grew sick; it was the dampness of the catacombs that made it so. I hastened to make an end of my labour. I forced the last stone into its position; I plastered it up. Against the new masonry I re-erected the old rampart of bones. For the half of a century no mortal has disturbed them.
In pace requiescat!
Edgar Allan Poe (1809 – 1849)
The Cask of Amontillado
fleursdumal.nl magazine
More in: Edgar Allan Poe, Poe, Edgar Allan, Poe, Edgar Allan, Tales of Mystery & Imagination
---
The story of how literature shaped world history, in sixteen acts—from Alexander the Great and the Iliad to Don Quixote and Harry Potter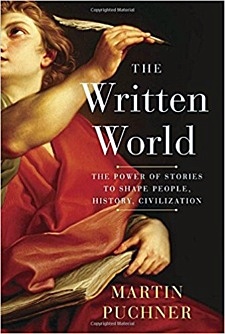 In this groundbreaking book, Martin Puchner leads us on a remarkable journey through time and around the globe to reveal the powerful role stories and literature have played in creating the world we have today.
Puchner introduces us to numerous visionaries as he explores sixteen foundational texts selected from more than four thousand years of world literature and reveals how writing has inspired the rise and fall of empires and nations, the spark of philosophical and political ideas, and the birth of religious beliefs. Indeed, literature has touched the lives of generations and changed the course of history.
At the heart of this book are works, some long-lost and rediscovered, that have shaped civilization: the first written masterpiece, the Epic of Gilgamesh; Ezra's Hebrew Bible, created as scripture; the teachings of Buddha, Confucius, Socrates, and Jesus; and the first great novel in world literature, The Tale of Genji, written by a Japanese woman known as Murasaki. Visiting Baghdad, Puchner tells of Scheherazade and the stories of One Thousand and One Nights, and in the Americas we watch the astonishing survival of the Maya epic Popol Vuh. Cervantes, who invented the modern novel, battles pirates both real (when he is taken prisoner) and literary (when a fake sequel to Don Quixote is published).
We learn of Benjamin Franklin's pioneering work as a media entrepreneur, watch Goethe discover world literature in Sicily, and follow the rise in influence of The Communist Manifesto. We visit Troy, Pergamum, and China, and we speak with Nobel laureates Derek Walcott in the Caribbean and Orhan Pamuk in Istanbul, as well as the wordsmiths of the oral epic Sunjata in West Africa.
Throughout The Written World, Puchner's delightful narrative also chronicles the inventions—writing technologies, the printing press, the book itself—that have shaped religion, politics, commerce, people, and history. In a book that Elaine Scarry has praised as "unique and spellbinding," Puchner shows how literature turned our planet into a written world.
Title: The Written World
Subtitle: The Power of Stories to Shape People, History, Civilization
Author: Martin Puchner
Publisher: Random House
Format Hardcover, $32.00
ISBN-10 0812998936
ISBN-13 9780812998931
Publication Date: 24 October 2017
Nb of pages 448 p.
new books
fleursdumal.nl magazine
More in: - Book Lovers, - Book News, - Book Stories, Archive O-P, Art & Literature News, Libraries in Literature, PRESS & PUBLISHING, The Art of Reading
---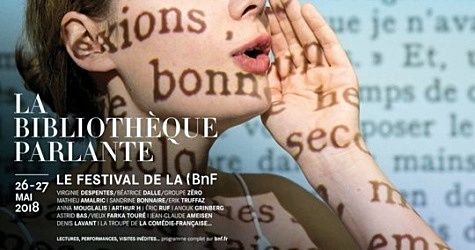 Festival de la BnF 2018 Paris
Les textes de La Bibliothèque parlante dans les collections de la BnF (samedi 26 et dimanche 27 mai 2018 – François-Mitterrand –  BnF Paris)
# Website La Bibliothèque parlante
fleursdumal.nl magazine
More in: - Book News, Art & Literature News, AUDIO, CINEMA, RADIO & TV, FDM in Paris, Libraries in Literature
---
A wonderfully digressive little volume about our complex relationship with our books and being an incurable bibliophile. The perfect antidote to Walter Benjamin's classic essay, Unpacking My Library.
A best-selling author and world-renowned bibliophile meditates on his vast personal library and champions the vital role of all libraries.
In June 2015 Alberto Manguel prepared to leave his centuries-old village home in France's Loire Valley and reestablish himself in a one-bedroom apartment on Manhattan's Upper West Side. Packing up his enormous, 35,000‑volume personal library, choosing which books to keep, store, or cast out, Manguel found himself in deep reverie on the nature of relationships between books and readers, books and collectors, order and disorder, memory and reading. In this poignant and personal reevaluation of his life as a reader, the author illuminates the highly personal art of reading and affirms the vital role of public libraries.
Manguel's musings range widely, from delightful reflections on the idiosyncrasies of book lovers to deeper analyses of historic and catastrophic book events, including the burning of ancient Alexandria's library and contemporary library lootings at the hands of ISIS. With insight and passion, the author underscores the universal centrality of books and their unique importance to a democratic, civilized, and engaged society.
Alberto Manguel is a writer, translator, editor, and critic, but would rather define himself as a reader and a lover of books. Born in Buenos Aires, he has since resided in Israel, Argentina, Europe, the South Pacific, and Canada. He is now the director of the National Library of Argentina.
Title: Packing My Library
Subtitle: An Elegy and Ten Digressions
Author: Alberto Manguel
Publisher: Yale University Press
Title First Published: 20 March 2018
Format: Hardcover
ISBN-10 0300219334
ISBN-13 9780300219333
Nb of pages 160 p.
Hardcover – $23.00
new books
fleursdumal.nl magazine
More in: - Book Lovers, - Book News, - Book Stories, Alberto Manguel, Archive M-N, Art & Literature News, Libraries in Literature, The Art of Reading
---
An extraordinary exploration of the medieval world – the most beguiling history book of the year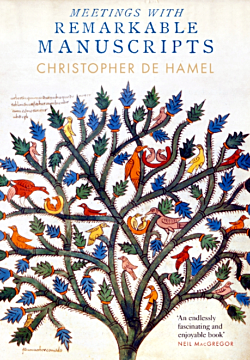 This is a book about why medieval manuscripts matter. Coming face to face with an important illuminated manuscript in the original is like meeting a very famous person. We may all pretend that a well-known celebrity is no different from anyone else, and yet there is an undeniable thrill in actually meeting and talking to a person of world stature.
The idea for the book, which is entirely new, is to invite the reader into intimate conversations with twelve of the most famous manuscripts in existence and to explore with the author what they tell us about nearly a thousand years of medieval history – and sometimes about the modern world too. Christopher de Hamel introduces us to kings, queens, saints, scribes, artists, librarians, thieves, dealers, collectors and the international community of manuscript scholars, showing us how he and his fellows piece together evidence to reach unexpected conclusions. He traces the elaborate journeys which these exceptionally precious artefacts have made through time and space, shows us how they have been copied, who has owned them or lusted after them (and how we can tell), how they have been embroiled in politics and scholarly disputes, how they have been regarded as objects of supreme beauty and luxury and as symbols of national identity. The book touches on religion, art, literature, music, science and the history of taste.
Part travel book, part detective story, part conversation with the reader, Meetings with Remarkable Manuscripts conveys the fascination and excitement of encountering some of the greatest works of art in our culture which, in the originals, are to most people completely inaccessible. At the end, we have a slightly different perspective on history and how we come by knowledge. It is a most unusual book.
Biography: In the course of a long career at Sotheby's Christopher de Hamel has probably handled and catalogued more illuminated manuscripts and over a wider range than any person alive. Since 2000, he has been Fellow and Librarian of Corpus Christi College, Cambridge. The Parker Library, in his care, includes many of the earliest manuscripts in English language and history. He is a Fellow of the Society of Antiquaries and the Royal Historical Society.
♦'Endlessly fascinating and enjoyable' Neil MacGregor
♦'A marvellous book' David Attenborough
♦'Full of delights' Tom Stoppard
Christopher de Hamel
Meetings with Remarkable Manuscripts
Winner of the Wolfson History Prize 2017
Winner of the Duff Cooper Prize for Non-Fiction
Shortlisted for the Waterstones Book of the Year 2016
Published 5th April 2018
Publisher: Penguin Books Ltd
ISBN: 9780141977492
Number of pages: 656
Weight: 461 g
Dimensions: 198 x 129 x 28 mm
Paperback – £12.99
new books
fleursdumal.nl magazine
More in: - Book Lovers, - Book News, - Book Stories, Archive G-H, Ex Libris, Libraries in Literature
---
"Il fallait bien qu'un jour je croise la route de Lady Chatterley. J'ai fait mieux, je suis tombée amoureuse de celui qui l'imagina, D. H. Lawrence, à cause de sa figure de mauvais coucheur, à cause de l'extraordinaire sensibilité de son "écriture androgyne" dont parlait Anaïs Nin.
Pendant deux ans, je n'ai pas quitté cet amateur des grands espaces qui, lorsqu'il écrivait, ne s'est jamais encombré des barrières du surmoi. J'ai voulu faire redécouvrir cet auteur célèbre qui n'est plus assez lu, contemporain des suffragettes, et qui vécut entouré de femmes libres. Il avait compris qu'au vortex de leur émancipation et de leurs revendications se trouvait le plein accomplissement de leur jouissance sexuelle."  Catherine Millet.
Catherine Millet
Aimer Lawrence
Paru le 20/09/2017
Genre: Essais littéraires
304 pages
138 x 210 mm
Broché
ISBN-10: 2081372614
ISBN-13: 978-2081372610
€21,00
Editeur : Flammarion
Langue : Français
new books
fleursdumal.nl magazine
More in: - Book Stories, Archive K-L, Archive M-N, D.H. Lawrence, Erotic literature, Lawrence, D.H.
---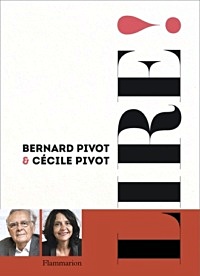 Bernard Pivot, lecteur professionnel ("Apostrophes", Lire, JDD) et sa fille Cécile, ardente lectrice amateur, confrontent leurs raisons, plaisirs et manières de lire, leur usage des livres, dans des textes très personnels, joliment illustrés, où le public des librairies et des bibliothèques retrouvera ses émotions, et celui qui n'ose pas en pousser les portes découvrira stimulations et conseils.
Un tonique et savoureux éloge des écrivains, des livres et de la lecture.
Bernard Pivot, Cécile Pivot
Lire !
Paru le 14/03/2018
Genre : Essais littéraires
192 pages
174 x 239 mm Couleur
Broché
EAN: 9782081416307
ISBN : 9782081416307
€25,00
Ed. Flammarion
new books on reading
fleursdumal.nl magazine
More in: - Book Stories, Archive O-P, Art & Literature News, Libraries in Literature, The Art of Reading
---
The judges of the Walter Scott Prize 2018 announced a longlist of thirteen books:
The books are:
# The Clocks In This House All Tell Different Times by Xan Brooks
# Birdcage Walk by Helen Dunmore
# Manhattan Beach by Jennifer Egan
# The Last Man In Europe by Dennis Glover
# Sugar Money by Jane Harris
# Prussian Blue by Philip Kerr
# The Draughtsman by Robert Lautner
# Grace by Paul Lynch
# The Wardrobe Mistress by Patrick McGrath
# Miss Boston and Miss Hargreaves by Rachel Malik
# The Gallows Pole by Benjamin Myers
# The Horseman by Tim Pears
# The Bedlam Stacks by Natasha Pulley
The Judges said:
"This year our Prize has attracted a record number of entries, and historical fiction continues to ride a wave of publishing success. As a result, we have been able to make our selection from a body of remarkable and varied novels. In our longlist, we have attempted to represent different styles – from lyrical to experimental, and from epic to intimate.
"All human life is here, from outlaws making a living forging coins in Yorkshire's badlands, to post-war London theatre society. We hope that in representing such a richness of styles and diversity of settings, the Walter Scott Prize can bring to public attention new work, while at the same time rewarding writers at the top of their game. We're looking forward to bringing the best of these forward to shortlist in April."
# end March 2018: Academy Recommends list announced
# April 2018: Shortlist announced
# 14th-17th June 2018: Baillie Gifford Borders Book Festival, Melrose – Winner of Walter Scott Prize 2018 announced and presented
# more information on the website of the Walter Scott Prize
fleursdumal.nl magazine
More in: - Book Lovers, Archive S-T, Art & Literature News, Awards & Prizes, Literary Events, Sir Walter Scott, The Art of Reading
---
The Man Booker International Prize has revealed the 'Man Booker Dozen' of 13 novels in contention for the 2018 prize, which celebrates the finest works of translated fiction from around the world.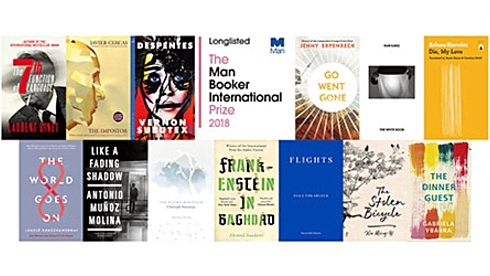 The 2018 longlist:
• Laurent Binet (France), Sam Taylor, The 7th Function of Language (Harvill Secker)
• Javier Cercas (Spain), Frank Wynne, The Impostor (MacLehose Press)
• Virginie Despentes (France), Frank Wynne, Vernon Subutex 1 (MacLehose Press)
• Jenny Erpenbeck (Germany), Susan Bernofsky, Go, Went, Gone (Portobello Books)
• Han Kang (South Korea), Deborah Smith, The White Book (Portobello Books)
• Ariana Harwicz (Argentina), Sarah Moses & Carolina Orloff, Die, My Love (Charco Press)
• László Krasznahorkai (Hungary), John Batki, Ottilie Mulzet & George Szirtes, The World Goes On (Tuskar Rock Press)
• Antonio Muñoz Molina (Spain), Camilo A. Ramirez, Like a Fading Shadow (Tuskar Rock Press)
• Christoph Ransmayr (Austria), Simon Pare, The Flying Mountain (Seagull Books)
• Ahmed Saadawi (Iraq), Jonathan Wright, Frankenstein in Baghdad (Oneworld)
• Olga Tokarczuk (Poland), Jennifer Croft, Flights (Fitzcarraldo Editions)
• Wu Ming-Yi (Taiwan), Darryl Sterk, The Stolen Bicycle (Text Publishing)
• Gabriela Ybarra (Spain), Natasha Wimmer, The Dinner Guest (Harvill Secker)
'The longlist introduces a wealth of talent, a variety of forms and some writers little known in English before. It has great writing and translating energy and we hope readers take as much pleasure in discovering the work as we did.'
Lisa Appignanesi, chair of the 2018 judges
The prize is now awarded every year for a single book, which is translated into English and published in the UK. Both novels and short-story collections are eligible. The work of translators is equally rewarded, with the £50,000 prize divided between the author and the translator of the winning entry. In addition, each shortlisted author and translator will receive £1,000 each. The judges considered 108 books.
The longlist was selected by a panel of five judges, chaired by Lisa Appignanesi OBE, author and cultural commentator, with Michael Hofmann, poet, reviewer and translator from German; Hari Kunzru, author of five novels including The Impressionist and White Tears; Tim Martin, journalist and literary critic, and Helen Oyeyemi, author of novels, plays and short stories including The Icarus Girl.
fleursdumal.nl magazine
More in: - Book News, - Bookstores, Art & Literature News, Awards & Prizes, Literary Events, The Art of Reading
---
In this riveting, heartfelt debut, a young woman assumes a new name to escape her dark past and find the redemption she desperately seeks.
"A terrific debut, told gently, honestly, and with a generous amount of hope."—New York Times bestselling author Jamie Ford
Venus Black is a straitlaced A student fascinated by the study of astronomy—until the night she commits a shocking crime that tears her family apart and ignites a media firestorm. Venus refuses to talk about what happened or why, except to blame her mother. Adding to the mystery, Venus's developmentally challenged younger brother, Leo, goes missing.
More than five years later, Venus is released from prison with a suitcase of used clothes, a fake identity, and a determination to escape her painful past. Estranged from her mother, and with her beloved brother still missing, she sets out to make a fresh start in Seattle, skittish and alone. But as new people enter her orbit—including a romantic interest and a young girl who seems like a mirror image of her former lost self—old wounds resurface, and Venus realizes that she can't find a future while she's running from her past.
In this gripping story, debut novelist Heather Lloyd brilliantly captures ordinary lives thrust into extraordinary circumstances. Told through a constellation of captivating voices, My Name Is Venus Black explores the fluidity of right and wrong, the pain of betrayal, and the meaning of love and family.
Heather Lloyd, who has spent many years working as an editor and writing coach, lives with her husband in New York City. My Name Is Venus Black is her first novel.
My Name Is Venus Black
A Novel
By Heather Lloyd
Category: Crime Mysteries
Hardcover : $27.00
Publ.: Feb 27, 2018
368 Pages
ISBN 9780399592188
Publ. by The Dial Press
new books
fleursdumal.nl magazine
More in: - Book News, Archive K-L, Art & Literature News, BIOGRAPHY, CRIME & PUNISHMENT, Tales of Mystery & Imagination
---
Older Entries »
Thank you for reading FLEURSDUMAL.NL - magazine for art & literature