Archive M-N
«« Previous page
·
NOVALIS: Armenmitleid
·
NOVALIS: Das Gedicht
·
NOVALIS: Geschichte der Poesie
·
Sérgio Monteiro de Almeida – Poema visual: A Cruz q carrego
·
NOVALIS: Letzte Liebe
·
Te voet is het heelal drie dagen ver: Na zes jaar een nieuwe dichtbundel van K. MICHEL
·
Een avond over het werk van JEROEN METTES
·
HERMAN MELVILLE: Gold
·
HERMAN MELVILLE: Pipe Song
·
In Memoriam: PETER NIJMEIJER (1947 – 2016)
·
OSIP MANDELSTAM: I DETEST THE LIGHT
·
HENRY NEWBOLT: IONICUS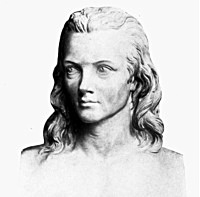 Novalis
Armenmitleid
Sag an, mein Mund, warum gab dir zum Sange
Gott Dichtergeist und süßen Wohlklang zu,
Ja wahrlich auch, daß du im hohen Drange
Den Reichen riefst aus träger, stumpfer Ruh.
Denn kann nicht Sang vom Herzen himmlisch rühren,
Hat er nicht oft vom Lasterschlaf erweckt;
Kann er die Herzen nicht am Leitband führen,
Wenn er sie aus der Dumpfheit aufgeschreckt.
Wohlauf; hört mich ihr schwelgerischen Reichen,
Hört mich doch mehr noch euren innren Ruf,
Schaut um euch her, seht Arme hülflos schleichen,
Und fühlt, daß euch ein Vater nur erschuf.
Novalis (1772 – 1801)
Gedicht: Armenmitleid
fleursdumal.nl magazine
More in: Archive M-N, Novalis, Novalis
---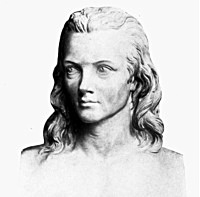 Novalis
Das Gedicht
Himmlisches Leben im blauen Gewande
Stiller Wunsch in blassem Schein –
Flüchtig gräbt in bunten Sande
Sie den Zug des Namens ein –
Unter hohen festen Bogen
Nur von Lampenlicht erhellt
Liegt, seitdem der Geist entflogen
Nun das Heiligste der Welt.
Leise kündet beßre Tage
Ein verlornes Blatt uns an
Und wir sehn der alten Sage
Mächtige Augen aufgetan.
Naht euch stumm dem ernsten Tore,
Harrt auf seinen Flügelschlag
Und vernehmt herab vom Chore
Wo weissagend der Marmor lag.
Flüchtiges Leben und lichte Gestalten
Füllten die weite, leere Nacht
Nur von Scherzen aufgehalten
Wurden unendliche Zeiten verbracht –
Liebe brachte gefüllte Becher
Also perlt in Blumen der Geist
Ewig trinken die kindlichen Zecher
Bis der geheiligte Teppich zerreißt.
Fort durch unabsehliche Reihn
Schwanden die bunten rauschenden Wagen
Endlich von farbigen Käfern getragen
Kam die Blumenfürstin allein[.]
Schleier, wie Wolken zogen
Von der blendenden Stirn zu den Füßen
Wir fielen nieder sie zu grüßen
Wir weinten bald – sie war entflogen.
Novalis (1772 – 1801)
Gedicht: Das Gedicht
fleursdumal.nl magazine
More in: Archive M-N, Novalis, Novalis
---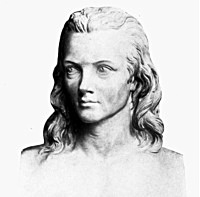 Novalis
Geschichte der Poesie
Wie die Erde voller Schönheit blühte,
Sanftumschleiert von dem Rosenglanz
Ihrer Jugend und noch bräutlich glühte
Aus der Weihumarmung, die den Kranz
Ihrer unenthüllten Kindheit raubte,
Jeder Wintersturm die Holde mied,
O! da säuselte durch die belaubte
Myrte Zephir sanft das erste Lied.
Eva lauschte im Gebüsch daneben
Und empfand mit Jugendphantasie
Dieser Töne jugendliches Leben
Und die neugeborne Harmonie,
Süßen Trieb empfand auch Philomele
Leise nachzubilden diesen Klang;
Mühelos entströmet ihrer Kehle
Sanft der göttliche Gesang.
Himmlische Begeistrung floß hernieder
In der Huldin reingestimmte Brust,
Und ihr Mund ergoß in Freudenlieder
Und in Dankgesängen ihre Lust,
Tiere, Vögel, selbst die Palmenäste
Neigten staunender zu ihr sich hin,
Alles schwieg, es buhlten nur die Weste
Froh um ihre Schülerin.
Göttin Dichtkunst kam in Rosenblüte
Hoher Jugend eingehüllt herab
Aus dem Äther, schön wie Aphrodite,
Da ihr Ozean das Dasein gab.
Goldne Wölkchen trugen sie hernieder,
Sie umfloß der reinste Balsamduft,
Kleine Genien ertönten Lieder
In der tränenlosen Luft.
Novalis (1772 – 1801)
Gedicht: Geschichte der Poesie
fleursdumal.nl magazine
More in: Archive M-N, Novalis, Novalis
---
Sérgio Monteiro de Almeida
Poema visual
A Cruz q carrego
Sérgio Monteiro de Almeida cv:
Curitiba, Brazil (1964). Intermedia visual poet and conceptual artist. – He has published in numerous anthologies and specialized magazines in Brazil and outside; participated in exhibitions of visual poetry as International Biennial of Visual and Alternative Poetry in Mexico (editions from 1987 to 2010); Post-Art International Exhibition of Visual / Experimental Poetry, San Diego State University-USA (1988); 51 and 53 Venice Biennial (2005 and 2009). – He published in 2007 the book Sérgio Monteiro de Almeida with a global vision about his work as a visual artist and poet. – This book was incorporated into the "Artist Books" collection of the New York City Library (USA).  – Author of the CD of kinetic visual poems (EU) NI/IN VERSO (still unpublished). – He presented urban interventions in Curitiba, San Diego, Seattle, New York, Paris, Rome. –  In 2014 and 2015 visual poems published in the Rampike experimental literature magazine of the University of Windsor, Canada. – He recently had his poems published in Jornal Candido (n. 64) and Relevo (2015 and 2016).
More about his work:
Livro eletrônico http://issuu.com/boek861/docs/sergio_monteiro_libro;
Enciclopédia Itaú Cultural de artes visuais  www.itaucultural.com.br;
Videos no Youtube: http://www.youtube.com/user/SergioMAlmeida
Sérgio Monteiro de Almeida
Curitiba – PR – Brazil
email: sergio.ma@ufpr.br
february 2017
magazine fleursdumal.nl
More in: Archive M-N, Sérgio Monteiro de Almeida
---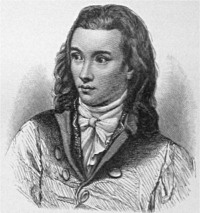 Novalis
Letzte Liebe
Also noch ein freundlicher Blick am Ende der Wallfahrt,
Ehe die Pforte des Hains leise sich hinter mir schließt.
Dankbar nehm ich das Zeichen der treuen Begleiterin Liebe
Fröhlichen Mutes an, öffne das Herz ihr mit Lust.
Sie hat mich durch das Leben allein ratgebend geleitet,
Ihr ist das ganze Verdienst, wenn ich dem Guten gefolgt,
Wenn manch zärtliches Herz dem Frühgeschiedenen nachweint
Und dem erfahrenen Mann Hoffnungen welken mit mir.
Noch als das Kind, im süßen Gefühl sich entfaltender Kräfte,
Wahrlich als Sonntagskind trat in den siebenten Lenz,
Rührte mit leiser Hand den jungen Busen die Liebe,
Weibliche Anmut schmückt jene Vergangenheit reich.
Wie aus dem Schlummer die Mutter den Liebling weckt mit dem Kusse,
Wie er zuerst sie sieht und sich verständigt an ihr:
Also die Liebe mit mir – durch sie erfuhr ich die Welt erst,
Fand mich selber und ward, was man als Liebender wird.
Was bisher nur ein Spiel der Jugend war, das verkehrte
Nun sich in ernstes Geschäft, dennoch verließ sie mich nicht
Zweifel und Unruh suchten mich oft von ihr zu entfernen,
Endlich erschien der Tag, der die Erziehung vollzog,
Welcher mein Schicksal mir zur Geliebten gab und auf ewig
Frei mich gemacht und gewiß eines unendlichen Glücks.
Novalis (1772 – 1801)
Gedicht: Letzte Liebe
fleursdumal.nl magazine
More in: Archive M-N, Novalis, Novalis
---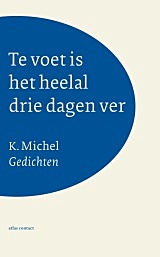 K. MICHEL
(Tilburg 1958) wordt beschouwd als een van de belangrijkste hedendaagse dichters. Hij debuteerde in 1989 met Ja! Naakt als de stenen. Vervolgens verschenen Boem de nacht, dat bekroond werd met de Herman Gorterprijs 1995, en Waterstudies, waarvoor hij maar liefst twee prijzen ontving: de Jan Campertprijs en de VSB Poëzieprijs 2000. Voor zijn bundel Bij eb is je eiland groter kreeg hij in 2011 de Awater Poeziëprijs.
Met een onderbreking van zes jaar verschijnt in 2016 weer een nieuwe dichtbundel: Te voet is het heelal drie dagen ver.
voorop
zwemt een piepklein visje
dat gevolgd wordt door
een iets minder klein visje
waarachter eentje
van dertien in een dozijn zwemt
met in zijn spoor
een wat lijviger type
dat op de hielen wordt gezeten door
een tamelijk fors exemplaar
(fragment)
K. Michel
Te voet is het heelal drie dagen ver
Paperback 56 blz.
ISBN 9789025447755
Atlas Contact
2016 € 17,99
Het is een verrassende bundel, voor de lezer die niet vies is van een beetje avontuur. (…) In de gedichten van Michel zit regelmatig zon rare twist die je even aan het wankelen brengt. (…) Mijn devies: accepteer het raadselachtige, omarm het. – **** het Parool
fleursdumal.nl magazine
More in: Archive M-N, K. Michel, Michel, K.
---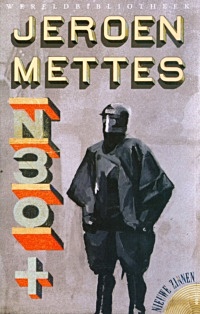 Perdu Programma — vrijdag 16 dec 2016 – 20:00 – N30x31 /// I.M. Jeroen Mettes
Een avond over het werk van Jeroen Mettes
Aanvang: 20.00 uur, deur open: 19.30 uur – Entree: 7 / 5 euro (korting geldt voor studenten, stadspashouders, vrienden van Perdu, VvL-leden). Met Alfred Schaffer, Samuel Vriezen, Rozalie Hirs, Hannah van Binsbergen, Fiep van Bodegom, Max Urai, Tonnus Oosterhoff, Johan Herrenberg, Roelof ten Napel, Frans-Willem Korsten, Anne van de Wetering, Lieke Marsman, Maarten van der Graaff, Lara Staal, Saskia de Jong, Çağlar Köseoğlu, Zohra Beldman, Mathijs Tratsaert, Arno van Vlierberghe, Dominique de Groen, Nadia de Vries, Nguyễn Nam Chi, Bram Ieven, Geert Buelens, Aafke Romeijn, Siebe Bluijs, Sophie van den Bergh, Maartje Smits, Frank Keizer, Daniël Rovers, Obe Alkema & Dean Bowen.
De zon gaat onder en in de vijver drijven zwanen, alsof ze van hout zijn, stil tussen de oevers. Terwijl m'n browser 'n applet laadt, laat ik de jaloezieën neer. Ik zag een man – een mens met een gezicht en een geslacht en een manier van kleden en fietsen – en ik dacht: daar gaat een zin!  (J.M.)

Jeroen Mettes (Eindhoven 1978 – Den Haag 2006) was een Nederlandse dichter, essayist en blogger.
Jeroen Mettes groeide op in Valkenswaard, studeerde filosofie in Utrecht en literatuurwetenschap aan de Universiteit Leiden, waar hij tot 2006 aan een proefschrift werkte over poëtisch ritme.
In 1999 begon hij aan een lang prozagedicht dat hij de naam N30 gaf. Dat was de codenaam van de anti- of andersglobalistische protesten in Seattle tijdens de onderhandelingen van de WTO. De betogers eisten een wereldwijde erkenning van eerlijke handel, vakbonden en milieuwetgeving. Zeven jaar later, in 2006, was er een gedicht ontstaan van zo'n 60.000 woorden lang.
In 2005 startte Jeroen Mettes het blog Poëzienotities. Belangrijk onderdeel van dat blog werd het Dichtersalfabet. Mettes besprak – in alfabetische volgorde – op zijn blog de poëziebundels die hij aantrof in boekhandel Verwijs in zijn woonplaats Den Haag. Hij begon met de A van Anne van Amstel, en zou eindigen bij de G van Goudeseune. Als dichter debuteerde Jeroen Mettes in het tijdschrift Parmentier met de reeks van vier gedichten getiteld 'In de sfeer van het gestelde'. Als jonge twintiger had hij al prozabijdragen geleverd aan onder meer de tijdschriften Zoetermeer en Passionate.
Eind 2005 trad Mettes toe tot de redactie van het tijdschrift yang (nu nY). Hij was ook vast medewerker van het tijdschrift Parmentier.
Op 21 september 2006 plaatste hij een lege post op zijn blog. Diezelfde dag maakte hij thuis in Den Haag een einde aan zijn leven. Hij liet naast zijn gedichten, essays en zijn blog, een ver gevorderd proefschrift na, met als werktitel The Poetry of the Formless.
# Meer info op website n30.nl blog
Een zekere gerichte vernietiging laat groeven en kraters achter die een kaart schetsen voor een volgend avontuur. Pounds periplum: varend de kusten in kaart brengen, immanente plaatsbepaling. En met de kaart verandert het terrein, met het gedicht verandert de geschiedenis. (J.M.)

fleursdumal.nl magazineforartandliterature
More in: Archive M-N, Jeroen Mettes, Mettes, Jeroen
---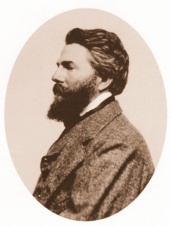 Herman Melville
(1819 – 1891)
Gold
We rovers bold,
To the land of Gold,
Over the bowling billows are gliding:
Eager to toil,
For the golden spoil,
And every hardship biding.
See! See!
Before our prows' resistless dashes
The gold-fish fly in golden flashes!
'Neath a sun of gold,
We rovers bold,
On the golden land are gaining;
And every night,
We steer aright,
By golden stars unwaning!
All fires burn a golden glare:
No locks so bright as golden hair!
All orange groves have golden gushings;
All mornings dawn with golden flushings!
In a shower of gold, say fables old,
A maiden was won by the god of gold!
In golden goblets wine is beaming:
On golden couches kings are dreaming!
The Golden Rule dries many tears!
The Golden Number rules the spheres!
Gold, gold it is, that sways the nations:
Gold! gold! the center of all rotations!
On golden axles worlds are turning:
With phosphorescence seas are burning!
All fire-flies flame with golden gleamings!
Gold-hunters' hearts with golden dreamings!
With golden arrows kings are slain:
With gold we'll buy a freeman's name!
In toilsome trades, for scanty earnings,
At home we've slaved, with stifled yearnings:
No light! no hope! Oh, heavy woe!
When nights fled fast, and days dragged slow.
But joyful now, with eager eye,
Fast to the Promised Land we fly:
Where in deep mines,
The treasure shines;
Or down in beds of golden streams,
The gold-flakes glance in golden gleams!
How we long to sift,
That yellow drift!
Rivers! Rivers! cease your goings!
Sand-bars! rise, and stay the tide!
'Till we've gained the golden flowing;
And in the golden haven ride!
Herman Melville poetry
fleursdumal.nl magazine
More in: Archive M-N, Herman Melville
---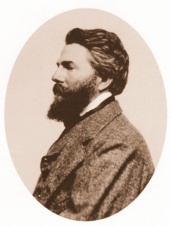 Herman Melville
(1819 – 1891)
Pipe Song
Care is all stuff:–
Puff! Puff!
To puff is enough:–
Puff! Puff
More musky than snuff,
And warm is a puff:–
Puff! Puff
Here we sit mid our puffs,
Like old lords in their ruffs,
Snug as bears in their muffs:–
Puff! Puff
Then puff, puff, puff,
For care is all stuff,
Puffed off in a puff–
Puff! Puff!
Herman Melville poetry
fleursdumal.nl magazine
More in: Archive M-N, Herman Melville
---
De dichter, vertaler en journalist Peter Nijmeijer (1947-2016), is op 9 september op 69-jarige leeftijd overleden.
De Volkskrant berichtte deze week dat Nijmeijer in 'volstrekte eenzaamheid' is gestorven en dat het bericht van zijn dood, zelfs zijn naaste familieleden pas een maand later heeft bereikt. Hij was in de jaren zeventig poëzierecensent van deze krant.
Peter Nijmeijer was een zeer gewaardeerd vertaler van dichters als Seamus Heaney, Ted Hughes en Wallace Stevens. Titels van zijn eigen dichtbundels zijn o.a. De sprong, De afstand tot, De lippen van Max Ernst, Francesco's Paradox en Barrage.
In Memoriam Peter Nijmeijer (1947-2016)
fleursdumal.nl magazine
More in: Archive M-N, Art & Literature News, In Memoriam
---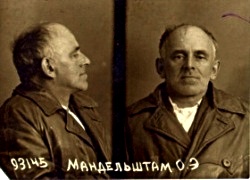 Osip Mandelstam
(1891-1938)
I detest the light…
I detest the light
Of tedious stars.
Hello, my old delirium,
The tower's crenellated pinnacle!
Stone, turn to lace
Become a spider's web,
With your thin needle, wound
The empty breast of the sky.
My own turn will come,
I feel the stretching of my wings.
But where will the arrow
Of living thought fly?
Perhaps having used up my path,
And my time, I will come back:
– There I could not love,
– Here I fear to love . . .
1912
Osip Mandelstam poetry
Transl. J.A. Woolf
fleursdumal.nl magazine

More in: Archive M-N, J.A. Woolf, Mandelstam, Osip, REPRESSION OF WRITERS, JOURNALISTS & ARTISTS, Woolf, J.A.
---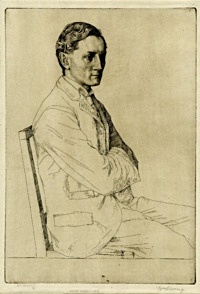 Sir Henry Newbolt
(1862-1938)
Ionicus
With failing feet and shoulders bowed
Beneath the weight of happier days,
He lagged among the heedless crowd,
Or crept along suburban ways.
But still through all his heart was young,
A courage, a pride, a rapture, sprung
Of the strength and splendour of England's war.
From ill-requited toil he turned
To ride with Picton and with Pack,
Among his grammars inly burned
To storm the Afghan mountain-track.
When midnight chimed, before Quebec
He watched with Wolfe till he morning star;
At noon he saw from Victory's deck
The sweep and splendour of England's war.
Beyond the book his teaching sped,
He left on whom he taught the trace
Of kinship with the deathless dead,
And faith in all the Island race.
He passed : his life a tangle seemed,
His age from fame and power was far;
But his heart was night to the end, and dreamed
Of the sound and splendour of England's war.
Sir Henry Newbolt poetry
fleursdumal.nl magazine
More in: Archive M-N, CLASSIC POETRY
---
Older Entries »
« Newer Entries
Thank you for reading FLEURSDUMAL.NL - magazine for art & literature