Archive M-N
«« Previous page
·
Louis MacNeice: Collected Poems
·
Novalis: An den Tod
·
Sleeping Late on Judgment Day. Poems by Jane Mayhall
·
Faisal Mohyuddin: The Displaced Children Of Displaced Children
·
Novalis: Elegie auf einen Kirchhof
·
Harriet Monroe: New-Born
·
Harriet Monroe: Night In State Street
·
Byron Rufus Newton: Owed to New York
·
NOVALIS: Alle Menschen seh ich leben …
·
Harriet Monroe: Titanic Requiem
·
Sérgio Monteiro de Almeida – Poema visual: Presentation 5A
·
Harriet Monroe: The Shadow-Child
In the decades since his death in 1963, Louis MacNeice's reputation as a poet (and, indeed, amongst poets) has grown steadily, and there are now several generations of readers in Ireland, Britain, and beyond, for whom he is one of the essential poets of the twentieth century.
His work has also received increasing attention from academic writers and students. For both readers and critics, the nature of MacNeice's poetic work as a whole is a matter of importance, and the second posthumous Collected Poems, entirely re-edited by Peter McDonald, attempts, for the first time, to print MacNeice's poetry in groupings corresponding closely to the collections published by Faber between 1935 and 1963. This makes it easier to read the poet in the published forms in which he was read by his contemporaries.
In choosing to re-create the environments of MacNeice's individual volumes of poetry, moreover, this new Collected reflects the opinion that MacNeice works best in and through those separate volumes, particularly so in the brilliant return to form – and unique kinds of return on lyric form itself – of the last three collections.
The texts of the poems in the new edition are based on a comparison of all printed versions, as revised in the light of the poet's later thoughts. This has resulted in a large number of changes. It is hoped that the present edition presents MacNeice's poetry more accurately, as well as more fully, than all previous collections.
The new Collected Poems also includes, as appendices, The Last Ditch – the short book of poems which MacNeice published with the Cuala Press in 1940 – and The Revenant, a cycle of songs written for MacNeice's wife, the singer Hedli Anderson, a selection of uncollected early poems, and from Blind Fireworks, MacNeice's first published book of verse.
Louis MacNeice was born in Belfast in 1907, the son of a Church of Ireland rector, later a bishop. He was educated in England at Sherborne, Marlborough and Merton College, Oxford. His first book of poems, Blind Fireworks, appeared in 1929, and he subsequently worked as a translator, literary critic, playwright, autobiographer, BBC producer and feature writer. The Burning Perch, his last volume of poems, appeared shortly before his death in 1963.
Louis MacNeice
Collected Poems
faber publ.
£20.00
2016
Paperback
ISBN 9780571331383
880 pages
new books
fleursdumal.nl magazine
More in: - Book News, Archive M-N, EDITOR'S CHOICE
---
An den Tod
Wie den Seraph himmlische Lust erfüllet,
Kommt der Brüder einer, auch selger Engel,
Den des Himmels Freundschaft mit ihm verwebte
Zu dem unsterblichen Bunde,
Wieder von der fernesten Welten einer
Wo er Glück und Segen die Fülle ausstreut
Heitre Ruhe mit friedlicher Palme über
Tausend Geschöpfe ergossen,
Und nun fällt in Engels Entzücken seinem
Freunde an die himmlische Brust und dann im
Kusse, unaussprechbare Freundschaftswonne
Einet die Seelen der Seraphs.
So werd ich mich freuen wenn du einst holder
Todesengel meine geengte Seele
Zu dem selgen Anschaun Jehovas durch die
Trennung vom Körper beflügelst.
Und sich dann die neidische Hülle abstreift
Gleich der Puppe welche den Schmetterling hält
Und zerplatzet kommet die Zeit der Reife,
Jener befreit dann entfliehet.
So wird sie auch fliehen die edle Seele
Aus dem Erdenstaube entlastet dort zu
Jenen höhern, bessern Gefilden reich an
Seliger Ruhe und Freiheit.
Wo ein ewger Frühling die Wangen kleidet
Und ich voll unsterblicher Kraft die Schöpfung
Sehe, staune, himmlische Freundschaft mich un-
sterblichen Geistern vereinet
Novalis (1772 – 1801)
Gedicht: An den Tod
fleursdumal.nl magazine
More in: Archive M-N, Novalis, Novalis
---
"My heart is bursting with homage as I / head off to a hostile eternity," writes Jane Mayhall, eighty-five, who wrote most of these poems in an urgent outpouring over the last few years.

From the decades-outdated subway token in the bottom of her shoulder bag, which calls forth earlier days in New York City, to the violin her father practiced among the pantry's jam jars in her Kentucky childhood, Mayhall plucks small treasures that bespeak her fierce devotion to life, with its clutter of memories and imperfections. In her tightly knotted, beautifully turned short poems, she elegizes a world not quite gone, and brings us into contact with some of her contemporaries, from Lincoln Kirstein to Theodore Roethke.
Chief among her cherished memories is her long bohemian marriage, which she recalls in a series of ravishing love poems to her late husband. In lines saturated with feeling she describes how she accommodates her grief at losing him and, as throughout this exquisite volume, how we must continue to greet life, in all its gorgeous strangeness.
Jane Mayhall was born in Louisville, Kentucky, in 1918 and attended Black Mountain College in North Carolina. She taught at the New School for Social Research, Hofstra University, Morehead State University, and the Summer Writers' Workshop at Hindman Settlement School in Kentucky. Her fiction and poems appeared in The Yale Review, The New Yorker, The Paris Review, and other publications. Mayhall lived in New York City until her death in 2009.
Sleeping Late on Judgment Day
Poems
By Jane Mayhall
Category: Poetry
Paperback
2005
112 Pages
$15.00
Published by Knopf
5-5/8 x 9-1/4
ISBN 9780375710483
more poetry
fleursdumal.nl magazine
More in: - Book Lovers, - Book Stories, Archive M-N, Archive M-N, Art & Literature News
---
Poetry. Asian & Asian American Studies. Moving through past, present and future, this is a family history that journeys between America, Pakistan, modern Europe and even into space.
Faisal Mohyuddin delves into the past of his parents and their neighbours in Pakistan and India in a self-consciously impossible attempt to find some way of belonging to a place that is lost. Moving from elegant ghazals of lament to stuttering, disjointed phrases of yearning, Mohyuddin portrays with restrained emotion the complexities of what it is to be displaced, geographically, spiritually, psychologically. With moments of sorrow interspersed with unsettling humour, deep familial love and celebrations of beauty, it is a story recognizable to any who have felt displaced in a new world. If the personal is political, then this is truly poetry for our times.
Faisal Mohyuddin, a child of immigrants from Pakistan, is the author of the chapbook The Riddle of Longing (Backbone Press, 2017). He is the recipient of the 2014 Edward Stanley Award from Prairie Schooner and a 2017 Gwendolyn Brooks Poetry Award. A graduate of Carleton College, Northwestern University, and Columbia College Chicago, he is also an alumnus of the U.S. Department of State's Teachers for Global Classrooms program. He teaches English at Highland Park High School in Illinois, serves as an educator adviser to the global not- for-profit Narrative 4, and lives with his wife and son in Chicago. THE DISPLACED CHILDREN OF DISPLACED CHILDREN is his debut full-length collection.
The Displaced Children Of Displaced Children
by Faisal Mohyuddin (Author)
Paperback
April 2, 2018
88 pages
Publisher: Eyewear Publishing
Language: English
ISBN-10: 1912477068
ISBN-13: 978-1912477067
$14.99
£10.99
new poetry
fleursdumal.nl magazine
More in: - Book Lovers, - Book News, Archive M-N, Art & Literature News
---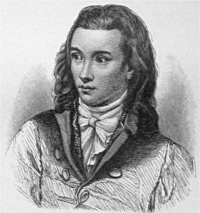 Novalis
Elegie auf einen Kirchhof
Kirchhof, werter mir als Goldpaläste,
Werter einem jeden Menschenfreund,
Birgest manches Edlen Überreste
Aber auch wohl manchen Tugendfeind.
Trink die Tränen, welche meinen Lieben
Die hier ungestöret ruhn, geweint;
Stunden sagt, wo seid ihr denn geblieben,
Die ihr uns als Jünglinge vereint?
Sprosset auf zu dunklen Trauermyrten
Tränen, die die Liebe hier vergoß
Grünt, um meine welke Stirn zu gürten,
Meine Laute, der nur Schmerz entfloß.
Kirchhof, Freund der trüben Knabentage
Die mir schwanden tränenvoll dahin,
Hörtest du nicht oft auch meine Klage,
Wenn mich eine Freundin mußte fliehn?
Novalis (1772 – 1801)
Gedicht: Elegie auf einen Kirchhof
fleursdumal.nl magazine
More in: Archive M-N, Novalis, Novalis
---
New-Born
She is so wee,
So wise and dear
Her eyes can see,
Her ears can hear,
The flowers that grow
Below the snow,
The birds that peep
In their eggs asleep,
The songs we sing her
No other has heard,
The love we bring her
With never a word.
Harriet Monroe
(1860 – 1936)
New-Born
fleursdumal.nl magazine
More in: Archive M-N, Monroe, Harriet
---
Night In State Street
Art thou he?—
The seer and sage, the hero and lover—yea,
The man of men, then away from the haughty day
Come with me!
Ho—ho! to the night—
The spangled night that would the noon outstare.
Her skirts are fringed with light,
She is girdled and crowned with gems of fire that flare.
The city is dizzy with the thrill of her—
Her shining eyes and shadowy floating hair;
And curious winds her nebulous garments blur,
Blowing her moon-white limbs and bosom bare.
She beckons me—
Down the deep street she goes to keep her tryst.
Come—come—oh follow! oh see
The many-windowed walls uprear so high
They dim and quiver and float away in mist
Tangling the earth and sky.
And the pale stars go by
Like spirits masterful and still and strong,
Dragging the heavy nets of life along.
Down in the deep
Lightly the nets enmesh us with the swarm
Of huddled human things that, soft and warm,
Beat out so close the pulses of their lives.
We crowd and creep,
We jostle and push out of our halls and hives,
We chatter and laugh and weep.
Ah, do you hear
The choral of voices, each the secret hiding?
Do you see the warren of souls, each one abiding
In separate solitude, remote, austere?
Here in the glare of the street we cling together
Against the warning darkness, the still height Of the awful night.
We blow like a feather
From hope to hope along the winds of fate
Importunate.
The lettered lights that twinkle in and out
Lure us and laugh at us, beckon and flout,
Flashing their slangy symbols in our eyes,
Blurting their gaudy lies.
The bold shop-windows flaunt their empty wares—
Jewelled or tinselled shows of things,
The fripperies and furnishings
Wherein stark life will stifle her shiverings
Ere forth in the dawn she fares.
Ah, tyranny perilous!
Vain shows that master us!
See the gay girls fluttering wistfully,
Where waxen dummies grin in gowns of lace.
Watch yonder woman in black, whose dimmed eyes see
Soft baby things folded with tender grace.
And look at the children crowding and shouting there
Where dancing dolls jiggle and jerk and stare.
They hover and cling
Possessed by signs and shadows of the thing.
They moor their bark
Close to the shore and fathom not the dark—
The dark that glooms afar
Beyond the invisible star,
Beyond faith's boundaries,
The plausible was and is.
Come, ye adventurous,
Open your hearts to us!
You tiny newsboy, calling extras there,
Pitiful burden-bearer, pale with blight,
What of the night?—
The sullen night that brings you, little one,
So heavy a load of care,
While happier children sleep from sun to sun?
And you, wan youth, haggard and spent,
By mad thirst driven and rent—
Thirst of the body, thirst of the soul—
To what dark goal
Does reeling night lead you, her listless prey,
To gorge you and slay,
And hide forever from the searching day?
And you, furtive and flaunting girl,
Whose heavy-lidded eyes unfurl
Red signal fires, the while, demure,
Your brooding lips deny their lure—
Ah, does the lewd night lash you to her cave,
And will you never her ribald rage out-brave,
And rise no more forlorn
To greet the morn?
The street grows insolent.
With cries of dark delight
And gestures impudent
It rends the robe of night.
Up to the silent sky
It shouts the human cry.
The crowds push in and out
By all the open ways,
Eager to stare and shout
At vaudeville waifs of plays.
They drop their coins and laugh
At the wheezy phonograph,
They hush for the noisy drone
Of the croaking megaphone.
That litters life with jest
They pause that they may not go
On life's eternal quest.
They stifle truth with speech,
They mimic love with lust,
For the glitter of gilt they reach
And cover the gold with dust.
They stoop to the din and glare
Who have the lofty night for comrade rare.
They grope along the ground
Whose stature like the night with stars is crowned.
Oh piteous!
Oh struggle vain!
Of puppets emulous,
We strive and strain
To forge for our limbs a chain.
Come, thou deep-hearted Night, so dark and bright !
Come, holy Night, come, lawless, dissolute Night!
Come, human Night, hushing thy dreams divine!
Give me thy dreams, O Night—they shall be mine!—
Mine and this beggar's, though we lie to thee!
Mine and this harlot's, though from thee we
flee! Mine and this worldling's, though with might and right
We hide them from our sight.
Thy shadowed eyes the truth behold, and we—
We too shall know the truth, and so be free!
Even now—yea, now
Through lies and vanities we pry and peer.
Even now we bow
At little shrines where pale fires flicker and fleer.
Hark! in the echoing street
The drums that bang and beat,
Where the curb-stone preachers tell
The way to heaven and hell.
Look! in yon window there
A man through a glass astare
At atoms and embryos,
The source whence all life flows.
Search the beginning and end.
We may not choose but follow—
Yes, you and I and these—
The fume of the noisome hollow,
The gleam of the Pleiades.
Wherever one goes in quest
With his quest we are cursed or blest.
And the street, with its blazing mockery of
noon, Leads on to the quiet stars, to the lofty moon.
The little lights go out now row on row,
The dim crowds glide away.
The shadowed street
Pillars the vaulted sky.
And Night, proud Night,
Rapt in her dreams, with stately tread and slow
Patrols the drowsy world. O friend complete,
How may we read her deep delight aright?
Art thou he—
The seer and sage, the hero and lover—yea,
The man of men, then even to the gates of day
Lead thou me!
Harriet Monroe
(1860 – 1936)
Night In State Street
fleursdumal.nl magazine
More in: Archive M-N, LITERARY MAGAZINES, Monroe, Harriet
---
Owed to New York
Vulgar of manner, overfed,
Overdressed and underbred,
Heartless, Godless, hell's delight,
Rude by day and lewd by night;
Bedwarfed the man, o'ergrown the brute,
Ruled by boss and prostitute:
Purple-robed and pauper-clad,
Raving, rotting, money-mad;
A squirming herd in Mammon's mesh,
A wilderness of human flesh;
Crazed by avarice, lust and rum,
New York, thy name's "Delirium."
Byron Rufus Newton
(1861-1938)
Owed to New York
fleursdumal.nl magazine
More in: Archive M-N, Archive M-N, CLASSIC POETRY
---
Alle Menschen seh ich leben …
Alle Menschen seh ich leben
Viele leicht vorüberschweben
Wenig mühsam vorwärtsstreben
Doch nur Einem ists gegeben
Leichtes Streben, schwebend leben.
Wahrlich der Genuß ziemt Toren
In der Zeit sind sie verloren,
Gleichen ganz den Ephemeren[.]
In dem Streit mit Sturm und Wogen
Wird der Weise fortgezogen
Kämpft um niemals aufzuhören
Und so wird die Zeit betrogen
Endlich unters Joch gebogen
Muß des Weisen Macht vermehren.
Ruh ist Göttern nur gegeben
Ihnen ziemt der Überfluß
Doch für uns ist Handeln Leben
Macht zu üben nur Genuß.
Novalis
(1772 – 1801)
Gedicht: Alle Menschen seh ich leben …
fleursdumal.nl magazine
More in: Archive M-N, Novalis, Novalis
---
Titanic Requiem
Sleep softly in your ocean bed,
You who could grandly die !
Our fathers, who at Shiloh bled,
Accept your company.
O sons of warriors, lightly rest,
Daughters of pioneers!
Heroes freeborn, who chose the best,
No tears for you, but cheers!
Lovers of life, who life could give,
Sleep softly where you lie!
Ours be the vigil—help us live,
Who teach us how to die.
Harriet Monroe
(1860 – 1936)
Titanic Requiem
fleursdumal.nl magazine
More in: Archive M-N, Monroe, Harriet
---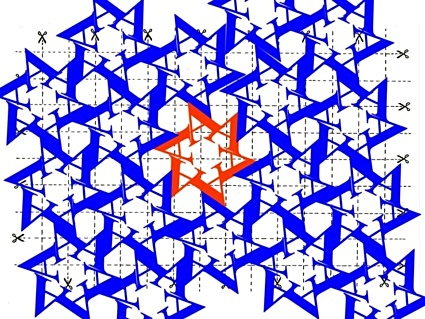 Sérgio Monteiro de Almeida 
Poema visual: Presentation 5A (from the kaleidoscope series)
Sérgio Monteiro de Almeida, Curitiba, Brazil (1964).
Intermedia visual poet and conceptual artist
fleursdumal.nl magazine
More in: *Concrete + Visual Poetry K-O, Archive M-N, Sérgio Monteiro de Almeida
---
The Shadow-Child
Why do the wheels go whirring round,
Mother, mother?
Oh, mother, are they giants bound,
And will they growl forever?
Yes, fiery giants underground,
Daughter, little daughter,
Forever turn the wheels around,
And rumble-grumble ever.
Why do I pick the threads all day,
Mother, mother,
While sunshine children are at play?
And must I work forever?
Yes, shadow-child; the live-long day,
Daughter, little daughter,
Your hands must pick the threads away,
And feel the sunshine never.
Why do the birds sing in the sun,
Mother, mother,
If all day long I run and run,
Run with the wheels forever?
The birds may sing till day is done,
Daughter, little daughter,
But with the- wheels your feet must run—
Run with the wheels forever.
Why do I feel so tired each night,
Mother, mother?
The wheels are always buzzing bright;
Do they grow sleepy never?
Oh, baby thing, so soft and white,
Daughter, little daughter,
The big wheels grind us in their might,
And they will grind forever.
And is the white thread never spun,
Mother, mother?
And is the white cloth never done,
For you and me done never?
Oh yes, our thread will all be spun,
Daughter, little daughter,
When we lie down out in the sun,
And work no more forever.
And when will come that happy day,
Mother, mother?
Oh, shall we laugh and sing and play
Out in the sun forever?
Nay, shadow-child, we'll rest all day,
Daughter, little daughter,
Where green grass grows and roses gay,
There in the sun forever.
Harriet Monroe
(1860 – 1936)
The Shadow-Child
fleursdumal.nl magazine
More in: Archive M-N, Monroe, Harriet
---
Older Entries »
« Newer Entries
Thank you for reading FLEURSDUMAL.NL - magazine for art & literature