Archive M-N
«« Previous page
·
HENRY NEWBOLT: IONICUS
·
SIR HENRY NEWBOLT: HE FELL AMONG THIEVES
·
VERZAMELDE GEDICHTEN ERIK MENKVELD (1959 – 2014)
·
LUCY MAUD MONTGOMERY: LOVE'S PRAYER
·
HENDRIK MARSMAN: STERFBED
·
HENDRIK MARSMAN: AAN DE DOOD
·
LUCY MAUD MONTGOMERY: YOU
·
DON MARQUIS: A POLITICIAN
·
GEDICHTEN ANDREW MARVELL VERTAALD DOOR CORNELIS W. SCHONEVELD
·
HENDRIK MARSMAN: DE BRUID
·
LUCY MAUD MONTGOMERY: AS THE HEART HOPES
·
CARINA VAN DER WALT & WILLY MARTIN: AMALGAAM, BUNDEL MET NEDERLANDSE EN AFRIKAANSE GEDICHTEN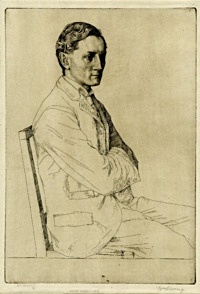 Sir Henry Newbolt
(1862-1938)
Ionicus
With failing feet and shoulders bowed
Beneath the weight of happier days,
He lagged among the heedless crowd,
Or crept along suburban ways.
But still through all his heart was young,
A courage, a pride, a rapture, sprung
Of the strength and splendour of England's war.
From ill-requited toil he turned
To ride with Picton and with Pack,
Among his grammars inly burned
To storm the Afghan mountain-track.
When midnight chimed, before Quebec
He watched with Wolfe till he morning star;
At noon he saw from Victory's deck
The sweep and splendour of England's war.
Beyond the book his teaching sped,
He left on whom he taught the trace
Of kinship with the deathless dead,
And faith in all the Island race.
He passed : his life a tangle seemed,
His age from fame and power was far;
But his heart was night to the end, and dreamed
Of the sound and splendour of England's war.
Sir Henry Newbolt poetry
fleursdumal.nl magazine
More in: Archive M-N, CLASSIC POETRY
---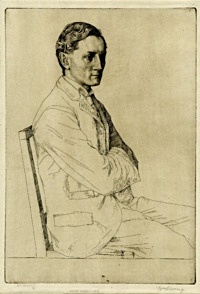 Sir Henry Newbolt
(1862-1938)
He Fell Among Thieves
Ye have robbd, said he, ye have slaughterd and made an end,
Take your ill-got plunder, and bury the dead:
What will ye more of your guest and sometime friend?
Blood for our blood, they said.
He laughd: If one may settle the score for five,
I am ready; but let the reckoning stand till day:
I have loved the sunlight as dearly as any alive.
You shall die at dawn, said they.
He flung his empty revolver down the slope,
He climbd alone to the Eastward edge of the trees;
All night long in a dream untroubled of hope
He brooded, clasping his knees.
He did not hear the monotonous roar that fills
The ravine where the Yassn river sullenly flows;
He did not see the starlight on the Laspur hills,
Or the far Afghan snows.
He saw the April noon on his books aglow,
The wistaria trailing in at the window wide;
He heard his fathers voice from the terrace below
Calling him down to ride.
He saw the gray little church across the park,
The mounds that hid the loved and honourd dead;
The Norman arch, the chancel softly dark,
The brasses black and red.
He saw the School Close, sunny and green,
The runner beside him, the stand by the parapet wall,
The distant tape, and the crowd roaring between,
His own name over all.
He saw the dark wainscot and timberd roof,
The long tables, and the faces merry and keen;
The College Eight and their trainer dining aloof,
The Dons on the dais serene.
He watchd the liners stem ploughing the foam,
He felt her trembling speed and the thrash of her screw.
He heard the passengers voices talking of home,
He saw the flag she flew.
And now it was dawn. He rose strong on his feet,
And strode to his ruind camp below the wood;
He drank the breath of the morning cool and sweet:
His murderers round him stood.
Light on the Laspur hills was broadening fast,
The blood-red snow-peaks chilld to a dazzling white;
He turnd, and saw the golden circle at last,
Cut by the Eastern height.
O glorious Life, Who dwellest in earth and sun,
I have lived, I praise and adore Thee.
A sword swept.
Over the pass the voices one by one
Faded, and the hill slept.
Sir Henry Newbolt poetry
fleursdumal.nl magazine
More in: Archive M-N, CLASSIC POETRY
---
Maar allemaal hebben we
blad gedragen, tegen
wilde luchten de wind
in ons tekeer voelen
gaan. En onder sommige
van ons is daar naar
geluisterd en diep
in gedachten gestaan.
Uit: Koor van ongehoorde waaibomen;
Erik Menkveld, ' Schapen nu!', 2001
In 2014 overleed Erik Menkveld, veel te jong. Bij Uitgeverij Van Oorschot publiceerde hij drie werken in de drie genres die hij zo goed beheerste: poëzie (Prime time), essays (Met de meeste hoogachting) en een roman (Het grote zwijgen).
Menkveld werkte aan een nieuwe dichtbundel. Verzamelde gedichten bevat behalve zijn drie gepubliceerde bundels, ook deze nieuwe bundel en de verspreide gedichten die eerder gepubliceerd werden in diverse tijdschriften.
Met de verschijning van Verzamelde gedichten wordt beantwoord aan de vraag van vele liefhebbers en bewonderaars van deze belangwekkende dichter, die het vaak klaarspeelt om in één en hetzelfde gedicht hilarisch, erudiet, gevoelig, streng intellectueel, laconiek, en altijd meeslepend, sprankelend en levendig te zijn.
'Menkvelds taalgebruik is begrijpelijk, maar af en toe zo ongewoon dat de gedichten na vele malen herlezen niet blijken te slijten.'
Martin Reints
Erik Menkveld
Verzamelde gedichten
Gebonden met stofomslag
Uitg. Van Oorschot
ISBN 9789028261051
€ 27,50
# meer info op website Uitg. Van Oorschot
fleursdumal.nl magazine
More in: - Book News, Archive M-N, Art & Literature News, Menkveld, Erik
---
Lucy Maud Montgomery
(1874 – 1942)
Love's Prayer
Beloved, this the heart I offer thee
Is purified from old idolatry,
From outworn hopes, and from the lingering stain
Of passion's dregs, by penitential pain.
Take thou it, then, and fill it up for me
With thine unstinted love, and it shall be
An earthy chalice that is made divine
By its red draught of sacramental wine.
Lucy Maud Montgomery poetry
fleursdumal.nl magazine
More in: Archive M-N, CLASSIC POETRY
---
Hendrik Marsman
(1899-1940)
Sterfbed
Ik zie de zon nog in het venster staan
maar reeds vervaagt de schemering de uren.
Ik weet dat het niet lang meer duren kan,
totdat ik met den dood alleen zal zijn.
Gij hebt mij lief; ik heb vergeefs getracht
u zo volledig lief te hebben als gij mij;
vergeef het mij: ik heb het slecht gedaan,
en bid voor mij en ga dan van mij heen;
hoe teer en machtig het ook is geweest,
het heeft voor mij nu alles afgedaan.
Schrei niet, ik zal u nazien totdat gij
de deur volkomen achter u zult hebben afgesloten
en mij alleen gelaten met den dood;
ik heb een leven lang in lafheden verdaan, en groot
zal het ook in het eind niet zijn,
maar ik wil in het enige gevecht
dat er op aan komt, trachten geen knecht te zijn.
Kom, ga nu heen, slechts dan heb ik de kracht
dit laatste te doorstaan zoals gijzelf
dit laatste tussen u en mij doorstaat:
zonder veel tranen,
woordenloos en recht.
Hendrik Marsman poetry
fleursdumal.nl magazine
More in: Archive M-N, Marsman, Hendrik
---
Hendrik Marsman
(1899-1940)
Aan de dood
Dood
neem mij mee.
ik heb hier afgedaan.
ik wil op de rotsen te pletter slaan
en versplintren in open zee…
neem mij mee,
dood.
(Uit: Porta Nigra (1934))
Hendrik Marsman poetry
fleursdumal.nl magazine
More in: Archive M-N, Marsman, Hendrik
---
Lucy Maud Montgomery
(1874 – 1942)
You
Only a long, low-lying lane
That follows to the misty sea,
Across a bare and russet plain
Where wild winds whistle vagrantly;
I know that many a fairer path
With lure of song and bloom may woo,
But oh ! I love this lonely strath
Because it is so full of you.
Here we have walked in elder years,
And here your truest memories wait,
This spot is sacred to your tears,
That to your laughter dedicate;
Here, by this turn, you gave to me
A gem of thought that glitters yet,
This tawny slope is graciously
By a remembered smile beset.
Here once you lingered on an hour
When stars were shining in the west,
To gather one pale, scented flower
And place it smiling on your breast;
And since that eve its fragrance blows
For me across the grasses sere,
Far sweeter than the latest rose,
That faded bloom of yesteryear.
For me the sky, the sea, the wold,
Have beckoning visions wild and fair,
The mystery of a tale untold,
The grace of an unuttered prayer.
Let others choose the fairer path
That winds the dimpling valley through,
I gladly seek this lonely strath
Companioned by my dreams of you.
Lucy Maud Montgomery poetry
fleursdumal.nl magazine
More in: Archive M-N, CLASSIC POETRY
---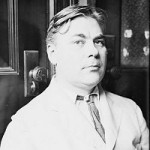 Don Marquis
(1878 – 1937)
A Politician
Leader no more, be judged of us!
Hailed Chief, and loved, of yore—
Youth, and the faith of youth, cry out:
Leader and Chief no more!
We dreamed a Prophet, flushed with faith,
Content to toil in pain
If that his sacrifice might be,
Somehow, his people's gain.
We saw a vision, and our blood
Beat red and hot and strong:
"Lead us (we cried) to war against
Some foul, embattled wrong!"
We dreamed a Warrior whose sword
Was edged for sham and shame;
We dreamed a Statesman far above
The vulgar lust for fame.
We were not cynics, and we dreamed
A Man who made no truce
With lies nor ancient privilege
Nor old, entrenched abuse.
We dreamed . . . we dreamed . . . Youth dreamed
a dream!
And even you forgot
Yourself, one moment, and dreamed, too—
Struck, while your mood was hot!
Struck three or four good blows . . . and then
Turned back to easier things:
The cheap applause, the blatant mob,
The praise of underlings!
Praise . . . praise . . . was ever man so filled,
So avid still, of praise?
So hungry for the crowd's acclaim,
The sycophantic phrase?
O you whom Greatness beckoned to . . .
O swollen Littleness
Who turned from Immortality
To fawn upon Success!
O blind with love of self, who led
Youth's vision to defeat,
Bawling and brawling for rewards,
Loud, in the common street!
O you who were so quick to judge—
Leader, and loved, of yore—
Hear now the judgment of our youth:
Leader and Chief no more!
Don Marquis poetry
fleursdumal.nl magazine
More in: Archive M-N, CLASSIC POETRY
---
Het werk van de Engelse dichter Andrew Marvell (1621-1678) staat tegenwoordig misschien wel meer in de belangstelling dan dat van zijn grote voorgangers Donne en Herbert. Marvells tijdgenoten kenden zijn werk nauwelijks; de eerste uitgave ervan verscheen pas drie jaar na zijn dood.
Vertaler Cornelis W. Schoneveld schrijft in zijn inleiding over Marvells intrigerende leven en werk, en hij poneert, na eigen onderzoek, de stelling dat de dichter tijdens zijn verblijf in Nederland van 1662 tot 1663 niet als spion werkte zoals men steeds aanneemt, maar Engels onderwees aan de 12-jarige prins Willem III, neefje van koning Karel II, en later stadhouder van de Republiek en koning van Engeland.
Behalve beroemde gedichten als The Garden en To His Coy Mistress zijn ook de meeste andere lyrische en verhalende gedichten opgenomen, evenals Marvells eerste politieke satire The Character of Holland (1653). Aan alle gaat een korte toelichting vooraf, met daarnaast een fraaie passende afbeelding. De vertalingen houden zich nauwkeurig aan de gevarieerde versvormen die Marvell met zoveel zorg toepaste.
Andrew Marvell: Gedichten. Gekozen, vertaald en toegelicht door Cornelis W. Schoneveld. Tweetalige uitgave. 165 pagina's; afmetingen: 15x200x125 mm, ISBN: 978 90 820255 8 3, prijs € 20,-

fleursdumal.nl magazine
More in: - Book News, Archive M-N, Art & Literature News, POETRY IN TRANSLATION: SCHONEVELD, TRANSLATION ARCHIVE
---
Hendrik Marsman
(1899-1940)
De bruid
Ik dacht dat ik geboren was voor verdriet —
en nu ben ik opeens een lied
aan 't worden, fluisterend door het ijle morgenriet
nu smelt ik weg, en voel mij openstromen
naar alle verten van de horizon,
en ik weet niet meer
waar mijn loop begon.
de schaduwen van blinkend witte wolken
bespelen mij en overzeilen mij;
en scholen zilvren vissen bevolken
mijne diepte en bliksemend voel ik ze mij
doorschieten en mijne wateren alom doorkruisen
en in mijn lissen vluchten
zij zijn mijn kinderen en mijn liefste dromen .. .
ik ben nu volgegoten met geluk.
de tranen die ik schreide en de zuchten
zie ik vervluchtigen tot regenbogen
die van mijn ogen springen naar de zon.
waar zijn de bergen van de horizon?
ik zie ze niet…
Hendrik Marsman poetry
fleursdumal.nl magazine
More in: Archive M-N, Marsman, Hendrik
---
Lucy Maud Montgomery
(1874 – 1942)
As the Heart Hopes
It is a year dear one, since you afar
Went out beyond my yearning mortal sight­
A wondrous year! perchance in many a star
You have sojourned, or basked within the light
Of mightier suns; it may be you have trod
The glittering pathways of the Pleiades,
And through the Milky Way's white mysteries
Have walked at will, fire-shod.
You may have gazed in the immortal eyes
Of prophets and of martyrs; talked with seers
Learned in all the lore of Paradise,
The infinite wisdom of eternal years;
To you the Sons of Morning may have sung,
The impassioned strophes of their matin hymn,
For you the choirs of the seraphim
Their harpings wild out-flung.
But still I think at eve you come to me
For old, delightsome speech of eye and lip,
Deeming our mutual converse thus to be
Fairer than archangelic comradeship;
Dearer our close communings fondly given
Than all the rainbow dreams a spirit knows,
Sweeter my gathered violets than the rose
Upon the hills of heaven.
Can any exquisite, unearthly morn,
Silverly breaking o'er a starry plain,
Give to your soul the poignant pleasure born
Of virgin moon and sunset's lustrous stain
When we together watch them ? Oh, apart
A hundred universes you may roam,
But still I know­I know­your only home
Is here within my heart!
Lucy Maud Montgomery poetry
fleursdumal.nl magazine
More in: Archive M-N, CLASSIC POETRY
---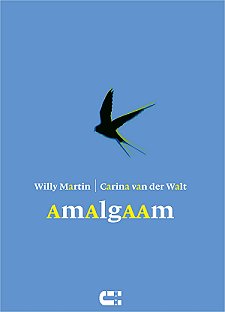 AMALGAAM een nieuwe Afrikaans/Nederlandse Dichtbundel
AMALGAAM is een duobundel met gedichten geschreven in het Nederlands (door Willy Martin) en in het Afrikaans (door Carina van der Walt).
AMALGAAM verschijnt in oktober bij Uitgeverij IJzer in Utrecht.
AMALGAAM bevat Afrikaans- en Nederlandstalige gedichten die niet per taal gescheiden, maar alfabetisch op titel gerangschikt staan.
Net zoals in ANNA (2011, Groot Woordenboek Afrikaans en Nederlands) zijn de gedichten uit de twee talen 'geamalgameerd', samen behandeld, als waren zij van één en dezelfde taal. Amalgamatie heeft voor de auteurs het voordeel dat zowel taalkundig als letterkundig grenzen kunnen worden afgetast en overschreden. De talen krijgen hun natuurlijke plaats in een vlechtwerk van verschuivende betekenissen. De nevenschikking van de talen zorgt ervoor dat latente krachten in beide talen helder in zicht komen. Niet alleen de verklarende kracht van woorden, maar ook de poëtische glans kan erdoor uitgelicht worden.
De Afrikaanstalige gedichten zijn van de hand van de Zuid-Afrikaanse dichteres en essayist Carina van der Walt, de Nederlandstalige van de Vlaming Willy Martin, emeritus hoogleraar aan de Vrije Universiteit te Amsterdam en hoofdredacteur van ANNA.
De officiële bundelpresentatie is op zondag 13 september 2015 om 11:00 uur Abdij Roosendael te Sint-Katelijne-Waver (bij Mechelen)
Gedichten en muzikale omlijsting zullen in het mooie kader van het abdijdomein aan het geheel een feestelijk karakter geven. Katelijne Boon (Vlaamse Radio en Televisieomroep, bekend van "De Ambassadeurs" op Klara) zal de auteurs interviewen en het programma coördineren.
Willy Martin & Carina van der Walt
Amalgaam
Prijs € 15,-
95 pag.
ISBN 978 90 8684 117 2
Verschijnt oktober 2015
Uitgeverij Ijzer, Utrecht
website: http://www.uitgeverij-ijzer.nl/
fleursdumal.nl magazine
More in: Archive M-N, Archive W-X, Art & Literature News, Carina van der Walt, TRANSLATION ARCHIVE, Walt, Carina van der, Willy Martin
---
Older Entries »
« Newer Entries
Thank you for reading FLEURSDUMAL.NL - magazine for art & literature