Archive M-N
«« Previous page
·
HERMAN MELVILLE: Gold
·
HERMAN MELVILLE: Pipe Song
·
In Memoriam: PETER NIJMEIJER (1947 – 2016)
·
OSIP MANDELSTAM: I DETEST THE LIGHT
·
HENRY NEWBOLT: IONICUS
·
SIR HENRY NEWBOLT: HE FELL AMONG THIEVES
·
VERZAMELDE GEDICHTEN ERIK MENKVELD (1959 – 2014)
·
LUCY MAUD MONTGOMERY: LOVE'S PRAYER
·
HENDRIK MARSMAN: STERFBED
·
HENDRIK MARSMAN: AAN DE DOOD
·
LUCY MAUD MONTGOMERY: YOU
·
DON MARQUIS: A POLITICIAN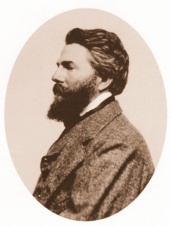 Herman Melville
(1819 – 1891)
Gold
We rovers bold,
To the land of Gold,
Over the bowling billows are gliding:
Eager to toil,
For the golden spoil,
And every hardship biding.
See! See!
Before our prows' resistless dashes
The gold-fish fly in golden flashes!
'Neath a sun of gold,
We rovers bold,
On the golden land are gaining;
And every night,
We steer aright,
By golden stars unwaning!
All fires burn a golden glare:
No locks so bright as golden hair!
All orange groves have golden gushings;
All mornings dawn with golden flushings!
In a shower of gold, say fables old,
A maiden was won by the god of gold!
In golden goblets wine is beaming:
On golden couches kings are dreaming!
The Golden Rule dries many tears!
The Golden Number rules the spheres!
Gold, gold it is, that sways the nations:
Gold! gold! the center of all rotations!
On golden axles worlds are turning:
With phosphorescence seas are burning!
All fire-flies flame with golden gleamings!
Gold-hunters' hearts with golden dreamings!
With golden arrows kings are slain:
With gold we'll buy a freeman's name!
In toilsome trades, for scanty earnings,
At home we've slaved, with stifled yearnings:
No light! no hope! Oh, heavy woe!
When nights fled fast, and days dragged slow.
But joyful now, with eager eye,
Fast to the Promised Land we fly:
Where in deep mines,
The treasure shines;
Or down in beds of golden streams,
The gold-flakes glance in golden gleams!
How we long to sift,
That yellow drift!
Rivers! Rivers! cease your goings!
Sand-bars! rise, and stay the tide!
'Till we've gained the golden flowing;
And in the golden haven ride!
Herman Melville poetry
fleursdumal.nl magazine
More in: Archive M-N, Herman Melville
---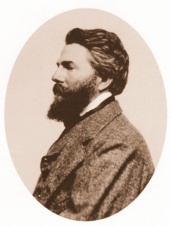 Herman Melville
(1819 – 1891)
Pipe Song
Care is all stuff:–
Puff! Puff!
To puff is enough:–
Puff! Puff
More musky than snuff,
And warm is a puff:–
Puff! Puff
Here we sit mid our puffs,
Like old lords in their ruffs,
Snug as bears in their muffs:–
Puff! Puff
Then puff, puff, puff,
For care is all stuff,
Puffed off in a puff–
Puff! Puff!
Herman Melville poetry
fleursdumal.nl magazine
More in: Archive M-N, Herman Melville
---
De dichter, vertaler en journalist Peter Nijmeijer (1947-2016), is op 9 september op 69-jarige leeftijd overleden.
De Volkskrant berichtte deze week dat Nijmeijer in 'volstrekte eenzaamheid' is gestorven en dat het bericht van zijn dood, zelfs zijn naaste familieleden pas een maand later heeft bereikt. Hij was in de jaren zeventig poëzierecensent van deze krant.
Peter Nijmeijer was een zeer gewaardeerd vertaler van dichters als Seamus Heaney, Ted Hughes en Wallace Stevens. Titels van zijn eigen dichtbundels zijn o.a. De sprong, De afstand tot, De lippen van Max Ernst, Francesco's Paradox en Barrage.
In Memoriam Peter Nijmeijer (1947-2016)
fleursdumal.nl magazine
More in: Archive M-N, Art & Literature News, In Memoriam
---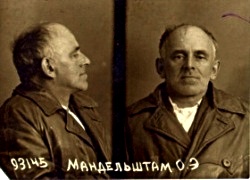 Osip Mandelstam
(1891-1938)
I detest the light…
I detest the light
Of tedious stars.
Hello, my old delirium,
The tower's crenellated pinnacle!
Stone, turn to lace
Become a spider's web,
With your thin needle, wound
The empty breast of the sky.
My own turn will come,
I feel the stretching of my wings.
But where will the arrow
Of living thought fly?
Perhaps having used up my path,
And my time, I will come back:
– There I could not love,
– Here I fear to love . . .
1912
Osip Mandelstam poetry
Transl. J.A. Woolf
fleursdumal.nl magazine

More in: Archive M-N, J.A. Woolf, Mandelstam, Osip, REPRESSION OF WRITERS, JOURNALISTS & ARTISTS, Woolf, J.A.
---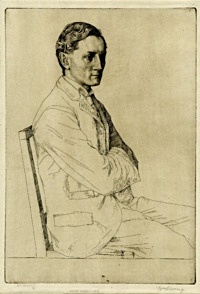 Sir Henry Newbolt
(1862-1938)
Ionicus
With failing feet and shoulders bowed
Beneath the weight of happier days,
He lagged among the heedless crowd,
Or crept along suburban ways.
But still through all his heart was young,
A courage, a pride, a rapture, sprung
Of the strength and splendour of England's war.
From ill-requited toil he turned
To ride with Picton and with Pack,
Among his grammars inly burned
To storm the Afghan mountain-track.
When midnight chimed, before Quebec
He watched with Wolfe till he morning star;
At noon he saw from Victory's deck
The sweep and splendour of England's war.
Beyond the book his teaching sped,
He left on whom he taught the trace
Of kinship with the deathless dead,
And faith in all the Island race.
He passed : his life a tangle seemed,
His age from fame and power was far;
But his heart was night to the end, and dreamed
Of the sound and splendour of England's war.
Sir Henry Newbolt poetry
fleursdumal.nl magazine
More in: Archive M-N, CLASSIC POETRY
---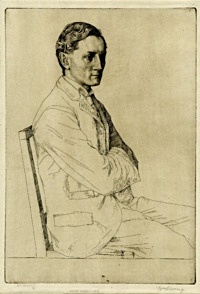 Sir Henry Newbolt
(1862-1938)
He Fell Among Thieves
Ye have robbd, said he, ye have slaughterd and made an end,
Take your ill-got plunder, and bury the dead:
What will ye more of your guest and sometime friend?
Blood for our blood, they said.
He laughd: If one may settle the score for five,
I am ready; but let the reckoning stand till day:
I have loved the sunlight as dearly as any alive.
You shall die at dawn, said they.
He flung his empty revolver down the slope,
He climbd alone to the Eastward edge of the trees;
All night long in a dream untroubled of hope
He brooded, clasping his knees.
He did not hear the monotonous roar that fills
The ravine where the Yassn river sullenly flows;
He did not see the starlight on the Laspur hills,
Or the far Afghan snows.
He saw the April noon on his books aglow,
The wistaria trailing in at the window wide;
He heard his fathers voice from the terrace below
Calling him down to ride.
He saw the gray little church across the park,
The mounds that hid the loved and honourd dead;
The Norman arch, the chancel softly dark,
The brasses black and red.
He saw the School Close, sunny and green,
The runner beside him, the stand by the parapet wall,
The distant tape, and the crowd roaring between,
His own name over all.
He saw the dark wainscot and timberd roof,
The long tables, and the faces merry and keen;
The College Eight and their trainer dining aloof,
The Dons on the dais serene.
He watchd the liners stem ploughing the foam,
He felt her trembling speed and the thrash of her screw.
He heard the passengers voices talking of home,
He saw the flag she flew.
And now it was dawn. He rose strong on his feet,
And strode to his ruind camp below the wood;
He drank the breath of the morning cool and sweet:
His murderers round him stood.
Light on the Laspur hills was broadening fast,
The blood-red snow-peaks chilld to a dazzling white;
He turnd, and saw the golden circle at last,
Cut by the Eastern height.
O glorious Life, Who dwellest in earth and sun,
I have lived, I praise and adore Thee.
A sword swept.
Over the pass the voices one by one
Faded, and the hill slept.
Sir Henry Newbolt poetry
fleursdumal.nl magazine
More in: Archive M-N, CLASSIC POETRY
---
Maar allemaal hebben we
blad gedragen, tegen
wilde luchten de wind
in ons tekeer voelen
gaan. En onder sommige
van ons is daar naar
geluisterd en diep
in gedachten gestaan.
Uit: Koor van ongehoorde waaibomen;
Erik Menkveld, ' Schapen nu!', 2001
In 2014 overleed Erik Menkveld, veel te jong. Bij Uitgeverij Van Oorschot publiceerde hij drie werken in de drie genres die hij zo goed beheerste: poëzie (Prime time), essays (Met de meeste hoogachting) en een roman (Het grote zwijgen).
Menkveld werkte aan een nieuwe dichtbundel. Verzamelde gedichten bevat behalve zijn drie gepubliceerde bundels, ook deze nieuwe bundel en de verspreide gedichten die eerder gepubliceerd werden in diverse tijdschriften.
Met de verschijning van Verzamelde gedichten wordt beantwoord aan de vraag van vele liefhebbers en bewonderaars van deze belangwekkende dichter, die het vaak klaarspeelt om in één en hetzelfde gedicht hilarisch, erudiet, gevoelig, streng intellectueel, laconiek, en altijd meeslepend, sprankelend en levendig te zijn.
'Menkvelds taalgebruik is begrijpelijk, maar af en toe zo ongewoon dat de gedichten na vele malen herlezen niet blijken te slijten.'
Martin Reints
Erik Menkveld
Verzamelde gedichten
Gebonden met stofomslag
Uitg. Van Oorschot
ISBN 9789028261051
€ 27,50
# meer info op website Uitg. Van Oorschot
fleursdumal.nl magazine
More in: - Book News, Archive M-N, Art & Literature News, Menkveld, Erik
---
Lucy Maud Montgomery
(1874 – 1942)
Love's Prayer
Beloved, this the heart I offer thee
Is purified from old idolatry,
From outworn hopes, and from the lingering stain
Of passion's dregs, by penitential pain.
Take thou it, then, and fill it up for me
With thine unstinted love, and it shall be
An earthy chalice that is made divine
By its red draught of sacramental wine.
Lucy Maud Montgomery poetry
fleursdumal.nl magazine
More in: Archive M-N, CLASSIC POETRY
---
Hendrik Marsman
(1899-1940)
Sterfbed
Ik zie de zon nog in het venster staan
maar reeds vervaagt de schemering de uren.
Ik weet dat het niet lang meer duren kan,
totdat ik met den dood alleen zal zijn.
Gij hebt mij lief; ik heb vergeefs getracht
u zo volledig lief te hebben als gij mij;
vergeef het mij: ik heb het slecht gedaan,
en bid voor mij en ga dan van mij heen;
hoe teer en machtig het ook is geweest,
het heeft voor mij nu alles afgedaan.
Schrei niet, ik zal u nazien totdat gij
de deur volkomen achter u zult hebben afgesloten
en mij alleen gelaten met den dood;
ik heb een leven lang in lafheden verdaan, en groot
zal het ook in het eind niet zijn,
maar ik wil in het enige gevecht
dat er op aan komt, trachten geen knecht te zijn.
Kom, ga nu heen, slechts dan heb ik de kracht
dit laatste te doorstaan zoals gijzelf
dit laatste tussen u en mij doorstaat:
zonder veel tranen,
woordenloos en recht.
Hendrik Marsman poetry
fleursdumal.nl magazine
More in: Archive M-N, Marsman, Hendrik
---
Hendrik Marsman
(1899-1940)
Aan de dood
Dood
neem mij mee.
ik heb hier afgedaan.
ik wil op de rotsen te pletter slaan
en versplintren in open zee…
neem mij mee,
dood.
(Uit: Porta Nigra (1934))
Hendrik Marsman poetry
fleursdumal.nl magazine
More in: Archive M-N, Marsman, Hendrik
---
Lucy Maud Montgomery
(1874 – 1942)
You
Only a long, low-lying lane
That follows to the misty sea,
Across a bare and russet plain
Where wild winds whistle vagrantly;
I know that many a fairer path
With lure of song and bloom may woo,
But oh ! I love this lonely strath
Because it is so full of you.
Here we have walked in elder years,
And here your truest memories wait,
This spot is sacred to your tears,
That to your laughter dedicate;
Here, by this turn, you gave to me
A gem of thought that glitters yet,
This tawny slope is graciously
By a remembered smile beset.
Here once you lingered on an hour
When stars were shining in the west,
To gather one pale, scented flower
And place it smiling on your breast;
And since that eve its fragrance blows
For me across the grasses sere,
Far sweeter than the latest rose,
That faded bloom of yesteryear.
For me the sky, the sea, the wold,
Have beckoning visions wild and fair,
The mystery of a tale untold,
The grace of an unuttered prayer.
Let others choose the fairer path
That winds the dimpling valley through,
I gladly seek this lonely strath
Companioned by my dreams of you.
Lucy Maud Montgomery poetry
fleursdumal.nl magazine
More in: Archive M-N, CLASSIC POETRY
---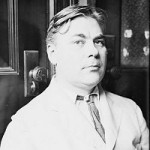 Don Marquis
(1878 – 1937)
A Politician
Leader no more, be judged of us!
Hailed Chief, and loved, of yore—
Youth, and the faith of youth, cry out:
Leader and Chief no more!
We dreamed a Prophet, flushed with faith,
Content to toil in pain
If that his sacrifice might be,
Somehow, his people's gain.
We saw a vision, and our blood
Beat red and hot and strong:
"Lead us (we cried) to war against
Some foul, embattled wrong!"
We dreamed a Warrior whose sword
Was edged for sham and shame;
We dreamed a Statesman far above
The vulgar lust for fame.
We were not cynics, and we dreamed
A Man who made no truce
With lies nor ancient privilege
Nor old, entrenched abuse.
We dreamed . . . we dreamed . . . Youth dreamed
a dream!
And even you forgot
Yourself, one moment, and dreamed, too—
Struck, while your mood was hot!
Struck three or four good blows . . . and then
Turned back to easier things:
The cheap applause, the blatant mob,
The praise of underlings!
Praise . . . praise . . . was ever man so filled,
So avid still, of praise?
So hungry for the crowd's acclaim,
The sycophantic phrase?
O you whom Greatness beckoned to . . .
O swollen Littleness
Who turned from Immortality
To fawn upon Success!
O blind with love of self, who led
Youth's vision to defeat,
Bawling and brawling for rewards,
Loud, in the common street!
O you who were so quick to judge—
Leader, and loved, of yore—
Hear now the judgment of our youth:
Leader and Chief no more!
Don Marquis poetry
fleursdumal.nl magazine
More in: Archive M-N, CLASSIC POETRY
---
Older Entries »
« Newer Entries
Thank you for reading FLEURSDUMAL.NL - magazine for art & literature