Cees Nooteboom: Zo worden jaren tijd. Gedichten 2022-1955
Voor Cees Nooteboom, auteur van een imposant internationaal oeuvre, komen zijn gedichten op de eerste plaats.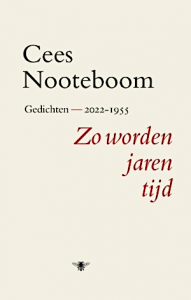 Zijn poëzie gaat over waarnemen en zien, en al bijna zeventig jaar is het voor hem een vorm van ascese, van mediteren; een manier van denken. In zijn gedichten stelt hij zich vragen over het wezen van de tijd, de zielsverhuizingen van een mens tijdens zijn leven of de ontvankelijkheid voor poëzie bij hemzelf of collega-dichters.
Lang heeft Cees Nooteboom gewacht om al zijn gedichten in één band bijeen te brengen. Aan de vooravond van zijn negentigste verjaardag zal deze grootse literaire gebeurtenis eindelijk plaatsvinden.
Cees Nooteboom (31 juli 1933) wordt beschouwd als een van de belangrijkste Nederlandse schrijvers. In zijn jeugd trok hij na een opleiding in kloosterscholen liftend door Europa, een gebeurtenis die hij gebruikte voor zijn debuutroman Philip en de anderen (1955).
Een jaar later verscheen zijn poëziedebuut De doden zoeken een huis. In 1956 begon hij ook aan een ander deel van zijn carrière, de reisjournalistiek. Hij schreef reportages en reisverhalen voor onder andere Het Parool, Elsevier, en de Volkskrant. Vanaf 1968 vond hij zijn eigen plek bij het glossy tijdschrift Avenue.
In 1963 werden zijn reisverhalen gebundeld onder de titel Een middag in Bruay, gevolgd door Een nacht in Tunesië (1965) en Een avond in Isfahan (1978). Met Rituelen (1980, F. Bordewijkprijs en de Amerikaanse Pegasusprijs voor de beste niet-Amerikaanse roman) brak Nooteboom door bij het grote publiek.
In 1992 ontving Nooteboom de Constantijn Huygensprijs voor zijn volledige oeuvre. In 2003 kreeg hij de Oostenrijkse Staatsprijs voor Europese Literatuur, en in 2004 werd hem de P.C. Hooftprijs toegekend. In het najaar van 2009 ontving hij uit handen van koning Albert de prestigieuze Prijs der Nederlandse Letteren, die een keer per drie jaar door de Nederlandse Taalunie wordt toegekend.
Naast romans, poëzie en reisverhalen schreef hij ook enkele toneelstukken. Zijn boeken worden in meer dan dertig talen vertaald. In 2023 verschijnen zijn verzamelde gedichten onder de titel 'Zo worden jaren tijd'.
Zo worden jaren tijd
Gedichten 2022-1955
Auteur: Cees Nooteboom
Uitgever: De Bezige Bij
Taal: Nederlands
Gebonden
26 januari 2023
Aantal pagina's: 656
ISBN: 9789403161716
NUR: 306
Prijs: 49,99
• fleursdumal.nl magazine
More in: - Book News, - Bookstores, Archive M-N, Archive M-N, Cees Nooteboom