Archive K-L
«« Previous page
·
Voyage of the Sable Venus and Other Poems by Robin Coste Lewis
·
'Riskante relaties', nieuwe vertaling van Martin de Haan van Les Liaisons dangereuses van Pierre Ambroise Choderlos de Laclos
·
Selected Poems of Malcolm Lowry
·
Ein fantastischer Blick auf die Welt: Der aspekte-Literaturpreis 2017 geht an Juliana Kálnay
·
David Lagercrantz: The Girl Who Takes an Eye for an Eye
·
Daniel Kane: "Do You Have a Band?". Poetry and Punk Rock in New York City
·
Jhumpa Lahiri: In Other Words
·
Camille Laurens: La petite danseuse de quatorze ans
·
David Keenan: This Is Memorial Device
·
Sleeping Beauties. A Novel by Stephen King and Owen King
·
Laurie LANGENBACH: Brieven, dagboeken en een geheime liefde
·
Niels LANDSTRA: De Voedselbank (slot)
Now in paperback, this National Book Award-winning debut poetry collection is a meditation on the black female figure through time.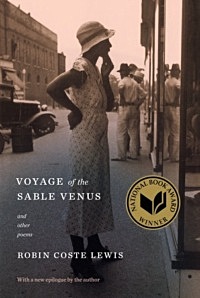 Robin Coste Lewis's electrifying collection is a triptych that begins and ends with lyric poems meditating on the roles desire and race play in the construction of the self.
In the center of the collection is the title poem, "Voyage of the Sable Venus," an amazing narrative made up entirely of titles of artworks from ancient times to the present–titles that feature or in some way comment on the black female figure in Western art.
Bracketed by Lewis's own autobiographical poems, "Voyage" is a tender and shocking meditation on the fragmentary mysteries of stereotype, juxtaposing our names for things with what we actually see and know. A new understanding of biography and the self, this collection questions just where, historically, do ideas about the black female figure truly begin–five hundred years ago, five thousand, or even longer? And what role did art play in this ancient, often heinous story?
Here we meet a poet who adores her culture and the beauty to be found within it. Yet she is also a cultural critic alert to the nuances of race and desire–how they define us all, including her own sometimes painful history.
Lewis's book is a thrilling aesthetic anthem to the complexity of race–a full embrace of its pleasure and horror, in equal parts.
Robin Coste Lewis, the winner of the National Book Award for Voyage of the Sable Venus, is the poet laureate of Los Angeles. She is writer-in-residence at the University of Southern California, as well as a Cave Canem fellow and a fellow of the Los Angeles Institute for the Humanities. She received her BA from Hampshire College, her MFA in poetry from New York University, an MTS in Sanskrit and comparative religious literature from the Divinity School at Harvard University, and a PhD in poetry and visual studies from the University of Southern California. Lewis was born in Compton, California; her family is from New Orleans.
Voyage of the Sable Venus
and Other Poems
By Robin Coste Lewis
Paperback
$19.95
Published by Knopf
Nov. 2017
176 Page
ISBN 9781101911204
new books
fleursdumal.nl magazine
More in: - Book News, - Book Stories, Archive K-L, Archive K-L, Art & Literature News
---
'Wie zou er niet huiveren bij de gedachte aan alle ellende die één riskante relatie kan veroorzaken?'
Vicomte de Valmont, een geduchte libertijn, heeft net het plan opgevat om de kuise, vrome présidente de Tourvel te verleiden. Maar dan stelt marquise de Merteuil, zijn bondgenote in het kwaad, hem een ander doelwit voor: de piepjonge Cécile Volanges, met wier aanstaande echtgenoot beiden een appeltje te schillen hebben. Dat loopt niet goed af.
Pierre Ambroise Choderlos de Laclos
Choderlos de Laclos was een geboren avonturier. Hij koos voor een militaire loopbaan, maar die bracht hem slechts een saai garnizoensleven. In zijn vrije tijd schreef hij, onder meer poëzie en libretto's. Het succes kwam in 1782, met de verschijning van Les liaisons dangereuses.
Auteur: Pierre Ambroise Choderlos de Laclos
Les Liaisons dangereuses
Riskante relaties
Vertaler: Martin de Haan
Uitgeverij: De Arbeiderspers
Hardcover
Nederlands
470 pagina's
ISBN-13 9789029588874
ISBN-10 902958887X
Prijs: € 34,99
Publicatiedatum: 28-11-2017
fleursdumal.nl magazine
More in: - Book Lovers, - Book Stories, Archive K-L, Art & Literature News, Erotic literature, TRANSLATION ARCHIVE
---
First published by City Lights in 1962 and long out of print, Selected Poems of Malcolm Lowry is the only comprehensive selection of his poetry to be published in the U.S., and it remains the perfect introduction to his extensive poetic canon.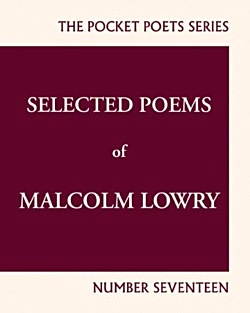 Edited by Lowry's good friend, renowned Canadian poet Earle Birney, with the assistance of his widow, Margerie Lowry, the selection includes extraordinary poems written during Lowry's stay in Mexico, many of which are closely related to his landmark novel.
"These poems would be worth keeping in print, if for no other reason, for their illuminations of Under the Volcano: 'See mind's petal / torn from a good tree, but where shall it settle / But in the last darkness and at the end?' Sometimes, as the images of "For Under the Volcano," they become 'palm-of-the-hand' versions of that masterpiece. Lowry is a poet of struggle—with life, and with the creative process. Here are his struggle's fruits: guilt, alcoholism, hopeless, self-deriding quest for salvation, which seems to be love, and, above all, self-destruction—but always accomplished with self-knowledge, enriched (in order to further torment itself) with compassion for all the beings that the poet, and us with him, are failing. His words are always sad and often beautiful." –– William T. Vollmann
Malcolm Lowry (1909–1957) was a British novelist and poet whose masterpiece Under the Volcano is widely hailed as one of the greatest novels of the twentieth century. Born near Liverpool, England, Lowry grew up in a prominent, wealthy family and chafed under the expectations placed upon him by parents and boarding school. He wrote passionately on the themes of exile and despair, and his own wanderlust and erratic lifestyle made him an icon to later generations of writers.
Title Selected Poems of Malcolm Lowry
Subtitle Pocket Poets Series Number 17
Author Malcolm Lowry
Preface by Lawrence Ferlinghetti
Introduction by Earle A. Birney
Edited by Earle A. Birney
Collection City Lights Pocket Poets
Publisher City Lights Publishers
Paperback – $13.95
118 pages
ISBN-10 0872867293
ISBN-13 9780872867291
Publication in March 2017
fleursduma.nl magazine
More in: - Book News, - Bookstores, Archive K-L, Archive K-L, Art & Literature News, Malcolm Lowry
---
"Wie viel Leben steckt in vier Wänden? Welche Erinnerungen haften an Böden, Fenstern und Türen?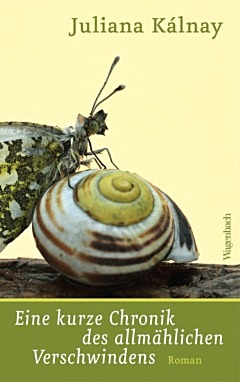 Wer in einer Wohnung lebt, lebt immer auch in einem Erinnerungsort, in einem Geschichtsraum. Und wenn schon eine Wohnung so viel Geschichten bietet, was hat dann erst ein ganzes Haus zu sagen? In ihrem Debütroman "Eine kurze Chronik des allmählichen Verschwindens" ringt Juliana Kálnay um einen anderen, einen fantastischen Blick auf die Welt. Ein Mann wird zu einem Baum, eine alte Frau spürt wie sich die Räume bei Kälte zusammenziehen, ein ganzes Haus lebt unter dem Gesetz des Unwirklichen. In feinen, leicht verschwommenen Vignetten erzählt Kálnay auf den Spuren des magischen Realismus vom Wundern und Träumen dieser Hausbewohner. Es ist ein Buch, in dem man sich herrlich verlieren kann. Und das große Lust macht auf die Welt des Surrealen."
So begründet die Jury – Jana Hensel (Autorin), Ursula März (Die Zeit), Daniel Fiedler (Redaktionsleiter ZDF Kultur Berlin) Simon Strauß (FAZ) und Volker Weidermann (Das Literarische Quartett, Der Spiegel – ihre Entscheidung.
Juliana Kálnay erzählt mit Aberwitz und aus vielen Perspektiven, es ist ein Stimmengewirr, ein Puzzle, das sich nach und nach zu einem dichten Bild fügt. Die Charaktere – Bewohner eines rätselhaften Hauses – versuchen, sich einen Reim auf die Dinge des Lebens zu machen, sich selbst und die anderen zu verstehen, tappen aber oft im Dunklen. Kálnays magischer Realismus hält die Handlung in der Schwebe, ohne ins Phantastische abzuheben, das Haus verbindet alle Elemente im Roman.
Der aspekte-Literaturpreis wird in diesem Jahr zum 39. Mal vergeben. Er ist mit 10.000 Euro dotiert und die bedeutendste Auszeichnung für deutschsprachige Erstlingsprosa. Die Preisverleihung findet am Donnerstag, 12. Oktober 2017, 11:30 Uhr im Rahmen der Frankfurter Buchmesse auf dem Blauen Sofa am ZDF-Stand statt.
Juliana Kálnay, geboren 1988 in Hamburg, wuchs zunächst in Köln und dann in Málaga auf. Sie veröffentlichte in deutsch- und spanischsprachigen Anthologien und Zeitschriften und erhielt das Arbeitsstipendium Literatur der Kulturstiftung des Landes Schleswig-Holstein 2016. Sie lebt und schreibt in Kiel. »Eine kurze Chronik des allmählichen Verschwindens« ist ihr erster Roman.
Juliana Kálnay
Eine kurze Chronik des allmählichen Verschwindens
Quartbuch. 2017
192 Seiten. 13 x 21 cm.
Gebunden mit Schutzumschlag
Buch €20,–
ISBN 978-3-8031-3284-0
Klaus Wagenbach Verlag
(www.wagenbach.de)
Ein fantastischer Blick auf die Welt
Der aspekte-Literaturpreis 2017 geht an Juliana Kálnay
fleursdumal.nl magazine
More in: - Book News, - Book Stories, Archive K-L, Art & Literature News, CINEMA, RADIO & TV, Literary Events, Nachrichten aus Berlin, The Art of Reading
---
From the author of the #1 international best seller The Girl in the Spider's Web: the new book in the Millennium series, which began with Stieg Larsson's The Girl with the Dragon Tattoo
Lisbeth Salander, the girl with the dragon tattoo, the brilliant hacker, the obstinate outsider, the volatile seeker of justice for herself and others—even she has never been able to uncover the most telling facts of her traumatic childhood, the secrets that might finally, fully explain her to herself. Now, when she sees a chance to uncover them once and for all, she enlists the help of Mikael Blomkvist, the editor of the muckraking, investigative journal Millennium. And she will let nothing stop her—not the Islamists she enrages by rescuing a young woman from their brutality; not the prison gang leader who passes a death sentence on her; not the deadly reach of her long-lost twin sister, Camilla; and not the people who will do anything to keep buried knowledge of a sinister pseudoscientific experiment known only as The Registry. Once again, Lisbeth Salander and Mikael Blomkvist, together, are the fierce heart of a thrilling full-tilt novel that takes on some of the most insidious problems facing the world at this very moment.
David Lagercrantz was born in 1962 and is an acclaimed author and journalist. He has written numerous biographies (including the internationally best-selling I Am Zlatan Ibrahimović, for which he was the ghostwriter) and four novels, including Fall of Man in Wilmslow, and the #1 best-selling The Girl in the Spider's Web.
"Lagercrantz's excellent second contribution to Stieg Larsson's Millennium series [is a] complicated, fascinating mystery." Publisher's Weekly
The Girl Who Takes an Eye for an Eye
A Lisbeth Salander novel,
continuing Stieg Larsson's Millennium Series
By David Lagercrantz
Suspense & Thriller – Crime Mysteries
Paperback
Sep 12, 2017
512 Pages
Hardcover
Sep 12, 2017
368 Pages
new books
fleursdumal.nl magazine
More in: - Book News, - Book Stories, Archive K-L, Art & Literature News, Tales of Mystery & Imagination
---
During the late 1960s, throughout the 1970s, and into the 1980s, New York City poets and musicians played together, published each other, and inspired one another to create groundbreaking art.

In "Do You Have a Band?", Daniel Kane reads deeply across poetry and punk music to capture this compelling exchange and its challenge to the status of the visionary artist, the cultural capital of poetry, and the lines dividing sung lyric from page-bound poem.
Kane reveals how the new sounds of proto-punk and punk music found their way into the poetry of the 1960s and 1970s downtown scene, enabling writers to develop fresh ideas for their own poetics and performance styles. Likewise, groups like The Fugs and the Velvet Underground drew on writers as varied as William Blake and Delmore Schwartz for their lyrics. Drawing on a range of archival materials and oral interviews, Kane also shows how and why punk musicians drew on and resisted French Symbolist writing, the vatic resonance of the Beat chant, and, most surprisingly and complexly, the New York Schools of poetry. In bringing together the music and writing of Richard Hell, Patti Smith, and Jim Carroll with readings of poetry by Anne Waldman, Eileen Myles, Ted Berrigan, John Giorno, and Dennis Cooper, Kane provides a fascinating history of this crucial period in postwar American culture and the cultural life of New York City.
Daniel Kane is reader in English and American literature at the University of Sussex in Brighton. His books include We Saw the Light: Conversations Between the New American Cinema and Poetry (2009) and All Poets Welcome: The Lower East Side Poetry Scene in the 1960s (2003).
Title Do You Have a Band?
Subtitle Poetry and Punk Rock in New York City
Author Daniel Kane
Publisher Columbia University Press
Title First Published 25 July 2017
Format Paperback
ISBN-10 0231162979
ISBN-13 9780231162975
Publication Date 25 July 2017
Main content page count 296
Weight 16 oz.
Paperback – $30.00
296 Pages
Daniel Kane: Do You Have a Band?": Poetry and Punk Rock in New York City
from Columbia University Press
new books
fleursdumal.nl magazine
More in: # Music Archive, - Book News, Archive K-L, Art & Literature News, FDM in New York, Patti Smith, STREET POETRY, Urban Art
---
In Other Words is a revelation. It is at heart a love story of a long and sometimes difficult courtship, and a passion that verges on obsession: that of a writer for another language.
For Jhumpa Lahiri, that love was for Italian, which first captivated and capsized her during a trip to Florence after college. Although Lahiri studied Italian for many years afterwards, true mastery had always eluded her.
Seeking full immersion, she decided to move to Rome with her family, for 'a trial by fire, a sort of baptism' into a new language and world. There, she began to read and to write – initially in her journal – solely in Italian. In Other Words, an autobiographical work written in Italian, investigates the process of learning to express oneself in another language, and describes the journey of a writer seeking a new voice.
Presented in a dual-language format, this is a wholly original book about exile, linguistic and otherwise, written with an intensity and clarity not seen since Vladimir Nabokov: a startling act of self-reflection and a provocative exploration of belonging and reinvention.
"A writer of formidable powers and great depth of feeling" – Observer
Jhumpa Lahiri was born in London and raised in Rhode Island. Her debut collection of stories, Interpreter of Maladies, was awarded the Pulitzer Prize, the PEN/Hemingway Award,The New Yorker Debut of the Year, and an Addison M. Metcalf Award from the American Academy of Arts and Letters. It was an international bestseller, translated into more than thirty languages. Her first novel, The Namesake, was a New York Times Notable Book, a Los Angeles TimesBook Prize finalist, and selected as one of the best books of the year by USA Today and Entertainment Weekly, among other publications. Her second collection, Unaccustomed Earth, was a New York Times Book Review,Washington Post, Los Angeles Times, Time, and People Magazine Best Book of the Year, a finalist for the Story Prize, and winner of the Frank O'Connor International Short Story Award. Her most recent book is her second novel,The Lowland (published September 2013).
A recipient of Guggenheim and National Endowment for the Arts Fellowships, she was inducted into the American Academy of Arts and Letters in 2012. She lives in Brooklyn, New York, with her husband and two children.
Jhumpa Lahiri writes: Essays & Journalism, Biography & Memoir, General Fiction, Short Stories
She is author of : In Other Words, The Clothing of Books, The Lowland, Only Goodness, Unaccustomed Earth
In Other Words
By Jhumpa Lahiri
Translator: Ann Goldstein
Publ.: 09-02-2017
Paperback
Edition: 1st
256 pag.
ISBN: 9781408866139
Imprint: Bloomsbury Paperbacks
Dim.: 198 x 129 mm
new books
fleursdumal.nl magazine
More in: - Book News, - Book Stories, Archive K-L, Art & Literature News
---
Who was the model for Edouard Degas's world renowned sculpture of a ballet dancer? Camille Laurens embarks on a meticulous and sensitive enquiry.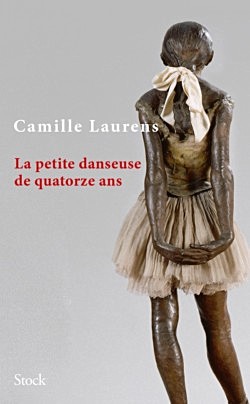 Degas's "Little Ballerina" has always been a presence for Camille Laurens. Here the novelist tells the story of the sculpture which has been exhibited in Paris, London, New York, Washington, Chicago, Copenhage, Dresden… but few know the identity of the model.
She looks into the childhood of Marie Van Goethem, born to Belgian parents, with an older sister who ended up as a courtesan, a younger sister who became a ballet teacher and a mother who died on the very premises of the Paris Opera. Dancing and prostitution. Revolution and the art world. Quite unintentionally, Marie would become one of the most discussed models, and was described as a "monkey" at the 1881 Salon des Indépendants exhibition.
How did Degas dare to make something beautiful of such an ugly child? And what mysterious connection was there between Degas and his subject, given that he kept the wax sculpture in his studio his whole life and never exhibited it? This enquiry ultimately leads Camille Laurens to a more personal quest.
Novelist, essayist and academic Camille Laurens has published some twenty books. In 2000, Dans ces bras-là won the Prix Fémina and the Prix Renaudot des Lycéens, and was translated into thirty languages. Her latest novel Who You Think I Am (Gallimard, 2016 / Other Press 2017) sold 50,000 copies in France.
La petite danseuse de quatorze ans
Camille Laurens
(Degas's little ballerina by Camille Laurens)
Collection: La Bleue
Éditions Stock Paris
Parution: 01/09/2017
176 pages
Format:140 x 216 mm
EAN: 9782234069282
Prix:  €17.50
fleursdumal.nl magazine
More in: - Book News, - Book Stories, Archive K-L, Art & Literature News, DANCE, FDM in Paris, Histoire de France, Sculpture
---
This Is Memorial Device, the debut novel by David Keenan, is a love letter to the small towns of Lanarkshire in the west of Scotland in the late 1970s and early 80s as they were temporarily transformed by the endless possibilities that came out of the freefall from punk rock.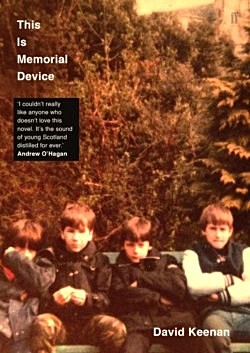 It follows a cast of misfits, drop-outs, small town visionaries and would-be artists and musicians through a period of time where anything seemed possible, a moment where art and the demands it made were as serious as your life. At its core is the story of Memorial Device, a mythic post-punk group that could have gone all the way were it not for the visionary excess and uncompromising bloody-minded belief that served to confirm them as underground legends.
Written in a series of hallucinatory first-person eye-witness accounts that capture the prosaic madness of the time and place, heady with the magic of youth recalled, This Is Memorial Device combines the formal experimentation of David Foster Wallace at his peak circa Brief Interviews With Hideous Men with moments of delirious psychedelic modernism, laugh out loud bathos, and tender poignancy.
'Beautifully believable and appallingly sad . . . One of the most acute, affecting and aphoristic novels of recent years . . . A hallucinatory and haunting vision.' Guardian
David Keenan is the author of England's Hidden Reverse: A Secret History of the Esoteric Underworld and a senior critic on The Wire.
David Keenan:
This Is Memorial Device
ISBN 9780571330836
Format Paperback
Published 02/02/2017
Length 304 pages, £14.99
Publisher: Faber & Faber
fleursdumal.nl magazine
More in: - Book News, - Book Stories, Archive K-L, Art & Literature News
---
In this spectacular father/son collaboration, Stephen King and Owen King tell the highest of high-stakes stories: what might happen if women disappeared from the world of men?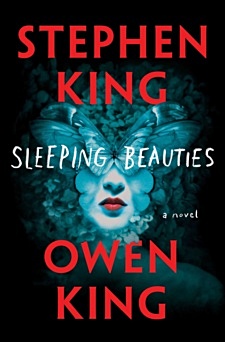 In a future so real and near it might be now, something happens when women go to sleep; they become shrouded in a cocoon-like gauze. If they are awakened, if the gauze wrapping their bodies is disturbed or violated, the women become feral and spectacularly violent; and while they sleep they go to another place… The men of our world are abandoned, left to their increasingly primal devices. One woman, however, the mysterious Evie, is immune to the blessing or curse of the sleeping disease. Is Evie a medical anomaly to be studied? Or is she a demon who must be slain? Set in a small Appalachian town whose primary employer is a women's prison, Sleeping Beauties is a wildly provocative, gloriously absorbing father/son collaboration between Stephen King and Owen King.
Sleeping Beauties
A Novel
by Stephen King and Owen King
hardcover
Scribner publisher
720 pages
ISBN 9781501163401
September 2017
List Price $32.50
fleursdumal.nl magazine
More in: - Book News, Archive K-L, Art & Literature News, CRIME & PUNISHMENT, Stephen King, Tales of Mystery & Imagination
---
Laurie Langenbach (1947-1984) was een veelzijdige persoonlijkheid: ze schreef over popmuziek en mode in bladen als Hitweek en Aloha, richtte de feministische beweging 'Woman Power' op en had relaties met Armand, de Griekse zanger Vangelis en de Amsterdamse 'outsider' Wally Tax.
In 1977 debuteerde ze als schrijfster met Geheime liefde, waarin ze haar obsessie voor een onbekende 'hij' verwoordde. Die 'hij' bleek schaker Jan Timman te zijn.
Met haar persoonlijke bekentenisliteratuur – nieuw in de jaren zeventig, de recensenten waren niet mild – had Laurie Langenbach een eigen stem. Door haar vroege dood heeft ze nooit kunnen aantonen of ze daadwerkelijk de Nederlandse Virginia Woolf kon worden, zoals Heere Heeresma haar ooit voorspelde.
Rutger Vahl stelde uit Lauries nalatenschap deze verzameling niet eerder gepubliceerde dagboeknotities en brieven samen, aangevuld met haar roman Geheime liefde.
Auteur: Laurie Langenbach
Brieven, dagboeken en een geheime liefde
Uitgeverij: De Arbeiderspers, Amsterdam
NUR: 321
Paperback, 2017
ISBN: 9789029511827
Prijs: € 27,99
fleursdumal.nl magazine
More in: - Book News, Archive K-L, Art & Literature News, Laurie Langenbach
---
De Voedselbank (3)
'Loop maar met me mee,' gebaarde de Engelse en ze stond op om een bos sleutels te halen uit een aangrenzende ruimte die sterk naar wierook en salie geurde. Maureen vertelde dat hier healings plaats vonden. Het hele interieur had ze drie jaar geleden vervangen om een ontspannen sfeer te scheppen, legde ze uit, knabbelend aan een koekje. Om die reden had ze voor vrolijke kleuren gekozen, zoals de IKEA bankstellen met de fleurige kussens en de bonte kleden op de vloer. Op het laatst had ze Piet, een dakloze, de muren laten beschilderen met de gezichten van karikaturale Indianen die tot aan het plafond reikten.
Ze glimlachte bedroefd.
Piet was zo vriendelijk geweest om zichzelf na afloop te belonen met een peperdure gasbarbecue die hij van het terrein af wilde slepen, verklapte Maureen. Helaas voor hem, werd hij in de kraag gegrepen door een van de loonwerkers die ze in dienst had.
Bij de grote bouwvallige schuur op het erf schoof ze een deur open. Met een druk op de knop floepte een tl hoog in het dak aan. De schuur was van eind 19e eeuw, verklaarde Maureen. Het rook er naar dieren en stro. Een ezel balkte, konijnen ritselden in een kooi. Verderop was een camper geparkeerd, een jongere versie van de mijne. Hij was van haar dochter, Jenny. Het was na de echtscheiding lang slecht tussen haar en de kinderen gegaan. En hoewel haar ex-man er meerdere buitenechtelijke relaties op na hield, kreeg Maureen de schuld van het op de klippen gelopen huwelijk. Maar de laatste tijd haalde Jenny haar moeder vaak op om te toeren en herstelde ook het contact met haar andere kinderen gestaag.
Maureen informeerde nogmaals hoe lang ik van plan was te blijven en excuseerde zich voor haar slechte geheugen. Al vier jaar lang had ze een tumor in haar hoofd en hoewel die chemo vereiste, weigerde ze een behandeling. Volgens de prognose had ze morsdood moeten zijn, maar het gezwel leek stil te staan. Ze probeerde er onverschillig onder te blijven, maar door het grijs van haar ogen zweemde oude treurnis. Met een hoofdknik zei ze iets van: 'Nou je camper in', en draaide zich om. Achter het keukenraam nam ze plaats, bij het romige schijnsel van een walmende kaars, haar haar zilvergrijs in het bevende licht, haar profiel versteend.
In de camper bedekte ik de ruiten met raamfolie en sloot de blinden. De vorst naderde en stuwde zijn kou naar binnen door alle kieren van mijn tochtige verblijf. Omdat mijn gas op was kon ik de verwarming niet aanzetten, ik moest het doen met een elektrisch tweepitfornuis dat ik ooit kreeg van een Duitser op een camping. De hitte steeg verticaal op van de roodgloeiende spiralen en ofschoon ik bezeten wapperde met een handdoek om de warmte te verspreiden, won de vorst het, die een kille muur opbouwde in het compartiment.
Ik dacht aan Sylvia. Het was augustus. We stonden met de camper op de zonovergoten boulevard van Vlissingen. Met veel vertoon paste Sylvia een paar zomerse jurkjes in de badkamer en speelde ze onzeker te zijn welke te kiezen, want ze wist dat zij de sculptuur was, haar kleding de huid van zand die om haar welvingen golfde. In een rood kanten slipje ging ze zitten op de bank en klapte een spiegeltje uit op tafel om zich op te maken. Op een plankje boven haar hadden mijn dochters schmink en een set kleurpotloden achtergelaten. Het hout bespoten met glitterverf. Speelse glittertjes daalden er nu op Sylvia neer. Van die kleine zilveren speldenpuntjes die het zonlicht op haar zwarte lokken lieten glinsteren en een mysterieuze fonkeling als van maanstof legden op haar huid. Het deed me denken aan de midweek in Parijs, die ik er doorbracht voor het schrijven van een krantenartikel over een tentoonstelling in het Louvre. Op een plein werd ik gelokt door het klateren van een zomerse fontein. Parisiennes in luchtige kledij verfristen zich met het water uit het bassin dat ze in een prismatische nevel over hun hals en armen streken. Waar tussen de gleuf van haar borsten vochtpareltjes glommen, die ik jaren later van Sylvia's huid kussen mocht.
Ik trok de stekker uit het fornuis. Er was maar een manier om het nog een beetje warm te krijgen: wandelen.
Handschoenen aan, sjaal om, muts op mijn hoofd. De polder in. De akkers waren omgeploegd, de bomen naakt. Het was een grauw landschap. Ik herinnerde mij dat ik hier 's nachts een keer liep toen het had gesneeuwd en er mist hing over de velden. Door de sneeuw was het of de nacht als een stolp op die witte gloed stond en er tegelijkertijd deel van uitmaakte. Hemel en aarde met elkaar versmolten.
In de stilte knerpten alleen mijn schoenen op het pad. In dit niemandsland voelde ik me een met twee werelden. Zou de dood zo zijn? vroeg ik me af. Opgaan in het luchtledige, ergens blijven zweven tussen het licht en het donker.
Ik naderde de woonwijk waar de echtelijke woning stond.
Dit was het punt waarop ik mij om moest draaien en terugkeren naar Maureens hoeve en mijn camper, maar een onzichtbare hand dwong me verder te lopen. Ik stribbelde niet tegen, ging verder de wijk in. Of wilde ik het gewoon? Verder lopen? En toen ik er opeens stond, voor mijn oude huis, gaf ik het toe aan mezelf: zeg maar hoe klote je je voelt dat je naar je huis staart, hoe de sneeuw op het dak glinstert, de ijsbloemen op de ruiten staan. Waar het licht in de kamers van je dochters brandt, maar het veel te laat is en jij er iets van moet zeggen, naar bed!, licht uit!
Hun fietsen staan nog buiten, leunen scheef tegen de appelboom. Je zou ze eigenlijk achter in de schuur willen zetten. Bedekt onder een laag sneeuw zal het aluminium dat nu nog fonkelt in het lantaarnlicht gaan roesten. Maar je kunt niet eens je eigen tuin in. Je stem in het gezin is je ontnomen, mijn beste, je echo in een mist vergruist.
Het gordijn in Eva's kamer bewoog en ging langzaam open. Alsof ze voelde dat ik daar stond. Zij en ik. Ik dacht voor altijd met elkaar verbonden. Haar blik zocht mij en vond mijn ogen die zich vulden met iets dat lekker warm was en stroomde. Als een standbeeld stond ze in het raam. Het was niet goed dat ze mij daar zag, die zwerver, die schaduwvlek tegen een muur. Moest ik dan toch naar haar wenken, kusgroeten door de vrieslucht naar haar toe sturen, die op de ruit stuitten en de ijsbloemen lieten smelten?
Ik maakte me los van de muur, liet mijn dochter achter met vraagtekens. En toen ik meters verder omkeek, was het gordijn nog geopend, brandde fel het licht. Maar mij zou ze niet zien. Ik was opgegaan in een tunnel van bomen.
Voor de Voedselbank rolden mensen met gele boodschappenkarren af en aan en laadden ze auto's vol met tassen die uitpuilden van de etenswaren. Bij de ingang groeide de rij mensen allengs aan. Ze rookten shag, dronken blikjes limonade, en hoewel de sfeer gemoedelijk was, klaagde een enkeling steen en been over het lange wachten en het slechte weer.
De moeder bij wie ik altijd mijn snoep ruilde tegen kaas, was samen met haar dochter. Ze keken opgewonden uit naar het ogenblik dat ze aan de beurt waren, want vandaag ging de limonade voor niks weg, alleen het statiegeld moest betaald worden. Zestien flessen per persoon was de regeling.
Op mijn kaart haalde ik limonade voor de moeder die wat muntstukken in mijn hand drukte en vulde mijn karretje met frisdranken. Toen ik weer buiten kwam, was er tumult. Ik herkende Ronald van de Straatraad. Hij was compleet overstuur.
'Mijn fiets met achterop mijn tent en slaapzak is een paar dagen geleden gestolen,' liet hij ons verward weten. 'En in een zijvak van mijn tent bewaarde ik mijn voedselkaart die nu ook weg is.'
'Ze kennen je hier toch?' riep een tandeloos oud vrouwtje met een gammele kinderwagen. Daarin sliep een kind van Aziatische komaf.
'Natuurlijk kennen ze mij,' zei Ronald, 'ik kom hier al jaren, maar het beleid is: geen kaart, geen voedsel. Kan ik net als vroeger mijn eten uit prullenbakken gaan vissen.'
Meteen bood de rij wachtenden aan dat ze hun eten met hem wilden delen.
'Nee, bedankt,' weerde hij af. 'Ik heb liever een plek om te slapen.'
'Je kan toch naar Doorstroom,' opperde een Afrikaan met een gedrongen postuur en een buikje.
'Daar ben ik net geweest en ik had vijf euro bij me voor een overnachting,' lichtte Ronald toe. 'Maar de beveiliging liet me niet binnen.'
'Je hebt recht om daar te slapen,' wist een Antilliaanse kerel. 'Je bent toch geen beest dat ze je daar wegsturen.'
'Helaas heeft Gerard van Centraal Onthaal mij niet aangemeld voor vannacht, dus einde oefening. Want als Hades geen toestemming verleent, verspert Cerberus de toegang tot het schimmenrijk.'
'Waar moet je nu slapen?' vroeg de dochter van de moeder met de wagen vol limonadeflessen.
'Ik heb nog een hutje van takken in het bos. Ik slaap wel onder een bed van bladeren. Al vaker gedaan. Mijn fiets is zo vaak gestolen.'
'Het gaat vriezen vannacht, Ronald!' voorspelde een bejaarde corpulente vrouw op een scootmobiel.
Maar hij haalde zijn schouders op en verliet het terrein. Zijn blik was leeg, alsof hij in trance was, lijdzaam overging van leven naar dood.
'Hallo!' riep een vrouw bij de Voedselbank tegen mij. Ze duwde een boodschappenkar voort met twee etages aan limonadeflessen omringd door zakken snoep.
'Wat leuk je weer te zien,' zei ze en gaf me drie zoenen op mijn wangen.
Vroeger droeg ze strakke mantelpakjes, nu werd haar lijf omhuld door wijde kleren die haar omvang benadrukten.
'Ik ben er volgende week weer,' kraaide ze behaagziek, 'altijd rond tienen.'
Bijna vergat ik in de rij aan te sluiten. Wat als ik haar zou verleiden, dacht ik. Vindt de dakloze zo onderdak via een ontmoeting bij de Voedselbank, juist door het rijke verleden?
Ik keek haar na, hoe ze rammelend het terrein af rolde.
'Wie was dat?' wilde een Surinaamse die achter me stond weten. 'Een buurvrouw of zo?'
'Nee, dat was een oud collega,' legde ik uit. 'Uit de tijd dat we topsalarissen hadden en dikke onkostenvergoedingen.'
Met een boodschappenkarretje betrad ik het uitgiftepunt. Ik had een code op mijn kaart, waaraan de vrijwilligers zagen dat ik alleenstaand was. Langs een rij aaneengeschakelde schooltafels in een L-vorm (had je maar een vak moeten leren!) schuifelden de armoedzaaiers – namen ze de etenswaren in ontvangst.
Weer buiten bevond zich in mijn winkelwagen voor de helft afgedankt voedsel en de andere helft snoep. Door de gigantische voorraad suikerwaar die ik weg gaf aan de moeders op het terrein, maakte ik me snel populair.
Nu was ik behalve een van hen, ook een barmhartige Samaritaan.
EINDE
Niels Landstra
Niels Landstra: De Voedselbank
Niels Landstra (1966) is dichter, schrijver, schilder en muzikant.
De Voedselbank is een bewerkt fragment uit Niels Landstra's debuutroman: Monddood. Monddood verschijnt in de loop van 2017 bij uitgeverij Droomvallei.
fleursdumal.nl magazine
More in: Archive K-L, Landstra, Niels, Niels Landstra
---
Older Entries »
« Newer Entries
Thank you for reading FLEURSDUMAL.NL - magazine for art & literature