– Book News
·
Alex Dimitrov: Together and By Ourselves
·
UITMARKT 2017 van 25 tm 27 augustus Oosterdok Amsterdam
·
Why Poetry by Matthew Zapruder
·
Sleeping Beauties. A Novel by Stephen King and Owen King
·
Zwaartekracht, nieuwe dichtbundel van Joris Denoo
·
"Ich gehöre nirgends mehr hin" – Stefan Zweigs Schachnovelle, Ausstellung Berlin
·
De oriënt verkend. Op reis met Louis Couperus en Marius Bauer
·
'De duistere winkel' – 124 dromen van Georges Perec
·
Tentoonstelling Chiharu Shiota: Between the Lines
·
The Man Booker Prize 2017 Longlist announced
·
Ocean Vuong: Night Sky with Exit Wounds
·
Aja Monet: My Mother Was a Freedom Fighter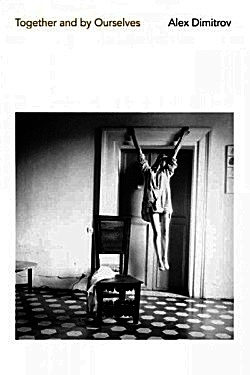 Together and by Ourselves, Alex Dimitrov's second book of poems, takes on broad existential questions and the reality of our current moment: being seemingly connected to one another, yet emotionally alone. Through a collage aesthetic and a multiplicity of voices, these poems take us from coast to coast, New York to LA, and toward uneasy questions about intimacy, love death, and the human spirit.
Dimitrov critiques America's long-lasting obsessions with money, celebrity, and escapism — whether in our personal or professional lives. What defines a life? Is love ever enough? Who are we when together and who are we by ourselves? These questions echo throughout the poems, which resist easy answers. The voice is both heartfelt and skeptical, bruised yet playful, and always deeply introspective.
Cocaine
People disappear.
And go looking for a place to be looked at.
All the way down Wilshire and above us: like a sheet of indigo tile.
As we waited, our nicotine glowed in the distance like flies
to some heaven, some high road.
"Who sat on mountaintops in cars reading books aloud to the canyons?"
Like gods and at home being extras at best.
I almost believed love then someone new called me
and time's been repeating. Time's on like a show.
(. . .)
When the car you steer best is not yours; or the body.
The house and the job. Rooms of white lines. Gold lobbies.
We cringe at these lists but without them, who's counting?
From the book: Together and By Ourselves
by: Alex Dimitrov
Alex Dimitrov
Together and By Ourselves
Publisher: Copper Canyon Press
$16.00, paperback, 2017
isbn 978-1-55659-510-3
cover-photo: Francesca Woodman
fleursdumal.nl magazine
More in: - Book News, Archive C-D, Art & Literature News, Francesca Woodman
---
More in: - Book Lovers, - Book News, - Bookstores, Art & Literature News, CINEMA, RADIO & TV, DANCE, Exhibition Archive, Literary Events, LITERARY MAGAZINES, MUSIC, Performing arts, Photography, POETRY ARCHIVE, PRESS & PUBLISHING, Street Art, STREET POETRY, The talk of the town, THEATRE, Urban Art
---
Poet and editor Matthew Zapruder was born in Washington, DC. He earned a BA in Russian literature at Amherst College, an MA in Slavic languages and literature at the University of California, Berkeley, and an MFA in poetry at the University of Massachusetts, Amherst.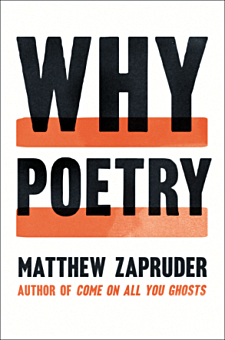 Zapruder's poems employ nuanced, conversational syntax to engage themes of grief, perception, and logic. As Dana Jennings noted in the New York Times, Zapruder has a "razor eye for the remnants and revenants of modern culture." Discussing his own development as a writer in the Los Angeles Times, Zapruder addressed the role of rhyme in his work: "[T]he rhyme is what I would call 'conceptual,' that is, not made of sounds, but of ideas that accomplish what the sounds do in formal poetry: to connect elements that one wouldn't have expected, and to make the reader or listener, even if just for a moment, feel the complexity and disorder of life, and at the same time what Wallace Stevens called the 'obscurity of an order, a whole.'"
Zapruder is the author of several collections of poetry, including Sun Bear (2014), Come On All You Ghosts (2010), The Pajamaist (2006), and American Linden (2002). He collaborated with painter Chris Uphues on For You in Full Bloom (2009) and cotranslated, with historian Radu Ioanid, Romanian poet Eugen Jebeleanu's last collection, Secret Weapon: Selected Late Poems (2008).
With Brian Henry, Zapruder cofounded Verse Press, which later became Wave Books. As an editor for Wave Books, Zapruder coedited, with Joshua Beckman, the political poetry anthology State of the Union: 50 Political Poems (2008). His own poems have been included in the anthologies Best American Poetry (2013, 2009), Third Rail: The Poetry of Rock and Roll (2007), and Legitimate Dangers: American Poets of the New Century (2006), as well as Poets on Teaching: A Sourcebook (2010). Why Poetry, a book of prose about reading poetry for a general audience, is forthcoming from Ecco/Harper Collins in early 2017.
Zapruder's poetry has been adapted by some of America's most exciting young composers. In Fall, 2012, his poetry was adapted and performed at Carnegie Hall by Composer Gabriel Kahane and Brooklyn Rider. In February, 2014, composer Missy Mazzoli, along with Victoire and Glenn Kotche, performed Vespers for a New Dark Age, a piece commissioned by Carnegie Hall for the 2014 Ecstatic Music Festival, and released as a recording on New Amsterdam records in spring, 2015.
Zapruder's honors include a Guggenheim Fellowship, a Lannan Foundation Residency Fellowship, the William Carlos Williams Award from the Poetry Society of America, and the May Sarton Prize from the American Academy of Arts and Sciences. He has taught at New York University, the New School, the University of California Riverside – Palm Desert Low Residency MFA Program, the University of Massachusetts, Amherst's Juniper Summer Writing Institute, and at the University of California at Berkeley as the Holloway Fellow.
He lives in Oakland, where he is an associate professor in the Saint Mary's College of California MFA Program in Creative Writing, as well as editor at large for Wave Books. He is also a guitarist in the rock band The Figments.
From Matthew Zapruder's poem:
American Singer
(. . .)
I notice probably
because you wrote
that strange
word funeral
the constant black
fabric I think
is taffeta
always draped
over the scaffolds
the figures
scraping paint
are wearing dusty
protective suits
and to each other
saying nothing
I move invisibly
like a breeze
around three men
wearing advanced
practically weightless
jackets impervious
to all possible
weather even
a hurricane
(. . .)
Matthew Zapruder
Why Poetry
Hardcover
2017
Pag. 256
Ecco Publisher
ISBN13: 9780062343079
ISBN10: 0062343076
fleursdumal.nl
More in: - Book News, Archive Y-Z, Archive Y-Z, Art & Literature News
---
In this spectacular father/son collaboration, Stephen King and Owen King tell the highest of high-stakes stories: what might happen if women disappeared from the world of men?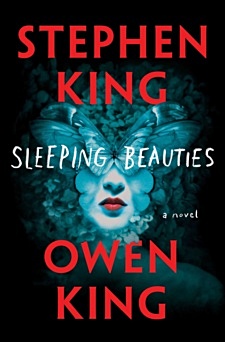 In a future so real and near it might be now, something happens when women go to sleep; they become shrouded in a cocoon-like gauze. If they are awakened, if the gauze wrapping their bodies is disturbed or violated, the women become feral and spectacularly violent; and while they sleep they go to another place… The men of our world are abandoned, left to their increasingly primal devices. One woman, however, the mysterious Evie, is immune to the blessing or curse of the sleeping disease. Is Evie a medical anomaly to be studied? Or is she a demon who must be slain? Set in a small Appalachian town whose primary employer is a women's prison, Sleeping Beauties is a wildly provocative, gloriously absorbing father/son collaboration between Stephen King and Owen King.
Sleeping Beauties
A Novel
by Stephen King and Owen King
hardcover
Scribner publisher
720 pages
ISBN 9781501163401
September 2017
List Price $32.50
fleursdumal.nl magazine
More in: - Book News, Archive K-L, Art & Literature News, CRIME & PUNISHMENT, Stephen King, Tales of Mystery & Imagination
---
Met uitzondering van Torhout, vers aan huis, een bundel gedichten over zijn geboortestad die hij in 2010 op uitnodiging publiceerde, is het inmiddels al tien jaar geleden dat Joris Denoo nog iets van zich liet horen in poëtische boekvorm.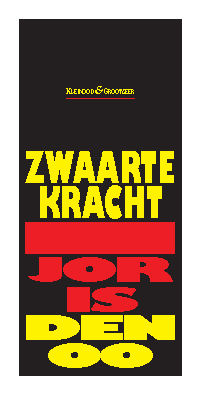 Zwaartekracht bundelt poëzie met een specifiek thema, gebaseerd op persoonlijke ervaringen. De goede lezer zal tussen de regels wel degelijk ontdekken waar het over gaat. Overigens behandelde de auteur deze thematiek ook al in enkele jeugdboeken (Vallen en opstaan, Een blauwe plek).
Diverse gedichten verschenen in de loop der jaren in literaire bladen (o.a. een cyclus in het Nieuw Wereld Tijdschrift) of werden met een nominatie of bekroning onderscheiden.
Joris Denoo (°1953, Torhout) publiceerde naast poëzie ook columns, verhalen, essays, theater-teksten en jeugdboeken. Hij won voor die genres o.a. de Guido Gezelle Poëzie Prijs Brugge, de Toneel Schrijf Prijs van de Koninklijke Academie voor Nederlandse Taal- en letterkunde, Gent en van de provincie West-Vlaanderen, een Essay Prijs van diezelfde Koninklijke Academie, de Jeugdboeken Prijs van de Stad Tielt en diverse prijzen en nominaties voor verhalen, voornamelijk in Nederland.
Denoo schreef ook het scenario voor de volksfilm Tine, een mokkel van haar sokkel en werkte intens mee aan Kameleon, Verrekijker en Kweetet.
In 2017 verscheen Verlichte gedichten, een leerboek voor jongeren en hun opleiders over omgaan met poëzie.
De eerste druk van de dichtbundel verschijnt in een oplage van 100 genummerde en door de auteur gesigneerde exemplaren en is te bestellen voor €16,- + €2,- verpakkings- en verzendkosten.
De nieuwe dichtbundel:
Zwaartekracht van Joris Denoo
Juli 2017
36 pagina's,
gelijmd 21 x 10,5 cm.
ISBN/EAN 978-90-76644-83-7
€16,-
# Te bestellen via website uitgever Kleinood & Grootzeer
fleursdumal.nl magazine
More in: - Book Lovers, - Book News, Archive C-D, Art & Literature News, Historia Belgica
---
Acht Jahre verbrachte der österreichische Schriftsteller Stefan Zweig (geb. 1881) im Exil. Einen Tag nach der demütigenden Durchsuchung seiner Villa am Salzburger Kapuzinerberg hatte er am 20. Februar 1934 Österreich verlassen und lebte zunächst in London, ab Sommer 1939 zusammen mit seiner zweiten Frau Lotte Altmann (geb. 1908) im englischen Kurort Bath.
Das Provisorium befristeter Certificates of identity endete für beide erst im Frühjahr 1940, als sie Britische Staatsbürger wurden – ihre Pässe enthielten jedoch den Stempel »alien enemy«, was deutlich auf die Herkunft aus einem verfeindeten Staat verwies. Als die Zweigs schließlich Ende Juni 1940 nach New York und weiter nach Rio de Janeiro aufbrachen, hielten deutsche Truppen schon seit 10 Tagen Paris besetzt. Auch für Großbritannien war die Lage bedrohlich geworden: Wegen eines Luftalarms mussten Lotte und Stefan Zweig in der Nacht ihrer Abfahrt zeitweise den Schutzkeller ihres Hotels in Liverpool aufsuchen.
Im Herbst und Winter 1940 bereisten die Zweigs Brasilien. Schon im Sommer 1936 war Zweig dort wie ein Star gefeiert worden und hatte seine Eindrücke voller Dankbarkeit geschildert. Doch seine neue Hommage, »Brasilien. Ein Land der Zukunft«, zog nunmehr kritische Stimmen auf sich: Zweig hatte ausgeblendet, dass der Brasilianische Präsident mittlerweile diktatorisch regierte, Parteien und Gewerkschaften verboten waren, missliebige Journalisten im Gefängnis saßen und die Einwanderung von Juden künftig verhindert werden sollte.
Wenige Wochen vor seinem 60. Geburtstag bezog Zweig zusammen mit seiner Frau ein bescheidenes Haus in der brasilianischen Stadt Petrópolis, landeinwärts von Rio de Janeiro, »ein kleiner Semmering, nur primitiver, so wie anno 1900 das Salzkammergut«. Im provinziellen Abseits überarbeitete Zweig seine Erinnerungen »Die Welt von Gestern« und schrieb »etwas Neues«, die »Schachnovelle«. Als er am 21. Februar 1942 auf dem Postamt von Petrópolis drei Typoskripte der Novelle abschickte, hatte Brasilien die diplomatischen Beziehungen zu Deutschland bereits abgebrochen. Deutsch galt fortan als Feindsprache und durfte in der Öffentlichkeit nicht mehr gesprochen werden, auch das Mitführen deutscher Drucksachen war verboten.
In der Nacht zum 23. Februar nahmen Lotte und Stefan Zweig eine Überdosis Veronal. Entgegen ihrem letzten Willen, auf dem jüdischen Friedhof in Rio de Janeiro beerdigt zu werden, erhielten sie am 24. Februar 1942 ein Staatsbegräbnis in Petrópolis.
Entkräftet vom heimatlosen Wandern im Exil, nimmt Zweig in seinen beiden zuletzt entstandenen Werken Abschied von seiner geistigen Heimat. In seinen autobiographischen Erinnerungen, »Die Welt von Gestern«, beschwört er das alte Europa, die Weltoffenheit und kulturelle Sphäre seiner Heimatstadt Wien. In der »Schachnovelle« hingegen gestaltet er die grauenvollen Geschehnisse jener Barbarei, die den Traum von einem geeinten, zivilisierten Europa radikal zerstörte. Dem Protagonisten der Novelle, dem Anwalt Dr. B., ist zwar die rettende Flucht ins Exil gelungen. Doch bei der Überfahrt von New York nach Argentinien ist von einer Ankunft in einem sicheren Hafen nicht die Rede. Vielmehr wird Dr. B. von seinen traumatischen Wiener Erlebnissen überwältigt.
»Die Welt von Gestern« und die »Schachnovelle« stehen als exemplarische Werke des Exil-Autors Stefan Zweig im Zentrum der Ausstellung, für die zahlreiche Manuskripte, Typoskripte und persönliche Dokumente Zweigs aus amerikanischen und israelischen Archiven einbezogen werden konnten. Auch Teile der Autographensammlung, die Zweig Ende 1937 der Österreichischen Nationalbibliothek übereignete, sind hier erstmals zu sehen. Dankbarkeit Österreichs hat Zweig für seine Großzügigkeit nie erfahren – im Gegenteil: Seine Bücher wurden am 30. April 1938 auf dem Salzburger Residenzplatz vom nationalsozialistischen Mob verbrannt. In der Ausstellung ist dazu ein nach dem Krieg aufgenommenes Radiogespräch mit Zweigs erster Ehefrau Friderike, die später in den USA lebte, zu hören.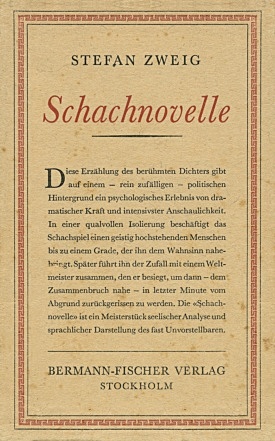 Die »Schachnovelle« ist die einzige Erzählung Zweigs, in der er zeitgenössische politische Verhältnisse darstellt. Mit den Szenen, die im ehemaligen Wiener Grand-Hotel »Métropole« spielen, hat Zweig den Opfern des Nationalsozialismus ein Denkmal gesetzt – in diesem beschlagnahmten Hotel hatte seit Ende März 1938 die Gestapo-Leitstelle Wien ihren Sitz. Ein großes Modell des »Métropole« wird in der Ausstellung gezeigt, und in Film- und Tonausschnitten berichten Rosa Grossmann und Bruno Kreisky stellvertretend für viele andere, die dort gefoltert und gedemütigt wurden, von ihren Erlebnissen.
Neben Ausschnitten aus dem 1960 produzierten Film »Schachnovelle« (mit Curd Jürgens und Mario Adorf) sind auch von Zweig benutzte Schachbücher, Teile der handschriftlich bearbeiteten Typoskripte und die ersten Buchausgaben der Erzählung zu sehen. In einem bewegenden brasilianischen Dokumentarfilm kommen noch Zeitzeugen Zweigs, darunter sein Verleger Abrahão Koogan, zu Wort.
Auch Zweigs Freundschaft mit Sigmund Freud, sein Engagement für die Gründung des europäischen PEN-Clubs in den USA, seine Hilfsbereitschaft für jüdische Flüchtlinge werden in der Ausstellung eindrucksvoll dokumentiert, die anlässlich des 75. Todestages Stefan Zweigs neu konzipiert wurde.
Im Begleitprogramm werden im August und Anfang September dienstags und donnerstags abends besondere Verfilmungen von Werken Stefan Zweigs in den Ausstellungsräumen gezeigt. Ab Mitte September wird das Programm mit Lesungen und Vorträgen fortgesetzt.
Eine Ausstellung des Theatermuseums Wien und des Stefan Zweig Zentrums Salzburg im Literaturhaus Berlin
27.7. bis 24.9.2017
Di – Fr: 14 – 19 Uhr
Sa, So: 11 – 19 Uhr
Kurator: Dr. Klemens Renoldner, Stefan Zweig Zentrum Salzburg
Gestaltung: Peter Karlhuber, Wien
In der Ausstellung erhältlich:
"Ich gehöre nirgends mehr hin" Stefan Zweigs Schachnovelle, 2017
Hardcover, 19×24 cm, 80 S.
ISBN 978-3-900088-80-4
Zahlr. Abb., 17.- Euro
Literaturhaus Berlin
Fasanenstraße 23
10719 Berlin
Tel. 030/887286-0,
e-mail: literaturhaus@literaturhaus-berlin.de
website: http://www.literaturhaus-berlin.de/
fleursdumal.nl magazine
More in: - Book News, - Book Stories, Archive Y-Z, Art & Literature News, DEAD POETS CORNER, FDM in Berlin, Museum of Literary Treasures, Stefan Zweig, Zweig, Stefan
---
Louis Couperus en Marius Bauer woonden allebei lange tijd in Den Haag, maar kwamen elkaar daar nooit tegen.
Toch waren zij zielsverwanten: zij smachtten beiden naar de pracht en praal van het betoverende Oosten, de sprookjeswereld van Duizend-en-één-nacht. Ter gelegenheid van de honderdvijftigste geboortedag van Marius Bauer organiseert het Louis Couperus Museum alsnog een adembenemende ontmoeting, op de tentoonstelling De Oriënt verkend. Op reis met Louis Couperus en Marius Bauer, van 21 mei t/m 8 oktober 2017.
Marius Bauer (1867-1932) werd al in zijn eigen tijd gezien als een formidabel kunstenaar. Op zijn reizen door India, Egypte, Turkije, Rusland, Noord-Afrika en Palestina maakte hij vele schetsen en tekeningen. Die werkte hij thuis uit tot oriëntaalse olieverfschilderijen, etsen en aquarellen die bij het publiek zeer in de smaak vielen. Drie keer bezocht Bauer Algerije, de laatste twee keren begin jaren twintig. Rond diezelfde tijd heeft Louis Couperus (1863-1923) ook in Algerije een half jaar rondgereisd. Hij schreef over de Franse kolonie eenentwintig reisbrieven, die in het weekblad Haagsche Post (en later in boekvorm) zijn verschenen. Net als Bauer zag hij in Algerije veel van zijn oosterse dromen terug. Maar was zijn droom ook bestand tegen de harde realiteit?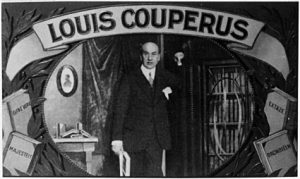 Op de tentoonstelling volgen we de reizigers Couperus en Bauer aan de hand van manuscripten, unieke reisdocumenten en oude foto's, afgewisseld met schetsen, aquarellen en schilderijen van Marius Bauer. In de vitrines liggen ook reisverslagen van tijdgenoten, oude reisgidsen, ansichtkaarten, sieraden en andere kostbare voorwerpen uit de Oriënt, uit zowel museale als particuliere collecties. In de tuinkamer van het museum is een ware Oriëntaalse kamer ingericht.
De Oriënt verkend. Op reis met Louis Couperus en Marius Bauer wordt samengesteld door José Buschman en Willemien de Vlieger-Moll. Bij de tentoonstelling verscheen het boek Couperus in de Oriënt van José Buschman
De oriënt verkend.
Op reis met Louis Couperus en Marius Bauer
21 mei 2017 – 8 oktober 2017
Louis Couperus Museum
Javastraat 17
2585 AB Den Haag
070-3640653
Openingstijden
Woensdag t/m zondag 12.00-17.00 uur
Voor groepen ook op afspraak
# meer info op website louis couperus museum
Nieuwe publicatie door José Buschman:
Couperus in de Oriënt
Ter gelegenheid van de tentoonstelling De Oriënt verkend. Op reis met Louis Couperus en Marius Bauer in het Louis Couperus Museum heeft José Buschman haar eerdere, veelgeprezen onderzoek Een dandy in de Oriënt. Louis Couperus in Afrika hernieuwd. Met vele onbekende foto's, recente vondsten en verrassende citaten reconstrueert zij Couperus' lange tocht door de woestijn.
Door hun levendigheid hebben de reisboeken van Louis Couperus altijd de aandacht getrokken maar het curieuze Met Louis Couperus in Afrika uit 1921 vormt hierop de uitzondering. Couperus reisde zes maanden rond in Algerije en Tunesië, de Haagse schilder Marius Bauer bezocht Noord-Afrika een jaar later. Zijn schetsen ademen de oosterse schoonheid die ook Couperus zo kon bekoren. Anders dan bij Bauer lijkt bij Couperus de oriëntaalse vervoering gaandeweg te zijn verdwenen. Was zijn esthetische kijk wel opgewassen tegen de realiteit van de Franse overheersing, de islam en de armoede?
José Buschman is historica. Zij was medeoprichtster van het Louis Couperus Genootschap. Naast literaire gidsen door het Den Haag van Couperus en F. Bordewijk publiceerde zij Couperus Culinair, de lievelingsgerechten van Louis Couperus.
192 pagina's
16,8 X 22 cm
ca. 80 afbeeldingen
gebonden met stofomslag
geheel in kleur
vormgeving Bart van den Tooren
Uitg. Bas Lubberhuizen
ISBN 9789059375017
2017, € 19,99
fleursdumal.nl magazine
More in: - Book News, - Book Stories, Archive C-D, Art & Literature News, Exhibition Archive, Illustrators, Illustration, Louis Couperus, Tales of Mystery & Imagination
---
Georges Perec (1936-1982) was ernstig getraumatiseerd door het verdwijnen van zijn ouders tijdens de Tweede Wereldoorlog, en onderging diverse psychoanalytische behandelingen tijdens zijn leven.
Het verklaart iets van het belang dat hij hechtte aan zijn dromen, die hij tussen mei 1968 en augustus 1972 noteerde in zijn dagboek, ook om in het reine te komen met een stukgelopen liefde
Perec kwam al doende een nieuwe manier van schrijven op het spoor die een verontrustende intensiteit had. De gefragmenteerde grondstof van nachtelijke hersenspinsels vormt in De duistere winkel een compleet verhaal, gedrenkt in humor en overlopend van stilistische hoogstandjes.
Georges Perec geldt als een van de meest ingenieuze moderne Franse schrijvers. Hij legde zich bij het schrijven vaak bewust formele restricties op. In De dingen bijvoorbeeld wordt geen dialoog gebruikt, wat aan het verhaal een fascinerende, zuiver epische transparantie geeft. Hij liet zich erop voorstaan dat hij nooit twee eendere boeken had geschreven. Toch draagt elk van zijn boeken het onloochenbare stempel van zijn scheppend vernuft.
Van Perec verschenen voortreffelijke vertalingen van de hand van Edu Borger, o.a. Het leven een gebruiksaanwijzing en De dingen.
Georges Perec
De duistere winkel
124 dromen
vertaling Edu Borger
Privé-domein nr 293
Uitgeverij De Arbeiderspers, Amsterdam
ISBN 9789029507554
240 pag. – juni 2017
paperback € 24,99
fleursdumal.nl magazine
More in: - Book News, Archive O-P, Art & Literature News, Georges Perec, OULIPO (PATAFYSICA), Tales of Mystery & Imagination
---
De Japanse kunstenaar Chiharu Shiota (Osaka, 1972) was in 2015 de sensatie van de 56ste Biënnale van Venetië.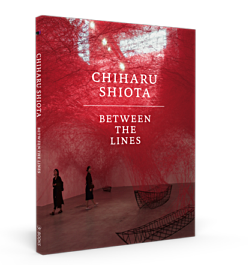 Het Japanse paviljoen met haar installatie The Key in the Hand stond dat jaar in de top-5 tentoonstellingen van The Guardian en op de cover van The New York Times.
Chiharu Shiota's eerste solotentoonstelling in Nederland biedt een retrospectief overzicht van haar oeuvre. De speciaal op maat van Het Noordbrabants Museum gemaakte installatie Uncertain Journey is het klapstuk van de tentoonstelling.
In totaal worden er 24 werken geëxposeerd, daterend van 1994 tot 2017, waaronder video's, foto's, tekeningen, grote en kleine draadsculpturen en een bronzen beeld. Met de foto The Key in the Hand en de video How Did you Come into this World? toont Het Noordbrabants Museum twee werken uit de gevierde Venetiëshow.
Met tien assistenten werkt Chiharu Shiota twaalf dagen aan de gigantische web-installatie. Eerst wordt de tentoonstellingsruimte van ongeveer 130 m² overspannen met een op maat gemaakt net. Daarna worden met ongeveer 10.000 nietjes de draden van zo'n 2.000 bollen wol vastgezet. De installaties van Chiharu Shiota maken wereldwijd een diepe indruk op bezoekers doordat ze universele begrippen zoals identiteit en herinnering op een verbluffend mooie manier vormgeeft.
Bij de tentoonstelling wordt een catalogus uitgegeven door WBOOKS. Het boek met een essay door Hans November, conservator 20ste en 21ste-eeuwse kunst in Het Noordbrabants Museum, verschijnt in drie talen (Nederlands, Duits, Engels). De publicatie is voor € 19,95 verkrijgbaar in o.a. de MuseumShop.
De tentoonstelling Chiharu Shiota: Between the Lines wordt mogelijk gemaakt door de Renschdael Art Foundation. De samenwerking tussen de Renschdael Art Foundation en Het Noordbrabants Museum resulteerde eerder in tentoonstellingen met werk van Lita Cabellut, Francis Bacon en Claire Morgan.
Chiharu Shiota
Between the Lines
24 juni t/m 15 oktober 2017
Het Noordbrabants Museum
Verwersstraat 41
's-Hertogenbosch
# meer info op website Noordbrabants Museum
fleursdumal.nl magazin
More in: - Book News, Art & Literature News, Exhibition Archive, FDM Art Gallery
---
The longlist, or 'Man Booker Dozen', for the £50,000 Man Booker Prize is announced on 26 July.
This year's longlist of 13 books was selected by a panel of five judges: Baroness Lola Young (Chair); literary critic, Lila Azam Zanganeh; Man Booker Prize shortlisted novelist, Sarah Hall; artist, Tom Phillips CBE RA; and travel writer, Colin Thubron CBE.
The list was chosen from 144 submissions published in the UK between 1 October 2016 and 30 September 2017.
The Man Booker Prize for Fiction, first awarded in 1969, is open to writers of any nationality, writing in English and published in the UK.
The 2017 longlist, or Man Booker 'Dozen', of 13 novels, is:
– 4 3 2 1 by Paul Auster (US) (Faber & Faber)
– Days Without End by Sebastian Barry (Ireland) (Faber & Faber)
– History of Wolves by Emily Fridlund (US) (Weidenfeld & Nicolson)
– Exit West by Mohsin Hamid (Pakistan-UK) (Hamish Hamilton)
– Solar Bones by Mike McCormack (Ireland) (Canongate)
– Reservoir 13 by Jon McGregor (UK) (4th Estate)
– Elmet by Fiona Mozley (UK) (JM Originals)
– The Ministry Of Utmost Happiness by Arundhati Roy (India) (Hamish Hamilton)
– Lincoln in the Bardo by George Saunders (US) (Bloomsbury)
– Home Fire by Kamila Shamsie (UK-Pakistan) (Bloomsbury)
– Autumn by Ali Smith (UK) (Hamish Hamilton)
– Swing Time by Zadie Smith (UK) (Hamish Hamilton)
– The Underground Railroad by Colson Whitehead (US) (Fleet)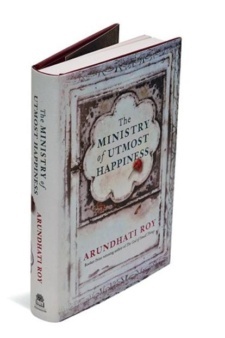 Chair of the 2017 judges, Baroness Lola Young, says: 'Only when we'd finally selected our 13 novels did we fully realise the huge energy, imagination and variety in them as a group. The longlist showcases a diverse spectrum — not only of voices and literary styles but of protagonists too, in their culture, age and gender. Nevertheless we found there was a spirit common to all these novels: though their subject matter might be turbulent, their power and range were life-affirming – a tonic for our times.
First awarded in 1969, the Man Booker Prize is recognised as the leading prize for literary fiction written in English. The list of former winners features many of the literary giants of the last four decades: from Iris Murdoch to Salman Rushdie, Ian McEwan to Hilary Mantel.
The rules of the prize were changed at the end of 2013 to embrace the English language 'in all its vigour, its vitality, its versatility and its glory', opening it up to writers beyond the UK and Commonwealth. The Man Booker Prize is sponsored by Man Group, an active investment management firm.
More information about the prize is available at: www.themanbookerprize.com
fleursdumal.nl magazine
More in: - Book News, - Bookstores, Art & Literature News, FICTION & NONFICTION ARCHIVE, Literary Events
---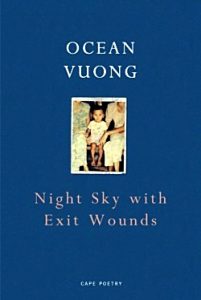 An extraordinary debut from a young Vietnamese American, Night Sky with Exit Wounds is a book of poetry unlike any other. Steeped in war and cultural upheaval and wielding a fresh new language, Vuong writes about the most profound subjects – love and loss, conflict, grief, memory and desire – and attends to them all with lines that feel newly-minted, graceful in their cadences, passionate and hungry in their tender, close attention: '…the chief of police facedown in a pool of Coca-Cola. A palm-sized photo of his father soaking beside his left ear.'
This is an unusual, important book: both gentle and visceral, vulnerable and assured, and its blend of humanity and power make it one of the best first collections of poetry to come out of America in years.
Biography: Ocean Vuong was born in a rice farm outside Saigon in 1988. At the age of two, after a year in a refugee camp, he and his family arrived in the US.
He is the first in his immediate family to learn how to read proficiently, at the age of eleven. With Ben Lerner as his mentor at Brooklyn College, he wrote the poems that would become this first collection.

A Ruth Lilly fellow and winner of a Pushcart Prize, he has received honours and awards from Poets House and the Academy of American Poets. Night Sky with Exit Wounds won the 2016 Whiting Award. Ocean Vuong lives in New York.
'These are poems of exquisite beauty, unashamed of romance, and undaunted by looking directly into the horrors of war, the silences of history. One of the most important debut collections for a generation.' Andrew McMillan
Shortlisted for the 2017 Felix Dennis Prize for Best First Collection
Ocean Vuong
Night Sky with Exit Wounds
Cape Poetry, 2017
96 Pages,
129mm x 197mm x 9mm
fleursdumal.nl magazine
More in: - Book News, Archive U-V, Art & Literature News
---
An ode to mothers, daughters, and sisters—the tiny gods who fight to change the world.
Textured with the sights and sounds of growing up in East New York in the nineties, to school on the South Side of Chicago, all the way to the olive groves of Palestine, these stunning poems tackle racism, sexism, genocide, displacement, heartbreak, and grief, but also love, motherhood, spirituality, and Black joy.
"Aja Monet 's poetry offers us textures of feeling and radical shifts of meaning that expand our capacity to envision and fight for new worlds. From Brooklyn, USA to Hebron, Occupied Palestine, we take a feminist journey through rage and serenity, through violence and love, through ancient times and imagined futures. This stunning volume reminds us that conflict and contradiction can produce hope and that poetry can orient us toward a future we may not yet realize we want." Angela Y. Davis
Aja Monet
My Mother Was a Freedom Fighter
Publisher: Haymarket Books
ISBN: 9781608467679
2017, $16.00
fleursdumal.nl magazine
More in: - Book News, Archive M-N, Art & Literature News
---
Older Entries »
Thank you for reading FLEURSDUMAL.NL - magazine for art & literature