Archive O-P
«« Previous page
·
Canticle Of The Babe by Josephine Preston Peabody
·
George Orwell: Kitchener
·
The Singing Man by Josephine Preston Peabody
·
George Orwell: On a Ruined Farm near the His Master's Voice Gramophone Factory
·
Gladness by Josephine Preston Peabody
·
Nora Pembroke: My Baby
·
Paul van Ostaijen: Gulden Sporen Negentienhonderd Zestien
·
George Orwell: A dressed man and a naked man
·
George Orwell: Ironic Poem about Prostitution
·
Natalie Portman's Fables by Natalie Portman (Author) & Janna Mattia (Illustrator)
·
"Odes" by Sharon Olds
·
Hagar Peeters: De schrijver is een alleenstaande moeder (gedichten)
Canticle Of The Babe
I
Over the broken world, the dark gone by,
Horror of outcast darkness torn with wars;
And timeless agony
Of the white fire, heaped high by blinded Stars,
Unfaltering, unaghast;–
Out of the midmost Fire
At last,–at last,–
Cry! …
O darkness' one desire,–
O darkness, have you heard?–
Black Chaos, blindly striving towards the Word?
–The Cry!
Behold thy conqueror, Death!
Behold, behold from whom
It flutters forth, that triumph of First-Breath,
Victorious one that can but breathe and cling,–
This pulsing flower,–this weaker than a wing,
Halcyon thing!–
Cradled above unfathomable doom.
II
Under my feet, O Death,
Under my trembling feet!
Back, through the gates of hell, now give me way.
I come.–I bring new Breath!
Over the trampled shards of mine own clay,
That smoulder still, and burn,
Lo, I return!
Hail, singing Light that floats
Pulsing with chorused motes:–
Hail to thee, Sun, that lookest on all lands!
And take thou from my weak undying hands,
A precious thing, unblemished, undefiled:–
Here, on my heart uplift,
Behold the Gift,–
Thy glory and my glory, and my child!
III
(And our eyes were opened; eyes that had been holden.
And I saw the world, and the fruits thereof.
And I saw their glories, scarlet-stained and golden,
All a crumbled dust beneath the feet of Love.
And I saw their dreams, all of nothing worth;
But a path for Love, for Him to walk above,
And I saw new heaven, and new earth.)
IV
The grass is full of murmurs;
The sky is full of wings;
The earth is full of breath.
With voices, choir on choir
With tongues of fire,
They sing how Life out-sings–
Out-numbers Death.
V
Who are these that fly;
As doves, and as doves to the windows?
Doves, like hovering dreams round Love that slumbereth;
Silvering clouds blown by,
Doves and doves to the windows,–
Warm through the radiant sky their wings beat breath.
They are the world's new-born:
Doves, doves to the windows!
Lighting, as flakes of snow;
Lighting, as flakes of flame;
Some to the fair sown furrows;
Some to the huts and burrows
Choked of the mire and thorn,–
Deep in the city's shame.
Wind-scattered wreaths they go,
Doves, and doves, to the windows;
Some for worshipping arms, to shelter and fold, and shrine;
Some to be torn and trodden,
Withered and waste, and sodden;
Pitiful, sacred leaves from Life's dishonored vine.
VI
O Vine of Life, that in these reaching fingers,
Urges a sunward way!
Hold here and climb, and halt not, that there lingers
So far outstripped, my halting, wistful clay.
Make here thy foothold of my rapturous heart,–
Yea, though the tendrils start
To hold and twine!
I am the heart that nursed
Thy sunward thirst.–
A little while, a little while, O Vine,
My own and never mine,
Feed thy sweet roots with me
Abundantly.
O wonder-wildness of the pushing Bud
With hunger at the flood,
Climb on, and seek, and spurn.
Let my dull spirit learn
To follow with its longing, as it may,
While thou seek higher day.–
But thou, the reach of my own heart's desire,
Be free as fire!
Still climb and cling; and so
Outstrip,–outgrow.
O Vine of Life, my own and not my own,
So far am I outgrown!
High as I may, I lift thee, Soul's Desire.
–Lift thou me higher.
And thou, Wayfaring Woman, whom I meet
On all the highways,–every brimming street,
Lady Demeter, is it thou, grown gaunt
With work and want?
At last, and with what shamed and stricken eyes,
I see through thy disguise
Of drudge and Exile,–even the holy boon
That silvers yonder in the Harvest-moon;–
That dimly under glows
The furrows of thy worn immortal face,
With mother-grace.
O Queen and Burden-bearer, what of those
To whom thou gavest the lily and the rose
Of thy far youth?… For whom,
Out of the wondrous loom
Of thine enduring body, thou didst make
Garments of beauty, cunningly adorned,
But only for Death's sake!
Largess of life, but to lie waste and scorned.–
Could not such cost of pain,
Nor daily utmost of thy toil prevail?–
But they must fade, and pale,
And wither from thy desolated throne?–
And still no Summer give thee back again
Thine own?
Lady of Sorrows,–Mother,–Drudge august.
Behold me in the dust.
Josephine Preston Peabody
(1874 – 1922)
Canticle Of The Babe
• fleursdumal.nl magazine
More in: # Classic Poetry Archive, Archive O-P, Archive O-P
---
Kitchener
No stone is set to mark his nation's loss,
No stately tomb enshrines his noble breast;
Not e'en the tribute of a wooden cross
Can mark this hero's rest.
He needs them not, his name untarnished stands,
Remindful of the mighty deeds he worked,
Footprints of one, upon time's changeful sands,
Who ne'er his duty shirked.
Who follows in his steps no danger shuns,
Nor stoops to conquer by a shameful deed,
An honest and unselfish race he runs,
From fear and malice freed.
George Orwell
(1903 – 1950)
Published in the Henley
and South Oxfordshire Standard 21st July 1916
• fleursdumal.nl magazine
More in: Archive O-P, Archive O-P, George Orwell, Orwell, George
---
The Singing Man
I
He sang above the vineyards of the world.
And after him the vines with woven hands
Clambered and clung, and everywhere unfurled
Triumphing green above the barren lands;
Till high as gardens grow, he climbed, he stood,
Sun-crowned with life and strength, and singing toil,
And looked upon his work; and it was good:
The corn, the wine, the oil.
He sang above the noon. The topmost cleft
That grudged him footing on the mountain scars
He planted and despaired not; till he left
His vines soft breathing to the host of stars.
He wrought, he tilled; and even as he sang,
The creatures of his planting laughed to scorn
The ancient threat of deserts where there sprang
The wine, the oil, the corn!
He sang not for abundance.–Over-lords
Took of his tilth. Yet was there still to reap,
The portion of his labor; dear rewards
Of sunlit day, and bread, and human sleep.
He sang for strength; for glory of the light.
He dreamed above the furrows, 'They are mine!'
When all he wrought stood fair before his sight
With corn, and oil, and wine.
Truly, the light is sweet
Yea, and a pleasant thing
It is to see the Sun.
And that a man should eat
His bread that he hath won;–
(So is it sung and said),
That he should take and keep,
After his laboring,
The portion of his labor in his bread,
His bread that he hath won;
Yea, and in quiet sleep,
When all is done.
He sang; above the burden and the heat,
Above all seasons with their fitful grace;
Above the chance and change that led his feet
To this last ambush of the Market-place.
'Enough for him,' they said–and still they say–
'A crust, with air to breathe, and sun to shine;
He asks no more!'–Before they took away
The corn, the oil, the wine.
He sang. No more he sings now, anywhere.
Light was enough, before he was undone.
They knew it well, who took away the air,
–Who took away the sun;
Who took, to serve their soul-devouring greed,
Himself, his breath, his bread–the goad of toil;–
Who have and hold, before the eyes of Need,
The corn, the wine,–the oil!
Truly, one thing is sweet
Of things beneath the Sun;
This, that a man should earn his bread and eat,
Rejoicing in his work which he hath done.
What shall be sung or said
Of desolate deceit.
When others take his bread;
His and his children's bread?–
And the laborer hath none.
This, for his portion now, of all that he hath done.
He earns; and others eat.
He starves;–they sit at meat
Who have taken away the Sun.
II
Seek him now, that singing Man.
Look for him,
Look for him
In the mills,
In the mines;
Where the very daylight pines,–
He, who once did walk the hills!
You shall find him, if you scan
Shapes all unbefitting Man,
Bodies warped, and faces dim.
In the mines; in the mills
Where the ceaseless thunder fills
Spaces of the human brain
Till all thought is turned to pain.
Where the skirl of wheel on wheel,
Grinding him who is their tool,
Makes the shattered senses reel
To the numbness of the fool.
Perisht thought, and halting tongue
(Once it spoke;–once it sung!)
Live to hunger, dead to song.
Only heart-beats loud with wrong
Hammer on, – – How long?
. . How long? – – How long?
Search for him;
Where the crazy atoms swim
Up the fiery furnace-blast.
You shall find him, at the last,–
He whose forehead braved the sun,–
Wreckt and tortured and undone.
Where no breath across the heat
Whispers him that life was sweet;
But the sparkles mock and flare,
Scattering up the crooked air.
(Blackened with that bitter mirk,–
Would God know His handiwork?)
Thought is not for such as he;
Naught but strength, and misery;
Since, for just the bite and sup,
Life must needs be swallowed up.
Only, reeling up the sky,
Hurtling flames that hurry by,
Gasp and flare, with Why–Why,
. . . Why? . . .
Why the human mind of him
Shrinks, and falters and is dim
When he tries to make it out:
What the torture is about.–
Why he breathes, a fugitive
Whom the World forbids to live.
Why he earned for his abode,
Habitation of the toad!
Why his fevered day by day
Will not serve to drive away
Horror that must always haunt:–
. . . Want . . . Want!
Nightmare shot with waking pangs;–
Tightening coil, and certain fangs,
Close and closer, always nigh …
. . . Why? . . . Why?
Why he labors under ban
That denies him for a man.
Why his utmost drop of blood
Buys for him no human good;
Why his utmost urge of strength
Only lets Them starve at length;–
Will not let him starve alone;
He must watch, and see his own
Fade and fail, and starve, and die.
* * * *
. . . Why? . . . Why?
* * * *
Heart-beats, in a hammering song,
Heavy as an ox may plod,
Goaded–goaded–faint with wrong,
Cry unto some ghost of God
. . . How long? . . . How long?
. . . . . . How long?
III
Seek him yet. Search for him!
You shall find him, spent and grim;
In the prisons, where we pen
These unsightly shards of men.
Sheltered fast;
Housed at length;
Clothed and fed, no matter how!–
Where the householders, aghast,
Measure in his broken strength
Nought but power for evil, now.
Beast-of-burden drudgeries
Could not earn him what was his:
He who heard the world applaud
Glories seized by force and fraud,
He must break,–he must take!–
Both for hate and hunger's sake.
He must seize by fraud and force;
He must strike, without remorse!
Seize he might; but never keep.
Strike, his once!–Behold him here.
(Human life we buy so cheap,
Who should know we held it dear?)
No denial,–no defence
From a brain bereft of sense,
Any more than penitence.
But the heart-beats now, that plod
Goaded–goaded–dumb with wrong,
Ask not even a ghost of God
. . . . . . How long?
When the Sea gives up its dead,
Prison caverns, yield instead
This, rejected and despised;
This, the Soiled and Sacrificed!
Without form or comeliness;
Shamed for us that did transgress;
Bruised, for our iniquities,
With the stripes that are all his!
Face that wreckage, you who can.
It was once the Singing Man.
IV
Must it be?–Must we then
Render back to God again
This His broken work, this thing,
For His man that once did sing?
Will not all our wonders do?
Gifts we stored the ages through,
(Trusting that He had forgot)–
Gifts the Lord requir'd not?
Would the all-but-human serve!
Monsters made of stone and nerve;
Towers to threaten and defy
Curse or blessing of the sky;
Shafts that blot the stars with smoke;
Lightnings harnessed under yoke;
Sea-things, air-things, wrought with steel,
That may smite, and fly, and feel!
Oceans calling each to each;
Hostile hearts, with kindred speech.
Every work that Titans can;
Every marvel: save a man,
Who might rule without a sword.–
Is a man more precious, Lord?
Can it be?–Must we then
Render back to Thee again
Million, million wasted men?
Men, of flickering human breath,
Only made for life and death?
Ah, but see the sovereign Few,
Highly favored, that remain!
These, the glorious residue,
Of the cherished race of Cain.
These, the magnates of the age,
High above the human wage,
Who have numbered and possesst
All the portion of the rest!
What are all despairs and shames,
What the mean, forgotten names
Of the thousand more or less,
For one surfeit of success?
For those dullest lives we spent,
Take these Few magnificent!
For that host of blotted ones,
Take these glittering central suns.
Few;–but how their lustre thrives
On the million broken lives!
Splendid, over dark and doubt,
For a million souls gone out!
These, the holders of our hoard,–
Wilt thou not accept them, Lord?
V
Oh, in the wakening thunders of the heart,
– – The small lost Eden, troubled through the night,
Sounds there not now,–forboded and apart,
Some voice and sword of light?
Some voice and portent of a dawn to break?–
Searching like God, the ruinous human shard
Of that lost Brother-man Himself did make,
And Man himself hath marred?
It sounds!–And may the anguish of that birth
Seize on the world; and may all shelters fail,
Till we behold new Heaven and new Earth
Through the rent Temple-vail!
When the high-tides that threaten near and far
To sweep away our guilt before the sky,–
Flooding the waste of this dishonored Star,
Cleanse, and o'erwhelm, and cry!–
Cry, from the deep of world-accusing waves,
With longing more than all since Light began,
Above the nations,–underneath the graves,–
'Give back the Singing Man!'
Josephine Preston Peabody
(1874 – 1922)
The Singing Man
• fleursdumal.nl magazine
More in: # Classic Poetry Archive, Archive O-P, Archive O-P
---
On a Ruined Farm near
the His Master's Voice
Gramophone Factory

As I stand at the lichened gate
With warring worlds on either hand –
To left the black and budless trees,
The empty sties, the barns that stand
Like tumbling skeletons – and to right
The factory-towers, white and clear
Like distant, glittering cities seen
From a ship's rail – as I stand here,
I feel, and with a sharper pang,
My mortal sickness; how I give
My heart to weak and stuffless ghosts,
And with the living cannot live.
The acid smoke has soured the fields,
And browned the few and windworn flowers;
But there, where steel and concrete soar
In dizzy, geometric towers –
There, where the tapering cranes sweep round,
And great wheels turn, and trains roar by
Like strong, low-headed brutes of steel –
There is my world, my home; yet why
So alien still? For I can neither
Dwell in that world, nor turn again
To scythe and spade, but only loiter
Among the trees the smoke has slain.
Yet when the trees were young, men still
Could choose their path – the winged soul,
Not cursed with double doubts, could fly,
Arrow-like to a foreseen goal;
And they who planned those soaring towers,
They too have set their spirit free;
To them their glittering world can bring
Faith, and accepted destiny;
But none to me as I stand here
Between two countries, both-ways torn,
And moveless still, like Buridan's donkey
Between the water and the corn.
George Orwell
(1903 – 1950)
The Adelphi Magazine, April 1934.
• fleursdumal.nl magazine
More in: Archive O-P, Archive O-P, George Orwell, Orwell, George
---
Gladness
Unto my Gladness then I cried:
'I will not be denied!
Answer me now; and tell me why
Thou dost not fall, as a broken star
Out of the Dark where such things are,
And where such bright things die.
How canst thou, with thy fountain dance
Shatter clear sight with radiance?–
How canst thou reach and soar, and fling,
Over my heart's dark shuddering,
Unearthly lights on everything?
What dost thou see? What dost thou know?'
My Gladness said to me, bowed below,
'Gladness I am: created so.'
'And dare'st thou, in my mortal veins
Sing, with the Spring's descending rains?
While in this hour, and momently,
Forth of myself I look, and see
Torn treasure of my heart's Desire;
And human glories in the mire,
That should make glad some paradise!–
The childhood strewn in foulest place,
The girlhood, plundered of its grace;
The eyelids shut upon spent eyes
That never looked upon thy face!
Answer me, thou, if answer be!'
My Gladness said to me:
'Weep if thou wilt; yea, weep, and doubt.
I may not let the Sun go out.'
Then to my Gladness still I cried:
'And how canst thou abide?–'
Here, where my listening heart must hark
These sorrows rising from the Dark
Where still they starve, and strive and die,
Who bear each heaviest penalty
Of humanhood;–nor grasp, nor guess,
The garment's hem of happiness!–
The spear-wound throbbing in my song,
It throbs more bitterly than wrong,–
It burns more wildly than despair,–
The will to share,
The will to share!
Little I knew,–the blind-fold I,–
Joy would become like agony,–
Like arrows of the Sun in me!
     *   *   *   *   *
I hold thee here. I have thee, now,–
And I am human. But what art thou!'
My Gladness answered me:
'Wayfarer, wilt thou understand?–
Follow me on. And keep my hand.'
Josephine Preston Peabody
(1874 – 1922)
Gladness
• fleursdumal.nl magazine
More in: # Classic Poetry Archive, Archive O-P, Archive O-P
---
My Baby
He lay on my breast so sweet and fair,
I fondly fancied his home was there,
Nor thought that the eyes of merry blue,
With baby love for me laughing through,
Were pining to go from whence he came,
Leaving my arm empty and heart in pain,
Longing to spread out his wings and fly
To his native home far beyond the sky
They took him out of my arms and said
My baby so sweet and fair was dead,
My baby that was my heart's delight
The fair little body they robed in white
Flowers they placed at the head and feet
Like my baby fair, like my baby sweet,
They laid him down in a certain place,
And round him they draped soft folds of lace
Till I'd look my last at my baby white,
Before they carried him from my sight,
By the sweet dead babe, so fair to see,
They tried in kindness to comfort me
They said, he is safe from care and pain,
Safe and unspotted by sin or stain;
Before the mystery of the years
Brings heart ache or pang, or sorrow's tears.
He's safe, sweet lamb, in the Shepherd's care,
Sorrow nor suffering enters there;
But with brow of gladness, clothed in light,
He is fair as the angels in His sight.
I know what they said to me was true,
And should have fallen on my heart like dew;
For, although my grief was very sore,
My baby was safe for evermore.
I know that they spoke with kindly care,
My grief to comfort and soothe, or share;
But I gave my baby the last, last kiss,
Saying, God alone comforts grief like this.
Nora Pembroke
(Margaret Moran Dixon McDougall)
1826 – 1898
My Baby
• fleursdumal.nl magazine
More in: - Archive Tombeau de la jeunesse, Archive O-P, Archive O-P, CLASSIC POETRY
---
Gulden Sporen
Negentienhonderd Zestien
In dertienhonderd en twee
beken naar de stroom, stromen naar de zee,
zó de verdedigers van het vlaamse-gemeente-sisteem, sterk in de strijd,
wal, tegen de aanval van de franse leenroerigheid;
zee-wal, pal, als de Rode Zee ten tijde van de Eksode
was, tocht van godsvolk naar Kanaäan, tocht der Joden.
Maar negentienhonderd zestien
zal, zij aan zij,
pal, rij op rij,
het aktieve leger groeien zien,
tot een wil en tot een daad,
gekromd de rug en vuist gebald, die de vijand slaat
en de nacht; breekt de dag door dageraad.
Negentienhonderd zestien, jaar dat woord werd,
woord dat vlees werd,
leger van ons land,
wachtersdaad bij wachterswoord en -hand.
Vastberaân, wij staan
in kamp. Wij staan.
… Ik en de stad …
Paul van Ostaijen
(1896 – 1928)
Gulden Sporen
Negentienhonderd Zestien
• fleursdumal.nl magazine
More in: Archive O-P, Archive O-P, Ostaijen, Paul van, Paul van Ostaijen
---
A dressed man
and a naked man

A dressed man and a naked man
Stood by the kip-house fire,
Watching the sooty cooking-pots
That bubble on the wire;
And bidding tanners up and down,
Bargaining for a deal,
Naked skin for empty skin,
Clothes against a meal.
'Ten bob it is,' the dressed man said,
'These boots cost near a pound,
This coat's a blanket of itself.
When you kip on the frosty ground.'
'One dollar,' said the naked man,
'And that's a hog too dear;
I've seen a man strip off his shirt
For a fag and a pot of beer.'
'Eight and a tanner,' the dressed man said,
'And my life-work is yours,
All I've earned at the end of a life
Knocking at farmers' doors;
Turnips, apples, hops and peas,
And the spike when times are slack,
Fifty years I've tobied it
For these clothes upon my back.'
'Take seven,' said the naked man,
'It's cold and the spikes are shut;
Better be naked here in kip
Than dressed in Lambeth Cut.'
'One tanner more,' the dressed man said,
'One tanner says the word,
Off comes my coat of ratcatcher
And my breeches of velvet cord;
Now pull my shirt over my head,
I'm naked sole to crown,
And that's the end of fifty years
Tobying up and down.'
A minute and they had changed about,
And each had his desire;
A dressed man and a naked man
Stood by the kip-house fire.
George Orwell
(1903 – 1950)
The Adelphi Magazine. October 1933
• fleursdumal.nl magazine
More in: Archive O-P, Archive O-P, George Orwell, Orwell, George
---
Ironic Poem
about Prostitution
When I was young and had no sense
In far-off Mandalay
I lost my heart to a Burmese girl
As lovely as the day.
Her skin was gold, her hair was jet,
Her teeth were ivory;
I said, "for twenty silver pieces,
Maiden, sleep with me".
She looked at me, so pure, so sad,
The loveliest thing alive,
And in her lisping, virgin voice,
Stood out for twenty-five.
George Orwell
(1903 – 1950)
• fleursdumal.nl magazine
More in: Archive O-P, Archive O-P, George Orwell, Orwell, George
---
Academy Award-winning actress, director, producer, and activist Natalie Portman retells three classic fables and imbues them with wit and wisdom.
From realizing that there is no "right" way to live to respecting our planet and learning what really makes someone a winner, the messages at the heart of Natalie Portman's Fables are modern takes on timeless life lessons.
Told with a playful, kid-friendly voice and perfectly paired with Janna Mattia's charming artwork, Portman's insightful retellings of The Tortoise and the Hare, The Three Little Pigs, and Country Mouse and City Mouse are ideal for reading aloud and are sure to become beloved additions to family libraries.
Natalie Portman is an Academy Award-winning actress, director, producer, and activist whose credits include Leon: The Professional, Cold Mountain, Closer, V for Vendetta, the Star Wars franchise prequels, A Tale of Love and Darkness, Jackie, and Thor: Love and Thunder. Born in Jerusalem, Israel, she is a graduate of Harvard University, and now lives with her family in Los Angeles. Natalie Portman's Fables is her debut picture book.
Janna Mattia was born and raised in San Diego. She received a degree in Illustration for Entertainment from Laguna College of Art and Design, and now works on concept and character art for film, illustration for licensing, and private commissions. Natalie Portman's Fables is her picture book debut.
Natalie Portman's Fables
Natalie Portman (Author)
Janna Mattia (Illustrator)
Age Range: 4 – 6 years
Hardcover: 64 pages
Publisher: Feiwel & Friends (October 20, 2020)
Language: English
ISBN-10: 1250246865
ISBN-13: 978-1250246868
$17.99
# new books
Natalie Portman's Fables
• fleursdumal.nl magazine
More in: - Book Lovers, - Book News, - Bookstores, Archive O-P, AUDIO, CINEMA, RADIO & TV, Tales of Mystery & Imagination
---
Following the Pulitzer prize-winning collection Stag's Leap, Sharon Olds gives us a stunning book of odes. Opening with the powerful and tender "Ode to the Hymen," Olds addresses and embodies, in this age-old poetic form, many aspects of love and gender and sexual politics in a collection that is centered on the body and its structures and pleasures.
The poems extend parts of her narrative as a daughter, mother, wife, lover, friend, and poet of conscience that will be familiar from earlier collections, each episode and memory burnished by the wisdom and grace and humor of looking back.
In such poems as "Ode to My Sister," "Ode of Broken Loyalty," "Ode to My Whiteness," "Blow Job Ode," and "Ode to the Last Thirty-Eight Trees in New York City Visible from This Window," Olds treats us to an intimate examination that, like all her work, is universal, by turns searing and charming in its honesty.
From the bodily joys and sorrows of childhood to the deaths of those dearest to us, Olds shapes the world in language that is startlingly fresh, profound in its conclusions, and life-giving for the reader.
SHARON OLDS was born in San Francisco and educated at Stanford University and Columbia University. The winner of both the Pulitzer Prize and England's T. S. Eliot Prize for her 2012 collection, Stag's Leap, she is the author of eleven previous books of poetry and the winner of many other honors, including the National Book Critics Circle Award for The Dead and the Living. Olds teaches in the Graduate Creative Writing Program at New York University and helped to found the NYU outreach programs, among them the writing workshop for residents of Goldwater Hospital on Roosevelt Island, and for the veterans of the Iraq and Afghanistan wars. She lives in New York City.
Odes
by Sharon Olds
Published by Knopf
128 Pages
Hardcover
ISBN 9780451493620
$26.95
Paperback
ISBN 9780451493644
$16.95
2016
# new poetry
Sharon Olds:
Odes
• fleursdumal.nl magazine
More in: #Editors Choice Archiv, #More Poetry Archives, Archive O-P, Archive O-P
---
Hagar Peeters (1972) brak in 1997 door als rapdichter en studeerde daarna cum laude af in de cultuur-, mentaliteits en ideeëngeschiedenis vanaf de Verlichting.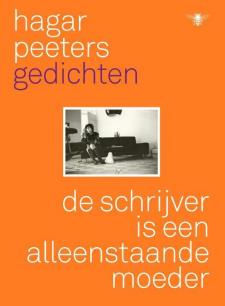 Haar dichtbundels en non-fictie werden meermaals bekroond. In 2008 stond ze op de shortlist van de verkiezing van de Dichter des Vaderlands.
De gedichten van Hagar Peeters worden gezongen door Wende Snijders, Van Dik Hout en Herman van Veen.
Haar in 2015 verschenen debuutroman Malva is bekroond met de Gouden Boekenuil en in zes talen vertaald.
De dichtbundel De schrijver is een alleenstaande moeder vormt het eerste deel van een trilogie waarin ze de verhouding tussen schrijverschap en alleenstaand moederschap onderzoekt.
Het vervolg bestaat uit proza-exercities en filosofische beschouwing. Ze ontving daarvoor een beurs van NIAS-KNAW.
Hagar Peeters studeerde Cultuurgeschiedenis en Algemene Letteren aan de Universiteit van Utrecht en was redacteur bij het Historisch Nieuwsblad. Haar performance op het Double Talk-festival in 1997 bleek voor haar de doorbraak: ze werd gevraagd op te treden bij De Nacht van de Poëzie en Crossing Border, nog voordat zij was gedebuteerd. Dat zou gebeuren in 1999, met Genoeg gedicht over de liefde vandaag. Daarna publiceerde ze Gerrit de stotteraar. Biografie van een boef (2001), waarvoor zij de Nationale Scriptieprijs 2001 van Het Parool kreeg. In 2003 verscheen bij De Bezige Bij haar tweede dichtbundel Koffers zeelucht, die werd bekroond met de Jo Peters Poëzieprijs en de J.C. Bloemprijs. De bundel werd vele malen herdrukt. In het najaar van 2008 verscheen de bundel Loper van licht. Voor de dichtbundel Wasdom (januari 2011) verzamelde Hagar Peeters haar meest recente poëzie, gecombineerd met een selectie uit de gedichten die ze vóór haar twintigste schreef. In september 2015 verscheen haar alom geprezen debuutroman Malva. Het boek werd bekroond met de eerste Fintro Literatuurprijs (voormalige Gouden Boekenuil) 2016 en genomineerd voor de Opzij Literatuurprijs, de Libris Literatuurprijs, de Bronzen Uil, de Inktaap en de ANV Debutantenprijs en is tot nog toe in zes talen vertaald.
De schrijver is een alleenstaande moeder
Gedichten
Auteur: Hagar Peeters
Taal: Nederlands
Paperback
September 2019
96 pagina's
Uitgever De Bezige Bij
EAN 9789403167305
20,99 Euro
# new poetry
Hagaar Peeters
De schrijver is een alleenstaande moeder
• fleursdumal.nl magazine
More in: - Book News, Archive O-P, Archive O-P, Art & Literature News, Peeters, Hagar
---
Older Entries »
« Newer Entries
Thank you for reading FLEURSDUMAL.NL - magazine for art & literature