Archive A-B
«« Previous page
·
Antonin Artaud: Anthology
·
Stephen Parker: Bertolt Brecht. Eine Biografie
·
Milkman by Anna Burns winner of the 50th Man Booker Prize
·
Bert Bevers: In volle werking (gedicht)
·
Ellebogen van Fatma Aydemir. Een roman als een mokerslag
·
Bert Bevers: Selfie van Rogi Wieg (Gedicht)
·
Ambrose Bierce: Presentiment
·
Poso Wells by Gabriela Alemán
·
Alessandro Baricco: Smith & Wesson
·
Walter Benjamin: Deutsche Menschen – Eine Folge von Briefen
·
In Koli Jean Bofane: La Belle de Casa
·
Matthew Arnold: Requiescat
"I am the man," wrote Artaud, "who has best charted his inmost self." Antonin Artaud was a great poet who, like Poe, Holderlin, and Nerval, wanted to live in the infinite and asked that the human spirit burn in absolute freedom.
To society, he was a madman. Artaud, however, was not insane, but in luciferian pursuit of what society keeps hidden. The man who wrote Van Gogh the Man Suicided by Society raged against the insanity of social institutions with insight that proves more prescient with every passing year. Today, as Artaud's vatic thunder still crashes above the "larval confusion" he despised, what is most striking in his writings is an extravagant lucidity.
This collection gives us quintessential Artaud on the occult, magic, the theater, mind and body, the cosmos, rebellion, and revolution in its deepest sense.
Title Artaud Anthology
Author Antonin Artaud
Edited by Jack Hirschman
Publisher City Lights Publishers
Format: Paperback
Nb of pages 256 p.
First published 1963
ISBN-10 0872860000
ISBN-13 9780872860001
$15.95
# new books
Antonin Artaud
fleursdumal.nl magazine
More in: #Biography Archives, - Book Lovers, Antonin Artaud, Archive A-B, Archive A-B, Art & Literature News, Artaud, Antonin, AUDIO, CINEMA, RADIO & TV, Psychiatric hospitals, THEATRE
---
Stephen Parkers Brecht-Biografie setzt neue Maßstäbe, jubeln die KritikerInnen einstimmig – auch wenn Brecht hier nicht gerade sympathisch daherkommt: Als Heuchler, der anderen den Kommunismus predigte, während er gerissen um seine Honorare feilschte und Grundstücke kaufte; Neidhammel, der andere Künstler schlecht machte und sich selbst lobte; politischen Opportunisten und "sexbesessenen Chauvinisten" lernt FR-Kritiker Wilhelm von Sternburg Brecht kennen, betont aber vor allem die Fairness, die der britische Germanist Stephen Parker dem Dichter in diesem nach der Struktur des klassischen Dramas aufgebauten Tausend-Seiten-Werk angedeihen lässt: An Brechts literarischem Genie hat Parker keine Zweifel.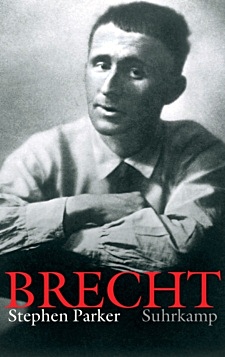 In der taz verdankt Ambros Waibel dem Buch ganz neue Einsichten, etwa in Brechts Verhältnis zu seinen Eltern. Parkers umfangreiche Recherche und Empathie für Brechts komplexen Charakter hebt auch Norbert Meyer in der Presse hervor, "Parkers Brecht-Biografie erinnert an die Vermessung eines literarischen Gullivers mit tausend feinen Fäden", meint Michaela Schmitz im DlF über das faktengesättigte Buch: Dass Parker im Gegensatz zu anderen Biografen Brecht nicht durch die "ideologische Brille" betrachtet, verbucht sie ebenfalls als Gewinn. In der Welt unterhält sich Richard Kämmerlings mit Parker über Brecht.
Zum 120. Geburtstag erscheint in deutscher Sprache die endgültige Darstellung von Bertolt Brechts Leben und Werk. Dieses Prädikat hat sich das Buch des englischen Germanisten und hervorragenden Brechtkenners Stephen Parker durch eine Reihe von Vorzügen erworben.
Hier wird zum ersten Mal das gesamte verfügbare Wissen über den Autor und dessen Arbeit dargeboten und zum Erzählen gebracht. Die lebendige und detailgenaue Darstellung eines aufgrund der politischen, persönlichen und literarischen Verhält­nisse am Abgrund angesiedelten Lebens – nicht die chronolo­gische Registratur – bilden das hervorstechendste Merkmal. Von außen kommend und mit einem unvoreingenommen neutralen Blick zeichnet Parker ein Bild der verschiedenen Lebensstationen und Schaffensperioden Brechts.
Kenntnisreich vollzieht er die damaligen wie heutigen parteiischen Tendenzen nach, so dass sie in ihrer historischen und literaturhistorischen Konstellation erkennbar werden. Engagement für die Sache und Liebe für das Werk Bertolts Brechts sind Stephen Parkers Antriebskräfte. Sein Enthusiasmus begleitet den Dichter von früh an durch alle Entwicklungen und bringt ihn uns in seiner ganzen Widersprüchlichkeit nahe.
Stephen Parker
Bertolt Brecht – Eine Biographie
Aus dem Englischen von Ulrich Fries und Irmgard Müller
Suhrkamp Verlag
Erschienen: 11.06.2018
Gebunden
1030 Seiten
ISBN: 978-3-518-42812-2
58,00 Euro
# new books
Bertolt Brecht Biographie
fleursdumal.nl magazine
More in: #Biography Archives, - Book News, - Bookstores, Archive A-B, Archive O-P, Art & Literature News, Bertolt Brecht, THEATRE
---
'None of us has ever read anything like this before. Anna Burns' utterly distinctive voice challenges conventional thinking and form in surprising and immersive prose. It is a story of brutality, sexual encroachment and resistance threaded with mordant humour. Set in a society divided against itself, Milkman explores the insidious forms oppression can take in everyday life.'  Kwame Anthony Appiah, 2018 Chair of Judges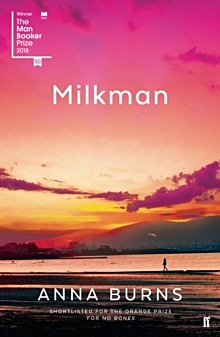 Set in an un-named city but with an astonishing, breath-shorteningly palpable sense of time and place Milkman is a tale of gossip and hearsay, silence and deliberate deafness. The story of inaction with enormous consequences and decisions that are never made, but for which people are judged and punished.
Middle sister is our protagonist. She is busy attempting to keep her mother from discovering her nearly-boyfriend and to keep everyone in the dark about her encounter with milkman (which she herself for the life of her cannot work out how it came about). But when first brother-in-law, who of course had sniffed it out, told his wife, her first sister, to tell her mother to come and have a talk with her, middle sister becomes 'interesting'. The last thing she ever wanted to be. To be interesting is to be noticed and to be noticed is dangerous.
Milkman is a searingly honest novel told in prose that is as precise and unsentimental as it is devastating and brutal. A novel that is at once unlocated and profoundly tethered to place is surely a novel for our times.
Anna Burns was born in Belfast, Northern Ireland. She is the author of two novels, No Bones and Little Constructions, and of the novella, Mostly Hero. No Bones won the Winifred Holtby Memorial Prize and was short-listed for the Orange Prize for Fiction. She lives in East Sussex, England.
Milkman
by Anna Burns
Fiction
Language: English
Publisher: Faber & Faber
Imprint: Faber Fiction
2018
360 pages
Paperback
ISBN-10: 9780571338757
ISBN-13: 978-0571338757
Awards: Man Booker Prize 2018 UK
# new fiction
man booker prize 2018
fleursdumal.nl magazine
More in: - Book Lovers, - Book News, Archive A-B, Art & Literature News, Awards & Prizes, Literary Events
---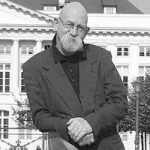 In volle werking
Die man daar, in volle werking, heeft nooit
iets anders geleerd dan te doen wat hij doet.
Wat hij moet. Dat zag hij goed, de bekijker.
Reeds jong vermoedde hij het: groot genoeg
is nooit je jeugd. De scheppingsdrift? Check.
De hitte van jong bloed? Check. Van wijken
geen weet. Hij wilde weg van louter wit en
zwart. Wenste naar de vervaarlijke geheimen
van zanglijstereiblauw en zonnebloemgeel.
Naar het ruw idioom van vergeten sermoenen.
Hij wist het vroeg reeds, en hij leefde ernaar:
het heeft geen zin om in dode akkers te spitten.
Bert Bevers
Gedicht: In volle werking
Geschreven bij Brief met schets aan Theo van Gogh van Vincent van Gogh, en verschenen in Omtrent Vincent, Uitgeverij Trajart, Chaam, april 2015
Bert Bevers is a poet and writer who lives and works in Antwerp (Be)
fleursdumal.nl magazine
More in: Archive A-B, Archive A-B, Bevers, Bert
---
Een jonge Turks-Duitse duwt een Duitser voor de metro. Hij sterft, zij voelt geen berouw. Warm en vurig vertelt Fatma Aydemir over diegenen die tussen culturen en landen leven en hun plaats op de wereld zoeken.

Ze is zeventien. Ze is in Berlijn geboren. Ze heet Hazal Akgündüz. Er werd haar beloofd dat ze alles kon worden wat ze maar wou. Maar steeds opnieuw moet ze opboksen tegen vooroordelen en discriminatie.
Tot ze op een nacht te veel gedronken heeft en een Duitse student die haar uitdaagt, voor de metro duwt. Als de politie haar achterna zit vlucht Hazal naar Istanbul, waar ze nooit eerder is geweest. Ze ziet op krantenfoto's de grijns op haar gezicht terwijl ze de jongen aanvalt maar voelt geen berouw.
Ellebogen is een urgent, gewaagd en onverzoenlijk verhaal over de woede van een migrantendochter in een Europa waar ze zich nooit helemaal thuis voelde.
Fatma Aydemir (1986) is de dochter van Turkse gastarbeiders. Ze heeft Duits en Amerikanistiek gestudeerd en werkt als redacteur voor de krant Taz. Haar controversiële debuutroman Ellebogen werd meteen een fenomeen in Duitsland. Op 11 maart 2017 kopte de Volkskrant al: 'Over dit debuut schrijven alle Duitse kwaliteitskranten'. Aydemir neemt met regelmaat deel aan het publieke debat over integratie in Duitsland.
"'Ellebogen is een stomp in de maag. Of beter gezegd, twee. Eén voor de misogyne Turkse gemeenschap. En één voor de huichelarij van onze o zo liberale samenleving.'" – Süddeutsche Zeitung
Titel: Ellebogen
Auteur: Fatma Aydemir
Vertaler(s): Marcel Misset
240 pagina's
€ 19,99
Uitgever: Signatuur
2017
ISBN: 978-90-5672-590-7
NUR: 302
new books
fleursdumal.nl magazine
More in: - Book News, - Bookstores, Archive A-B, Art & Literature News, Galerie Deutschland
---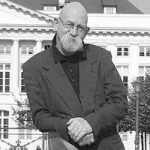 Selfie van Rogi Wieg
De tijd graaft mij in. Dit moet
een droombeeld zijn: Ik wandel
tussen rozen. Ik heb niet aan de dood
gedacht. Ik zie door glas hoe regen
neerdaalt. De avond hangt stil en ik
ben doorgelopen. Wij spreken niet
van doodgaan. Niets gaat verloren
in het ruisen, maar niemand wijst
de weg. Zo zal het einde zijn.
Wie weggaat komt ooit ergens aan.
Bert Bevers
Gedicht: Selfie van Rogi Wieg
Verschenen in In de kring van menselijke warmte – Hommage aan Rogi Wieg, samenstelling Peter de Rijk, Uitgeverij In De Knipscheer, Haarlem, 2017
Bert Bevers is a poet and writer who lives and works in Antwerp (Be)
fleursdumal.nl magazine
More in: Archive A-B, Archive A-B, Bevers, Bert, Wieg, Rogi
---
Presentiment
With saintly grace and reverent tread,
She walked among the graves with me;
Her every foot-fall seemed to be
A benediction on the dead.
The guardian spirit of the place
She seemed, and I some ghost forlorn
Surprised in the untimely morn
She made with her resplendent face.
Moved by some waywardness of will,
Three paces from the path apart
She stepped and stood — my prescient heart
Was stricken with a passing chill.
The folk-lore of the years agone
Remembering, I smiled and thought:
"Who shudders suddenly at naught,
His grave is being trod upon."
But now I know that it was more
Than idle fancy. O, my sweet,
I did not think so little feet
Could make a buried heart so sore!
Ambrose Bierce
(1842-1914)
poetry
fleursdumal.nl magazine
More in: Archive A-B, Archive A-B, Bierce, Ambrose
---
Celebrated Ecuadorian author Gabriela Alemán's first work to appear in English: a noir, feminist eco-thriller in which venally corrupt politicians and greedy land speculators finally get their just comeuppance!
"The story is a condemnation not only of the corrupt businessmen and the criminal gangs that rule Poso Wells but also of the violence against women that plagues Latin America's real slums." –– The New Yorker
In the squalid settlement of Poso Wells, women have been regularly disappearing, but the authorities have shown little interest. When the leading presidential candidate comes to town, he and his entourage are electrocuted in a macabre accident witnessed by a throng of astonished spectators. The sole survivor—next in line for the presidency—inexplicably disappears from sight.
Gustavo Varas, a principled journalist, picks up the trail, which leads him into a violent, lawless underworld. Bella Altamirano, a fearless local, is on her own crusade to pierce the settlement's code of silence, ignoring repeated death threats. It turns out that the disappearance of the candidate and those of the women are intimately connected, and not just to a local crime wave, but to a multinational magnate's plan to plunder the country's cloud forest preserve.
Title: Poso Wells
Author: Gabriela Alemán
Translated by Dick Cluster
Publisher City Lights Publishers
Format Paperback
ISBN-10 0872867552
ISBN-13 9780872867550
Publication Date 14 August 2018
Main content page count 160
List Price $14.95
new books
fleursdumal.nl magazine
More in: - Book News, - Bookstores, Archive A-B, Art & Literature News
---
«Maintenant je résume : on attendait un tas de choses de la vie, on n'a rien fait de bien, on glisse peu à peu vers le néant, et ce dans un trou paumé où une splendide cascade nous rappelle tous les jours que la misère est une invention humaine et la grandeur le cours naturel du monde.»
Année 1902, Tom Smith et Jerry Wesson se rencontrent au pied des chutes du Niagara. L'un passe son temps à rédiger des statistiques météorologiques ; l'autre à repêcher les corps engloutis par les rapides.
Rencontre exceptionnelle, comme celle que les deux types font avec Rachel Green, jeune journaliste prête à tout pour dénicher le scoop du siècle, même à embarquer Smith et Wesson dans son projet loufoque : plonger dans les chutes du Niagara et s'en sortir vivante. Tout le monde en rêve, personne ne l'a jamais fait. Il ne reste alors qu'à se glisser dans un tonneau, défier les lois de la physique et sauter.
Nous avons tous besoin d'une histoire mémorable, d'un exploit hors norme pour réaliser quelque chose qui nous soit vraiment propre.
Alessandro Baricco (1958): Prix Médicis étranger 1995
Alessandro Baricco:
Smith & Wesson
Trad. de l'italien par Lise Caillat
Collection Du monde entier, Gallimard
Parution : 17-05-2018
160 pages
140 x 205 mm
Genre : Littérature Italiennes
Pays : Italie
Époque : XXe-XXIe siècle
ISBN : 9782070179039
Code distributeur : A17903
Prix €16,00
new books
fleursdumal.nl magazine
More in: #Biography Archives, - Book News, - Bookstores, Archive A-B
---
Von Ehre ohne Ruhm, von Grösse ohne Glanz, von Würde ohne Sold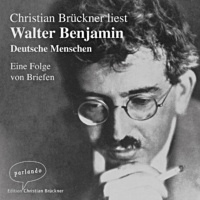 Die 1936 in einem Schweizer Verlag erschienene Briefsammlung "Deutsche Menschen" ist Walter Benjamins letzte Veröffentlichung zu Lebzeiten.
Siebenundzwanzig Briefe von Kant bis Goethe, von Droste-Hülshoff bis Büchner aus den Jahren zwischen 1767 und 1883 hat er zusammengestellt und kommentiert, um seinen Landsleuten das bessere Beispiel eines aufgeklärten und humanistischen Bürgertums vorzuhalten.
Das Private und das Objektive der Briefe sind durch den Abstand des Betrachters nicht mehr Gegensätze: Beides vermischt sich, gleicht sich an. Die Personen mit ihren Bedürfnissen gehen auf in ihrer Epoche, ihre Freuden und Schmerzen zeigen sich als Zeichen ihrer Zeit und Herkunft.
Walter Benjamin
Deutsche Menschen
Eine Folge von Briefen
(Ungekürzte Lesung)
MP3 Hörbuch Download
€13,95
Laufzeit ca. 223 Minuten.
Vorgelesen von Christian Brückner
Argon Verlag GmbH
Oktober 2017
Format: MP3
Kopierschutz: Adobe
new audio books
fleursdumal.nl magazine
More in: - Audiobooks, Archive A-B, Art & Literature News, AUDIO, CINEMA, RADIO & TV, Walter Benjamin
---
Qui a bien pu tuer Ichrak la belle, dans cette ruelle d'un quartier populaire de Casablanca?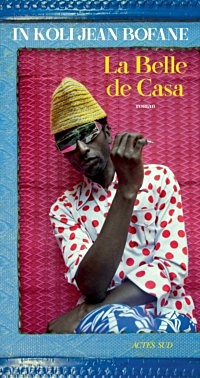 Elle en aga­çait plus d'un, cette effrontée aux courbes sublimes, fille sans père née d'une folle un peu sorcière, qui ne se laissait ni séduire ni importuner. Tous la convoi­taient autant qu'ils la craignaient, sauf peut-être Sese, clandestin arrivé de Kinshasa depuis peu, devenu son ami et associé dans un business douteux. Escrocs de haut vol, brutes épaisses ou modestes roublards, les suspects ne manquent pas dans cette métropole du xxie siècle gouvernée comme les autres par l'argent, le sexe et le pouvoir.
Et ce n'est pas l'infatigable Chergui, vent violent venu du désert pour secouer les palmiers, abraser les murs et assécher les larmes, qui va apaiser les esprits…
Avec sa lucidité acérée et son humour féroce, In Koli Jean Bofane dénonce la corruption immobilière, la précarité des migrants et la concupiscence mascu­line. Par son talent de conteur, son art du dialogue et des portraits, il bouscule joyeusement une réalité contemporaine tout à fait accablante – la truculence du désespoir.
In Koli Jean Bofane est né le 24 octobre 1954 à Mbandaka (R.D. du Congo) et vit en Belgique. En France, il a publié Pourquoi le lion n'est plus le roi des animaux (Gallimard Jeunesse), lauréat du Prix de la Critique de la Communauté Française de Belgique ; et chez Actes Sud : Mathématiques congolaises (2008) et Congo Inc., le testament de Bismarck (2014, Prix des cinq continents de la Francophonie). Ses ouvrages ont été traduits aux USA, en Allemagne, au Brésil, en Corée, en Slovénie.
La Belle de Casa
In Koli Jean BOFANE
Actes Sud Littérature
Domaine français
Août, 2018
11,5 x 21,7
208 pages
isbn 978-2-330-10935-6
€19,00
new books
fleursdumal.nl magazine
More in: - Book News, - Book Stories, Archive A-B, Art & Literature News
---
Requiescat
Strew on her roses, roses,
And never a spray of yew.
In quiet she reposes:
Ah! would that I did too.
Her mirth the world required:
She bathed it in smiles of glee.
But her heart was tired, tired,
And now they let her be.
Her life was turning, turning,
In mazes of heat and sound.
But for peace her soul was yearning,
And now peace laps her round.
Her cabin'd, ample Spirit,
It flutter'd and fail'd for breath.
To-night it doth inherit
The vasty hall of Death.
Matthew Arnold
(1822-1888)
poetry
fleursdumal.nl magazine
More in: #More Poetry Archives, Archive A-B, Archive A-B, Galerie des Morts
---
Older Entries »
« Newer Entries
Thank you for reading FLEURSDUMAL.NL - magazine for art & literature