Archive O-P
·
Paul van Ostaijen gedicht: Aan Cendrars
·
Paul van Ostaijen gedicht: Marcel Schwob
·
Laure (Colette Peignot): Esmeralda
·
Morgan PARKER: There Are More Beautiful Things Than Beyoncé
·
Gedicht 'Theater' van Jef van KEMPEN vertaald door Bernard ODENDAAL
·
Jessie POPE: The Zeppelin Armada
·
JESSIE POPE: War Girls
·
KATHERINE PHILIPS: EPITAPH ON HER SON H.P.
·
KATHERINE PHILIPS: L'AMITIE, TO MRS. M. AWBREY
·
KATHERINE PHILIPS: ON THE WELSH LANGUAGE
·
CHARLES D'ORLÉANS: MA SEULE AMOUR QUE TANT DÉSIRE
·
FRANK VAN PAMELEN: DE WRAAK VAN VONDEL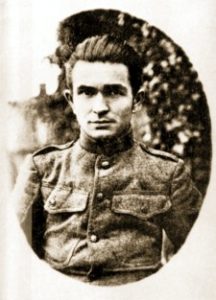 Aan Cendrars
Man              loopt              straat
luide  stem  tussen  huizen
hij               roept
                klinkt  klinker  klaar
Blaise         Blaise      BLAIS –
                                 se
               gij zijt het
               Cendrars
Paul van Ostaijen
(1896 – 1928)
Aan Cendrars
fleursdumal.nl magazine
More in: *Concrete + Visual Poetry K-O, Archive C-D, Archive O-P, Cendrars, Blaise, Ostaijen, Paul van, Paul van Ostaijen, Paul van Ostaijen
---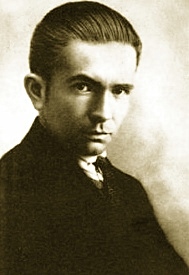 Marcel Schwob
Ik wil de wonderlijke wonden
van uw voeten zoenen, ik, de boetende,
en gij die reeds gekruisigd werd.
Ik weet ook gij
werd aan het kruis gekromd,
mijn stille kruistochtkind.
Gij zijt de stem van de Doper,
doch ik ben niet de Tetrarch.
Gij zijt het gans gebeuren.
U tegenover zal ik niet zondigen,
want uwe wonde ken ik,
zonder dat mijn hand hare kilte voelt.
Van uwe lippen wil ik de liefde drinken,
was ook uw lijf nog slechts een vreselijk offer,-
de melaatse kluizenaar in de woestijn.
Mijn handen zijn nog niet doorwond,
de koorden snijden enkel het vlees
van mijn arme armen.
Doch zeg slechts een woord, gekruisigde,
en de lichten in mij zullen zich omzetten
tot de kaarsen van het paradijs.
Paul van Ostaijen
(1896 – 1928)
Gedicht: Marcel Schwob
Marcel Schwob (1867 – 1905),
was a Jewish – French symbolist writer.
fleursdumal.nl magazine
More in: *Concrete + Visual Poetry K-O, Archive O-P, Marcel Schwob, Ostaijen, Paul van, Paul van Ostaijen, Paul van Ostaijen
---
Esmeralda
Esmeralda
Esmeralda
une voix de femme crie appelle
hop hop
des écuyères
des équilibristes
au moment
dangerereux
un sourd galop
de cheval
une piste
un grand cheval noir…
Esmeralda galope nue sur un cheval fou
Esmeralda et son corps blanc de neige et sa longue large chevelure rousse
qui touche et s'emmêle à la crinière
à la queue
de lourd crin noir
Esmeralda
se couche
se cabre
se renverse
longue chevelure
et crinière
longue chevelure
et queue
plus longue que l'épaisse queue de crin
D'un claquement de fouet
Esmeralda
est debout sur le cheval
rutilante
de nudité
fraîcheur
Cette blancheur
trop blanche de rousse
et ses seins lourds et la corolle très large fendue
dans la blancheur un peu blessée décentrée
d'un si tendre et si fin bouton
Esmeralda
joue
dans une chambre toute capitonnée
Voilée de tissus vert tendre
elle est parfumée
elle sort du bain
elle joue parce que c'est l'heure pour elle de jouer de s'exercer
de plus en plus savamment
aux exercices
dans le petit (réduit)
attenant à sa chambre
Esmeralda est promise au plaisir
née pour le plaisir
sa tendre étoile
sous laquelle elle est née
tendres sont les hommes
Esmeralda saute du cheval
Et ne remonte plus à sa chambre = elle suit le cheval
et rentre à l'écurie
Tendre tendre
Esmeralda
rentre dans son box à côté de
son box en tout point semblable à l'autre
La journée commence
de grands claquements de fouets se font entendre
auxquels se joint le hennissement du cheval
un cri
Esmeralda lève-toi
ta chaîne à la mangeoire
un homme te regarde
assis sur un petit trépied
les genoux tu écartes nue mains sur
la cuisse
l'autre tient le fouet debout
Esmeralda tu seras sage aujourd'hui
– Comme toujours
– Non, pas « comme tous les jours »
folle que tu es
plus que tous les jours
Laure
(Colette Peignot 1903 – 1938)
Esmeralda
fleursdumal.nl magazine
More in: Archive K-L, Archive O-P, Laure (Colette Peignot)
---
The only thing more beautiful than Beyoncé is God, and God is a black woman sipping rosé and drawing a lavender bath, texting her mom, belly-laughing in the therapist's office, feeling unloved, being on display, daring to survive. Morgan Parker stands at the intersections of vulnerability and performance, of desire and disgust, of tragedy and excellence.
Unrelentingly feminist, tender, ruthless, and sequined, these poems are an altar to the complexities of black American womanhood in an age of non-indictments and déjà vu, and a time of wars over bodies and power. These poems celebrate and mourn. They are a chorus chanting: You're gonna give us the love we need.
Morgan Parker is the author of Other People's Comfort Keeps Me Up At Night (Switchback Books 2015), selected by Eileen Myles for the 2013 Gatewood Prize.
Her work has been featured or is forthcoming in numerous publications, as well as anthologized in Why I Am Not A Painter (Argos Books), The BreakBeat Poets: New American Poetry in the Age of Hip-Hop (Haymarket Books), and Best American Poetry 2016.
Winner of a 2016 Pushcart Prize and a Cave Canem graduate fellow, Morgan lives with her dog, Braeburn, in Brooklyn, New York. She works as an editor for Little A and Day One, co-curates the Poets With Attitude (PWA) reading series with Tommy Pico, and with poet Angel Nafis, she is The Other Black Girl Collective.
A TIME Magazine Best Paperback of 2017
A Paris Review Staff Pick
A Publishers Weekly Pick of the Week
A Buzzfeed "Most Exciting Book of 2017"
A VICE Most Anticipated Book
NPR.org's "Poetry to Pay Attention To"
"[A] tremendous new collection." VICE
Morgan Parker
There Are More Beautiful Things Than Beyoncé
Tin House Publisher
ISBN 978-1-941040-53-9
paperback, 96p,
2017, $14.95
fleursdumal.nl magazine
More in: - Book News, Archive O-P, Art & Literature News
---
Vertaling van het gedicht Theater van Jef van Kempen in het Zuid-Afrikaans door Bernard Odendaal.
Eerder gepubliceerd door Carina van der Walt in: Versindaba – 'n Kollektiewe weblog vir die Afrikaanse digkuns –
http://versindaba.co.za/2016/03/31/carina-van-der-walt-jeroen-bosch-se-skilderye/
Theater
Stel je voor: een toneel van dolende nachtvogels
boven een doorweekte woestijn, in een duister
hospitaal voor koortsige landlopers.
Stel je voor: een opera van rondborstige gedrochten,
verwekt in een glazen stolp, amechtig lispelend,
op kromme stelten strompelend, in een vuile
sneeuwjacht van de diepe winter.
Eind goed al goed vonden de trage doden hun draai
en bestegen, tegen de keer, het paard van Troje
en maakten hun dromen waar.
Jef van Kempen
(Uit de bundel 'Laatste Bedrijf' 2012)
Teater
Stel jou voor: 'n toneel van dolende nagvoëls
bokant 'n deurweekte woestyn, in 'n donker
hospitaal vir koorsige boemelaars.
Stel jou voor: 'n opera van rondborstige gedrogte
verwek onder 'n glasstolp, uitasem lispelend,
op krom stelte strompelend, morsig aan die
jag in die diepwintersneeuw.
Einde goed alles goed kry die trae dooies hul draai
en bestyg, dwarstrekkerig, die perd van Troje
en maak hulle drome waar.
Vertaling Bernard Odendaal (2016)
FOTO: v.l.n.r. Martin Beversluis, Desmond Painter, Bernard Odendaal, Carina van der Walt, Annelie David, Bert Bevers en Jef van Kempen (foto Nel van Kempen 2015)
fleursdumal.nl magazine
More in: Archive K-L, Archive O-P, Bernard Odendaal, Bevers, Bert, Beversluis, Martin, Carina van der Walt, Jef van Kempen, Kempen, Jef van, Literaire Salon in 't Wevershuisje, TRANSLATION ARCHIVE
---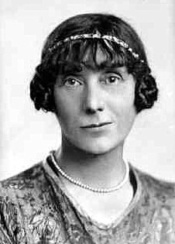 Jessie Pope
(1868 – 1941)
The Zeppelin Armada
'To-Day, since Zeppelins are in the air,
And folks glance skywards as they go their ways,
Let us hark back a bit to an affair
That happened in Queen Bess's sturdy days,
When the Armada, backed by Spanish lust
A fleet that floating palaces resembled
Sailed proudly forth to crush us in the dust,
While all the tremulous in England trembled.
What was the fate of those unwieldy craft ?
Our little frigates made of British oak
Harassed the mighty galleons fore and aft,
Handy to strike and shun the counterstroke.
The Great Invasion ended in defeat.
No more could Philip play the part of mocker,
The rout of the Armada was complete,
And down it went to Davy Jones's locker.
What frigates did in 1558
May be repeated in the air to-day,
When clumsy Zeppelins may meet their fate
From aeroplanes that sting and dart away.
A well-equipped and handy air patrol
Would circumvent an aerial attack.
If London is to be the Zeppes' goal,
It's up to us to see they don't go back!
Jessie Pope
fleursdumal.nl magazine
More in: *War Poetry Archive, Archive O-P, CLASSIC POETRY, WAR & PEACE
---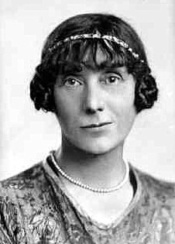 Jessie Pope
(1868 – 1941)
War Girls
'There's the girl who clips your ticket for the train,
And the girl who speeds the lift from floor to floor,
There's the girl who does a milk-round in the rain,
And the girl who calls for orders at your door.
Strong, sensible, and fit,
They're out to show their grit,
And tackle jobs with energy and knack.
No longer caged and penned up,
They're going to keep their end up
'Til the khaki soldier boys come marching back.
There's the motor girl who drives a heavy van,
There's the butcher girl who brings your joint of meat,
There's the girl who calls 'All fares please!' like a man,
And the girl who whistles taxi's up the street.
Beneath each uniform
Beats a heart that's soft and warm,
Though of canny mother-wit they show no lack;
But a solemn statement this is,
They've no time for love and kisses
Till the khaki soldier boys come marching back.
Jessie Pope
fleursdumal.nl magazine
More in: *War Poetry Archive, Archive O-P, CLASSIC POETRY, WAR & PEACE
---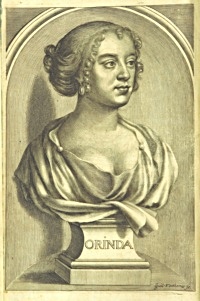 Katherine Philips
(1631-1664)
Epitaph On Her Son H. P.
At St. Syth's Church
Wher Her Body Also Lies Interred
What on Earth deserves our trust ?
Youth and Beauty both are dust.
Long we gathering are with pain,
What one moment calls again.
Seven years childless, marriage past,
A Son, a son is born at last :
So exactly lim'd and fair.
Full of good Spirits, Meen, and Air,
As a long life promised,
Yet, in less than six weeks dead.
Too promising, too great a mind
In so small room to be confin'd :
Therefore, as fit in Heav'n to dwell,
He quickly broke the Prison shell.
So the subtle Alchimist,
Can't with Hermes Seal resist
The powerful spirit's subtler flight,
But t'will bid him long good night.
And so the Sun if it arise
Half so glorious as his Eyes,
Like this Infant, takes a shrowd,
Buried in a morning Cloud.
Katherine Philips poetry
fleursdumal.nl magazine
More in: Archive O-P, CLASSIC POETRY
---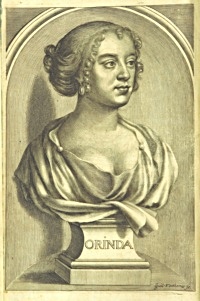 Katherine Philips
(1631-1664)
L'amitie: To Mrs. M. Awbrey
Soule of my soule! my Joy, my crown, my friend!
A name which all the rest doth comprehend;
How happy are we now, whose sols are grown,
By an incomparable mixture, One:
Whose well acquainted minds are not as neare
As Love, or vows, or secrets can endeare.
I have no thought but what's to thee reveal'd,
Nor thou desire that is from me conceal'd.
Thy heart locks up my secrets richly set,
And my breast is thy private cabinet.
Thou shedst no teare but what but what my moisture lent,
And if I sigh, it is thy breath is spent.
United thus, what horrour can appeare
Worthy our sorrow, anger, or our feare?
Let the dull world alone to talk and fight
And with their vast ambitions nature fright;
Let them despise so innocent a flame,
While Envy, pride, and faction play their game:
But we by Love sublim'd so high shall rise,
To pitty Kings, and Conquerours despise,
Since we that sacred union have engrost,
Which they and all the sullen world have lost.
Katherine Philips poetry
fleursdumal.nl magazine
More in: Archive O-P, CLASSIC POETRY
---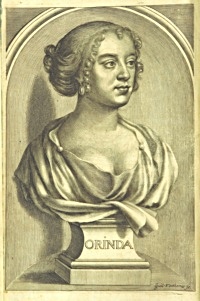 Katherine Philips
(1631-1664)
On the Welsh Language
If honor to an ancient name be due,
Or riches challenge it for one that's new,
The British language claims in either sense
Both for its age, and for its opulence.
But all great things must be from us removed,
To be with higher reverence beloved.
So landskips which in prospects distant lie,
With greater wonder draw the pleasèd eye.
Is not great Troy to one dark ruin hurled?
Once the fam'd scene of all fighting world.
Where's Athens now, to whom Rome learning owes,
And the safe laurels that adorned her brows?
A strange reverse of fate she did endure,
Never once greater, than she's now obscure.
Even Rome her self can but some footsteps show
Of Scipio's times, or those of Cicero.
And as the Roman and the Grecian state,
The British fell, the spoil of time and fate.
But though the language hath the beauty lost,
Yet she has still some great remains to boast.
For 'twas in that, the sacred bards of old,
In deathless numbers did their thoughts unfold.
In groves, by rivers, and on fertile plains,
They civilized and taught the listening swains;
Whilst with high raptures, and as great success,
Virtue they clothed in music's charming dress.
This Merlin spoke, who in his gloomy cave,
Even Destiny her self seemed to enslave.
For to his sight the future time was known,
Much better than to others is their own;
And with such state, predictions from him fell,
As if he did decree, and not foretell.
This spoke King Arthur, who, if fame be true,
Could have compelled mankind to speak it too.
In this once Boadicca valor taught,
And spoke more nobly than her soldiers fought:
Tell me what hero could be more than she,
Who fell at once for fame and liberty?
Nor could a greater sacrifice belong,
Or to her children's, or her country's wrong.
This spoke Caractacus, who was so brave,
That to the Roman fortune check he gave:
And when their yoke he could decline no more,
He it so decently and nobly wore,
That Rome her self with blushes did believe,
A Britain would the law of honor give;
And hastily his chains away she threw,
Lest her own captive else should her subdue.
Katherine Philips poetry
fleursdumal.nl magazine
More in: Archive O-P, CLASSIC POETRY
---
Charles d'Orléans
(1394-1465)
Ma seule amour que tant désire
Ma seule amour que tant désire,
Mon réconfort, mon doux penser,
Belle nonpareille, sans per,
Il me déplaît de vous écrire.
Car j'aimasse mieux à le dire
De bouche, sans le vous mander,
Ma seule amour que tant désire,
Mon réconfort, mon doux penser !
Las ! or n'y puis-je contredire ;
Mais Espoir me fait endurer,
Qui m'a promis de retourner
En liesse, mon grief martyre,
Ma seule amour que tant désire !
Charles d'Orléans póesie

fleursdumal.nl magazine

More in: Archive O-P, d'Orléans Charles
---
De wraak van Vondel van Frank van Pamelen is een literair labyrint dat teruggaat naar de tijd van Vondel, naar de rederijkers uit de zeventiende eeuw en hun opvolgers. Op twaalf plaatsen in Amsterdam hebben zij sporen nagelaten, aanwijzingen die leiden naar het best bewaarde geheim uit de vaderlandse geschiedenis. Een geheim met gevolgen voor de troonswisseling. Aan journalist Maaike van Reede de taak om het mysterie op te lossen. Ze belandt in een doolhof van dichtregels en cryptische verwijzingen en heeft nog achttien uur tot de troonswisseling. De wraak van Vondel is voor de lezers van Dan Brown en IV van Arjen Lubach.
Frank van Pamelen werd op 17 juni 1965 geboren in Terneuzen, studeerde Letteren aan de Katholieke Universiteit Brabant en is schrijver, dichter en kleinkunstenaar. Hij woont met vrouw en dochters in Tilburg. Van Pamelen schrijft cabaretpogramma's, musicals, jeugdboeken, kinderliedjes, columns, gedichten en teksten voor radio en televisie.
Zijn werk was te horen en te lezen bij o.a. De Tweede Ronde, Brabants Dagblad, Trouw, Ook Dat Nog (KRO), VOF de Kunst, Vroege Vogels (VARA), NRC Next, Theater van het Sentiment (KRO), Dit is de Dag (EO) en Cappuccino (NCRV).
Zijn boeken verschijnen bij Ambo|Anthos (literaire thriller), Leopold (jeugdboeken) en Nijgh & Van Ditmar (light verse).
De wraak van Vondel
Een eeuwenoud mysterie, een apotheose in Amsterdam rond de troonswisseling van 2013
€ 19,99
Auteur: Frank van Pamelen
ISBN 9789026329906
Uitgever Ambo/Anthos Uitgevers
fleursdumal.nl magazine
More in: - Book News, Archive O-P, Art & Literature News, LIGHT VERSE, Pamelen, Frank van
---
Older Entries »
Thank you for reading FLEURSDUMAL.NL - magazine for art & literature