Archive A-B
«« Previous page
·
Nieuwe digitale bundel Fantom Ebooks (nr 2) van Paul Bezembinder
·
Bert Bevers gedicht: Caprice
·
Nieuwe digitale dichtbundel Fantom Ebooks – nr 2: Kwatrijnen van Paul Bezembinder
·
Lord Byron: Growing Old
·
Hugo Ball: Bagatelle
·
Bert Bevers gedicht: In de doorslaap
·
Robert Burns: Address to Edinburgh
·
Hugo Ball: Eröffnungs-Manifest, 1. Dada-Abend
·
Guillaume Apollinaire: La Jolie Rousse
·
Pierre-Jean de Béranger: La bacchante
·
William Blake: The Angel poetry
·
Guillaume Apollinaire: Hôtels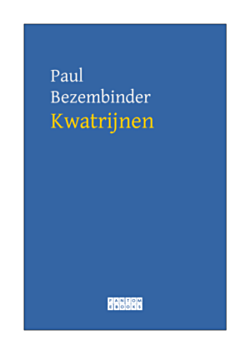 More in: - Book News, - Fantom Ebooks, Archive A-B, Art & Literature News, Bezembinder, Paul, PRESS & PUBLISHING
---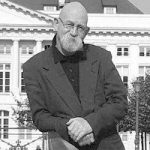 Caprice
Een gedicht zwicht niet voor het schuurpapier
van de logica en dus spoed ik mij op de cadans
van een stencilmachine in dromen door een stad
die het Milaan van Ermanno Olmi moet zijn.
Hoe er oogharen van Lombarden in hun keramiek
zijn beland, er verraad à gogo wordt gepleegd.
Beloftes aan het verleden hebben geen zin.
Bert Bevers
Gedicht: Caprice
Uit Andere taal, Uitgeverij Litera Este, Borgerhout, 2010
Bert Bevers is a poet and writer who lives and works in Antwerp (Be)
fleursdumal.nl magazine
More in: Archive A-B, Archive A-B, Bevers, Bert
---
Vandaag verschijnt het nieuwste deel in de reeks digitale publicaties van fleursdumal.nl, Fantom Ebooks. Fantom Ebooks nummer 2 is een werk van de Eindhovense dichter, schrijver en vertaler Paul Bezembinder, getiteld 'Kwatrijnen. Filosofische Verkenningen'. De e-bundel omvat achttien filosofische en absurdistische kwatrijnen.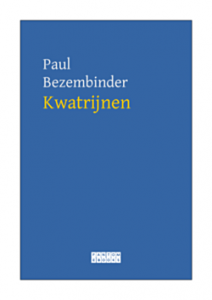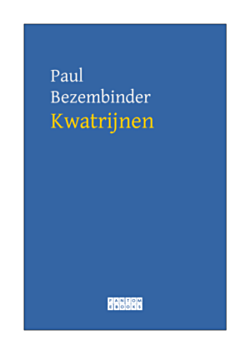 Bezembinder (1961) studeerde theoretische natuurkunde in Nijmegen. In zijn poëzie zoekt hij in vooral klassieke versvormen en thema's naar de balans tussen serieuze poëzie, pastiche en smartlap. Zijn gedichten (Nederlands) en vertalingen (Russisch- Nederlands) verschenen in verschillende (online) literaire tijdschriften, waaronder fleursdumal.nl. Voorbeelden van zijn werk zijn ook te vinden op zijn website: www.paulbezembinder.nl
Fantom Ebooks is een uitgave van Art Brut Digital Editions en publiceert onregelmatig bijzondere kunst- en literatuurprojecten. Deel 3 verschijnt eind 2018. Fantom Ebooks nummer 1 is de bundel OVERVLOED van dichter Bert Bevers. Deze bevat tien verschillende vertalingen van het gedicht 'Overvloed' van Bert Bevers.
PAUL BEZEMBINDER
KWATRIJNEN
Filosofische Verkenningen
FANTOM EBOOKS
Art Brut Digital Editions
Series Fantom Ebooks
www.fleursdumal.nl
FANTOM 2
Fantom Ebooks 2018
ISBN: 978-90-76326-10-8
NUR 306
1ste PDF-uitgave FANTOM2, Juni 2018
GRATIS te downloaden via onderstaande LINK
fleursdumal.nl magazine
More in: - Book Lovers, - Book News, - Fantom Ebooks, Archive A-B, Art & Literature News, Bezembinder, Paul, PRESS & PUBLISHING
---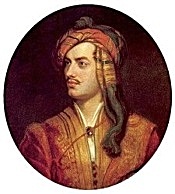 Growing Old
But now at thirty years my hair is grey—
(I wonder what it will be like at forty ?
I thought of a peruke the other day—)
My heart is not much greener ; and, in short, I
Have squandered my whole summer while 'twas May,
And feel no more the spirit to retort ; I
Have spent my life, both interest and principal,
And deem not, what I deemed, my soul invincible.
No more—no more—Oh ! never more on me
The freshness of the heart can fall like dew,
Which out of all the lovely things we see
Extracts emotions beautiful and new ;
Hived in our bosoms like the bag o' the bee.
Think'st thou the honey with those objects grew ?
Alas ! 'twas not in them, but in thy power
To double even the sweetness of a flower.
No more—no more—Oh! never more my heart,
Canst thou be my sole world, my universe !
Once all in all, but now a thing apart,
Thou canst not be my blessing or my curse :
The illusion's gone for ever, and thou art
Insensible, I trust, but none the worse,
And in thy stead I've got a deal of judgement,
Thou Heaven knows how it ever found a lodgement.
My days of love are over ; me no more
The charms of maid, wife, and still less of widow,
Can make the fool of which they made before,—
In short, I must not lead the life I did do ;
The credulous hope of mutual minds is o'er,
The copious use of claret is forbid too,
So for a good old-gentlemanly vice,
I think I must take up with avarice.
Ambition was my idol, which was broken
Before the shrines of Sorrow, and of Pleasure ;
And the two last have left me many a token
O'er which reflection may be made at leisure :
Now, like Friar Bacon's Brazen Head, I've spoken,
'Time is, Time was, Time's past' : a chymic treasure
Is glittering Youth, which I have spent betimes—
My heart in passion, and my head on rhymes.
What is the end of Fame ? 'tis but to fill
A certain portion of uncertain paper :
Some liken it to climbing up a hill,
Whose summit, like all hills, is lost in vapour ;
For this men write, speak, preach, and heroes kill,
And bards burn what they call their 'midnight taper',
To have, when the original is dust,
A name, a wretched picture and worse bust.
What are the hopes of man ? Old Egypt's King
Cheops erected the first Pyramid
And largest, thinking it was just the thing
To keep his memory whole, and mummy hid ;
But somebody or other rummaging,
Burglariously broke his coffin's lid :
Let not a monument give you or me hopes,
Since not a pinch of dust remains of Cheops.
But I, being fond of true philosophy,
Say very often to myself, 'Alas!
All things that have been born were born to die,
And flesh (which Death mows down to hay) is grass ;
You've passed your youth not so unpleasantly,
And if you had it o'er again—'twould pass—
So thank your stars that matters are no worse,
And read your Bible, sir, and mind your purse.'
Lord Byron (1788-1824)
Growing Old
fleursdumal.nl magazine
More in: Archive A-B, Byron, Lord
---
Bagatelle
Vor meinem Fenster,
Im Sonnenschein
Sitzen Engelein.
Eins, zwei, drei Engelein
Und äugeln herein.
Sie hauchen an die Scheiben
Und kichern sich an,
Und schreiben
Deinen Namen hin.
Und kichern sich an
Und verwischen ihn.
Und blinzeln gar boshaft
Und neckisch herein,
Und flattern fort
Die drei Engelein.
Hugo Ball
(1886-1927)
Bagatelle
fleursdumal.nl magazine
More in: Archive A-B, Ball, Hugo, Dada, DADA, Dadaïsme
---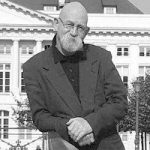 In de doorslaap
Vriendelijk verwant zoals het werkwoord gapen
dat met slapen is liggen wij stilletjes hand in hand.
De hele nacht door sliep je lekker maar tegen
de ochtend werd je steeds weer van een piepje
wakker. Het leek of je keek naar de klei die ik kneed
alsof je weet dat het andere wolken zijn dan van donker:
in de doorslaap kerven zich de klamste dromen.
Bert Bevers
Gedicht: In de doorslaap
Uit Andere taal, Uitgeverij Litera Este, Borgerhout, 2010
Bert Bevers is a poet and writer who lives and works in Antwerp (Be)
fleursdumal.nl magazine
More in: Archive A-B, Archive A-B, Bevers, Bert
---
Address to Edinburgh
1.
Edina! Scotia's darling seat!
All hail thy palaces and tow'rs,
Where once, beneath a Monarch's feet,
Sat Legislation's sov'reign pow'rs :
From marking wildly-scatt'red flow'rs,
As on the banks of Ayr I stray'd,
And singing, lone, the ling'ring hours,
I shelter in thy honor'd shade.
2.
Here Wealth still swells the golden tide,
As busy Trade his labours plies ;
There Architecture's noble pride
Bids elegance and splendour rise :
Here Justice, from her native skies,
High wields her balance and her rod ;
There Learning, with his eagle eyes,
Seeks Science in her coy abode.
3.
Thy sons, Edina, social, kind,
With open arms the stranger hail ;
Their views enlarg'd, their lib'ral mind,
Above the narrow, rural vale ;
Attentive still to Sorrow's wail,
Or modest Merit's silent claim :
And never may their sources fail!
And never Envy blot their name!
4.
Thy daughters bright thy walks adorn,
Gay as the gilded summer sky,
Sweet as the dewy, milk-white thorn,
Dear as the raptur'd thrill of joy!
Fair Burnet strikes th' adoring eye,
Heav'n's beauties on my fancy shine :
I see the Sire of Love on high,
And own His work indeed divine!
5.
There, watching high the least alarms,
Thy rough, rude fortress gleams afar ;
Like some bold vet'ran, grey in arms,
And mark'd with many a seamy scar :
The pond'rous wall and massy bar,
Grim-rising o'er the rugged rock,
Have oft withstood assailing war,
And oft repell'd th' invader's shock.
6.
With awe-stuck thought and pitying tears,
I view that noble, stately dome,
Where Scotia's kings of other years,
Fam'd heroes! had their royal home :
Alas, how chang'd the times to come!
Their royal name low in the dust!
Their haplesss race wild-wand'ring roam!
Tho' rigid Law cries out: ''Twas just!'
7.
Wild beats my heart to trace your steps,
Whose ancestors, in days of yore,
Thro'hostile ranks and ruin'd gaps
Old Scotia's bloody lion bore:
Ev'n I, who sing in rustic lore,
Haply my sires have left their shed,
And fac'd grim Danger's loudest roar,
Bold-following where your fathers led!
8.
Edine! Scotia's darling seat!
All hail thy palaces and tow'rs ;
Where once, beneath a Monarch's feet,
Sat Legislation's sov'reign pow'rs :
From marking wildly-scatt'red flow'rs,
As on the banks of Ayr I stray'd,
And singing, lone, the ling'ring hours,
I shelter in thy honour'd shade.
Robert Burns (1759 – 1796)
Address to Edinburgh
fleursdumal.nl magazine
More in: Archive A-B, Burns, Robert
---
Dada ist eine neue Kunstrichtung. Das kann man daran erkennen, daß bisher niemand etwas davon wußte und morgen ganz Zürich davon reden wird. Dada stammt aus dem Lexicon. Es ist furchtbar einfach. Im Französischen bedeutets Steckenpferd. Im Deutschen: Addio, steigt mir bitte den Rücken runter, auf Wiedersehen ein ander Mal! Im Rumänischen: 'Ja wahrhaftig, Sie haben Recht, so ist es. Jawohl, wirklich. Machen wir'. Und so weiter.
Ein internationales Wort. Nur ein Wort und das Wort als Bewegung. Es ist einfach furchtbar. Wenn man eine Kunstrichtung daraus macht, muß das bedeuten, man will Komplikationen wegnehmen. Dada Psychologie, Dada Literatur, Dada Bourgeoisie und ihr, verehrteste Dichter, die ihr immer mit Worten, nie aber das Wort selber gedichtet habt. Dada Weltkrieg und kein Ende, Dada Revolution und kein Anfang. Dada ihr Freunde und Auchdichter, allerwerteste Evangelisten. Dada Tzara, Dada Huelsenbeck, Dada m'dada, Dada mhm' dada, Dada Hue, Dada Tza.
Wie erlangt man die ewige Seligkeit? Indem man Dada sagt. Wie wird man berühmt? Indem man Dada sagt. Mit edlem Gestus und mit feinem Anstand. Bis zum Irrsinn, bis zur Bewußtlosigkeit. Wie kann man alles Aalige und Journalige, alles Nette und Adrette, alles Vermoralisierte, Vertierte, Gezierte abtun? Indem man Dada sagt. Dada ist die Weltseele, Dada ist der Clou, Dada ist die beste Lilienmilchseife der Welt. Dada Herr Rubiner, Dada Herr Korrodi, Dada Herr Anastasius Lilienstein.
Das heißt auf Deutsch: die Gastfreundschaft der Schweiz ist über alles zu schätzen, und im Ästhetischen kommt's auf die Norm an. Ich lese Verse, die nichts weniger vorhaben als: auf die Sprache zu verzichten. Dada Johann Fuchsgang Goethe. Dada Stendhal. Dada Buddha, Dalai Lama, Dada m'dada, Dada m'dada, Dada mhm' dada. Auf die Verbindung kommt es an, und daß sie vorher ein bißchen unterbrochen wird. Ich will keine Worte, die andere erfunden haben. Alle Worte haben andere erfunden. Ich will meinen eigenen Unfug, und Vokale und Konsonanten dazu, die ihm entsprechen. Wenn eine Schwingung sieben Ellen lang ist, will ich füglich Worte dazu, die sieben Ellen lang sind. Die Worte des Herrn Schulze haben nur zwei ein halb Zentimeter.
Da kann man nun so recht sehen, wie die artikulierte Sprache entsteht. Ich lasse die Laute ganz einfach fallen. Worte tauchen auf, Schultern von Worten; Beine, Arme, Hände von Worten. Au, oi, u. Man soll nicht zuviel Worte aufkommen lassen. Ein vers ist die Gelegenheit, möglichst ohne Worte und ohne die Sprache auszukommen. Diese vermaledeite Sprache, an der Schmutz klebt wie von Maklerhänden, die die Münzen abgegriffen haben. Das Wort will ich haben, wo es aufhört und wo es anfängt.
Jede Sache hat ihr Wort; da ist das Wort selber zur Sache geworden. Warum kann der Baum nicht Pluplusch heißen, und Pluplubasch, wenn es geregnet hat? Und warum muß er überhaupt etwas heißen? Müssen wir denn überall unseren Mund dran hängen? Das Wort, das Wort, das Weh gerade an diesem Ort, das Wort, meine Herren, ist eine öffentliche Angelegenheit ersten Ranges.
Hugo Ball
(1886-1927)
Eröffnungs-Manifest, 1. Dada-Abend
(Opening-Manifest of the 1st Dada-Evening)
Zürich, 14. Juli 1916
fleursdumal.nl magazine
More in: Archive A-B, Archive A-B, Ball, Hugo, Dada, DADA, Dadaïsme
---
La Jolie Rousse
Me voici devant tous un homme plein de sens
Connaissant la vie et de la mort ce qu'un vivant peut
connaître
Ayant éprouvé les douleurs et les joies de l'amour
Ayant su quelquefois imposer ses idées
Connaissant plusieurs langages
Ayant pas mal voyagé
Ayant vu la guerre dans l'Artillerie et l'Infanterie
Blessé à la tête trépané sous le chloroforme
Ayant perdu ses meilleurs amis dans l'effroyable lutte
Je sais d'ancien et de nouveau autant qu'un homme seul
pourrait des deux savoir
Et sans m'inquiéter aujourd'hui de cette querre
Entre nous et pour nous mes amis
Je juge cette longue querelle de la tradition et de l'invention
De l'Ordre et de l'Aventure
Vous dont la bouche est faite à l'image de celle de Dieu
Bouche qui est l'ordre même
Soyez indulgents quand vous nous comparez
A ceux qui furent la perfection de l'ordre
Nous qui quêtons partout l'aventure
Nous ne sommes pas vos ennemis
Nous voulons vous donner de vastes et étranges domaines
Où le mystère en fleurs s'offre à qui veut le cueillir
Il y a là des feux nouveaux des couleurs jamais vues
Mille phantasmes impondérables
Auxquels il faut donner de la réalité
Nous voulons explorer la bonté contrée énorme où tout se tait
Il y a aussi le temps qu'on peut chasser ou faire revenir
Pitié pour nous qui combattons toujours aux frontières
De l'illimité et de l'avenir
Pitié pour nos erreurs pitié pour nos péchés
Voici que vient l'été la saison violente
Et ma jeunesse est morte ainsi que le printemps
O Soleil c'est le temps de la Raison ardente
Et j'attends
Pour la suivre toujours la forme noble et douce
Qu'elle prend afin que je l'aime seulement
Elle vient et m'attire ainsi qu'un fer l'aimant
Elle a l'aspect charmant
D'une adorable rousse
Ses cheveux sont d'or on dirait
Un bel éclair qui durerait
Ou ces flammes qui se pavanent
Dans les rose-thé qui se fanent
Mais riez riez de moi
Hommes de partout surtout gens d'ici
Car il y a tant de choses que je n'ose vous dire
Tant de choses que vous ne me laisseriez pas dire
Ayez pitié de moi.
Guillaume Apollinaire
(1880 – 1918)
La Jolie Rousse
fleursdumal.nl magazine
More in: *Concrete + Visual Poetry A-E, Apollinaire, Guillaume, Archive A-B, Guillaume Apollinaire
---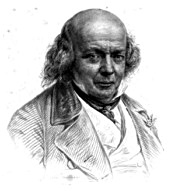 Pierre-Jean de Béranger
La bacchante
Cher amant, je cède à tes désirs ;
De champagne enivre Julie.
Inventons, s'il se peut, des plaisirs
Des amours épuisons la folie.
Verse-moi ce joyeux poison ;
Mais surtout bois à ta maîtresse :
Je rougirais de mon ivresse
Si tu conservais ta raison.
Vois déjà briller dans mes regards
Tout le feu dont mon sang bouillonne.
Sur ton lit, de mes cheveux épars,
Fleur à fleur vois tomber ma couronne.
Le cristal vient de se briser :
Dieu ! baise ma gorge brûlante,
Et taris l'écume enivrante
Dont tu le plais à l'arroser.
Verse encore ; mais pourquoi ces atours
Entre tes baisers et mes charmes ?
Romps ces nœuds, oui, romps-les pour toujours,
Ma pudeur ne connaît plus d'alarmes.
Presse en tes bras mes charmes nus.
Ah ! je sens redoubler mon être !
A l'ardeur qu'en moi tu fais naître,
Ton ardeur ne suffira plus.
Dans mes bras tombe enfin à ton tour ;
Mais, hélas ! tes baisers languissent.
Ne bois plus, et garde à mon amour
Ce nectar où tes feux s'amortissent.
De mes désirs mal apaisés,
Ingrat, si tu pouvais te plaindre,
J'aurai du moins pour les éteindre
Le vin où je les ai puisés.
Pierre-Jean de Béranger (1780-1857)
La bacchante
Toutes les chansons de Béranger (1843)
fleursdumal.nl magazine
More in: Archive A-B, Béranger, Pierre-Jean de
---
The Angel poetry
I Dreamt a Dream! what can it mean?
And that I was a maiden Queen:
Guarded by an Angel mild;
Witless woe, was neer beguil'd!
And I wept both night and day
And he wip'd my tears away
And I wept both day and night
And hid from him my hearts delight
So he took his wings and fled:
Then the morn blush'd rosy red:
I dried my tears & armd my fears,
With ten thousand shields and spears.
Soon my Angel came again;
I was arm'd, he came in vain:
For the time of youth was fled
And grey hairs were on my head
William Blake (1757 – 1827)
Poem: The Angel poem
fleursdumal.nl magazine
More in: Archive A-B, Blake, William
---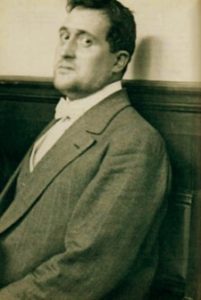 Hôtels
La chambre est veuve
Chacun pour soi
Présence neuve
On paye au mois
Le patron doute
Payera-t-on
Je tourne en route
Comme un toton
Le bruit des fiacres
Mon voisin laid
Qui fume un âcre
Tabac anglais
Ô La Vallière
Qui boite et rit
De mes prières
Table de nuit
Et tous ensemble
Dans cet hôtel
Savons la langue
Comme à Babel
Fermons nos portes
À double tour
Chacun apporte
Son seul amour
Guillaume Apollinaire
(1880 – 1918)
Hôtels
Alcools – poèmes 1898-1913
Paris : Éditions de la Nouvelle Revue française,
troisième édition, 1920
fleursdumal.nl magazine
More in: *Concrete + Visual Poetry A-E, Apollinaire, Guillaume, Archive A-B, Guillaume Apollinaire
---
Older Entries »
« Newer Entries
Thank you for reading FLEURSDUMAL.NL - magazine for art & literature