Archive A-B
«« Previous page
·
GUILLAUME APOLLINAIRE: Au lac de tes yeux
·
BERT BEVERS: Buiten konvooi
·
GUILLAUME APOLLINAIRE: Mon Lou la nuit descend
·
BERT BEVERS: OVER OOIT
·
GUILLAUME APOLLINAIRE: IL Y A
·
GUILLAUME APOLLINAIRE: JE T'ADORE MON LOU
·
BERT BEVERS: HIROO ONODA ZIT 29 JAAR ZONDER NIEUWS
·
BERT BEVERS: KRINGLOOP
·
"ZWARTE VENUS" – 50 GEDICHTEN UIT "LES FLEURS DU MAL" VAN CHARLES BAUDELAIRE VERTAALD DOOR PAUL CLAES
·
ANNE BRADSTREET: IN THANKFUL REMEMBRANCE
·
ELLIS PARKER BUTLER: A LOST ANGEL
·
ANNE BRADSTREET: THE FLESH AND THE SPIRIT
Guillaume Apollinaire
(1880 – 1918)
Au lac de tes yeux
Au lac de tes yeux très profond
Mon pauvre cœur se noie et fond
Là le défont
Dans l'eau d'amour et de folie
Souvenir et Mélancolie
Guillaume Apollinaire Poèmes à Lou
fleursdumal.nl magazine
More in: *War Poetry Archive, Apollinaire, Guillaume, Archive A-B, Archive Concrete + Visual Poetry - Ready-mades
---
Buiten konvooi
Laat koel van hoofd en kalm van hart
de nacht de nacht. Er kraakt niets zacht.
Vreemde liederen schuren in oren,
spannen weemoed over afvaart.
Altijd op zoek naar wat verdwijnen
gaat ben je met oude woorden. Ze
weerspiegelen gewiste schaduw.
Bedaar de golven, stil de stem. Maak
voort, stuurman. En zwijg maar over
golving. Zet geen spie tussen de uren.
Doe de avond leunen op het kompas.
Boots: laat oorlammen aanrukken!

Bert Bevers

fleursdumal.nl magazine
More in: Archive A-B, Bevers, Bert
---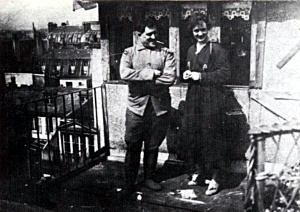 Guillaume Apollinaire
(1880 – 1918)
Mon Lou la nuit descend
Mon Lou la nuit descend tu es à moi je t'aime
Les cyprès ont noirci le ciel a fait de même
Les trompettes chantaient ta beauté mon bonheur
De t'aimer pour toujours ton cœur près de mon cœur
Je suis revenu doucement à la caserne
Les écuries sentaient bon la luzerne
Les croupes des chevaux évoquaient ta force et ta grâce
D'alezane dorée ô ma belle jument de race
La tour Magne tournait sur sa colline laurée
Et dansait lentement lentement s'obombrait
Tandis que des amants descendaient de la colline
La tour dansait lentement comme une sarrasine
Le vent souffle pourtant il ne fait pas du tout froid
Je te verrai dans deux jours et suis heureux comme un roi
Et j'aime de t'y aimer cette Nîmes la Romaine
Où les soldats français remplacent l'armée prétorienne
Beaucoup de vieux soldats qu'on n'a pu habiller
Ils vont comme des bœufs tanguent comme des mariniers
Je pense à tes cheveux qui sont mon or et ma gloire
Ils sont toute ma lumière dans la nuit noire
Et tes yeux sont les fenêtres d'où je veux regarder
La vie et ses bonheurs la mort qui vient aider
Les soldats las les femmes tristes et les enfants malades
Des soldats mangent près d'ici de l'ail dans la salade
L'un a une chemise quadrillée de bleu comme une carte
Je t'adore mon Lou et sans te voir je te regarde
Ça sent l'ail et le vin et aussi l'iodoforme
Je t'adore mon Lou embrasse-moi avant que je ne dorme
Le ciel est plein d'étoiles qui sont les soldats
Morts ils bivouaquent là-haut comme ils bivouaquaient là-bas
Et j'irai conducteur un jour lointain t'y conduire
Lou que de jours de bonheur avant que ce jour ne vienne luire
Aime-moi mon Lou je t'adore Bonsoir
Je t'adore je t'aime adieu mon Lou ma gloire
Guillaume Apollinaire Poèmes à Lou
fleursdumal.nl magazine
More in: *War Poetry Archive, Apollinaire, Guillaume, Archive A-B, Archive Concrete + Visual Poetry - Ready-mades
---
Over ooit
Wij bezitten een stukje van de wereld,
in een stad die wij graag zien. Al met al
gaat het er niet zo krampachtig aan toe
als dorpelingen vrezen. Er stroomt mooi
een rivier langs, niet echt door. Elke avond
lijkt er jong, ieder uur nieuw. Soms denk ik
er minutenlang aan niets, voel ik de rugzak
vol verleden amper. Alles gaat over ooit.
Bert Bevers
fleursdumal.nl magazine
More in: Archive A-B, Bevers, Bert
---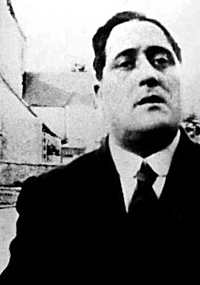 Guillaume Apollinaire
(1880 – 1918)
Il y a
Il y a un vaisseau qui a emporté ma bien-aimée
Il y a dans le ciel six saucisses et la nuit venant on dirait des asticots dont naîtraient les étoiles
Il y a un sous-marin ennemi qui en voulait à mon amour
Il y a mille petits sapins brisés par les éclats d'obus autour de moi
Il y a un fantassin qui passe aveuglé par les gaz asphyxiants
Il y a que nous avons tout haché dans les boyaux de Nietzsche de Goethe et de Cologne
Il y a que je languis après une lettre qui tarde
Il y a dans mon porte-cartes plusieurs photos de mon amour
Il y a les prisonniers qui passent la mine inquiète
Il y a une batterie dont les servants s'agitent autour des pièces
Il y a le vaguemestre qui arrive au trot par le chemin de l'Abre isolé
Il y a dit-on un espion qui rôde par ici invisible comme l'horizon dont il s'est indignement revêtu et avec quoi il se confond
Il y a dressé comme un lys le buste de mon amour
Il y a un capitaine qui attend avec anxiété les communications de la T.S.F. sur l'Atlantique
Il y a à minuit des soldats qui scient des planches pour les cercueils
Il y a des femmes qui demandent du maïs à grands cris devant un Christ sanglant à Mexico
Il y a le Gulf Stream qui est si tiède et si bienfaisant
Il y a un cimetière plein de croix à 5 kilomètres
Il y a des croix partout de-ci de-là
Il y a des figues de barbarie sur ces cactus en Algérie
Il y a les longues mains souples de mon amour
Il y a un encrier que j'avais fait dans une fusée de 15 centimètres et qu'on n'a pas laissé partir
Il y a ma selle exposée à la pluie
Il y a les fleuves qui ne remontent pas leur cours
Il y a l'amour qui m'entraîne avec douceur
Il y avait un prisonnier boche qui portait sa mitrailleuse sur son dos
Il y a des hommes dans le monde qui n'ont jamais été à la guerre
Il y a des Hindous qui regardent avec étonnement les campagnes occidentales
Ils pensent avec mélancolie à ceux dont ils se demandent s'ils les reverront
Car on a poussé très loin durant cette guerre l'art de l'invisibilité
Guillaume Apollinaire poésie
fleursdumal.nl magazine
More in: *War Poetry Archive, Apollinaire, Guillaume, Archive A-B, Archive Concrete + Visual Poetry - Ready-mades
---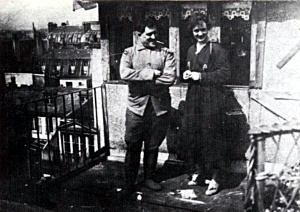 Guillaume Apollinaire
(1880 – 1918)
Je t'adore mon Lou
Je t'adore mon Lou et par moi tout t'adore
Les chevaux que je vois s'ébrouer aux abords
L'appareil des monuments latins qui me contemplent
Les artilleurs vigoureux qui dans leur caserne rentrent
Le soleil qui descend lentement devant moi
Les fantassins bleu pâle qui partent pour le front pensent à toi
Car ô ma chevelue de feu tu es la torche
Qui m'éclaire ce monde et flamme tu es ma force
Dans le ciel les nuages
Figurent ton image
Le mistral en passant
Emporte mes paroles
Tu en perçois le sens
C'est vers toi qu'elles volent
Tout le jour nos regards
Vont des Alpes au Gard
Du Gard à la Marine
Et quand le jour décline
Quand le sommeil nous prend
Dans nos lits différents
Nos songes nous rapprochent
Objets dans la même poche
Et nous vivons confondus
Dans le même rêve éperdu
Mes songes te ressemblent
Les branches remuées ce sont tes yeux qui tremblent
Et je te vois partout toi si belle et si tendre
Les clous de mes souliers brillent comme tes yeux
La vulve des juments est rose comme la tienne
Et nos armes graissées c'est comme quand tu me veux
Ô douceur de ma vie c'est comme quand tu m'aimes
L'hiver est doux le ciel est bleu
Refais-me le refais-me le
Toi ma chère permission
Ma consigne ma faction
Ton amour est mon uniforme
Tes doux baisers sont les boutons
Ils brillent comme l'or et l'ornent
Et tes bras si roses si longs
Sont les plus galants des galons
Un monsieur près de moi mange une glace blanche
Je songe au goût de ta chair et je songe à tes hanches
À gauche lit son journal une jeune dame blonde
Je songe à tes lettres où sont pour moi toutes les nouvelles du monde
Il passe des marins la mer meurt à tes pieds
Je regarde ta photo tu es l'univers entier
J'allume une allumette et vois ta chevelure
Tu es pour moi la vie cependant qu'elle dure
Et tu es l'avenir et mon éternité
Toi mon amour unique et la seule beauté
Guillaume Apollinaire Poèmes à Lou
fleursdumal.nl magazine
More in: *War Poetry Archive, Apollinaire, Guillaume, Archive A-B, Archive Concrete + Visual Poetry - Ready-mades
---
Hiroo Onoda zit 29
jaar zonder nieuws
Thuis groeide een compleet nieuw
geslacht op terwijl hij door gebladerte
spiedde, voortdurend op zijn hoede:
maar niemand duurde almaar langer.
Pal in zijn oerwoud, van alles afgesneden.
Het zwaard nooit wijkend van de zij,
geweren tot vervelens toe gesmeerd.
Hij had geleerd hoe stand te houden.
Dagelijks menu banaan, gedroogd soms,
en vogels uit de lucht. De slapen licht
en bol van zege. Meer dan tienduizend
dagen en nachten de vijand in het hoofd.
Zelfs een havik is tussen kraaien een arend,
o zoon van de bloedrode zon.
Bert Bevers
Uit: Onaangepaste tijden, Zinderend, Bergen op Zoom, 2006
fleursdumal.nl magazine
More in: Archive A-B, Bevers, Bert
---
Kringloop
Bij avondval vermoed ik uitgestorven kampen:
Het spit wildloos, verwaaiende koude asch.
Dan keert de jager huiswaarts, zonder buit.
In zijn hoofd dansen prooien en schreeuwen.
's Nachts zijn dromen gevuld met rakelingse speren.
De driften in zichzelf gevlucht: alles om te vergeten.
Vergeefs pogen, pogen. Steeds maar weer.
Bert Bevers
Uit Afglans – Gedichten 1972-1997, Uitgeverij WEL, Bergen op Zoom, 1997
fleursdumal.nl magazine
More in: Archive A-B, Bevers, Bert
---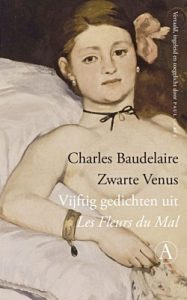 Zwarte Venus
Vijftig gedichten uit Les Fleurs du Mal van Charles Baudelaire
Met Les Fleurs du Mal (1857) van Charles Baudelaire blies er een nieuwe wind door de Franse poëzie. Zijn bloemen van het kwaad wasemden schoonheid en verderf uit. Voor zijn Zwarte Venus, de mulattin Jeanne Duval, trok de dichter alle erotische registers open. Thema's als prostitutie, sadisme en fetisjisme schokten de goegemeente zozeer dat een Parijse rechtbank hem prompt veroordeelde.
Deze bloemlezing biedt de vijftig beste verzen uit de bundel. Meestervertaler Paul Claes brengt een eerbetoon aan de volmaakte versvorm, de suggestieve klankeffecten en de associatieve beeldspraak van het origineel. De uitwaaierende symboliek maakt elk gedicht volgens de criticus Lloyd James Austin 'een raam dat uitzicht biedt op het oneindige'.
Een inleiding, een biografie en een commentaar vervolledigen deze poëtische presentatie van de grootste Franse symbolist.
Auteur: Charles Baudelaire
Vertaler: Paul Claes
Uitgeverij: Athenaeum
Paperback, 176 pagina's
ISBN: 9789025303952
Prijs: € 17,50
fleursdumal.nl magazine
More in: - Book News, Archive A-B, Archive C-D, Art & Literature News, Les Fleurs du Mal, TRANSLATION ARCHIVE
---
Anne Bradstreet
(1612-1672)
In Thankful Remembrance For
My Dear Husband's Safe Arrival
Sept 3, 1662
What shall I render to Thy name
Or how Thy praises speak?
My thanks how shall I testify?
O Lord, Thou know'st I'm weak.
I owe so much, so little can
Return unto Thy name,
Confusion seizes on my soul,
And I am filled with shame.
O Thou that hearest prayers, Lord,
To Thee shall come all flesh
Thou hast me heard and answered,
My plaints have had access.
What did I ask for but Thou gav'st?
What could I more desire?
But thankfulness even all my days
I humbly this require.
Thy mercies, Lord, have been so great
In number numberless,
Impossible for to recount
Or any way express.
O help Thy saints that sought Thy face
T' return unto Thee praise
And walk before Thee as they ought,
In strict and upright ways.
Anne Bradstreet poetry
fleursdumal.nl magazine
More in: Archive A-B, Bradstreet, Anne
---
Ellis Parker Butler
(1869-1937)
A Lost Angel
When first we met she seemed so white
I feared her;
As one might near a spirit bright
I neared her;
An angel pure from heaven above
I dreamed her,
And far too good for human love
I deemed her.
A spirit free from mortal taint
I thought her,
And incense as unto a saint
I brought her.
Well, incense burning did not seem
To please her,
And insolence I feared she'd deem
To squeeze her;
Nor did I dare for that same why
To kiss her,
Lest, shocked, she'd cause my eager eye
To miss her.
I sickened thinking of some way
To win her,
When lo! she asked me, one fine day,
To dinner!
Twas thus that made of common flesh
I found her,
And in a mortal lover's mesh
I wound her.
Embraces, kisses, loving looks
I gave her,
And buying bon-bons, flowers and books,
I save her;
For her few honest, human taints
I love her,
Nor would I change for all the saints
Above her
Those eyes, that little face, that so
Endear her,
And all the human joy I know
When near her;
And I am glad, when to my breast
I press her,
She's just a woman, like the rest,
God bless her!
Ellis Parker Butler poetry
fleursdumal.nl magazine
More in: Archive A-B, CLASSIC POETRY
---
Anne Bradstreet
(1612-1672)
The Flesh And The Spirit
In secret place where once I stood
Close by the Banks of Lacrim flood,
I heard two sisters reason on
Things that are past and things to come.
One Flesh was call'd, who had her eye
On worldly wealth and vanity;
The other Spirit, who did rear
Her thoughts unto a higher sphere.
"Sister," quoth Flesh, "what liv'st thou on
Nothing but Meditation?
Doth Contemplation feed thee so
Regardlessly to let earth go?
Can Speculation satisfy
Notion without Reality?
Dost dream of things beyond the Moon
And dost thou hope to dwell there soon?
Hast treasures there laid up in store
That all in th' world thou count'st but poor?
Art fancy-sick or turn'd a Sot
To catch at shadows which are not?
Come, come. I'll show unto thy sense,
Industry hath its recompence.
What canst desire, but thou maist see
True substance in variety?
Dost honour like? Acquire the same,
As some to their immortal fame;
And trophies to thy name erect
Which wearing time shall ne'er deject.
For riches dost thou long full sore?
Behold enough of precious store.
Earth hath more silver, pearls, and gold
Than eyes can see or hands can hold.
Affects thou pleasure? Take thy fill.
Earth hath enough of what you will.
Then let not go what thou maist find
For things unknown only in mind."
Anne Bradstreet poetry
fleursdumal.nl magazine
More in: Archive A-B, Bradstreet, Anne
---
Older Entries »
« Newer Entries
Thank you for reading FLEURSDUMAL.NL - magazine for art & literature