Archive G-H
«« Previous page
·
Rüdiger Görner: Rainer Maria Rilke. Im Herzwerk der Sprache
·
Kafka and Noise. The Discovery of Cinematic Sound in Literary Modernism by Kata Gellen
·
Rüdiger Görner: Georg Trakl. Dichter im Jahrzehnt der Extreme
·
Op 15 november verschijnt nieuwe roman van A.F.Th. van der Heijden
·
Jean Genet: The Thief's Journal
·
Europese Literatuurprijs naar 'Max, Mischa & het Tet-offensief' van de Noorse schrijver Johan Harstad
·
Mirjam Van Hengel: Een knipperend ogenblik. Biografie Remco Campert
·
Violaine Huisman: Fugitive parce que reine
·
Lisa Gray-Garcia, aka Tiny: Criminal of Poverty. Growing Up Homeless in America
·
Rick Warner: Godard and the Essay Film. A Form That Thinks
·
Alexander von Humboldt: Das Buch der Begegnungen Menschen – Kulturen – Geschichten aus den Amerikanischen Reisetagebüchern
·
Carmen Giménez Smith: Cruel Futures
Die Vielfalt von Rainer Maria Rilkes (1875 bis 1926) Lebensstationen spiegelt sich im Werk des "letzten Dichters" wider.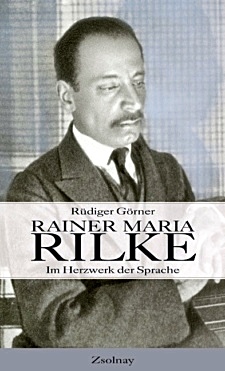 In dieser kompakten Darstellung folgt Rüdiger Görner Rilkes Spuren, verwehrt sich aber den gängigen Einordnungen und Periodisierungen. Es geht ihm vielmehr um den Prozess des Schaffens und um die Geschlossenheit des Werkes.
Görner zeigt Rilke in seiner Zeit und analysiert die wichtigsten Einflüsse. Auf behutsame Weise werden Leben und Werk miteinander verwoben, und Görner veranschaulicht die Wirkung der Musik, der bildenden Kunst und der Politik.
Rüdiger Görner, geboren 1957 in Rottweil, ist Professor für Neuere Deutsche und vergleichende Literatur an der Queen Mary University of London. Gründer des Ingeborg Bachmann Centre for Austrian Literature und Gründungsdirektor des Centre for Anglo-German Cultural Relations. Träger des Deutschen Sprachpreises, des Reimar Lüstpreises der Alexander von Humboldt-Stiftung und des Verdienstordens der Bundesrepublik Deutschland. Bei Zsolnay erschienen Rainer Maria Rilke. Im Herzwerk der Sprache (2004), Georg Trakl. Dichter im Jahrzehnt der Extreme (2014) und Oskar Kokoschka. Jahrhundertkünstler (2018).
Rüdiger Görner
Rainer Maria Rilke.
Im Herzwerk der Sprache
Buch – Fester Einband
344 Seiten
Deutscher Sprache
Zsolnay / Deuticke
Carl Hanser Verlag, München
ISBN 978-3-552-05302-1
2004
€24,90
# new books
Rainer Maria Rilke
fleursdumal.nl magazine
More in: - Book News, - Book Stories, Archive G-H, Archive Q-R, Art & Literature News, Rilke, Rainer Maria
---
A series of disruptive, unnerving sounds haunts the fictional writings of Franz Kafka.
These include the painful squeak in Gregor Samsa's voice, the indeterminate whistling of Josefine the singer, the relentless noise in "The Burrow," and telephonic disturbances in The Castle.
In Kafka and Noise, Kata Gellen applies concepts and vocabulary from film theory to Kafka's works in order to account for these unsettling sounds. Rather than try to decode these noises, Gellen explores the complex role they play in Kafka's larger project.
Kafka and Noise offers a method for pursuing intermedial research in the humanities—namely, via the productive "misapplication" of theoretical tools, which exposes the contours, conditions, and expressive possibilities of the media in question. This book will be of interest to scholars of modernism, literature, cinema, and sound, as well as to anyone wishing to explore how artistic and technological media shape our experience of the world and the possibilities for representing it.
Kata Gellen is an assistant professor in the Department of Germanic Languages and Literature at Duke University.
Kata Gellen (Author)
Kafka and Noise.
The Discovery of Cinematic Sound in Literary Modernism
272 pages
Northwestern University Press
Literary Criticism
Cloth Text – $99.95
ISBN 978-0-8101-3894-0
Paper Text – $34.95
ISBN 978-0-8101-3893-3
Publication Date: January 2019
# new books
The Discovery of Cinematic Sound in Literary Modernism
fleursdumal.nl magazine
More in: # Music Archive, #Archive A-Z Sound Poetry, #Archive Concrete & Visual Poetry, *Concrete + Visual Poetry K-O, - Book News, - Bookstores, Archive G-H, Archive K-L, Art & Literature News, Franz Kafka, Kafka, Franz, Kafka, Franz, Modernisme
---
Auch hundert Jahre nach seinem Tod ein Geheimnis: Georg Trakl.  Rüdiger Görner geht dem Mythos nach.
Kurz nach Ausbruch des Ersten Weltkriegs starb Georg Trakl in einem Militärspital an einer Überdosis Kokain. Ob der im Krieg traumatisierte Dichter Selbstmord beging, ist eines der Rätsel, die sein Leben und Werk umgeben.
Rüdiger Görner gelingt es, sich den biographischen Brüchen und Details über das Werk anzunähern. Er geht in der Auseinandersetzung mit den Gedichten der Todessehnsucht Trakls, der mehr als innigen Beziehung zu Schwester Margarethe und dem Aufwachsen in Salzburg nach. Und kommt zu faszinierenden Schlüssen: Dass sich die Extreme der Zeit – die Beschleunigung der Lebensverhältnisse, ihre rücksichtslose Technisierung – im Werk des Dichters nur bedingt spiegeln. Und dass die Gedichte – Trakls Ruhelosigkeit zum Trotz – oft geradezu ausgeruht klingen.
Rüdiger Görner, geboren 1957 in Rottweil, ist Professor für Neuere Deutsche und vergleichende Literatur an der Queen Mary University of London. Gründer des Ingeborg Bachmann Centre for Austrian Literature und Gründungsdirektor des Centre for Anglo-German Cultural Relations. Träger des Deutschen Sprachpreises, des Reimar Lüstpreises der Alexander von Humboldt-Stiftung und des Verdienstordens der Bundesrepublik Deutschland. Bei Zsolnay erschienen Rainer Maria Rilke. Im Herzwerk der Sprache (2004), Georg Trakl. Dichter im Jahrzehnt der Extreme (2014) und Oskar Kokoschka. Jahrhundertkünstler (2018).
Rüdiger Görner:
Georg Trakl.
Dichter im Jahrzehnt der Extreme
Deutscher Sprache
Fester Einband
352 Seiten
Zsolnay / Deuticke
Carl Hanser Verlag, München
ISBN 978-3-552-05697-8
2014
€ 24,90
# new books
Georg Trakl
fleursdumal.nl magazine
More in: - Book News, - Book Stories, Archive G-H, Archive S-T, Art & Literature News, Opium-Eaters, Trakl, Georg
---
In november a.s. is het veertig jaar geleden dat A.F.Th. van der Heijden debuteerde onder het pseudoniem Patrizio Canaponi. Hij viert zijn veertig jaar schrijverschap met een nieuwe roman: Mooi doodliggen.
Voor Mooi doodliggen liet Van der Heijden zich inspireren door de 'moord' op de Russische journalist Arkadi Babtsjenko, in de zomer van 2018.
Volgens de politie in Oekraïne was Babtsjenko bij zijn appartement in Kiev in de rug geschoten en werd hij dood aangetroffen door zijn vrouw. Later bleek dat de dood van de journalist in scène was gezet door de geheime dienst, in een poging de Russische huurmoordenaars te arresteren die het op zijn leven hadden gemunt.
Van der Heijden baseerde het levensverhaal van zijn personage Grigori Moerasjko losjes op dat van Babtsjenko.
Moerasjko, die voor zijn krant het neerhalen van vlucht MX17 onderzoekt, blijkt te hebben samengespannen met de Oekraïense geheime dienst om de Russen te misleiden. Hij heeft zichzelf daarmee ongewild tot een verspreider van fake news gemaakt. Bevriende collega's vallen hem massaal af. Het ergste is dat ook zijn geliefde Yulia zich door Grigori verraden voelt en hem verlaat. Door iedereen verstoten keert hij naar Rusland terug оm daar onverschrokken zijn onderzoek naar de toedracht van de vliegramp voort te zetten.
Met Mooi doodliggen schreef A.F.Th. van der Heijden een actueel politiek memorandum en een tijdloze tragische liefdesgeschiedenis.
A.F.Th. van der Heijden (1951) werkt aan een wijdvertakt oeuvre, waarvan de romancycli De tandeloze tijd en Homo duplex de kern vormen. Hij werd bekroond met onder meer de F. Bordewijkprijs, de Multatuliprijs, De Gouden Uil, de AKO Literatuurprijs, de Libris Literatuur Prijs, de Constantijn Huygens-prijs en de P.C. Hooft-prijs. Op 18 november is het veertig jaar geleden dat zijn debuut Een gondel in de Herengracht en andere verhalen verscheen.
A.F.Th. van der Heijden
Mooi doodliggen
Nieuwe roman A.F.Th. van der Heijden
Verschijnt 15 november 2018
Uitgeverij Querido
Gebonden met stofomslag
368 bladzijden
€ 22,99
# new books
A.F.Th. van der Heijden
fleursdumal.nl magazine
More in: - Book News, - Bookstores, A.F.Th. van der Heijden, Archive G-H, Art & Literature News
---
"One of the strongest and most vital accounts of a life ever set down on paper. . . . Genet has dramatized the story of his own life with a power and vision which take the breath away. The Thief's Journal will undoubtedly establish Genet as one of the most daring literary figures of all time." — The New York Post
The Thief's Journal is perhaps Jean Genet's most authentically biographical novel, personifying his quest for spiritual glory through the pursuit of evil. Writing in the intensely lyrical prose style that is his trademark, the man Jean Cocteau dubbed France's "Black Prince of Letters" here reconstructs his early adult years—time he spent as a petty criminal and vagabond, traveling through Spain and Antwerp, occasionally border hopping across the rest of Europe, always one step ahead of the authorities.
The infamous playwright, poet, novelist, and criminal, Jean Genet, was born December 19th, 1910, in France. Genet's mother, who was a young prostitute at the time of his birth, gave him up for adoption to a provincial family. By the age of fifteen, for repeated misdemeanors, Genet was incarcerated for three years, after which he joined the French Foreign Legion. He was dishonorably discharged for "lewd acts", henceforth spending the next several years traveling around Europe, at times as a prostitute. In 1937 he came to Paris, where again he was arrested and imprisoned for vagabondage. It was in prison, though, that Genet personally funded his first novel Our Lady of the Flowers (1944).
After being released from prison, Genet sought out the avant-garde writer, Jean Cocteau, who was impressed by Genet's work, and even petitioned the French president, along with Jean-Paul Sartre, to exonerate Genet, after being faced with a life sentence. Genet became associated with the Theatre of Cruelty, which his most famous pieces became associated with, for example, The Maids (1949), Deathwatch (1949), The Balcony (1956), and The Blacks (1958). Other celebrated works of Genet include the novel, A Thief's Journal (1949), about his experiences in prison, and The Screens (1963), a biting political play about the Algerian War of Independence. Genet died of throat cancer in 1986.
Published in 1964, and again on August 21, 2018: Jean Genet's The Thief's Journal, with a new intro by Patti Smith
The Thief's Journal
by Jean Genet
With a New Introduction by Patti Smith
Translated from French by Bernard Frechtman
Foreword by Jean-Paul Sartre
Imprint Grove Paperback
Grove Press
272 pages
Publication Date August 21, 2018
ISBN-13 978-0-8021-2827-0
Dimensions 5.5″ x 8.25″
US List Price $16.00
new books
fleursdumal.nl magazine
More in: - Book News, Archive G-H, Art & Literature News, Jean Genet, Jean-Paul Sartre, Smith, Patti
---
De jury van de Europese Literatuurprijs 2018 kent de prijs toe aan de Noorse auteur Johan Harstad en zijn Nederlandse vertalers Edith Koenders en Paula Stevens voor de roman Max, Mischa & het Tet-offensief (Podium). Schrijver en vertalers ontvangen de prijs op woensdagavond 31 oktober op het Crossing Border Festival in Den Haag.
De Europese Literatuurprijs bekroont de beste hedendaagse Europese roman die vorig jaar in Nederlandse vertaling is verschenen. De vakjury bestond dit jaar uit voorzitter Anna Enquist, schrijver en recensent Kees 't Hart, boekhandelaren Nienke Willemsen (Literaire Boekhandel Lijnmarkt, Utrecht) en Hein van Kemenade (Boekhandel Van Kemenade & Hollaers, Breda), en literair vertaler Saskia van der Lingen (ELP-laureaat 2017).
Max, Mischa & het Tet-offensief is het verhaal van Max Hansen, die in de jaren zeventig en tachtig opgroeit in het Noorse Stavanger, waar hij uiting geeft aan zijn fascinatie voor de Vietnam-oorlog door met zijn vriendjes het Tet-offensief – de onverwachte aanval van de Vietcong op de Amerikanen – na te spelen. Als tiener verhuist hij (noodgedwongen) met zijn vader naar Amerika, naar New York. Daar probeert hij zin te geven aan zijn nieuwe bestaan samen met zijn beste vriend Mordecai, zijn geliefde Mischa en zijn oom en Vietnam-veteraan Owen, alle drie net als Max ontheemde migranten.
"Een overrompelende roman," aldus de jury, "die de lezer meesleurt in de achtbaan van de recente geschiedenis."
De vertalers hebben met deze duo-vertaling een tour de force geleverd, waarbij de vele verwijzingen van de auteur naar bestaande én fictieve kunstwerken, films en toneelstukken een bijzondere uitdaging vormden.
Ook zijn de juryleden onder de indruk van de kernachtige, met gevoel voor humor geformuleerde zinnen die de essentie van het leven raken, zoals op de laatste pagina van het 1.232 pagina's tellende boek: 'Dat alles beweging is. Stilstand bestaat niet. Er bestaan alleen te veel woorden.'
De jury heeft met deze prijs een roman willen bekronen die zij bewondert om haar briljante stijl en veelomvattendheid, een roman waarin de 'veelheid' als stijlfiguur dient om de onvermijdelijke loop der dingen in het leven voelbaar te maken.
Johan Harstad (Stavanger, 1979) debuteerde in 2001 met een bundel verzameld proza. Zijn debuutroman Buzz Aldrin, waar ben je gebleven? werd opgevolgd door de roman Hässelby, een David Lynch-achtig verhaal over een man die al 42 jaar bij zijn vader woont. In 2011 verscheen zijn young adult sf-roman Darlah. Voorafgaand aan zijn succesvolle roman Buzz Aldrin, waar ben je gebleven? publiceerde de Noorse schrijver Johan Harstad de verhalenbundel Ambulance. De Nederlandse vertaling van deze verhalenbundel verscheen in 2014. In 2017 verscheen zijn nieuwe roman Max, Mischa & het Tet-offensief. Naast zijn schrijverschap werkt Harstad als grafisch ontwerper onder het label LACKTR.
Paula Stevens verzorgde deze Harstad-vertalingen, en vertaalde werk van onder anderen Per Petterson, Roy Jacobsen, Lars Saabye Christensen, Åsne Seierstad en Karl Ove Knausgård.
Edith Koenders vertaalde eerder Deense auteurs als Dorthe Nors, Hans Christian Andersen, Søren Kierkegaard, Peter Høeg en Erling Jepsen. Over de vertaling van de nu bekroonde roman schreven ze voor de website van Athenaeum en het Letterenfonds.
Johan Harstad
Max, Mischa & het Tet-offensief
Vertaler: Edith Koenders & Paula Stevens
Uitgeverij Podium
Omslag: b'IJ Barbara
ISBN: 978 90 5759 849 4
Verschenen 08-05-2017
1232 pagina's
Paperback
€ 29,99
# Meer info op website www.europeseliteratuurprijs.nl
more books
fleursdumal.nl magazine
More in: - Book News, - Book Stories, Archive G-H, Art & Literature News, Awards & Prizes
---
'Eigenlijk wil ik gewoon elke morgen wakker worden en niks weten en gaan schrijven.'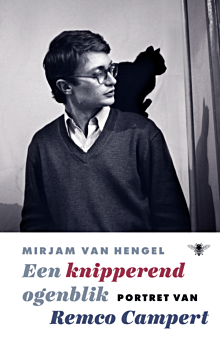 Dat zegt Remco Campert, de virtuoos terloopse dichter die altijd zijn vinger aan de pols van de tijd heeft gehouden.
Het verhaal van zijn leven loopt van de naoorlogse avant-garde via feestende jongeren rond het Vondelpark en toenemende publieke zichtbaarheid naar de stilte van een werkkamer. Er was de afwezige vader, er kwamen en gingen grote liefdes, maar altijd bleef het schrijven, dicht op de eigen huid.
Mirjam van Hengel, die eerder het succesvolle Hoe mooi alles (2014) publiceerde over de liefde tussen Leo en Tineke Vroman, sprak wekelijks met Campert en kreeg inzage in al zijn papieren.
Ze schreef een portret over de man die al meer dan een halve eeuw het Nederlandse literaire landschap kleurt, die even graag alleen is als in gezelschap, even lui als productief, even opgeruimd als melancholiek, even betrokken bij de wereld als onverstoorbaar zichzelf.
Mirjam van Hengel (1967) studeerde Nederlandse letterkunde aan de Universiteit Utrecht. Ze was jarenlang redacteur bij uitgeverij Van Oorschot en uitgeverij Querido en is poëzieprogrammeur bij onder meer De Nieuwe Liefde. In 2014 verscheen haar boek Hoe mooi alles. Leo en Tineke Vroman, een liefde in oorlogstijd, dat lovend werd ontvangen en bewerkt tot theaterstuk.
Remco Campert (1929) is dichter, romancier en columnist. Voor zijn poëzie ontving hij onder meer de Reina Prinsen Geerligsprijs, de Poëzieprijs van de gemeente Amsterdam, de Jan Campertprijs, de P.C. Hooft-prijs en De Gouden Ganzenveer. In 2015 werd hij bekroond met de Prijs der Nederlandse Letteren. De vader van Remco Campert was de dichter Jan Campert, die 'Het Lied der Achttien Dooden' schreef, zijn moeder de actrice Joeki Broedelet. Voorjaar 1950 richt Remco Campert met Rudy Kousbroek het tijdschrift Braak op. In juli van hetzelfde jaar wordt de redactie uitgebreid met Lucebert en Bert Schierbeek. Na het verschijnen van de bloemlezing Atonaal in 1951, onder redactie van Simon Vinkenoog, worden de daarin opgenomen dichters onder wie Gerrit Kouwenaar, Jan G. Elburg en Hugo Claus, aangeduid als de Vijftigers.
Remco Camperts verhalen en romans worden gewaardeerd door een groot publiek en boeken als Het leven is vurrukkulluk (1961) en Tjeempie! of Liesje in luiletterland (1968) staan nog steeds op de leeslijsten.
In 1976 ontvangt hij de P.C. Hooftprijs voor zijn poëzie: 'Het hele poëtische oeuvre van Remco Campert overziend, is de jury onder de indruk gekomen van de persoonlijke kroniek van de jaren 1950-1970 die erin is neergeschreven. De hachelijke en belachelijke feiten van deze levensperiode zijn door de dichter onvergetelijk geboekstaafd.'
Van 1989 tot 1995 leest Campert met Jan Mulder en Bart Chabot in theaters voor uit eigen werk. Van 1996 tot 2006 schrijft Campert samen met Mulder een gezamenlijke column op de voorpagina van de Volkskrant, CaMu. Sinds 2012 heeft hij in deze krant een eigen wekelijkse column en daarnaast zijn 'Somberman', over het gelijknamige personage dat hij voor het eerst opvoerde in Somberman's actie, het Boekenweekgeschenk van 1985. In 2004 verscheen Een liefde in Parijs, zijn eerste roman in meer dan tien jaar, die zeer lovend werd besproken en uitgroeide tot een grote bestseller. Het Parool schreef: 'Hier is de meester aan het werk.' In 2006 volgde Het satijnen hart, een weemoedig portret van een schilder die tot op hoge leeftijd niet kan kiezen tussen liefde en kunst.
De afgelopen vijf jaar verschenen onder meer de roman Hôtel du Nord (2013), de dichtbundels Licht van mijn leven (2014, met litho's van Ysbrant) en Verloop van jaren: 40 poëtische notities (2015). Het fotoboek De ziel krijgt voeten (2013), maakte hij met zijn dochter Cleo Campert. Zijn verzamelde columns voor de Volkskrant zijn te lezen in Het verband tussen de dingen ben ik zelf (2012), Te vroeg in het seizoen (2014), Vandaag ben ik een lege kartonnen doos (2015), Zonder roken bij mij geen poëzie (2016) en Somberman op drift (2016). In 2016 verscheen eveneens Campert & Campert, een bundeling van alle stukken van Remco én zijn vader Jan Campert in Elsevier. Recent verscheen de dichtbundel Open ogen (2018).   (Bron: Bezige Bij)
Titel: Een knipperend ogenblik.
Portret van Remco Campert
Auteur: Mirjam Van Hengel
Biografie
Taal: Nederlands
Uitgever: Bezige Bij, De
Druk: 1e
Aantal pagina's 512
Uitvoering: Gebonden
Verschenen: 23 augustus 2018
Presentatie: 5 september 2018
ISBN 9789403122908
€ 29,99
new books
portret van Remco Campert
fleursdumal.nl magazine
More in: #Biography Archives, - Book News, - Bookstores, Archive C-D, Archive G-H, Art & Literature News, Campert, Remco, Remco Campert
---
« Maman était une force de la nature et elle avait une patience très limitée pour les jérémiades de gamines douillettes. Nos plaies, elle les désinfectait à l'alcool à 90 °, le Mercurochrome apparemment était pour les enfants gâtés.
Et puis il y avait l'éther, dans ce flacon d'un bleu céruléen comme la sphère vespérale. Cette couleur était la sienne, cette profondeur du bleu sombre où se perd le coup de poing lancé contre Dieu.»
Ce premier roman raconte l'amour inconditionnel liant une mère à ses filles, malgré ses fêlures et sa défaillance. Mais l'écriture poétique et sulfureuse de Violaine Huisman porte aussi la voix déchirante d'une femme, une femme avant tout, qui n'a jamais cessé d'affirmer son droit à une vie rêvée, à la liberté.
Violaine Huisman est née en 1979 à Paris et vit depuis vingt ans à New York où elle a organisé de nombreux festivals et événements littéraires. Elle a aussi traduit plusieurs textes de l'américain dont La haine de la poésie de Ben Lerner.
Violaine Huisman
Fugitive parce que reine
Collection Blanche, Gallimard
Parution : 11-01-2018
256 pages
140 x 205 mm
Genre : Romans
Littérature française – Romans et récits
Époque : XXIe siècle
ISBN : 9782072765629
Code distributeur : G01396
new books
fleursdumal.nl magazine
More in: - Book News, - Bookstores, Archive G-H, Art & Literature News
---
A daughter's struggle to keep her family alive, through poverty, homelessness and incarceration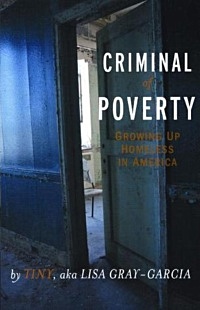 Eleven-year-old Lisa becomes her mother's primary support when they face the prospect of homelessness. As Dee, a single mother, struggles with the demons of her own childhood of neglect and abuse, Lisa has to quickly assume the roles of an adult in an attempt to keep some stability in their lives.
"Dee and Tiny" ultimately become underground celebrities in San Francisco, squatting in storefronts and performing the "art of homelessness." Their story, filled with black humor and incisive analysis, illuminates the roots of poverty, the criminalization of poor families and their struggle for survival.
"Criminal of Poverty lays bare the devastating effects of inheriting a life of poverty, as well the real redemption and power in finding your voice." – Michelle Tea, author of Rose of No Man's Land and Valencia
"Tiny's indomitable spirit comes to life in her amazing story of poverty and homelessness, reaching into and teaching our hearts and minds. With her flawless descriptions of the pain of living in the margins of the richest country in the world, she opens up an important window onto a reality looked upon by many but truly seen by few, augmenting our capacity for empathy and action in an area so in need of social change. Bravo Tiny, for your gift to us all! Punto!!!" – Piri Thomas, author of Down These Mean Streets
Lisa Gray-Garcia  (www.tinygraygarcia.com)
is a journalist, poet and community activist. She is the founder of POOR magazine and the PoorNewsNetwork (PNN), a monthly radio broadcast and an online news service focused on issues of poverty and racism.
(www.poormagazine.org/)
Criminal of Poverty
Growing Up Homeless in America
Lisa Gray-Garcia, aka Tiny
Publisher City Lights Foundation Books
Paperback, 2007
278 pages
ISBN-10 1931404070
ISBN-13 9781931404075
List Price $19.95
books to read before you die
fleursdumal.nl magazine
More in: #Editors Choice Archiv, - Book Stories, Archive G-H, Archive G-H, Art & Literature News, MUSEUM OF PUBLIC PROTEST, The Ideal Woman
---
Godard and the Essay Film offers a history and analysis of the essay film, one of the most significant forms of intellectual filmmaking since the end of World War II. Warner incisively reconsiders the defining traits and legacies of this still-evolving genre through a groundbreaking examination of the vast and formidable oeuvre of Jean-Luc Godard.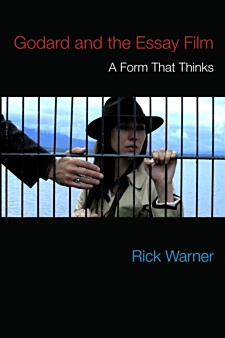 The essay film has often been understood by scholars as an eccentric development within documentary, but Warner shows how an essayistic process of thinking can materialize just as potently within narrative fiction films, through self-critical investigations into the aesthetic, political, and philosophical resources of the medium.
Studying examples by Godard and other directors, such as Orson Welles, Chris Marker, Agnès Varda, and Harun Farocki, Warner elaborates a fresh account of essayistic reflection that turns on the imaginative, constructive role of the viewer.
Through fine-grained analyses, this book contributes the most nuanced description yet of the relational interface between viewer and screen in the context of the essay film. Shedding new light on Godard's work, from the 1960s to the 2010s, in film, television, video, and digital stereoscopy, Warner distills an understanding of essayistic cinema as a shared exercise of critical rumination and perceptual discovery.
Rick Warner is an assistant professor of film in the Department of English and Comparative Literature at the University of North Carolina, Chapel Hill.
Godard and the Essay Film
A Form That Thinks
Rick Warner
Publication Date: July 2018
Categories: Film
Page Count: 288 pages
Size 6 x 9
Northwestern University Press
Cloth Text – $99.95
ISBN 978-0-8101-3738-7
Paper Text – $34.95
ISBN 978-0-8101-3737-0
new books
fleursdumal.nl magazine
More in: - Book News, - Bookstores, Archive G-H, Art & Literature News, AUDIO, CINEMA, RADIO & TV, Photography
---
Großes Humboldt-Gedenken 2018/2019: bibliophiler Prachtband.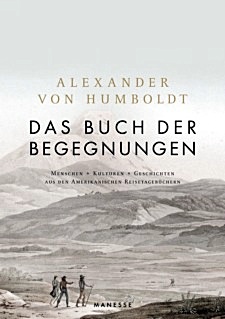 Wagemut und Wissbegier, ein feines Beobachtungs- und Differenzierungsvermögen und vor allem die unbändige Lust an immer neuen Begegnungen machten Alexander von Humboldt vor 200 Jahren zu einem epochalen Weltentdecker.
«Das Buch der Begegnungen», das die emphatischsten Zeugnisse aus den «Amerikanischen Reisetagebüchern» versammelt, zeigt einen warmherzigen Menschen ohne Berührungsängste. Auf seiner Reise in die amerikanischen Tropen von 1799 bis 1804 hielt der preußische Kosmopolit eine Vielzahl exotischer Physiognomien fest und sah die Welt, wie sie vor ihm noch keiner gesehen hatte. Als einer der ersten Europäer überhaupt kritisierte er Kolonialismus, Sklavenhandel und christlichen Bekehrungseifer.
Dagegen betonte er die Würde und den kulturellen Reichtum vermeintlich primitiver Völker. Überzeugt davon, dass es keine unterlegenen oder gar minderwertigen Ethnien gebe, war er seinen Zeitgenossen weit voraus. Und selbst im 21. Jahrhundert kommt Alexander von Humboldt als Anwalt einer universellen Humanität wie gerufen.
Bibliophiler Prachtband: gebunden in bedrucktes Leinen, zweifarbig gedruckt, fadengeheftet, mit farblich abgestimmtem Lesebändchen, gestaltetem Vorsatz sowie Originalillustrationen Alexander von Humboldts.
Ottmar Ette ist Professor für Romanistik an der Universität Potsdam und gehört zu den führenden Experten zu Humboldts Werk. Er leitete das Forschungsprojekt zur Auswertung von Humboldts Amerikanischen Reisetagebüchern.
Alexander von Humboldt (1769–1759), deutscher Universalgelehrter und Expeditionsreisender von internationalem Renommee, machte als Pionier diverser naturwissenschaftlicher Fachdisziplinen von sich reden: von der Botanik und Zoologie über die Klimatologie bis hin zur Astronomie. Seit seiner Amerikanischen Forschungsreise 1799-1804 gilt er als «wissenschaftlicher Wiederentdecker Amerikas» und Mitbegründer der empirisch fundierten Geographie. Doch auch als Ethnologe, Kulturtheoretiker und couragierter Humanist war er seiner Mitwelt weit voraus.
Alexander von Humboldt, Ottmar Ette (Hrsg.)
Das Buch der Begegnungen
Menschen – Kulturen – Geschichten aus den Amerikanischen Reisetagebüchern
Gebundenes Buch, Leinen,
416 Seiten,
17,0 x 24,0 cm
mit ca. 10 Abb.
ISBN: 978-3-7175-2444-1
€ 45,00
Verlag: Manesse
Erscheinungstermin: 25. Juni 2018
new books
fleursdumal.nl magazine
More in: - Book Lovers, - Book Stories, Archive G-H, Department of Birds of Prey, Illustrators, Illustration, Natural history
---
A Latina feminist State of the Union address at the intersection of pop culture and interiority.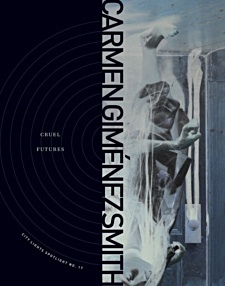 Cruel Futures is a witchy confessional and wildly imagistic volume that examines subjects as divergent as Alzheimers, Medusa, mumblecore, and mental illness in sharp-witted, taut poems dense with song. Chronicling life on an endangered planet, in a country on the precipice of profound change compelled by a media machine that produces our realities, the book is a high-energy analysis of popular culture, as well as an exploration of the many social roles that women occupy as mother, daughter, lover, and the resulting struggle to maintain personhood—all in a late capitalist America.
Born in New York, poet Carmen Giménez Smith earned a BA in English from San Jose State University and an MFA in creative writing from the University of Iowa. She writes lyric essays as well as poetry, and is the author of the poetry chapbook Casanova Variations (2009); the memoir Bring Down the Little Birds: On Mothering, Art, Work, and Everything Else (2010); and the full-length collections Odalisque in Pieces (2009), Milk and Filth (2013), finalist for the National Book Critics Circle Award, and Cruel Futures: City Lights Spotlight No. 17 (City Lights Publishers, 2018).
Giménez Smith's work explores issues affecting the lives of females, including Latina identity, and frequently references myth and memory. With the publication of Odalisque in Pieces, Giménez Smith was featured as a New American Poet on the Poetry Society of America's website. Her poems have been included in the anthologies Floricanto Si! U.S. Latina Poets (1998) and Contextos: Poemas (1994).
Giménez Smith is the editor-in-chief of Puerto del Sol and publisher of Noemi Press. She was appointed as poetry co-editor (along with Steph Burt) at The Nation in 2017 and teaches at Virginia Tech University.
Title Cruel Futures
Author Carmen Giménez Smith
Collection City Lights Spotlight
Publisher City Lights Publishers
Format Paperback
ISBN-10 0872867587
ISBN-13 9780872867581
Publication Date 15 April 2018
Main content page count 88
List Price $15.95
new books
fleursdumal.nl magazine
More in: - Book News, - Book Stories, Archive G-H, Art & Literature News, Opium-Eaters, Psychiatric hospitals
---
Older Entries »
« Newer Entries
Thank you for reading FLEURSDUMAL.NL - magazine for art & literature