Archive A-B
·
Bert Bevers: Jaag zacht
·
Schubert's Winter Journey. Anatomy of an Obsession by Ian Bostridge
·
Paul Bezembinder: Styxoтворение
·
John Barbour: Freedom
·
Guillaume Apollinaire: C'est l'hiver
·
Lies Jane Austen Told Me by: Julie Wright
·
Gabriële by Anne & Claire Berest: The saga of a surrealist muse, from Montmartre to New York
·
Frank Behrendt: Die Winnetou-Strategie Werde zum Häuptling deines Lebens
·
Staging Beckett in Great Britain & Ireland by David Tucker and Trish McTighe
·
Ficciones by Jorge Luis Borges
·
Bert Bevers: Lammersneeuw
·
Exhibition Rasheed Araeen = A Retrospective (02/12/2017 – 25/03/2018)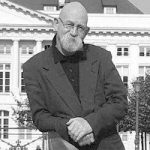 Jaag zacht
Praat niet hardop in het woud.
Dat is voor niets goed. Immers:
de waarheid is als een schuw dier.
Mensen hebben er schrik van.
Bert Bevers
gedicht: Jaag zacht
Verschenen in de Enghuizer Dialogen VIII, Hummelo, mei 2017
Bert Bevers is a poet and writer who lives and works in Antwerp (Be)
fleursdumal.nl magazine
More in: Archive A-B, Archive A-B, Bevers, Bert, Natural history
---
An exploration of the world's most famous and challenging song cycle, Schubert's Winter Journey (Winterreise), by a leading interpreter of the work, who teases out the themes—literary, historical, psychological—that weave through the twenty-four songs that make up this legendary masterpiece.
Completed in the last months of the young Schubert's life, Winterreise has come to be considered the single greatest piece of music in the history of Lieder. Deceptively laconic—these twenty-four short poems set to music for voice and piano are performed uninterrupted in little more than an hour—it nonetheless has an emotional depth and power that no music of its kind has ever equaled.
A young man, rejected by his beloved, leaves the house where he has been living and walks out into snow and darkness. As he wanders away from the village and into the empty countryside, he experiences a cascade of emotions—loss, grief, anger, and acute loneliness, shot through with only fleeting moments of hope—until the landscape he inhabits becomes one of alienation and despair.
Originally intended to be sung to an intimate gathering, performances of Winterreise now pack the greatest concert halls around the world.
Drawing equally on his vast experience performing this work (he has sung it more than one hundred times), on his musical knowledge, and on his training as a scholar, Bostridge teases out the enigmas and subtle meanings of each of the twenty-four lyrics to explore for us the world
Schubert inhabited, his biography and psychological makeup, the historical and political pressures within which he became one of the world's greatest composers, and the continuing resonances and affinities that our ears still detect today, making Schubert's wanderer our mirror.
Ian Bostridge performs regularly throughout Europe, North America and the Far East to outstanding critical acclaim. He read Modern History at Oxford and received a D.Phil in 1990. He is the author of Witchcraft and Its Transformations c.1650-c.1750 and A Singer's Notebook. He is Humanitas Professor of Music at the University of Oxford and a regular contributor to The Guardian and the TLS. He is married to the writer and critic Lucasta Miller. They live in London with their two children.
Schubert's Winter Journey
Anatomy of an Obsession
By Ian Bostridge
Paperback
Published on Jan 02, 2018
Published by Vintage
528 Pages
$22.00
ISBN 9780525431800
new books
fleursdumal.nl magazine
More in: # Music Archive, - Book Lovers, - Book News, Archive A-B, Art & Literature News
---
Styxoтворение
Het was een wat desolate zondagmiddag.
Wij bezochten de dierentuin van Overloon.
Bij het gouden kooitje van het vogelverblijf
beseften wij: poetry, that rare bird, had flown.
Ooit had zij hier haar hoogste vorm gevonden
in een vogellijfje ingepakt in kleurenpracht –
тихотворенье in rumoerig gezelschap
en шумасшествие in de stilte van de nacht.
Zou zij gevlucht zijn of zou zij zijn gevlogen?
Vond het zorgteam haar met haar pootjes omhoog?
Of was ze toch maar paradijsvogel geworden?
Eentje die krijsend naar de onderwereld vloog?
Paul Bezembinder
gedicht: Styxoтворение
Paul Bezembinder studeerde theoretische natuurkunde in Nijmegen. In zijn poëzie zoekt hij in vooral klassieke versvormen en thema's naar de balans tussen serieuze poëzie, pastiche en smartlap. Zijn gedichten (Nederlands) en vertalingen (Russisch-Nederlands) verschenen in verschillende (online) literaire tijdschriften. Voor­beelden van zijn werk zijn te vinden op zijn website, www.paulbezembinder.nl
fleursdumal.nl magazine
More in: Archive A-B, Archive A-B, Art & Literature News, Bezembinder, Paul, POETRY IN TRANSLATION: BEZEMBINDER
---
Freedom
A! Fredome is a noble thing!
Fredome mays man to haiff liking;
Fredome all solace to man giffis,
He levys at ese that frely levys!
A noble hart may haiff nane ese,
Na ellys nocht that may him plese,
Gyff fredome fail; for fre liking
Is yarnyt our all othir thing.
Na he that ay has levyt fre
May nocht knaw weill the propyrte,
The angyr, na the wretchyt dome
That is couplyt to foule thyrldome.
Bot gyff he had assayit it,
Than all perquer he suld it wyt;
And suld think fredome mar to prise
Than all the gold in warld that is.
Thus contrar thingis evirmar
Discoweryngis off the tothir ar.
John Barbour
(c. 1320 -1395)
Freedom
fleursdumal.nl magazine
More in: Archive A-B, Archive A-B, CLASSIC POETRY
---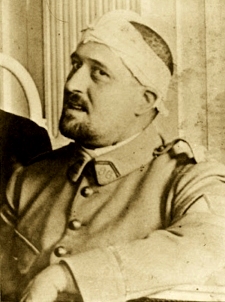 C'est l'hiver
C'est l'hiver et déjà j'ai revu des bourgeons
Aux figuiers dans les clos Mon amour nous bougeons
Vers la paix ce printemps de la guerre où nous sommes
Nous sommes bien Là-bas entends le cri des hommes
Un marin japonais se gratte l'œil gauche avec l'orteil droit
Sur le chemin de l'exil voici des fils de rois
Mon cœur tourne autour de toi comme un kolo où dansent quelques
jeunes soldats serbes auprès d'une pucelle endormie
Le fantassin blond fait la chasse aux morpions sous la pluie
Un belge interné dans les Pays-Bas lit un journal où il est question de moi
Sur la digue une reine regarde le champ de bataille avec effroi
L'ambulancier ferme les yeux devant l'horrible blessure
Le sonneur voit le beffroi tomber comme une poire trop mûre
Le capitaine anglais dont le vaisseau coule tire une dernière pipe d'opium
Ils crient Cri vers le printemps de paix qui va venir
Entends le cri des hommes
Mais mon cri va vers toi mon Lou tu es ma paix et mon printemps
Tu es ma Lou chérie le bonheur que j'attends
C'est pour notre bonheur que je me prépare à la mort
C'est pour notre bonheur que dans la vie j'espère encore
C'est pour notre bonheur que luttent les armées
Que l'on pointe au miroir sur l'infanterie décimée
Que passent les obus comme des étoiles filantes
Que vont les prisonniers en troupes dolentes
Et que mon cœur ne bat que pour toi ma chérie
Mon amour ô mon Loup mon art et mon artillerie
Guillaume Apollinaire
(1880 – 1918)
Poèmes à Lou
C'est l'hiver
fleursdumal.nl magazine
More in: *Concrete + Visual Poetry A-E, Apollinaire, Guillaume, Archive A-B, Guillaume Apollinaire
---
Ever since Emma read Pride and Prejudice, she's been in love with Mr. Darcy and has regarded Jane Austen as the expert on all things romantic.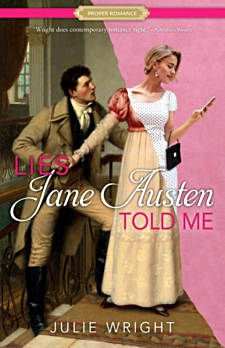 So naturally when Emma falls for Blake Hampton and he invites her home to meet his parents, she is positive an engagement is in her future. After all, Blake is a single man in possession of a good fortune, and thus must be in want of a wife.


But when it turns out that what Blake actually wants is more of a hook-up than a honeymoon, Emma is hurt, betrayed, and furious. She throws herself deeper into her work as CMO of Kinetics, the fastest growing gym franchise in the nation. She loves her work, and she's good at it, which is why she bristles when her boss brings in a consultant to help her spearhead the new facilities on the East Coast. Her frustration turns to shock when that consultant turns out to be Blake's younger brother, Lucas.

Emma is determined not to fall for Lucas, but as she gets to know him, she realizes that Lucas is nothing like his brother. He is kind and attentive and spends his time and money caring for the less fortunate.


What she can't understand is why Lucas continues to try to push her back into Blake's arms when he so clearly has fallen as hard for her as she has fallen for him. It isn't until Lucas reveals to Emma that he was adopted into the Hampton family that she begins to understand his loyalty to Blake as well as his devotion to the child April-she is Lucas's biological niece.


Emma opens up to Lucas about the feelings of abandonment she has harbored ever since she was a child and her mother left the family. As she helps Lucas deal with his past demons, she is able to exorcise some of her own.
Realizing that her love life is as complicated as anything Jane Austen could have dreamed up, Emma must find a way to let Blake know that it's time for him to let her go and to let Lucas know it's time for him to love her back.
Julie Wright wrote her first book when she was fifteen, and has since written twenty-three novels. She has a husband, three kids, a dog, and a varying amount of fish, frogs, and salamanders (depending on attrition). She loves writing, reading, traveling, speaking at schools, hiking, playing with her kids, and watching her husband make dinner.
Julie Wright
Lies Jane Austen Told Me
Published: 2017
Pages: 320
ISBN: 9781629723426
Publisher: Shadow Mountain
fleursdumal.nl magazine
More in: - Book News, - Bookstores, Archive A-B, Archive W-X, Art & Literature News, Austen, Jane, Austen, Jane, Jane Austen
---
A "Jules et Jim" style love story set against the background of the Surrealist revolution.
September 1908. 27-year-old Gabriële Buffet – a musician, an free-spirited young woman and a feminist before her time – meets Francis Picabia, a successful young painter with a scandalous reputation.
He needed his art to head in a new direction, she is prepared to break with convention: to inspire, theorise and be thought-provoking. She becomes the "woman with the erotic brain" who has men on their knees, including Marcel Duchamp and Guillaume Apollinaire. Moving from Paris to New York, Berlin, Zurich, Barcelona, Étival and Saint-Tropez, Gabriële guides the precursors of abstract art, the futurists, the Dadaists, always at the cutting edge of artistic innovation. This book transports us to the beginning of the Twentieth Century when the codes of beauty and society were reinvented.
Collaborating intimately in both content and writing, Anne et Claire Berest tell the story of their great-grandmother, Gabriële Picabia, the surrealists' muse.
Anne & Claire Berest
Gabriële
Published: 23/08/2017
450 pages
Format: 140 x 215 mm
EAN: 9782234080324
Prix: €21.50
Collection: a Bleue
Éditions Stock
fleursdumal.nl magazine
More in: - Book News, - Bookstores, Archive A-B, Art & Literature News, Surrealism, Surrealisme
---
"Führe dich selbst in eine gute Zukunft. Wie ein guter Häuptling seinen Stamm." (Frank Behrendt)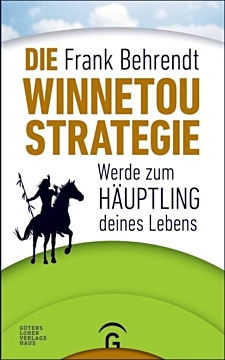 Frank Behrendt ist seit seiner Jugend leidenschaftlicher Winnetou-Fan – der »Guru der Gelassenheit« hat sich in vielen Lebenslagen von dem stolzen Apachen-Häuptling und anderen Figuren des Schriftstellers Karl May inspirieren lassen.
Auch von anderen Persönlichkeiten im echten Leben hat Frank Behrendt viel gelernt. Ihre Haltung, Klugheit und Weisheit hat er übernommen und für seinen eigenen Weg erfolgreich adaptiert. Selbstbestimmt und selbst-entschieden zu leben, tatsächlich Häuptling des eigenen Lebens zu sein, war immer sein Ziel.
In unterhaltsamen Geschichten erzählt Frank Behrendt an konkreten Beispielen, wie ihn die Helden seiner Kindheit nachhaltig beeinflusst haben. Eine Inspiration für jeden und ein flammender Appell an alle, Ausschau zu halten nach den Helden am Wegesrand – den fiktionalen und den realen.
Frank Behrendt, geb. 1963, ist seit gut 20 Jahren ausgewiesener PR- und Kommunikationsfachmann mit intensiven Kontakten zu Medien, Wirtschaft und Politik. Nach Stationen bei BILD, Dornier, Henkel, RTL Television und Universal Music war der Absolvent der Deutschen Journalistenschule in München Deutschland-Chef bei KetchumPleon, bevor er 2011 als Vorstand zur fischerAppelt AG wechselte. Seit Februar 2017 ist er in der Serviceplan-Gruppe tätig. Im März 2017 wurde er von der Deutschen Public Relations Gesellschaft (DPRG) als "PR-Kopf des Jahres" ausgezeichnet. Frank Behrendt lebt mit seiner Frau und seinen drei Kindern in Köln.
Frank Behrendt
Die Winnetou-Strategie Werde zum Häuptling deines Lebens
Seitenzahl: 221
Oktober 2017
Deutsch
Abmessung: 218mm x 139mm x 25mm
Gebundenes Buch mit Schutzumschlag
ISBN-13: 9783579086811
ISBN-10: 3579086812
Verlag: Gütersloher Verlagshaus
fleursdumal.nl magazine
More in: * Cowboys and Indians, - Book News, - Bookstores, Archive A-B, Archive M-N, Archive W-X, Art & Literature News, Karl May
---
Beckett's relationship with British theatre is complex and underexplored, yet his impact has been immense. Uniquely placing performance history at the centre of its analysis, this volume examines Samuel Beckett's drama as it has been staged in Great Britain, bringing to light a wide range of untold histories and in turn illuminating six decades of drama in Britain.
Staging Samuel Beckett in Great Britain by Trish McTighe and David Tucker

Ranging from studies of the first English tour of Waiting for Godot in 1955 to Talawa's 2012 all-black co-production of the same play, Staging Samuel Beckett in Great Britain excavates a host of archival resources in order to historicize how Beckett's drama has interacted with specific theatres, directors and theatre cultures in the UK. It traces production histories of plays such as Krapp's Last Tape; presents Beckett's working relationships with the Royal Court, Riverside and West Yorkshire Playhouse, as well as with directors such as Peter Hall; looks at the history of Beckett's drama in Scotland and how the plays have been staged in London's West End. Production analyses are mapped onto political, economic and cultural contexts of Great Britain so that Beckett's drama resonates in new ways, through theatre practice, against the complex contexts of Great Britain's regions.
With contributions from experts in the fields of both Beckett studies and UK drama, including S.E. Gontarski, David Pattie, Mark Taylor-Batty and Sos Eltis, the volume offers an exceptional and unique understanding of Beckett's reception on the UK stage and the impact of his drama within UK theatre practices. Together with its sister volume, Staging Samuel Beckett in Ireland and Northern Ireland it will prove a terrific resource for students, scholars and theatre practitioners.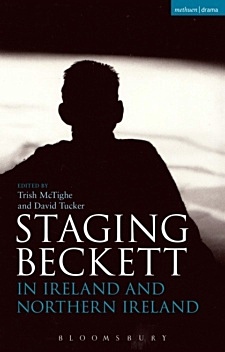 Staging Beckett in Ireland and Northern Ireland by Trish McTighe and David Tucker
This is the first full-length study to focus on Samuel Beckett's drama as it has been staged in Ireland and Northern Ireland.
While Beckett's relationship with his native land was a complex one, the importance of his drama as a creative force both historically and in contemporary practice in those regions cannot be underestimated. The volume brings to light unexamined and little-known productions, for example Beckett's drama in the Irish language, Druid Theatre Company's productions, and Beckett at Dublin's Focus Theatre, as well as previously unpublished archival materials. Leading scholars, such as Anna McMullan and Anthony Roche, and renowned dramatic interpreters of Beckett's work, such as Barry McGovern, explore Beckett's drama within the context of Irish creative theatrical practice and heritage, and point towards the theatrical and performance legacies that follow in its wake.
Production analyses are mapped on to the political, economic and cultural contexts of Ireland and the North so that readers are invited to experience Beckett's drama as resonating in new ways, through theatre practice, against the complex and connected histories of these lands.
David Tucker is a Visiting Research Fellow at the University of Sussex and currently teaches at the University of Oxford, UK. He is the editor of British Social Realism in the Arts since 1940 (Palgrave, 2011).
Trish McTighe is Lecturer in Theatre at the University of Birmingham. Previously, she lectured at Queen's University, Belfast and was an AHRC post-doctoral researcher on the Staging Beckett Project at the University of Reading (2012-2015).
Staging Beckett in Great Britain
Editors: David Tucker, Trish McTighe
Published: 19-10-2017
Format: Paperback
Edition: 1st
Extent: 288
ISBN: 9781474240161
Imprint: Methuen Drama
Bloomsbury Publishing
Staging Beckett in Ireland and Northern Ireland
Volume editor: Trish McTighe, David Tucker
Published: 19-10-2017
Format: Paperback
Edition: 1st
Extent: 288
ISBN: 9781474240543
Imprint: Methuen Drama
Bloomsbury Publishing
More titles on Beckett to be published soon:
∗ The Making of Samuel Beckett's 'Malone Dies'/'Malone meurt' by: Dirk Van Hulle, Pim Verhulst
∗ Beckett's Creatures. Art of Failure after the Holocaust by: Joseph Anderton
fleursdumal.nl magazine
More in: - Book News, - Bookstores, Archive A-B, Art & Literature News, CINEMA, RADIO & TV, Samuel Beckett, THEATRE
---
Jorge Luis Borges was one of those very rare creators who changed the face of an art form—in his case, the short story. His work has been paid the ultimate honor of being appropriated and imitated by innumerable writers on every continent of the world.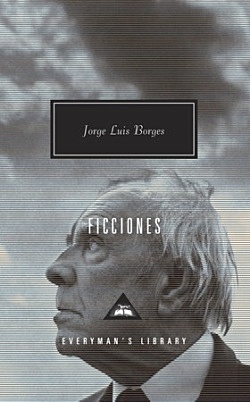 The seventeen brief masterpieces of FICCIONES explode the boundaries of genre, offering up labyrinthine libraries, a fictional encyclopedia entry that spawns an entire world, a review of a nonexistent writer's attempt to re-create Don Quixote word for word, a man with the disabling inability to forget anything he has ever experienced, and other metaphysical puzzles.
But the true measure of Borges's greatness lies in the fact that his fictions—elaborately paradoxical, postmodern, and intellectually delicious as they are—managed to return the short story to the realm of the fabulous and the uncanny from which, as parable and fairy tale, it originally came.
Jorge Luis Borges (1899–1986) was an Argentine poet, essayist, and author of short stories. His most notable works as a key literary Spanish-language figure of the twentieth century include Ficciones (Fictions) and El Aleph (The Aleph). He received a BA from the College of Geneva. He was also appointed the director of the National Public Library and professor of English literature at the University of Buenos Aries in 1955. During his lifetime, Borges received the first Prix International Formentor Prize which he shared alongside Samuel Beckett in 1961. He also received the Jerusalem Prize for the Freedom of the Individual in Society in 1971.
Ficciones
By Jorge Luis Borges
Introduction by John Sturrock
Part of Everyman's Library Contemporary Classics Series
Category: Literary Fiction | Fiction Classics
Hardcover
(1993)- 192 Pages
ISBN 9780679422990
(Book Jacket Status: Jacketed)
fleursdumal.nl magazine
More in: - Book News, - Bookstores, Archive A-B, Art & Literature News, Borges J.L.
---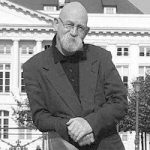 Lammersneeuw
Waarom moet hij die de slagorde van leugens
durft te tarten uw woede velen? Behoorlijk
grof van korrel is uw gevoel voor realiteit, 
mijnheer. Ik stel slechts in vraag en misdoe
niets. Wist u dat in Schotland sneeuw in april
lambing snow wordt genoemd? Te wedden
durf ik van niet. Zie je nou wel? Zinnig slot.
Bert Bevers
Bert Bevers is a poet and writer who lives and works in Antwerp (Be)
fleursdumal.nl magazine
More in: Archive A-B, Archive A-B, Bevers, Bert
---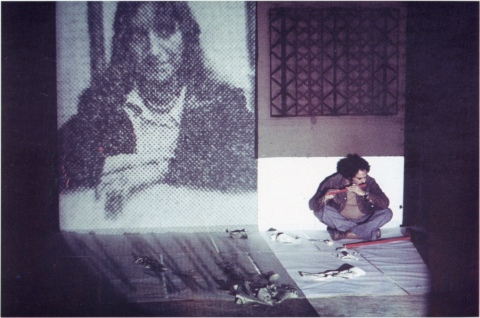 # Rasheed Araeen, Paki Bastard (Portrait of an Artist as a Black Person), 1977, courtesy the artist
The Van Abbemuseum will stage Rasheed Araeen: A Retrospective, the first comprehensive survey of the artist. The exhibition, spanning 60 years of work, presents a body of work that has had a profound influence on generations of artists, writers and thinkers.
Rasheed Araeen: A Retrospective is structured across five chapters: from his early experiments in painting in Karachi in the 1950s and early 60s, his pioneering minimalist sculptures carried out after his arrival in London in 1964, key pieces from the 70s and 80s following Araeen's political awakening, his nine panel cruciform works from the 80s and 90s and a selection of his new geometric paintings and wall structures. Alongside this, material relating to Araeen's writing, editorial and curatorial projects will be presented as part of an expanded artistic practice that in its scope and ambition continues to challenge the formal, ideological and political assumptions of Eurocentric modernism.
Publication:A monograph, edited by Nick Aikens and published by JRP Ringier in collaboration with Van Abbemuseum, MAMCO, BALTIC and Garage includes new essays by Aikens, Kate Fowle, Courtney Martin, Michael Newman, Gene Ray, Dominic Rhatz, John Roberts, Marcus du Sautoy, Zoe Sutherland and Kaelen Wilson-Goldie and an extensive conversation between Aikens and Araeen.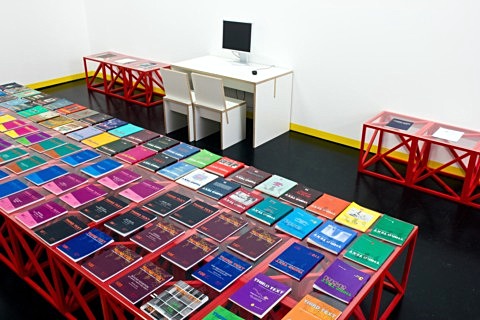 # Rasheed Araeen, The Reading Room, 2017, steel and glass tables, wooden stools, and copies of Third Text journal, courtesy the artist
Following the Van Abbemuseum Rasheed Araeen: A Retrospective will travel to MAMCO, Geneva, BALTIC Centre for Contemporary Art, Gateshead and Garage Centre for Contemporary Art, Moscow.
The exhibition is supported by Mondriaan Fund and Stichting Promotors van het Van Abbemuseum. The publication is generously supported by Aicon Gallery, New York, Grosvenor Gallery, London and Rossi Rossi, Hong Kong
exhibition
Rasheed Araeen
A Retrospective
02/12/2017 – 25/03/2018
spanning 60 years' work
Curators: Nick Aikens
van abbemuseum eindhoven
#  van abbemuseum eindhoven web
fleursdumal.nl magazine
More in: - Book News, Archive A-B, Art & Literature News, CINEMA, RADIO & TV, DICTIONARY OF IDEAS, Exhibition Archive, FDM Art Gallery, MONTAIGNE, Photography, Sculpture
---
Older Entries »
Thank you for reading FLEURSDUMAL.NL - magazine for art & literature