Archive G-H
«« Previous page
·
LETTER TO LEIGH HUNT BY JOHN KEATS
·
LEIGH HUNT: TO JOHN KEATS
·
KAROLINE VON GÜNDERRODE: DER GEFANGENE UND DER SÄNGER
·
JOSÉ – MARIA DE HEREDIA: LES FUNÉRAILLES
·
JOSÉ – MARIA DE HEREDIA: LE BAIN
·
WERELDSTER PJ HARVEY OPENT HET ILFU 2016!
·
ZWEEDSE DICHTER EN ROMANSCHRIJVER LARS GUSTAFSSON (1936 – 2016) OVERLEDEN
·
AMERIKAANSE SCHRIJVER EN DICHTER JIM HARRISON (78) OVERLEDEN
·
STEFAN GEORGE: TRAUM UND TOD
·
JOHANN WOLFGANG VON GOETHE: DEN GUTEN
·
JOHANN WOLFGANG VON GOETHE: DREI ODEN AN MEINEN FREUND BEHRISCH
·
STEFAN GEORGE: DER TÄTER
Letter to Leigh Hunt by John Keats
Margate, May 10th, 1817
My dear Hunt
The little Gentleman that sometimes lurks in a gossips bowl ought to have come in very likeness of a coasted crab and choaked me outright for not having answered your Letter ere this – however you must not suppose that I was in Town to receive it, no, it followed me to the isle of Wight and I got it just as I was going to pack up for Margate, for reasons which you anon shall hear. On arriving at this treeless affair I wrote to my Brother George to request C. C. C. to do the thing you wot of respecting Rimini; and George tells me he has undertaken it with great Pleasure; so I hope there has been an understanding between you for many Proofs – – C. C. C. is well acquainted with Bensley. Now why did you not send the Key of your Cupboard which I know was full of Papers? We would have lock'd them all in a trunk together with those you told me to destroy; which indeed I did not do for fear of demolishing Receipts. There not being a more unpleasant thing in the world (saving a thousand and one others) than to pay a Bill twice. Mind you – old Wood's a very Varmant – sharded in Covetousness – And now I am upon a horrid subject – what a horrid one you were upon last sunday and well you handled it. The last Examiner was a Battering Ram against Christianity – Blasphemy – Tertullian – Erasmus – Sr. Philip Sidney. And then the dreadful Petzelians and their expiation by Blood – and do Christians shudder at the same thing in a Newspaper which they attribute to their God in its most aggravated form? What is to be the end of this? I must mention Hazlitt's Southey – O that he had left out the grey hairs! Or that they had been in any other Paper not concluding with such a Thunderclap – that sentence about making a Page of the feeling of a whole life appears to me like a Whale's back in the Sea of Prose. I ought to have said a word on Shakspeare's Chrisitanity – there are two, which I have not looked over with you, touching the thing: the one for, the other against. That in favour is in Measure for Measure Act 2. S. 2 Isab. Alas! alas!
Why all the Souls that were, were forfeit once And he that might the vantage best have took, Found out the Remedy –
That against is in Twelfth Night. Act 3. S. 2. Maria – for there is no Christian, that means to be saved by believing rightly, can ever believe such impossible Passages of grossness! Before I come to the Nymphs I must get through all disagreeables – I went to the Isle of Wight – thought so much about Poetry so long together that I could not get to sleep at night – and moreover, I know not how it was, I could not get wholesome food – By this means in a Week or so I became not over capable in my upper Stories, and set off pell mell for Margate, at least 150 Miles – because forsooth I fancied that I should like my old Lodging here, and could contrive to do without Trees. Another thing I was too much in Solitude, and consequently was obliged to be in continual burning of thought as an only resource. However Tom is with me at present and we are very comfortable. We intend though to get among some Trees. How have you got on among them? How are the Nymphs? I suppose they have led you a fine dance – Where are you now. In Judea, Cappadocia, or the Parts of Lybia about Cyrene, Strangers from "Heaven, Hues and Prototypes. I wager you have given several new turns to the old saying "Now the Maid was fair and pleasant to look on" as well as made a little variation in "once upon a time" perhaps too you have rather varied "thus endeth the first Lesson" I hope you have made a Horseshoebusiness of – "unsuperfluous lift" "faint Bowers" and fibrous roots. I vow that I have been down in the Mouth lately at this Work. These last two days however I have felt more confident – I have asked myself so often why I should be a Poet more than other Men, – seeing how great a thing it is, – how great things are to be gained by it – What a thing to be in the Mouth of Fame – that at last the Idea has grown so monstrously beyond my seeming Power of attainment that the other day I nearly consented with myself to drop into a Phæton – yet 'tis a disgrace to fail even in a huge attempt, and at this moment I drive the thought from me. I began my Poem about a Fortnight since and have done some every day except travelling ones – Perhaps I may have done a good deal for the time but it appears such a Pin's Point to me that I will not coppy any out. When I consider that so many of these Pin points go to form a Bodkin point (God send I end not my Life with a bare Bodkin, in its modern sense) and that it requires a thousand and more unpleasant (it may come among the thousand and one) than to be so journeying and miss the Goal at last. But I intend to whistle all these cogitations into the Sea where I hope they will breed Storms violent enough to block up all exit from Russia. Does Shelley go on telling strange Stories of the Death of Kings? Tell him there are strange Stories of the death of Poets – some have died before they were conceived "how do you make that out Master Vellum". Does Mrs. S. cut Bread and Butter as neatly as ever? Tell her to procure some fatal Scissors and cut the thread of Life of all to be disappointed Poets. Does Mrs Hunt tear linen in half as straight as ever? Tell her to tear from the book of Life all blank Leaves. Remember me to them all – to Miss Kent and the little ones all.
Your sincere friend
John Keats alias Junkets
Letter to Leigh Hunt (1784 – 1859) by John Keats (1795 – 1821)
fleursdumal.nl magazine
More in: Archive G-H, Archive K-L, Hunt, Leigh, Keats, John
---
Leigh Hunt
(1784 – 1859)
To John Keats
'Tis well you think me truly one of those,
Whose sense discerns the loveliness of things;
For surely as I feel the bird that sings
Behind the leaves, or dawn as it up grows,
Or the rich bee rejoicing as he goes,
Or the glad issue of emerging springs,
Or overhead the glide of a dove's wings,
Or turf, or trees, or, midst of all, repose.
And surely as I feel things lovelier still,
The human look, and the harmonious form
Containing woman, and the smile in ill,
And such a heart as Charles's, wise and warm,–
As surely as all this, I see, ev'n now,
Young Keats, a flowering laurel on your brow.
Leigh Hunt poetry
fleursdumal.nl magazine
More in: Archive G-H, Archive K-L, Hunt, Leigh, Keats, John
---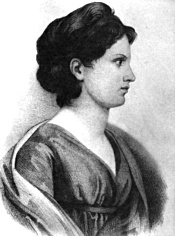 Karoline von Günderrode
(1780 – 1806)
Der Gefangene und der Sänger
Ich wallte mit leichtem und lustigem Sinn
Und singend am Kerker vorüber;
Da schallt aus der Tiefe, da schallt aus dem Thurm
Mir Stimme des Freundes herüber. –
"Ach Sänger! verweile, mich tröstet dein Lied,
Es steigt zum Gefangnen herunter,
Ihm macht es gesellig die einsame Zeit,
Das krankende Herz ihm gesunder."
Ich horchte der Stimme, gehorchte ihr bald,
Zum Kerker hin wandt' ich die Schritte,
Gern sprach ich die freundlichsten Worte hinab,
Begegnete jeglicher Bitte.
Da war dem Gefangenen freier der Sinn,
Gesellig die einsamen Stunden. –
"Gern gäb ich dir Lieber! so rief er: die Hand,
Doch ist sie von Banden umwunden.
Gern käm' ich Geliebter! gern käm' ich herauf
Am Herzen dich treulich zu herzen;
Doch trennen mich Mauern und Riegel von dir,
O fühl' des Gefangenen Schmerzen.
Es ziehet mich mancherlei Sehnsucht zu dir;
Doch Ketten umfangen mein Leben,
Drum gehe mein Lieber und laß mich allein,
Ich Armer ich kann dir nichts geben." –
Da ward mir so weich und so wehe ums Herz,
Ich konnte den Lieben nicht lassen.
Am Kerker nun lausch' ich von Frührothes Schein
Bis Abends die Farben erblassen.
Und harren dort werd' ich die Jahre hindurch,
Und sollt' ich drob selber erblassen.
Es ist mir so weich und so sehnend ums Herz
Ich kann den Geliebten nicht lassen.
Karoline Günderrode Gedichte
fleursdumal.nl magazine
More in: Archive G-H, Karoline von Günderrode
---
José-Maria de Heredia
(1842 – 1905)
Les Funérailles
Vers la Phocide illustre, aux temples que domine
La rocheuse Pytho toujours ceinte d'éclairs,
Quand les guerriers anciens descendaient aux enfers,
La Grèce accompagnait leur image divine.
Et leurs Ombres, tandis que la nuit illumine
L'Archipel radieux et les golfes déserts,
Écoutaient, du sommet des promontoires clairs,
Chanter sur leurs tombeaux la mer de Salamine.
Et moi je m'éteindrai, vieillard, en un long deuil ;
Mon corps sera cloué dans un étroit cercueil
Et l'on paîra la terre et le prêtre et les cierges.
Et pourtant j'ai rêvé ce destin glorieux
De tomber au soleil ainsi que les aïeux,
Jeune encore et pleuré des héros et des vierges.
José-Maria de Heredia poésie
fleursdumal.nl magazine
More in: Archive G-H, CLASSIC POETRY
---
José-Maria de Heredia
(1842 – 1905)
Le Bain
L'homme et la bête, tels que le beau monstre antique
Sont entrés dans la mer, et nus, libres, sans frein,
Parmi la brume d'or de l'âcre pulvérin,
Sur le ciel embrasé font un groupe athlétique.
Et l'étalon sauvage et le dompteur rustique,
Humant à pleins poumons l'odeur du sel marin,
Se plaisent à laisser sur la chair et le crin
Frémir le flot glacé de la rude Atlantique.
La houle s'enfle, court, se dresse comme un mur
Et déferle. Lui crie. Il hennit, et sa queue
En jets éblouissants fait rejaillir l'eau bleue ;
Et, les cheveux épars, s'effarant dans l'azur,
Ils opposent, cabrés, leur poitrail noir qui fume,
Au fouet échevelé de la fumante écume.
José-Maria de Heredia poésie
fleursdumal.nl magazine
More in: Archive G-H, CLASSIC POETRY
---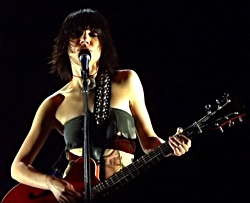 PJ Harvey presenteert vrijdagavond 22 april haar nieuwe poëziebundel The Hollow of the Hand tijdens een exclusief optreden op het International Literature Festival Utrecht. Ze draagt gedichten voor uit de bundel en signeert na afloop.
The Hollow of the Hand (Bloomsbury, 2015) is een co-productie van PJ ('Polly Jean') Harvey en fotograaf Seamus Murphy. Samen trokken ze naar Washington D.C., Kosovo en Afghanistan. Harvey: 'Het verzamelen van informatie uit secondaire bronnen voelde te afstandelijk voor datgene waarover ik probeerde te schrijven. Ik moest de geur opsnuiven, de grond voelen, de mensen ontmoeten in de landen die mij zo fascineerden. Mijn vriend Seamus Murphy en ik besloten dat we dit project samen gingen ondernemen: ik verzamelde de woorden, hij de beelden.'
Murphy: 'Polly is een schrijver die gek is op beelden; ik ben een fotograaf die gek is op woorden. Voor haar laatste cd Let England Shake maakte ik enkele films, waarmee ons avontuur is begonnen. Onze samenwerking gaat verder in dit boek. Het is onze blik op ons thuis en de wereld.'
PJ Harvey maakte tot nu toe acht studioalbums, werd genomineerd voor zes Grammy's en ze is de enige artiest die twee keer the prestigieuze Mercury Prize kreeg uitgereikt (voor de albums Stories from the City, Stories from the Sea en Let England Shake). Komende zomer staat ze op alle grote Europese popfestivals.
Seamus Murphy heeft met zijn indrukwekkende oeuvre al grote delen van het leven en de veranderingen in de wereld op foto's en films vastgelegd. Hij kreeg maar liefst zeven World Press Photo awards voor zijn reportages in Afghanistan, Sierra Leone, Gaza, Libanon, Peru, Ierland en Engeland. In 2011 maakte hij twaalf korte films bij PJ Harveys studioalbum Let England Shake. De foto's van Murphy worden vertoond tijdens Harveys voordracht op 22 april.
The Hollow of the Hand van PJ Harvey en Seamus Murphy is gedurende het hele festival verkrijgbaar in de ILFU Bookstore.
Wereldster PJ Harvey opent het ILFU 2016!
Photo: Dave Mitchell (Plastic Jesus) cc-by-sa-2.0
fleursdumal.nl magazine
More in: Archive G-H, Art & Literature News, Harvey, P.J., Literary Events, P.J. Harvey, THEATRE
---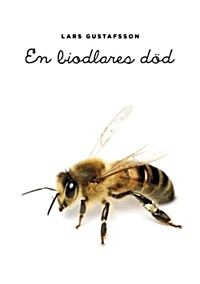 De Zweedse dichter en schrijver Lars Gustafsson is op 3 april 2016 op 79-jarige leeftijd overleden.
Een deel van zijn gedichten en romans zijn ook in het Nederlands vertaald, onder meer de romans De decaan, De mooie blanke armen van mevrouw Sorgedahl (Vertaling: Hoogland & Van Klaveren) en De dood van een een imker (Vertaling: Peter van der Velden).
Zijn gedichten, zoals de bundel De stilte van de wereld voor Bach, kregen ook in Nederland veel aandacht en waardering. Op de website van Terras zijn enige door Bernlef vertaalde gedichten te vinden. Op de site van Poetry International, waar hij meermalen te gast was, zijn enkele geluidsfragmenten van hem te beluisteren.
Mijn graf valt nog nergens te bekennen.
En dus zweef ook ik:
rust ook ik, onwetend van mijzelf,
in een luchtzee.
In memoriam Lars Gustafsson (1936 – 2016)
fleursdumal.nl magazine
More in: Archive G-H, Archive G-H, Art & Literature News, In Memoriam
---
De Amerikaanse schrijver Jim Harrison (1937 – 2016) overleed op 26 maart 2016 in zijn huis in Arizona. Harrison, geboren in Grayling, Michigan, werd gerekend tot een van de grootste nog levende schrijvers. Zijn vrouw, Linda King Harrison, overleed afgelopen najaar na een huwelijk van meer dan vijftig jaar.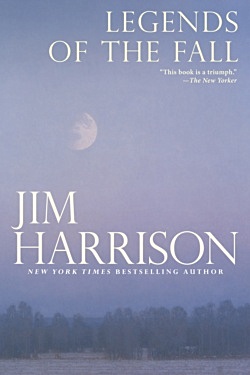 Harrison schreef romans, verhalen, kinderboeken, filmscenario's, poëzie en essays. Zijn romans werden in meer dan 25 talen vertaald. Harrisons werk werd vaak vergeleken met dat van William Faulkner en Ernest Hemingway. Harrison was (net als Hemingway) een bevlogen jager en visser. Veel van zijn verhalen spelen in dunbevolkte streken in het westen van de VS waar de natuur overheerst.
Twee van Harrisons romans kregen een vervolg op het witte doek: Legends of the Fall (1994) en Revenge (1999). Zijn meest recente werk is The Ancient Minstrel (2016), drie romans over een oudere schrijver.
"In fact he was as lovesick as a high schooler of an especially sensitive sort who wonders if he dare share a poem with his beloved or whether she will laugh at him. He does read her the poem and her feminine capacity for romanticism for a moment approaches his own and they are suffused in a love trance, a state that so ineluctably peels back the senses making them fresh again whatever ages the lovers might be."
― Jim Harrison, Legends of the Fall
Beknopte bibliografie
Fiction:
Wolf: A False Memoir (1971)
A Good Day to Die (1973)
Farmer (1976)
Legends of the Fall (Three novellas: "Revenge," "The Man Who Gave Up His Name," and "Legends of the Fall") (1979)
Warlock (1981)
Sundog: The Story of an American Foreman, Robert Corvus Strang (1984)
Dalva (1988)
The Woman Lit By Fireflies (Three novellas: "Brown Dog," "Sunset Limited," and "The Woman Lit by Fireflies") (1990)
Julip (Three novellas: "Julip," "The Seven-Ounce Man," and "The Beige Dolorosa") (1994)
The Road Home (1998)
The Beast God Forgot to Invent (Three novellas: "The Beast God Forgot to Invent," "Westward Ho," and "I Forgot to Go to Spain") (2000)
True North (2004)
The Summer He Didn't Die (Three novellas: "The Summer He Didn't Die," "Republican Wives," and "Tracking") (2005)
Returning To Earth (2007)
The English Major (2008)
The Farmer's Daughter (Three novellas: "The Farmer's Daughter," "Brown Dog Redux," and "The Games of Night") (2009)
The Great Leader (2011)
The River Swimmer (Two novellas: "The Land of Unlikeness" and "The River Swimmer") (2013)
Brown Dog (2013)
The Big Seven (2015)
The Ancient Minstrel: Novellas (2016)
Poetry:
Plain Song (1965)
Walking (1967)
Locations (1968)
Outlyer and Ghazals (1971)
Letters to Yesenin (1973)
Returning to Earth (Court Street Chapbook Series) (1977)
Selected and New Poems, 1961-1981 (Drawings by Russell Chatham) (1981)
Natural World: A Bestiary (1982)
The Theory & Practice of Rivers (1986)
The Theory & Practice of Rivers and New Poems (1989)
After Ikkyu and Other Poems (1996)
The Shape of the Journey: New and Collected Poems (Copper Canyon Press, 1998)
Braided Creek: A Conversation in Poetry (with Ted Kooser) (Copper Canyon Press, 2003)
Livingston Suite (Illustrated by Greg Keeler) (2005)
Saving Daylight (Copper Canyon Press, 2006)
In Search of Small Gods (Copper Canyon Press, 2009)
Songs of Unreason (Copper Canyon Press, 2011)
Dead Man's Float (Copper Canyon Press, 2016)
Let's not get romantic or dismal about death.
Indeed it's our most unique act along with birth.
We must think of it as cooking breakfast,
it's that ordinary. Break two eggs into a bowl
or break a bowl into two eggs. Slip into a coffin
after the fluids have been drained, or better yet,
slide into the fire. Of course it's a little hard
to accept your last kiss, your last drink,
your last meal about which the condemned
can be quite particular as if there could be
a cheeseburger sent by God. (. . .)
[Jim Harrison: from SONGS OF UNREASON, Copper Canyon Press, 2011]
In Memoriam: Jim Harrison, 1937–2016
fleursdumal.nl magazine
More in: - Book Stories, Archive G-H, Archive G-H, In Memoriam
---
Stefan George
(1868-1933)
Traum Und Tod
Glanz und ruhm! so erwacht unsre welt
Heldengleich bannen wir berg und belt
Jung und gross schaut der geist ohne vogt
Auf die flur auf die flut die umwogt.
Da am weg bricht ein schein fliegt ein bild
Und der rausch mit der qual schüttelt wild.
Der gebot weint und sinnt beugt sich gern
»Du mir heil du mir ruhm du mir stern«
Dann der traum höchster stolz steigt empor
Er bezwingt kühn den Gott der ihn kor ..
Bis ein ruf weit hinab uns verstösst
Uns so klein vor dem tod so entblösst!
All dies stürmt reisst und schlägt blizt und brennt
Eh für uns spät am nacht-firmament
Sich vereint schimmernd still licht-kleinod:
Glanz und ruhm rausch und qual traum und tod.[91]
Stefan George Gedicht
fleursdumal.nl magazine
More in: Archive G-H, George, Stefan
---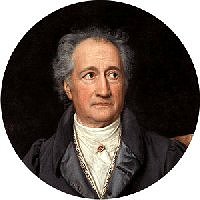 Johann Wolfgang von Goethe
(1749-1832)
Den Guten
Laßt euch einen Gott begeisten,
Euch beschränket nur mein Sagen.
Was ihr könnt, ihr werdet's leisten,
Aber müßt mich nur nicht fragen.
Johann Wolfgang von Goethe poetry
fleursdumal.nl magazine
More in: Archive G-H, Goethe, Johann Wolfgang von
---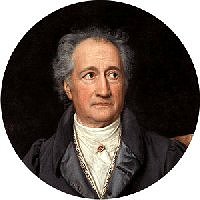 Johann Wolfgang von Goethe
(1749-1832)
Drei Oden
an meinen Freund Behrisch
Erste.
Verpflanze den schönen Baum,
Gärtner! er jammert mich;
Glücklicheres Erdreich
Verdiente der Stamm.
Noch hat seiner Natur Kraft
Der Erde aussaugendem Geize,
Der Luft verderbender Fäulniß,
Ein Gegengift, widerstanden.
Sieh! wie er im Frühling
Lichtgrüne Blätter schlägt;
Ihr Orangenduft
Ist dem Geschmeiße Gift.
Der Raupe tückischer Zahn
Wird stumpf an ihnen,
Es blinkt ihr Silberglanz
Im Sonnenscheine.
Von seinen Zweigen
Wünscht das Mädchen
Im Brautkranze;
Früchte hoffen Jünglinge.
Aber sieh! der Herbst kommt,
Da geht die Raupe,
Klagt der listigen Spinne
Des Baums Unverwelklichkeit.
Schwebend zieht sich
Von ihrer Taxuswohnung
Die Prachtfeindin herüber
Zum wohlthätigen Baum,
Und kann nicht schaden,
Aber die Vielkünstliche
Ueberzieht mit grauem Ekel
Die Silberblätter.
Sieht triumphirend,
Wie das Mädchen schauernd,
Der Jüngling jammernd
Vorübergeht.
Verpflanze den schönen Baum,
Gärtner! er jammert mich.
Baum, danke dem Gärtner,
Der dich verpflanzt!
Zweite.
Du gehst! Ich murre. –
Geh! laß mich murren.
Ehrlicher Mann,
Fliehe dieses Land!
Todte Sümpfe,
Dampfende Octobernebel
Verweben ihre Ausflüsse
Hier unzertrennlich.
Gebärort
Schädlicher Insecten,
Mörderhöhle
Ihrer Bosheit!
Am schilfigten Ufer
Liegt die wollüstige
Flammengezüngte Schlange,
Gestreichelt vom Sonnenstrahl.
Fliehe sanfte Nachtgänge
In der Mondendämmerung,
Dort halten zuckende Kröten
Zusammenkünfte auf Kreuzwegen.
Schaden sie nicht,
Werden sie schrecken. –
Ehrlicher Mann,
Fliehe dieses Land!
Dritte.
Sei gefühllos!
Ein leichtbewegtes Herz
Ist ein elend Gut
Auf der wankenden Erde.
Behrisch! des Frühlings Lächeln
Erheitre deine Stirne nie;
Nie trübt sie dann mit Verdruß
Des Winters stürmischer Ernst.
Lehne dich nie an des Mädchens
Sorgenverwiegende Brust,
Nie auf des Freundes
Elendtragenden Arm.
Schon versammelt,
Von seiner Klippenwarte,
Der Neid auf dich
Den ganzen luchsgleichen Blick,
Dehnt die Klauen,
Stürzt, und schlägt
Hinterlistig sie
Dir in die Schultern.
Stark sind die magern Arme
Wie Pantherarme,
Er schüttelt dich
Und reißt dich los.
Tod ist Trennung!
Dreifacher Tod
Trennung ohne Hoffnung
Wiederzusehn.
Gerne verließest du
Dieses gehaßte Land,
Hielte dich nicht Freundschaft
Mit Blumenfesseln an mir.
Zerreiß sie! Ich klage nicht.
Kein edler Freund
Hält den Mitgefangnen,
Der fliehen kann, zurück.
Der Gedanke
Von des Freundes Freiheit
Ist ihm Freiheit
Im Kerker.
Du gehst, ich bleibe.
Aber schon drehen
Des letzten Jahres Flügelspeichen
Sich um die rauchende Achse.
Ich zähle die Schläge
Des donnernden Rads,
Segne den letzten,
Da springen die Riegel, frei bin ich wie du!
Johann Wolfgang von Goethe poetry
fleursdumal.nl magazine
More in: Archive G-H, Goethe, Johann Wolfgang von
---
Stefan George
(1868-1933)
Der Täter
Ich lasse mich hin vorm vergessenen fenster: nun tu
Die flügel wie immer mir auf und hülle hienieden
Du stets mir ersehnte du segnende dämmrung mich zu
Heut will ich noch ganz mich ergeben dem lindernden frieden.
Denn morgen beim schrägen der strahlen ist es geschehn
Was unentrinnbar in hemmenden stunden mich peinigt
Dann werden verfolger als schatten hinter mir stehn
Und suchen wird mich die wahllose menge die steinigt.
Wer niemals am bruder den fleck für den dolchstoss bemass
Wie leicht ist sein leben und wie dünn dass gedachte
Dem der von des schierlings betäubenden körnern nicht ass!
O wüsstet ihr wie ich euch alle ein wenig verachte!
Denn auch ihr freunde redet morgen: so schwand
Ein ganzes leben voll hoffnung und ehre hienieden ..
Wie wiegt mich heute so mild das entschlummernde land
Wie fühl ich sanft um mich des abends frieden!
Stefan George Gedicht
fleursdumal.nl magazine
More in: Archive G-H, George, Stefan
---
Older Entries »
« Newer Entries
Thank you for reading FLEURSDUMAL.NL - magazine for art & literature