Archive G-H
«« Previous page
·
Nathaniel HAWTHORNE: The Ambitious Guest
·
Bret HARTE: Tennessee's Partner
·
Gouden Ganzenveerlaureaat 2017: Arnon GRUNBERG
·
P.C. Hooft-prijs 2017 voor BAS HEIJNE
·
O. HENRY: The Memento
·
O. HENRY: The World and the Door
·
O. HENRY: The Head-hunter
·
KAROLINE VON GÜNDERRODE: Liebe
·
O. HENRY: LET ME FEEL YOUR PULSE
·
KAROLINE VON GÜNDERRODE: BRIEFE ZWEIER FREUNDE
·
O. HENRY: AN UNFINISHED STORY
·
IN MEMORIAM HENK HOFLAND (1927 – 2016)
The Ambitious Guest
by Nathaniel Hawthorne
One September night a family had gathered round their hearth, and piled it high with the driftwood of mountain streams, the dry cones of the pine, and the splintered ruins of great trees that had come crashing down the precipice. Up the chimney roared the fire, and brightened the room with its broad blaze. The faces of the father and mother had a sober gladness; the children laughed; the eldest daughter was the image of Happiness at seventeen; and the aged grandmother, who sat knitting in the warmest place, was the image of Happiness grown old. They had found the "herb, heart's-ease," in the bleakest spot of all New England. This family were situated in the Notch of the White Hills, where the wind was sharp throughout the year, and pitilessly cold in the winter–giving their cottage all its fresh inclemency before it descended on the valley of the Saco. They dwelt in a cold spot and a dangerous one; for a mountain towered above their heads, so steep, that the stones would often rumble down its sides and startle them at midnight.
The daughter had just uttered some simple jest that filled them all with mirth, when the wind came through the Notch and seemed to pause before their cottage–rattling the door, with a sound of wailing and lamentation, before it passed into the valley. For a moment it saddened them, though there was nothing unusual in the tones. But the family were glad again when they perceived that the latch was lifted by some traveller, whose footsteps had been unheard amid the dreary blast which heralded his approach, and wailed as he was entering, and went moaning away from the door.
Though they dwelt in such a solitude, these people held daily converse with the world. The romantic pass of the Notch is a great artery, through which the life-blood of internal commerce is continually throbbing between Maine, on one side, and the Green Mountains and the shores of the St. Lawrence, on the other. The stage-coach always drew up before the door of the cottage. The way-farer, with no companion but his staff, paused here to exchange a word, that the sense of loneliness might not utterly overcome him ere he could pass through the cleft of the mountain, or reach the first house in the valley. And here the teamster, on his way to Portland market, would put up for the night; and, if a bachelor, might sit an hour beyond the usual bedtime, and steal a kiss from the mountain maid at parting. It was one of those primitive taverns where the traveller pays only for food and lodging, but meets with a homely kindness beyond all price. When the footsteps were heard, therefore, between the outer door and the inner one, the whole family rose up, grandmother, children, and all, as if about to welcome someone who belonged to them, and whose fate was linked with theirs.
The door was opened by a young man. His face at first wore the melancholy expression, almost despondency, of one who travels a wild and bleak road, at nightfall and alone, but soon brightened up when he saw the kindly warmth of his reception. He felt his heart spring forward to meet them all, from the old woman, who wiped a chair with her apron, to the little child that held out its arms to him. One glance and smile placed the stranger on a footing of innocent familiarity with the eldest daughter.
"Ah, this fire is the right thing!" cried he; "especially when there is such a pleasant circle round it. I am quite benumbed; for the Notch is just like the pipe of a great pair of bellows; it has blown a terrible blast in my face all the way from Bartlett."
"Then you are going towards Vermont?" said the master of the house, as he helped to take a light knapsack off the young man's shoulders.
"Yes; to Burlington, and far enough beyond," replied he. "I meant to have been at Ethan Crawford's tonight; but a pedestrian lingers along such a road as this. It is no matter; for, when I saw this good fire, and all your cheerful faces, I felt as if you had kindled it on purpose for me, and were waiting my arrival. So I shall sit down among you, and make myself at home."
The frank-hearted stranger had just drawn his chair to the fire when something like a heavy footstep was heard without, rushing down the steep side of the mountain, as with long and rapid strides, and taking such a leap in passing the cottage as to strike the opposite precipice. The family held their breath, because they knew the sound, and their guest held his by instinct.
"The old mountain has thrown a stone at us, for fear we should forget him," said the landlord, recovering himself. "He sometimes nods his head and threatens to come down; but we are old neighbors, and agree together pretty well upon the whole. Besides we have a sure place of refuge hard by if he should be coming in good earnest."
Let us now suppose the stranger to have finished his supper of bear's meat; and, by his natural felicity of manner, to have placed himself on a footing of kindness with the whole family, so that they talked as freely together as if he belonged to their mountain brood. He was of a proud, yet gentle spirit–haughty and reserved among the rich and great; but ever ready to stoop his head to the lowly cottage door, and be like a brother or a son at the poor man's fireside. In the household of the Notch he found warmth and simplicity of feeling, the pervading intelligence of New England, and a poetry of native growth, which they had gathered when they little thought of it from the mountain peaks and chasms, and at the very threshold of their romantic and dangerous abode. He had travelled far and alone; his whole life, indeed, had been a solitary path; for, with the lofty caution of his nature, he had kept himself apart from those who might otherwise have been his companions. The family, too, though so kind and hospitable, had that consciousness of unity among themselves, and separation from the world at large, which, in every domestic circle, should still keep a holy place where no stranger may intrude. But this evening a prophetic sympathy impelled the refined and educated youth to pour out his heart before the simple mountaineers, and constrained them to answer him with the same free confidence. And thus it should have been. Is not the kindred of a common fate a closer tie than that of birth?
The secret of the young man's character was a high and abstracted ambition. He could have borne to live an undistinguished life, but not to be forgotten in the grave. Yearning desire had been transformed to hope; and hope, long cherished, had become like certainty, that, obscurely as he journeyed now, a glory was to beam on all his pathway-though not, perhaps, while he was treading it. But when posterity should gaze back into the gloom of what was now the present, they would trace the brightness of his footsteps, brightening as meaner glories faded, and confess that a gifted one had passed from his cradle to his tomb with none to recognize him.
"As yet," cried the stranger–his cheek glowing and his eye flashing with enthusiasm–"as yet, I have done nothing. Were I to vanish from the earth tomorrow, none would know so much of me as you: that a nameless youth came up at nightfall from the valley of the Saco, and opened his heart to you in the evening, and passed through the Notch by sunrise, and was seen no more. Not a soul would ask, 'Who was he? Whither did the wanderer go?' But I cannot die till I have achieved my destiny. Then, let Death come! I shall have built my monument!"
There was a continual flow of natural emotion, gushing forth amid abstracted reverie, which enabled the family to understand this young man's sentiments, though so foreign from their own. With quick sensibility of the ludicrous, he blushed at the ardor into which he had been betrayed
"You laugh at me," said he, taking the eldest daughter's hand, and laughing himself. "You think my ambition as nonsensical as if I were to freeze myself to death on the top of Mount Washington, only that people might spy at me from the country round about. And, truly, that would be a noble pedestal for a man's statue!"
"It is better to sit here by this fire," answered the girl, blushing, "and be comfortable and contented, though nobody thinks about us."
"I suppose," said her father, after a fit of musing, "there is something natural in what the young man says; and if my mind had been turned that way, I might have felt just the same. It is strange, wife, how his talk has set my head running on things that are pretty certain never to come to pass."
"Perhaps they may," observed the wife. "Is the man thinking what he will do when he is a widower?"
"No, no!" cried he, repelling the idea with reproachful kindness. "When I think of your death, Esther, I think of mine, too. But I was wishing we had a good farm in Bartlett, or Bethlehem, or Littleton, or some other township round the White Mountains; but not where they could tumble on our heads. I should want to stand well with my neighbors and be called Squire, and sent to General Court for a term or two; for a plain, honest man may do as much good there as a lawyer. And when I should be grown quite an old man, and you an old woman, so as not to be long apart, I might die happy enough in my bed, and leave you all crying around me. A slate gravestone would suit me as well as a marble one–with just my name and age, and a verse of a hymn, and something to let people know that I lived an honest man and died a Christian."
"There now!" exclaimed the stranger; "it is our nature to desire a monument, be it slate or marble, or a pillar of granite, or a glorious memory in the universal heart of man."
"We're in a strange way, tonight," said the wife, with tears in her eyes. "They say it's a sign of something, when folks' minds go a-wandering so. Hark to the children!"
They listened accordingly. The younger children had been put to bed in another room, but with an open door between, so that they could be heard talking busily among themselves. One and all seemed to have caught the infection from the fireside circle, and were outvying each other in wild wishes, and childish projects, of what they would do when they came to be men and women. At length a little boy, instead of addressing his brothers and sisters, called out to his mother.
"I'll tell you what I wish, mother," cried he. "I want you and father and grandma'm, and all of us, and the stranger too, to start right away, and go and take a drink out of the basin of the Flume!"
Nobody could help laughing at the child's notion of leaving a warm bed, and dragging them from a cheerful fire, to visit the basin of the Flume–a brook, which tumbles over the precipice, deep within the Notch. The boy had hardly spoken when a wagon rattled along the road, and stopped a moment before the door. It appeared to contain two or three men, who were cheering their hearts with the rough chorus of a song, which resounded, in broken notes, between the cliffs, while the singers hesitated whether to continue their journey or put up here for the night.
"Father," said the girl, "they are calling you by name."
But the good man doubted whether they had really called him, and was unwilling to show himself too solicitous of gain by inviting people to patronize his house. He therefore did not hurry to the door; and the lash being soon applied, the travellers plunged into the Notch, still singing and laughing, though their music and mirth came back drearily from the heart of the mountain.
"There, mother!" cried the boy, again. "They'd have given us a ride to the Flume."
Again they laughed at the child's pertinacious fancy for a night ramble. But it happened that a light cloud passed over the daughter's spirit; she looked gravely into the fire, and drew a breath that was almost a sigh. It forced its way, in spite of a little struggle to repress it. Then starting and blushing, she looked quickly round the circle, as if they had caught a glimpse into her bosom. The stranger asked what she had been thinking of.
"Nothing," answered she, with a downcast smile. "Only I felt lonesome just then."
"Oh, I have always had a gift of feeling what is in other people's hearts," said he, half seriously. "Shall I tell the secrets of yours? For I know what to think when a young girl shivers by a warm hearth, and complains of lonesomeness at her mother's side. Shall I put these feelings into words?"
"They would not be a girl's feelings any longer if they could be put into words," replied the mountain nymph, laughing, but avoiding his eye.
All this was said apart. Perhaps a germ of love was springing in their hearts, so pure that it might blossom in Paradise, since it could not be matured on earth; for women worship such gentle dignity as his; and the proud, contemplative, yet kindly soul is oftenest captivated by simplicity like hers. But while they spoke softly, and he was watching the happy sadness, the lightsome shadows, the shy yearnings of a maiden's nature, the wind through the Notch took a deeper and drearier sound. It seemed, as the fanciful stranger said, like the choral strain of the spirits of the blast, who in old Indian times had their dwelling among these mountains, and made their heights and recesses a sacred region.
There was a wail along the road, as if a funeral were passing. To chase away the gloom, the family threw pine branches on their fire, till the dry leaves crackled and the flame arose, discovering once again a scene of peace and humble happiness. The light hovered about them fondly, and caressed them all. There were the little faces of the children, peeping from their bed apart, and here the father's frame of strength, the mother's subdued and careful mien, the high-browed youth, the budding girl, and the good old grandam, still knitting in the warmest place. The aged woman looked up from her task, and, with fingers ever busy, was the next to speak.
"Old folks have their notions," said she, "as well as young ones. You've been wishing and planning; and letting your heads run on one thing and another, till you've set my mind a-wandering too. Now what should an old woman wish for, when she can go but a step or two before she comes to her grave? Children, it will haunt me night and day till I tell you."
"What is it, mother?" cried the husband and wife at once.
Then the old woman, with an air of mystery which drew the circle closer round the fire, informed them that she had provided her grave-clothes some years before–a nice linen shroud, a cap with a muslin ruff, and everything of a finer sort than she had worn since her wedding day. But this evening an old superstition had strangely recurred to her. It used to be said, in her younger days, that if anything were amiss with a corpse, if only the ruff were not smooth, or the cap did not set right, the corpse in the coffin and beneath the clods would strive to put up its cold hands and arrange it. The bare thought made her nervous.
"Don't talk so, grandmother!" said the girl, shuddering.
"Now," continued the old woman, with singular earnestness, yet smiling strangely at her own folly, "I want one of you, my children- when your mother is dressed and in the coffin–I want one of you to hold a looking-glass over my face. Who knows but I may take a glimpse at myself, and see whether all's right?"
"Old and young, we dream of graves and monuments," murmured the stranger youth. "I wonder how mariners feel when the ship is sinking, and they, unknown and undistinguished, are to be buried together in the ocean–that wide and nameless sepulchre?"
For a moment, the old woman's ghastly conception so engrossed the minds of her hearers that a sound abroad in the night, rising like the roar of a blast, had grown broad, deep, and terrible, before the fated group were conscious of it. The house and all within it trembled; the foundations of the earth seemed to be shaken, as if this awful sound were the peal of the last trump. Young and old exchanged one wild glance, and remained an instant, pale, affrighted, without utterance, or power to move. Then the same shriek burst simultaneously from all their lips.
"The Slide! The Slide!"
The simplest words must intimate, but not portray, the unutterable horror of the catastrophe. The victims rushed from their cottage, and sought refuge in what they deemed a safer spot–where, in contemplation of such an emergency, a sort of barrier had been reared. Alas! they had quitted their security, and fled right into the pathway of destruction. Down came the whole side of the mountain, in a cataract of ruin. Just before it reached the house, the stream broke into two branches–shivered not a window there, but overwhelmed the whole vicinity, blocked up the road, and annihilated everything in its dreadful course. Long ere the thunder of the great Slide had ceased to roar among the mountains, the mortal agony had been endured, and the victims were at peace. Their bodies were never found.
The next morning, the light smoke was seen stealing from the cottage chimney up the mountain side. Within, the fire was yet smouldering on the hearth, and the chairs in a circle round it, as if the inhabitants had but gone forth to view the devastation of the Slide, and would shortly return, to thank Heaven for their miraculous escape. All had left separate tokens, by which those who had known the family were made to shed a tear for each. Who has not heard their name? The story has been told far and wide, and will forever be a legend of these mountains. Poets have sung their fate.
There were circumstances which led some to suppose that a stranger had been received into the cottage on this awful night, and had shared the catastrophe of all its inmates. Others denied that there were sufficient grounds for such a conjecture. Wo for the high-souled youth, with his dream of Earthly Immortality! His name and person utterly unknown; his history, his way of life, his plans, a mystery never to be solved, his death and his existence equally a doubt! Whose was the agony of that death moment?
Nathaniel Hawthorne (1804-1864)
The Ambitious Guest
fleursdumal.nl magazine
More in: -Short Stories Archive, Archive G-H
---
Tennessee's Partner
by Bret Harte
I do not think that we ever knew his real name. Our ignorance of it certainly never gave us any social inconvenience, for at Sandy Bar in 1854 most men were christened anew. Sometimes these appellatives were derived from some distinctiveness of dress, as in the case of "Dungaree Jack"; or from some peculiarity of habit, as shown in "Saleratus Bill," so called from an undue proportion of that chemical in his daily bread; or for some unlucky slip, as exhibited in "The Iron Pirate," a mild, inoffensive man, who earned that baleful title by his unfortunate mispronunciation of the term "iron pyrites." Perhaps this may have been the beginning of a rude heraldry; but I am constrained to think that it was because a man's real name in that day rested solely upon his own unsupported statement. "Call yourself Clifford, do you?" said Boston, addressing a timid newcomer with infinite scorn; "hell is full of such Cliffords!" He then introduced the unfortunate man, whose name happened to be really Clifford, as "Jay-bird Charley"–an unhallowed inspiration of the moment that clung to him ever after.
But to return to Tennessee's Partner, whom we never knew by any other than this relative title; that he had ever existed as a separate and distinct individuality we only learned later. It seems that in 1853 he left Poker Flat to go to San Francisco, ostensibly to procure a wife. He never got any farther than Stockton. At that place he was attracted by a young person who waited upon the table at the hotel where he took his meals. One morning he said something to her which caused her to smile not unkindly, to somewhat coquettishly break a plate of toast over his upturned, serious, simple face, and to retreat to the kitchen. He followed her, and emerged a few moments later, covered with more toast and victory. That day week they were married by a justice of the peace, and returned to Poker Flat. I am aware that something more might be made of this episode, but I prefer to tell it as it was current at Sandy Bar–in the gulches and barrooms–where all sentiment was modified by a strong sense of humor.
Of their married felicity but little is known, perhaps for the reason that Tennessee, then living with his Partner, one day took occasion to say something to the bride on his own account, at which, it is said, she smiled not unkindly and chastely retreated– this time as far as Marysville, where Tennessee followed her, and where they went to housekeeping without the aid of a justice of the peace. Tennessee's Partner took the loss of his wife simply and seriously, as was his fashion. But to everybody's surprise, when Tennessee one day returned from Marysville, without his Partner's wife–she having smiled and retreated with somebody else– Tennessee's Partner was the first man to shake his hand and greet him with affection. The boys who had gathered in the canyon to see the shooting were naturally indignant. Their indignation might have found vent in sarcasm but for a certain look in Tennessee's Partner's eye that indicated a lack of humorous appreciation. In fact, he was a grave man, with a steady application to practical detail which was unpleasant in a difficulty.
Meanwhile a popular feeling against Tennessee had grown up on the Bar. He was known to be a gambler; he was suspected to be a thief. In these suspicions Tennessee's Partner was equally compromised; his continued intimacy with Tennessee after the affair above quoted could only be accounted for on the hypothesis of a copartnership of crime. At last Tennessee's guilt became flagrant. One day he overtook a stranger on his way to Red Dog. The stranger afterward related that Tennessee beguiled the time with interesting anecdote and reminiscence, but illogically concluded the interview in the following words: "And now, young man, I'll trouble you for your knife, your pistols, and your money. You see your weppings might get you into trouble at Red Dog, and your money's a temptation to the evilly disposed. I think you said your address was San Francisco. I shall endeavor to call." It may be stated here that Tennessee had a fine flow of humor, which no business preoccupation could wholly subdue.
This exploit was his last. Red Dog and Sandy Bar made common cause against the highwayman. Tennessee was hunted in very much the same fashion as his prototype, the grizzly. As the toils closed around him, he made a desperate dash through the Bar, emptying his revolver at the crowd before the Arcade Saloon, and so on up Grizzly Canyon; but at its farther extremity he was stopped by a small man on a gray horse. The men looked at each other a moment in silence. Both were fearless, both self-possessed and independent; and both types of a civilization that in the seventeenth century would have been called heroic, but, in the nineteenth, simply "reckless." "What have you got there?–I call," said Tennessee, quietly. "Two bowers and an ace," said the stranger, as quietly, showing two revolvers and a bowie knife. "That takes me," returned Tennessee; and with this gamblers' epigram, he threw away his useless pistol, and rode back with his captor.
It was a warm night. The cool breeze which usually sprang up with the going down of the sun behind the chaparral-crested mountain was that evening withheld from Sandy Bar. The little canyon was stifling with heated resinous odors, and the decaying driftwood on the Bar sent forth faint, sickening exhalations. The feverishness of day, and its fierce passions, still filled the camp. Lights moved restlessly along the bank of the river, striking no answering reflection from its tawny current. Against the blackness of the pines the windows of the old loft above the express office stood out staringly bright; and through their curtainless panes the loungers below could see the forms of those who were even then deciding the fate of Tennessee. And above all this, etched on the dark firmament, rose the Sierra, remote and passionless, crowned with remoter passionless stars.
The trial of Tennessee was conducted as fairly as was consistent with a judge and jury who felt themselves to some extent obliged to justify, in their verdict, the previous irregularities of arrest and indictment. The law of Sandy Bar was implacable, but not vengeful. The excitement and personal feeling of the chase were over; with Tennessee safe in their hands they were ready to listen patiently to any defense, which they were already satisfied was insufficient. There being no doubt in their own minds, they were willing to give the prisoner the benefit of any that might exist. Secure in the hypothesis that he ought to be hanged, on general principles, they indulged him with more latitude of defense than his reckless hardihood seemed to ask. The Judge appeared to be more anxious than the prisoner, who, otherwise unconcerned, evidently took a grim pleasure in the responsibility he had created. "I don't take any hand in this yer game," had been his invariable but good-humored reply to all questions. The Judge–who was also his captor–for a moment vaguely regretted that he had not shot him "on sight" that morning, but presently dismissed this human weakness as unworthy of the judicial mind. Nevertheless, when there was a tap at the door, and it was said that Tennessee's Partner was there on behalf of the prisoner, he was admitted at once without question. Perhaps the younger members of the jury, to whom the proceedings were becoming irksomely thoughtful, hailed him as a relief.
For he was not, certainly, an imposing figure. Short and stout, with a square face sunburned into a preternatural redness, clad in a loose duck "jumper" and trousers streaked and splashed with red soil, his aspect under any circumstances would have been quaint, and was now even ridiculous. As he stooped to deposit at his feet a heavy carpetbag he was carrying, it became obvious, from partially developed legends and inscriptions, that the material with which his trousers had been patched had been originally intended for a less ambitious covering. Yet he advanced with great gravity, and after having shaken the hand of each person in the room with labored cordiality, he wiped his serious, perplexed face on a red bandanna handkerchief, a shade lighter than his complexion, laid his powerful hand upon the table to steady himself, and thus addressed the Judge:
"I was passin' by," he began, by way of apology, "and I thought I'd just step in and see how things was gittin' on with Tennessee thar– my pardner. It's a hot night. I disremember any sich weather before on the Bar."
He paused a moment, but nobody volunteering any other meteorological recollection, he again had recourse to his pocket handkerchief, and for some moments mopped his face diligently.
"Have you anything to say in behalf of the prisoner?" said the Judge, finally.
"Thet's it," said Tennessee's Partner, in a tone of relief. "I come yar as Tennessee's pardner–knowing him nigh on four year, off and on, wet and dry, in luck and out o' luck. His ways ain't allers my ways, but thar ain't any p'ints in that young man, thar ain't any liveliness as he's been up to, as I don't know. And you sez to me, sez you–confidential-like, and between man and man–sez you, 'Do you know anything in his behalf?' and I sez to you, sez I– confidential-like, as between man and man–'What should a man know of his pardner?'"
"Is this all you have to say?" asked the Judge impatiently, feeling, perhaps, that a dangerous sympathy of humor was beginning to humanize the Court.
"Thet's so," continued Tennessee's Partner. "It ain't for me to say anything agin' him. And now, what's the case? Here's Tennessee wants money, wants it bad, and doesn't like to ask it of his old pardner. Well, what does Tennessee do? He lays for a stranger, and he fetches that stranger. And you lays for HIM, and you fetches HIM; and the honors is easy. And I put it to you, bein' a far-minded man, and to you, gentlemen, all, as far-minded men, ef this isn't so."
"Prisoner," said the Judge, interrupting, "have you any questions to ask this man?"
"No! no!" continued Tennessee's Partner, hastily. "I play this yer hand alone. To come down to the bedrock, it's just this: Tennessee, thar, has played it pretty rough and expensive-like on a stranger, and on this yer camp. And now, what's the fair thing? Some would say more; some would say less. Here's seventeen hundred dollars in coarse gold and a watch–it's about all my pile–and call it square!" And before a hand could be raised to prevent him, he had emptied the contents of the carpetbag upon the table.
For a moment his life was in jeopardy. One or two men sprang to their feet, several hands groped for hidden weapons, and a suggestion to "throw him from the window" was only overridden by a gesture from the Judge. Tennessee laughed. And apparently oblivious of the excitement, Tennessee's Partner improved the opportunity to mop his face again with his handkerchief.
When order was restored, and the man was made to understand, by the use of forcible figures and rhetoric, that Tennessee's offense could not be condoned by money, his face took a more serious and sanguinary hue, and those who were nearest to him noticed that his rough hand trembled slightly on the table. He hesitated a moment as he slowly returned the gold to the carpetbag, as if he had not yet entirely caught the elevated sense of justice which swayed the tribunal, and was perplexed with the belief that he had not offered enough. Then he turned to the Judge, and saying, "This yer is a lone hand, played alone, and without my pardner," he bowed to the jury and was about to withdraw when the Judge called him back. "If you have anything to say to Tennessee, you had better say it now." For the first time that evening the eyes of the prisoner and his strange advocate met. Tennessee smiled, showed his white teeth, and, saying, "Euchred, old man!" held out his hand. Tennessee's Partner took it in his own, and saying, "I just dropped in as I was passin' to see how things was getting' on," let the hand passively fall, and adding that it was a warm night, again mopped his face with his handkerchief, and without another word withdrew.
The two men never again met each other alive. For the unparalleled insult of a bribe offered to Judge Lynch–who, whether bigoted, weak, or narrow, was at least incorruptible–firmly fixed in the mind of that mythical personage any wavering determination of Tennessee's fate; and at the break of day he was marched, closely guarded, to meet it at the top of Marley's Hill.
How he met it, how cool he was, how he refused to say anything, how perfect were the arrangements of the committee, were all duly reported, with the addition of a warning moral and example to all future evildoers, in the RED DOG CLARION, by its editor, who was present, and to whose vigorous English I cheerfully refer the reader. But the beauty of that midsummer morning, the blessed amity of earth and air and sky, the awakened life of the free woods and hills, the joyous renewal and promise of Nature, and above all, the infinite Serenity that thrilled through each, was not reported, as not being a part of the social lesson. And yet, when the weak and foolish deed was done, and a life, with its possibilities and responsibilities, had passed out of the misshapen thing that dangled between earth and sky, the birds sang, the flowers bloomed, the sun shone, as cheerily as before; and possibly the RED DOG CLARION was right.
Tennessee's Partner was not in the group that surrounded the ominous tree. But as they turned to disperse attention was drawn to the singular appearance of a motionless donkey cart halted at the side of the road. As they approached, they at once recognized the venerable "Jenny" and the two-wheeled cart as the property of Tennessee's Partner–used by him in carrying dirt from his claim; and a few paces distant the owner of the equipage himself, sitting under a buckeye tree, wiping the perspiration from his glowing face. In answer to an inquiry, he said he had come for the body of the "diseased," "if it was all the same to the committee." He didn't wish to "hurry anything"; he could "wait." He was not working that day; and when the gentlemen were done with the "diseased," he would take him. "Ef thar is any present," he added, in his simple, serious way, "as would care to jine in the fun'l, they kin come." Perhaps it was from a sense of humor, which I have already intimated was a feature of Sandy Bar–perhaps it was from something even better than that; but two-thirds of the loungers accepted the invitation at once.
It was noon when the body of Tennessee was delivered into the hands of his Partner. As the cart drew up to the fatal tree, we noticed that it contained a rough, oblong box–apparently made from a section of sluicing and half-filled with bark and the tassels of pine. The cart was further decorated with slips of willow, and made fragrant with buckeye blossoms. When the body was deposited in the box, Tennessee's Partner drew over it a piece of tarred canvas, and gravely mounting the narrow seat in front, with his feet upon the shafts, urged the little donkey forward. The equipage moved slowly on, at that decorous pace which was habitual with "Jenny" even under less solemn circumstances. The men–half curiously, half jestingly, but all good-humoredly–strolled along beside the cart; some in advance, some a little in the rear of the homely catafalque. But, whether from the narrowing of the road or some present sense of decorum, as the cart passed on, the company fell to the rear in couples, keeping step, and otherwise assuming the external show of a formal procession. Jack Folinsbee, who had at the outset played a funeral march in dumb show upon an imaginary trombone, desisted, from a lack of sympathy and appreciation–not having, perhaps, your true humorist's capacity to be content with the enjoyment of his own fun.
The way led through Grizzly Canyon–by this time clothed in funereal drapery and shadows. The redwoods, burying their moccasined feet in the red soil, stood in Indian file along the track, trailing an uncouth benediction from their bending boughs upon the passing bier. A hare, surprised into helpless inactivity, sat upright and pulsating in the ferns by the roadside as the cortege went by. Squirrels hastened to gain a secure outlook from higher boughs; and the bluejays, spreading their wings, fluttered before them like outriders, until the outskirts of Sandy Bar were reached, and the solitary cabin of Tennessee's Partner.
Viewed under more favorable circumstances, it would not have been a cheerful place. The unpicturesque site, the rude and unlovely outlines, the unsavory details, which distinguish the nest-building of the California miner, were all here, with the dreariness of decay superadded. A few paces from the cabin there was a rough enclosure, which in the brief days of Tennessee's Partner's matrimonial felicity had been used as a garden, but was now overgrown with fern. As we approached it we were surprised to find that what we had taken for a recent attempt at cultivation was the broken soil about an open grave.
The cart was halted before the enclosure; and rejecting the offers of assistance with the same air of simple self-reliance he had displayed throughout, Tennessee's Partner lifted the rough coffin on his back and deposited it, unaided, within the shallow grave. He then nailed down the board which served as a lid; and mounting the little mound of earth beside it, took off his hat, and slowly mopped his face with his handkerchief. This the crowd felt was a preliminary to speech; and they disposed themselves variously on stumps and boulders, and sat expectant.
"When a man," began Tennessee's Partner, slowly, "has been running free all day, what's the natural thing for him to do? Why, to come home. And if he ain't in a condition to go home, what can his best friend do? Why, bring him home! And here's Tennessee has been running free, and we brings him home from his wandering." He paused, and picked up a fragment of quartz, rubbed it thoughtfully on his sleeve, and went on: "It ain't the first time that I've packed him on my back, as you see'd me now. It ain't the first time that I brought him to this yer cabin when he couldn't help himself; it ain't the first time that I and 'Jinny' have waited for him on yon hill, and picked him up and so fetched him home, when he couldn't speak, and didn't know me. And now that it's the last time, why"–he paused and rubbed the quartz gently on his sleeve–"you see it's sort of rough on his pardner. And now, gentlemen," he added, abruptly, picking up his long-handled shovel, "the fun'l's over; and my thanks, and Tennessee's thanks, to you for your trouble."
Resisting any proffers of assistance, he began to fill in the grave, turning his back upon the crowd that after a few moments' hesitation gradually withdrew. As they crossed the little ridge that hid Sandy Bar from view, some, looking back, thought they could see Tennessee's Partner, his work done, sitting upon the grave, his shovel between his knees, and his face buried in his red bandanna handkerchief. But it was argued by others that you couldn't tell his face from his handkerchief at that distance; and this point remained undecided.
In the reaction that followed the feverish excitement of that day, Tennessee's Partner was not forgotten. A secret investigation had cleared him of any complicity in Tennessee's guilt, and left only a suspicion of his general sanity. Sandy Bar made a point of calling on him, and proffering various uncouth, but well-meant kindnesses. But from that day his rude health and great strength seemed visibly to decline; and when the rainy season fairly set in, and the tiny grass-blades were beginning to peep from the rocky mound above Tennessee's grave, he took to his bed. One night, when the pines beside the cabin were swaying in the storm, and trailing their slender fingers over the roof, and the roar and rush of the swollen river were heard below, Tennessee's Partner lifted his head from the pillow, saying, "It is time to go for Tennessee; I must put 'Jinny' in the cart"; and would have risen from his bed but for the restraint of his attendant. Struggling, he still pursued his singular fancy: "There, now, steady, 'Jinny'–steady, old girl. How dark it is! Look out for the ruts–and look out for him, too, old gal. Sometimes, you know, when he's blind-drunk, he drops down right in the trail. Keep on straight up to the pine on the top of the hill. Thar–I told you so!–thar he is–coming this way, too–all by himself, sober, and his face a-shining. Tennessee! Pardner!"
And so they met.
Bret Harte (1836-1902)
Tennessee's Partner
fleursdumal.nl magazine
More in: -Short Stories Archive, Archive G-H
---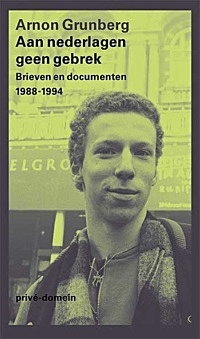 De Academie De Gouden Ganzenveer kent de Gouden Ganzenveer 2017 per acclamatie toe aan de literaire duizendpoot Arnon Grunberg. Gerdi Verbeet, Academievoorzitter De Gouden Ganzenveer maakte de laureaat bekend in het tv-programma JINEK.
'Arnon Grunberg wordt steeds unieker. Hij beoefent letterlijk alle literaire genres, van romans tot columnistiek, van poëzie tot reportagejournalistiek, van verhalen tot toneel. De traditionele grenzen tussen die genres lijken voor hem niet te bestaan: zijn grenzeloze creativiteit en expansieve literaire persoonlijkheid maken van de hele geschreven cultuur één groot gebied. Daarbij zijn het volume en de regelmaat van zijn jaarlijkse productie onwaarschijnlijk groot en bovenal zijn er weinig Nederlandse schrijvers van nu voor wie engagement zo'n vanzelfsprekende houding ten opzichte van de wereld is als voor Grunberg. Als embedded journalist, als betrokken romanschrijver, als kritisch ingesteld essayist is geen vluchtelingenzee hem te hoog, geen oorlogsgebied hem te gevaarlijk, geen politiek onderwerp hem te netelig. Arnon Grunberg laat als weinig andere auteurs zien hoezeer een vaardige pen geheel kan samenvallen met de persoonlijkheid van een schrijver die middenin de wereld staat. Om al die redenen is Grunberg de ideale kandidaat voor bekroning met de Gouden Ganzenveer 2017' , aldus de Academie.
De prijsuitreiking vindt plaats op donderdag 6 april a.s. in Amsterdam. Een weerslag van deze bijeenkomst wordt vastgelegd in een speciale uitgave, die in de loop van het jaar zal verschijnen.
De Academie, een initiatief van het bestuur van stichting De Gouden Ganzenveer, kent jaarlijks deze culturele prijs toe. De leden zijn afkomstig uit de wereld van cultuur, wetenschap, politiek en het bedrijfsleven.
Met deze onderscheiding wil de Academie het geschreven en gedrukte woord in het Nederlands taalgebied onder de aandacht brengen.
Voorgaande laureaten zijn Xandra Schutte, Geert Mak, David Van Reybrouck, Ramsey Nasr, Annejet van der Zijl, Remco Campert, Joke van Leeuwen, Adriaan van Dis, Joost Zwagerman, Tom Lanoye, Peter van Straaten, Maria Goos, Kees van Kooten, Jan Blokker en Michaël Zeeman.
Arnon Grunberg (Amsterdam, 1971) is een literaire duizendpoot en vaak bekroonde romanschrijver, woonachtig te New York.
In 1994 verscheen zijn debuut Blauwe maandagen, gevolgd door onder andere Figuranten (1997), het boekenweekgeschenk De heilige Antonio (1998), Fantoompijn (2000) en De asielzoeker (2003).
In de periode 1999 tot 2005 publiceerde Grunberg tevens onder het heteroniem Marek van der Jagt de romans De geschiedenis van mijn kaalheid (1999), Gstaad 95-98 (2002), en het boekenweekessay Monogaam (2002). De geschiedenis van mijn kaalheid werd bekroond met de Anton Wachterprijs, een prijs voor het beste schrijversdebuut.
Voor Tirza (2006) ontving Grunberg zowel de Gouden Uil als de Libris Literatuurprijs. In 2007 en 2009 verschenen respectievelijk het brievenboek Omdat ik u begeer en een bundeling van zijn reportages, Kamermeisjes & soldaten. In 2010 en 2012 verschenen de romans Huid en Haar en De man zonder ziekte, en in 2015 de ideeënroman Het Bestand, een wetenschappelijk experiment over creativiteit. In het afgelopen jaar publiceerde hij de roman Moedervlekken en Aan nederlagen geen gebrek, een selectie brieven en documenten 1988-1994.
Grunberg schrijft columns, essays, recensies, korte verhalen en reportages voor veel kranten, weekbladen en literaire tijdschriften zoals NRC Handelsblad, Vrij Nederland, Humo en de VPRO-Gids. Daarnaast heeft hij bijdragen geleverd aan diverse Europese en Amerikaanse kranten en tijdschriften, zoals Die Welt, Die Zeit, Libération en The New York Times. Ook laat hij zich in het theater zien, met stukken waarin hij speelt met vorm.
Grunberg houdt een weblog bij op www.arnongrunberg.com, schrijft wekelijks als De mensendokter een bijdrage voor Vrij Nederland en heeft een dagelijkse column in de Volkskrant, 'Voetnoot', die in 2012 in boekvorm werd gebundeld. Zijn werk is vertaald in negenentwintig talen.
Op donderdag 6 april 2017 ontvangt hij de Gouden Ganzenveer.
# Uitgebreide informatie is te vinden op www.goudenganzenveer.nl
fleursdumal.nl magazine
More in: - Book Lovers, Archive G-H, Arnon Grunberg, Art & Literature News, CINEMA, RADIO & TV, DICTIONARY OF IDEAS, Joost Zwagerman, Literary Events, Remco Campert
---
Het bestuur van de Stichting P.C. Hooft-prijs voor Letterkunde heeft maandag 12 december besloten de P.C. Hooft-prijs 2017 toe te kennen aan Bas Heijne (Nijmegen, 1960).
Deze oeuvreprijs is dit jaar bestemd voor beschouwend proza en wordt uitgereikt op een feestelijke bijeenkomst in het Literatuurmuseum, op donderdag 18 mei 2017, 3 dagen vóór de sterfdag van de naamgever van de prijs, de dichter P.C. Hooft (1581-1647), onze grootste renaissancedichter.
De P.C. Hooft-prijs 2017 voor het gehele oeuvre van Bas Heijne is toegekend op voordracht van een jury bestaande uit Jacqueline Bel, Kees 't Hart, Kristien Hemmerechts, David Van Reybrouck (voorzitter) en Dirk van Weelden. Recente eerdere laureaten in het genre beschouwend proza waren Willem Jan Otten (2014), H.J.A. Hofland (2011) en Abram de Swaan (2008). Aan de prijs is een bedrag verbonden van € 60.000.
Uit het juryrapport: "Bas Heijne is een schrijver met een bijzondere positie als columnist en essayist, die over een enorme verscheidenheid aan actuele onderwerpen en kwesties schrijft. Hij volgt de hedendaagse cultuur op een geëngageerde manier. Hij schrijft over haatvloggers en De Ring van Wagner, over Hollywoodfilms en Couperus, over Europese referenda en de toekomst van de roman. Zijn werk geeft een vernieuwende impuls aan wat literatuur in maatschappelijke zin betekenen kan. […] Vooral de vorm waarin hij dat doet is bijzonder: hij schrijft als een denker én denkt als een lezer."
De P.C. Hooft-prijs voor Letterkunde behoort tot de belangrijke literatuurprijzen in het Nederlandse taalgebied. Hij wordt uitgereikt door de Stichting P.C. Hooft-prijs voor Letterkunde. Deze oeuvreprijs wordt jaarlijks afwisselend toegekend voor proza, essayistiek en poëzie. De P.C. Hooft-prijs is ingesteld in 1947. In dat jaar werd op 21 mei de 300ste sterfdag van Pieter Corneliszoon Hooft herdacht. De prijs wordt jaarlijks rond de sterfdag van P.C. Hooft uitgereikt en bedraagt € 60.000. Daarnaast looft de Stichting sinds 1988 de driejaarlijkse Theo Thijssen-prijs uit voor jeugdliteratuur. De prijs bedraagt € 60.000.
Vanaf september 2007 wordt de driejaarlijkse Max Velthuijs-prijs voor boekillustratoren uitgereikt. Ook deze prijs bedraagt € 60.000.'
# Meer informatie op website PC Hooftprijs
fleursdumal.nl magazine
More in: Archive G-H, Art & Literature News, Bas Heijne, NONFICTION: ESSAYS & STORIES, PRESS & PUBLISHING, The Art of Reading
---
The Memento
by O. Henry
Miss Lynnette D'Armande turned her back on Broadway. This was but tit for tat, because Broadway had often done the same thing to Miss D'Armande. Still, the "tats" seemed to have it, for the ex-leading lady of the "Reaping the Whirlwind" Company had everything to ask of Broadway, while there was no vice versa.
So Miss Lynnette D'Armande turned the back of her chair to her window that overlooked Broadway, and sat down to stitch in time the lisle-thread heel of a black silk stocking. The tumult and glitter of the roaring Broadway beneath her window had no charm for her; what she greatly desired was the stifling air of a dressing-room on that fairyland street and the roar of an audience gathered in that capricious quarter. In the meantime, those stockings must not be neglected. Silk does wear out so, but—after all, isn't it just the only goods there is?
The Hotel Thalia looks on Broadway as Marathon looks on the sea. It stands like a gloomy cliff above the whirlpool where the tides of two great thoroughfares clash. Here the player-bands gather at the end of their wanderings, to loosen the buskin and dust the sock. Thick in the streets around it are booking- offices, theatres, agents, schools, and the lobster-palaces to which those thorny paths lead.
Wandering through the eccentric halls of the dim and fusty Thalia, you seem to have found yourself in some great ark or caravan about to sail, or fly, or roll away on wheels. About the house lingers a sense of unrest, of expectation, of transientness, even of anxiety and apprehension. The halls are a labyrinth. Without a guide you wander like a lost soul in a Sam Loyd puzzle.
Turning any corner, a dressing-sack or a cul-de-sac may bring you up short. You meet alarming tragedians stalking in bath-robes in search of rumoured bath-rooms. From hundreds of rooms come the buzz of talk, scraps of new and old songs, and the ready laughter of the convened players.
Summer has come; their companies have disbanded, and they take their rest in their favourite caravansary, while they besiege the managers for engagements for the coming season.
At this hour of the afternoon the day's work of tramping the rounds of the agents' offices is over. Past you, as you ramble distractedly through the mossy halls, flit audible visions of houris, with veiled, starry eyes, flying tag-ends of things, and a swish of silk, bequeathing to the dull hallways an odour of gaiety and a memory of frangipanni. Serious young comedians, with versatile Adam's apples, gather in doorways and talk of Booth. Far-reaching from somewhere comes the smell of ham and red cabbage, and the crash of dishes on the American plan.
The indeterminate hum of life in the Thalia is enlivened by the discreet popping—at reasonable and salubrious intervals—of beer-bottle corks. Thus punctuated, life in the genial hostel scans easily—the comma being the favourite mark, semicolons frowned upon, and periods barred.
Miss D'Armande's room was a small one. There was room for her rocker between the dresser and the wash-stand if it were placed longitudinally. On the dresser were its usual accoutrements, plus the ex- leading lady's collected souvenirs of road engagements and photographs of her dearest and best professional friends.
At one of these photographs she looked twice or thrice as she darned, and smiled friendlily.
"I'd like to know where Lee is just this minute," she said, half-aloud.
If you had been privileged to view the photograph thus flattered, you would have thought at the first glance that you saw the picture of a many-petalled, white flower, blown through the air by a storm. But the floral kingdom was not responsible for that swirl of petalous whiteness.
You saw the filmy, brief skirt of Miss Rosalie Ray as she made a complete heels-over-head turn in her wistaria-entwined swing, far out from the stage, high above the heads of the audience. You saw the
O. Henry
(1862 – 1910)
The Memento
fleursdumal.nl magazine
More in: Archive G-H, Henry, O.
---
The World and the Door
by O. Henry
A favourite dodge to get your story read by the public is to assert that it is true, and then add that Truth is stranger than Fiction. I do not know if the yarn I am anxious for you to read is true; but the Spanish purser of the fruit steamer El Carrero swore to me by the shrine of Santa Guadalupe that he had the facts from the U.S. vice-consul at La Paz—a person who could not possibly have been congnizant of half of them.
As for the adage quoted above, I take pleasure in puncturing it by affirming that I read in a purely fictional story the other day the line: " 'Be it so,' said the policeman." Nothing so strange has yet cropped out in Truth.
When H. Ferguson Hedges, millionaire promoter, investor and man-about-New-York, turned his thoughts upon matters convivial, and word of it went "down the line," bouncers took a precautionary turn at the Indian clubs, waiters put ironstone china on his favourite tables, cab drivers crowded close to the curbstone in front of all-night cafés, and careful cashiers in his regular haunts charged up a few bottles to his account by way of preface and introduction.
As a money power a one-millionaire is of small account in a city where the man who cuts your slice of beef behind the free-lunch counter rides to work in his own automobile. But Hedges spent his money as lavishly, loudly and showily as though he were only a clerk squandering a week's wages. And, after all, the bartender takes no interest in your reserve fund. He would rather look you up on his cash register than in Bradstreet.
On the evening that the material allegation of facts begins, Hedges was bidding dull care begone on the company of five or six good fellows— acquaintances and friends who had gathered in his wake.
Among them were two younger men—Ralph Merriam, a broker, and Wade, his friend.
Two deep-sea cabmen were chartered. At Columbus Circle they hove to long enough to revile the statue of the great navigator, unpatriotically rebuking him for having voyaged in search of land instead of liquids. Midnight overtook the party marooned in the rear of a cheap café far uptown.
Hedges was arrogant, overriding and quarrelsome. He was burly and tough, iron-gray but vigorous, "good" for the rest of the night. There was a dispute—about nothing that matters—and the five-fingered words were passed—the words that represent the glove cast into the lists. Merriam played the rôle of the verbal Hotspur.
Hedges rose quickly, seized his chair, swung it once and smashed wildly down at Merriam's head. Merriam dodged, drew a small revolver and shot Hedges in the chest. The leading roysterer stumbled, fell in a wry heap, and lay still.
Wade, a commuter, had formed that habit of promptness. He juggled Merriam out a side door, walked him to the corner, ran him a block and caught a hansom. They rode five minutes and then got out on a dark corner and dismissed the cab. Across the street the lights of a small saloon betrayed its hectic hospitality.
"Go in the back room of that saloon," said Wade, "and wait. I'll go find out what's doing and let you know. You may take two drinks while I am gone—no more."
At ten minutes to one o'clock Wade returned.
"Brace up, old chap," he said. "The ambulance got there just as I did. The doctor says he's dead. You may have one more drink. You let me run this thing for you. You've got to skip. I don't believe a chair is legally a deadly weapon. You've got to make tracks, that's all there is to it."
O. Henry
(1862 – 1910)
The World and the Door
fleursdumal.nl magazine
More in: Archive G-H, Henry, O.
---
The Head-Hunter
by O. Henry
When the war between Spain and George Dewey was over, I went to the Philippine Islands. There I remained as bush-whacker correspondent for my paper until its managing editor notified me that an eight-hundred-word cablegram describing the grief of a pet carabao over the death of an infant Moro was not considered by the office to be war news. So I resigned, and came home.
On board the trading-vessel that brought me back I pondered much upon the strange things I had sensed in the weird archipelago of the yellow-brown people. The manœuvres and skirmishings of the petty war interested me not: I was spell-bound by the outlandish and unreadable countenance of that race that had turned its expressionless gaze upon us out of an unguessable past.
Particularly during my stay in Mindanao had I been fascinated and attracted by that delightfully original tribe of heathen known as the head-hunters. Those grim, flinty, relentless little men, never seen, but chilling the warmest noonday by the subtle terror of their concealed presence, paralleling the trail of their prey through unmapped forests, across perilous mountain-tops, adown bottomless chasms, into uninhabitable jungles, always near with the invisible hand of death uplifted, betraying their pursuit only by such signs as a beast or a bird or a gliding serpent might make—a twig crackling in the awful sweat- soaked night, a drench of dew showering from the screening foliage of a giant tree, a whisper at even from the rushes of a water-level—a hint of death for every mile and every hour—they amused me greatly, those little fellows of one idea.
When you think of it, their method is beautifully and almost hilariously effective and simple.
You have your hut in which you live and carry out the destiny that was decreed for you. Spiked to the jamb of your bamboo doorway is a basket made of green withies, plaited. From time to time as vanity or ennui or love or jealousy or ambition may move you, you creep forth with your snickersnee and take up the silent trail. Back from it you come, triumphant, bearing the severed, gory head of your victim, which you deposit with pardonable pride in the basket at the side of your door. It may be the head of your enemy, your friend, or a stranger, according as competition, jealousy, or simple sportiveness has been your incentive to labour.
In any case, your reward is certain. The village men, in passing, stop to congratulate you, as your neighbour on weaker planes of life stops to admire and praise the begonias in your front yard. Your particular brown maid lingers, with fluttering bosom, casting soft tiger's eyes at the evidence of your love for her. You chew betel-nut and listen, content, to the intermittent soft drip from the ends of the severed neck arteries. And you show your teeth and grunt like a water-buffalo—which is as near as you can come to laughing—at the thought that the cold, acephalous body of your door ornament is being spotted by wheeling vultures in the Mindanaoan wilds.
Truly, the life of the merry head-hunter captivated me. He had reduced art and philosophy to a simple code. To take your adversary's head, to basket it at the portal of your castle, to see it lying there, a dead thing, with its cunning and stratagems and power gone—Is there a better way to foil his plots, to refute his arguments, to establish your superiority over his skill and wisdom?
The ship that brought me home was captained by an erratic Swede, who changed his course and deposited me, with genuine compassion, in a small town on the Pacific coast of one of the Central American republics, a few hundred miles south of the port to which he had engaged to convey me. But I was wearied of movement and exotic fancies; so I leaped contentedly upon the firm sands of the village of Mojada, telling myself I should be sure to find there the rest that I craved. After all, far better to linger there (I thought), lulled by the sedative plash of the waves and the rustling of palm-fronds, than to sit upon the horsehair sofa of my parental home in the East, and there, cast down by currant wine and cake, and scourged by fatuous relatives, drivel into the ears of gaping neighbours sad stories of the death of colonial governors.
When I first saw Chloe Greene she was standing, all in white, in the doorway of her father's tile-roofed dobe house. She was polishing a silver cup with a cloth, and she looked like a pearl laid against black
O. Henry
(1862 – 1910)
The Head-Hunter
fleursdumal.nl magazine
More in: Archive G-H, Henry, O.
---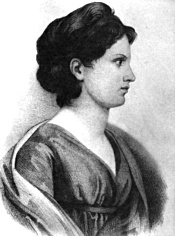 Karoline von Günderrode
(1780 – 1806)
Liebe
O reiche Armuth! Gebend, seliges Empfangen!
In Zagheit Muth! in Freiheit doch gefangen.
In Stummheit Sprache,
Schüchtern bei Tage
Siegend mit zaghaftem Bangen.
Lebendiger Tod, im Einen sel'ges Leben
Schwelgend in Noth, im Widerstand ergeben,
Genießend schmachtend,
Nie satt betrachten
Leben im Traum und doppelt Leben.
Karoline Günderrode Gedichte
fleursdumal.nl magazine
More in: Archive G-H, Karoline von Günderrode
---
Let Me Feel Your Pulse
by O. Henry
So I went to a doctor.
"How long has it been since you took any alcohol into your system?" he asked.
Turning my head sideways, I answered, "Oh, quite a while."
He was a young doctor, somewhere between twenty and forty. He wore heliotrope socks, but he looked like Napoleon. I liked him immensely.
"Now," said he, "I am going to show you the effect of alcohol upon your circulation." I think it was "circulation" he said; though it may have been "advertising."
He bared my left arm to the elbow, brought out a bottle of whisky, and gave me a drink. He began to look more like Napoleon. I began to like him better.
Then he put a tight compress on my upper arm, stopped my pulse with the fingers, and squeezed a rubber bulb connected with an apparatus on a stand that looked like a thermometer. The mercury jumped up and down without seeming to stop anywhere; but the doctor said it registered two hundred and thirty- seven or one hundred and sixty-five or some such number.
"Now," said he, "you see what alcohol does to the blood-pressure."
"It's marvellous," said I, "but do you think it a sufficient test? Have one on me, and let's try the other arm." But, no!
Then he grasped my hand. I thought I was doomed and he was saying good-bye. But all he wanted to do was to jab a needle into the end of a finger and compare the red drop with a lot of fifty-cent. Poker chips that he had fastened to a card.
"It's the hæmoglobin test," he explained. "The colour of your blood is wrong."
"Well," said I, "I know it should be blue; but this is a country of mix-ups. Some of my ancestors were cavaliers; but they got thick with some people on Nantucket Island, so—"
"I mean," said the doctor, "that the shade of red is too light."
"Oh," said I, "it's a case of matching instead of matches."
The doctor then pounded me severely in the region of the chest. When he did that I don't know whether he reminded me most of Napoleon or Battling or Lord Nelson. Then he looked grave and mentioned a string of grievances that the flesh is heir to—most ending in "itis." I immediately paid him fifteen dollars on account.
"Is or are it or some or any of them necessarily fatal?" I asked. I thought my connection with the matter justified my manifesting a certain amount of interest.
"All of them," he answered cheerfully. "But their progress may be arrested. With care and proper continuous treatment you may live to be eighty-five or ninety."
I began to think of the doctor's bill. "Eighty-five would be sufficient, I am sure," was my comment. I paid him ten dollars more on account.
"The first thing to do," he said, with renewed animation, "is to find a sanatorium where you will get a complete rest for awhile, and allow your nerves to get into a better condition. I myself will go with you and select a suitable one."
O. Henry
(1862 – 1910)
Let Me Feel Your Pulse
fleursdumal.nl magazine
More in: Archive G-H, Henry, O.
---
Karoline von Günderrode
(1780 – 1806)
Briefe zweier Freunde
An Eusebio
Mit Freude denk ich oft zurück an den Tag, an welchem wir uns zuerst fanden, als ich Dir mit einer ehrfurchtsvollen Verlegenheit entgegentrat wie ein lehrbegieriger Laie dem Hohenpriester. Ich hatte es mir vorgesetzt, Dir womöglich zu gefallen, und das Bewußtsein meines eigenen Wertes wäre mir in seinen Grundfesten erschüttert worden, hättest Du Dich gleichgültig von mir abgewendet; wie es mir aber gelang, Dich mit solchem Maße für mich zu gewinnen, begreife ich noch nicht; mein eigner Geist muß bei jener Unterredung zwiefach über mir gewesen sein. Mit ihr ist mir ein neues Leben aufgegangen, denn erst in Dir habe ich jene wahrhafte Erhebung zu den höchsten Anschauungen, in welchen alles Weltliche als ein wesenloser Traum verschwindet, als einen herrschenden Zustand gefunden. In Dir haben mir die höchsten Ideen auch eine irdische Realität erlangt. Wir andern Sterblichen müssen erst fasten und uns leiblich und geistig zubereiten, wenn wir zum Mahle des Herrn gehen wollen, Du empfängst den Gott täglich ohne diese Anstalten.
Mir, o Freund! sind die himmlischen Mächte nicht so günstig, und oft bin ich mißmutig und weiß nicht, über wen ich es am meisten sein soll, ob über mich selbst oder über diese Zeit, denn auch sie ist arm an begeisternden Anschauungen für den Künstler jeder Art; alles Große und Gewaltige hat sich an eine unendliche Masse, unter der es beinah verschwindet, ausgeteilt. Unselige Gerechtigkeit des Schicksals! Damit keiner prasse und keiner hungere, müssen wir uns alle in nüchterner Dürftigkeit behelfen. Ist es da auch noch ein Wunder, wenn die Ökonomie in jedem Sinn und in allen Dingen zu einer so beträchtlichen Tugend herangewachsen ist. Diese Erbärmlichkeit des Lebens, laß es uns gestehen, ist mit dem Protestantismus aufgekommen. Sie werden alle zum Kelch hinzugelassen, die Laien wie die Geweihten, darum kann niemand genugsam trinken, um des Gottes voll zu werden, der Tropfen aber ist keinem genug; da wissen sie denn nicht, was ihnen fehlt, und geraten in ein Disputieren und Protestieren darüber. – Doch was sage ich Dir das! angeschaut im Fremden hast Du diese Zeitübel wohl schon oft, aber sie können Dich nicht so berühren, da Du sie nur als Gegensatz mit Deiner eigensten Natur sehen kannst und kein Gegensatz durch sie in Dich selbst gekommen ist. Genug also von dem aufgeblasenen Jahrhundert, an dessen Torheiten noch ferne Zeiten erkranken werden. Rückwärts in schönre Tage laß uns blicken, die gewesen. Vielleicht sind wir eben jetzt auf einer Bildungsstufe angelangt, wo unser höchstes und würdigstes Bestreben sich dahin richten sollte, die großen Kunstmeister der Vorwelt zu verstehen und mit dem Reichtum und der Fülle ihrer poesiereichen Darstellungen unser dürftiges Leben zu befruchten. Denn abgeschlossen sind wir durch enge Verhältnisse von der Natur, durch engere Begriffe vom wahren Lebensgenuß, durch unsere Staatsformen von aller Tätigkeit im Großen. So fest umschlossen ringsum, bleibt uns nur übrig, den Blick hinauf zu richten zum Himmel oder brütend in uns selbst zu wenden. Sind nicht beinahe alle Arten der neuern Poesie durch diese unsere Stellung bestimmt? Liniengestalten entweder, die körperlos hinaufstreben, im unendlichen Raum zu zerfließen, oder bleiche, lichtscheue Erdgeister, die wir grübelnd aus der Tiefe unsers Wesens heraufbeschwören; aber nirgends kräftige, markige Gestalten. Der Höhe dürfen wir uns rühmen und der Tiefe, aber behagliche Ausdehnung fehlt uns durchaus. Wie Shakespeare's Julius Cäsar möcht ich rufen: «Bringt fette Leute zu mir, und die ruhig schlafen, ich fürchte diesen hagern Cassius.» Da ich nun selbst nicht über die Schranken meiner Zeit hinausreiche, dünkt es Dir nicht besser für mich, den Weg eigner poetischer Produktion zu verlassen und ein ernsthaftes Studium der Poeten der Vorzeit und besonders des Mittelalters zu beginnen? Ich weiß zwar, daß es mir Mühe kosten wird, ich werde gleichsam einen Zweig aus meiner Natur herausschneiden müssen, denn ich schaue mich am fröhlichsten in einem Produkt meines Geistes an und habe nur wahrhaftes Bewußtsein durch dieses Hervorgebrachte; aber um etwas desto gewisser zu gewinnen, muß man stets ein anderes aufgeben, das ist ein allgemeines Schicksal, und es soll mich nicht erschrecken. Eins aber hat mir stets das innerste Gemüt schmerzlich angegriffen, es ist dies: daß hinter jedem Gipfel sich der Abhang verbirgt; dieser Gedanke macht mir die Freude bleich in ihrer frischesten Jugend und mischt in all mein Leben eine unnennbare Wehmut. Darum erfreut mich jeder Anfang mehr als das Vollendete, und nichts berührt mich so tief wie das Abendrot; mit ihm möcht ich jeden Abend versinken, in der gleichen Nacht, um nicht sein Verlöschen zu überleben. Glückliche! denen vergönnt ist zu sterben in der Blüte der Freude, die aufstehen dürfen vom Mahle des Lebens, ehe die Kerzen bleich werden und der Wein sparsamer perlt. Eusebio! wenn mir auch dereinst das freundliche Licht Deines Lebens erlöschen sollte, o! dann nimm mich gütig mit wie der göttliche Pollux den sterblichen Bruder, und laß mich gemeinsam mit Dir in den Orkus gehen und mit Dir zu den unsterblichen Göttern, denn nicht möcht ich leben ohne Dich, der Du meiner Gedanken und Empfindungen liebster Inhalt bist, um den sich alle Formen und Blüten meines Seins herumwinden, wie das labyrinthische Geäder um das Herz, das sie all' erfüllt und durchglüht.
Fragmente aus Eusebios Antwort
– Gestalt hat nur für uns, was wir überschauen können; von dieser Zeit aber sind wir umfangen, wie Embryonen von dem Leibe der Mutter, was können wir also von ihr Bedeutendes sagen? Wir sehen einzelne Symptome, hören Einen Pulsschlag des Jahrhunderts, und wollen daraus schließen, es sei erkrankt. Eben diese uns bedenklich scheinenden Anzeichen gehören vielleicht zu der individuellen Gesundheit dieser Zeit. Jede Individualität aber ist ein Abgrund von Abweichungen, eine Nacht, die nur sparsam von dem Licht allgemeiner Begriffe erleuchtet wird. Darum Freund! weil wir nur wenige Züge von dem unermeßlichen Teppich sehen, an welchem der Erdgeist die Zeiten hindurch webt, darum laß uns bescheiden sein. Es gibt eine Ergebung, in der allein Seligkeit und Vollkommenheit und Friede ist, eine Art der Betrachtung, welche ich Auflösung im Göttlichen nennen möchte; dahin zu kommen laß uns trachten und nicht klagen um die Schicksale des Universums. Damit Du aber deutlicher siehst, was ich damit meine, so sende ich Dir hiermit einige Bücher über die Religion der Hindu. Die Wunder uralter Weisheit, in geheimnisvollen Symbolen niedergelegt, werden Dein Gemüt berühren, es wird Augenblicke geben, in welchen Du Dich entkleidet fühlst von dieser persönlichen Einzelheit und Armut und wieder hingegeben dem großen Ganzen; wo Du es mehr als nur denkst, daß Alles, was jetzt Sonne und Mond ist, und Blume und Edelstein, und Äther und Meer, ein Einziges ist, ein Heiliges, das in seinen Tiefen ruht ohne Aufhören, selig in sich selbst, sich selbst ewig umfangend, ohne Wunsch nach dem Tun und Leiden der Zweiheit, die seine Oberfläche bewegt. In solchen Augenblicken, wo wir uns nicht mehr besinnen können, weil das, was das einzelne und irdische Bewußtsein weckt, dem äußern Sinn verschwunden ist unter der Herrschaft der Betrachtung des Innern; in solchen Augenblicken versteh ich den Tod, der Religion Geheimnis, das Opfer des Sohnes und der Liebe unendliches Sehnen. Ist es nicht ein Winken der Natur, aus der Einzelheit in die gemeinschaftliche Allheit zurückzukehren, zu lassen das geteilte Leben, in welchem die Wesen etwas für sich sein wollen und doch nicht können? Ich erblicke die rechte Verdammnis in dem selbstsüchtigen Stolz, der nicht ruhen konnte in dem Schoß des Ewigen, sondern ihn verlassend seine Armut und Blöße decken wollte mit der Mannigfaltigkeit der Gestalten und Baum wurde und Stein und Metall und Tier und der begehrliche Mensch.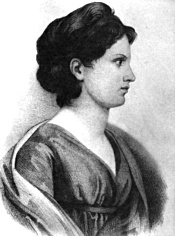 Ja, auch das, o Freund! was sie alle nicht ohne Murren und Zweifeln betrachten mögen, das trübere Alter, ich verstehe seinen höheren Sinn jetzt. Entwickeln soll sich im Lauf der Jahre das persönliche Leben, sich ergötzen im für sich sein, seinen Triumph feiern in der Blüte der Jugend; aber absterben sollen wir im Alter dieser Einzelheit, darum schwinden die Sinne, bleicher wird das Gedächtnis, schwächer die Begierde, und des Daseins fröhlicher Mut trübt sich in Ahndungen der nahen Auflösung. – Es sind die äußeren Sinne, die uns mannigfaltige Grade unsers Gegensatzes mit der fremden Welt deutlich machen. Wenn aber die Scheidewand der Persönlichkeit zerfällt, mögen sie immerhin erlöschen; denn es bedarf des Auges nicht, unser Inneres und was mit ihm Eins ist zu schauen; auch ohne Ohr können wir die Melodie des ewigen Geistes vernehmen; und das Gedächtnis ist für die Vergangenheit, es ist das Organ des Wissens von uns selbst im Wechsel der Zeiten. Wo aber nicht die Zeit ist, nicht Vergangenes noch Künftiges, sondern ewige Gegenwart, da bedarfs der Erinnerung nicht. Was uns also abstirbt im Alter, ist die Vollkommenheit unseres Verhältnisses zur Außenwelt; abgelebt mögen also die wohl im Alter zu nennen sein, die von nichts wußten als diesem Verhältnis. – So fürchte ich höhere Jahre nicht, und der Tod ist mir willkommen; und zu dieser Ruhe der Betrachtung in allen Dingen zu gelangen, sei das Ziel unseres Strebens. – Deutlich liegt Deine Bahn vor mir, Geliebtester! Denn erkannt habe ich Dich vom ersten Augenblick unserer Annäherung, die, das Bewußtsein wird mir immer bleiben, von Gott gefügt war; nie habe ich so das Angesicht eines Menschen zum erstenmal angesehen, nie solch Gefühl bei einer menschlichen Stimme gehabt; und dies Göttliche und Notwendige ist mir immer geblieben im Gedanken an Dich; und so weiß ich auch, was notwendig ist in Dir und für Dich, und wie Du ganz solltest leben in der Natur, der Poesie und einer göttlichen Weisheit. Ich weiß, daß es Dir nicht geziemt, Dir so ängstliche Studien vorzuschreiben. Die großen Kunstmeister der Vorwelt sind freilich da, um gelesen und verstanden zu werden, aber, wenn von Kunst- Schulen die Frage ist, so sage ich, sie sind dagewesen, jene Meister, eben deswegen sollen sie nicht noch einmal wiedergeboren werden; die unendliche Natur will sich stets neu offenbaren in der unendlichen Zeit. In der Fülle der Jahrhunderte ist Brahma oftmals erschienen, aber in immer neuen Verwandlungen; dieselbe Gestalt hat er nie wieder gewählt. So tue und dichte doch jeder das, wozu er berufen ist, wozu der Geist ihn treibt, und versage sich keinen Gesang als den mißklingenden. Doch zag' ich im Ernste nicht für Dich, die strebende Kraft wird den, welchen sie bewohnt, nicht ruhen lassen; es wird ihm oft wehe und bange werden ums Herz, bis die neugeborene Idee gestillet hat des Gebärens Schmerz und Sehnsucht.
Gestern lebte ich ein paar selige Stunden recht über der Erde, ich hatte einen Berg erstiegen, an dessen Umgebungen jede Spur menschlichen Anbaus zu Zweck und Nutzen verschwand; es ward mir wohl und heiter. Zwei herrliche Reiher schwebend über mir badeten ihre sorgenfreie Brust in blauer Himmelsluft. Ach! wer doch auch schon so dem Himmel angehörte, dachte ich da, und klein schien mir alles Irdische. In solchen Augenblicken behält nur das Ewige Wert, der schaffende Genius und das heilige Gemüt; da dacht ich Dein, wie immer, wenn die Natur mich berührt; oft gab ich dem Flusse, wenn der Sonne letzte Strahlen ihn erhellen, Gedanken an Dich mit, als würden seine Wellen sie zu Dir tragen und dein Haupt umspielen. Leb wohl, in meinen besten Stunden bin ich stets bei dir. –
An Eusebio
Eine der größten Epochen meines kleinen Lebens ist vorübergegangen, Eusebio! ich habe auf dem Scheidepunkt gestanden zwischen Leben und Tod. Was sträubt sich doch der Mensch, sagte ich in jenen Augenblicken zu mir selbst, vor dem Sterben? ich freue mich auf jede Nacht, indem ich das Unbewußtsein und dunkle Träume dem hellern Leben vorziehe; warum grauet mir doch vor der langen Nacht und dem tiefen Schlummer? Welche Taten warten noch meiner, oder welche bessere Erkenntnis auf Erden, daß ich länger leben müßte? – Eine Notwendigkeit gebiert uns alle in die Persönlichkeit, eine gemeinsame Nacht verschlinget uns alle. Jahre werden mir keine bessere Weisheit geben, und wann Lernen, Tun und Leiden drunten noch Not tut, wird ein Gott mir geben, was ich bedarf. So sprach ich mir selbst zu, aber die Gedanken, die ich liebe, traten zu mir, und die Heroen, die ich angebetet hatte von Jugend auf: «Was willst Du am hohen Mittage die Nacht ersehnen?» riefen sie mir zu. «Warum untertauchen in dem alten Meer und darin zerrinnen mit allem, was Dir lieb ist?» So wechselten die Vorstellungen in mir, und Deiner gedacht ich, und immer Deiner, und fast alles andre nur in bezug auf Dich, und wenn anders den Sterblichen vergönnt ist, noch eines ihrer Güter aus dem Schiffbruch des irdischen Lebens zu retten, so hätte ich gewiß Dein Andenken mit hinabgenommen zu den Schatten. Daß Du mir aber könntest verloren sein, war der Gedanken schmerzlichster. Ich zagte, daß Dein Ich und das meine sollten aufgelöst werden in die alten Urstoffe der Welt; dann tröstete ich mich wieder, daß unsere befreundeten Elemente, dem Gesetze der Anziehung gehorchend, sich selbst im unendlichen Raume aufsuchen und zueinander gesellen würden. So wogten Hoffnung und Zweifel auf und nieder in meiner Seele, und Mut und Zagheit. Doch das Schicksal wollte – ich lebe noch. – Aber was ist es doch, das Leben? Dieses schon aufgegebene, wieder erlangte Gut! so frag ich mich oft: Was bedeutet es, daß aus der Allheit der Natur ein Wesen sich mit solchem Bewußtsein losscheidet und sich abgerissen von ihr fühlt? Warum hängt der Mensch mit solcher Stärke an Gedanken und Meinungen, als seien sie das Ewige, warum kann er sterben für sie, da doch für ihn eben dieser Gedanke mit seinem Tode verloren ist? und warum, wenn gleichwohl diese Gedanken und Begriffe dahinsterben mit den Individuen, warum werden sie von denselben immer wieder aufs neue hervorgebracht und drängen sich so durch die Reihen des aufeinanderfolgenden Geschlechtes zu einer Unsterblichkeit in der Zeit? Lange wußt' ich diesen Fragen nicht Antwort, und sie verwirrten mich; da war mir plötzlich in einer Offenbarung alles deutlich und wird es mir ewig bleiben. Zwar weiß ich, das Leben ist nur das Produkt der innigsten Berührung und Anziehung der Elemente; weiß, daß alle seine Blüten und Blätter, die wir Gedanken und Empfindungen nennen, verwelken müssen, wenn jene Berührung aufgelöst wird, und daß das einzelne Leben dem Gesetz der Sterblichkeit dahingegeben ist; aber so gewiß mir dieses ist, ebenso über allem Zweifel ist mir auch das andre, die Unsterblichkeit des Lebens im Ganzen; denn dieses Ganze ist eben das Leben, und es wogt auf und nieder in seinen Gliedern, den Elementen, und was es auch sei, das durch Auflösung (die wir zuweilen Tod nennen) zu denselben zurückgegangen ist, das vermischt sich mit ihnen nach Gesetzen der Verwandtschaft, d. h. das Ähnliche zu dem Ähnlichen. Aber anders sind diese Elemente geworden, nachdem sie einmal im Organismus zum Leben hinaufgetrieben gewesen, sie sind lebendiger geworden; wie zwei, die sich in langem Kampf übten, stärker sind, wenn er geendet hat, als ehe sie kämpften, so die Elemente, denn sie sind lebendig, und jede lebendige Kraft stärkt sich durch Übung. Wenn sie also zurückkehren zur Erde, vermehren sie das Erdleben. Die Erde aber gebiert den ihr zurückgegebenen Lebensstoff in andern Erscheinungen wieder, bis durch immer neue Verwandlungen alles Lebensfähige in ihr ist lebendig geworden. Dies wäre, wenn alle Massen organisch würden. –
So gibt jeder Sterbende der Erde ein erhöhteres, entwickelteres Elementarleben zurück, welches sie in aufsteigenden Formen fortbildet; und der Organismus, indem er immer entwickeltere Elemente in sich aufnimmt, muß dadurch immer vollkommener und allgemeiner werden. So wird die Allheit lebendig durch den Untergang der Einzelheit, und die Einzelheit lebt unsterblich fort in der Allheit, deren Leben sie lebend entwickelte und nach dem Tode selbst erhöht und mehrt und so durch Leben und Sterben die Idee der Erde realisieren hilft. Wie also auch meine Elemente zerstreut werden mögen, wenn sie sich zu schon Lebendem gesellen, werden sie es erhöhen; wenn zu dem, dessen Leben noch dem Tode gleicht, so werden sie es beseelen. Und wie mir deucht, Eusebio, so entspricht die Idee der Indier von der Seelenwanderung dieser Meinung; nur dann erst dürfen die Elemente nicht mehr wandern und suchen, wann die Erde die ihr angemessene Existenz, die organische, durchgehende erlangt hat. Alle bis jetzt hervorgebrachten Formen müssen aber wohl dem Erdgeist nicht genügen, weil er sie immer wieder zerbricht und neue sucht; die ihm ganz gleichen würde er nicht zerstören können, eben weil sie ihm gleich und von ihm untrennbar wären. Diese vollkommene Gleichheit des inneren Wesens mit der Form kann, wie mir scheint, überhaupt nicht in der Mannigfaltigkeit der Formen erreicht werden; das Erdwesen ist nur eines, so dürfte also seine Form auch nur eine, nicht verschiedenartig sein; und ihr eigentliches wahres Dasein würde die Erde erst dann erlangen, wann sich alle ihre Erscheinungen in einem gemeinschaftlichen Organismus auflösen würden; wann Geist und Körper sich so durchdrängen, daß alle Körper, alle Form auch zugleich Gedanken und Seele wäre und aller Gedanke zugleich Form und Leib und ein wahrhaft verklärter Leib, ohne Fehl und Krankheit und unsterblich; also ganz verschieden von dem, was wir Leib oder Materie nennen, indem wir ihm Vergänglichkeit, Krankheit, Trägheit und Mangelhaftigkeit beilegen, denn diese Art von Leib ist gleichsam nur ein mißglückter Versuch, jenen unsterblichen göttlichen Leib hervorzubringen. – Ob es der Erde gelingen wird, sich so unsterblich zu organisieren, weiß ich nicht. Es kann in ihren Urelementen ein Mißverhältnis von Wesen und Form sein, das sie immer daran hindert; und vielleicht gehört die Totalität unseres Sonnensystems dazu, um dieses Gleichgewicht zustande zu bringen; vielleicht reicht dieses wiederum nicht zu, und es ist eine Aufgabe für das gesamte Universum.
In dieser Betrachtungsweise, Eusebio, ist mir nun auch deutlich geworden, was die großen Gedanken von Wahrheit, Gerechtigkeit, Tugend, Liebe und Schönheit wollen, die auf dem Boden der Persönlichkeit keimen und, ihn bald überwachsend, sich hinaufziehen nach dem freien Himmel, ein unsterbliches Gewächs, das nicht untergehet mit dem Boden, auf dem es sich entwickelte, sondern immer neu sich erzeugt im neuen Individuum, denn es ist das Bleibende, Ewige, das Individuum aber das zerbrechliche Gefäß für den Trank der Unsterblichkeit. – Denn, laß es uns genauer betrachten, Eusebio, alle Tugenden und Trefflichkeiten, sind sie nicht Annäherungen zu jenem höchst vollkommenen Zustand, soviel die Einzelheit sich ihm nähern kann? Die Wahrheit ist doch nur der Ausdruck des sich selbst gleichseins überhaupt, vollkommen wahr ist also nur das Ewige, das keinem Wechsel der Zeiten und Zustände unterworfen ist. Die Gerechtigkeit ist das Streben, in der Vereinzelung untereinander gleich zu sein. Die Schönheit ist der äußere Ausdruck des erreichten Gleichgewichtes mit sich selbst. Die Liebe ist die Versöhnung der Persönlichkeit mit der Allheit; und die Tugend aller Art ist nur eine, d. h. ein Vergessen der Persönlichkeit und Einzelheit für die Allheit. Durch Liebe und Tugend also wird schon hier auf eine geistige Weise der Zustand der Auflösung der Vielheit in der Einheit vorbereitet, denn wo Liebe ist, da ist nur ein Sinn, und wo Tugend, ist einerlei Streben nach Taten der Gerechtigkeit, Güte und Eintracht. Was aber sich selbst gleich ist und äußerlich und innerlich den Ausdruck dieses harmonischen Seins an sich trägt und selbst dieser Ausdruck ist, was eins ist und nicht zerrissen in Vielheit, das ist gerade jenes Vollkommene, Unsterbliche und Unwandelbare, jener Organismus, den ich als das Ziel der Natur, der Geschichte und der Zeiten, kurz des Universums betrachte. Durch jede Tat der Unwahrheit, Ungerechtigkeit und Selbstsucht wird jener selige Zustand entfernt und der Gott der Erde in neue Fesseln geschlagen, der seine Sehnsucht nach besserem Leben in jedem Gemüt durch Empfänglichkeit für das Treffliche ausspricht, im verletzten Gewissen aber klagt, daß sein seliges, göttliches Leben noch fern sei.
Karoline Günderrode: Briefe zweier Freunde
fleursdumal.nl magazine
More in: Archive G-H, Archive G-H, Karoline von Günderrode
---
An Unfinished Story
by O. Henry
We no longer groan and heap ashes upon our heads when the flames of Tophet are mentioned. For, even the preachers have begun to tell us that God is radium, or ether or some scientific compound, and that the worst we wicked ones may expect is a chemical reaction. This is a pleasing hypothesis; but there lingers yet some of the old, goodly terror of orthodoxy.
There are but two subjects upon which one may discourse with a free imagination, and without the possibility of being controverted. You may talk of your dreams; and you may tell what you heard a parrot say. Both Morpheus and the bird are incompetent witnesses; and your listener dare not attack your recital. The baseless fabric of a vision, then, shall furnish my theme—chosen with apologies and regrets instead of the more limited field of Pretty Polly's small talk.
I had a dream that was so far removed from the higher criticism that it had to do with the ancient, respectable, and lamented bar-of-judgment theory.
Gabriel had played his trump; and those of us who could not follow suit were arraigned for examination. I noticed at one side a gathering of professional bondsmen in solemn black and collars that buttoned behind; but it seemed there was some trouble about their real estate titles; and they did not appear to be getting any of us out.
A fly cop—an angel policeman—flew over to me and took me by the left wing. Near at hand was a group of very prosperous-looking spirits arraigned for judgment.
"Do you belong with that bunch?" the policeman asked.
"Who are they?" was my answer.
"Why," said he, "they are—"
But this irrelevant stuff is taking up space that the story should occupy.
Dulcie worked in a department store. She sold Hamburg edging, or stuffed peppers, or automobiles, or other little trinkets such as they keep in department stores. Of what she earned, Dulcie received six dollars per week. The remainder was credited to her and debited to somebody else's account in the ledger kept by G—Oh, primal energy, you say, Reverend Doctor—Well then, in the Ledger of Primal Energy.
During her first year in the store, Dulcie was paid five dollars per week. It would be instructive to know how she lived on that amount. Don't care? Very well; probably you are interested in larger amounts. Six dollars is a larger amount. I will tell you how she lived on six dollars per week.
One afternoon at six, when Dulcie was sticking her hat-pin within an eighth of an inch of her medulla oblongata, she said to her chum, Sadie—the girl that waits on you with her left side:
"Say, Sade, I made a date for dinner this evening with Piggy."
"You never did!" exclaimed Sadie admiringly. "Well, ain't you the lucky one? Piggy's an awful swell; and he always takes a girl to swell places. He took Blanche up to the Hoffman House one evening, where they have swell music, and you see a lot of swells. You'll have a swell time, Dulcie."
Dulcie hurried off homeward. Her eyes were shining, and her cheeks showed the delicate pink of life's—real life's—approaching dawn. It was Friday; and she had fifty cents of her last week's wages.
The streets were filled with the rush-hour floods of people. The electric lights of Broadway were glowing—calling moths from miles, from leagues, from hundreds of leagues out of darkness around to come in and attend the singeing school. Men in accurate clothes, with faces like those carved on cherry-stones.
O. Henry
(1862 – 1910)
An Unfinished Story
fleursdumal.nl magazine
More in: Archive G-H, Henry, O.
---
Henk Hofland (1927 – 2016) was een Nederlandse journalist, columnist, essayist, romancier en schrijver.
Hofland ontving in 2011 de P.C. Hooft-prijs 2011 en werd in 1999 door zijn collega's uitgeroepen tot de Nederlandse journalist van de twintigste eeuw. Henk Hofland schreef onder de naam H.J.A. Hofland, evenals onder de pseudoniemen S. (Samuel) Montag, K. van Hippel, H.W.S. Wuster en (eenmalig) Gronk.
Het bekendste journalistieke boek van Hofland was Tegels lichten (1972). Daarin behandelde hij zaken die de Nederlandse autoriteiten in de doofpot hadden proberen te stoppen, zoals de Greet Hofmansaffaire.
In 2011 ontving Henk Hofland de P.C. Hooftprijs voor zijn gehele oeuvre.
Op 21 juni 2016 overleed Henk Hofland thuis in zijn slaap.
Bibliografie Henk Hofland
Geen tijd (op zoek naar oorzaken en gevolgen van het moderne tijdgebrek), essay, 1955, Uitgeverij Scheltema en Holkema
Vakantie (over zakelijke en onzakelijke kanten van de moderne volksverhuizing), essay, 1957, Uitgeverij Amsterdam
Opmerkingen over de chaos, essay, 1964, Uitgeverij De Bezige Bij
Waarom verdedigen wij ons, essay, 1964, Uitgeverij Nijgh & van Ditmar
Tegels lichten. of Ware verhalen over de autoriteiten in het land van de voldongen feiten, beschouwing, 1972, Uitgeverij Bert Bakker[12]
Prolegomena tot een nieuwe mens- en dierkunde, beschouwing, 1974, Uitgeverij Contact
Betrekkelijke kleinigheden (waarin opgenomen Mens en dier), 1976, Uitgeverij Contact
Boven en onder de grond op Schiermonnikoog, overdenking, 1979, Uitgeverij Rap
Twee helden uit de jaren zeventig, essay, 1979, Uitgeverij Bert Bakker
Een teken aan de wand, beschouwing, 1983, Uitgeverij Bert Bakker
De weg naar Jalta en terug (aan de Zwarte Zee werd 40 jaar geleden Europa verdeeld), beschouwing, 1984, Uitgeverij NRC
Orde bestaat niet (en is verderfelijk), essays, 1985, Uitgeverij De Bezige Bij
Het kruiend wereldbeeld, reisverslagen, 1987, Uitgeverij De Bezige Bij
Persvrijheid in Nederland (nederigheid is erger dan censuur), Coornhertrede, 1988, Uitgeverij Coornhertstichting
We passeerden het vrijheidsbeeld, 1989, Uitgeverij Amsterdam
Over en weer, schrijversbrieven, 1989, Uitgeverij Contact
De alibicentrale, roman, 1990, Uitgeverij De Bezige Bij
De Jupiter, roman, 1991, Uitgeverij De Bezige Bij
De wording van het Wilde Oosten, columns, Uitgeverij Amsterdam
Nacht over Alicante, roman, 1991, Uitgeverij De Bezige Bij
Man van zijn eeuw, roman, 1993, Uitgeverij De Bezige Bij
Het diepste punt van Nederland, 1993, Uitgeverij De Bezige Bij
De draagbare Hofland, verzameld werk, 1993, Prometheus
De elite verongelukt, essays, 1995, Uitgeverij De Bezige Bij
De tijden van Sem Presser (The times of Sem Presser), voetnoot, 2000, Uitgeverij Amsterdam
Het voorgekookt bestaan, essay over techniek, Vermeerlezing 2002 – Uitgeverij Bèta Imaginations
De Hollandse metamorfose, essay/fotoboek, 2002, Uitgeverij De Verbeelding
Op zoek naar de pool (het beste van H.J.A. Hofland), verzameld werk, 2002, Uitgeverij De Bezige Bij
Cicero Consultants (een scenario), politieke roman, 2007, Uitgeverij De Bezige Bij
De grote stilte, overdenkingen, 2007, Uitgeverij Damon
Jean Tinguely, Beeldende kunst, 2007, Uitgeverij Waanders
Rederij Hofland (bootjes, karretjes en machines om zelf te maken), 2008, Uitgeverij De Bezige Bij
Dikker en platter (met foto's van Roel Visser), 2011, Uitgeverij Bas Lubberhuizen
Onder pseudoniem S. Montag:
Het gevoel van Columbus en andere overpeinzingen, 1982, Uitgeverij De Bezige Bij
Overpeinzingen, 1983, Uitgeverij Querido
De alibicentrale (een sprookje voor bedriegers), 1990
De Zippo van '14-'18, verhalenbundel, 1991, Uitgeverij De Bezige Bij
De kronieken van S. Montag, 2010, Uitgeverij De Bezige Bij
Onder pseudoniem K. van Hippel:
Nederland een eigen bom, pamflet, 1965, Uitgeverij De Bezige Bij
21 juni 2016
fleursdumal.nl magazine
More in: Archive G-H, Art & Literature News, BOOKS. The final chapter?, DICTIONARY OF IDEAS, In Memoriam, MONTAIGNE
---
Older Entries »
« Newer Entries
Thank you for reading FLEURSDUMAL.NL - magazine for art & literature