Archive W-X
«« Previous page
·
Oscar WILDE: Les Silhouettes
·
Oscar WILDE: To My Wife
·
William WORDSWORTH: Lines Composed a Few Miles above Tintern Abbey
·
Oscar WILDE: Le Jardin Des Tuileries
·
Oscar WILDE: The Artist
·
OSCAR WILDE: The Doer of Good
·
WALT WHITMAN: "So Long!"
·
WALT WHITMAN: POETS TO COME!
·
WALT WHITMAN: SATAN
·
WALT WHITMAN: PULSE OF MY LIFE
·
HENDRIK NICOLAAS WERKMAN: GESTADIGE BEWEGING
·
H.N. WERKMAN: SABBATH DER EENVOUDIGEN
Oscar Wilde
(1854 – 1900)
Les Silhouettes
The sea is flecked with bars of grey,
The dull dead wind is out of tune,
And like a withered leaf the moon
Is blown across the stormy bay.
Etched clear upon the pallid sand
Lies the black boat: a sailor boy
Clambers aboard in careless joy
With laughing face and gleaming hand.
And overhead the curlews cry,
Where through the dusky upland grass
The young brown-throated reapers pass,
Like silhouettes against the sky.
Oscar Wilde
fleursdumal.nl magazine
More in: Archive W-X, Wilde, Oscar, Wilde, Oscar
---
Oscar Wilde
To My Wife
 
I can write no stately proem
As a prelude to my lay;
From a poet to a poem
I would dare to say.
For if of these fallen petals
One to you seem fair,
Love will waft it till it settles
On your hair.
And when wind and winter harden
All the loveless land,
It will whisper of the garden,
You will understand.
 
And there is nothing left to do
But to kiss once again, and part,
Nay, there is nothing we should rue,
I have my beauty,-you your Art,
Nay, do not start,
One world was not enough for two
Like me and you.
 
Oscar Wilde (1854 – 1900)
To my wife
fleursdumal.nl magazine
More in: Archive W-X, Wilde, Oscar, Wilde, Oscar
---
William Wordsworth
Lines Composed a Few Miles above Tintern Abbey
Five years have passed; five summers, with the length
Of five long winters! and again I hear
These waters, rolling from their mountain-springs
With a soft inland murmur.Once again
Do I behold these steep and lofty cliffs,
That on a wild secluded scene impress
Thoughts of more deep seclusion; and connect
The landscape with the quiet of the sky.
The day is come when I again repose
Here, under this dark sycamore, and view
These plots of cottage-ground, these orchard-tufts,
Which at this season, with their unripe fruits,
Are clad in one green hue, and lose themselves
'Mid groves and copses. Once again I see
These hedgerows, hardly hedgerows, little lines
Of sportive wood run wild; these pastoral farms,
Green to the very door; and wreaths of smoke
Sent up, in silence, from among the trees!
With some uncertain notice, as might seem
Of vagrant dwellers in the houseless woods,
Or of some Hermit's cave, where by his fire
The Hermit sits alone.
These beauteous forms,
Through a long absence, have not been to me
As is a landscape to a blind man's eye;
But oft, in lonely rooms, and 'mid the din
Of towns and cities, I have owed to them,
In hours of weariness, sensations sweet,
Felt in the blood, and felt along the heart;
And passing even into my purer mind
With tranquil restoration feelings too
Of unremembered pleasure; such, perhaps,
As have no slight or trivial influence
On that best portion of a good man's life,
His little, nameless, unremembered, acts
Of kindness and of love.Nor less, I trust,
To them I may have owed another gift,
Of aspect more sublime; that blessed mood,
In which the burthen of the mystery,
In which the heavy and the weary weight
Of all this unintelligible world,
Is lightened that serene and blessed mood,
In which the affections gently lead us on
Until, the breath of this corporeal frame
And even the motion of our human blood
Almost suspended, we are laid asleep
In body, and become a living soul;
While with an eye made quiet by the power
Of harmony, and the deep power of joy,
We see into the life of things.
If this
Be but a vain belief, yet, oh! how oft
In darkness and amid the many shapes
Of joyless daylight; when the fretful stir
Unprofitable, and the fever of the world,
Have hung upon the beatings of my heart
How oft, in spirit, have I turned to thee,
O sylvan Wye! thou wanderer through the woods,
How often has my spirit turned to thee!
And now, with gleams of half-extinguished thought,
With many recognitions dim and faint,
And somewhat of a sad perplexity,
The picture of the mind revives again;
While here I stand, not only with the sense
Of present pleasure, but with pleasing thoughts
That in this moment there is life and food
For future years.And so I dare to hope,
Though changed, no doubt, from what I was when first
I came among these hills; when like a roe
I bounded o'er the mountains, by the sides
Of the deep rivers, and the lonely streams,
Wherever nature led more like a man
Flying from something that he dreads than one
Who sought the thing he loved.For nature then
(The coarser pleasures of my boyish days
And their glad animal movements all gone by)
To me was all in all. I cannot paint
What then I was. The sounding cataract
Haunted me like a passion; the tall rock,
The mountain, and the deep and gloomy wood,
Their colors and their forms, were then to me
An appetite; a feeling and a love,
That had no need of a remoter charm,
By thought supplied, not any interest
Unborrowed from the eye. That time is past,
And all its aching joys are now no more,
And all its dizzy raptures. Not for this
Faint I, nor mourn nor murmur; other gifts
Have followed; for such loss, I would believe,
Abundant recompense.For I have learned
To look on nature, not as in the hour
Of thoughtless youth; but hearing oftentimes
The still sad music of humanity,
Nor harsh nor grating, though of ample power
To chasten and subdue.And I have felt
A presence that disturbs me with the joy
Of elevated thoughts; a sense sublime
Of something far more deeply interfused,
Whose dwelling is the light of setting suns,
And the round ocean and the living air,
And the blue sky, and in the mind of man:
A motion and a spirit, that impels
All thinking things, all objects of all thought,
And rolls through all things. Therefore am I still
A lover of the meadows and the woods,
And mountains; and of all that we behold
From this green earth; of all the mighty world
Of eye, and ear both what they half create,
And what perceive; well pleased to recognize
In nature and the language of the sense
The anchor of my purest thoughts, the nurse,
The guide, the guardian of my heart, and soul
Of all my moral being.
Nor perchance,
If I were not thus taught, should I the more
Suffer my genial spirits to decay:
For thou art with me here upon the banks
Of this fair river; thou my dearest Friend,
My dear, dear Friend; and in thy voice I catch
The language of my former heart, and read
My former pleasures in the shooting lights
Of thy wild eyes.Oh! yet a little while
May I behold in thee what I was once,
My dear, dear Sister! and this prayer I make,
Knowing that Nature never did betray
The heart that loved her; 'tis her privilege,
Through all the years of this our life, to lead
From joy to joy: for she can so inform
The mind that is within us, so impress
With quietness and beauty, and so feed
With lofty thoughts, that neither evil tongues,
Rash judgments, nor the sneers of selfish men,
Nor greetings where no kindness is, nor all
The dreary intercourse of daily life,
Shall e'er prevail against us, or disturb
Our cheerful faith, that all which we behold
Is full of blessings.Therefore let the moon
Shine on thee in thy solitary walk;
And let the misty mountain winds be free
To blow against thee: and, in after years,
When these wild ecstasies shall be matured
Into a sober pleasure; when thy mind
Shall be a mansion for all lovely forms,
Thy memory be as a dwelling place
For all sweet sounds and harmonies; oh! then,
If solitude, or fear, or pain, or grief,
Should be thy portion, with what healing thoughts
Of tender joy wilt thou remember me,
And these my exhortations! Nor, perchance
If I should be where I no more can hear
Thy voice, nor catch from thy wild eyes these gleams
Of past existence wilt thou then forget
That on the banks of this delightful stream
We stood together; and that I, so long
A worshipper of Nature, hither came
Unwearied in that service; rather say
With warmer love oh! with far deeper zeal
Of holier love.Nor wilt thou then forget,
That after many wanderings, many years
Of absence, these steep woods and lofty cliffs,
And this green pastoral landscape, were to me
More dear, both for themselves and for thy sake!
William Wordsworth (1770 – 1850)
Lines Composed a Few Miles above Tintern Abbey
fleursdumal.nl magazine
More in: Archive W-X, Wordsworth, Wordsworth, William
---
Oscar Wilde
(1854 – 1900)
Le Jardin Des Tuileries
This winter air is keen and cold,
And keen and cold this winter sun,
But round my chair the children run
Like little things of dancing gold.
Sometimes about the painted kiosk
The mimic soldiers strut and stride,
Sometimes the blue-eyed brigands hide
In the bleak tangles of the bosk.
And sometimes, while the old nurse cons
Her book, they steal across the square,
And launch their paper navies where
Huge Triton writhes in greenish bronze.
And now in mimic flight they flee,
And now they rush, a boisterous band –
And, tiny hand on tiny hand,
Climb up the black and leafless tree.
Ah! cruel tree! if I were you,
And children climbed me, for their sake
Though it be winter I would break
Into spring blossoms white and blue!
Oscar Wilde
fleursdumal.nl magazine
More in: Archive W-X, Wilde, Oscar, Wilde, Oscar
---
Oscar Wilde
(1854 – 1900)
The Artist
One evening there came into his soul the desire to fashion an image of The Pleasure that abideth for a Moment. And he went forth into the world to look for bronze. For he could only think in bronze.
But all the bronze of the whole world had disappeared, nor anywhere in the whole world was there any bronze to be found, save only the bronze of the image of The Sorrow that endureth for Ever.
Now this image he had himself, and with his own hands, fashioned, and had set it on the tomb of the one thing he had loved in life. On the tomb of the dead thing he had most loved had he set this image of his own fashioning, that it might serve as a sign of the love of man that dieth not, and a symbol of the sorrow of man that endureth for ever. And in the whole world there was no other bronze save the bronze of this image.
And he took the image he had fashioned, and set it in a great furnace, and gave it to the fire.
And out of the bronze of the image of The Sorrow that endureth for Ever he fashioned an image of The Pleasure that abideth for a Moment.
Oscar Wilde, 1894
fleursdumal.nl magazine
More in: Archive W-X, Wilde, Oscar, Wilde, Oscar
---
Oscar Wilde
(1854 – 1900)
The Doer of Good
It was night-time and He was alone.
And He saw afar-off the walls of a round city and went towards the city.
And when He came near He heard within the city the tread of the feet of joy, and the laughter of the mouth of gladness and the loud noise of many lutes. And He knocked at the gate and certain of the gatekeepers opened to Him.
And He beheld a house that was of marble and had fair pillars of marble before it. The pillars were hung with garlands, and within and without there were torches of cedar. And He entered the house.
And when He had passed through the hall of chalcedony and the hall of jasper, and reached the long hall of feasting, He saw lying on a couch of sea-purple one whose hair was crowned with red roses and whose lips were red with wine.
And He went behind him and touched him on the shoulder and said to him, 'Why do you live like this?'
And the young man turned round and recognised Him, and made answer and said, 'But I was a leper once, and you healed me. How else should I live?'
And He passed out of the house and went again into the street.
And after a little while He saw one whose face and raiment were painted and whose feet were shod with pearls. And behind her came, slowly as a hunter, a young man who wore a cloak of two colours. Now the face of the woman was as the fair face of an idol, and the eyes of the young man were bright with lust.
And He followed swiftly and touched the hand of the young man and said to him, 'Why do you look at this woman and in such wise?'
And the young man turned round and recognised Him and said, 'But I was blind once, and you gave me sight. At what else should I look?'
And He ran forward and touched the painted raiment of the woman and said to her, 'Is there no other way in which to walk save the way of sin?'
And the woman turned round and recognised Him, and laughed and said, 'But you forgave me my sins, and the way is a pleasant way.
And He passed out of the city.
And when He had passed out of the city He saw seated by the roadside a young man who was weeping.
And He went towards him and touched the long locks of his hair and said to him, 'Why are you weeping?'
And the young man looked up and recognised Him and made answer, 'But I was dead once and you raised me from the dead. What else should I do but weep?'
Oscar Wilde, 1894
fleursdumal.nl magazine
More in: Archive W-X, Wilde, Oscar, Wilde, Oscar
---
Walt Whitman
(1819 – 1892)
"So Long!"
1
To conclude–I announce what comes after me;
I announce mightier offspring, orators, days, and then depart,
I remember I said, before my leaves sprang at all,
I would raise my voice jocund and strong, with reference to consummations.
When America does what was promised,
When there are plentiful athletic bards, inland and sea-board,
When through these States walk a hundred millions of superb persons,
When the rest part away for superb persons, and contribute to them,
When breeds of the most perfect mothers denote America,
Then to me my due fruition.
I have pressed through in my own right,
I have offered my style to every one–I have journeyed with confident step.
While my pleasure is yet at the full, I whisper, " So long!"
And take the young woman's hand, and the young man's hand for the last
time.
2
I announce natural persons to arise,
I announce justice triumphant,
I announce uncompromising liberty and equality,
I announce the justification of candour, and the justification of pride.
I announce that the identity of these States is a single identity only,
I announce the Union, out of all its struggles and wars, more and more
compact,
I announce splendours and majesties to make all the previous politics of
the earth insignificant.
I announce a man or woman coming–perhaps you are the one ("So long!")
I announce the great individual, fluid as Nature, chaste, affectionate,
compassionate, fully armed.
I announce a life that shall be copious, vehement, spiritual, bold,
And I announce an old age that shall lightly and joyfully meet its
translation.
3
O thicker and faster!  ("So long!")
O crowding too close upon me;
I foresee too much–it means more than I thought,
It appears to me I am dying.
Hasten throat, and sound your last!
Salute me–salute the days once more. Peal the old cry once more.
Screaming electric, the atmosphere using,
At random glancing, each as I notice absorbing,
Swiftly on, but a little while alighting,
Curious enveloped messages delivering,
Sparkles hot, seed ethereal, down in the dirt dropping,
Myself unknowing, my commission obeying, to question it never daring,
To ages, and ages yet, the growth of the seed leaving,
To troops out of me rising–they the tasks I have set promulging,
To women certain whispers of myself bequeathing–their affection me more
clearly explaining,
To young men my problems offering–no dallier I–I the muscle of their
brains trying,
So I pass–a little time vocal, visible, contrary,
Afterward, a melodious echo, passionately bent for–death making me really
undying,–
The best of me then when no longer visible–for toward that I have been
incessantly preparing.
What is there more, that I lag and pause, and crouch extended with unshut
mouth?
Is there a single final farewell?
4
My songs cease–I abandon them,
From behind the screen where I hid, I advance personally, solely to you.
Camerado! This is no book;
Who touches this touches a man.
(Is it night? Are we here alone?)
It is I you hold, and who holds you,
I spring from the pages into your arms–decease calls me forth.
O how your fingers drowse me!
Your breath falls around me like dew–your pulse lulls the tympans of my
ears,
I feel immerged from head to foot,
Delicious–enough.
Enough, O deed impromptu and secret!
Enough, O gliding present! Enough, O summed-up past!
5
Dear friend, whoever you are, here, take this kiss,
I give it especially to you–Do not forget me,
I feel like one who has done his work–I progress on,–(long enough have I
dallied with Life,)
The unknown sphere, more real than I dreamed, more direct, awakening rays
about me–"So long!"
Remember my words–I love you–I depart from materials,
I am as one disembodied, triumphant, dead.
Walt Whitman poetry
fleursdumal.nl magazine
More in: Archive W-X, Whitman, Walt
---
Walt Whitman
(1819 – 1892)
Poets to come!
1
Poets to come!
Not to-day is to justify me, and Democracy, and what we are for;
But you, a new brood, native, athletic, continental, greater than before
known,
You must justify me.
2
I but write one or two indicative words for the future,
I but advance a moment, only to wheel and hurry back in the darkness.
I am a man who, sauntering along, without fully stopping, turns a casual
look upon you, and then averts his face,
Leaving it to you to prove and define it,
Expecting the main things from you.
Walt Whitman poetry
fleursdumal.nl magazine
More in: Archive W-X, Whitman, Walt
---
Walt Whitman
(1819 – 1892)
Satan
Aloof, dissatisfied, plotting revolt,
Comrade of criminals, brother of slaves,
Crafty, despised, a drudge, ignorant,
With sudra face and worn brow–black, but in the depths of my heart proud
as any;
Lifted, now and always, against whoever, scorning, assumes to rule me;
Morose, full of guile, full of reminiscences, brooding, with many wiles,
Though it was thought I was baffled and dispelled, and my wiles done–but
that will never be;
Defiant I SATAN still live–still utter words–in new lands duly appearing,
and old ones also;
Permanent here, from my side, warlike, equal with any, real as any,
Nor time, nor change, shall ever change me or my words.
Walt Whitman poetry
fleursdumal.nl magazine
More in: Archive W-X, Whitman, Walt
---
Walt Whitman
(1819 – 1892)
Pulse of my life
Not heaving from my ribbed breast only;
Not in sighs at night, in rage, dissatisfied with myself;
Not in those long-drawn, ill-suppressed sighs;
Not in many an oath and promise broken;
Not in my wilful and savage soul's volition;
Not in the subtle nourishment of the air;
Not in this beating and pounding at my temples and wrists;
Not in the curious systole and diastole within, which will one day cease;
Not in many a hungry wish, told to the skies only;
Not in cries, laughter, defiances, thrown from me when alone, far in the
wilds;
Not in husky pantings through clenched teeth;
Not in sounded and resounded words–chattering words, echoes, dead words;
Not in the murmurs of my dreams while I sleep,
Nor the other murmurs of these incredible dreams of every day;
Nor in the limbs and senses of my body, that take you and dismiss you
continually–Not there;
Not in any or all of them, O Adhesiveness! O pulse of my life!
Need I that you exist and show yourself, any more than in these songs.
Walt Whitman poetry
fleursdumal.nl magazine
More in: Archive W-X, Whitman, Walt
---
Hendrik Nicolaas Werkman
(1882-1945)
Gestadige beweging
printa printo
cito typo
composita
colorita
sano corpo
bene torbo
bras de more
ras te vore
vaste code
baste mode
tanto tempo
desto presto
ante poco
sito foco
ador amo
para diso
sin peccato
nil dacapo
bene vista
male jacta
poke d'ore
pido lore
paso retro
volte metro
Hendrik Nicolaas Werkman poetry
fleursdumal.nl magazine
More in: Archive W-X, De Ploeg, Werkman, Hendrik Nicolaas
---
Hendrik Nicolaas Werkman
(1882-1945)
Sabbath der eenvoudigen
Zij dansen de bestemmingen van de mens
dat hij niet in het leven is geroepen
om te jachten en te jagen
dat het goed is van ophouden te weten
en te rusten en te lachen
die oeroude, maar vandaag op grote schaal
vergeten wijsheid dansen zij
H.N. Werkman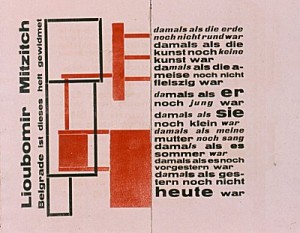 fleursdumal.nl magazine
More in: Archive W-X, De Ploeg, Werkman, Hendrik Nicolaas
---
Older Entries »
« Newer Entries
Thank you for reading FLEURSDUMAL.NL - magazine for art & literature