Archive W-X
«« Previous page
·
WALT WHITMAN: SATAN
·
WALT WHITMAN: PULSE OF MY LIFE
·
HENDRIK NICOLAAS WERKMAN: GESTADIGE BEWEGING
·
H.N. WERKMAN: SABBATH DER EENVOUDIGEN
·
CARINA VAN DER WALT & WILLY MARTIN: AMALGAAM, BUNDEL MET NEDERLANDSE EN AFRIKAANSE GEDICHTEN
·
CARINA VAN DER WALT: DE WETENSCHAP VAN AFVALSCHEIDING
·
CARINA VAN DER WALT: BOOTRAMP BY LAMPEDUSA
·
ROGI WIEG OVERLEDEN
·
EDITH WARTHON: LIFE
·
DICHTER HANS VAN DE WAARSENBURG OVERLEDEN
·
HENDRIK NICOLAAS WERKMAN klankgedicht: LOEMOEM LAMMOEM LAROEM LAKOEM
·
EDITH WARTHON: CHARTRES
Walt Whitman
(1819 – 1892)
Satan
Aloof, dissatisfied, plotting revolt,
Comrade of criminals, brother of slaves,
Crafty, despised, a drudge, ignorant,
With sudra face and worn brow–black, but in the depths of my heart proud
as any;
Lifted, now and always, against whoever, scorning, assumes to rule me;
Morose, full of guile, full of reminiscences, brooding, with many wiles,
Though it was thought I was baffled and dispelled, and my wiles done–but
that will never be;
Defiant I SATAN still live–still utter words–in new lands duly appearing,
and old ones also;
Permanent here, from my side, warlike, equal with any, real as any,
Nor time, nor change, shall ever change me or my words.
Walt Whitman poetry
fleursdumal.nl magazine
More in: Archive W-X, Whitman, Walt
---
Walt Whitman
(1819 – 1892)
Pulse of my life
Not heaving from my ribbed breast only;
Not in sighs at night, in rage, dissatisfied with myself;
Not in those long-drawn, ill-suppressed sighs;
Not in many an oath and promise broken;
Not in my wilful and savage soul's volition;
Not in the subtle nourishment of the air;
Not in this beating and pounding at my temples and wrists;
Not in the curious systole and diastole within, which will one day cease;
Not in many a hungry wish, told to the skies only;
Not in cries, laughter, defiances, thrown from me when alone, far in the
wilds;
Not in husky pantings through clenched teeth;
Not in sounded and resounded words–chattering words, echoes, dead words;
Not in the murmurs of my dreams while I sleep,
Nor the other murmurs of these incredible dreams of every day;
Nor in the limbs and senses of my body, that take you and dismiss you
continually–Not there;
Not in any or all of them, O Adhesiveness! O pulse of my life!
Need I that you exist and show yourself, any more than in these songs.
Walt Whitman poetry
fleursdumal.nl magazine
More in: Archive W-X, Whitman, Walt
---
Hendrik Nicolaas Werkman
(1882-1945)
Gestadige beweging
printa printo
cito typo
composita
colorita
sano corpo
bene torbo
bras de more
ras te vore
vaste code
baste mode
tanto tempo
desto presto
ante poco
sito foco
ador amo
para diso
sin peccato
nil dacapo
bene vista
male jacta
poke d'ore
pido lore
paso retro
volte metro
Hendrik Nicolaas Werkman poetry
fleursdumal.nl magazine
More in: Archive W-X, De Ploeg, Werkman, Hendrik Nicolaas
---
Hendrik Nicolaas Werkman
(1882-1945)
Sabbath der eenvoudigen
Zij dansen de bestemmingen van de mens
dat hij niet in het leven is geroepen
om te jachten en te jagen
dat het goed is van ophouden te weten
en te rusten en te lachen
die oeroude, maar vandaag op grote schaal
vergeten wijsheid dansen zij
H.N. Werkman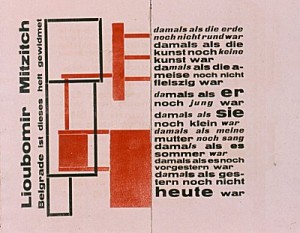 fleursdumal.nl magazine
More in: Archive W-X, De Ploeg, Werkman, Hendrik Nicolaas
---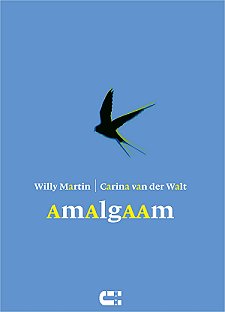 AMALGAAM een nieuwe Afrikaans/Nederlandse Dichtbundel
AMALGAAM is een duobundel met gedichten geschreven in het Nederlands (door Willy Martin) en in het Afrikaans (door Carina van der Walt).
AMALGAAM verschijnt in oktober bij Uitgeverij IJzer in Utrecht.
AMALGAAM bevat Afrikaans- en Nederlandstalige gedichten die niet per taal gescheiden, maar alfabetisch op titel gerangschikt staan.
Net zoals in ANNA (2011, Groot Woordenboek Afrikaans en Nederlands) zijn de gedichten uit de twee talen 'geamalgameerd', samen behandeld, als waren zij van één en dezelfde taal. Amalgamatie heeft voor de auteurs het voordeel dat zowel taalkundig als letterkundig grenzen kunnen worden afgetast en overschreden. De talen krijgen hun natuurlijke plaats in een vlechtwerk van verschuivende betekenissen. De nevenschikking van de talen zorgt ervoor dat latente krachten in beide talen helder in zicht komen. Niet alleen de verklarende kracht van woorden, maar ook de poëtische glans kan erdoor uitgelicht worden.
De Afrikaanstalige gedichten zijn van de hand van de Zuid-Afrikaanse dichteres en essayist Carina van der Walt, de Nederlandstalige van de Vlaming Willy Martin, emeritus hoogleraar aan de Vrije Universiteit te Amsterdam en hoofdredacteur van ANNA.
De officiële bundelpresentatie is op zondag 13 september 2015 om 11:00 uur Abdij Roosendael te Sint-Katelijne-Waver (bij Mechelen)
Gedichten en muzikale omlijsting zullen in het mooie kader van het abdijdomein aan het geheel een feestelijk karakter geven. Katelijne Boon (Vlaamse Radio en Televisieomroep, bekend van "De Ambassadeurs" op Klara) zal de auteurs interviewen en het programma coördineren.
Willy Martin & Carina van der Walt
Amalgaam
Prijs € 15,-
95 pag.
ISBN 978 90 8684 117 2
Verschijnt oktober 2015
Uitgeverij Ijzer, Utrecht
website: http://www.uitgeverij-ijzer.nl/
fleursdumal.nl magazine
More in: Archive M-N, Archive W-X, Art & Literature News, Carina van der Walt, TRANSLATION ARCHIVE, Walt, Carina van der, Willy Martin
---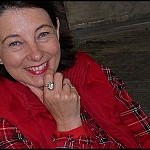 Carina van der Walt
de wetenschap van afvalscheiding
we gaan elke dag zorgzamer om met
chemisch afval dat dampt
bedorven organisch afval
brillen glazen flessen
kranten kartonnen dozen
kleef- & bubbeltjesplastic
& het systeemprobleem restafval
maar we weten niet wat we moeten doen
met de mensen die van ver af aanspoelen
gebarsten als blauw porselein op het strand
een systeemfout: mensen zonder papier
die van ver af aanwaaien & als lege plastic-
zakjes blijven hangen aan het prikkeldraad
de rest moet bij zichzelf te rade gaan
op het zwerfvuil
met het etiket mens
plakken we graag een mengverbod
want uit gevaarlijk afval
kunnen gassen lekken
die imploderen of exploderen
maar composteren is toch kerngezond
Carina van der Walt poetry
fleursdumal.nl magazine
More in: Archive W-X, Carina van der Walt, Walt, Carina van der
---
Carina van der Walt
bootramp by Lampedusa
die see offer 300 swart anemone
op die strande van Lampedusa
ontmenslik is hulle ledemate spons
wat in die vlak branders roer & roep
vryheid gelykheid broederskap suster Europa
aangespoel damp hulle lywe soutlug
droog hulle sagte oë gryswit & styf
verdamp verlangens verstil uitroepe
Europa kroon Lampedusa op sy strande
met segekranse van verwelkte anemone
Carina van der Walt poetry
fleursdumal.nl magazine
More in: Archive W-X, Carina van der Walt, Walt, Carina van der
---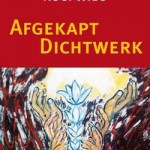 Na een lang ziekbed is op woensdag 15 juli 2015, in zijn woonplaats Amsterdam, de dichter, schrijver, beeldend kunstenaar en muzikant Rogi Wieg overleden.
Rogi Wieg (1962) debuteerde als dichter in 1981. Zijn ouders waren Hongaarse vluchtelingen die zich in 1957 in Nederland hebben gevestigd.
Wieg werd, vanwege ernstige depressies,  regelmatig opgenomen in psychiatrische ziekenhuizen en deed enkele pogingen tot zelfmoord. Zijn aanvraag voor euthanasie vanwege psychisch lijden werd onlangs gehonoreerd.
Zo zal ik niet sterven, maar ga ik
alleen een beetje dood.

(Rogi Wieg, 15 mei 2015)

fleursdumal.nl magazine
More in: Archive W-X, In Memoriam
---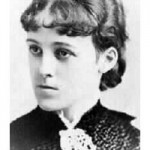 Edith Wharton
(1862-1937)
Life
Nay, lift me to thy lips, Life, and once more
Pour the wild music through me—
I quivered in the reed-bed with my kind,
Rooted in Lethe-bank, when at the dawn
There came a groping shape of mystery
Moving among us, that with random stroke
Severed, and rapt me from my silent tribe,
Pierced, fashioned, lipped me, sounding for a voice,
Laughing on Lethe-bank—and in my throat
I felt the wing-beat of the fledgeling notes,
The bubble of godlike laughter in my throat.
Such little songs she sang,
Pursing her lips to fit the tiny pipe,
They trickled from me like a slender spring
That strings frail wood-growths on its crystal thread,
Nor dreams of glassing cities, bearing ships.
She sang, and bore me through the April world
Matching the birds, doubling the insect-hum
In the meadows, under the low-moving airs,
And breathings of the scarce-articulate air
When it makes mouths of grasses—but when the sky
Burst into storm, and took great trees for pipes,
She thrust me in her breast, and warm beneath
Her cloudy vesture, on her terrible heart,
I shook, and heard the battle.
But more oft,
Those early days, we moved in charmed woods,
Where once, at dusk, she piped against a faun,
And one warm dawn a tree became a nymph
Listening; and trembled; and Life laughed and passed.
And once we came to a great stream that bore
The stars upon its bosom like a sea,
And ships like stars; so to the sea we came.
And there she raised me to her lips, and sent
One swift pang through me; then refrained her hand,
And whispered: "Hear—" and into my frail flanks,
Into my bursting veins, the whole sea poured
Its spaces and its thunder; and I feared.
We came to cities, and Life piped on me
Low calls to dreaming girls,
In counting-house windows, through the chink of gold,
Flung cries that fired the captive brain of youth,
And made the heavy merchant at his desk
Curse us for a cracked hurdy-gurdy; Life
Mimicked the hurdy-gurdy, and we passed.
We climbed the slopes of solitude, and there
Life met a god, who challenged her and said:
"Thy pipe against my lyre!" But "Wait!" she laughed,
And in my live flank dug a finger-hole,
And wrung new music from it. Ah, the pain!
We climbed and climbed, and left the god behind.
We saw the earth spread vaster than the sea,
With infinite surge of mountains surfed with snow,
And a silence that was louder than the deep;
But on the utmost pinnacle Life again
Hid me, and I heard the terror in her hair.
Safe in new vales, I ached for the old pang,
And clamoured "Play me against a god again!"
"Poor Marsyas-mortal—he shall bleed thee yet,"
She breathed and kissed me, stilling the dim need.
But evermore it woke, and stabbed my flank
With yearnings for new music and new pain.
"Another note against another god!"
I clamoured; and she answered: "Bide my time.
Of every heart-wound I will make a stop,
And drink thy life in music, pang by pang,
But first thou must yield the notes I stored in thee
At dawn beside the river. Take my lips."
She kissed me like a lover, but I wept,
Remembering that high song against the god,
And the old songs slept in me, and I was dumb.
We came to cavernous foul places, blind
With harpy-wings, and sulphurous with the glare
Of sinful furnaces—where hunger toiled,
And pleasure gathered in a starveling prey,
And death fed delicately on young bones.
"Now sing!" cried Life, and set her lips to me.
"Here are gods also. Wilt thou pipe for Dis?"
My cry was drowned beneath the furnace roar,
Choked by the sulphur-fumes; and beast-lipped gods
Laughed down on me, and mouthed the flutes of hell.
"Now sing!" said Life, reissuing to the stars;
And wrung a new note from my wounded side.
So came we to clear spaces, and the sea.
And now I felt its volume in my heart,
And my heart waxed with it, and Life played on me
The song of the Infinite. "Now the stars," she said.
Then from the utmost pinnacle again
She poured me on the wild sidereal stream,
And I grew with her great breathings, till we swept
The interstellar spaces like new worlds
Loosed from the fiery ruin of a star.
Cold, cold we rested on black peaks again,
Under black skies, under a groping wind;
And Life, grown old, hugged me to a numb breast,
Pressing numb lips against me. Suddenly
A blade of silver severed the black peaks
From the black sky, and earth was born again,
Breathing and various, under a god's feet.
A god! A god! I felt the heart of Life
Leap under me, and my cold flanks shook again.
He bore no lyre, he rang no challenge out,
But Life warmed to him, warming me with her,
And as he neared I felt beneath her hands
The stab of a new wound that sucked my soul
Forth in a new song from my throbbing throat.
"His name—his name?" I whispered, but she shed
The music faster, and I grew with it,
Became a part of it, while Life and I
Clung lip to lip, and I from her wrung song
As she from me, one song, one ecstasy,
In indistinguishable union blent,
Till she became the flute and I the player.
And lo! the song I played on her was more
Than any she had drawn from me; it held
The stars, the peaks, the cities, and the sea,
The faun's catch, the nymph's tremor, and the heart
Of dreaming girls, of toilers at the desk,
Apollo's challenge on the sunrise slope,
And the hiss of the night-gods mouthing flutes of hell—
All, to the dawn-wind's whisper in the reeds,
When Life first came, a shape of mystery,
Moving among us, and with random stroke
Severed, and rapt me from my silent tribe.
All this I wrung from her in that deep hour,
While Love stood murmuring: "Play the god, poor grass!"
Now, by that hour, I am a mate to thee
Forever, Life, however spent and clogged,
And tossed back useless to my native mud!
Yea, groping for new reeds to fashion thee
New instruments of anguish and delight,
Thy hand shall leap to me, thy broken reed,
Thine ear remember me, thy bosom thrill
With the old subjection, then when Love and I
Held thee, and fashioned thee, and made thee dance
Like a slave-girl to her pipers—yea, thou yet
Shalt hear my call, and dropping all thy toys
Thou'lt lift me to thy lips, Life, and once more
Pour the wild music through me—
Edith Wharton poetry
fleursdumal.nl magazine
More in: Archive W-X, CLASSIC POETRY
---
Laat me nu zitten
Laat me een rustig gebaar
Laat me de laatste wijn
Laat me de langste slaap
Hans van de Waarsenburg (Helmond 1943 – Maastricht 2015) is op 15 juni 2015, na een kort ziekbed, overleden. Van de Waarsenburg debuteerde in 1965 met de bundel Gedichten. Hij was, behalve dichter, een zeer gewaarderd literatuurcriticus en auteur van kinderboeken. Het grootste deel van zijn werkzame leven (vanaf 1966) woonde en werkte hij in Maastricht.
Van 1995 tot 2000 was Hans van de Waarsenburg voorziter van het PEN-Centrum Nederland. Daarnaast was hij sinds 1997 medeoprichter en voorzitter van The Maastricht International Poetry Nights, een grote tweejaarlijkse internationale poëziemanifestatie.
Van Hans van de Waarsenburg zijn verschillende werken vertaald in o.a. het Duits, Engels, Spaans en enkele Slavische talen.
In november verschijnt bij Wereldbibliotheek Een rijbroek uit Canada, een kloeke bloemlezing uit het omvangrijke werk van Hans van de Waarsenburg, nog voor zijn onverwachte overlijden door de dichter zelf samengesteld. Het boek wordt geopend met een voorwoord van de auteur waarin hij zijn keuze verantwoordt, en afgesloten met een nawoord van dichter Daan Cartens.
In Memoriam Hans van de Waarsenburg (1943 – 2015)
fleursdumal.nl magazine
More in: Archive W-X, Art & Literature News, In Memoriam, Waarsenburg, Hans van de
---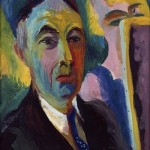 Hendrik Nicolaas Werkman
(1882-1945)
Loemoem lammoem laroem lakoem
Loemoem lammoem laroem lakoem
bergamotse pergolas
boestroem bastroem bestroem bostroem
arboesti arboesas
oemoem ammoem aroem akoem
postolorum postolas
akroem baroem fakroem faroem
synagobi syncopas
oeloem aloem oesdroem nosdroem
akolasi rabotas
oeldroes knoeldroes boeldroes moeldroes
pastellorum crammacas
oemboem hoemboem zoemboem boemboem
castranorum castrafas
Hendrik Nicolaas Werkman poetry
fleursdumal.nl magazine
More in: Archive W-X, De Ploeg, Werkman, Hendrik Nicolaas
---
Edith Wharton
(1862-1937)
Chartres
I
Immense, august, like some Titanic bloom,
The mighty choir unfolds its lithic core,
Petalled with panes of azure, gules and or,
Splendidly lambent in the Gothic gloom,
And stamened with keen flamelets that illume
The pale high-alter. On the prayer-worn floor,
By worshippers innumerous thronged of yore,
A few brown crones, familiars of the tomb,
The stranded driftwood of Faith's ebbing sea—
For these alone the finials fret the skies,
The topmost bosses shake their blossoms free,
While from the triple portals, with grave eyes,
Tranquil, and fixed upon eternity,
The cloud of witnesses still testifies.
II
The crimson panes like blood-drops stigmatise
The western floor. The aisles are mute and cold.
A rigid fetich in her robe of gold,
The Virgin of the Pillar, with blank eyes,
Enthroned beneath her votive canopies,
Gathers a meagre remnant to her fold.
The rest is solitude; the church, grown old,
Stands stark and grey beneath the burning skies.
Well-nigh again its mighty framework grows
To be a part of nature's self, withdrawn
From hot humanity's impatient woes;
The floor is ridged like some rude mountain lawn,
And in the east one giant window shows
The roseate coldness of an Alp at dawn.
Edith Wharton poetry
fleursdumal.nl magazine
More in: Archive W-X, CLASSIC POETRY
---
Older Entries »
« Newer Entries
Thank you for reading FLEURSDUMAL.NL - magazine for art & literature