"Desmond Tutu se laaste vlug" a farewell poem by Carina van der Walt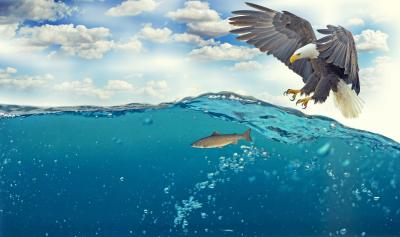 Desmond Tutu se laaste vlug
in sy laaste tyd sweef hy geluidloos oor die water
die wind hou asem op oor die stroomversnellings
geen Woord meer ontsnap uit sy snawel nie
hy is visarend aartsbiskop vader man
sy oë speur stroomop & stroomaf
na dubbele reënboë soos poorte op die horison
salf wierook mirre was woorde vir sy kinders        ook vuur
nou verswart & skeur sy kleed as sy roep die stilte breek
met uitgestrekte kloue in 'n laaste seëngroet duik hy verloor
sy kruis & vang hy 'n
vir sy vlug onder deur 'n reënboog
Carina van der Walt
Desmond Tutu se laaste vlug*
Farewell poem
* In Greek and Roman times, the Eagle was referred to as a God or "The King of Birds". In many cultures the Eagle is known as a symbol of power and resurrection,
Desmond Tutu was a South African Anglican bishop and theologian, known for his work as an anti-apartheid and human rights activist. In 1984 Tutu won the Nobel Peace Prize.
Tutu died from cancer at the Oasis Frail Care Centre in Cape Town on 26 December 2021, at the age of 90. The funeral took place on 1 January 2022 at St. George's Cathedral, Cape Town.
Carina van der Walt moved from Klerksdorp in South Africa to the Netherlands in 2007. In Klerksdorp she was a high school teacher during apartheid. After the death of her first husband she took up her studies in literature. She came to Tilburg University for an exchange and met her future husband. The same city (Klerksdorp recently renamed to Matlosana) was the birthplace of archbishop Desmond Tutu. He qualified as a teacher and taught there for the first years of his professional life until a law on Bantu education made it impossible for him to fulfil his work. He resigned and moved to London to get educated to become a priest. They share the same backdrop, the dry half desert part of the North West province with the beautiful acacia trees. Parenthood was an important part of both their lives.
Van der Walt met Tutu once in 2012. He came to The Hague to unveil the statue Long Walk to Freedom in celebration of Nelson Mandela. He made a massive impression on her. Carina van der Walt now lives in Tilburg in The Netherlands. She works as a writer, poet and editor.
• fleursdumal.nl magazine
More in: # Archive S.A. literature, Apartheid, Archive W-X, Carina van der Walt, In Memoriam, Walt, Carina van der